thanks to a recently instituted policy of an afternoon quiet time for the lidkids, i had a pretty successful month of sewing in september.
i mean. check out this action shot of the quilt room…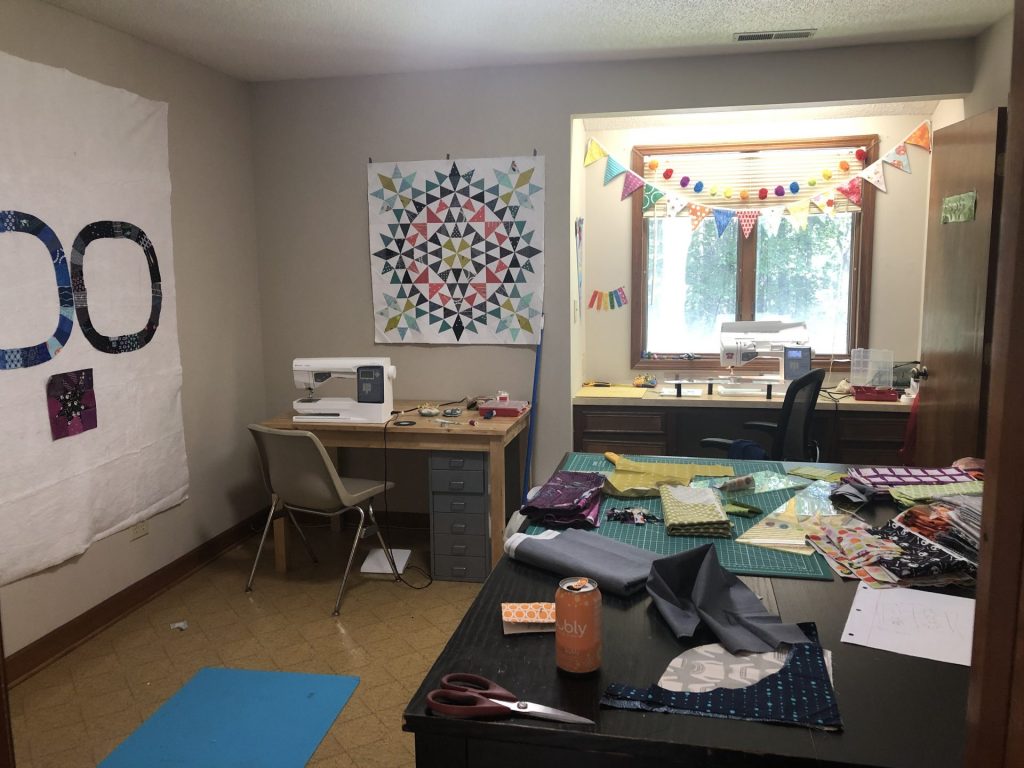 the biggest thing i was working on was a freewheeling single girl quilt. i joined a sew along on instagram, and used it as an opportunity to use up some of my stash, including long hoarded favorite bits. a single girl was the first quilt i ever made (for anna in 2010), and i am in love with how this one turned out, but that's for another post. here's my september progress.
rainbow ring quarters.

sewing friendly curves.
after mis-cutting some super cute ballerina fabric for a bag for anna to take to ballet, i ended up with this one slightly too small for her purposes. but still cute.
outside.

inside.
since we now reside in a stupid house forever, it is a good time to start reacquiring all the standard trappings of suburban life, like seasonal decor items. first up, halloween and autumn pillow covers. i have never had a scrap of halloween fabric to my name, but some clearance fabric sucked me in, and i obviously made a wonky star pillow to show case it. and i think i might have actually made the pillow in august. but i took the pic in september, so it counts.
halloweeny.

autumn.
i also kept busy with a bit of halloween paper piecing. i tested this pattern with some fabrics i wasn't crazy about, but it might end up being the only one i make. anyhoo… once complete, it sat on my design wall for weeks before i just made into a miniquilt (can be a mug rug or wall hanging, etc). but here's my process pic.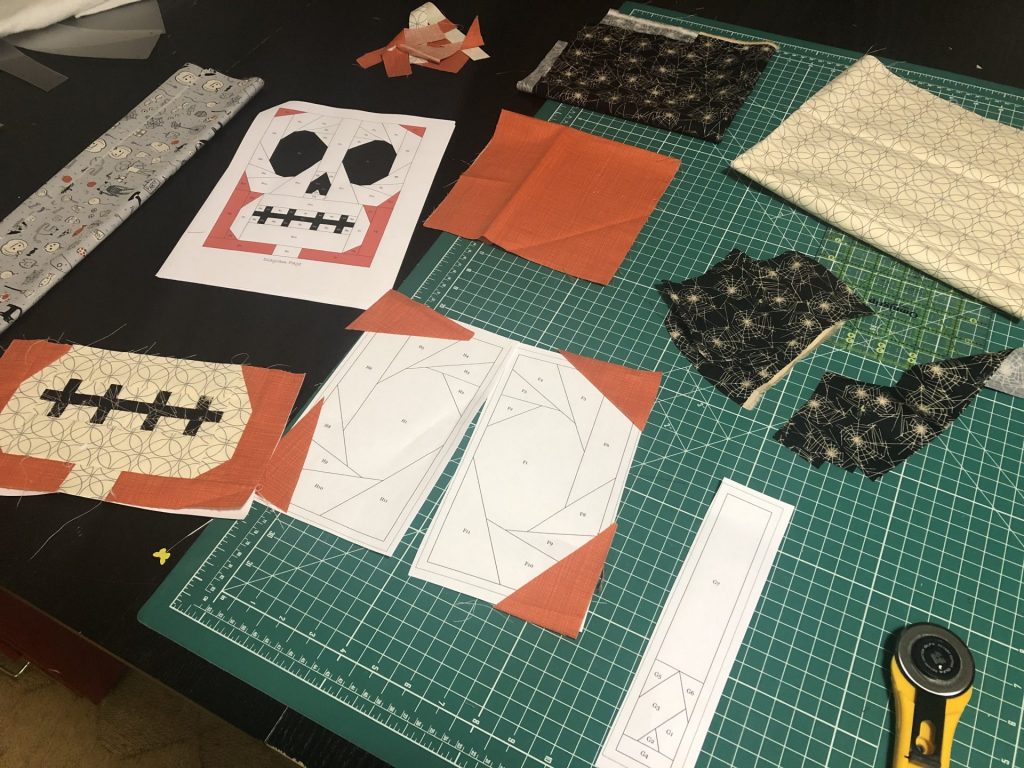 another favorite item created in the month of september was my "maker" bag. the pattern was free from quiet play designs, but the word "maker" was inside a heart, which i left off, then turned the whole thing into an open wide zipper pouch. i figured a rainbow wonky star was the obvious choice for the backside. my only regret is not adding a bit of quilting. anyways. it's now the home of all my cool markers and pens.
sticking with the rainbow wonky star theme, i joined in a quick little instagram sew along, where folks were making tiny pin cushions. the #teenytinypinnieparade requirements were that your pin cushion be less than 3″ square. this one came in at just around 3″, so there was more work to be done. but i love it so.
so. i made another attempt. i had just purchased a little roll of rainbow solids, and have always wanted to make a super tiny rainbow-y pineapple block, so it was a match made in heaven. i found a pattern online and reduced it to about 3″. then i spent the better part of an entire weekend morning sewing and ironing the tiniest of tiny bits of fabric. i turned it into a little cube, without bothering to look up instructions for such endeavors, which resulted in a bit of seam ripping and frustration. but i love the final result. it finished about 2.5″ x 2.5″ x 1″.
finished.

completed top.

the back. before papers were removed.

after paper removal.

i love it.
a visit to hobby lobby during the kids co-op resulted in an excessive purchase of paw patrol fabric. hazel was excited to pick out the zipper and lining fabric from my stash, and i made her up an oversized open wide zipper pouch. it's perfect for one or two paw patrol vehicles and 8-10 guys. you know. until she is done with paw patrol in a few months.
inside.

zipper tab fussy cut.

happy recipient.
to make up for the way too small drawstring pouch i made earlier, i also picked up some ballerina fabric at hobby lobby, and made anna a much bigger drawstring backpack, which easily fits all of her dance needs. i even had some leftover fabric from my cutting fail to add a little patch to the back.
this concludes my tour through my month of september sewing. thank you for following along. 🙂