back back back, before we went on the road, when isaac was in school, and we found out he got into the HAG (nerd) program and would be changing schools, we became friends with another family who were in the same boat. j and isaac were in the same class that next year, and her mom and i were the room moms. that is, until we dropped out to homeschool and subsequently bought an rv and went on the road.
fast forward to a few weeks ago, when i was catching up with j's mom, and she mentioned that they too were tiring of their house and the quarantine. she said that j likes hiking, so we offered to take her on our next local outing. now fast forward to the week after our adventures in linville gorge wilderness, where we were already tiring of being back in our house, and were ready for an adventure.
we rolled over to j's house, loaded her up, and set off for stone mountain state park. (we left hazel at home. the hike is tough, and she's not much of an enthusiast).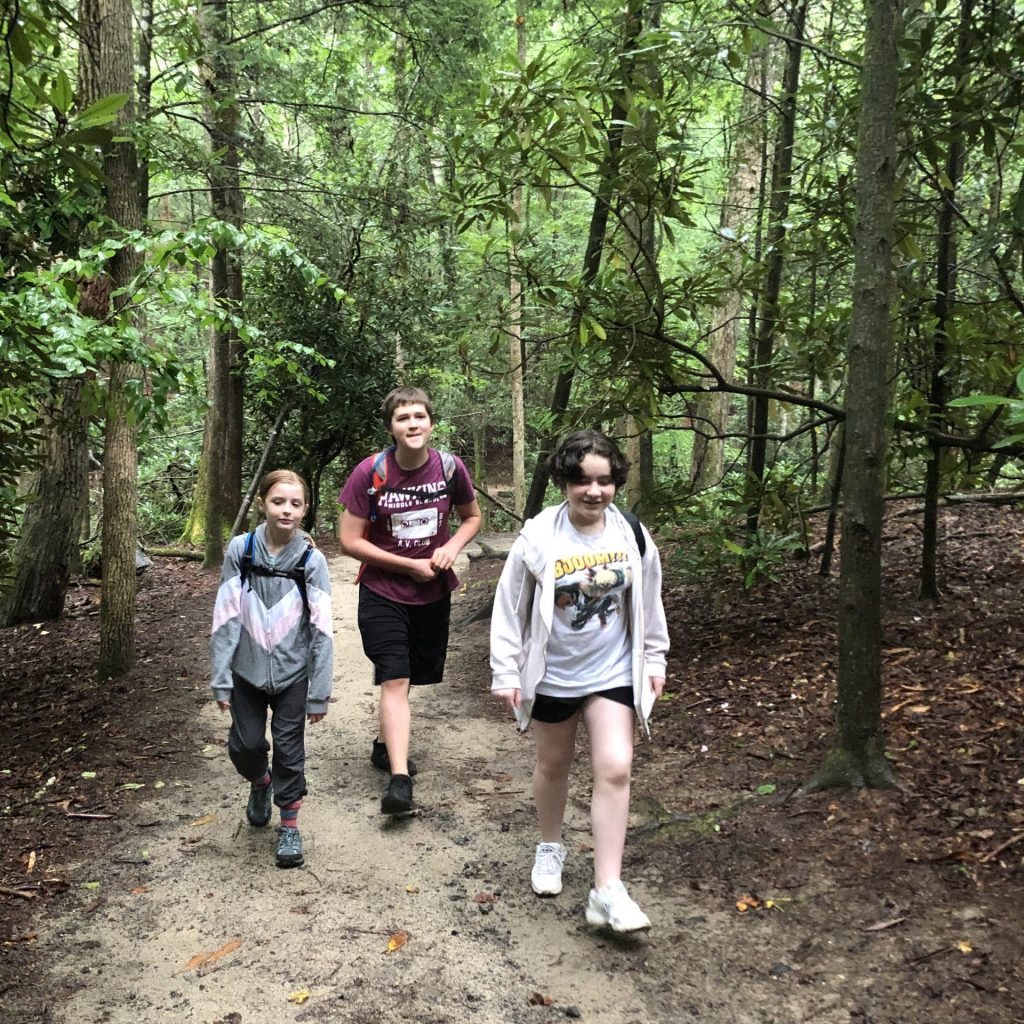 the last time we were there, we started at the upper lot, and ended up climbing one million stairs on our way out. this time, we had the bright idea to start at the lower lot. we would still do the stairs, but they would come mid-hike this time. it was a wee bit drizzly and rainy when we started, but everyone was chipper.
we spotted lots of colorful growth. orange flowery looking shrooms. that pink thing. and the coolest white mushroom growing in a little minicave formed by some rocks.
we like stone mountain because it has lots of cool attractions. waterfalls. bridges. cables. scenice views. and an historic settlement, with a pretty great view of the aptly named stone mountain.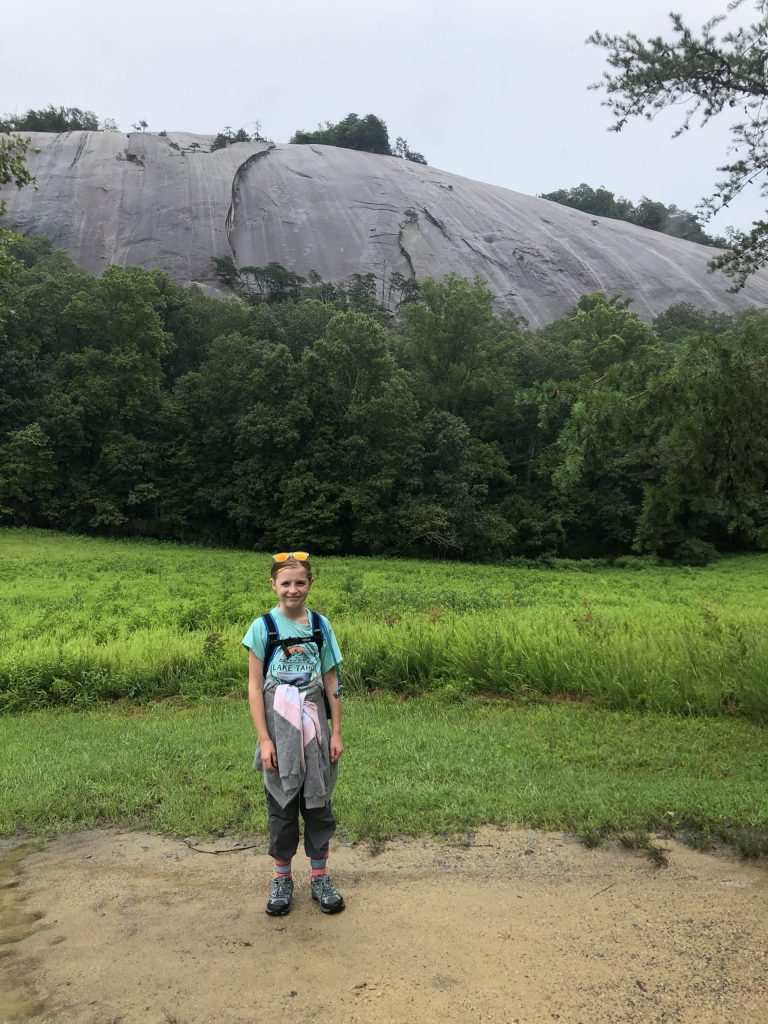 the next attraction was the waterfall. we stopped to play for a bit, but we still had a long way to go, so we didn't want to waste too much time, or get too wet. we had the place mostly to ourselves, which is always nice, but as we were leaving, we passed several groups coming in, all prepared for what looked like a long day in the swimming hole.
then it was climbing time. we debated counting the stairs, but quickly tired of that endeavor as we huffed our way up them. it's brutal. after the stairs, there's still lots of climbing, by way of switchbacks, until we finally reached the peak (and several other overlooks just before the peak).
the kids were glad to take plenty of breaks, as they talked about video games and stranger things and anime. basically, it was like i didn't even exist.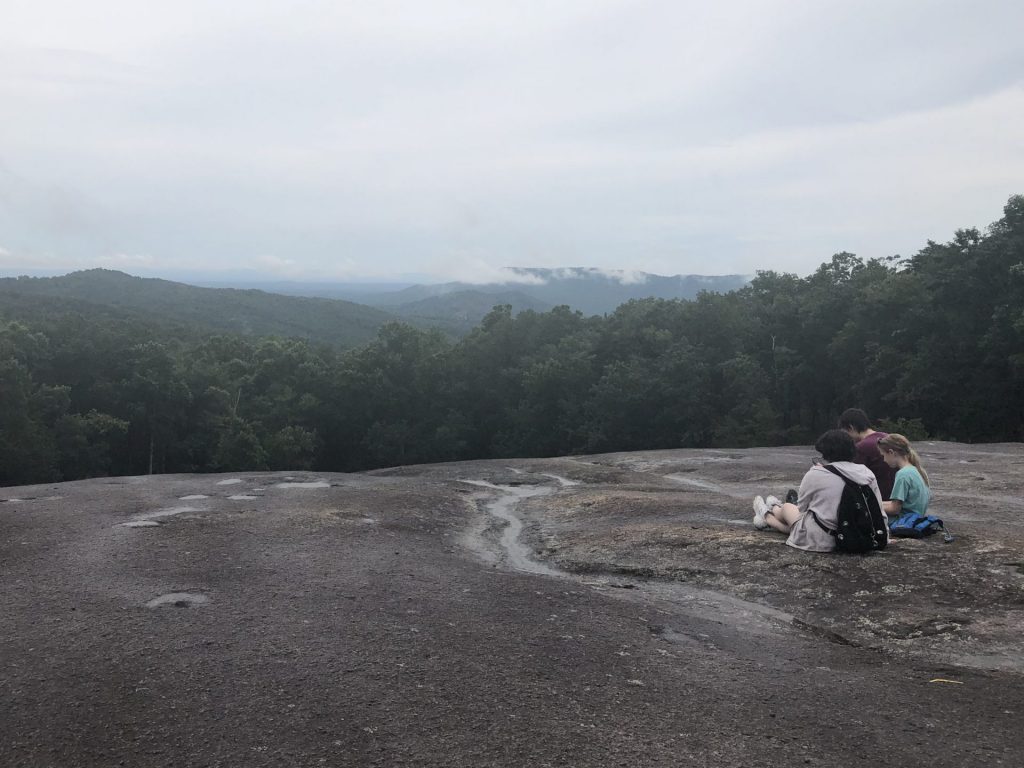 i basically forced them to take one official photo to commemorate the trip. they obliged.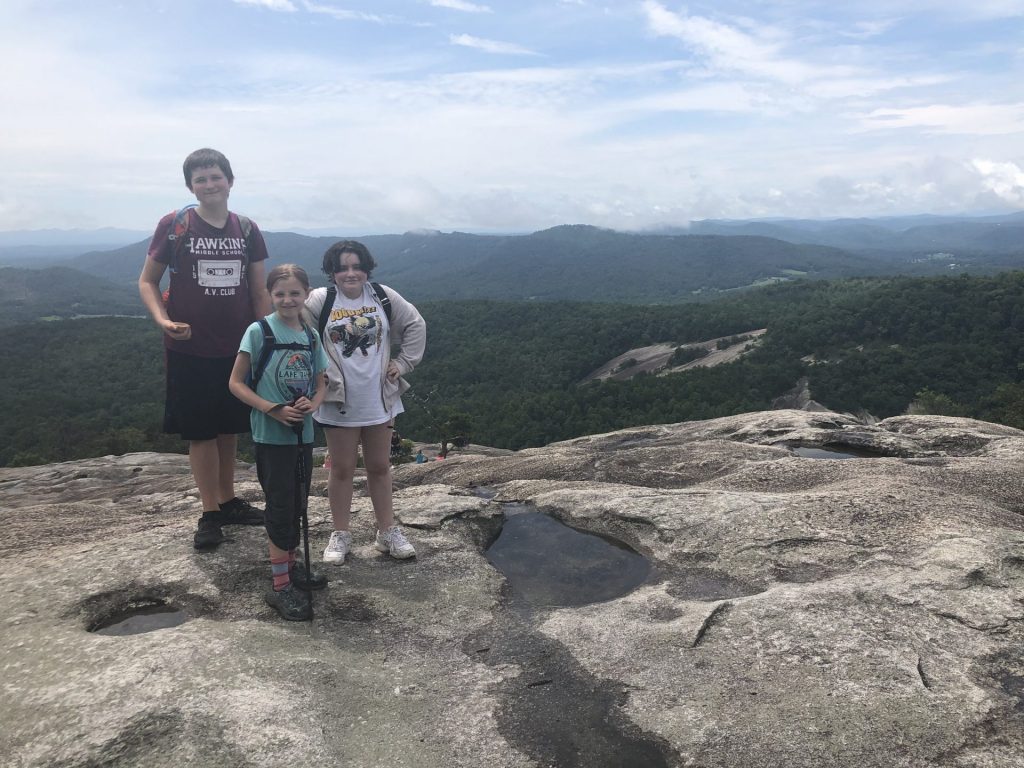 and then, just as the sun started to burn off the fog and clouds, it was time to go down. i didn't accurately remember how miserable this part of the hike was when i was planning this trip. the cable part is kind of fun and still pretty.
but then, back in the trees. it's more stairs. and not like nice, wooden, evenly spaced, with railings stairs. more natural, awkwardly spaced, uneven, rocky stairs. it was miserable. everyone was miserable. the following picture is the last decent one that would be taken.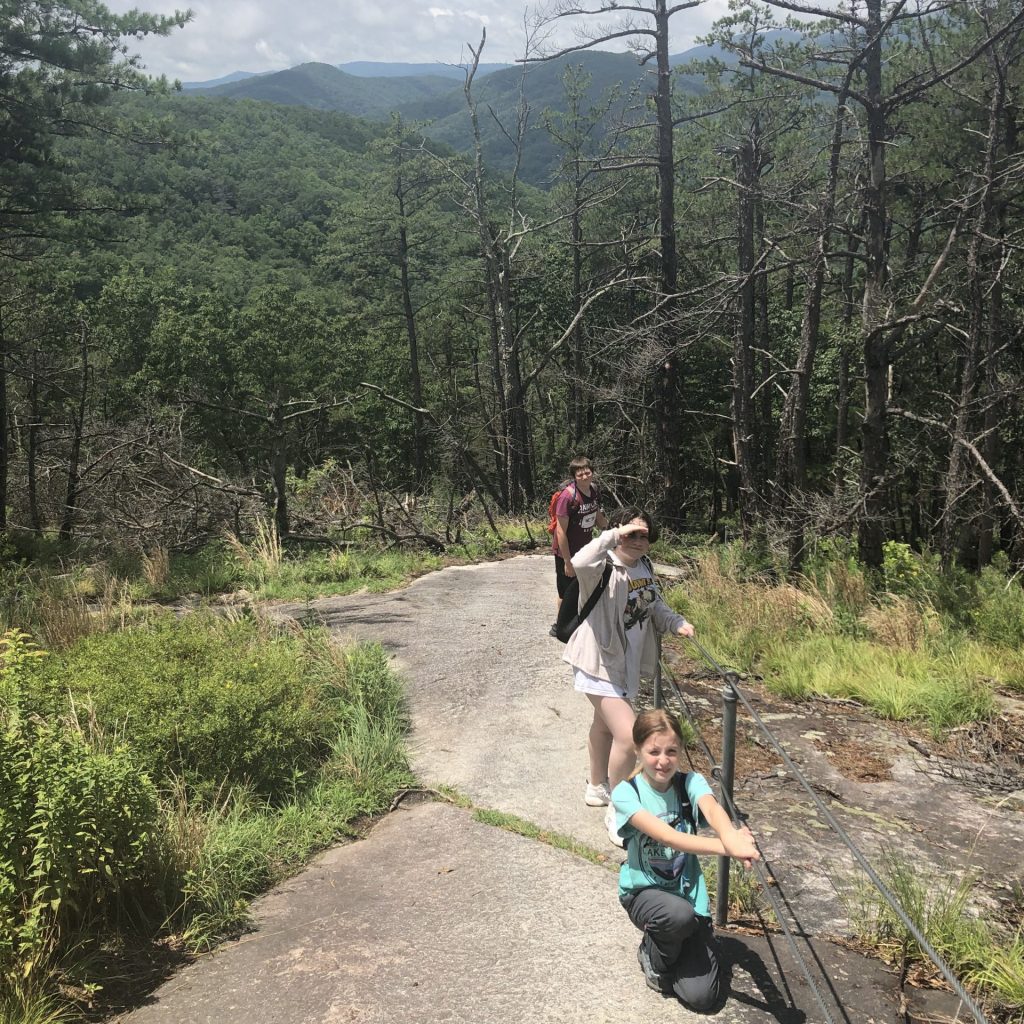 but we survived. and determined that NEXT time. we will start at the lower lot, and go in the other direction. clockwise. and go up the awkward stairs, down the switchbacks, down the nice stairs, to the waterfall, along the flat path the the homestead, and back to the start. that's the ticket.
anyways. all spirits were once again lifted when we stopped at the stone mountain country store for ice cream, which is mandatory.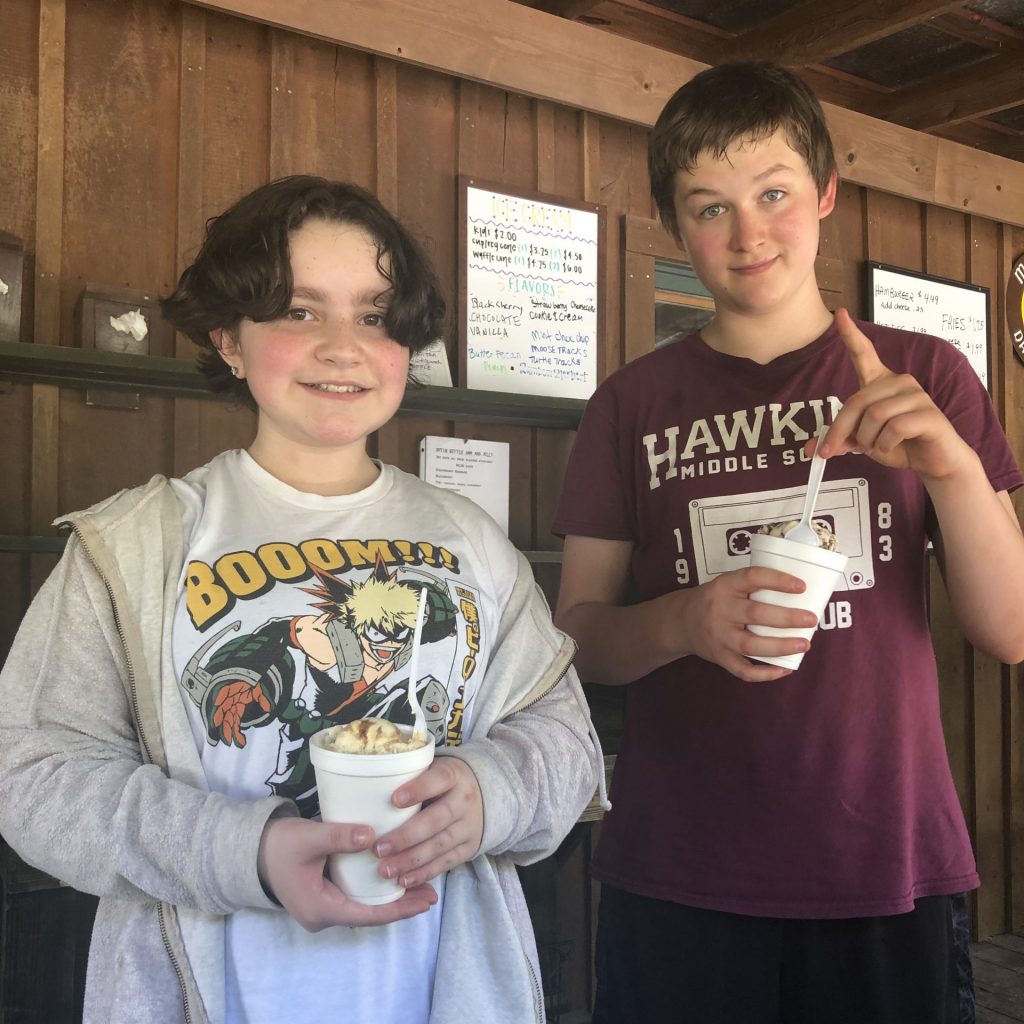 i don't know if we scared off our new/old friend, but hopefully she will come hike with us again. and i'll be sure to update when we hike stone mountain again, with my new planned path….