originally, we had planned to lay low on our first day, a sunday, in the smokies. even though we were still in the midst of a pandemic, great smoky mountain national park is the most visited park in the us, especially on a weekend at the more heavily trafficked spots.
but then. the weather was BEAUTIFUL, and we knew we couldn't throw away a day, just because of crowds. we figured that if we hit the trails, instead of doing one of the less active type of attractions, there would be less people.
abrams trail is about 5 miles, out and back, with 630 feet of elevation change. at the end, there's a waterfall and swimming hole, so it seemed like a perfect hike for our crew. we packed up and hit the trail.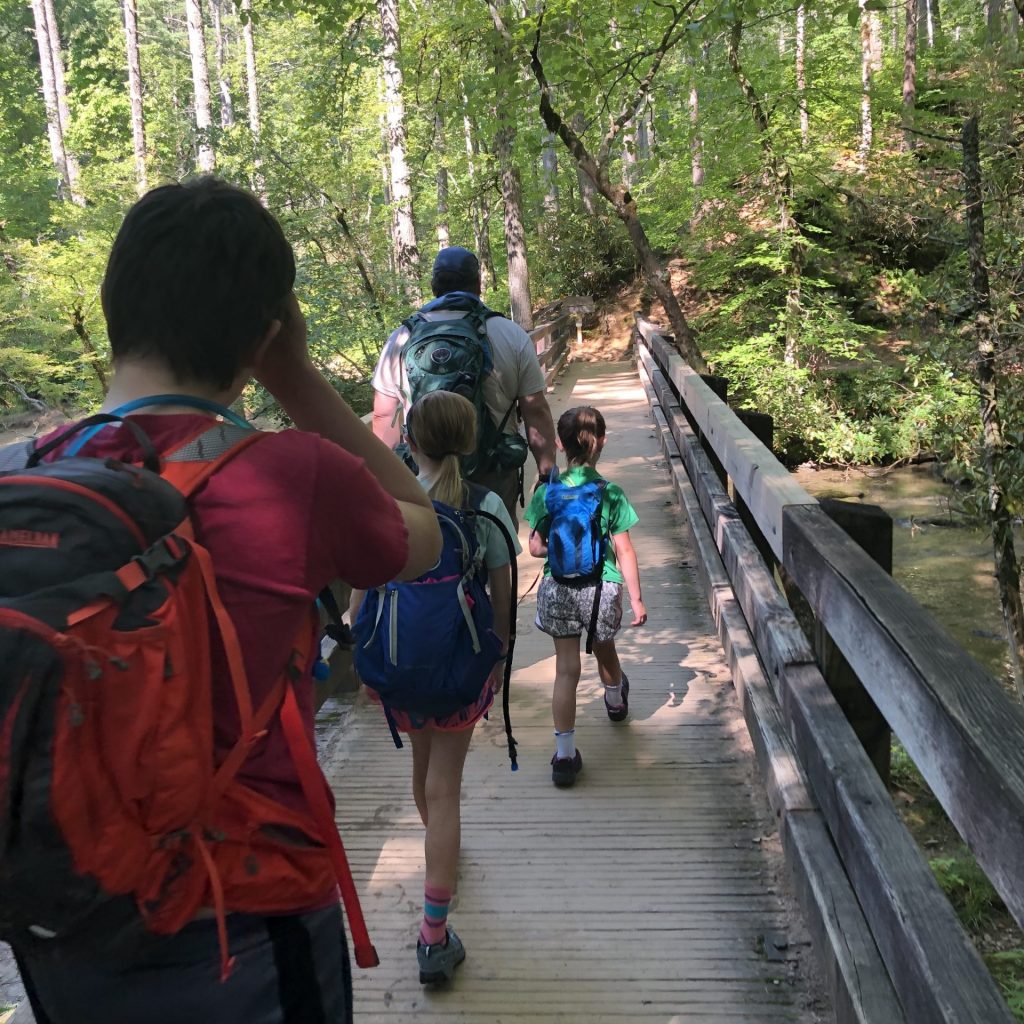 we spotted lots of wildlife along the way, but in an effort to keep this post from epic lengths, you'll have to take my word for it. except for this shot of my wildlife photographers in training.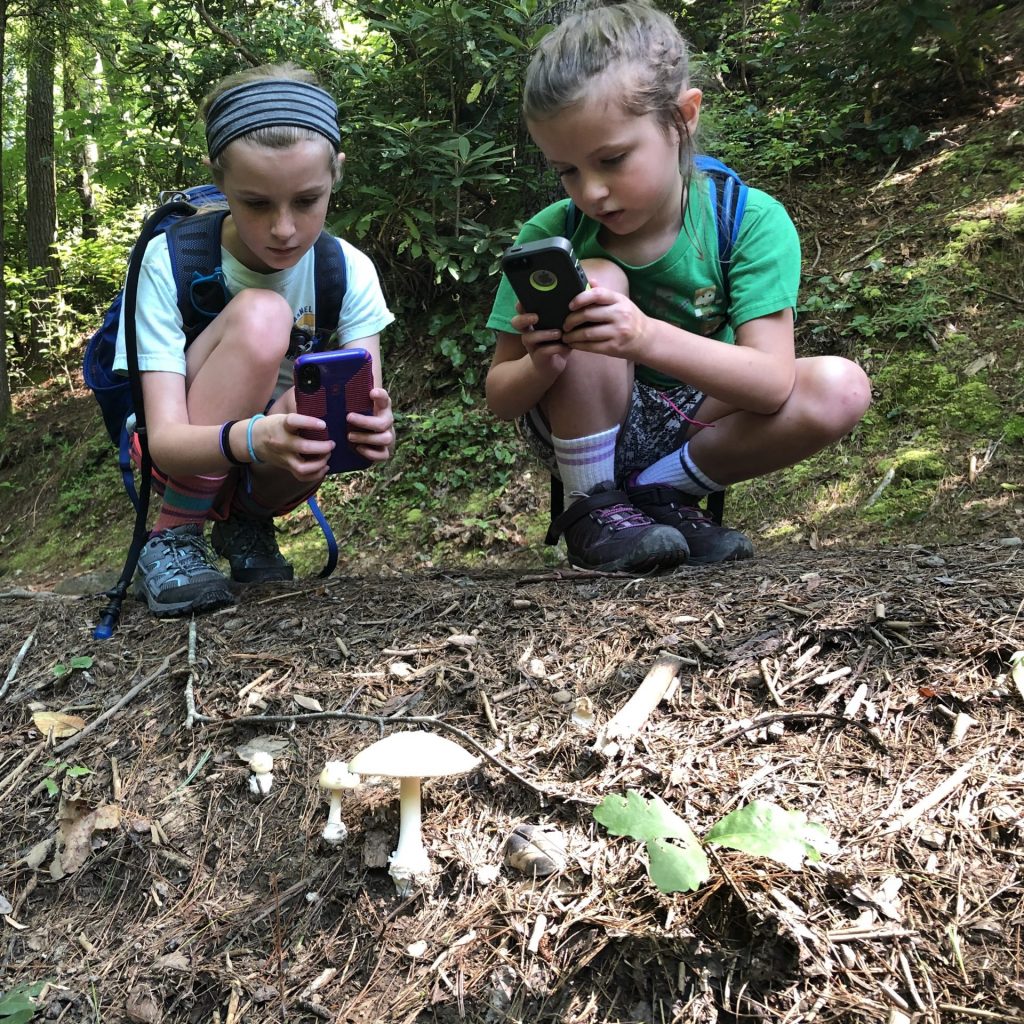 since we didn't have internet at the campground or anywhere along the drive to the trail or obviously on the trail, we had to rock it old school, with a trail map and elevation graph to help us know where we were and how much work was left. there was a bit of grumbling. but there were also lots of fun bridges, which are always good hike amenities for the lidkids.
the last bit of the trail was a steep descent to the waterfall and swimming hole. we were so relieved to finally arrive….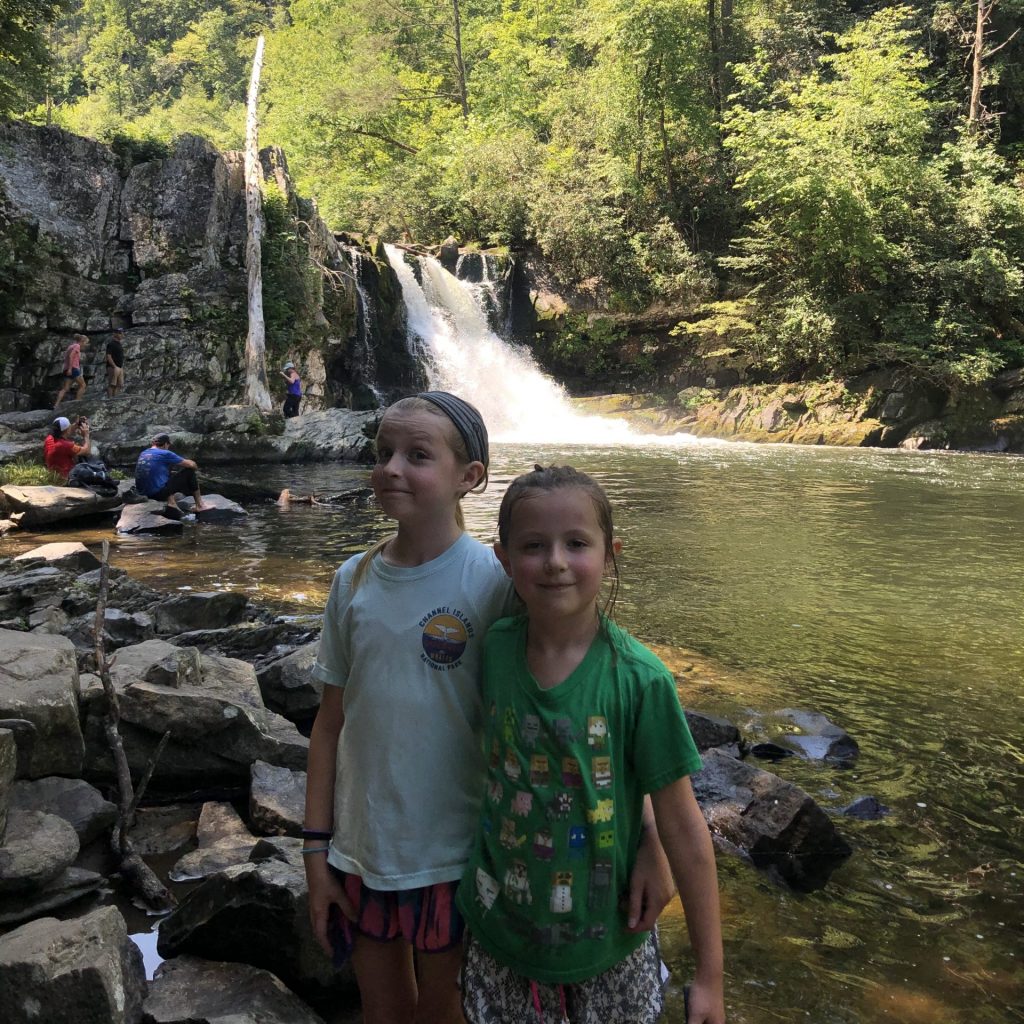 not too shabby, right?
we all changed into swimsuits and water shoes, which was quite a difficult undertaking, with limited private spaces, and plenty of strangers milling about. but you can't play high school sports as a girl without learning how to change into a uniform (and sports bra) on a school bus, so i'm basically an expert.
well. and when i say we all changed, i mean the girls. isaac hastily refused to bring his swim change from the car, assuring me that he wouldn't want to go in, and then i was a mean mom who told him not to get his shirt wet, and he wasn't about to go shirtless in front of all those strangers, so he was only able to wade in a bit. (and hopefully learned a lesson about preparing for the event that he might have a change of heart and that i might be right every now and then). the water was a little chilly for hazelnut, and then she was super grumpy about a photo with me. 🙂
anna and i frolicked around a bit, cooling off in the icy waters. it was very refreshing after the hike in.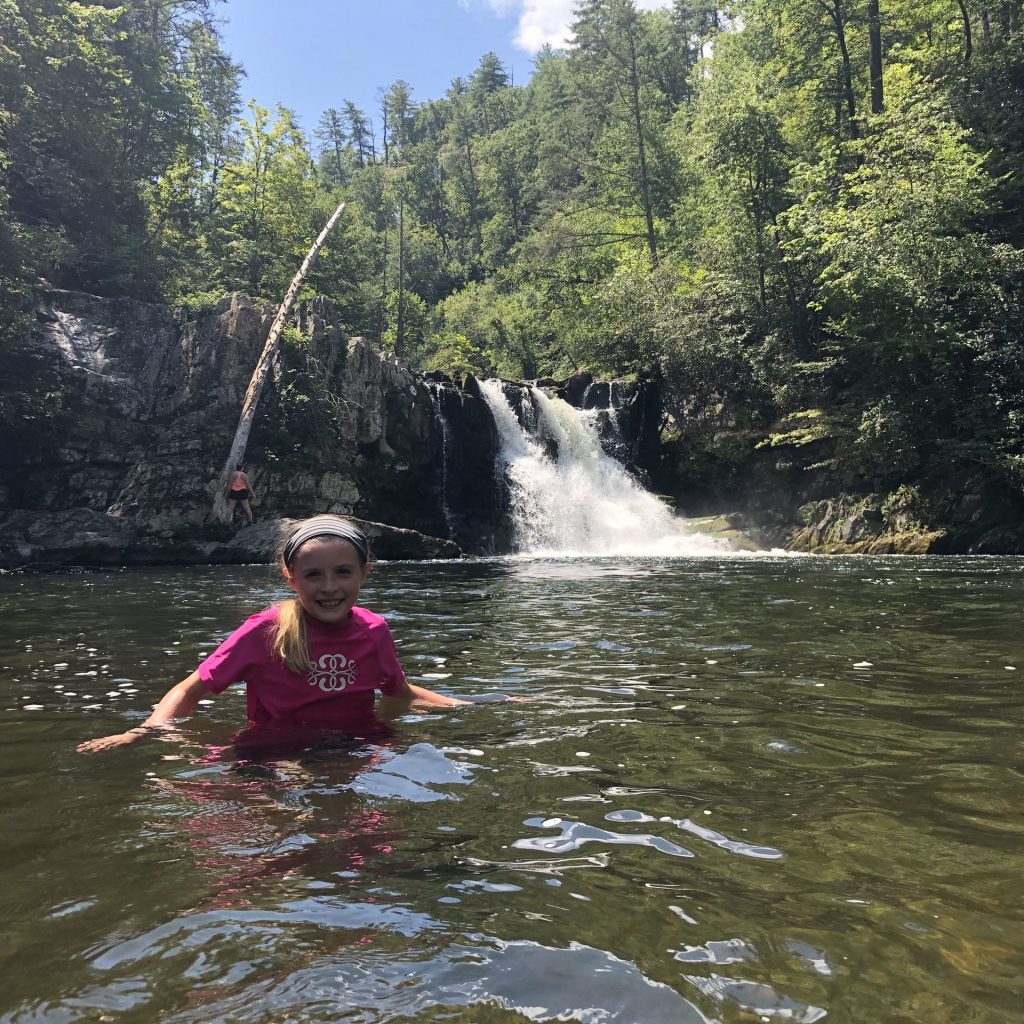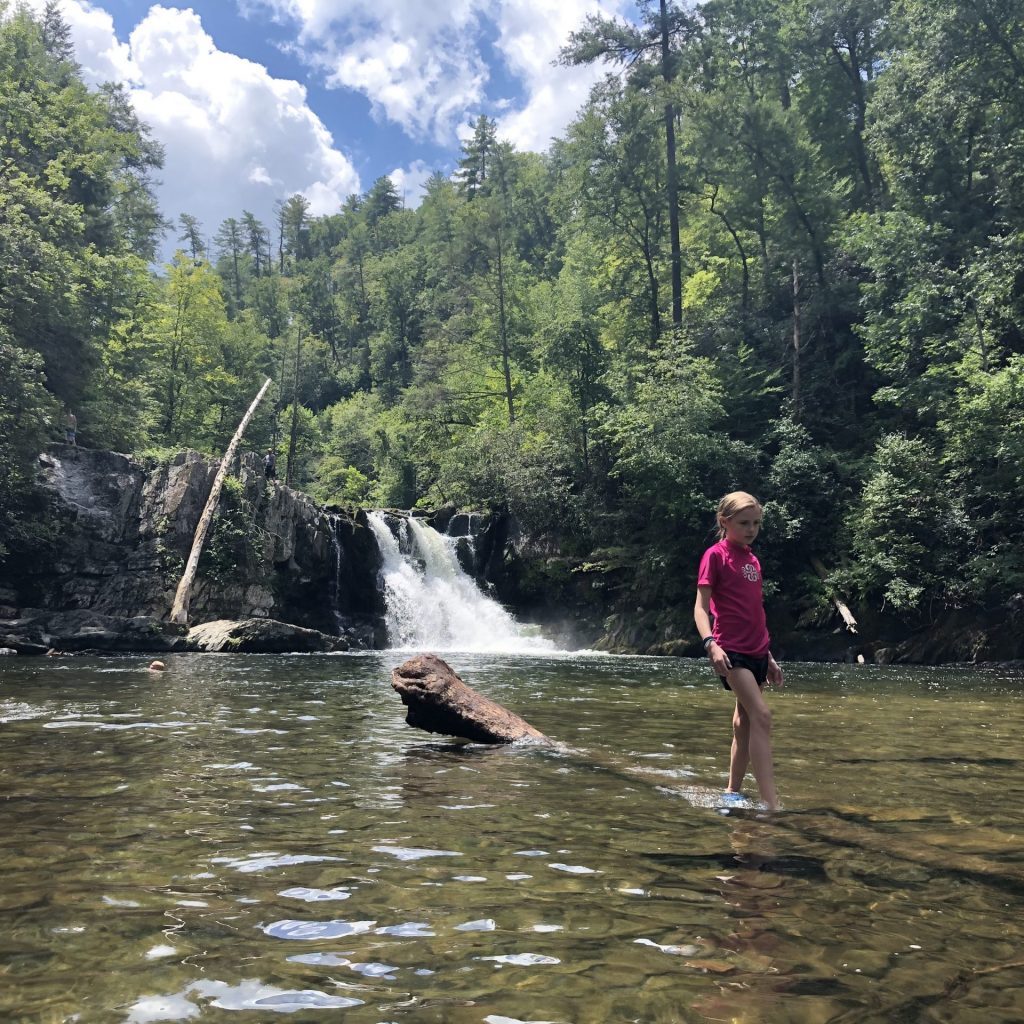 before we dried off to hike back out, the girls and i wandered over to the base of the falls, where a friendly family took some up close pics for us, and derek took some shots from afar.
and hazel took one last selfie.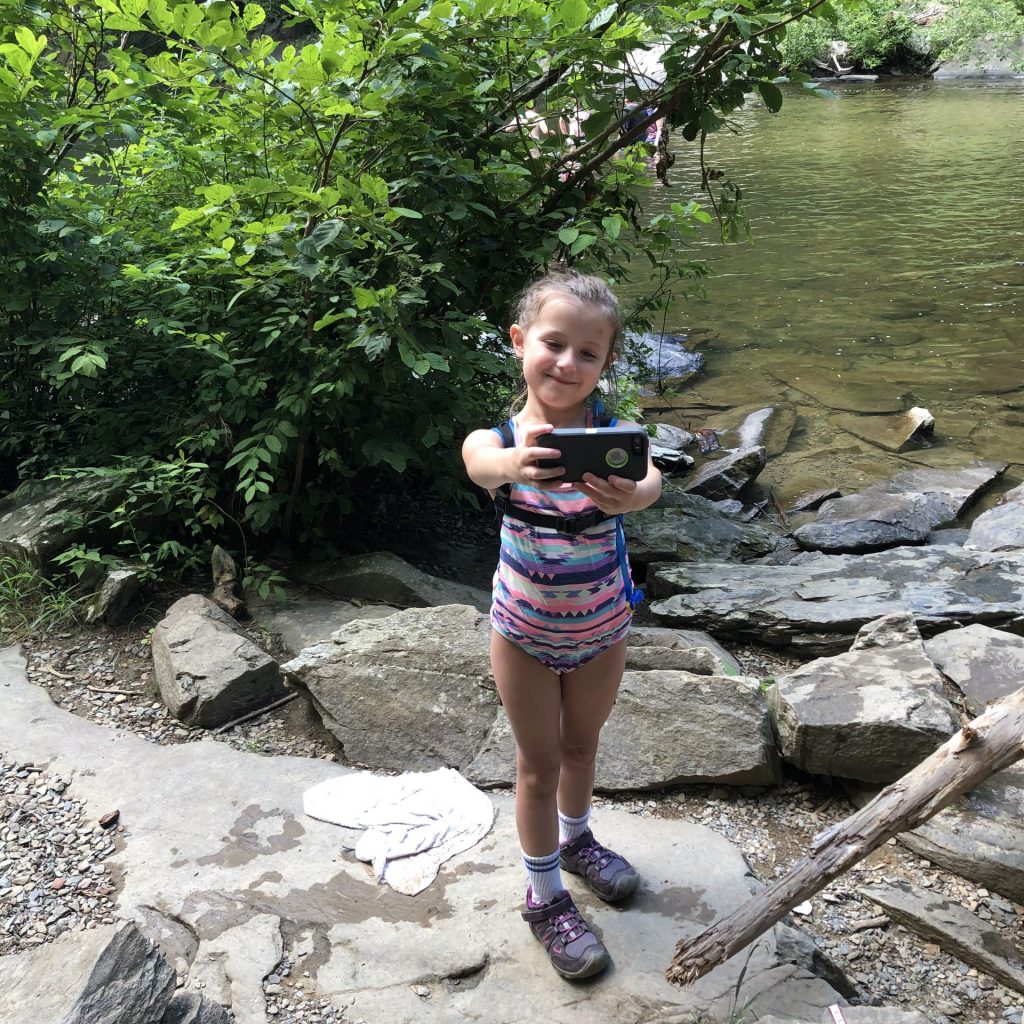 and then the long and hot hike out….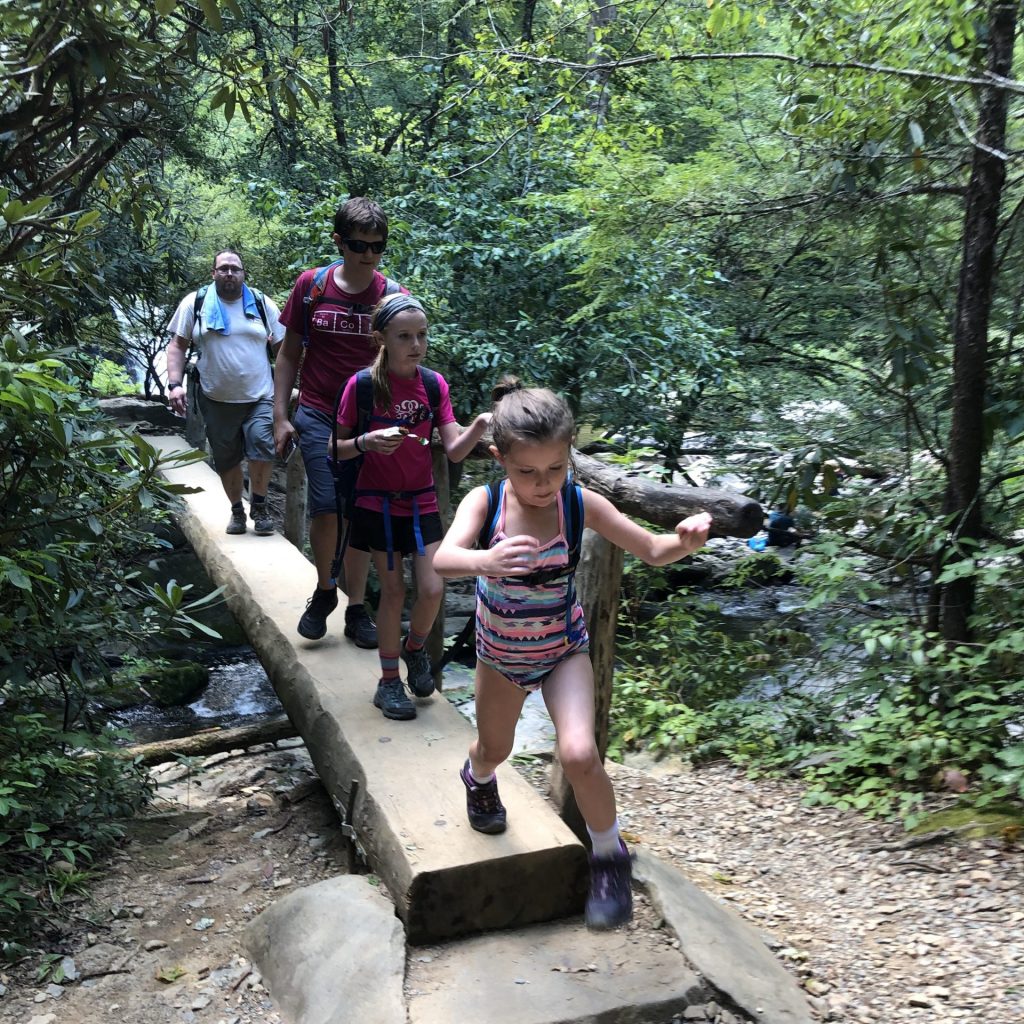 more bridge pics. i can't help myself.
on the hike in, i had attempted to get a photo of the fam on this spot where the trail climbs up and over some rocks. they were grumbly and refused. but on the way back i was more insistent (and it was a good place to rest), so here's the long awaited result.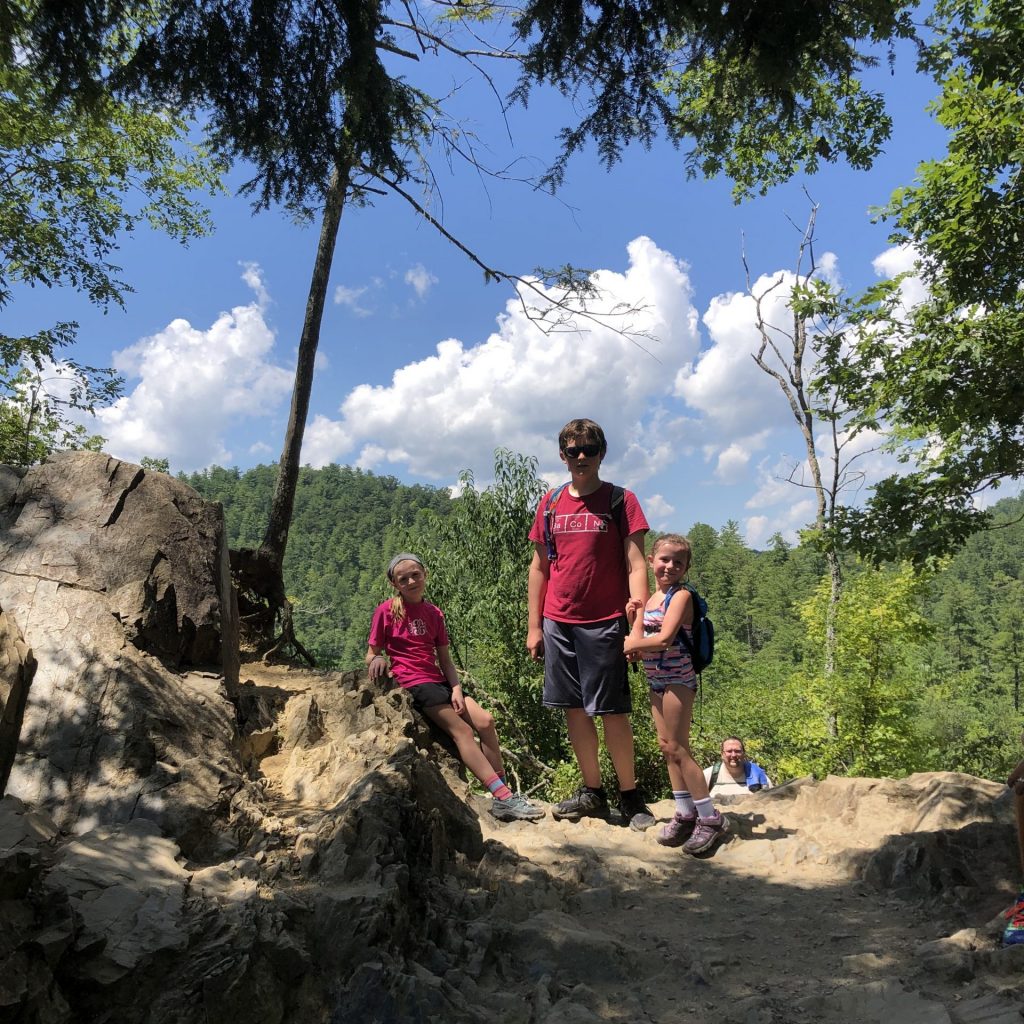 on our drive back to camp, we stopped at the cable mill area of cade's cove, but unfortunately, the mill was closed. and the visitor center had a long line of people waiting to go inside with limited capacity. so, we took a quick photo outside the mill, and went back to the car.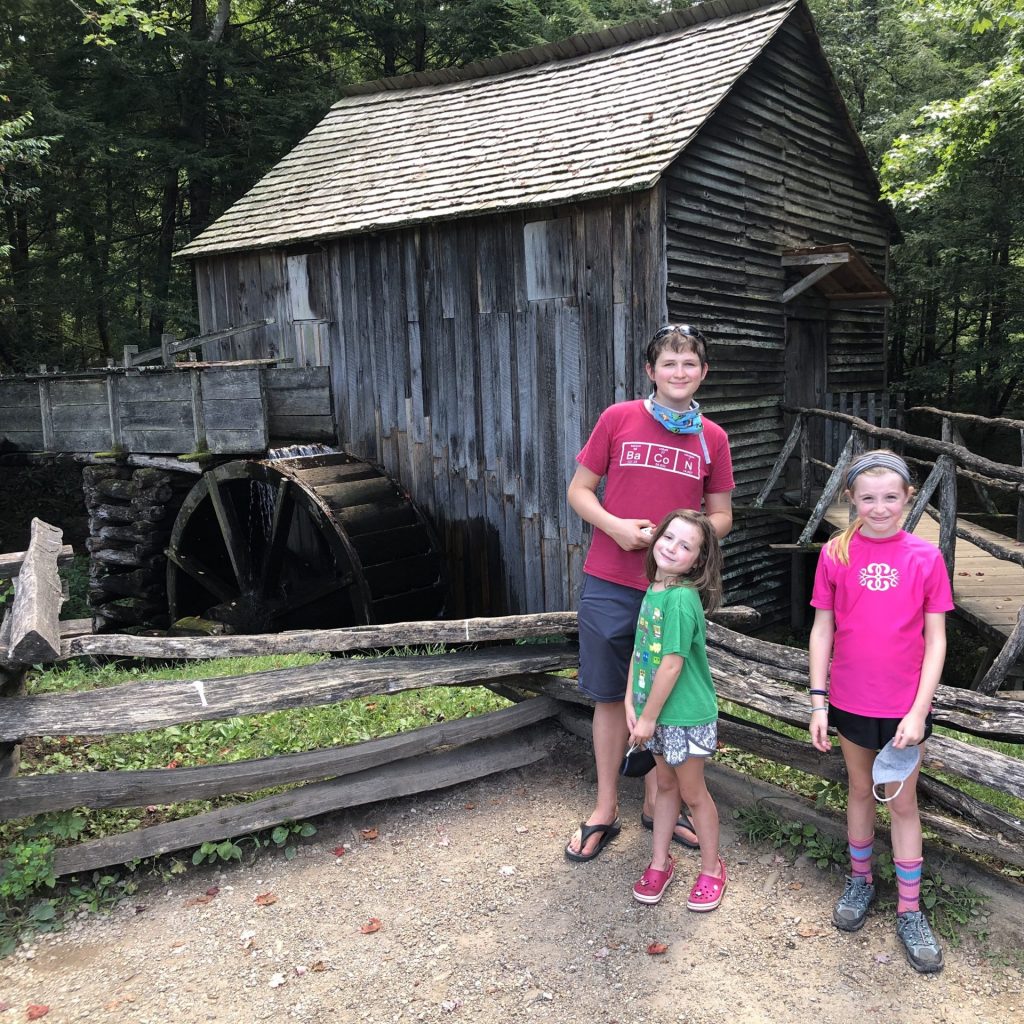 the cade's cove loop road is one way and it's quite long, especially in the middle of a slow steady procession of single file cars. but, there are a couple of two way roads that cut across the loop, so you can jump to different spots and bypass the scenery viewing masses. on the drive to our hike, there was a windy, gravel, one way road that takes you out of the park into a nearby town, so we decided to cut back over to that spot and head into town. and this is where things got awesome.
on the two way cut through road, we noticed a bear, just hanging out, wandering through the bushes eating. it wasn't all that far away, but we felt safe in the car, with a fence between us, and with it not seeming to care about us at all. we couldn't stop talking about how cool it was to see the bear on this little, seldom trafficked side road, where we could just pull over and watch it, without backing up traffic.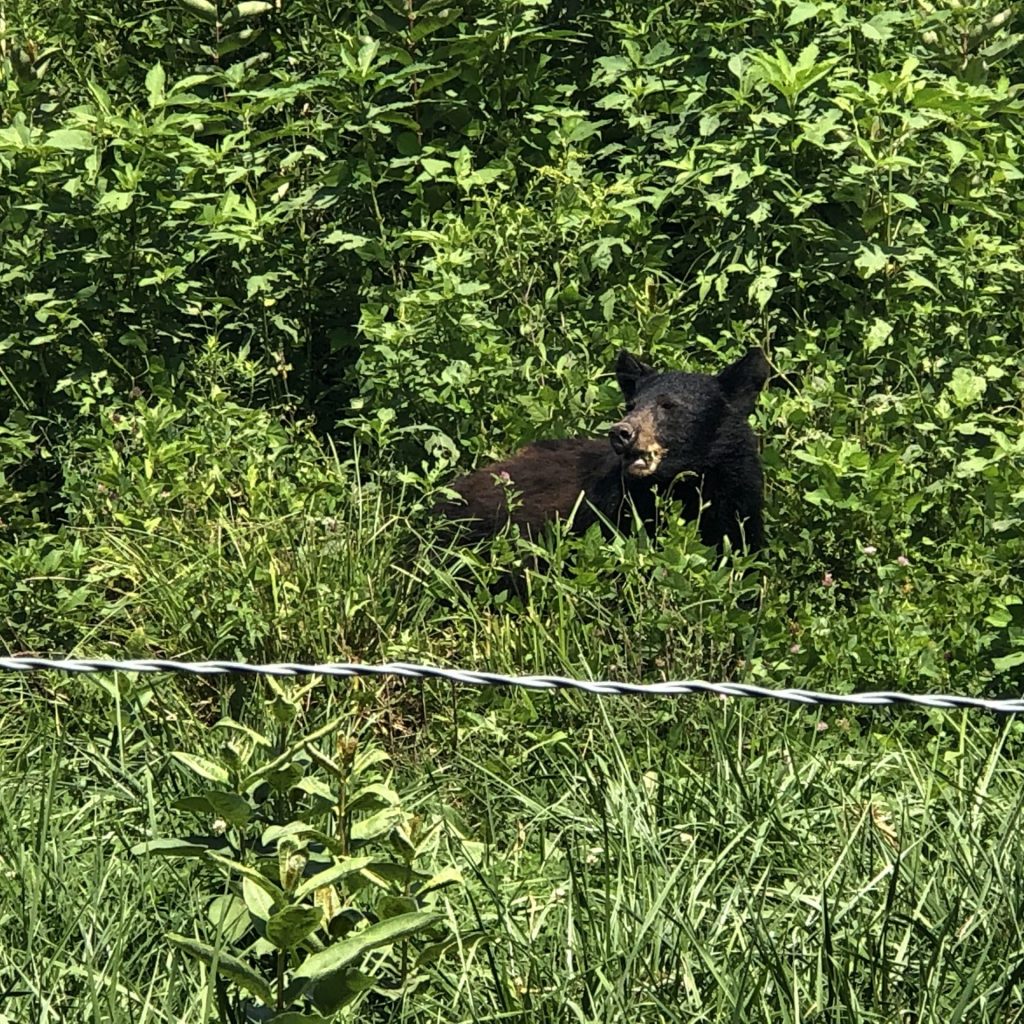 quite pleased with our fortune, we continued along, back to the loop and onto the one way road out of the park, where we came upon another bear! the road was steep and carved out of a mountain, and the bear was literally on the edge of the road, grazing in the grasses of the side of the mountain. we pulled far enough ahead to be a safe distance, and rolled down the windows to peek at it. suddenly, it stuck its nose in the air, likely picking up the sent of anna's sour cream and onion chips, and began to mosey on over to our car. we rolled up our windows quickly, but waited a few minutes to watch. it wandered next to isaac's window, traumatizing ike for life, but i managed to get this photo before it decided it wasn't going to be getting any feasts from us and wandered back into the grass.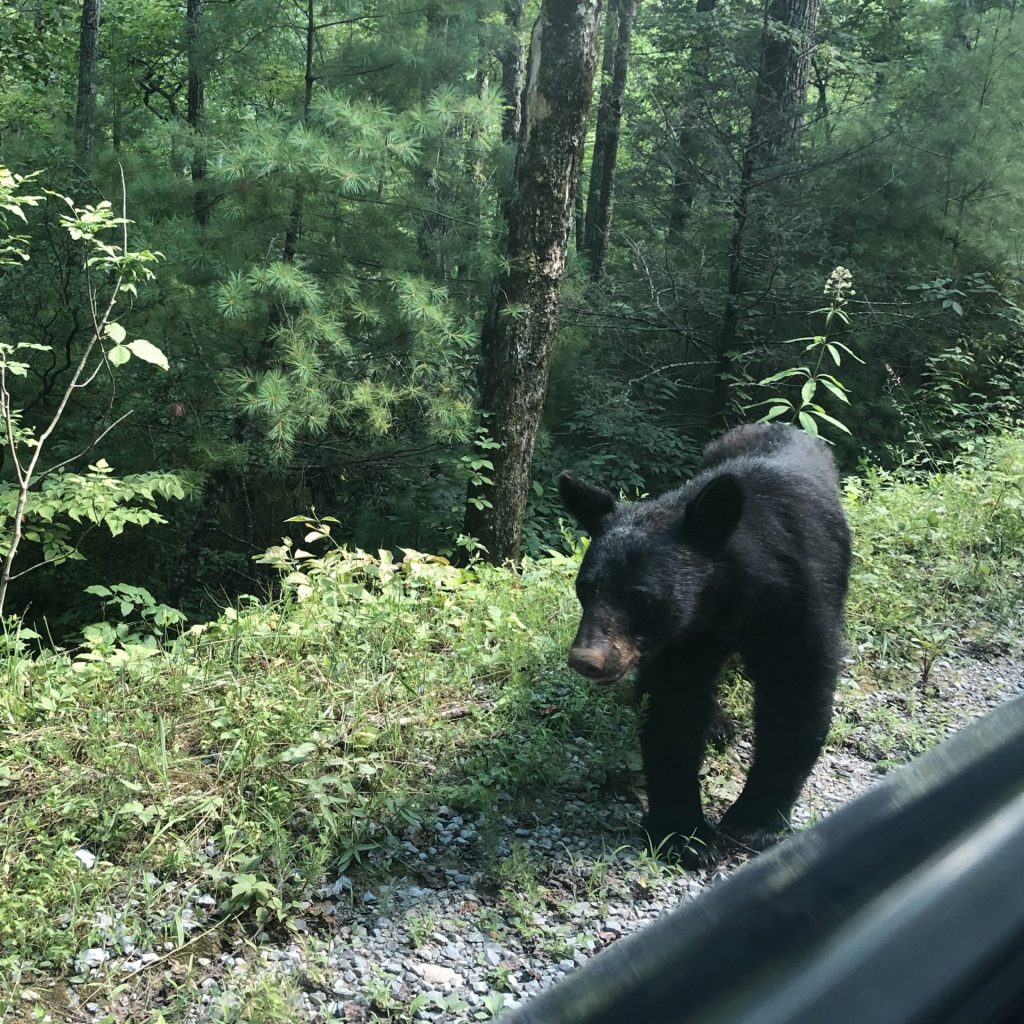 so. our day was pretty amazing. beautiful weather. a good workout on our hike. waterfalls and swimming holes. and two bears!