well. it appears i've gotten incredibly behind with my blogging again. the truth is, i'm not very motivated these days. but, we have some rv trips coming up, and i know we will have lots of adventures, and if i fall much further behind, i'm not sure i'll ever blog again. so without further ado, let me take you back to the beginning of august, when we last loaded up the camper, for a trip to the great smoky mountains.
we've sort of made it a ritual at this point to stop at juicy lucy's in asheville, for a lunch pit stop along the way. it also helps that there's a fantastic quilt shop just down the road, where i can alway find something i neeeed. at juicy lucy's, i went with the cowboy burger, which did not disappoint. isaac was happy to see they had a gluten free bun option, but then didn't actually receive said gluten free bun, which went unnoticed until he was halfway through it, resulting in a few days of hives. good times.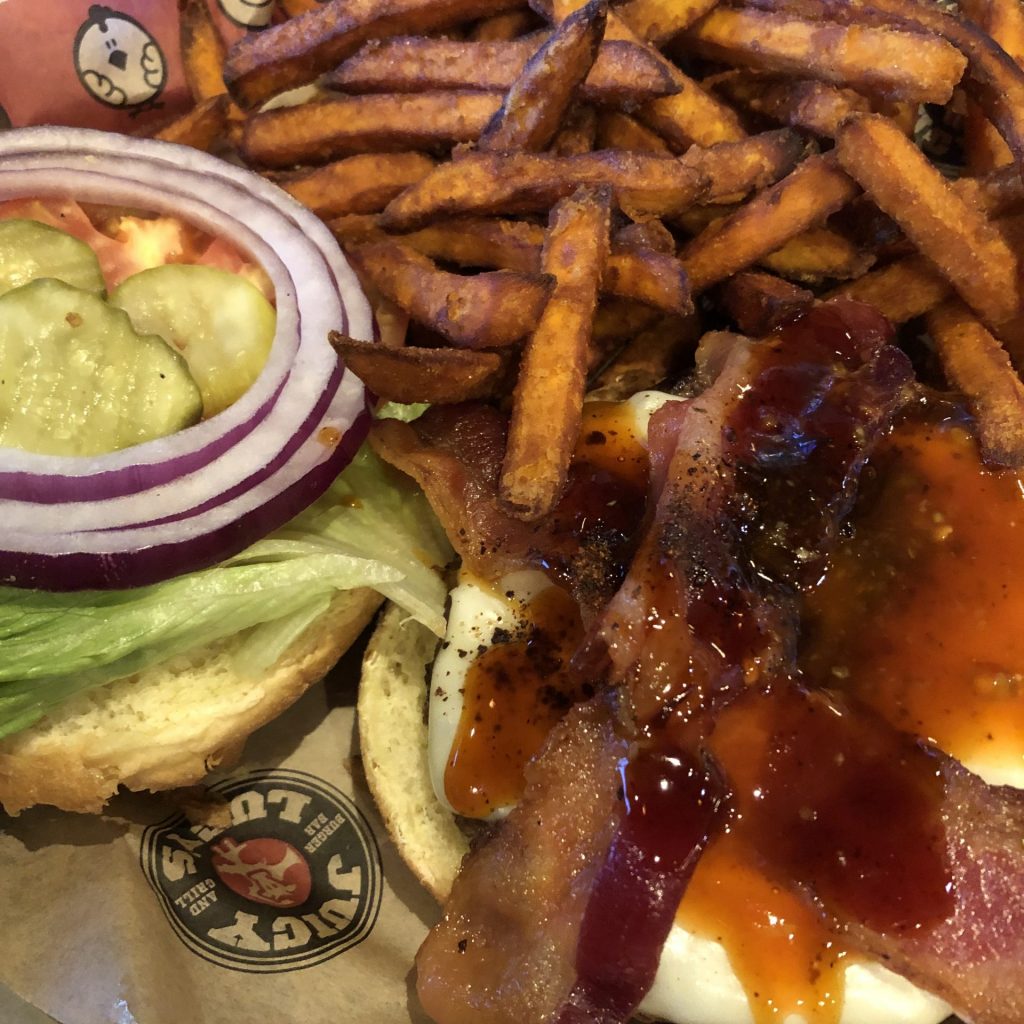 after our delicious lunch, some fabric purchasing, and a quick stop to walmart for a few more camp provisions (and road trip candy), we made the beautiful drive to the smokies. our camp reservations were split, with the first few nights in cade's cove on the tennessee side of the park, requiring that our incoming commute took us aaallllll the way up and over and through the park, so obviously we stopped often at overlooks for beautiful views.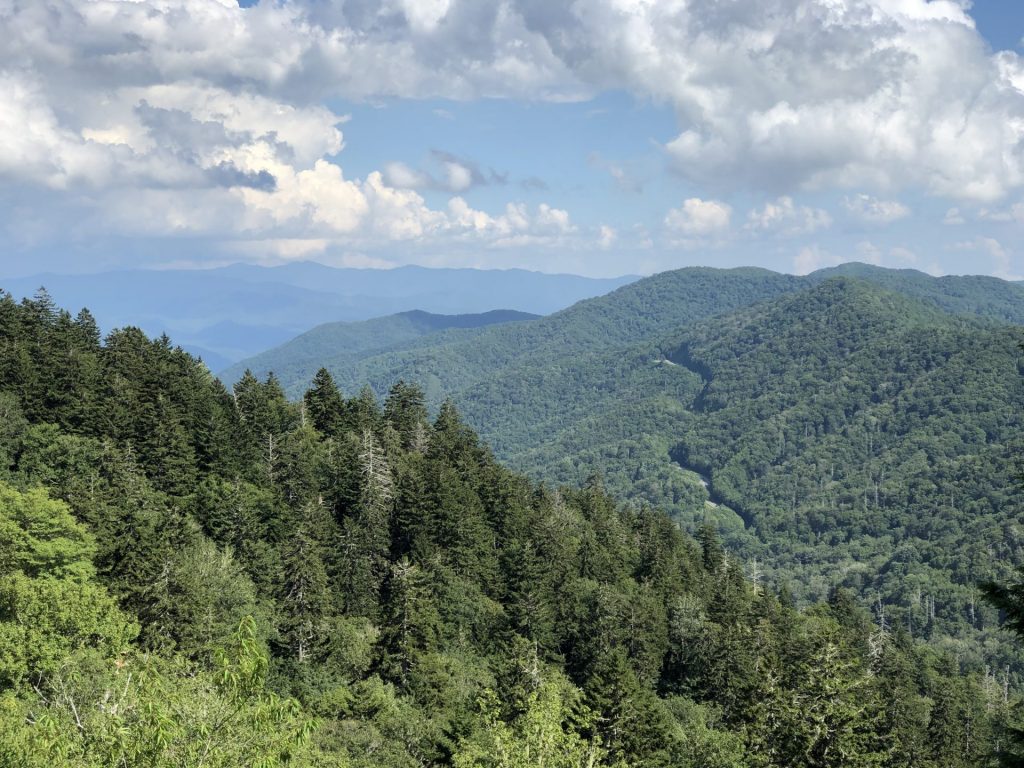 once we were settled in, we got busy with lounging around the campfire. for some reason, even though i knew we didn't have any hookups and showers would be few and far between, i let anna give me a very colorful temporary sharpie tattoo.
we picked up some expensive firewood from the visitor center, because no good camping trip is complete without s'mores. and then, there was an incident. during some rough housing, which admittedly i was a part of, isaac's roasting stick poked hazel in the eye. we were quite thankful it wasn't as nearly as bad as it could have been, but it still left a slight injury. the s'mores were delicious though, and hazel recovered nicely. 🙂
when we don't have hookups, we make morning coffee outside with the jet boil and aeropress. the battery power required to boil water is too much, and when we need coffee LONG before generator hours start, this is the best option. i don't mind, as long as it's not rainy and/or ice cold. even then i sort of don't mind because i'd rather be here than in the house.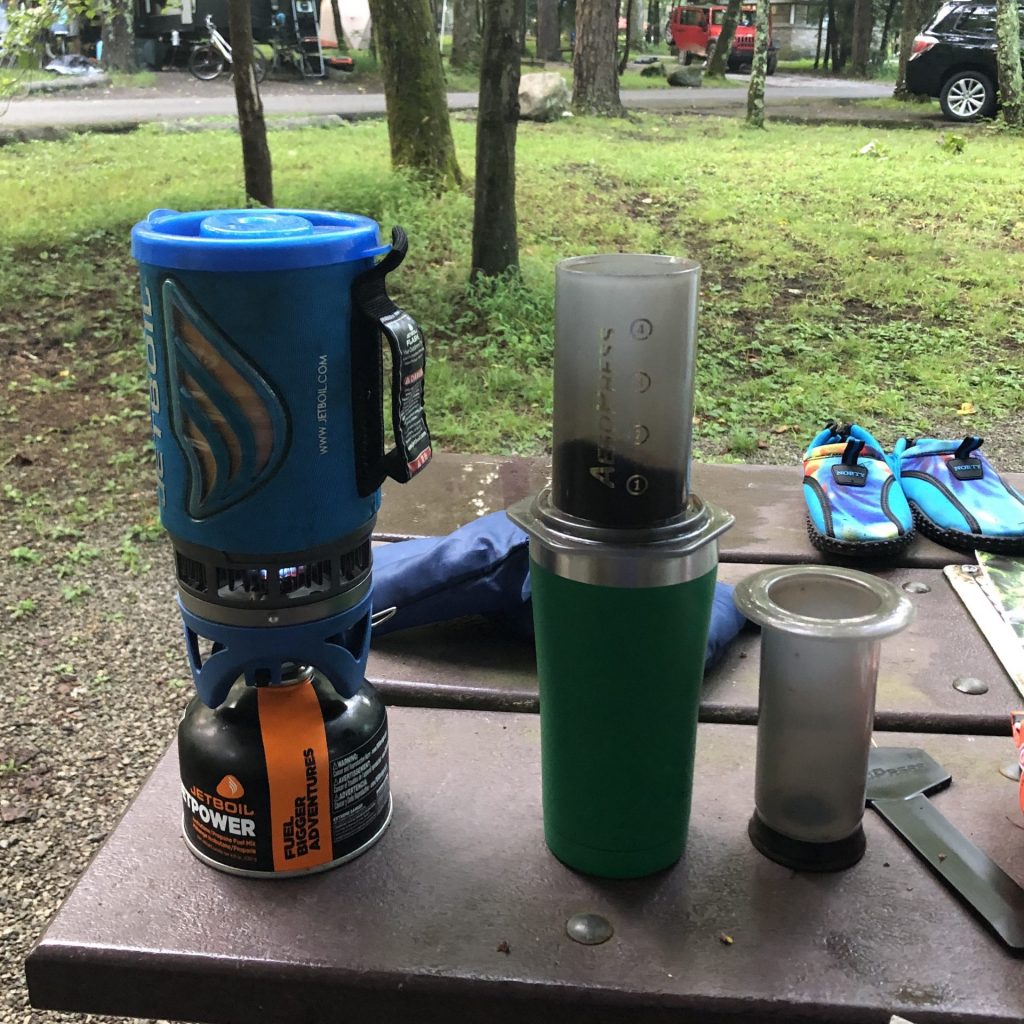 originally, we planned to lay low on sunday, our first full day, because even though we are in the middle of a pandemic, it's still a weekend at the most popular national park in the us. but, when it was super beautiful, we decided that we should definitely not waste the day, and hit up abrams falls (blogged here).
i'm glad we seized the day though, because the next day was miserable. we had hoped to go tubing, and packed up to head into a little town on the tennessee border of the park (townsend), but it just kept raining and raining and raining. and more importantly, lightninging. so, instead, we went out to lunch. and then decided it was a good time to find me a decent pair of hiking boots, since i keep losing toenails in my current boots (which came highly recommended). in the pic below, my right second toe has been lost and started to grow back, my left big toe was on it's way out, and has since detached, and the previous days hike would start my left second toe down the path of destruction. my new boots, a brand i had never heard of, seems to have solved all my problems. my toes are happy again.
edited to add: it was also derek's birthday on that super rainy miserable day. which we almost forgot until he told us. not that we forgot entirely. we had given him gifts before the trip. it was more a case of not actually realizing what day it was. (i blame being without internet, in the wilderness, during a pandemic).
on our last day on that side of the park, it was beautiful again, and we were able to make up our tubing day (blogged here). when we got back, we convinced the kids to drive the scenic cades cove loop at dusk, to see if would could spot any wildlife. we only saw a coyote, but didn't get any good shots, but there was some pretty sunset views, so all wasn't lost.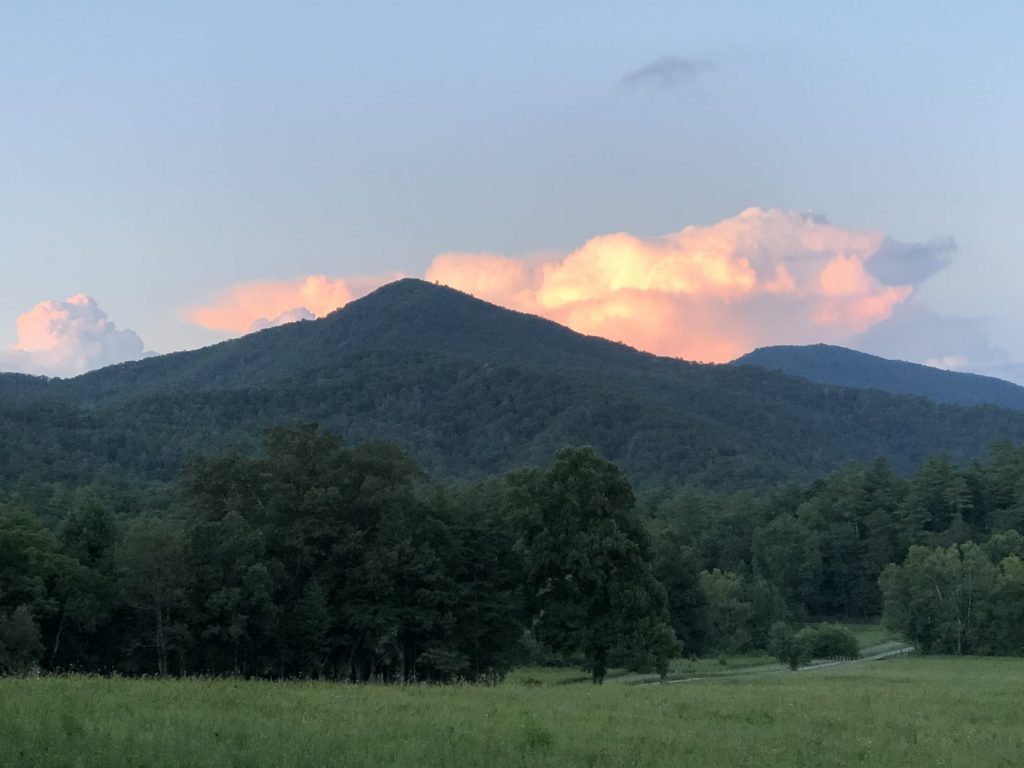 and then. it was time to change campgrounds. we packed things up. hit up the dump station, where we simultaneously raced through five showers. the kids and i took a small detour to do laundry, giving derek a bit of a head start on the narrow, windy, steep roads through the park. we also maybe used that time to catch up on our internetting.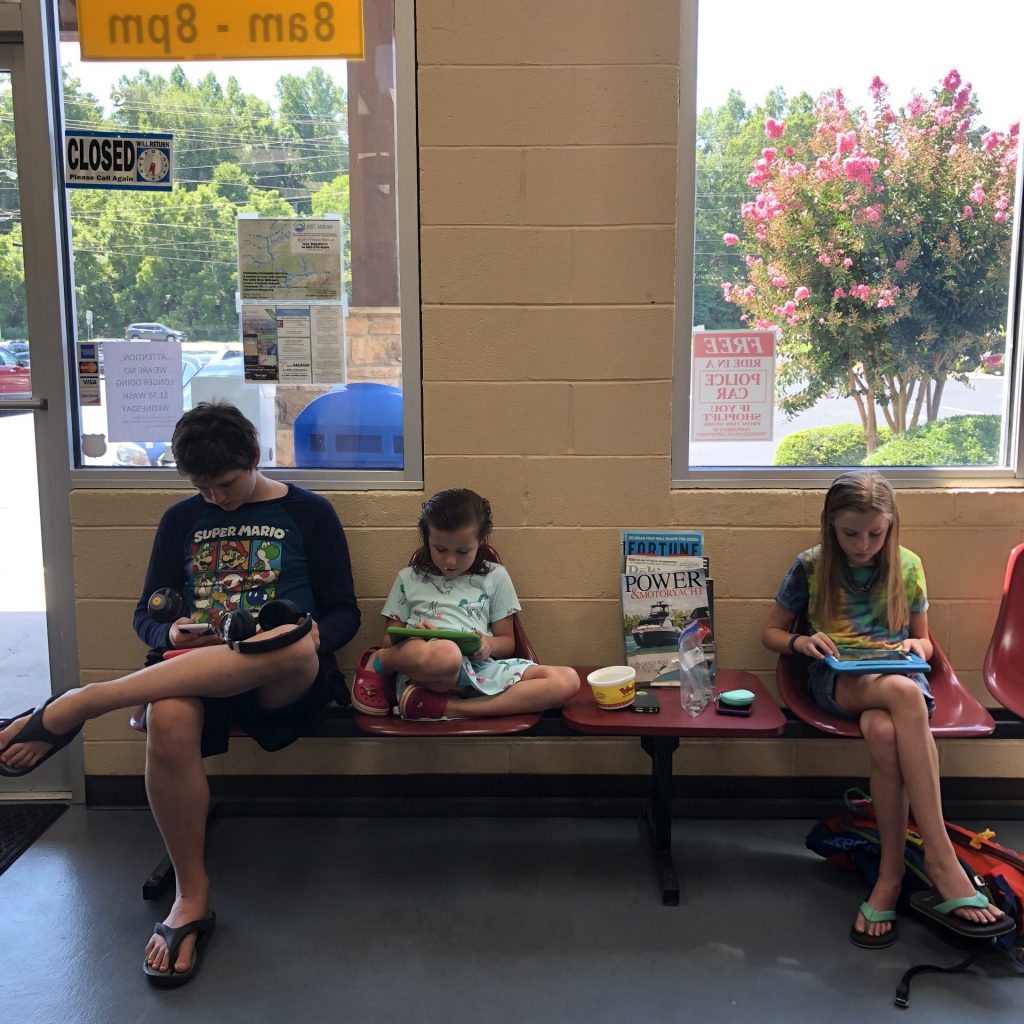 it was sort of a bummer, wasting such a pretty day on laundry and traveling, but there were always overlooks, where we could enjoy the views.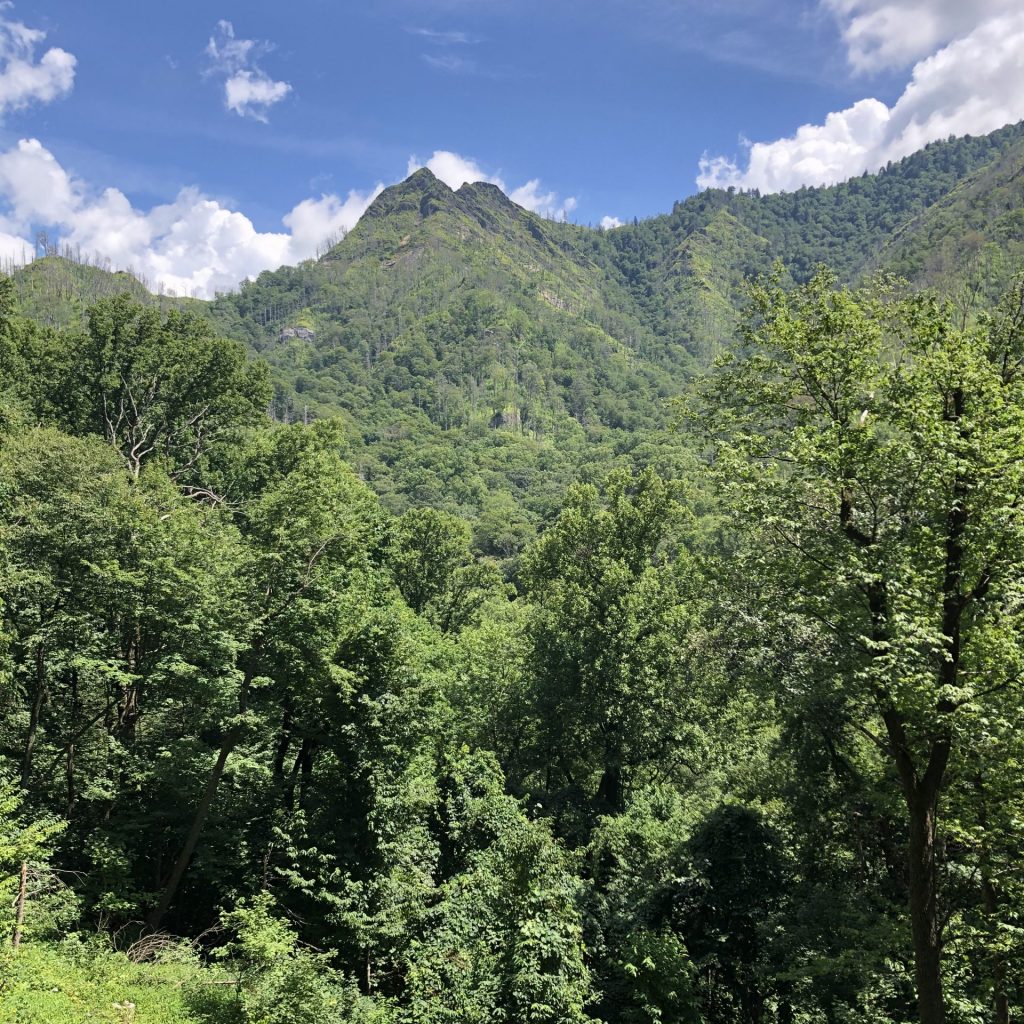 we made the executive decision to make a slight (ly more than we remembered) detour to clingman's dome, for a quick hike to the highest point along the appalachian trail, where an observation tower gives 360° views of the smokies. the trail, which is a paved walkway, is only about a half mile, but it's pretty steep. it also gets quite a bit chillier as you ascend, but in august, that's still warm. 🙂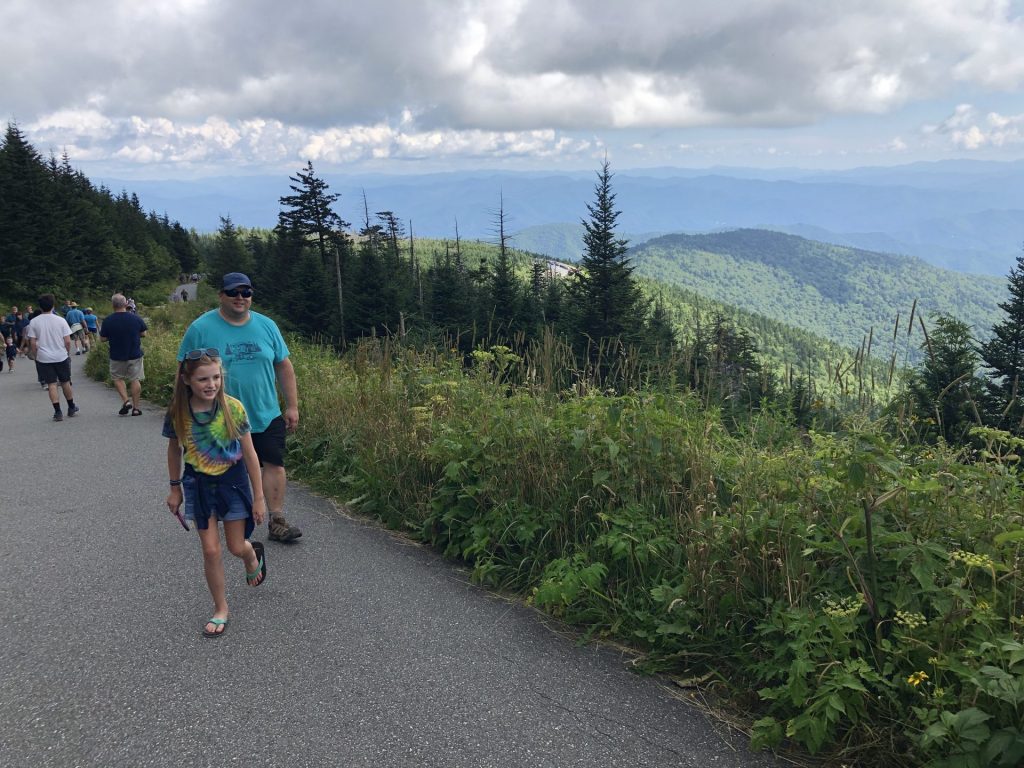 the observation tower is the final bit of climbing, rising above the trees.
it was a little more crowded than we had hoped on a usual day, but in pandemic times, we were feeling especially crowded. we took some pics and got out of there quickly. (isaac didn't even come up. he's not a fan of heights. we captured the memory for him from above).
the last time we were at clingman's dome, the views were obstructed by cloud cover, and as we returned this time, the same cloud cover seemed to roll in. our timing was perfect.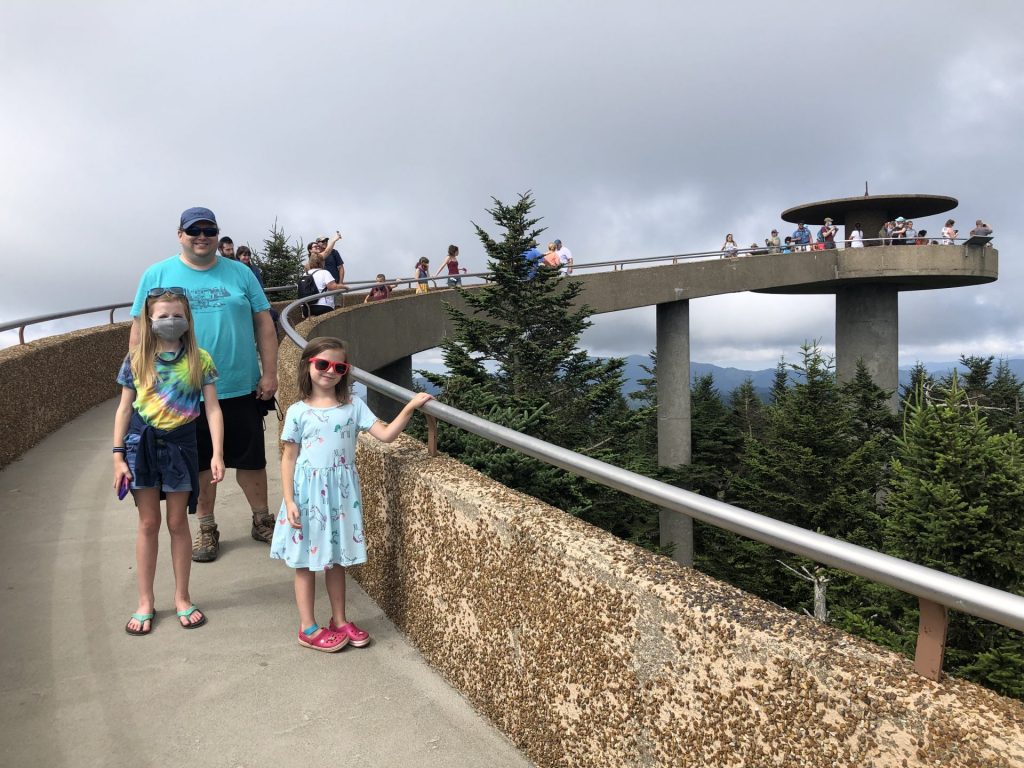 we continued on to the smokemont campground, set up shop, and prepared for what adventures awaited us on this side of the park. (fyi: the two campgrounds are about 1.5 hours from each other).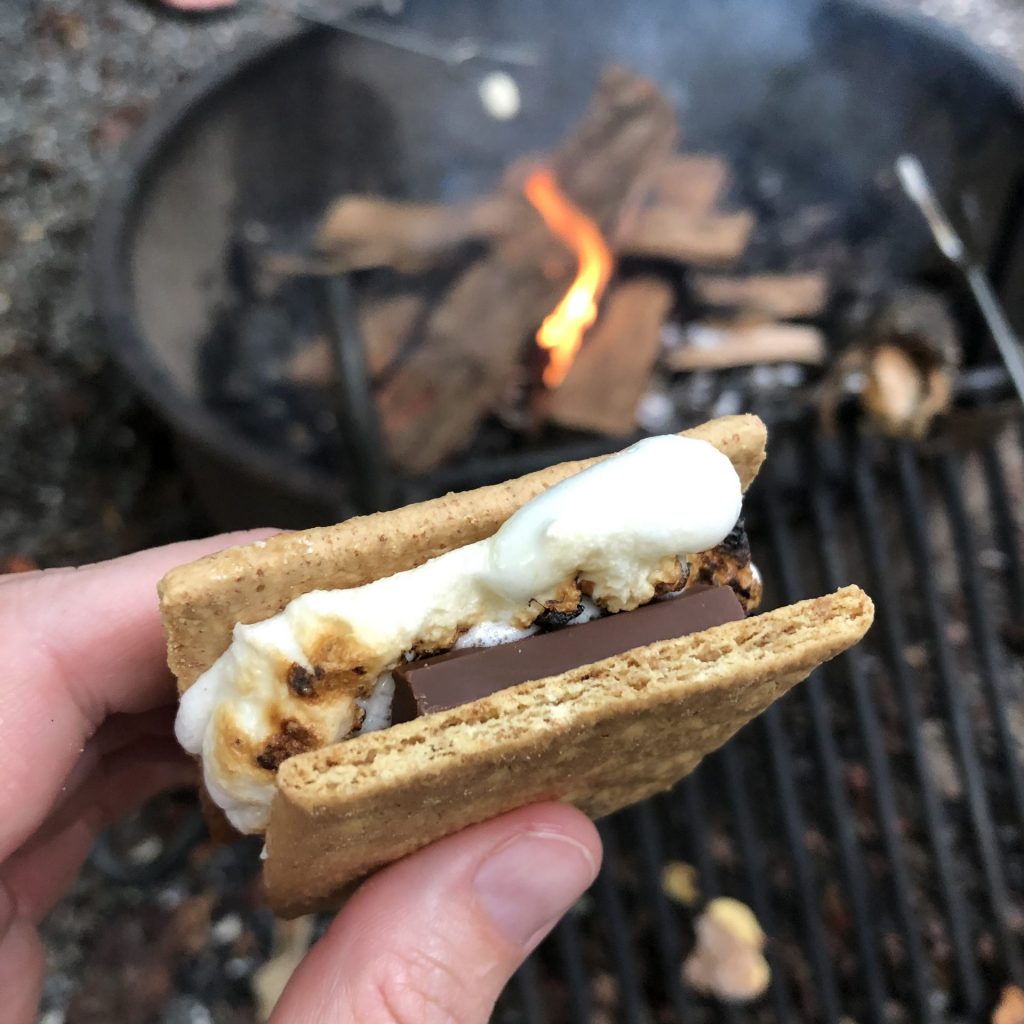 the next day, we squeezed in an early hike to the chimneys (blogged here), before escaping just as the rains began to fall. and by fall, i mean dump, drench, soak, flood. here's our front door view.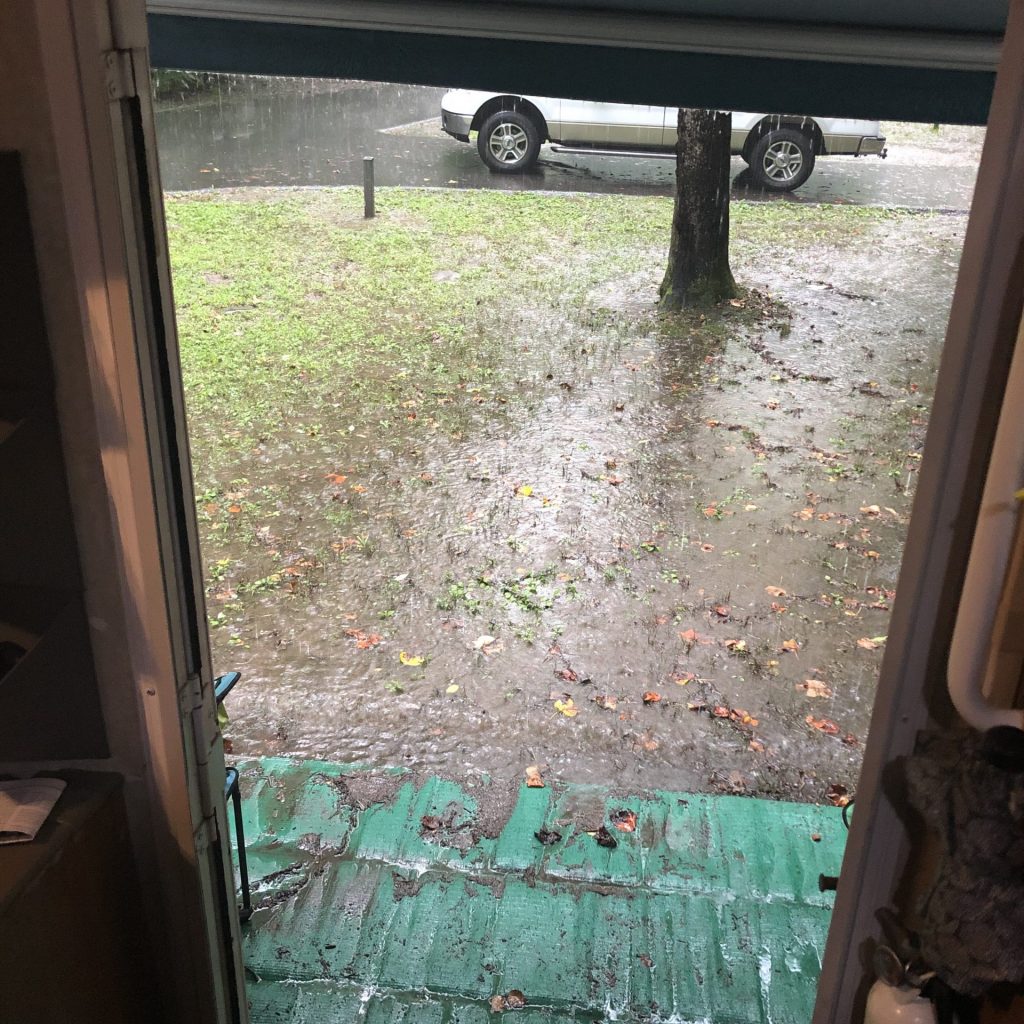 on our second day, we drove out of the park, and to bryson city, where we went on a short hike (blogged here) and had lunch and did a bit of shopping (t-shirts, stickers, etc… always important). on our way back into the park, a herd of elk was doing a big of roadside grazing, so we pulled over to watch them and try to get some pics. there was a massive buck off in the grass, hiding out, frustrating many a wildlife photographer with his ability to keep himself hidden.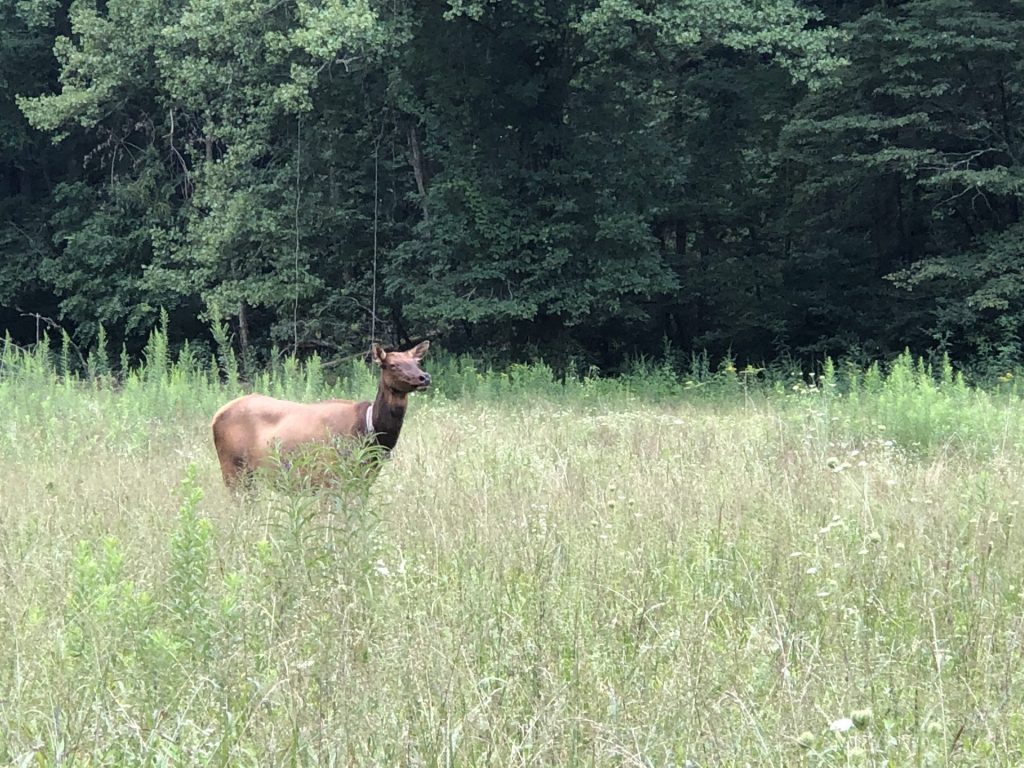 the next day was another rain filled forecast, so we opted to pack up and head home and settle in before another year of homeschool was set to begin the following week. and this years smokies trip was in the books.