over the summer, i had a bit of a lull in my quilting mojo. i'm not sure why. coronavirus fatigue? tired of looking at my same old fabrics? grumpy from losing my dedicated quilt room? some of all?
either way, i decided to look for a paper pieced project to jump start things. they give the biggest bang for the buck, but they are also a relatively small fabric investment. i found a fun unicorn pattern and got to work.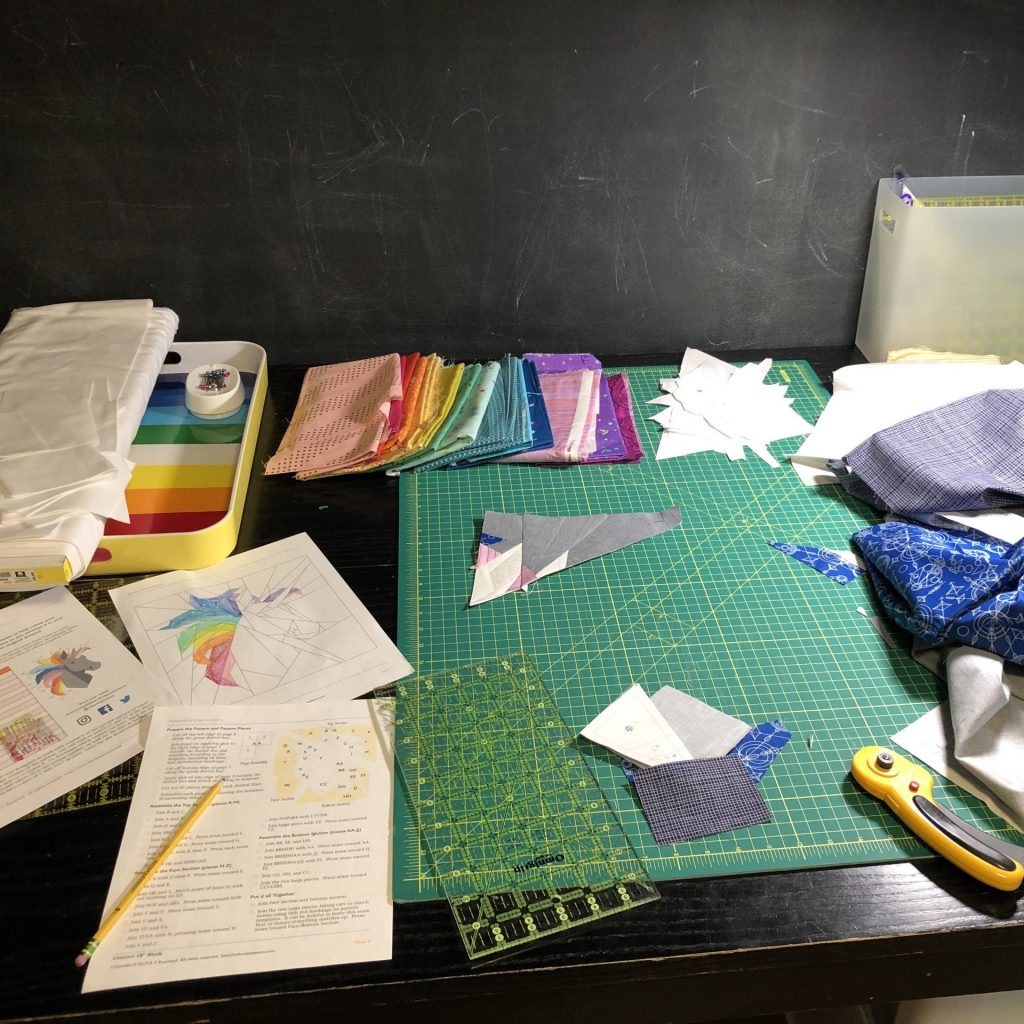 it came together pretty quickly. i was maybe mildly obsessed. there's no middle ground. i'm either not setting foot in my quilt room for weeks, or every hour of my day is consumed with quilting.
i used some leftover rainbow stripe fabric to make a small border, so when i turned this block into a pillow, the unicorn wouldn't be lost in the rounded shape. i quilted it with diagonal grid lines, and backed it in the most perfect hoarded unicorn fabric i scored in charleston. so far, it's stayed in our living room, but i'm pretty sure hazel has her eye on it. 🙂
with my sew mojo fully restored, i was inspired to finish up a few lingering unfinished works in progress. last year at some point, i made this granny's surprise quilt top. i had had my eye on this modern take of a kaleidoscope block for awhile. i drafted up my own paper pieced pattern. but when i finished the top, i wasn't sure how i wanted to back, bind, or quilt it. mostly because i wasn't sure what my plan for it was. well, i finally went ahead and knocked it out, backing it with some old zen chic comma gray fabric i've had lying around for awhile, quilted it with vertical lines, and bound it with one of the darker aqua fabrics i used in the top. so. now it's done. still with no home or purpose.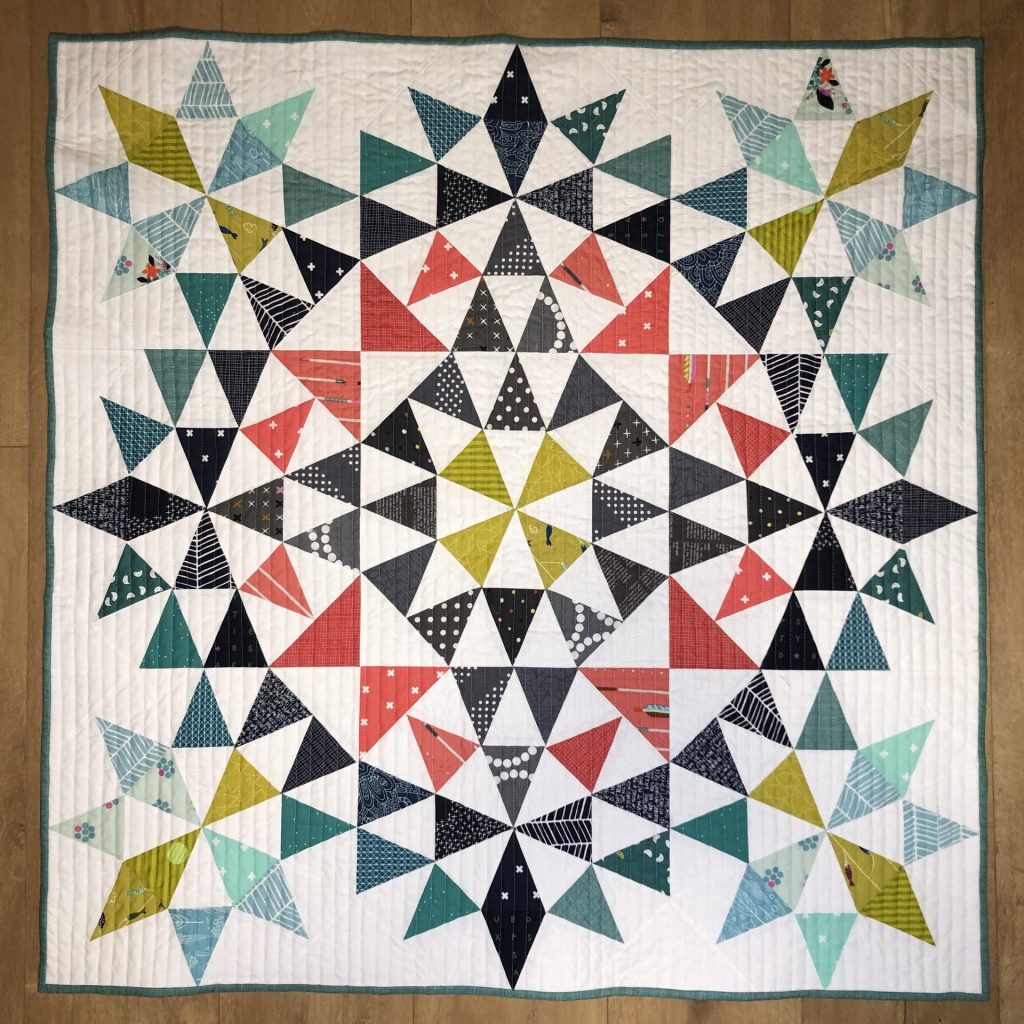 and then, since i was on a roll, i quilted up this reindeer block i've had lying around for awhile. the geometric paper piecing pattern would've probably been better suited for solids and not such busy fabrics, but when i made it over a year ago, i was just trying to brush up my paper piecing skills, using some old tiny scraps of this cotton + steel tinsel fabric. i stitched in the ditch around the reindeer and border, and then gave it the good old all over meander in the negative space. i'm not in love, but it will add to our christmas spirit when i pull it out (pretty soon, hee hee).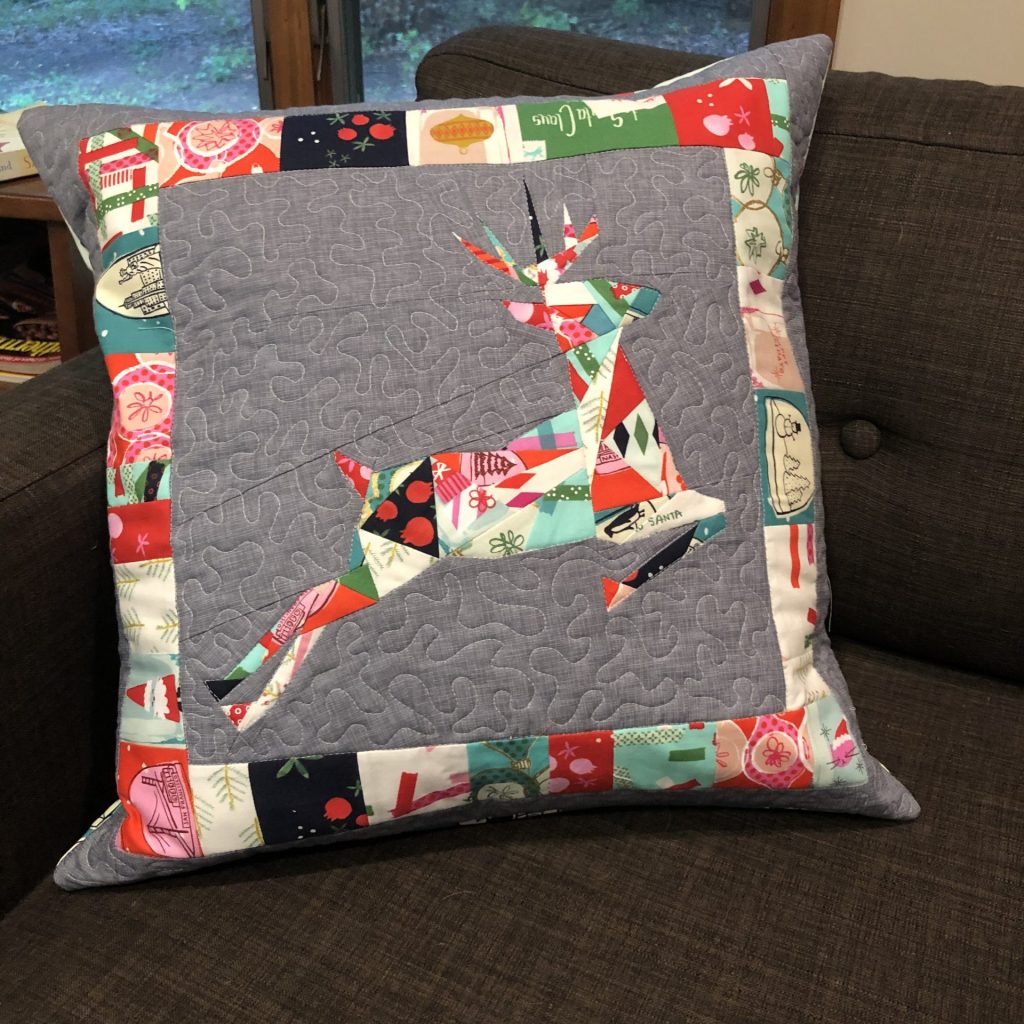 it was nice to get back into things and especially nice to get these unfinished items off my to-do list. sort of like completing this way old blog post. only like 12 more to go…