once we moved to the north carolina side of the park, to smokemont campground, we had a long deliberation about what hikes we wanted to do. we had to take into account the length, elevation, danger, our kids level of motivation, weather. all the things.
eventually we decided on the chimneys hike. it's not super long (about 4.5 miles out and back), but it was pretty strenuous (1350ish feet elevation change). but, the last maybe 1/4 mile of the hike is currently closed, saving us about 200 of those feet of elevation gain, and also avoiding the most dangerous parts. we were a little nervous that this would mean we were missing out on what makes the chimney tops amazing, but we were willing to take the chance.
we got an early start, because the forecast called for afternoon rains. and hit the trails.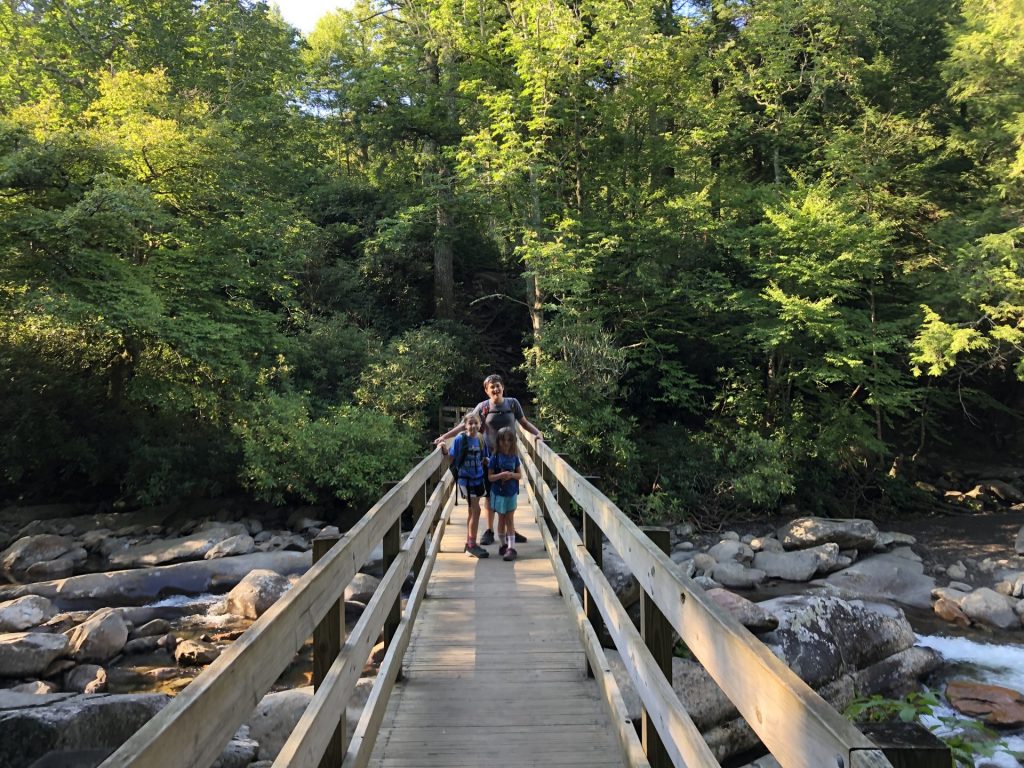 the trail was full of scenic waterfalls and bridges crossing said scenic waterfalls. we stopped for many a photoshoot.
the first half mile or so was a gentle climb and we were in good spirits. and then, there were stairs. so many stairs. and the climb was steep. and lots of breaks were necessary. and bribes.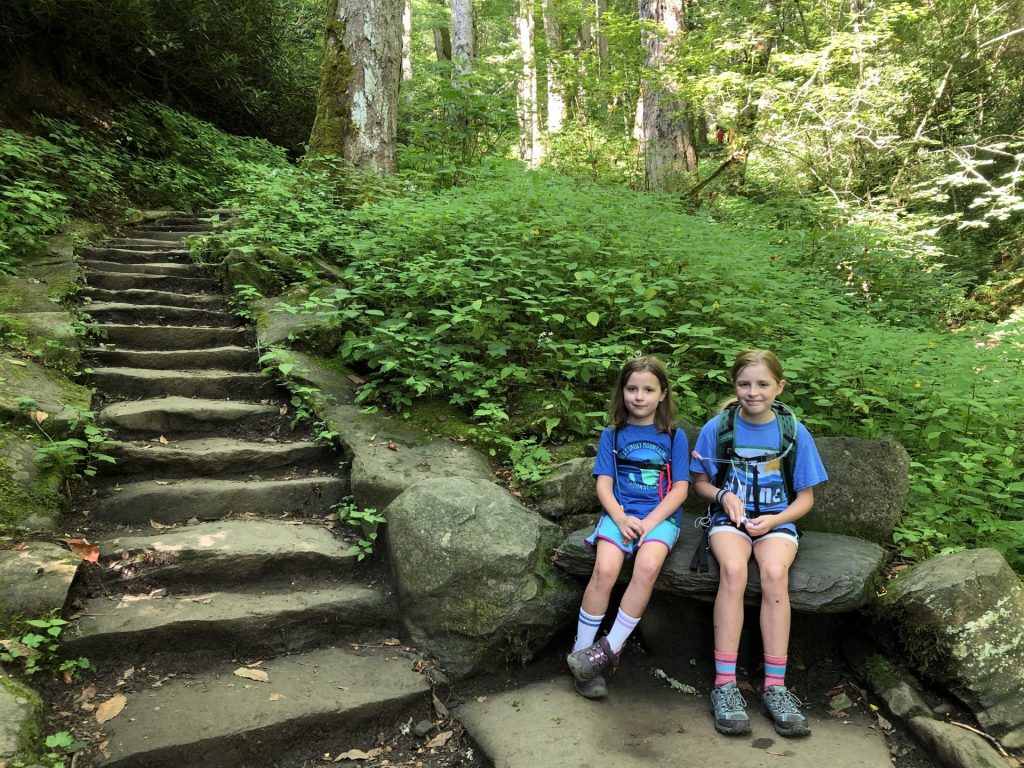 finally, we reached the top. well. the overlook to the top. we took a few pics and then pressed on, not sure exactly where the trail closure was.
well. it wasn't far. and the gate blocking the trail couldn't have been more clear and obvious. still, we could see people out on the rocks, and passed many people talking about having gone around the gate to complete the hike. it frustrates me. but, that's the america we live in now, i guess. anyways, we hung around the overlook area for awhile, eating swedish fish (the bribe) and taking in the views. and then we began our descent.
so many stairs. down down down. brutal on my knees, but my toes and i were so thankful for my new hiking boots. 🙂
we stopped often to admire and photograph (and document and record with an app) the pretty wildlife. flowers. butterflies. snails…
and of course, mushrooms!!! and then even some blackberries, which we were sure to taste test.
i also couldn't resist more bridge photos on the way down. it's much easier to get everyone to stop and smile when we are descending.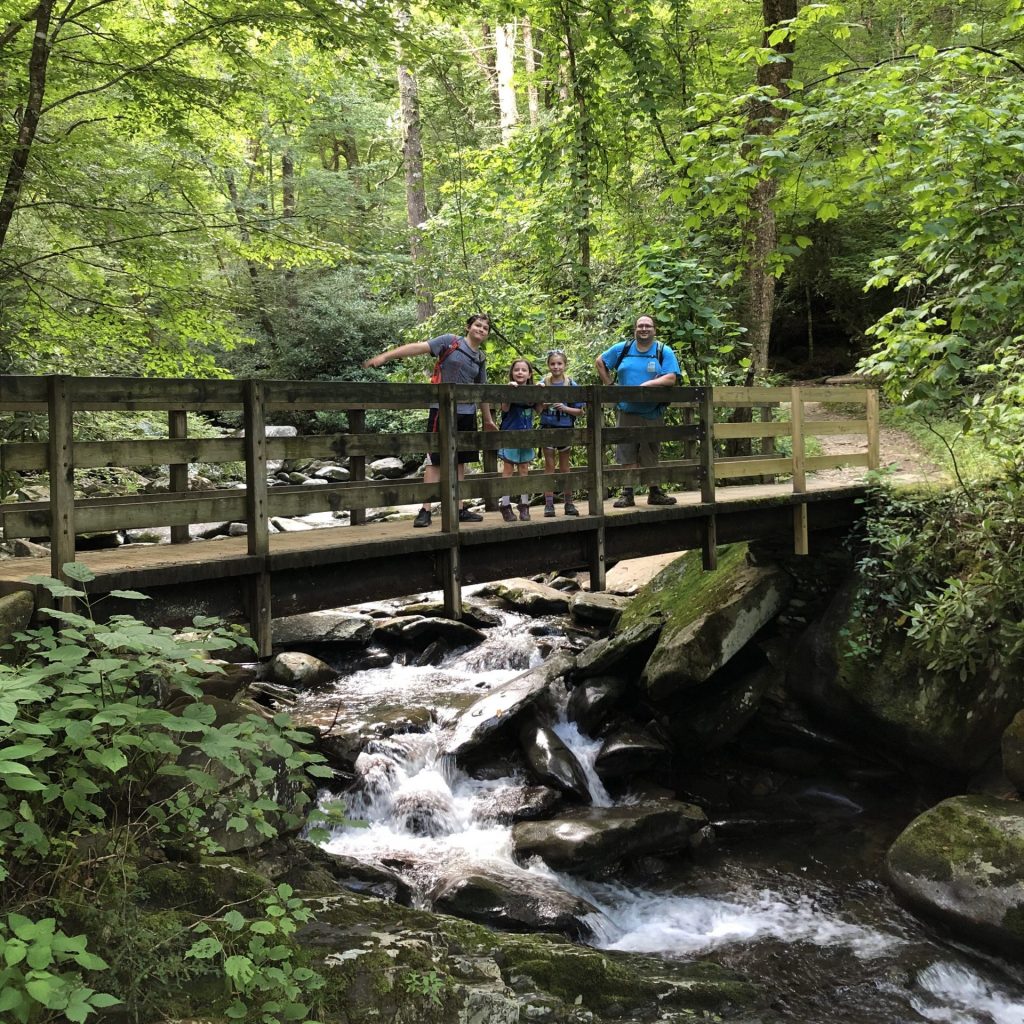 we stopped in several places to do a big of rock hopping and salamander searching. there were a few wet feet by the end (myself included).
but our efforts paid off. we spotted a TON of salamanders. catching those slippery little suckers was a whole other story. but we managed a few and the girls both got to hold one. isaac is not much of a slimy creature enthusiast.
eventually, we arrived back at the first bridge, where we hopped around for a bit, taking in the views, and realized that the rain was rolling in quickly.
we made it out and loaded into the car just as the skies opened up. on our drive back to camp though (which was about 45 minutes), we raced ahead of the rains, and captured some very smoky mountain-esque photos at an overlook.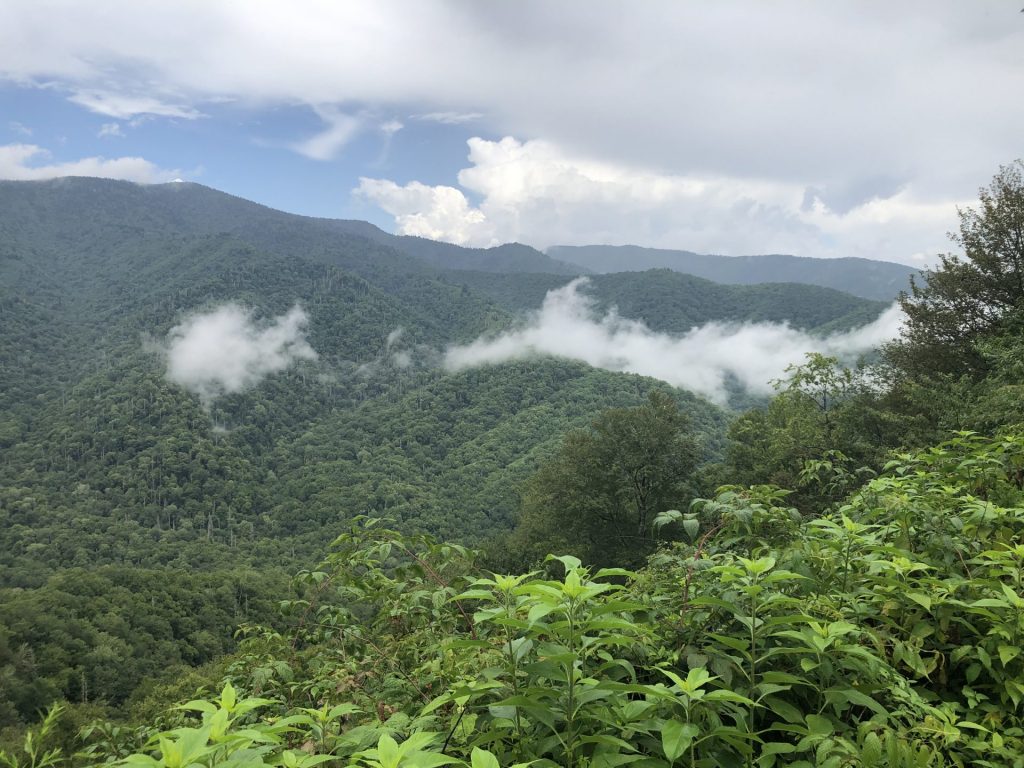 i would love to do this hike again, when the trail is open to the end. also, maybe after my double knee replacement surgery. ouch.