while we were in the outer banks, we knew we wanted to add to our lighthouse collection. there are five outerbanks lighthouses, but one of them is only reachable by a ferry and not really from where we were staying and covid and all the things. so, we would only be adding four of the five.
first up, the currituck lighthouse. it is privately owned and it's the only one we were able to climb to the top of, thanks to covid. so, that is exactly what we did. well, all of us except isaac, who prefers to view lighthouses from the ground.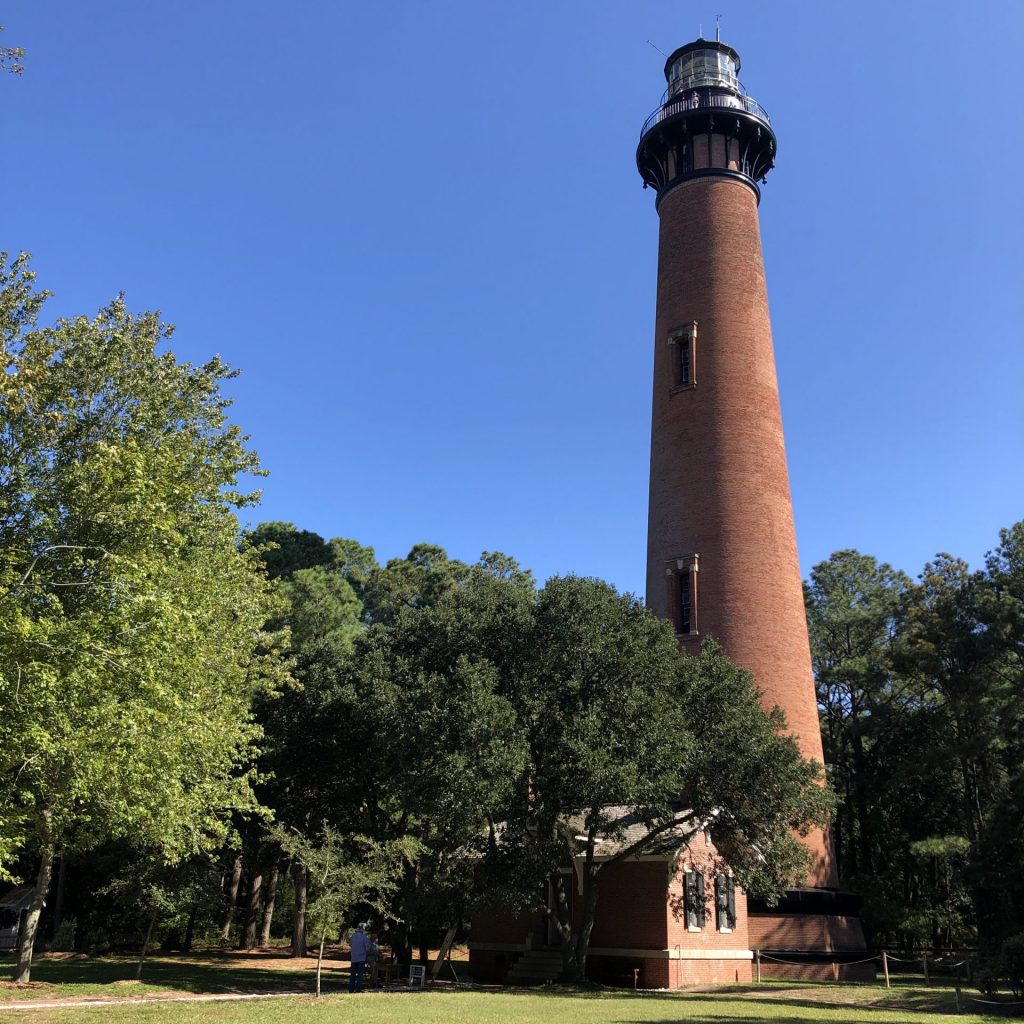 up up up. stopping for obligatory spiral staircase foot views from above.
the view from the top was alright. i mean, we have seen some cool lighthouses and views. the ones surrounded by lots of resorts and touristy things aren't as beautiful. but, still. better than winston-salem, so there's that.
we took a lap around the top, snapped our standard selfie, and then began our journey back down.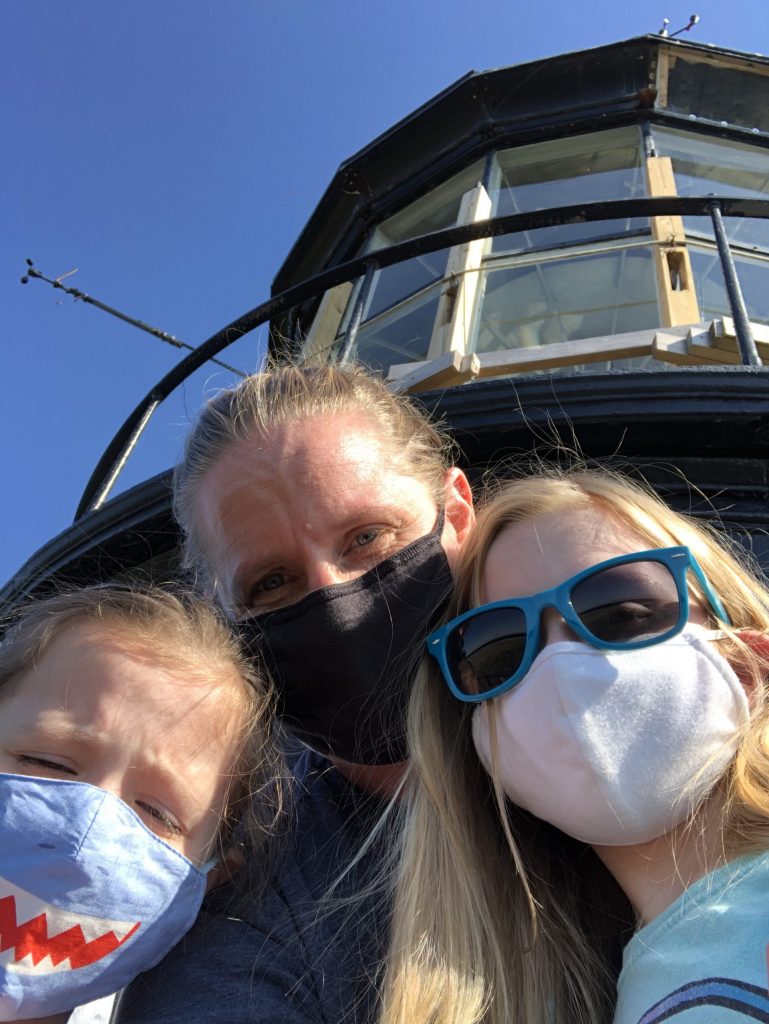 we wandered around a bit, snapping more photos from different angles, waiting our turn to go in the gift shop, playing made up games involving balancing on a brick landscape border, and petting friendly dogs. (our friendly dog did not make the trip).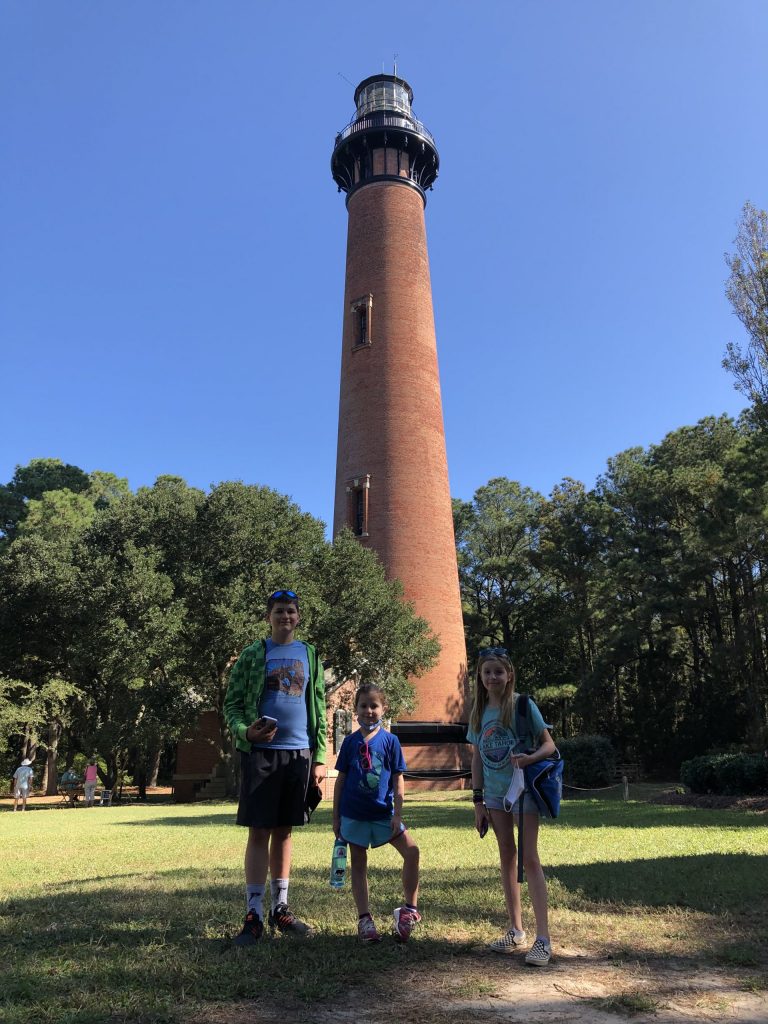 and then we were off to the wright brothers national monument, which i will cram into another post.
our second lighthouse stop was the bodie island lighthouse. this one was actually right near our campground, so it was a pretty quick trip, made even quicker because all we could do was look at it. we did wander along the boardwalk out to a marshy area, where a tiny obnoxious dog bit ruby in the face and it's owner laughed and said "she's not like that with humans, only other dogs" and ruby was traumatized and i hate little dogs.
we chatted a bit with a park ranger and learned that the lighthouse is pronounced like body and not like boh-dee and definitely not booty, which was hazel's preferred pronunciation. he took a pic for us, which was lovely, we hit up the gift shop, and were on our way. two down. two to go.
the ocracoke lighthouse was number three. we had to take a ferry to get to ocracoke, and i have a post planned for that whole day of adventure, but i'll just stash the lighthouse visit portion of our day here. the ocracoke lighthouse is a little meh compared to the others. short, fat, all white. the parking lot has like four spaces and the boardwalk is maybe max 100 yards, and you're sort of walking along next to a hotel. it was weird. we got our pics and hit the road.
finally. the last one. the hatteras lighthouse. it holds the distinction of being the tallest lighthouse in america and the second tallest in the world. in 1999, it had to be relocated, due to a shifting coastline. we weren't able to go inside, but it was still pretty cool.
we took our time wandering around, getting all the views. and selfies. i won't tell you how many pictures i had to dig through to select these few to post. there's something about the stark black and white stripes against the blue sky.
the hatteras lighthouse visit was sort of near the end of our outer banks stay, so the kids had successfully churned through their "cape hatteras national seashore" junior ranger books and were able to get sworn in and collect another badge for their collection.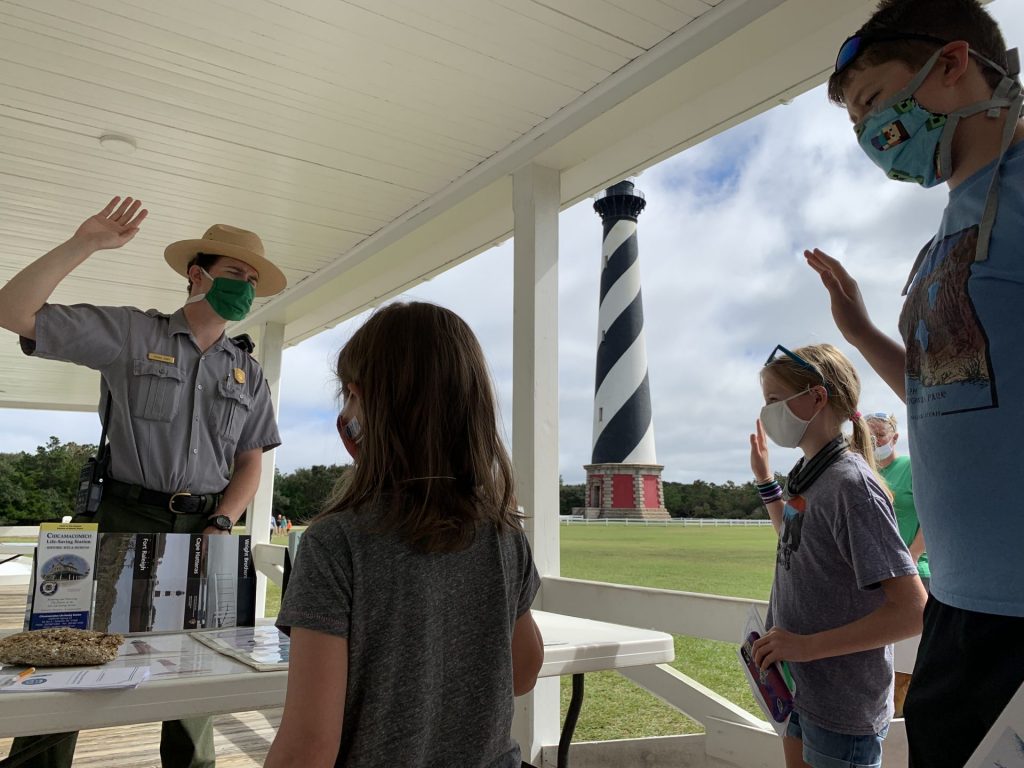 hoping someday we can add that fifth lighthouse to our collection, but for now, we are pleased with these four.