well. here i go. attempting to catch up on the backlog of some fifty or so blog posts, dating back to the end of may. i had high hopes of keeping up with it while we went on our epic summer road trip, but that turned out to be sort of laughable due to the breakneck pace of our travels.
anyhow. we kicked off our 11 week post pandemic (ha!) summer road trip with a stop in western new york to visit friends and family we haven't seen in almost a year.
and as always, our first order of business is food. specifically. pizza and wings. more specifically, a giant 24″ diameter pizza.
the girls were happy to be reunited with horseshoe lake. kayaking, meditating, and fishing. gilly and new gramma were glad to join us. hazel would like you to know that she "thinks this is the first fish she has caught at batavia new york".
ruby and gilly were so happy to see each other. they are great pals. jake came over often to hang with us and bond over a shared love of carbohydrates with anna. and it was lovely to see my aunt eleanor after such a long time.
we took a road trip out to buffalo to see eliot (and my sister, i suppose). the cousins did a bit of gaming (eliot not shown), while my mom and i hit up some buffalo thrift shops and i found my favorite hoodie of all time. we drove through the allentown neighborhood in buffalo, so i obviously had to snap a photo of the josh allentown sign.
we brought eliot back with us to spend a few nights at new gramma's. there was a lot of gaming. and junkie food. and trips for ice cream. i have such fond memories of trips to dave's with my gramma, so maybe in our trips to batavia, i can cram fond memories into my kids brains.
eliot stayed through memorial day, and a bunch of other fam came over for a cookout and shenanigans. we played a ridiculous amount of spike ball, which i have no photographic evidence of, despite large proportion of time it consumed that weekend. i did capture evidence of other events. eliot and isaac went in the ice cold lake. (so did ruby, much to my dismay). my mom busted out the croquet set and hazel is ready to turn pro. and of course all the older cousins were happy to play with holden and all of his tiny person toys.
anna opened up a tattoo shop, and frankie ordered up a bills logo. i think she nailed it.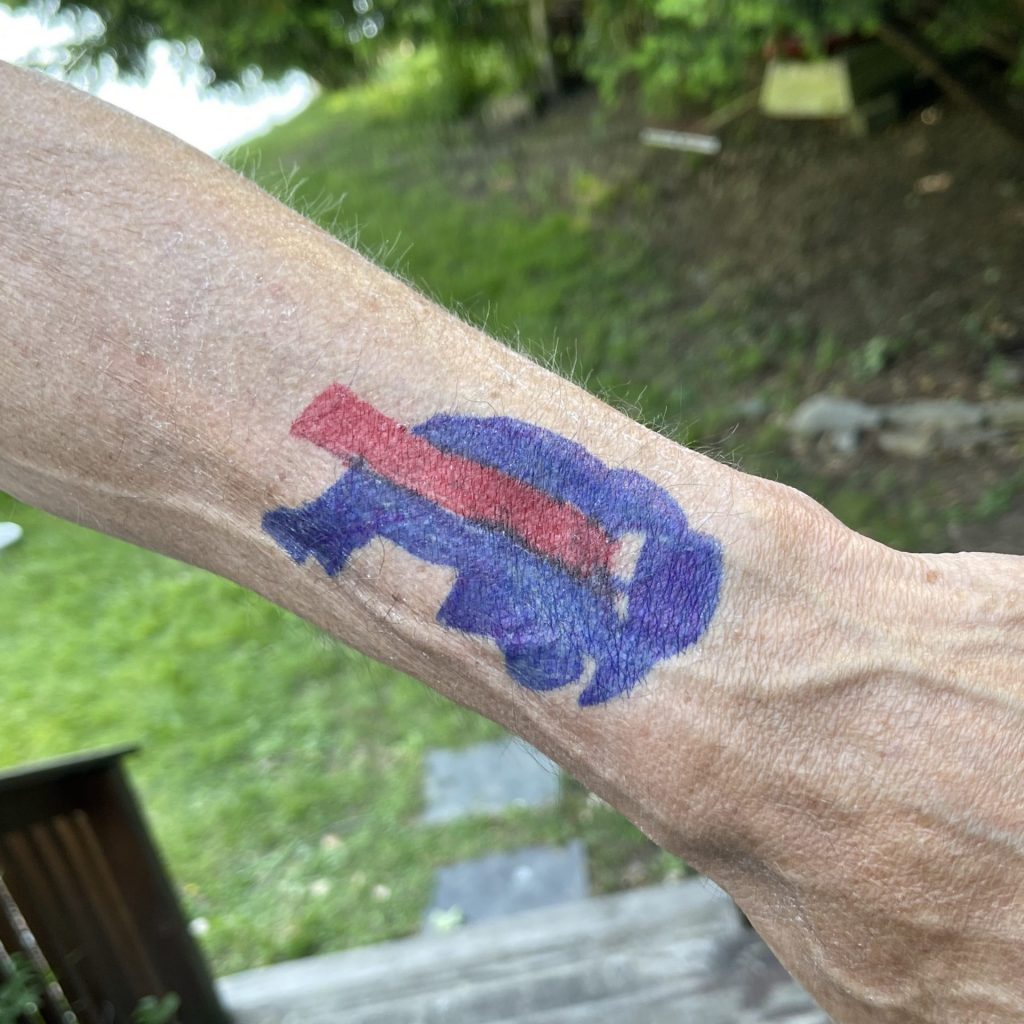 before the memorial day party attendees began to scatter, we were sure to get an updated photo of all the grandchildren of terry and debbie paine, which is no small feat with shy eliot, toddler holden, too cool ike, crazy hazel, and unable to smile normally anna.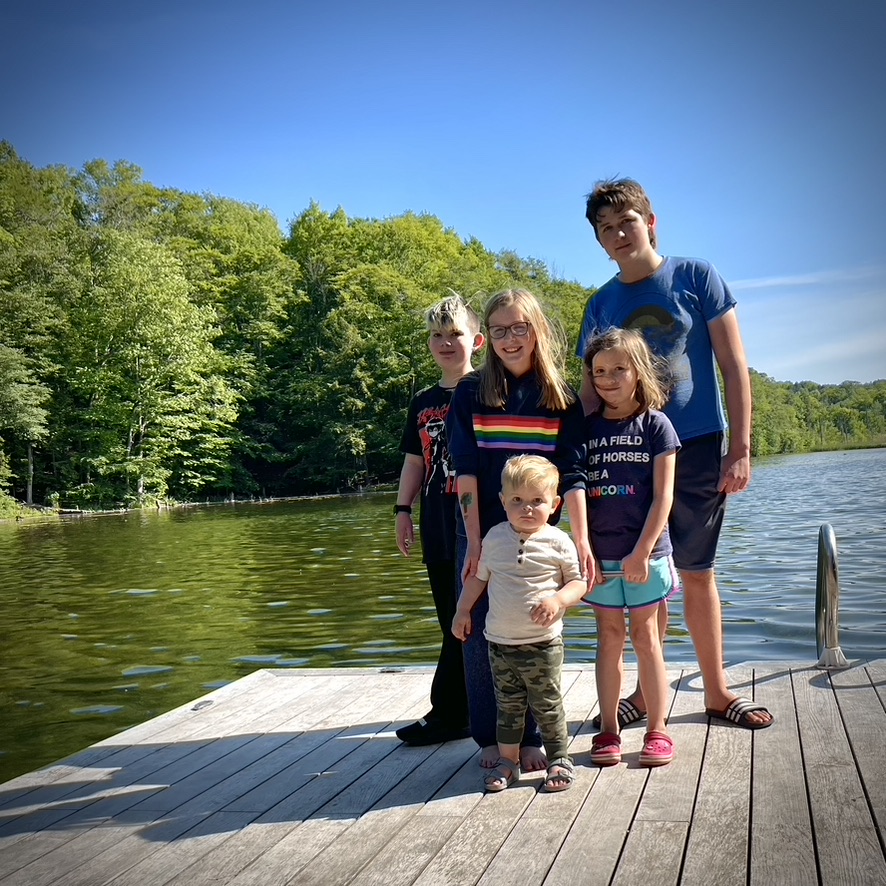 now for some completely random, western new york related food news. firstly, we made fun of my mom, who has an entire fridge drawer dedicated to local maple syrups. her boss has a farm and gives them to her regularly. she gave us one bottle to take on the road, and only anna ate it and it lasted her approximately 50 days. secondly, i discovered my new favorite ipa, big ditch hayburner american ipa. so good. i had a few with jake. and then haven't had any beers since. and lastly, no trip to batavia is complete without a stop into the pok-a-dot for a beef on weck and gravy fries. things have changed in there so much since our last visit (pandemic, new ownership, the hire boys now), but the food was as tasty as it's ever been.
the pok-a-dot meal would be my carbohydrate last hurrah. thanks to living in the stupid house in a stupid town in a stupid state, plus a stupid pandemic, i have steadily crept back up in weight gaining 40ish lbs, after losing almost 60 lbs when we lived on the road. so, for the remainder of the summer road trip, i maintained a keto diet and refrained from any alcohol. perhaps over the next (literally) fifty posts, you'll notice the effects…
anyways. after all memorial day festivities and feasting concluded, the lidkids and i set out to do a bit of western new york exploring. after some research, we settled on stony brook state park. despite having grown up in the area, i didn't really do much by way of outdoor activities growing up, so this little place was a pleasant surprise. it was a good warmup for all of the hiking to come and a much needed break from gaming and eating.
on our way back from stony brook, we took a detour into letchworth to take in the beauty of "the grand canyon of the east". we drove to all the overlooks and avoided anymore hiking, a promise i had to make to even get these lovelies out of the car.
i also may or may not have had to bribe them with (excessive amounts of) ice cream.
before we left town, we snuck in one last visit with holden, currently the world's cutest kiddo. hazel had delivered the motherlode of paw patrol trucks and characters and old trains and other figurines he might be interested in. she's currently his favorite cousin. he's also a big old ham.
it was an excellent visit to batavia. but alas, adventure awaits. and on june 5th, we were off!