finally! the moment we've all been waiting for. or, well, the week that i've been waiting for.
GLACIER NATIONAL PARK!!
when we were planning this summer road trip, the idea was to hit a lot of the places we missed during our 3+ years on the road. but, since glacier national park is pretty much my favorite place on the planet (or at least in the united states), derek worked it into our schedule. it's definitely a bit out of the way, adding a couple of days of travel on each end, and we had nine whole days booked there, and i planned to squeeze every last bit out of those days.
we had a bit of excitement/drama on our way into the park from great falls. while hurling down the road at 65mph, a hub cap flew off of the rv and slammed into a car coming from the other direction. she turned around and chased derek down (who was unaware of these events) and he pulled over and the police came and it was a whole entire thing. not something we really wanted to deal with on an already long day getting into the park.
anyways, it was all sorted out, and eventually, we were on our way.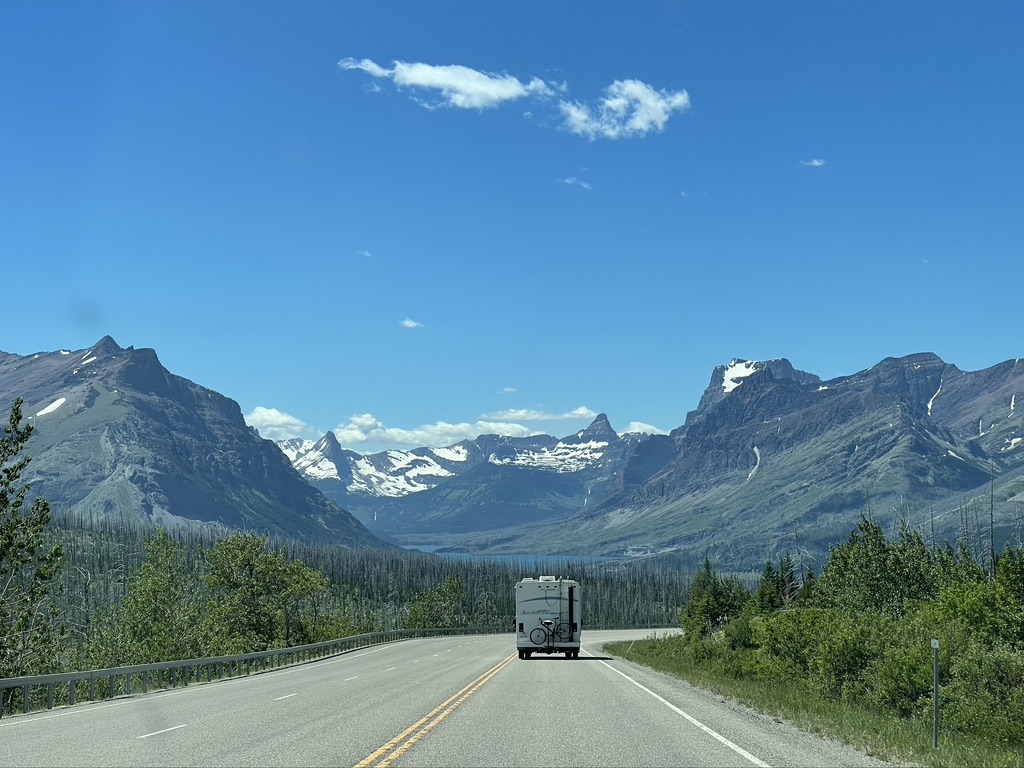 we settled into our campground on the many glacier side of the park, which is way more remote, less populated (sort of), has no internets whatsoever, no hookups, better and longer hikes, and was basically absolutely perfect.
for our first day, we planned a shorter-ish hike to get our feet wet, out to red rock falls. the trail could be accessed by a short walk from our campground, so we didn't have to deal with parking, and within minutes we were surrounded by this beauty.
the hike to the falls was about 2 miles, i think. and not super strenuous. but it was pretty hot. but also very pretty in every direction we looked.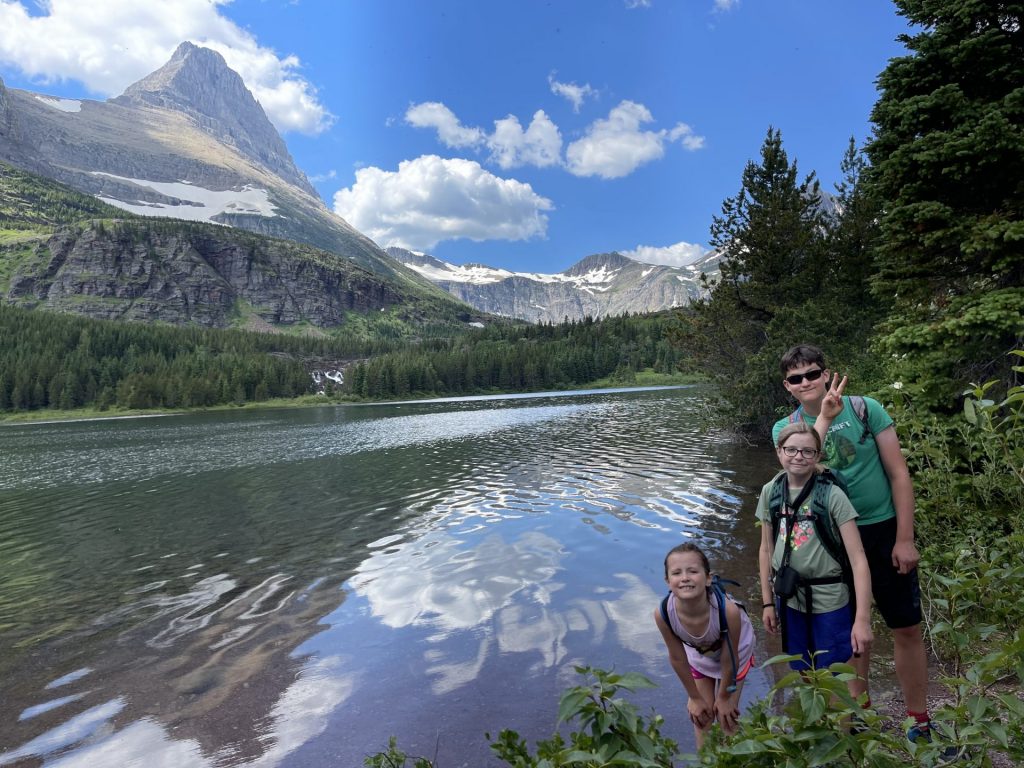 we reached red rock falls, and even though we had gotten an early start, it was still full of fellow hikers. it's a more popular hike and one of the shorter ones on this end of the park, so it makes sense i guess.
we had some snacks. and dipped our feet in to cool off. the water was icy cold, so dipping was about all we could manage, and didn't last long.
we wandered around searching for the perfect photo.
since it was still early, and spirits were high, we managed to talk the kiddos into hiking on a bit further, to bullhead lake, another 1.5 miles or along the trail.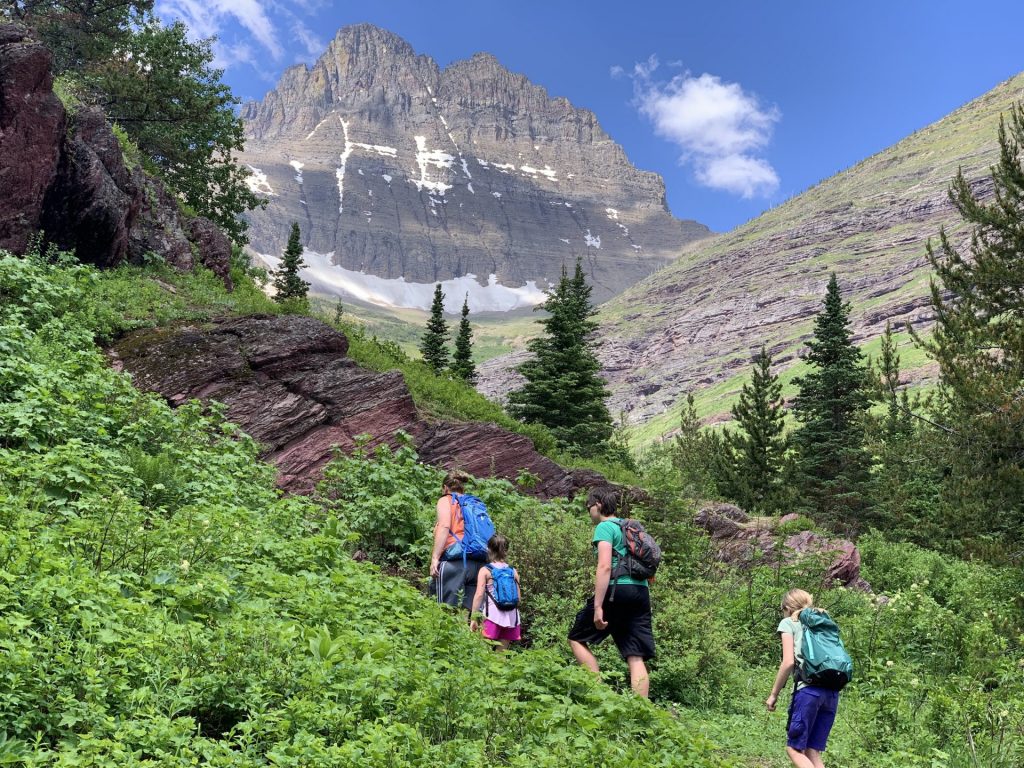 again, i'll reiterated. it was beautiful. surreal.
when we arrived at bullhead lake, we knew the extra effort was TOTALLY worth it.
we found a little spot where we could climb down to access the water, and once again, peeled off our sweaty socks and shoes and dipped our toes into the icy waters. obviously, the further upstream we went, the colder the glacial waters got, so this was colder than the falls, almost unbearable, but that never stops the lidkids.
once we had had our fill of cooling off, eating snacks, dodging tiny gnats, and chatting with some folks that were also from north carolina (cary), we started to make our way back. at first the kiddos were super energetic and lovely, but towards the end of the hike, there was some grumbling, but nothing a promise of ice cream at the swift current motorlodge couldn't smooth over.
we all survived, and the total hike was around 7.2 miles, a feat that hazel was sure to tell everyone about, her longest ever. they were all really quite amazing about it, since we really hadn't done much hiking leading up to this, and never anything this far.
we chilled at the camper for the afternoon. i took ruby for a long walk, after she was left in the non-air conditioned rv all morning (with a fan running on a battery blasting straight at her), and the kiddos were permitted to act like bums for the rest of the day.
that evening, derek and i took a drive out of the park to try to get some cell signal to look at the weather forecast and possibly change our reservations. on our way, we spotted this fellow/gal, just hanging out by the side of the road, watching cars pass by. this is the way i like to see all of my bears. from the car.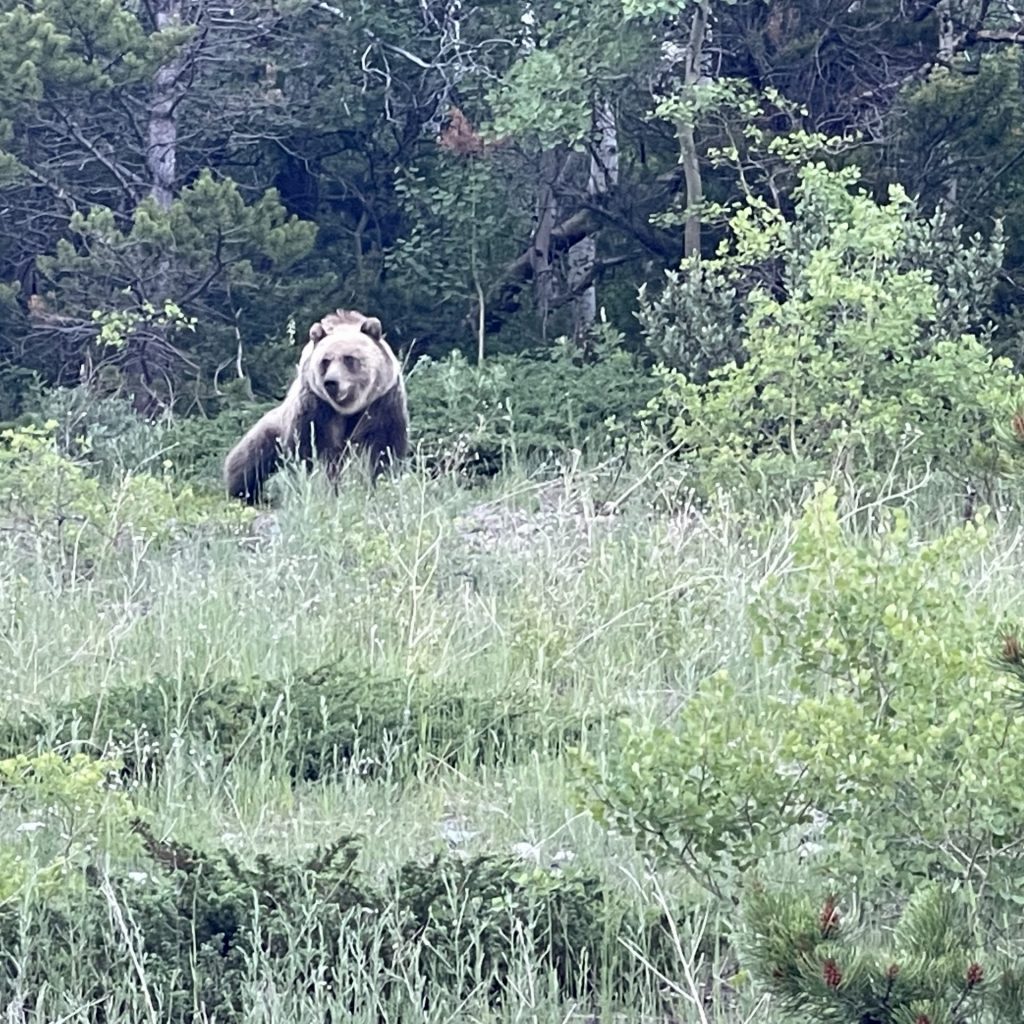 anyways. this was a fabulous way to kick off our glacier visit and i couldn't be any more pleased to be in my happiest place on earth.