theodore roosevelt national park marked the unofficial start of our "decidedly more adventurous" part of the summer road trip. it was also a brand new park to us, and we were pretty excited to check it out.
we arrived in the late afternoon, at our FULL HOOKUP campsite, and once we were set up properly, we loaded up to hit the nearest visitor center (which doesn't really access the park and is a weird highway rest area), to get our bearings and get our first glimpses of the badlands landscape we would be exploring for the next few days. we walked along a little edge trail, and happened upon our first bison sighting.
the next morning, we headed over to the south unit entrance. this is the more popular and easy to access section of the park. there's a sort of touristy city just outside the park entrance that we mostly avoided for now, and went straight to the visitor center, for information, ranger books, and to check out some exhibits, like the relocated ranch home of teddy roosevelt.
from there, we started to drive the scenic loop that goes through various landscapes (and wasn't really a loop because part of it was closed, so we had to do an out and back drive). our first stop was a prairie dog town. they were so cute and curious, but definitely cautious too. we watched a family pull up, pile out of their vans, and proceed to chase the prairie dogs around, throwing rocks and reaching into their holes, and generally act like idiots. ugh to humans.
a little further along, we hopped out at a recommended short hike and overlook. at this point i cant remember what it's called, but there were great views up and down the river, especially as we hiked uphill a bit to get a better look.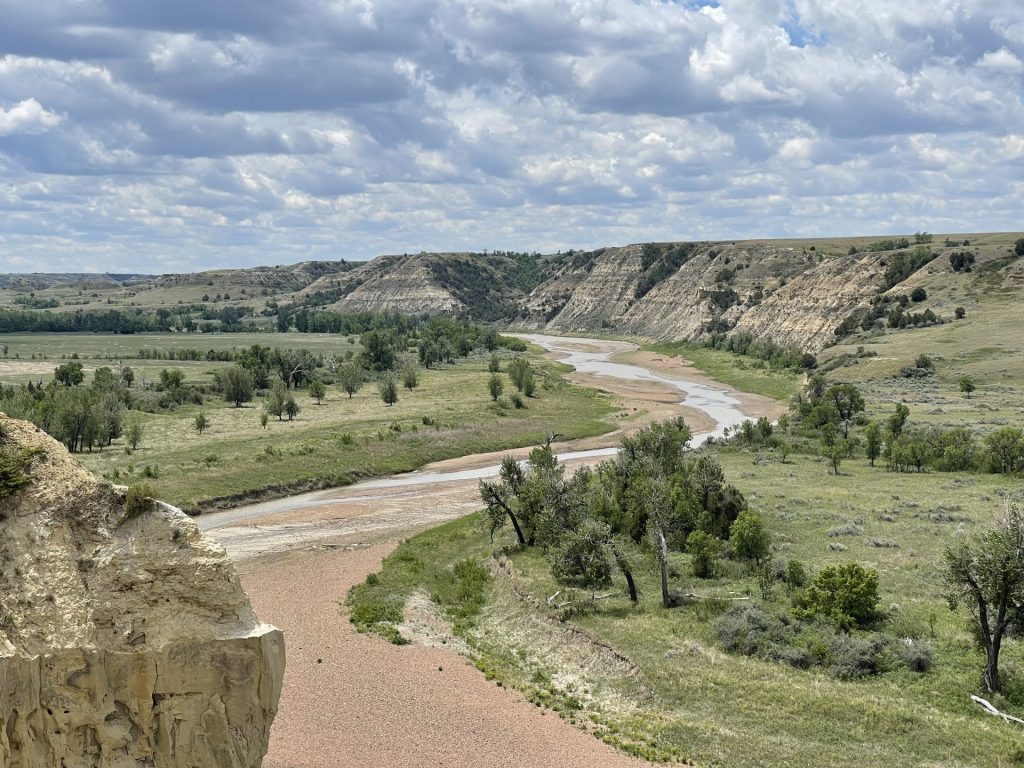 we happened on a bit more wildlife than just prairie dogs (and bison). as we droe along the road, we passed by some beautiful wild horses. of course i didn't get a good pic until we were past them. and on our the next stop where we hopped out to walk down to an overlook, we spotted a slightly giant snake, much to our dismay. he slithered away quickly, so as not to bother us.
that next overlook (post-snake) gave us some fabulous badlands views, but in the few minutes we were there, the winds picked up and it started to rain a bit, so we made a mad dash back to the car to continue on our way.
our last excursion from the car (after the very minimal rains subsided) was a little hike to an old entrance station. it was mostly flat, but surrounded by surreal landscape. it also passed right through a prairie dog town, which was much more fun than the super peopley prairie dog town just off the road near the main entrance. these rodents were much more curious and less afraid of people, so we got a much better show. the last photo in my group above was from this part of the park.
on our drive back, we spotted a ton of buffalo, and several very close to the road, properly completing our collection of animal sightings. we are suckers for a good american bison.
the next day, we drove up to the less popular north unit, but since we were so close to the visitor center off the highway that looks into the south unit, we made another visit for a sunset a few nights later. not the worst sunset i have ever seen…