before we left the twin cities, and minnesota altogether, i was determined to squeeze in one more activity. derek had to work all day before he could make the journey to meet us in fargo, so we had quite a bit of time to kill. i settled on driving a little out of the way, to taylors falls, to check out the saint croix national scenic riverway. we rolled in and the friendly lady at the ranger station suggested we try out the walter mondale river trail. we really weren't prepared for strenuous hiking, as two lidkids wore slides (but not anna who was now sporting a snazzy new pair of hiking shoes that fit her).
so, we heeded her advice and hit the trail. and there was a lot of misery. like. a lot. it was buggy. and muggy. and not very scenic. part of it even popped out next to the road, where we walked on the other side of a concrete barrier as cars whizzed past. not lovely. until close to the end, when the river finally started to appear.
it wasn't so bad then.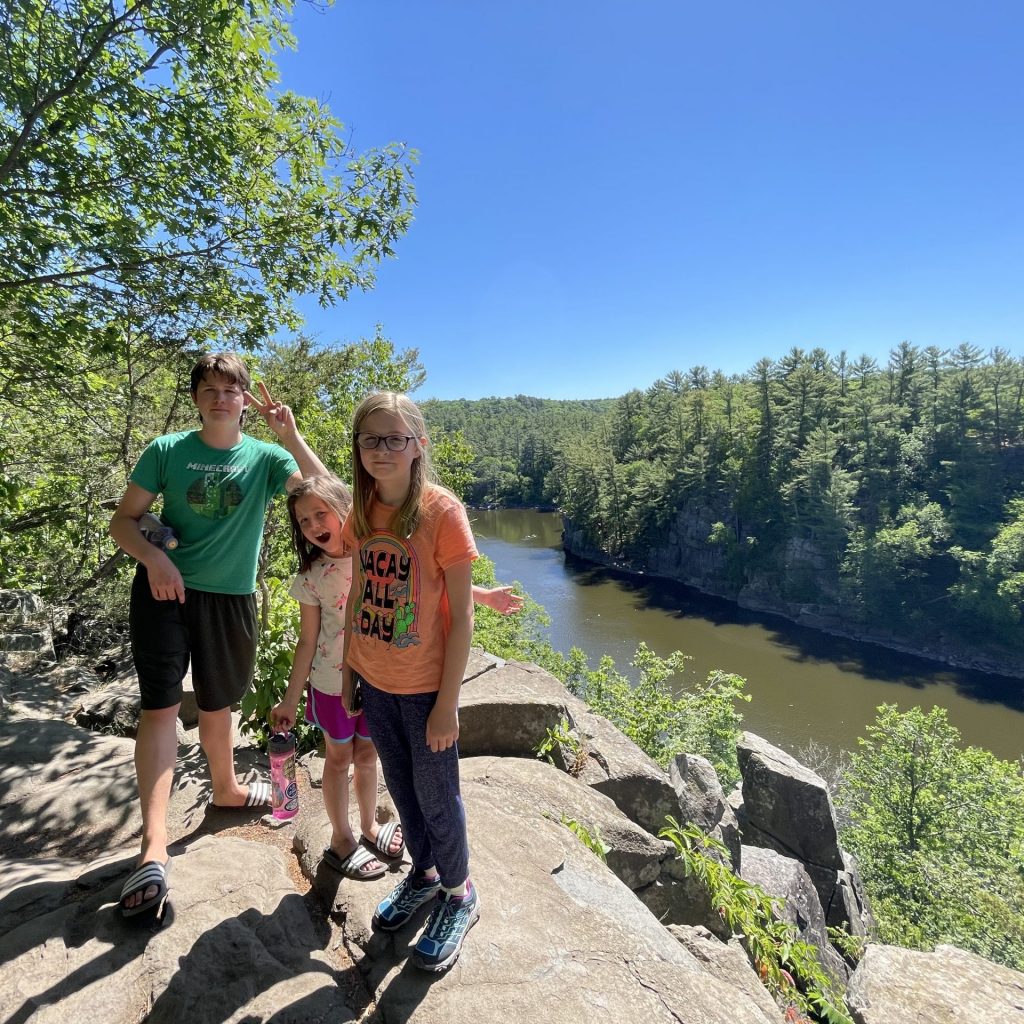 we arrived at what i suppose is technically the destination. where we had parked was maybe more where kayakers have access to the river? i don't know. at the end, there was lots of scrambling to be done. you know, for those in proper footwear.
there were also a bung of these giant glacial potholes, which left a really unique rocky landscape behind. the potholes were deep and filled with gross murky water, but still cool i guess.
after we did a sufficient amount of exploring and climbing, we started the 1.3 mile hike back. which really annoyed one lidkid who thought that the hike was only one mile total (after a misunderstanding when i had been explaining options). we trudged along. frustrated. grumpy. angry hiking. but then we were snapped out of our slump when we happened upon four baby raccoons just off the side of the trail. we stopped to watch them for a bit, while they carried on doing their thing without worrying too much about us. it was awesome. and definitely cheered us all up.
here's where things get a little crazy. we drove over to the other side of the river, in wisconsin, to the main visitor center, to pick up junior ranger books. we worked on them a bit there, but everyone was pretty hungry and it was clear we were going to need a bit more time to finish them. so we drove back over, to minnesota, to get some lunch at a really cool drive in, walk up, outdoor hot dog stand and mini golf course. the giant spinning rootbeer was what drew us in.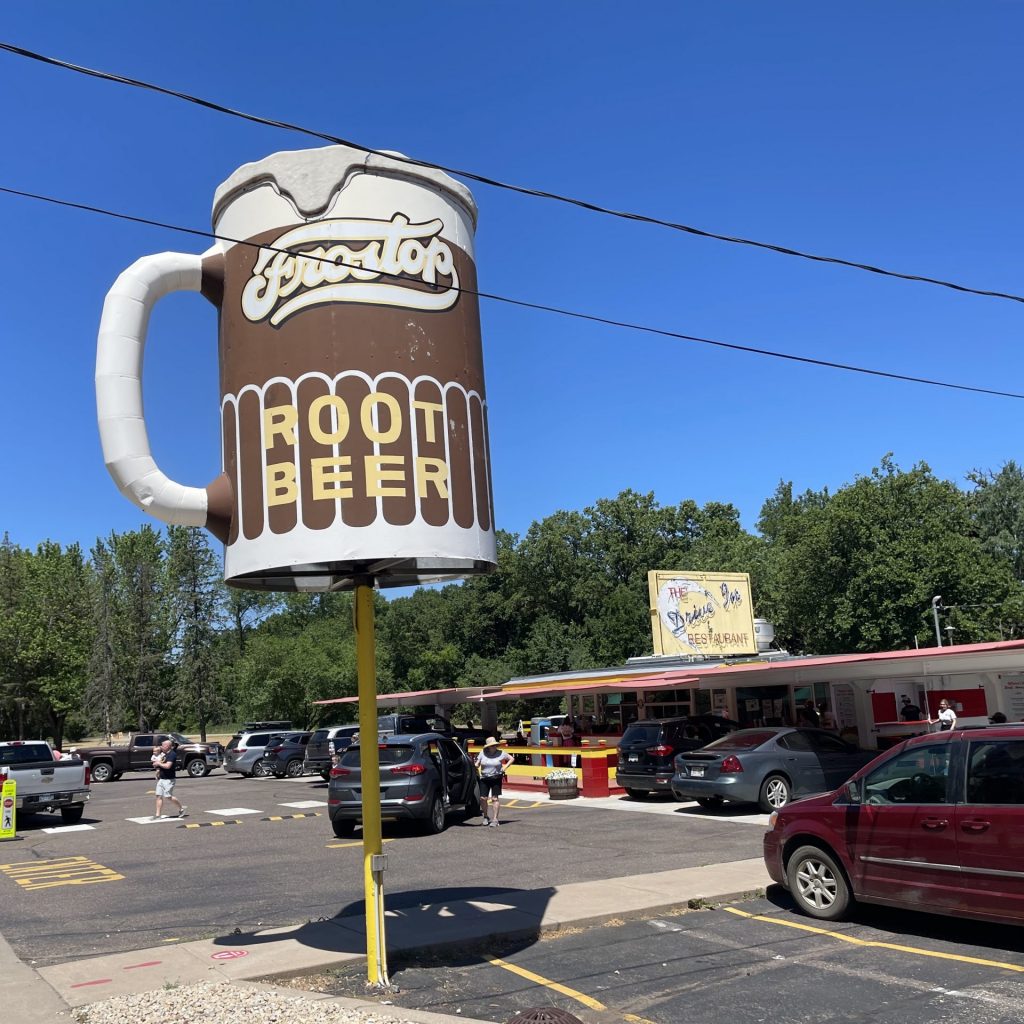 the kids finished up their books while we ate and then we drove BACK to wisconsin to the main visitor center, where we were sworn in by one of our top five rangers of all time. he insisted that hazel hold up her stuffed unicorn cat's paw to be sworn in too and he was really great with the kids and excited about a park that wasn't really all that super exciting to us. turns out, he's also from saratoga springs, ny and is my age. can't remember now why this even came up.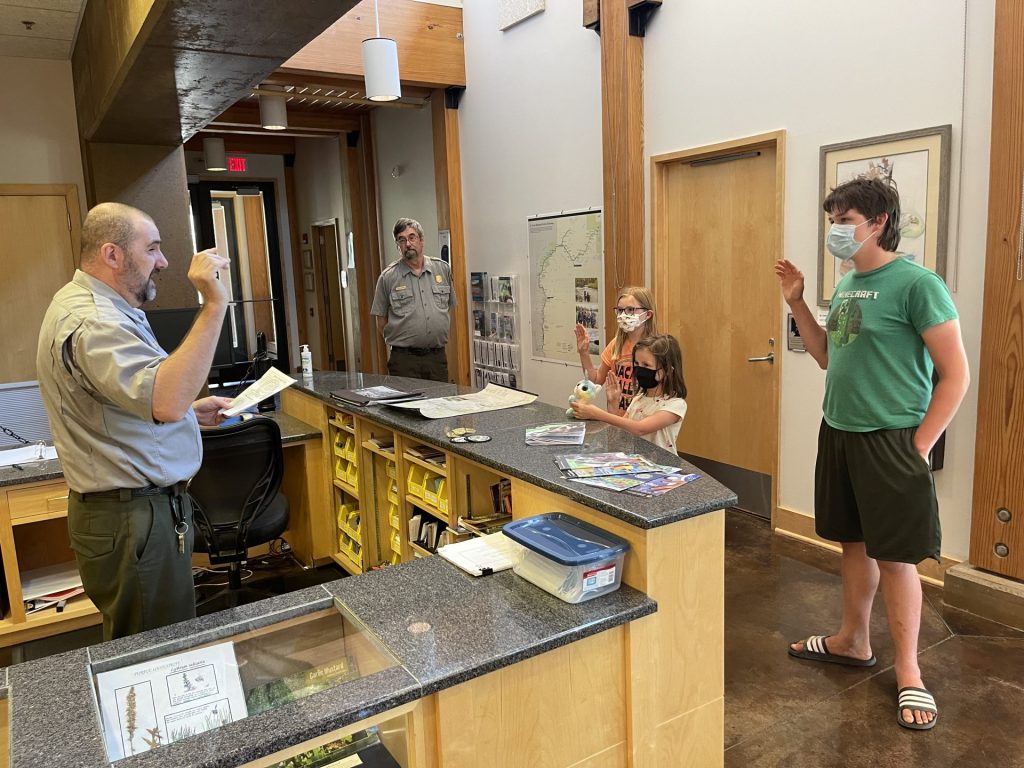 i had pinned like 10 quilt shops along the way from minnesota to fargo, but we ended up taking so long at the saint croix river that most of them would be closed by the time we rolled through. but, i did stop at one, that had this colorful mural outside, where i selected a few choice bits of fabric, and realized that i did not have my credit card. a quick call to the giant spinning root beer restaurant confirmed that i had left it behind, but we were already hours down the road, so they mailed it to the grandlidboms for me. excellent customer service if you ever find yourself in taylors fall, minnesota.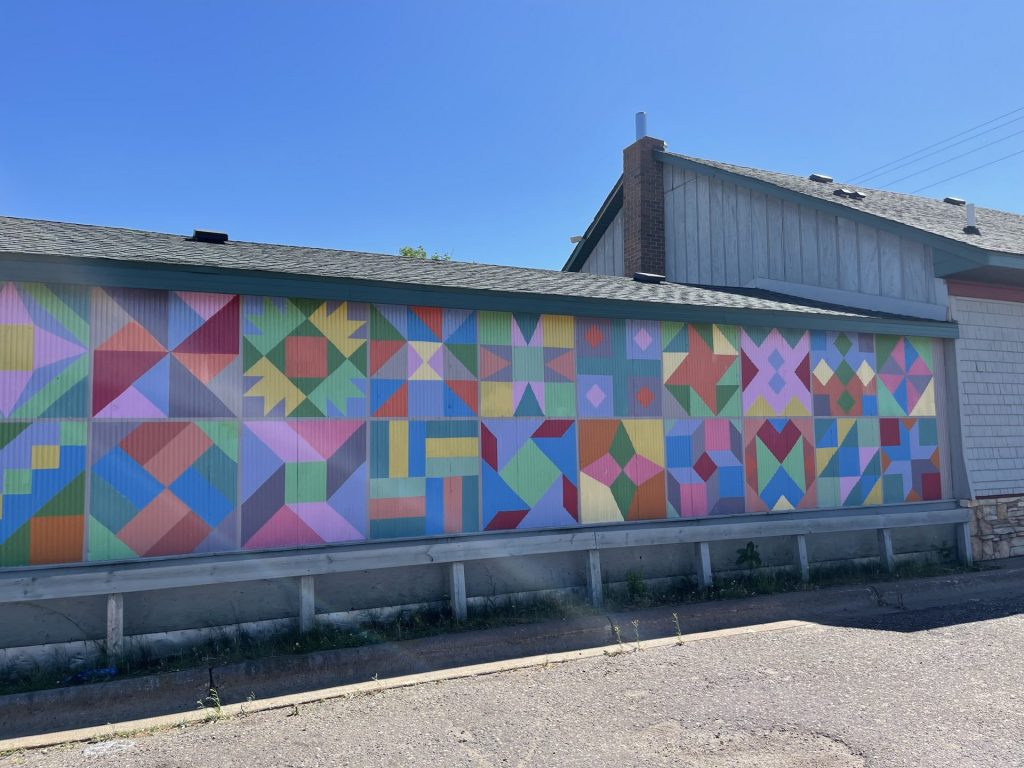 we continued on to our destination, good old fargo, where i killed a bit more time by washing up all of our laundry, before finally meeting up with derek. it's really all a big blur at this point, but i'm sure we stayed at a walmart. in the morning, we added north dakota to our state map decal, and began the long journey across incredibly boring north dakota. (but first i did stop at a fab fabric shop that had a huge clearance section and some very cool halloween fabrics and officially started a fabric storage area in my closet behind my t-shirts).
on our very long, very straight, very flat, very boring drive across the state of north dakota, we broke up the trip with a stop in bismarck, at the capitol. it was a sunday, so i was little surprised at how many cars were in the lot when we arrived, but as we walked around the corner, we figured out why. there was a pride festival taking place, with music, craft vendors, and lots of other wild stuff. we popped through, scoring stickers and candy and bracelets, snapped our photos, and since it was still a pandemic and all, got out of there.
and then. before we even knew it, we were just outside theodore roosevelt national park. reunitied with derek and the rv and this pupper.