a few months back (i think?), i was scrolling around on the internets, when i happened upon the christmas in the city fabric collection by art gallery fabrics. i was in love. the vintage vibes. the colors. all of it. and i ordered it immediately with no real plan for what to make with it.
as christmas sewing season closed in, i pulled it back out and began to make a plan. i kept adding more and more fabrics from my stash, and maybe kept buying more and more fabric from ruby star jolly darlings because it matched so nicely. i knew i wanted to make a scrappy bear paw with different solid colors for the backgrounds, and a trip to pineapple fabrics allowed me to nail down the perfect choices, and i was finally ready to begin.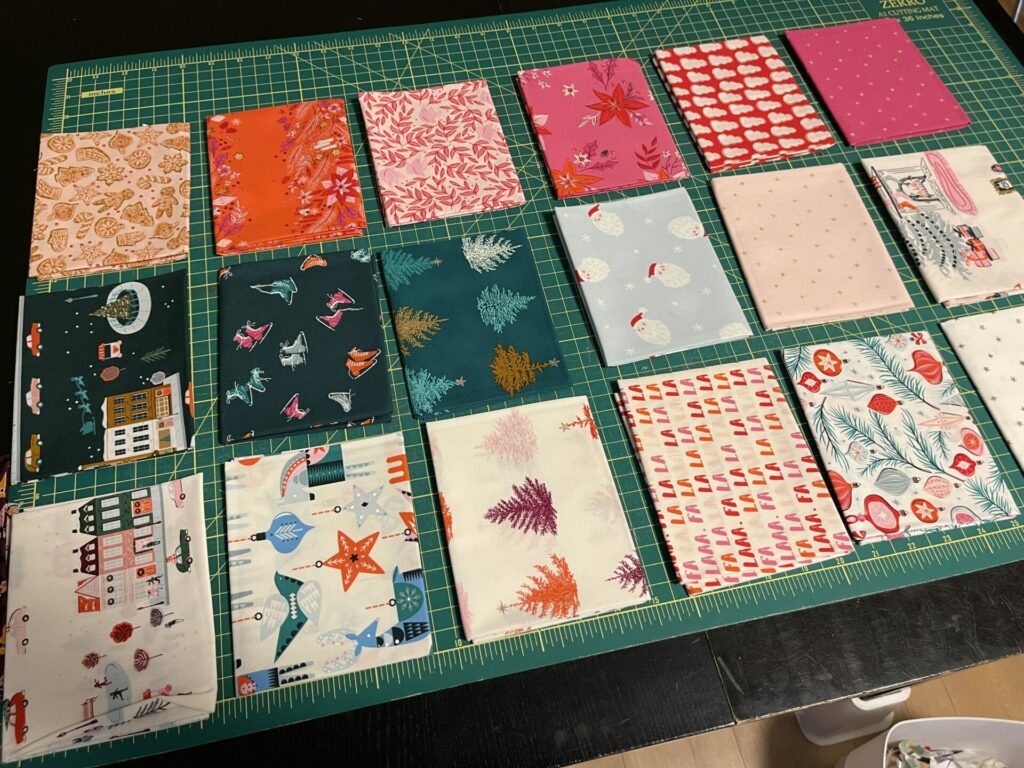 i drafted up a pattern and a plan. i sort of had an idea of how much fabric i needed to cut, but maybe cut a wee bit extra to give me some flexibility as it came together. and there was a LOT of fussy cutting. particularly from the christmas in the city prints. so good.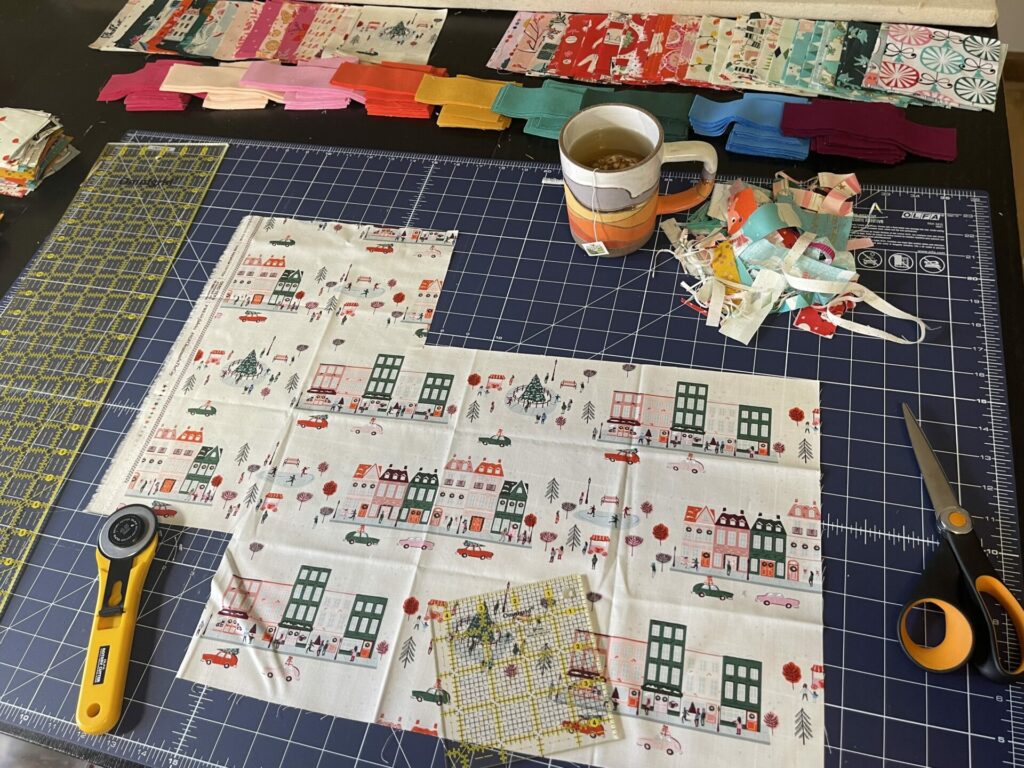 the stacks of fabric were so lovely. i carefully curated each block. the perfect scrappy look doesn't just happen.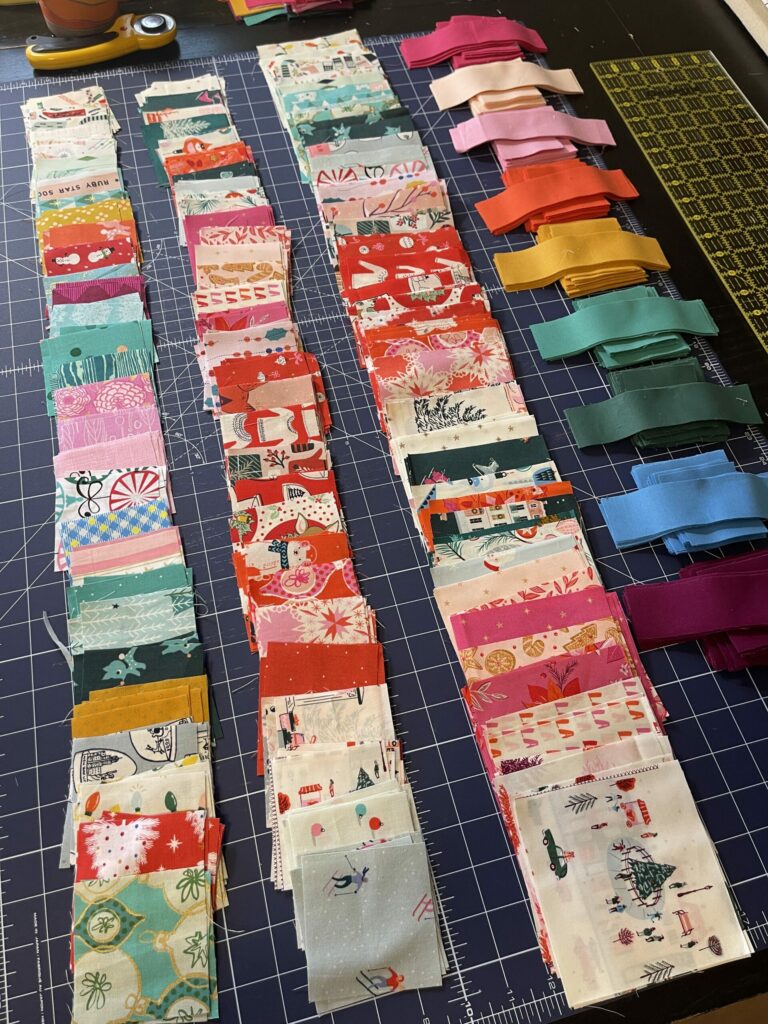 slowly but surely, the blocks came together, and it was everything i had envisioned. i was sewing this up alongside some virtual instagram (and real life) friends, and at some point, my friend dana said that it reminded her of ribbon candy. the colors. the funny thing is, she was worried this might concern me, unaware of my non-age-appropriate affinity for the sugary christmas treat. i embraced it wholeheartedly, and began to refer to the quilt as ribboncandy-esque.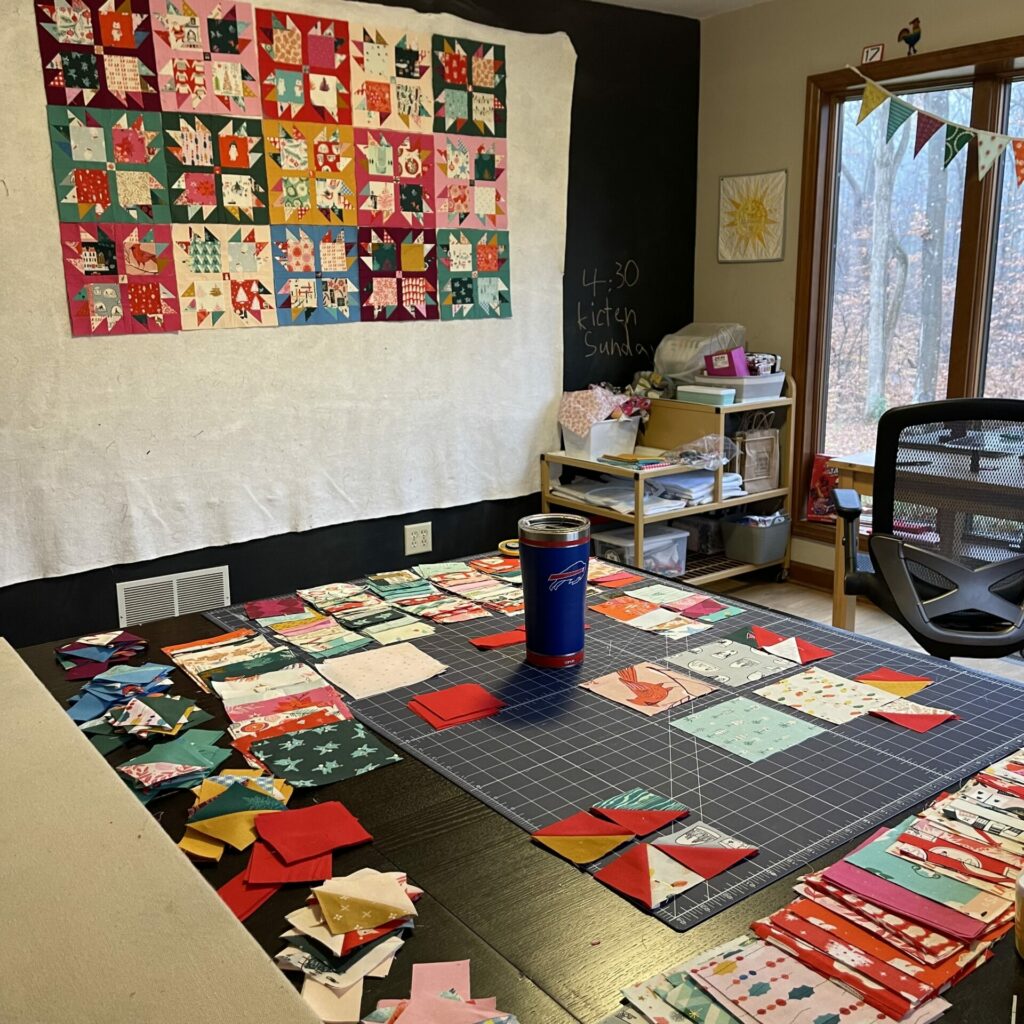 i ended up leaving out the more orange-y colored solid. and two of the pink background blocks didn't make the cut for the front. i toyed with the layout for days. i don't even know if this was the final one. but it's one of the options on my camera roll. 🙂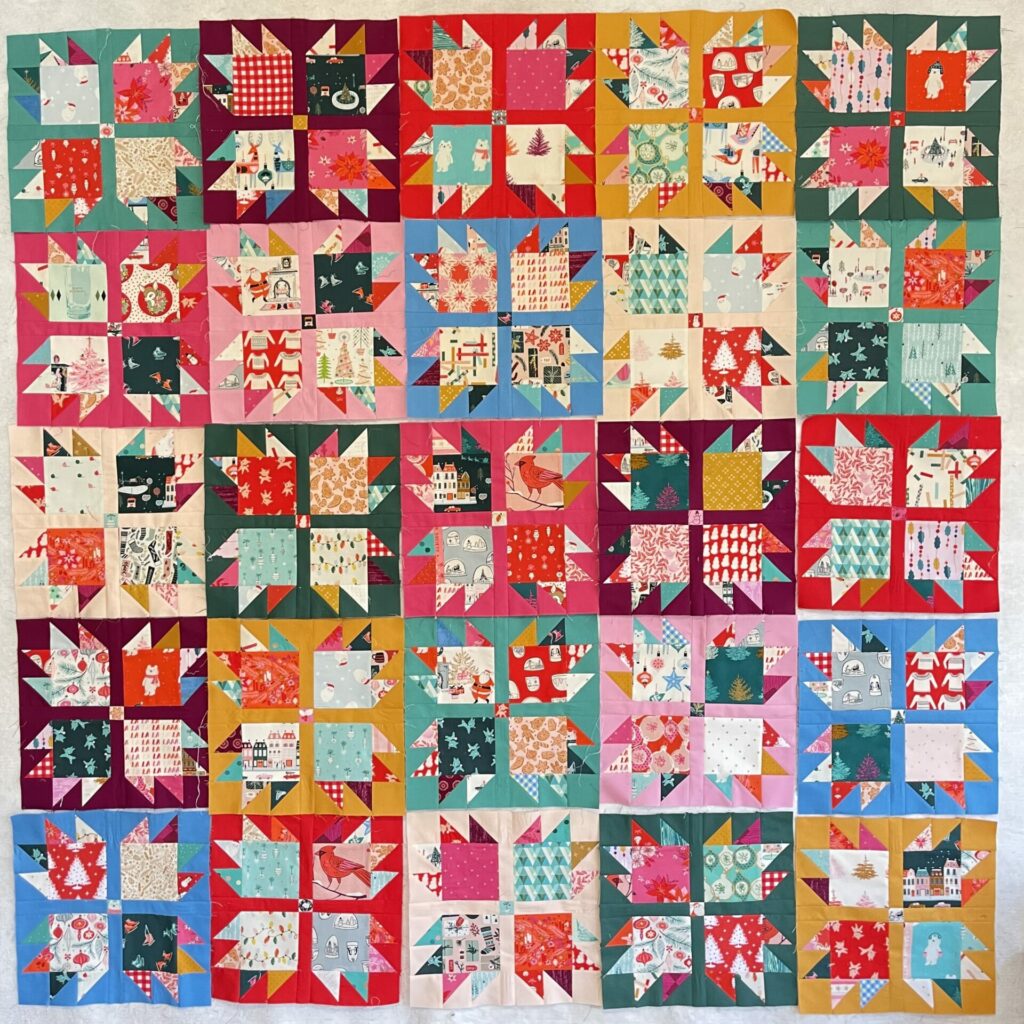 ok. so there's a chance i way overcut squares for the blocks and i had a lot of leftovers. rather than relegate them to quilt stash scrap purgatory, i made the executive decision to piece them together for use in the backing. i also threw in a pink block from the top, lots of hunks of leftover fabric from my stash, and a few yards purchased at the shop where i work. i quilted with it with all over loops and i was so close to the finish line.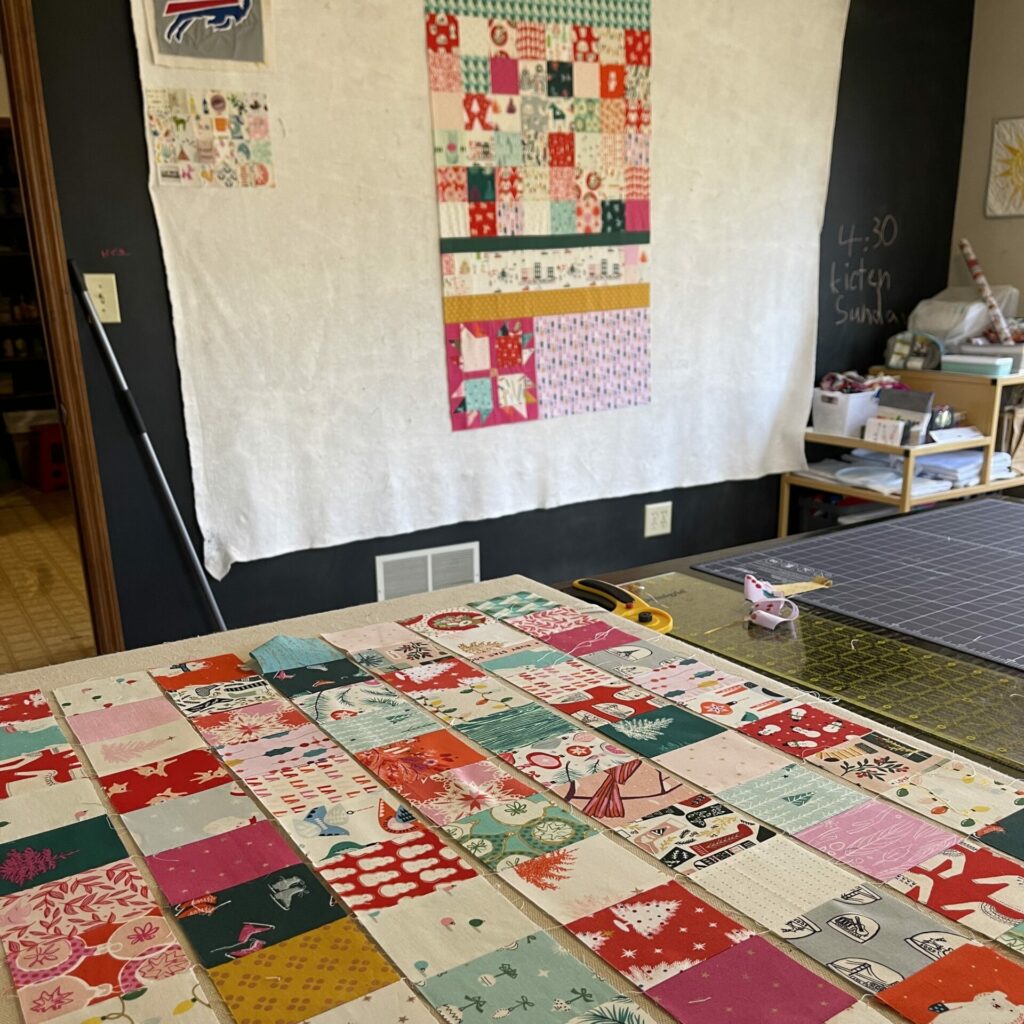 then i traipsed it all over town, trying to decide how to bind it. i almost settled on a purple print, but then someone at the shop suggested a scrappy binding, using leftover solids from the background fabrics. that got my wheels spinning, and i took it one step further, making a binding out of the solids, but lining them up to match the backgrounds of the actual blocks the binding is adjacent to. i wasn't as hard as i though, but definitely took a bit of meticulousness and precision. and i love it. hopefully you can see it in some of these photos.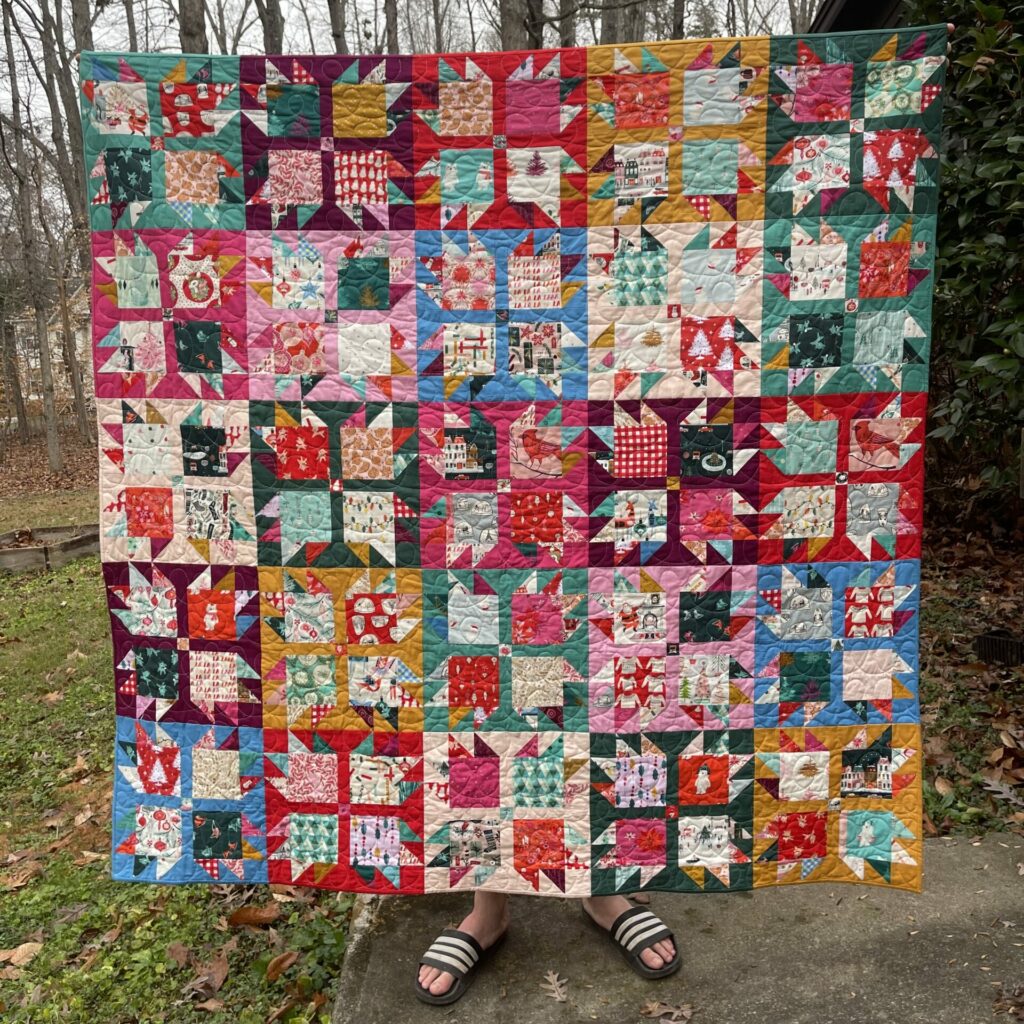 anyways. i love it. it took many days after it was completed before i could get some good photos of it. rainy and gloomy conditions were not doing much for the bright colors.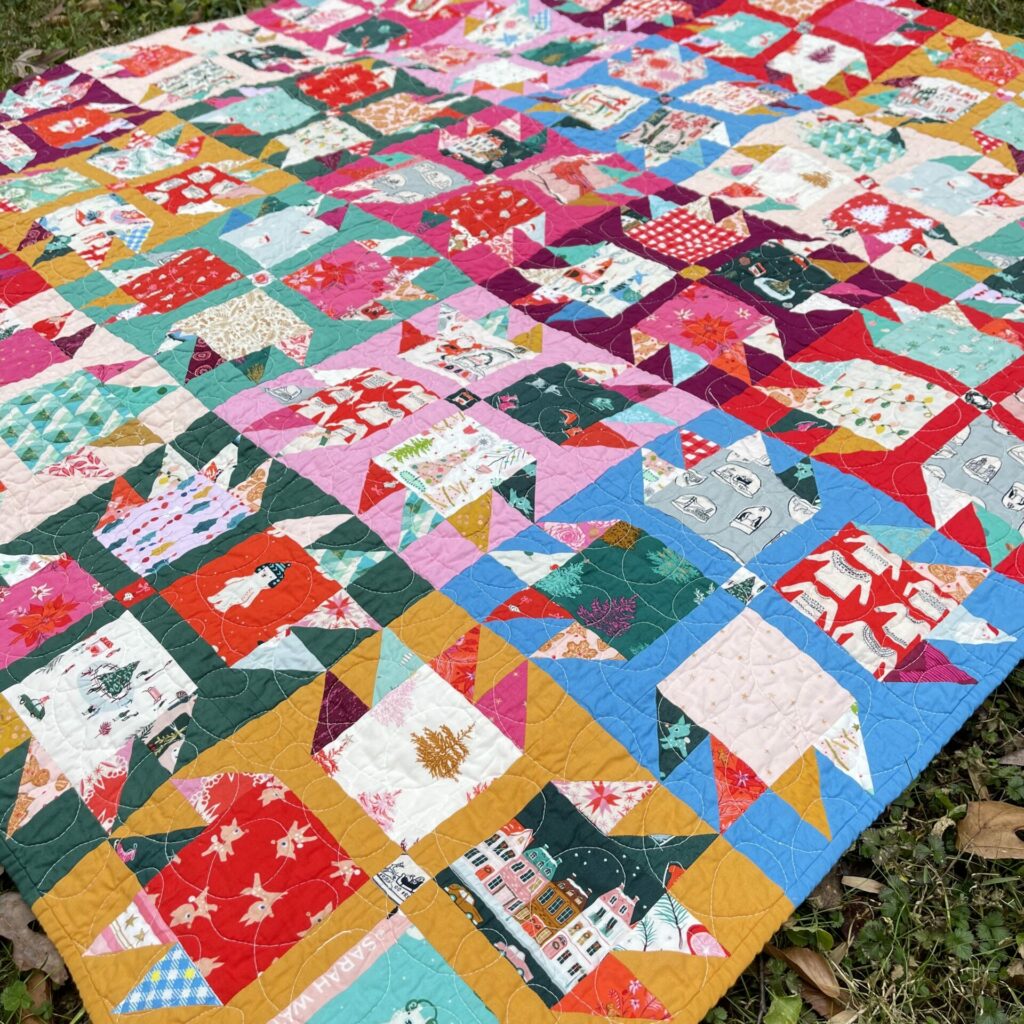 it's my new favorite and i sort of hated putting it away. maybe another scrappy colorful bear paw quilt is in order??