as has become standard over the years, we planned for one of the days of our spring break trip to be a big fat longer hike for me (and a much needed day of doing nothing for my people who enjoy doing nothing and derek who was a little under the weather for the whole trip). after some research, i settled on a point to point hike that would start at the bartram trailhead (beechertown) just ten minutes from our airbnb up to cheoah bald, connecting with the appalachian trail and then descending down to the nantahala outdoor center, which is about 25 minutes from the airbnb.
in a crazy twist of fate, anna decided she would come with me. i packed us all up the night before with snacks and sandwiches and plenty of water and layers and first aid supplies. in the morning, derek drove us over to the trailhead (shaving off a mile walk from the parking lot), snapped some pics of us, and we were on our way…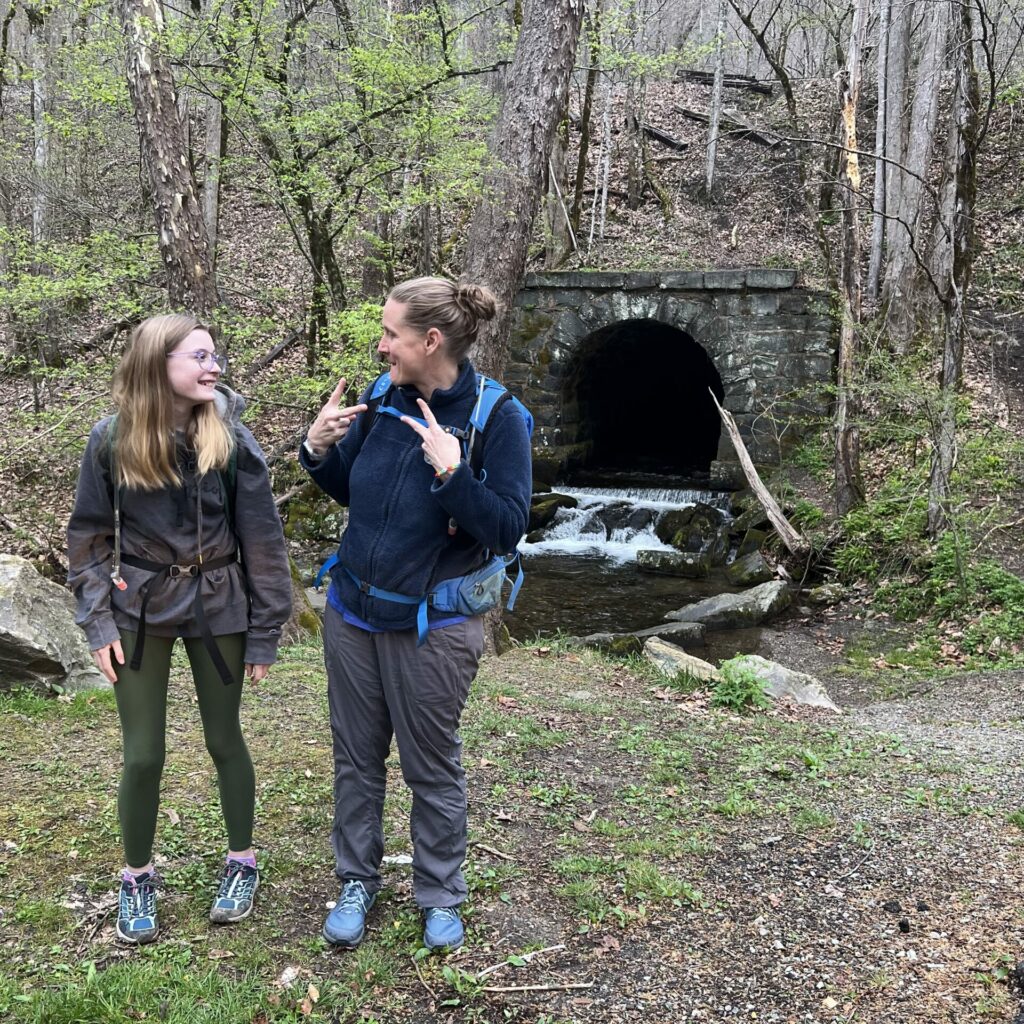 the trail kicked off with these lovely stairs and a little bridge over the creek. which is hilarious, because there would be no such manmade amenities for the remainder of the hike. and of course, we stopped for a cool railroad track photo op.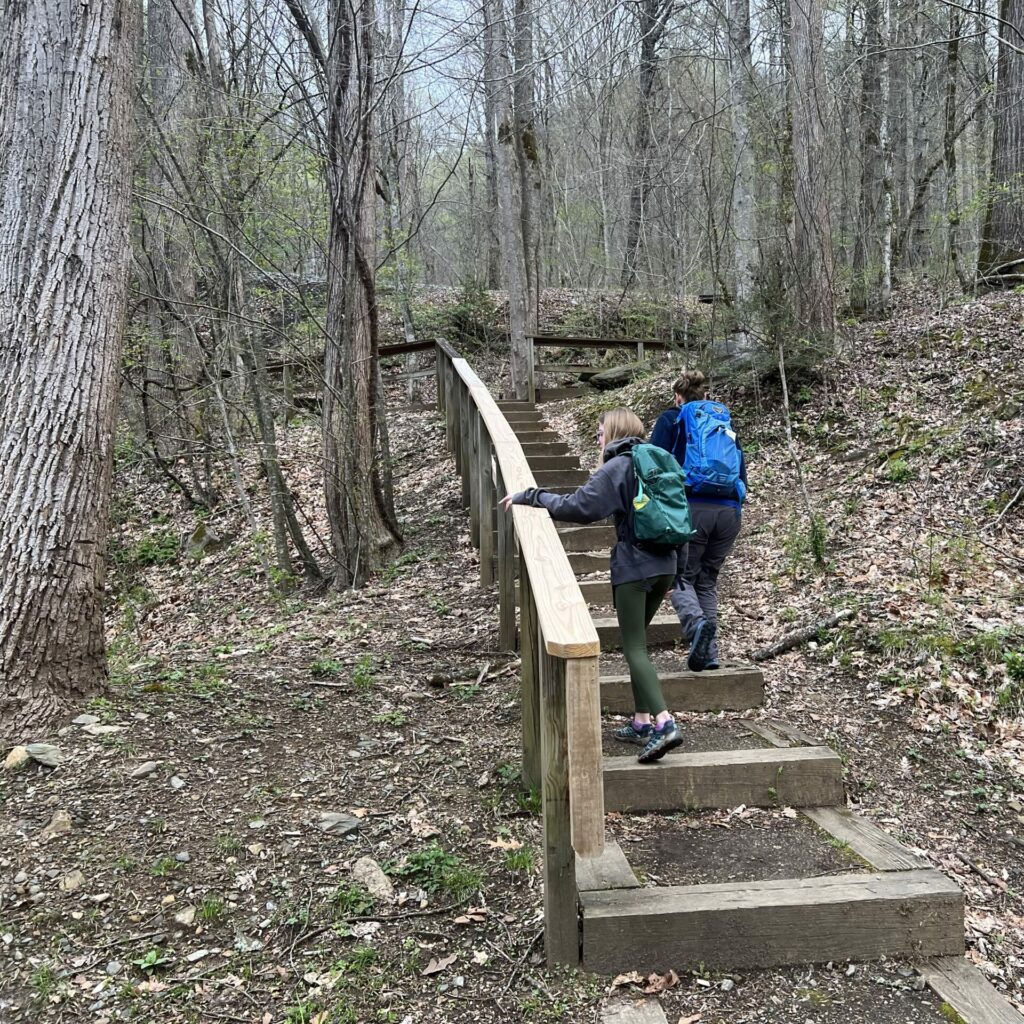 and then. it was straight wilderness. and climbing. we definitely had regrets. but we trudged on along the steep incline. you can see the trail profile at the end of this post, but the steepest section was the first mile or so, and the 5-ish miles to the peak were about 3500′ elevation gain, which is the most we have ever done. we tried to limit our full rest stops, so we could keep our momentum, but some shorter breaks to catch our breath were absolutely necessary.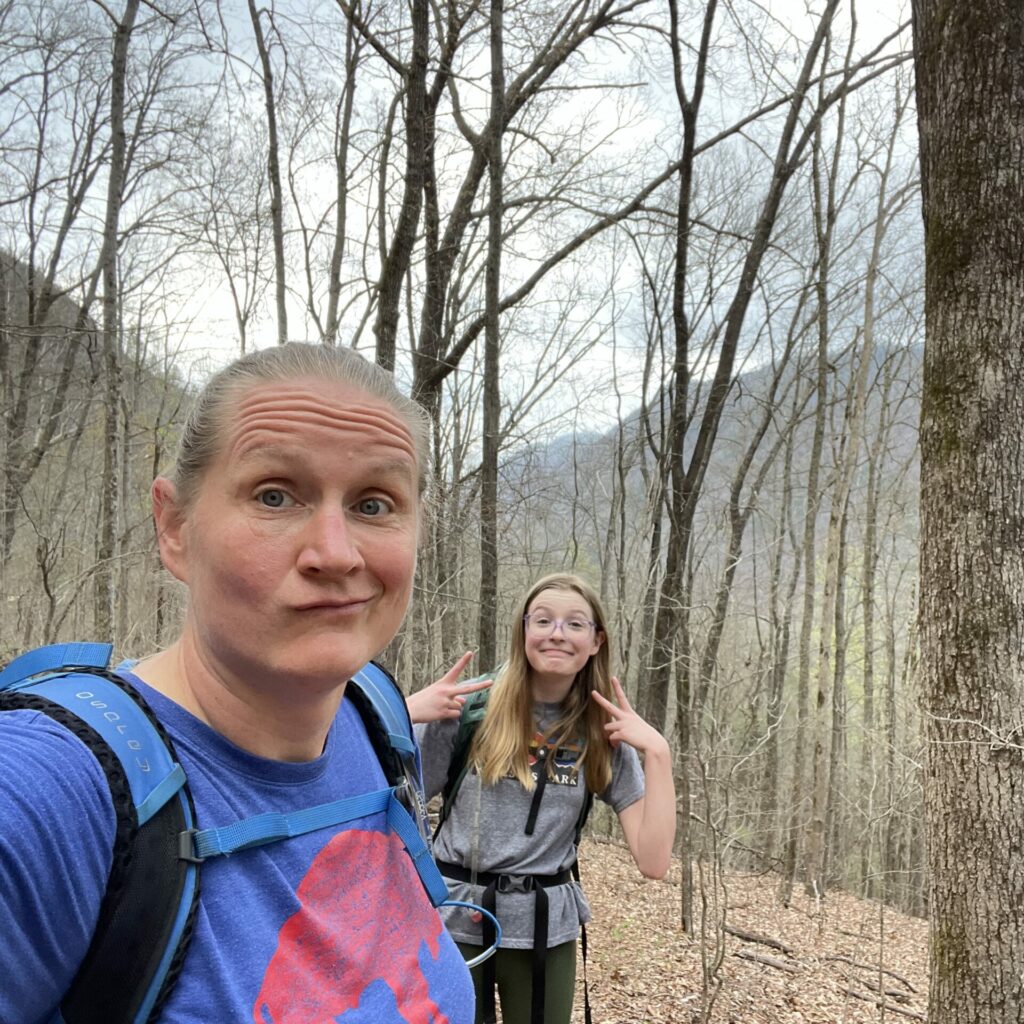 every now and then the steep incline would level off for a few steps, or even descend, and it didn't take long for us to realize that when that happened, we were about to cross a creek. the soggy muddy trail was a giveaway too, as the water running to the creek seemed to like to use the beaten path. we also became acutely aware of the fact that we forgot our hiking poles at these crossings, but we were usually able to locate a decent enough stick to perform the same duties. in the end though, we just accepted that we might have wet feet.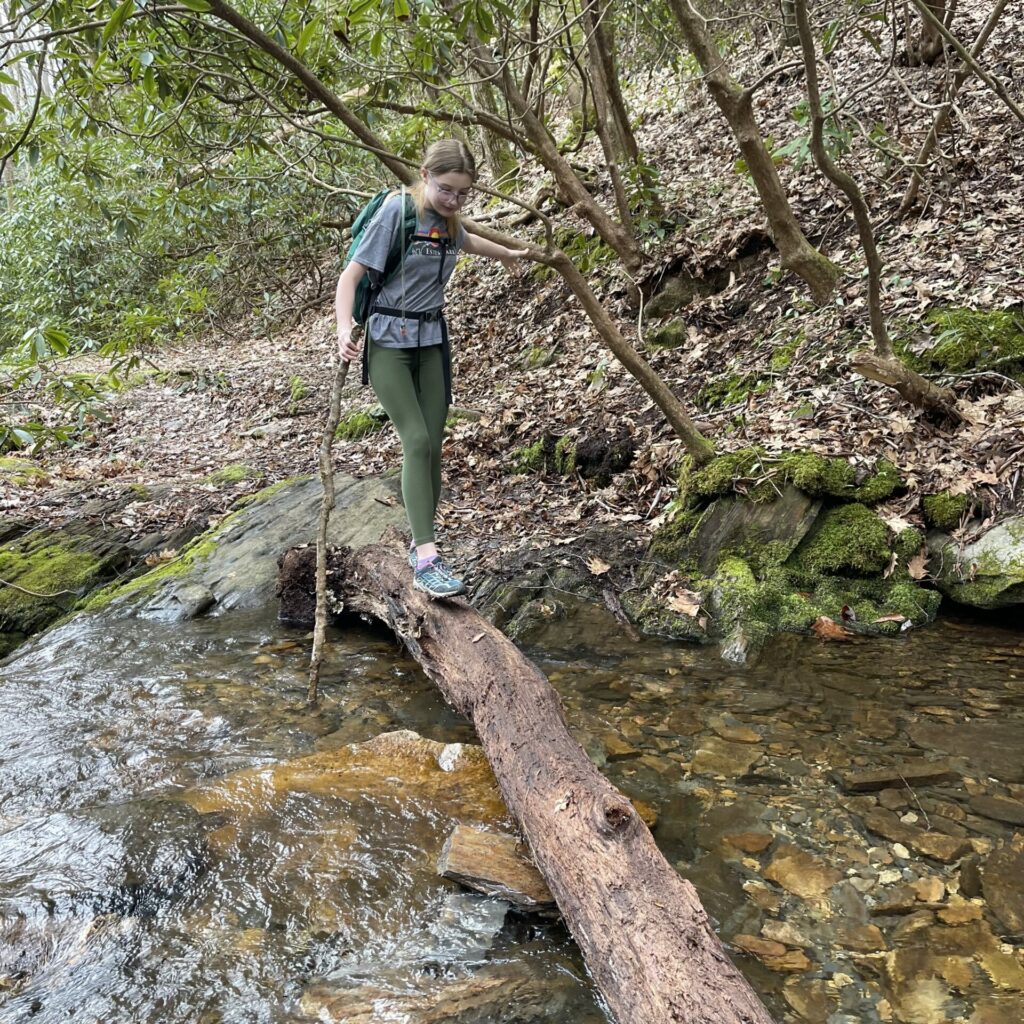 being pretty early spring and in the mountains, there wasn't much greenery or wildlife. but we saw some signs of new life amongst the mostly dreary landscape.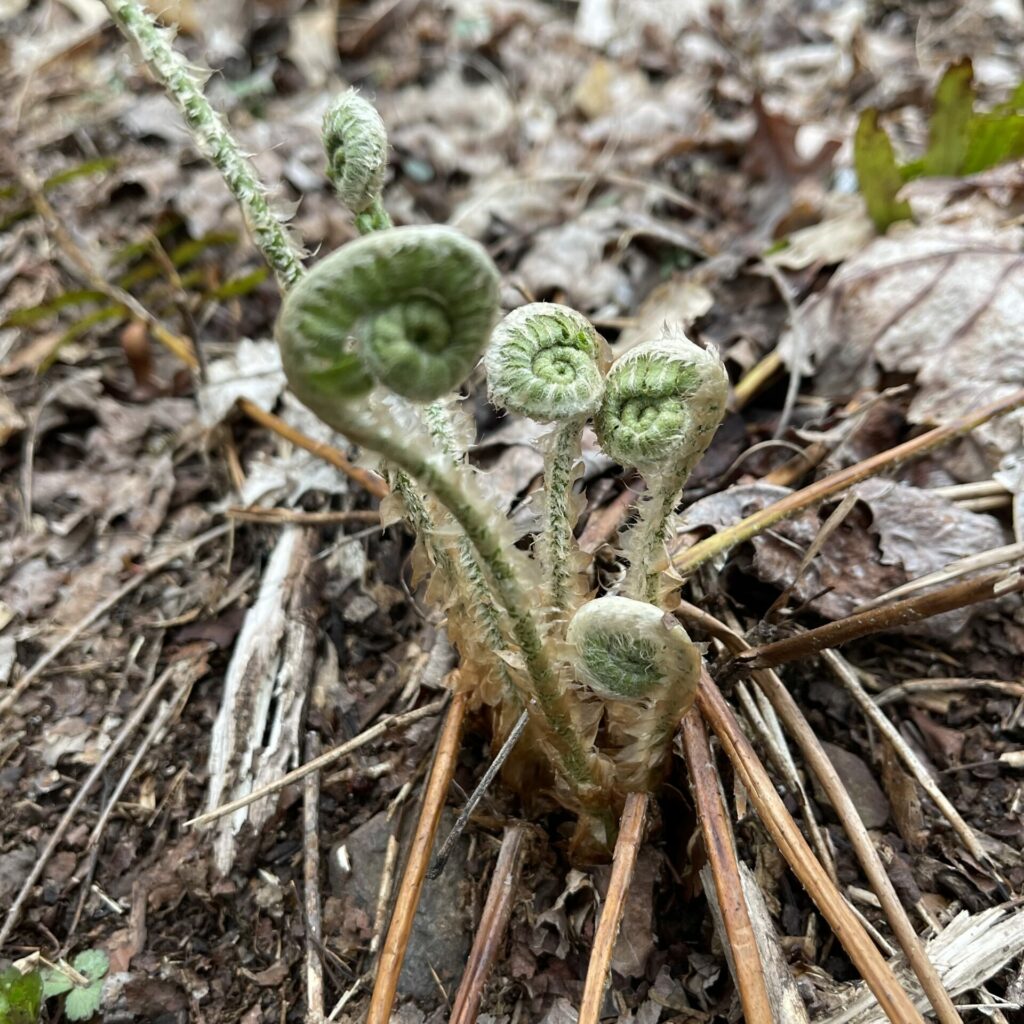 along the creek that we had to cross numerous times, there were also some waterfall-ish spots, which were a nice little amenity. i think one of them was bartram falls. but i can't be sure.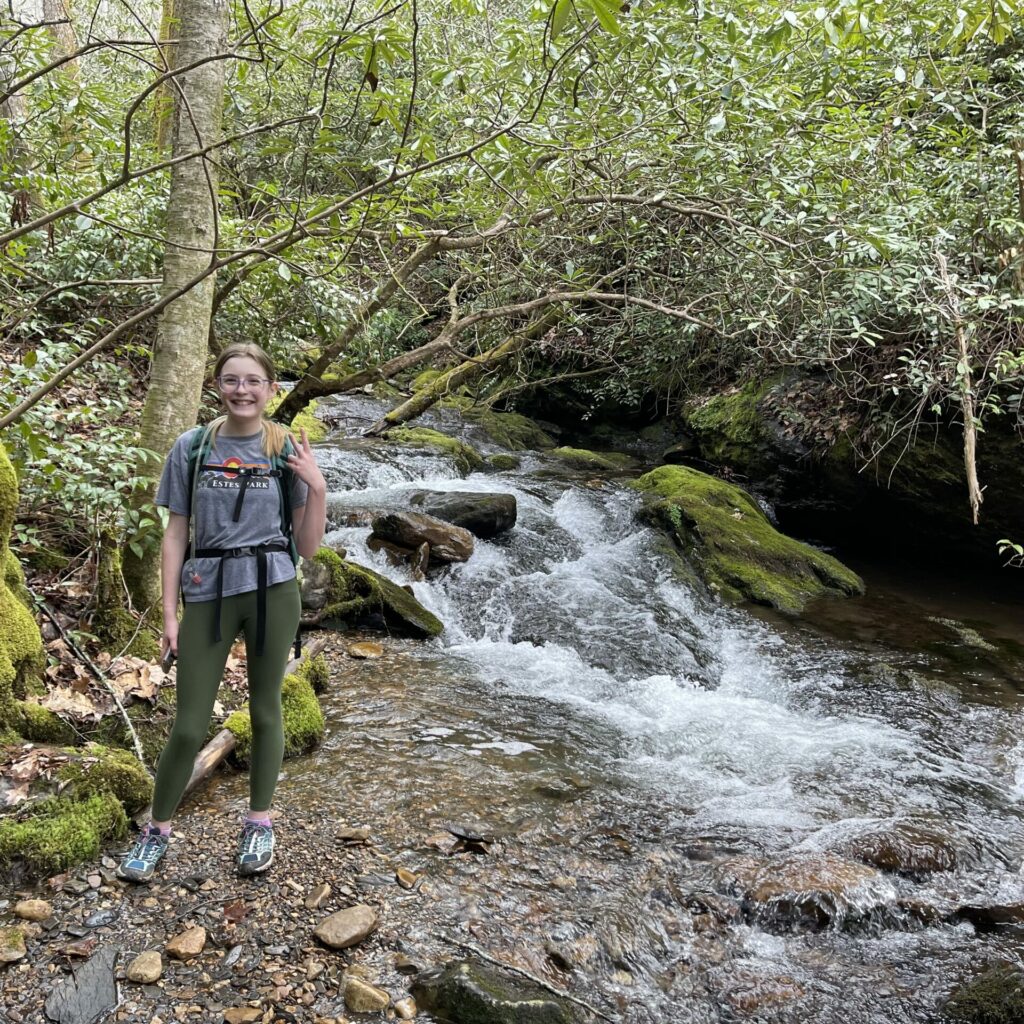 there was a short time on the way to the peak, where the trail leveled off just a bit, much to our relief. and then we thought it was hilarious to find this little bridge, that crosses the dumbest tiny stream. after all of the deeper, wider, and faster moving water creek crossings with no bridges, this seemed like overkill.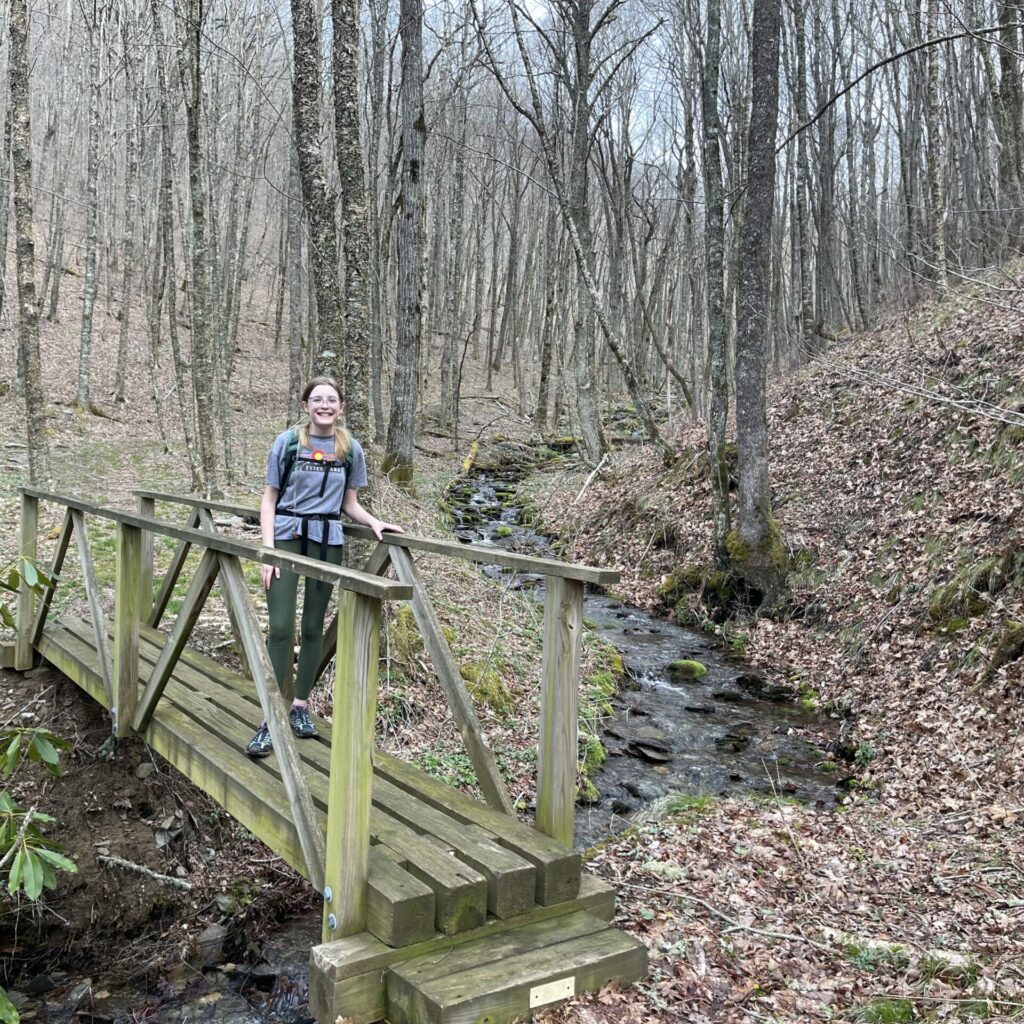 anyways. we trudged and climbed and grumbled and complained our way to the top. cheoah bald has views in all directions and a nice little camping spot where we stopped for a nice long break.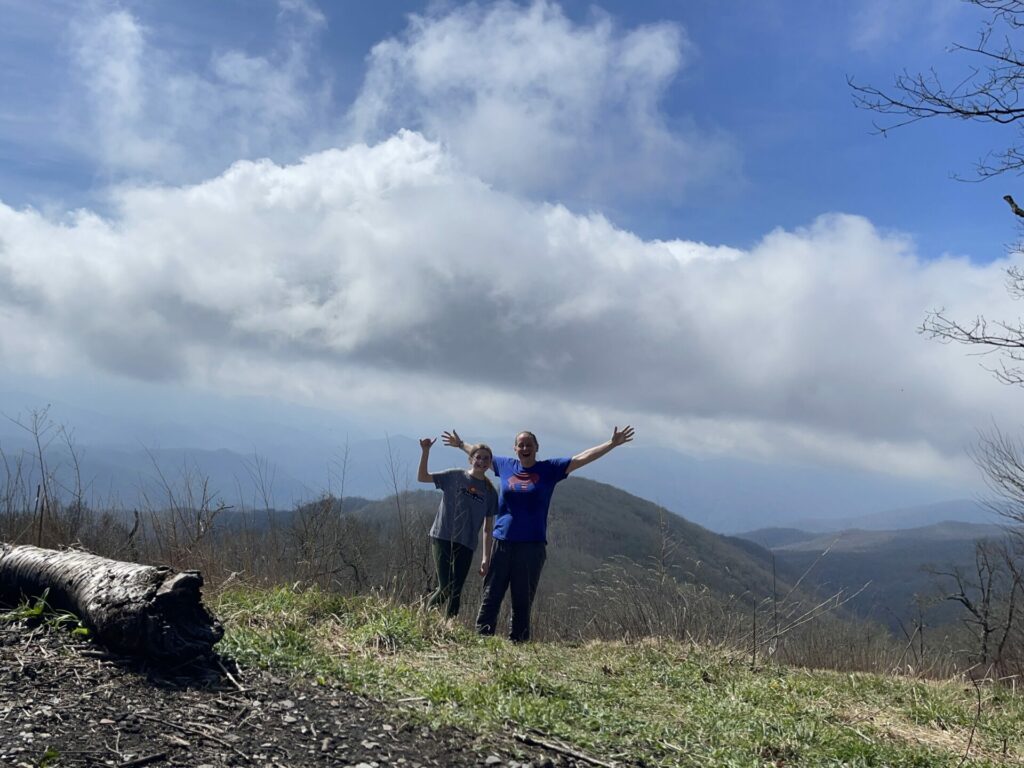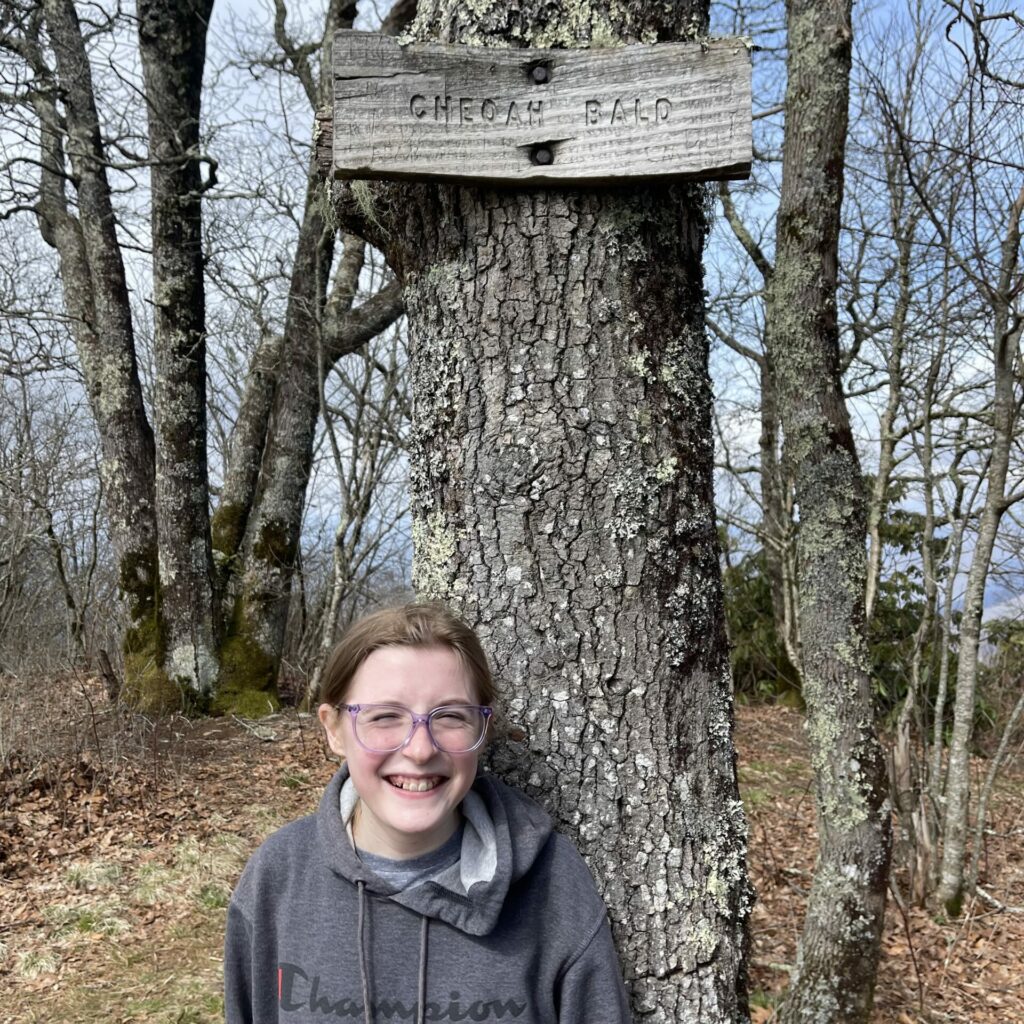 after we had recovered, we began the long walk down along the appalachian trail. we were going in the opposite direction as all of the AT thru hikers, who happened to be aplenty at this time of year on this part of the trail. they were all so friendly and we even met a guy from western new york. (i had a bill t-shirt on which alerted him to my possible birthplace).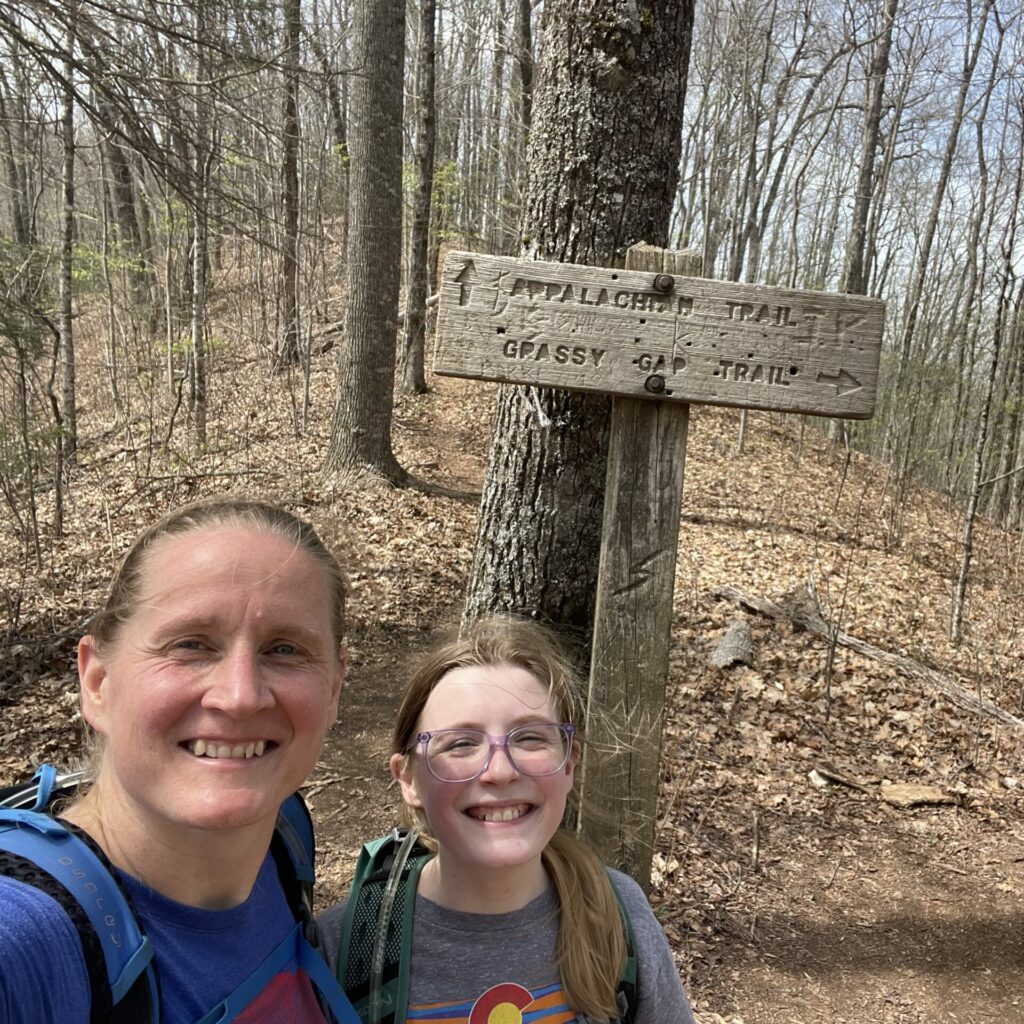 the trail was very rocky and pretty miserable. but all downhill, so thats good. but also bad. turns out, anna's shoes might have been a little small. and going downhill is never pleasant for like 8 straight miles. eventually, we popped out at the nantahala visitor center, where we immediately stripped our shoes and socks and soaked our sad feet in the ice cold waters of the nantahala river. we didn't even mind when a toddler a few feet upstream from us dropped his pants and peed in the water.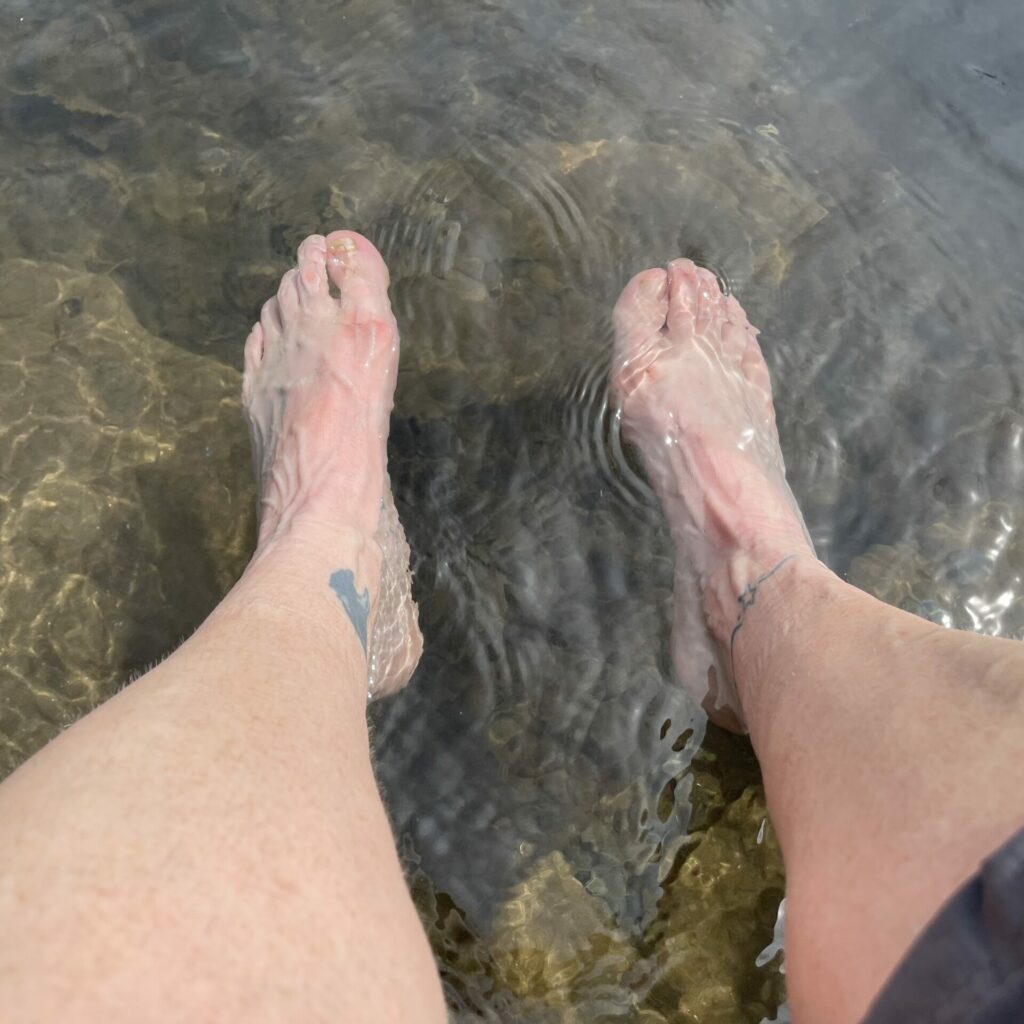 since i was able to get a cell signal towards the end of our hike, i had let derek know our eta, so he arrived shortly after us, with cold sodas in hand, to chauffeur us back to the airbnb for long showers and some downtime before our evening plans with a friend.
our final stats for the hike were 13.3 miles and 3700′ elevation gain. it was a tough one and i'm proud of the anna baby for toughing it out. you can check out the details in this alltrails app screenshot….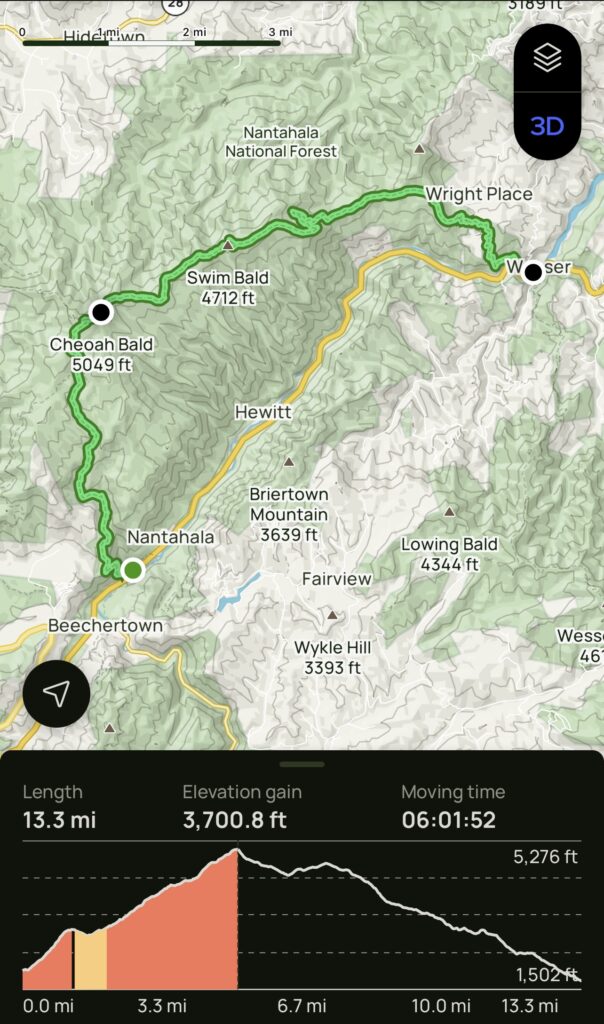 seeing all the AT hikers makes me desperately want to hike the appalachian trail someday, but since my knee and hip didn't recover from this hike for a full week and a half, i'm a bit discouraged. oh well. i guess that's the price i pay for all those glory days of playing sub .500 basketball at a tiny D3 school. totally worth it. ?.