for our last hurrah in the white mountains and our 2023 summer road trip, anna and i embarked upon the mount lafayette and franconia ridge loop, an 8.6 mile "challenging" trail with 3800+ feet of elevation gain, and three different summits.
with several new england hikes under my belt at this point, i knew that this hike would take us longer than usual, so we got an early start. the trail starts off friendly enough, following along some waters and with lovely bridges for crossing said waters.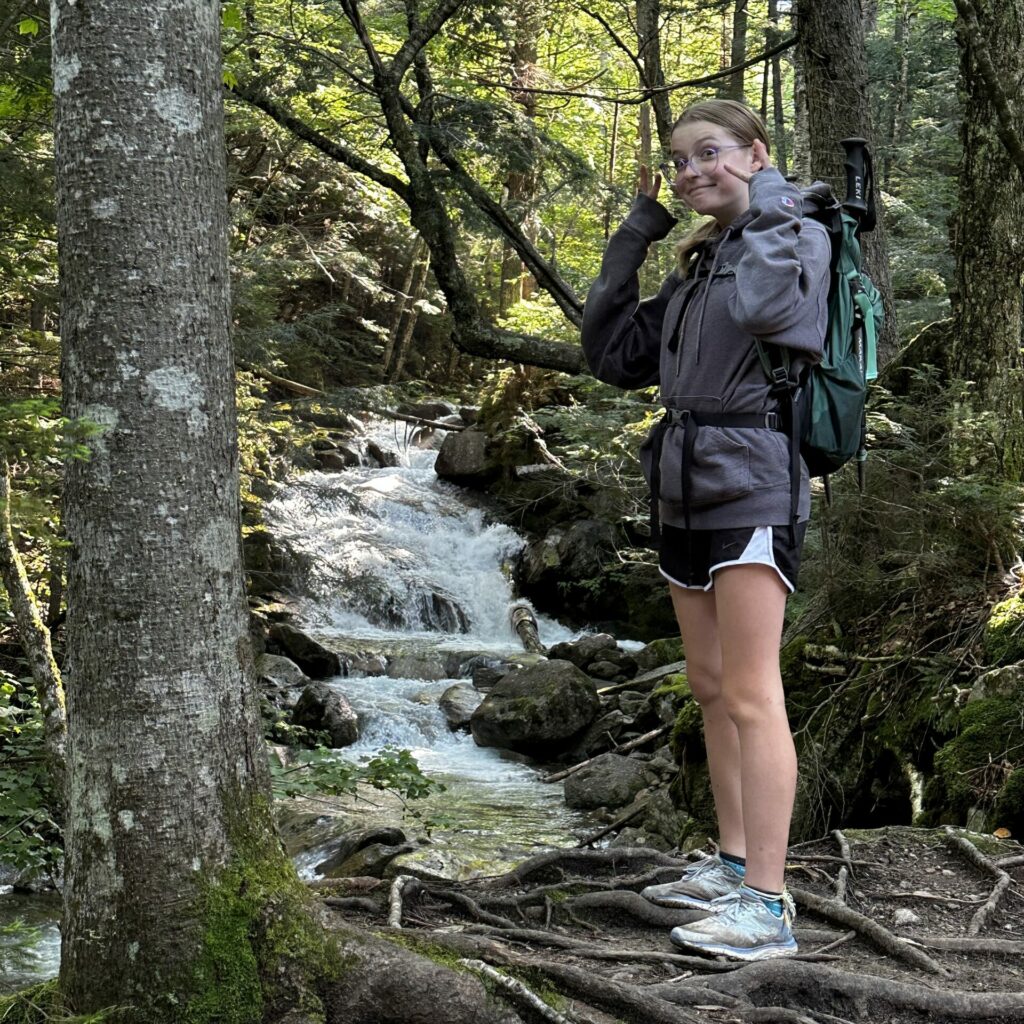 but, haha. the joke was on us. that bridge was decoy. we crossed back and forth across the "dry brook" several times as we traveled along the aptly named "falling waters trail". for the first one, we took off our socks and shoes and waded across, drying off and redressing on the other side. after that, we just accepted that we were going to be wet and sloshy and did our best to limit the volume of said wetness and sloshiness.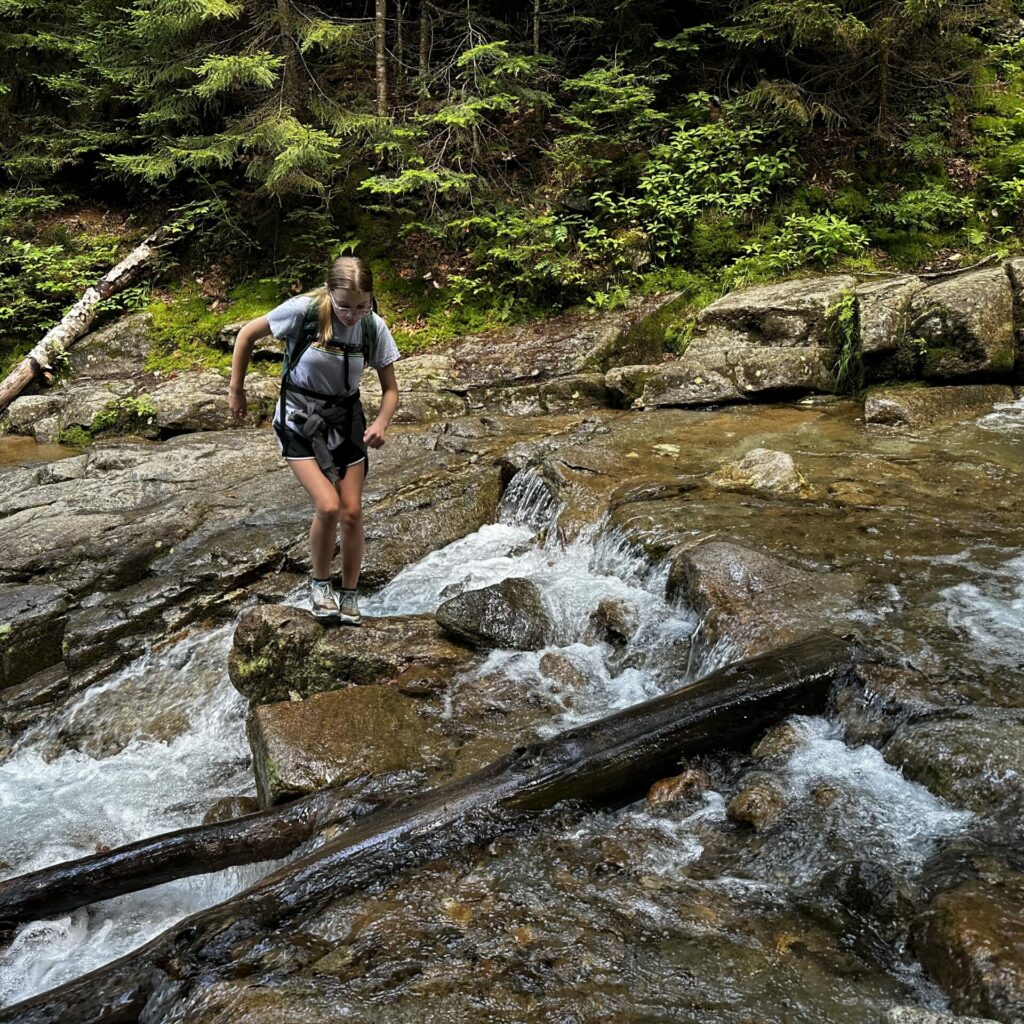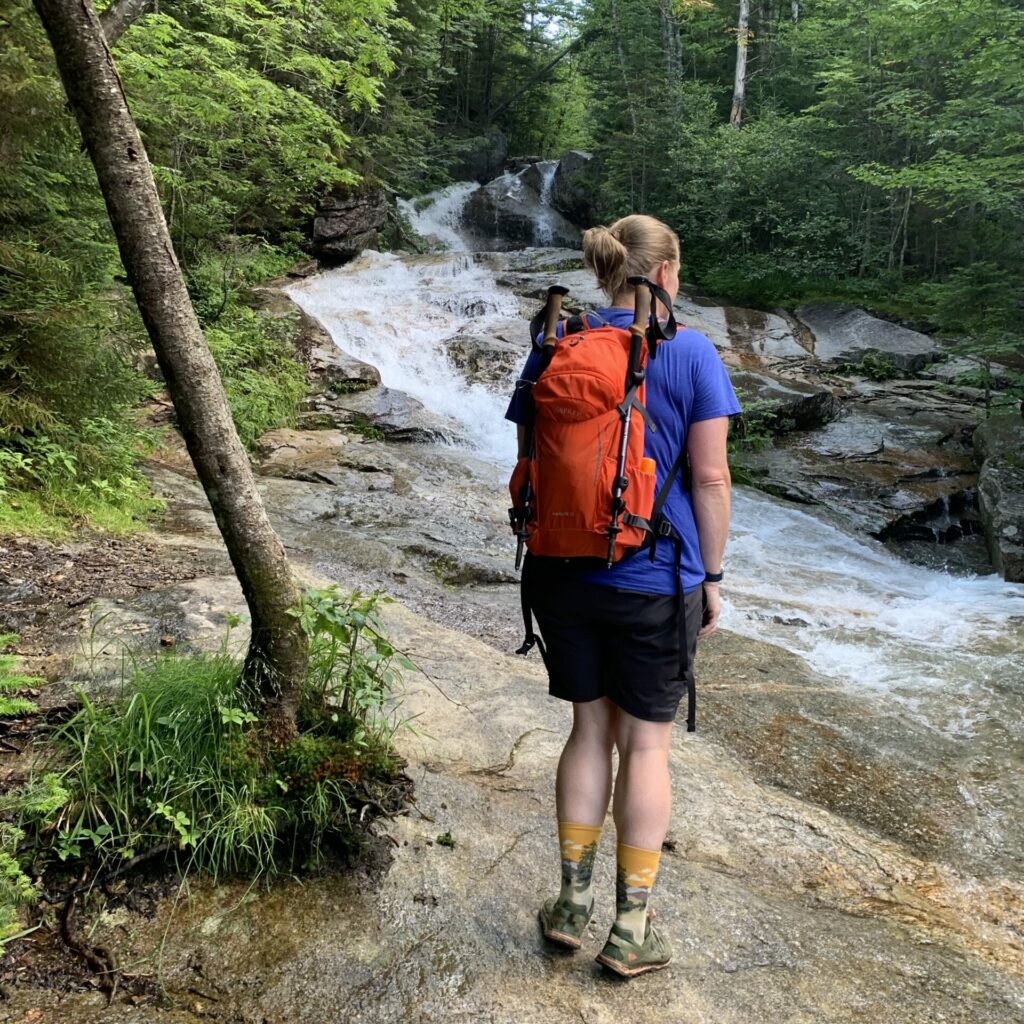 the technical challenge of the water crossings was fun, but it was also a lovely sight whenever we encountered waterfall along the same brook. we quickly realized, however, that a waterfall also meant a steep climb for us as the trail following tightly to the water.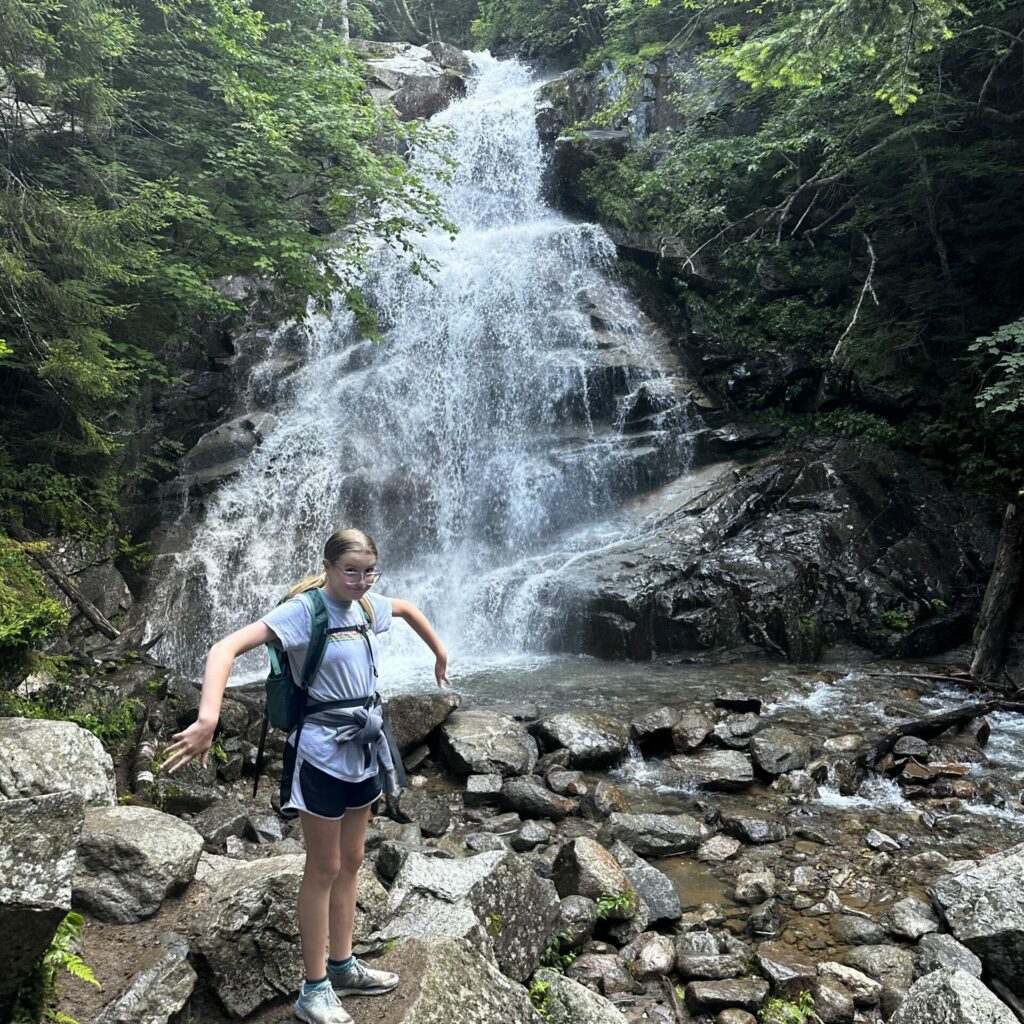 there was a lot of climbing. scrambling, really. we just took our time and took lots of breaks and eventually we had made it up around 3000 feet in 3 miles and we were at the top of little haystack mountain, the first peak on the franconia ridge.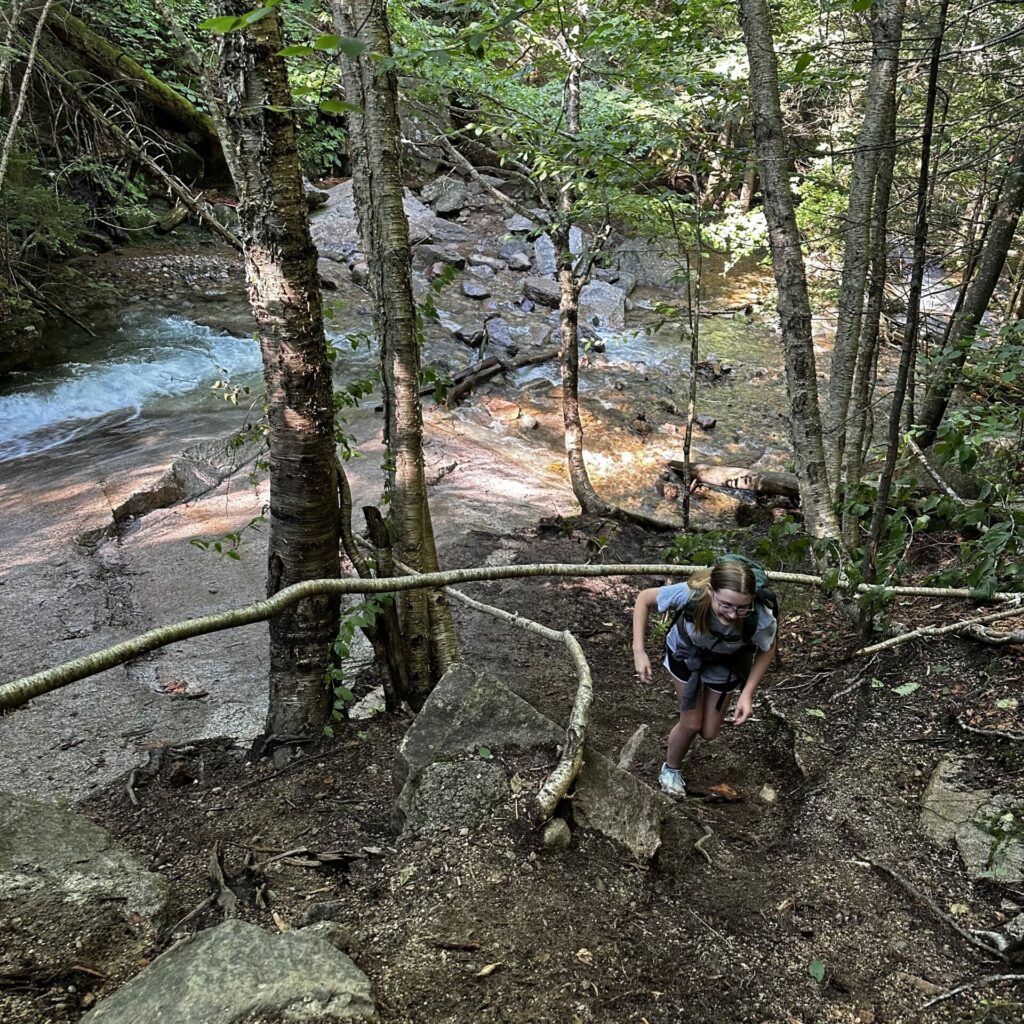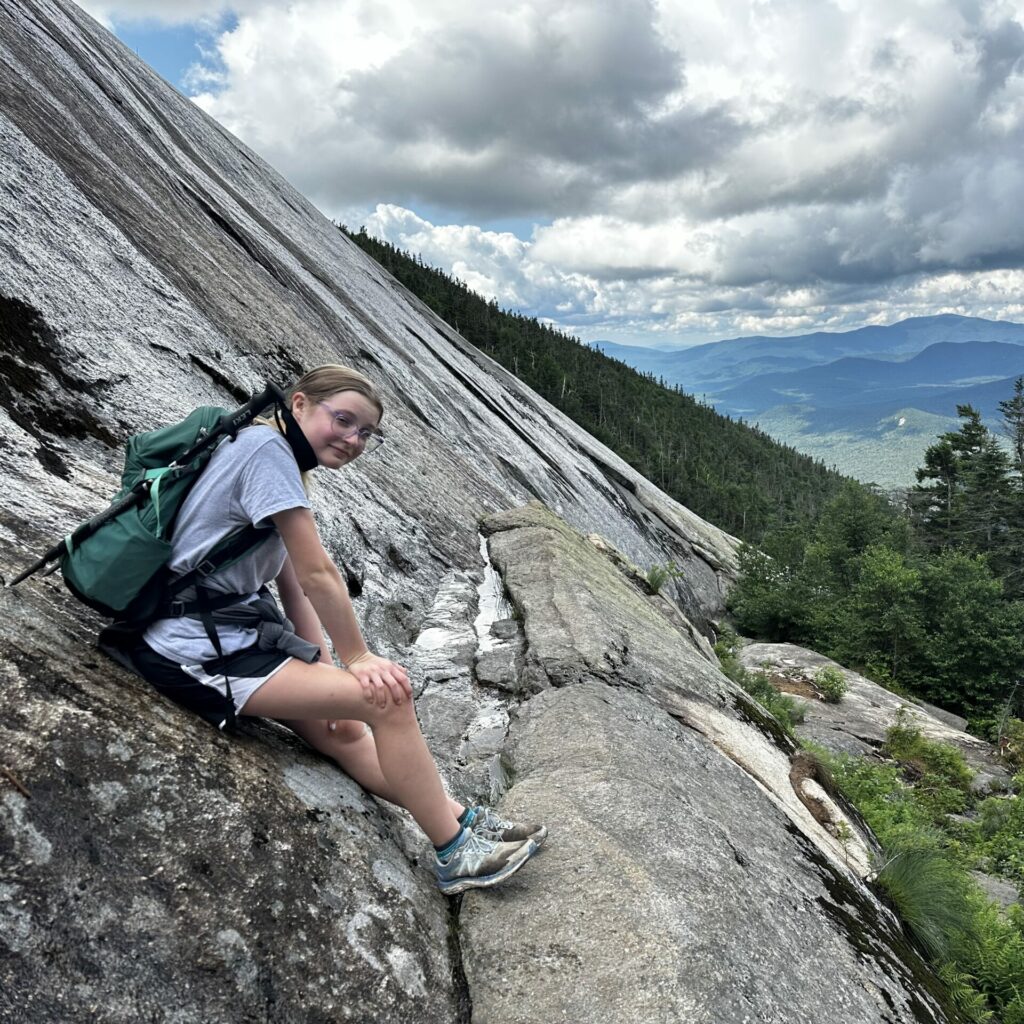 there's several routes to this point, so even though we only saw a few people on our hike up, there were quite a few folks milling around the top. our favorite fellow outdoorsmen were two 20something girls who were on a very loud facetime call as we arrived, were feeding the birds and chipmunks, and who then started playing music for all to hear. such generosity. i hate quite peacefulness of nature anyways.
we took a short break, had a snack, but for obvious reasons didn't stick around long. the next mile and a half was a stroll along the franconia ridge, with a much more gentle slope and two more peaks. you can see the first one in the distance in this photo. off we went….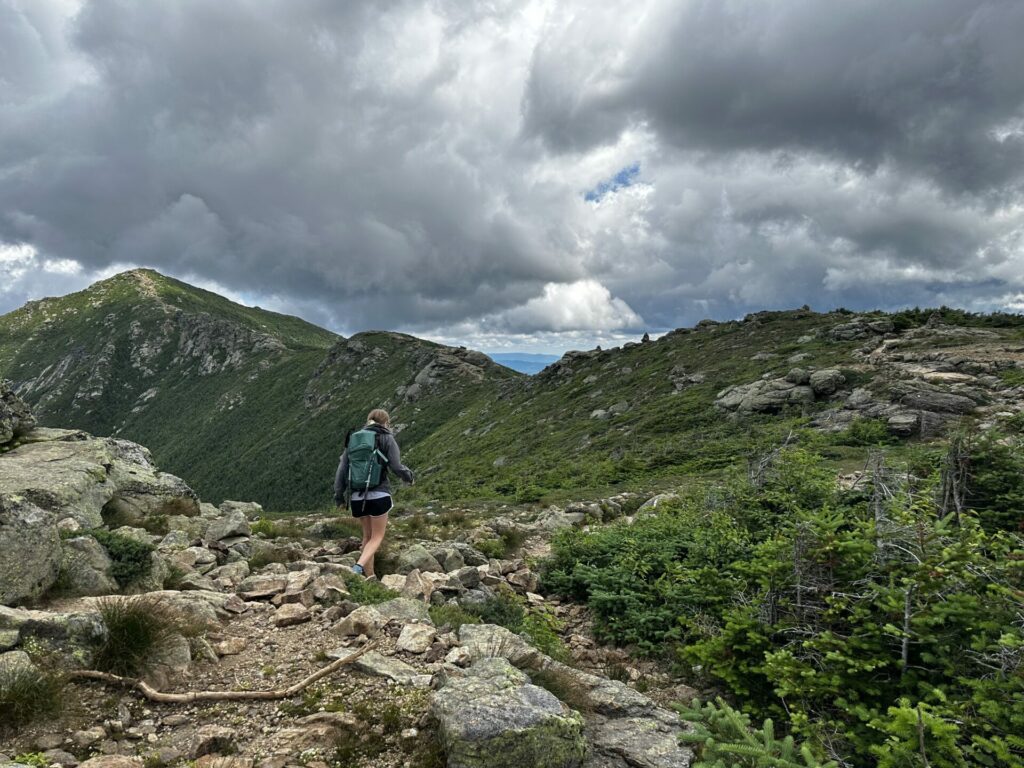 at this point, we were also in the much cooler air temperatures of the alpine zone. the views were stunning in all directions. we kept stopping just to take it all in. and to take photos that can't even begin to capture how amazing it was up there.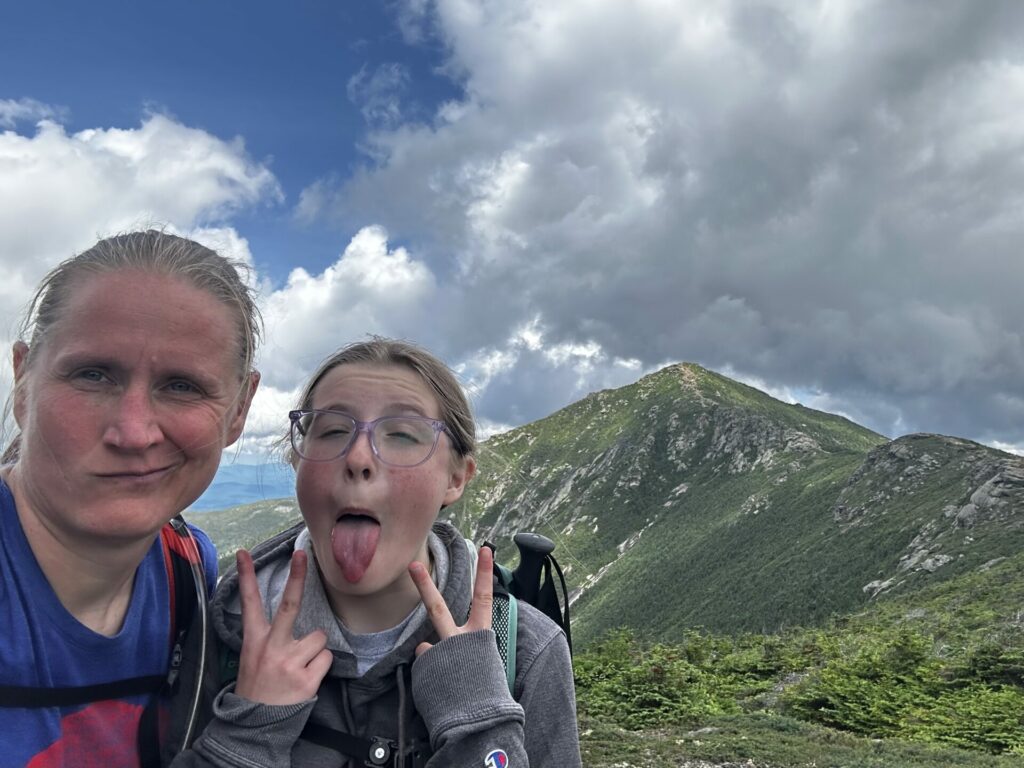 i'm not actually sure where all of these photos happened along the way. we just made our way along the ridge. there was some scrambling. we went up and over mount lincoln and then onto mount lafayette. we were pretty tired at this point, so even though it wasn't super steep in this section, we were taking our sweet time, and stopped for long of photos and sight seeing.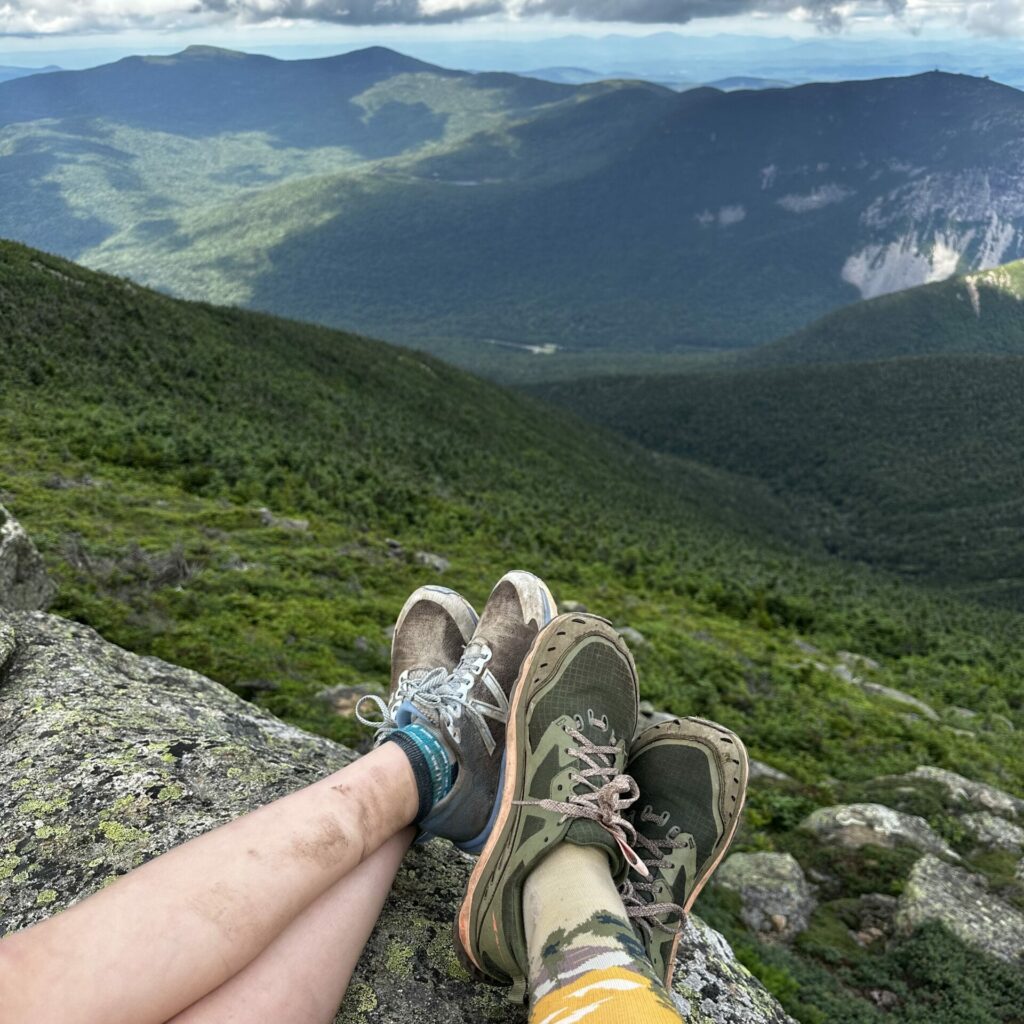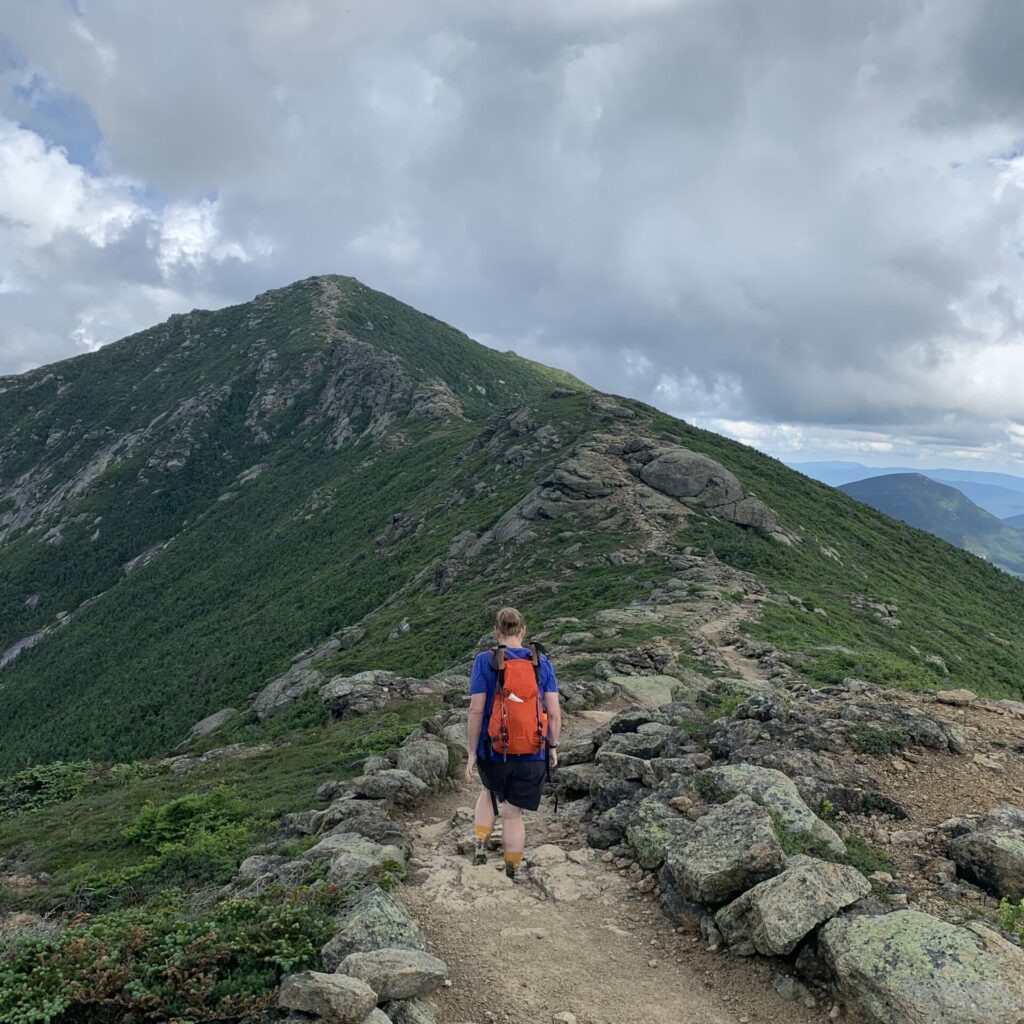 FINALLY.
we reached the top. we actually sort of thought we were coming up to a false summit and expected to see more climb once we got up there, so we were so relieved and happy when we realized we had made it. it was really quite chilly at the top, especially in sweat soaked clothes, so we took a couple pics before hunkering down against some rocks and eating our lunch. we joked that basic turkey sandwiches are never better than on a mountain peak. and of course, some sour patch kids for instant energy and summit rewards.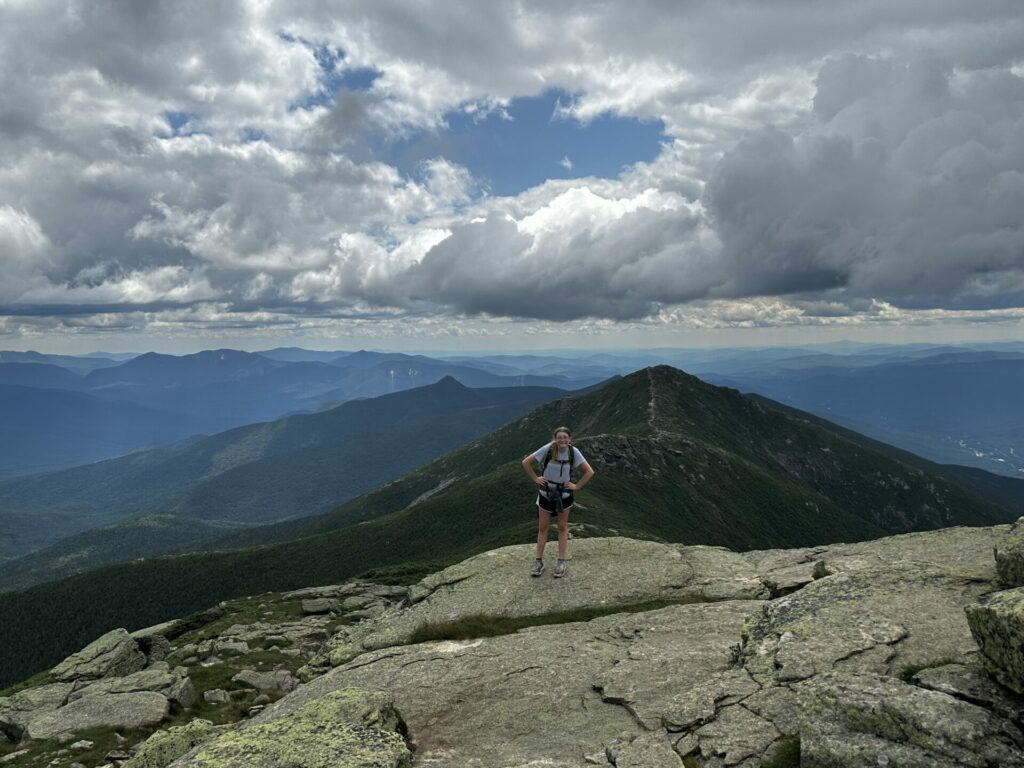 while we were eating, a dark foreboding cloud began to move in (and we were even with the cloud line at this point so it was heading straight at us), so we decided it was a good idea to get a move on. we took one quick "summit" photo and then started the steep trip down.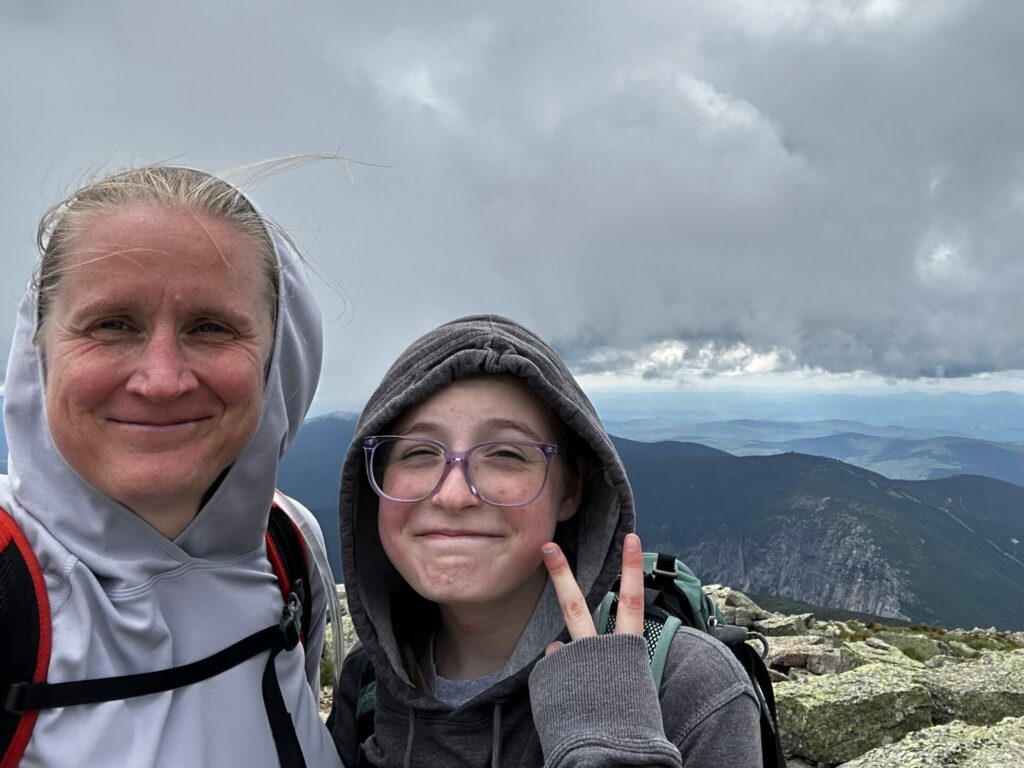 the trail on the way down from the top was pretty miserable at first. very very rocky. and treacherous. just ask anna. but once we were back below the tree line things got prettier. not easier. it was a long and grumpy hike back down. i won't lie.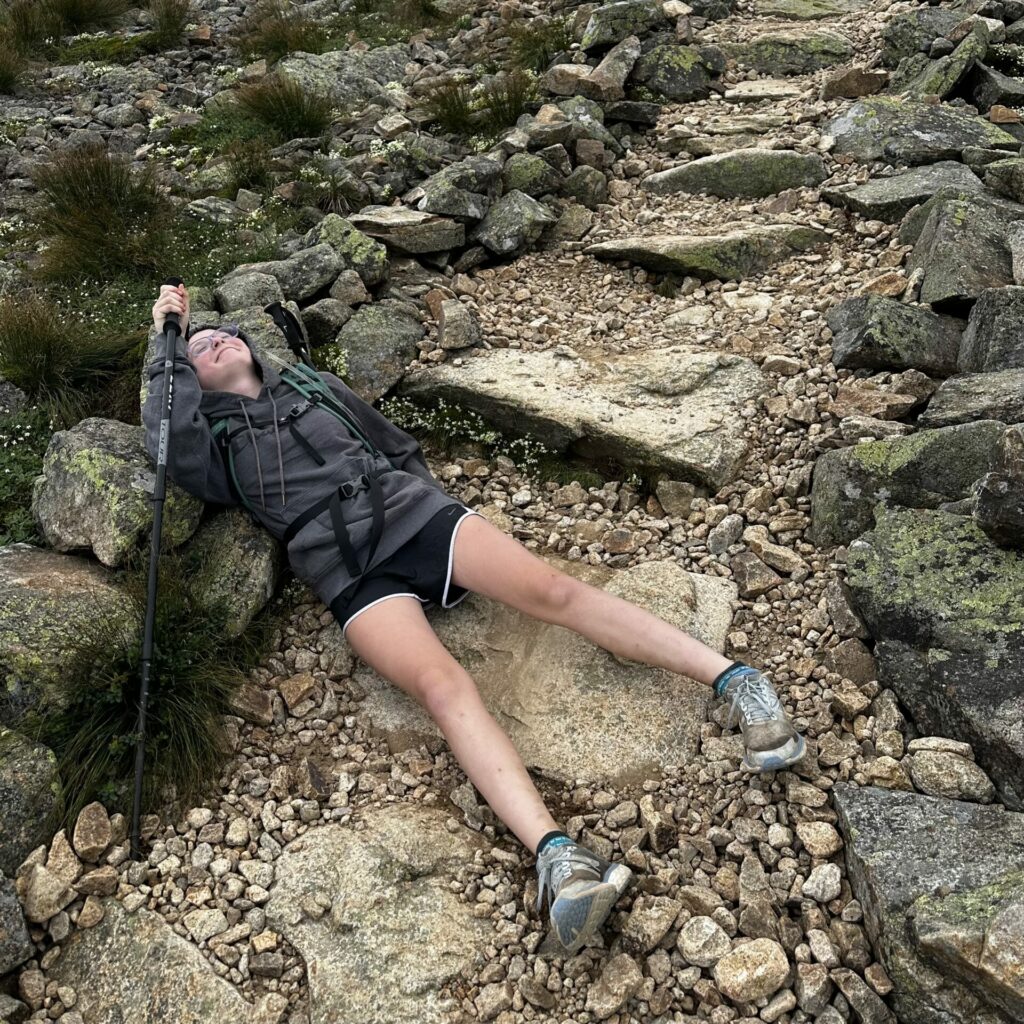 we had a short little reprieve from the misery when we reached the greenleaf hut, which is basically a little hotel in the middle of nowhere, run by the appalachian mountain club. there are bunk beds and showers and a little kitchen and TOILETS! we stopped to use the actual bathrooms and to partake in some cornbread and (cold gross) tea, just for the experience. and we chatted with a fellow hiker, complaining about steep trails.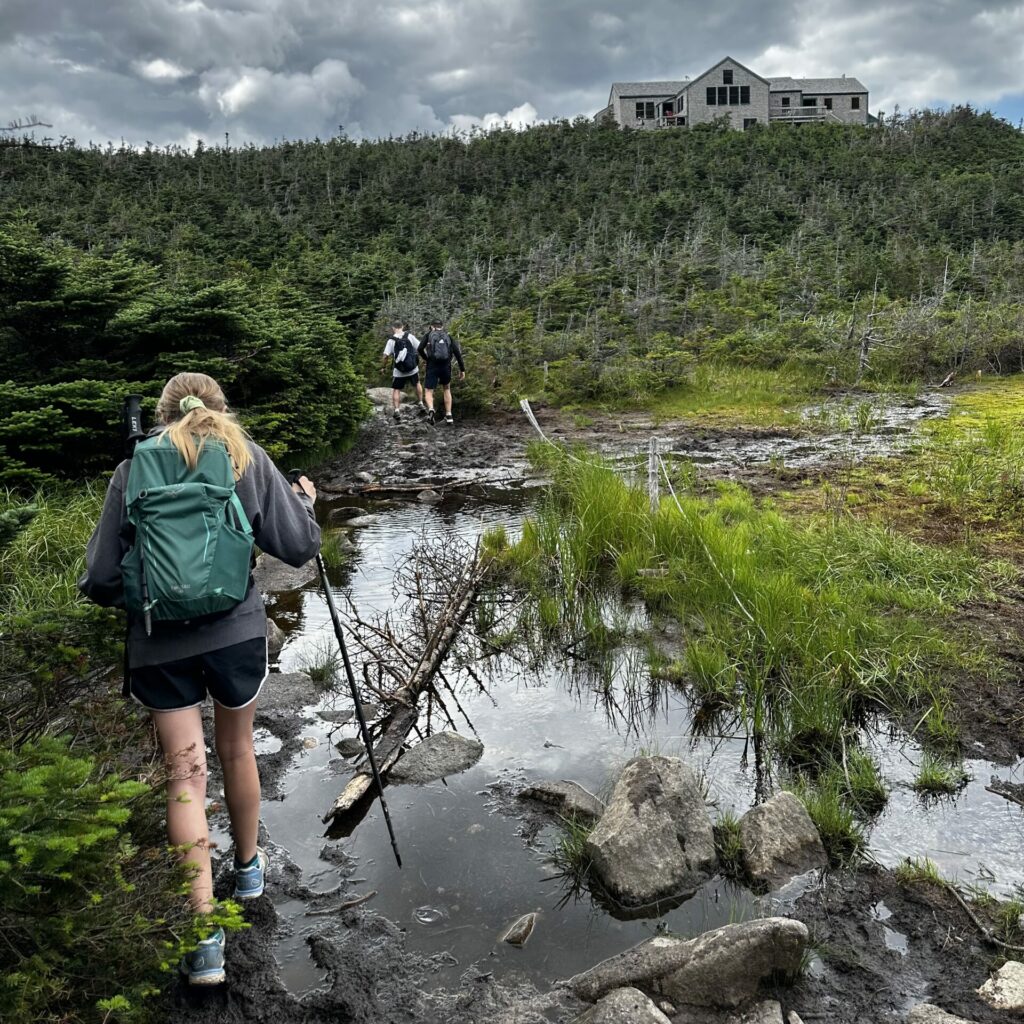 funny story. while we were at the hut, i found a super mario hat in the bathroom. i recognized it as a hat worn by a young kiddo in a family we met in the parking lot before the hike. i was going to turn it into the hut folks but figured it would have a better chance of being found if i took it back to the trailhead at the parking lot. (the hut is about 2.5 miles from there). and then, as we were hiking past a lovely vista, i saw the family! they were so happy to get the hat back and we stopped to chat for a bit. the dad was wearing a bills hat, so we had a lot to discuss.
anyway, anna and i grumbled and stumbled and slipped and slid our way down. it was THE. WORST. we motivated ourselves the entire way by talk of what ice cream flavors we planned to get as our reward. and that we were going for a nice long soak in the resort hot tub. (which was really like 10 minutes before we got bored).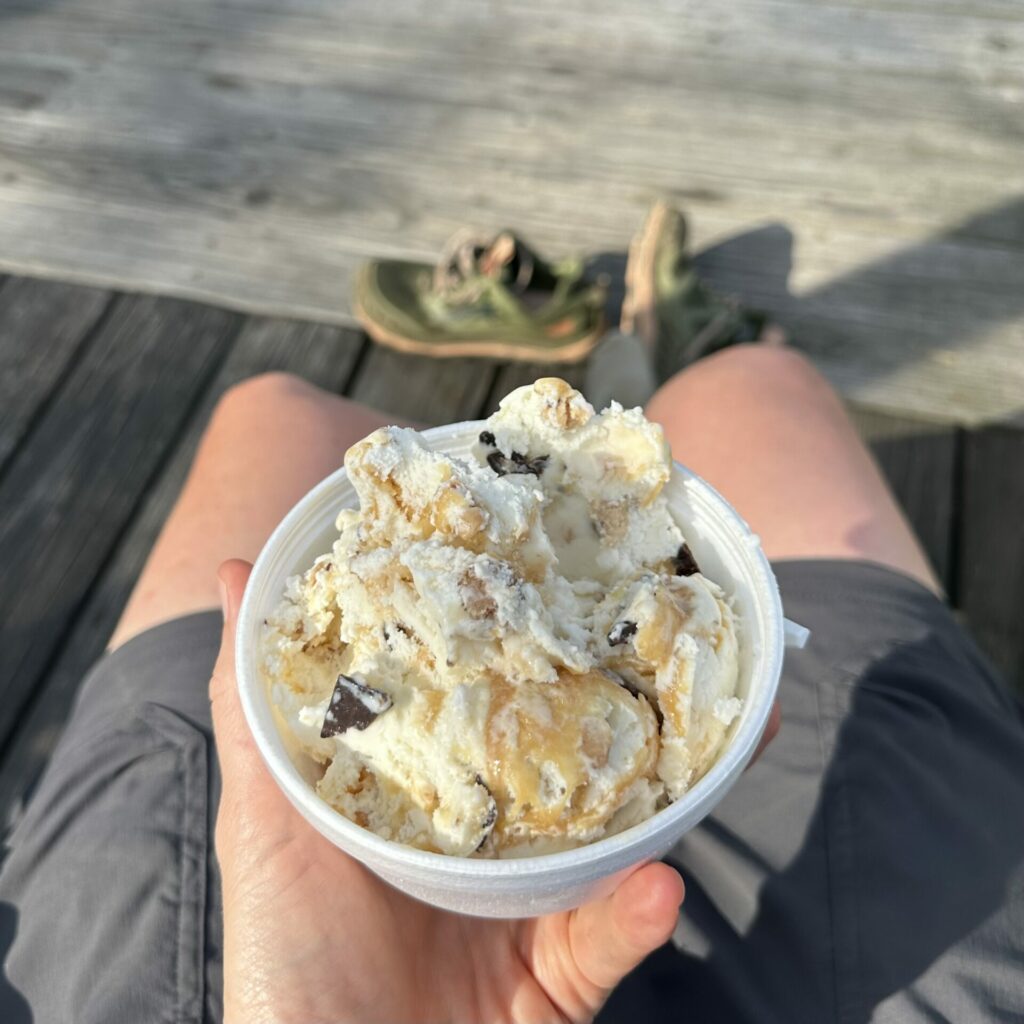 anyways. it was the most perfect day. anna was a total champ and never complained. at least not more than i did. it was the most elevation gain we have ever done, especially in such a short distance, and we were pretty proud of ourselves. and maybe a little sore. and we felt like we could say we properly experienced the white mountains.
here's the hike deeets.