day six was one of our best days in iceland, jammed packed with cool stuff from start to finish.
first up, we made the short drive from our campsite to a meeting location for a guided hike on an actual glacier. as with many of our more adventurous (and guided) activities, it took good a bit of time to get outfitted in properly fitted, glacier appropriate gear. once most of that was covered, we loaded into the coolest shuttle vehicle ever, and bounced our way to the trail head for our glacier. we trudged up a rocky, muddy, switchback-y path, before putting on our crampons, getting one last safety chat, and making our way onto the glacier….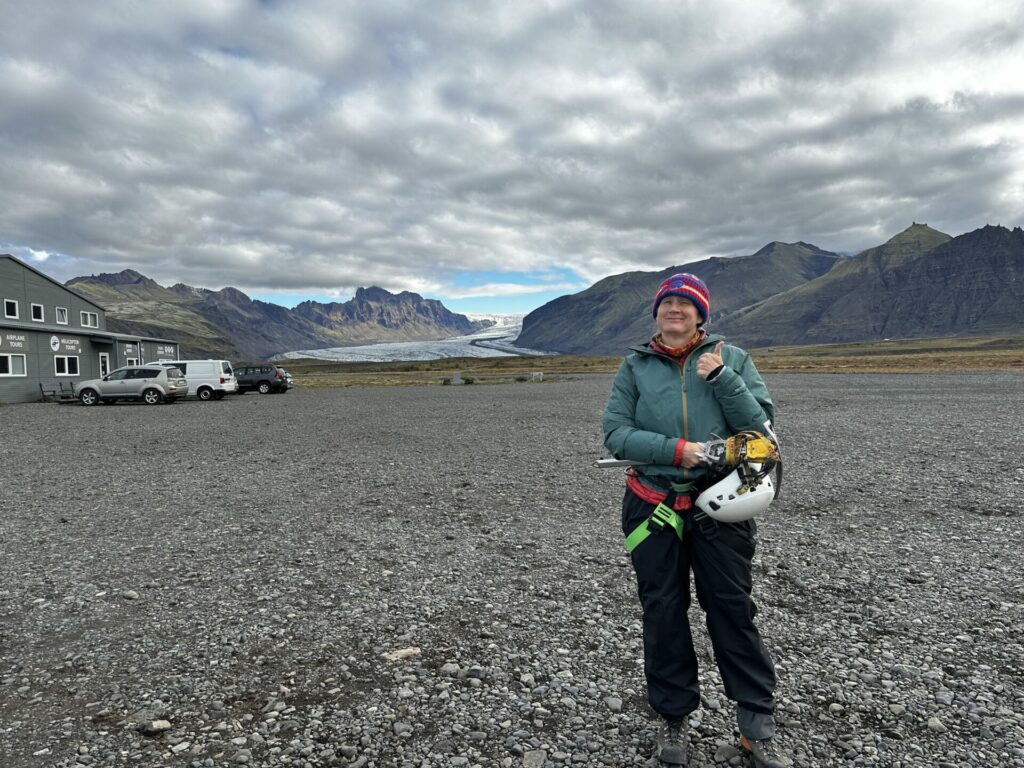 it was definitely not what i was expecting. much dirtier. it doesn't even really look like ice, but if we chipped away just a bit of the top layer, the ice blue glacier color appeared pretty quickly.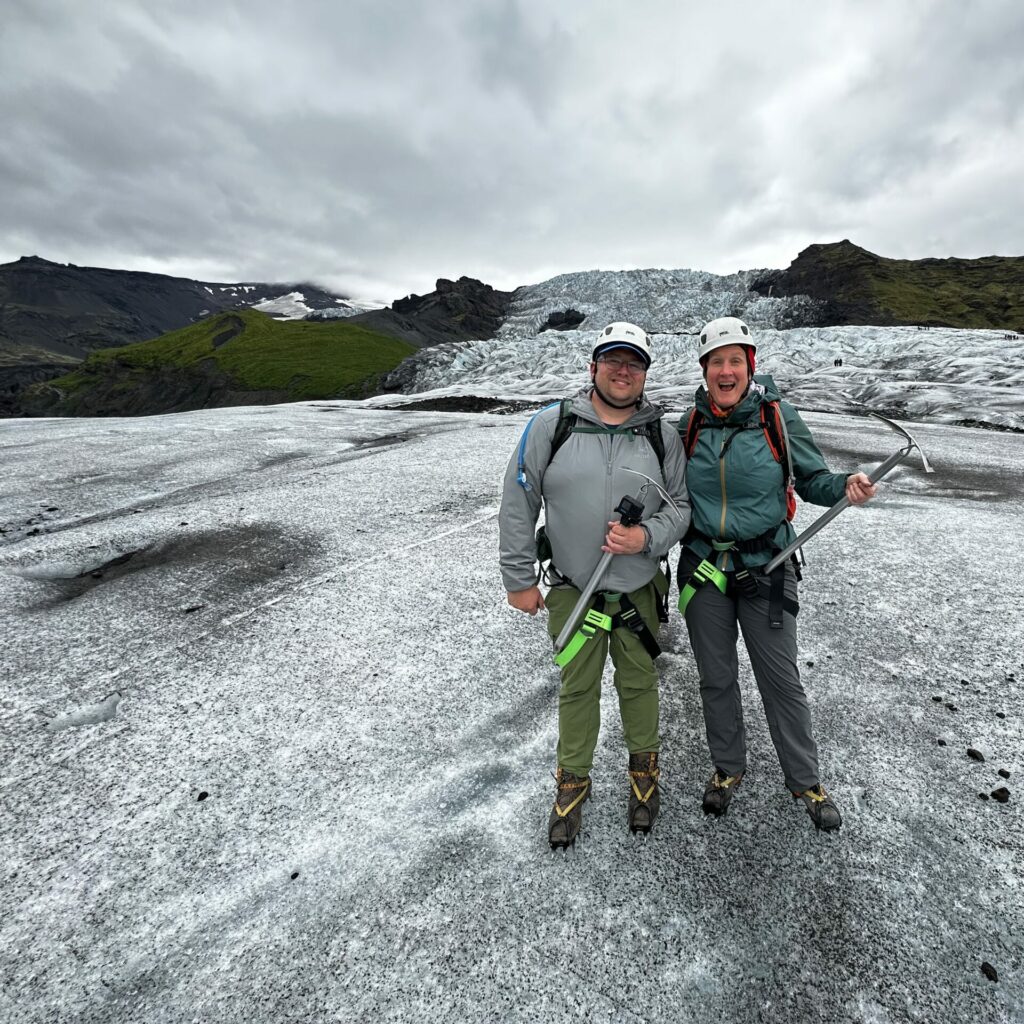 our guide was really awesome. he was so knowledgable about iceland geography and history. we learned all about this particular glacier (falljokull, or "falling glacier") and how to say it and how quickly it is disappearing. 🙁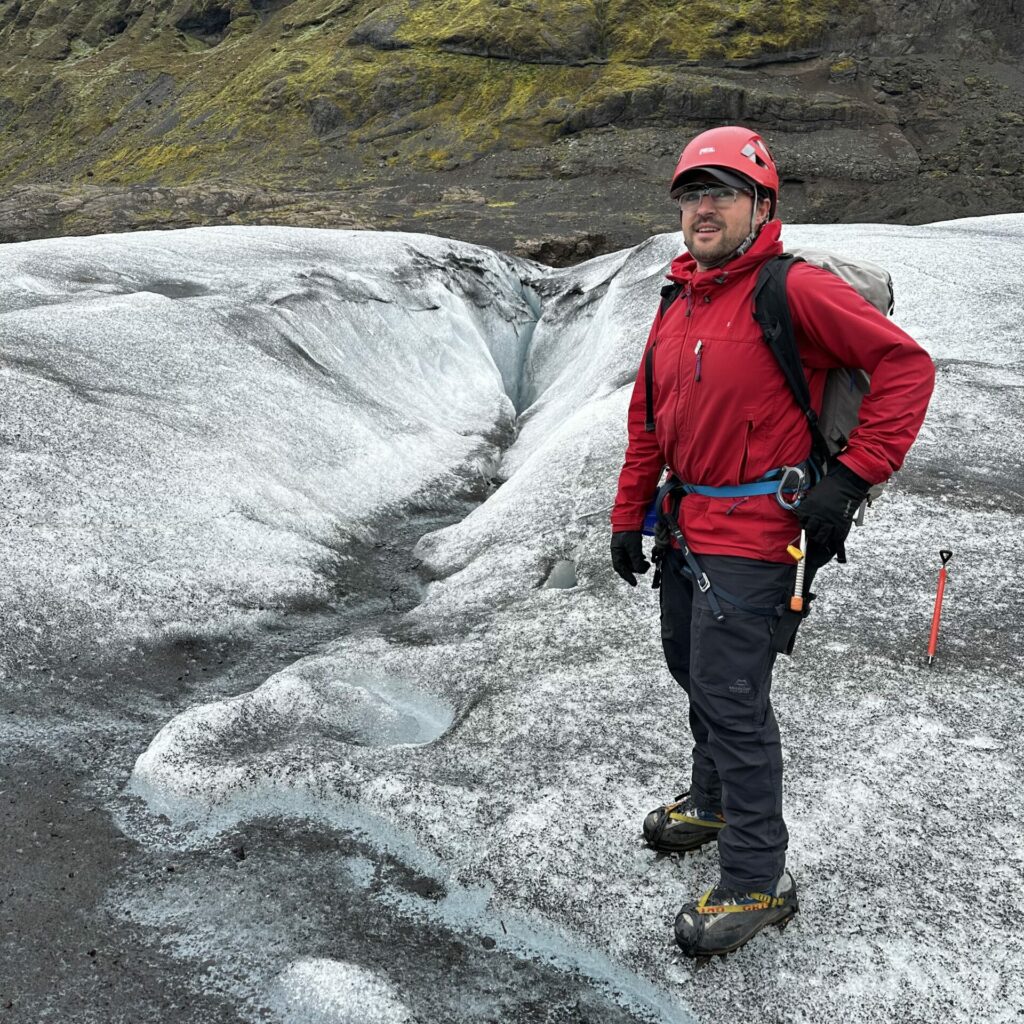 he led our little group out to a gaping hole through the glacier, giving us a little bit of a sneak peak of what lies below (and what folks who hike the glacier caves in the winter get to see). it also gave us a healthy appreciation of the size and danger of this giant slab of ice. but the coolest part of the hike was when we got to drink from a glacier stream/waterfall. our guide brought a cup, but we all opted to do it "viking style", placing our ice axe across the stream, leaning over and doing a push up down to lower our mouths into the path of the water.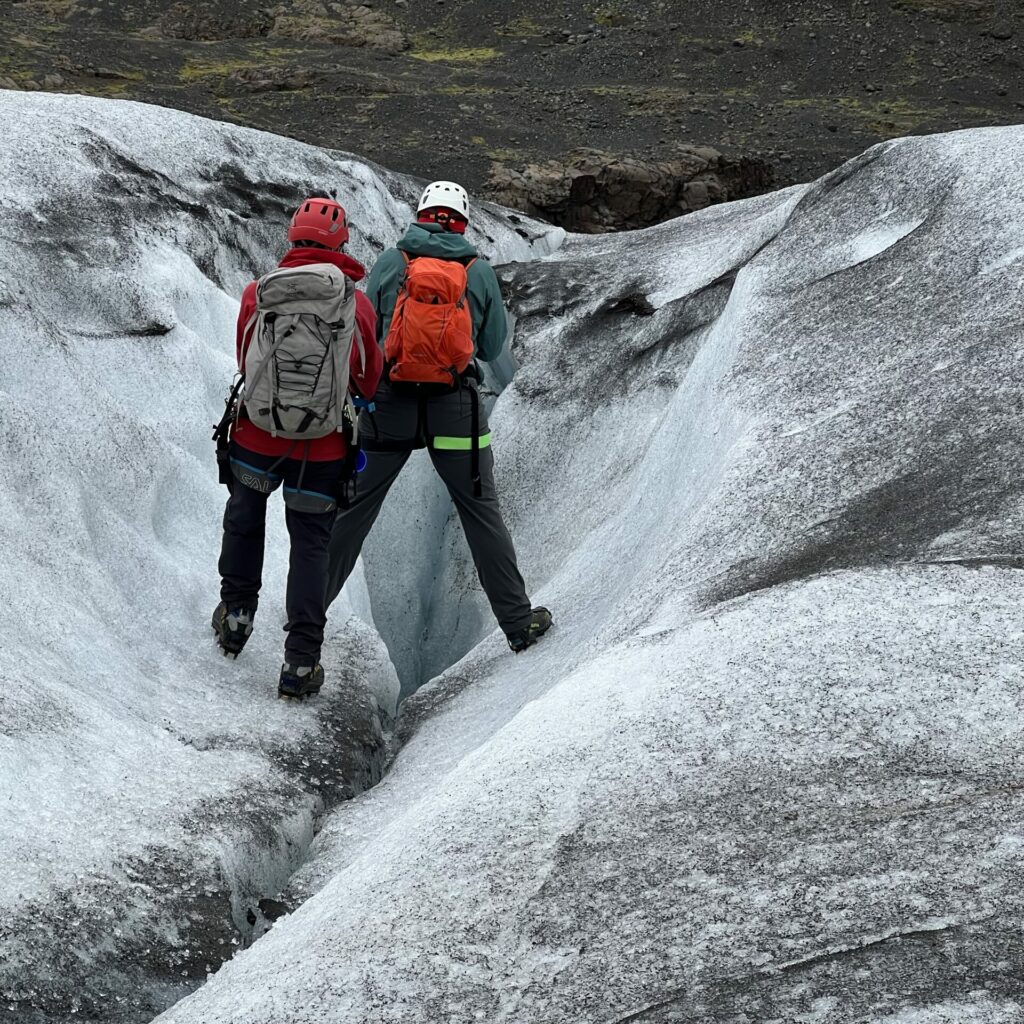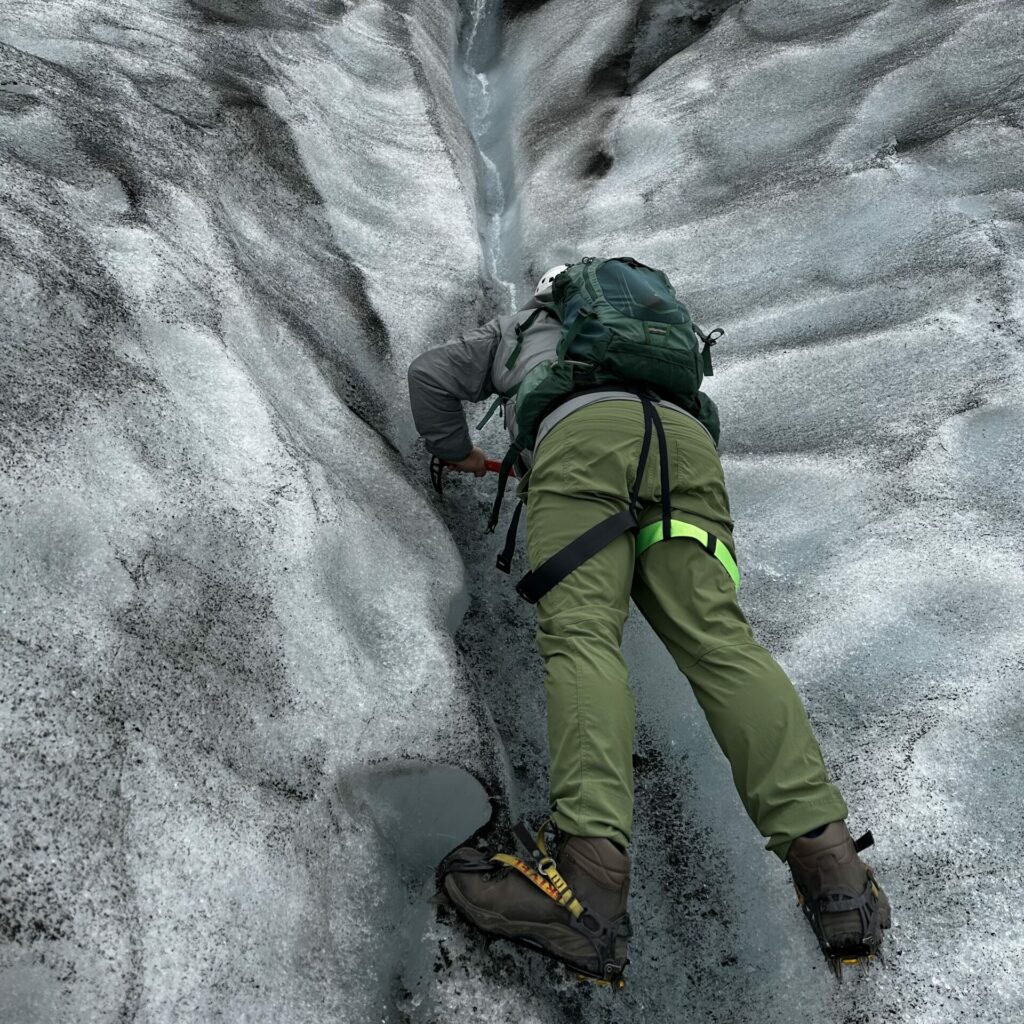 after our refreshing sips, it was time to head back off the glacier, peel off all of our gear, and head back to the meeting spot. we had a quick lunch in the camper and then raced off for a quick hike to yet another waterfall. the hike itself was meh and people-y, but the destination was pretty fantastic. the claim to fame for skaftafoss is it's backdrop of dark basalt columns. we took all of the photos and then got out of there quick (annoying people + evening plans)….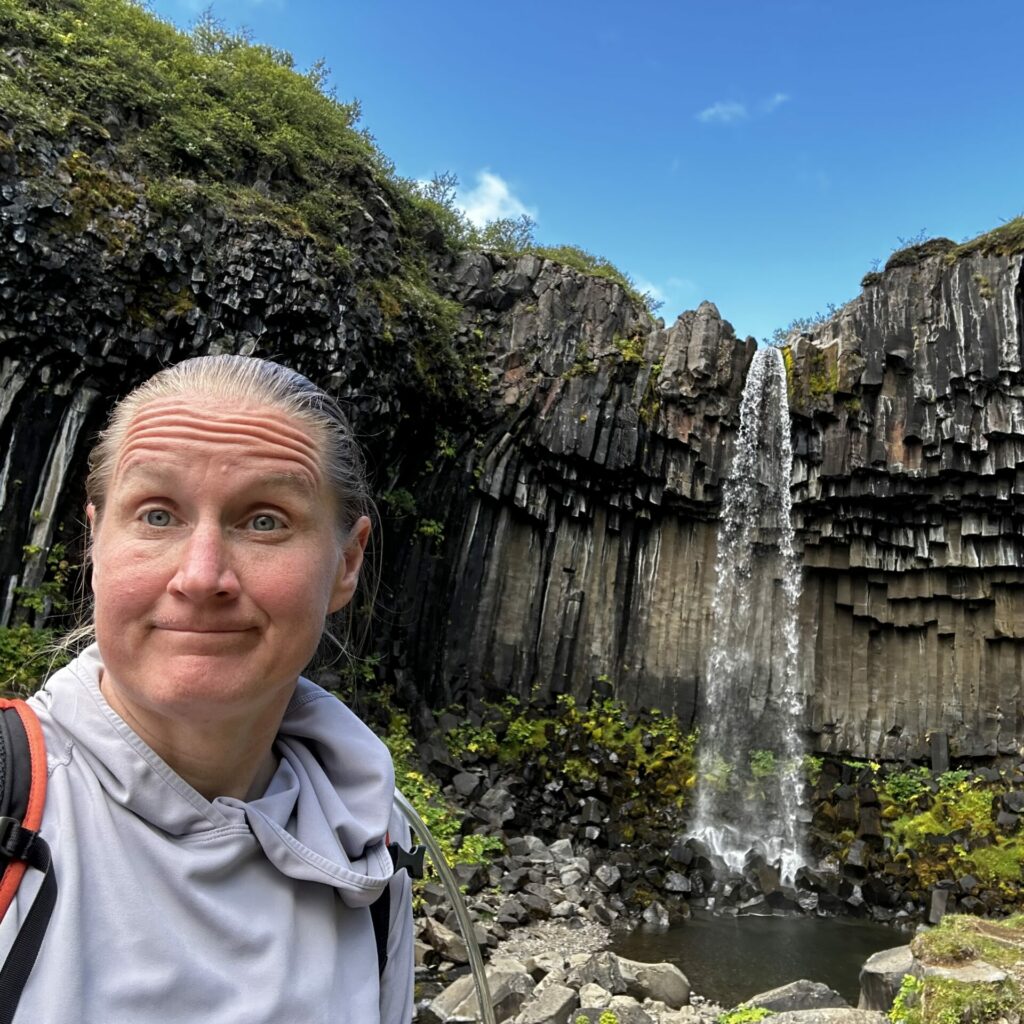 for our final adventure on this epic day, we were booked on a boat tour of an iceberg filled glacier lagoon.
jökulsárlón is a 7 square mile, 300 meter deep (and growing) lake at the base of breiðamerkurjökull, an outlet glacier of vatnajökull, the giant glacier covering 9% of iceland. chunks of ice break off, thereby becoming icebergs, and float in the lagoon/lake, slowly melting in the blue waters as they make their way to the ocean.
we donned really fashionable insulated full body flotation devices, loaded into zodiac boats with eight of our closest friends and a guide who looked like an actual viking, and sped off to explore the lagoon. we got up close to the edge of the glacier, but you know, not close enough to be crushed by a falling iceberg. then we cruised around the hundreds of icebergs, learning about the history and geology of the lagoon and glacier. (another sad tale of shrinking glaciers, really).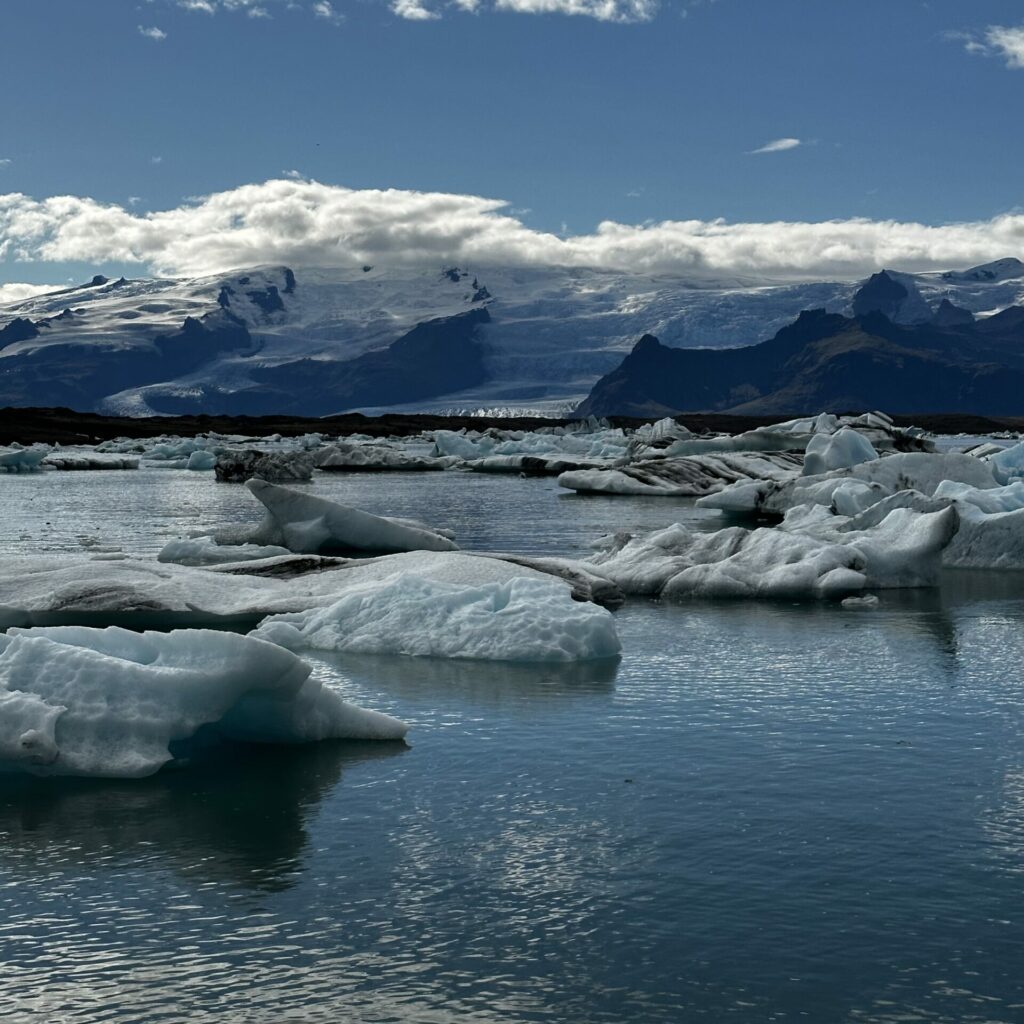 our viking boat driver let us all take turns sitting at the front of the boat, while he performed photo taking duties, with the glacier in the background.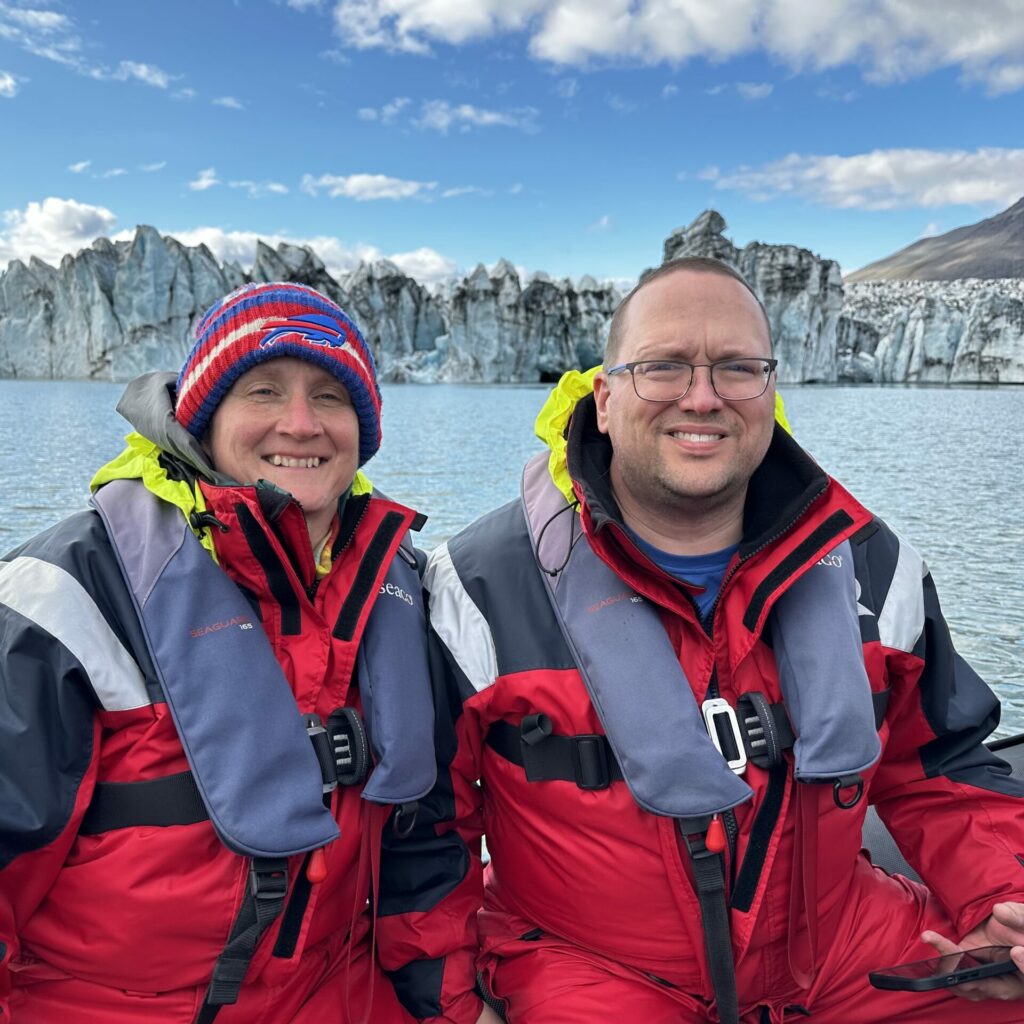 the floating icebergs were pretty massive and quite dangerous looking. we didn't get too close because they can tip over or break off without warning. in fact, our guide saw one break off in the distance and we sped over to get a better look of the clean blue break in the massive ice cube.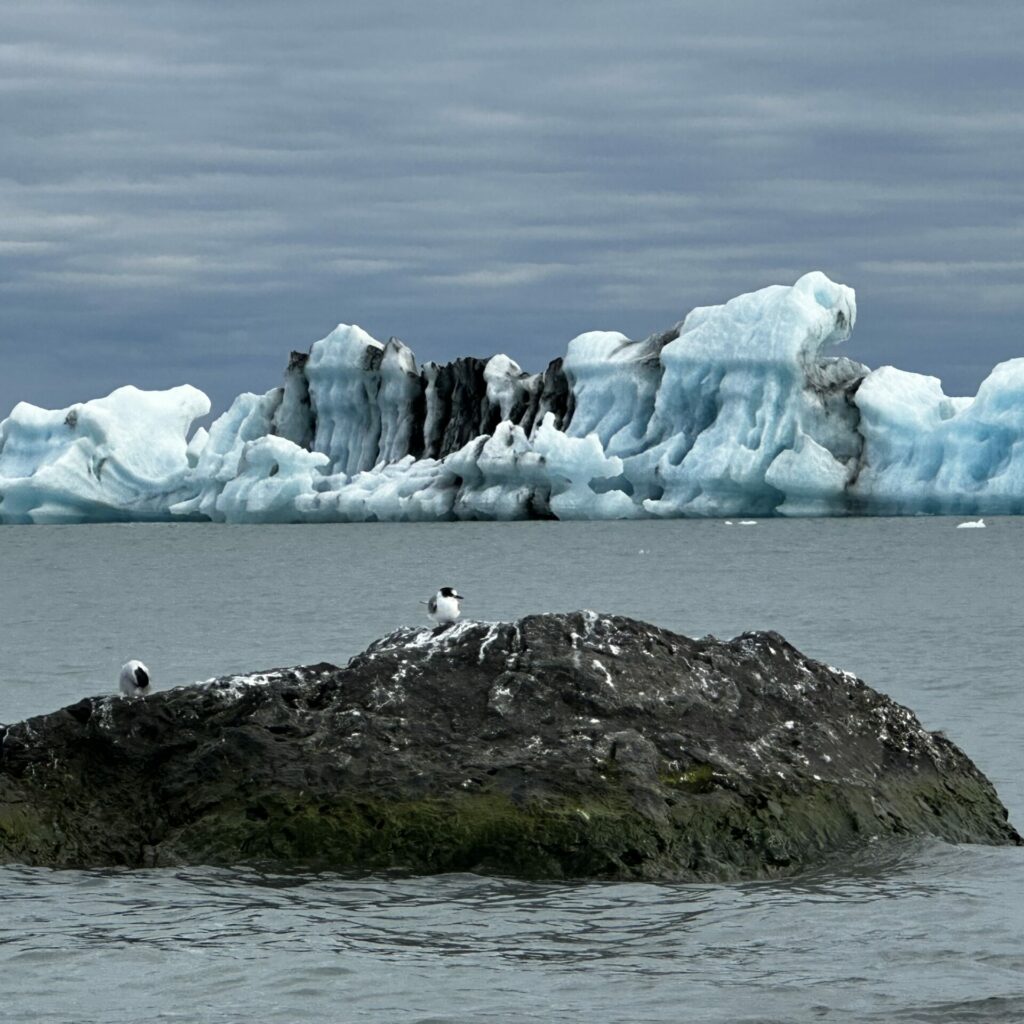 after the tour, we walked out to the aptly named "diamond beach" where the lagoon flows out into the ocean. the icebergs that are now broken down into much smaller hunks of ice dot the sand, giving the appearance of gems.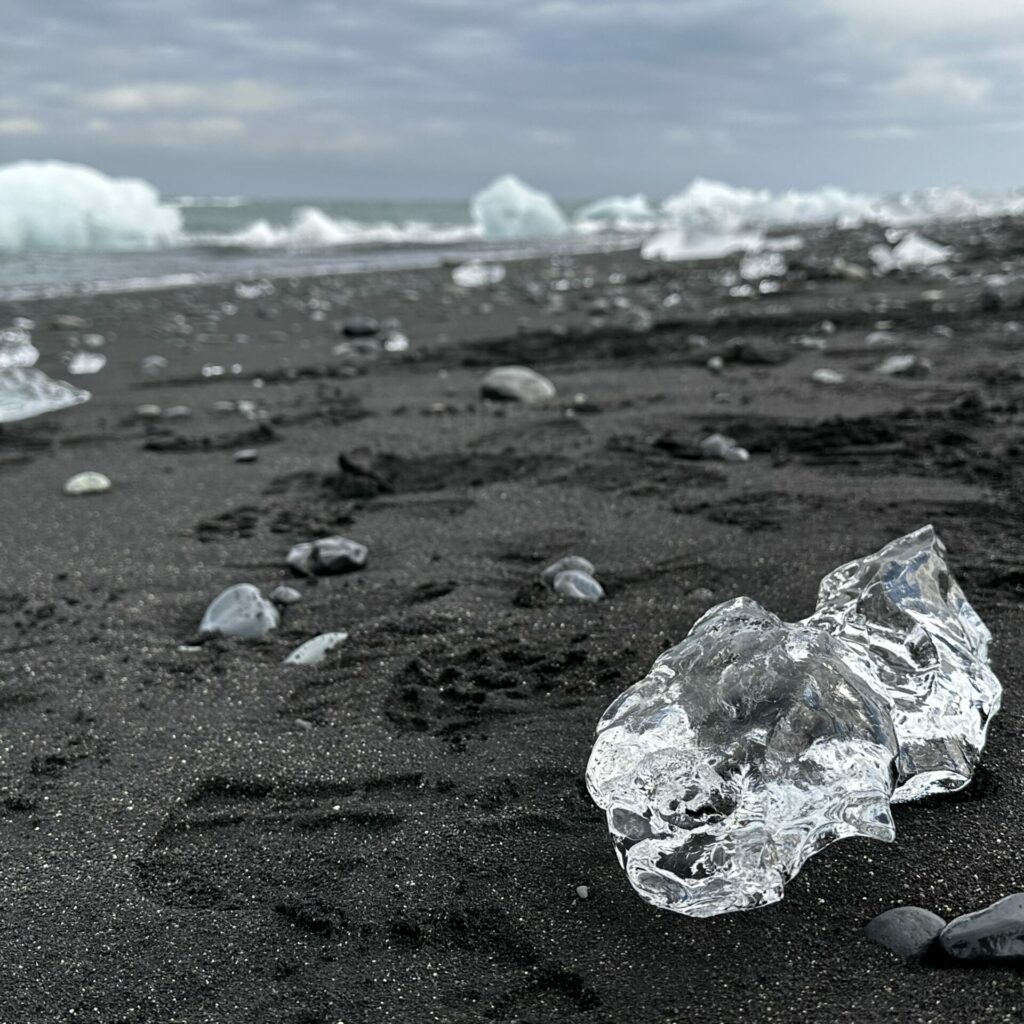 on our way to our campground for the night, we stopped in a little town for dinner at "pakhuus", a restaurant recommended to us by our glacier hike tour guide. it was super fancy. and expensive. and there was a wait. and we were exhausted. and we nearly called it off and opted for pizza. but then our buzzer went off to be seated…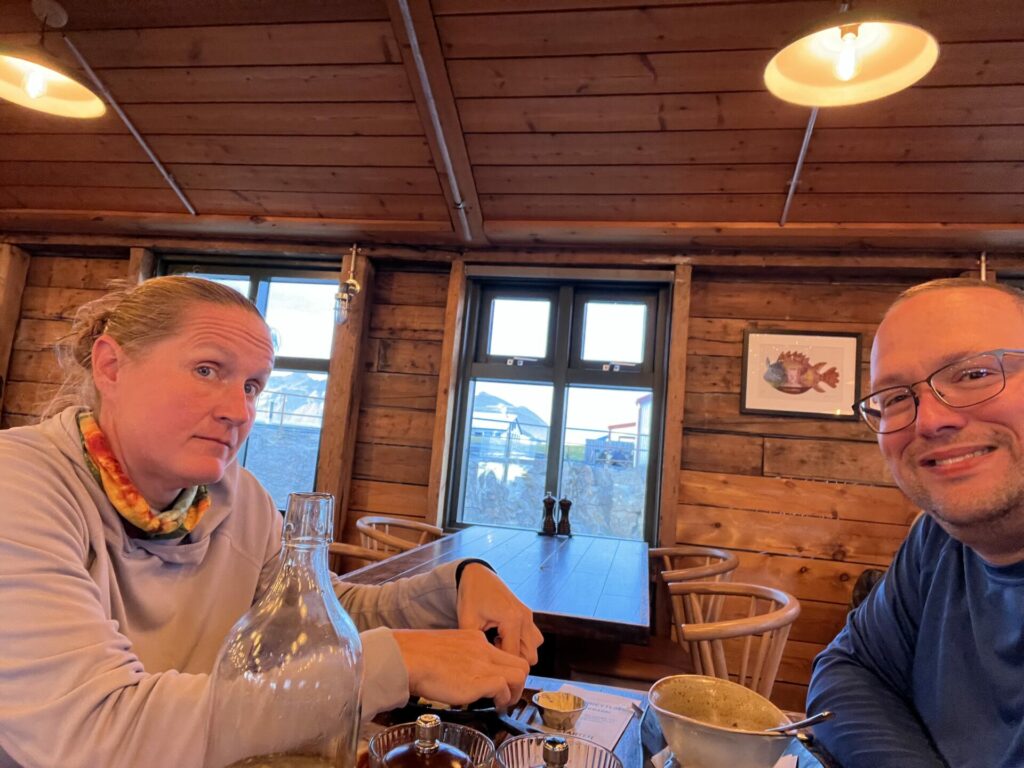 the food was pretty tasty. i stuck with local cod. derek had horse. yes, horse. i tried a bite and it was good, but it just didn't seem right. everything was delicious. but the very best most amazing delicious part of the meal was FOR SURE my dessert, licorice creme brulee. i will live the rest of my life attempting to locate and/or recreate this treat.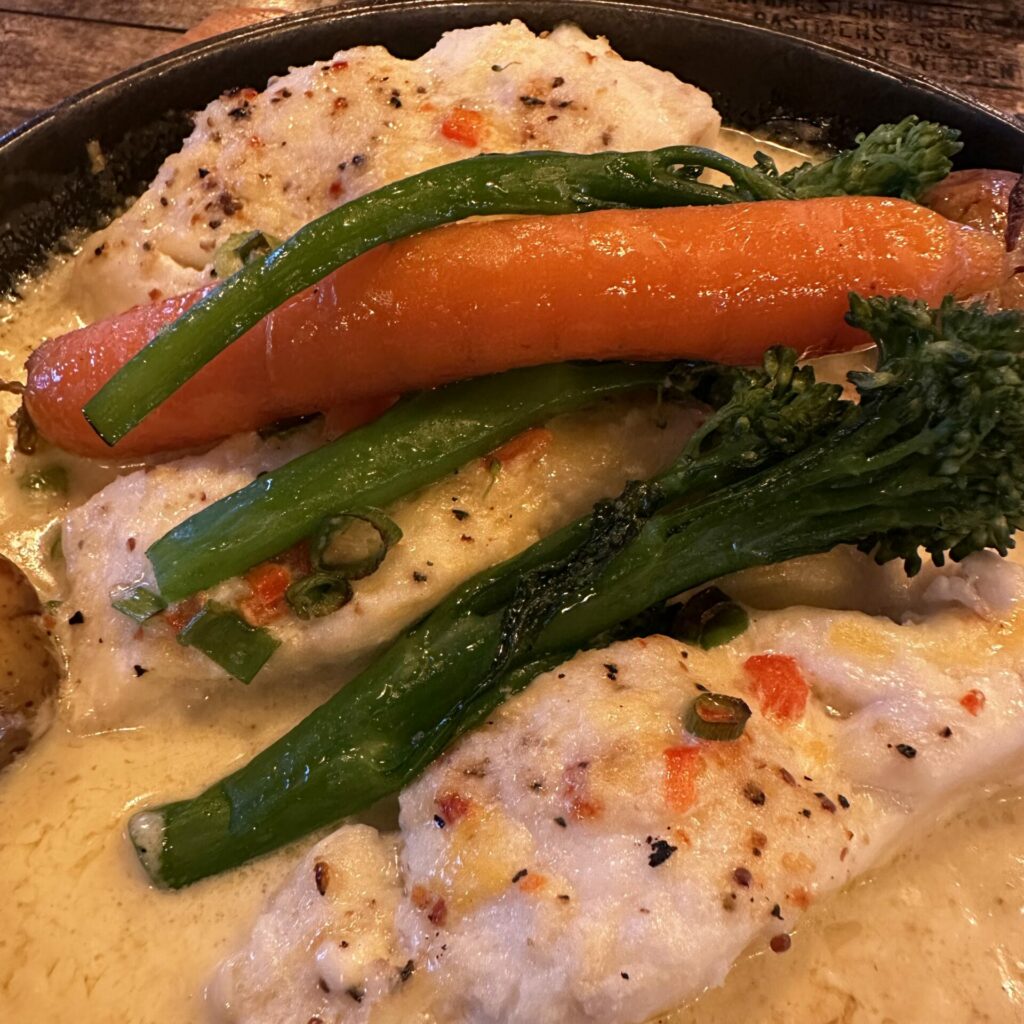 and that's the end of our amazing day six.