our third day in iceland also happened to be derek's birthday. how did we celebrate? we woke up bright and early (a recurring theme) to catch a bus that would take us into the highlands for a hike in landmannalaugar, aka: a breathtaking spot that is featured in our apple tv screen saver.
in order to reach the highlands of iceland, one must traverse the very treacherous iceland "f-roads", requiring vehicles with high clearance and special stuff in case water gets in engines when you go through rivers. since renting such a vehicle for the entire trip was quite cost prohibitive, derek (who planned every last detail of this trip) booked us a couple of tickets on an adventure bus that could make the two hour commute. it was quite bumpy an definitely a cool experience, especially the river crossings, but we were very glad to arrive.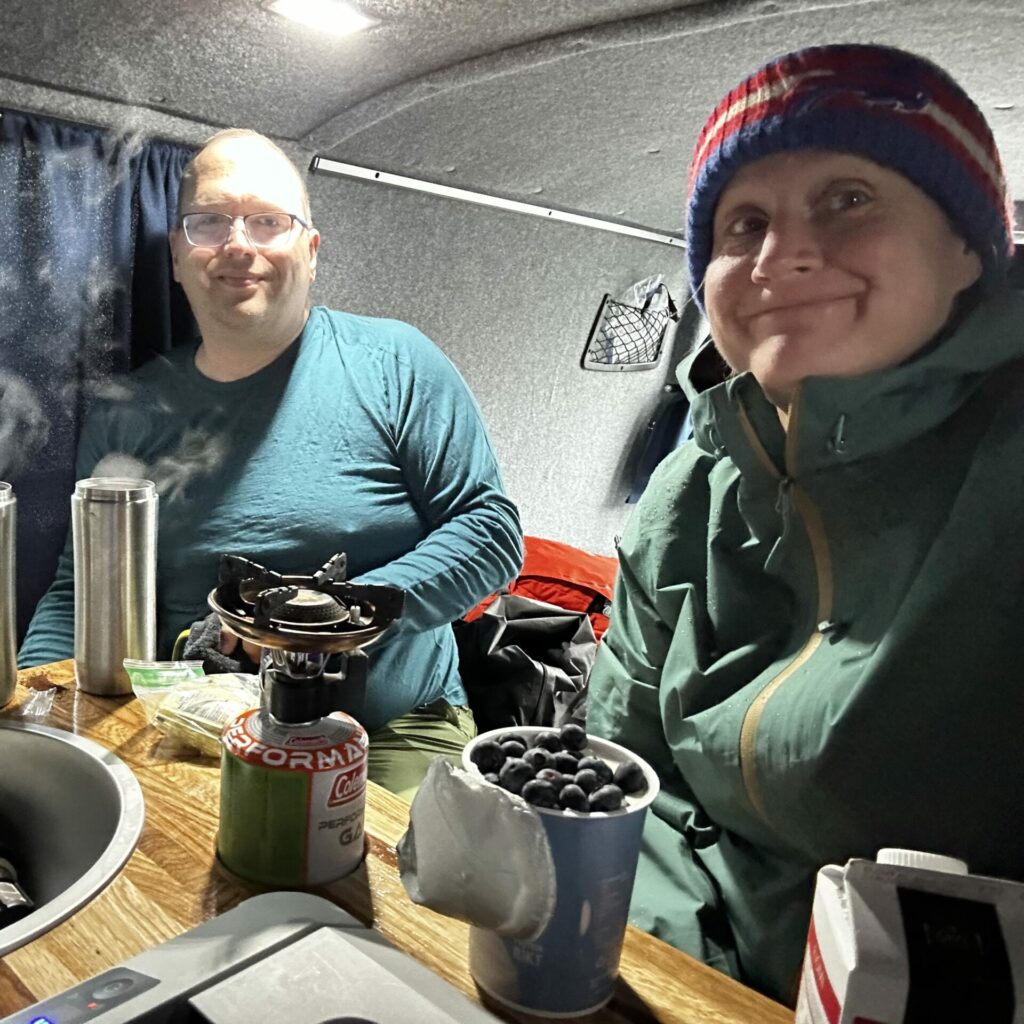 at the landmannalaugar drop off spot, there's a huge basecamp type of compound. lots of tent campers and cool f-road ready campervans. there's a visitor center/office/ranger station place where you can buy a day pass to use the bathrooms (an honor system situation that we encountered often and felt like was not very honored). lots of outdoorsy folks milling about. it's lovely. but the coolest part to us was the "mountain mall", which was a trio of adventure buses arranged in a U-shape, creating a little courtyard in the middle. one bus was fully stocked with snacks and souvenirs and last minute hiking needs. i picked up some ibuprofen and hopefully converted the cashier into a bills fan. anyways. more on this later.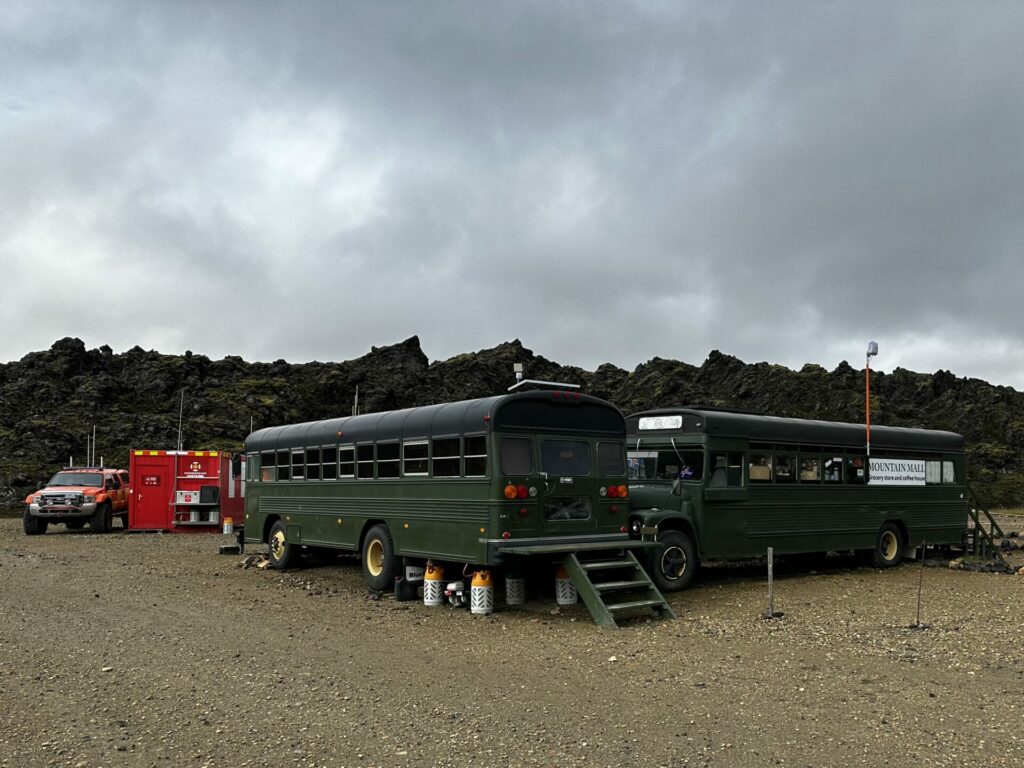 once we had all of our information, hit the paid toilets, and adorned ourselves in the proper assortment of gear on for the current weather conditions, we were off. the trail we chose took us up a very rocky/gravelly barren mountain. it was BRUTAL, but we were immediately rewarded with amazing, otherworldly views in every direction.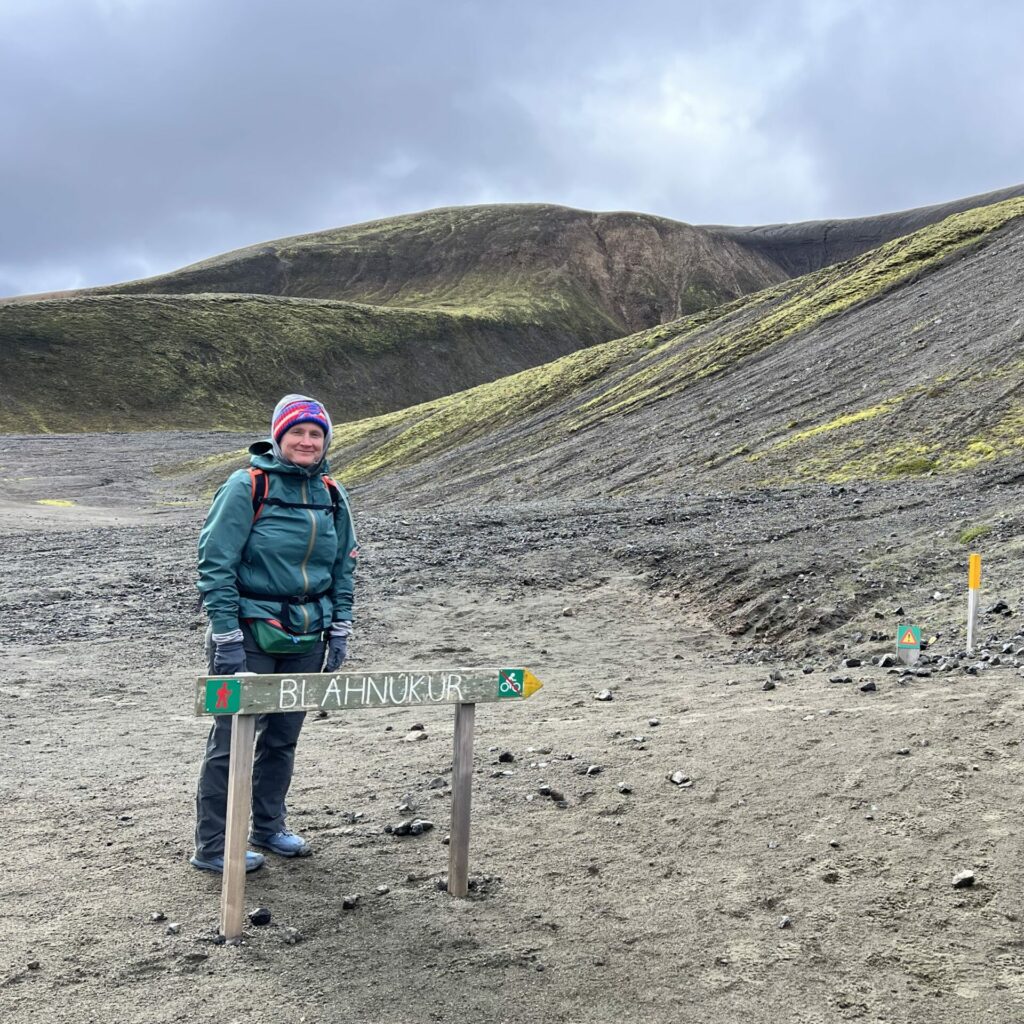 it definitely felt like we might never get to the top. especially when we hit these switchbacks (on the left) and saw the very tiny people at the top.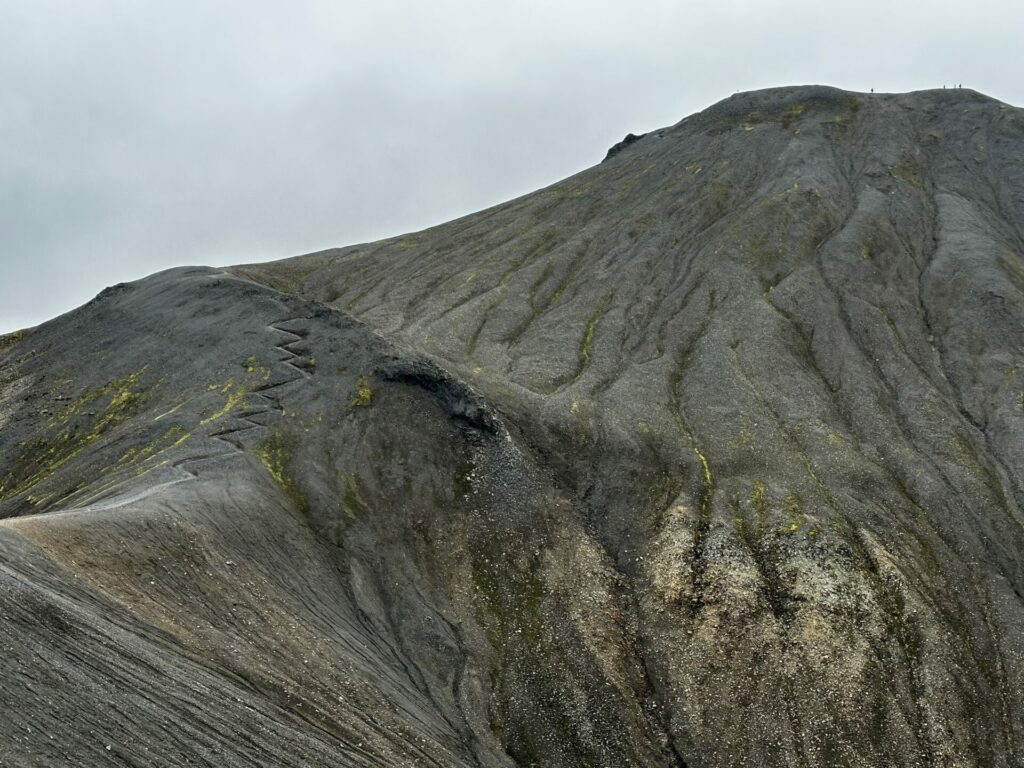 it was rainy for most of our ride in, so we were expecting the worst for the hike. it ended up being a little cloudy and gloomy for most of the day, but it never rained, so i can't complain. it was, however, perhaps the windiest conditions i have ever hiked in. or been in.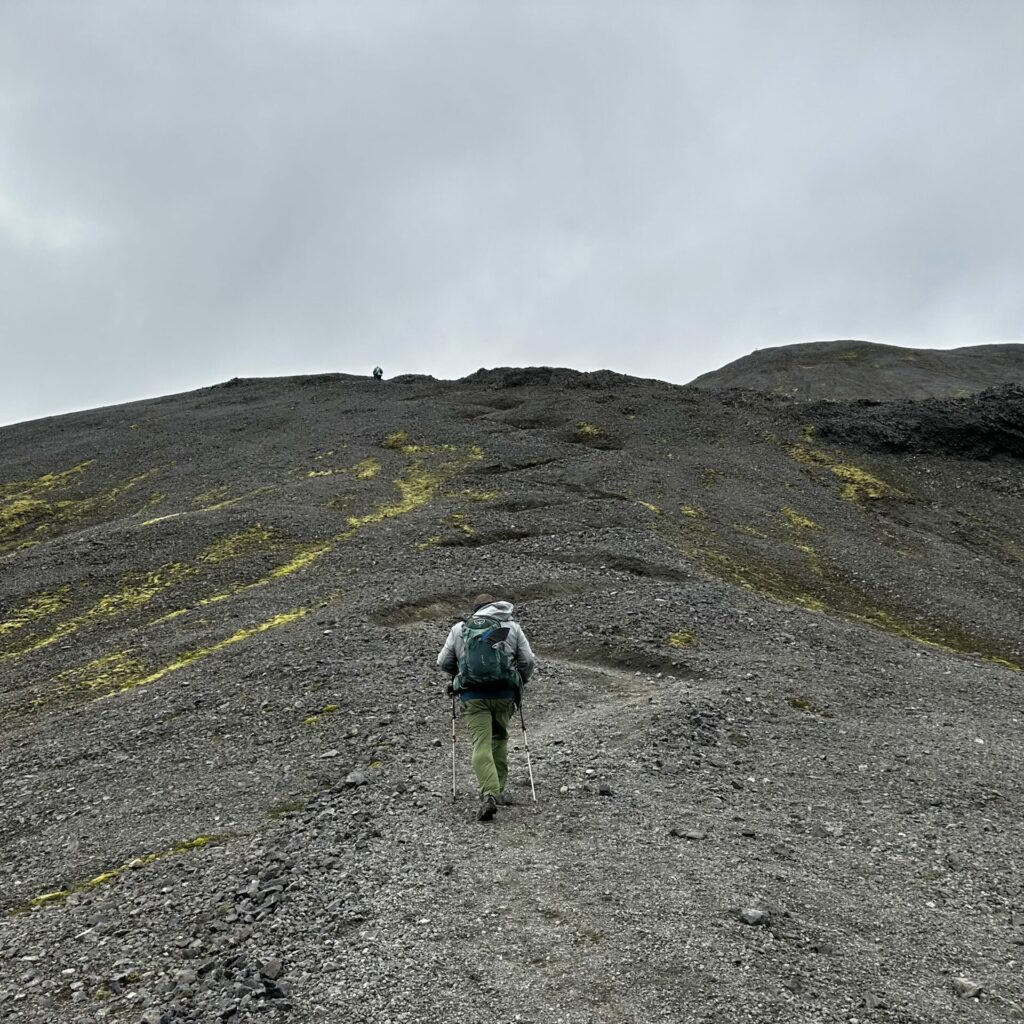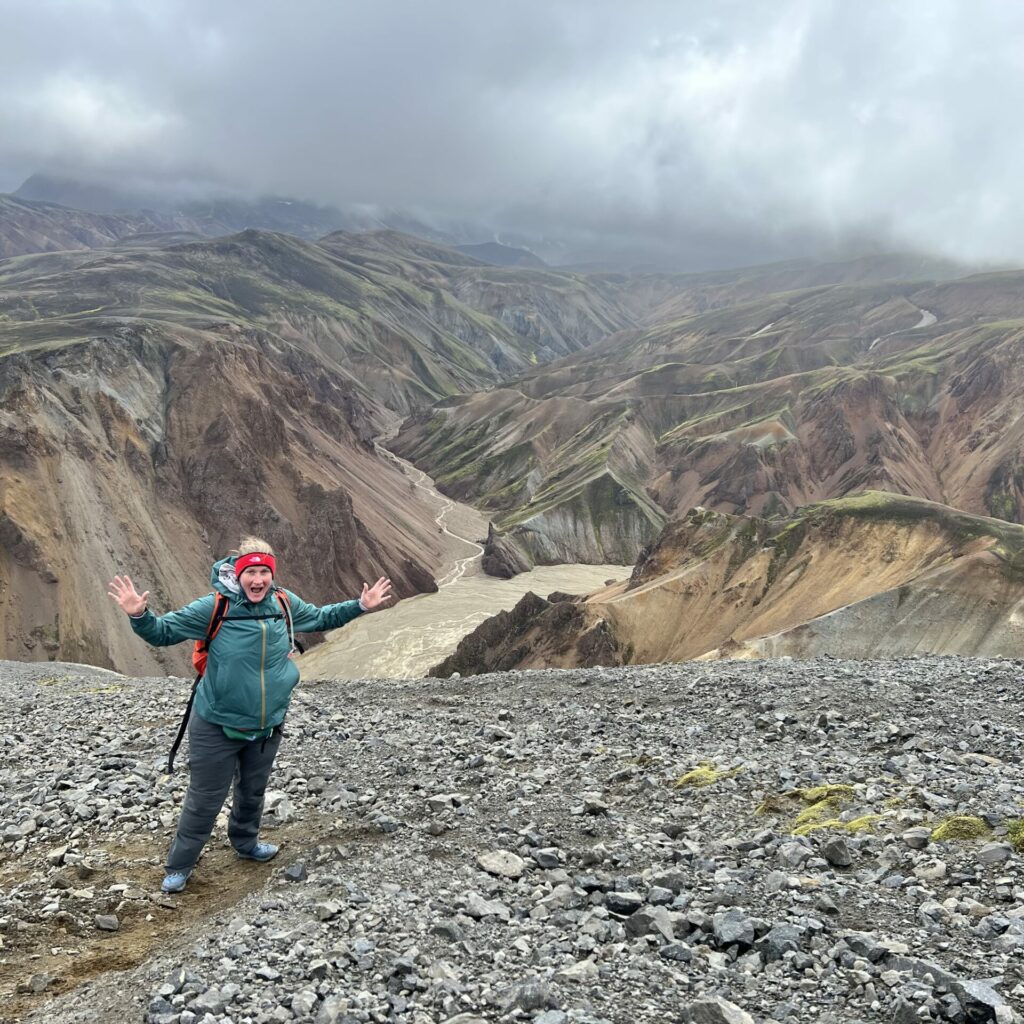 eventually, we made it!! we stopped for a bit to take all of the required summit photos. chatted for a bit with a lovely couple that we had been leap frogging with for most of the way up. marveled at the views. you know. all the usual things.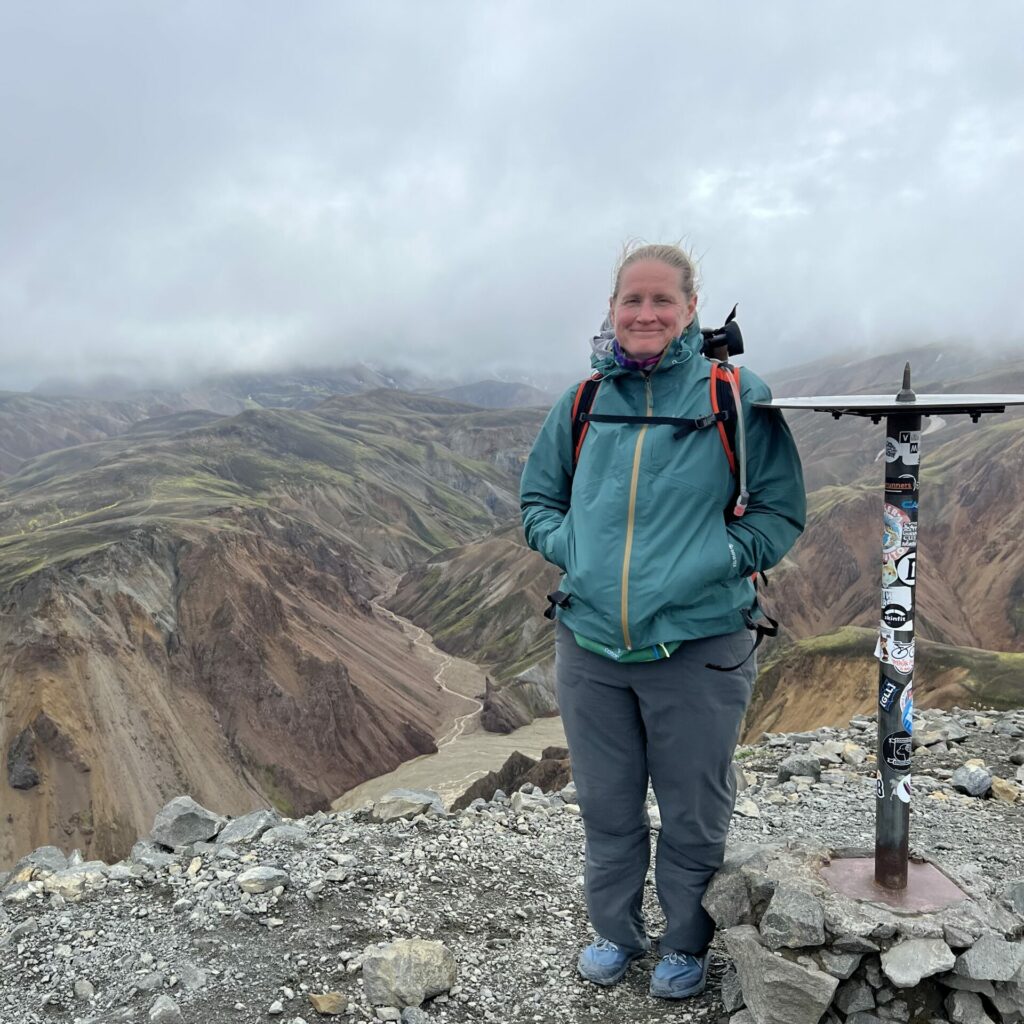 the hike down had a little bit of drama and treachery. mostly we were strolling along a sharp ridge with crumbly rocks on each side, so it was wise to stick to the trail.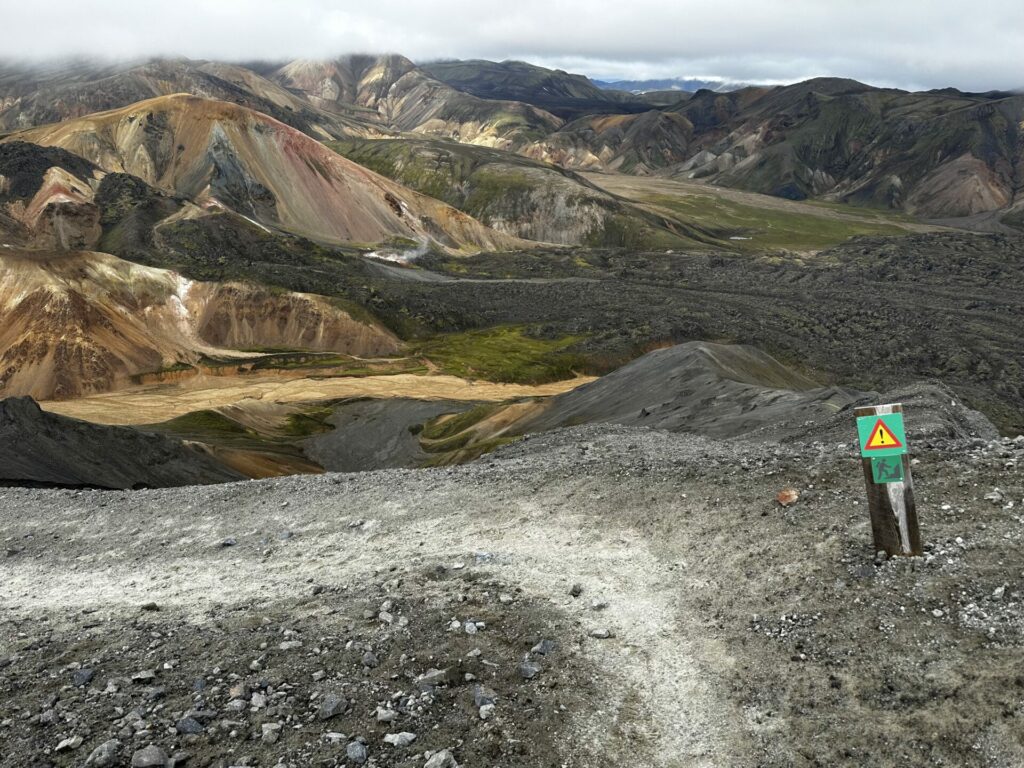 i may or may not have had derek stay at the top to take this photo of me walking along the ridge on the way down. doing it for the 'gram. or the blog, i guess.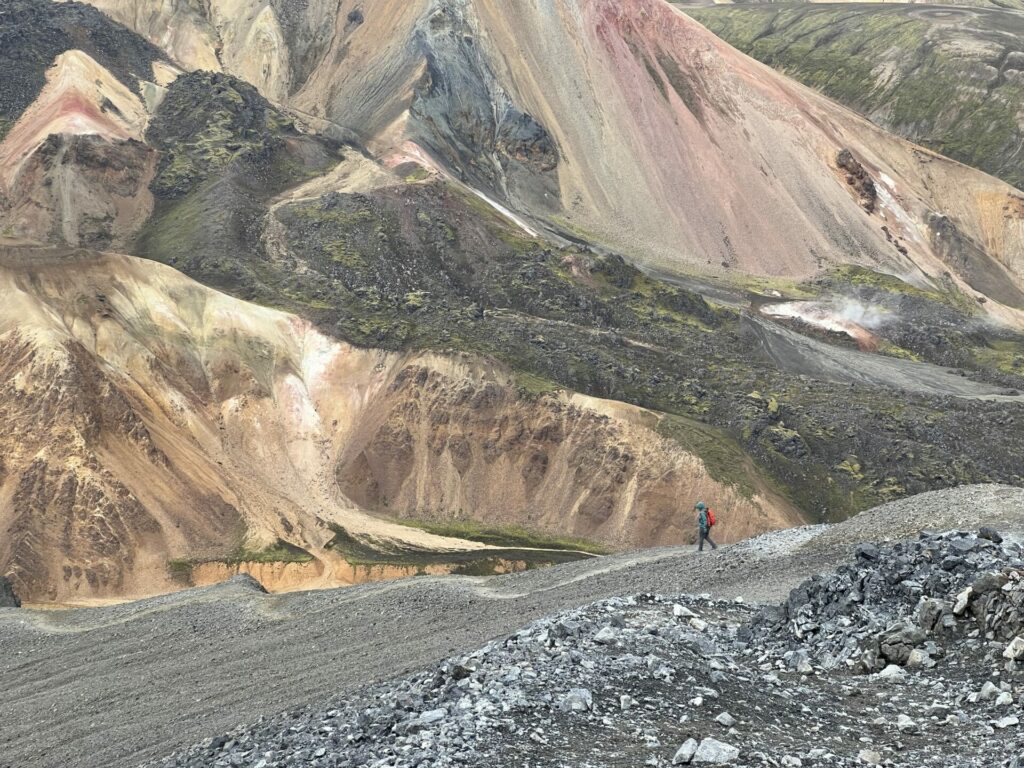 anyways. we shuffled ourselves down carefully and no one fell to their death. so that was good.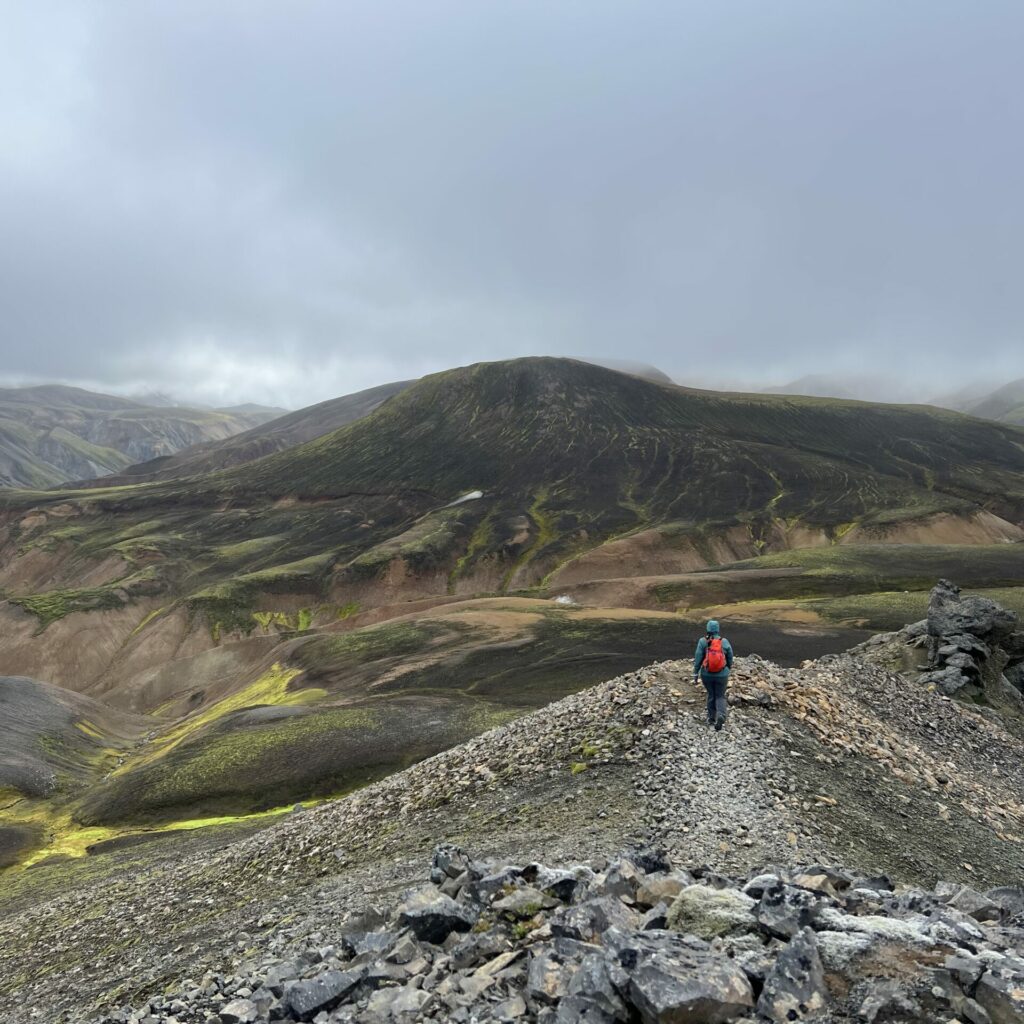 as we approached the valley(?) area between the two peaks of the hike, we had the choice to continue on a rocky trail around the base of the stupid boring mountain we were on. OR. climb up a sandy dune like hill and walk along the top of that, for a lovely and different view. we choice lovely and different. obvs. it was still steep on both sides and we still had to shuffle along. (and when we reached the end, we basically had to slide down, but it's all a part of the adventure.)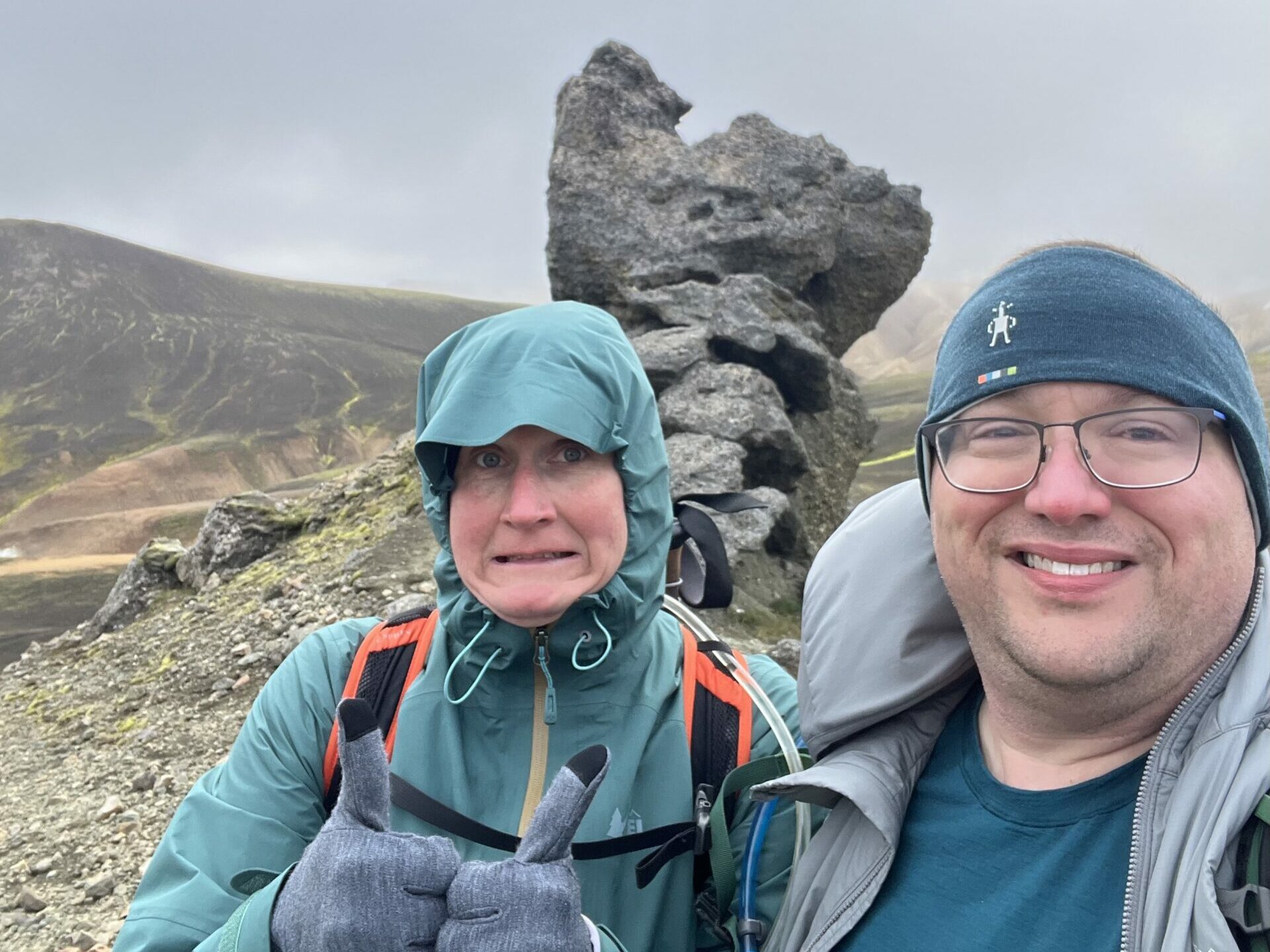 from there, we walked along a stream bed type area, and eventually crossed said stream, and started towards the next peak. but first. a really cool, very otherworldly lava field. there was steam from thermal activity floating up off in the distance. the whole thing was just cool.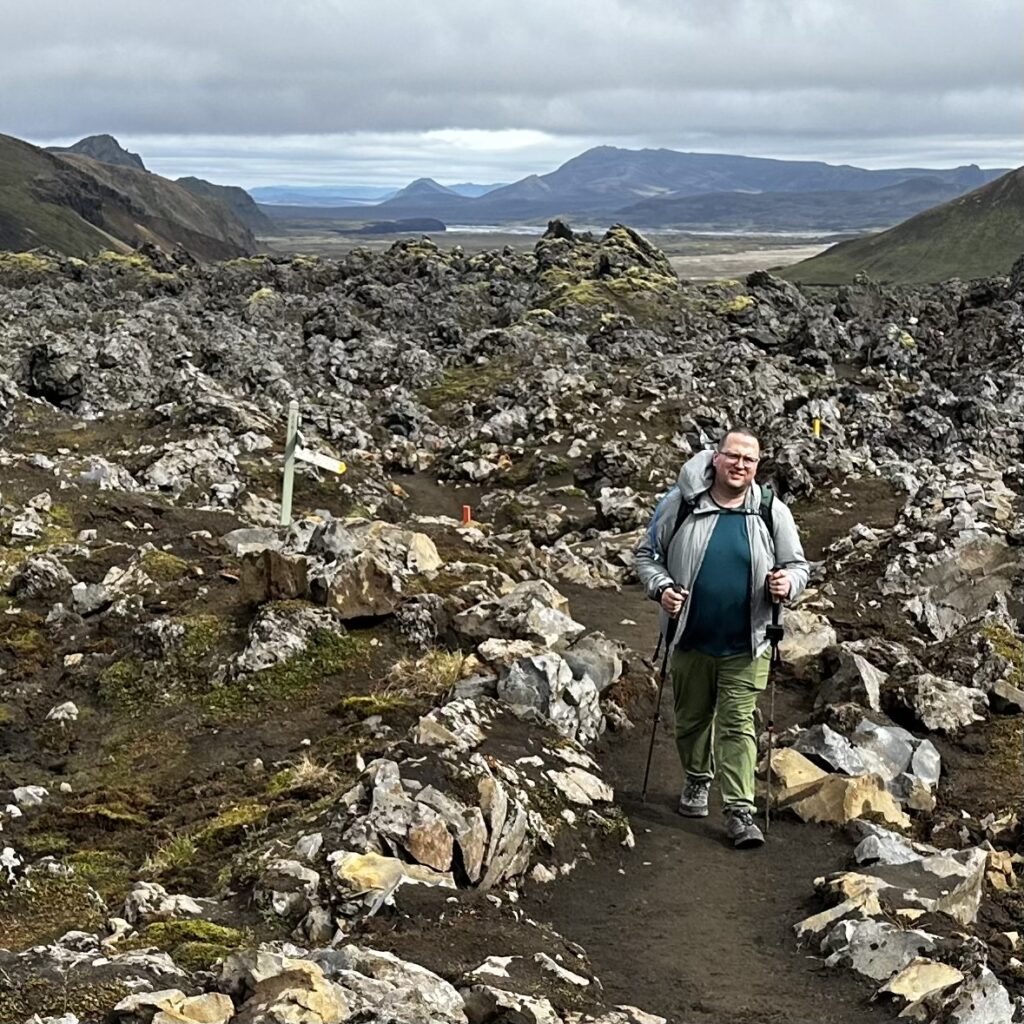 at the end of the lava field stroll, we reached a spot with lots of thermal activity, so we spent some time exploring it all. it also happened to be the intersection of several trails, so despite the long and arduous journey we had made to arrive here, we were met with dozens of folks who had made a flat and short walk from the basecamp. so, due to peopley-ness, we didn't stick around for too long.
at this crossroads though, derek decided to take the path around the next mountain, while i opted to go up and over it. the trail met up on the other side, so it seemed to be a good compromise. my path was pretty steep and with the jelly legs from the previous peak, i was maybe regretting my decision about halfway up. but, i stopped for a snack and was up there before too long. it was relatively uneventful. a barren sandy-ish rocky mound, really. also, filled with several guided hike groups. so. i took one lone proof selfie and began the descent.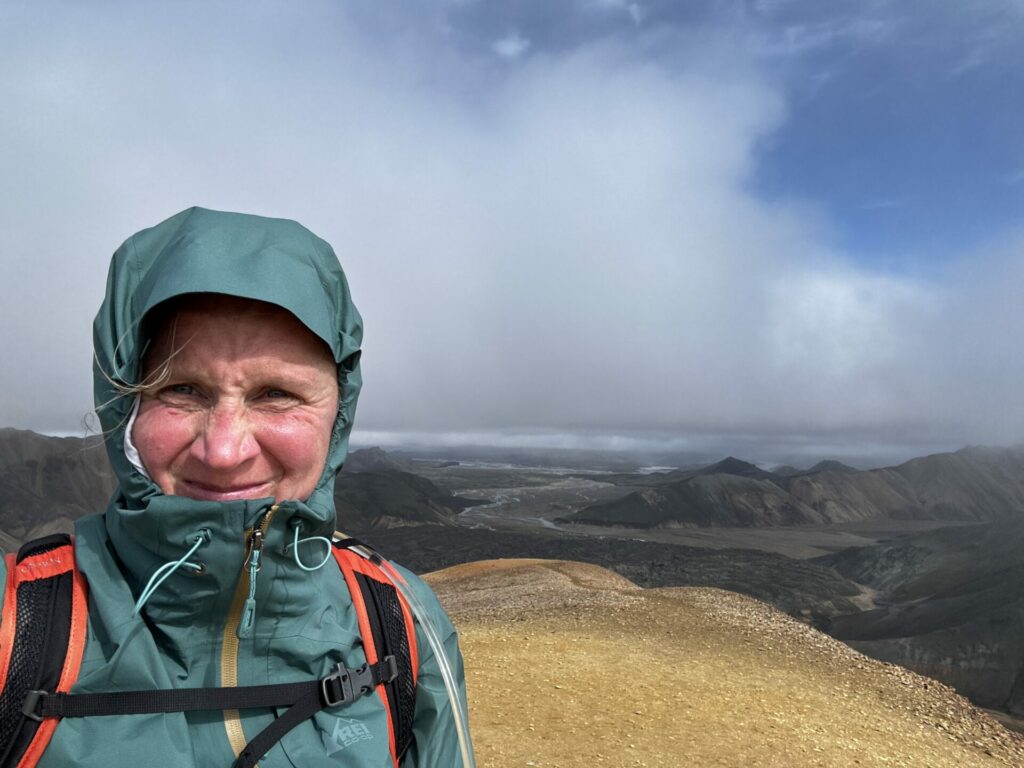 i had some pretty amazing views on the way down. i also had the trail ALL to myself. (the tours went back down the short way and back to camp, thankfully). the skies were clearing up in the direction i was facing (and were looking pretty ominous on the first mountain behind us) so i took so many pictures, which all seem the same now.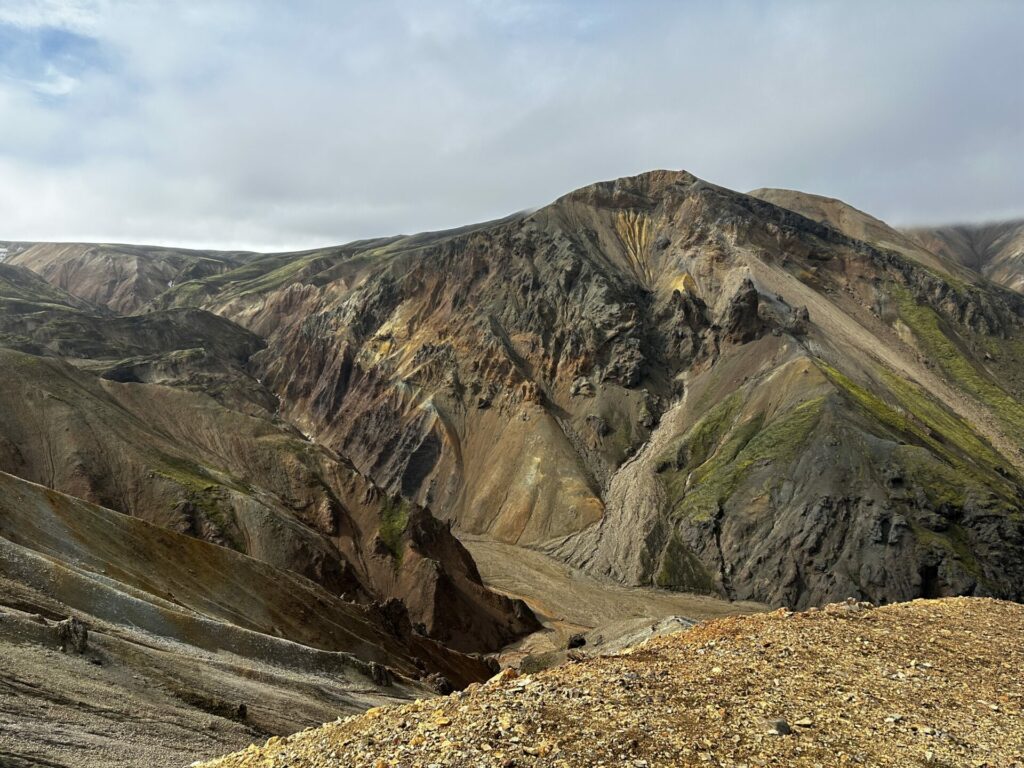 the hike down was pretty muddy, rutted out, and steep, which made it not super enjoyable. but eventually, i found myself on the valley floor, strolling along a little stream. not too shabby.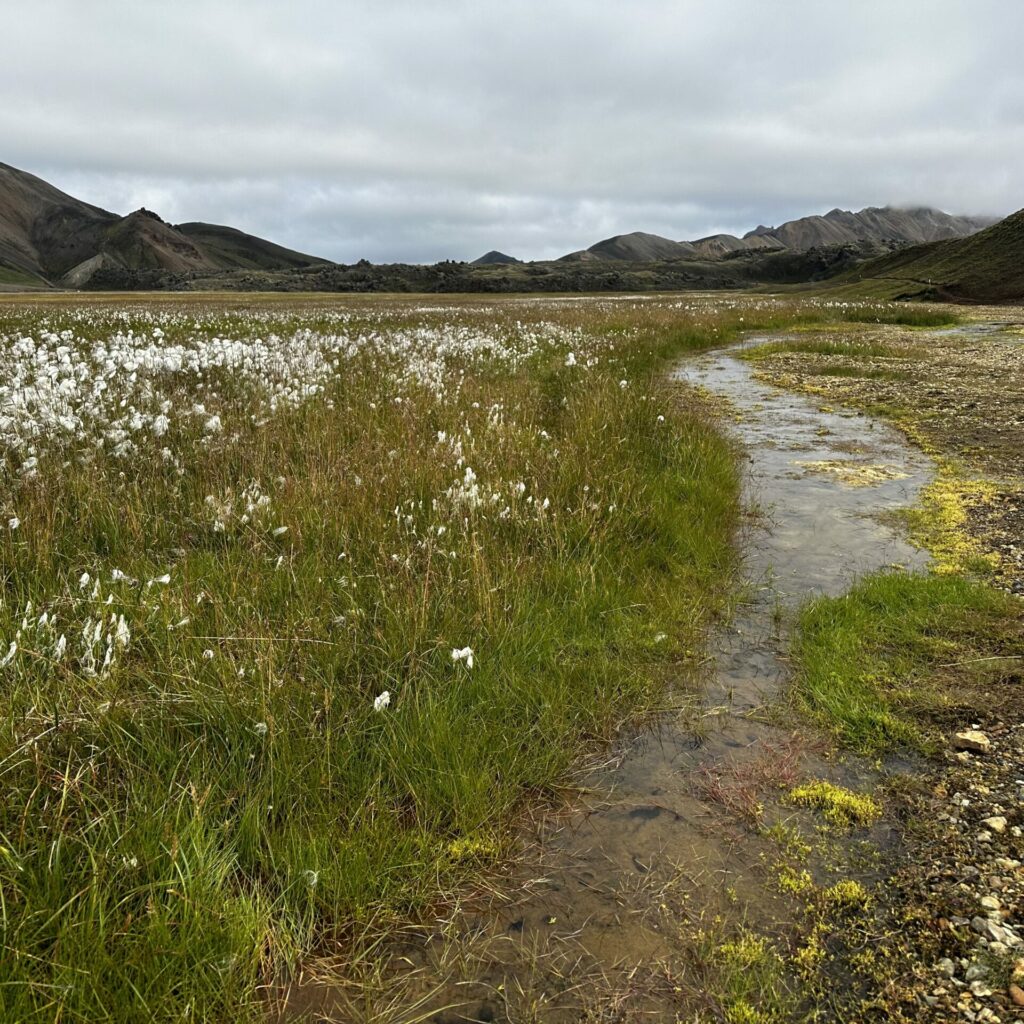 i was booking it to try to meet up with derek (we hadn't planned to meet up, but i realized we might, but then so did he, so he waited at the intersection). the last stretch took us through another lava field, which i was dreading because picking our way through the first one was no joke. thankfully, this one had more of a trail through it. i didn't take a ton of pictures because it was hard to capture the lava-ness, but this one basically shows the exact path we took up and over the mountains. from left to right, you can see the zigzag switchbacks on the first "false" peak, the actual first mountain, the valley/lava fields and the thermal activity area, and finally the second peak.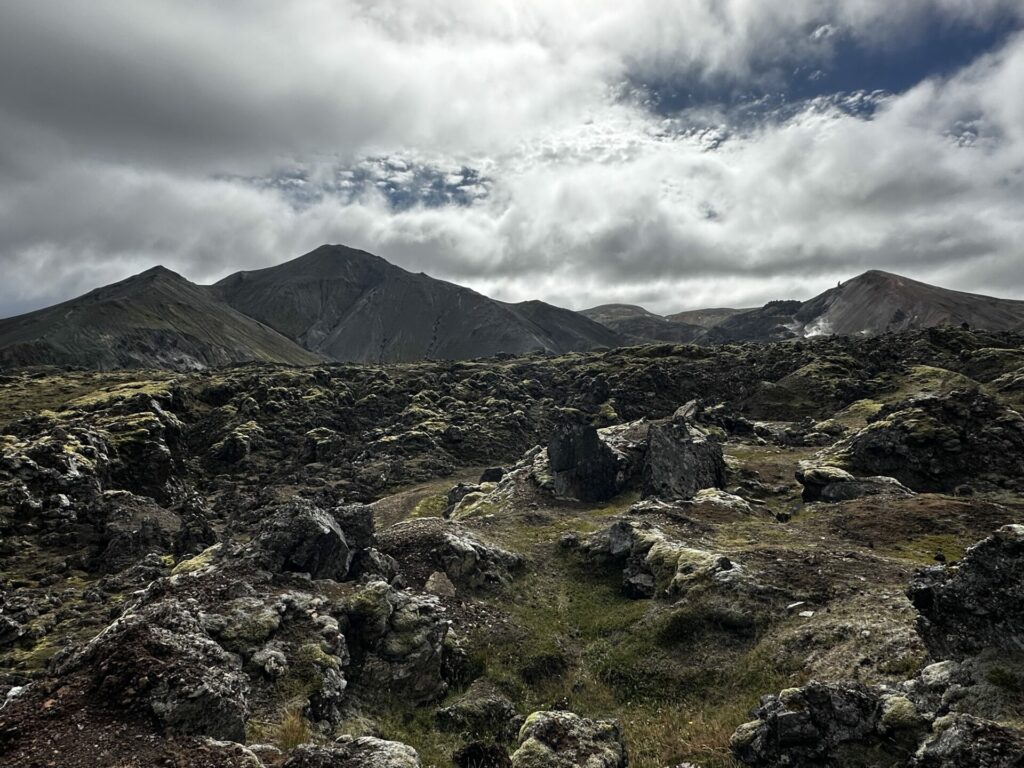 anyways. we were nearing basecamp, which meant more people, so some lovely folks took a commemorative photo for us. (more people also means more signage for what not to do and where not to go)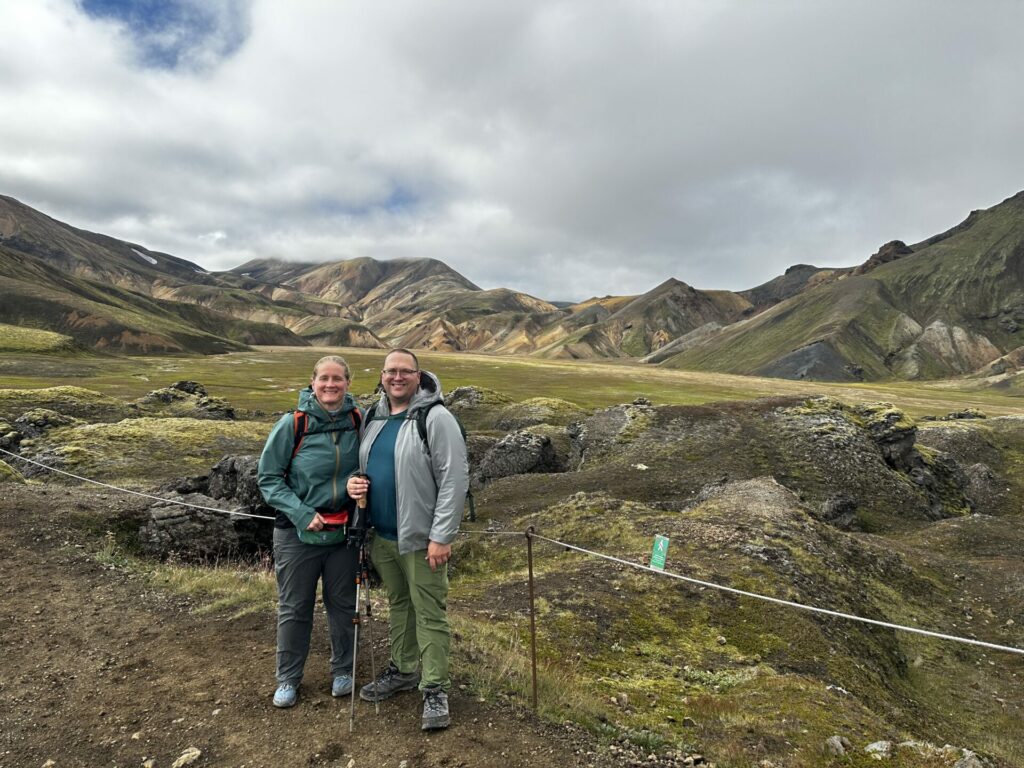 back at basecamp, we had a little bit of time to kill before our scheduled adventure bus trip back to our campervan. we debated a dip in the thermal river nearby, but it was filled with tour bus folk and we were exhausted. instead, we got some snacks from the mountain mall (including the tastiest soup ever), and took in the activities and festivities of the tent camping community.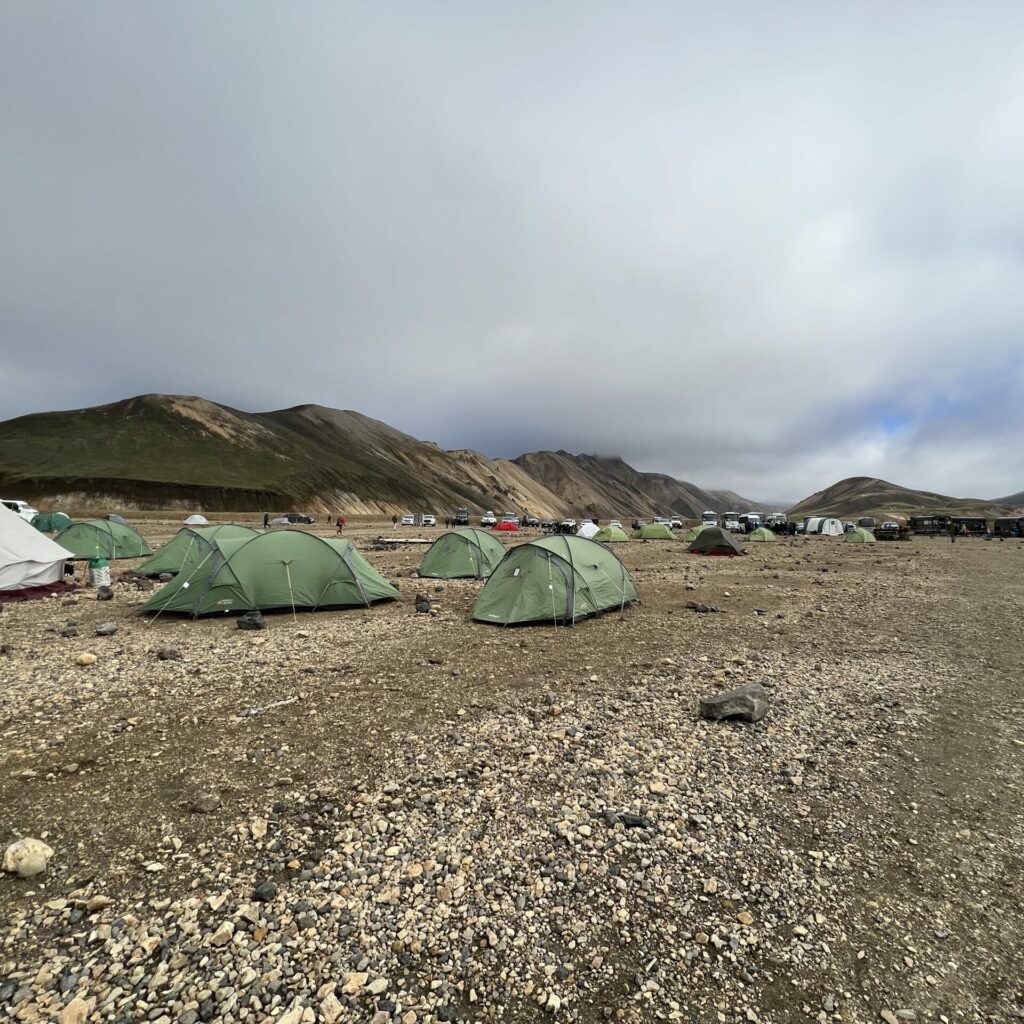 after the bumpy two hour return trip, we opted to eat from a pizza food truck in the parking lot where we had left the campervan. it. was. so. good. any fears we had about what the food was going to be like in iceland, especially outside of major cities was laid to rest. we stuffed our faces and then we were off to the next campground, for another night of insufficient sleep, and a new day of adventures….