we made the long haul from del rio to big bend last saturday. we wasted no time getting out and about and exploring. as soon as we were set up and settled in, we went back out to nearby boquillas canyon. (big bend is HUGE and nothing is actually very "near by" – but this was only about a 10 drive.
the view on the drive wasn't too shabby.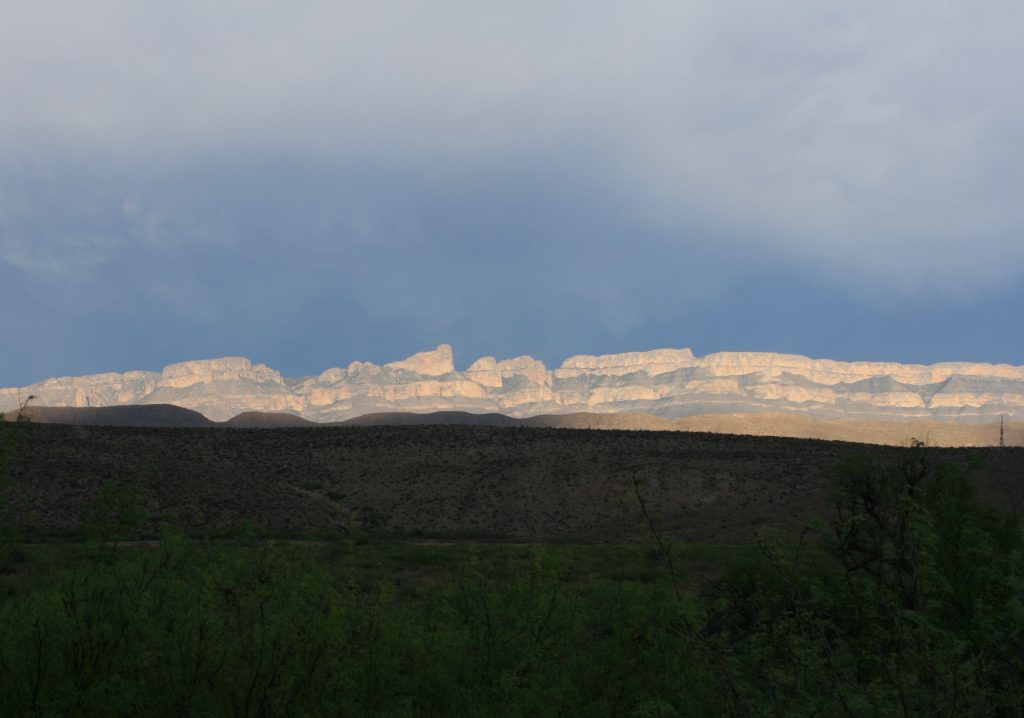 and before i forget. my apologies if these pictures are way out of order. they are a mix of iphone shots and fancy pants camera pictures and i'm having a hard time getting all the times to sync up. and i am having a harder time actually remembering the chronological order of the evening…
we are working on the kids not bringing backpacks full of junk when we hike. but, somehow they sneaked a bunch of stuff past us on this trip. everyone was stocked up, ready for the massive 1.4 mile hike into the canyon.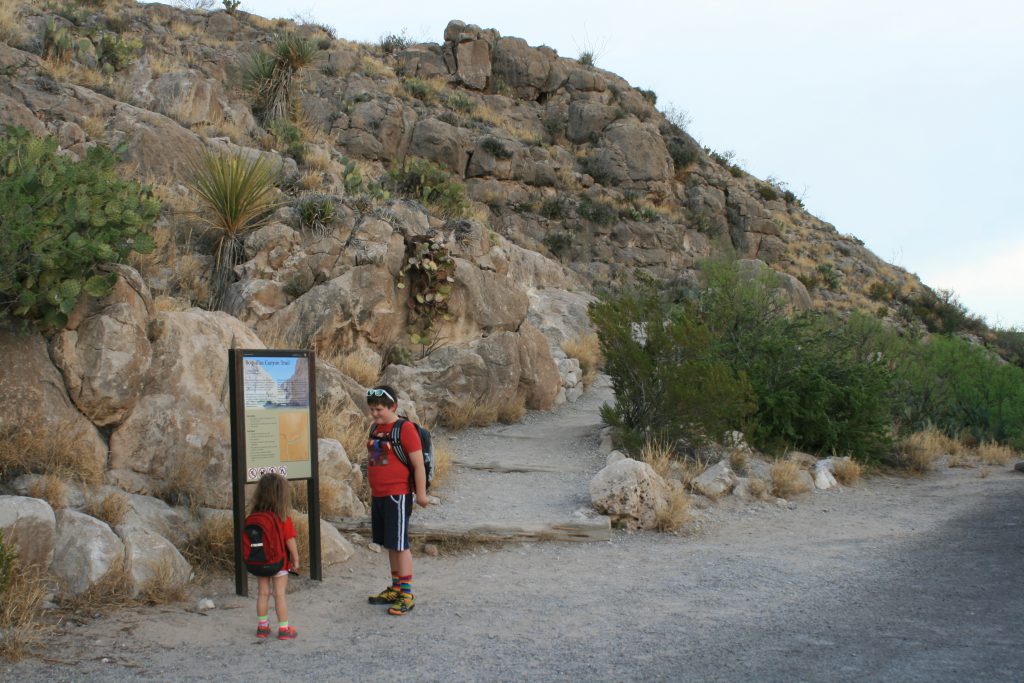 first, up up up.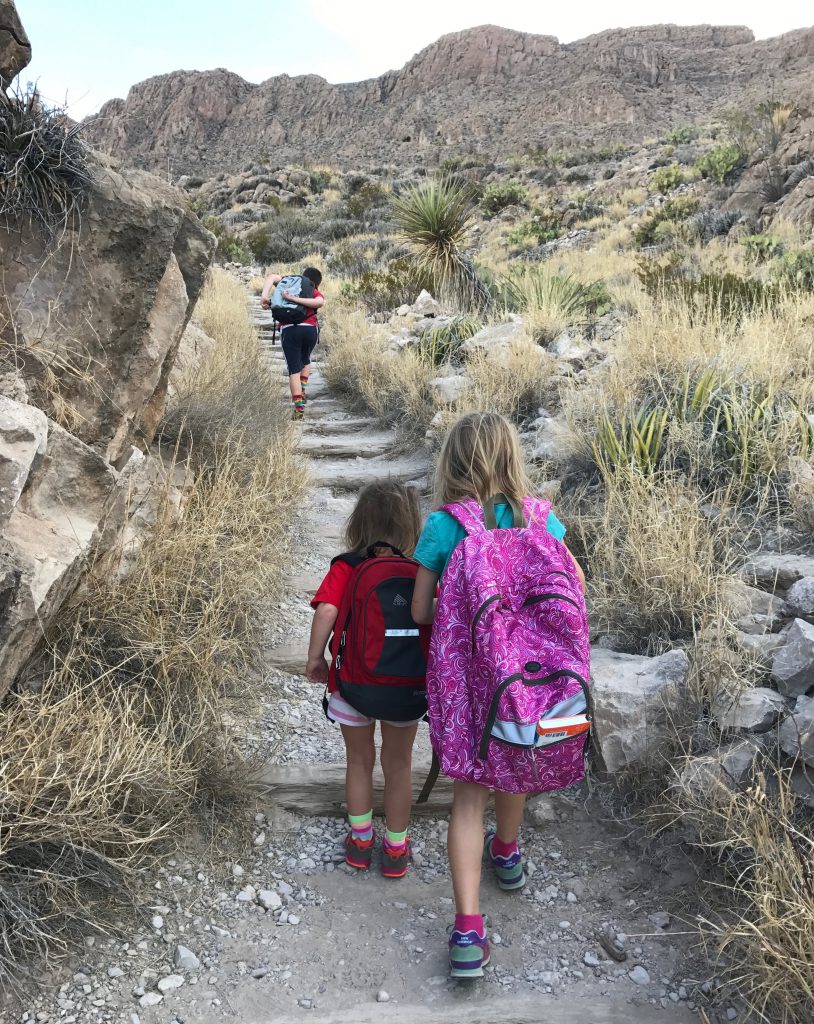 scat. a big old pile of it. huge chunks. sadly, we were unable to identify.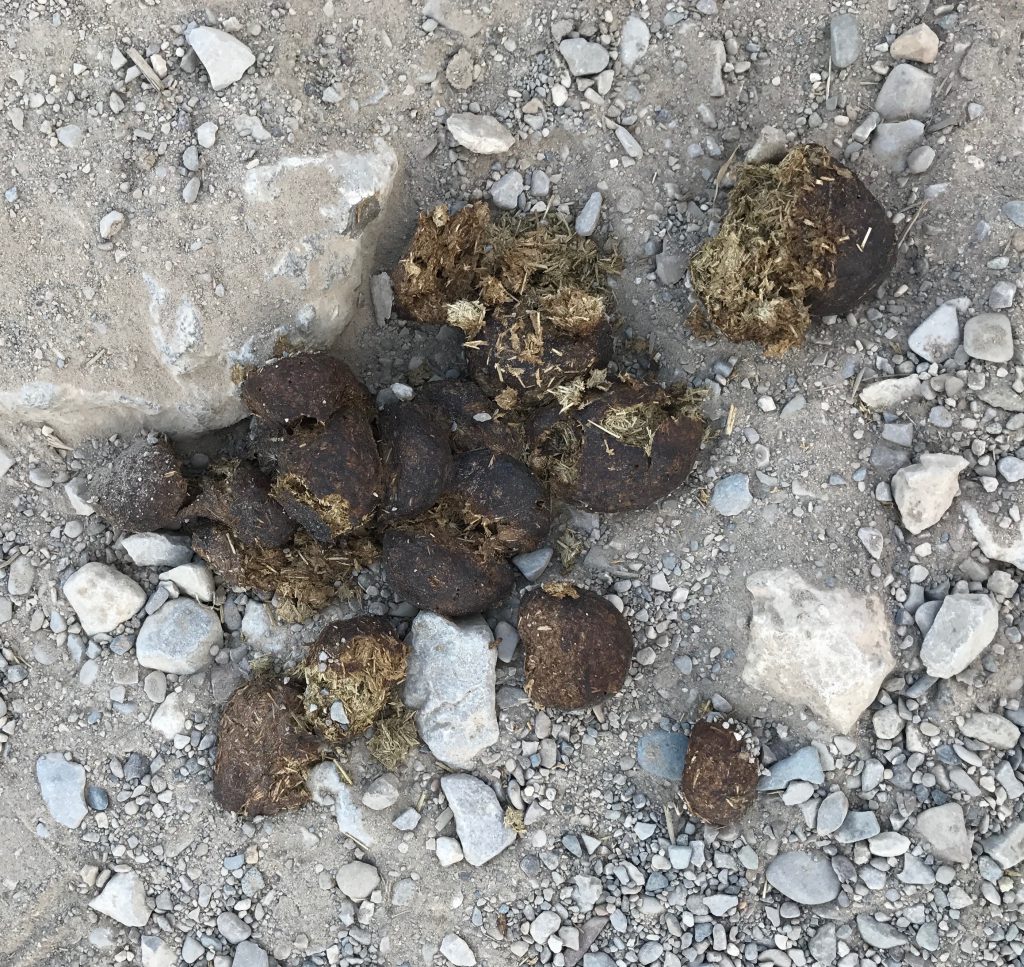 the backpack situation was maddening. we stopped so many times to deal with the contents of the backpacks in various ways.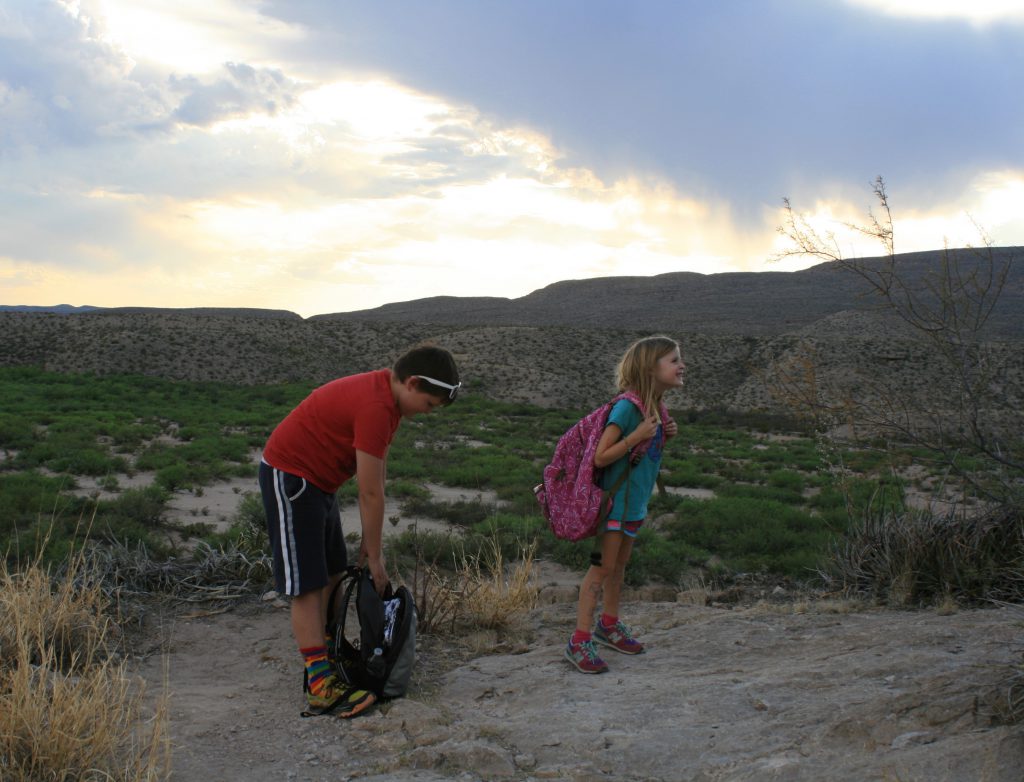 rio grande in the background.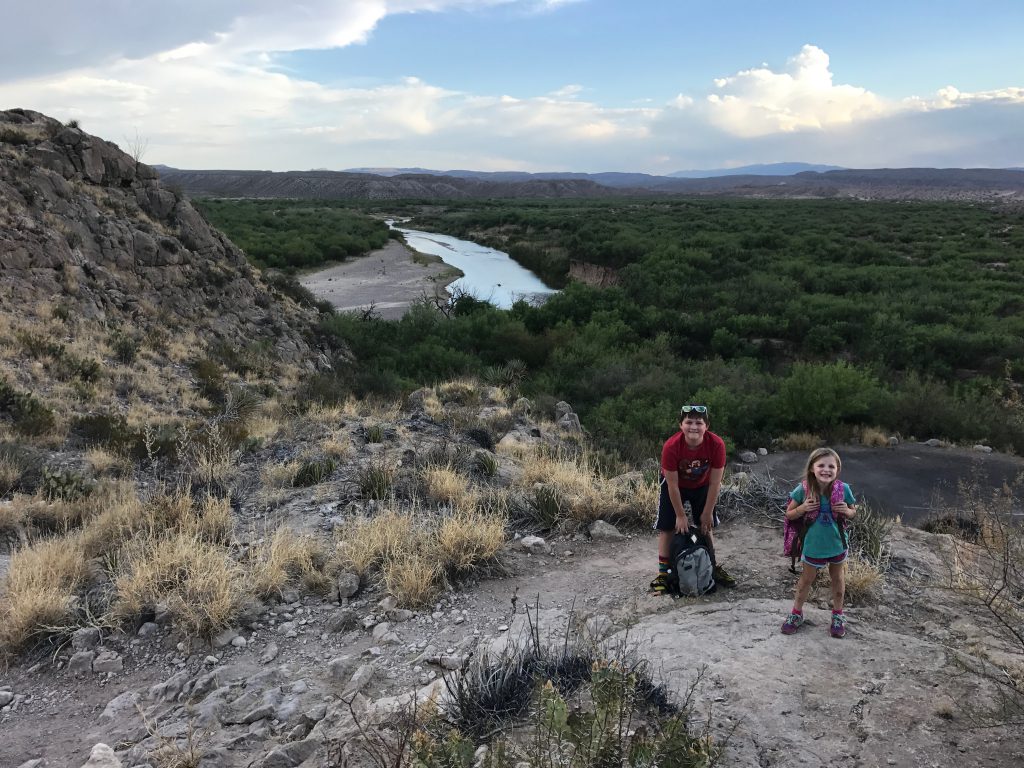 hazel insisted on a pic, too, since she didn't make it in time to be with the big kids.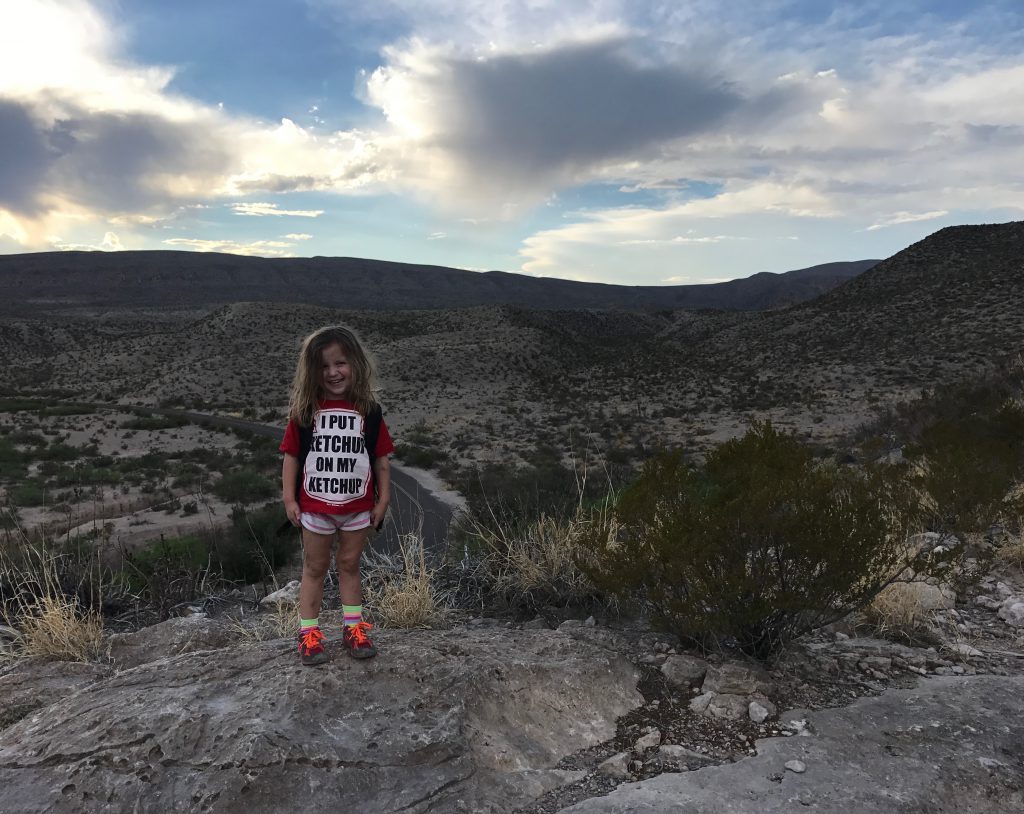 on another overlooky type rock. thankfully no one died while backpack shuffling on the edge of a cliff.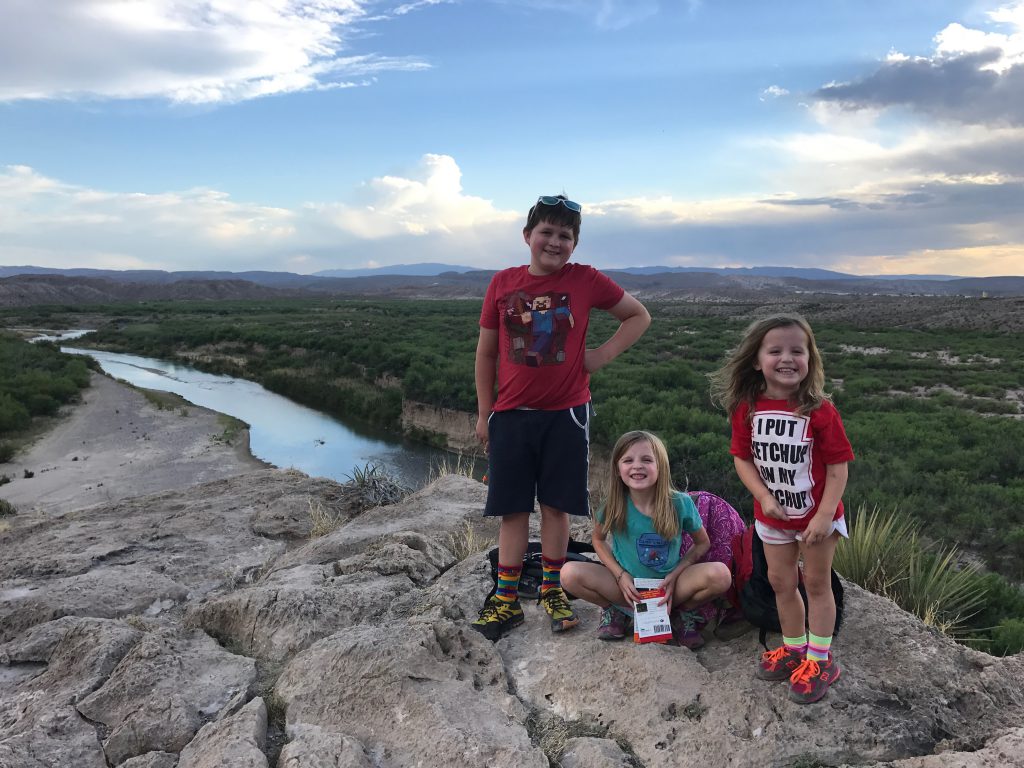 yep. so isaac, with all of the wisdom of a ten year old, brought a cap gun. for a short little hike. along the mexican border. what could go wrong? we had a little chat. and the gun was packed away.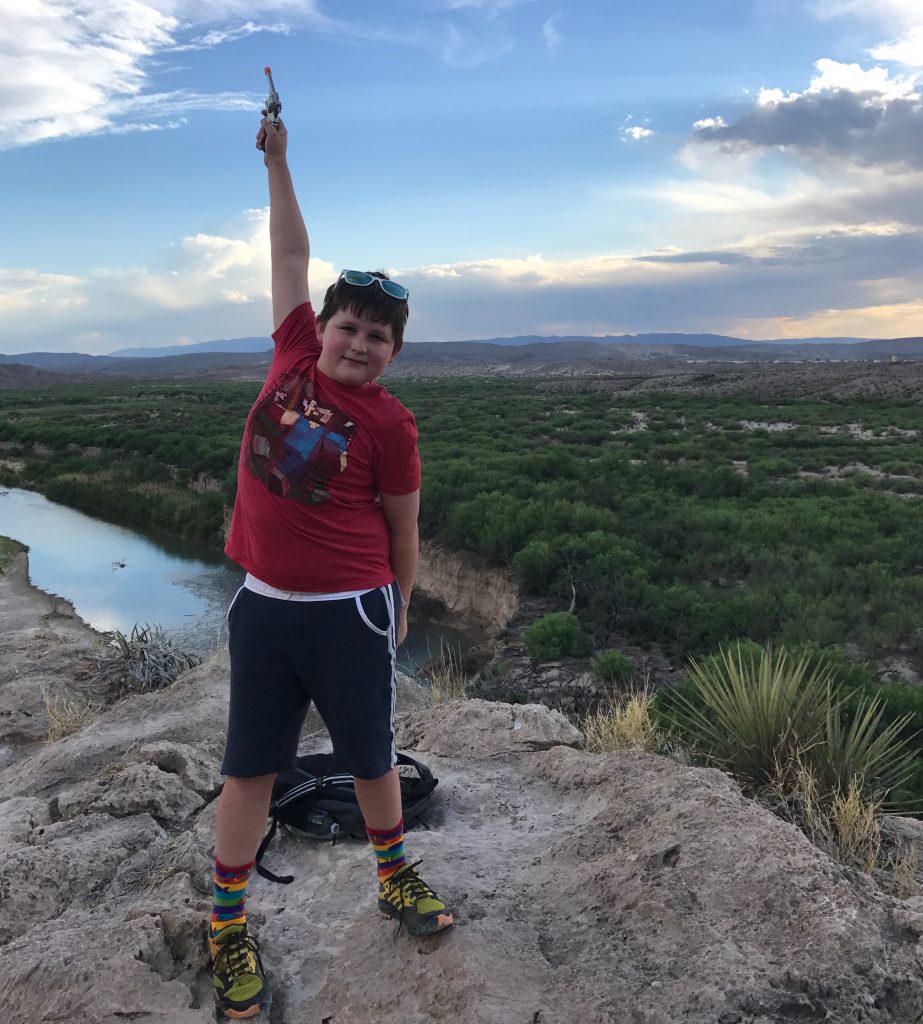 rio grande. sans kids as props.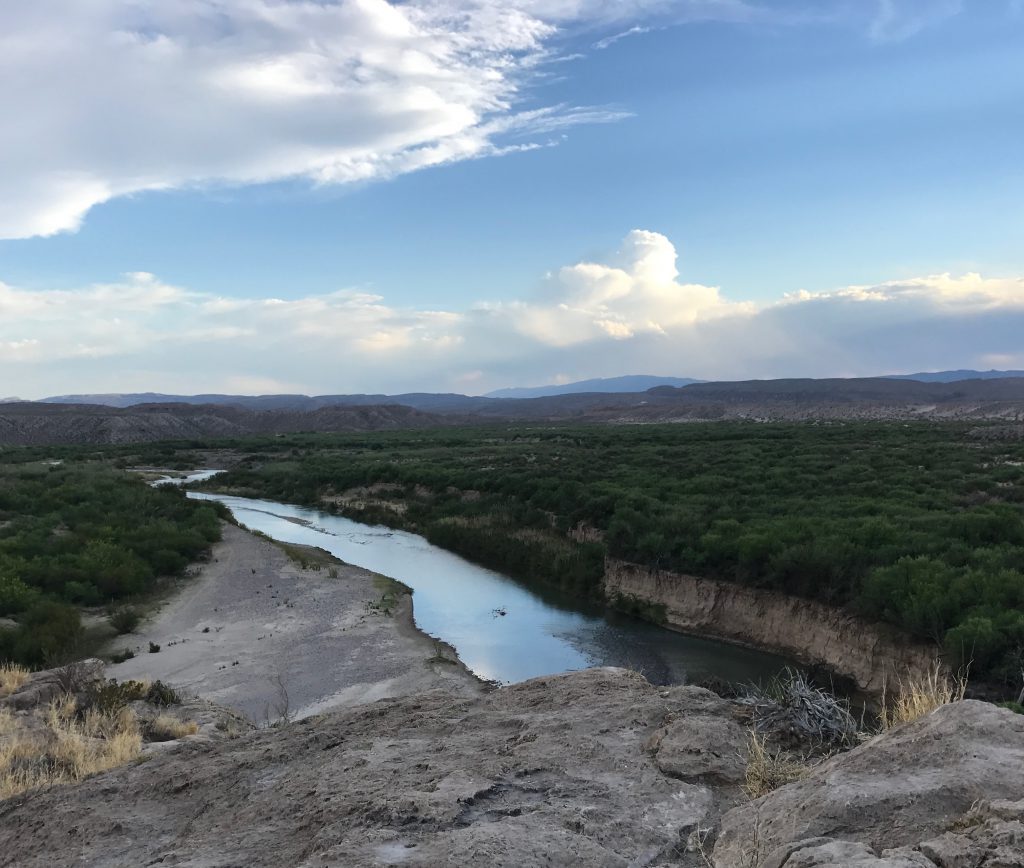 as we came down into the canyon, we noticed boats and horses and little makeshift buildings on the mexican side.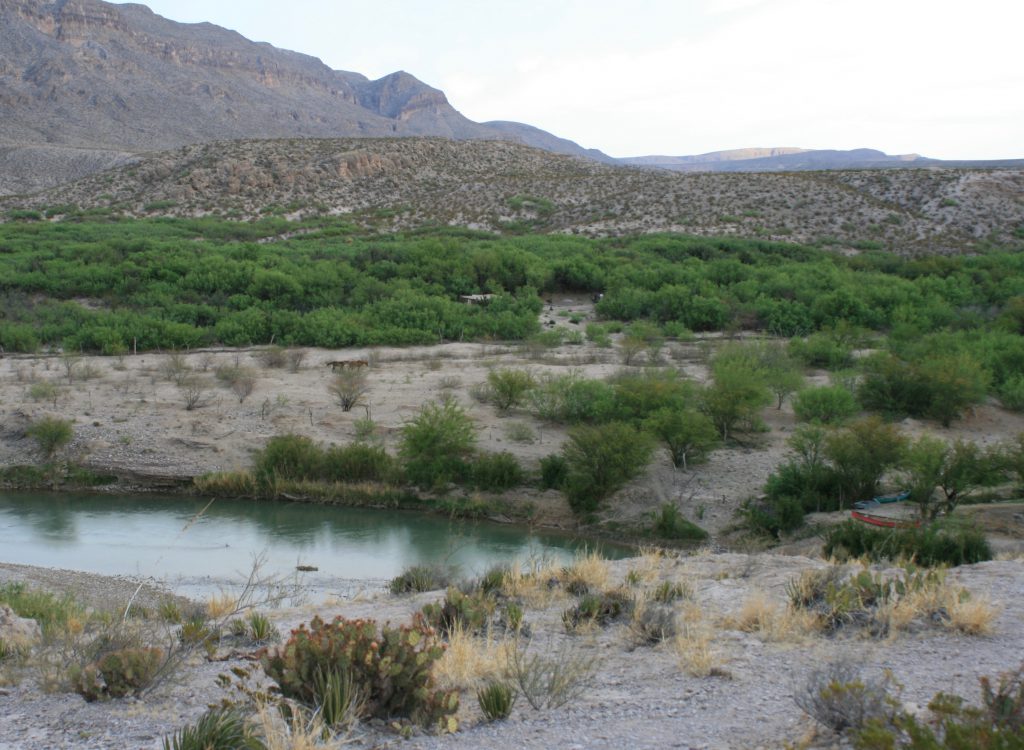 heading down to the river.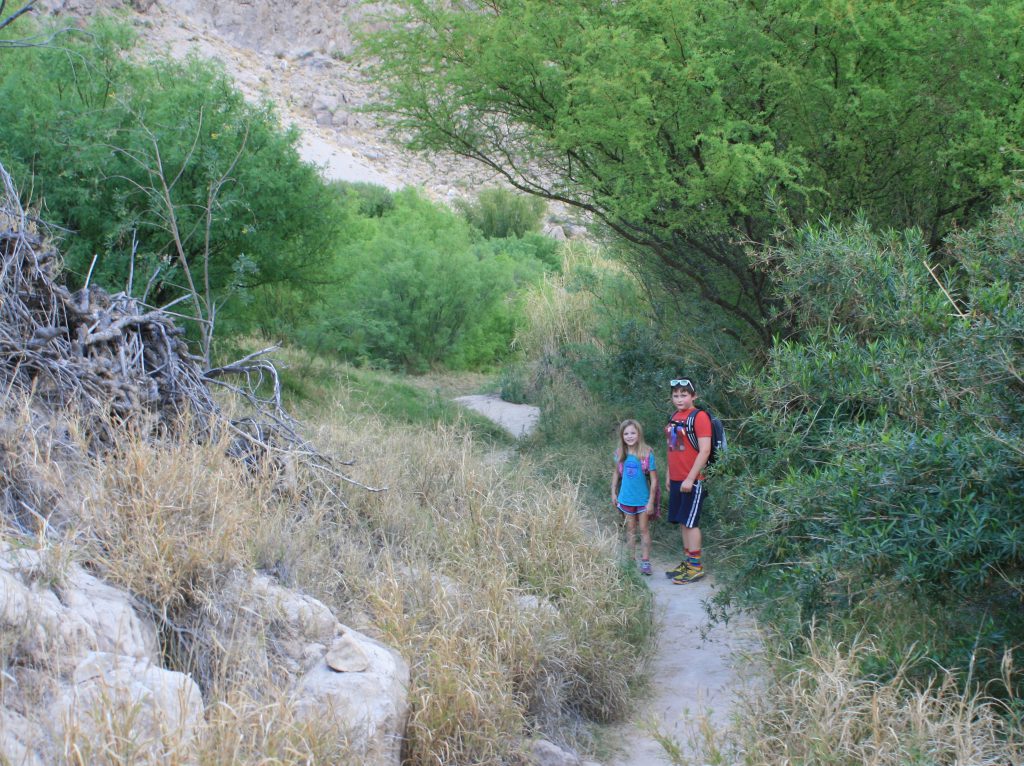 the canyon walls are so big.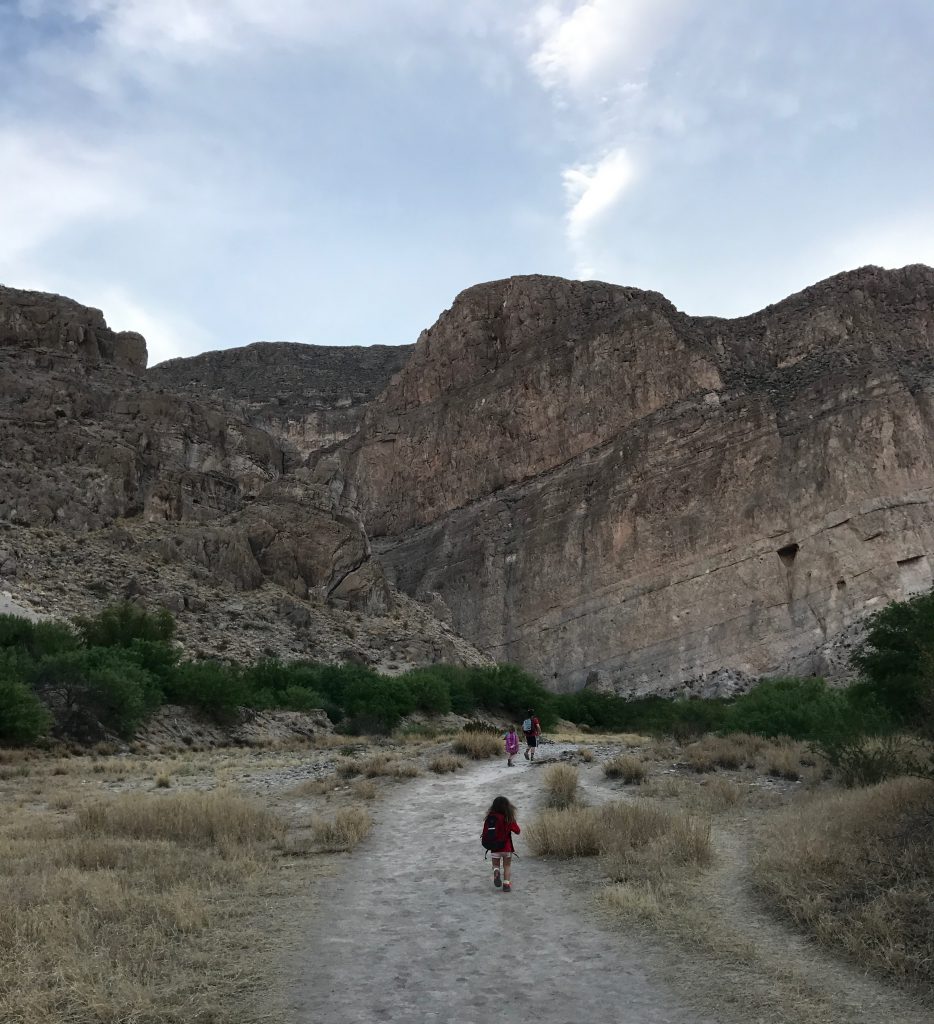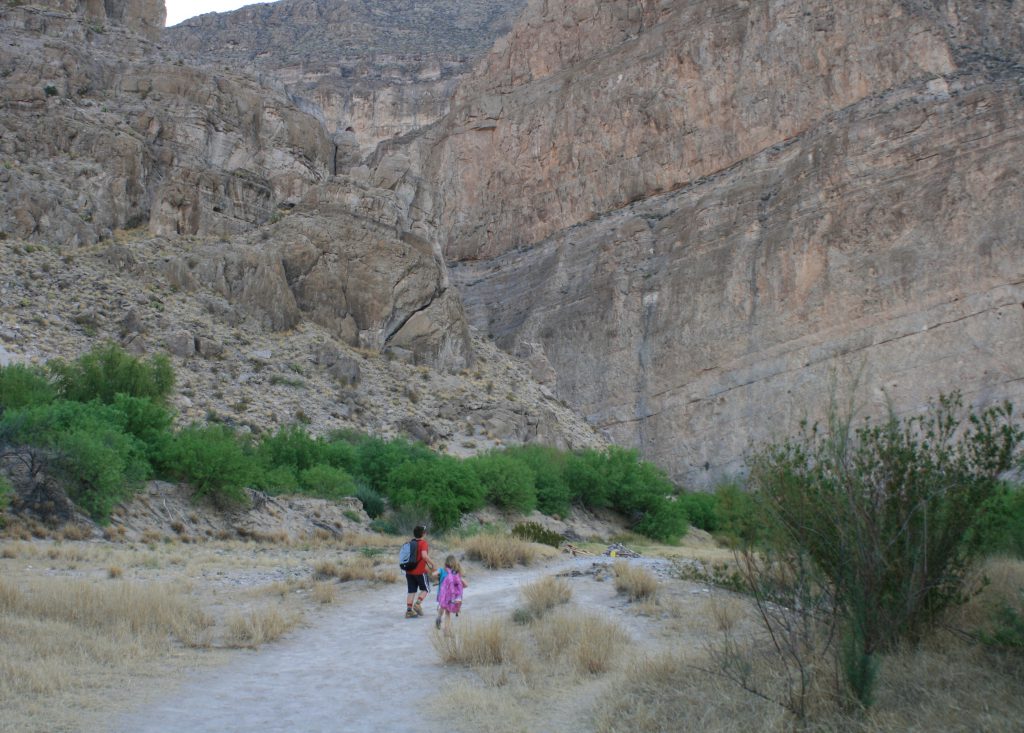 as we got closer to the river, we happened upon several little riverside kiosks, where we could purchase handmade mexican trinkets and such.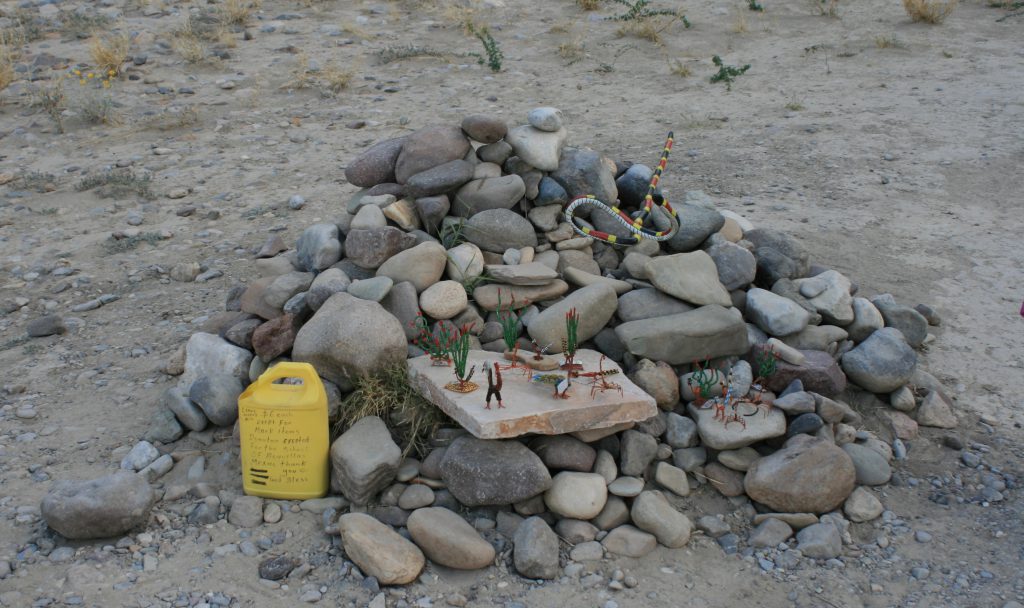 seriously. look at that wall of rock.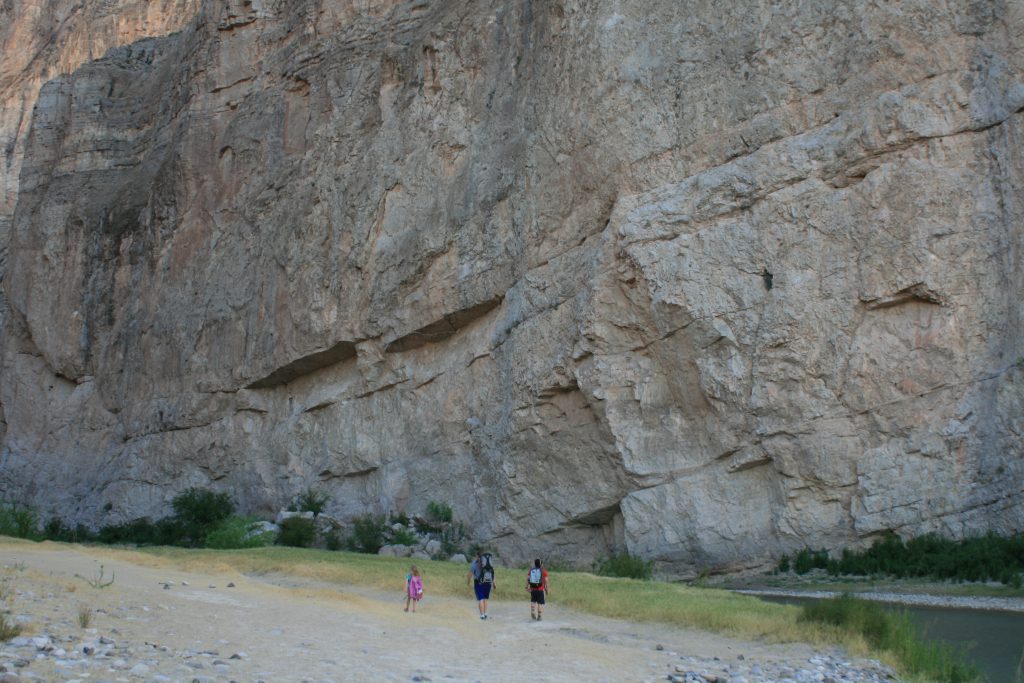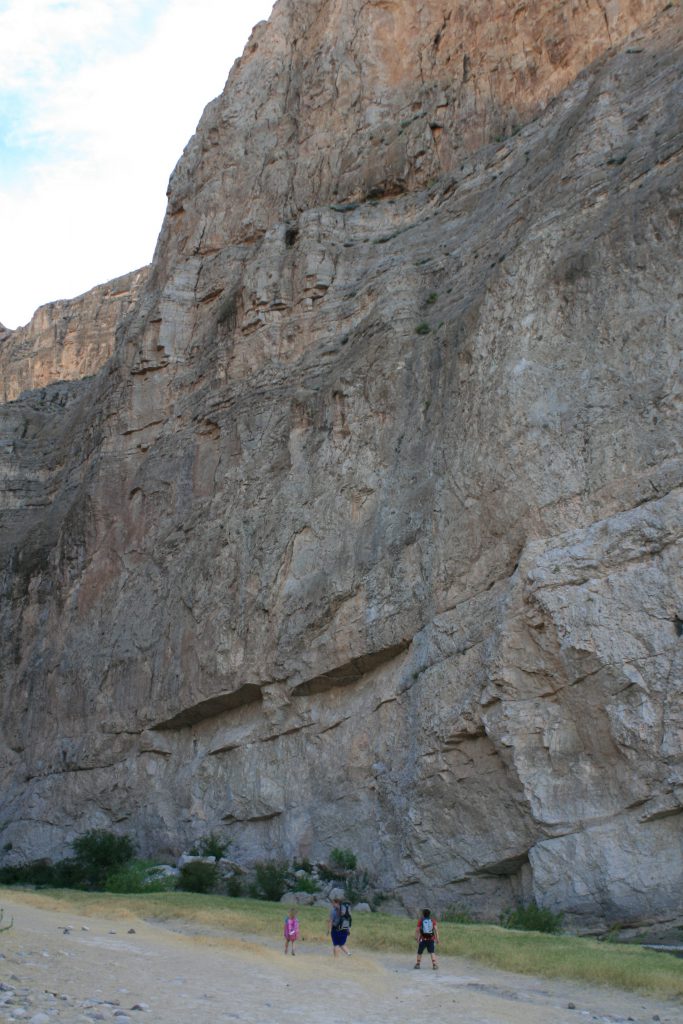 on the american/texan/big bend side, this was the view.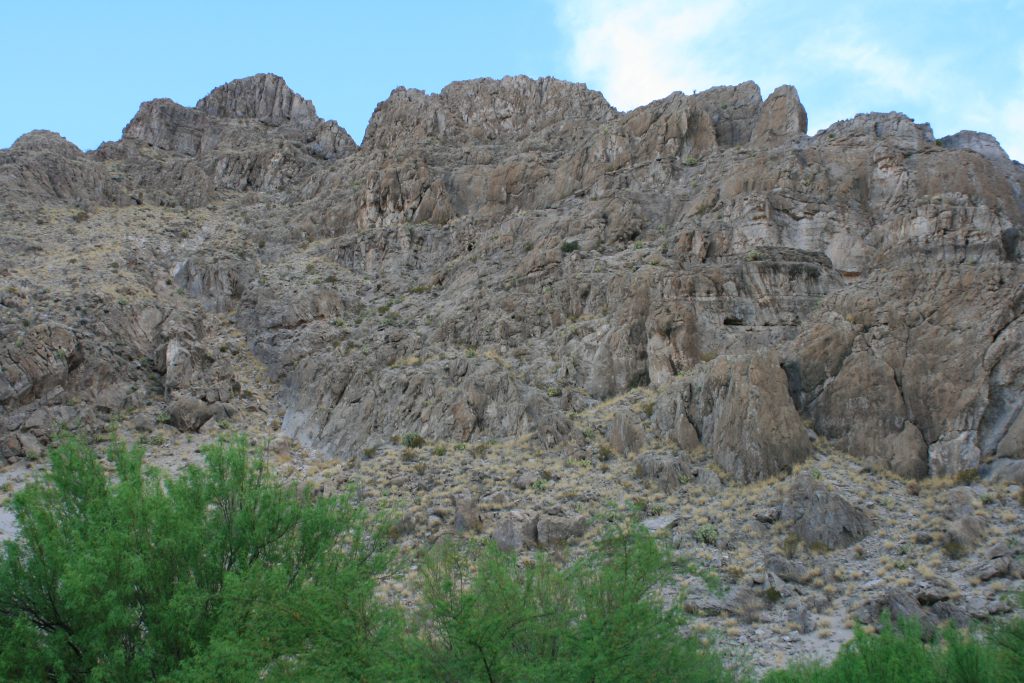 i don't even know where i took this from. somewhere on our descent into the canyon, i suppose.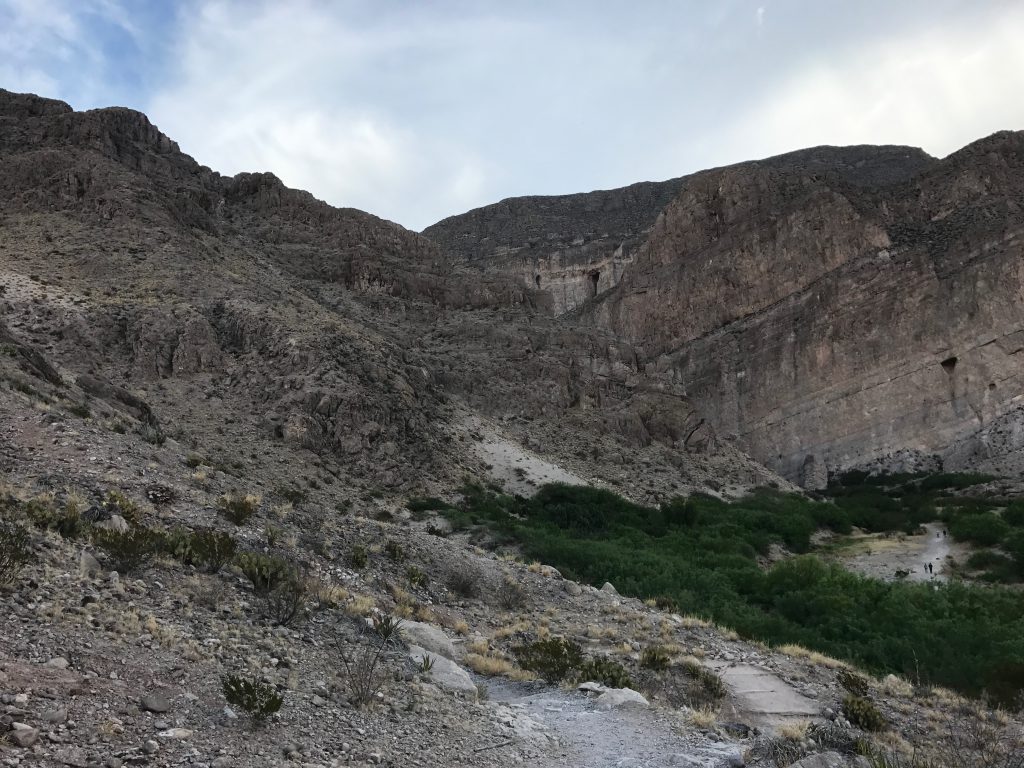 the kids frolicked on the river's edge a bit.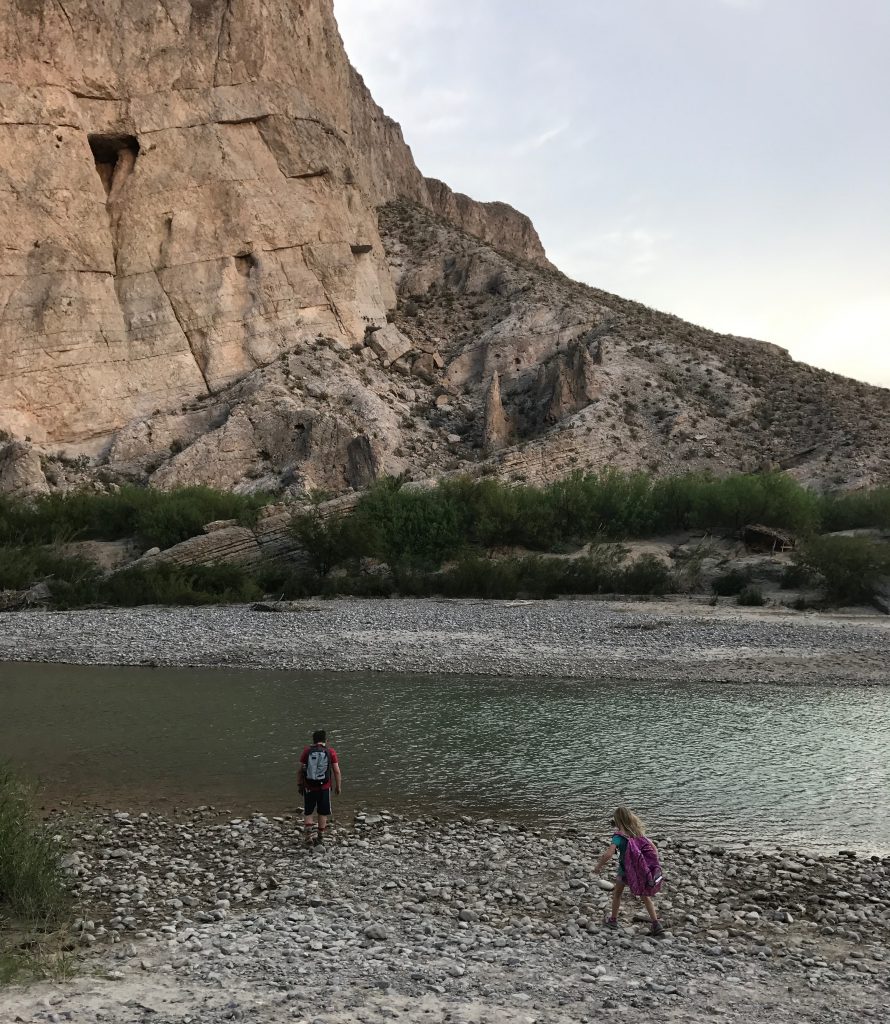 no one fell in. not even this kid, who was most likely to.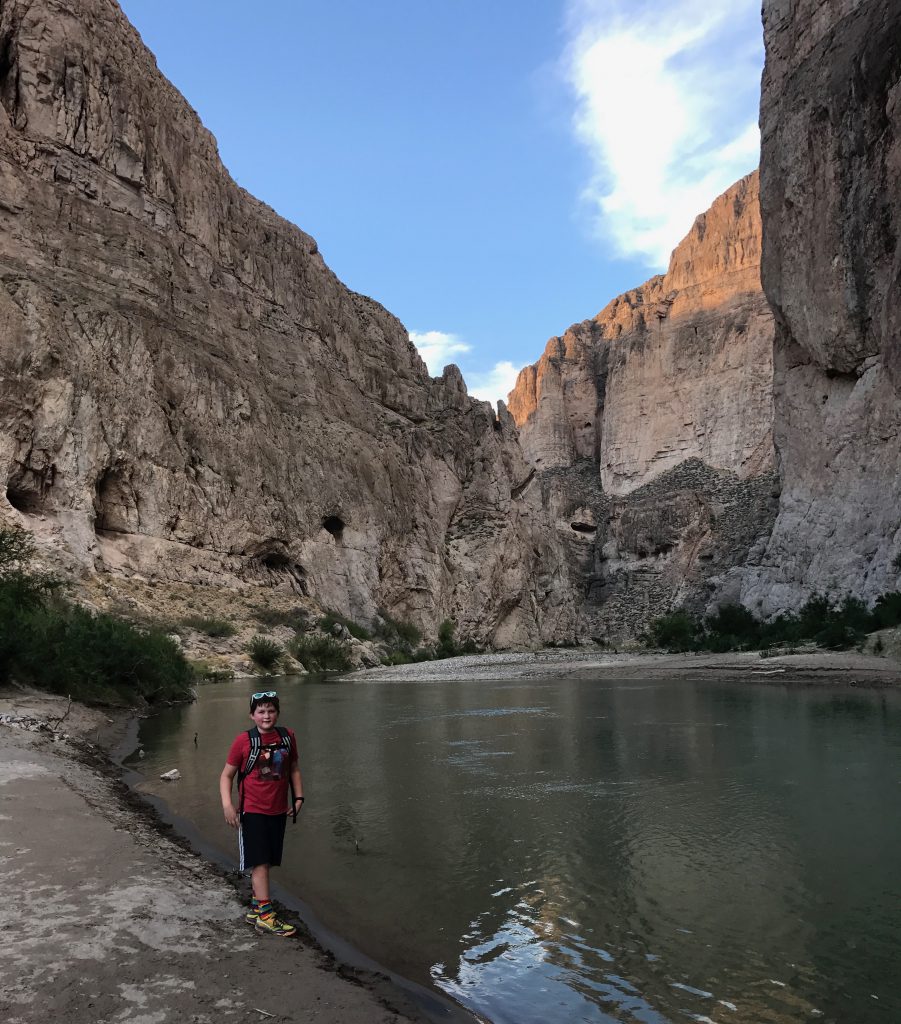 all three lid kids. canyon view from the river. 🙂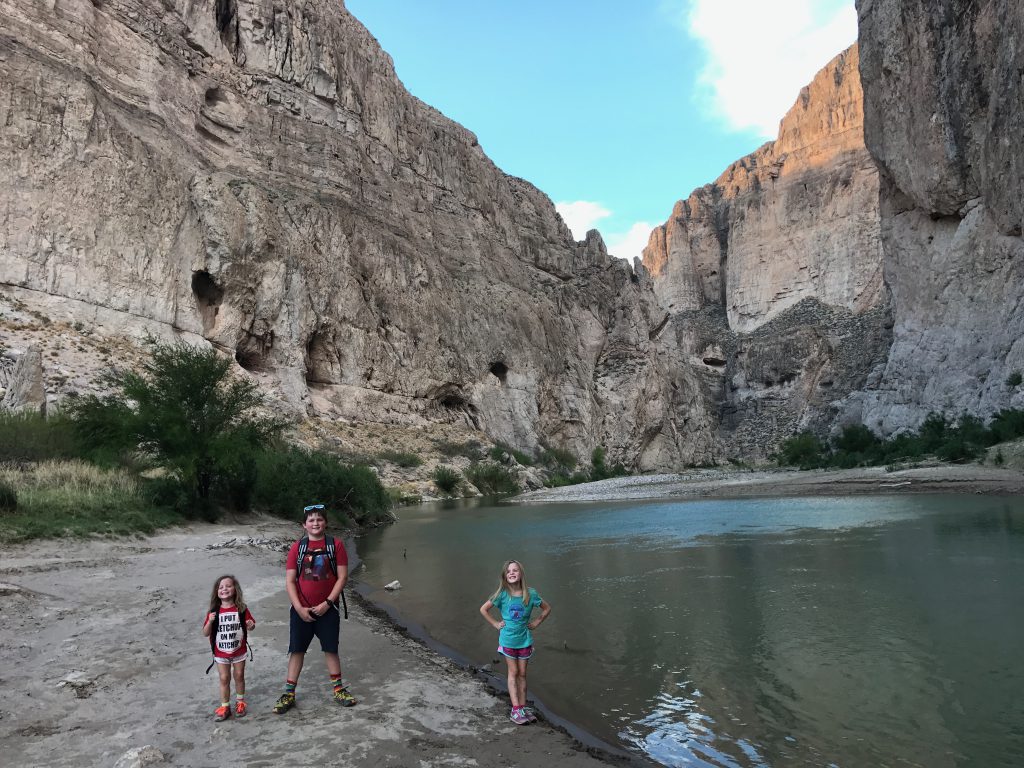 more river exploring.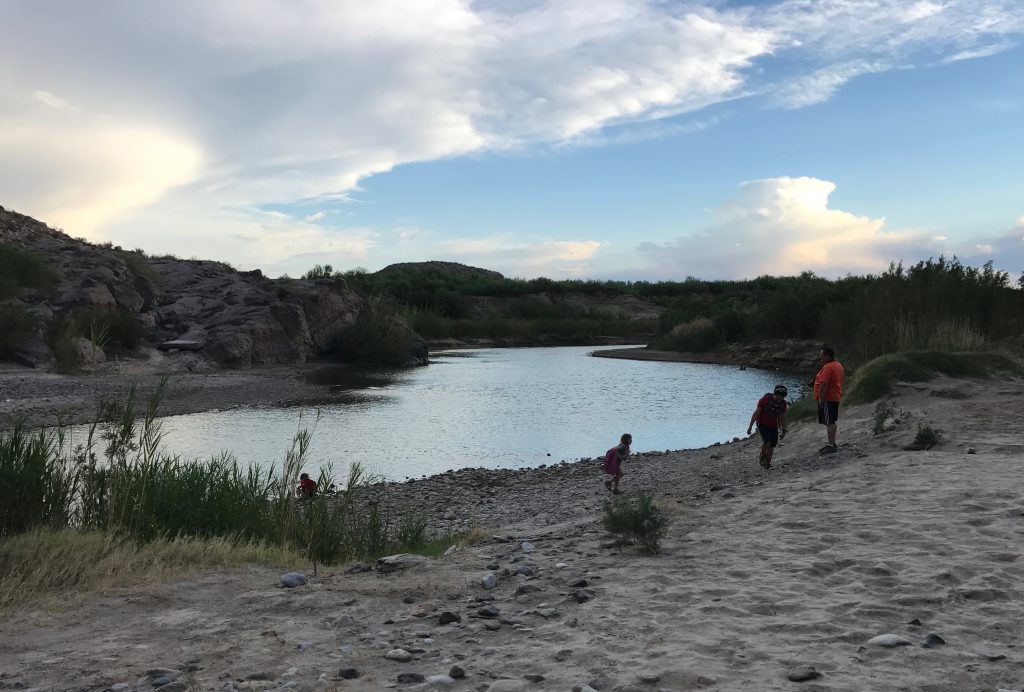 looking upstream.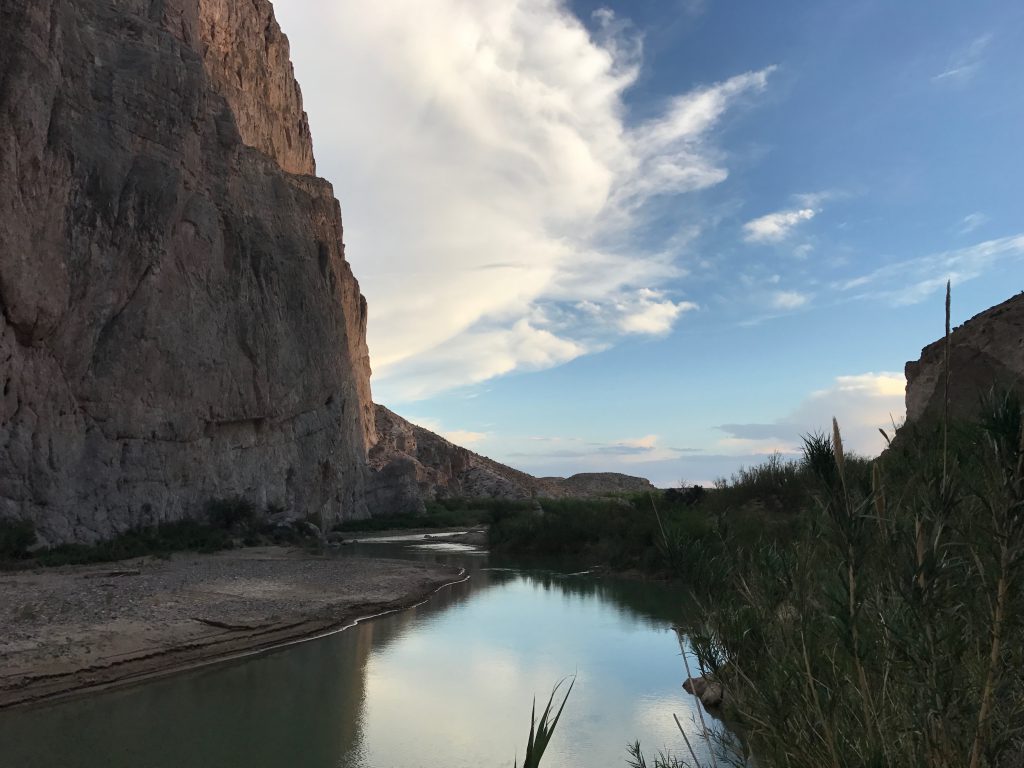 and into the canyon. sorry for the overload of pictures. remember, we had just arrived. we were so excited.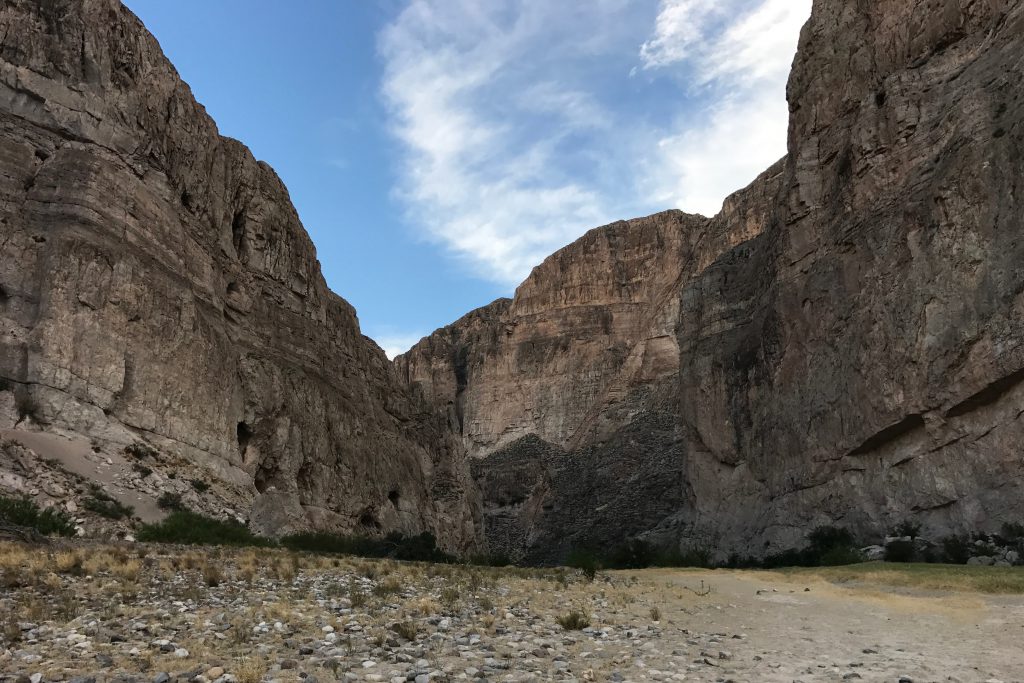 the kids and derek wandered up onto a big sand slide and played for awhile, while i tested the trail to see how far into the canyon i could get.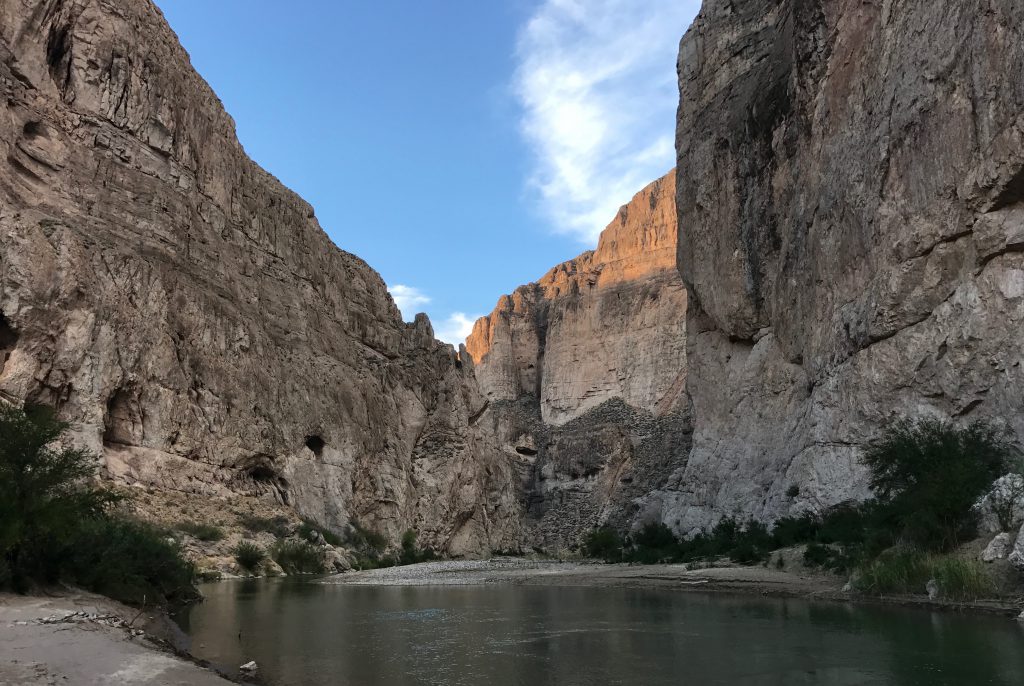 the answer was: not far. a few hundred feet from where i left them, the trail ended and a vertical rock face started.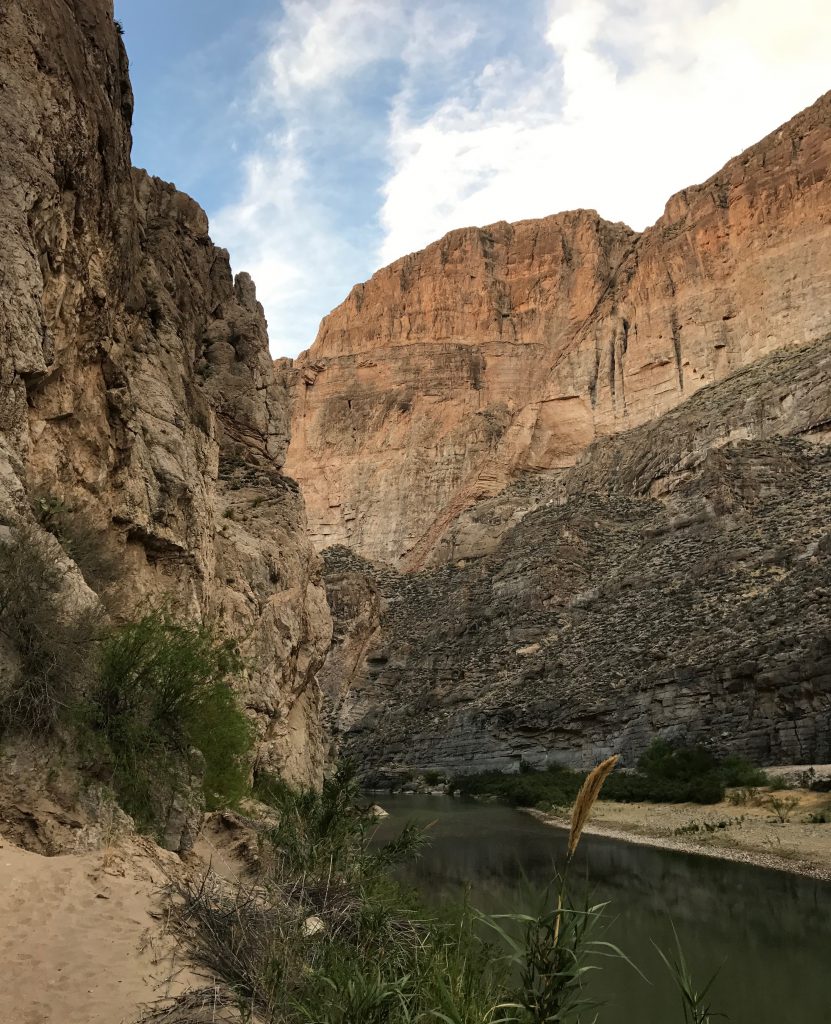 so i went back to check out the sand sliding fun.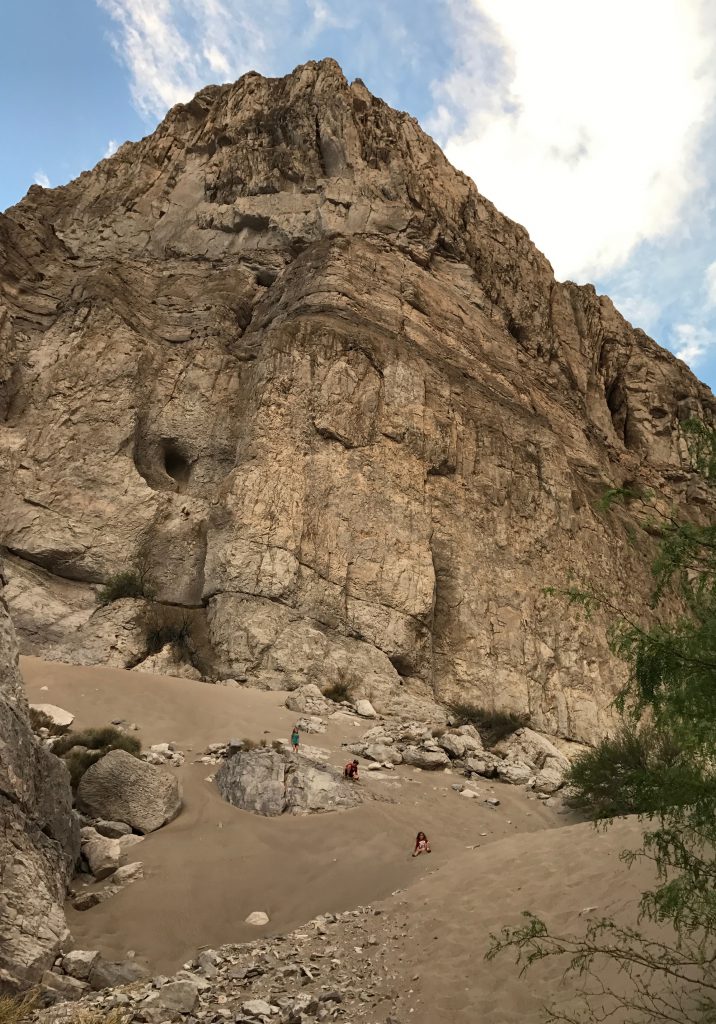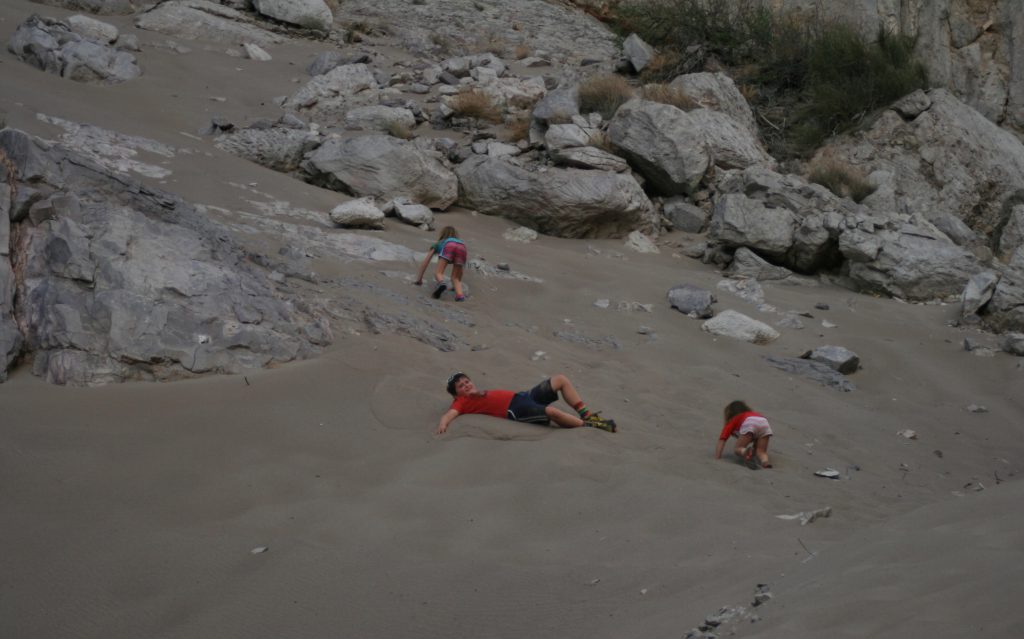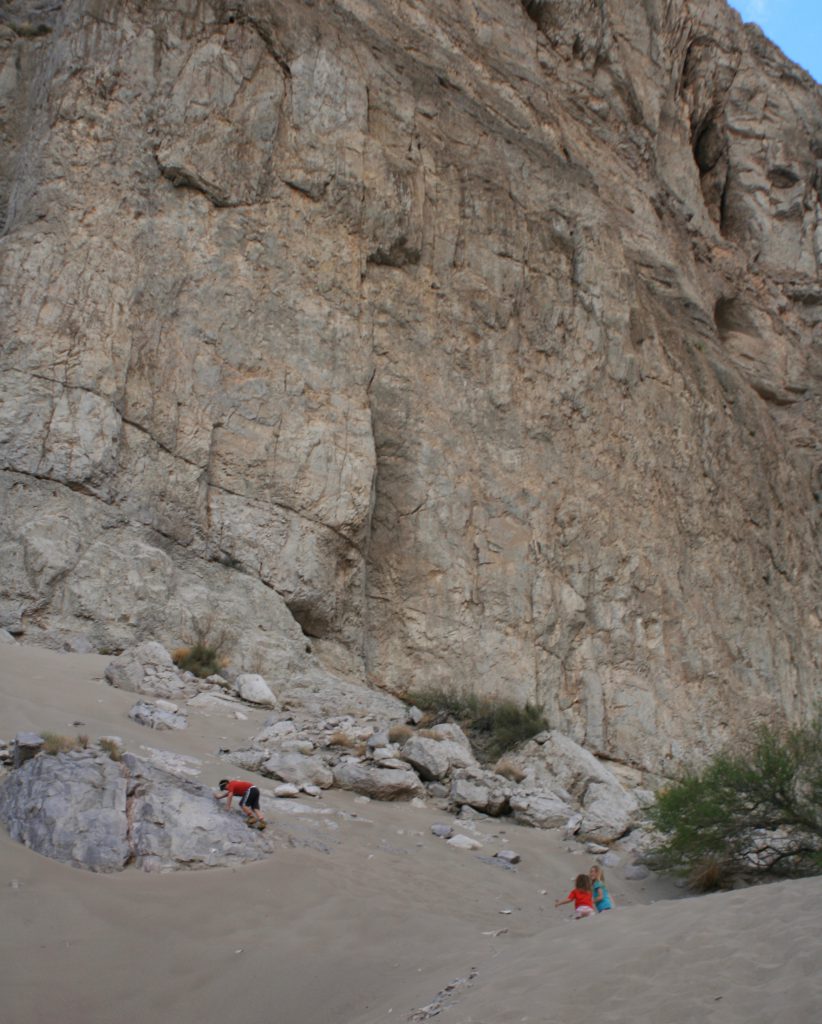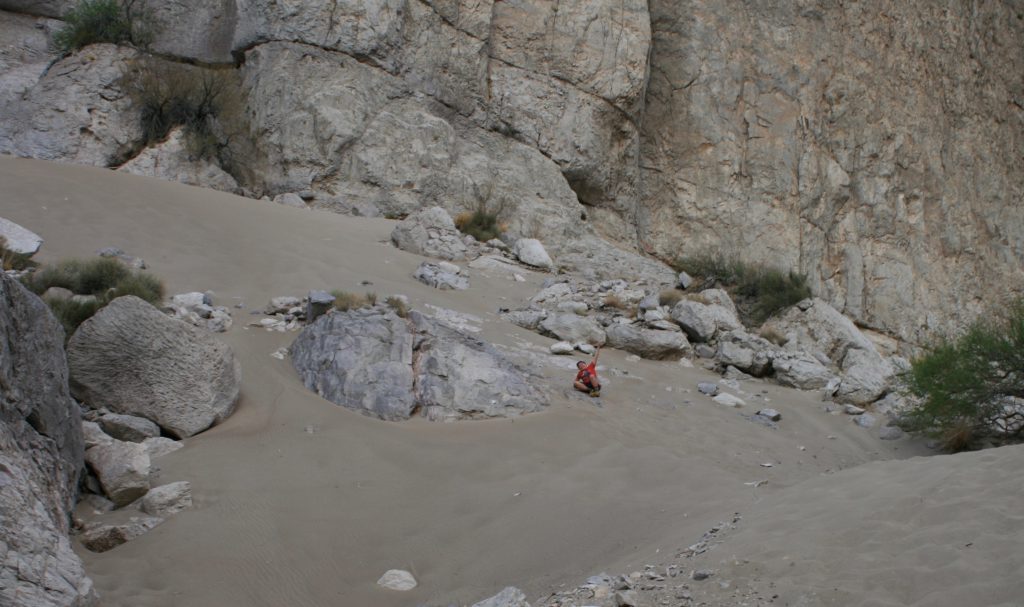 we had to make an abrupt and speedy exit, as daily was quickly leaving and we weren't super excited about the thought of total darkness without flashlights on the mexico/texas border. so, we hustled out. which meant, loading hazel into the backpack, which she mostly hates. but let me take a few fun selfies.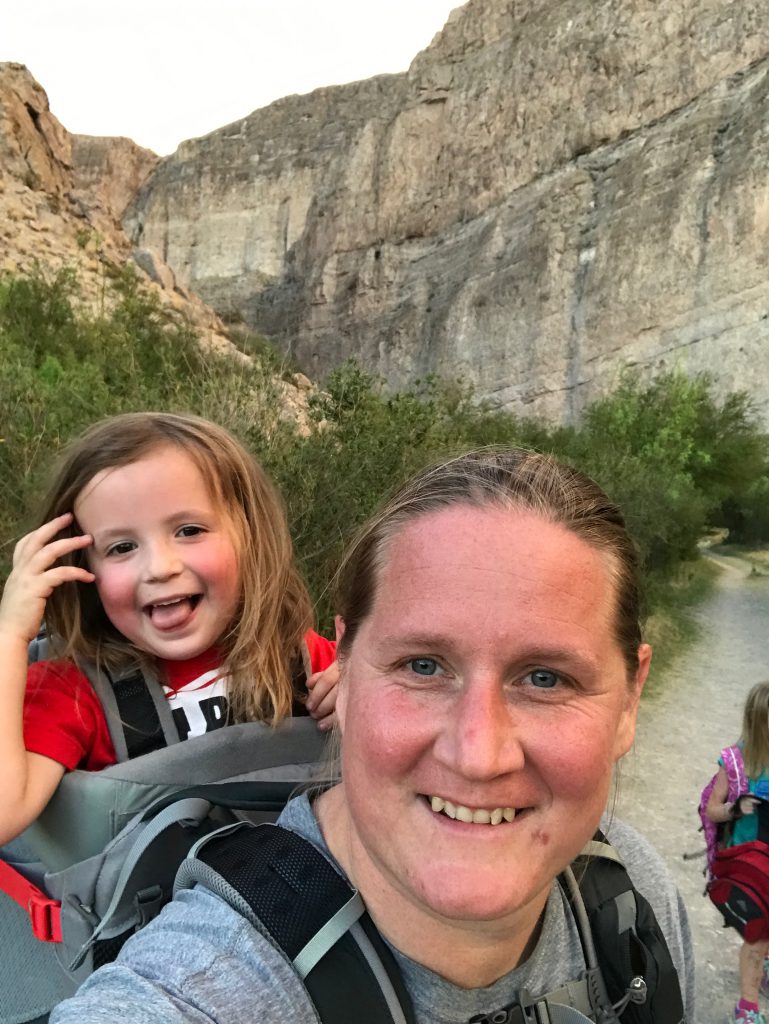 the stroll back in the evening light. anna and the dad.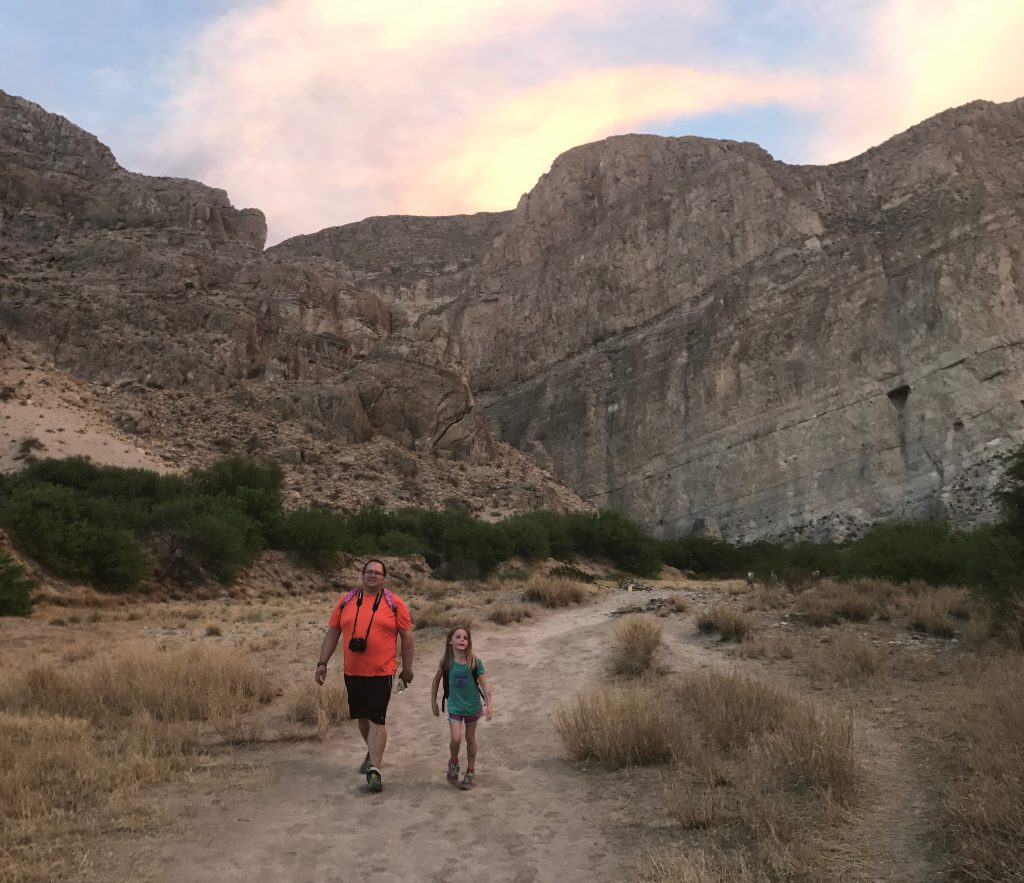 once we were mostly safely back to our car, i took this pic of what was left of a sunset and we went back to settle in for the night.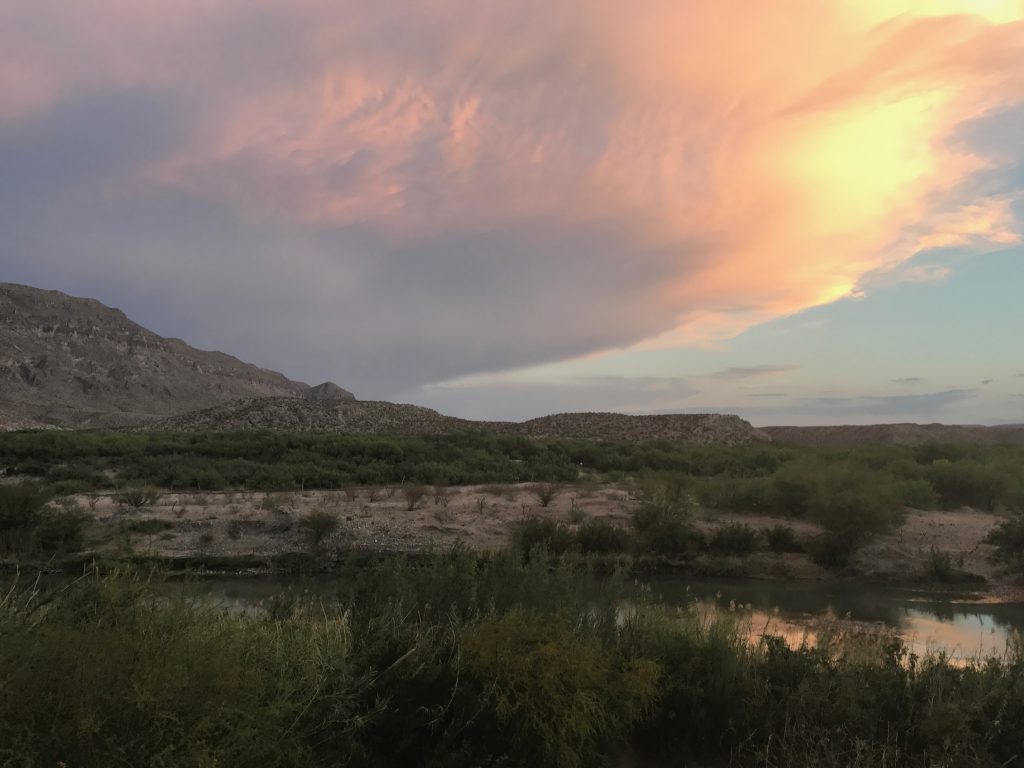 we have been keeping pretty busy, so i hope to have a few good blog posts for this trip. but. the internet is terrible and it takes soooooo long to do anything. so. we'll see.
anyhow. that's our day one. 🙂