we have had a pretty great week. after our visit to goblin valley state park, we decided that our location was pretty much the worst, so we packed up to move closer to moab, which was our next spot. this gave us nearly another full week, making almost 4 weeks in the area, so even though i knew i should pace myself, we got busy right away, checking out arches national park.
on our first day, we stopped in at the visitor center to get our stamps, junior ranger books and some tips and tricks and settle on a quick visit to the (pretty popular) double arch. it was a short hike, perfect for us, since we are out of practice. you can see it from the parking lot, so the kids had their eye on the prize.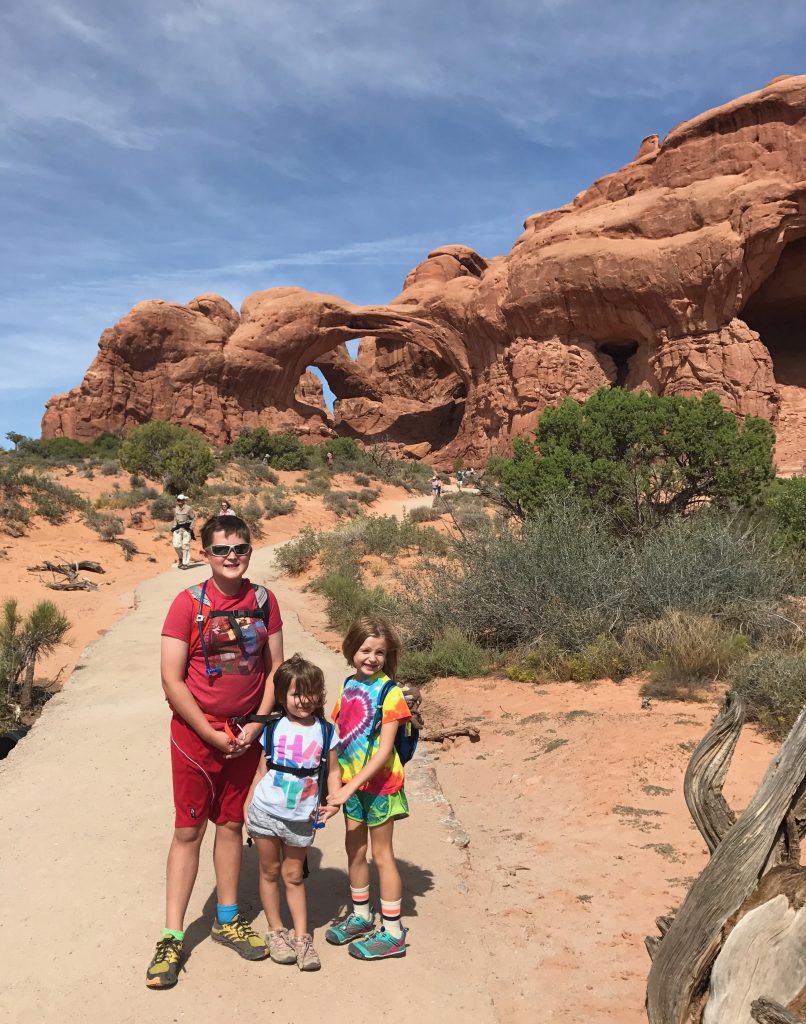 most folks were standing on this rock trying to make it look like they were holding up the arch. we didn't bother with that. i'm just glad to have all kids looking in my general direction.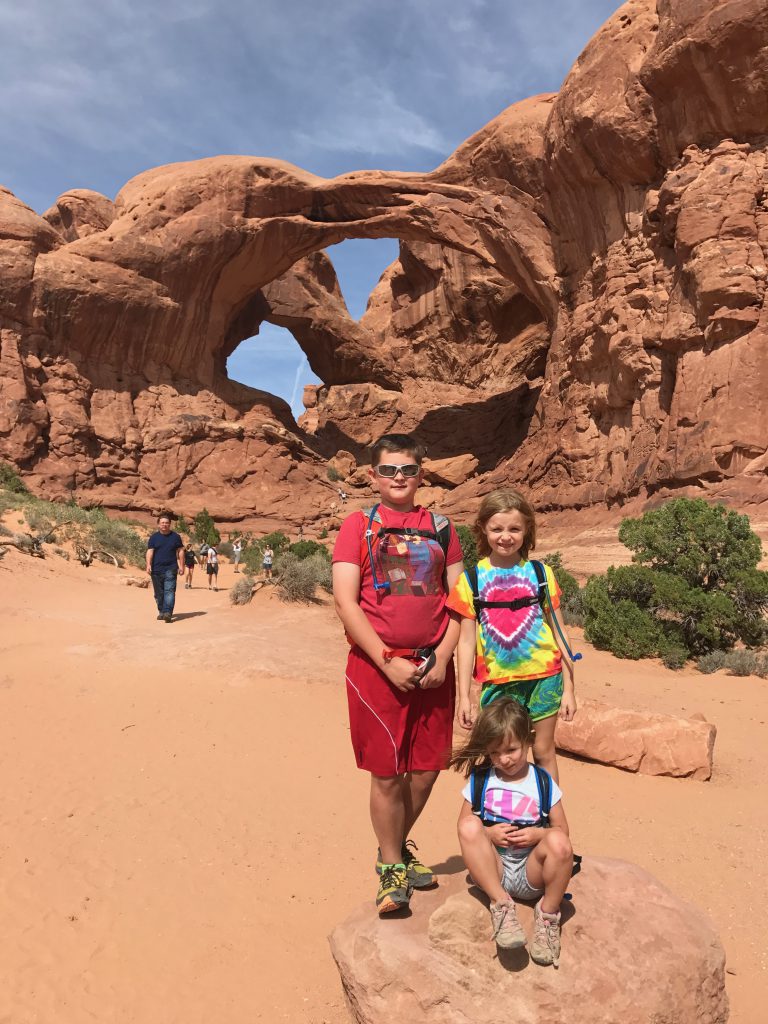 anna wanted to give it a try. i let her think that this captured it perfectly. i'm terrible.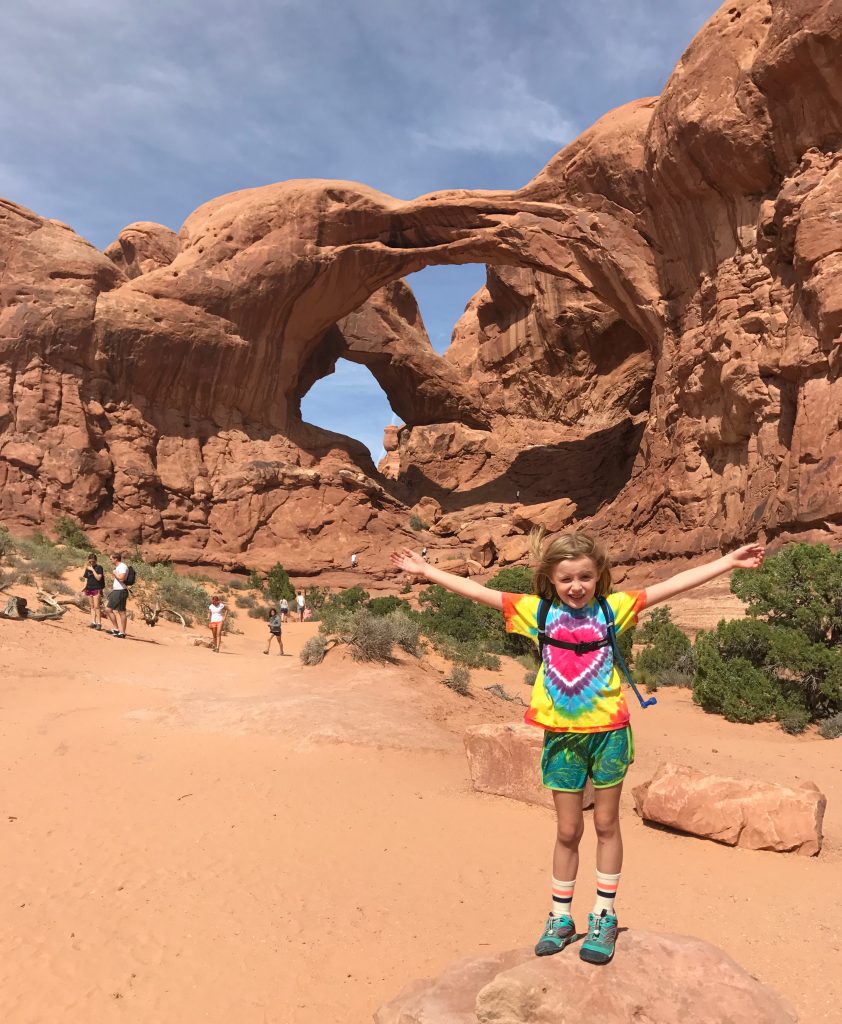 a fellow hiker/tourist offered to take a family pic.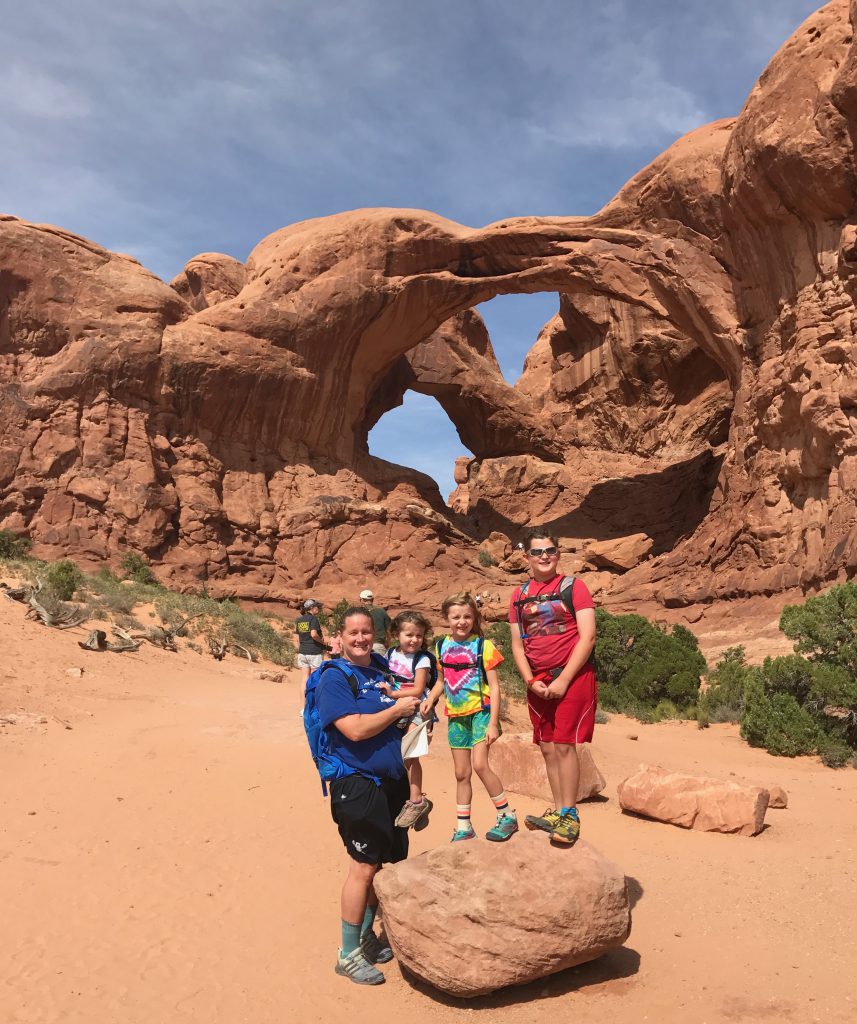 the double arch is pretty amazing. you can get a sense of it's size by looking at the tiny ant sized hikers climbing into it.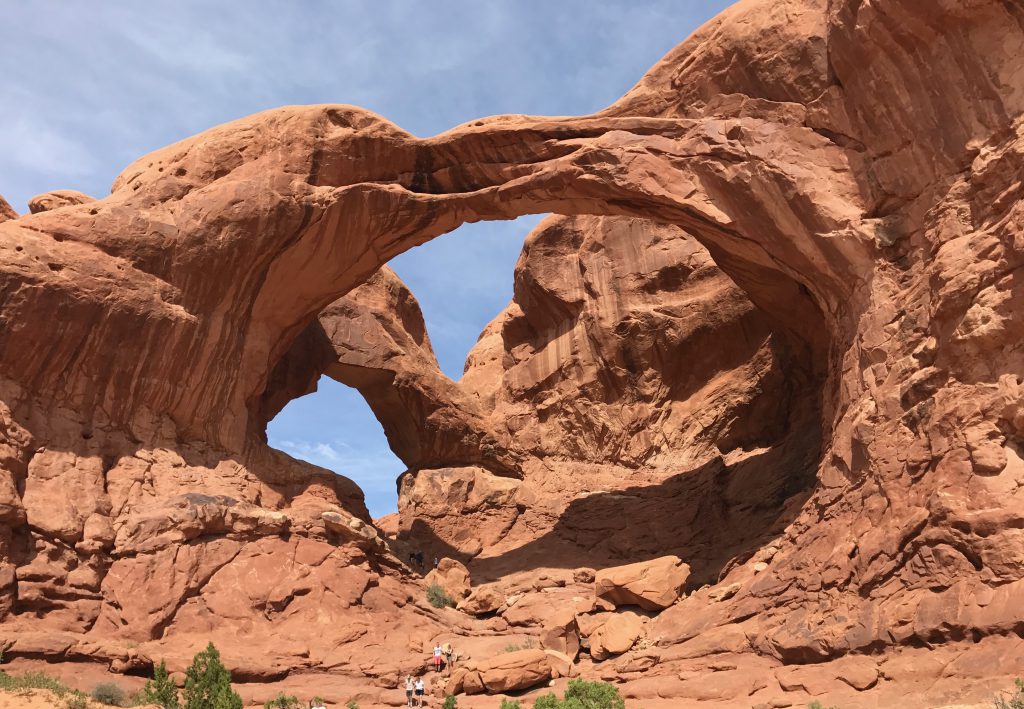 the lidkids were excited to scramble and conquer giant rocks.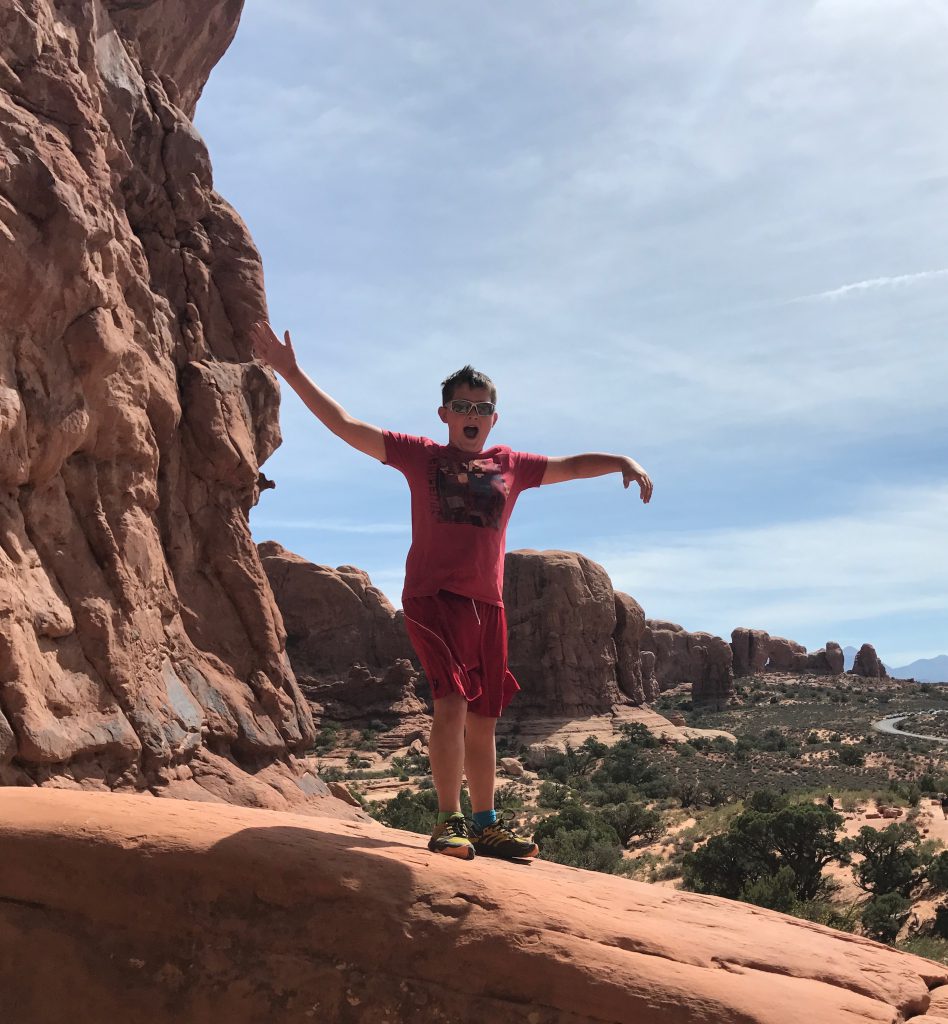 here's where it got crazy. i was talking to a couple who offered to take pictures while we climbed up into the hole of the second arch. as i was getting my camera ready, hazel and anna took off. it doesn't look like it here, but this rock is practically vertical. so i'm chasing after them, to get them pointed in the right direction.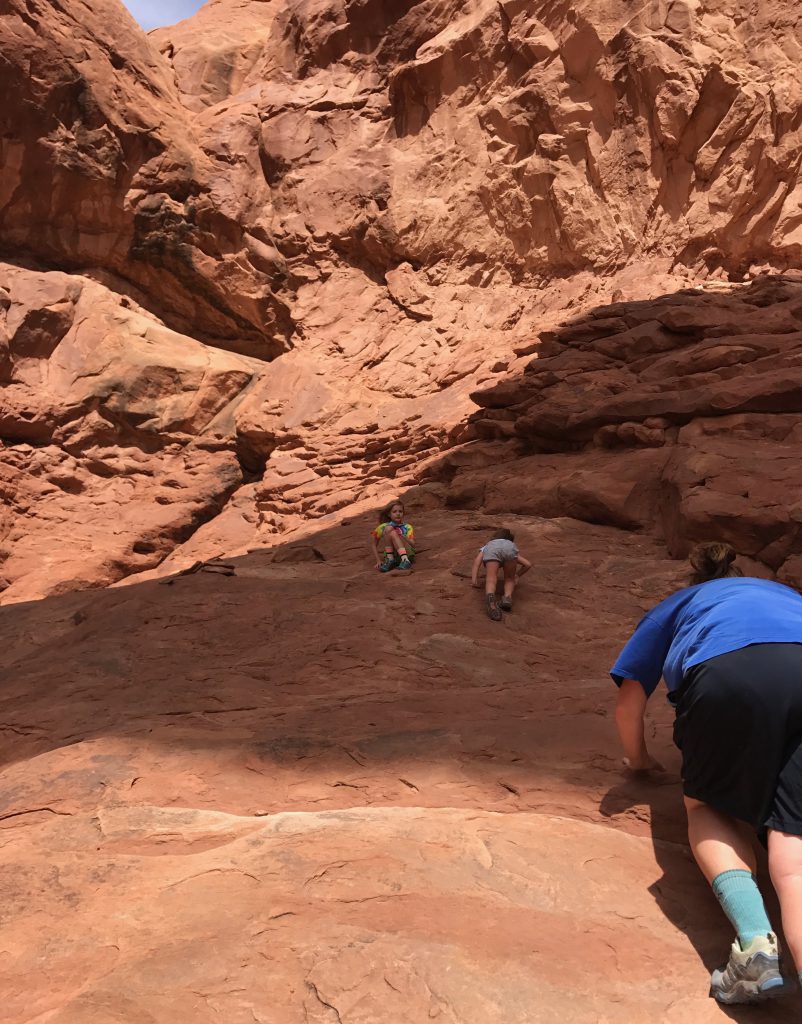 we pretty much had to shuffle over horizontally from here. which was tricky on the incline.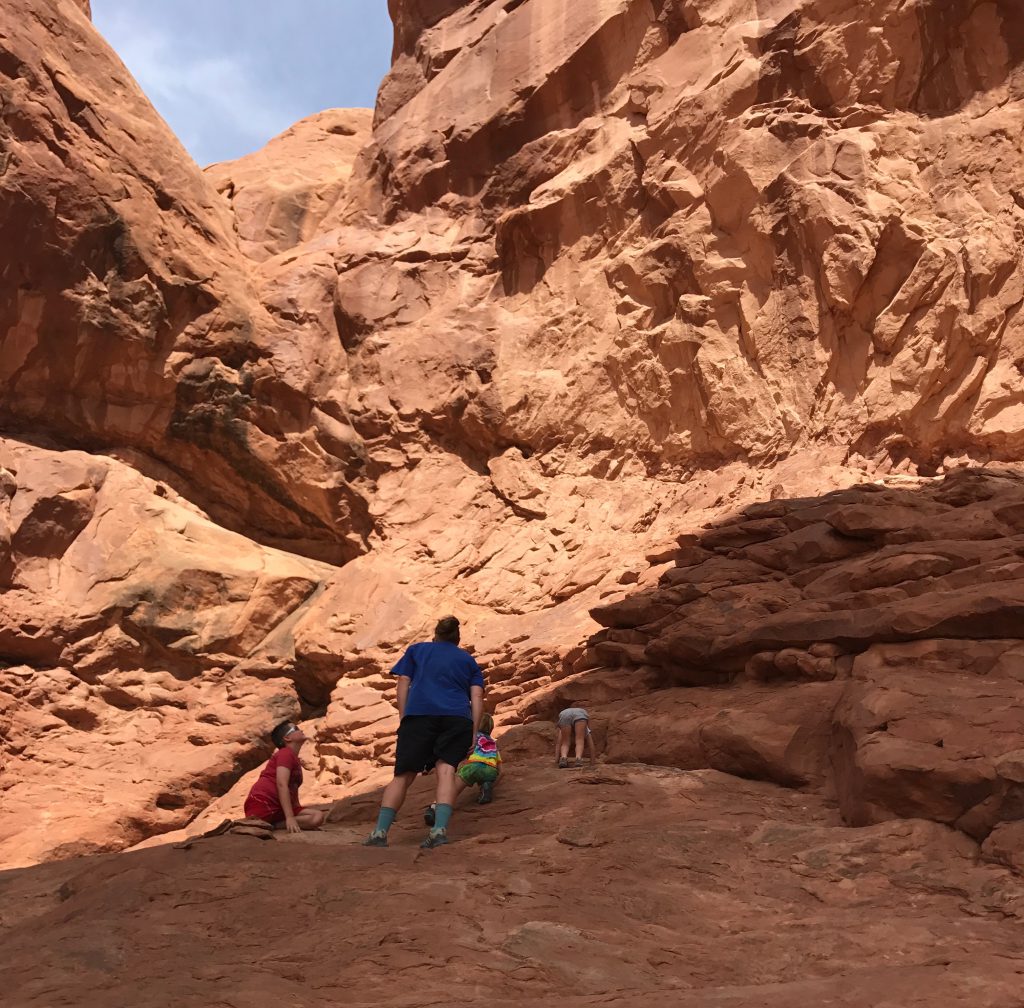 we survived. and were finally on the right path. which was even more straight up and down. and a drop off on the other side. there were drops of dried blood scattered around, to remind us of the dangers.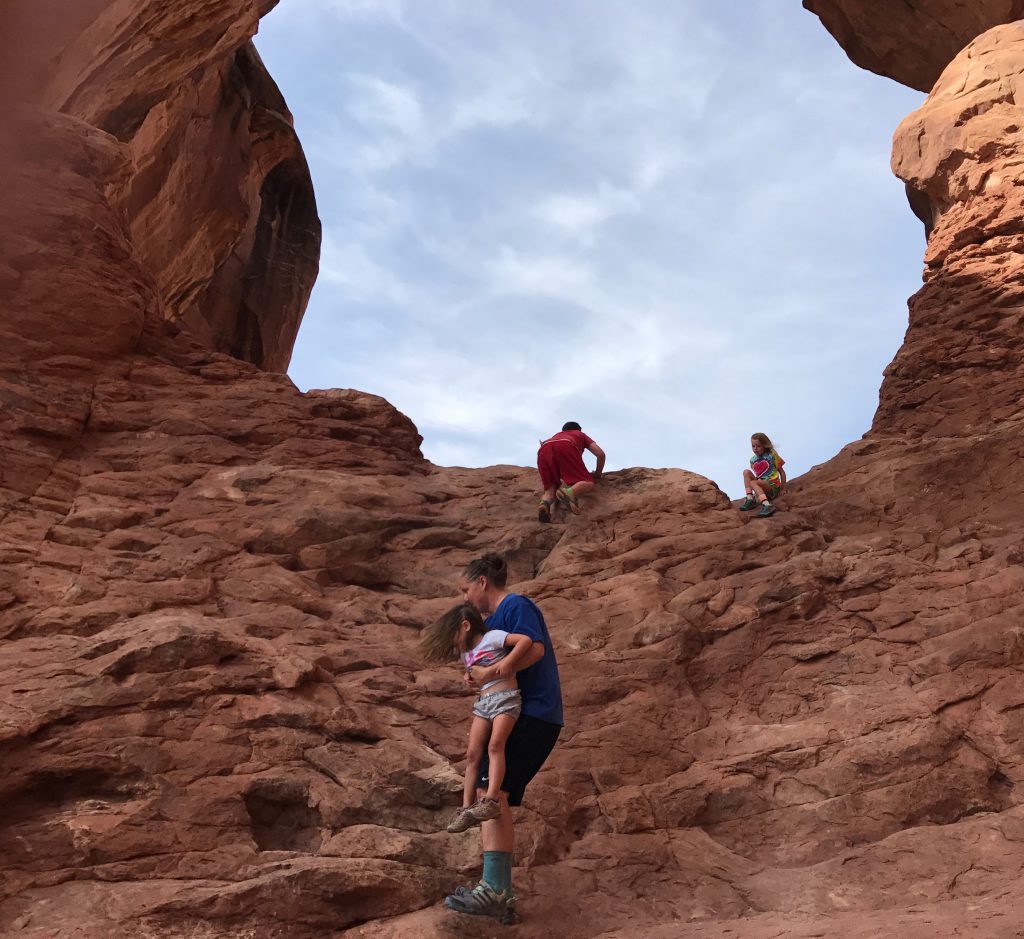 we made it up without incident. no one fell off the back. and our new friends kindly took a bunch of pictures.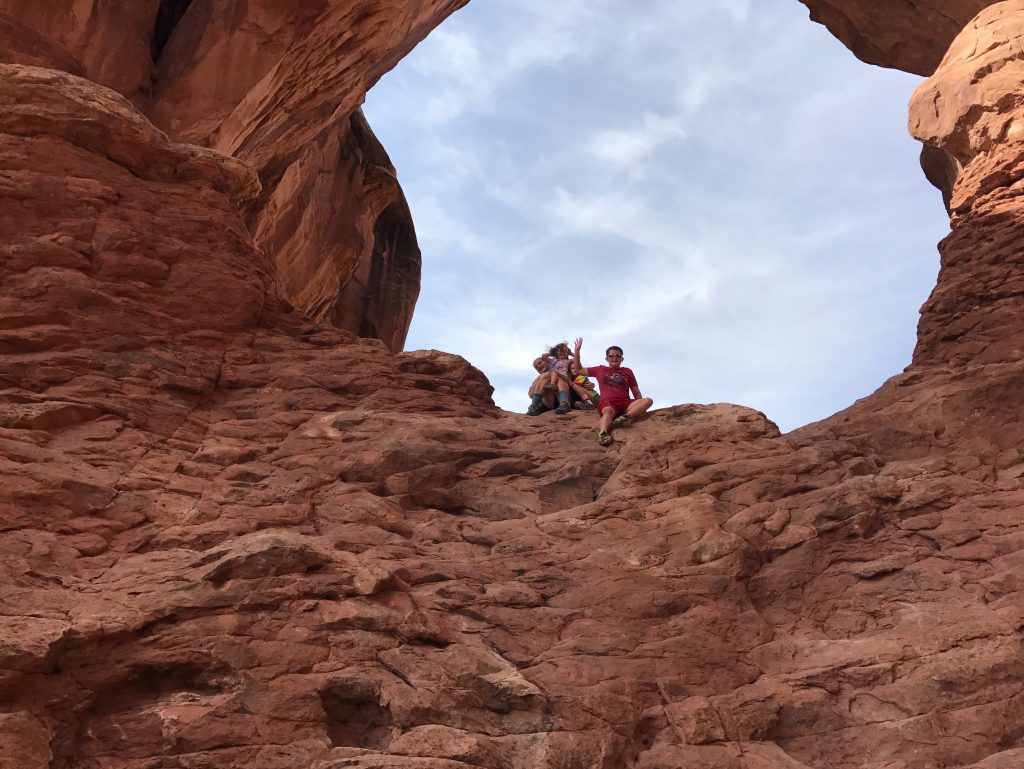 when we were done, we basically slid down the rock face to get out. we thanked our new friends and hit the trail to head back.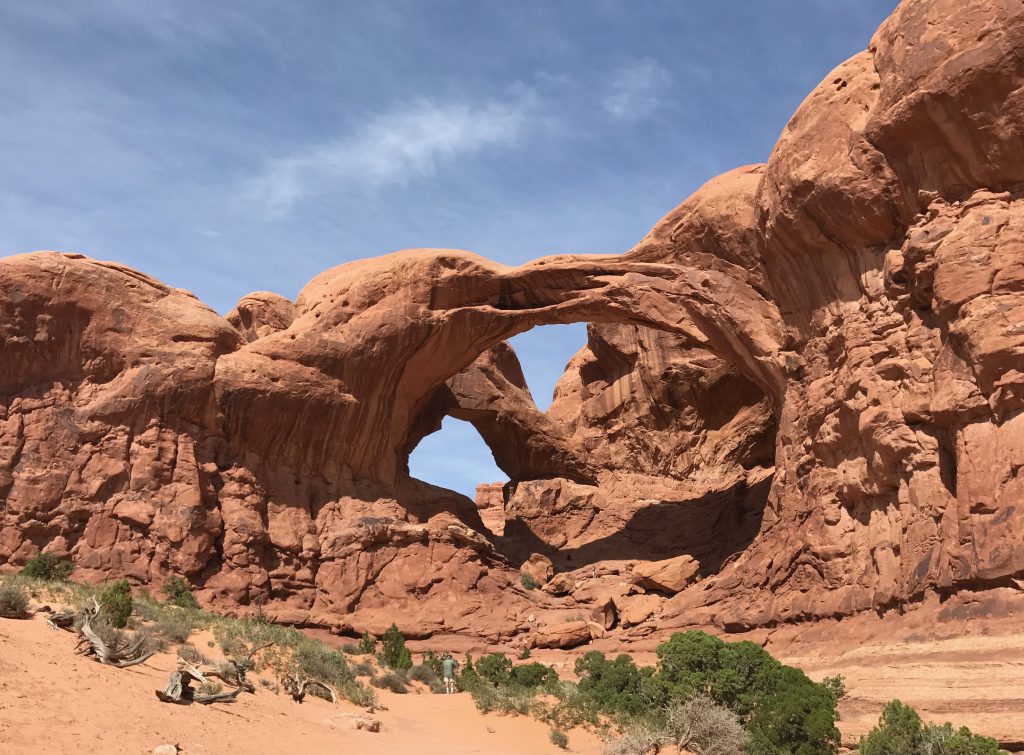 on our way out of the park, we stopped at the park avenue trail head to take a peek and see if it might be something we would want to do. it's pretty much a primitive trail through a canyon, surrounded by ginormous red rock formations. i'm not sure it will make the cut when all is said and done.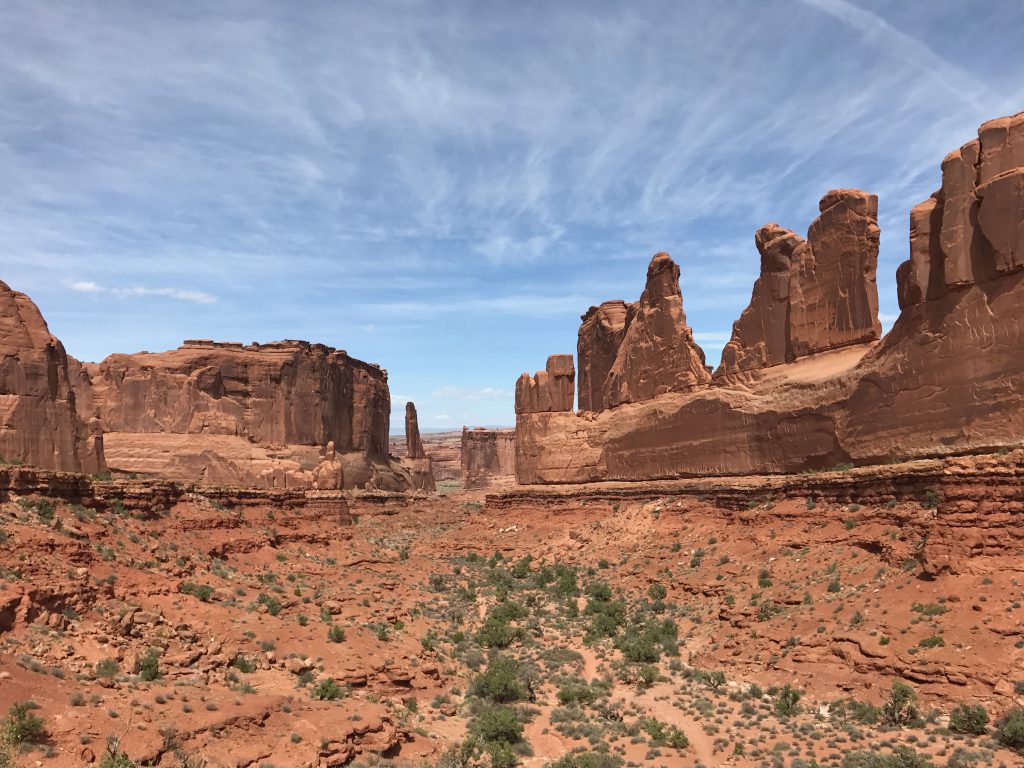 on our next visit, we decided to hit up the delicate arch viewpoint, before heading over to the sand dunes arch, which we were told was a kid favorite. but i'm getting ahead of myself.
the delicate arch viewpoint was very disappointing. the view point is VERY far away from the arch. we even walked past the designated area and out as far as we possible could for a better view. can you even see it, just above and to the right of anna's head.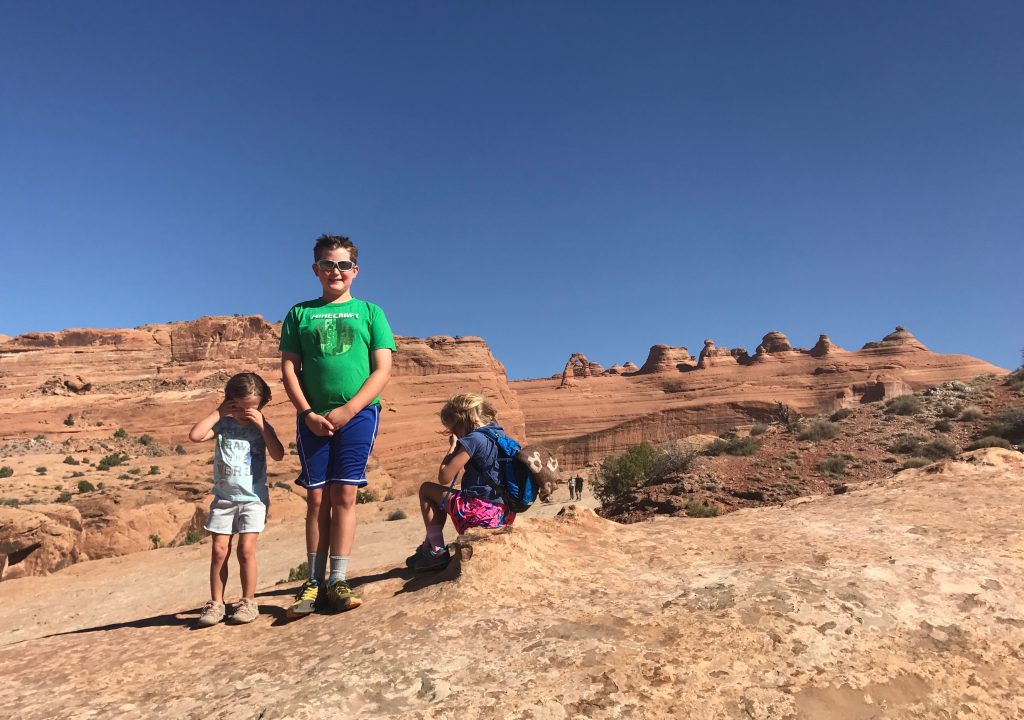 i did manage some zoom shots with the fancy camera. see all those tiny people. the thing is huge.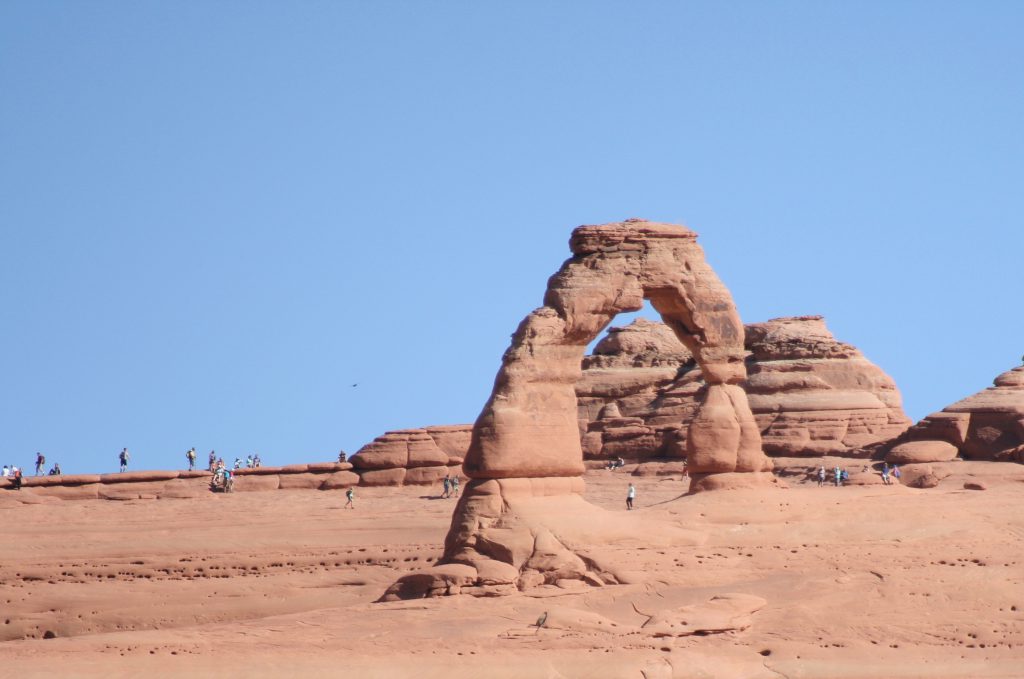 we walked along the ridge to get a better angle.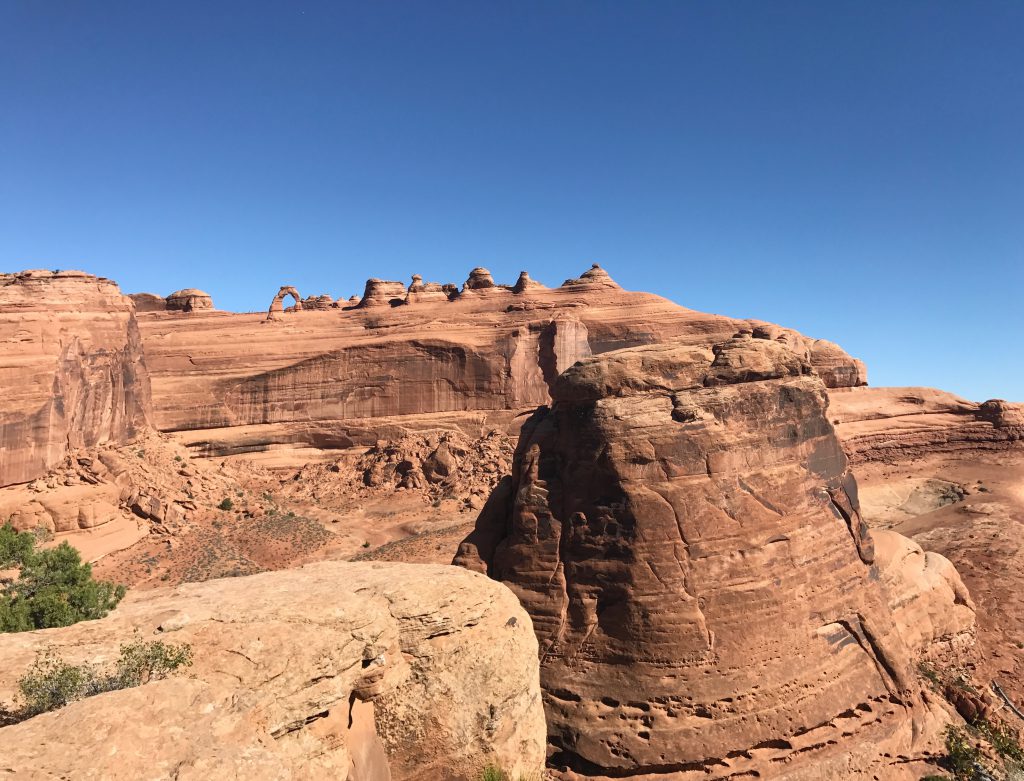 the kids pretending like they were thoughtfully observing.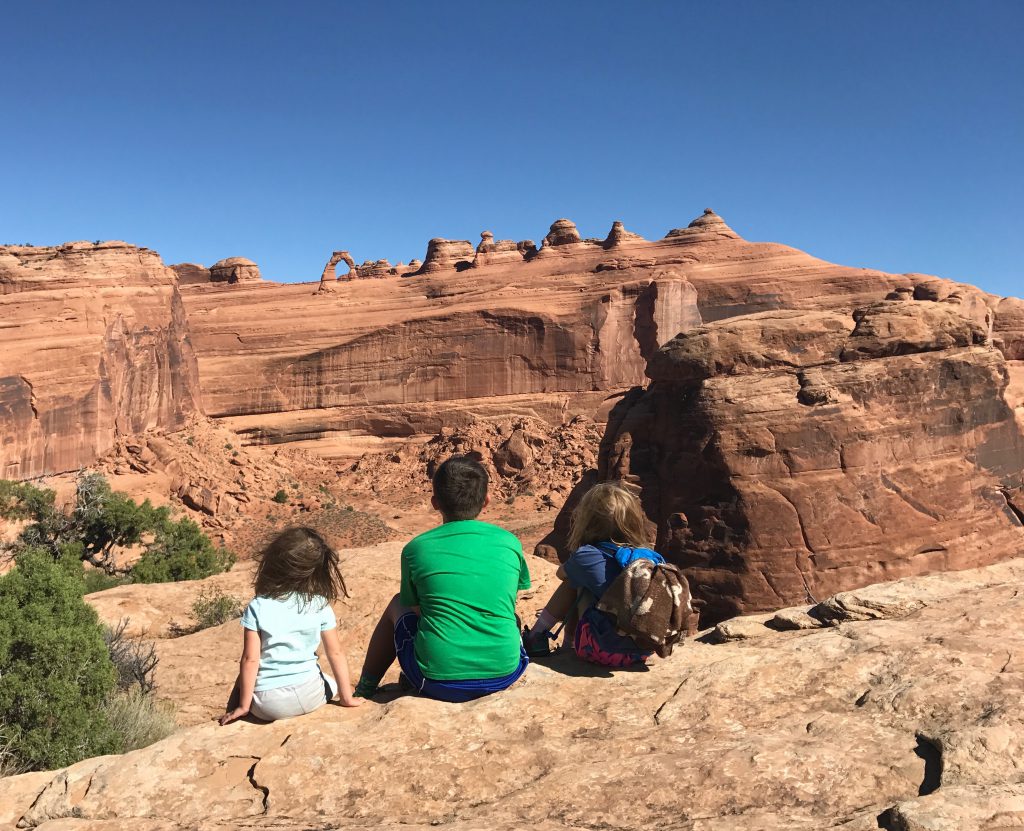 they were good sports, though. we knew we were going to hike to the actual arch over the weekend.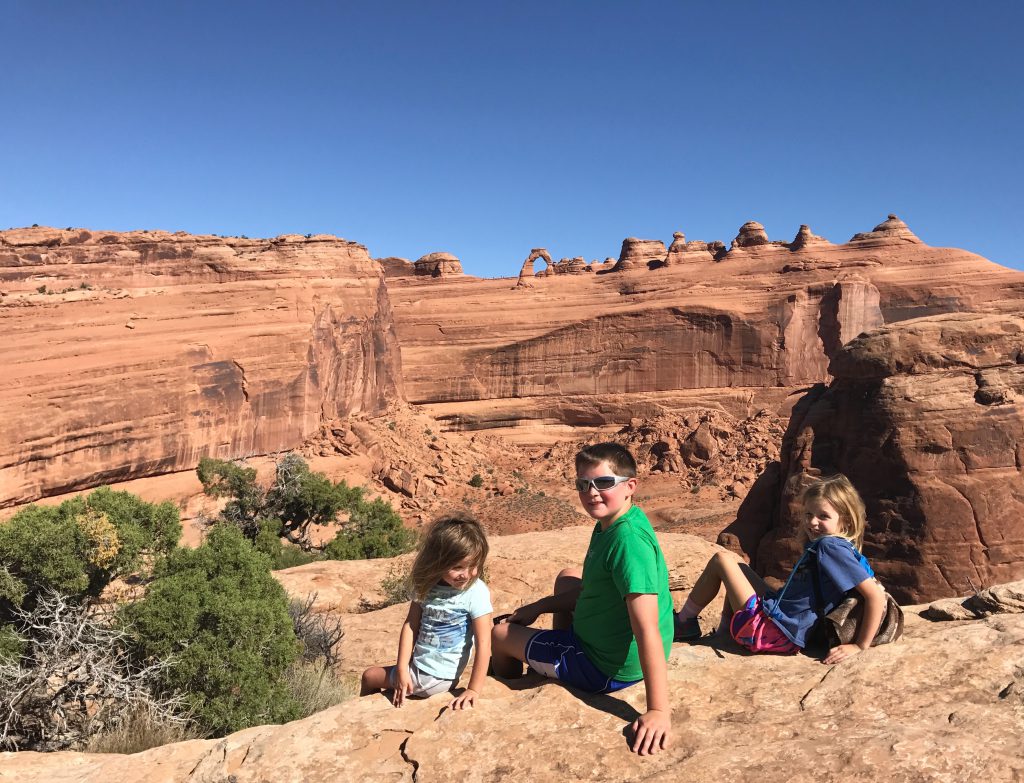 closeup with fancy camera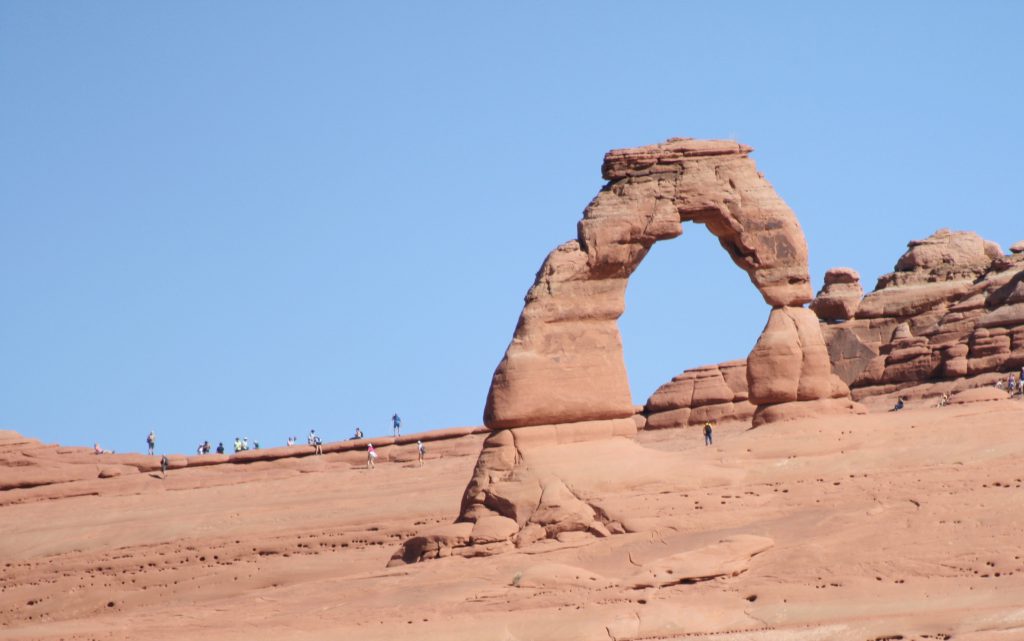 random picture of ike with fancy camera.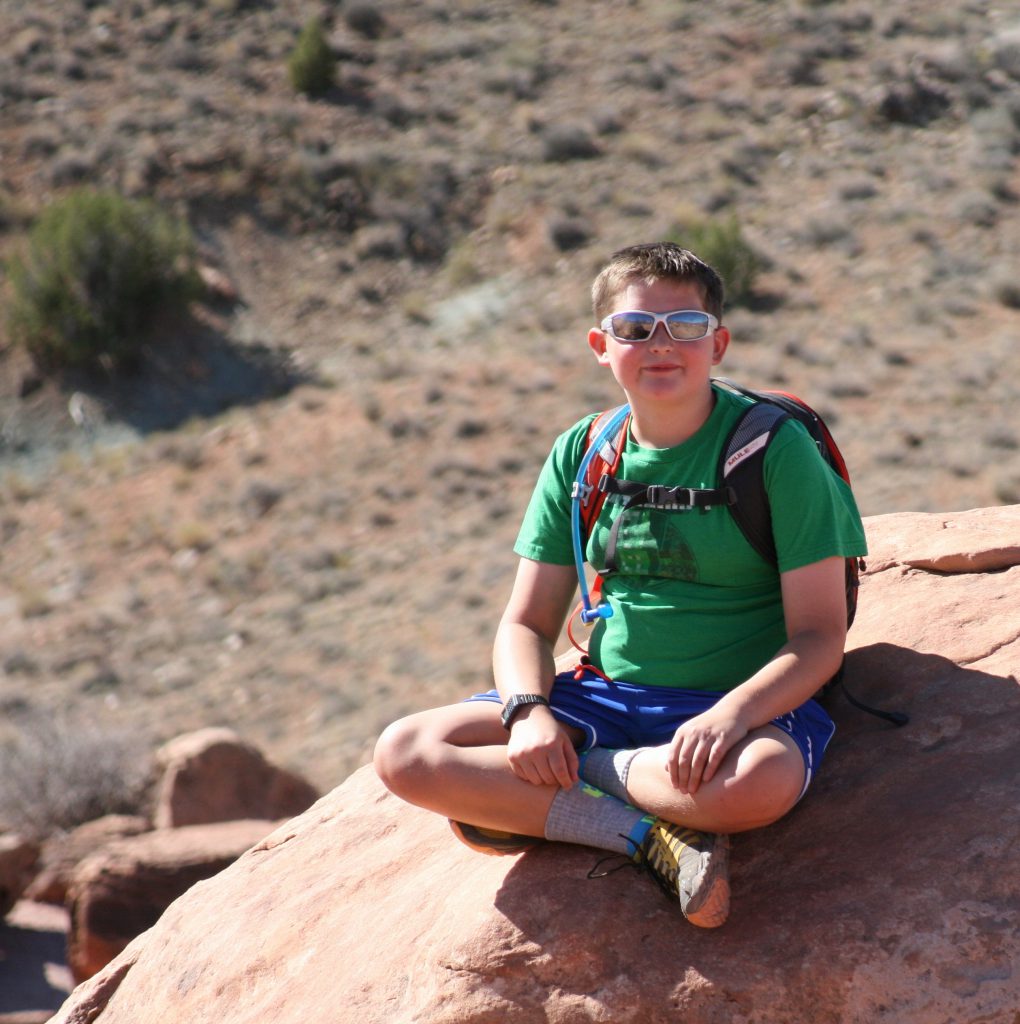 from there, we made our way deeper into the park towards the sand dunes. but first, we stopped off to check out the fiery furnace overlook. anna and i had booked a ranger led hike from there on sunday, so we wanted to get our bearings and take a peek. looks like fun, right?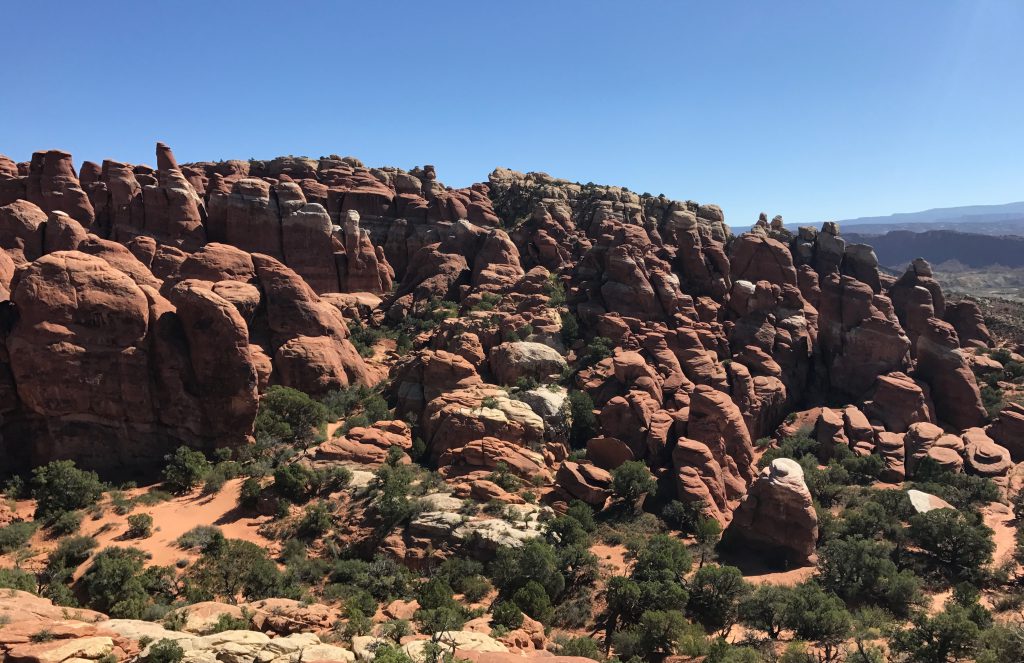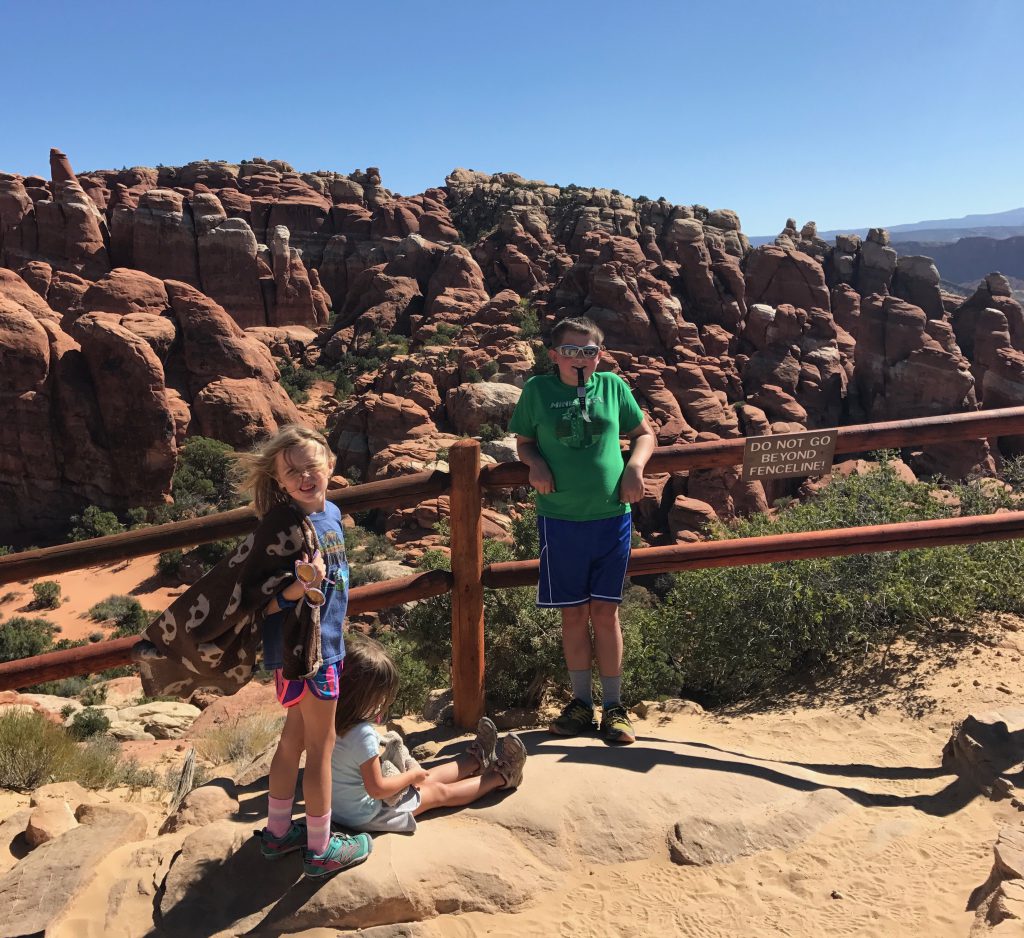 finally, we made it to the sand dunes arch. it was a short hike in. we would basically slip between two of those sandstone fins and follow along for a 100 yards or so and happen upon a sweet little arch, filled with sand.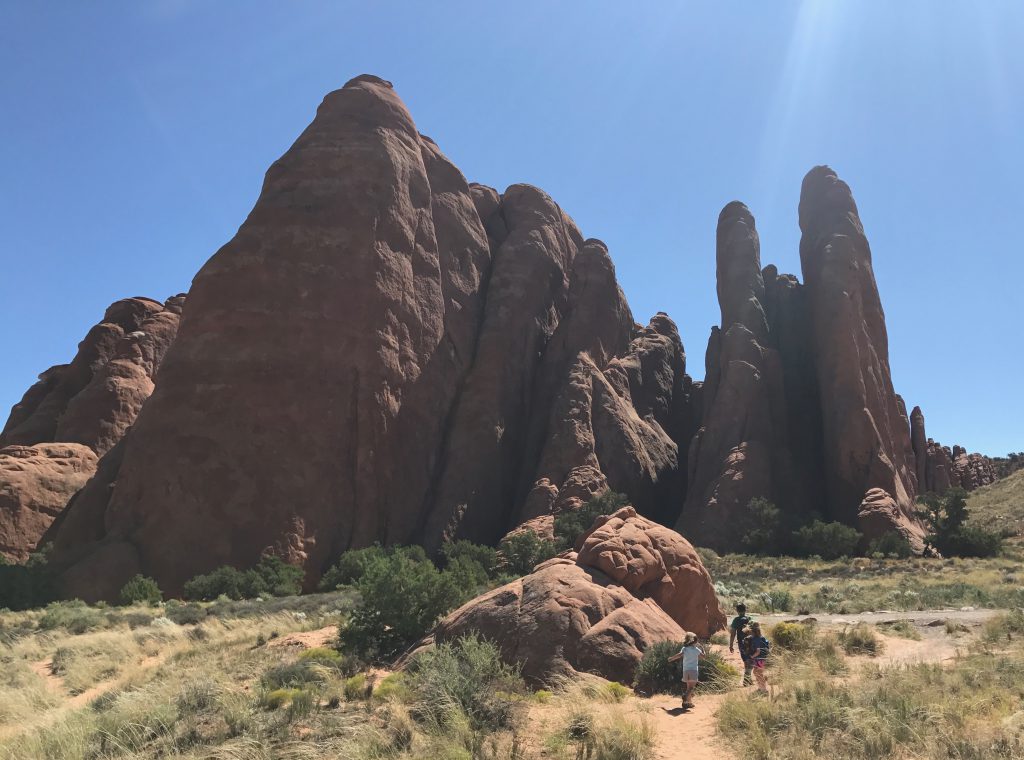 fin views from below.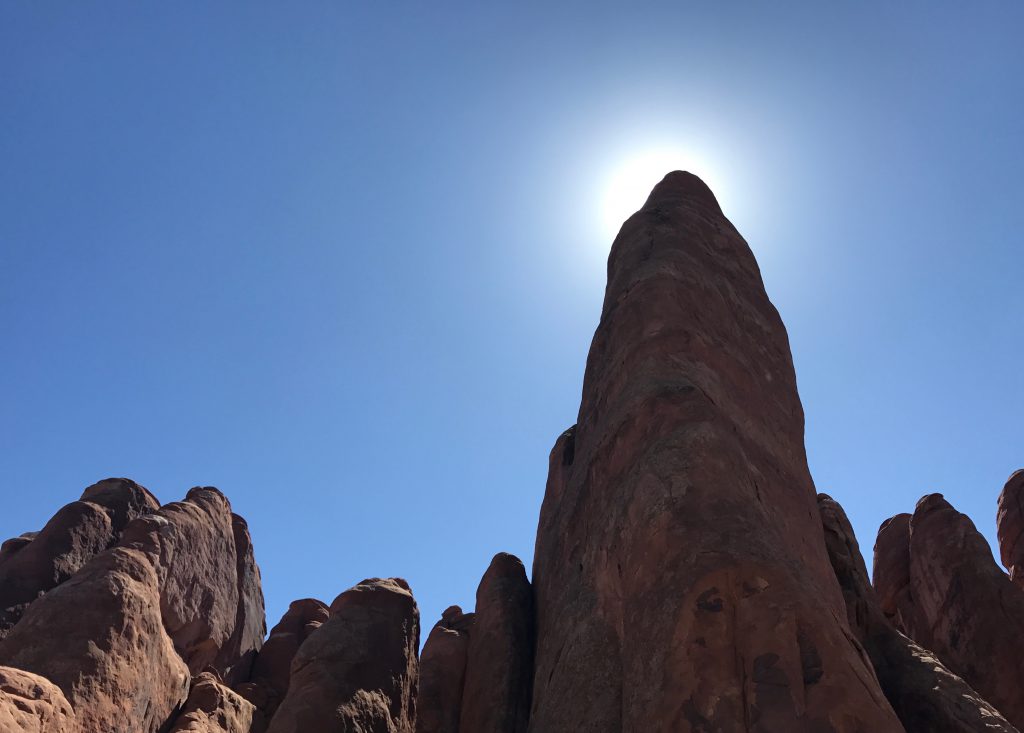 squeezing through the fins.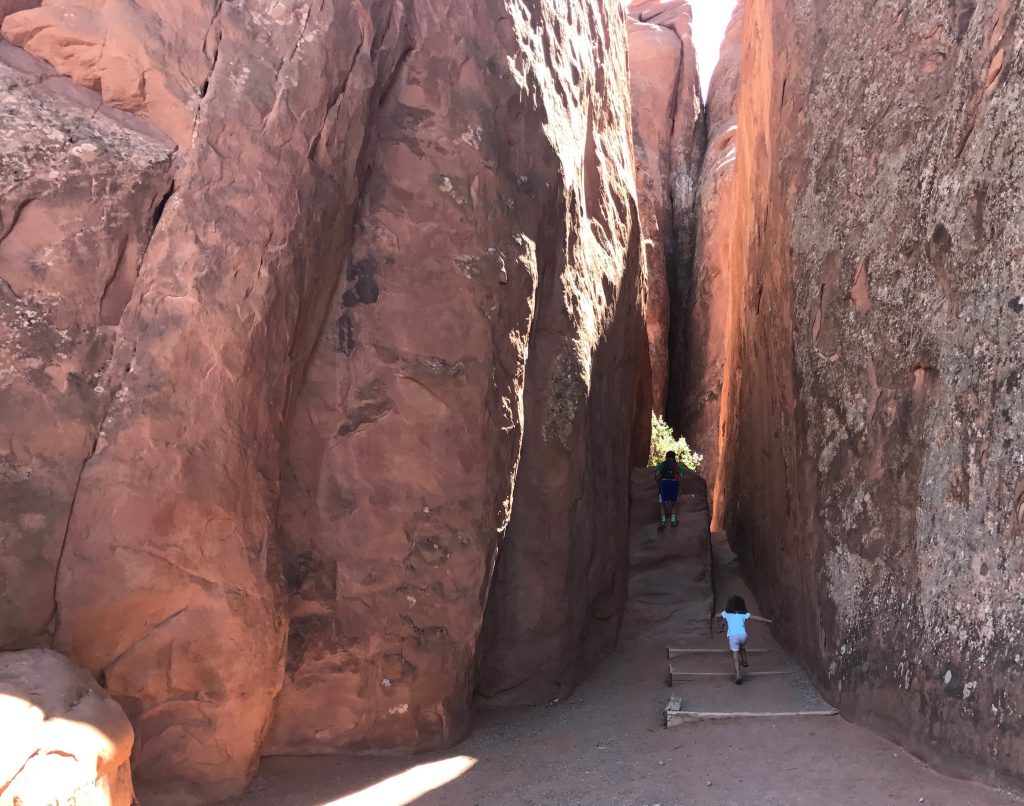 we paused for a photo shoot. the lighting is difficult inside the crevice.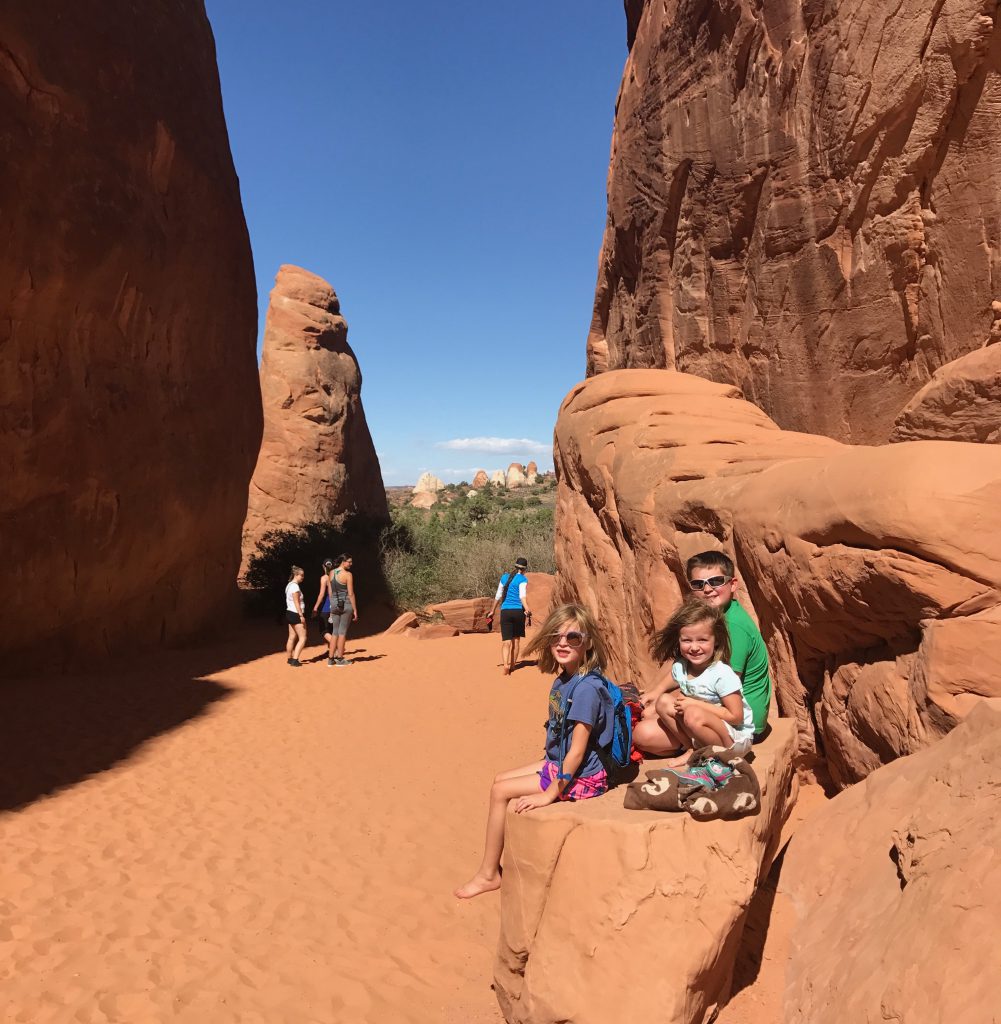 almost there.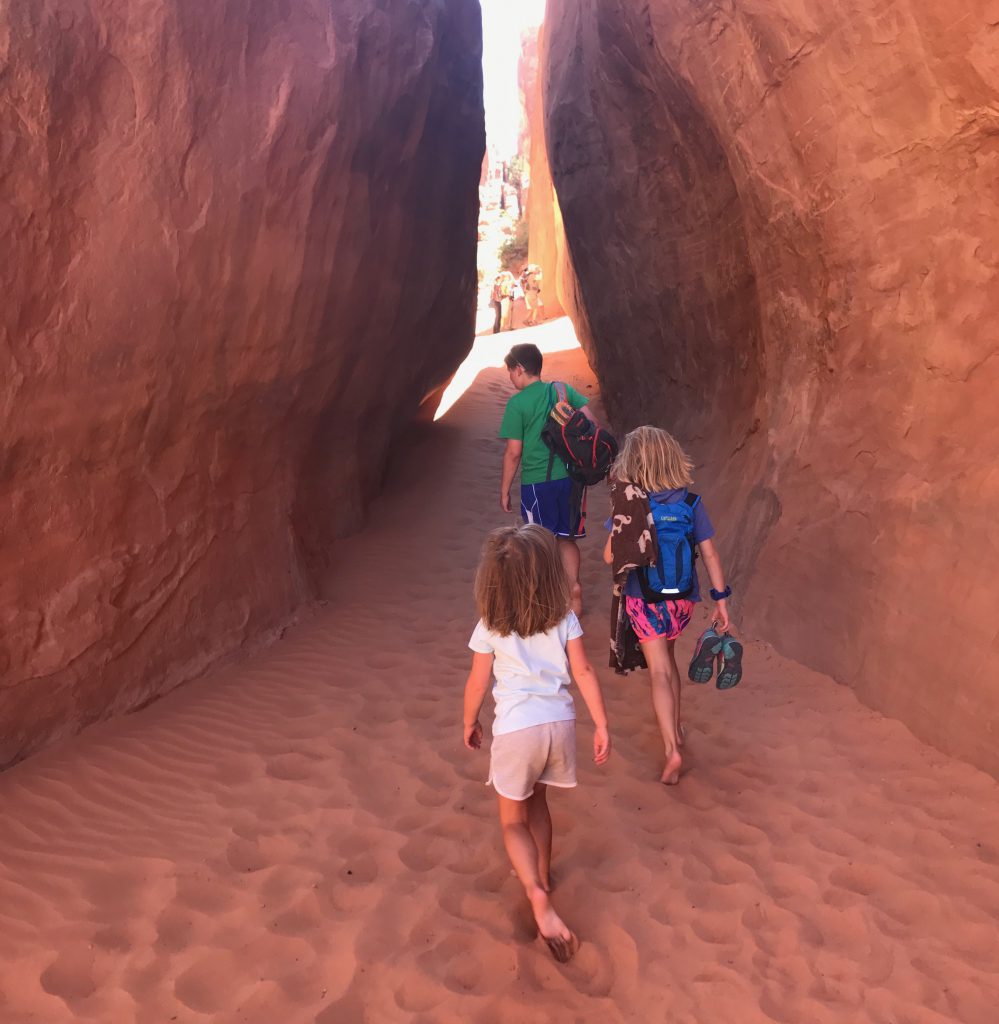 and there she is. the sand dunes arch. the kids were in heaven.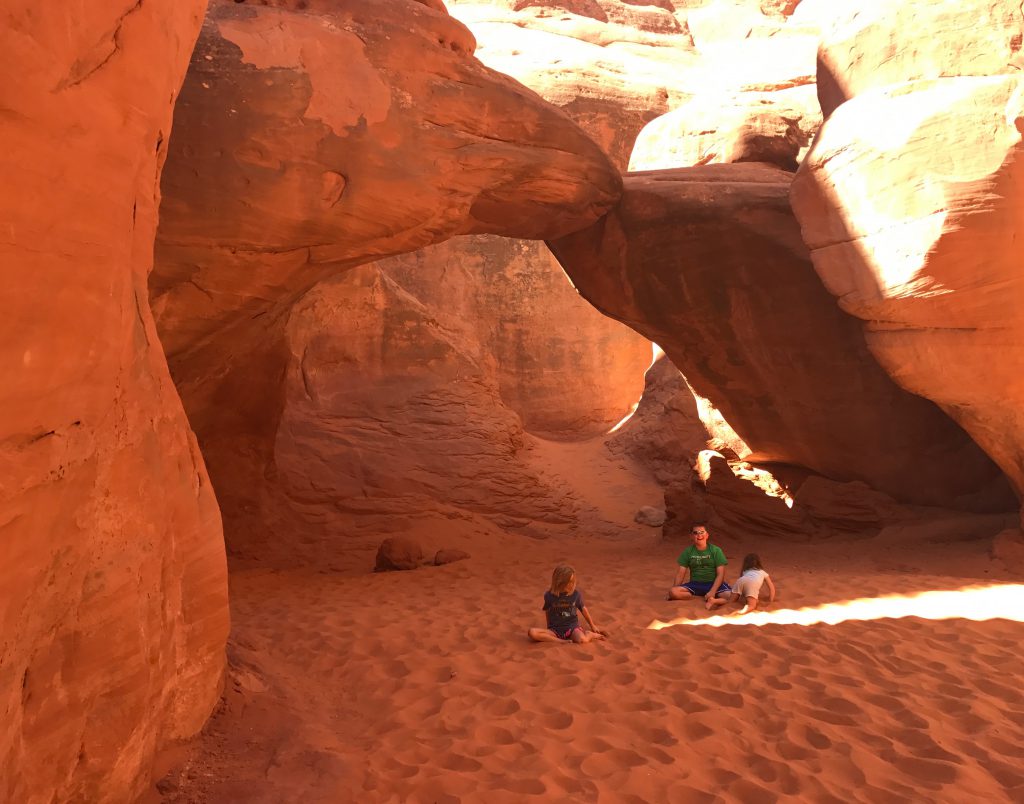 i did keep making them get out of the way for other people to take pictures. they didn't love that part. or when the wind blew sand into their face at 100 mph.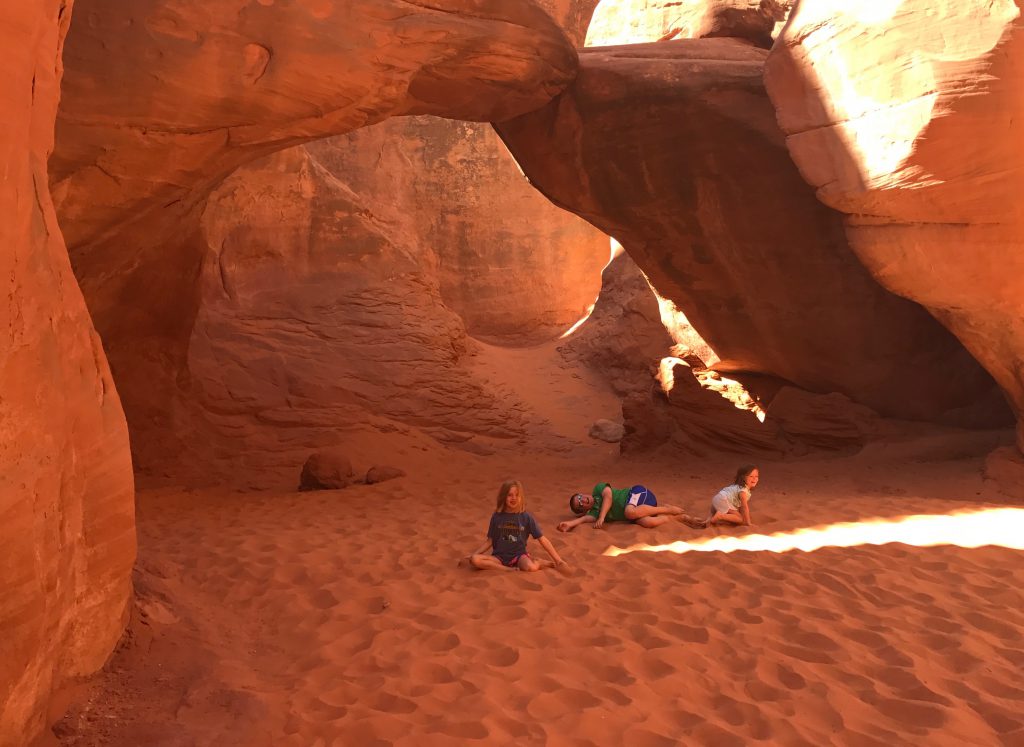 the lighting was tough. did i already say that?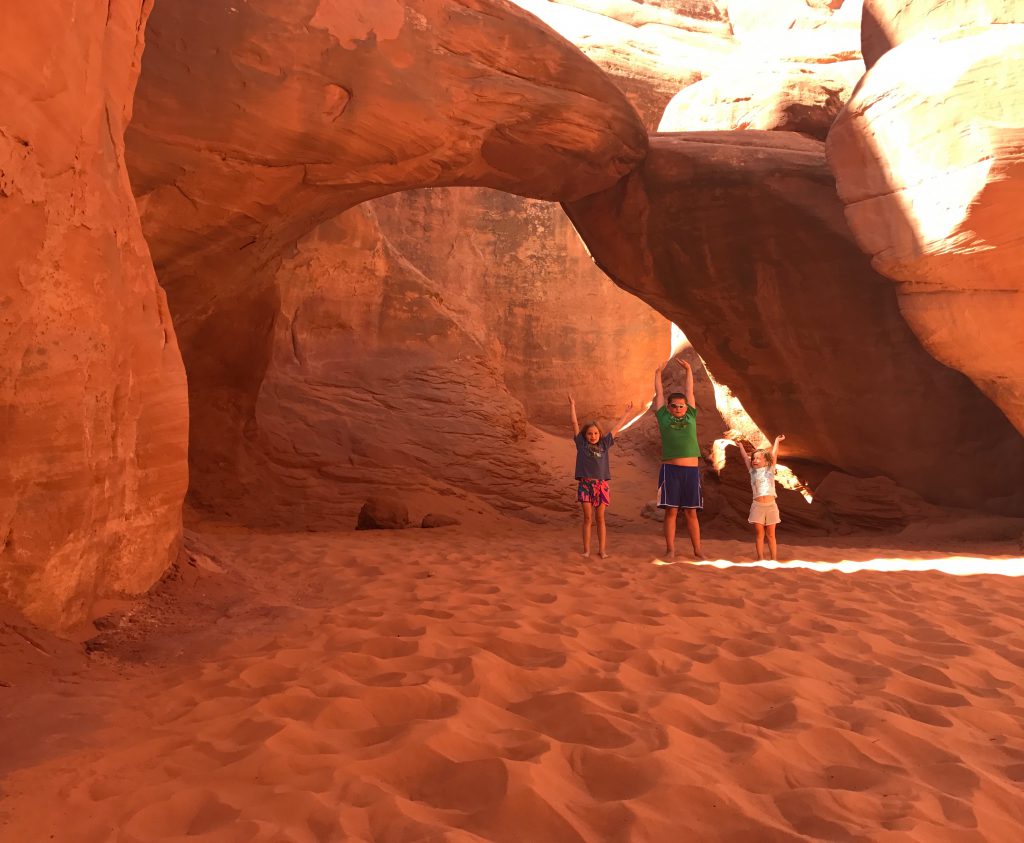 one more.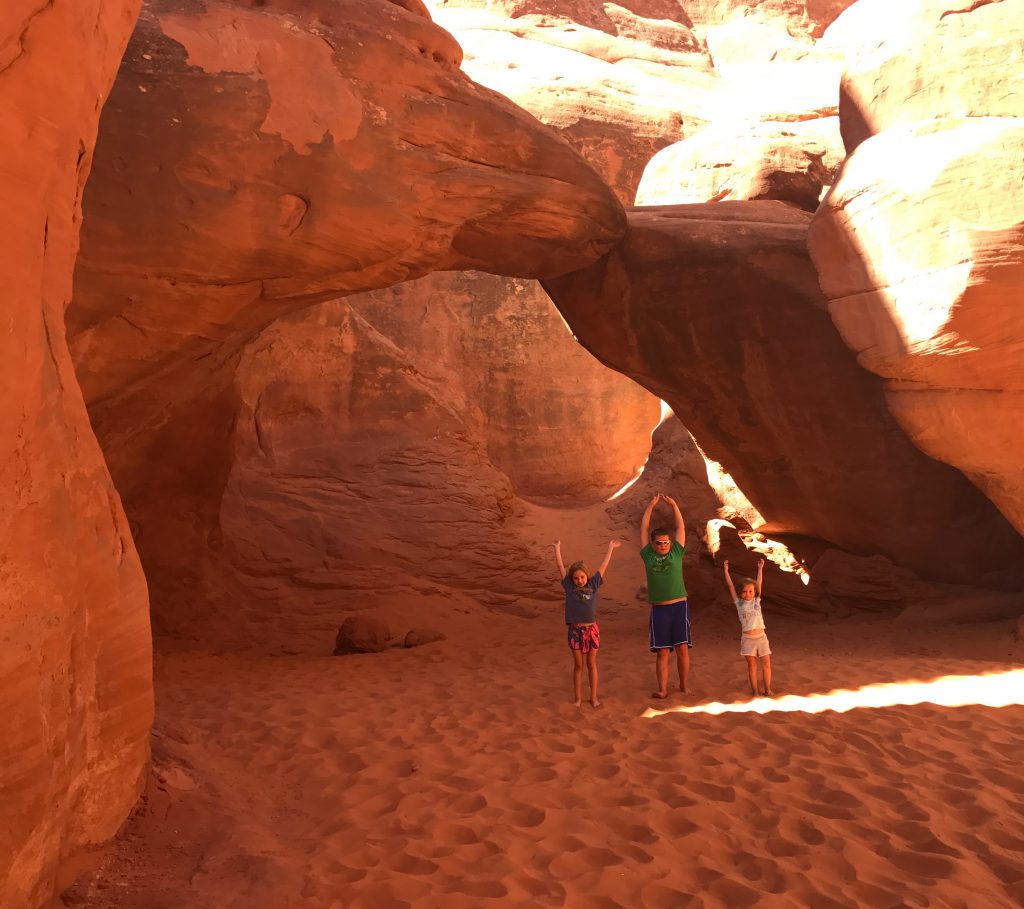 and one without kids.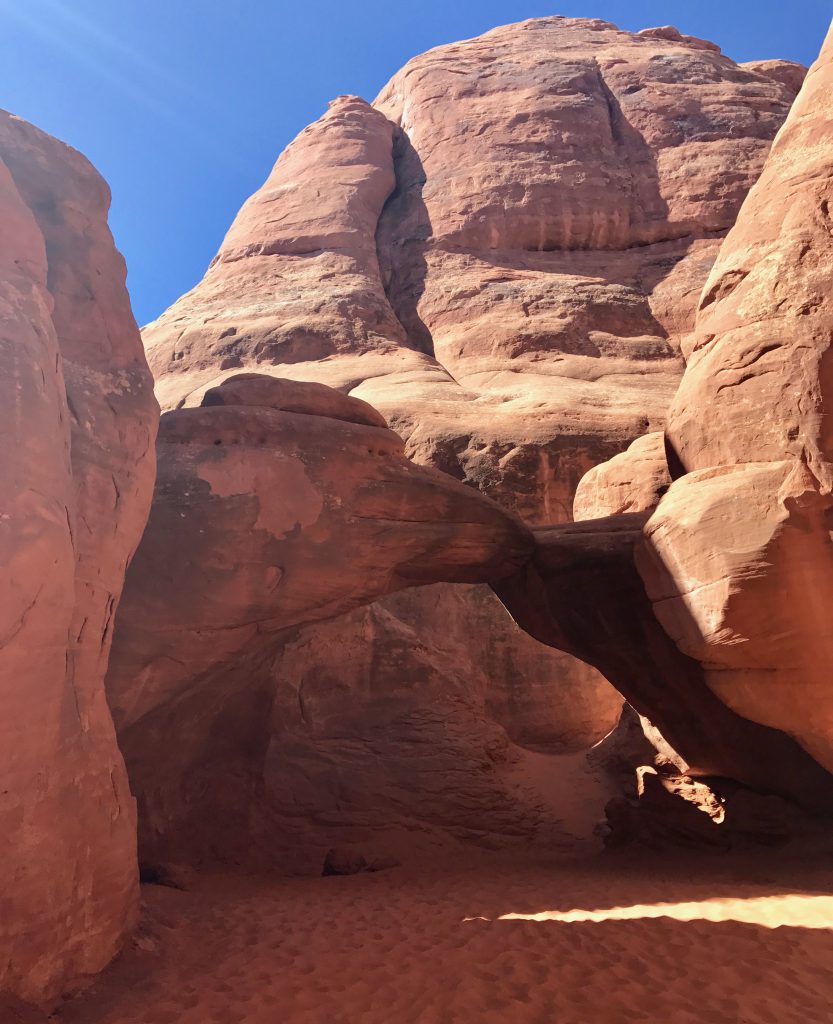 we wandered a little further into the canyon to explore.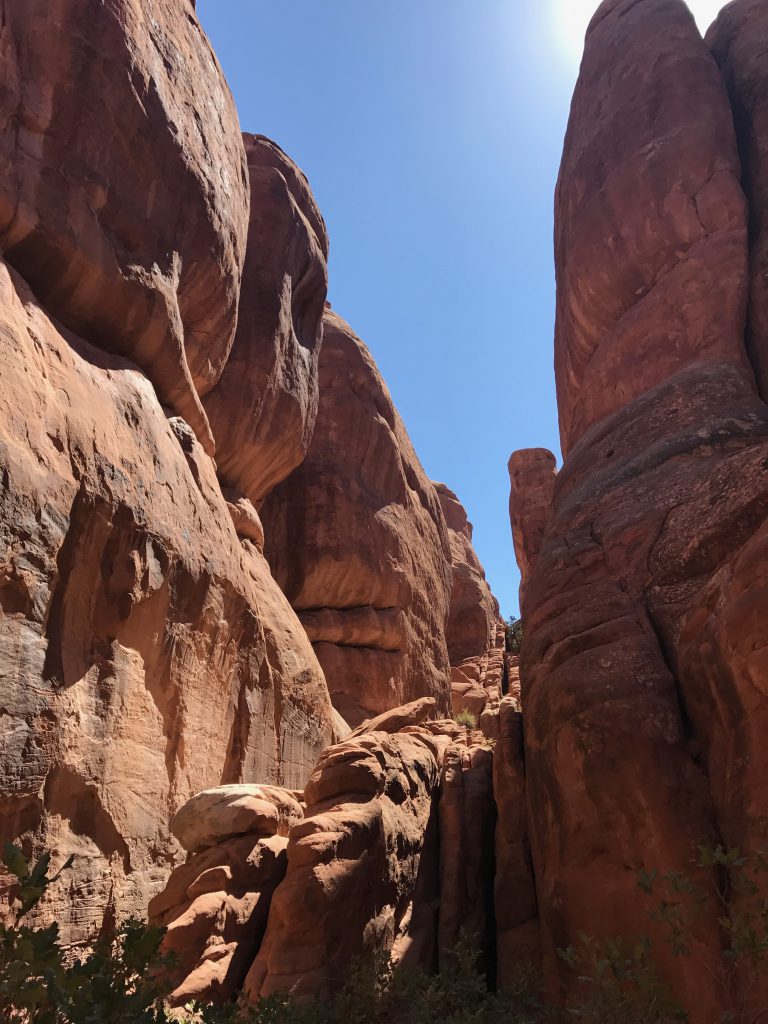 the kids love cracks and crevices and climbing.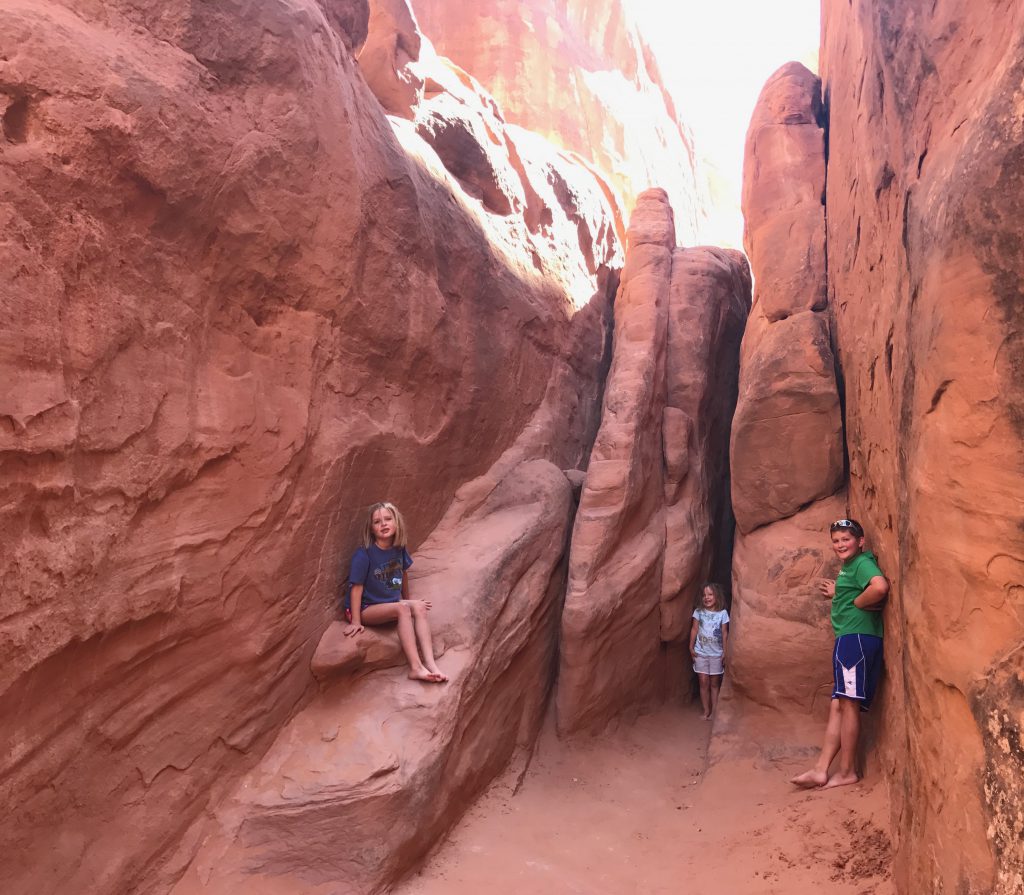 eventually, the blowing sand got the best of us and we decided to call it a day.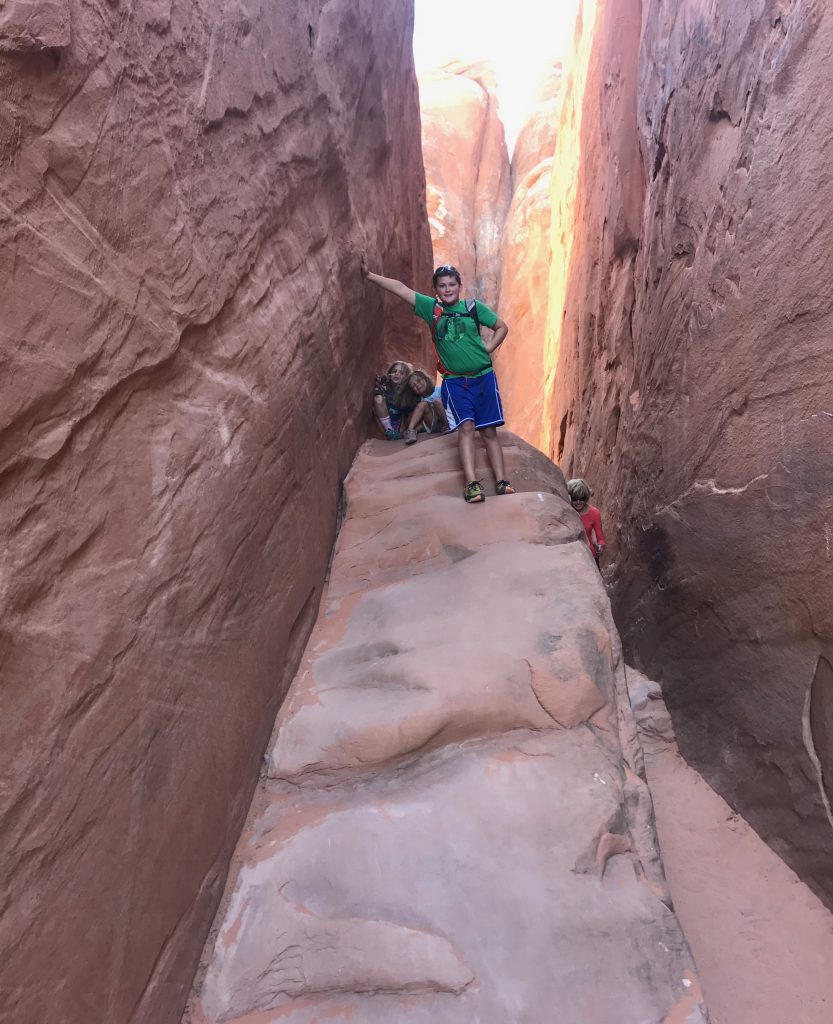 sort of. we were already so close to the end of the park road, that i decided to just take a drive through and check things out. we stopped at the skyline arch for a quick look and photo and THEN we called it a day…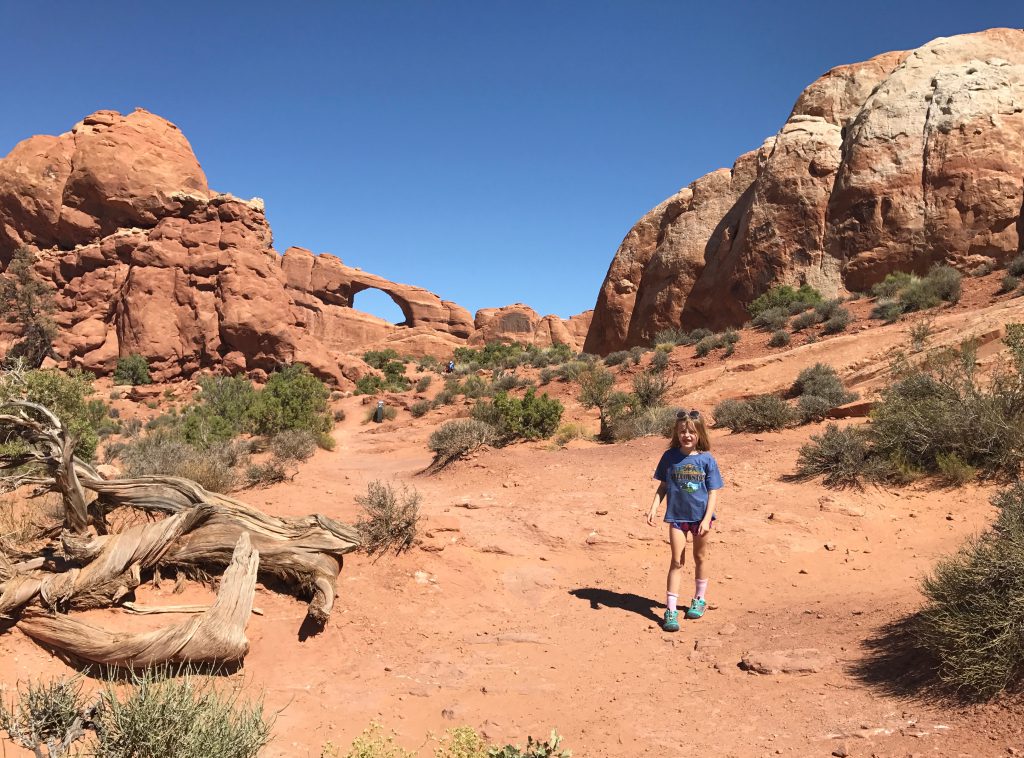 so, this is the tale of our first week of arches adventures. i love that we are in the area for so long and can really take our time exploring. but. we also happen to be quite close to canyonlands national park, and that's where our next adventure will take us…