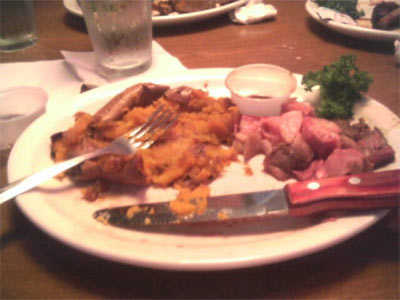 Let's see….
Derek and I started off our weekend with a tasty trip to the newly opened Texas Roadhouse. I had a great meal (prime rib, caesar salad, and sweet potato… not much variation, here). Above picture details the devouring… Derek's Filet was a little undercooked — and that's hard to do for him. There was a lot of fanfare… too much, I thought. Opening weekend, I suppose….
We spent Saturday at the park with our wonder dog. Then we went to cookout for some tasty treats (Banana Pudding is my current favorite shake)….
Today: Lucy ran away into the forest twice. Taught us a lesson about Lucy and her leash and how they MUST be connected to one another at all times. Now, I'm getting ready for my week…. I get observed at some point and my nerves are already on the fritz…. (is that a word??)….
I'm done.