the day before the chuckie cheese birthday adventure, isaac and i went shopping for the perfect gift for his friend. not knowing a single thing about her, i went with my childhood favorite, strawberry shortcake.
isaac was pretty excited about this too. he examined her for the rest of the target trip. talked about her in the car on the ride home. sat with her for the rest of the evening, taking occasional long inhales to breathe in her strawberry essesnce. he dreamed about giving her to elizabeth and them playing with her. he loved the strawberry shortcake doll.
here's a shot of the two of them watching tv: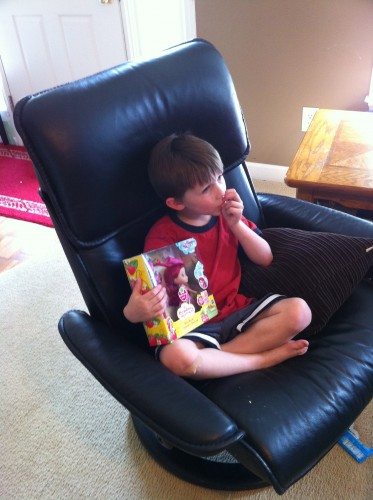 after the chuckie cheese debacle, i felt bad for the poor kid and decided he had enough stars on his little behavior/chore chart to make a trip to walmart for his very own strawberry shortcake doll. (plus, i had to get a vat of shortening (i make a lot of frosting) and grocery stores have tiny little canisters and costco, for some reason, doesn't carry shortening). he was giddy with excitement.
he's taken her everywhere. inside a buzz lightyear lunch bag, but whatever. she sleeps with him. she has become friends with woody and mario and luigi. it's pretty cute. he's a proud boy: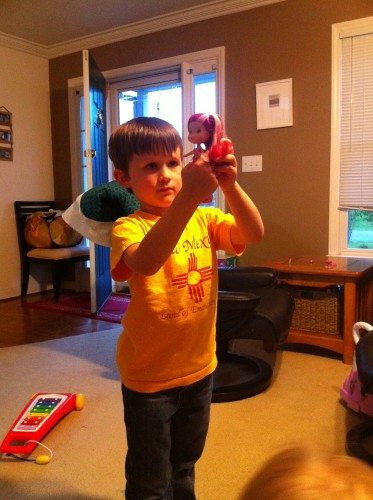 we've even found some episodes of strawberry shortcake on netflix. so, we've had a crash course in all things strawberry. (her dog, pupcake. baby, apple dumpling. friends, orange blossom, gingersnap and huck).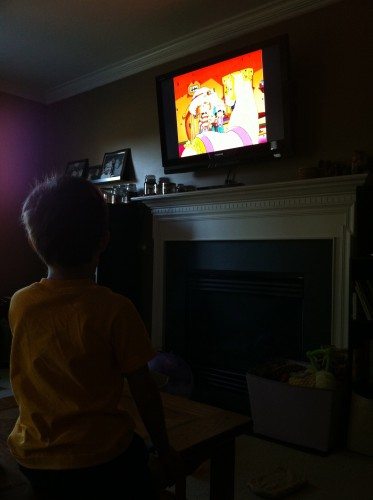 i would be worried, but his imaginary adventures with strawberry and friends seem to be the same as those with toy story guys and super mario bros. lots of getting lost or stuck and needing assistance and/or dying from perilous adventures. 🙂