i had a day full of miscellaneous crafting.
first, i went to bridgette's house, where she, jude and i, made freezer paper stencils, while the little people ran amuck in bridgette's big house. jude did a dog, bridgette did some flip flops and i, of course, did a robot. i used silver paint on a light blue shirt. brilliant. i think i'm going to have to go back and outline somehow….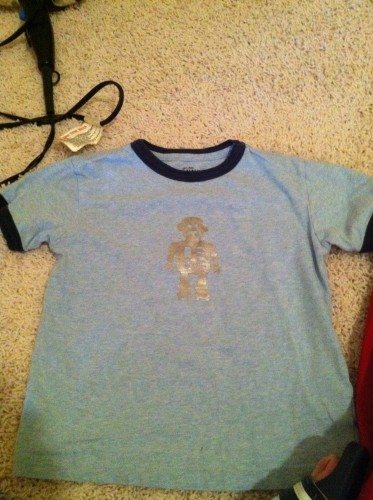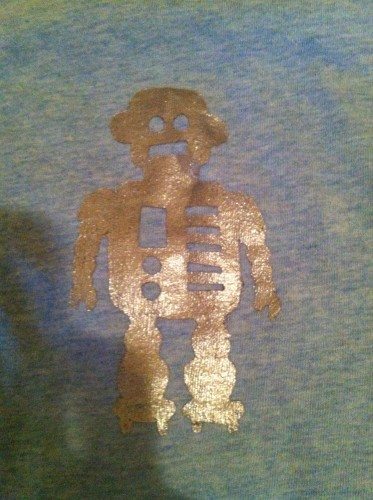 when i came home, since anna didn't have a morning nap, i was for sure i could get lots more freezer paper stencils done, during what would likely be a good three hour afternoon nap. only i left my trusty exacto knife at bridgette's. i didn't want to lose momentum, so i cut this dinosaur off of one of isaac's favoritest t-shirts that he has long outgrown and sewed it onto a long sleeve tee that i picked up for a buck at a yard sale. long sleeve. just in time for the hot nc summer. more brilliance.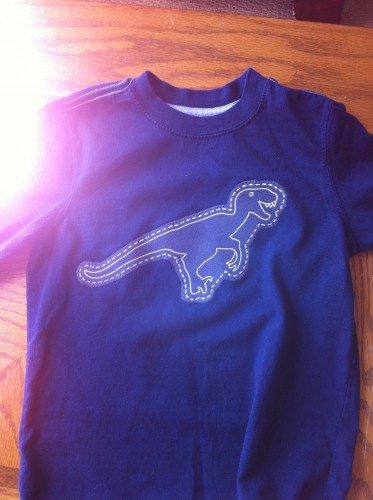 finally, i have been working fast and furious on a zig zag quilt for isaac. i have purposely not posted any pictures, but i've been taking them all along for one ginormous finished quilt post. i have the top finished and i am now working on the back. i wanted to piece a little robot for it. plus, i am trying to find good ways to add pink into the mix, since ike has declared it his favorite color and was VERY disappointed when the fabrics i chose (mostly greens, blues and gray) contained no pink. anyhow, i sketched out a pattern for the robot head and got to work….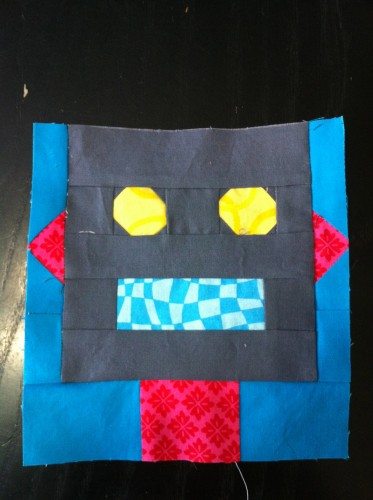 i'm pretty happy with it. i had to do the eyes twice. and the ears (?) are smaller than i had planned. the whole diagonal thing. i can't do that math. calculus, yes. adding seam allowances to diagonal cuts. no. that's why there's a little extra seam in the blue fabric below the ears.
anyhow, that's what i've been a-craftin' today…