as previously discussed, isaac was a ring bearer in a recent wedding of two friends.
these two friends, to be exact: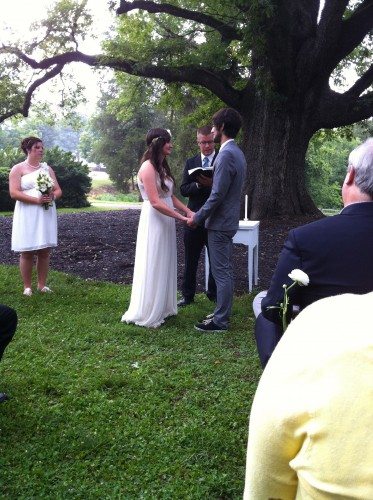 on top of providing the ring bearing cuteness, i also brought half of the wedding cupcakery. my friend regi (she's awesome) provided a cake and the other half of the cupcakes. unfortunately, i didn't capture many pictures of the baked goods.
also, they proved to be quite challenging for some reason. my frosting seemed a little soft (especially for an outdoor affair in upper 80 degree heat), so i added a little more sugar. the frosting seriously did not want to spread after this. it was impossible to get smooth. fortunately for me, it sort of fit the rustic look that some of the wedding decor lent itself to. and my friend jude said it was the tastiest frosting (and cupcake) i've ever made, so at least they tasted good. 🙂
anyhooo… here's the pics i did take:
the cake (and cute birds by regi – i told you she's awesome). my cupcakes were the plain ones and the ones with white hearts on them. see what i mean about the not-so-smooth frosting?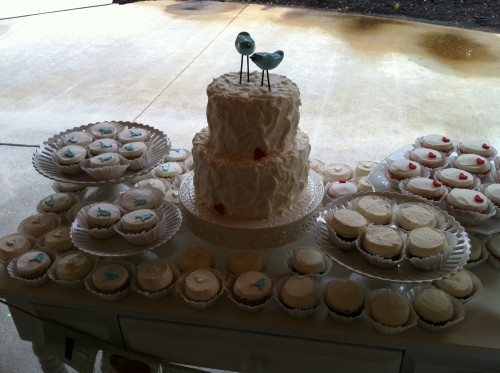 i took this pics of the red heart cupcakes, thinking that i would have at least one shot of my cupcakes. it wasn't until i was home looking at them that i realized that regi made the red heart cupcakes and i just brought stamped out fondant hearts for her. it was a long day. anyhow, see how smooth hers were? 🙂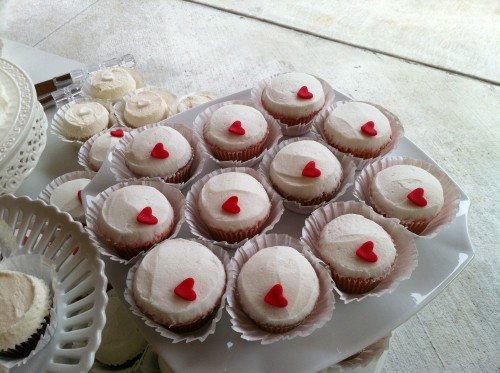 after these cupcakes, i declared i was taking a hiatus for the summer, since it's really hard to accomplish anything with both kids home 5 days a week. and with the pool and park calling our name. i do have just one more small little frosting laden commitment for tuesday, but THEN, really, for serious, i am making no more cakes for the summer!!
finally, one last shot of my super tired boy, after all was said and done (dress shirt and bow tie removed, ring bearer appreciation gift in one hand, and wedding favor cookie bag in the other):