ok. so, we woke up early and headed out from the resort that derek's parents had provided and made our way to the magic kingdom. with cautious anticipation.
long line to get into parking lot.
tram line was a crazy free-for-all and i'm apparantly not cut throat enough to load my family. so after waiting (first) in line* and missing 5 trams (two close enough to get on, three that pulled up way up ahead of us), we hoofed it to the gate.
*not really a line. more of a blob that seemed to have a front and back, but not really so much.
derek waited in a line for one of the two kiosks of about ten that were open. and because we have a knack for it, it was the slower moving of the two.
then, we waited to get on a bus (not too long this time) to ride around the lake.
then, we waited to get our bags checked.
and then we waited in a long line to get into the park.
a sloooooooow line (they all were). which made no sense, since we all had tickets and we all had our bags checked for weapons. seems like that should have gone more quickly.
so, after a good two hours, we were there! magic kingdom.
with tired, grumpy kids. and about 1 million other people. (it is spring break time. one of the busiest days of the year… good).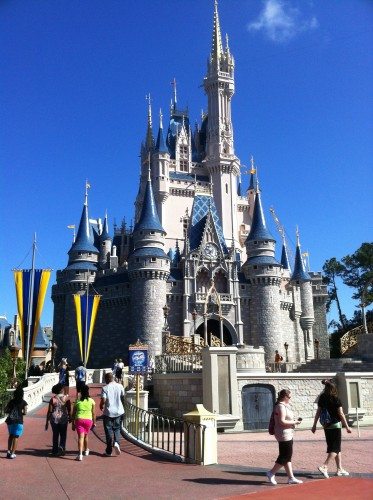 we made a bee line for toon town, since ike loves goofy's barnstormers. except for toon town is closed for big time renovations. so, no barnstorming for the boy. so, we found buzz lightyear's ride and hopped in line. our kids were pretty tired of lines and waiting at this point, so it felt like an eternity but was probably about 40 minutes…
anna tested out her new shades.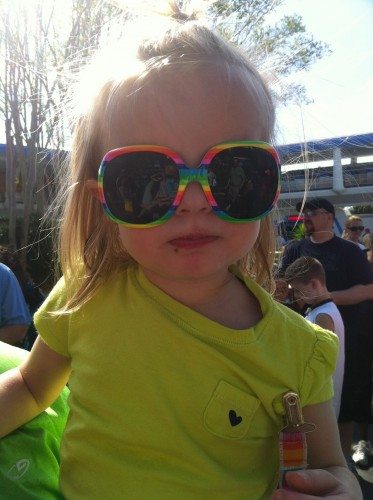 derek's parents arrived while we were in line (they came seperately) and joined us in fighting evil emporer zurg, sworn enemy of the galactic alliance.
we shot at zurg. and probably defeated him or something.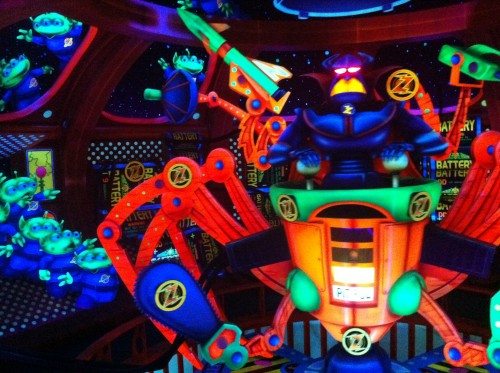 then, we went to the monsters, inc laugh floor next door and got some quick lunch, before heading to….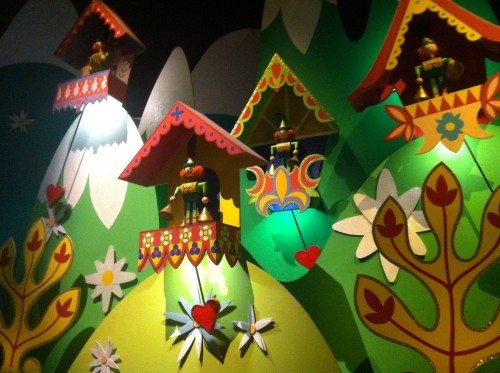 "it's a small world!!!"
and then peter pan. ike loved it. it was sooooo crowded in fantasy land we would barely move. and let me vent for one second. when you're in a crowd of people and and you're moving with the flow of "traffic", don't just suddenly stop and stand, discussing which way to go, or to take a picture. step OUT of the flow. and do your thing. and especially don't get mad when i roll my stroller up your leg when you do stop suddenly out of the blue in a crowd of one million people (estimate). ok.
it was about 2:30 and the parade was set for 3, so we camped out in a sweet location, while anna took a snooze.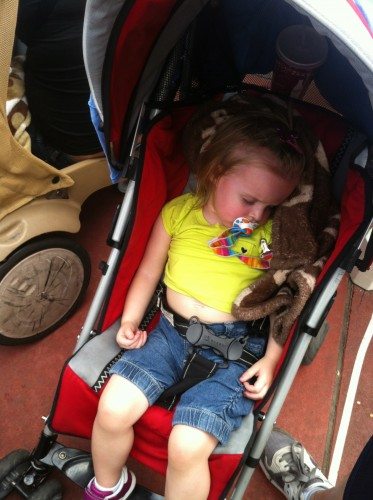 ike and i had front row seats and we weren't giving them up.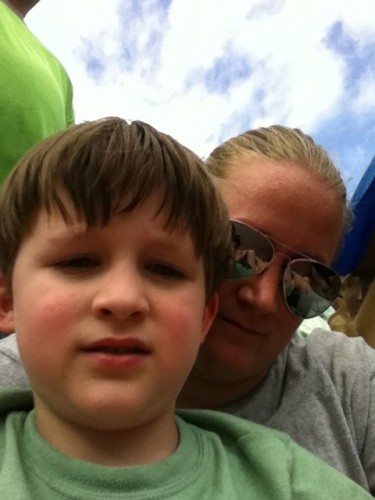 he was pretty excited as each float of characters came over the bridge. he even got a few handshakes.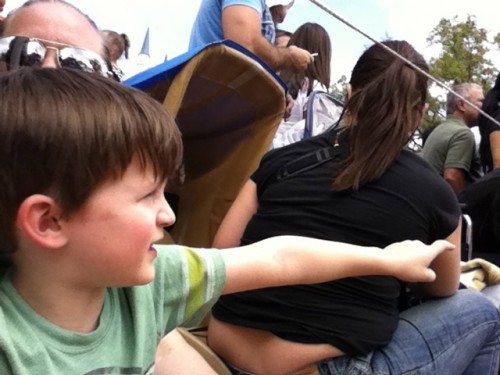 we got a lot of shots of the parade that i won't bore you with. here's two.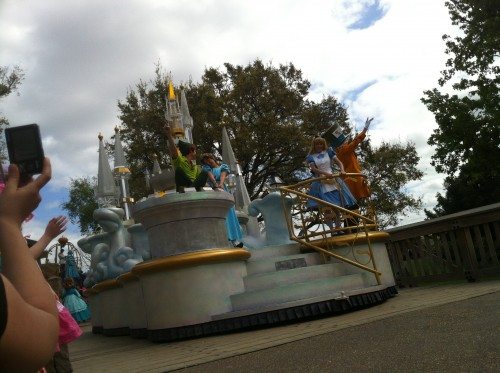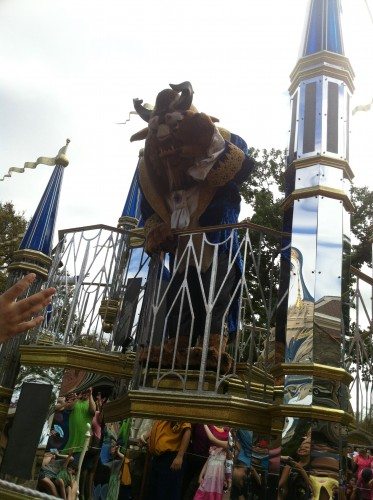 we were close enough to snap a pic of ourselves in the mirror on the float. 🙂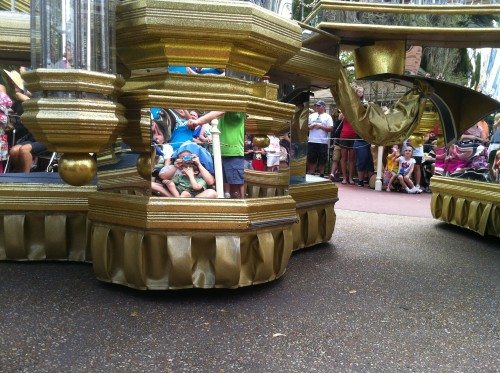 isaac and i rode space mountain, while derek, his mom and anna did a little shopping. derek's dad waited for us at the end of space mountain. ike cried. he didn't like the dark. but, he maintained that he still loved rollercoasters. he's getting so big. 🙁
by then, we were worn out. tired of the crowd. it was hot, too. we headed for the exit. took a few more pics of the castle, naturally.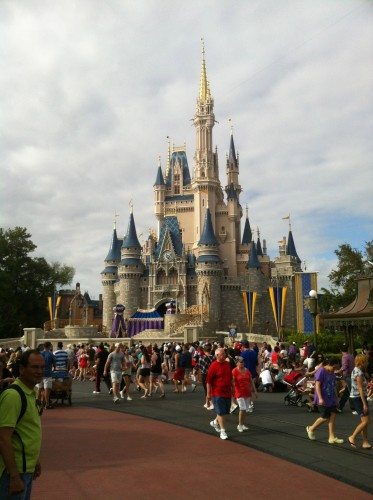 then, we realized a show was about to start at the castle, so we waited for it.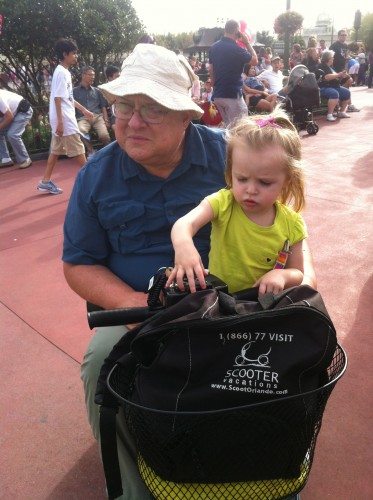 everyone was EXHAUSTED.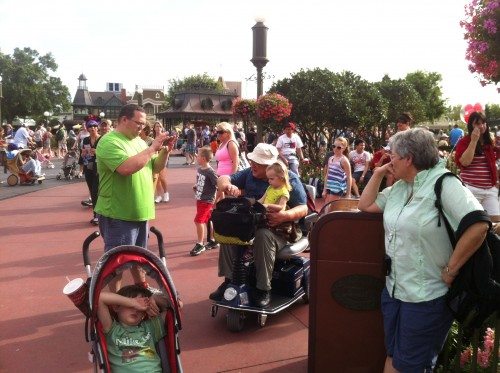 then, on the way out. the best thing happened. anna spotted tigger and pooh. and we waited in line to see them. she cried, not really getting the whole waiting in line thing. when we got to the front, she tried to cut in front of the girls in front of us and burst into a puddle of tears when we summoned her back. we were worried we had ruined everything. but, when the girls moved on, and we announced she was next, she pulled herself together instantly and ran straight into tigger's arms…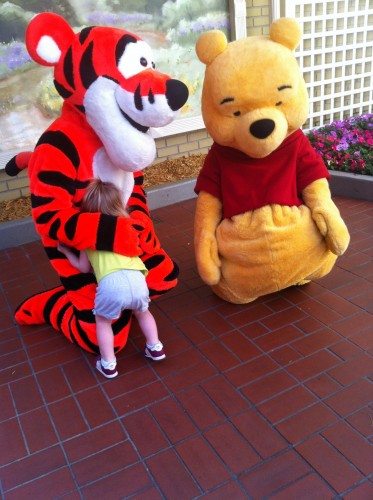 then pooh's…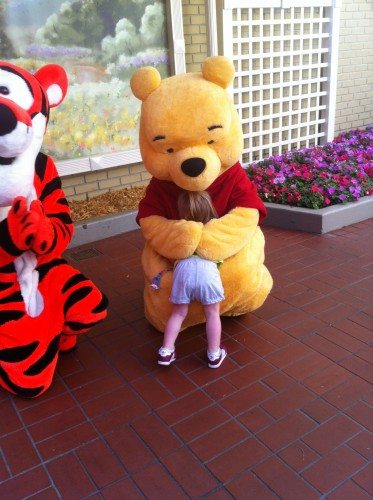 then, posed for a picture with the duo…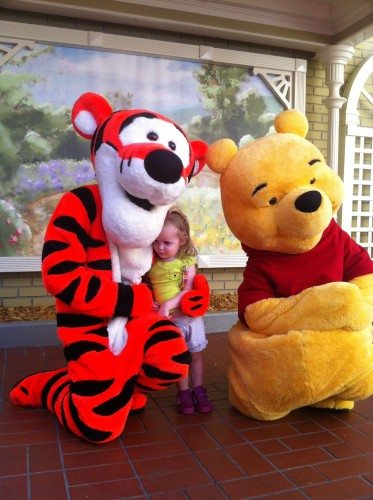 that made it all worth it. sort of.
anyhow, we hopped on the ferry…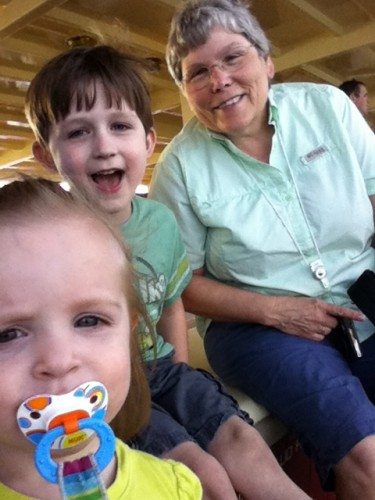 and got back to the hotel. baths. jammies. pizza. toys…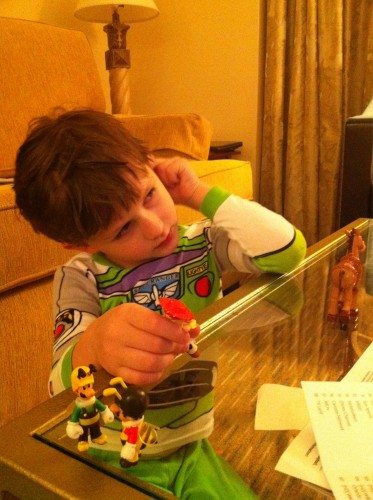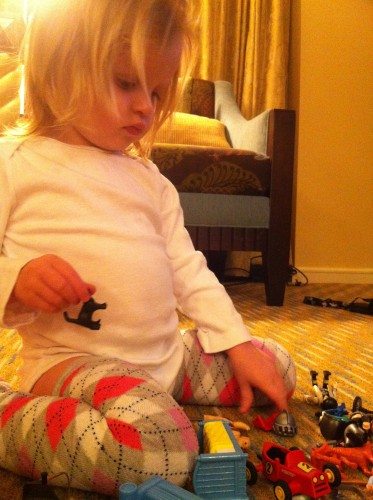 and our first day at disney was done.