yesterday, i picked ike up from school at lunch time and we went to the dixie classic fair. it's been raining non-stop for like two weeks. or at least a few days, so this was the first nice-ish day since the fair opened.
first things first. lunch.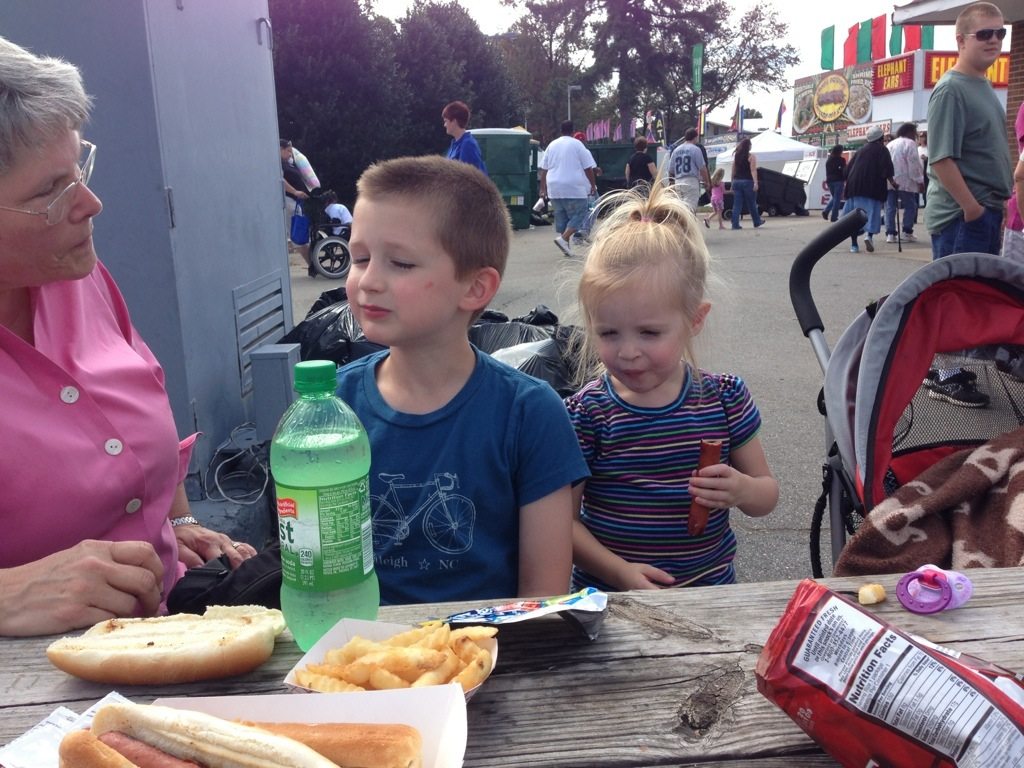 isaac was convinced we should do the bumper cars first thing. i got this picture just before he realized that he didn't know how to drive/steer them and they are incredibly frustrating. then, the ride operator yelled at him for turning his steering wheel too far and he burst into uncontrollable sobbing and had to be let off the ride.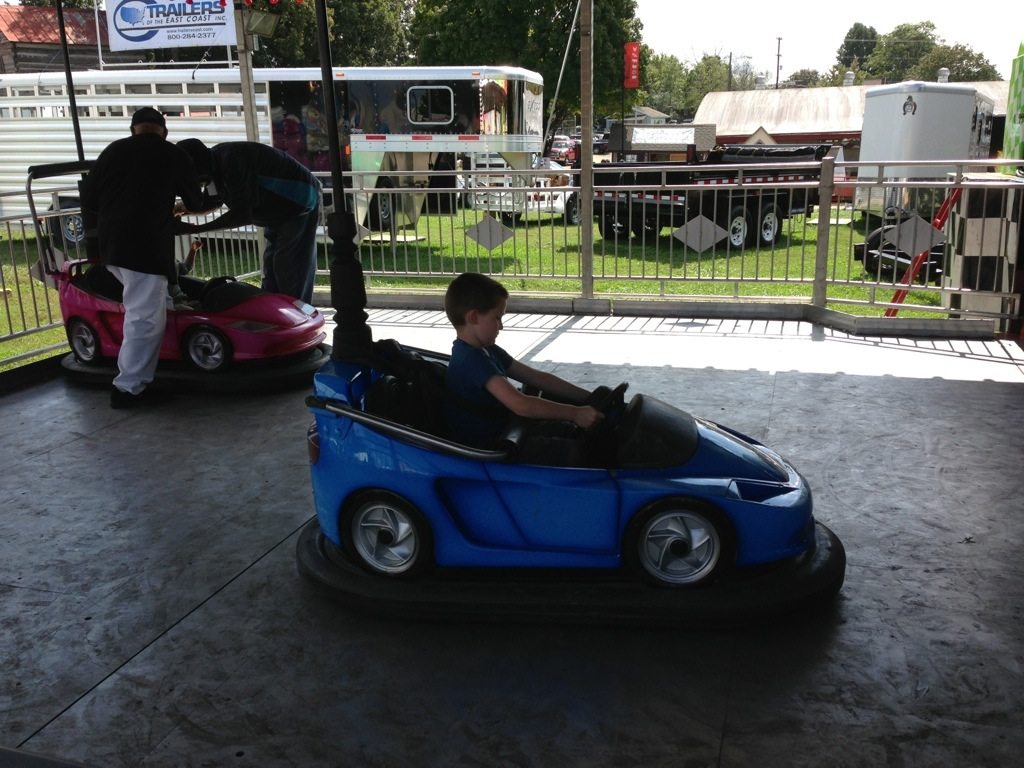 we moved on to the next great disappointment. the double decker carousel. he raced to the top, but not in time for a horse. he decided to sit on a bench up top (and pout) rather than ride a horse on the bottom. for the record, this ride cost 8 tickets each. which meant it cost us just less than $8 to ride it. ouch.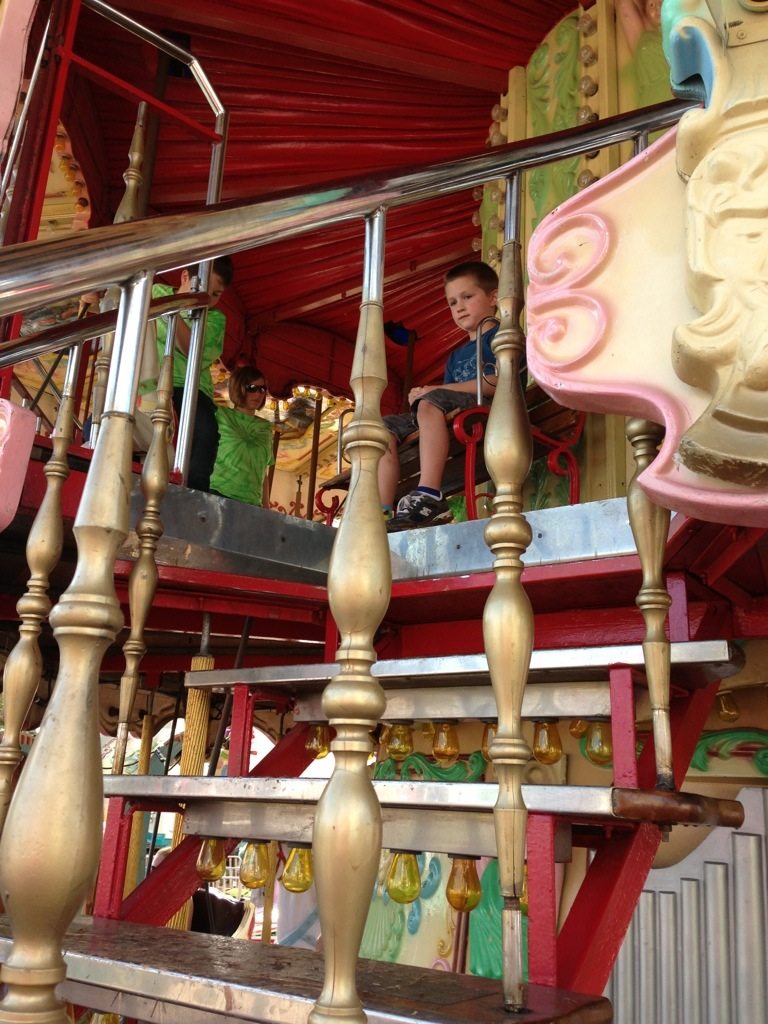 there was a lot of cheering up after a ride on the caterpillar rollercoaster.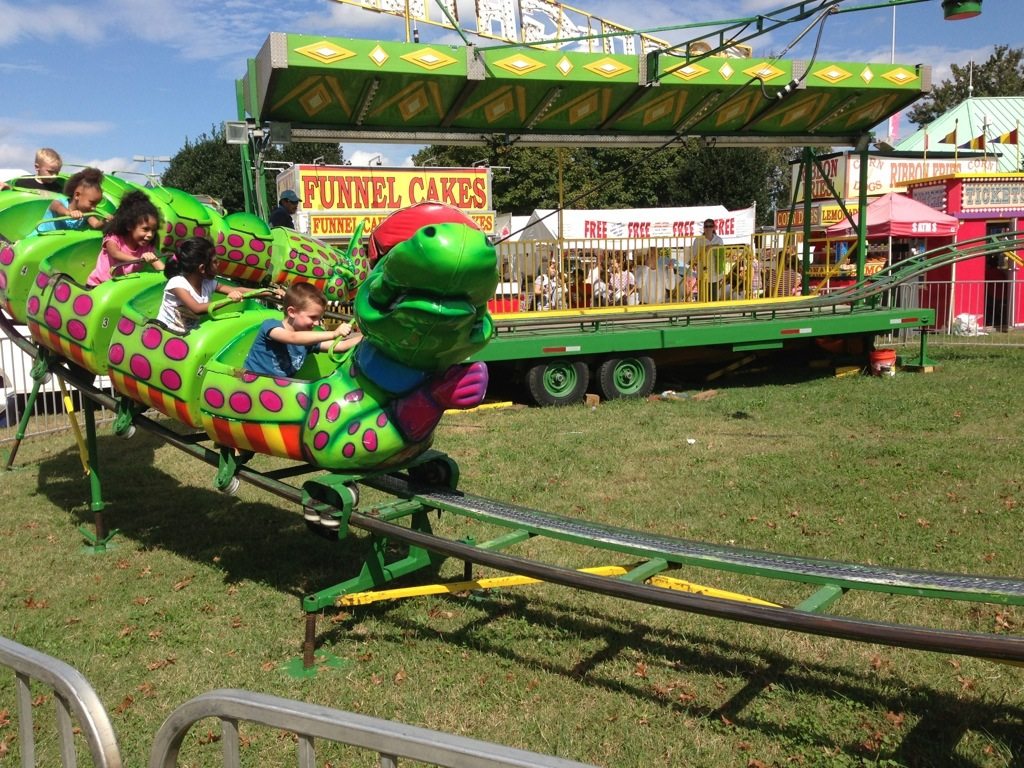 and the firetruck ride. (when we first arrived, he wouldn't ride this without me. and i wouldn't pay an extra 6 tickets to ride it with him. once he had a few rides under his belt, he was willing to ride alone/more cheaply.)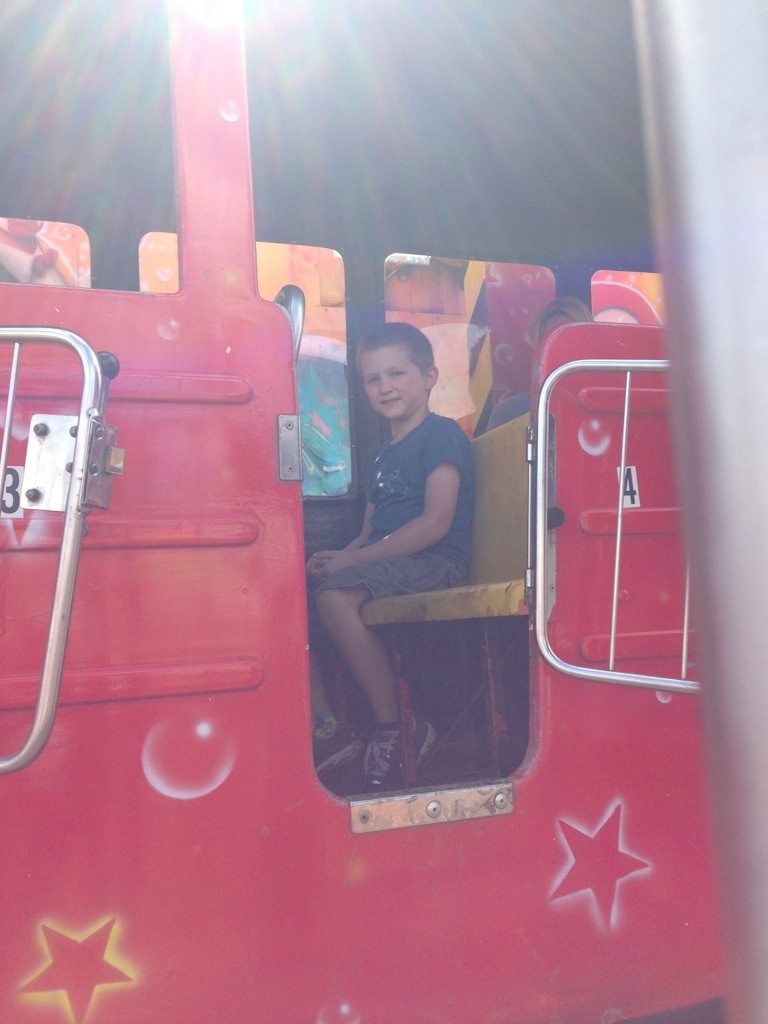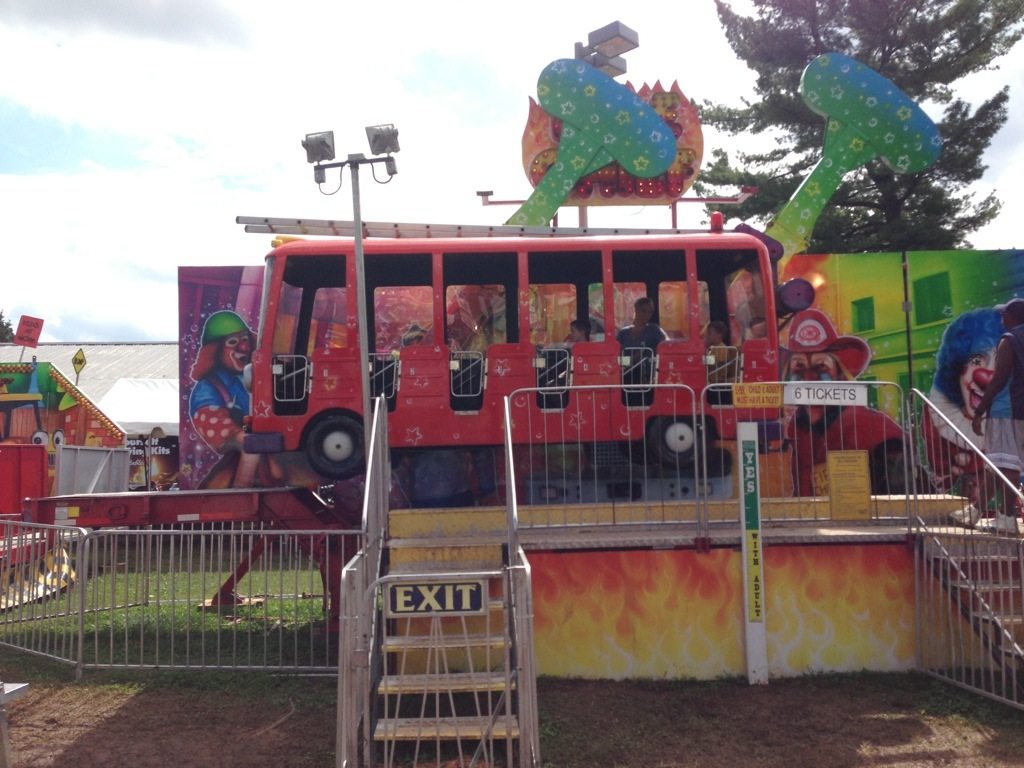 anna was not quite tall enough to ride any of the kiddie rides alone. she was about 1/2″ shy. and apparently isaac does not count as an adult. :).
so, we rode the ponies. she LOVED it. (after being unsure initially).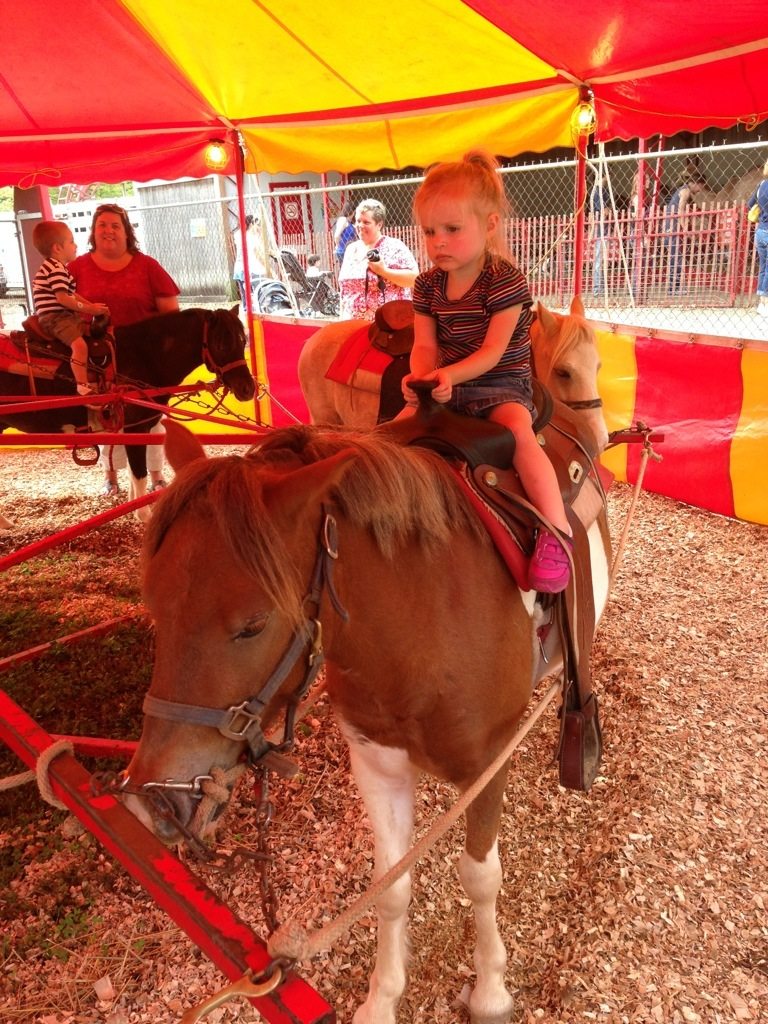 i did feel a little sad for the ponies though. what a crappy life. walking in circles. tied up so you can't turn your head. all day. probably every day. probably, if i was a better person, i wouldn't have supported this cause.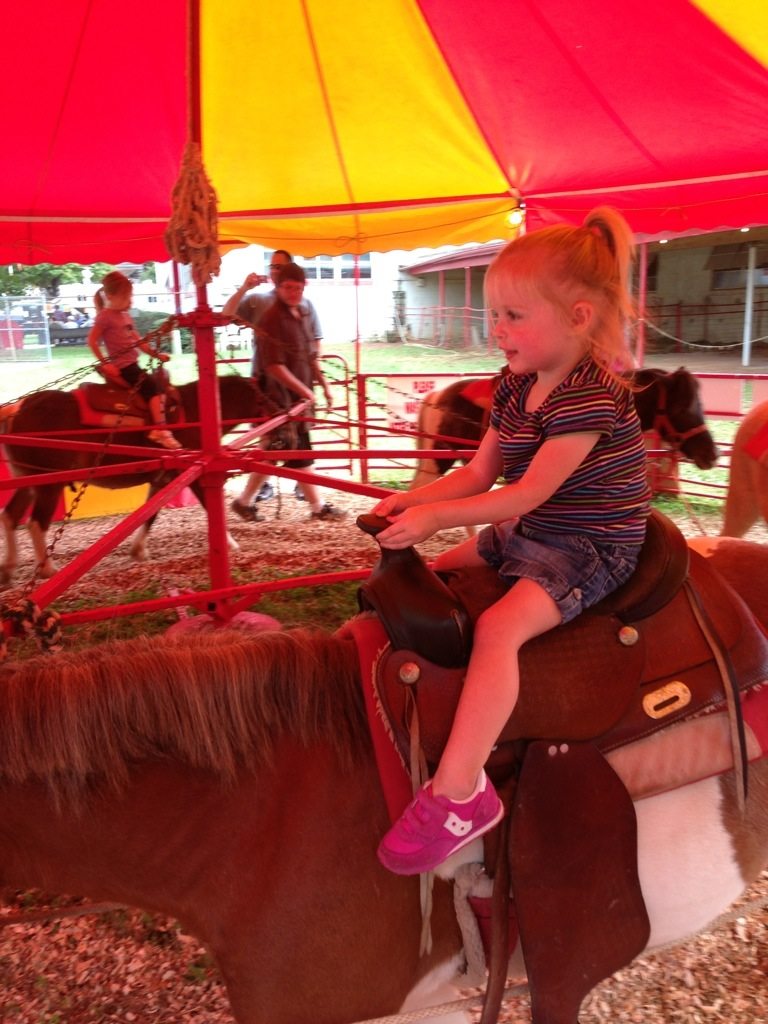 (isaac was also planning on riding the ponies with us. but, when we got closer to them and he realized they were REAL, he said, "these horses are real??!!! i don't want to do this." so he watched from a safe distance.)
then, the petting/feeding zoo.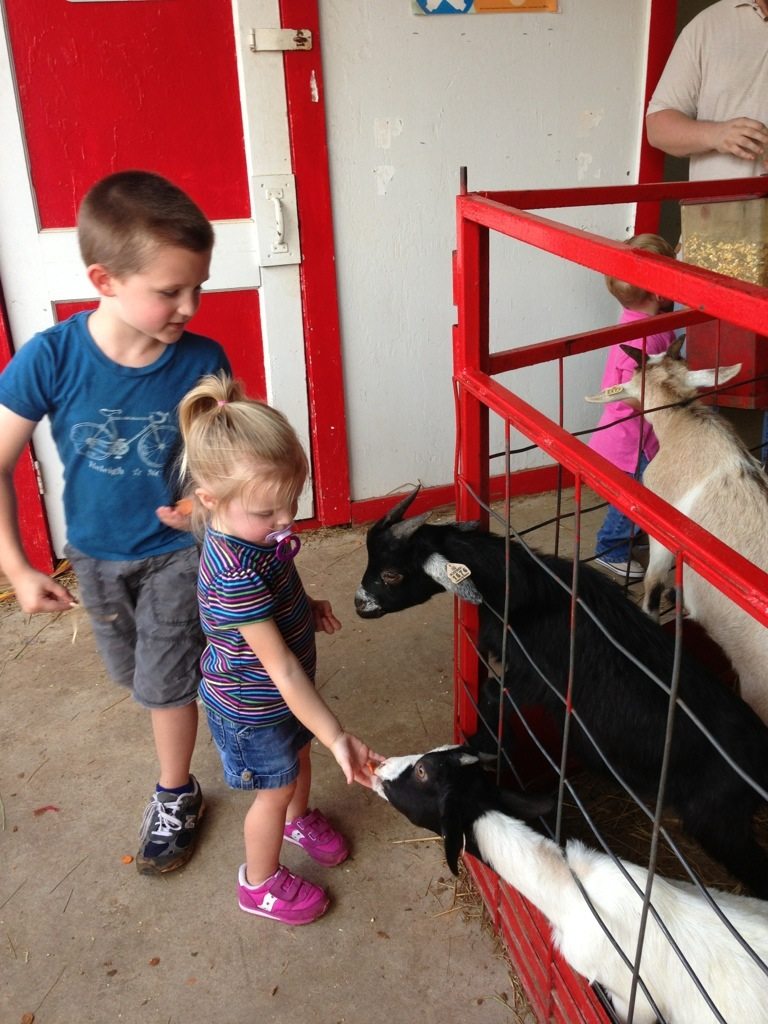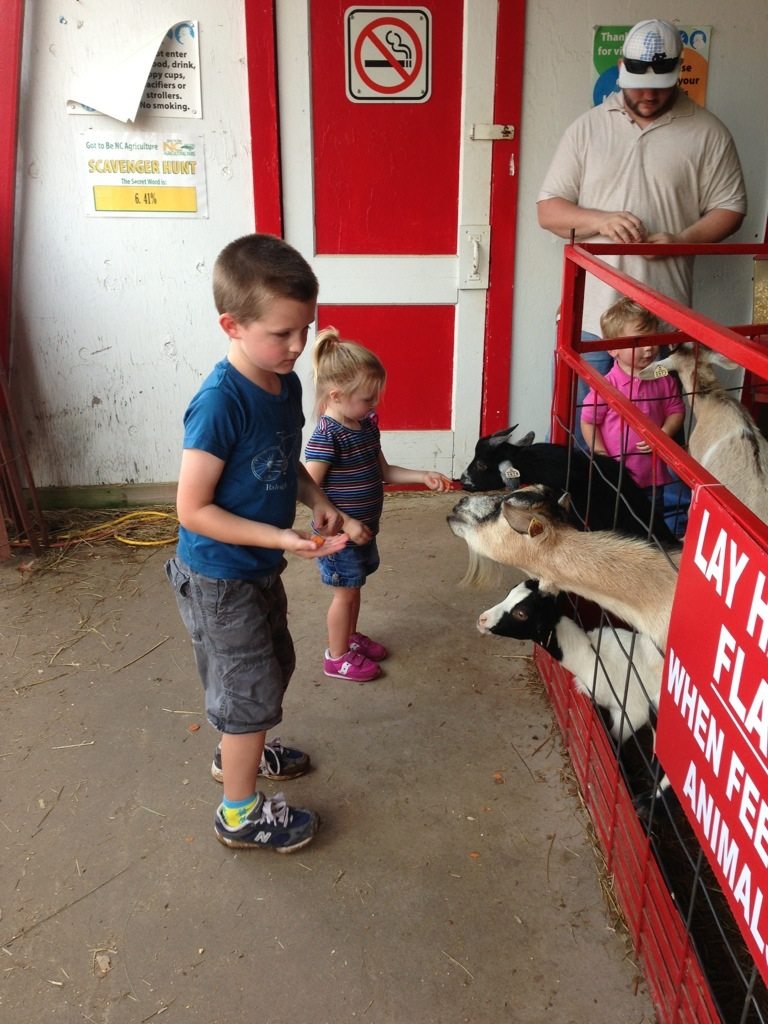 we visited the chickens and tried to find all the chicken breeds that we have. isaac determined he'd like to have a rooster. our neighbors probably would not like that. we also decided that we should enter our chickens next year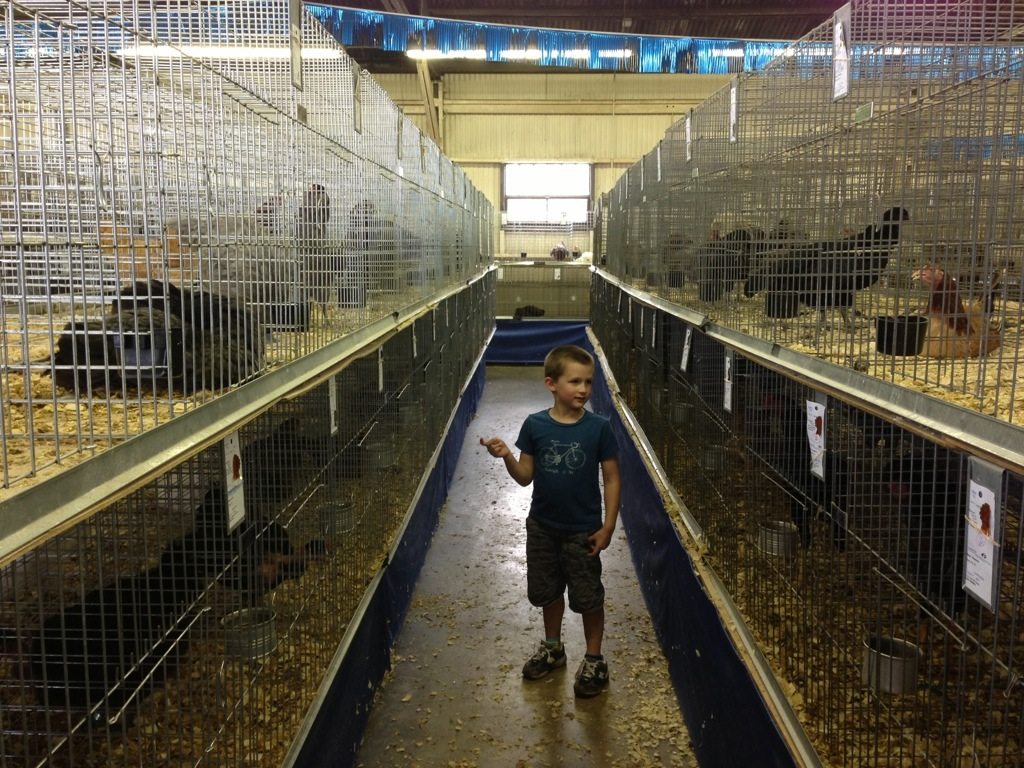 of course, it was a necessity that we buy some cotton candy. a giant bag. anna was ready for her cut.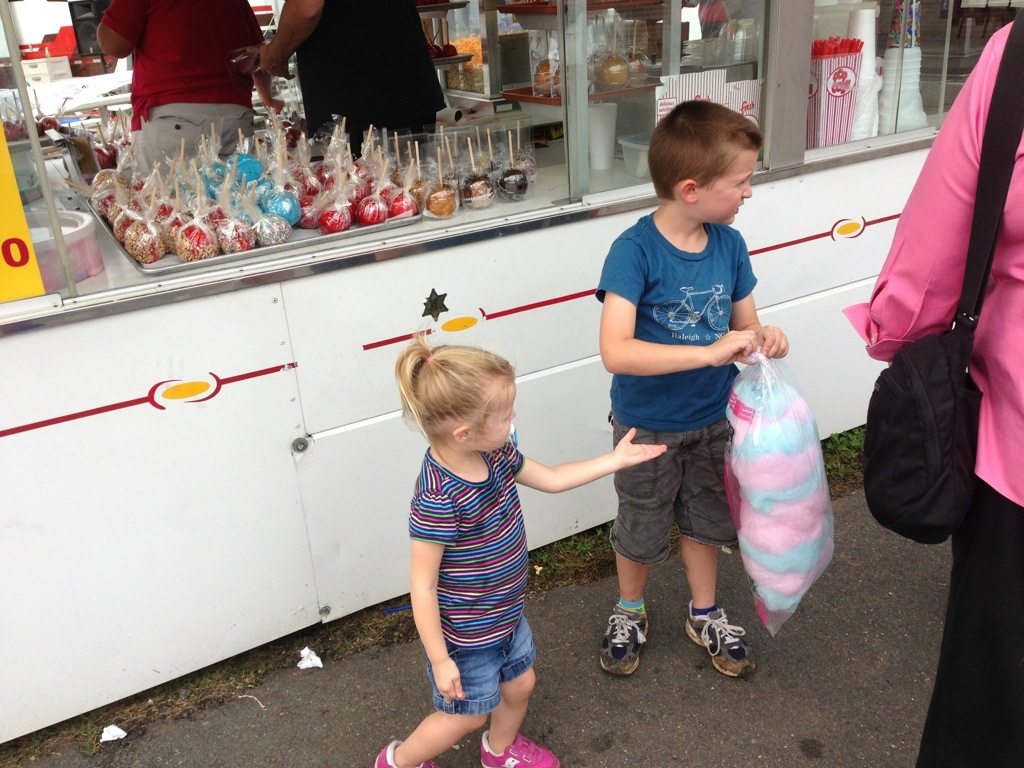 after we completed all of the kid activities, we made our way to the (insert name of the place where all the competition stuff is displayed). i wanted to check out the quilts, and holy cows. they were AMAZING. not really my style, at all, but i can still appreciate the awesomeness. i'm glad i didn't enter any of mine. i would have been so embarrassed. 🙂
we also scouted out the cakes. i think i might enter one next year. maybe. it's a lot of work. and i'm not sure if i'm amateur or professional. i have accepted money for some cakes here and there, but it is usually just enough to cover my costs plus some incidentals. i certainly do not profit from my cakery. 🙂
i will also probably get ike to enter some stuff next year. maybe a cake. we checked out all the kid stuff. isaac's cousins had some entries (some even won). then, we made our way to the photo area, because our pal JUDY won a blue ribbon in one category for this picture: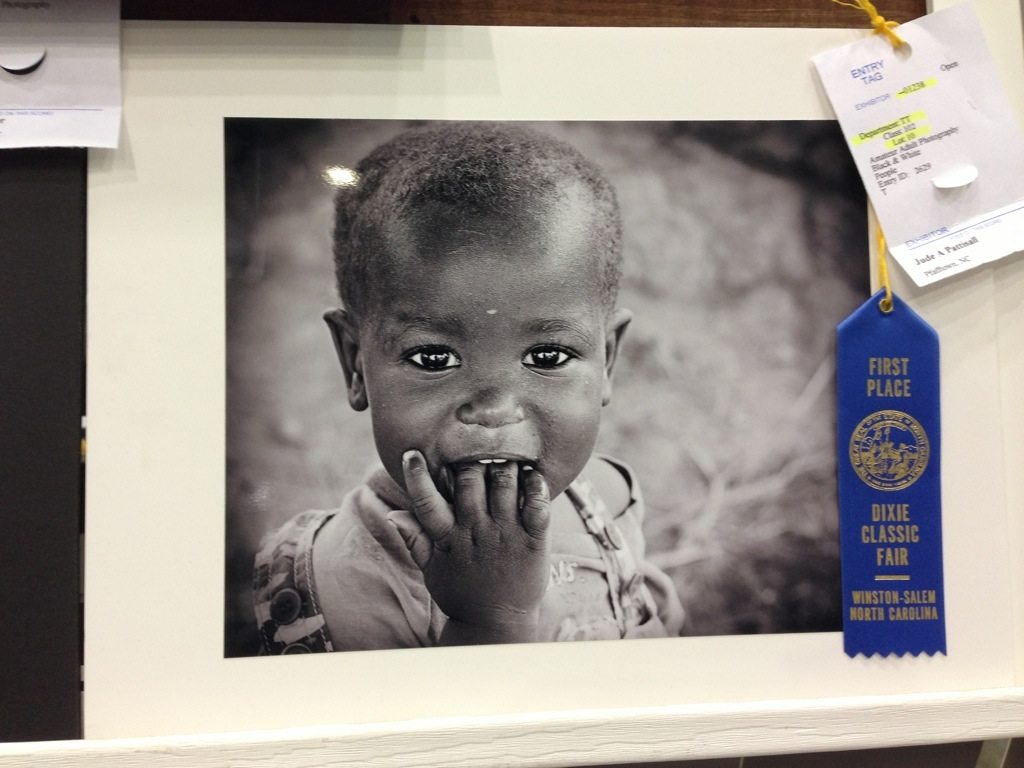 we had a few tickets left, so ike played on the bounce house slide for a bit. it was muddy and gross, but he had a really good time, so i'll take it. in fact, the whole fair was a giant mud pit. all the rain made for pretty soggy conditions. everyone was muddy and gross.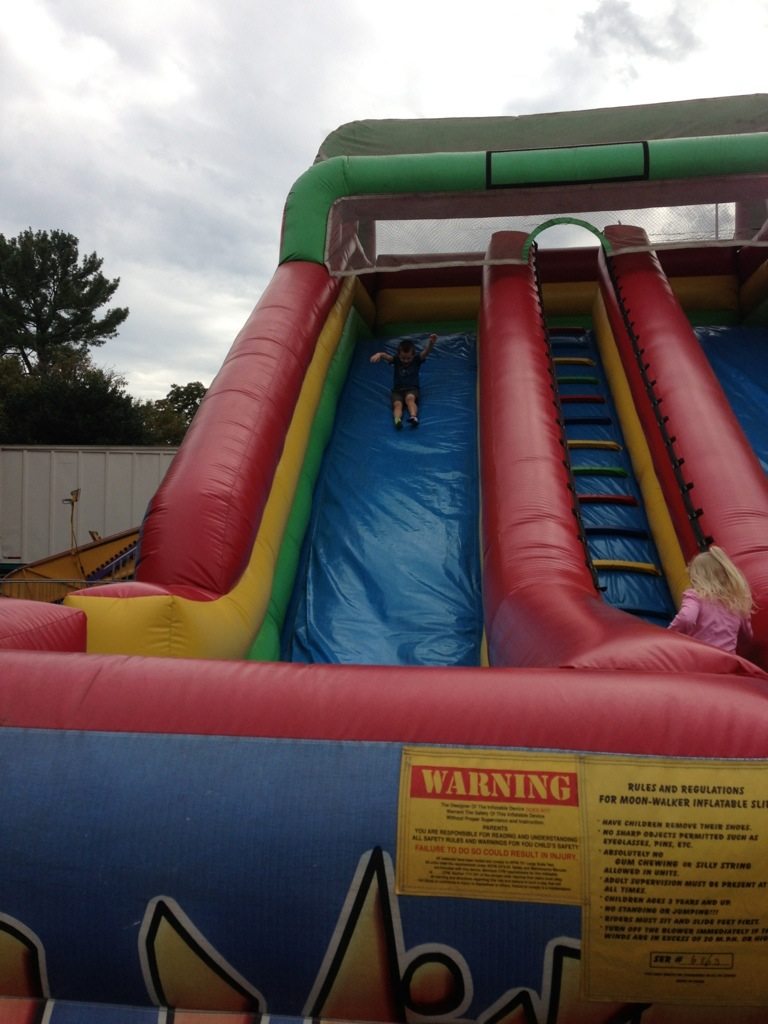 on the way out, we spotted this safety training obstacle course thing. ike gave it a go. he was pretty pleased with himself. and he got a free fireman hat, which i think was the highlight of his day.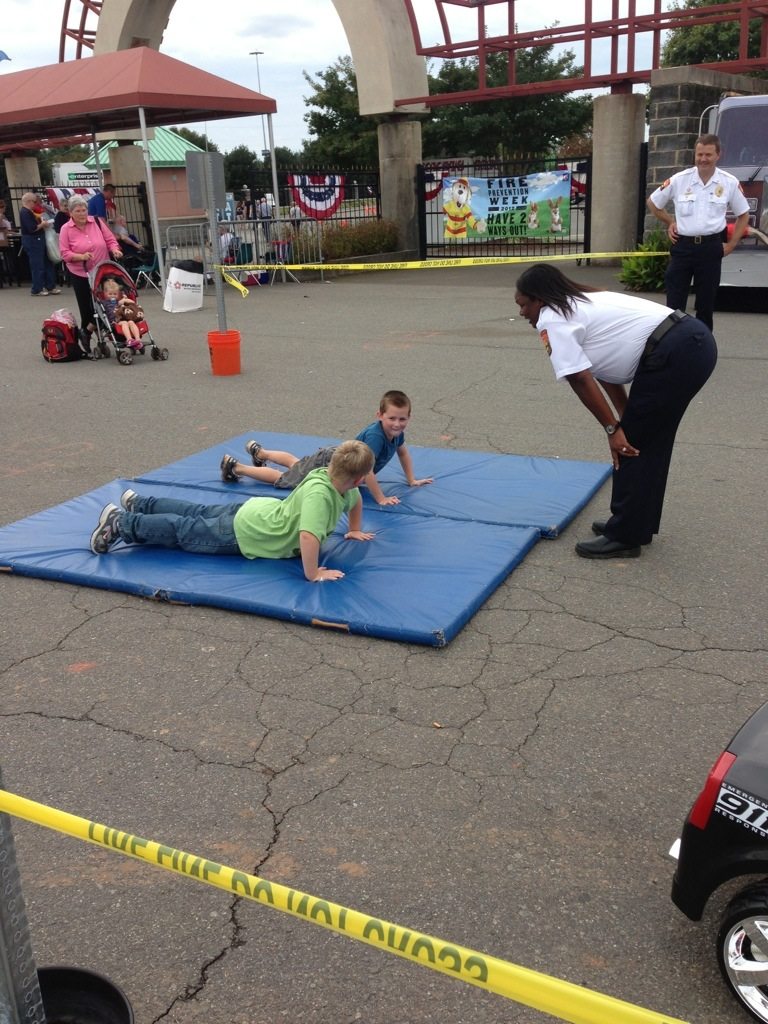 and then we left. exhaustedly.