a few weekends ago, i had the opportunity to attend my very first sewing retreat, in charlotte. sew south was organized by jennifer mathis of ellison lane quilts. there were fifty of us and it was a fun weekend of open sewing. eating. and classes. oh. and fun. duh.
i went with 4 other folks from our quilt guild. three of us were able to leave around the same time and ride together, but not in time to go on a fabric field trip with the rest of the crew. so, we made our own field trip. to maryjos.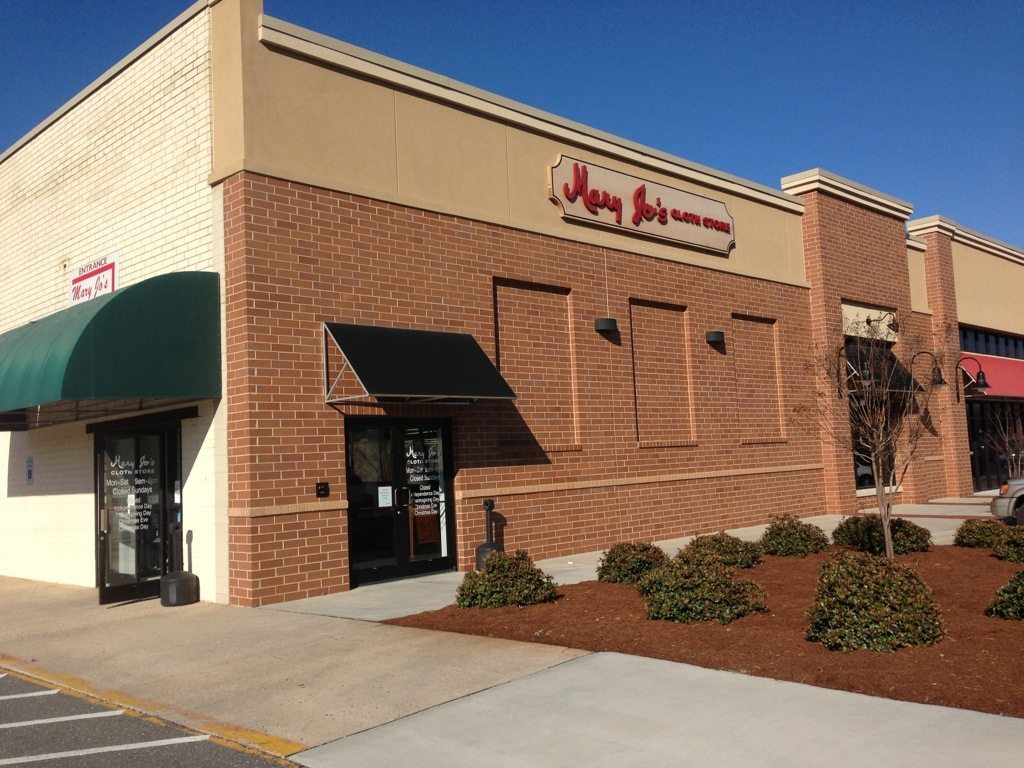 so. much. fabric.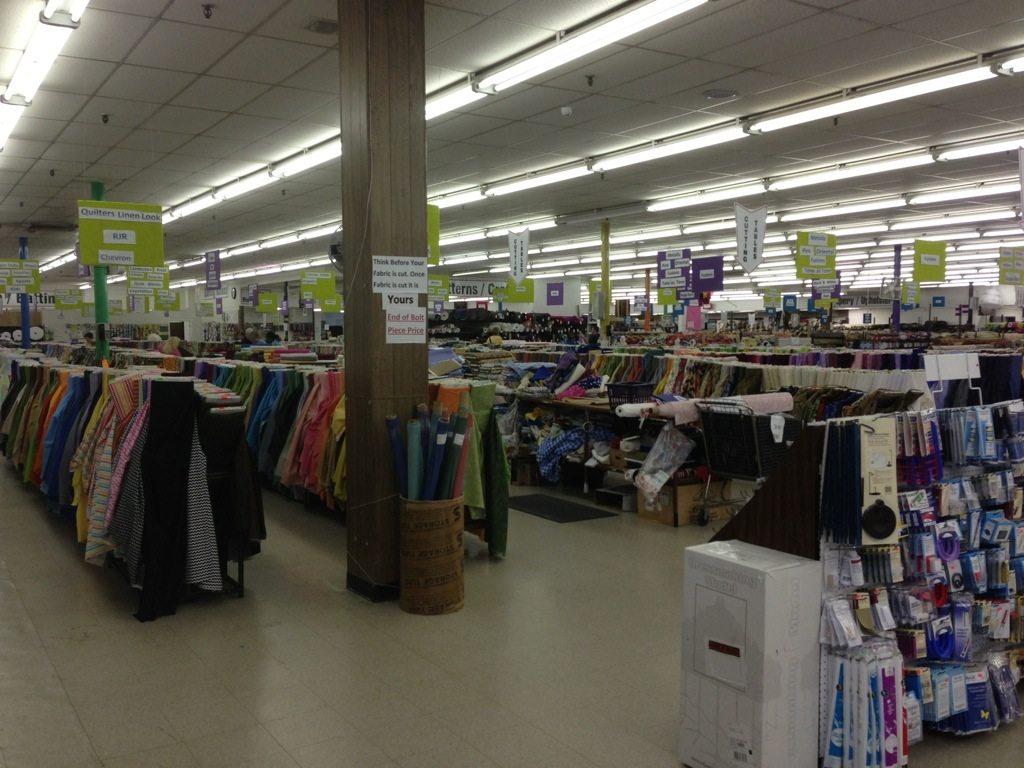 i didn't take a ton of pictures. i was too busy breaking 1000 needles and trying to keep my little sewing area from spilling out into the aisle where ironing board sojourners would trample, kick and trip over my items. i did take this picture of lee's hands. working on quilting for her designer duffle.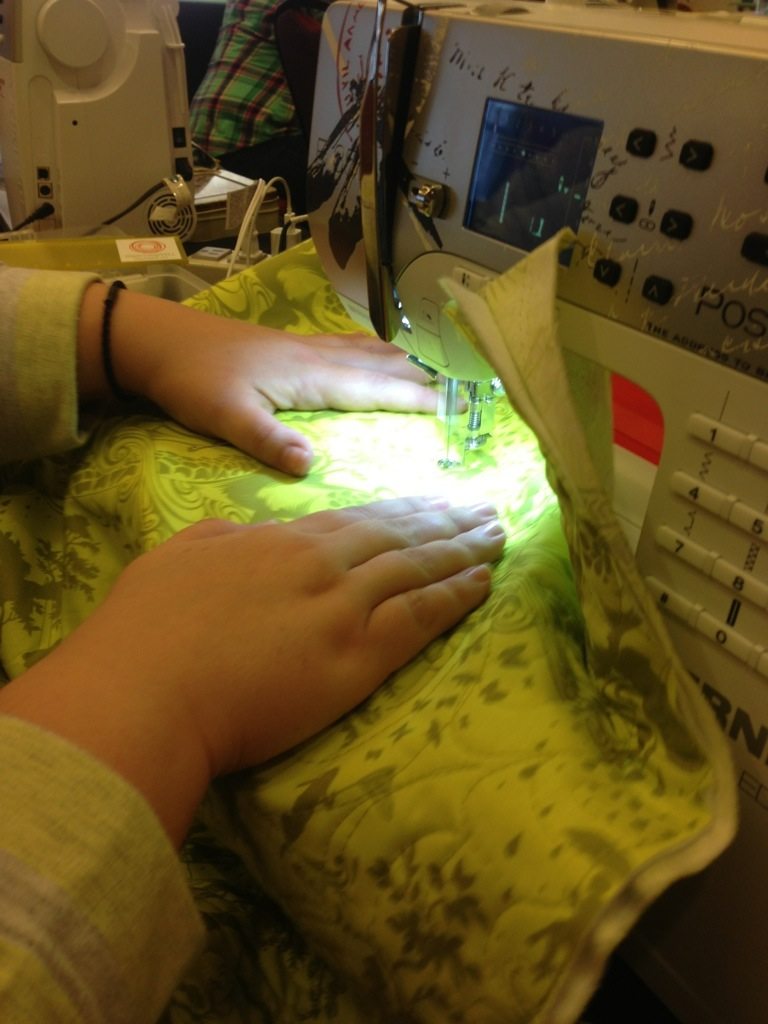 our first class on friday morning was a paper piecing class, taught by jennifer mathis. i have paper pieced in the past, but i still learned a lot from her (and from lee, my neighbor).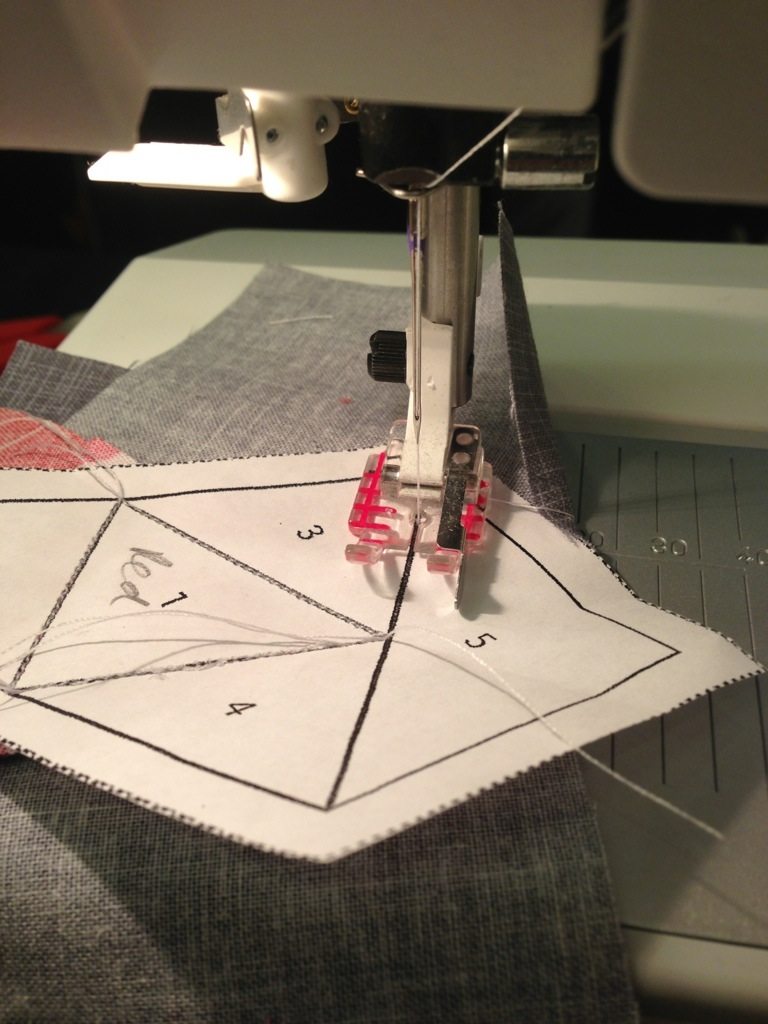 my finished paper pieced block. i'm quite pleased with it.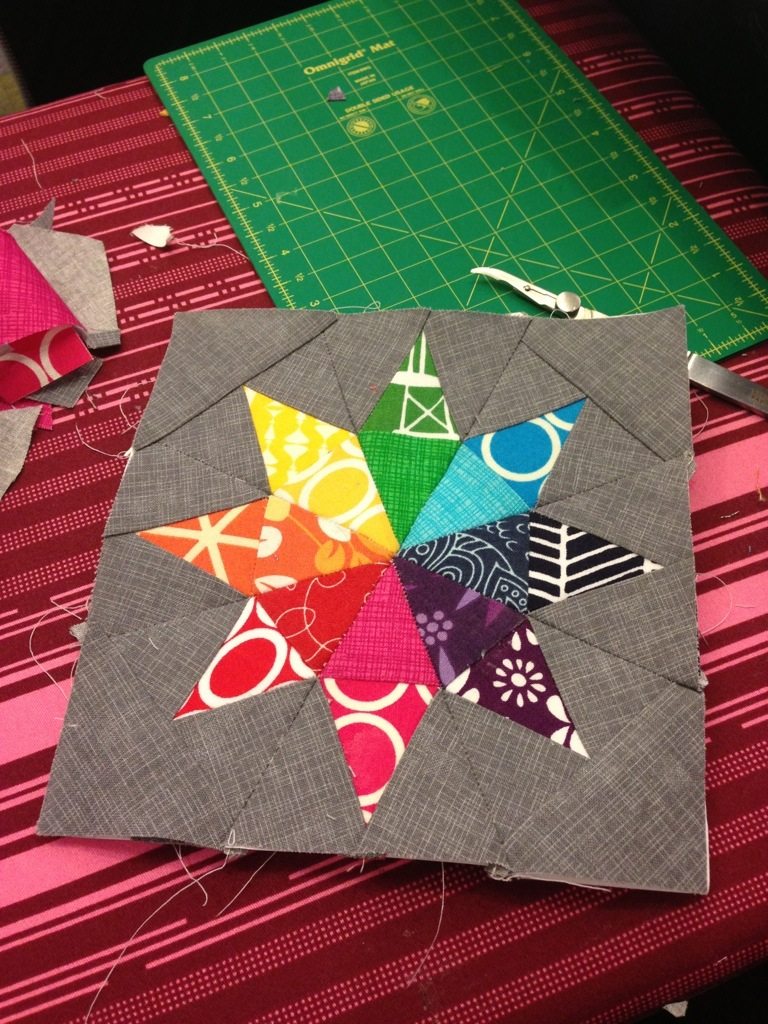 in the afternoon, we started a designer duffle class. it proved to be a little more complicated than the 4 hour time slot would allow for. so, it spilled over into the evening. and next day. there was a lot of needle breakage. and seam ripping. it was frustrating, but well worth the effort in the end. the class was taught by lindsay of lrstitched. she was very patient and helpful. i didn't take any pictures of the process. but here's my final duffle: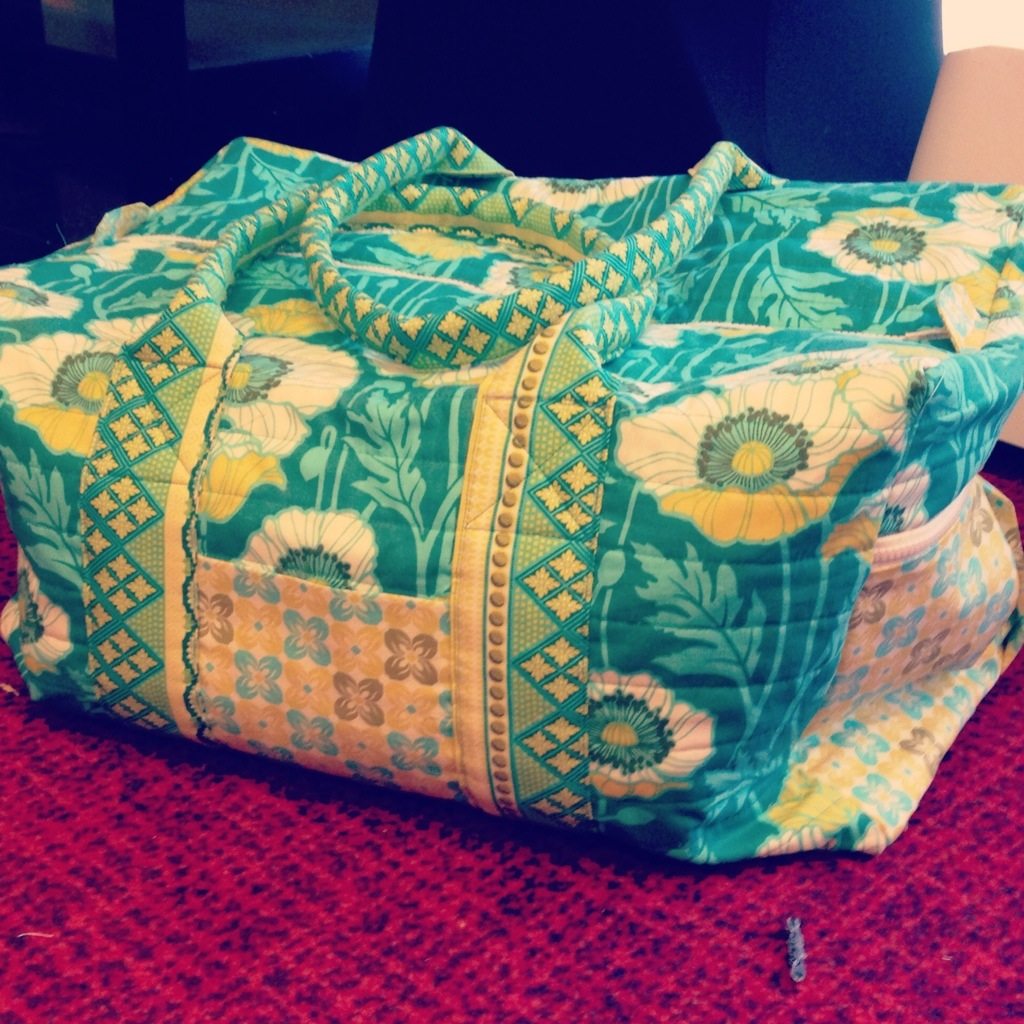 and the finished duffle of another roomie and fellow triad mqg pal, jen: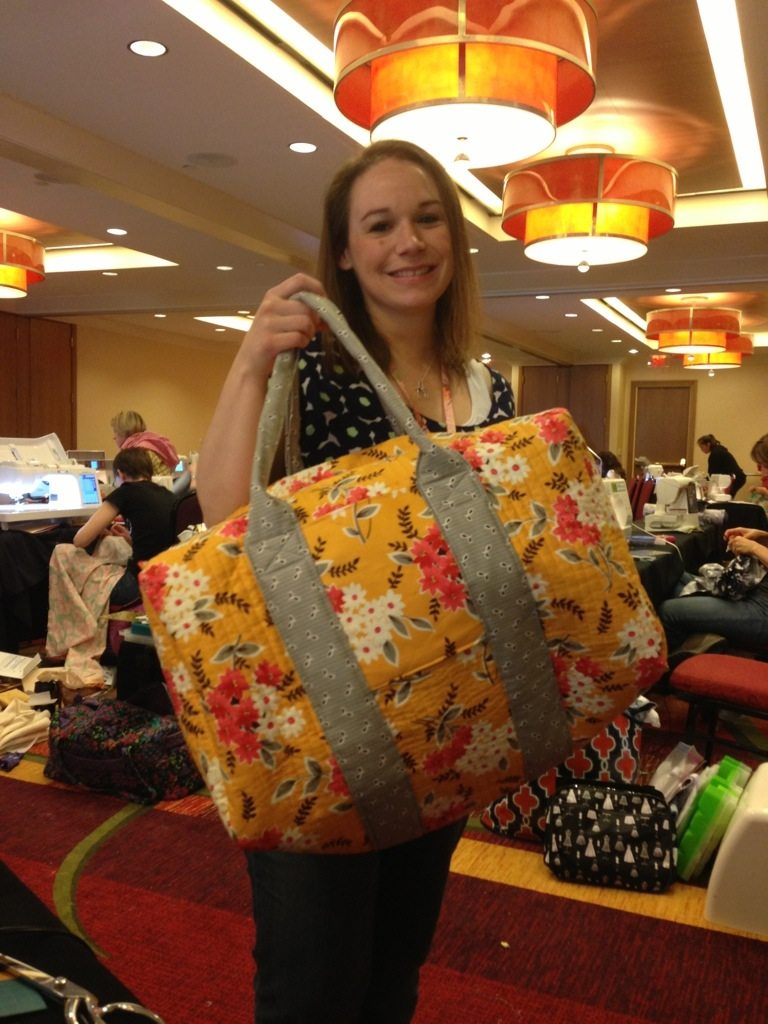 i knew my life was too hectic to sign up for any of the swaps and secret sisters and stuff that went on beforehand. i was barely able to get all the things prepared for the classes. but, i did participate in the fat quarter swap and i was so so so happy with my "take". i also was gifted a super cute fat quarter of chicken fabric by susannah. and another cute fat quarter of another chicken fat quarter by lee. so fun.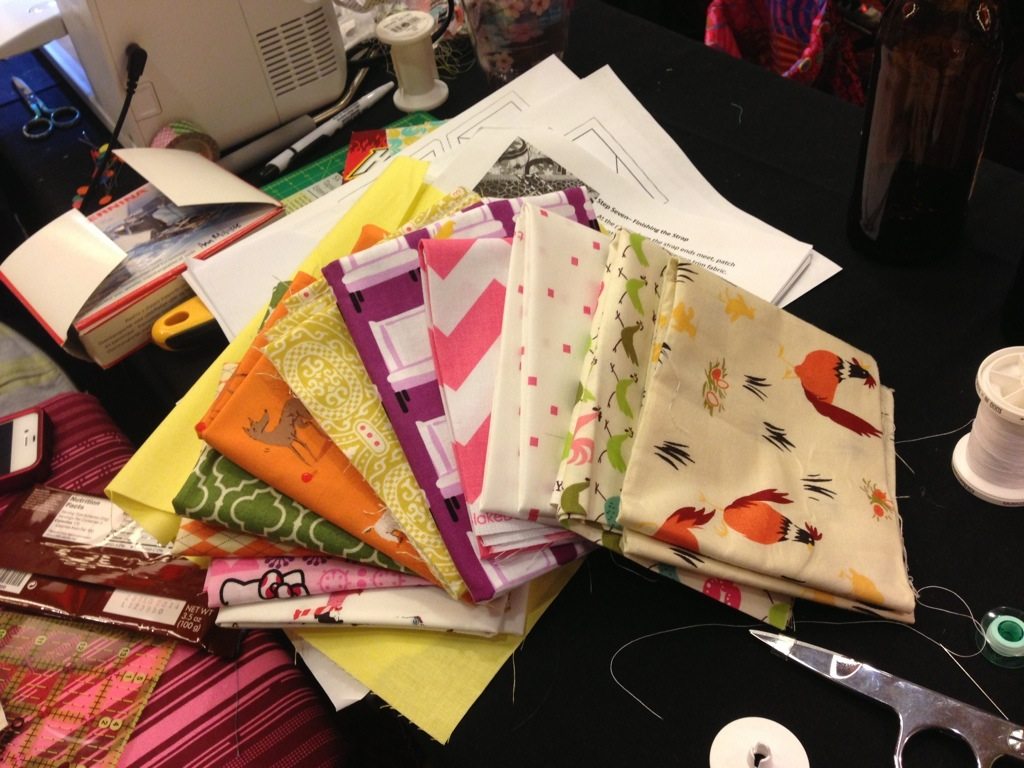 we went to pf chang's as a giant group on friday night where we all participated in a massive amount of eating.

on saturday morning, we started off with a metal frame clutch workshop, taught by diane from random thoughts do or di. it was a quick project and a much needed finish after the previous day's duffle (which at this time was still not complete).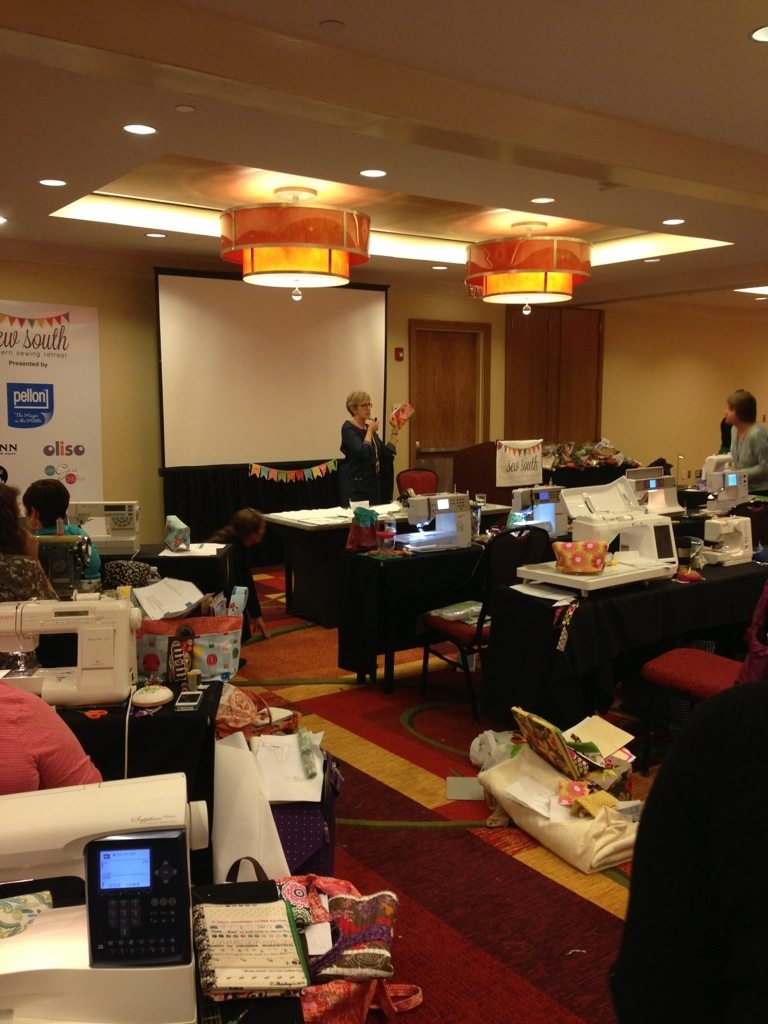 here's my finished clutch.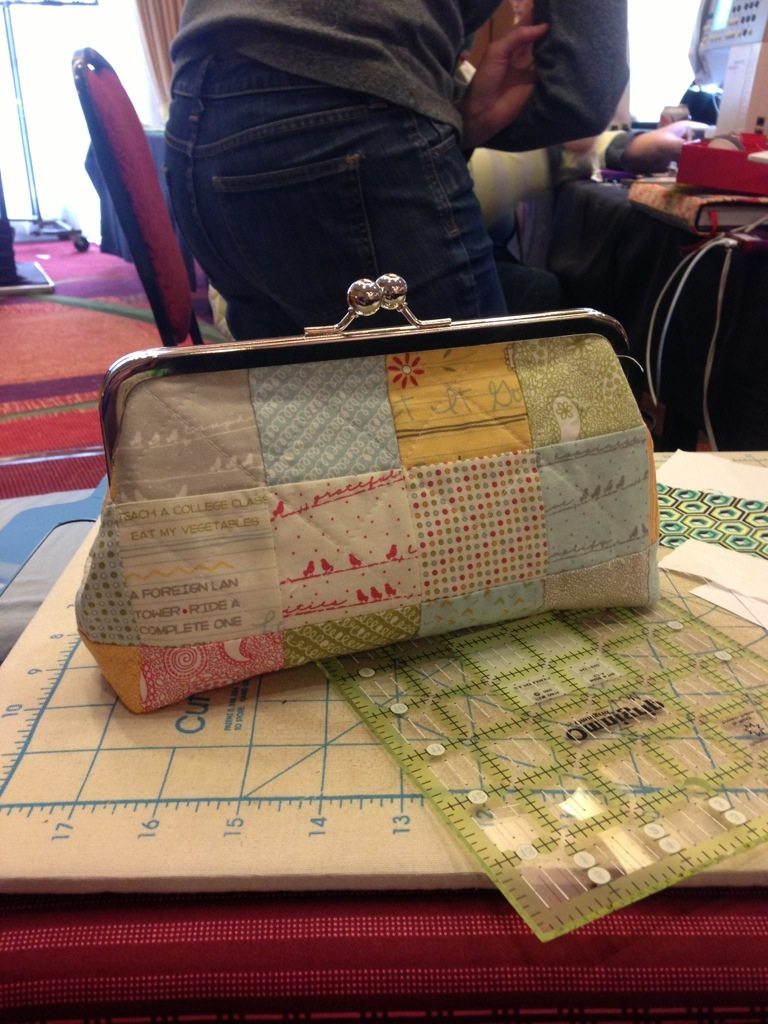 (i'm not much of a clutch person. you might have surmised that already. so i gifted it to my friend, jude for her birthday).
the other member of our entourage, kim, was an all-star and gained all sorts of admirers for her clutch. she's slightly older than the rest of us (me, lee, jen), so we took to calling her mom all weekend. she pretended like she didn't like it, but i know she did. 🙂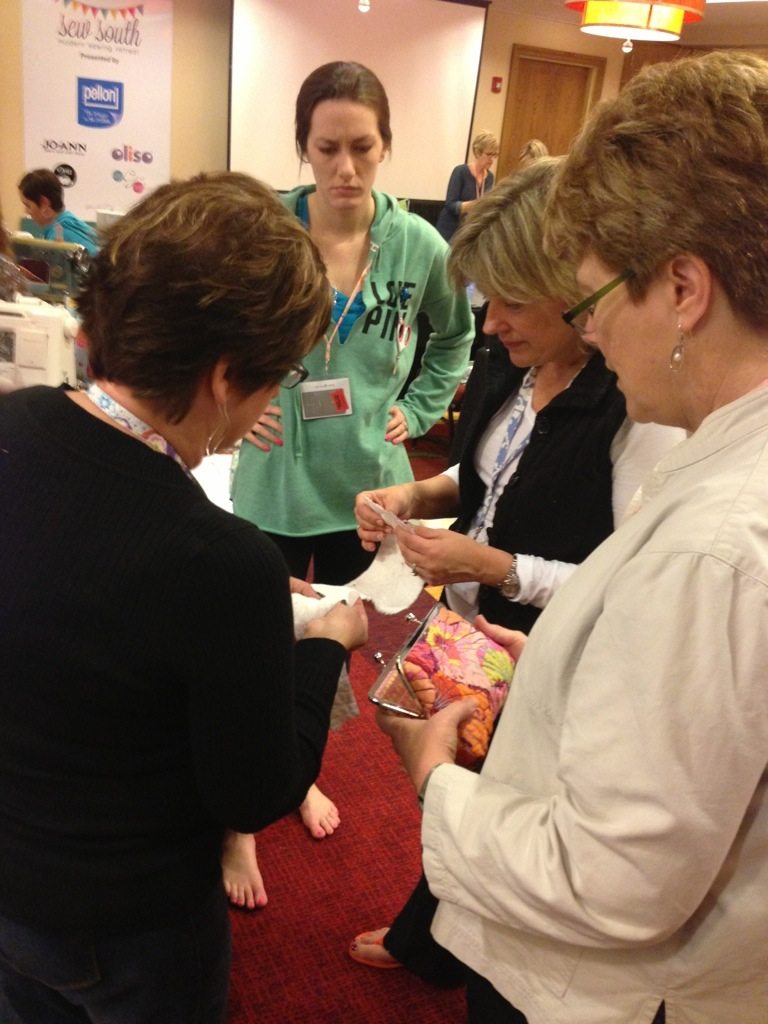 later, since she is an all-star, she had her quilt showcased by leah day, during leah's talk about free motion quilting and her inspiration process.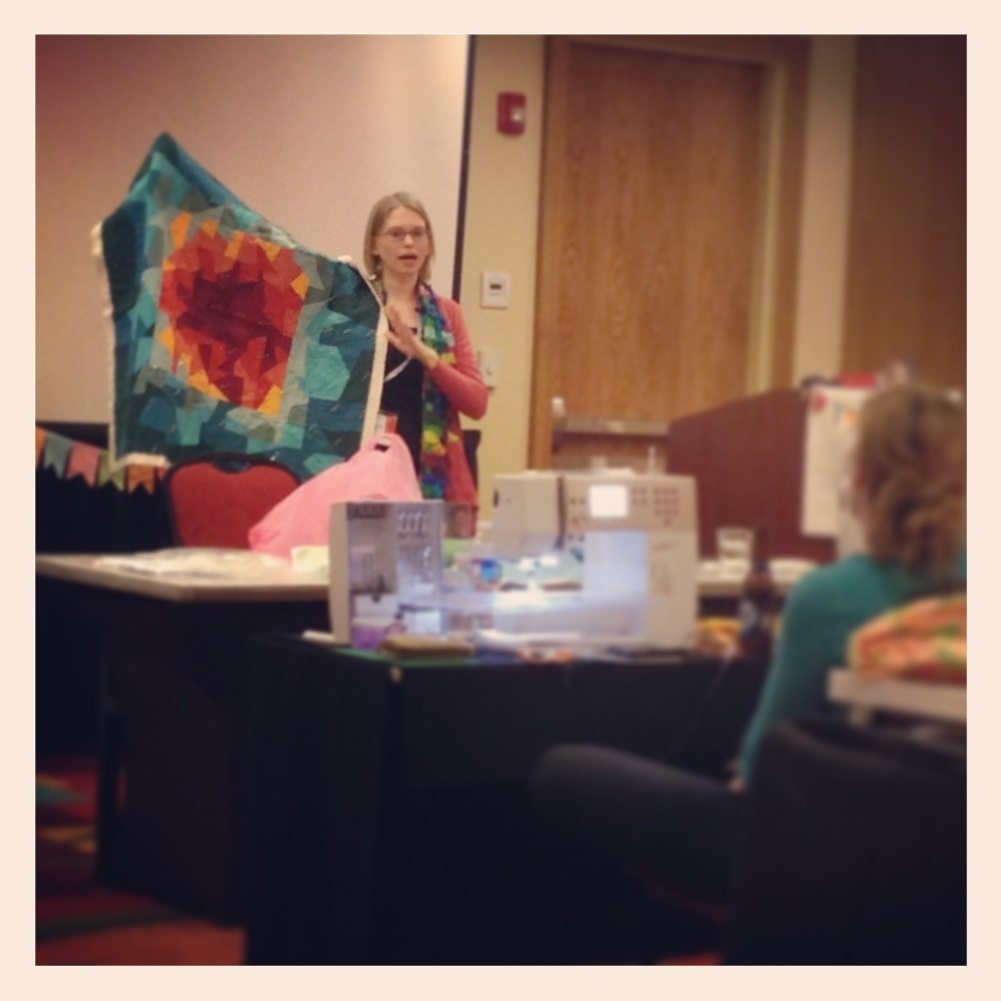 on sunday morning, we gathered together for some closing ceremonies. we had a little slideshow and a round of sharing our feelings about the weekend. and we had a number of photo sessions. first, with a pile of designer duffles (that's lindsay, the class teacher and jennifer, the retreat organizer).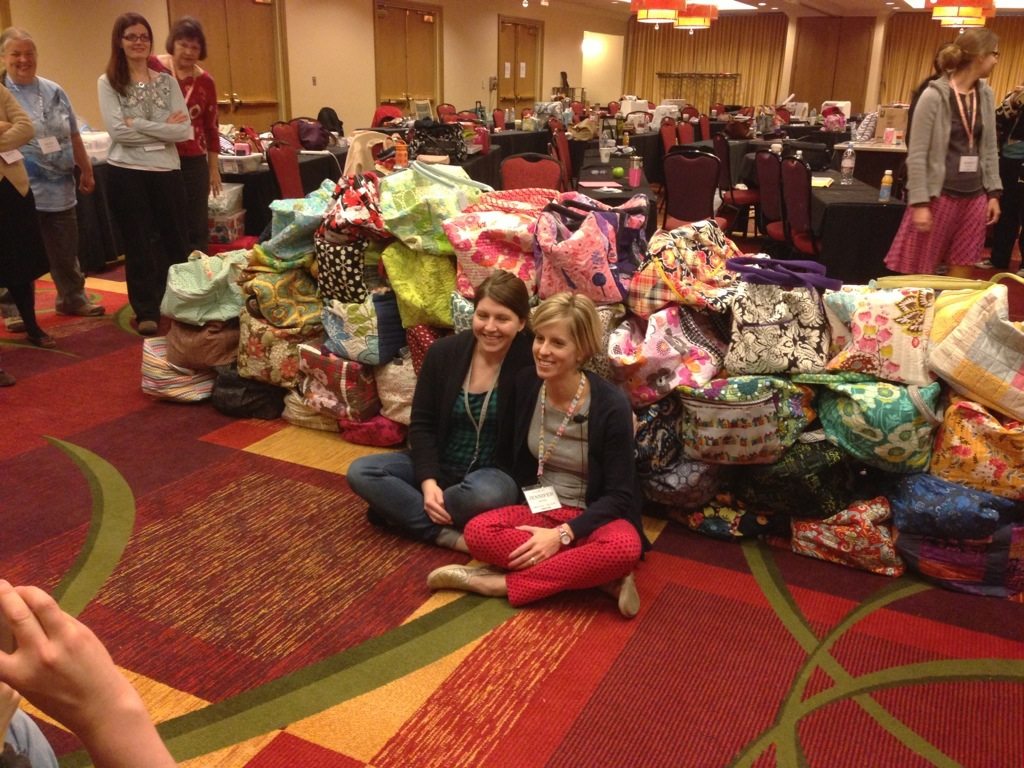 thought i had a pic of all the clutches, but i guess not…
anyhoooo…. the big grand door prize was finally awarded. we had been having little drawings all weekend long. i won a starbucks gift card and a pattern. there were books, fabric bundles, etsy prints, handmade gifts and more gift cards. but, in the back of the room, all weekend, a brand new sewing machine taunted us. and guess who won it? the mom!!! i mean, kim!!! we were very excited for her. even though she wouldn't give it to any of us.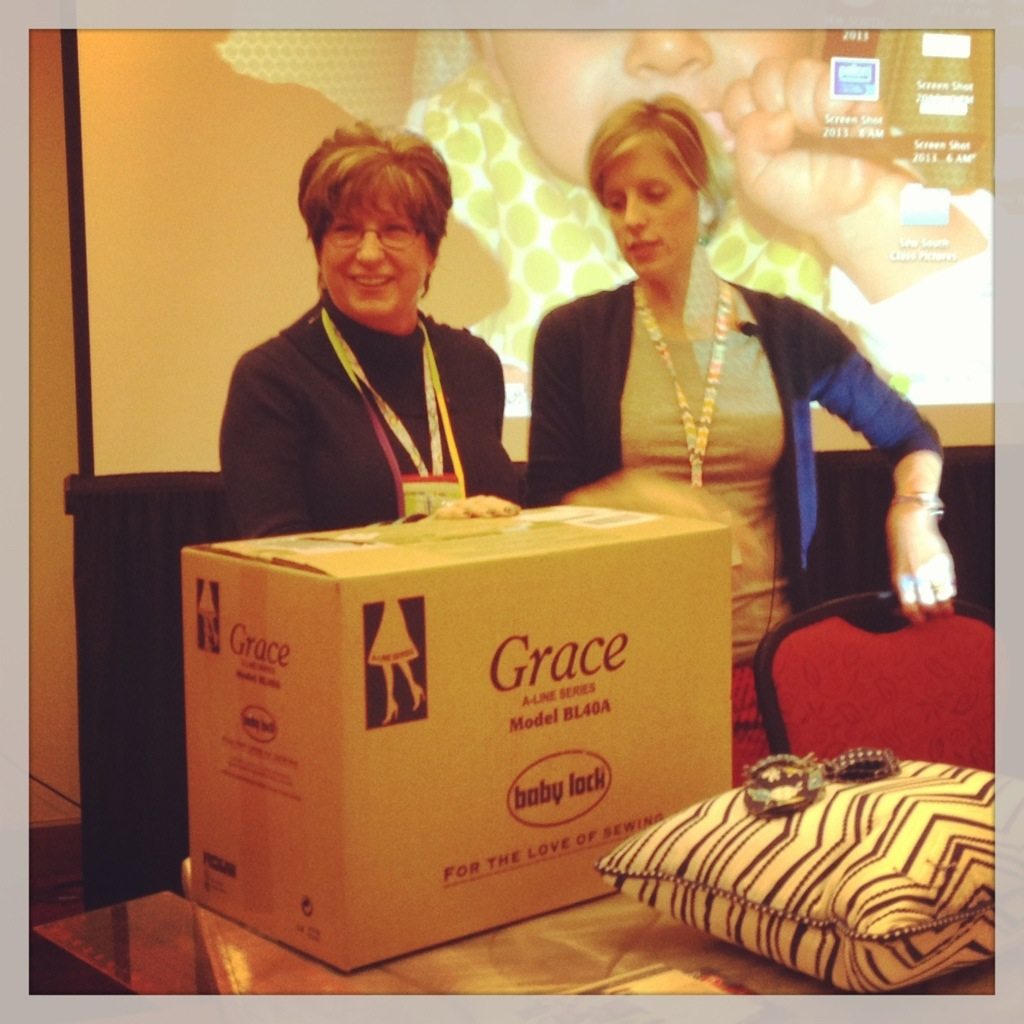 oh. and then! jennifer's husband showed up with giant swag bags for us. she handed them out oprah style. and we rifled through them. i don't have a pic of all the stuff, but i have this one of the plain white bag. lame. right? there was a fabric bundle, charm packs, fabric samples, patterns, magazines, a book, thread, washi tape, zippers, a rotary cutter, batting, … um. there was more. i just can't remember. so generous from all the sponsors.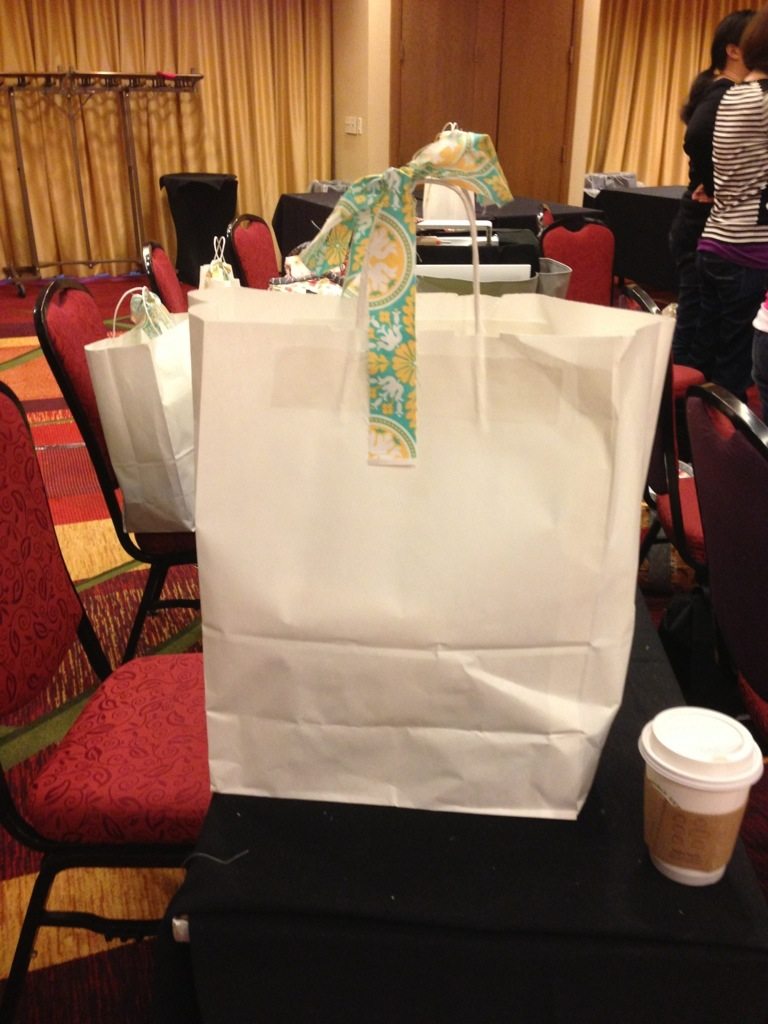 we were pretty tight on the ride down. but picked up lee and all of her luggage and sewing stuff. and the giant new machine. and all of our new gifts and swag. and purchases. somehow, we got it all in. amazingly.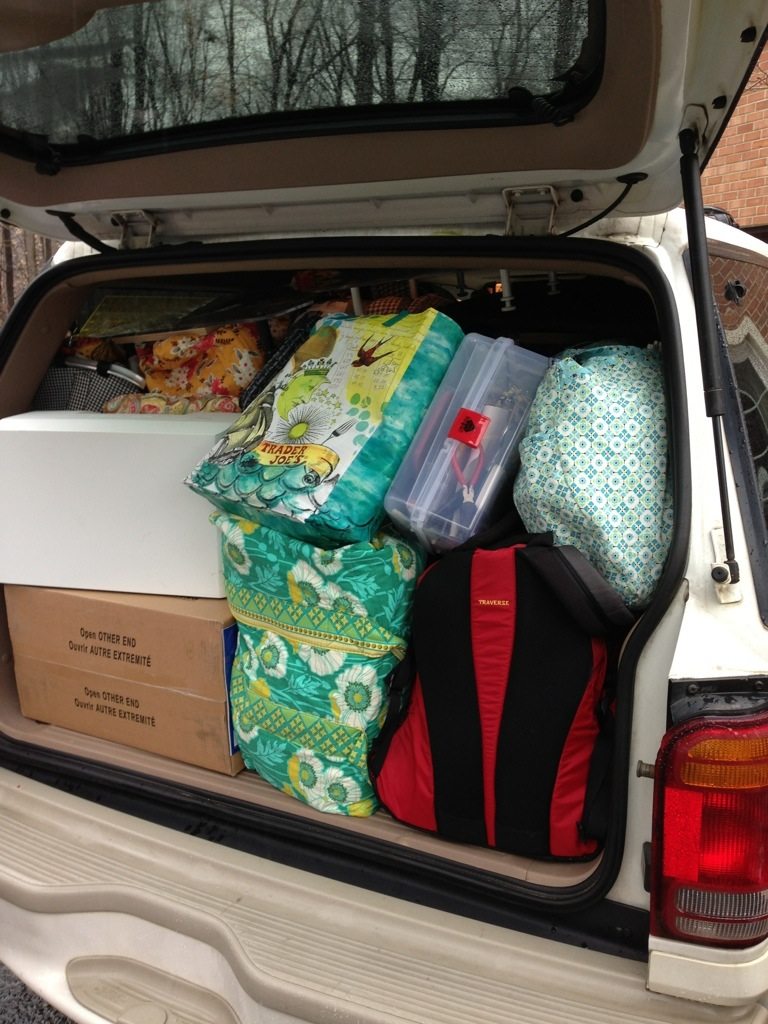 anyhooooooo….
that is the story of my weekend.
oooh. i almost forgot.
the mom (kim) also got us sweet tattoos for the weekend: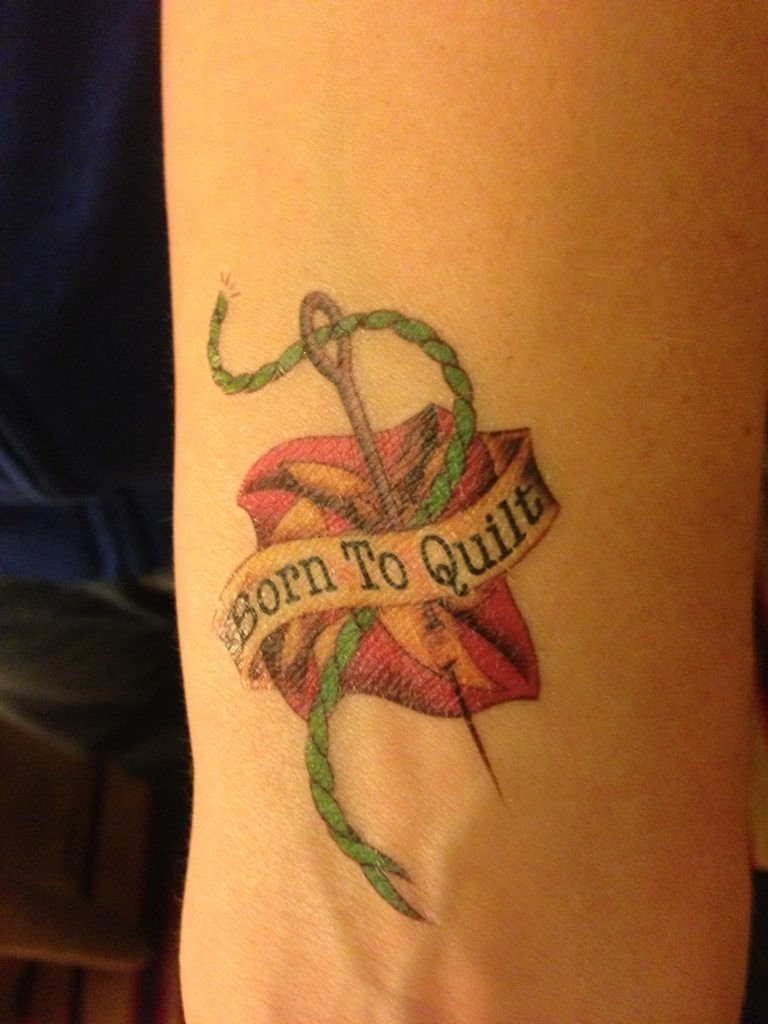 ok. now. the end.