on our last day, we were decidedly beached out.
i had no desire to march everyone out there just to have them whining the whole time and then come back in and desand all of them. so. to the pool we went.
i didn't take many pics, because i was mostly in the pool. there was a little girl there that was being soooo mean to our kids. splashing them. hanging onto the inner tubes while they attempted to float around. pushing the inner tubes away when they were trying to jump into them. and then just plain stealing the inner tubes. i even had to fight with her to get a the tubes back three or four times. she insisted it was "her turn" despite how many times i informed her that they were MY inner tubes and only MY kids would get turns. her parents were blissfully sun bathing at the other end of the pool as we dealt with their little evil spawn. 🙂
anyways. when we weren't fighting for the inner tubes, anna was happily floating around in the pink one.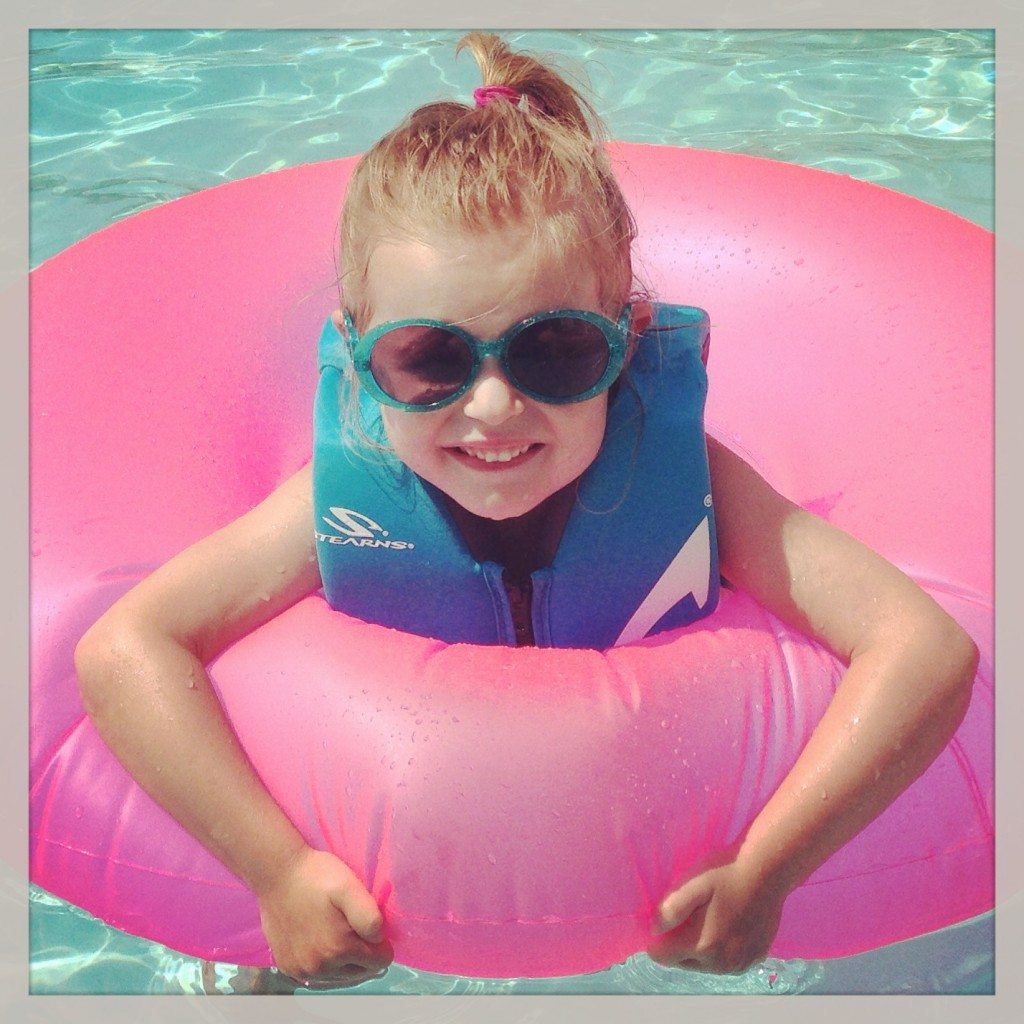 and isaac hopping around in the blue.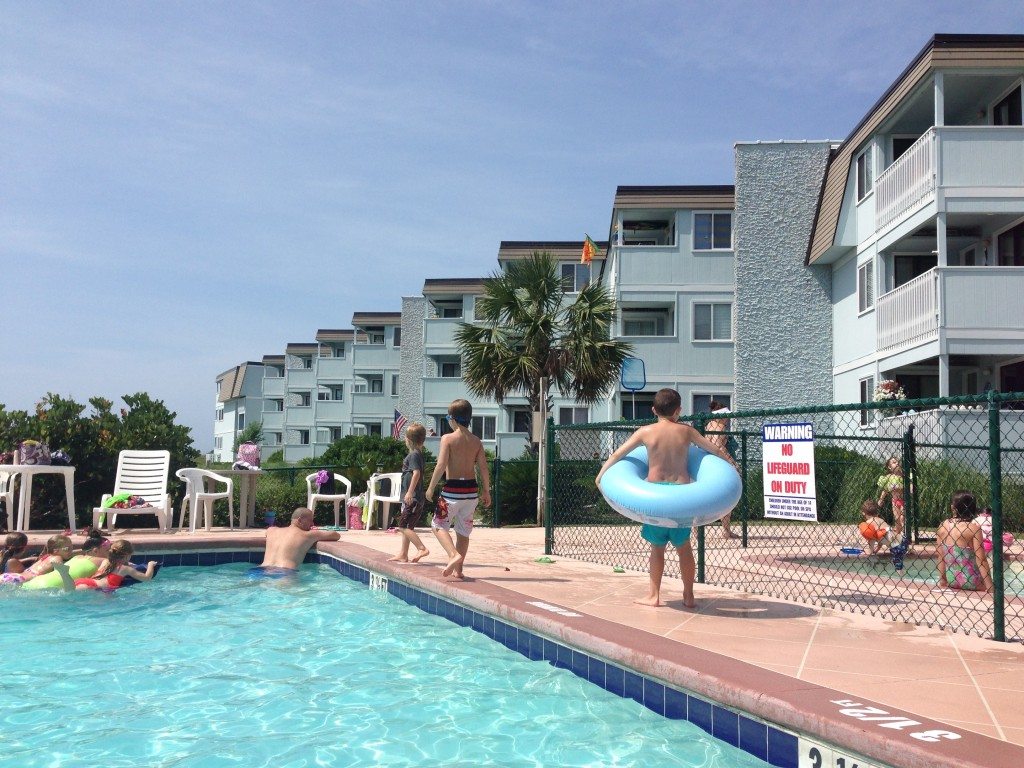 we went back to the room for a lunch buffet of all of our foods because i was not interested in bringing any home.
then, isaac and alden spent the afternoon playing ipads and kindles and various electronic devices.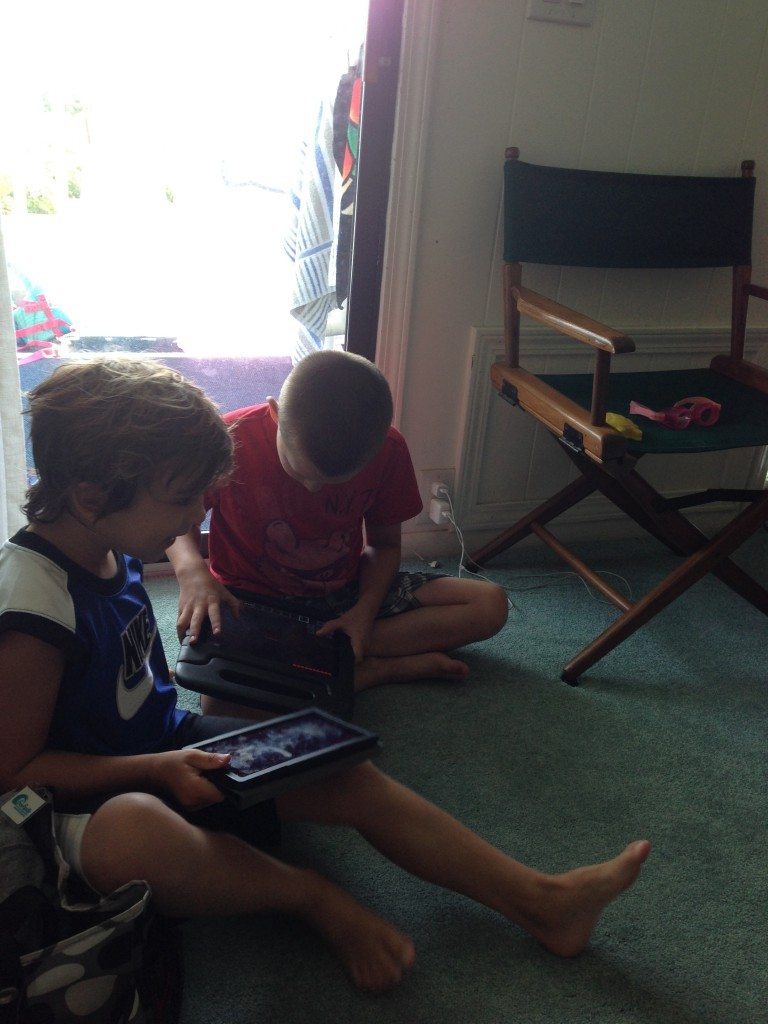 and hazel napped.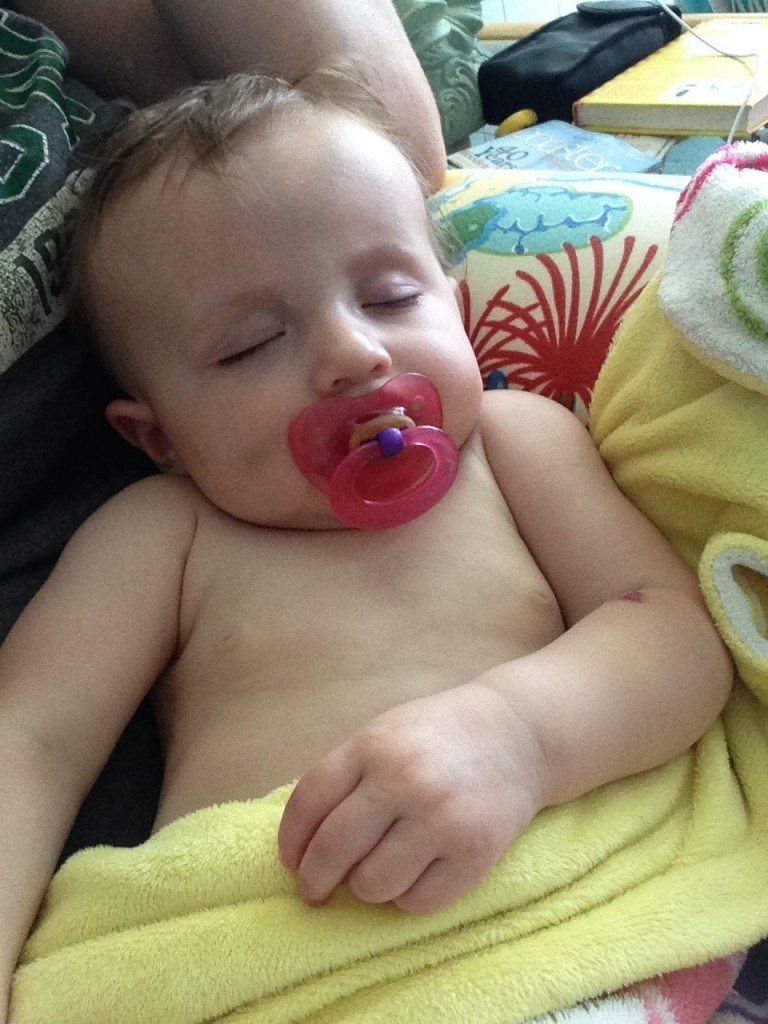 i spent most of the afternoon packing and planning for the trip home. we went to chick fil a for dinner with steph and kaylin. we tried to get the kids to go to a more fun place to eat, but they desperately wanted chick fil a and cried at the possibility of not having it. so, chick fil a it was. isaac ate 14 nuggets and 2 orders of fries. hungry swimmer boy.
in the cool evening, i loaded up the van. (we were on the third floor and there was no elevator. did i already mention that? well, going down was better than coming up, but i still much preferred it to be cool). the kids went to bed. and i finished getting us ready to make a fast exit in the morning.
on the trip home, disaster struck.
hazel was losing it in the back seat for approximately 30 minutes before we got to the RDU airport to drop off chris and her kids. then, i made a wrong turn leaving the airport, so by the time i got back on our route, we had passed all the easy food options. hazel was still screaming like crazy and i was getting flustered. finally about 15 minutes down the road we pulled over to eat.
and i looked at my phone.
and chris had called 5 times.
she left her wallet in my car.
at that point, i had a nervous breakdown. i tried to console hazel a bit, before putting her back into the carseat and heading back to the airport. she immediately began screaming again. kids were arguing about ipad. and hungry.
i called derek.
i got to the car rental place.
returned wallet.
departed.
made a different wrong turn out of the airport.
and by the time i was back on 40, thankfully, hazel was asleep. i gave the kids some snacks and kept driving. there's no stopping with a sleeping baby.
anyhooooo….
i called derek after a bit and told him we were fine and making good progress and that my nervous breakdown had subsided. at that point, he informed me that he was behind me a few miles. when i was super stressed, he had hopped in his car and headed towards me. he watched on an app on our phones and then turned around and followed me. when we finally stopped to eat, he surprised the kids, and traded cars with me.
and i drove the last 45 minutes in an eerily silent car.
and met my posse at home.
the end.