the one positive for staying in one park for more than a week is that we can plan big family trips for the weekend days, instead of packing up and traveling. i'm sure derek feels the same.
so on saturday, we decided to head to albany, for a family field trip.
on the way in, we saw "the egg" which i think is a performing arts center or something. either way. it's cool.

we navigated to the state capitol and managed to park right next to it. it was closed, because it was the weekend, but we were cool with just looking at the outside.

selfie.

we tossed some change into the water and made some wishes.

lidkids on the steps.

zooming in.

and in some more. and it almost looks like they all like each other!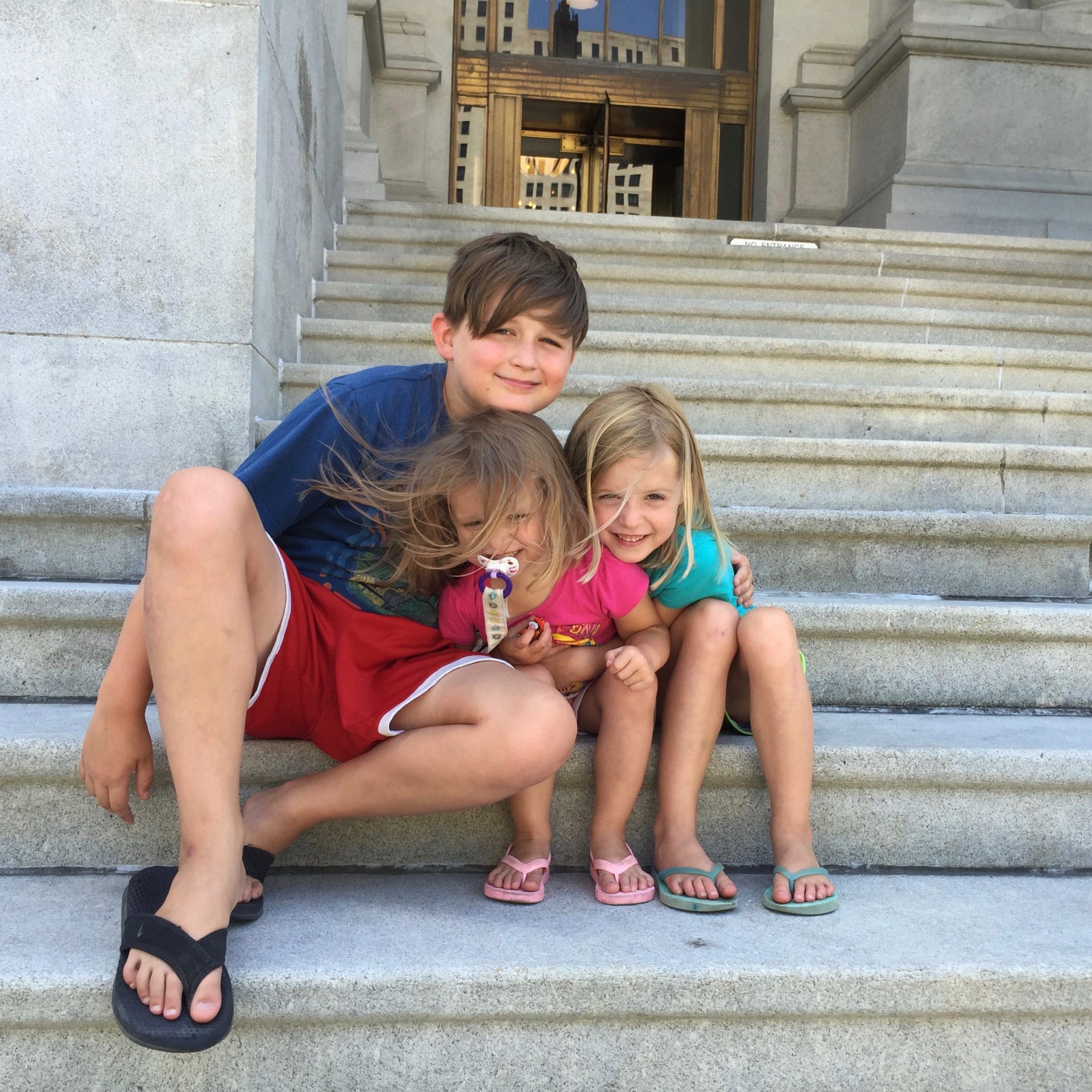 i pressed my phone up to the glass to get a pic of the insides of the building.

from the top of the steps, looking out across the courtyard(?) to the building across the street.

george washington. keeping watch.

the view of the capitol. from the street.
and now i can tell you about the hilarious tragedy… when i got home, i posted pics of the capitol and then started looking around in instagram at other people's pics and suddenly realized… this is the BACK of the capitol building. the front is sooooo much cooler with like 700 steps or something. i was so mad. i might make the kids go back.

anyhow, after we strolled around in the backyard of the capitol, we attempted to find a place to eat within walking distance. but, since it's the state capital and the weekend, nothing was open. finally, we found a bar, with two other people in it, and made the executive decision to give it a go. it did not disappoint, as evidenced by this pic of my reuben.

even though i was stuffed, after we got back to the car, i convinced derek to pull over and let me hop out to get cheesecake from this cool place:

inside was even cooler. lots of pop culture comic book type memorabilia.

i opted for the blueberry maple cheesecake, handed over $5, and i was on my way.
it. was. so. good.
(this is the real reason i might make my kids go back to hang out at the capitol building.)

isaac expressed mild interest in touring the uss slater (a world war II destroyer escort), so we didn't want to miss that opportunity, and we were already close, so off we went. we arrived just in time to get on a tour that had just started. here's our tour guide, aiden, showing us the kitchen.

checking out some guns and stuff.

the officer's dining area.

bunks for the non-officer crew.

crew cafeteria.

we had to go up and down some steep ladders and through tight spaces. with hazel, it made for a bit of an adventure. (not to mention, the scorching hot steps in the sun).

the radio/technology room. our guide said "there's more technology in our phones than in this room".

maps and cartography and stuff.

spotlight.

two helmsmen guide the ship from this room. interesting fact. the steering wheel doesn't steer. it just tells someone down below what degrees to turn the ship.

lid kids and guns and stuff.

more guns.

one guy moved it up and down. one guy moved it left to right. and they used this scope. super high tech.

hazel, busting up some enemy ships.

the info plaque.

there was a geocache nearby, so isaac and derek went off to find it, while the girls and i sipped delicious ice water from paper cones. derek took this pic of the ship on his way back. it's the only wwII destroyer escort that is still in the water. facts.

we decided to head back after this adventure, but first hit up two mcdonalds for ice cream, coming away empty handed. and on the second one, they took our order, we sat in line for ten minutes, then informed us they were out, after we had already paid, and then refunded our money. except not all of it. so derek had to go back in to straighten it out. we sat idling for a very long time in very high heat. when we finally pulled away, a cloud of smoke came out of the van and we began to smell gasoline. not good.
we drove home, but took our van in the next day, ruining our sunday adventures. i guess there was a leak in our fuel line or tank or something. and it is covered by a recall. but, we had to get the van from the shop that we took it into, to a honda dealer and hour away. would be easy, if we had a second car. so we have been arranging cabs and AAA tows. she's all set now (monday night) and we are back up and running. well, will be. when derek gets home. 🙂
we have one more week at this campsite.
and we leave saturday. and i can't wait.