i had to save this post for the last of my adventures in sturbridge, massachusetts posts, for one because it was taking a million years for my pics to go from my phone to the cloud. and for two, because it was taking another million years for derek to send me some pics that he took. now that we are in a land with better internet, here we go…
earlier in the week last week (tuesday, i think), we decided to go to old sturbridge village, which is a lot like the mumford museum that we visited with derek's parents when we were in western new york. old buildings from the early 1800's, relocated to create an entire village, with plenty of staff members, dressed in clothing from that time period, recreating life in those days.
our first stop was to a little farm house, where chicken chasing was in order.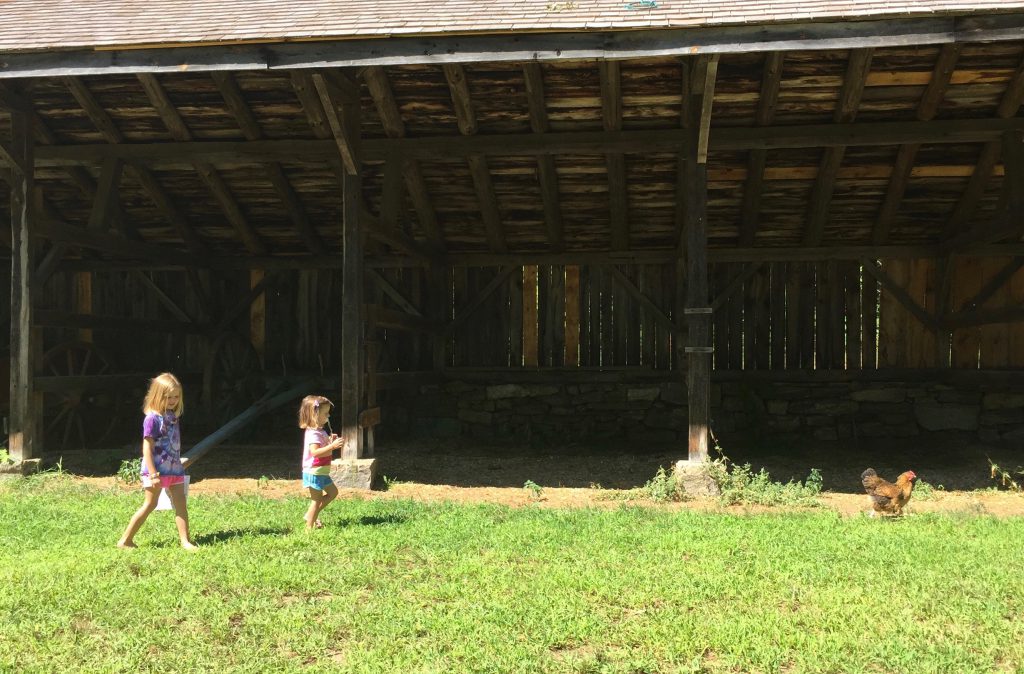 a giant church.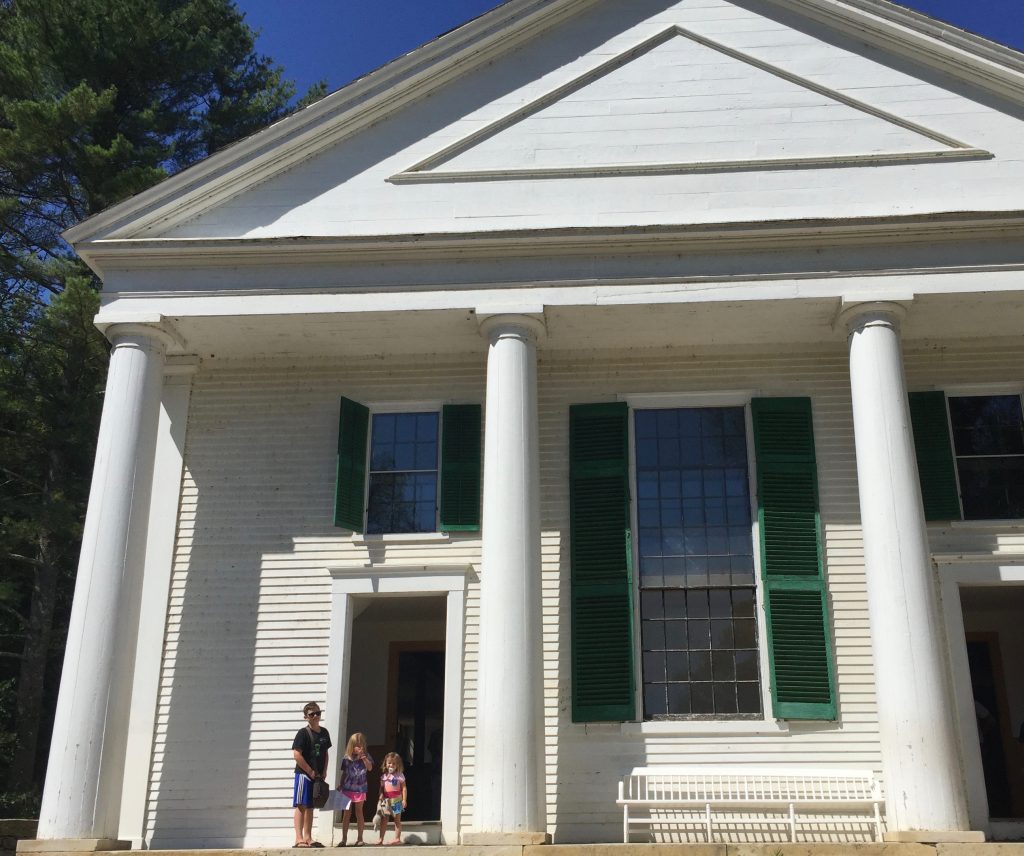 i am not sure how i felt about this next pic. these oxen where being paraded through town, dragging a wooden sled, tied up with a wooden yoke. seems like that was maybe the best we could do 200 years ago, but there's more humane ways now. not to mention that it was for entertainment versus actual farming. anyhow. i got over it and moved on.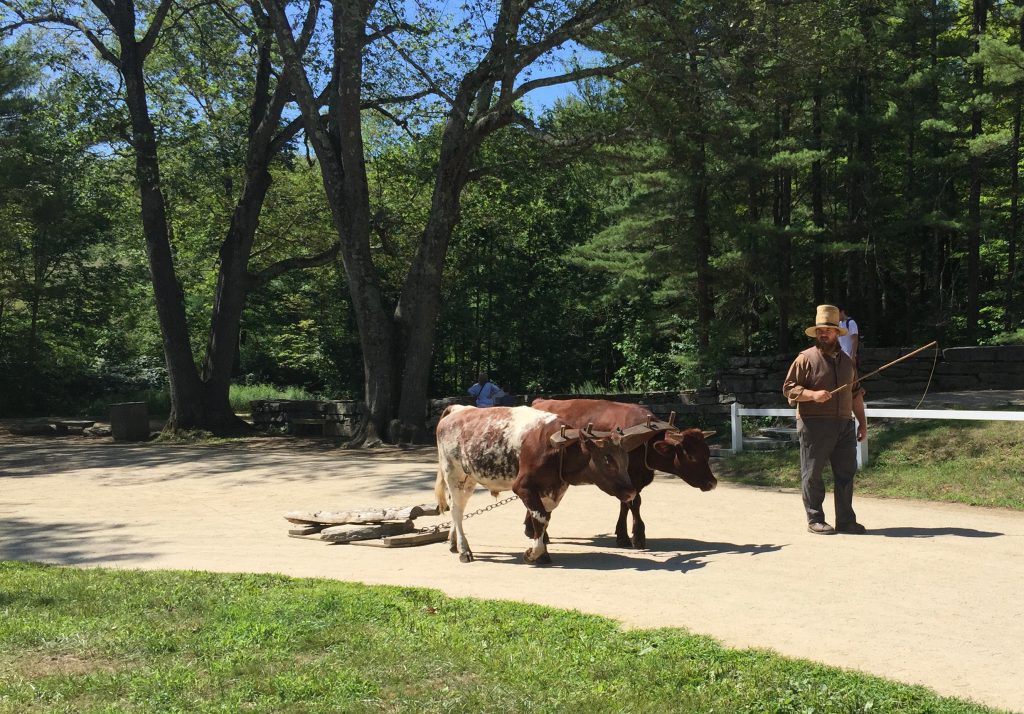 at one of the houses, they were dying yarn, which was pretty cool. isaac actually seemed interested in the process and the different natural items used for dyes.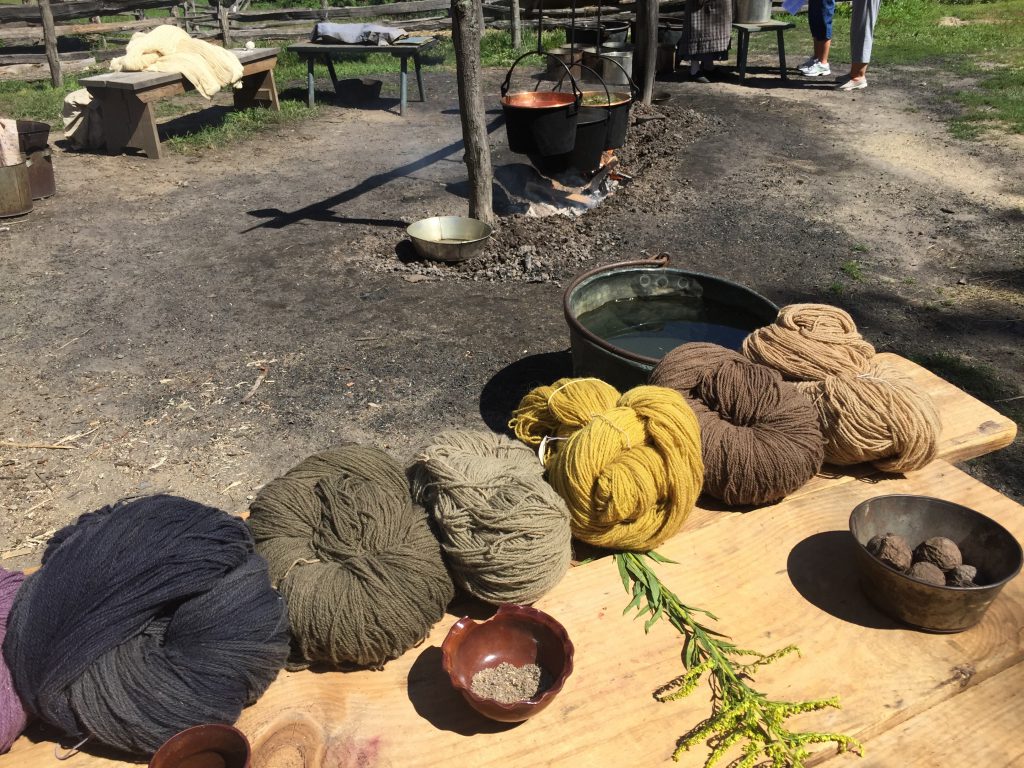 inside the house, they were carding wool, and hazel was the first to volunteer to try it herself.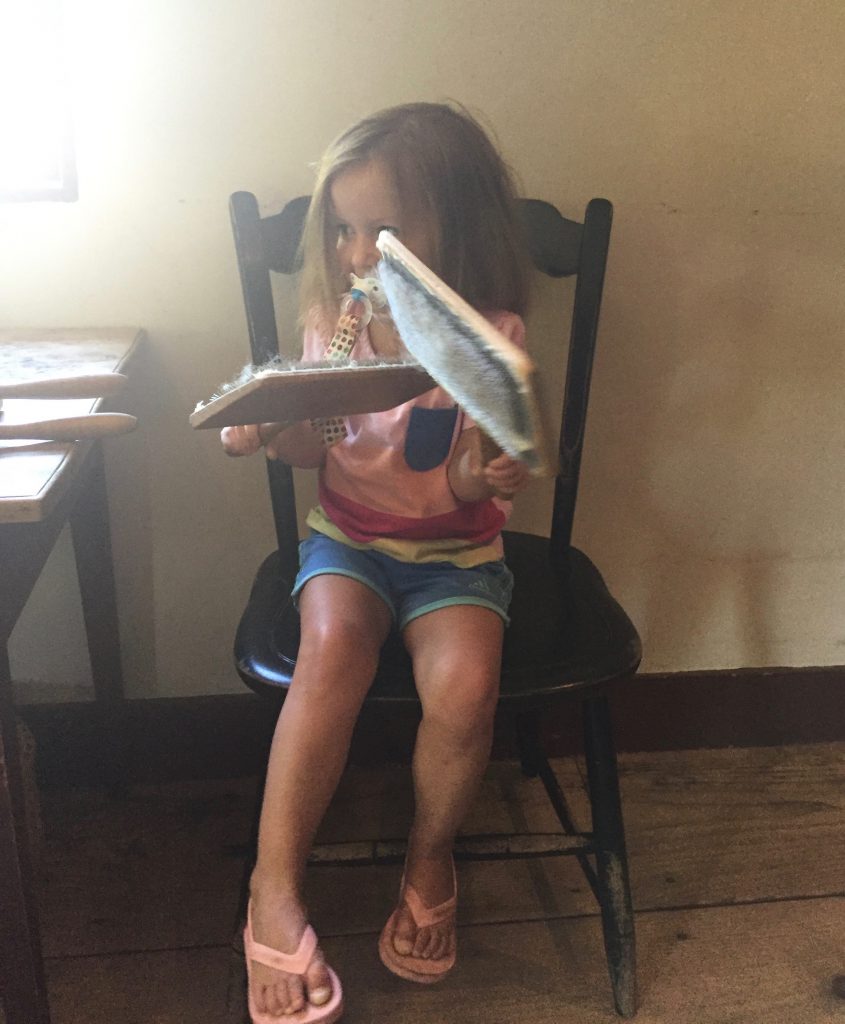 not to be outdone, isaac jumped in to give it a go, too. anna did it too, but i guess i stopped taking pictures.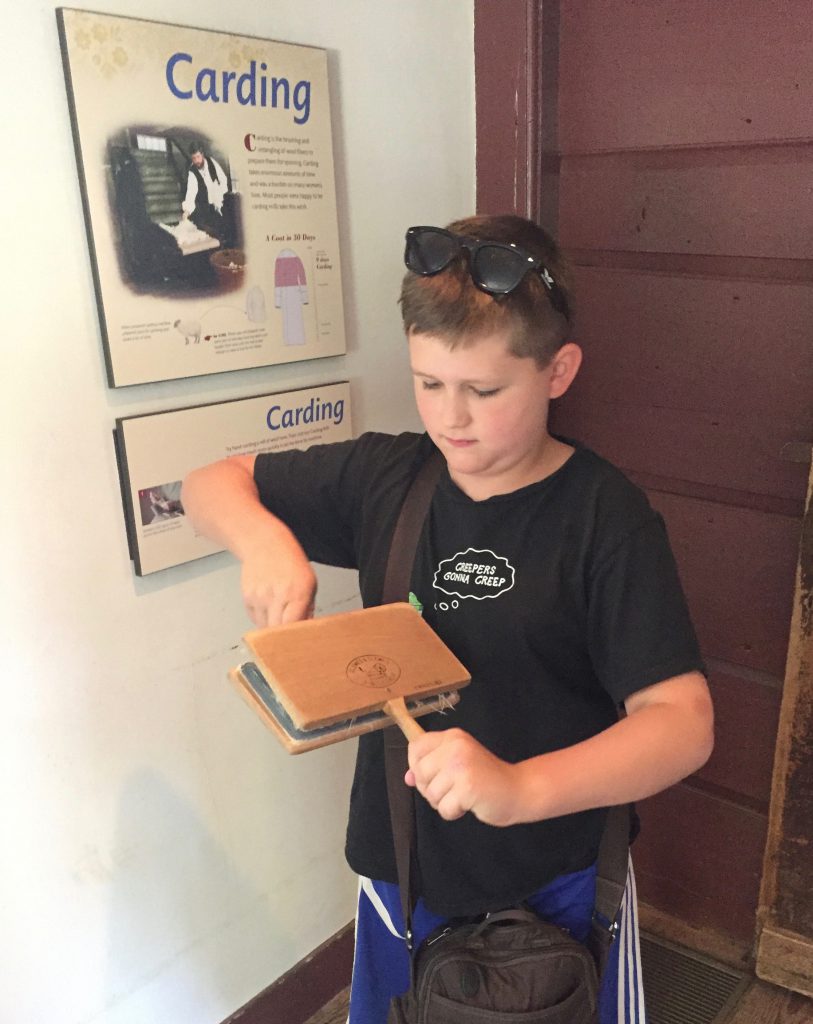 upstairs, there was a quilt room, with some old quilting tools and some antique quilts on display. and then this. a little geometric shape arranging area, for kiddos to plan out a quilt. or their adult parents who like to quilt.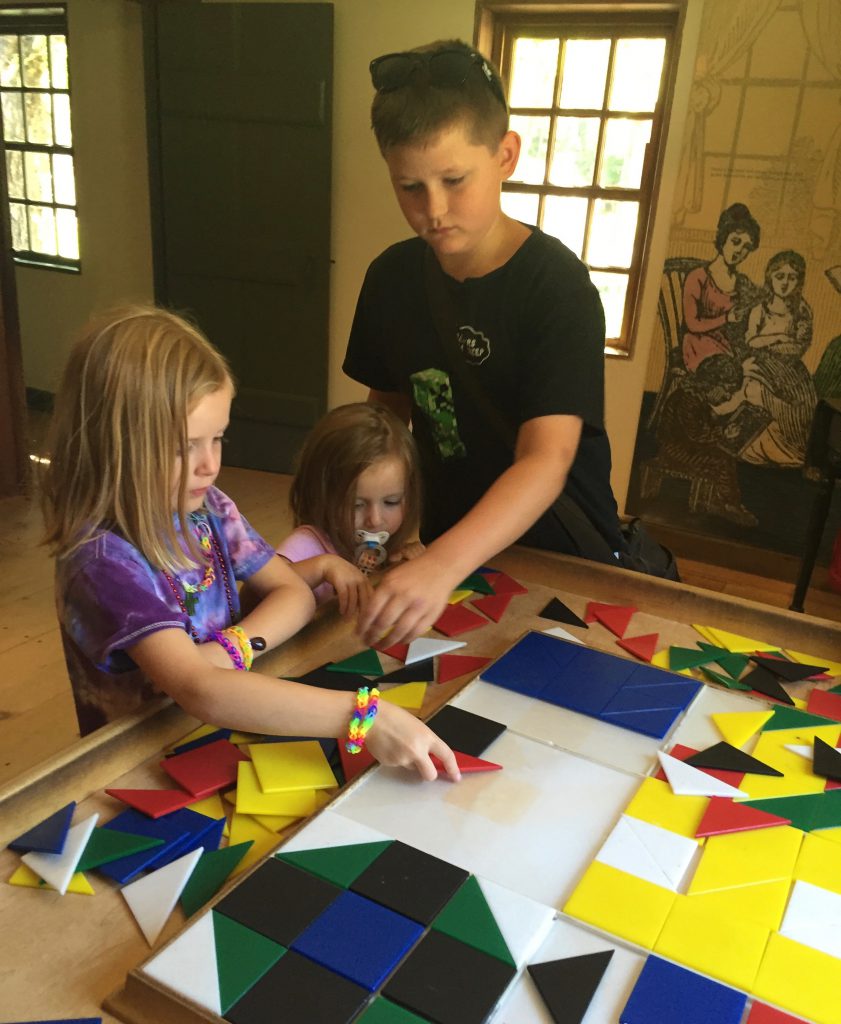 back downstairs, we watched this lady spin the carded wool into the yarn. the kids were pretty impressed with this, possibly only because of the movie sleeping beauty.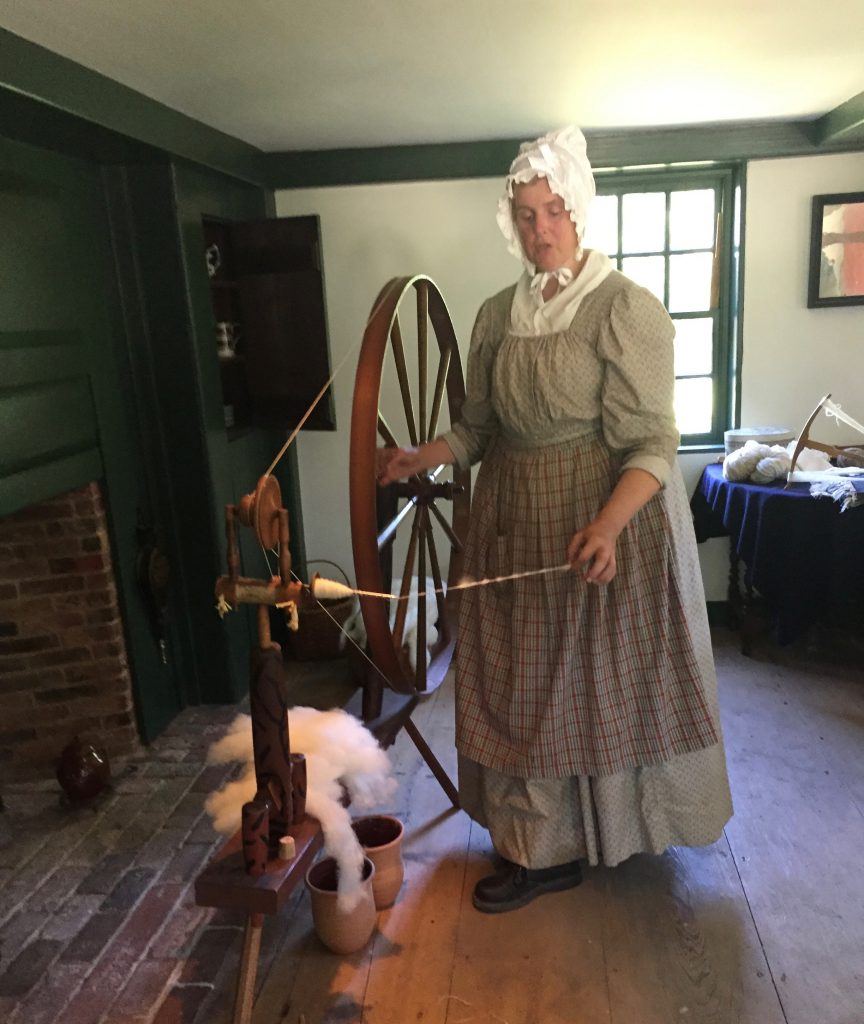 next door, we learned a little about doing laundry back in the day. each kid took a turn doing a bit of agitating.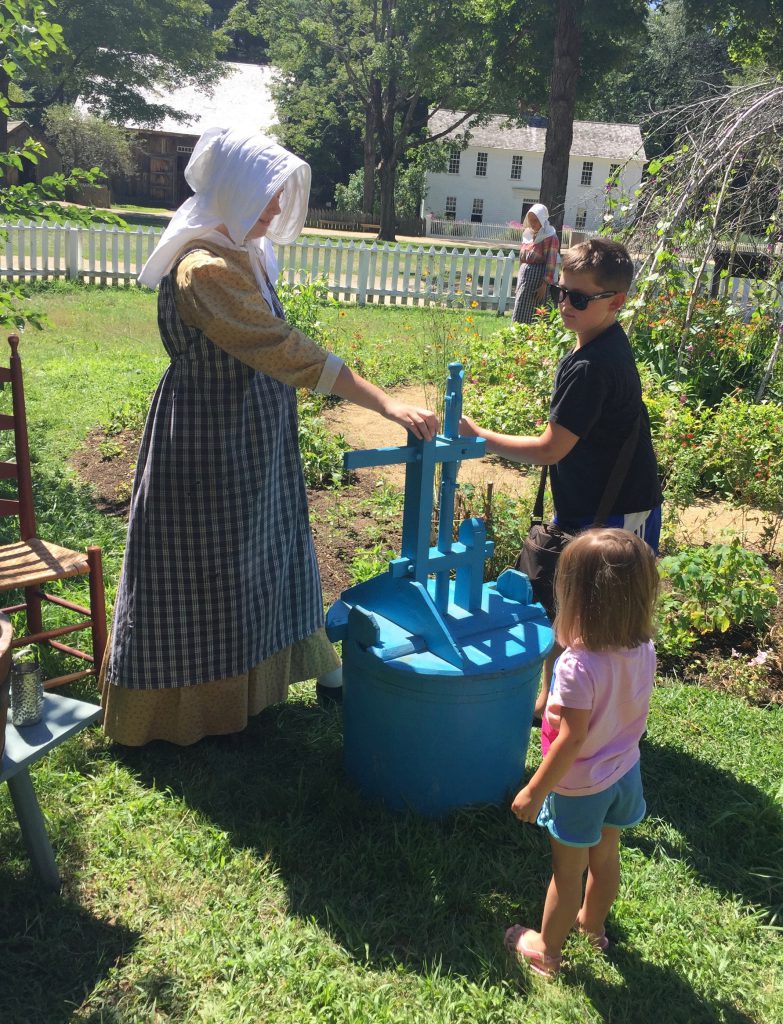 inside another house, there was a little dress up area, which is right up anna's alley. hazel and isaac politely declined.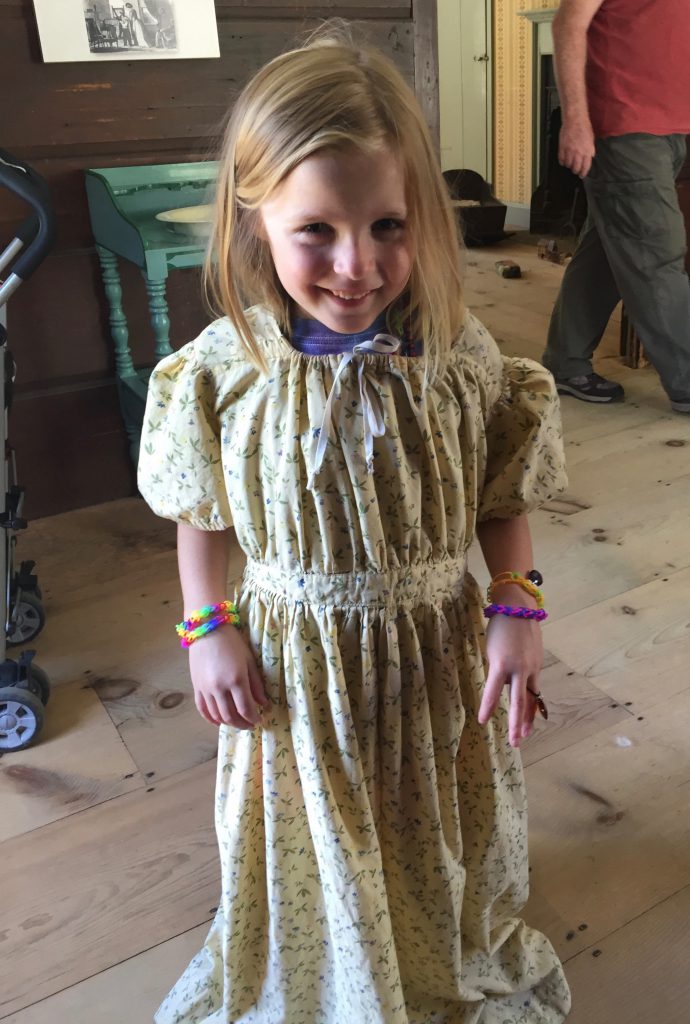 eventually, we found the playground and stopped to run around for a bit. the kids thought this little mini school house was cool.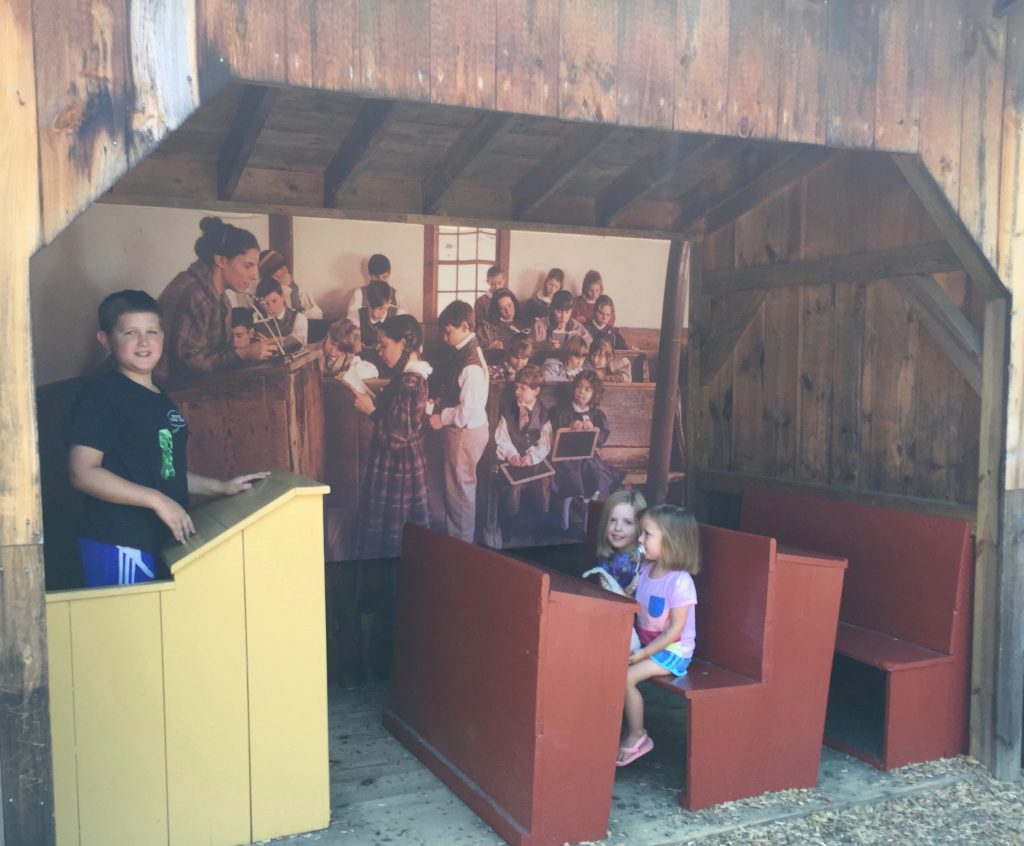 this photobooth might be the best one of all time. the kids expressions crack me up.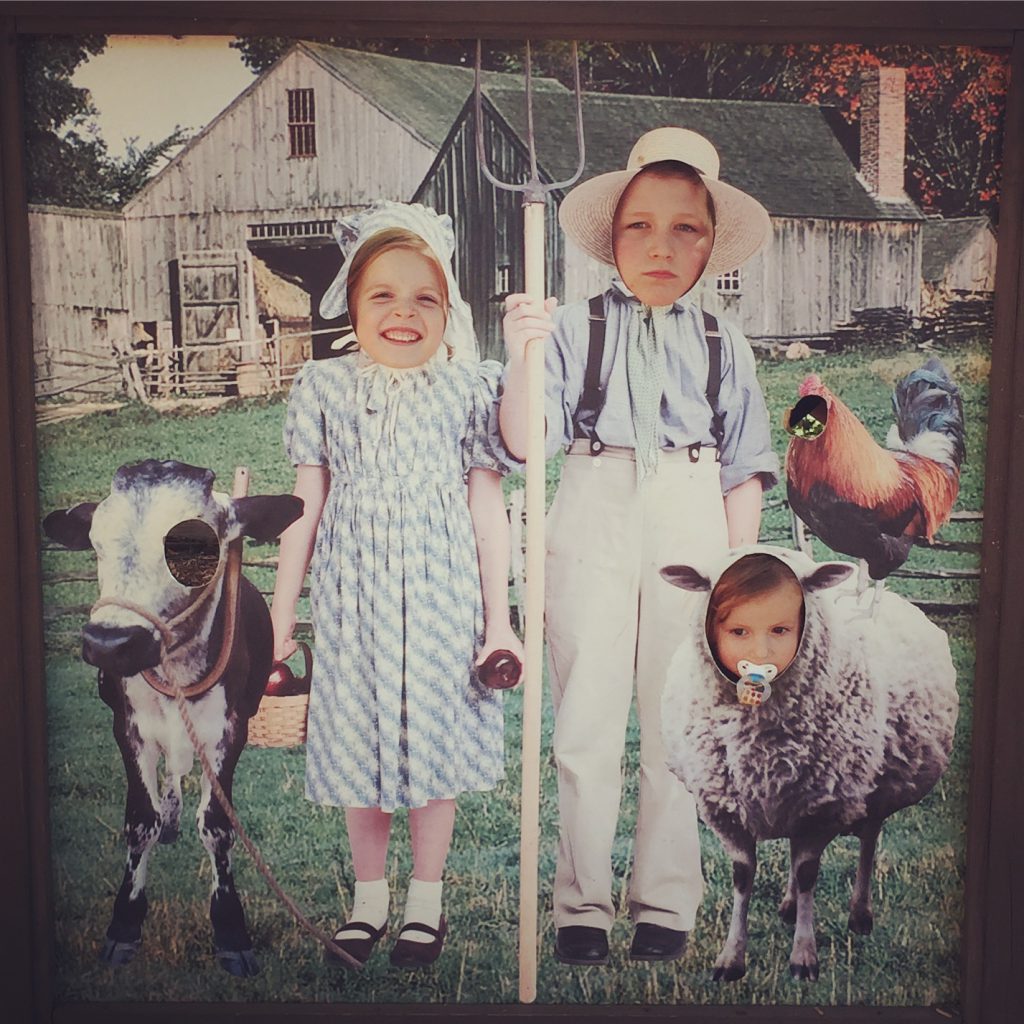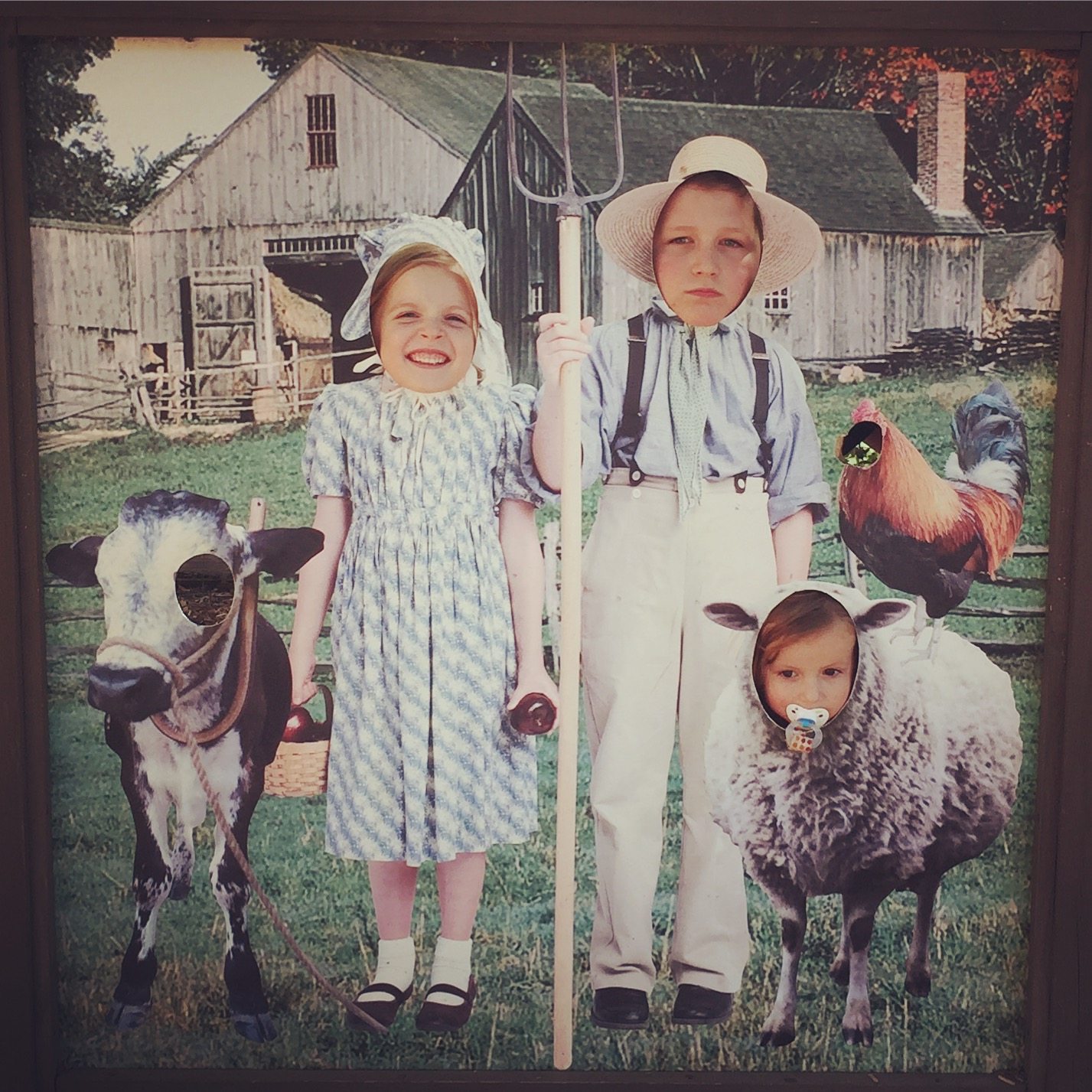 after awhile, we wandered on and happened upon a wagon being pulled by horses, so we quickly hopped on. wagon ride selfie: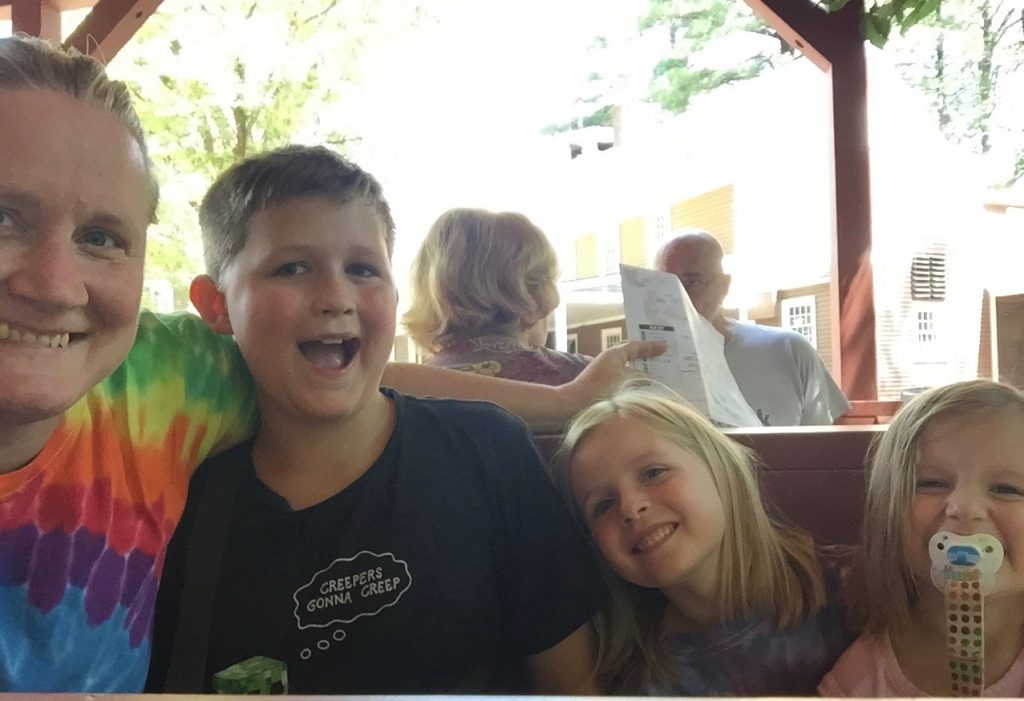 about halfway around the wagon ride loop, we stopped at the blacksmith shop and the kids were grumpy when i made them hop of to check it out. but it turned out to be pretty cool. isaac talked about minecraft mostly. the younger apprentice guy was all about it. they older fellow there had never heard of it.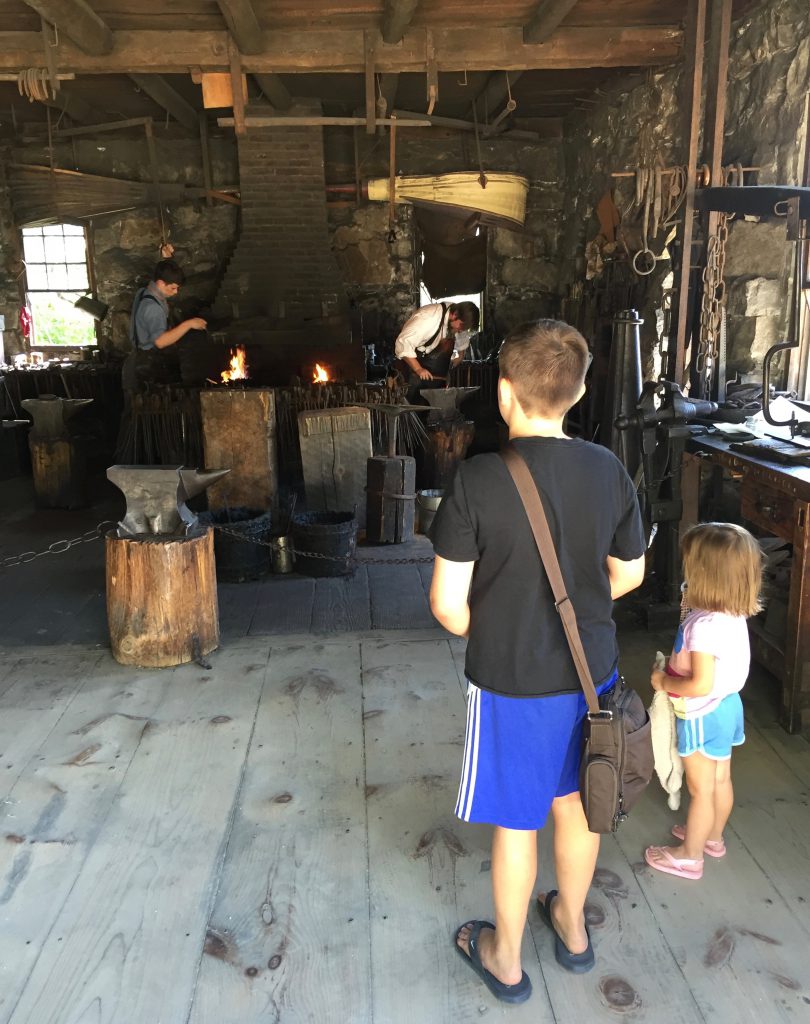 on the way back (walking, to my kids dismay), we went through a cool little covered bridge.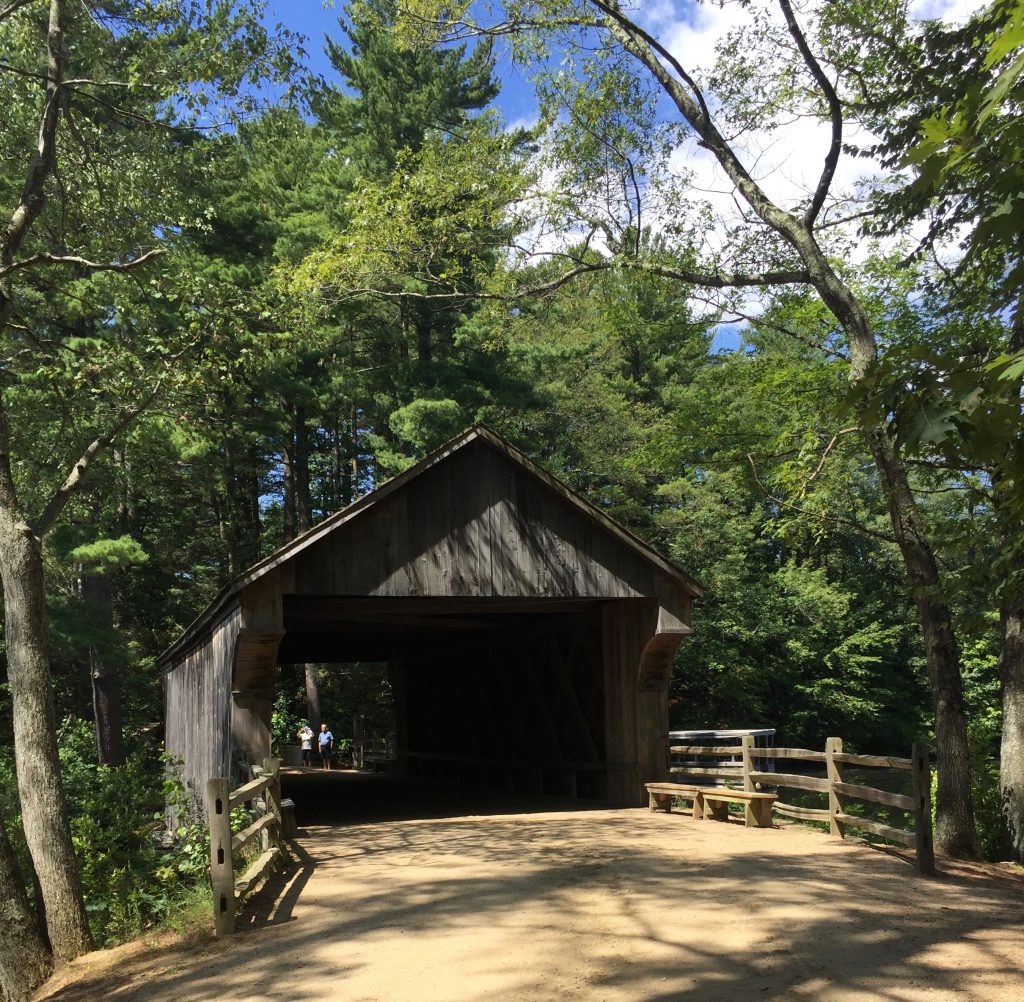 coming out, on the other side.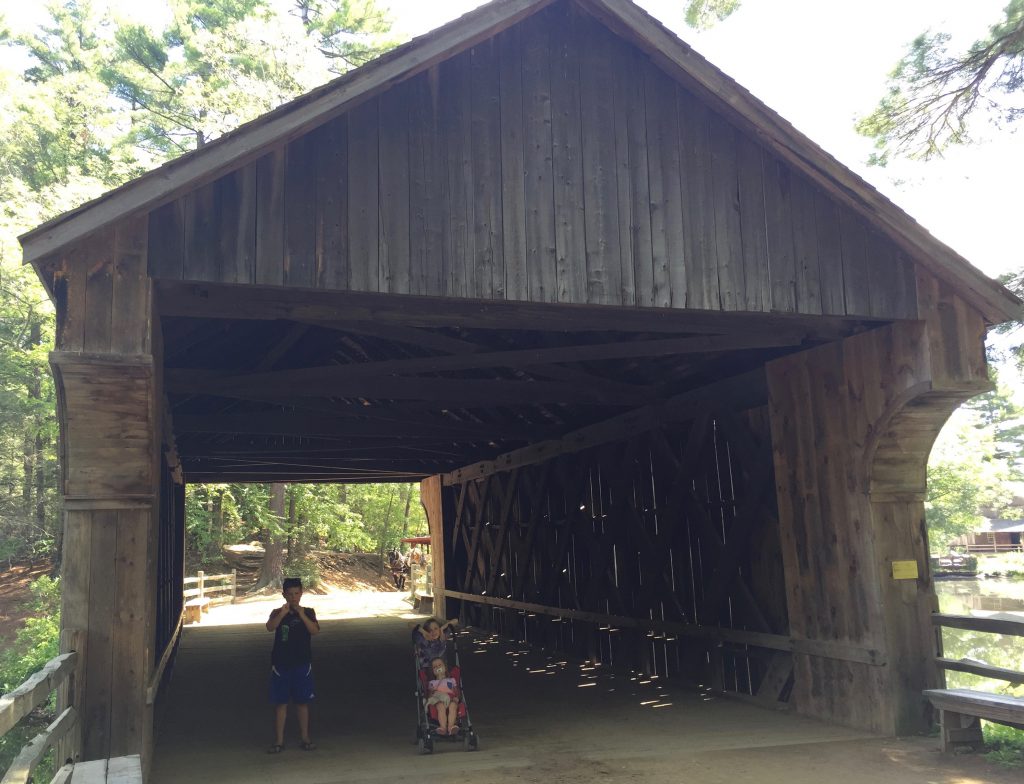 we made an executive decision at this point, that we would come back on another day. there's free admission within ten days of your original visit, so we skipped out, knowing that we could see the rest of the exhibits on another day…
on the way out. these flags.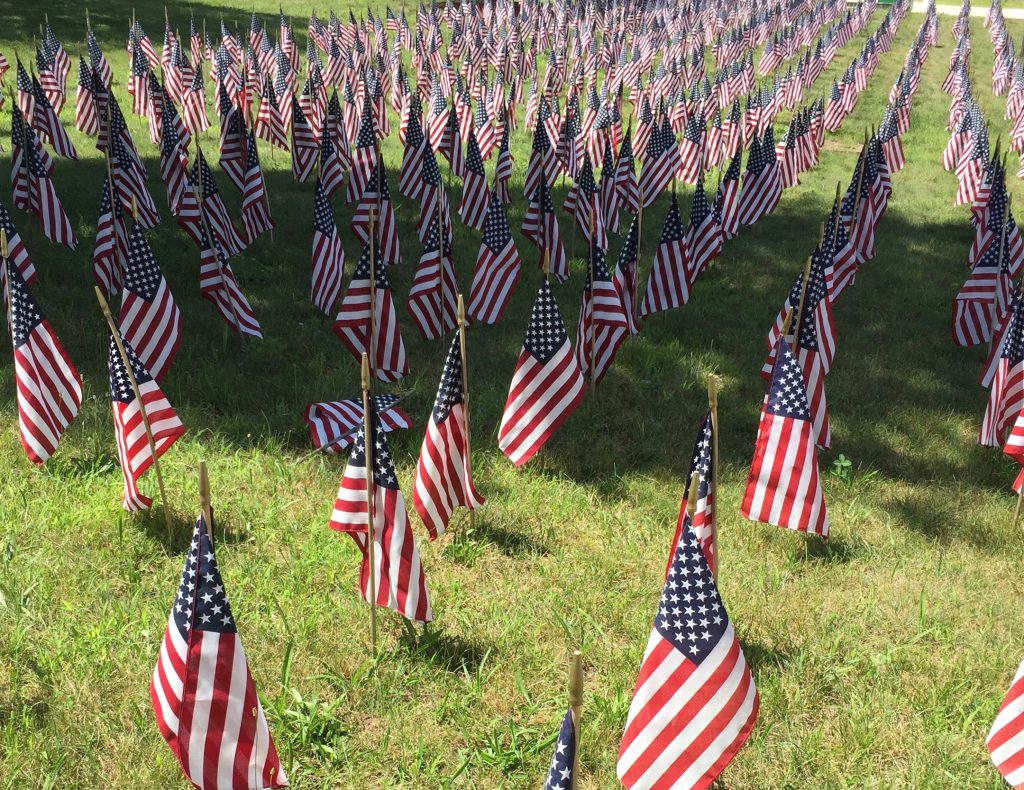 ok. so fast forward. on friday night, we found out that we could go to the next campground on sunday. with that new information, we knew the only day we had left to use our free trip was saturday. so, we dragged derek along for another day at old sturbridge. (and, bonus, he got 25% his admission for being our "guest").
isaac was SOOOO excited to show of his wool carding skills. (btw, carding is getting all the fibers in one direction and getting out the knots and mats).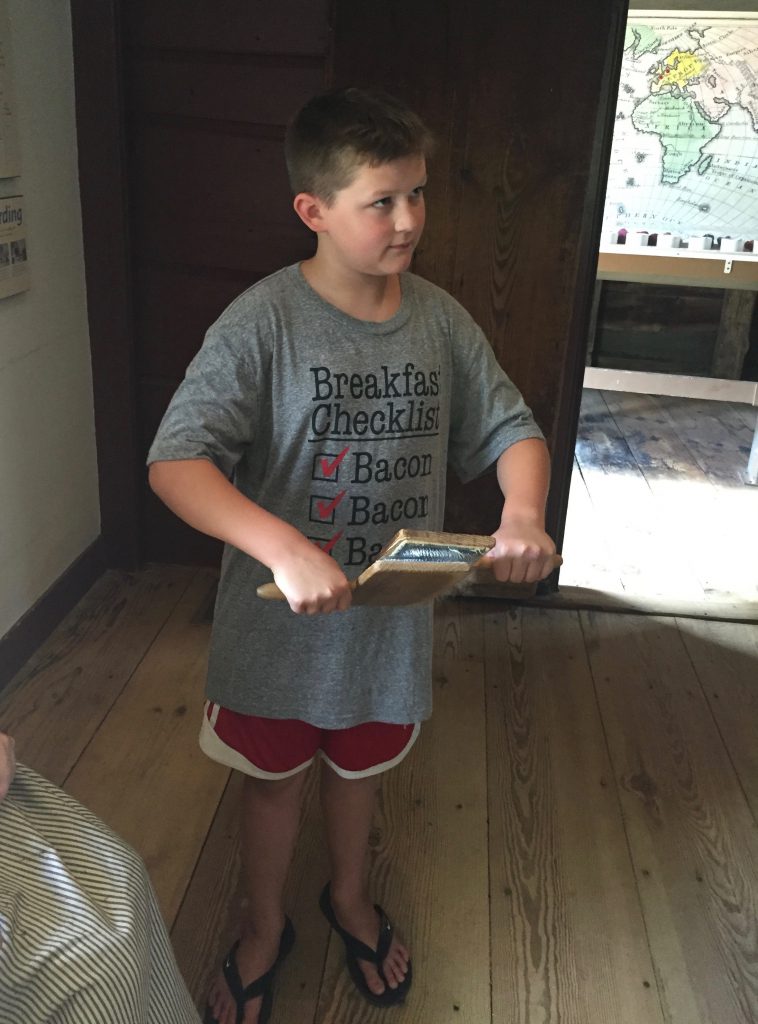 i had to run after an escapee, and on the way back noticed anna peering out the window at us.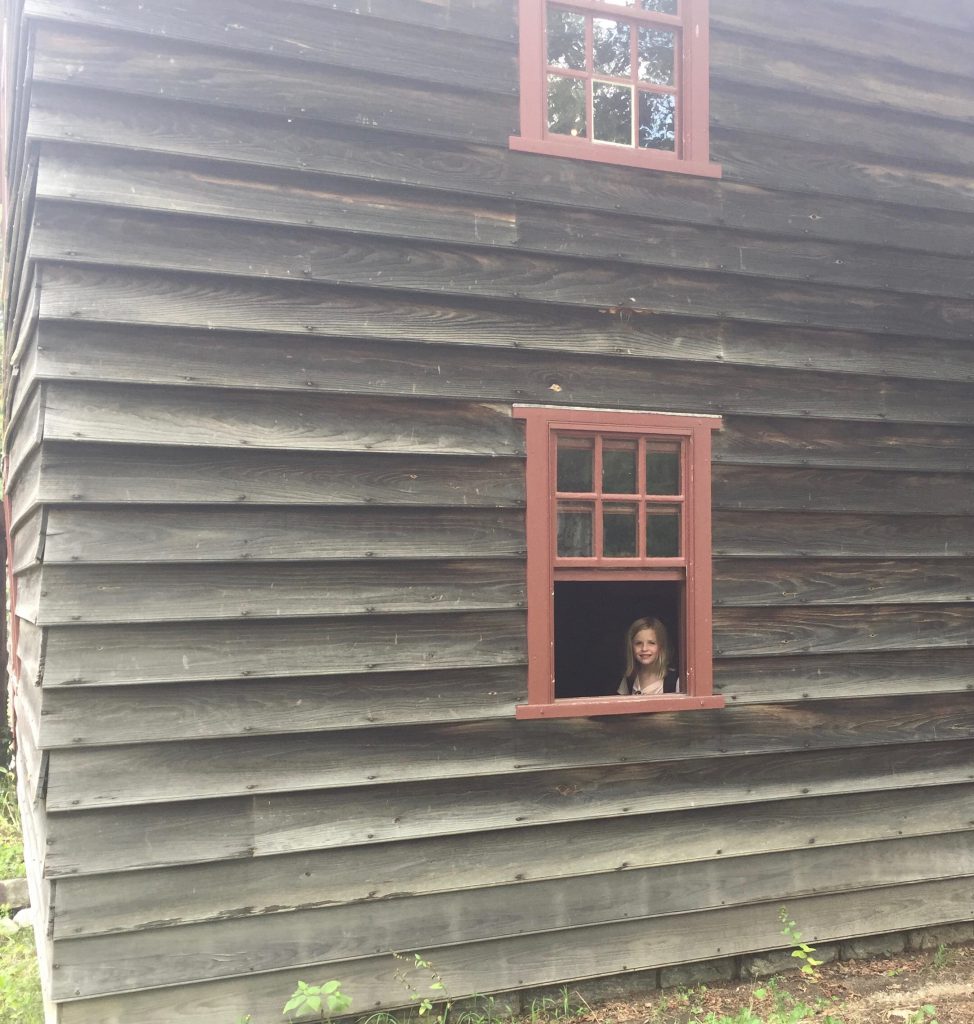 anna, doing a little carding now. and i actually took a pic.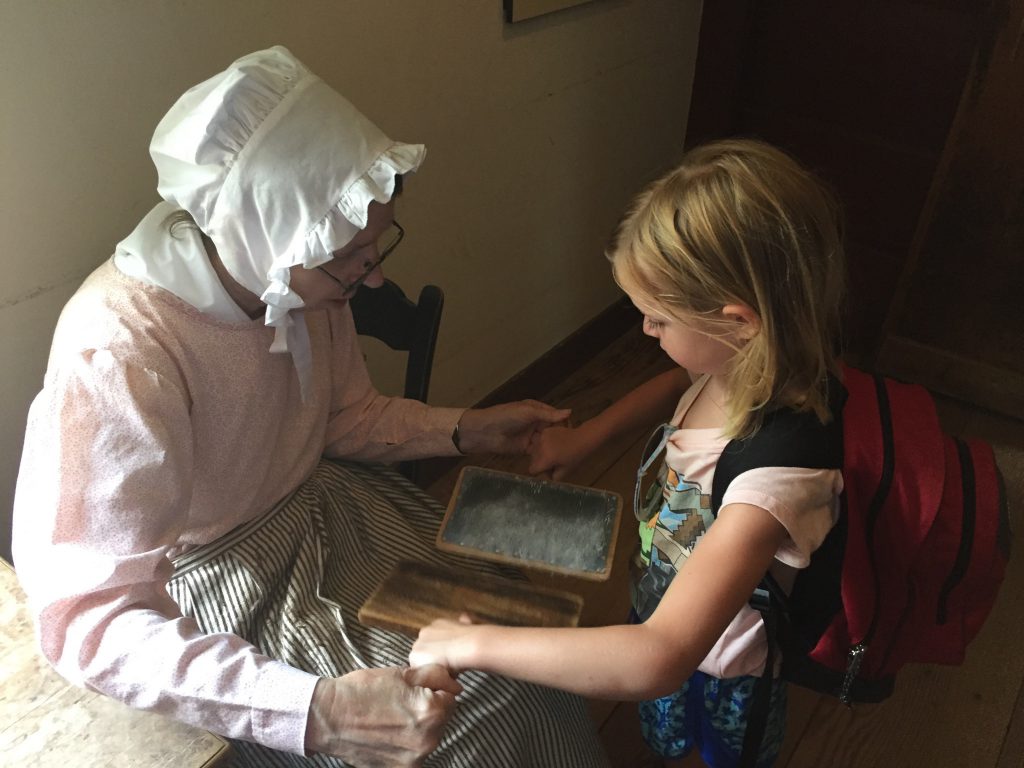 we came out just in time to see some paper hot air balloons being sent off into the sky.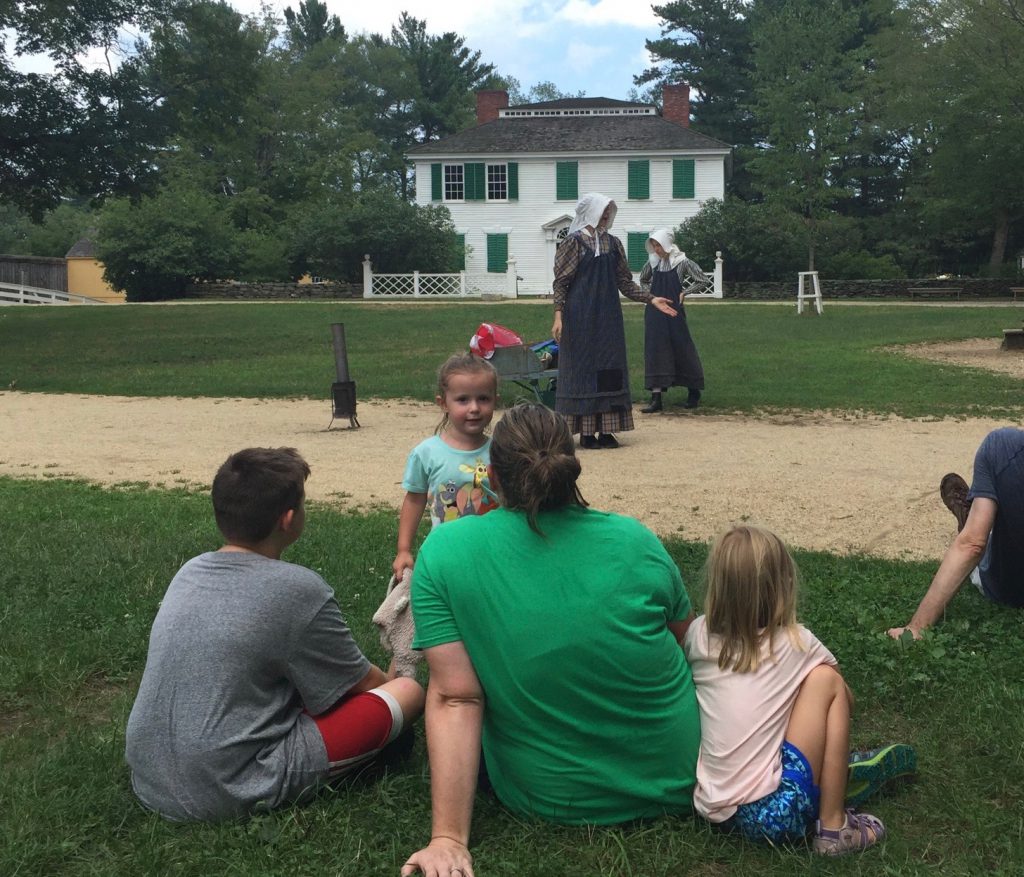 lift off.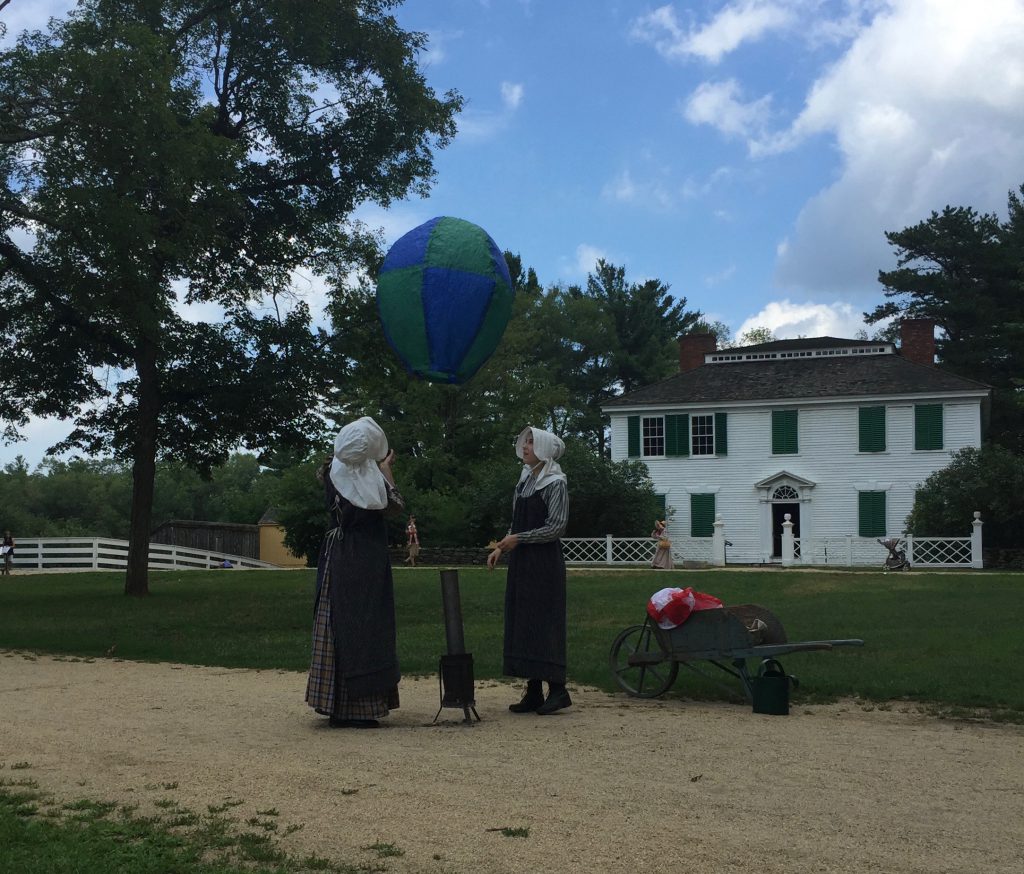 i'm pretty sure this was the highlight of hazels day.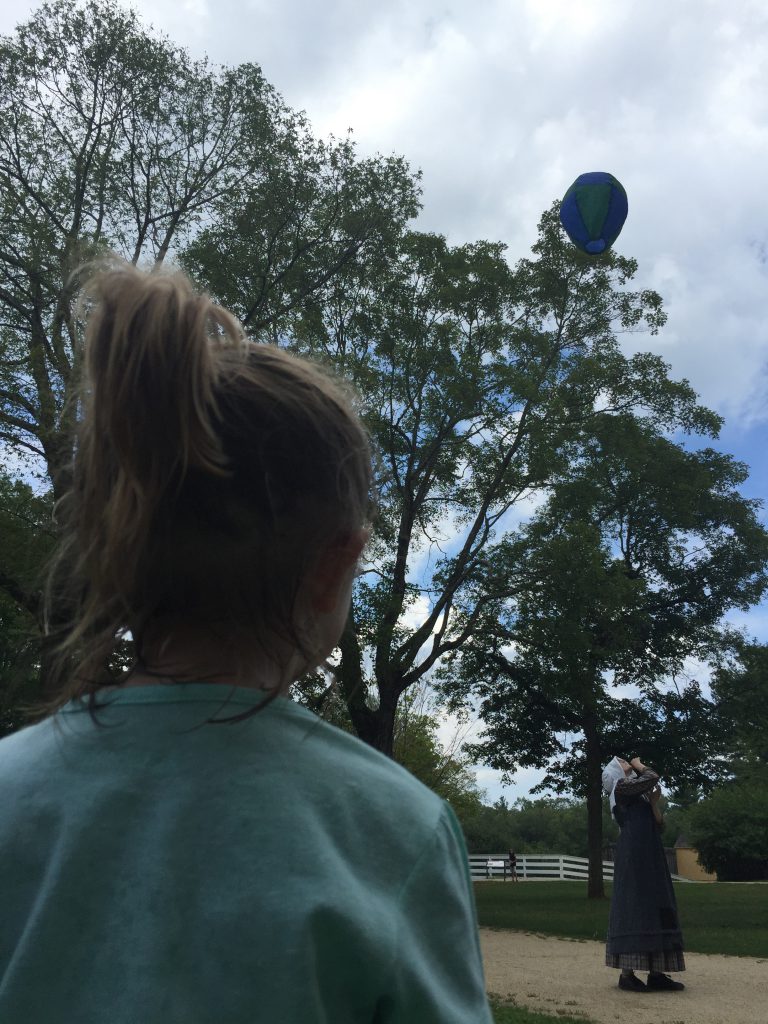 lift off number two.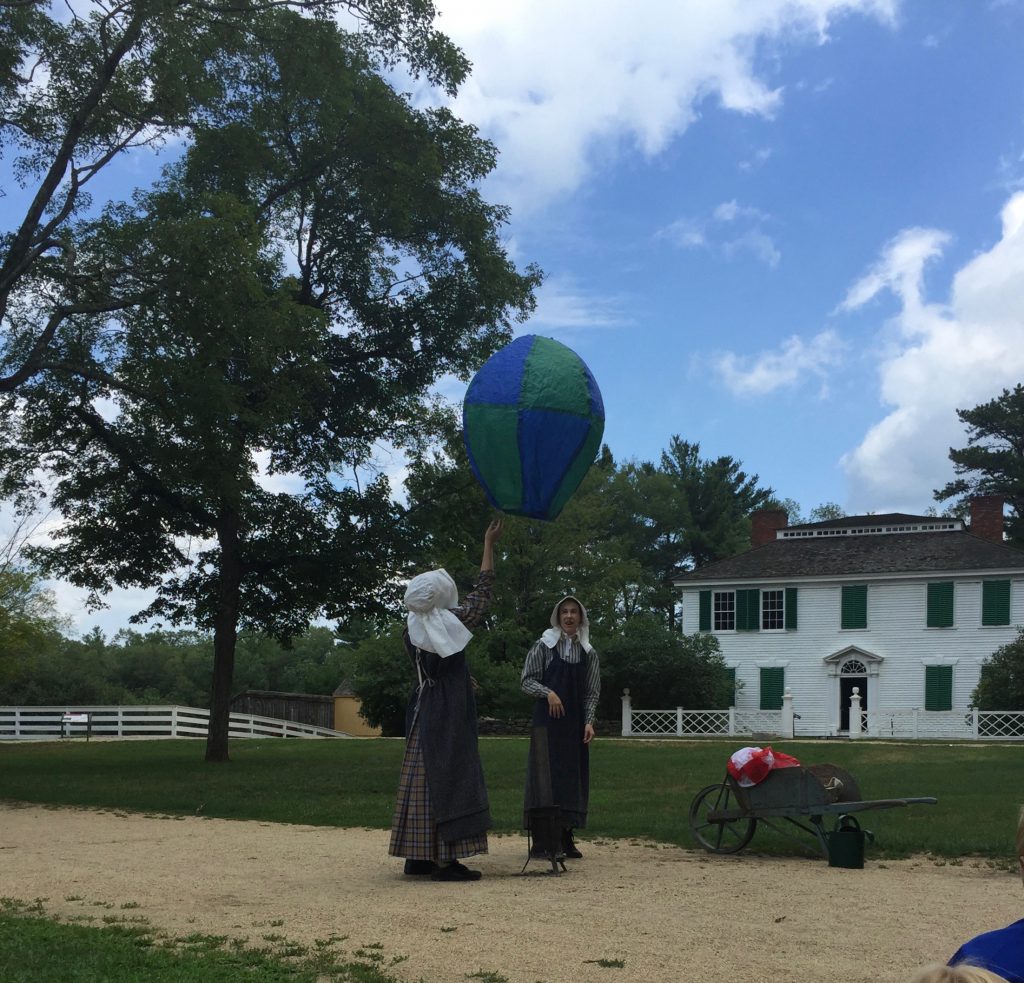 very seriously watching the two girls chase down the balloon as it floated down.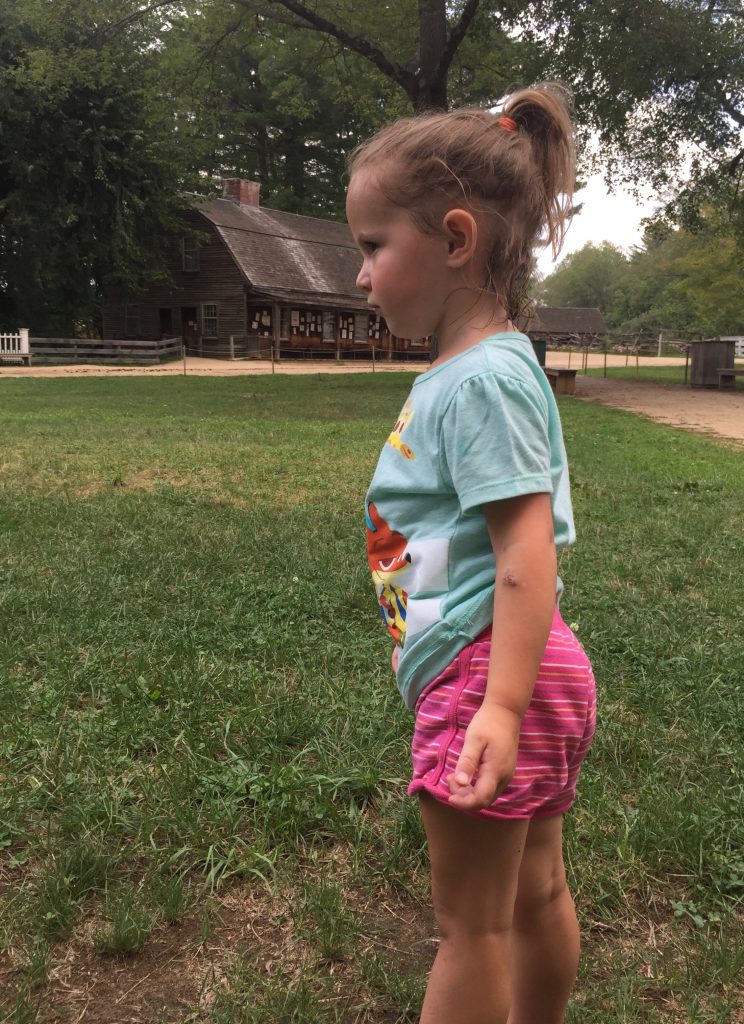 the hot air balloon presentation came to an abrupt halt when a musket shot rang through the sky. everyone quickly shuffled off to see what was going on. this guy was giving a demonstration on loading and firing a musket.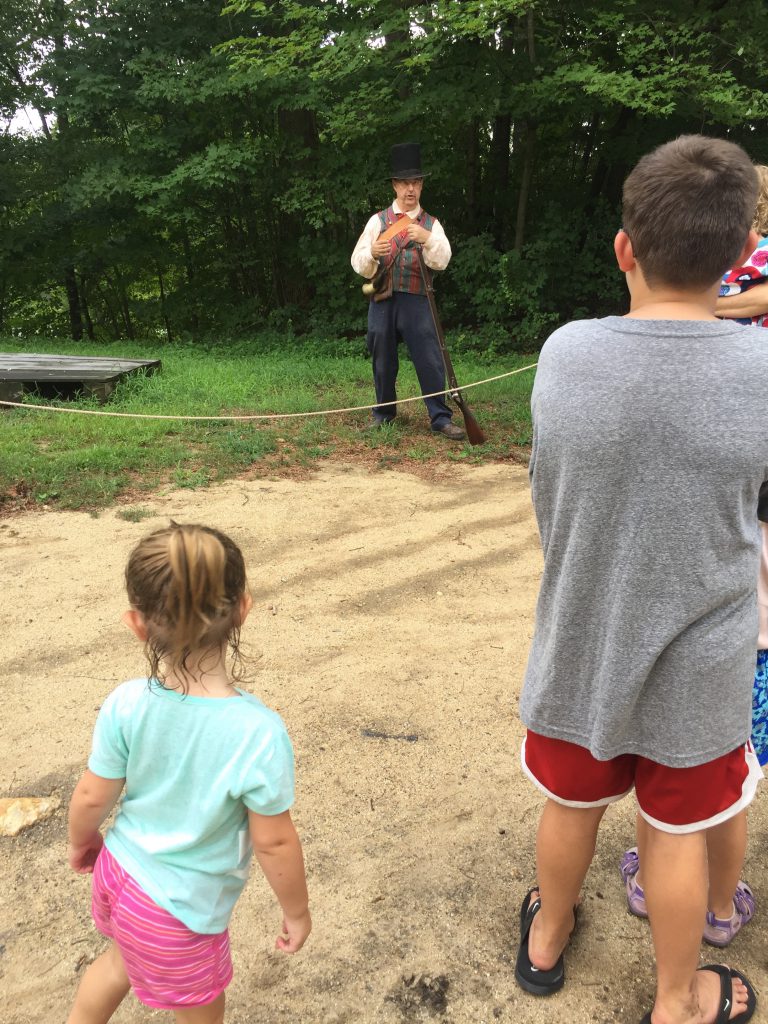 it was very loud. 🙂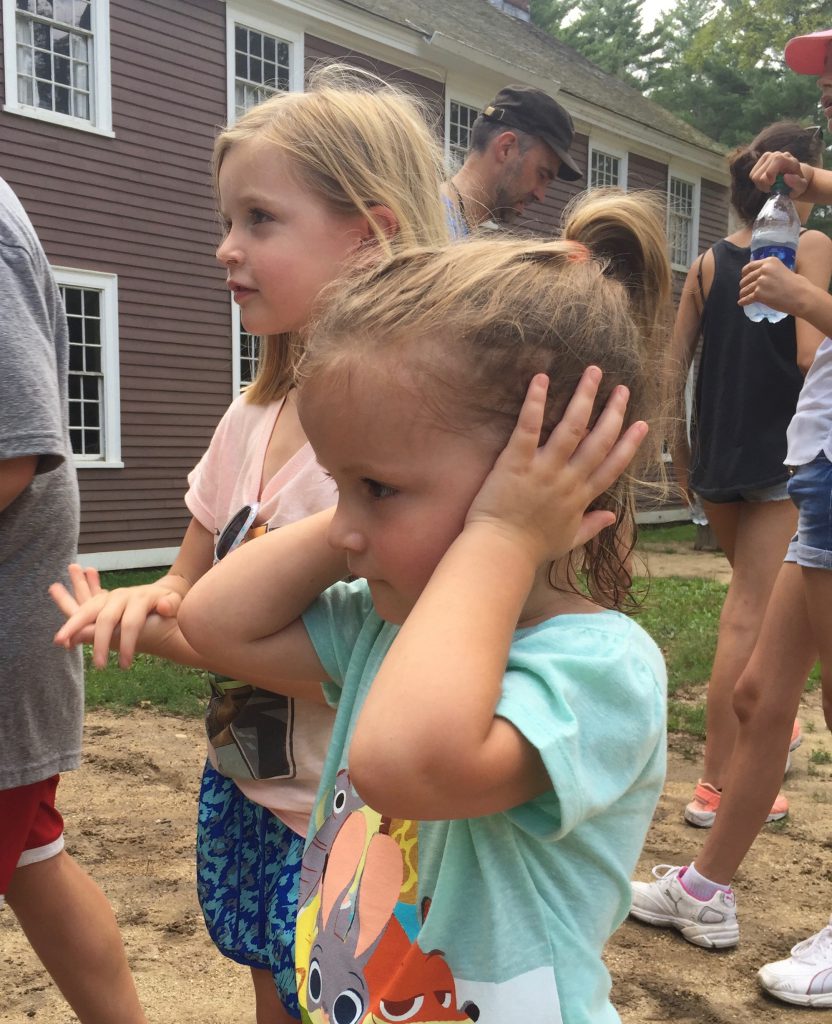 after 6 or 7 shots, we made our way back to the blacksmith's, at isaac's request. we passed by this view of the covered bridge from the previous trip.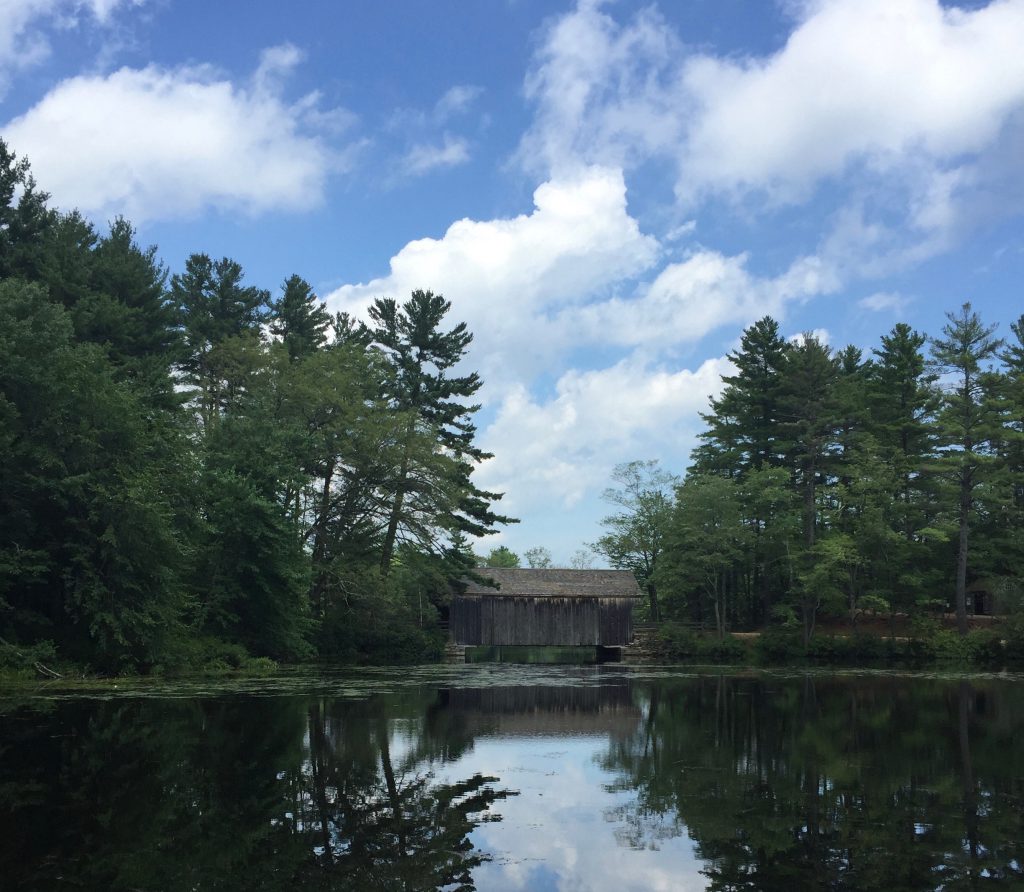 on the way to the blacksmith's, we wandered through a house, where a stewed meal was being prepared. firstly, there were flies EVERYWHERE. bleh. secondly, it was already like 90 degrees that day and it was even worse inside with the fire. and third. they boiled cucumbers. gross.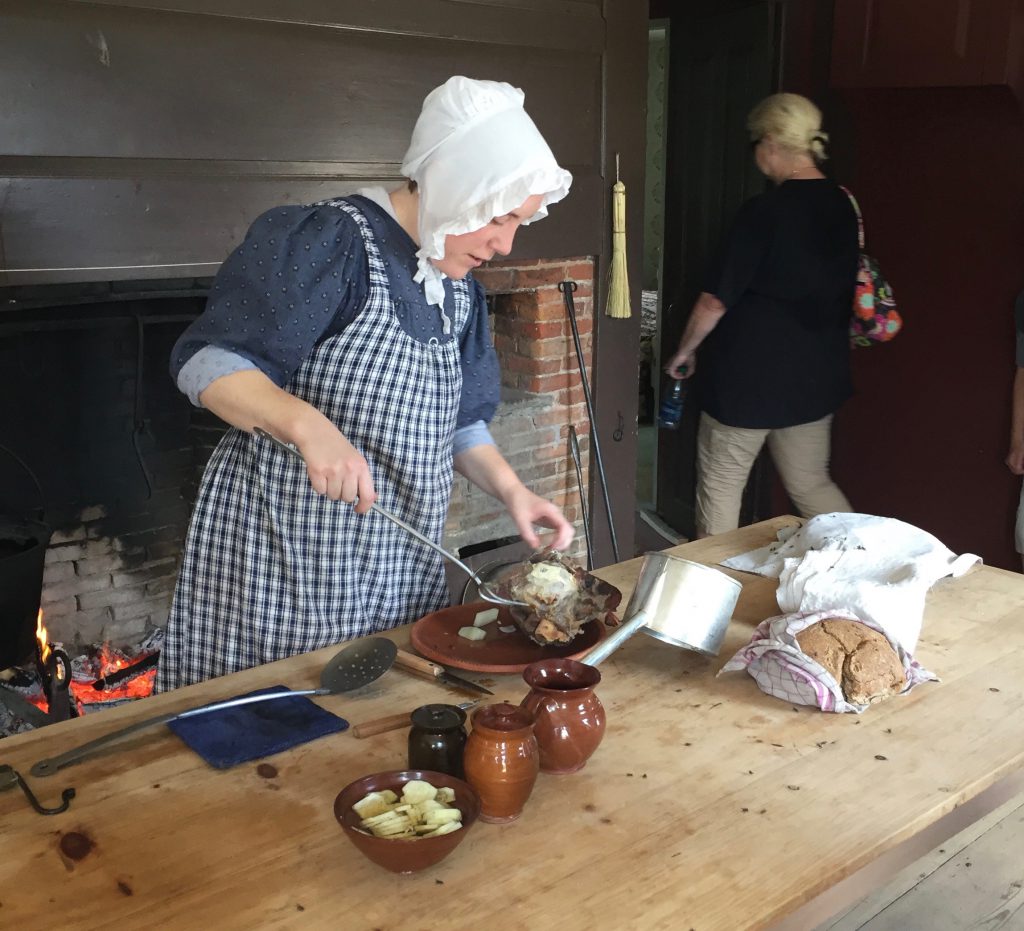 the blacksmith. he was a little more, um, quirky than the last guys. he was all over the place and even stopped to tell a story about a tall friend who always makes fun of how short he is. anyways, hazel had a pretty good meltdown shortly after our arrival, so we left.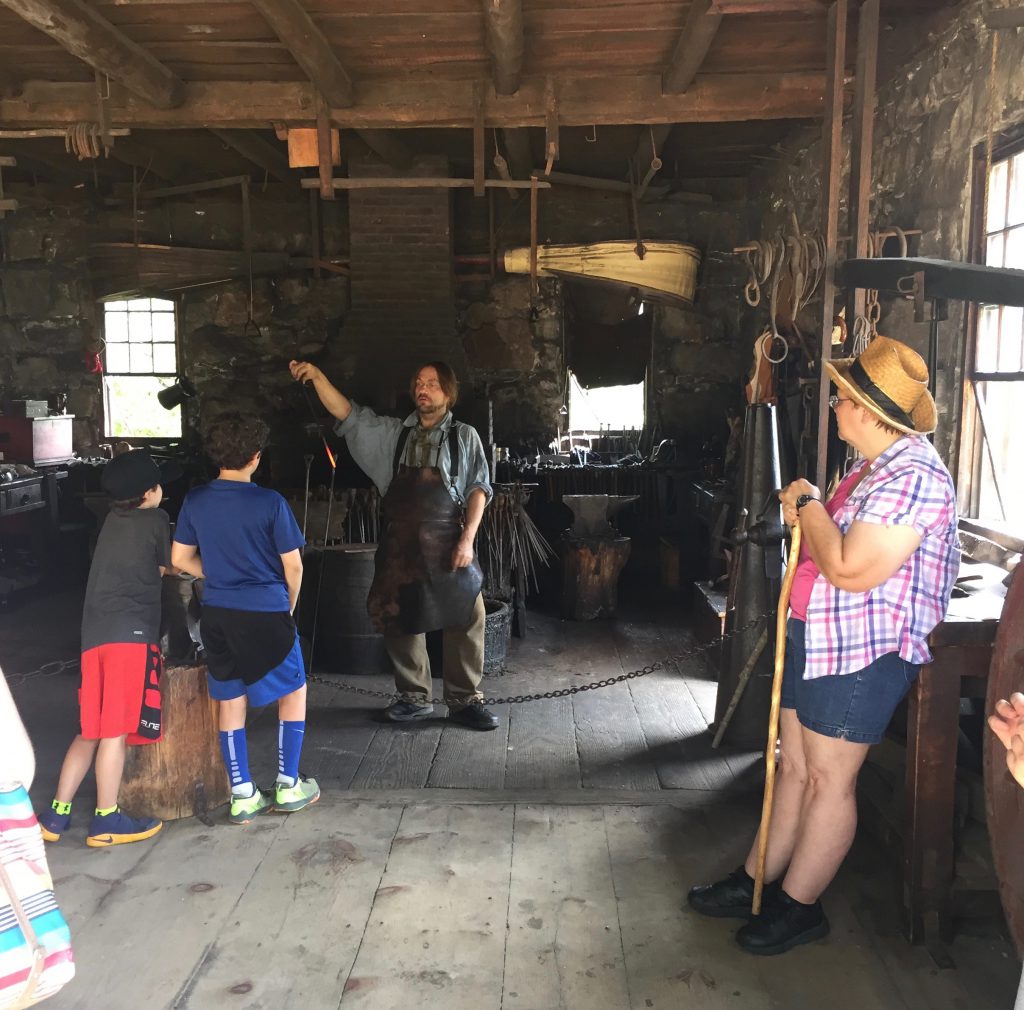 we went to the bathroom, filled up with and rinsed off with ice cold water, and kept on moving. at a farm house, we saw some more cooking and baking (and heat and flies). this pie looked good, when it wasn't crawling with flies.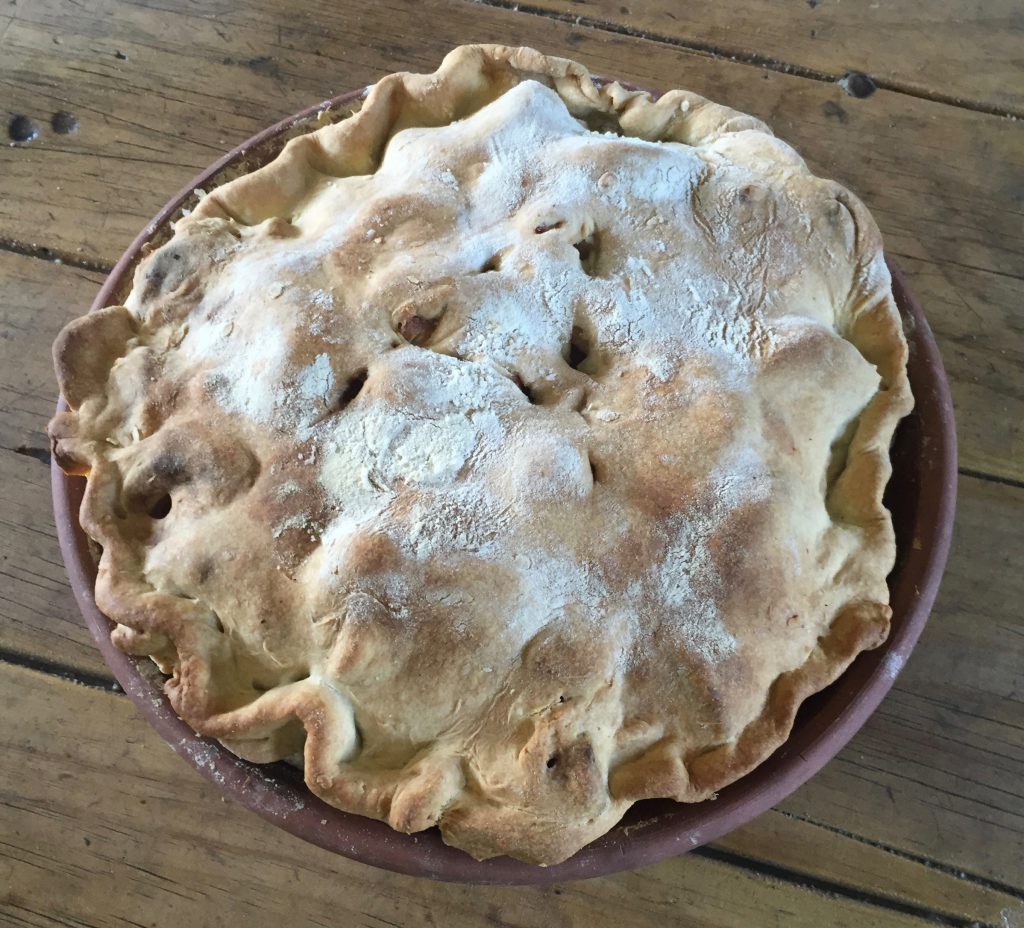 pigs.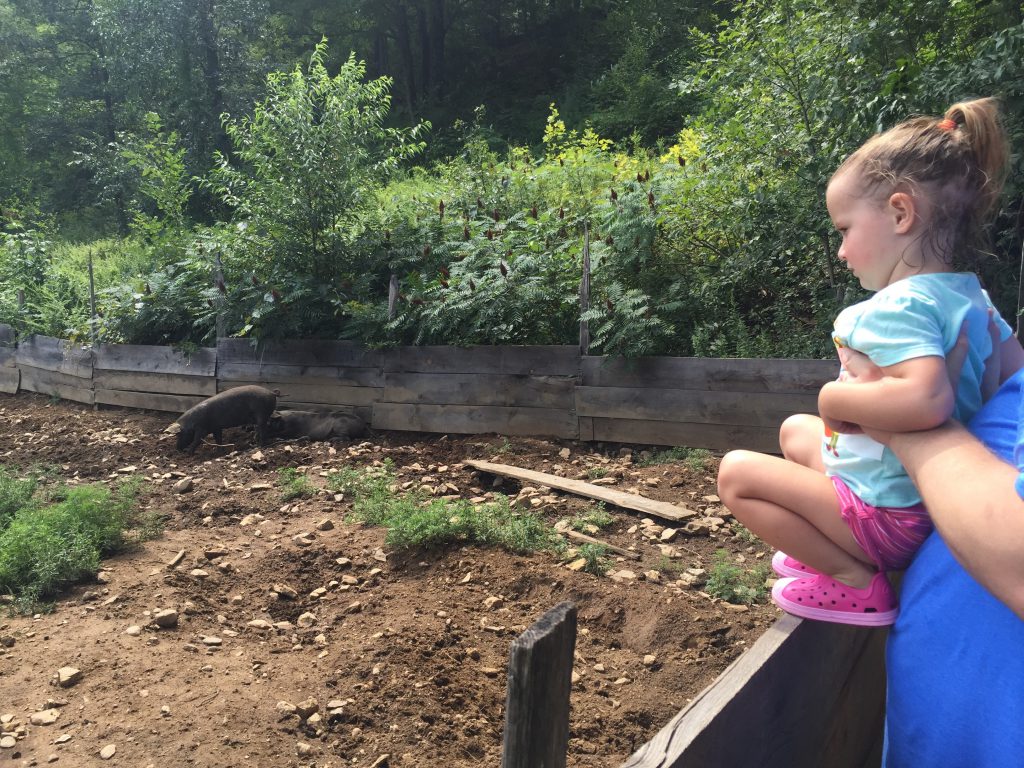 the view on our walk back towards the "town" part. the blacksmith and farms were a good little stroll away from the main area.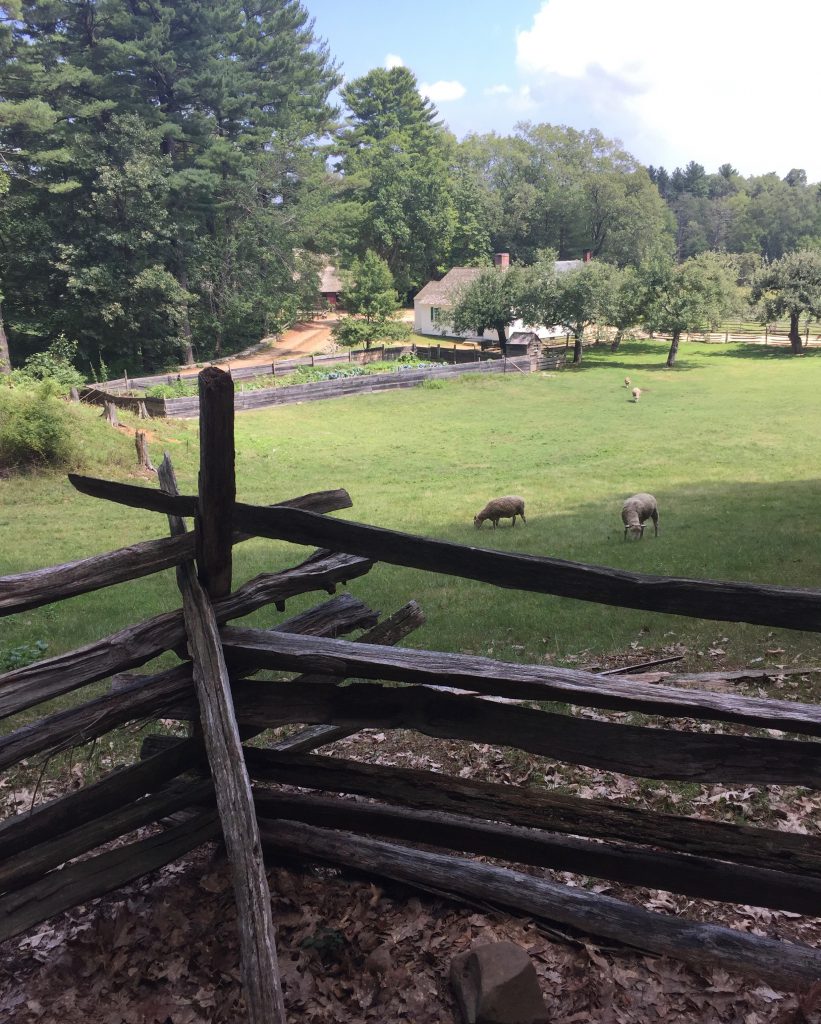 back near town, we stopped at the potter. so cool.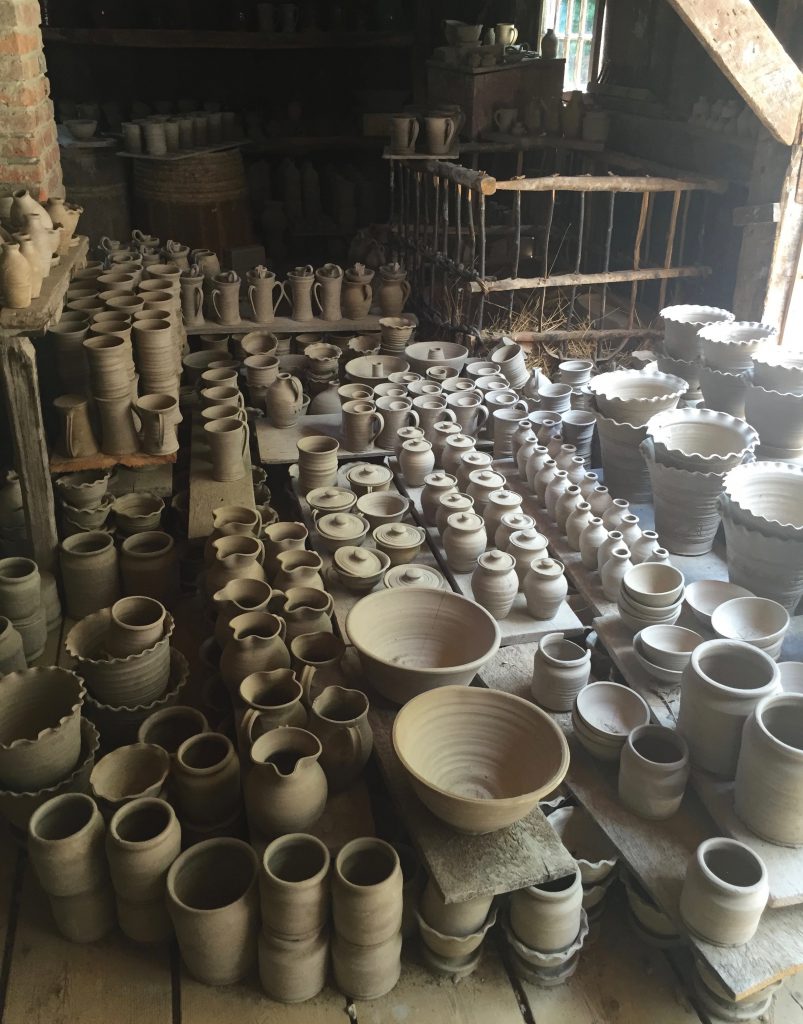 here's ike, checking out how the wheel spins. the potter was a pretty cool guy.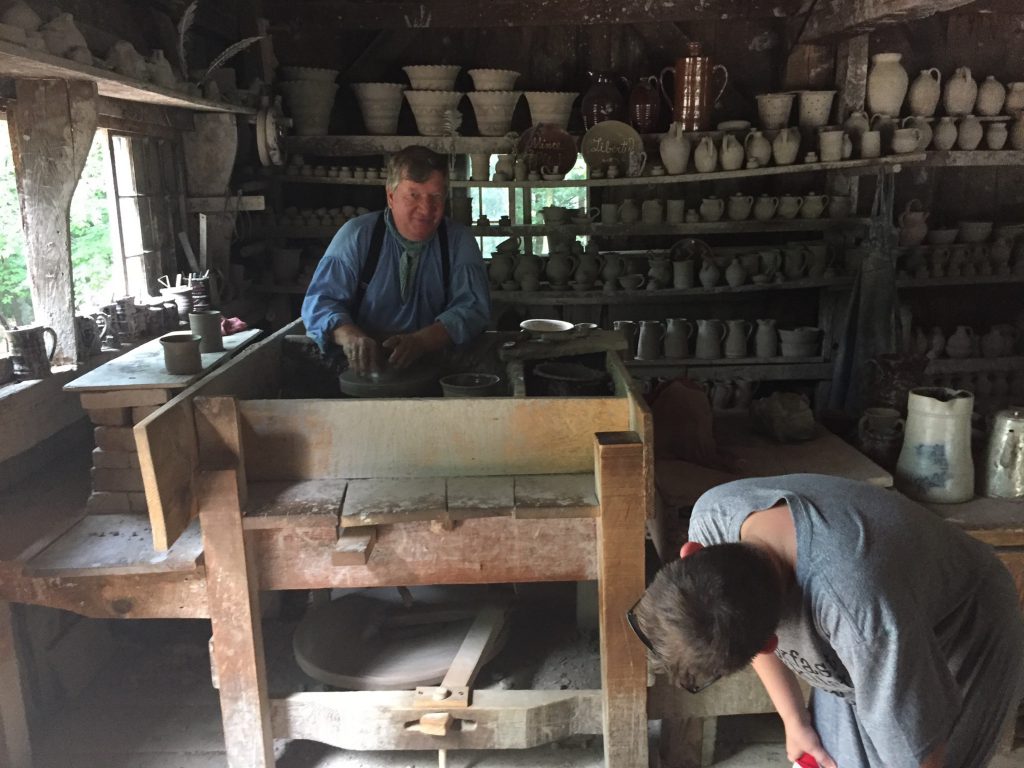 the kiln.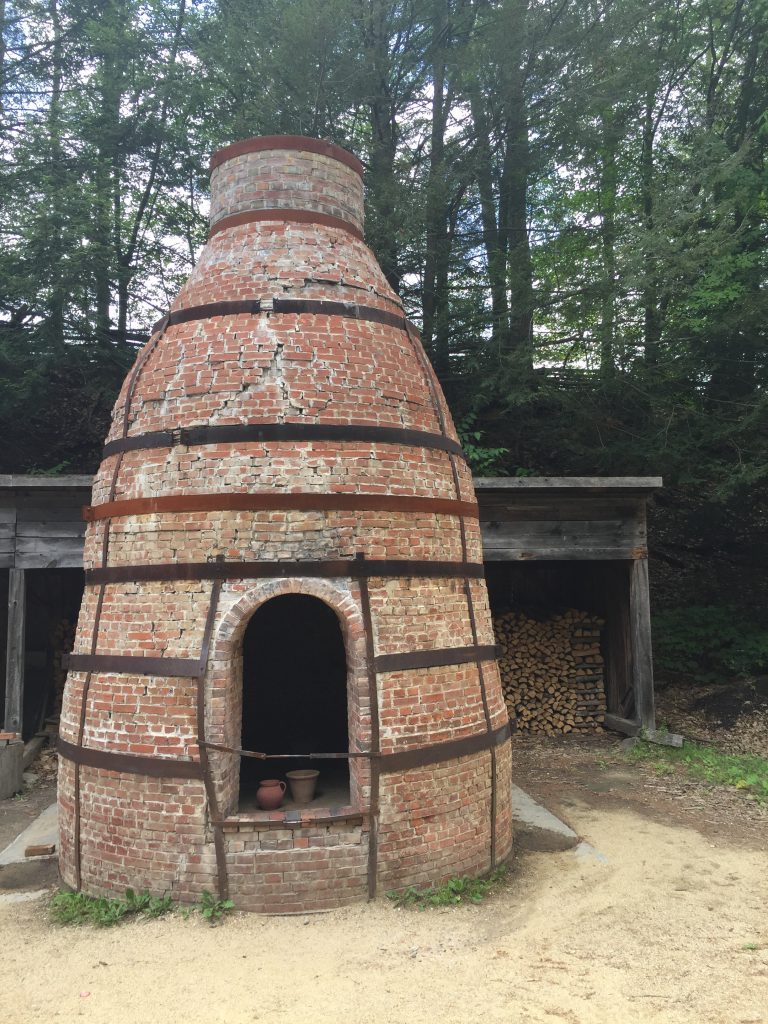 and, the school. there was a sign that talked about how school was available to everyone but not mandatory. what a concept. 😉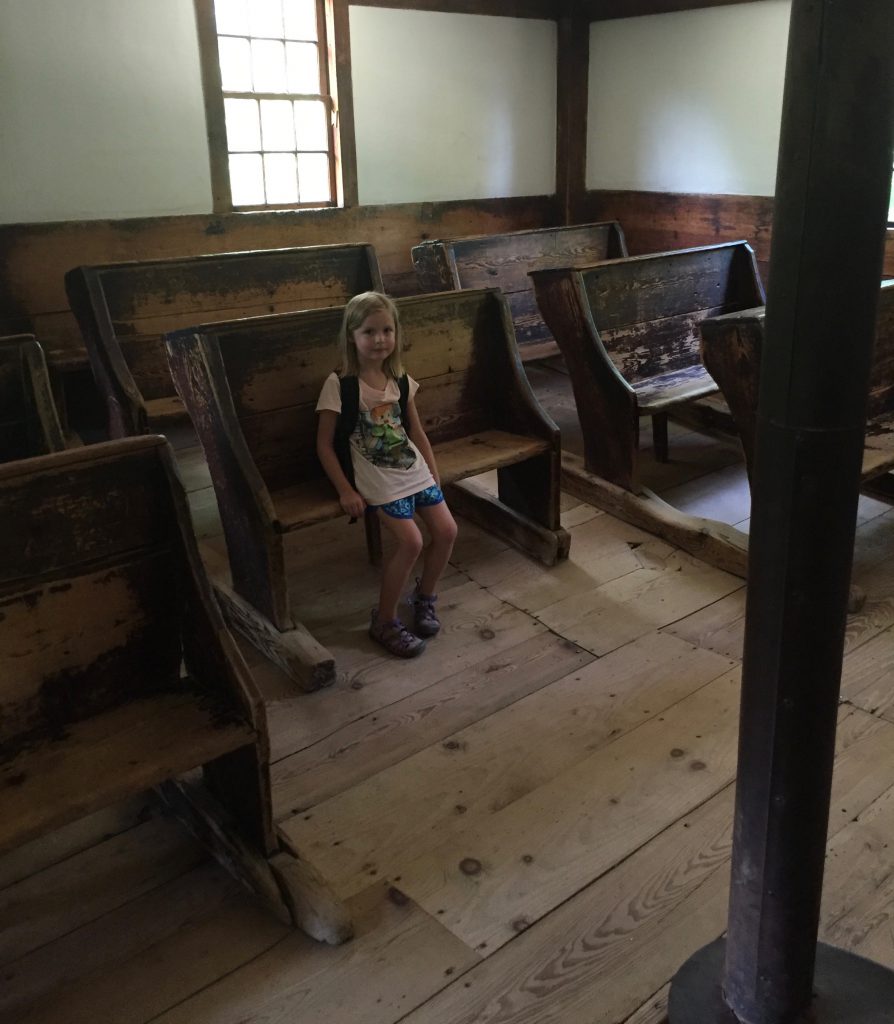 outside the school, there was a frenzy of kids, attempting to use stilts. hazel gave it a try, and was a raging success, with a little help.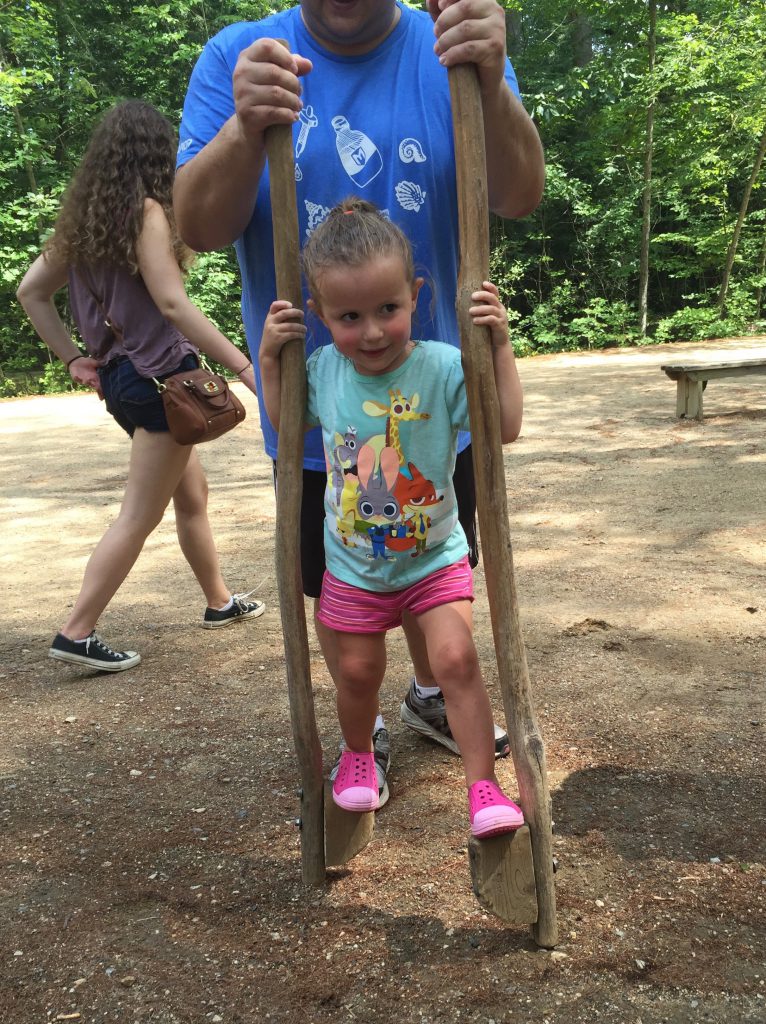 shoemaker. cool.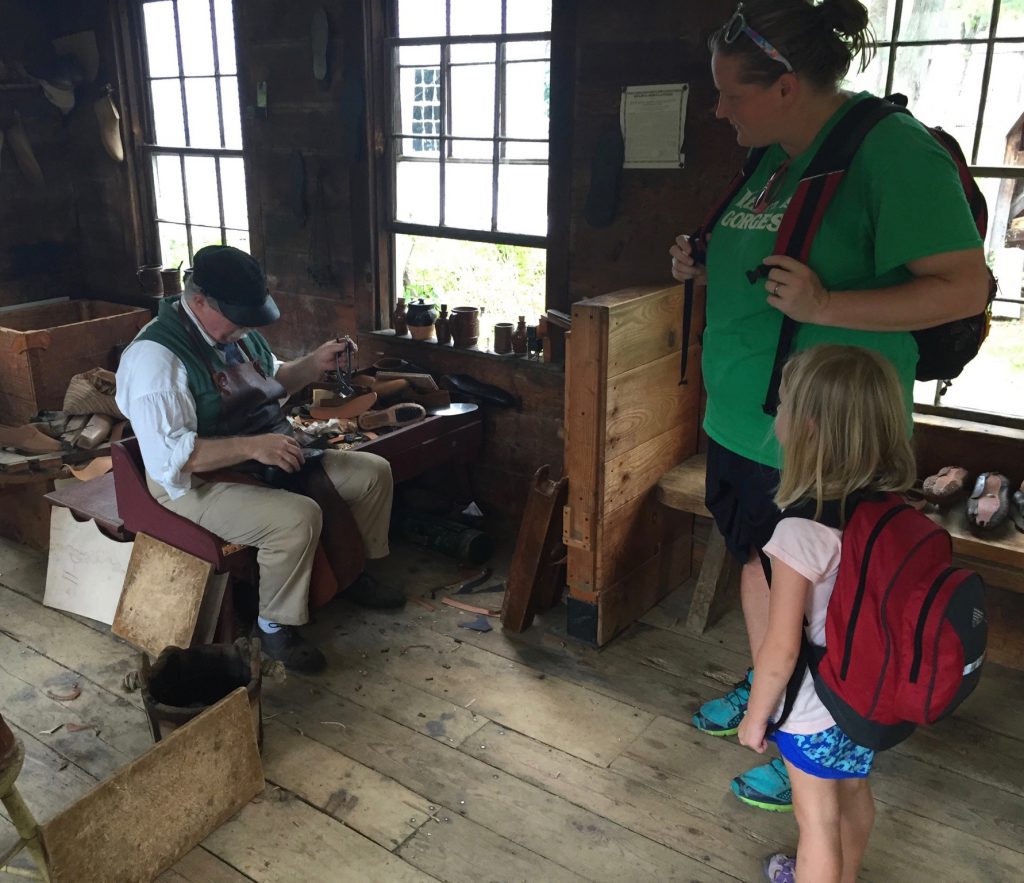 at this point, we were drenched in sweat and the kiddos were getting restless. so, we stopped for some delicious ice cream, which always gives us a second wind.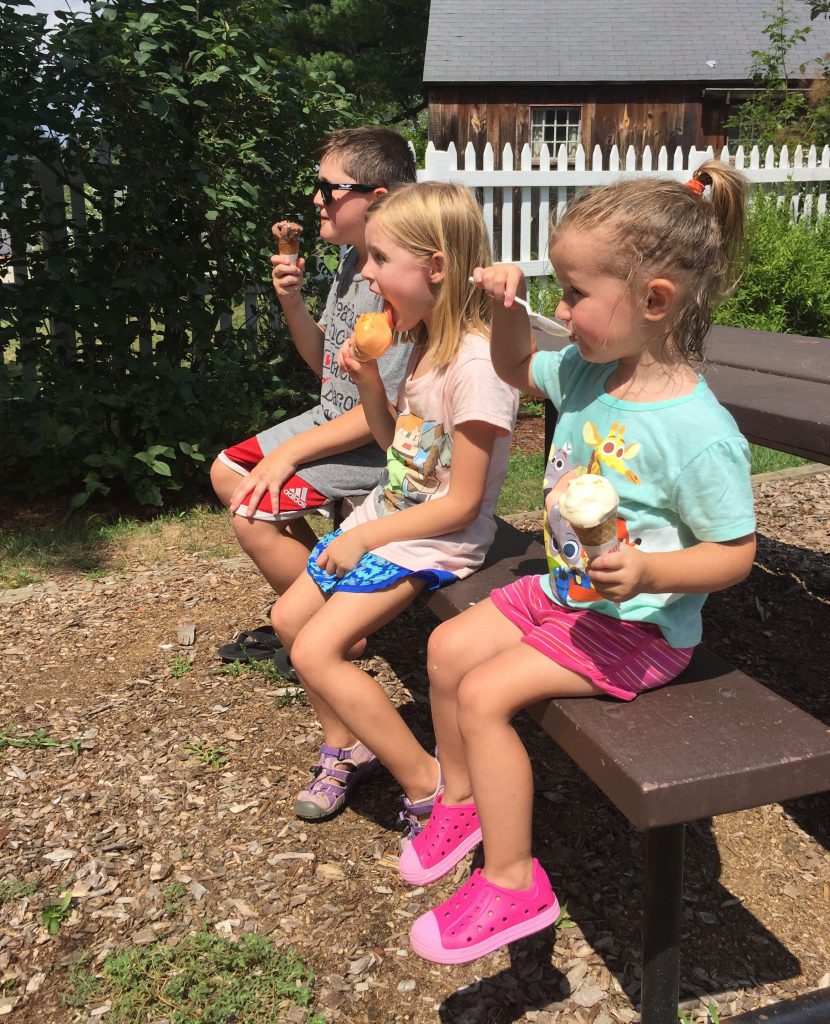 i took the girls to the playground, while derek took isaac off to find a geocache. here's isaac pointing out his big find.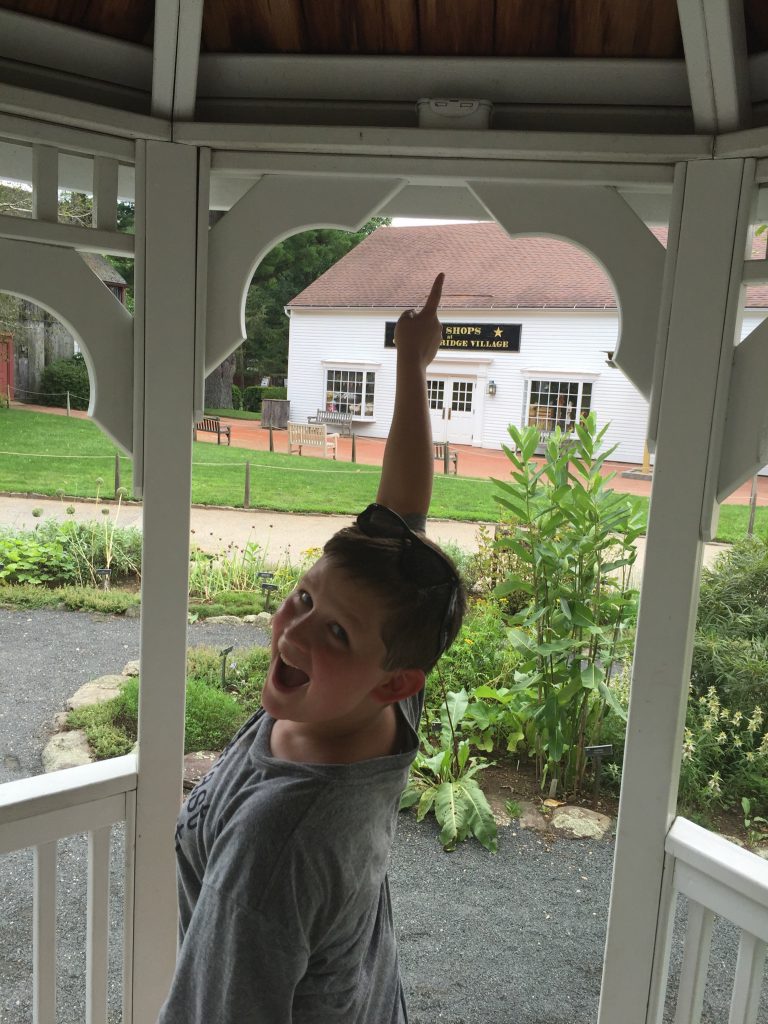 back at the playground, the kids and derek took an updated photo at this booth. nerds.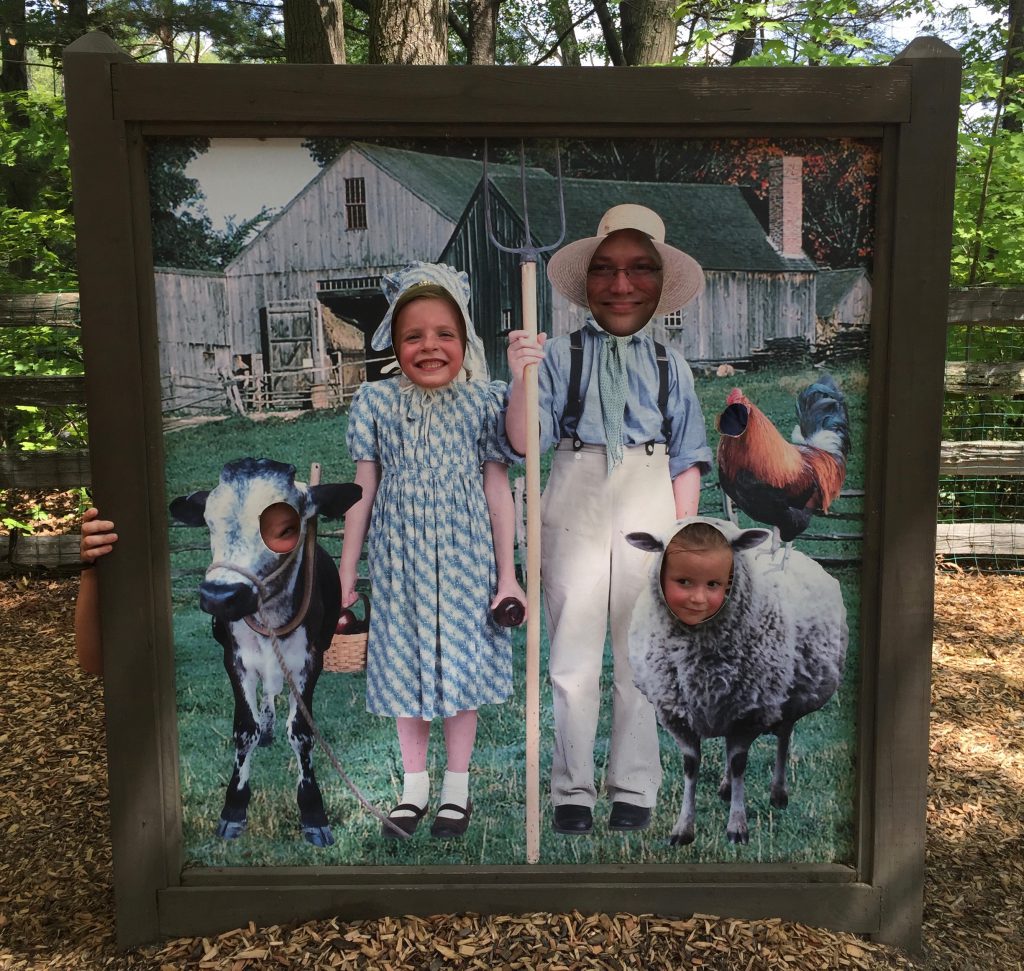 we spent a bit of time in the gift shop and as we walked out, we noticed ominous gray clouds rolling in. we made it to our campsite, just as the skies opened up. anyhow, i feel good about our two day adventure to old sturbridge. and i think the kids might have even learned something. maybe.