for our last great maine adventure, derek took off work so we could spend a day hiking and canoeing in baxter state park. but first, we needed to fill up on a big fat lunch at a local restaurant. i'm glad we did, because we were able to purchase a trail map while we were there and figure out our exact game plan on the way to the park.

also. they had poutine fries!! they called them katahdin fries, but admitted that the recipe was stolen from our neighbors to the north. mmmmm.

the drive into the park was beautiful, with mount katahdin as the ever present backdrop.

behind the visitor center, we were able to walk down to a nearby lake and get this picture perfect view.

i mean. come on.

our best attempt at getting the kids pic taken was this. anna was mad at me because i was mad at her for bumping into me while i stood on that log, causing me to have to step down into icy cold water up to my ankles, BEFORE the hiking even started. technically before we even entered the park.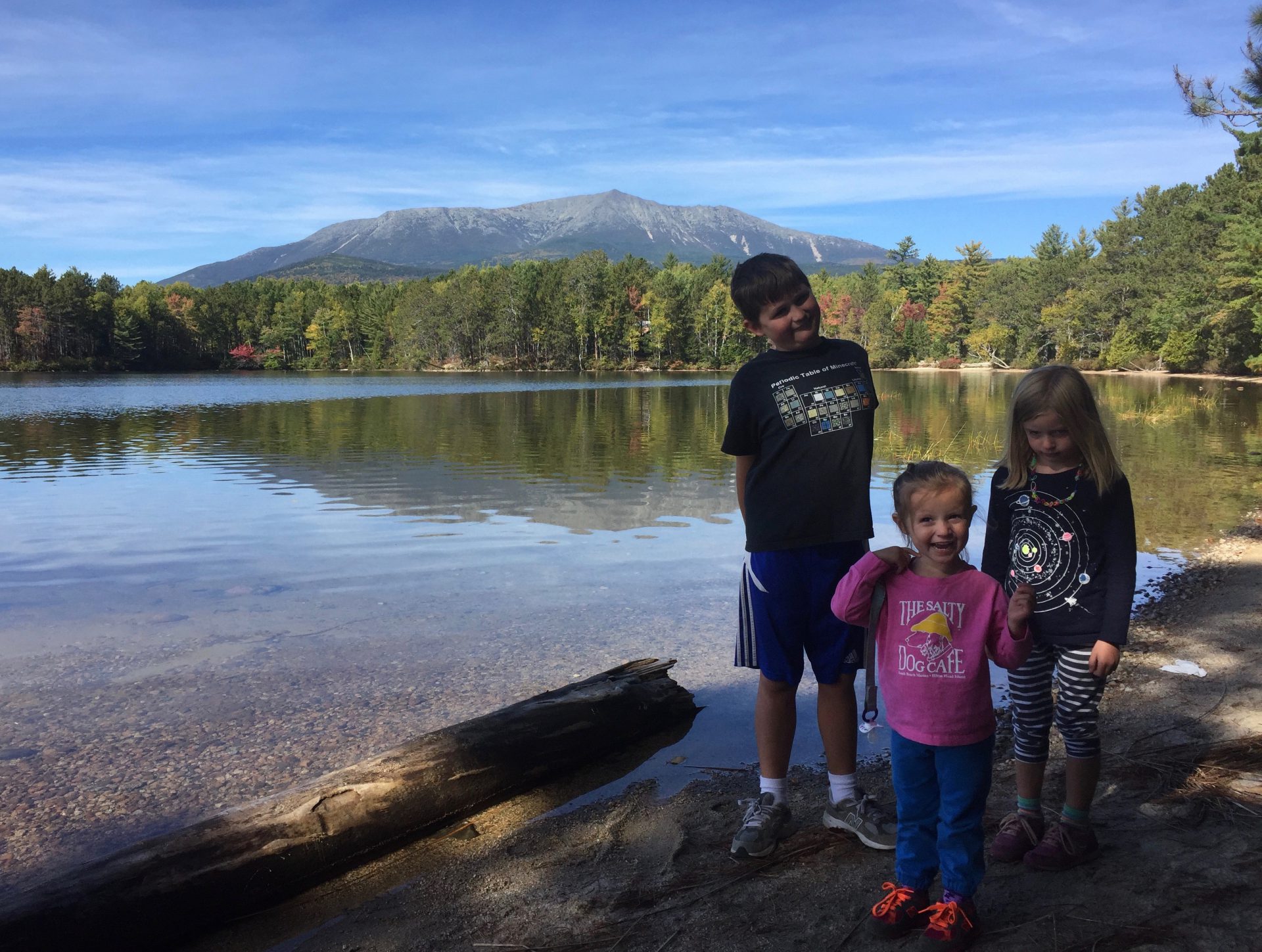 we decided to start at daicey pond, where we could either hike a bit, or canoe if the kids were up to it.

also beautiful.

the kids agreed to try canoeing. scratch that. anna and hazel agreed. isaac freaked out. we eventually talked him into it, but then anna started worrying about all the things that isaac was suggesting might happen. so, shortly after rowing away from the dock, this was my view. (and a screaming child was the soundtrack).

meanwhile, isaac had worked through his fears and he and derek were off and rowing.

eventually, i convinced anna that she would not die on this day and we mostly had fun.

hazel dragged her hands in the water for about 3/4 of the trip. made for awkward rowing.

derek took pics of us.

and we took pics of them.

and derek took a pic of all of us (minus himself).

after our canoeing expedition, we chose a hike that took us along a bit of the appalachian trail, out to a couple of waterfalls, called "big niagara falls" and "little niagara falls". it smelled like christmas.

the two falls areas and the dam (which was more like a big rock blocking some water) were pretty cool.

so i took a million pics.

at one spot, we saw a river otter frollicking about. (he's the black figure standing on a little rock, in front of the big rock in the middle of the pic).

the rapids and changing leaves weren't too shabby.

the big kids and derek went adventuring. i had hazel in the backpack, so my balance was quite compromised, so my exploring was more limited.

this big rock that they are standing on juts out over the falls, but you can't really tell from this pic. but it's pretty cute either way.

more rapids.

family selfie. hazel wouldn't look, so she got cropped out.

hazel and i braved our way out on the big rock ledge and derek snapped this pic.

cute annababy.

aaaand, more rapids.

i tried to coax hazel into a selfie with a silly face, but she wasn't buying it.

and then. more rapids.

at "big niagara falls", we could walk right up to the edge of the falls, which was slightly scary.

explorers.

duel photos.

some falls and sunlight.

we actually didn't get to stay at the falls very long, because it was getting late and we had a 1.2 mile hike back out. we weren't super excited about possibly being in the maine woods at dark. so, off we went. we did stop to climb and explore a bit more on the way out.

towards the end of the hike, we let hazel out of the backpack so she could get some hiking in. she immediately fell several times and then cried the rest of the way out, while i carried her. it was a mess.
i took this parting shot of the trail sign, to prove that we were on part of the appalachian trail. the end of the trail is just a few miles away, at the top of mount katahdin. that hike is for experienced folk only and takes about 11 hours round trip. kids aren't allowed past the tree line. maybe someday….

i forgot an important story and to squeeze it in where it belongs would require changing a bunch of captions. the path from the entrance to the park to where we started at daicey pond was pretty long and passed by a number of trailheads for serious hikes up the mountains. we started to pass a very straggly looking fellow, who turned and threw up a thumb, hoping for a ride. we realized he was an appalachian trail hiker (giant backpack, legit hiking gear, long beard, etcetera), and he confirmed when we pulled over to squeeze him in. he had reached mount katahdin that morning and had just come back down and wanted to get to a ranger station a few miles away. he rode in the front and answered all of the questions we peppered him with regarding his travels. the kids didn't really seem to notice that we had loaded an odd looking stranger into our car, which i think is pretty telling of their flexibility at this point on the lidbom rambling road show. anyhow, we dropped him off and continued on our way, thankful for the experience of having met him and chatted with him. his name was tao.
so. that was our day.
we drove home in the dark. grabbed some dinner. packed up the camper. and pulled out the next morning to make our way back south. i love maine. it's my favorite so far.