soooooo, after our stay in the great smoky mountains, we were supposed to set up camp near chattanooga for a couple of weeks, where we would celebrate our first christmas in the camper. then, the day before we were supposed to depart, my mom called with the news that my gramps had passed away. so, we scrambled to make alternate arrangements. i took the kids north, to wny for the funeral services. derek took the rv way south, to jacksonville, to put into storage and fly up to be with us for christmas. so, here is the story of our unexpected christmastime detour to western new york.
first up, the guy who caused all the extra travel drama… my gramps. he was my last remaining grandparent. and while things haven't been how they were when i was a kid for a really long time, his death seemed to just be the final reminder of that. as we sifted through pictures, so many childhood memories came rushing back. my gramps was kind of always a background character. just quiet and easygoing, with an occasional hilarious quip. he fought ms for most of his adult life (or as long as i can remember anyways). and then some cancer. and he just kept rolling along. he loved watching sports and pretending to hate christmas. he took care of my grams for many years while she battled some crazy chronic problems and then did the same for his second wife. anyhoooo… here's to frank wandryk (and my grams). picture circa 1983ish.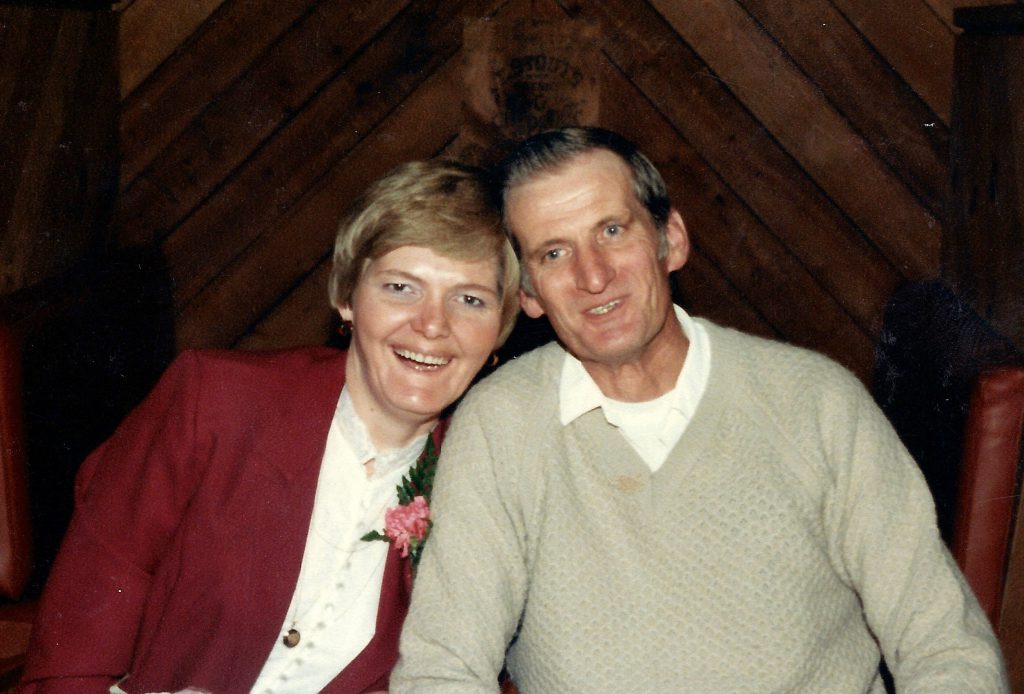 the trip to ny was no fun, no fun at all. we drove a little over halfway and had an awful night of sleep in a hotel. there were approximately 47 bed switching incidents. then, for much of pennsylvania, this was my view. and traffic was moving about 45 mph. but, we arrived safe and sound, and a bit frazzled.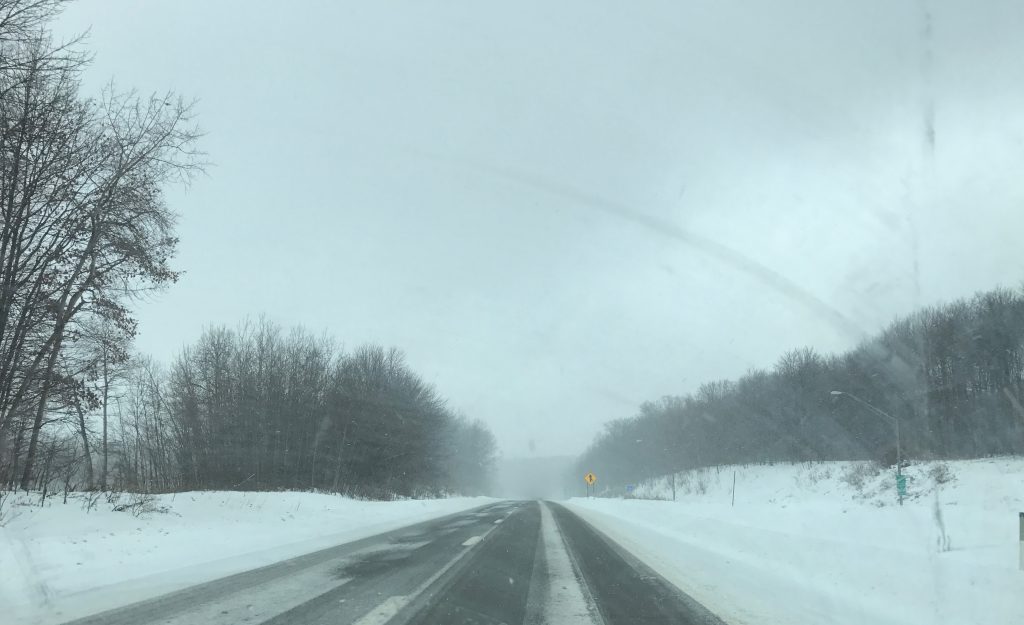 upon arrival, i barely unloaded everything before running back out to grab a quick coffee with mary casey, who was also in town for her family's christmas. we took this selfie outside of tim hortons. it was cold.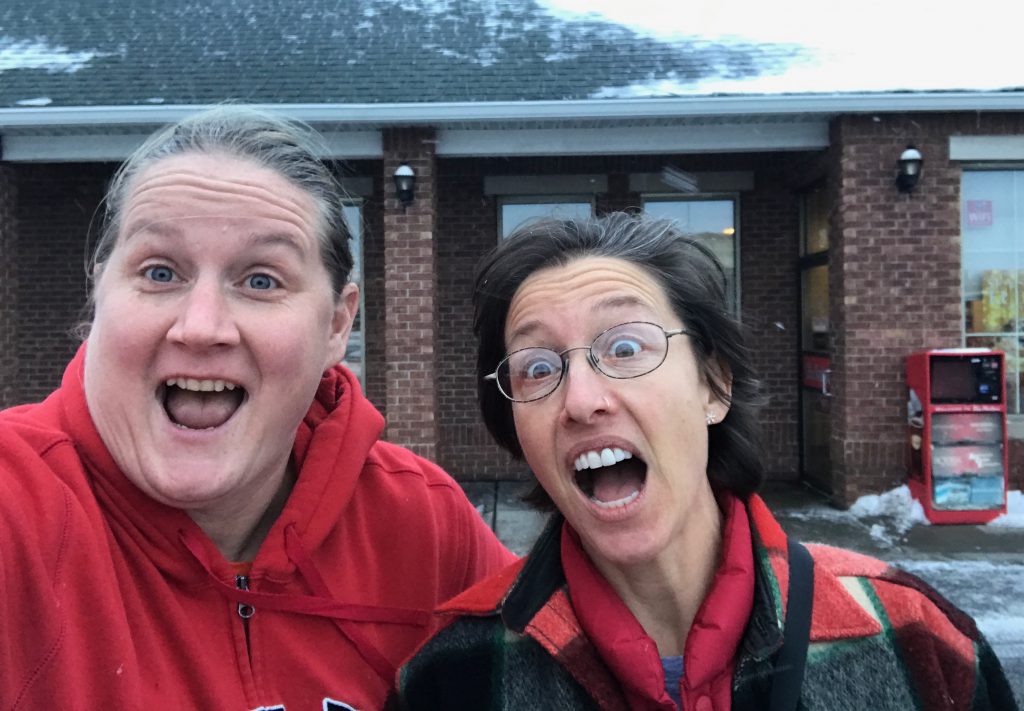 then the comfort food started rolling in. lasagna. baked ziti. goulash. pizza. cookies. and this GIANT box of antipasto from paulie's pizza.

after the calling hours for my gramps, my sister and bro (and respective significant others) hit up o'lacy's for a beer and some good irish fare.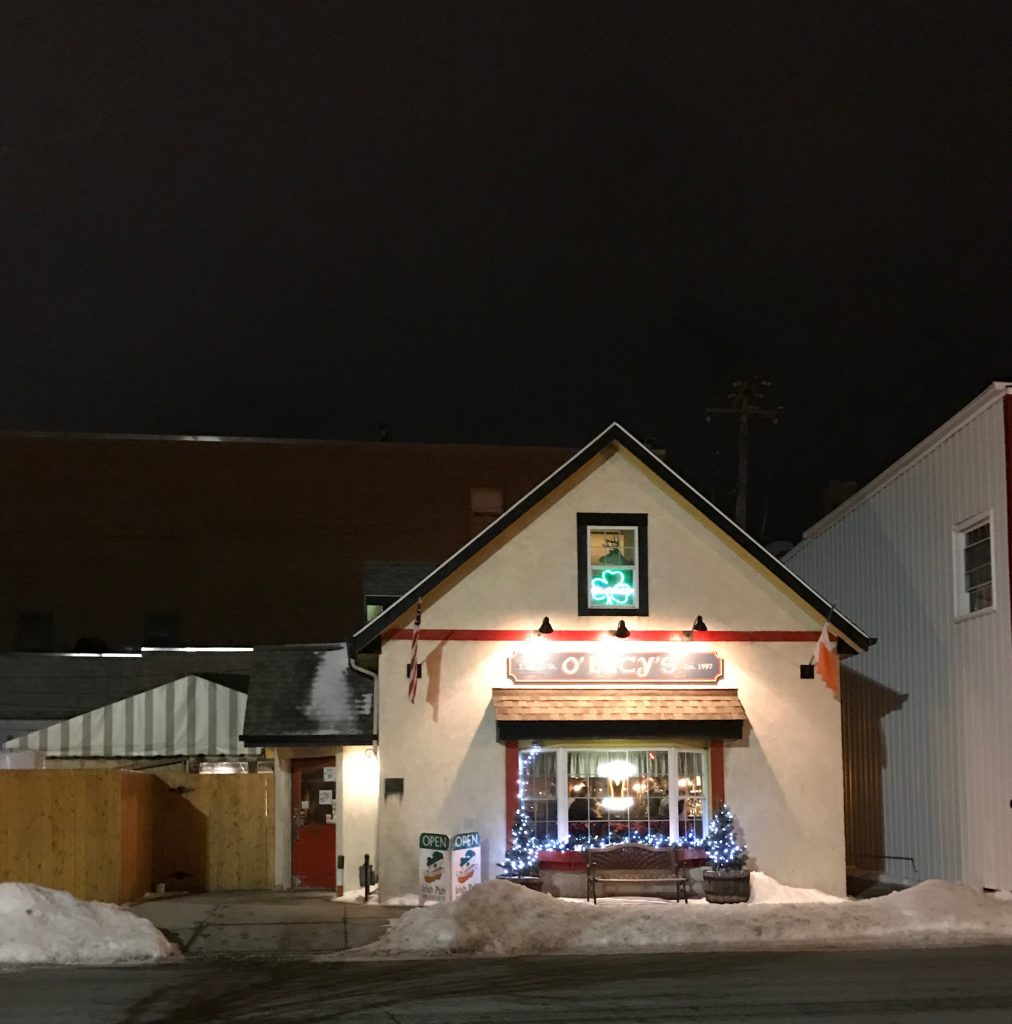 the next day was the funeral. lots of emotions. it was a catholic mass, so none of us knew what we were supposed to be doing. lots of crying and laughing. a very draining day. my sister, leslie hung out for the day, and eric and eliot joined her later, much to my kids' excitement. all the girls went out to test out the super cold, crunchy snow.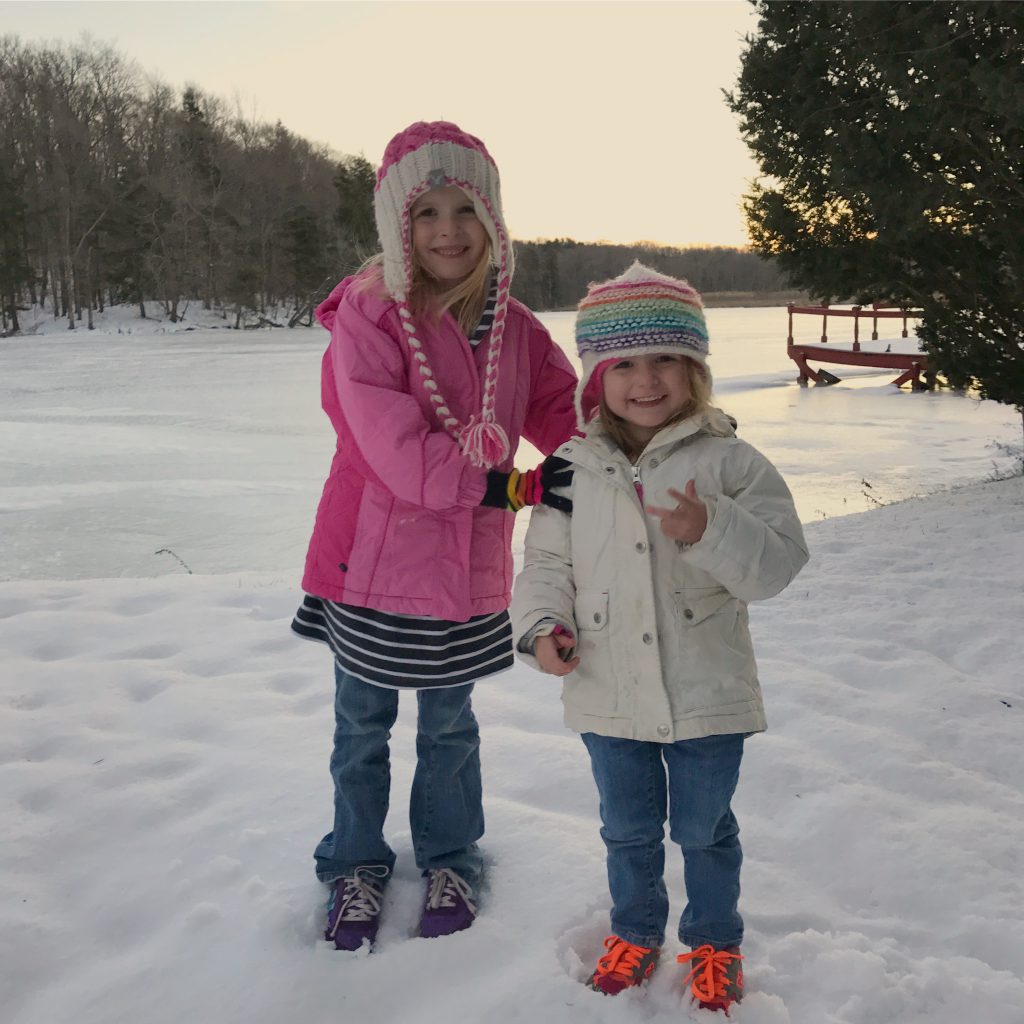 walking on the frozen lake.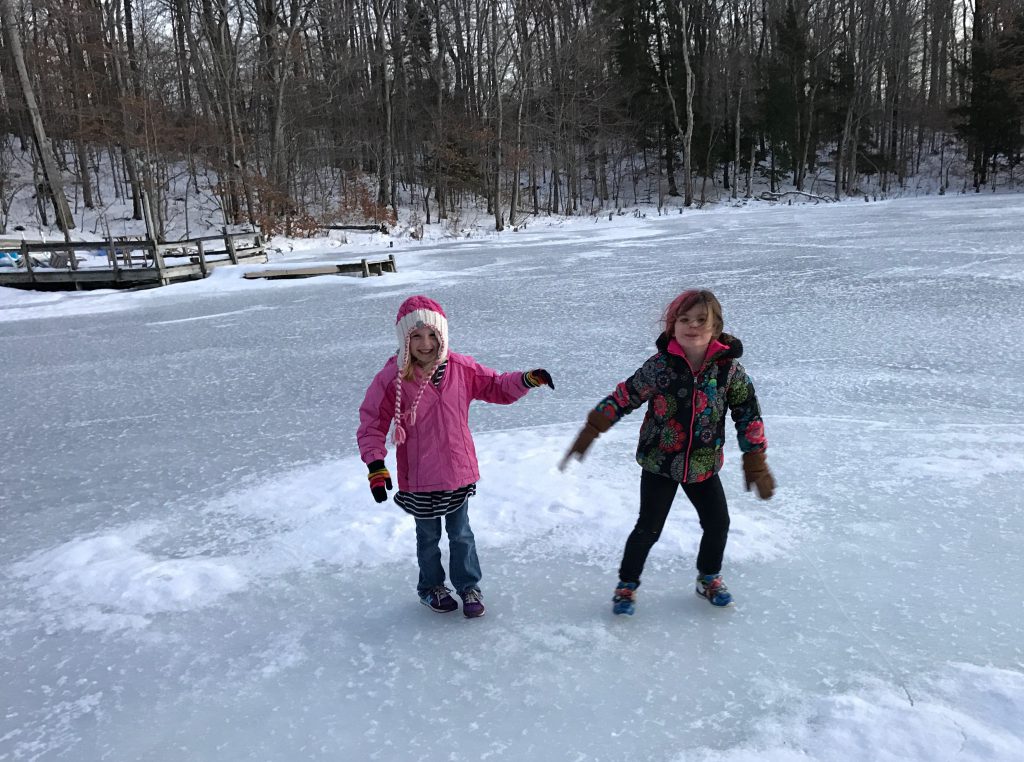 cute crazel face.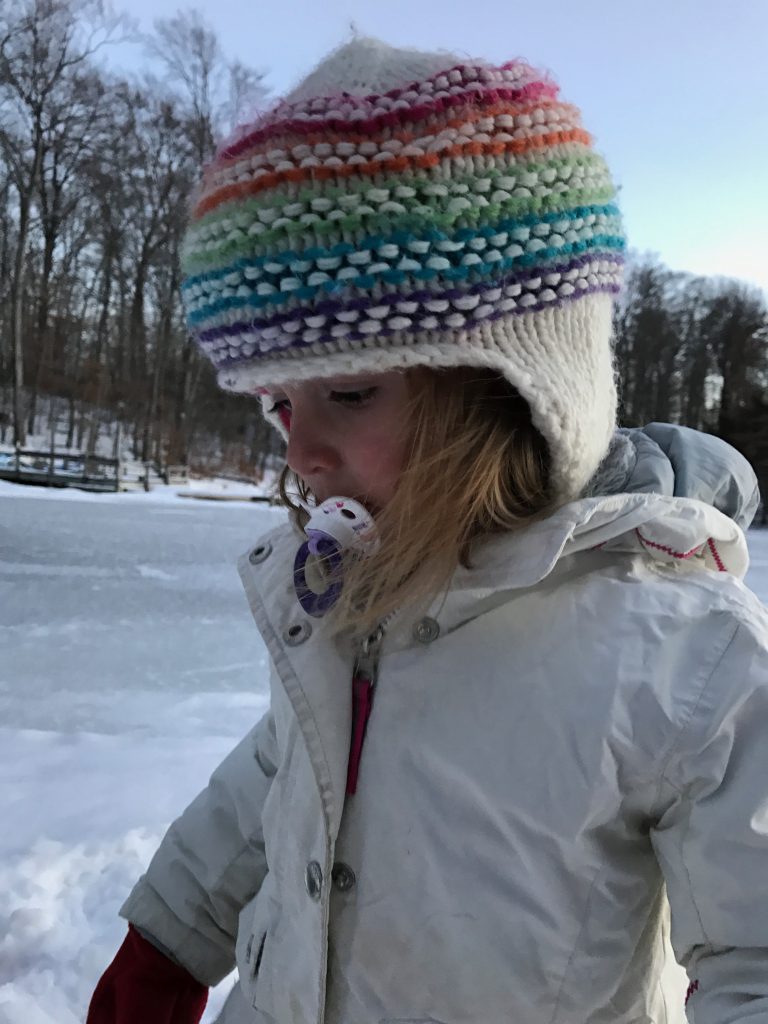 since we found ourselves with an enormous kitchen at our disposal, we decided that christmas cookie baking was in order.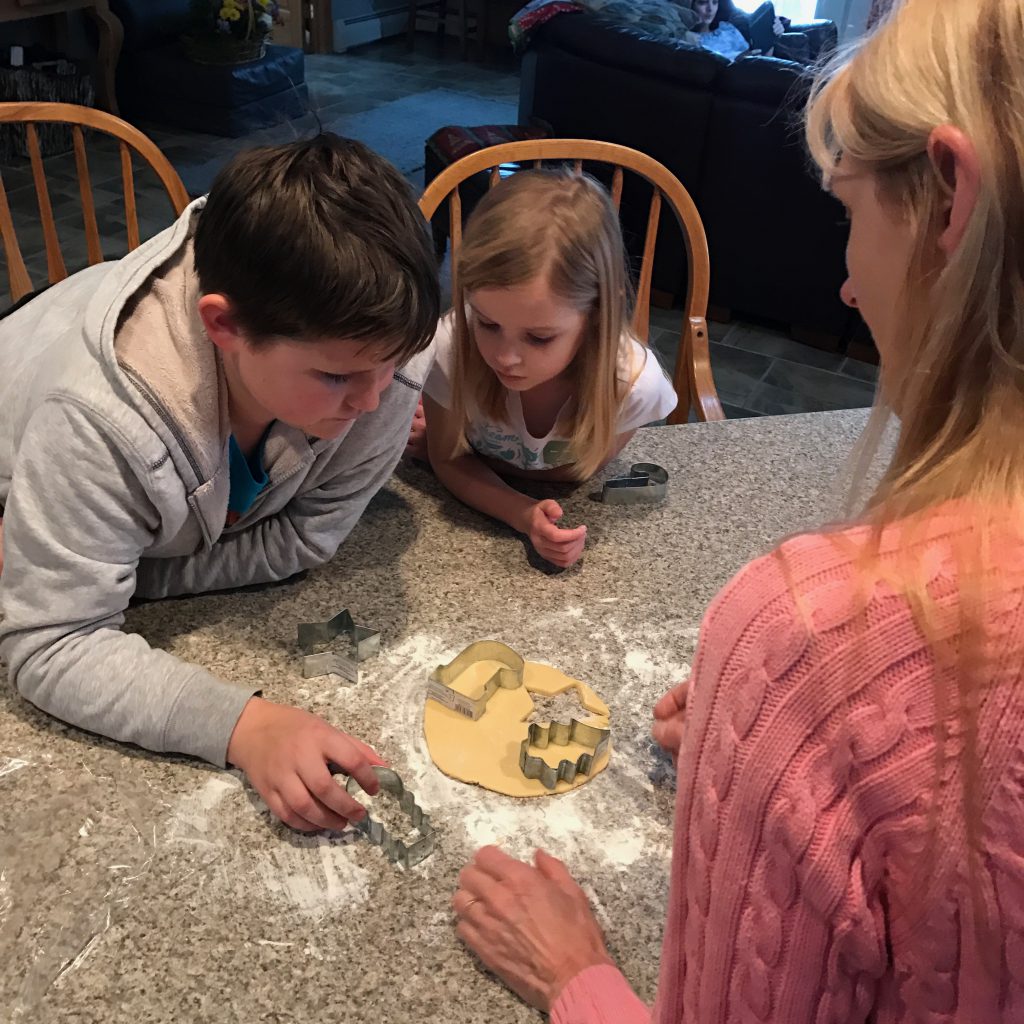 as if taste testing the cookies and frosting wasn't enough, jake showed up with a couple of boxes of broken ribbon candy from oliver's, so we obviously ate a bunch of that while the cookies cooled.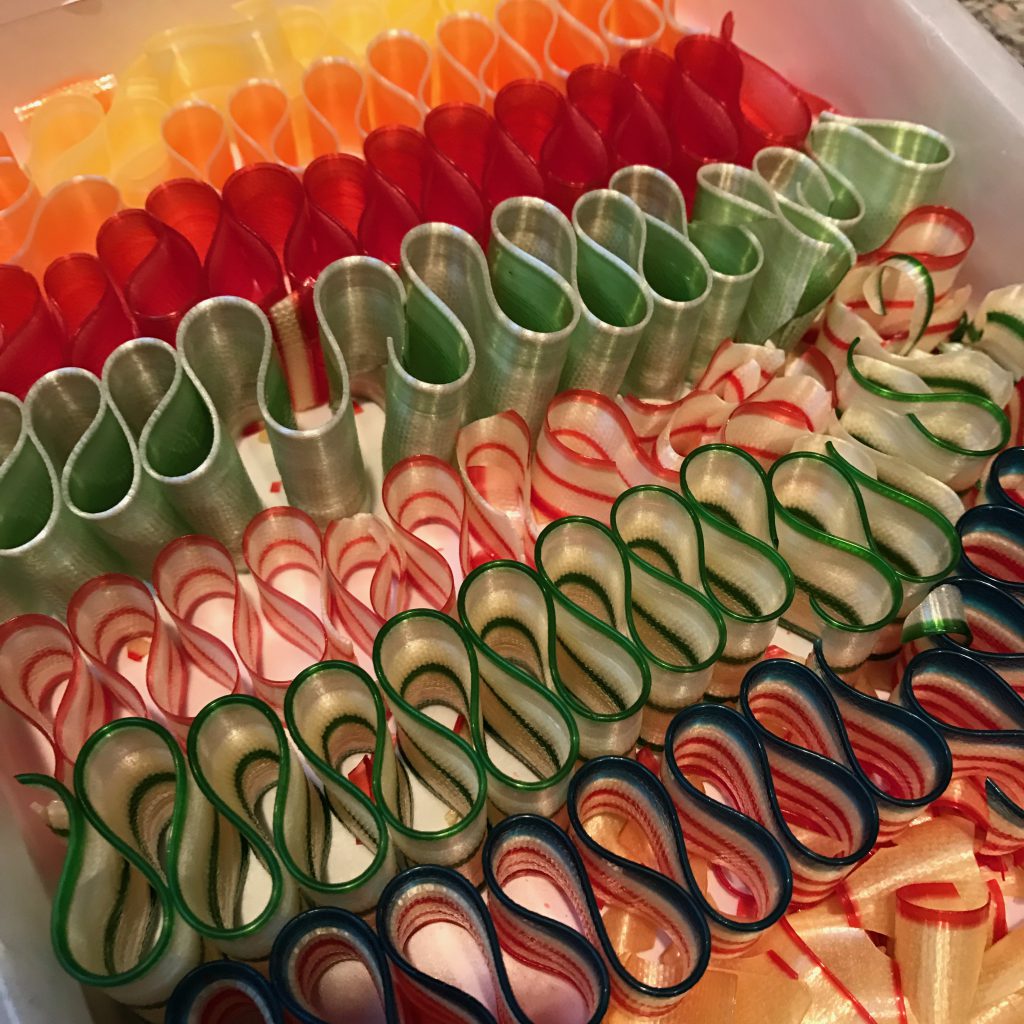 then, the decorating commenced.
hazel.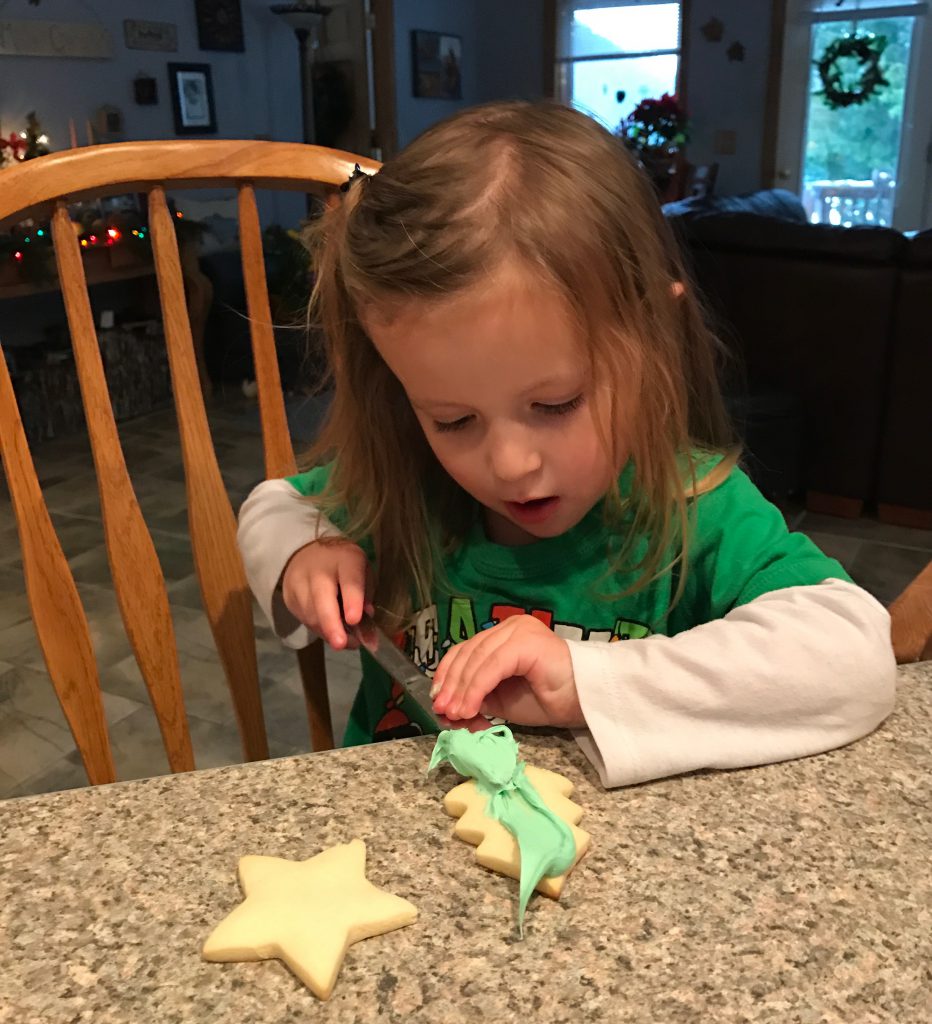 ike.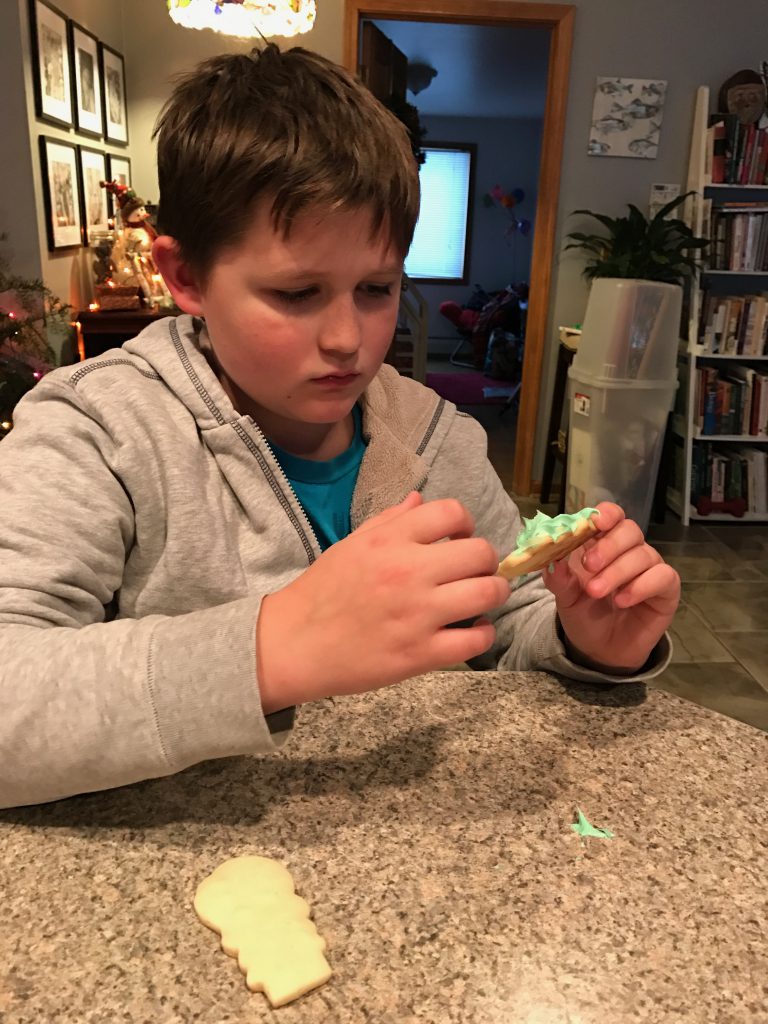 three lid kids.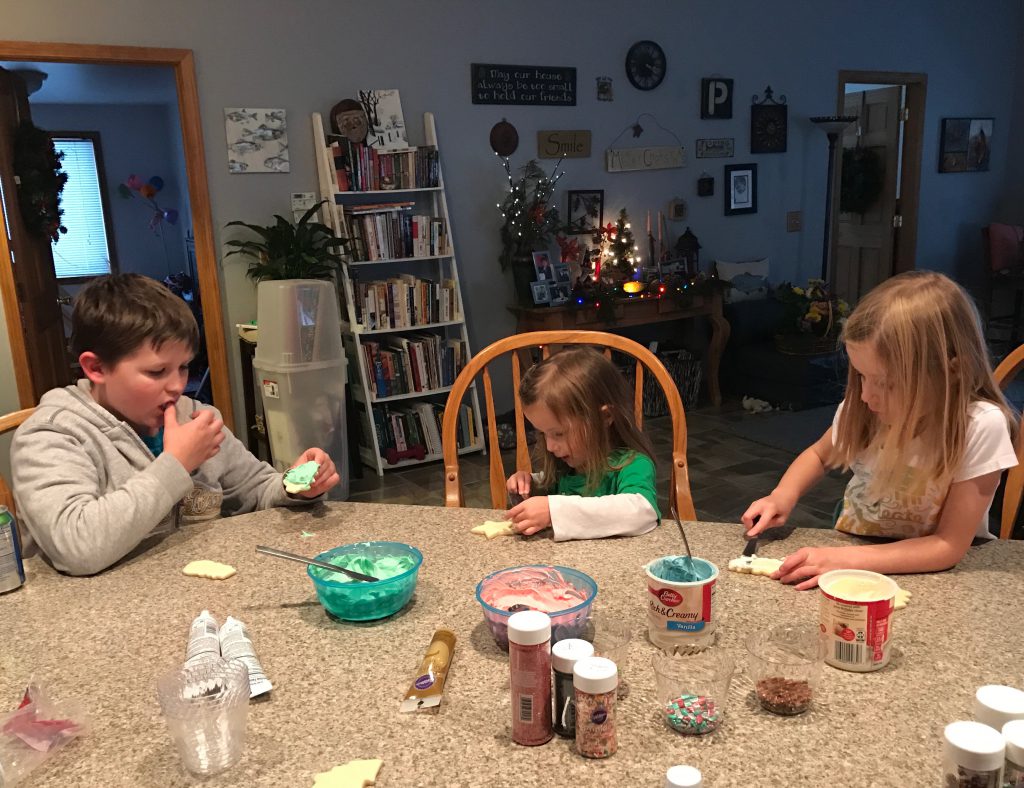 the entire decorating posse.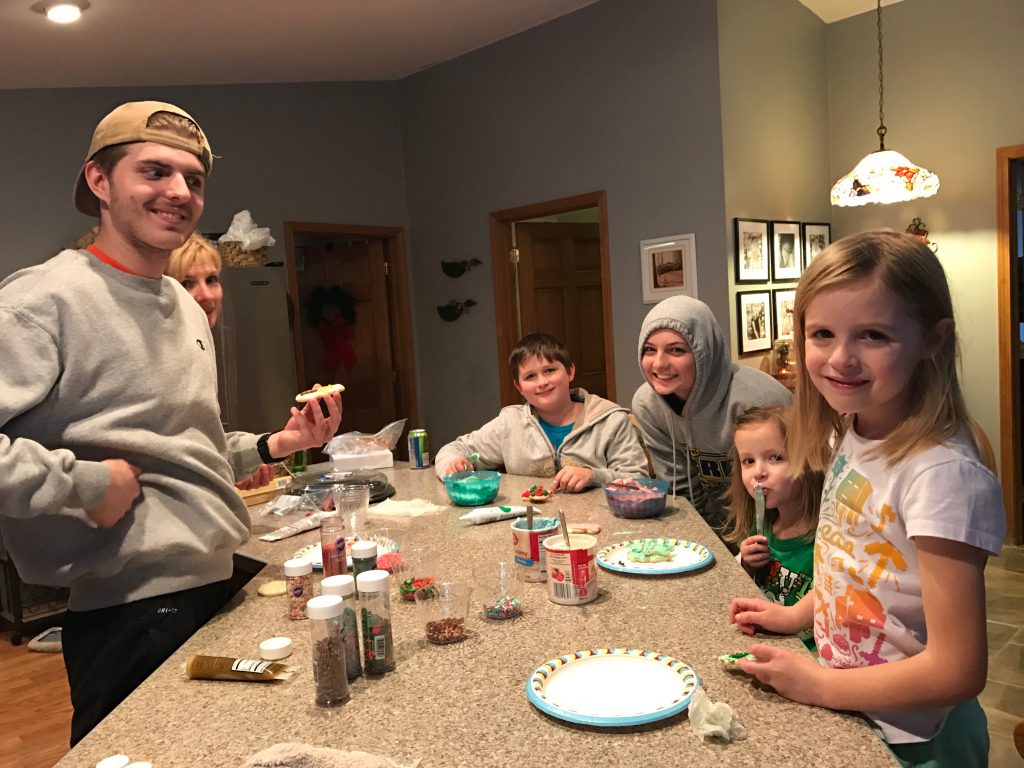 anna baby.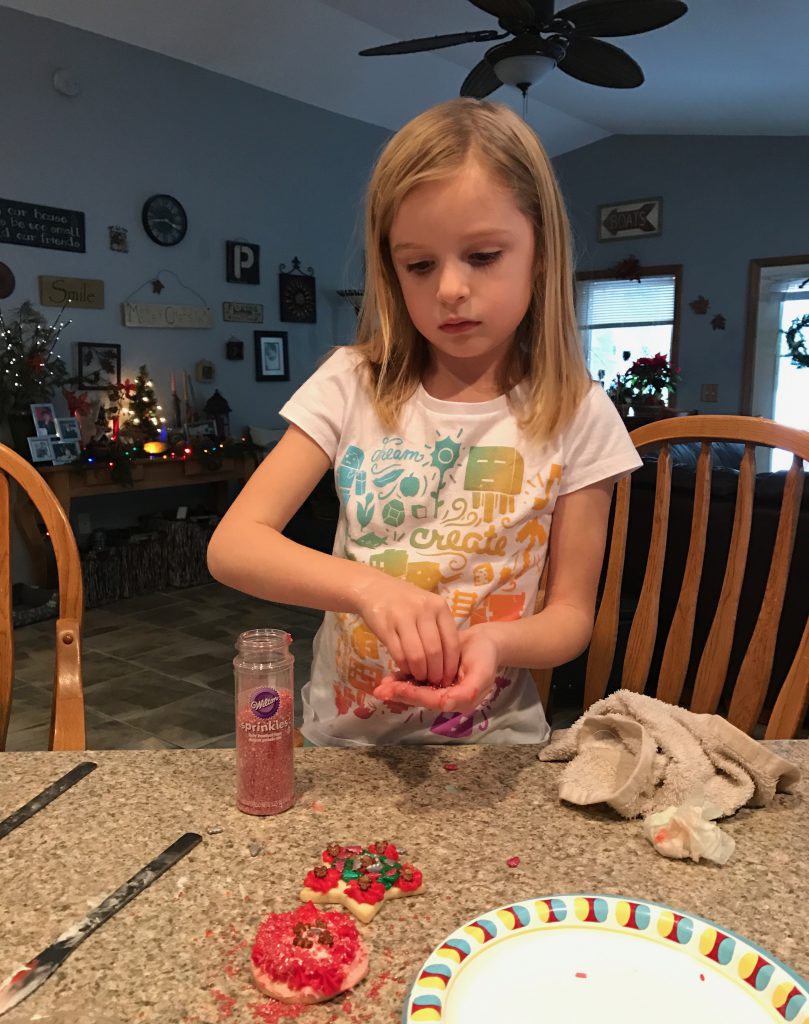 more crazel. we watch a lot of cake decorating videos, so she's pretty much a pro already.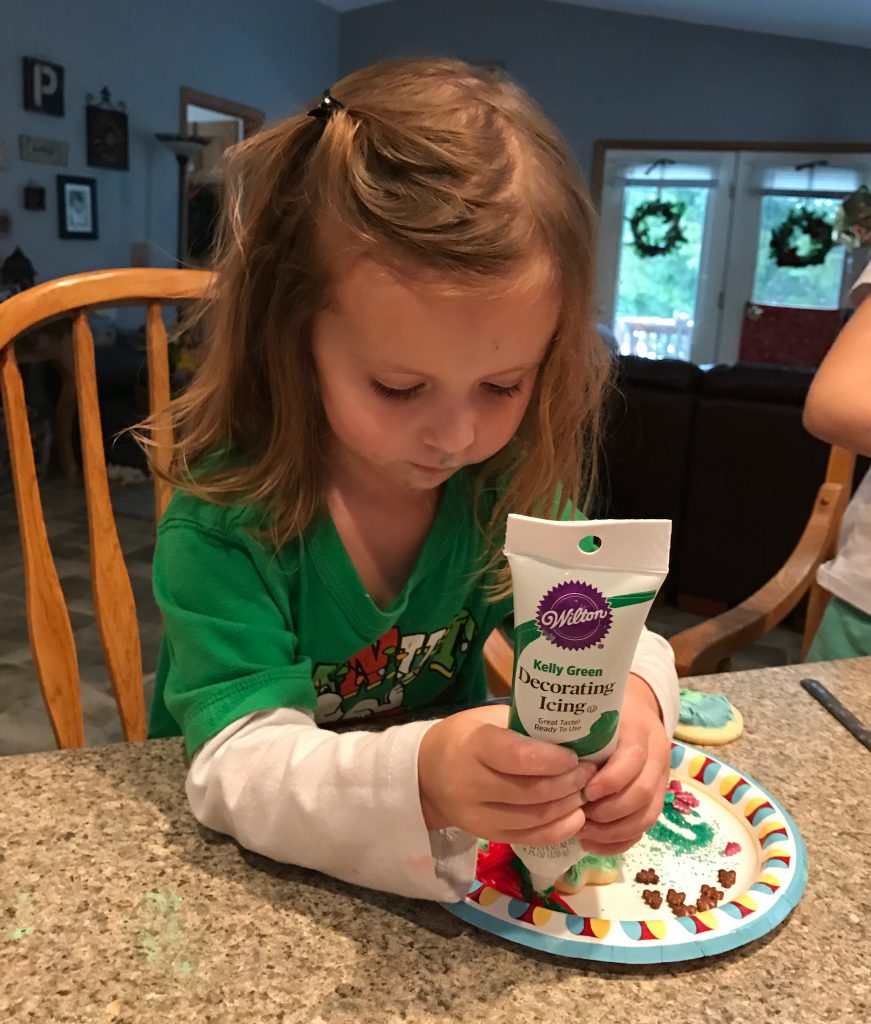 another shot of the entire cake decorating fun.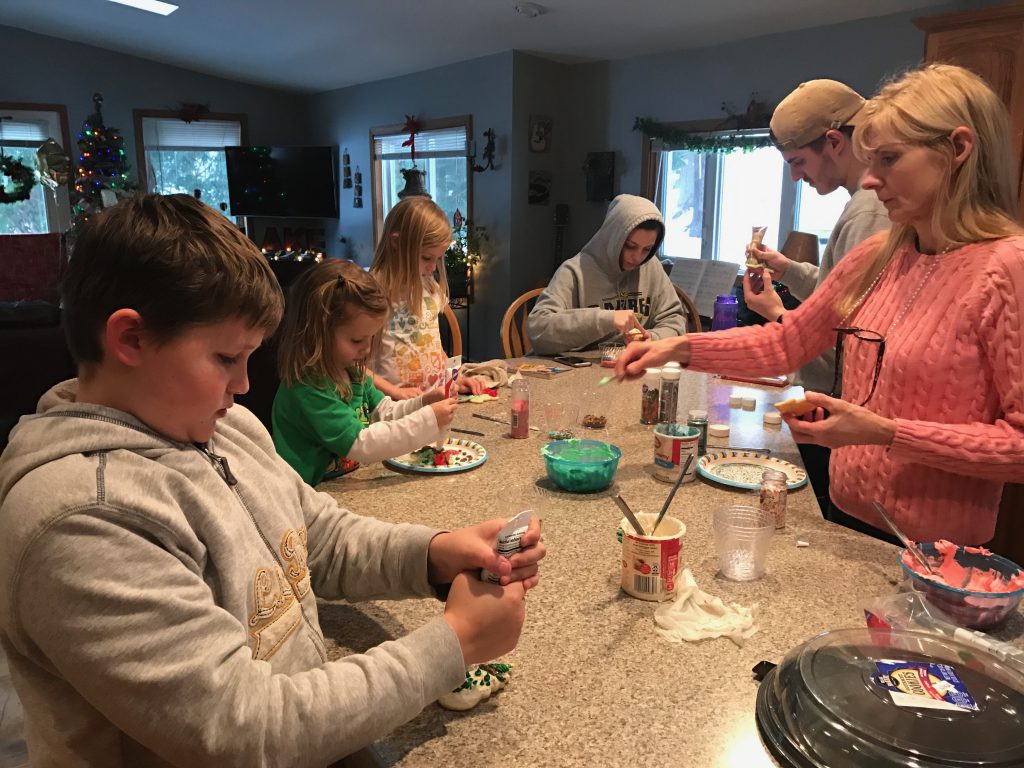 the finished product. well, minus hazel's work of art.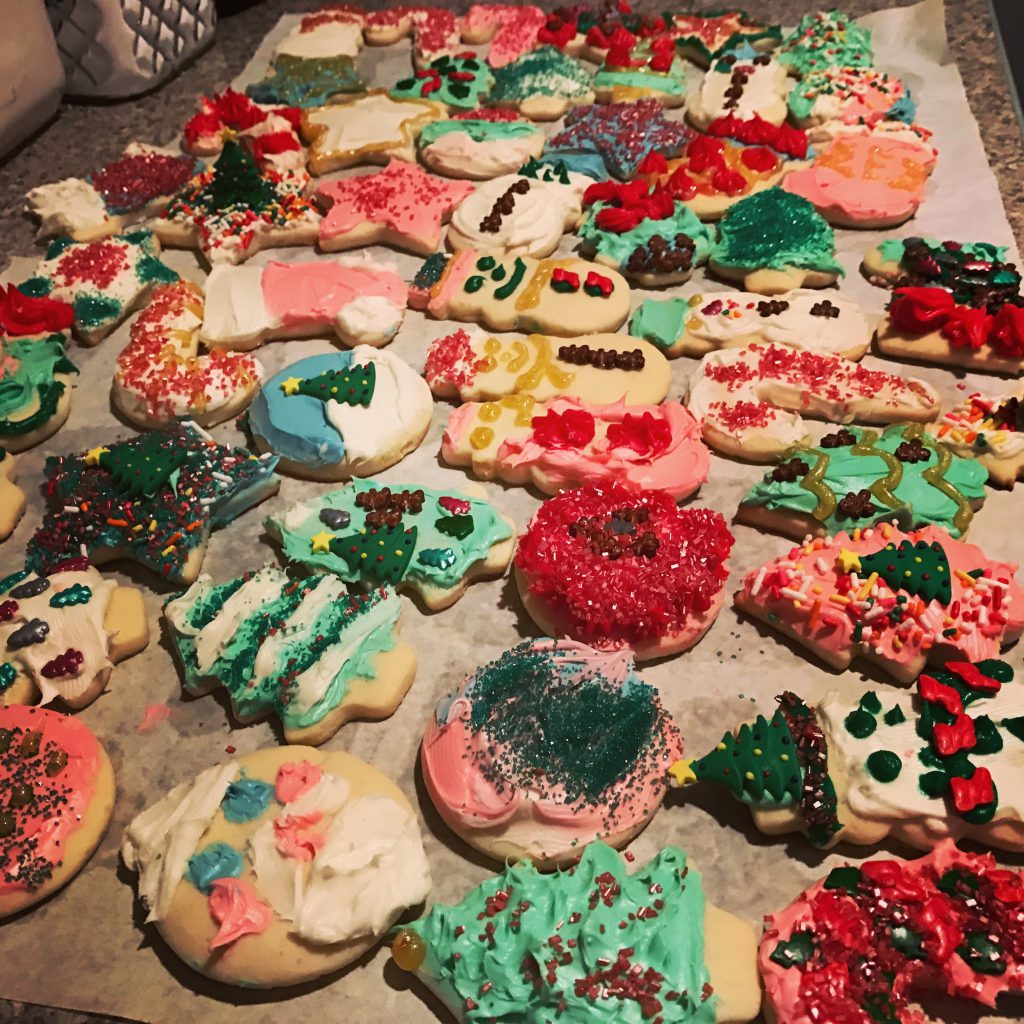 hazel's was more of a performance piece. i should have time-lapsed it. because there were definitely highs and lows and the finished product is more of a low.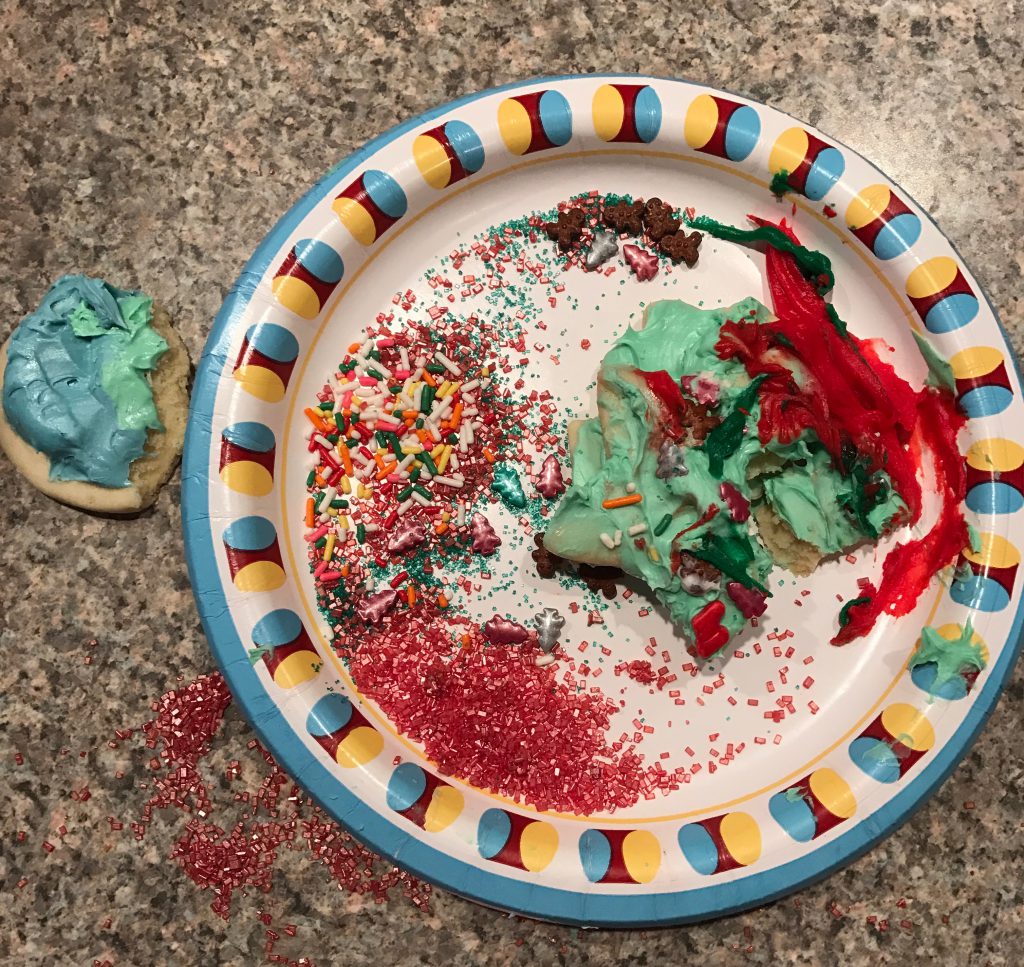 the cookie decorating wore these two out.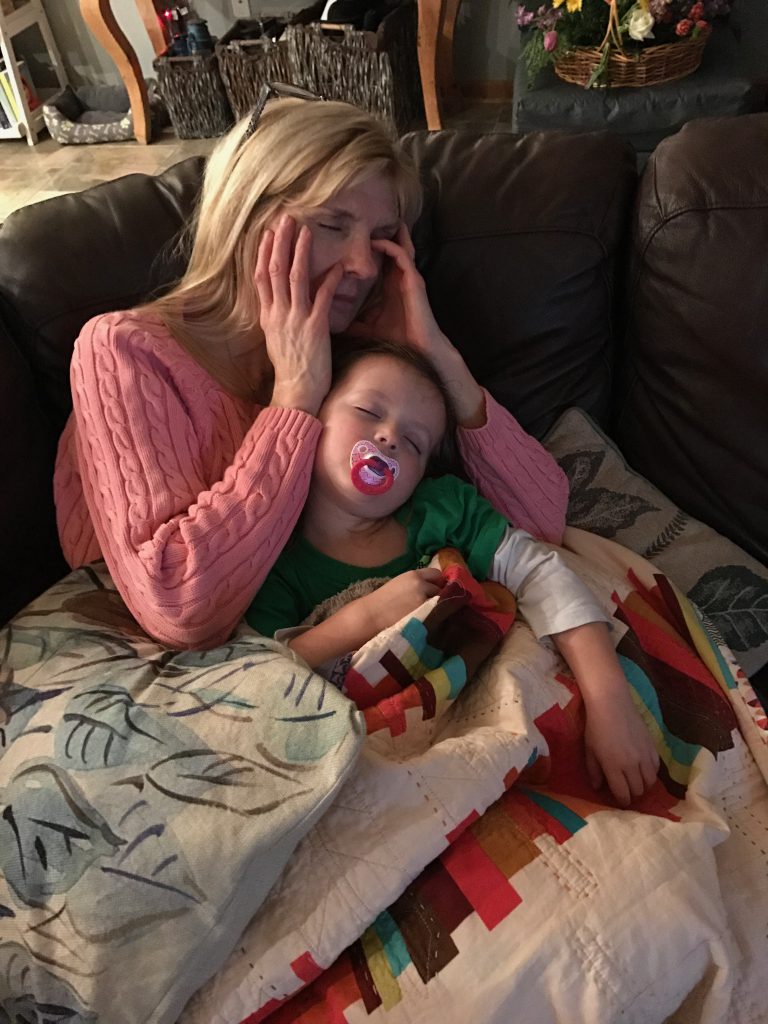 the next day, eliot came over to spend the night. we attempted to take the kids to a house near my parents that puts up an epic christmas light display every year. there were cars up and down the road. dozens. and it was very cold and very icy. and it was a miserable failure for a number of reasons. but the final straw was about half a second after this pic was taken, isaac and eliot slipped and wiped out anna and hazel. so we left.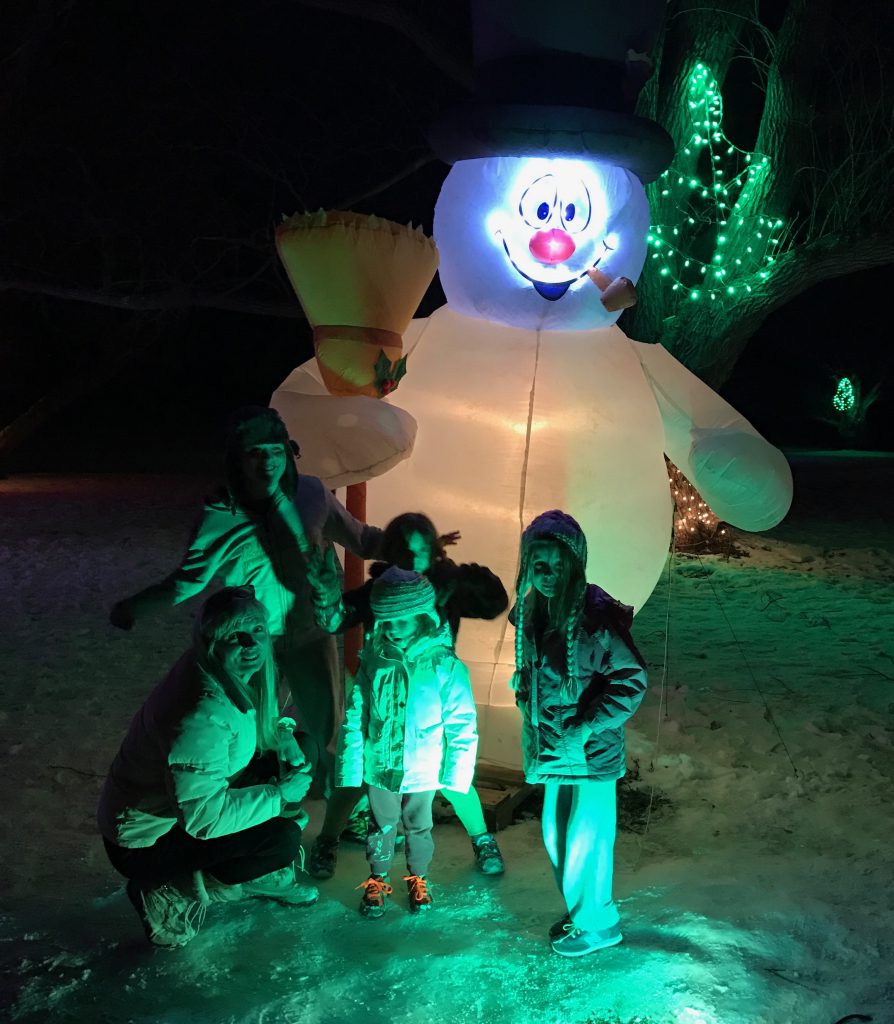 happy technology addicted cousins.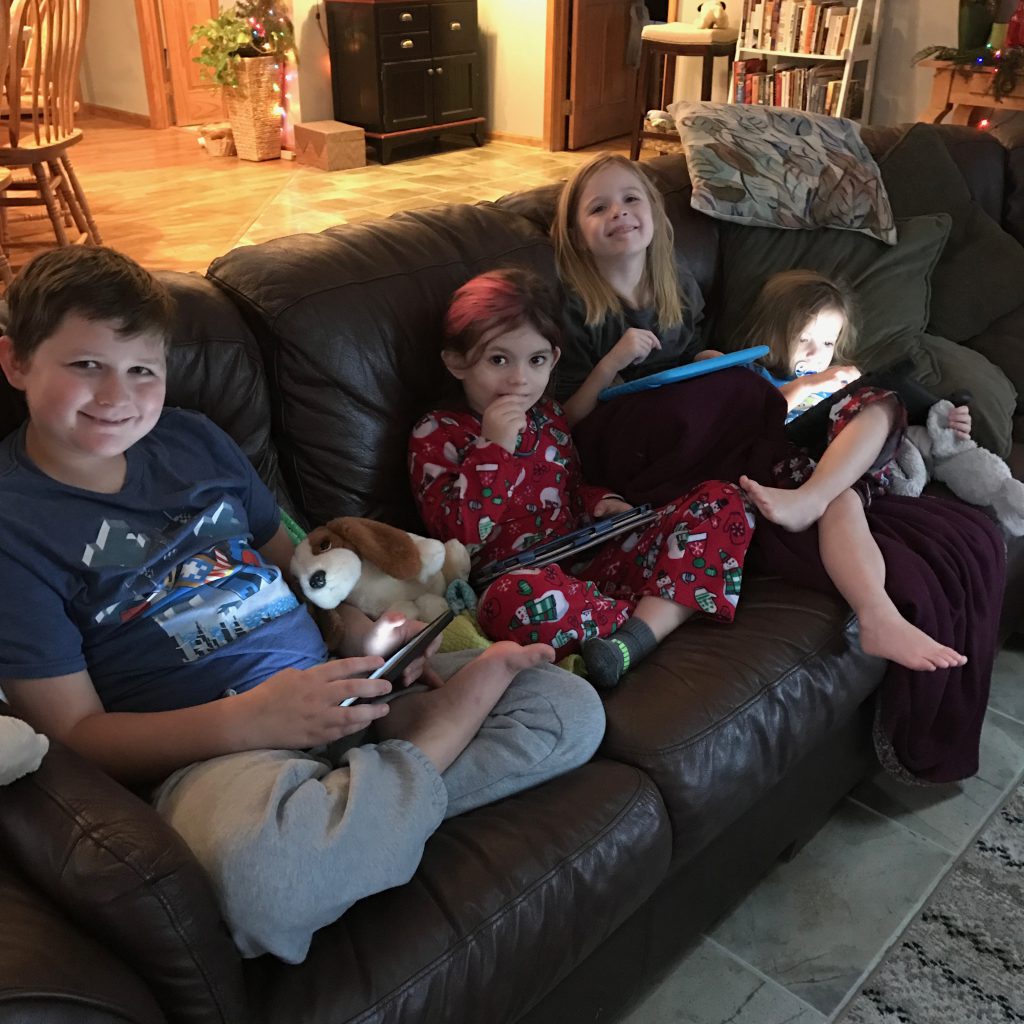 then. it was christmas eve. after about 12 different stops at stores to make sure we had all the things we needed, the festivities began. we watched movies. and played obnoxious christmas songs. and danced.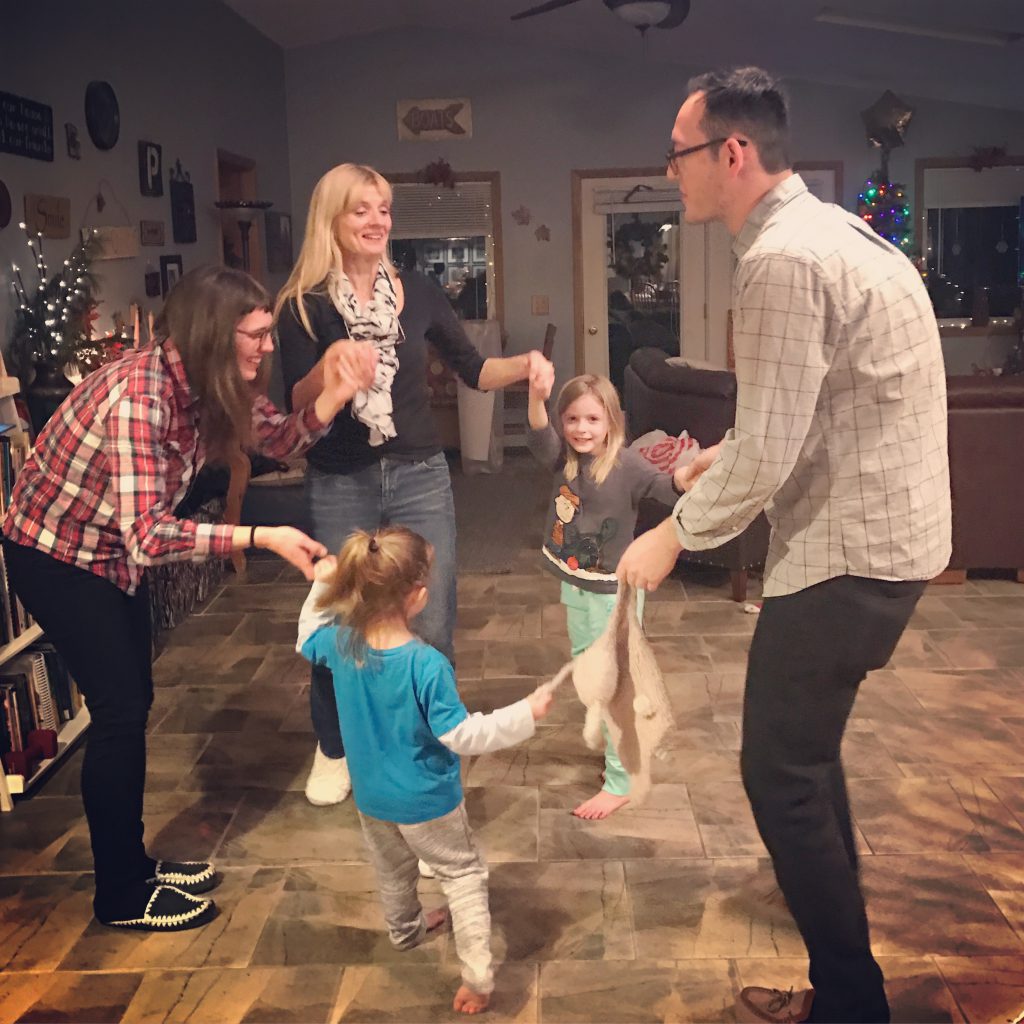 and ate food.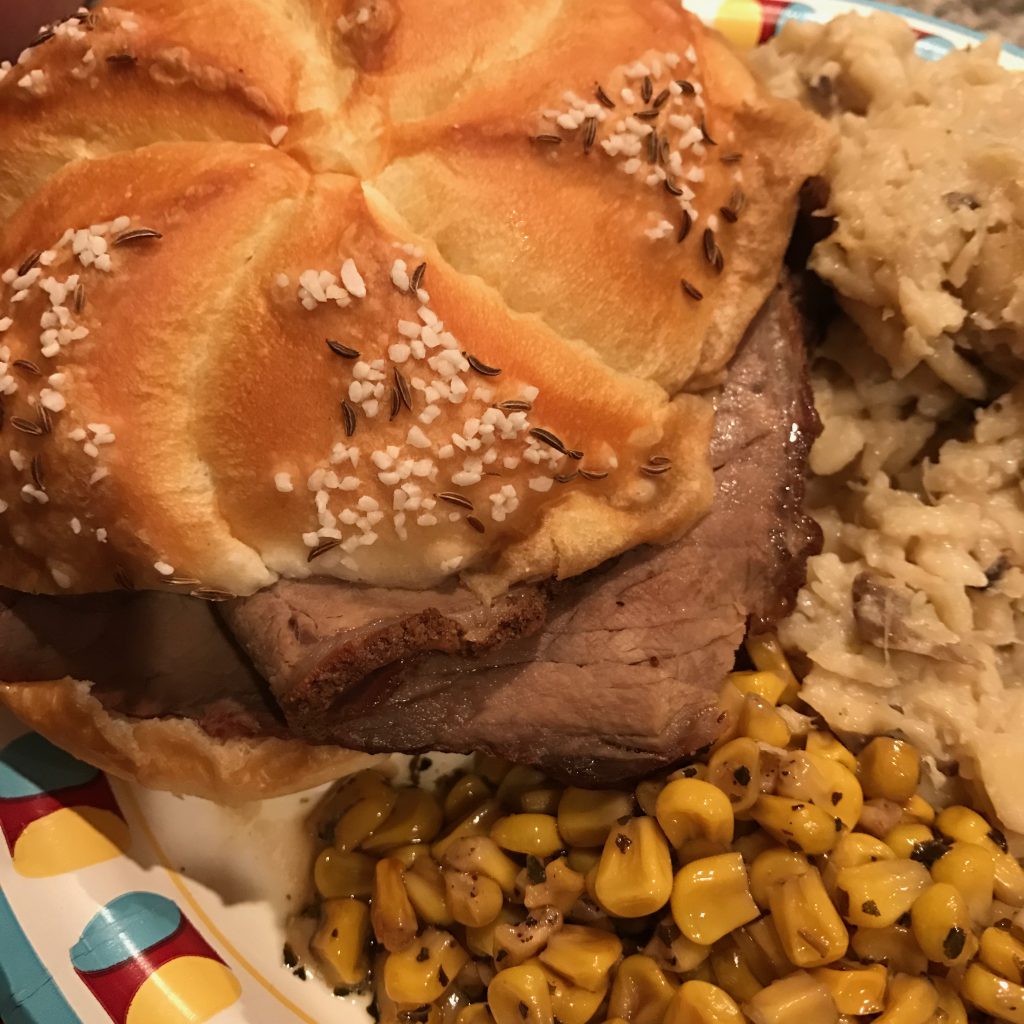 oh. and terry went to get derek from the airport, sparing me from the miserable drive. so, our family was reunited. and julie is a dork.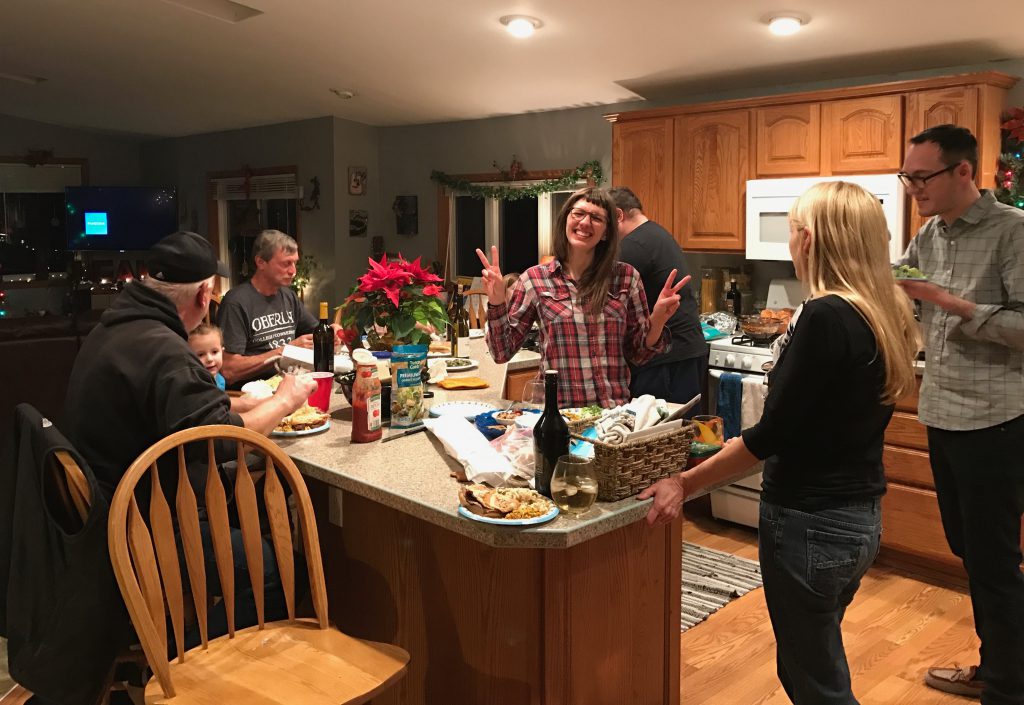 action shot.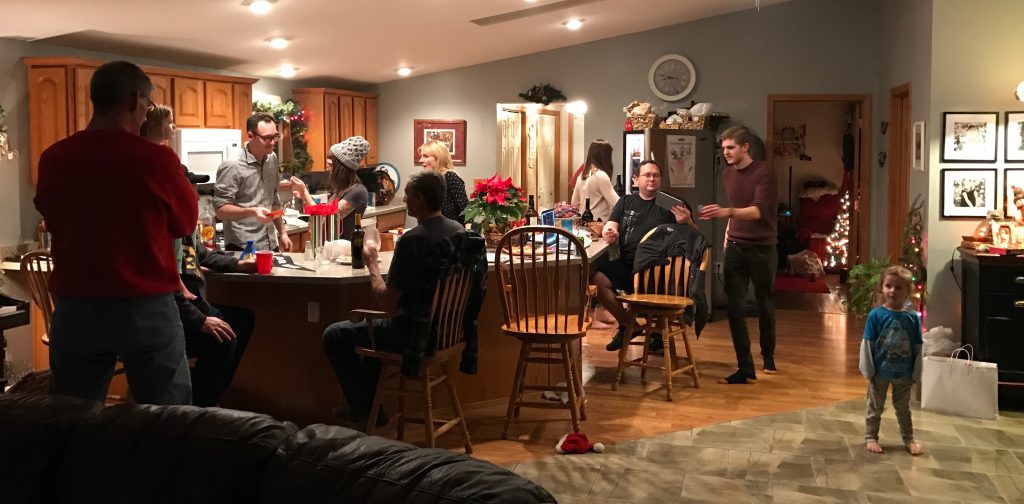 and then. christmas morning. somehow, this was the only picture i managed for the entire day.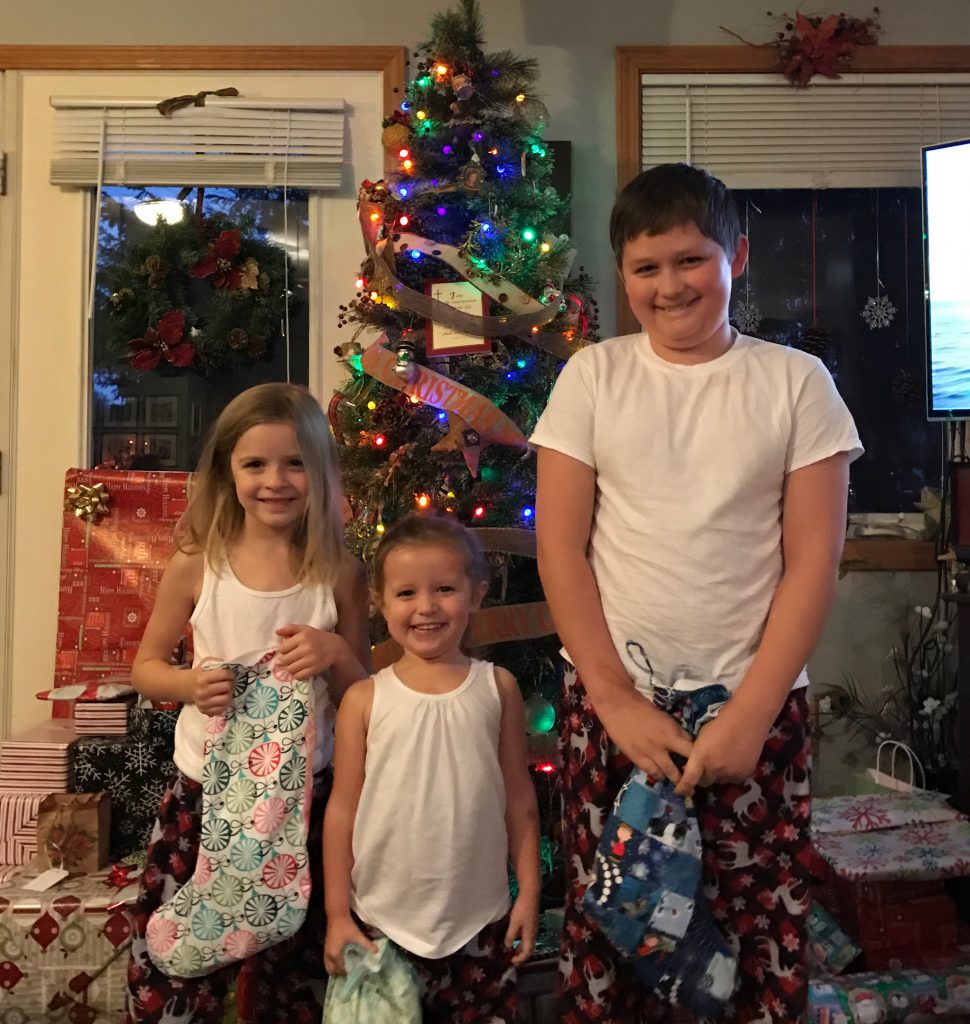 we hung out. ate more. opened one million presents. went to leslie's. repeat. came home. crashed. and then spent the next day being a little lazy and packing for the LOOOOONG drive to jacksonville….
finally. we were headed back to our "normal" life. road life means lots of sheetz food.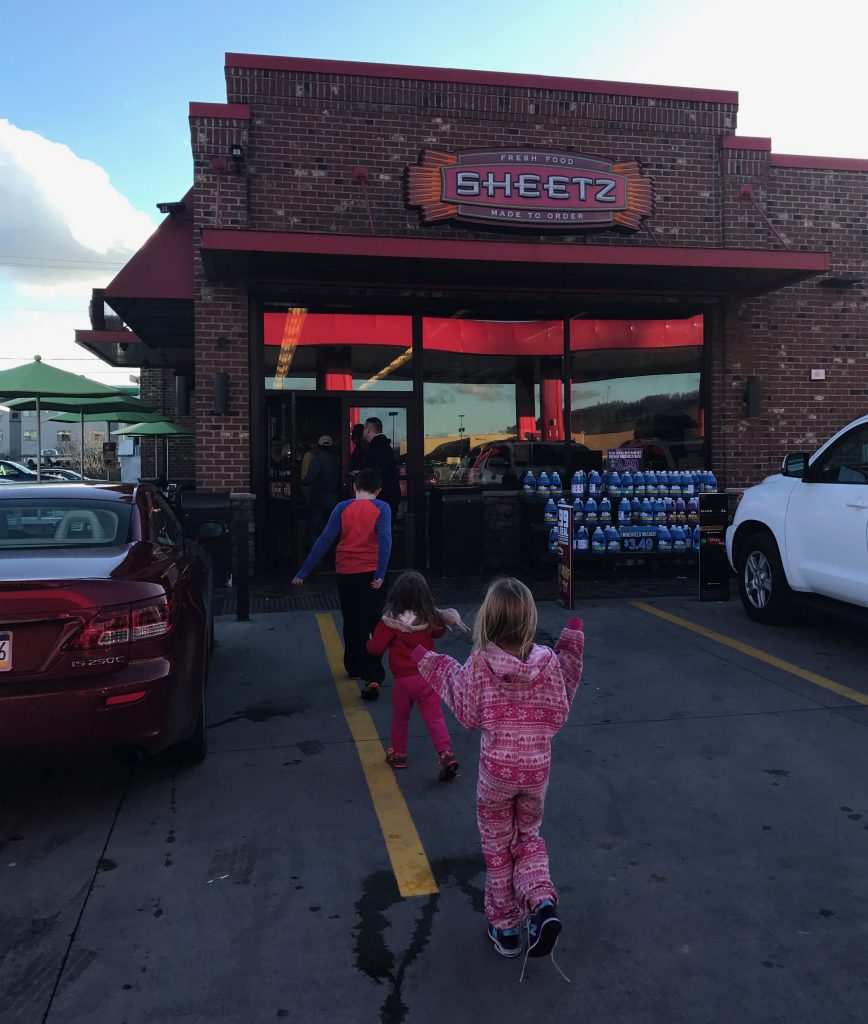 we drove from ny to nc and stayed at derek's parents house for a day to recover where the kids were happy to play with some favorite toys.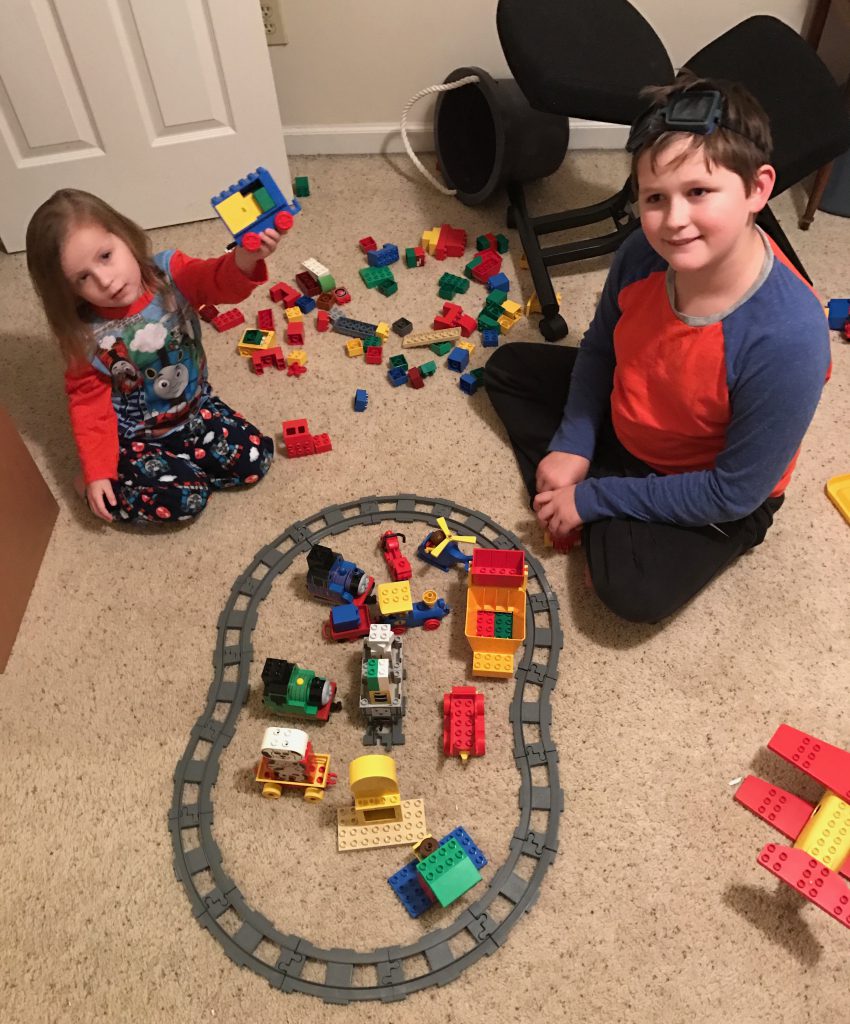 i even managed to squeeze in a playdate with some old pals. can't complain about that perk.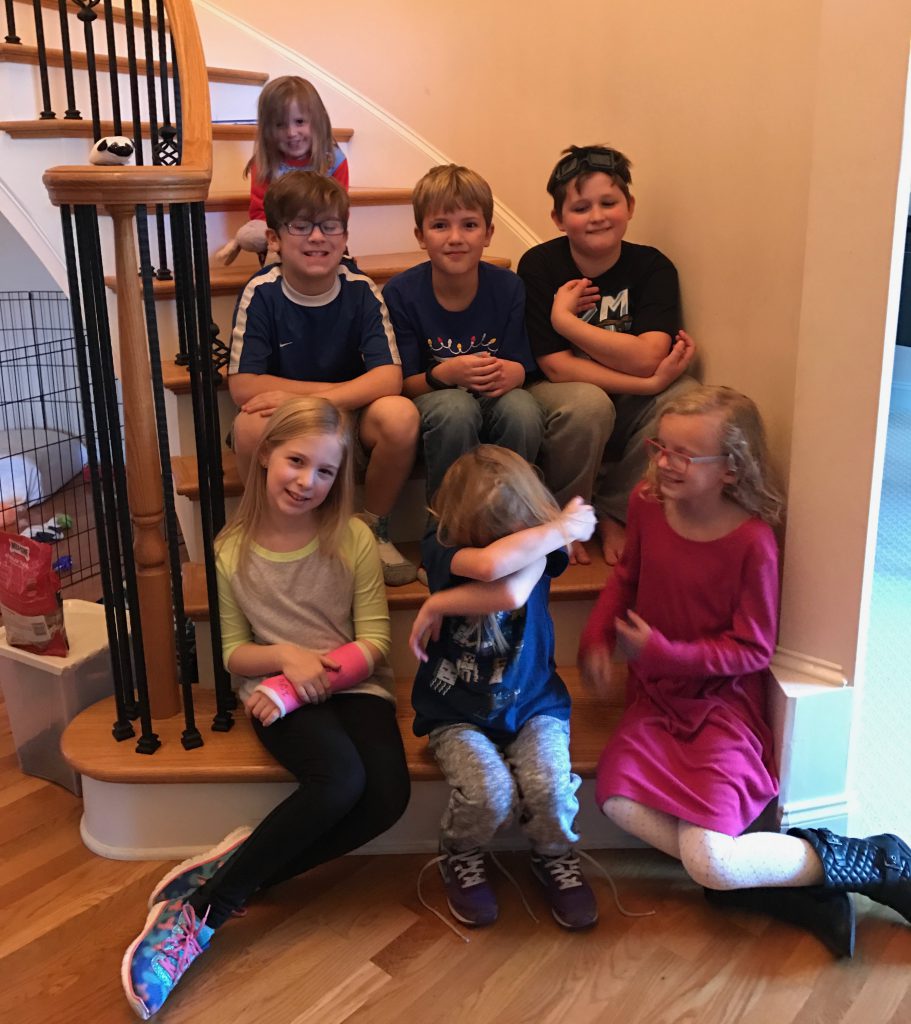 the next day. thursday i think? it's all a blur. we finished the trip to jacksonville. and now we are back on track. mostly. still trying to figure out where all the christmas presents go. 🙂