when i left off, we were just getting back from our "creole queen" riverboat adventure. we pick up the story on the walk back from the streetcar, near our hotel, where a local music shop had these really cool lego diorama of a mardi graw parade in its window. i narrowed it down to three pics. 🙂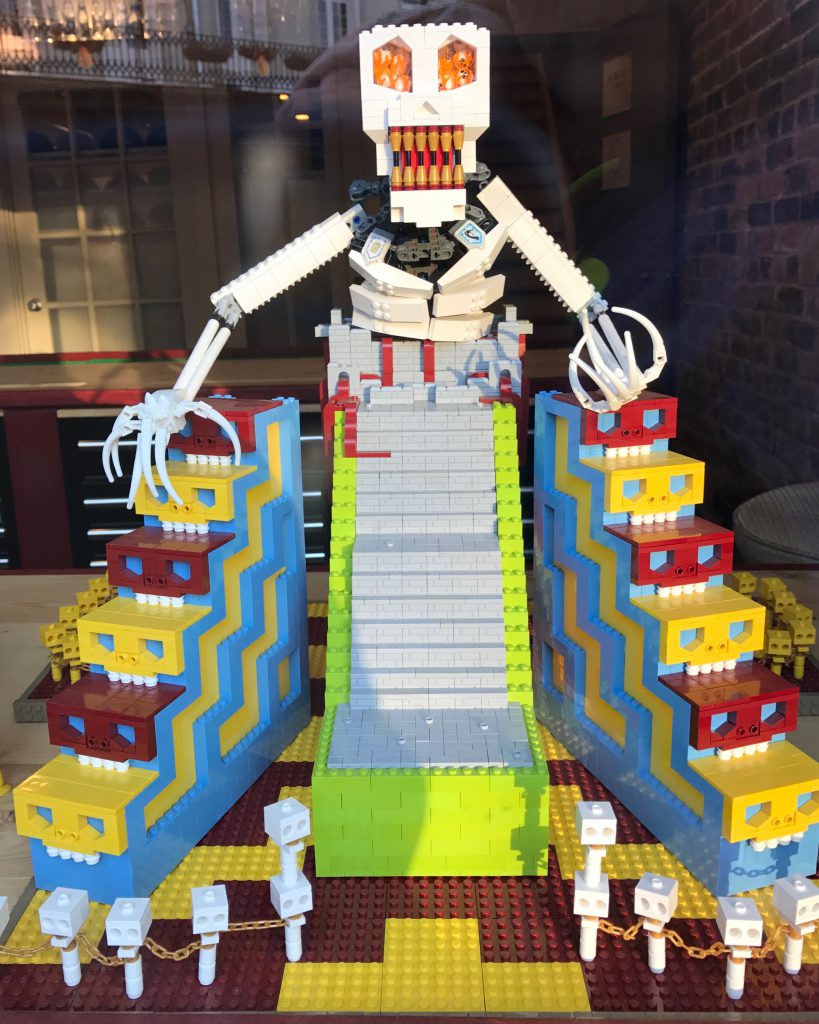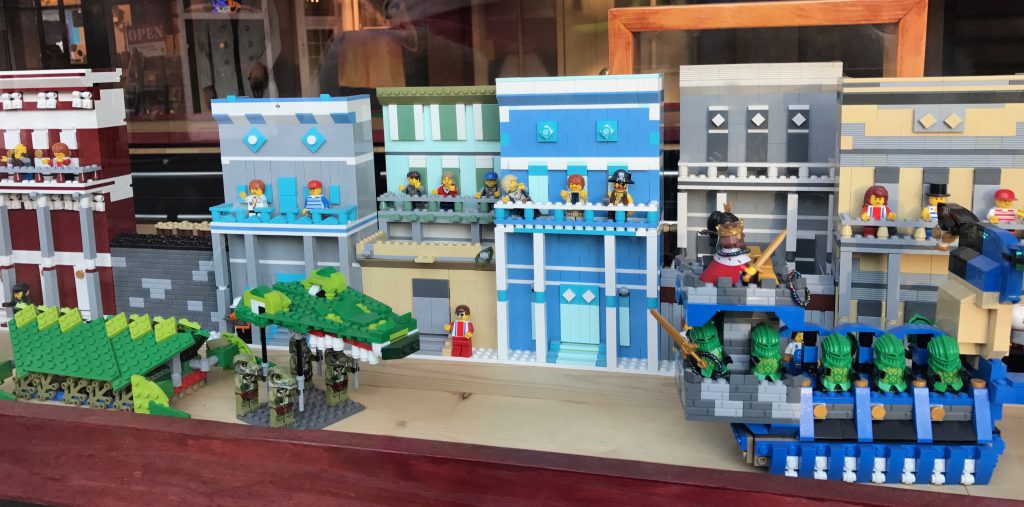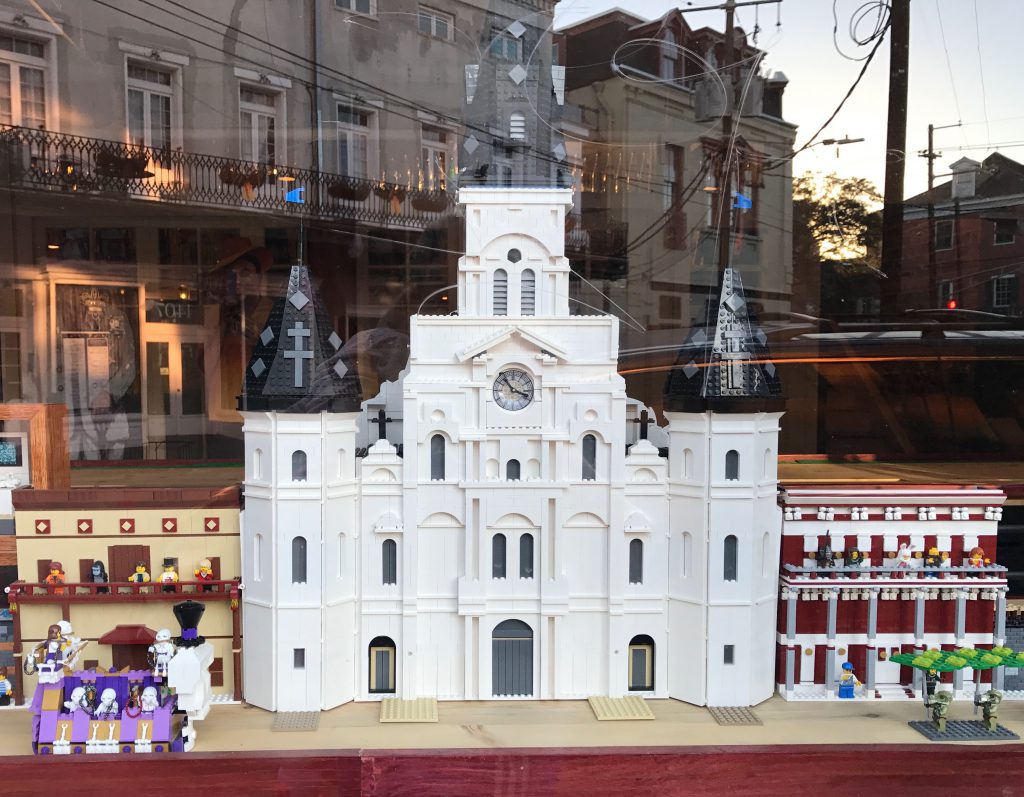 that night, derek's parents kept all three kiddos so we could go out to eat and check out the music scene. we stopped in across the street at 30°/-90°. whatever that means. we really liked the band that was playing, but derek had his eye on a place a few blocks away for dinner. so, off we went to the streetcar. where i snapped this (what i thought was cool) shot of downtown new orleans in the distance.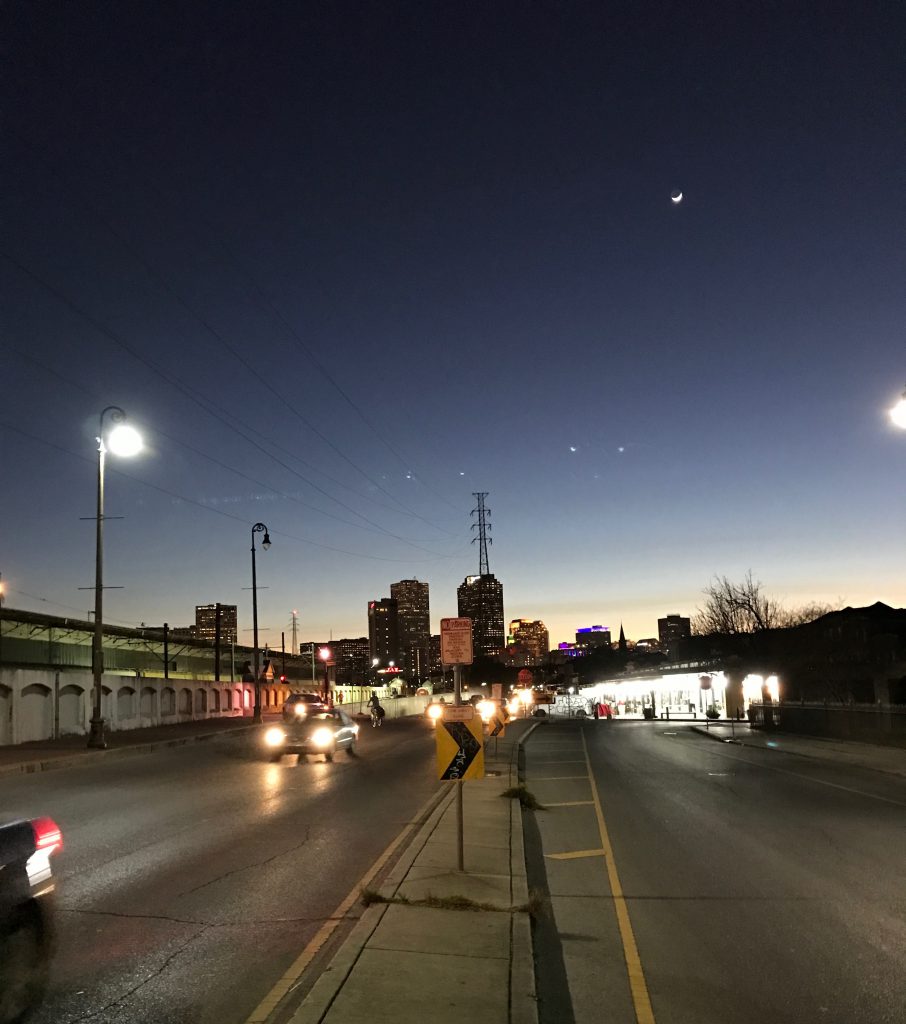 as we waited for the streetcar, we decided that dinner would be the same any night, but since we liked the band so much, we wanted to go back and hang at the place across from our hotel. we ate a fried sea creature platter, containing catfish, shrimp and alligator, which i suppose isn't a sea creature, but tastes like chicken. and then this, super blue cheesy buffalo chicken pizza. not exactly a new orleans specialty, but good nonetheless.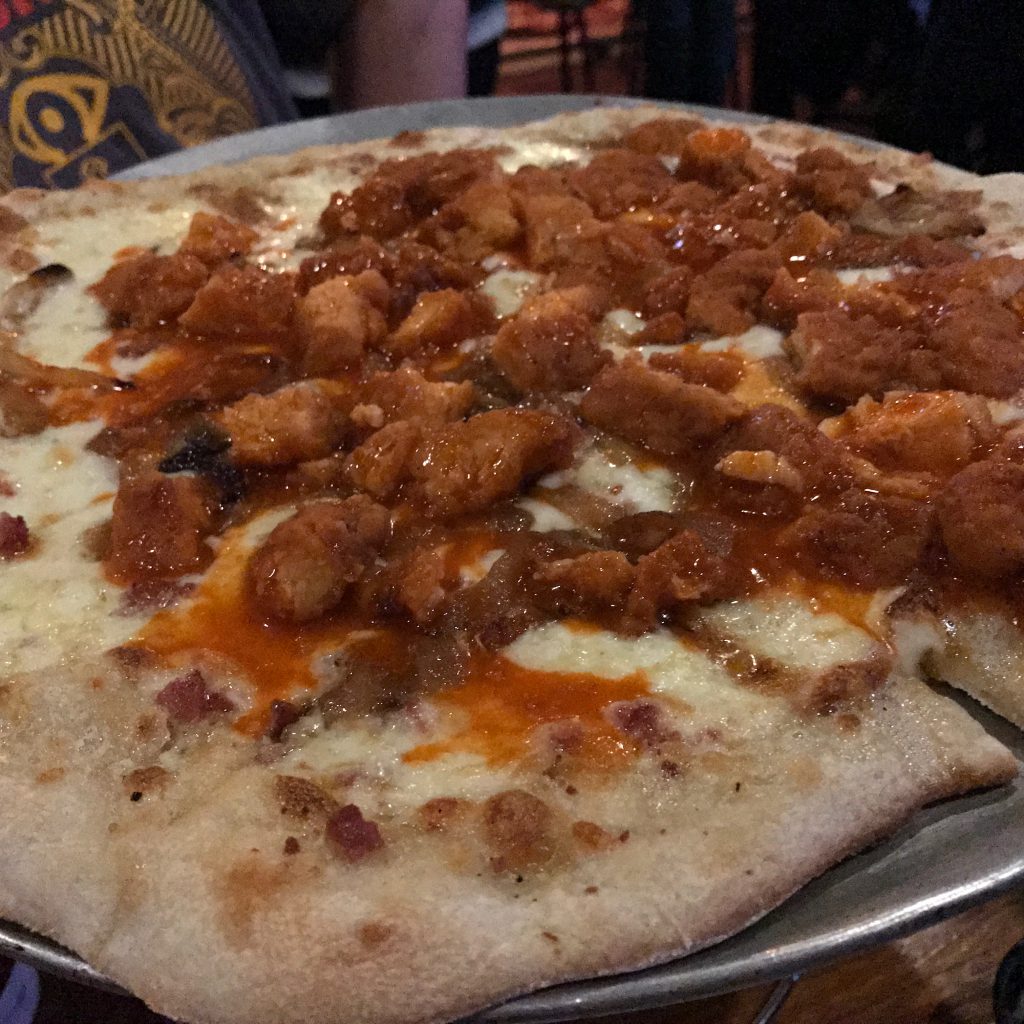 so, this was the band that played. i didn't check to actually see who they were, and my rudimentary iphone search tells me that they are maybe the perdido jazz band, but i'm not sure how many actual members were playing, based on their facebook page.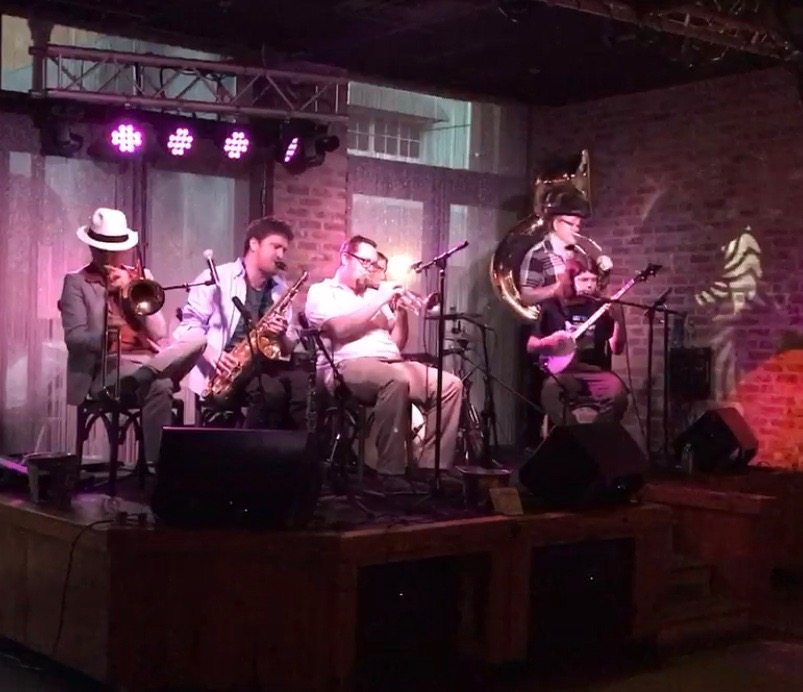 anyhow, we stayed until they were mostly done and then called it an evening. it was pretty early, but i can't party like i used to.
the next morning, anna, gramma and i made our way around town to collect anna's junior ranger badges from her previous day's labors. first, we went to the jean lafitte visitor center, where she was sworn in for the first badge. we bought some postcards and other memorabilia and then went to the new orleans jazz visitor center, for round two. her current total is now six badges and two patches.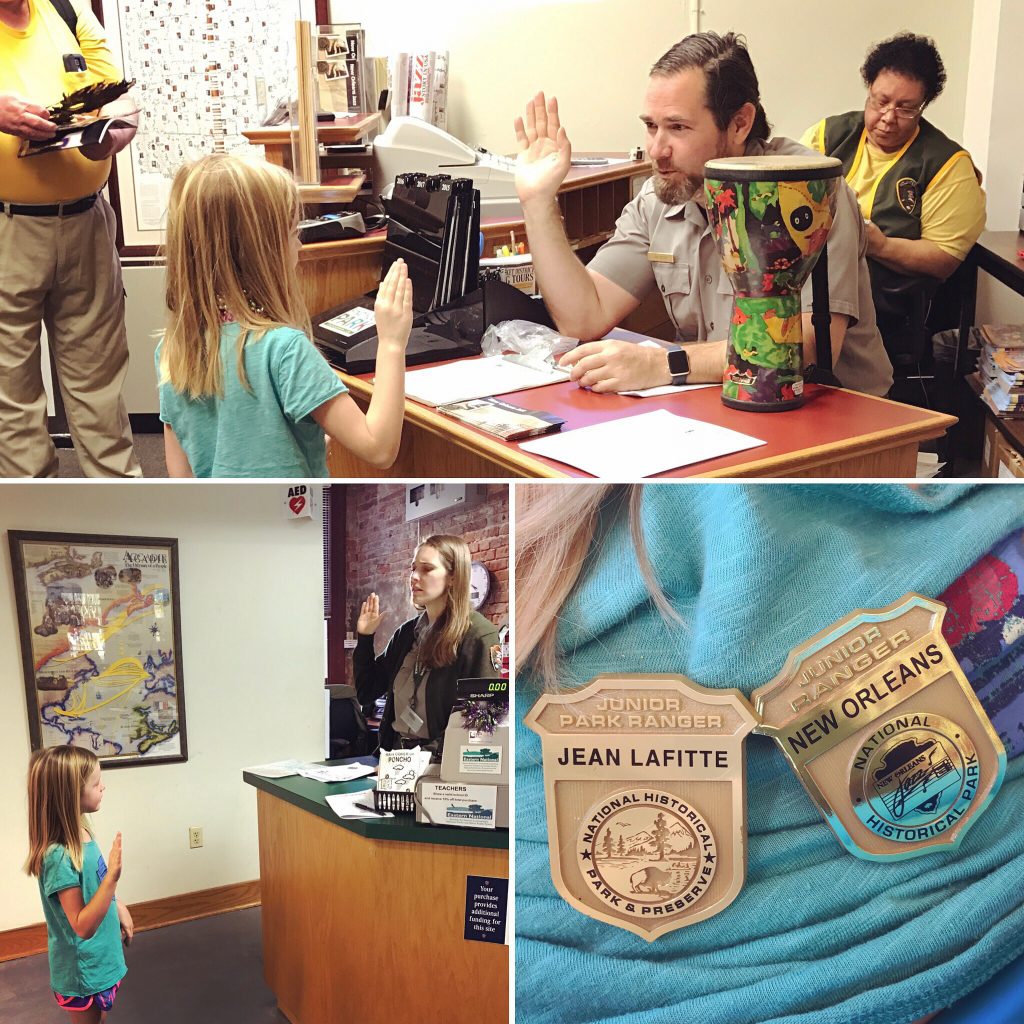 outside the jean lafitte visitor center.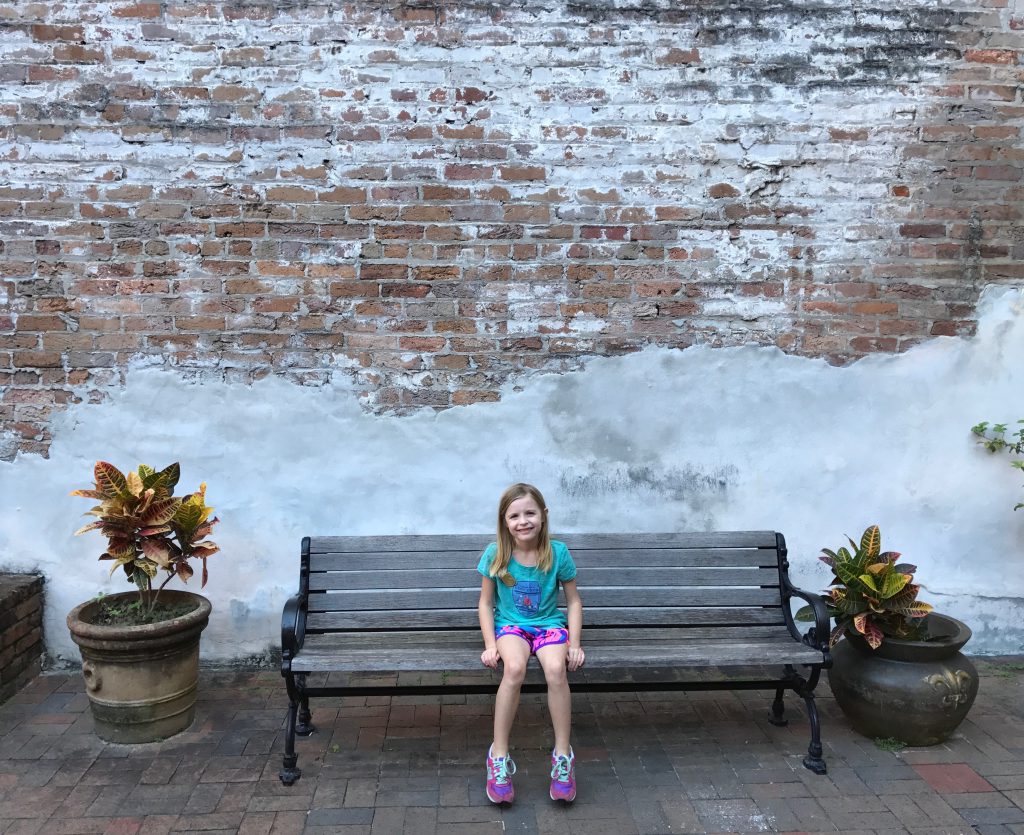 we might have picked up some mardi gras supplies on our walk between visitors centers.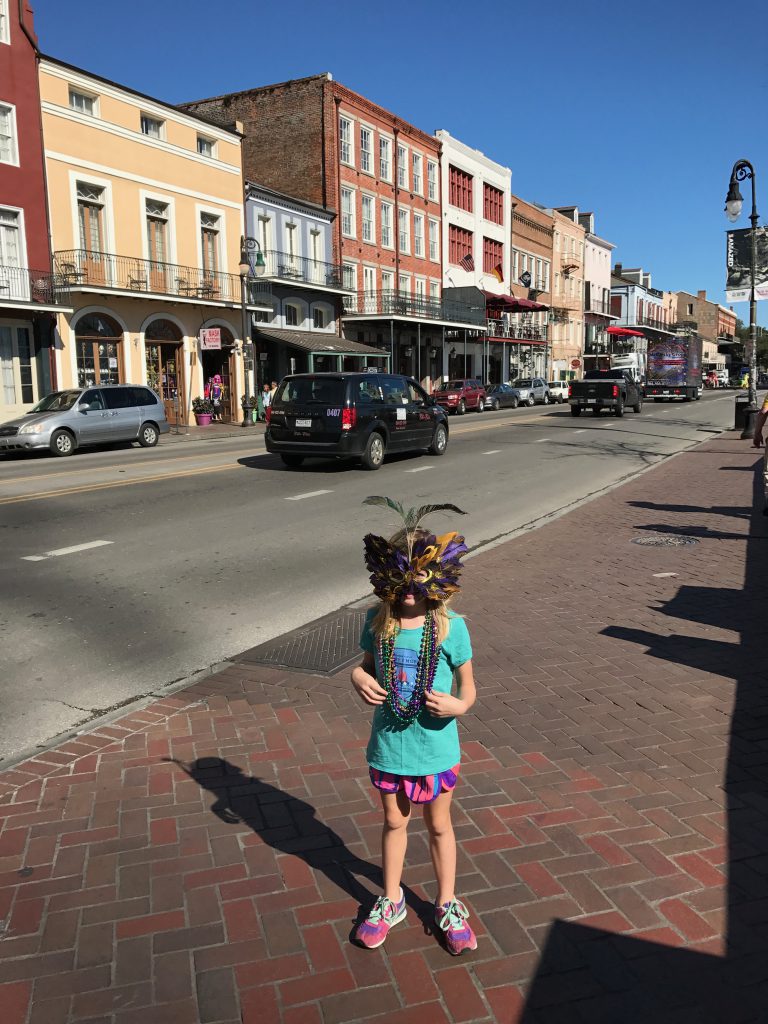 inside the jazz visitor center.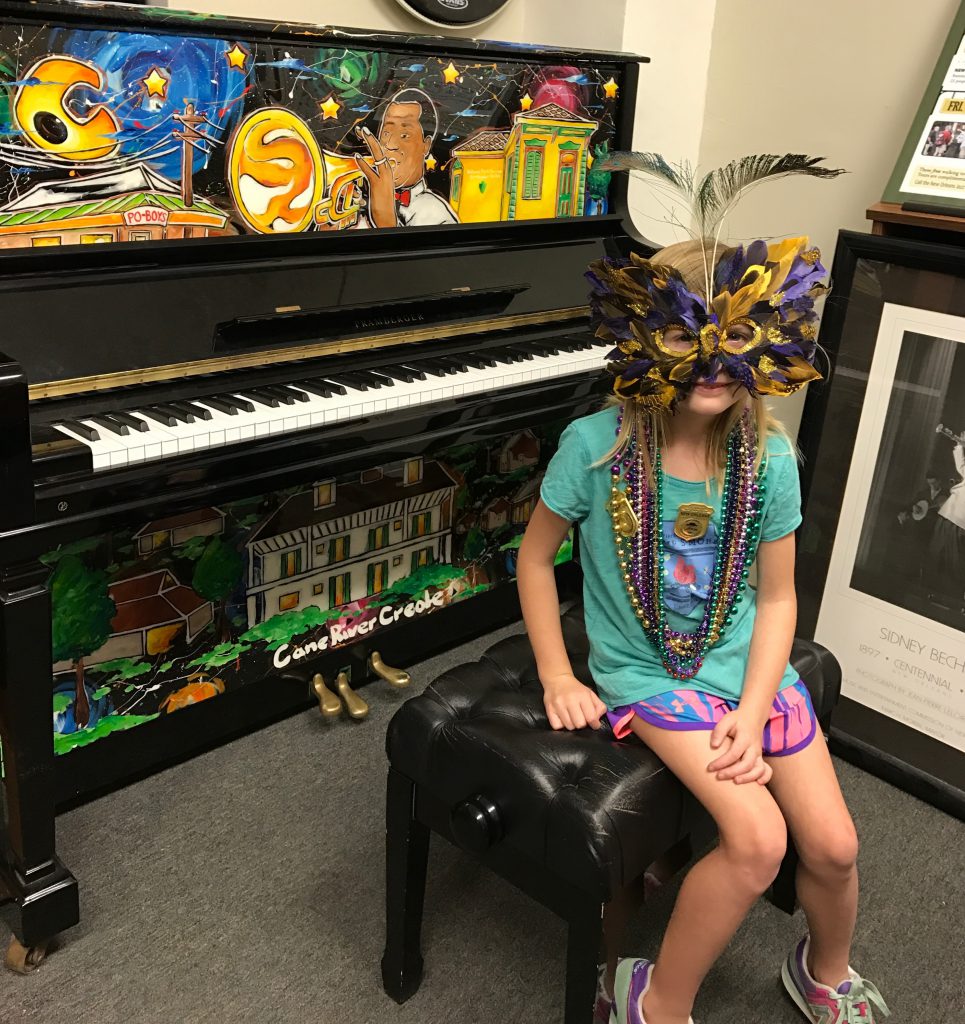 mardi gras princess.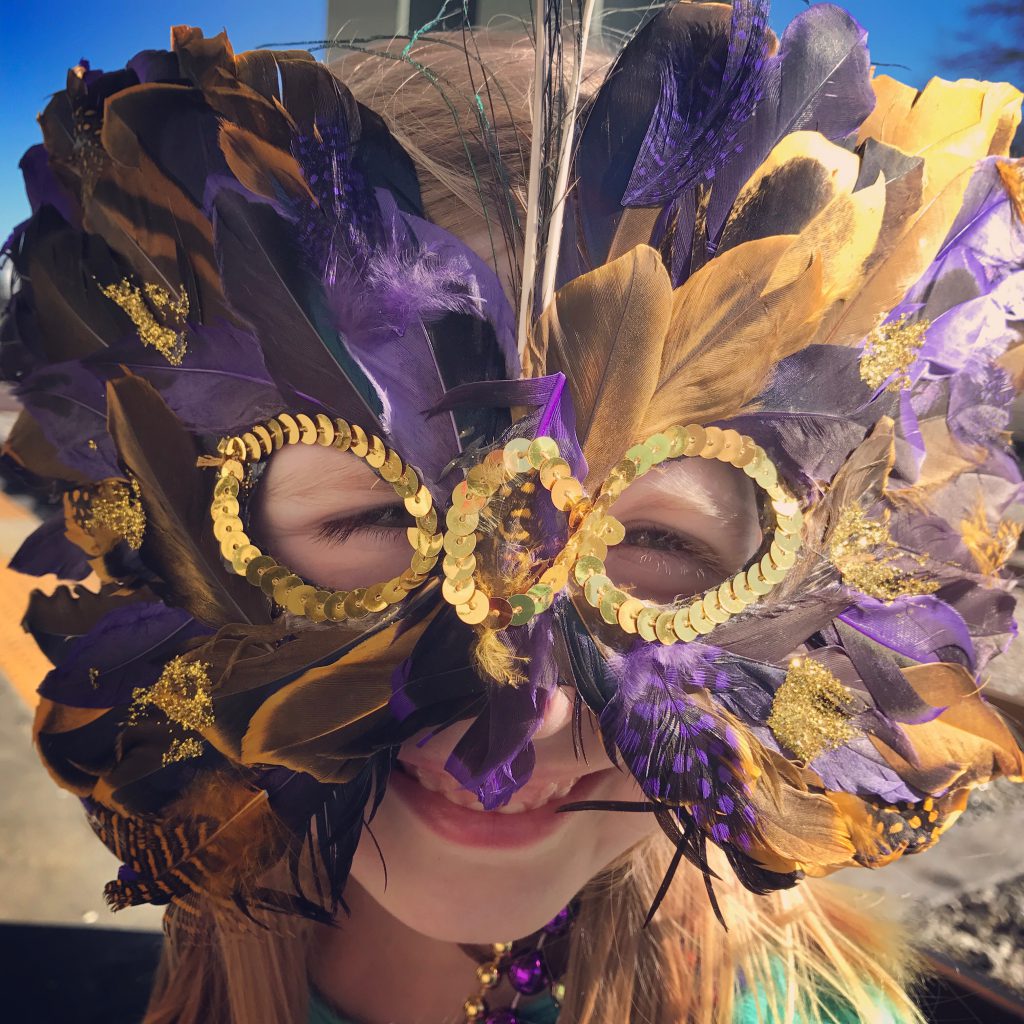 we went back to the hotel for a quick lunch before dragging out all of the lidkids to go back to the nola jazz visitor center, where there was an hour long concert. we stopped for a quick pic in front of this mural because who doesn't love a mural pic?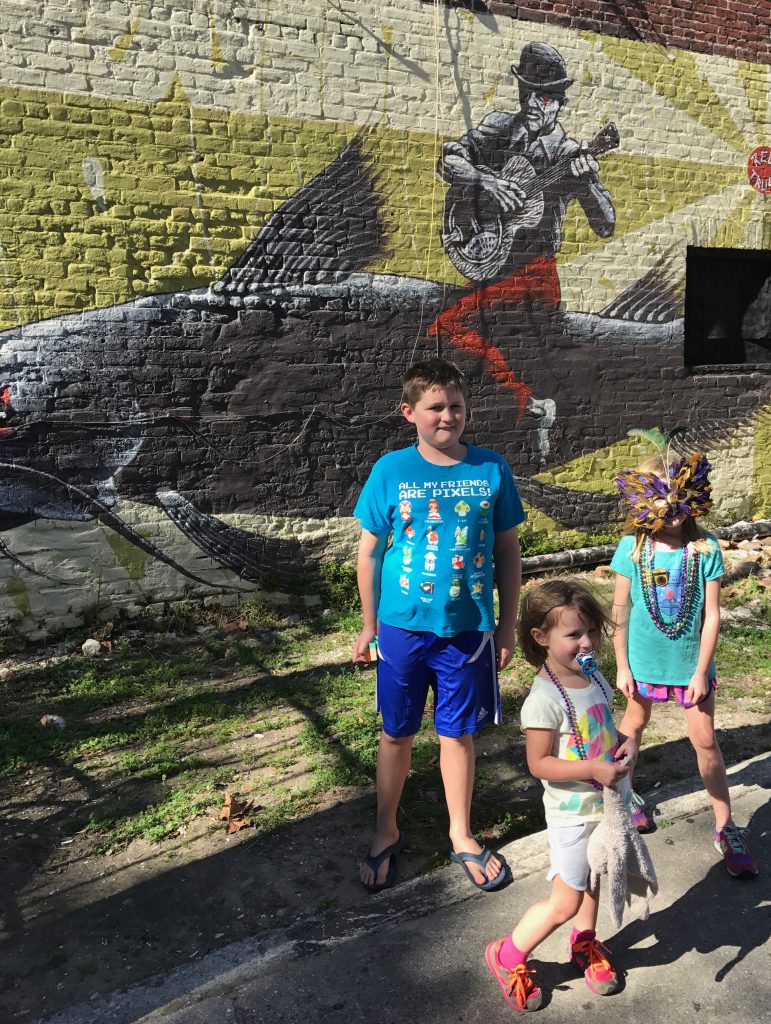 the concert was awesome. the piano player seemed to be in charge and told us a lot about the history of jazz and the different kinds of songs. i'm glad we dragged the kids along. hazel fell asleep. a common theme.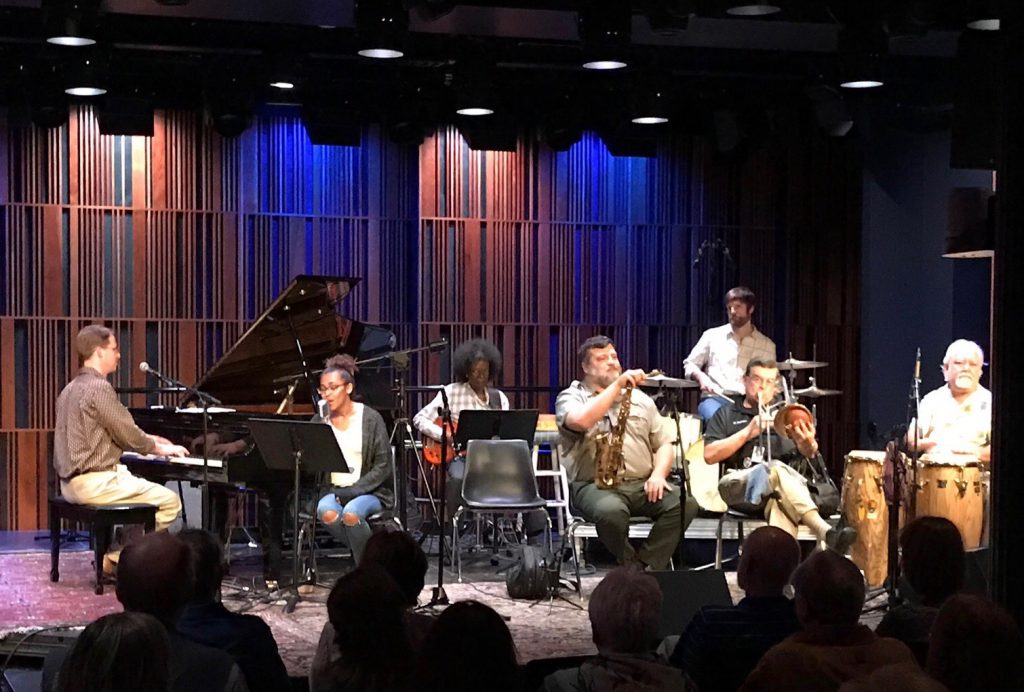 back at the hotel, the girls had a mardi gras parade.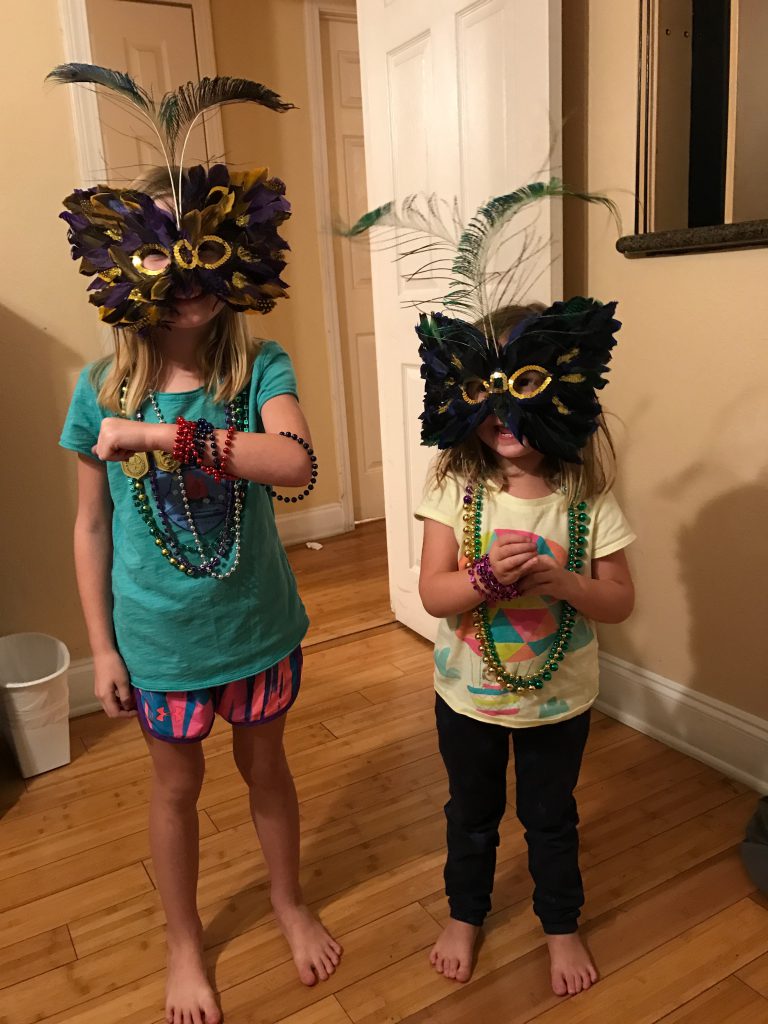 we were staying on frenchmen street, which is pretty much the best area for live music. every night, we could hear different bands coming out of each club. but, then also, every night, a group would assemble on the corner and just improvise. as best i could tell, it's the same group. and they were fun to watch.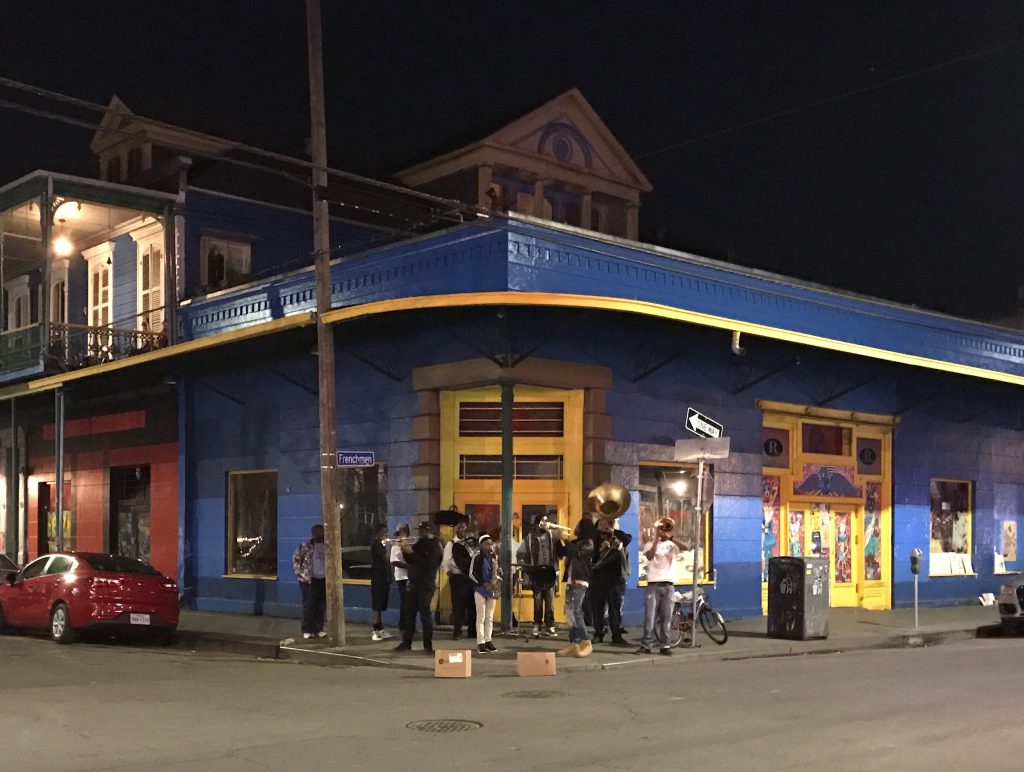 on wednesday morning, derek and i went to cafe dumonde alone and sat down and ate beignets and drank chicory coffee.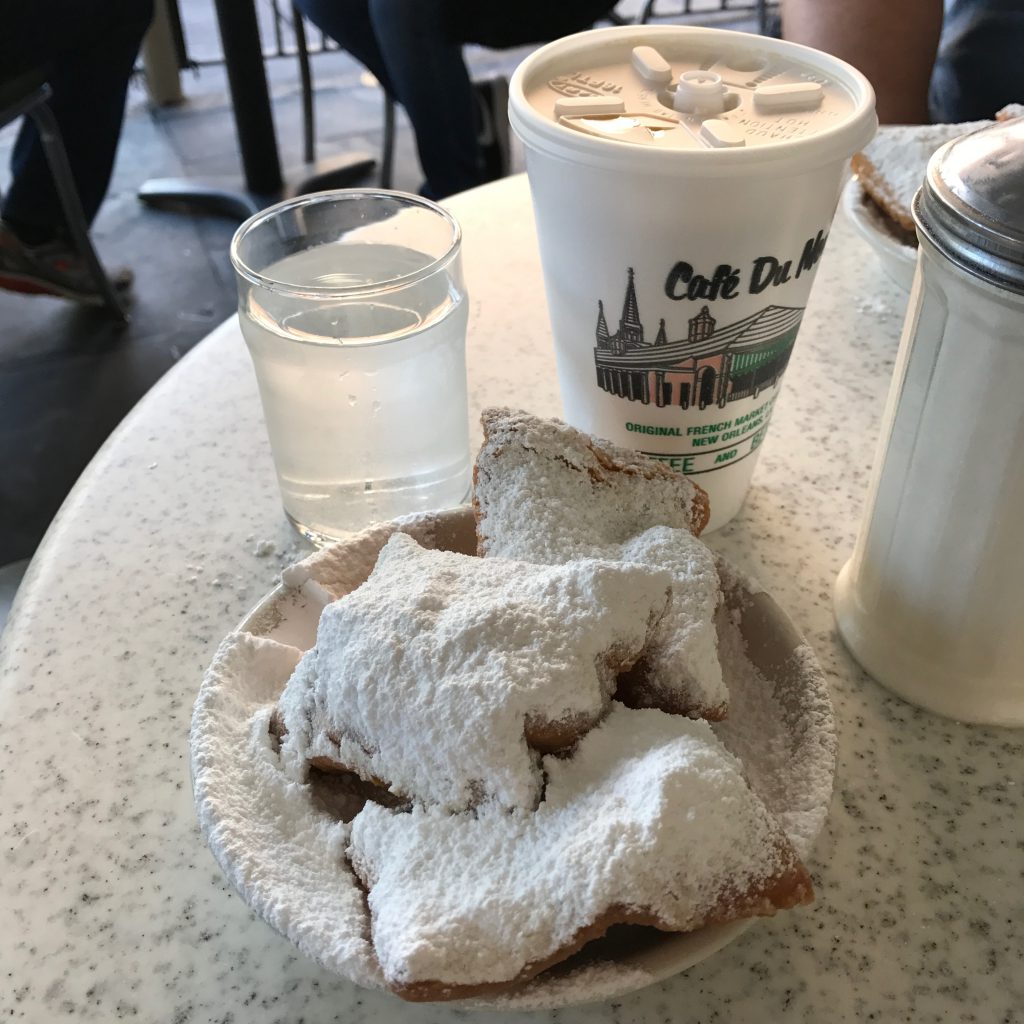 mississippi river view on our walk back to the streetcar.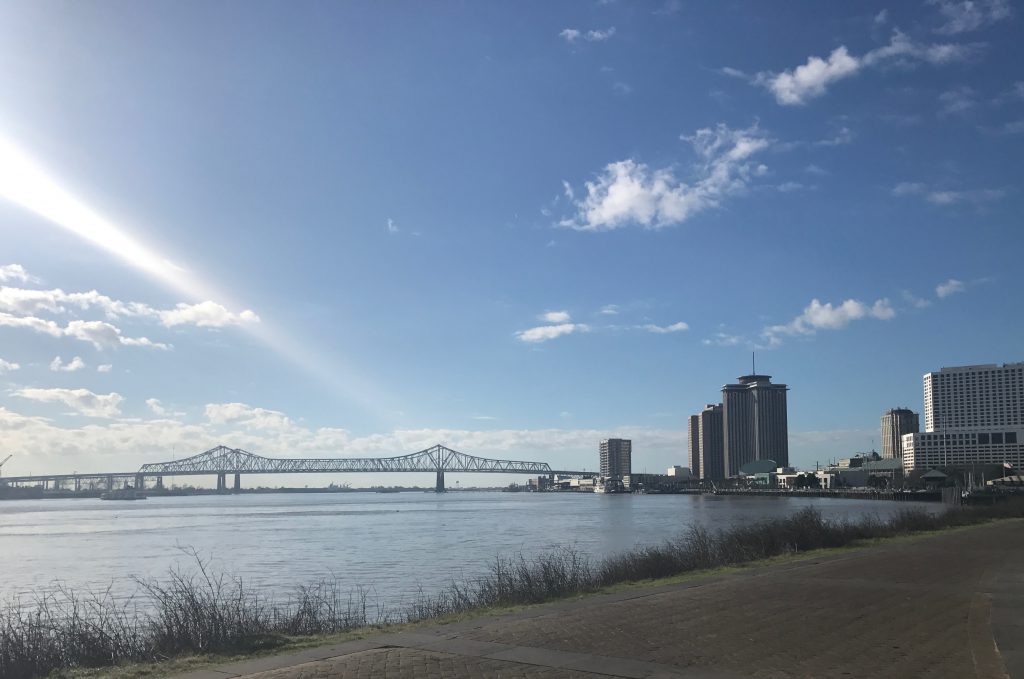 we got back to the hotel and got the kiddos ready for a kid friendly "spooky tour" of the french quarter. off we went, to meet the lady who runs it, at the ursuline convent.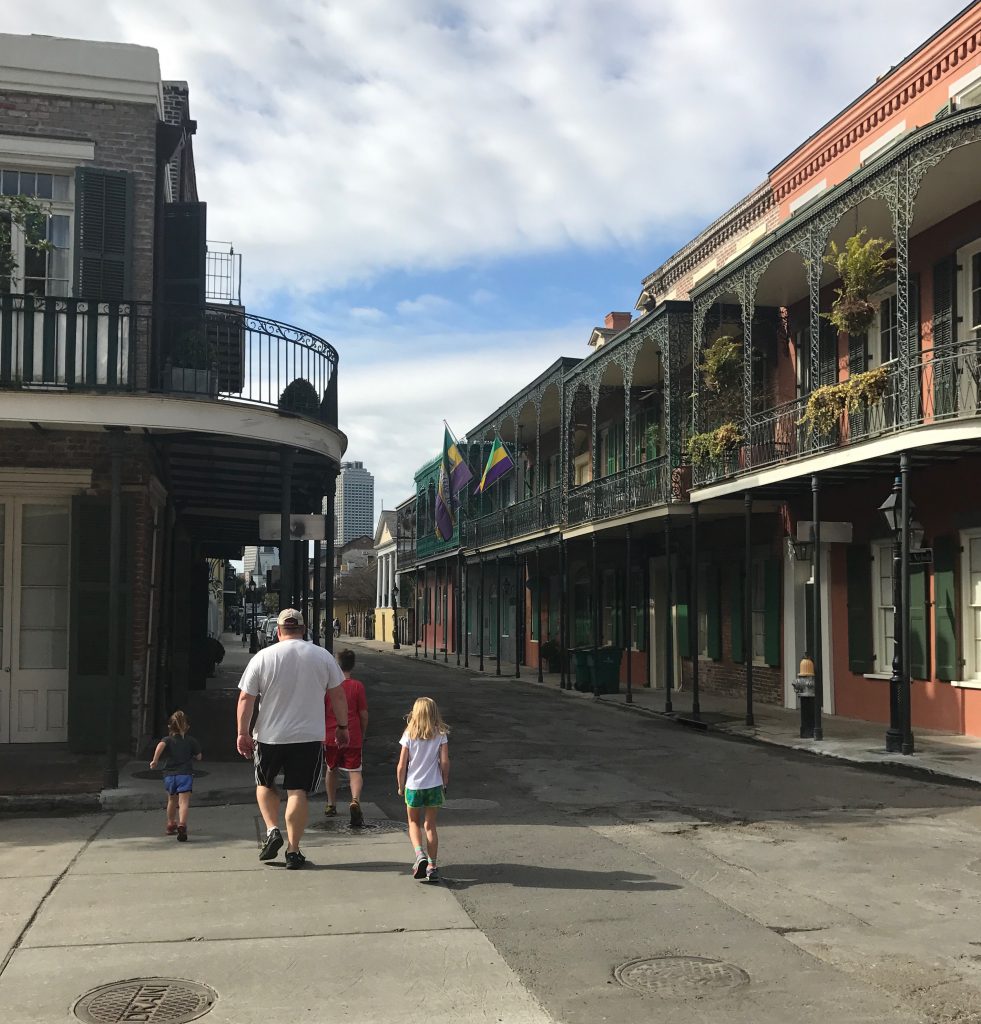 she was awesome. she got the kids engaged and learning about the history of the french quarter and before we knew it, they were on a quest to find the ghost of the pirate (hero?) jean lafitte.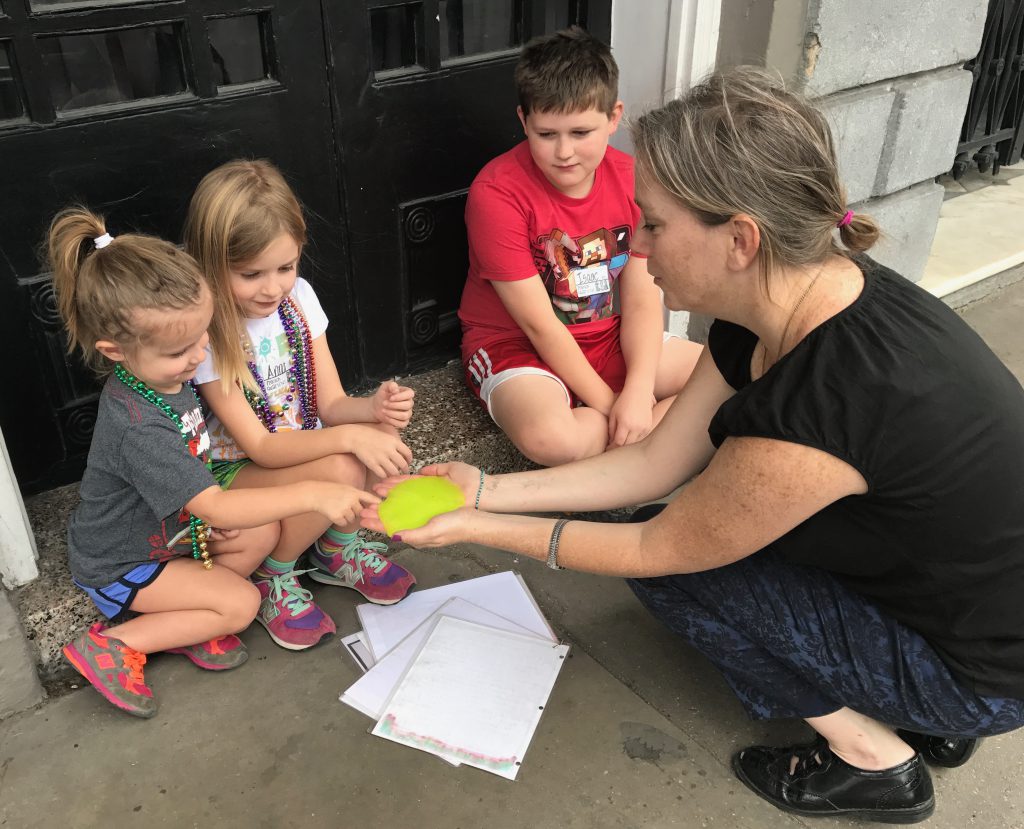 here, they are using surface thermometers to measure for ghost energies.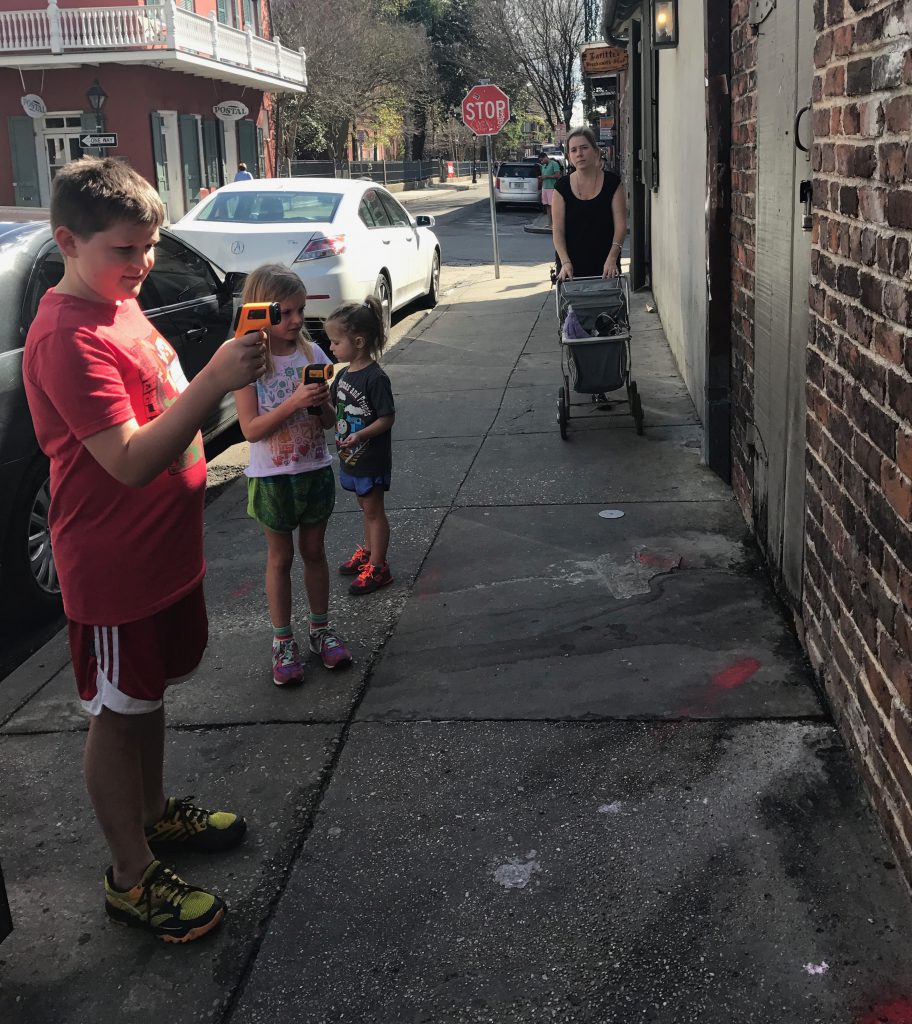 they happened upon a secret message that needed decoding.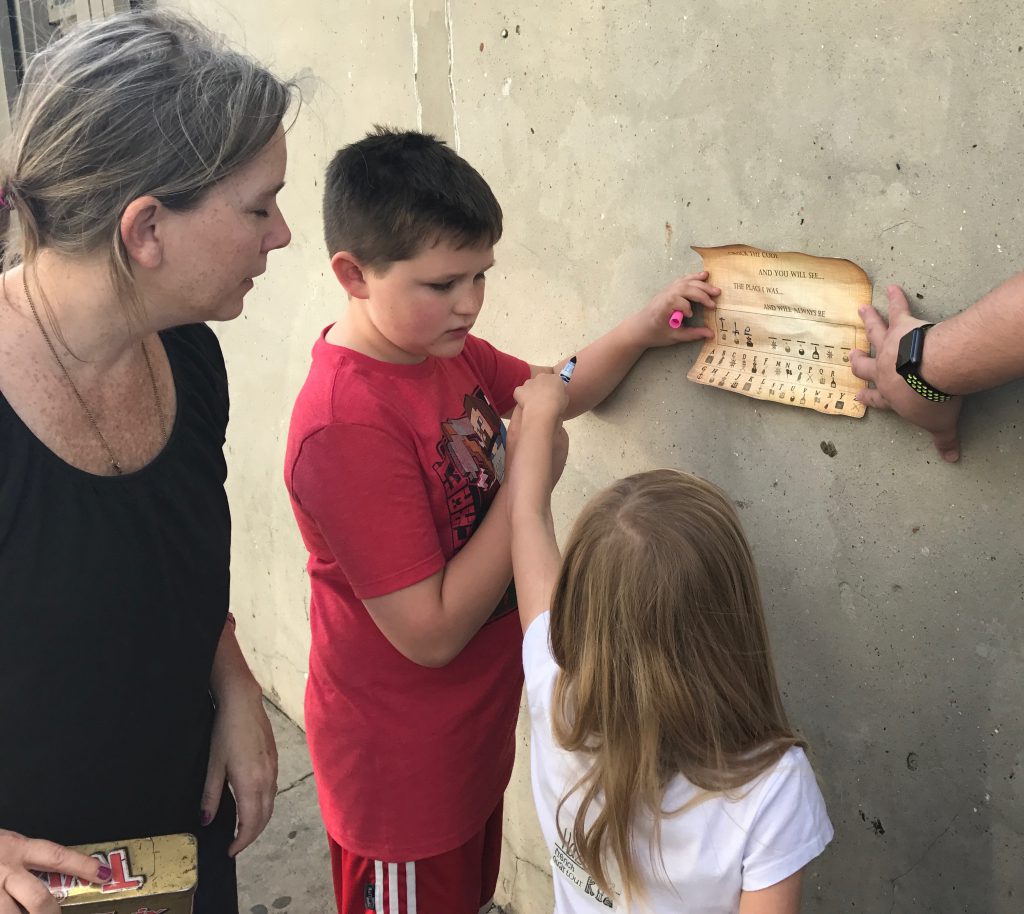 the message lead them to the church where we learned a bit about the history and practice of voodoo. (a light version).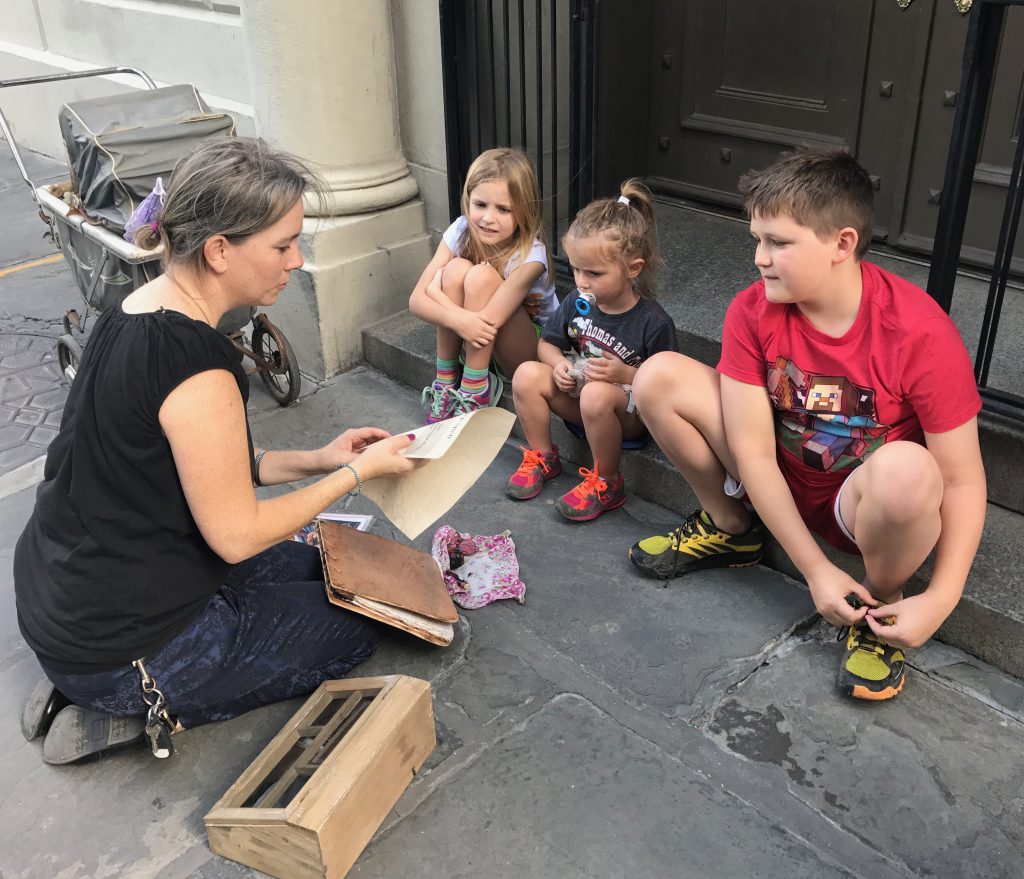 our tour ended in pirate's alley, where the kids found a pirate treasure of gold foil wrapped chocolate (u.s.) coins. the kids were sure it was left by a ghost pirate.
we had a lazy rest of the afternoon. hazel napped. isaac watched tv. the grandlidboms went out for a tour that never happened. and derek hung with isaac and hazel while anna and i went down to the french market, where we took this picture of a monument commemmorating said french market. i think.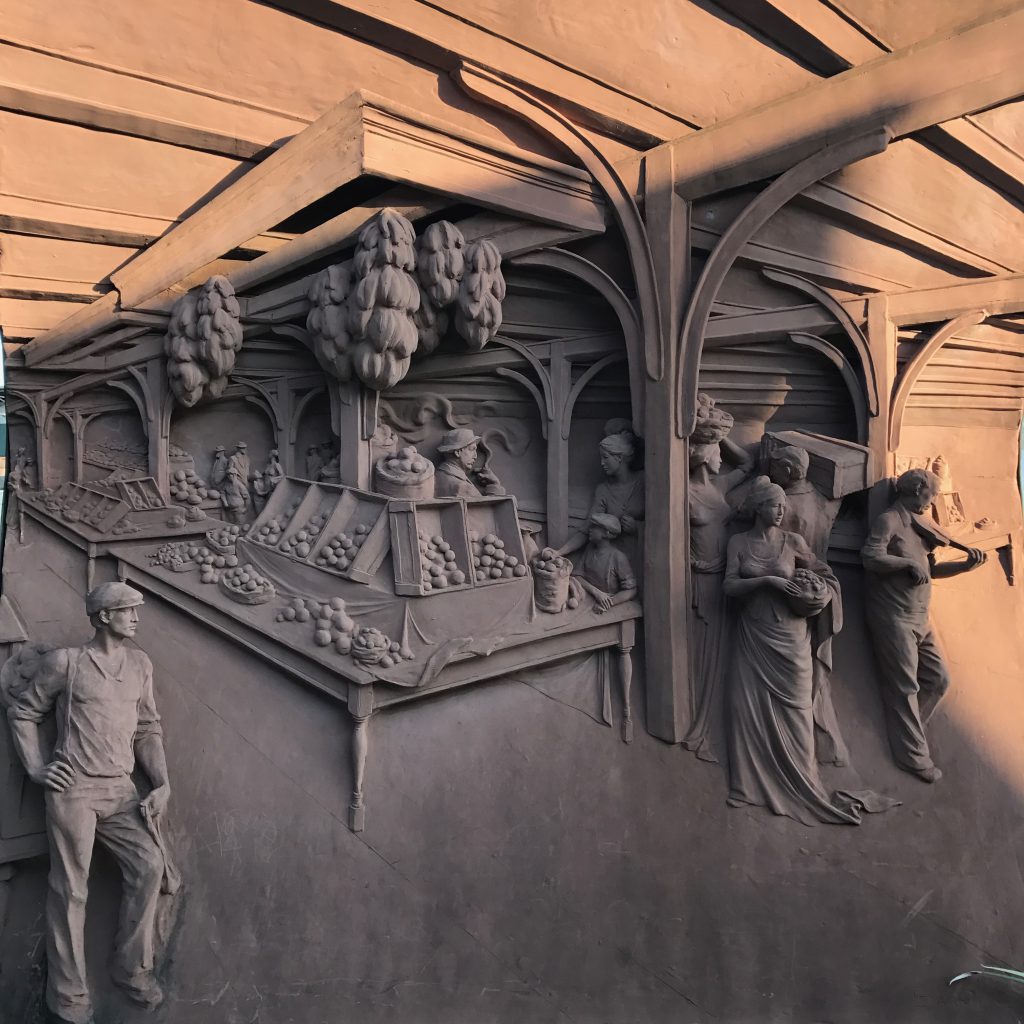 we went to dinner at a place called "dat dog" that was on the corner near our hotel. it wasn't kid friendly. but it wasn't nearly as not kid friendly as most places. but there was this: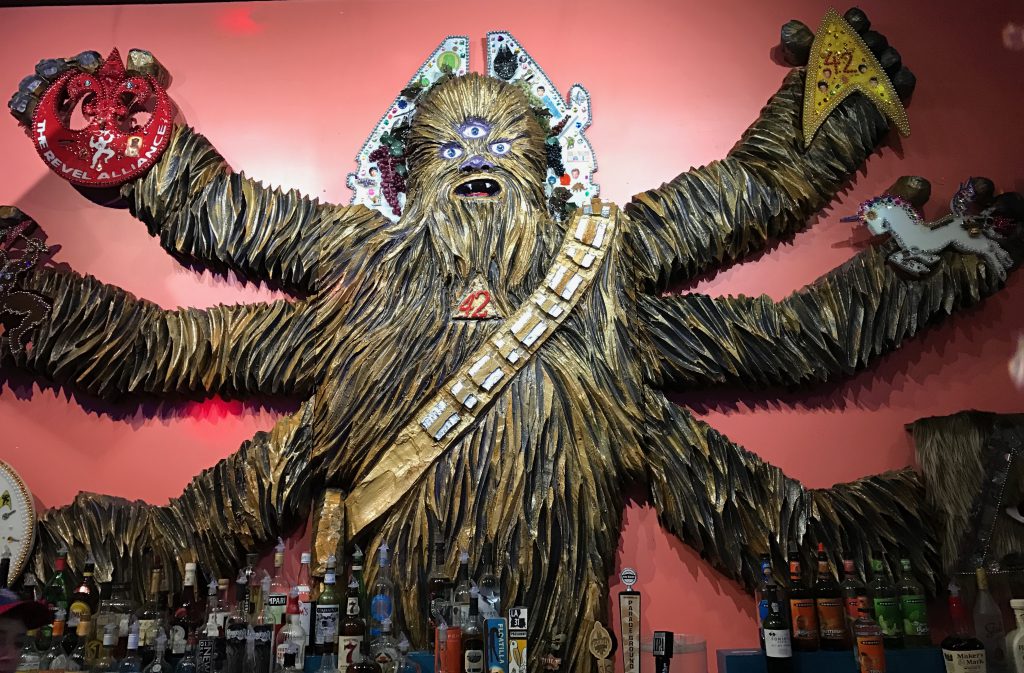 we ordered "WTF fries" for the table and i got the chef's choice for my hotdog and it was delicious. it had blackberry sauce, bacon, chipotle mayo and barbecue sauce. heart.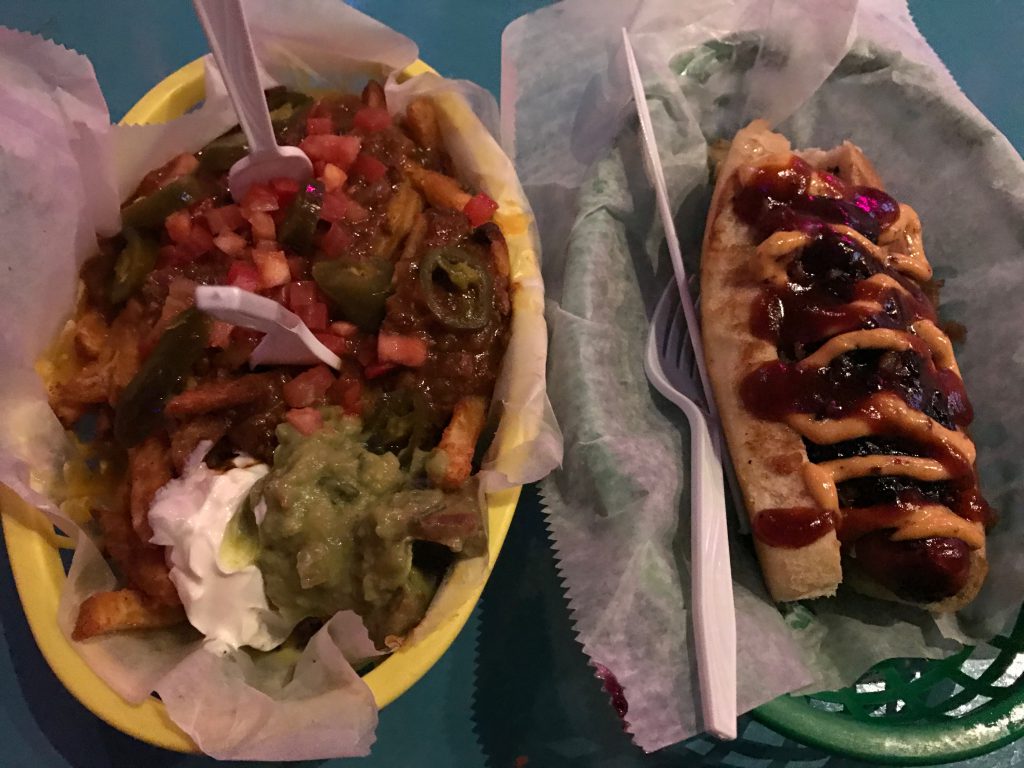 derek and i went out for a bit more music on our last night in town. our first stop was the spotted cat, which is one of the top music spots in town. i have no idea what the name of this band was, but they were fantastic. unfortunately, we got there for the last two songs of their set, so when they took a break, we moved along. (our time was limited because we are old and we were tired).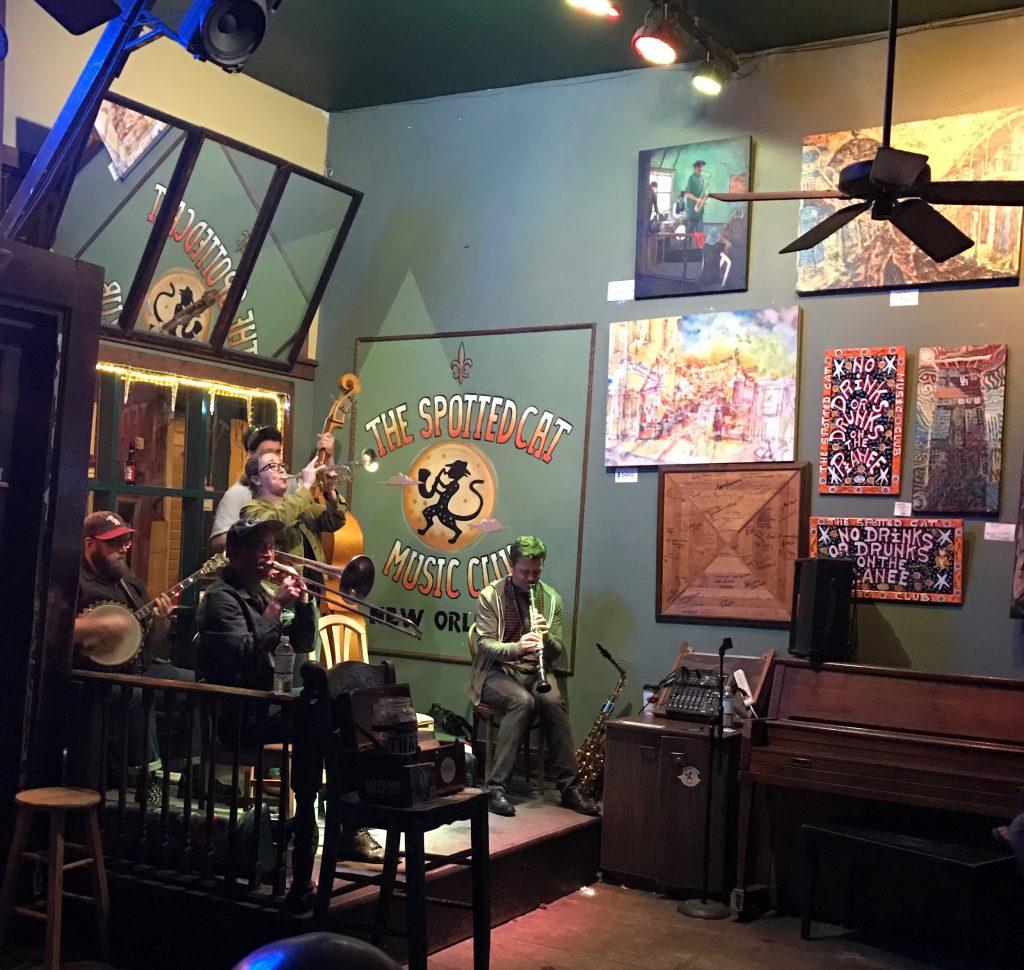 we actually only ended up going to one more spot, before calling it a night. (most places have a drink minimum per set and i couldn't keep up that sort of pace, financially and alcoholly).
the next day was the wake up and pack up and get ready to head home day. but first, we had to get a new orleans po-boy. after a long and arduous internet scouring, we decided on gene's, mostly because of location. our last meal with the grandlidboms.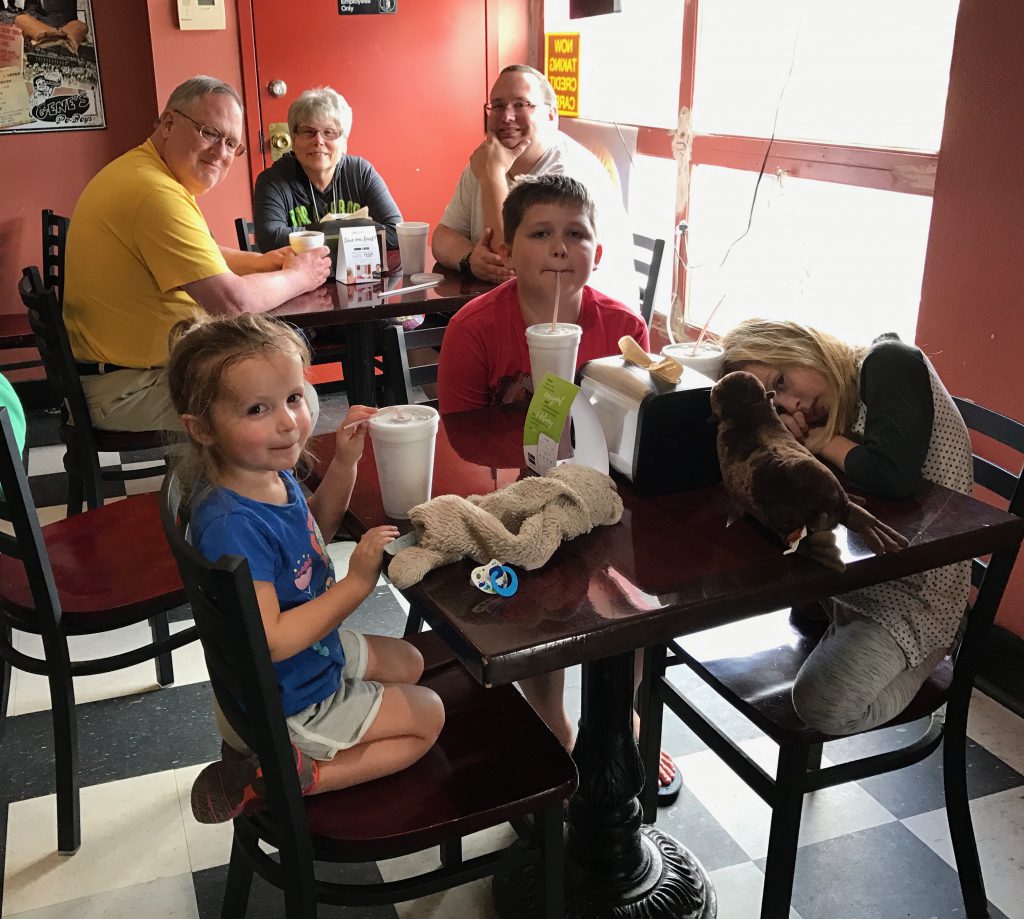 the po-boys. fried shrimp and roast beef and cheese. so good. and so much food.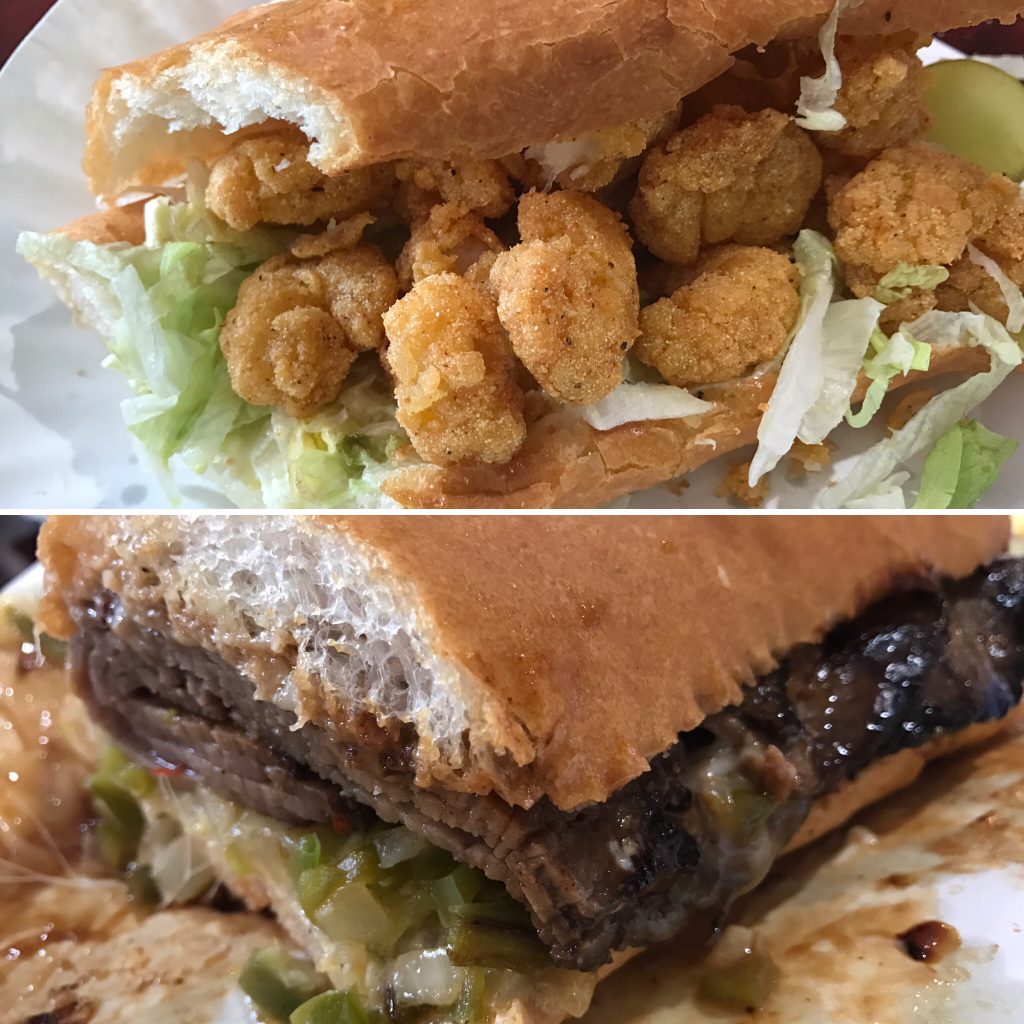 we walked back to the hotel. played a few card games. said our goodbyes with the grandlidboms.m . and loaded up to head back to the camper (which was thankfully still standing and not graffitied or looted).
and thus concludes our new orleans adventures. i hope you enjoyed.