when we realized that we would be sort of kind of passing near great sand dunes national park, we knew we would take a detour and spend at least a day, even if we camped out in a nearby walmart. but, our internet free campsite caused us to make a hasty exit and we found ourselves with a few leisurely days in which to enjoy the park.
then, we woke up to snow covered surroundings. but that didn't stop us. off we went. to snow covered sand dunes. they don't look like much from this view, but the tallest one stands 700 feet high.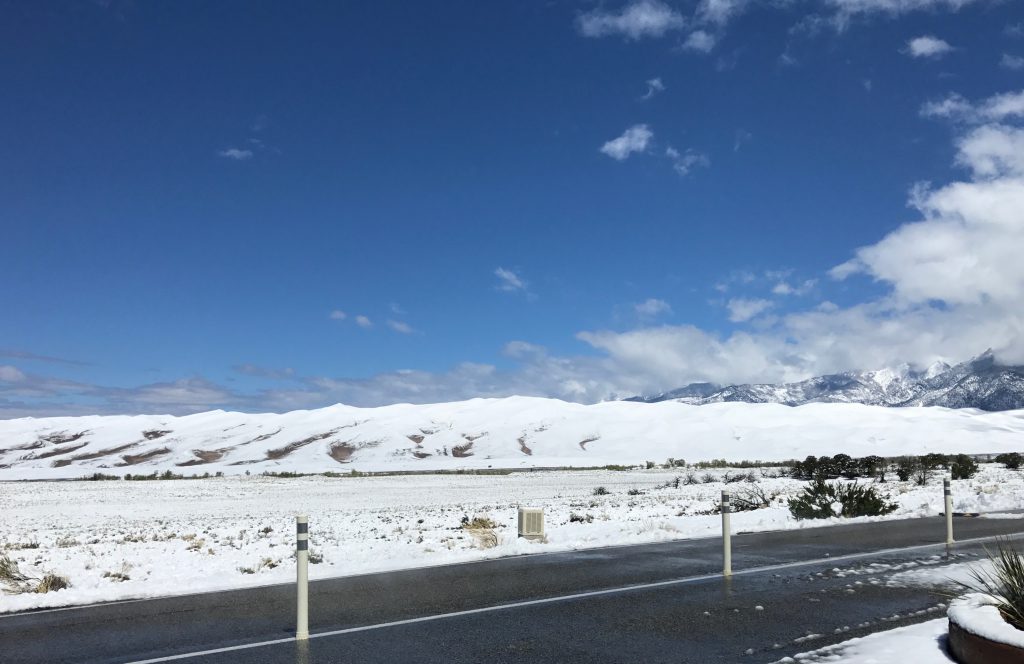 we stopped in the visitors center, to get some tips and pick up junior ranger books. anna got right to work.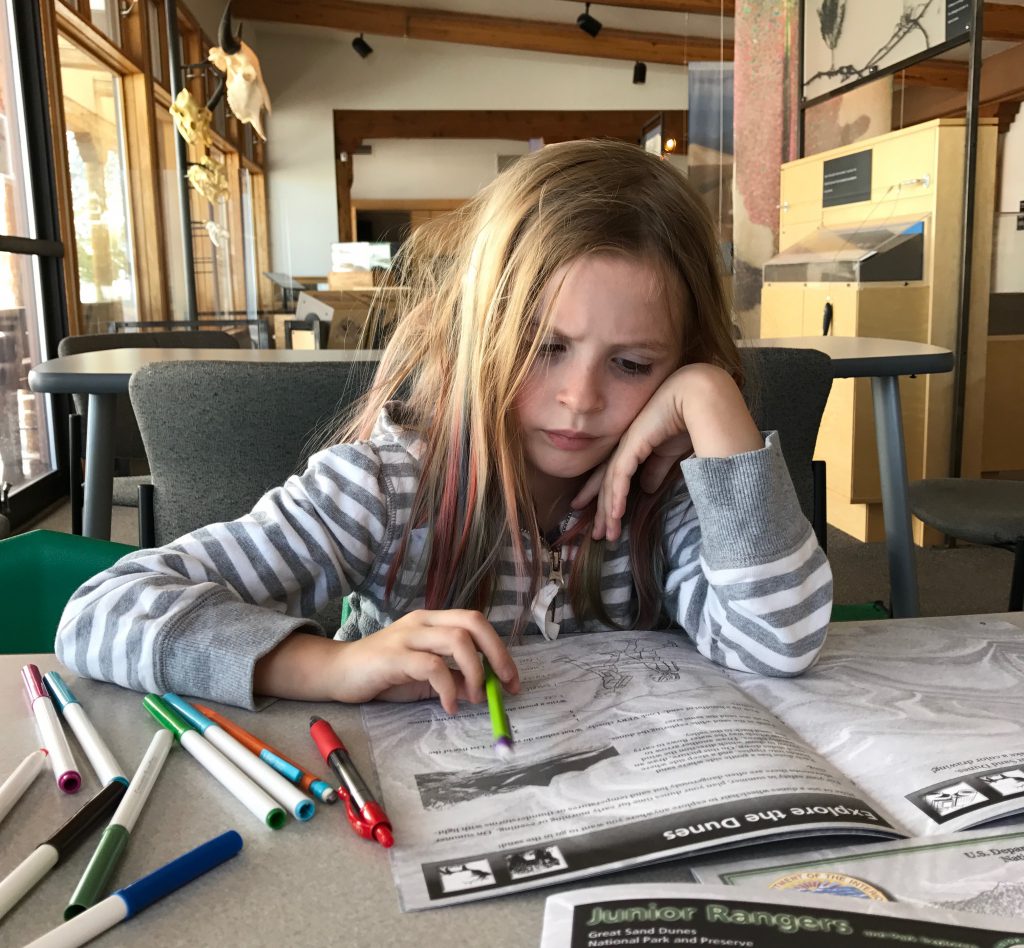 so, the parking lot is separated from the sand dunes by a gushing creek.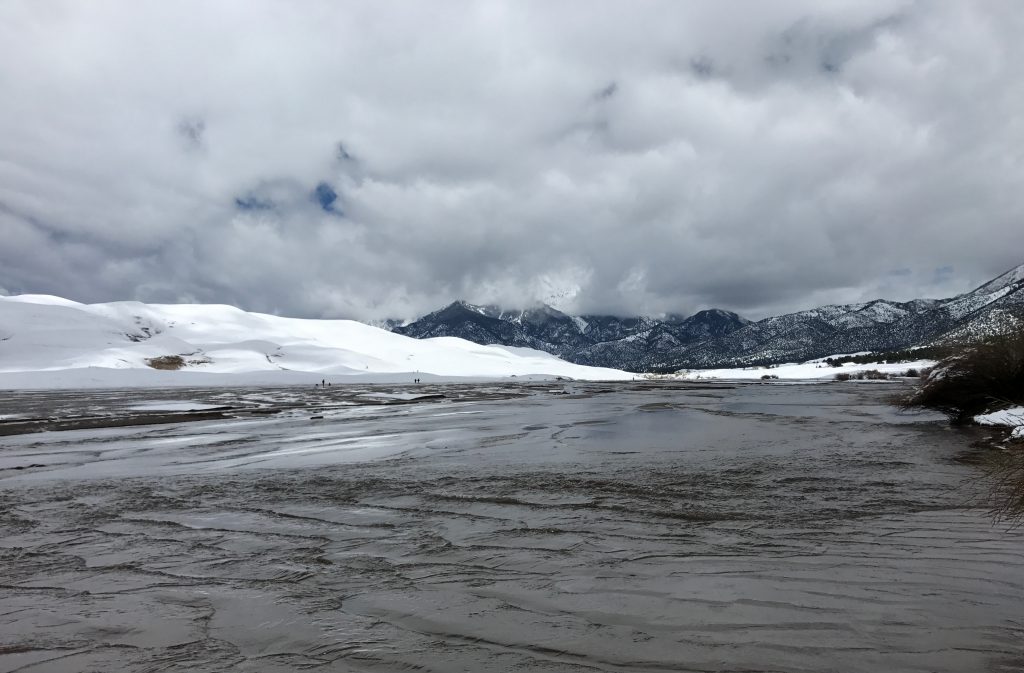 we hesitated for a moment, but i packed a change of clothes for everyone, so in the end, we decided to get wet and go for it.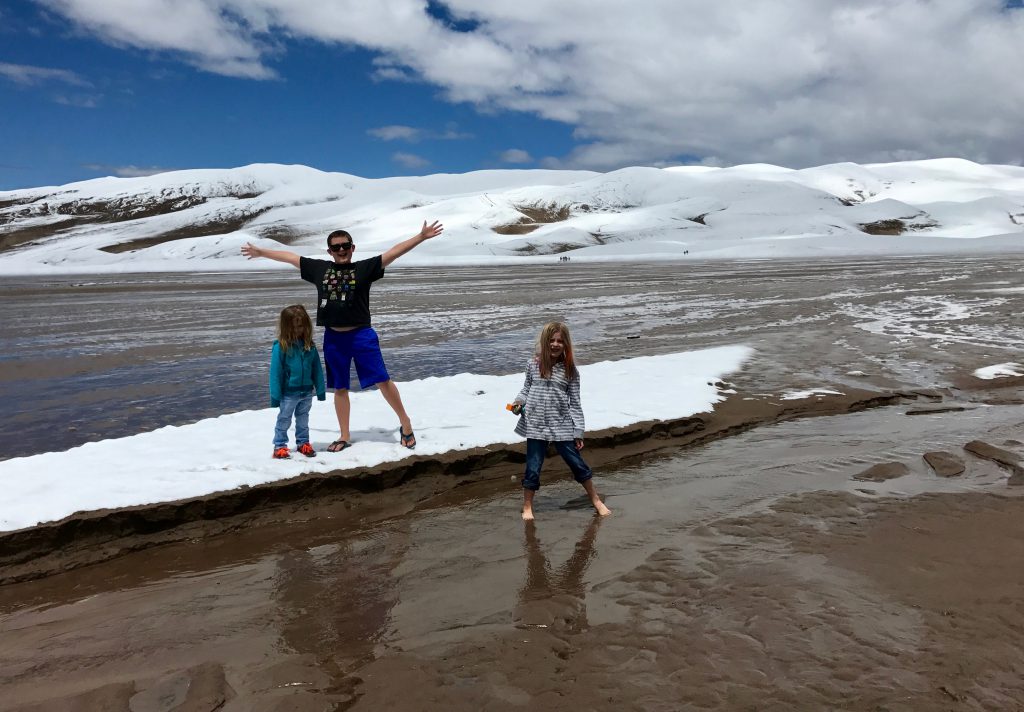 as we made our way across, we would often step in sink holes of "quick sand" and become quickly engulfed up to our ankles.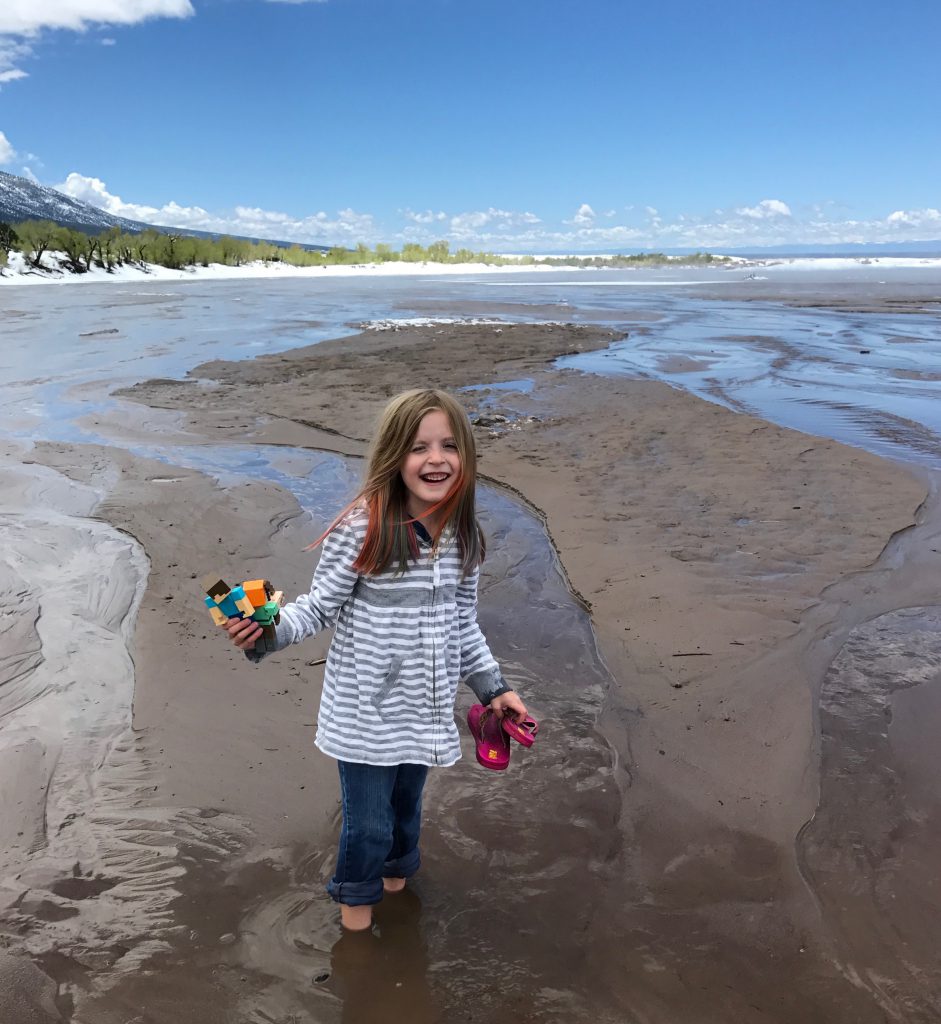 hazel wasn't as jubilant about our watery hike across the rushing creek.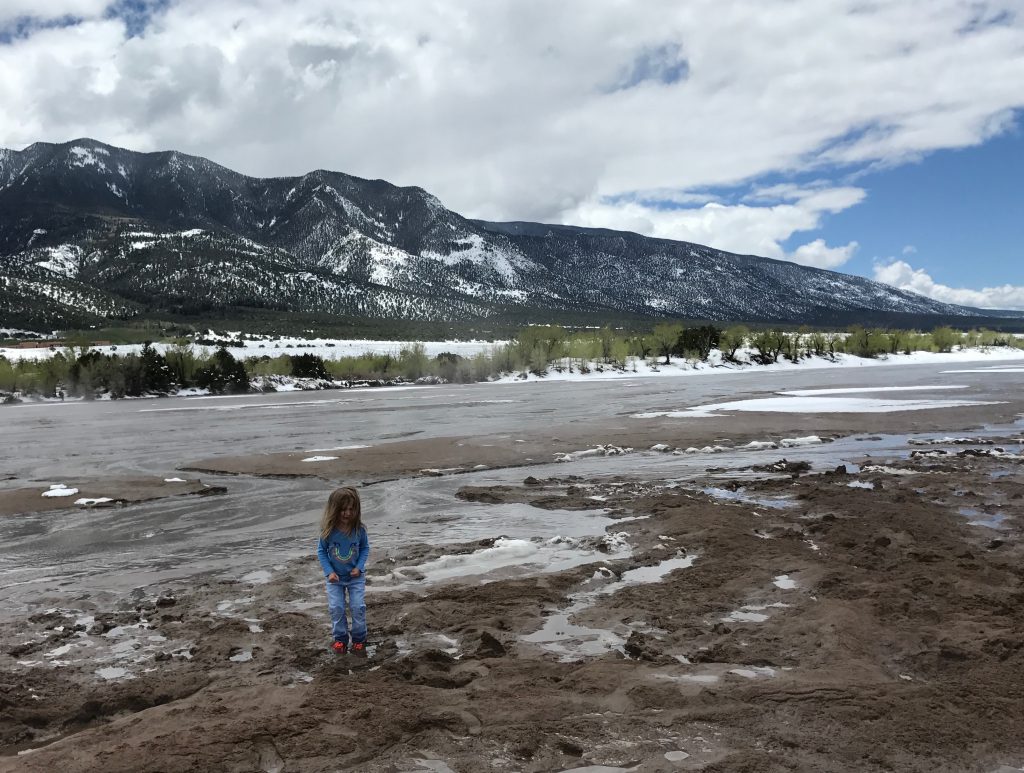 once we were across she cheered up and joined in the frolicking fun.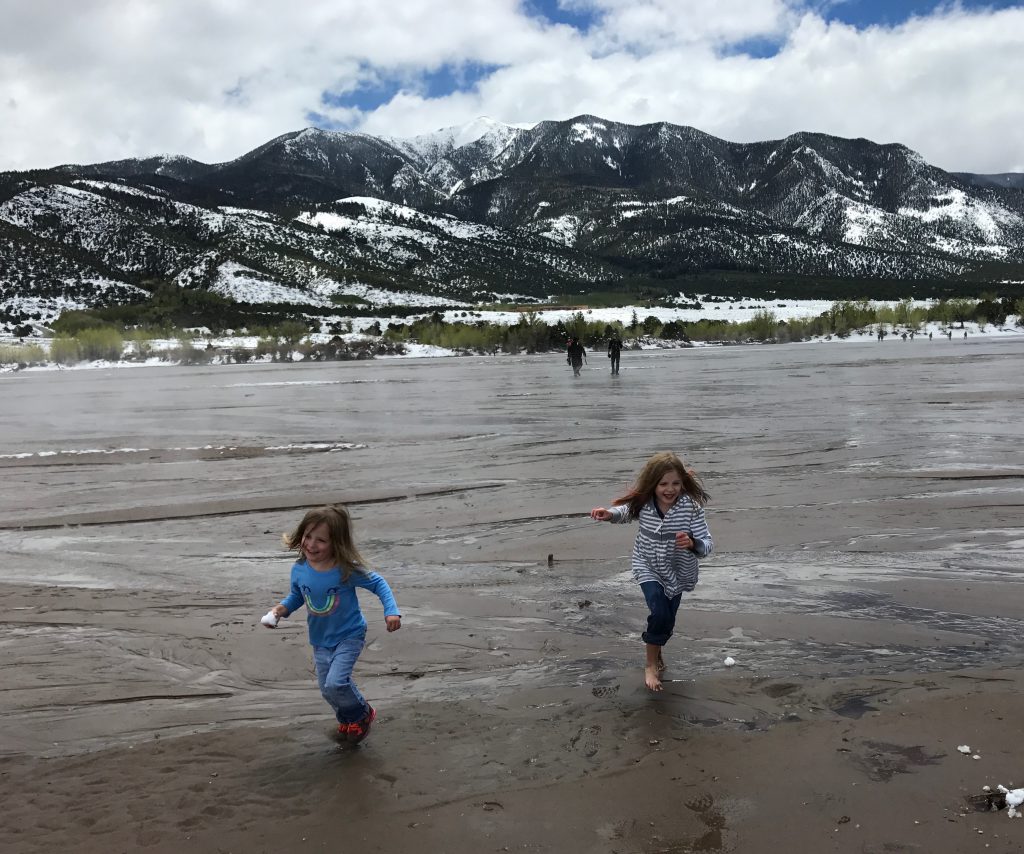 it was still snowy on the other side and we were wet and cold and the two big kids insisted flip flops were all they needed by way of footwear, so we threw some snowballs at each other for a bit and then headed back.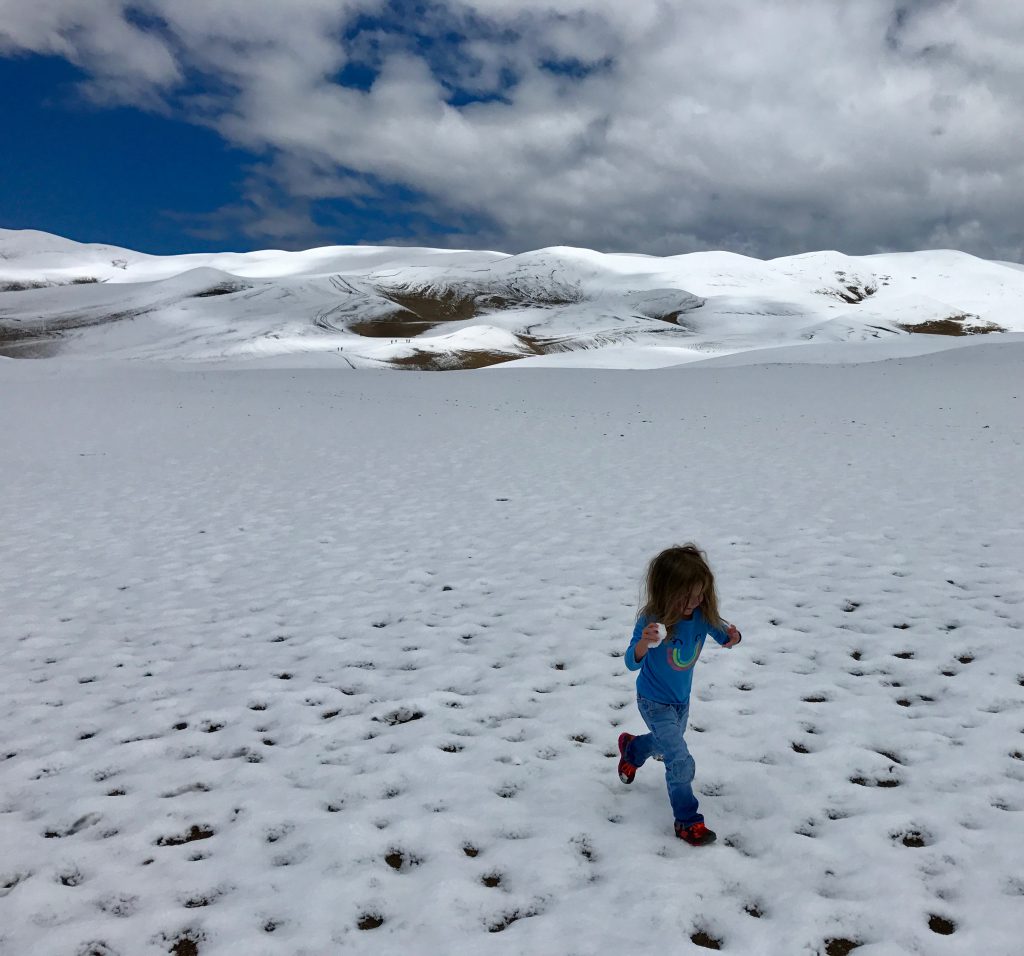 but first. an official "great sand dunes" picture. hazel declined to participate.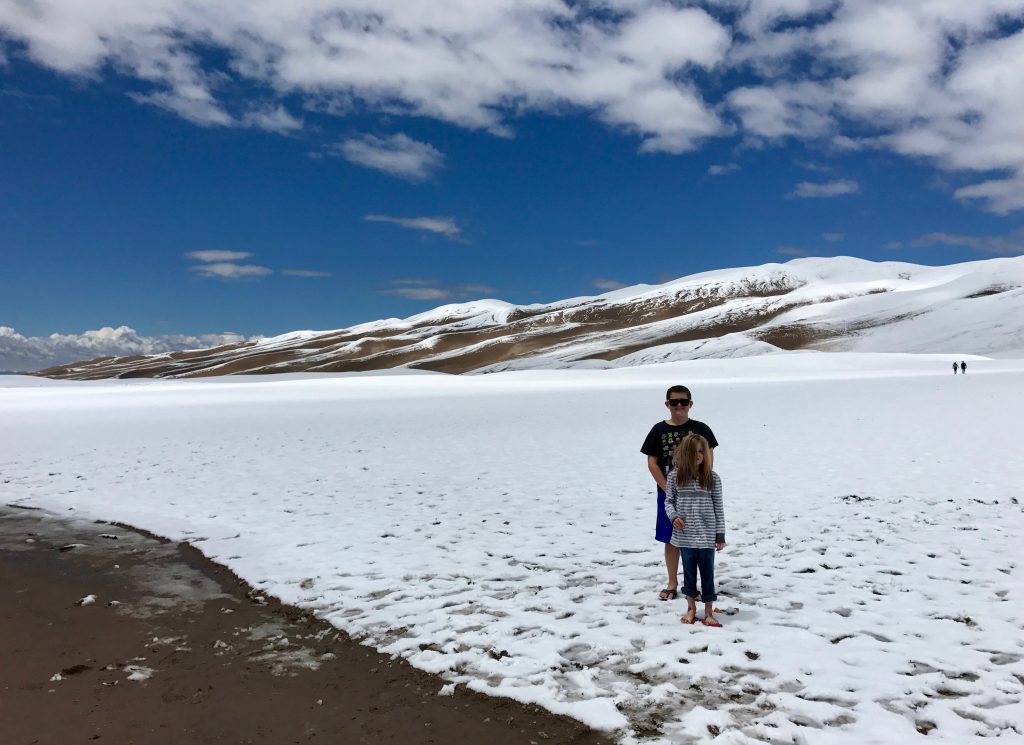 we went back to the car. stripped down and redressed. and then back to the camper. (we were about 30 minutes away).
the next day, the sun was out in full force and the snow was melting away quickly. we waited for derek to finish work and then went back to the dunes, for an entirely different experience.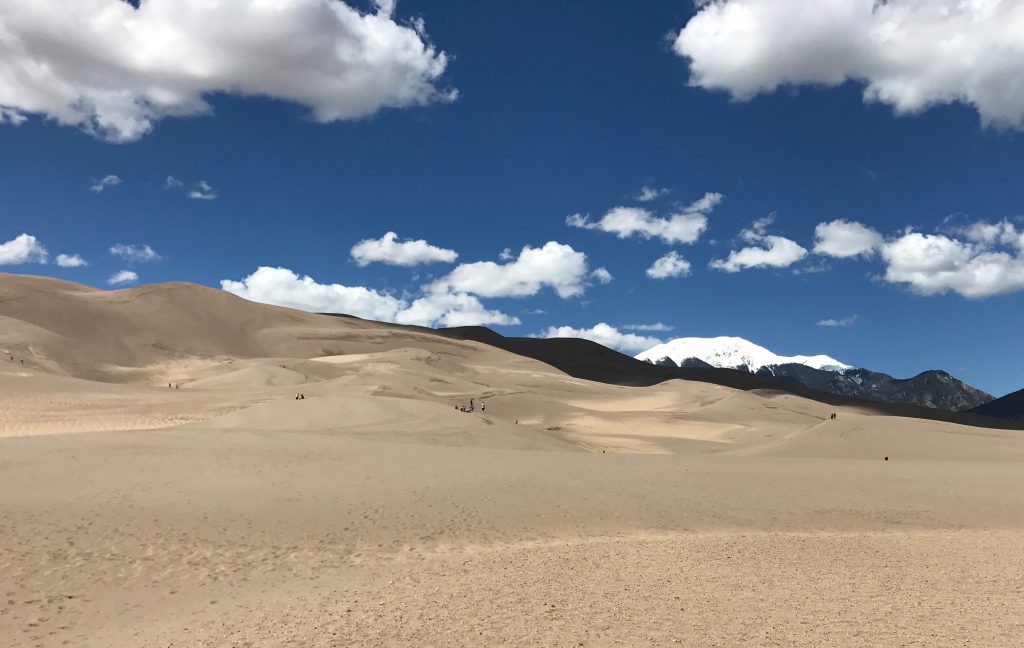 we started off with getting the kids junior ranger patches locked up.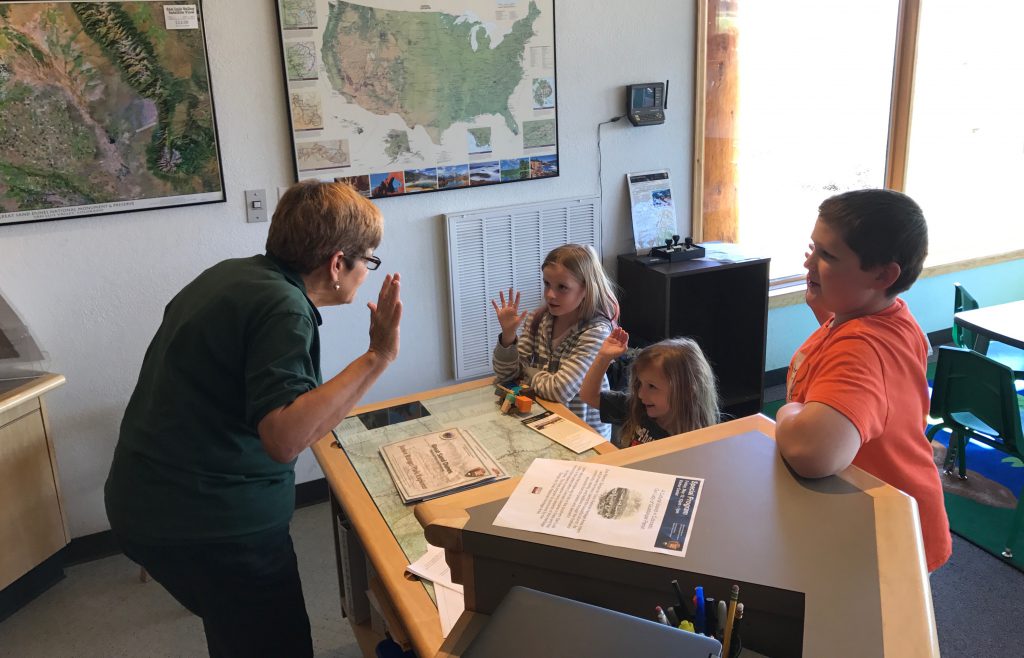 back down to the creek. which was way less gushing. and warmer.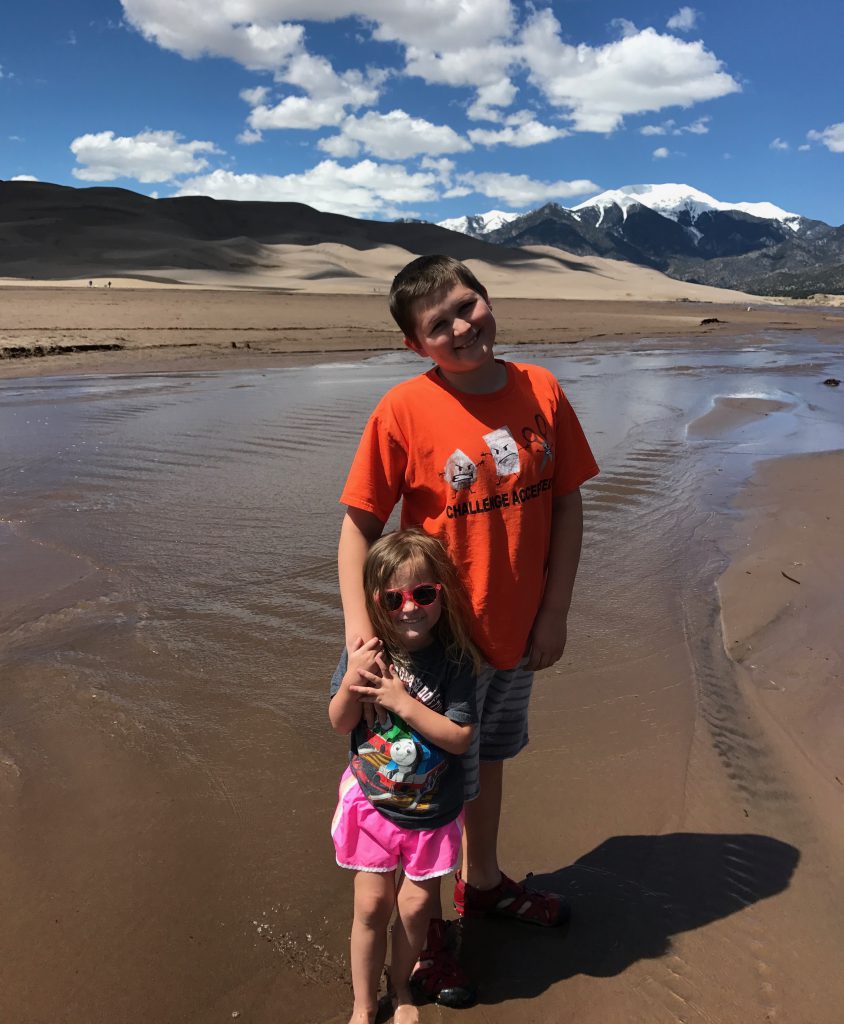 hazel was much happier to make the trek on this day.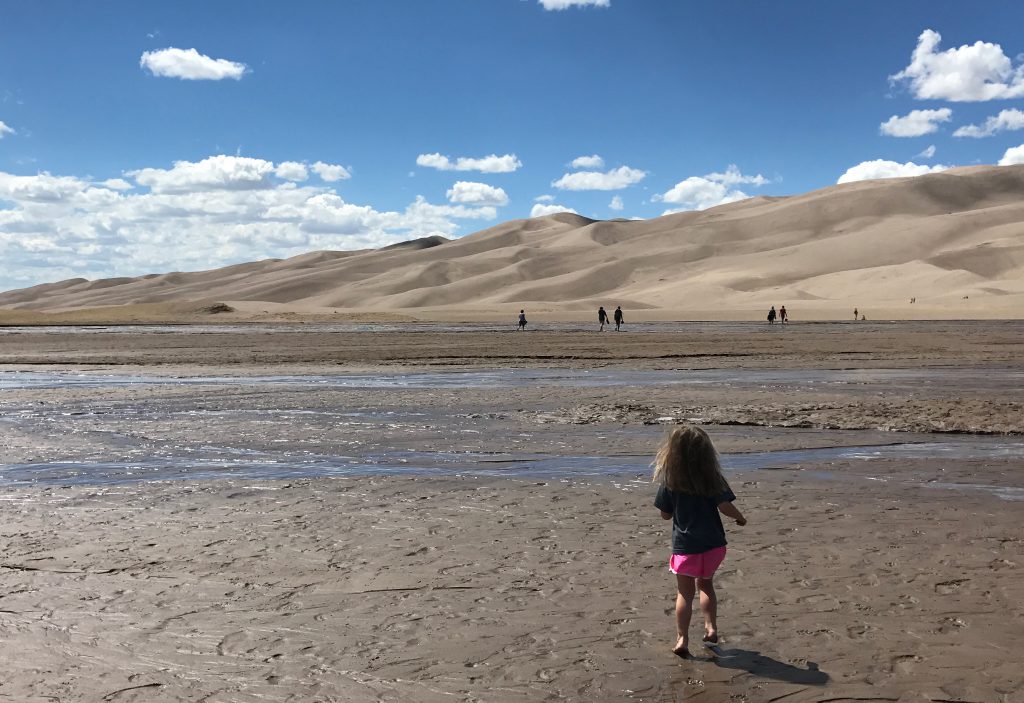 the dunes looked a bit more sandy on this day, too.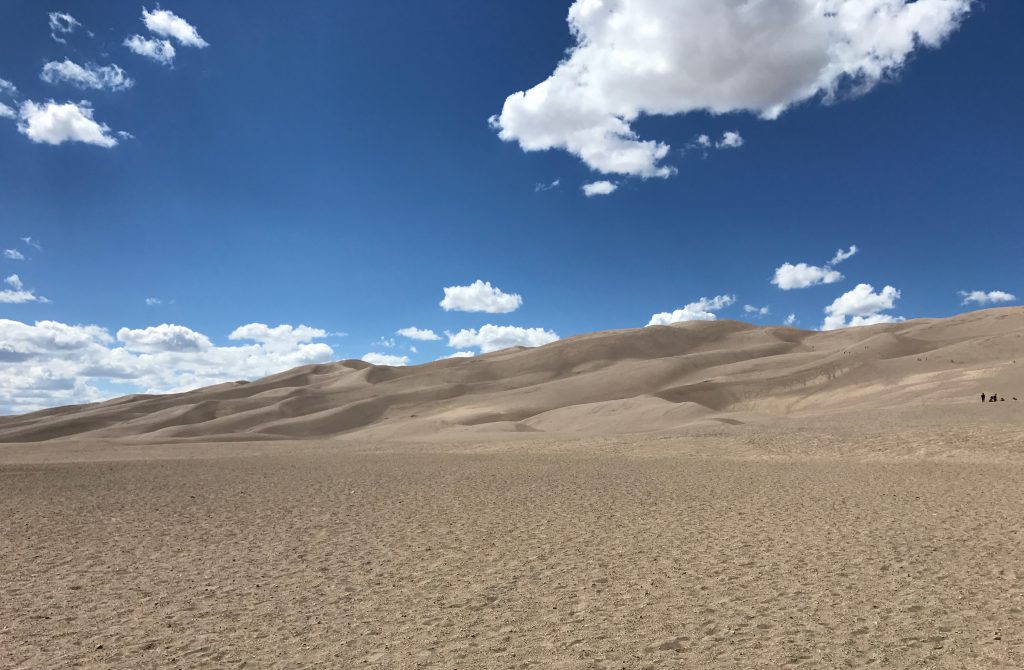 we snapped a few new official pictures to commemorate the trip. with dad.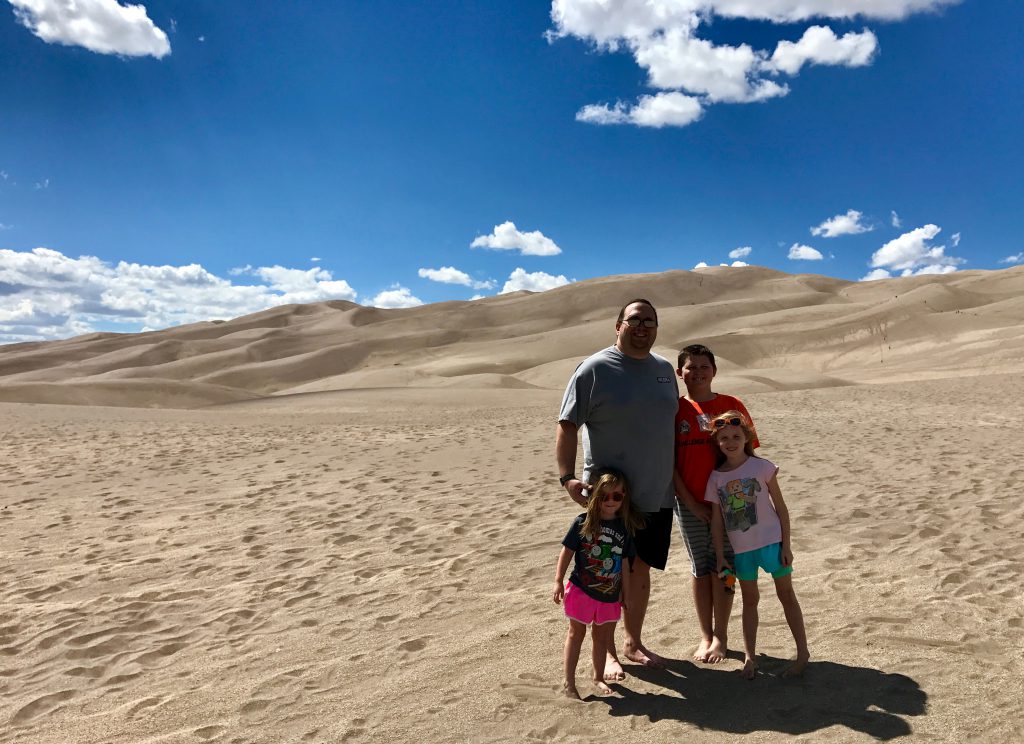 without dad.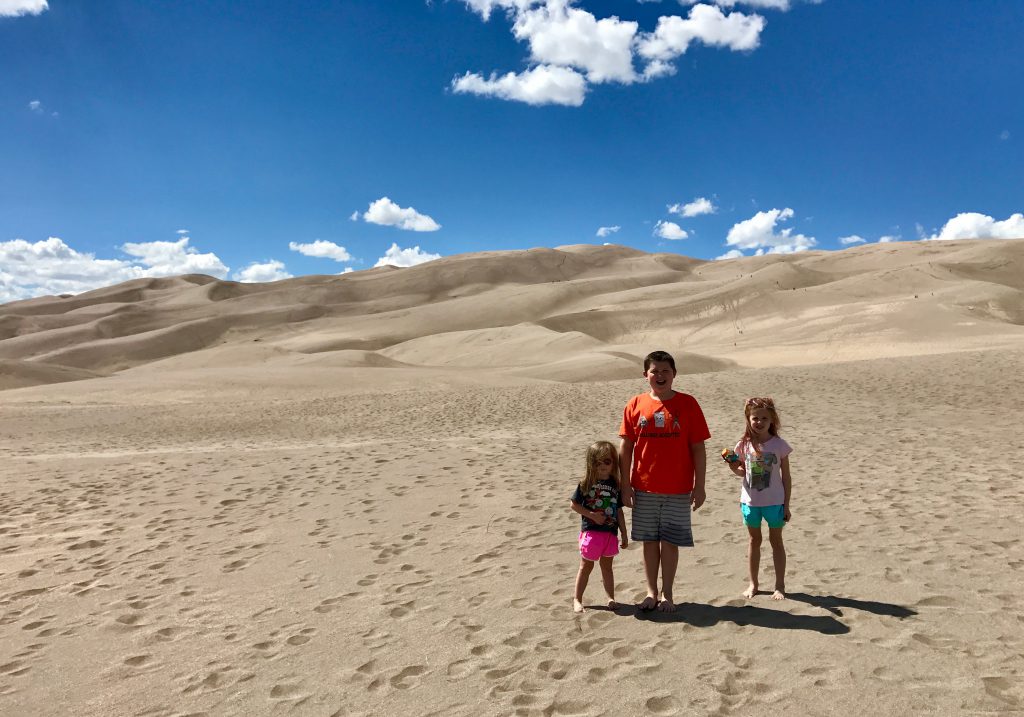 pretending to be loving siblings.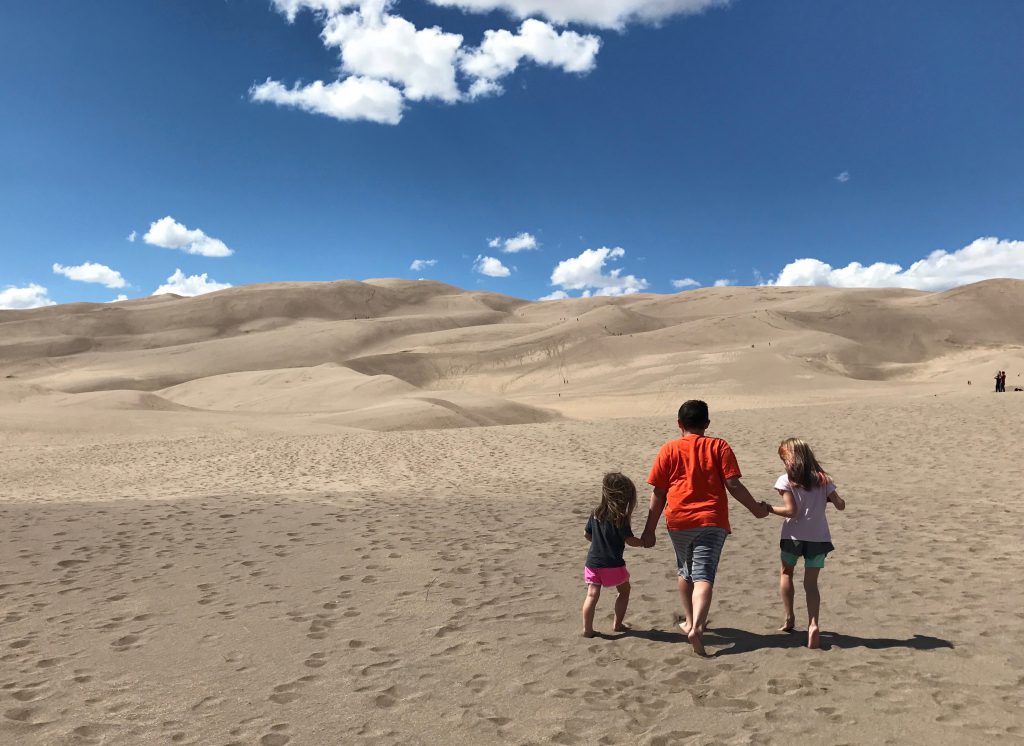 after we crossed the flat bank of the creek, which was filled with chunks of rocks and other sharp items, we discovered the sand of the dunes to be, well, scorching hot. i was surprised, because it wasn't that hot out and just yesterday, they were coverered in frozen water. either way, i walked back to get our shoes, while derek hung with the kids.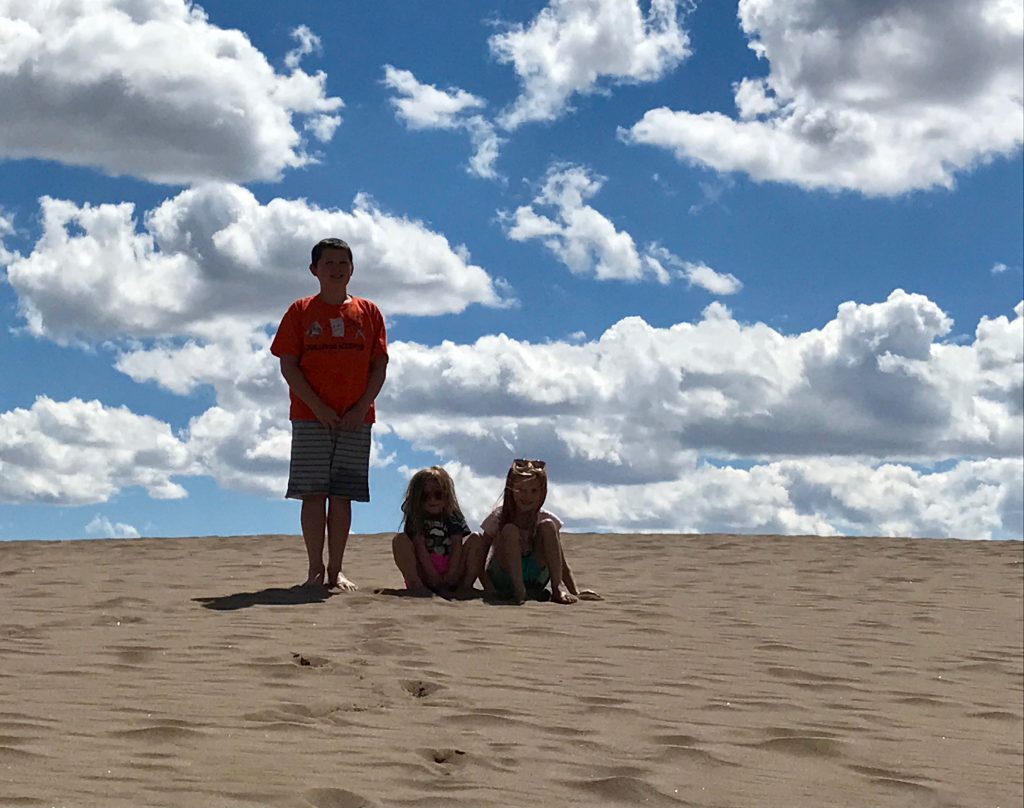 by the time i came back, i was informed that they were fine and didn't need shoes. apparently i have sensitive feet bottoms. so the frolicking began.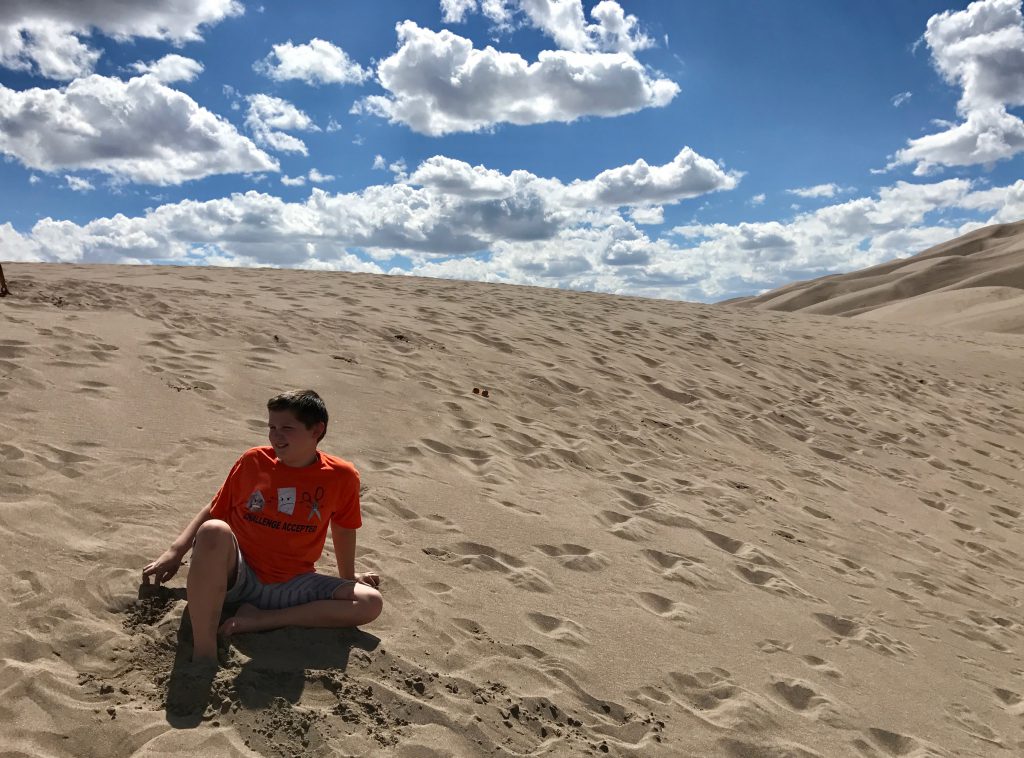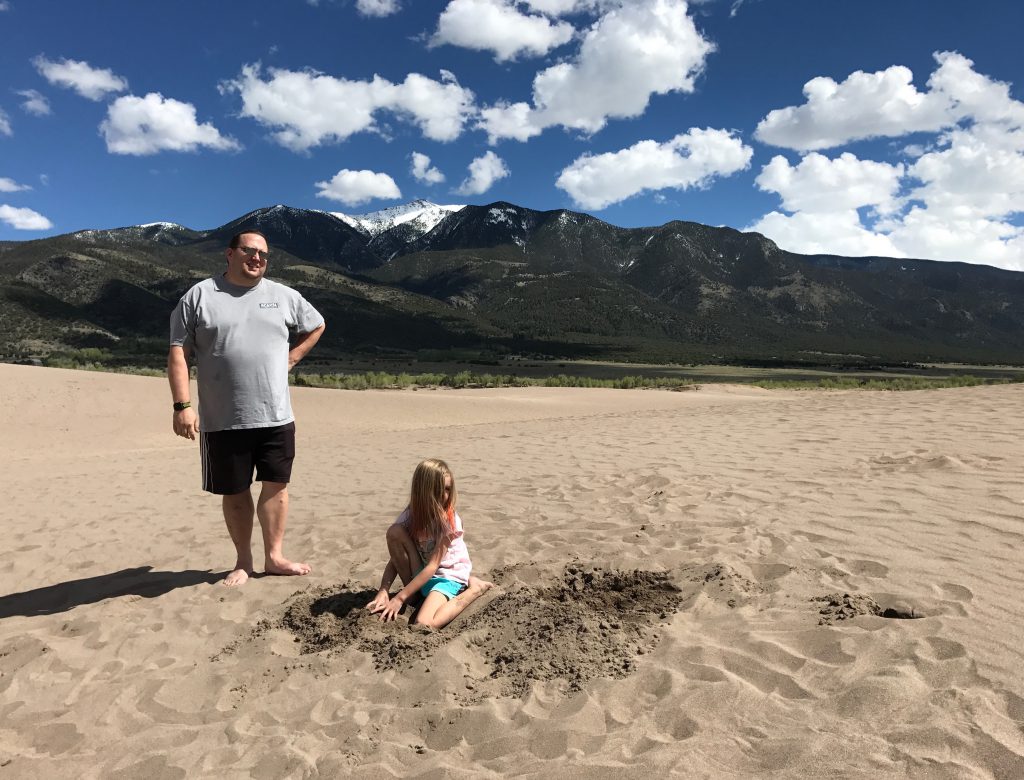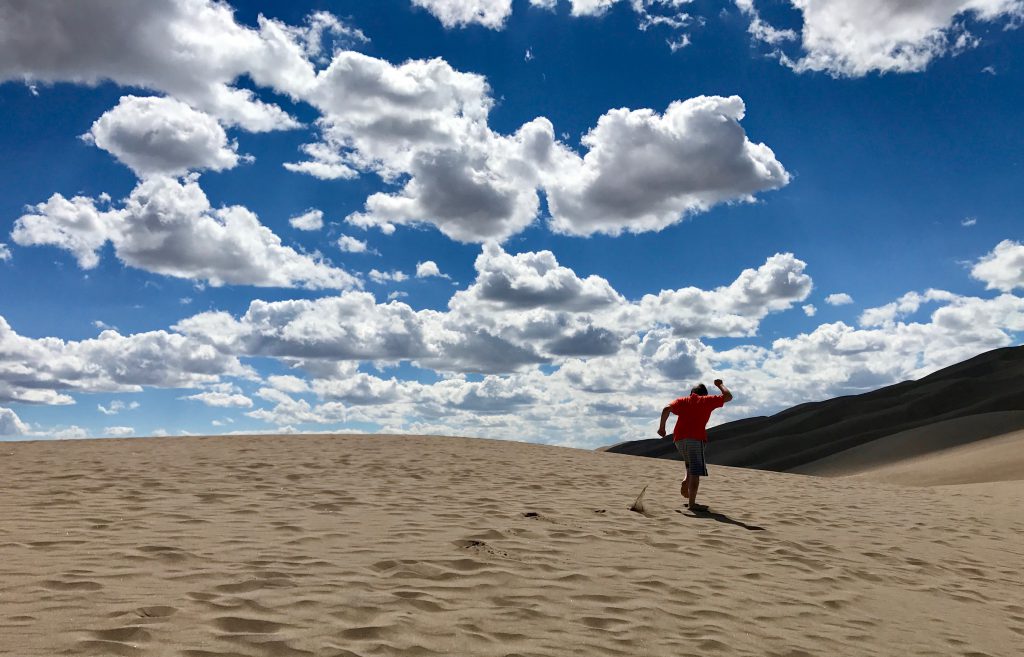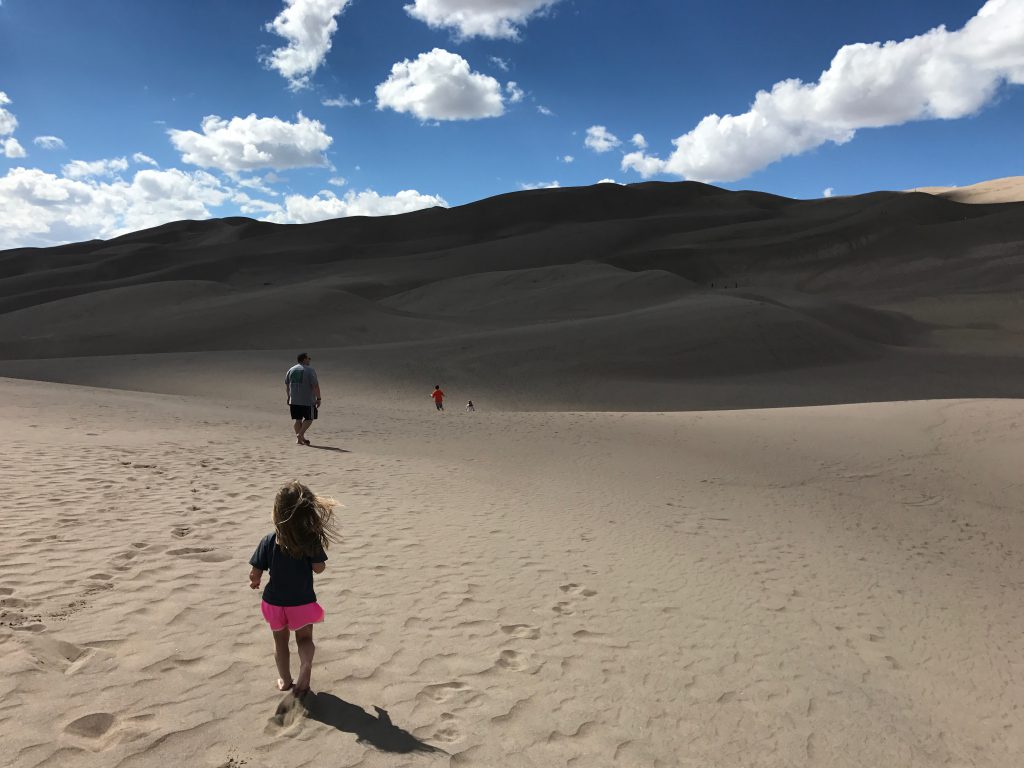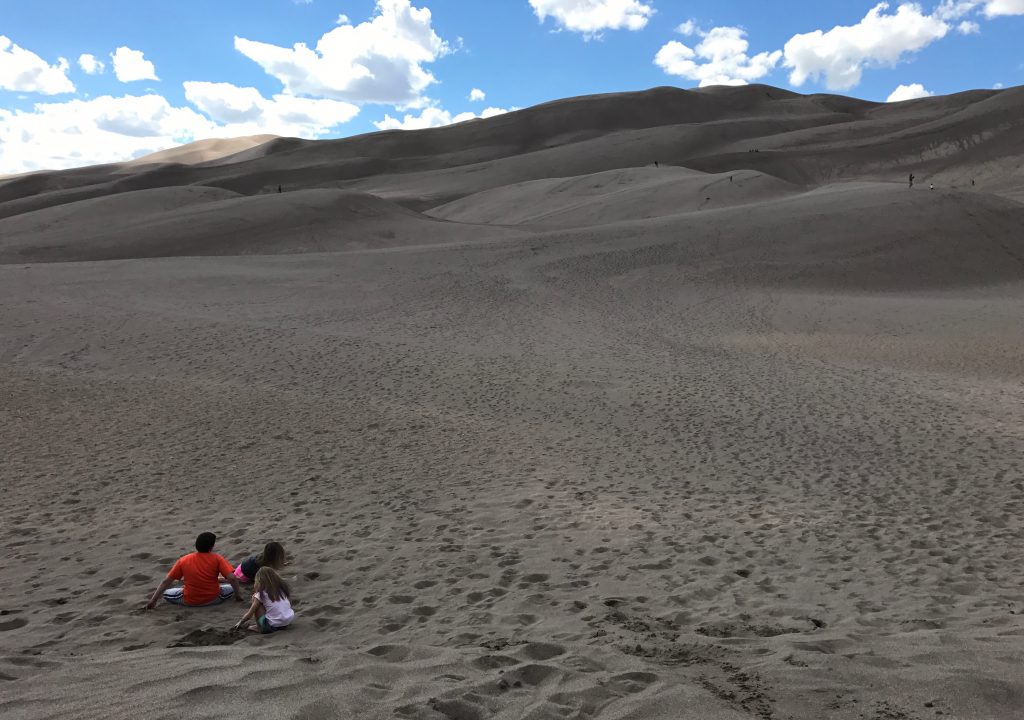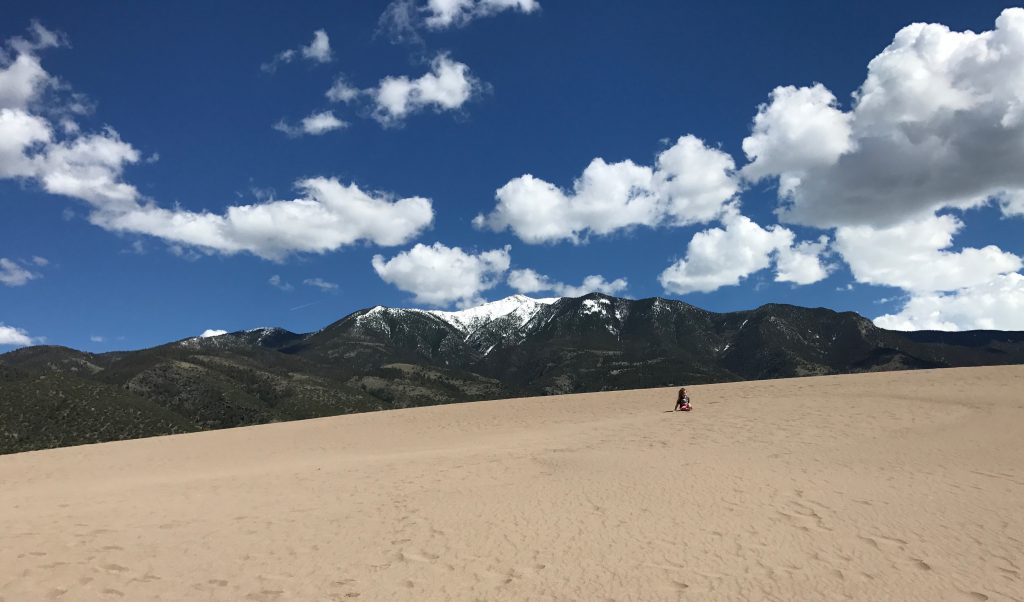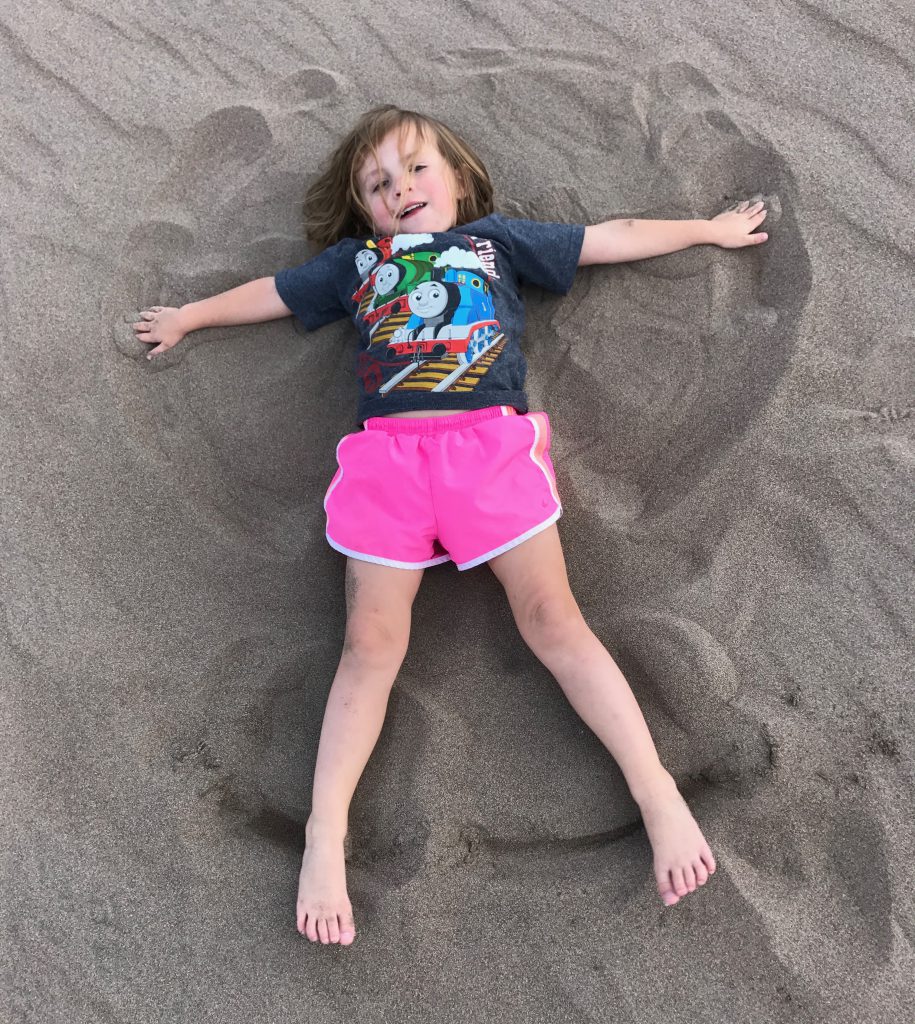 after enough sand play time had elapsed, we headed back to the creek.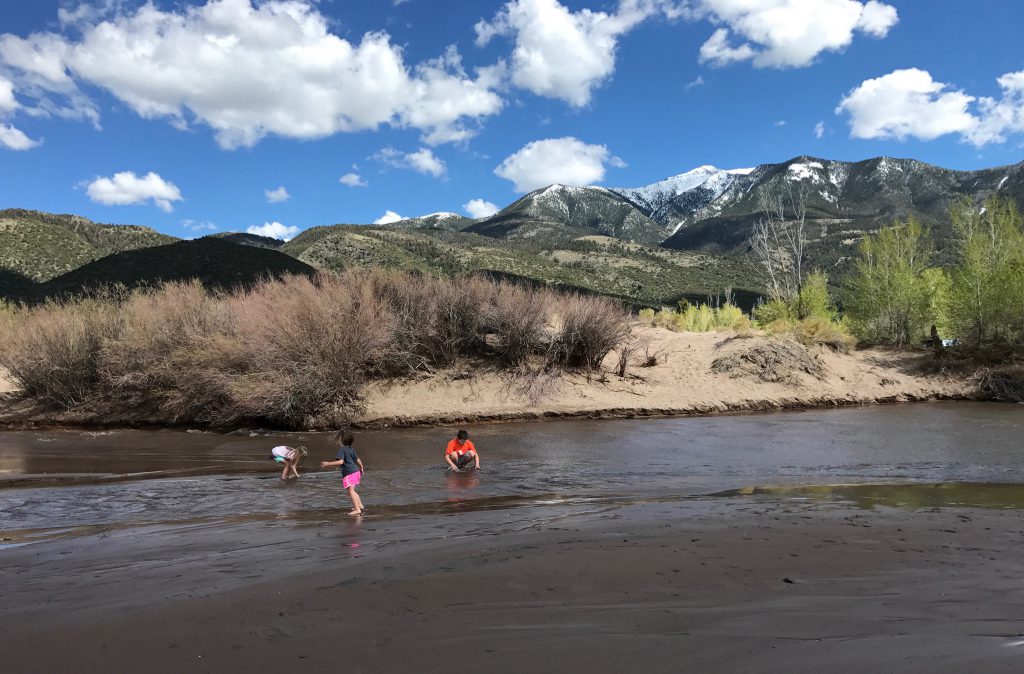 once hazel realized that the gushes of water weren't going to sweep her away, she was a crazy person, announcing repeatedly that she was a "big kid" now.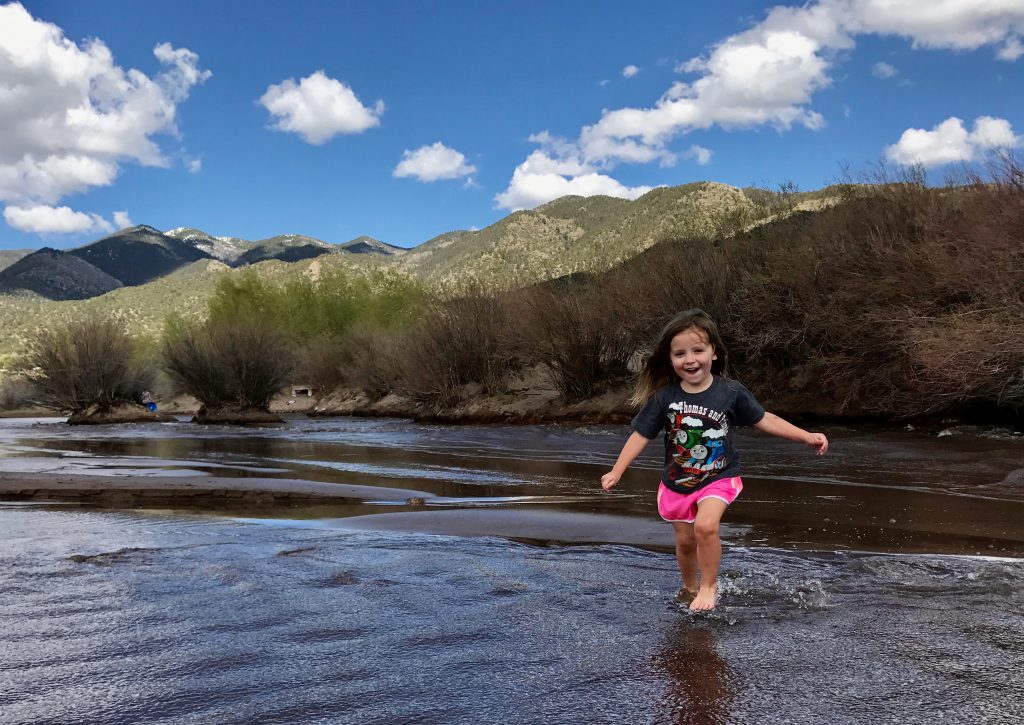 it didn't take long for these two to be fully immersed.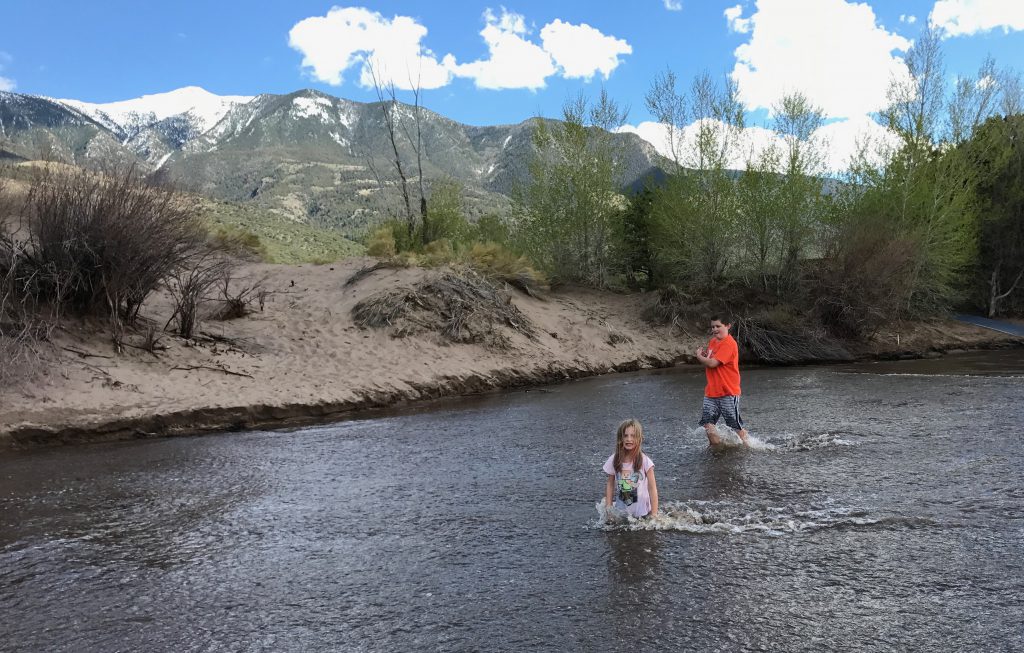 the loved trying to time the rushes of water.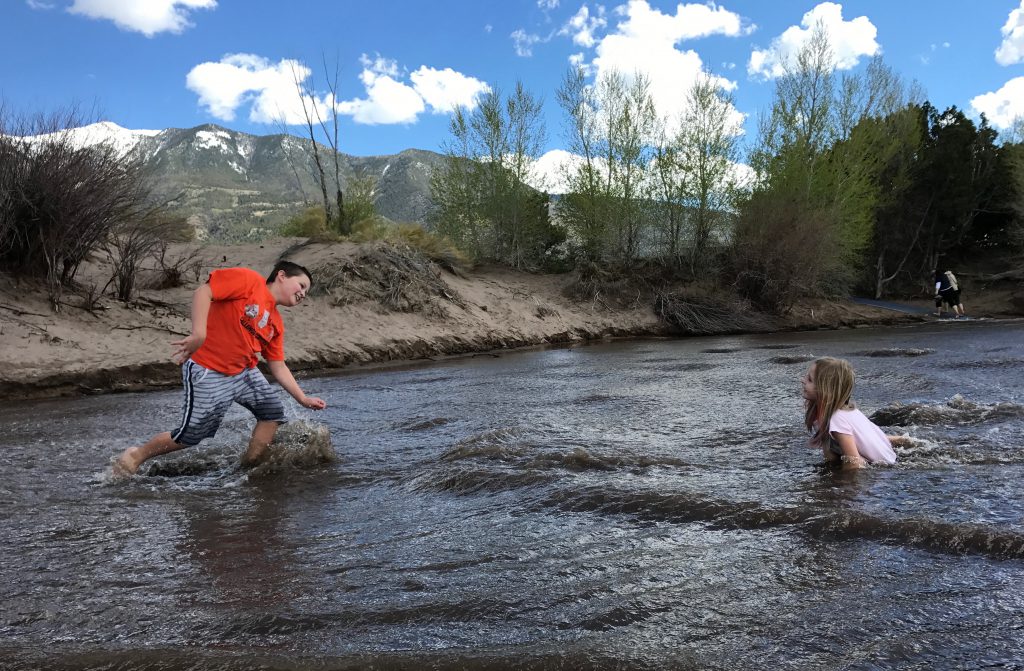 it really wasn't that warm, so they were a ticking time bomb.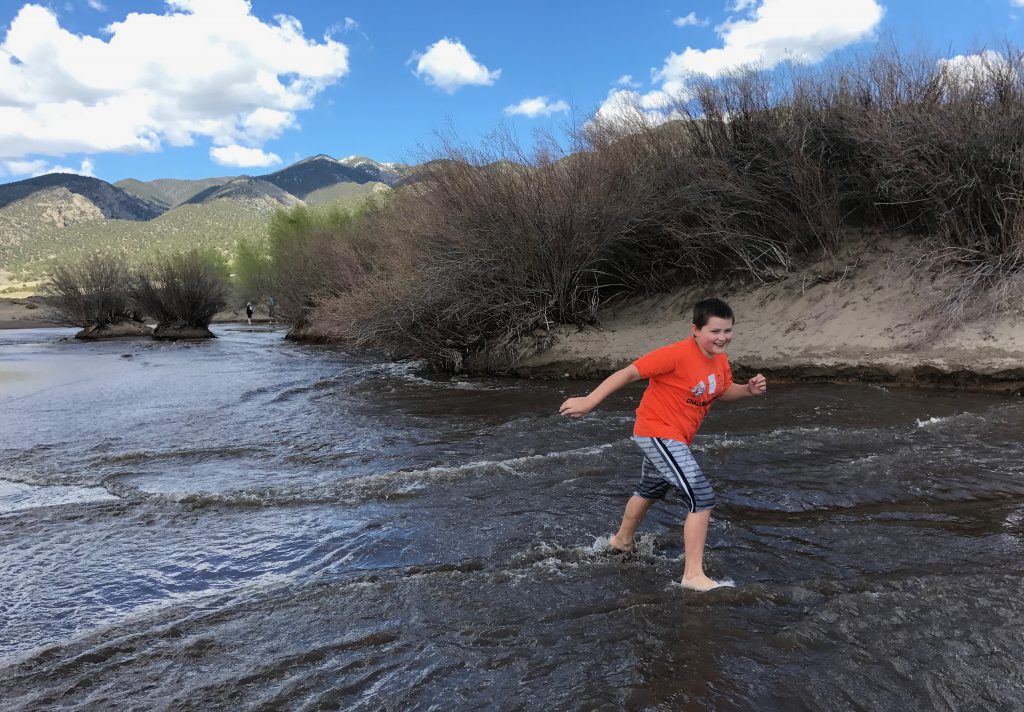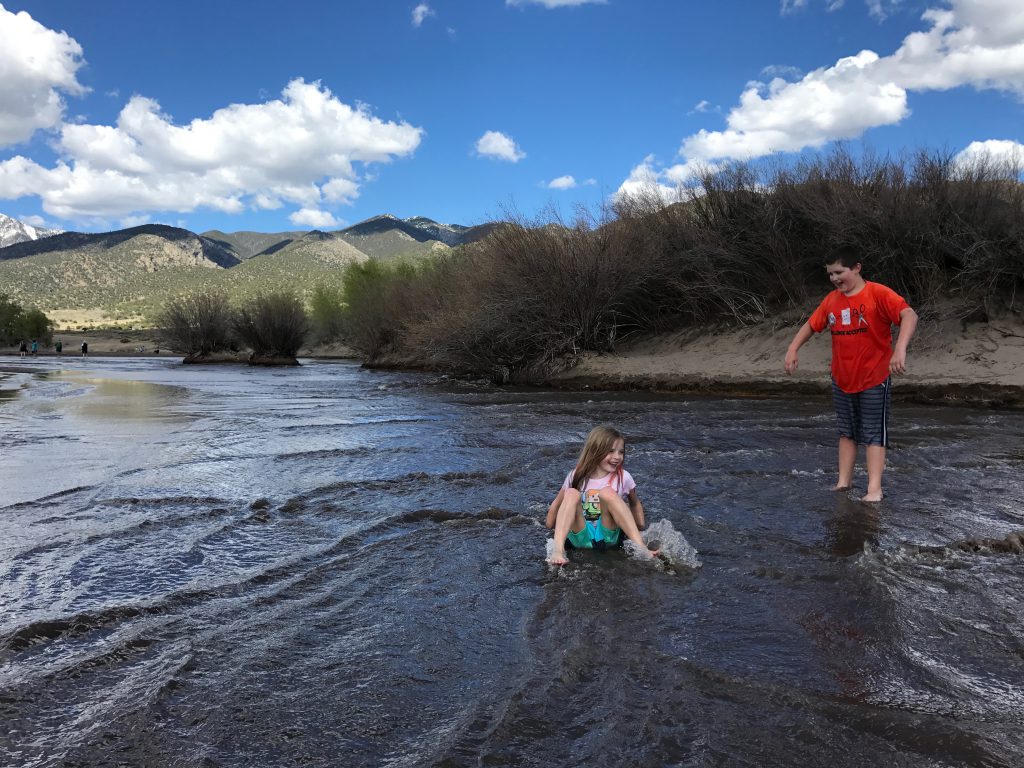 big kid.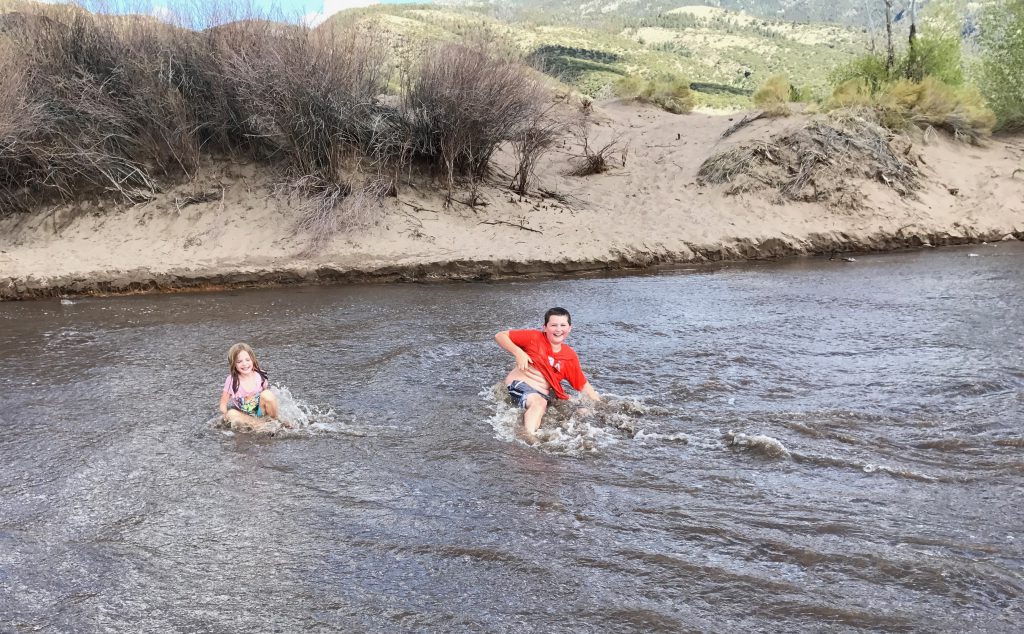 all the nerds.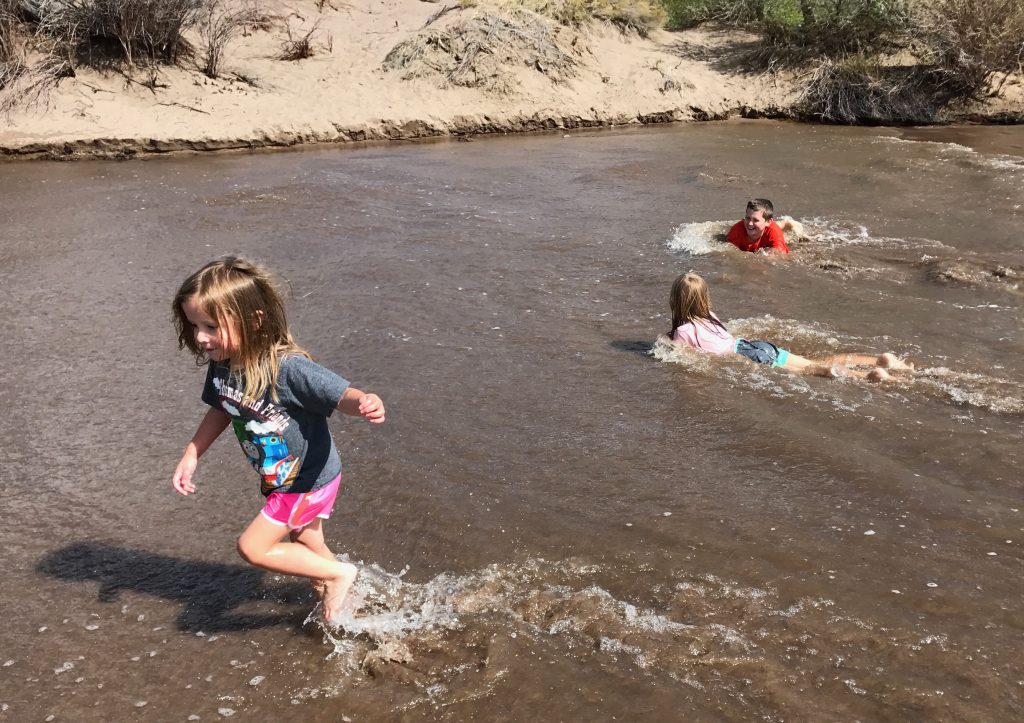 ike.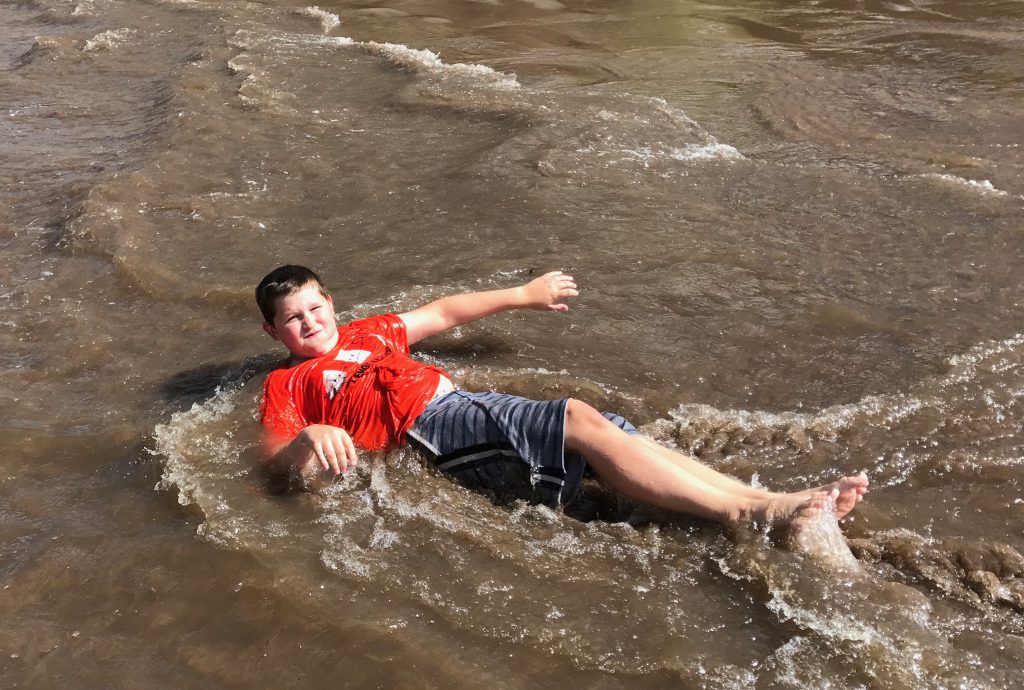 hazel.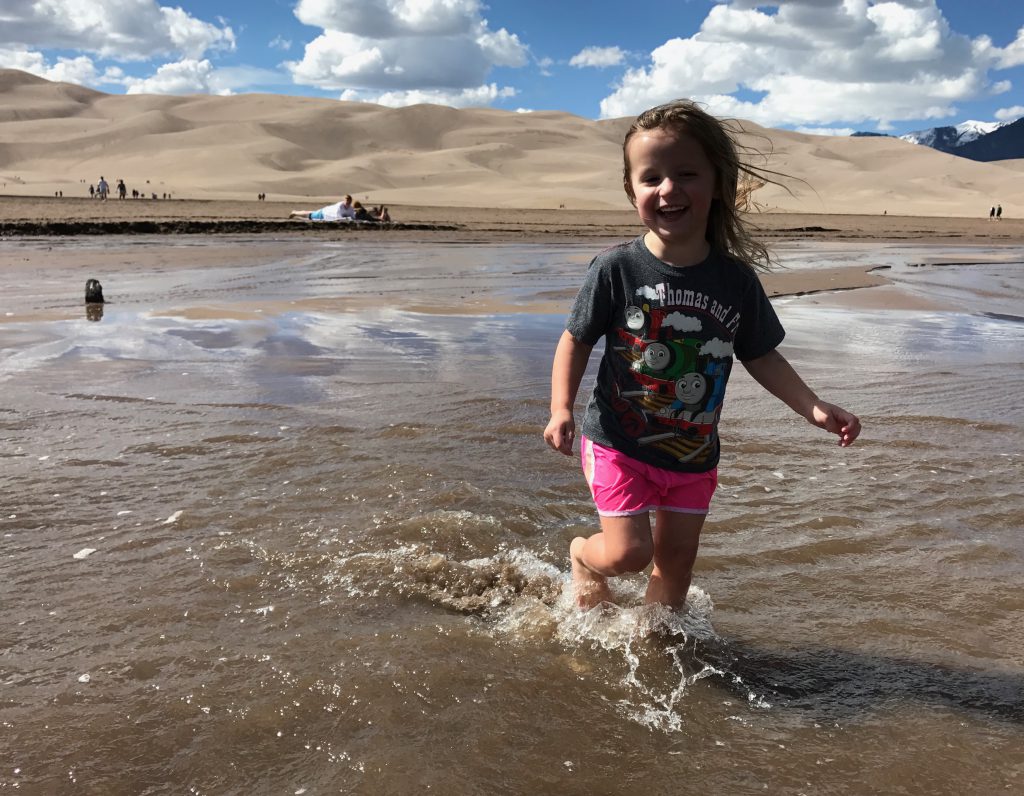 anna.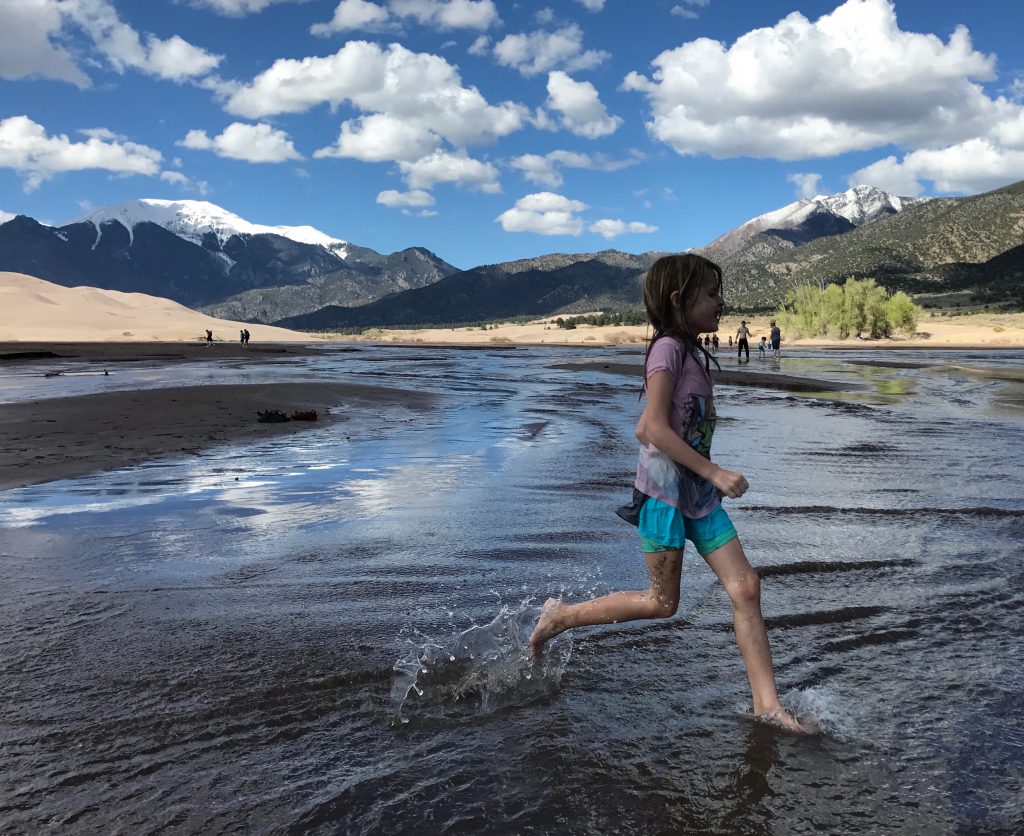 avoiding a gush to the face.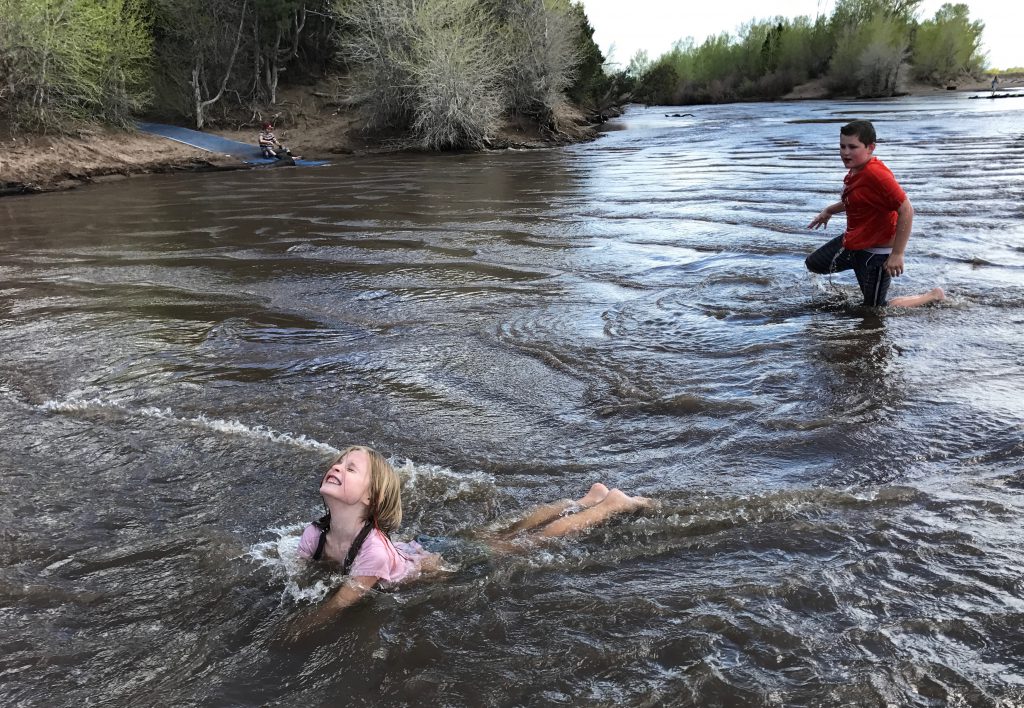 lastly, a couple of pics that derek took that i am actually in. 🙂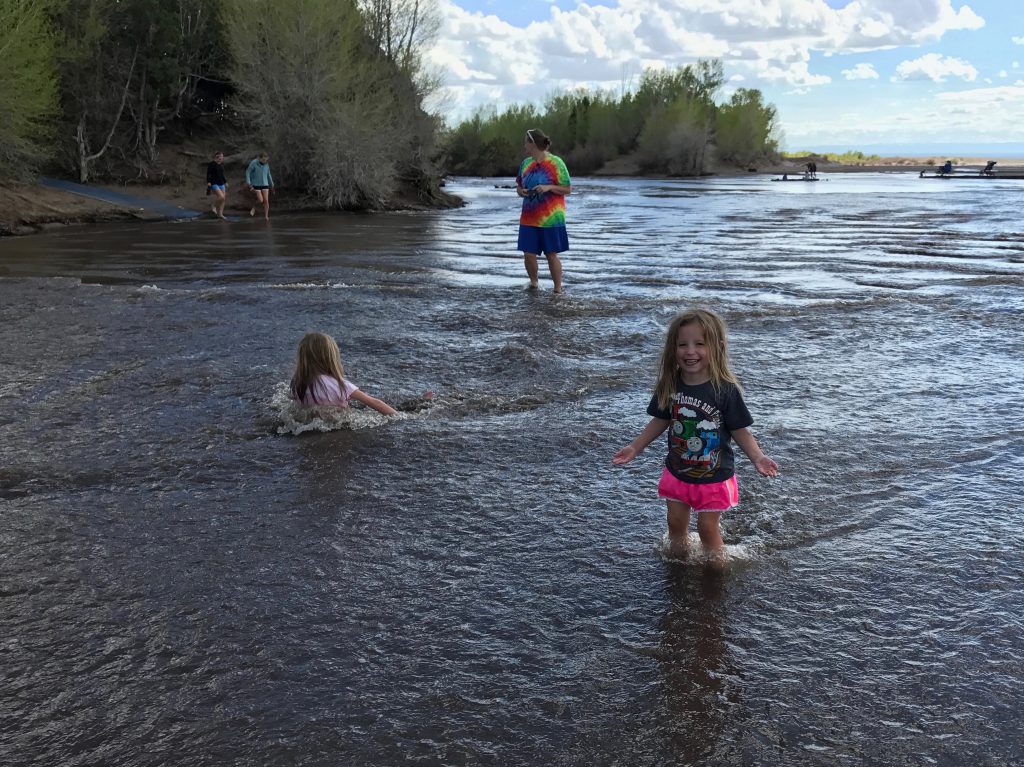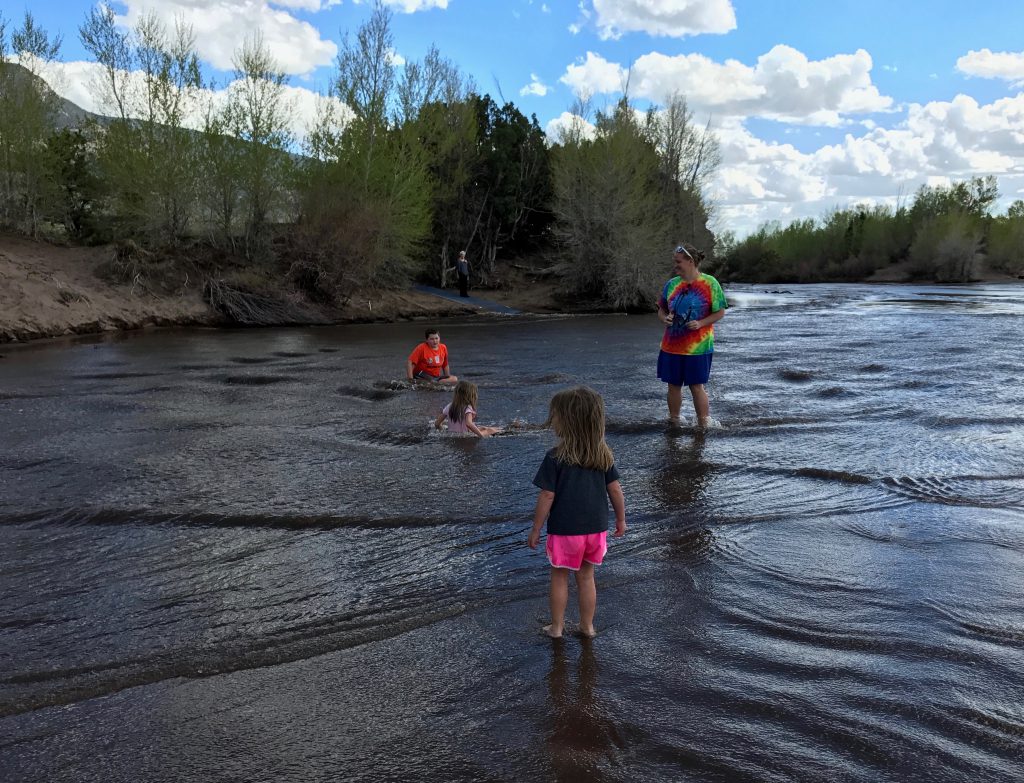 with very little warning, suddenly all of the kids were freezing cold, so we trudged back to the car, changed and bid farewell to the great sand dunes.