on saturday, we rolled into our 22nd state, leaving colorado and entering utah. we camped at dinosaur national monument, which spans both states.
after we settled in to our campsite (which wasn't hard, because we didn't have any hookups – sewer, electric, or water. which means we basically just parked), we headed over to the visitor center to check things out and pick up our junior ranger workbooks. from there, a shuttle runs every seven minutes to take folks up to the fossil quarry.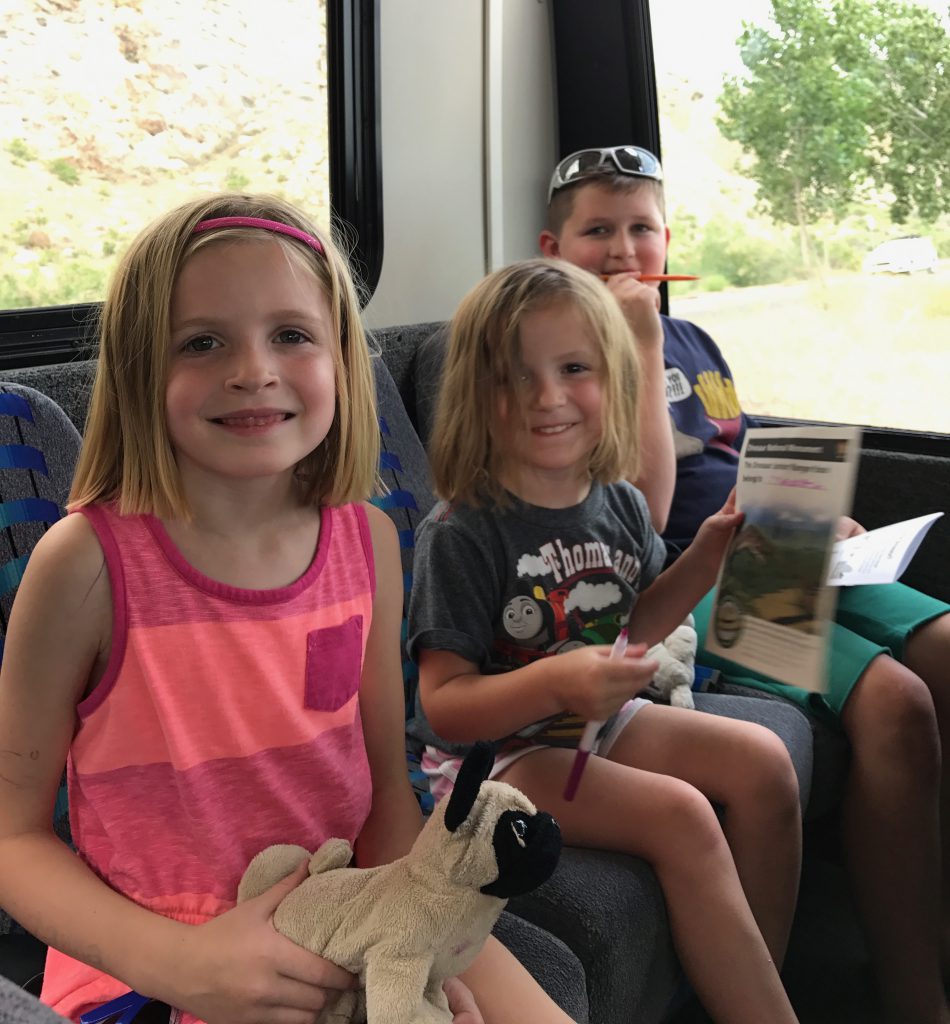 the quarry was so cool. basically, they built a building around a giant rock face that is filled with exposed dinosaur fossils. anna is very much into taking pictures right now, so she was on a mission to fully document the adventure.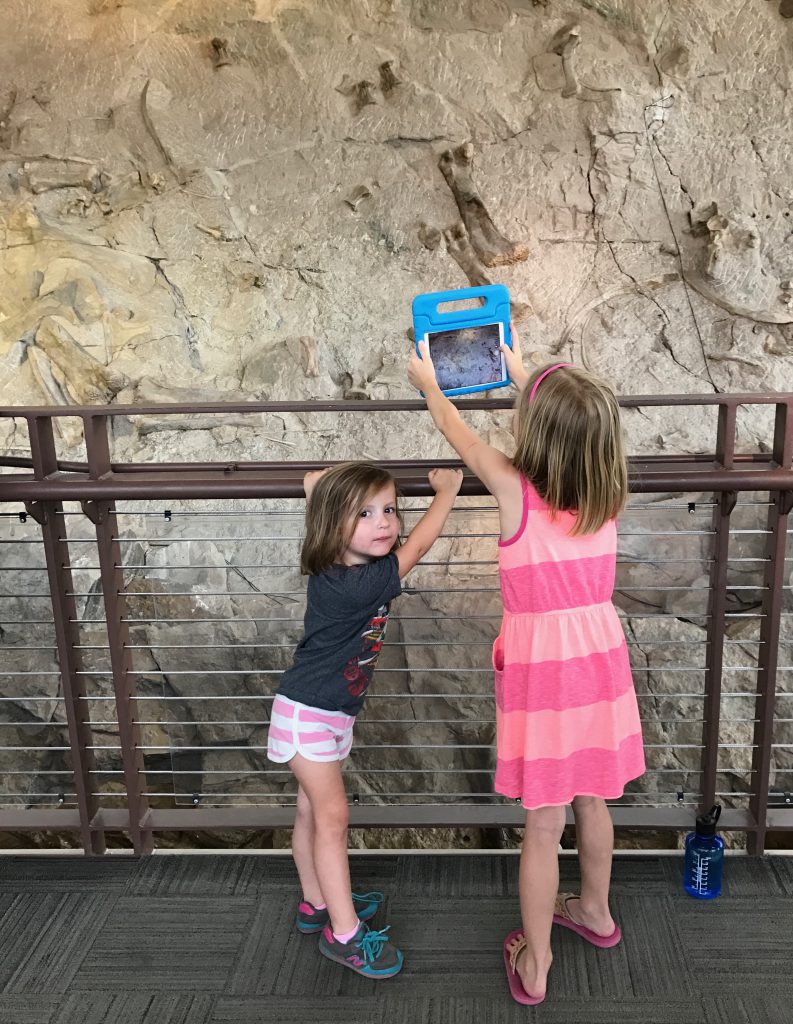 it was so surreal to see the millions-of-years old perfect fossil specimens.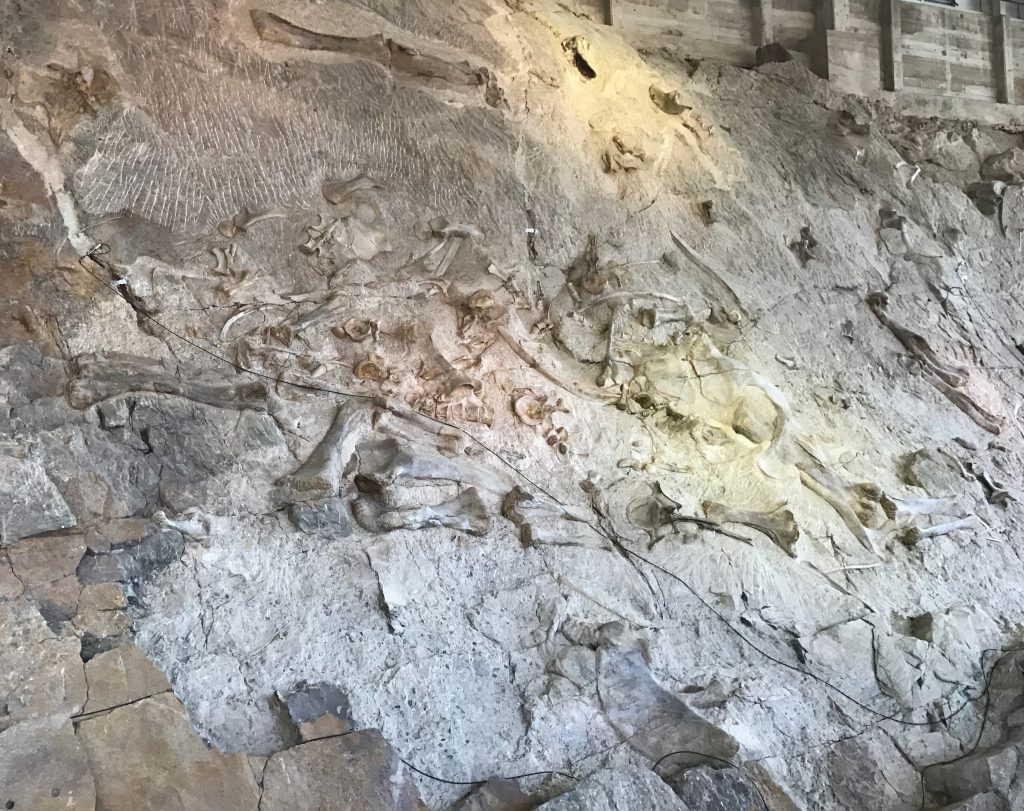 i know the pictures don't fully capture it.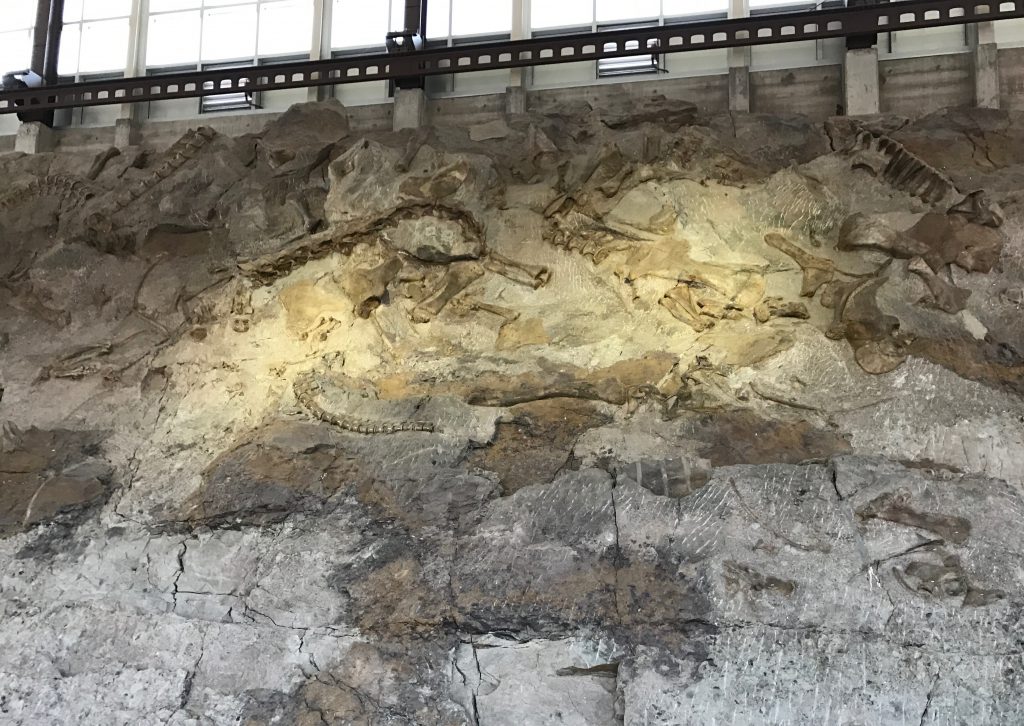 but there were hundreds of bones. it was crazy.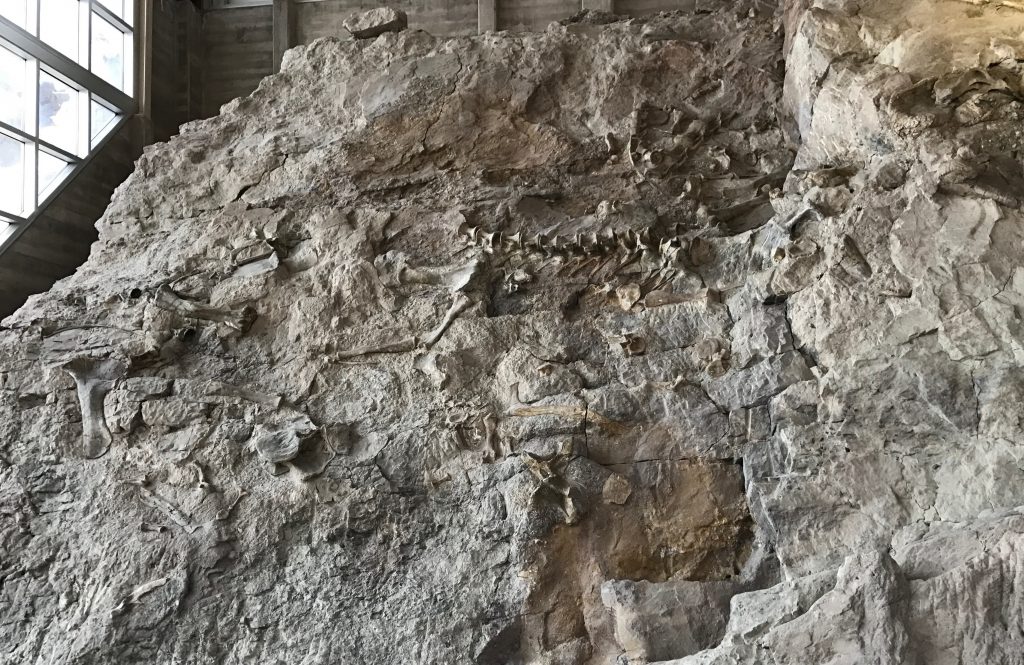 the girls were sort of impressed.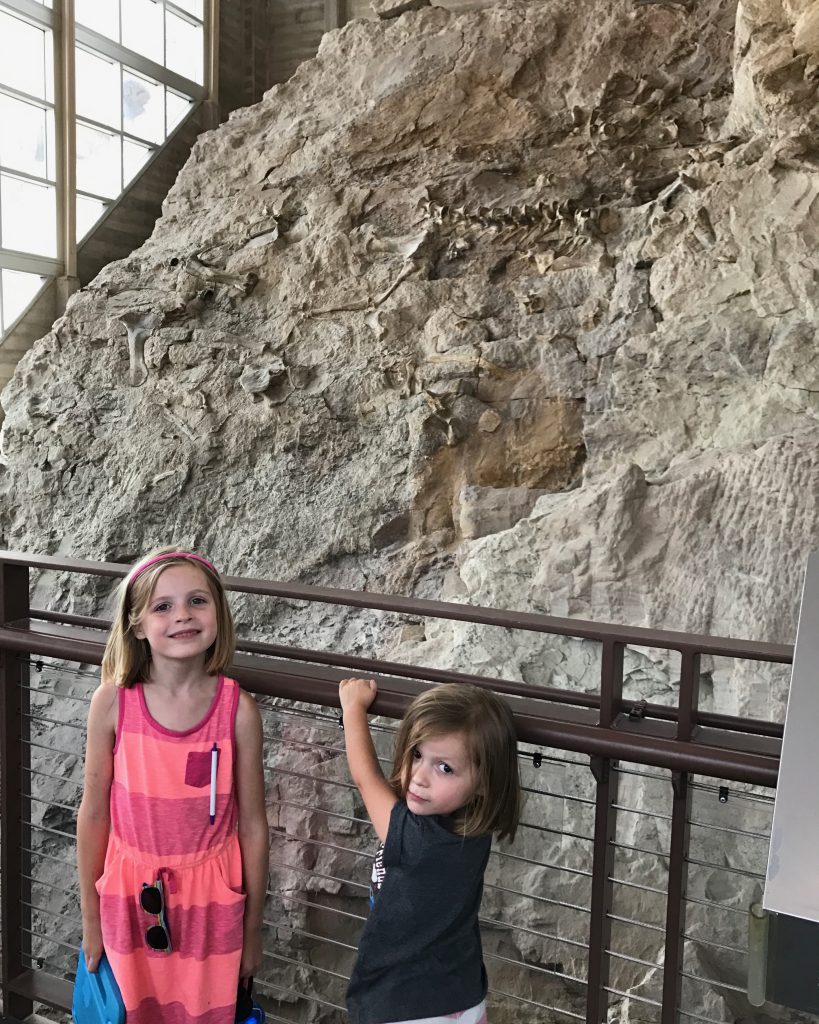 the building around the fossil wall was two stories. from the top, you could look out over the whole wall. on the bottom, you could walk up and touch a few of the bones, which i thought was really cool.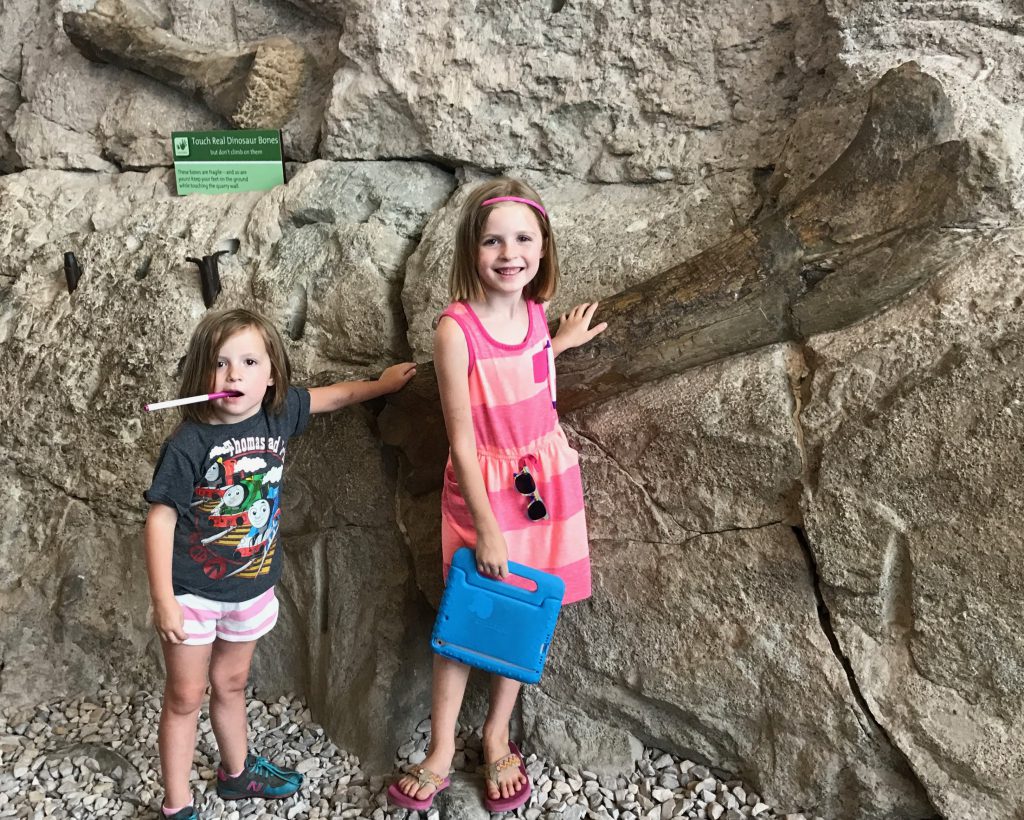 apparently, this is one of the best preserved dino skulls out there.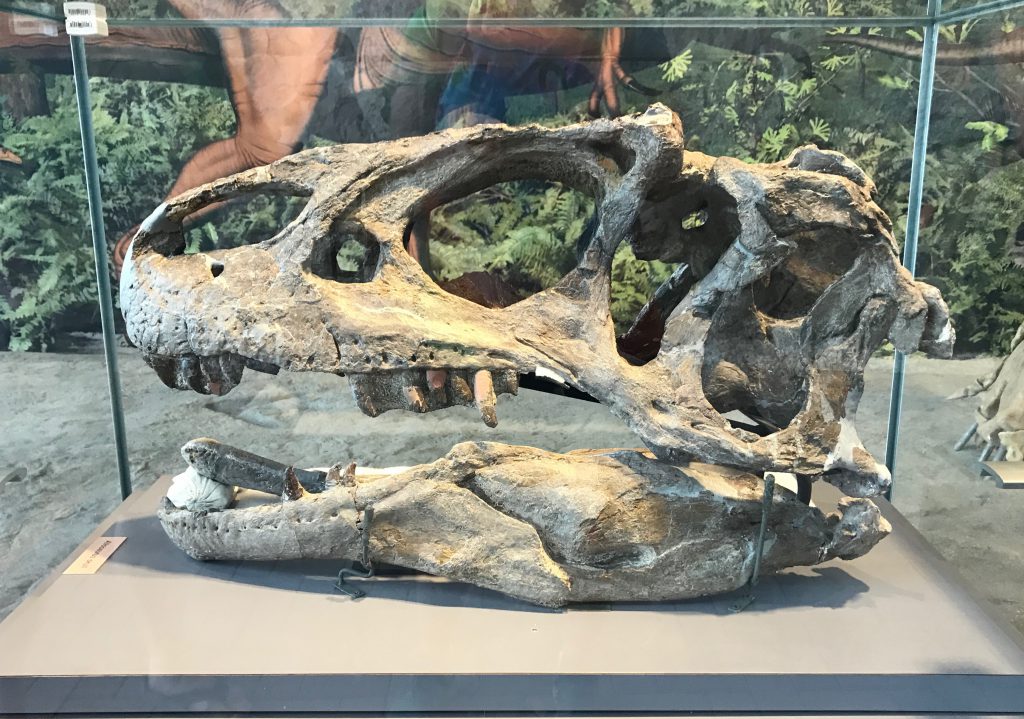 isaac spent most of the time at the quarry working on his junior ranger book, so when we got back to the visitor center, he was sworn in and received his badge.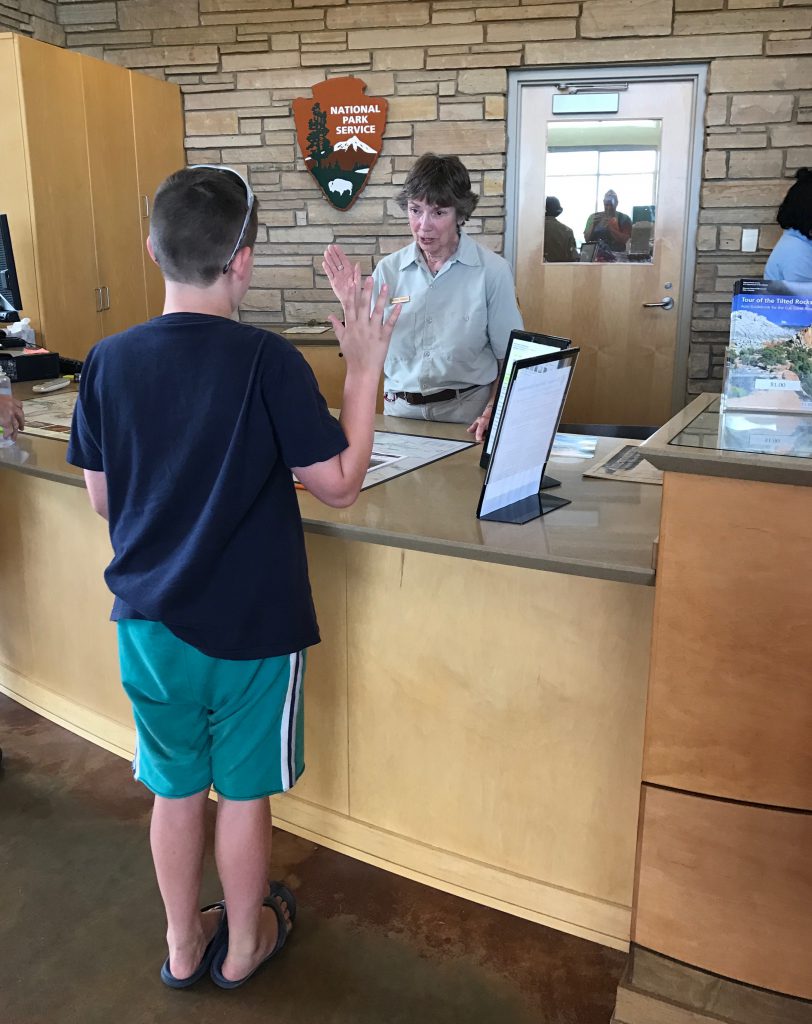 outside, we stopped for a photo shoot with this stegosaurus friend.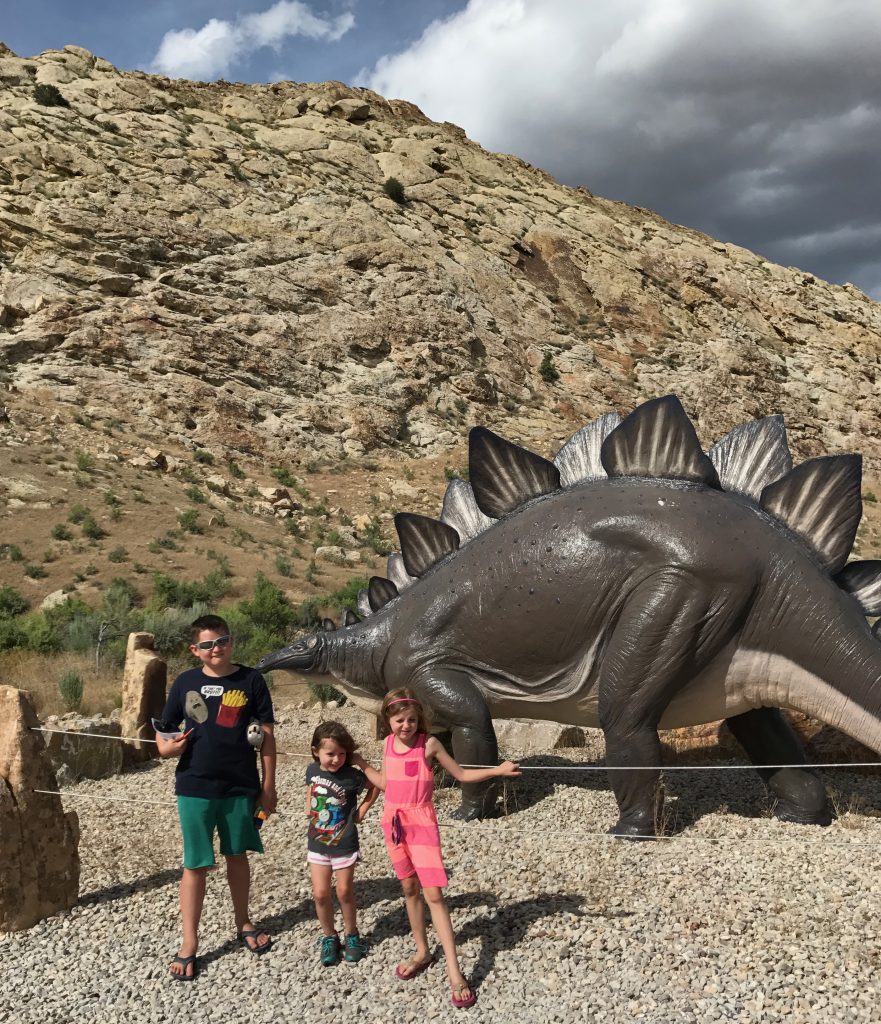 back at the campsite, we had a campfire and met some fellow travelers.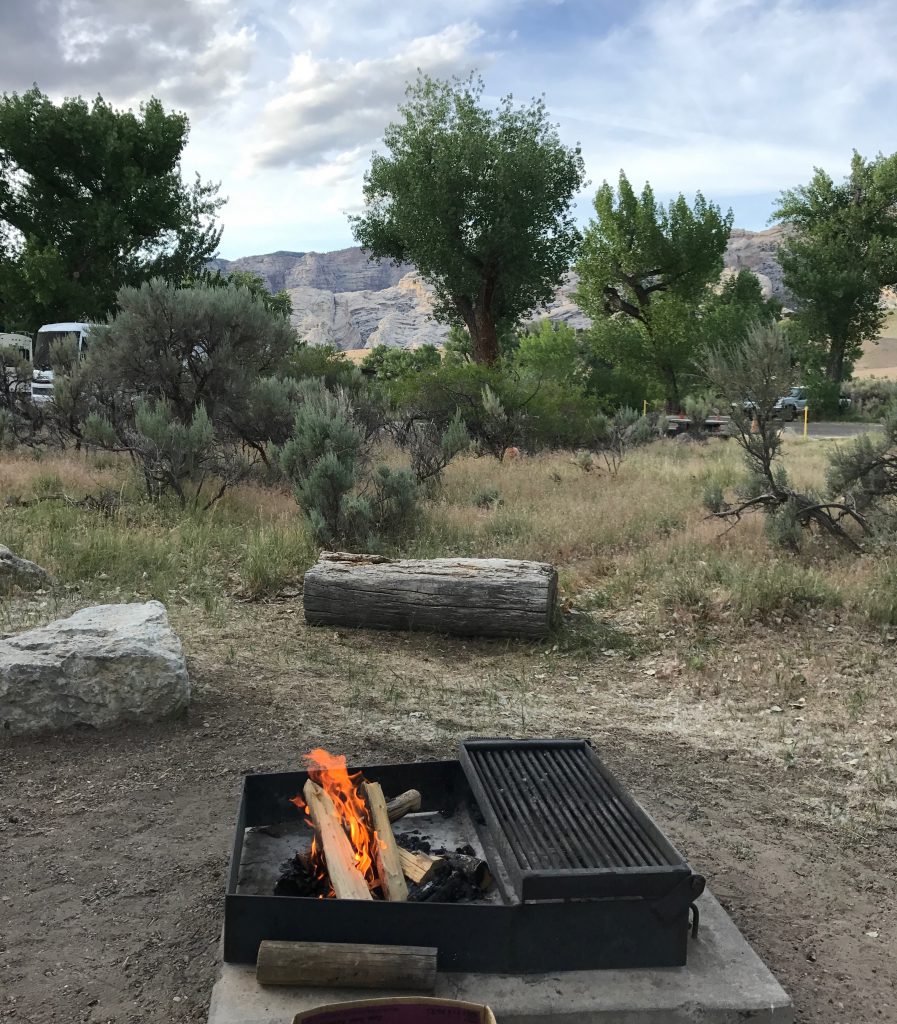 we survived our first night of boondocking (which we have done before, but only in walmart parking lots where we can run our generator to our hearts content). in the morning, we piled back in the car and headed back to colorado to a different park entrance to do a bit of hiking.
the utah side of the park is more dinosaur fossil oriented. the colorado side is all about some really cool geology. rivers cut through steep gorges and make for a really cool landscape. we opted for the harper's corner trail, which is an easy one mile out and back, with views of the confluence of the green and yampa rivers on one side and views of the now larger green river winding off into the distance on the other side. i didn't realize it at the time, but we were basically walking along a really narrow ridge, that dropped of dramatically on both sides.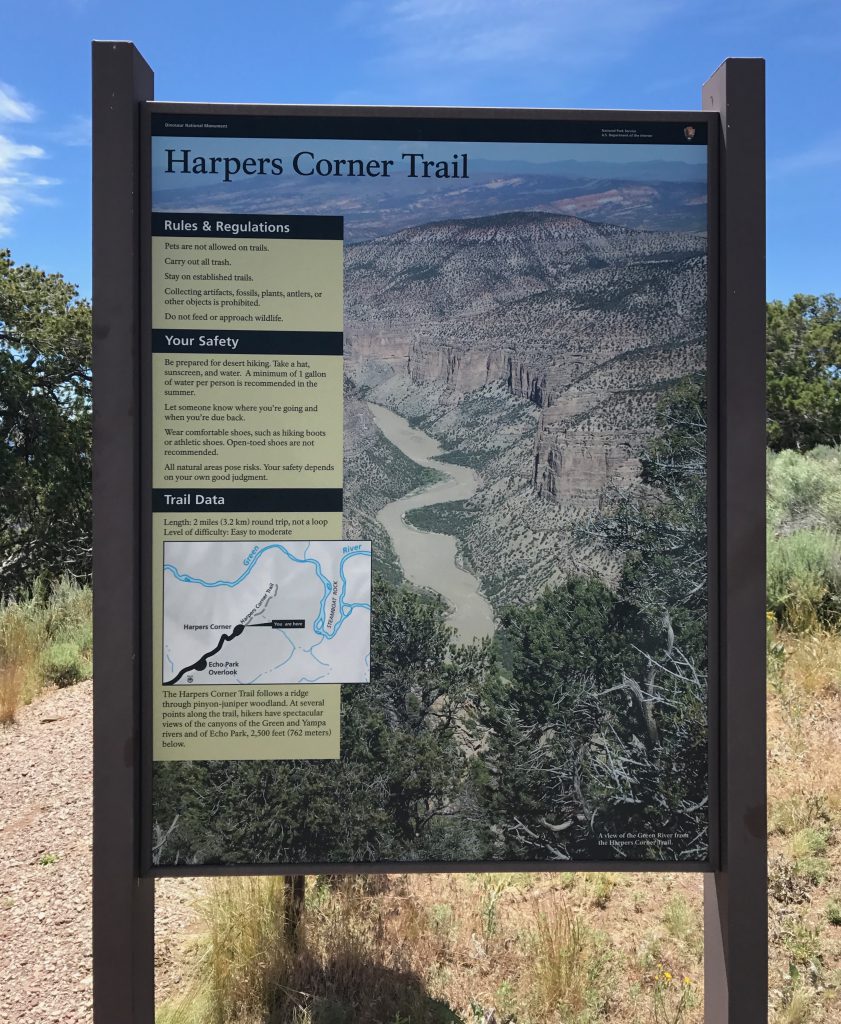 we started of gung ho.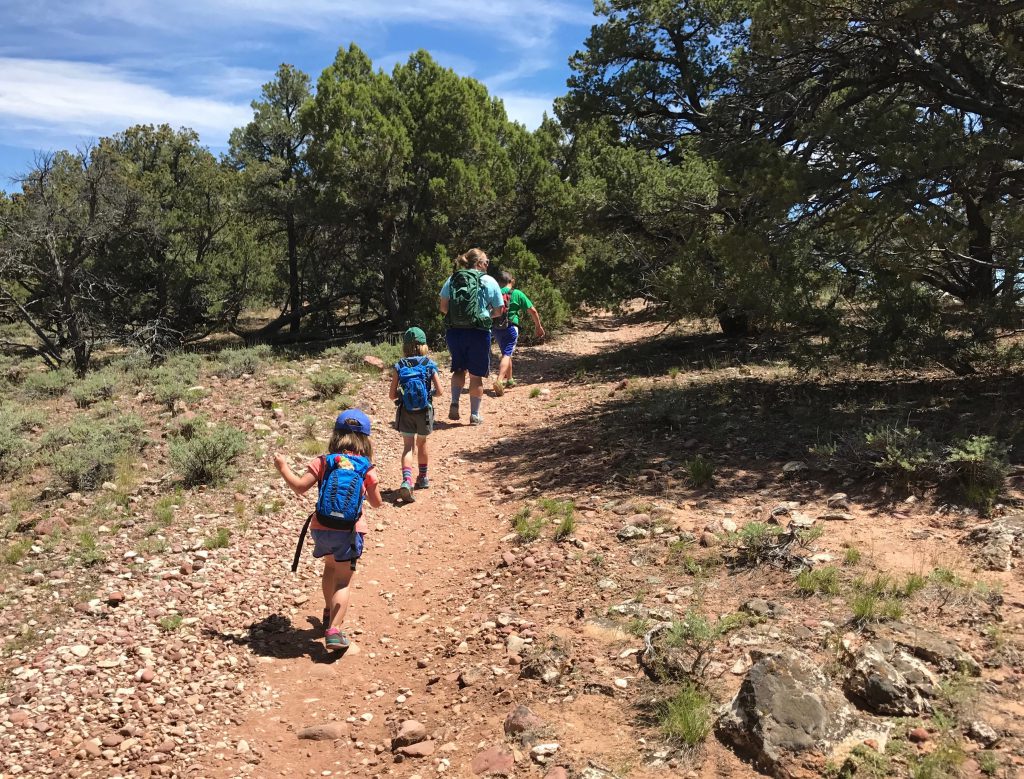 we picked up a trail map that had information about different stops along our path. one of the first was this cool dead tree.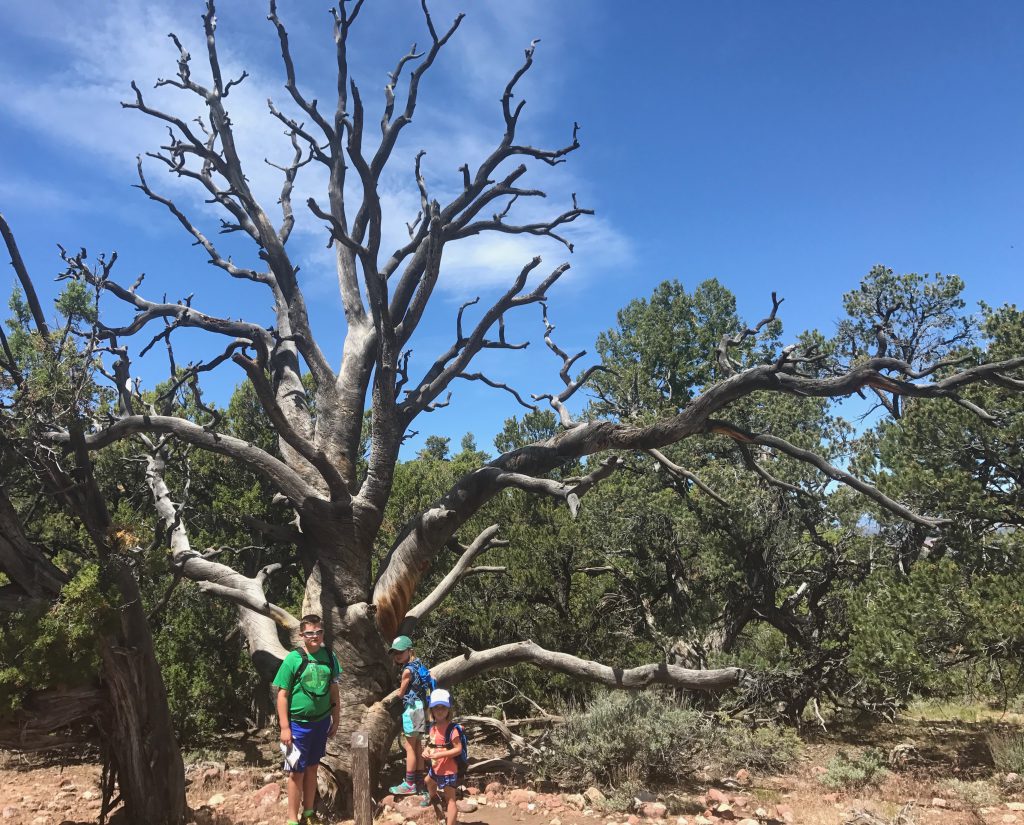 big kids. taking in the view to the east(ish) – our right.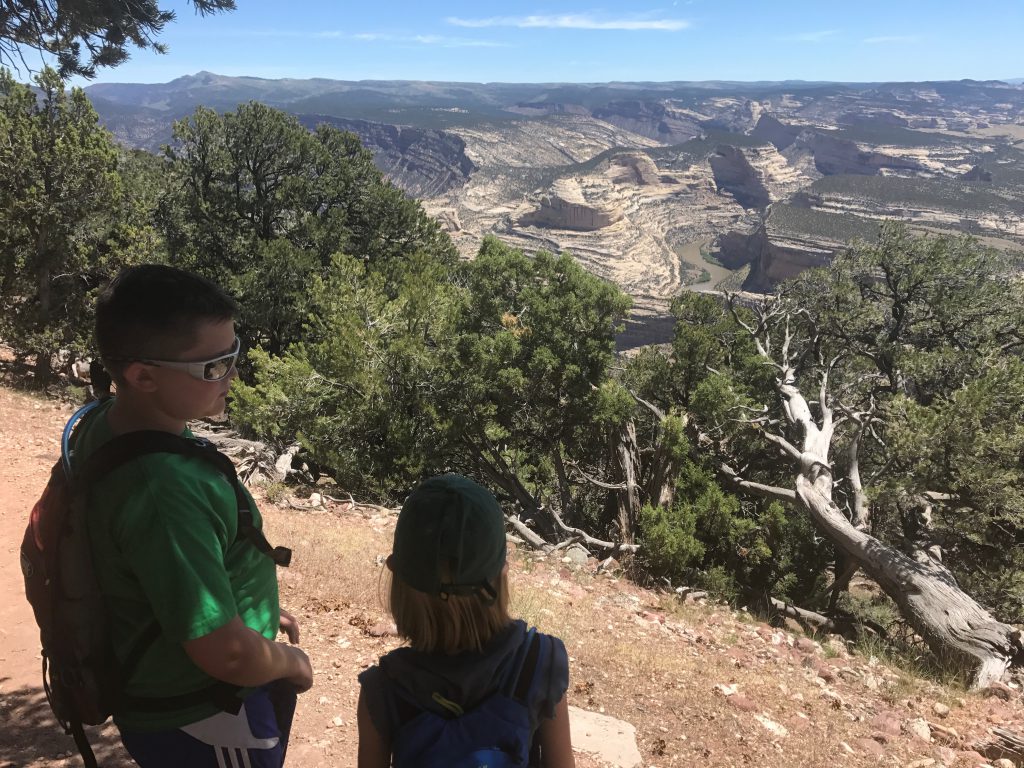 my view of the lid-hikers.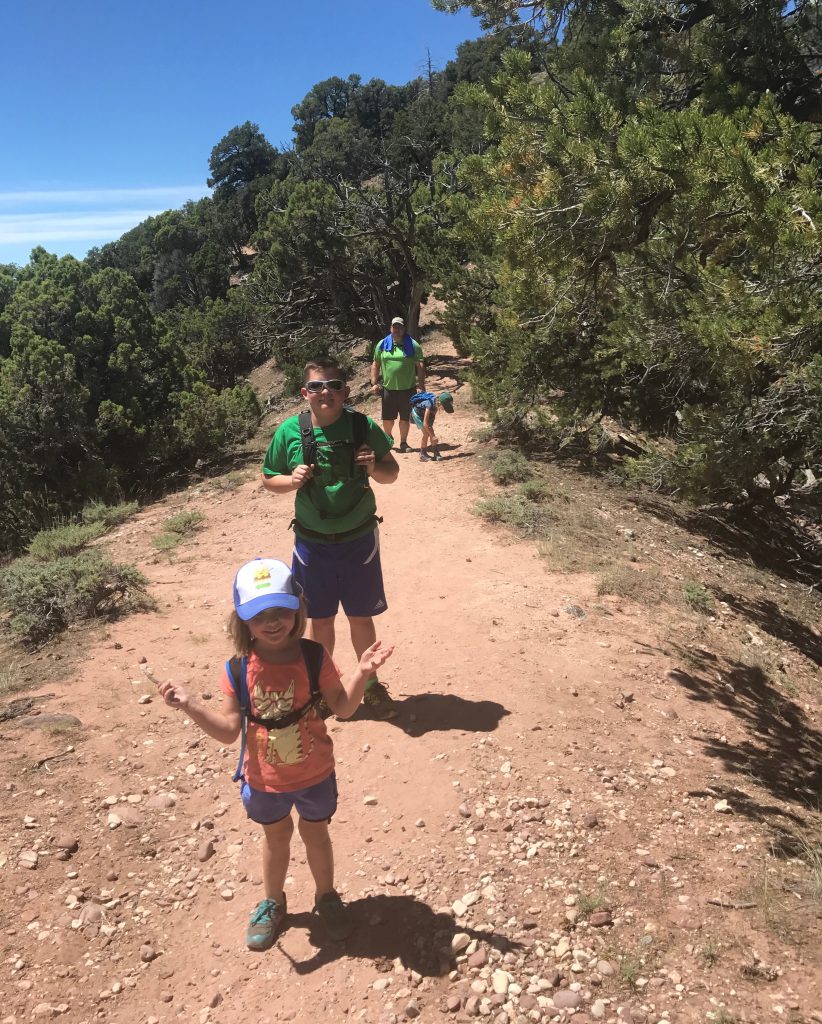 this is the view to the west(ish) – our left. the winding green river.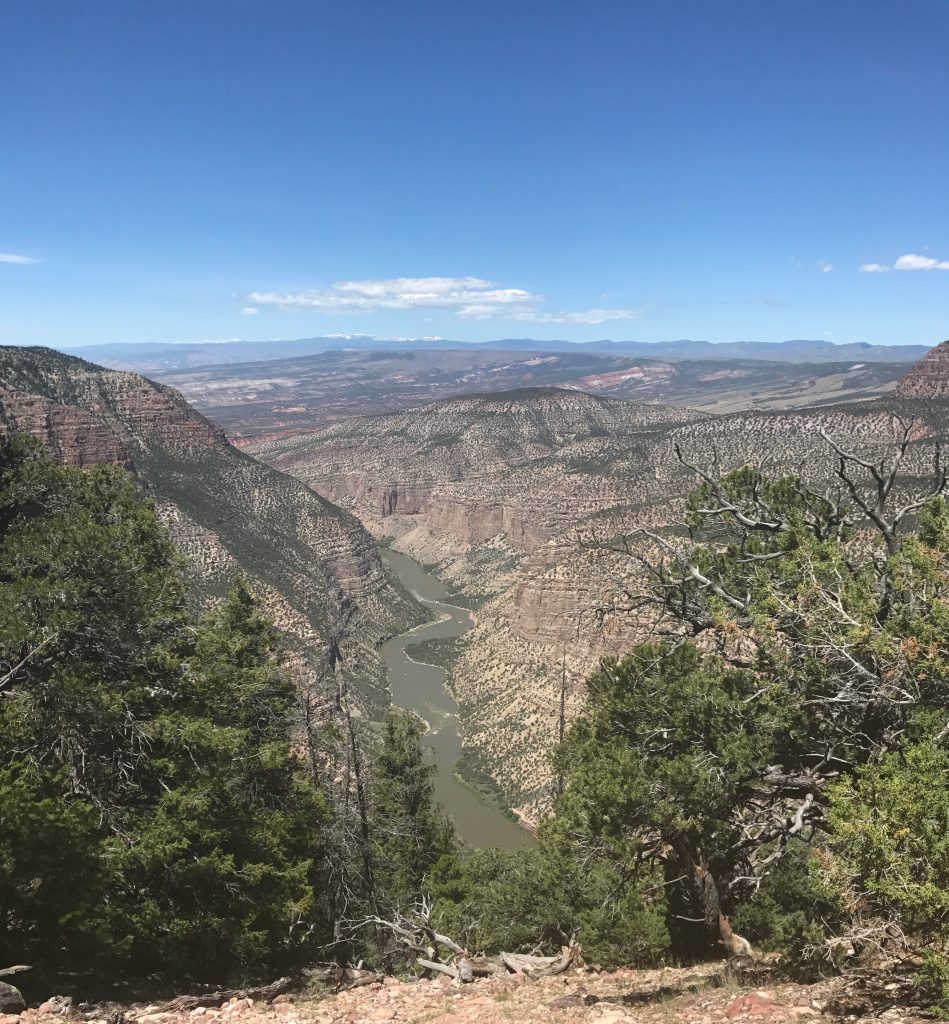 even thought it was a pretty easy hike, the two girls got bored/tired. it was pretty hot, so i'm sure that played into it. hazel was rescued by the dad.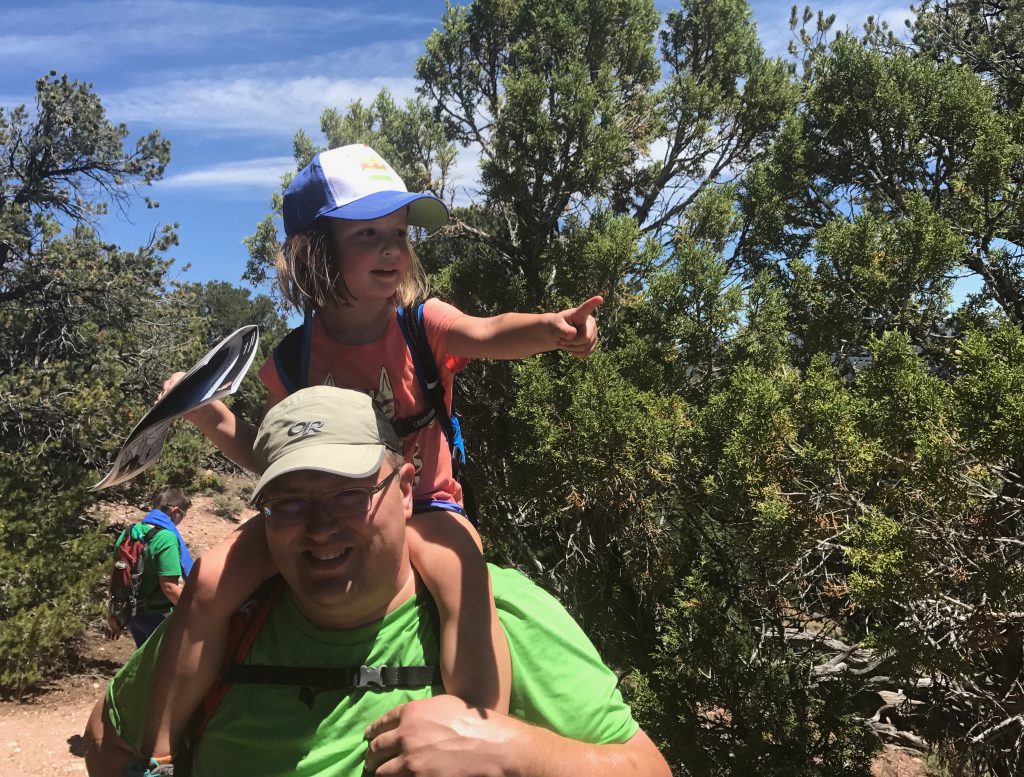 the view to our right. steamboat rock. one of the iconic spots in the park.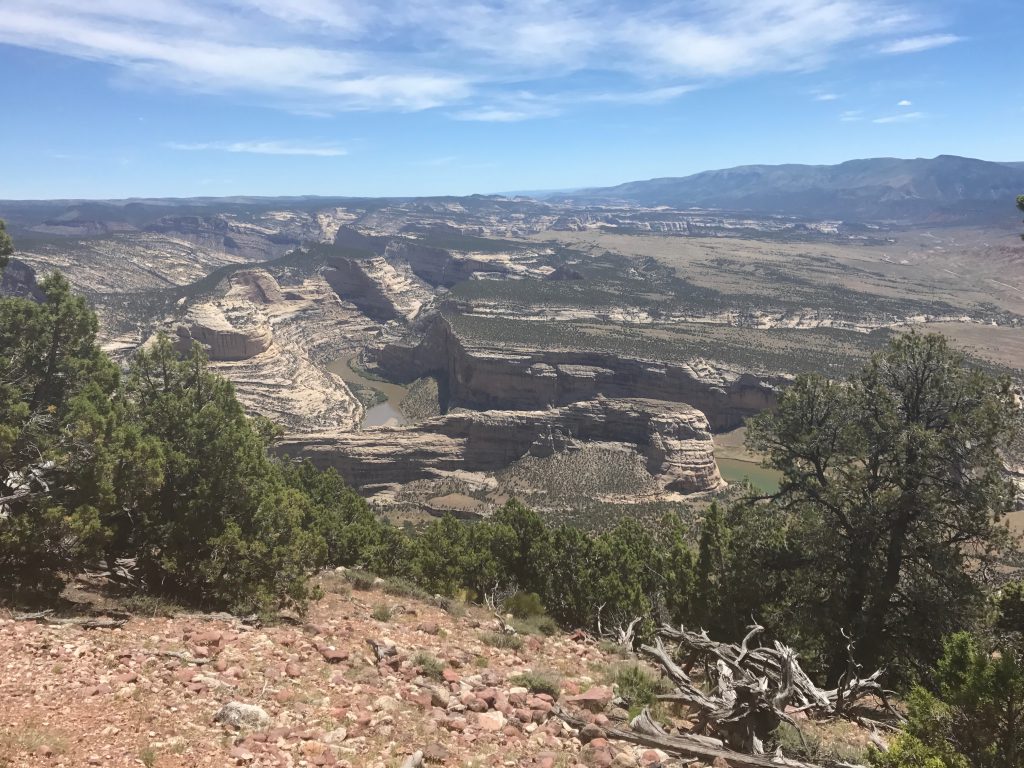 almost to the end/top.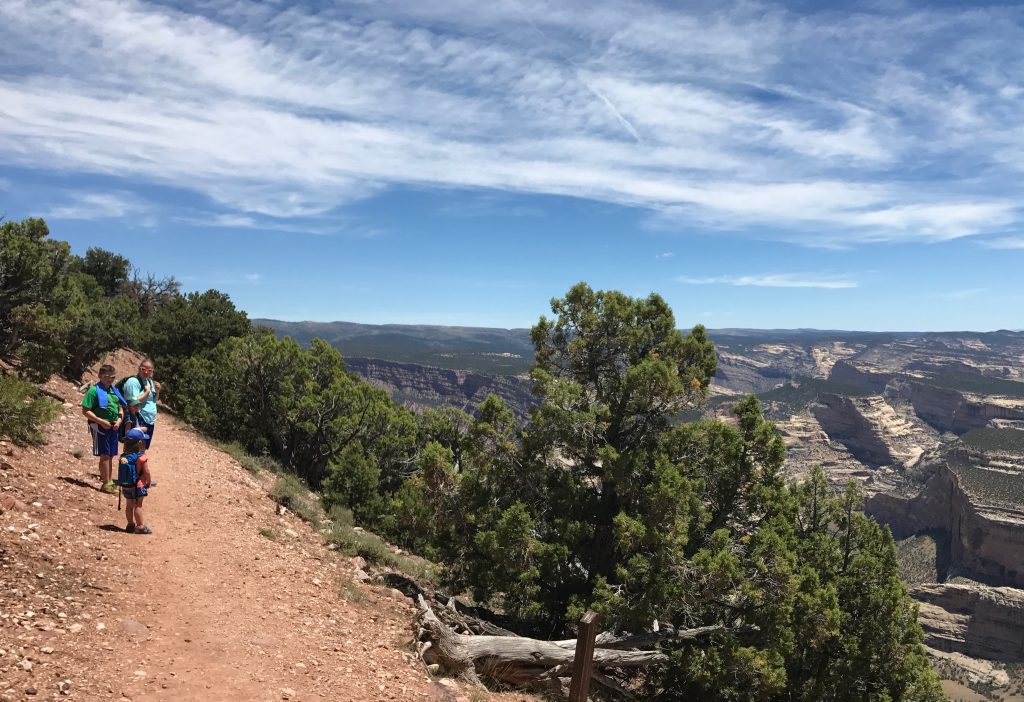 the view at the end was so cool. the scenery wraps around, making an almost 360° view of awesomeness.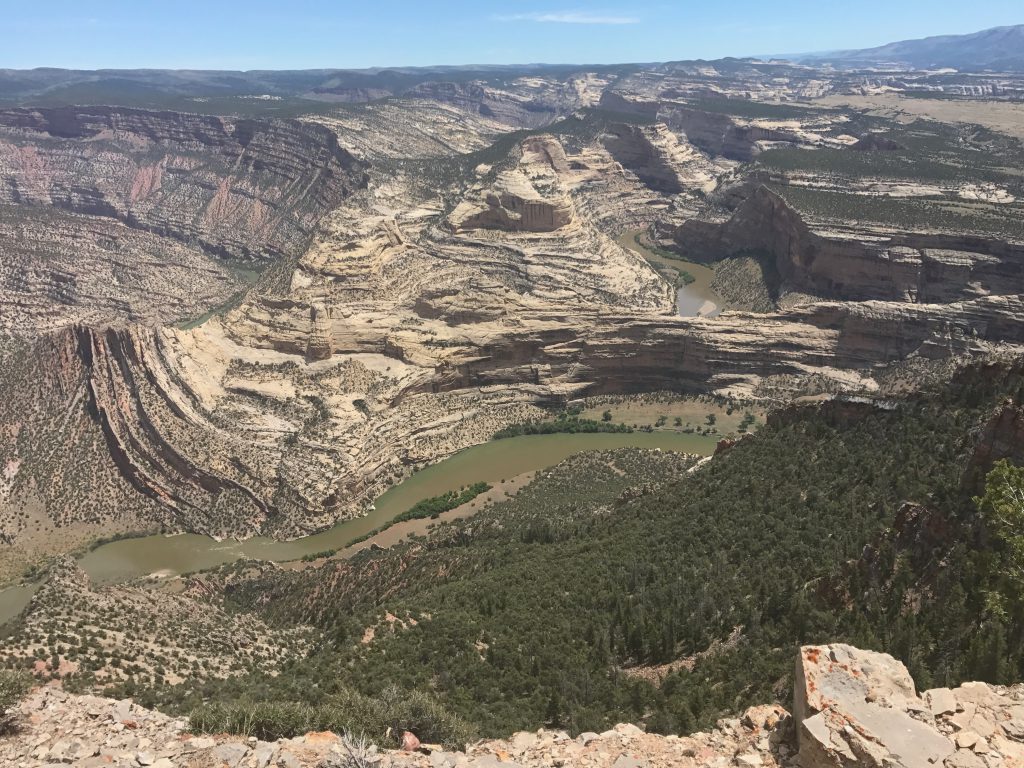 i think the kids might have even appreciated it.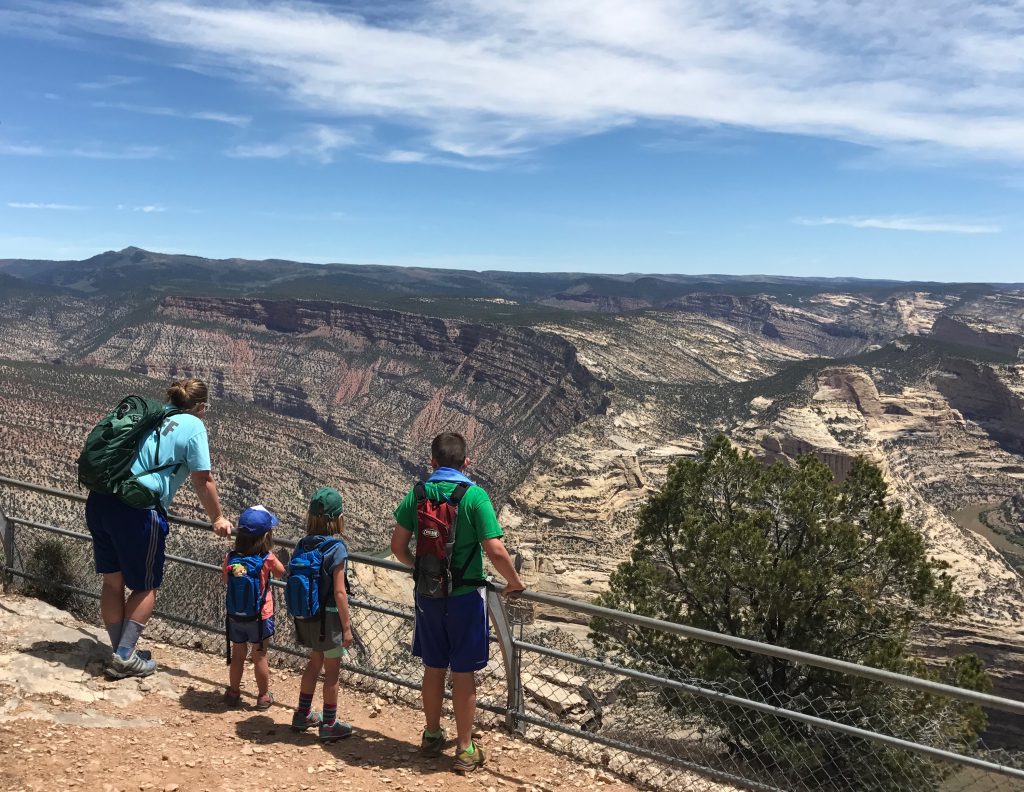 the boy agreed to pose for a shot.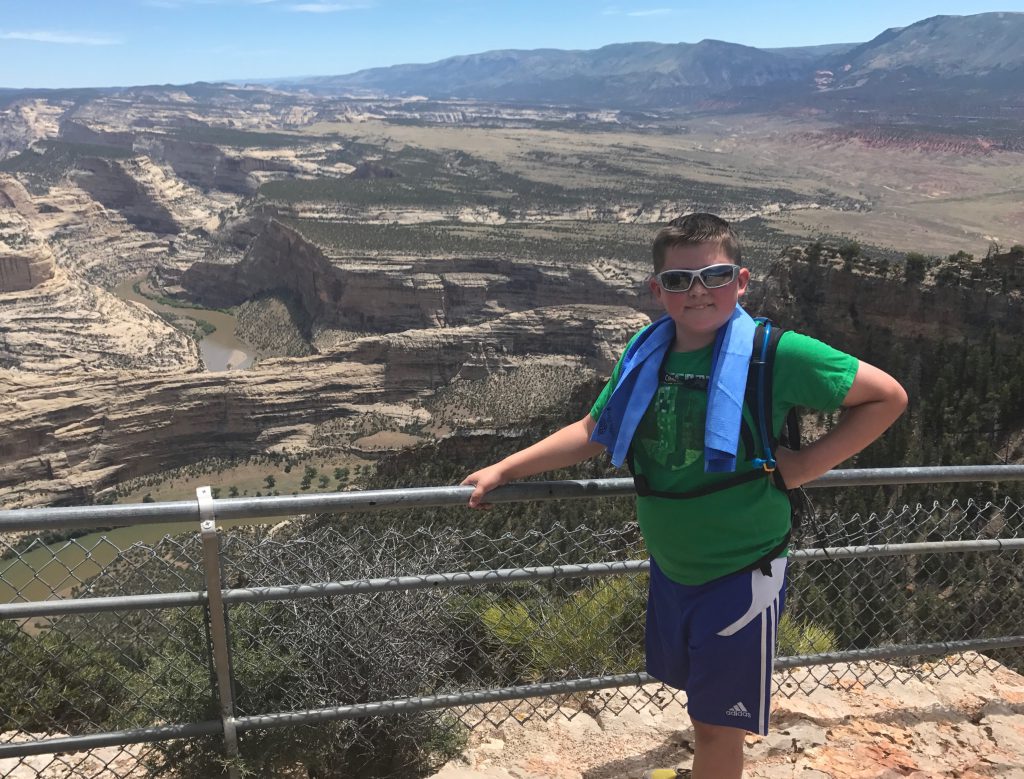 then he volunteered to take this pic.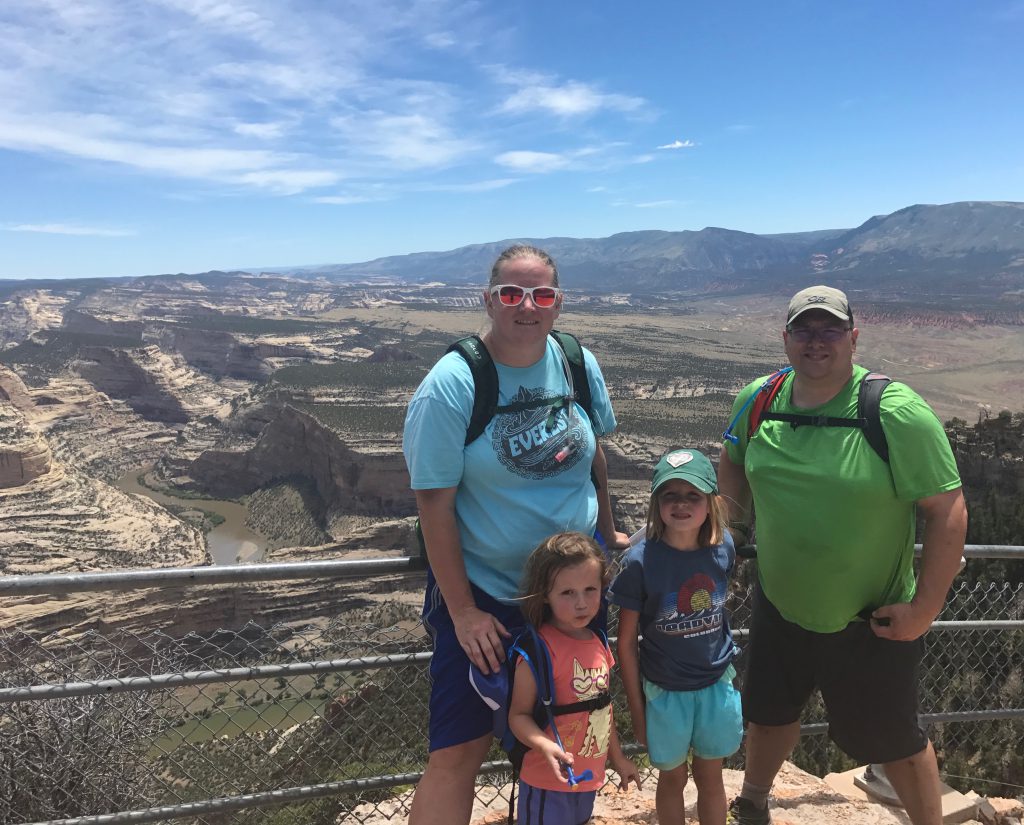 all the lidkids.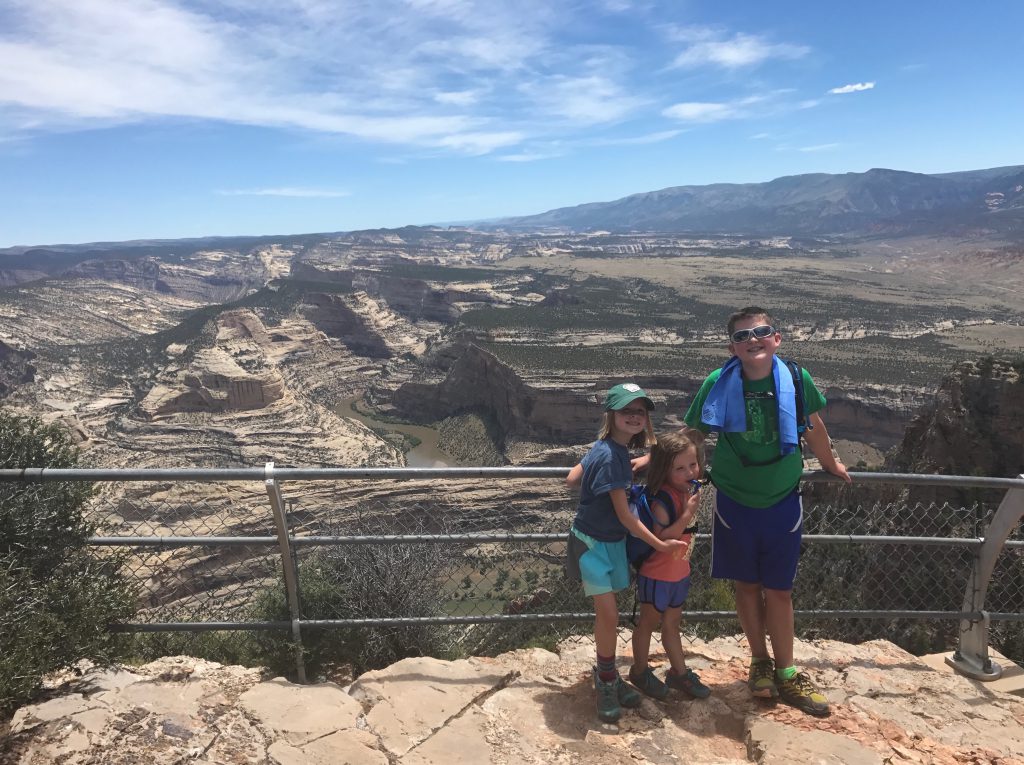 i might have snuck past the fence to get a better view. shhhhh.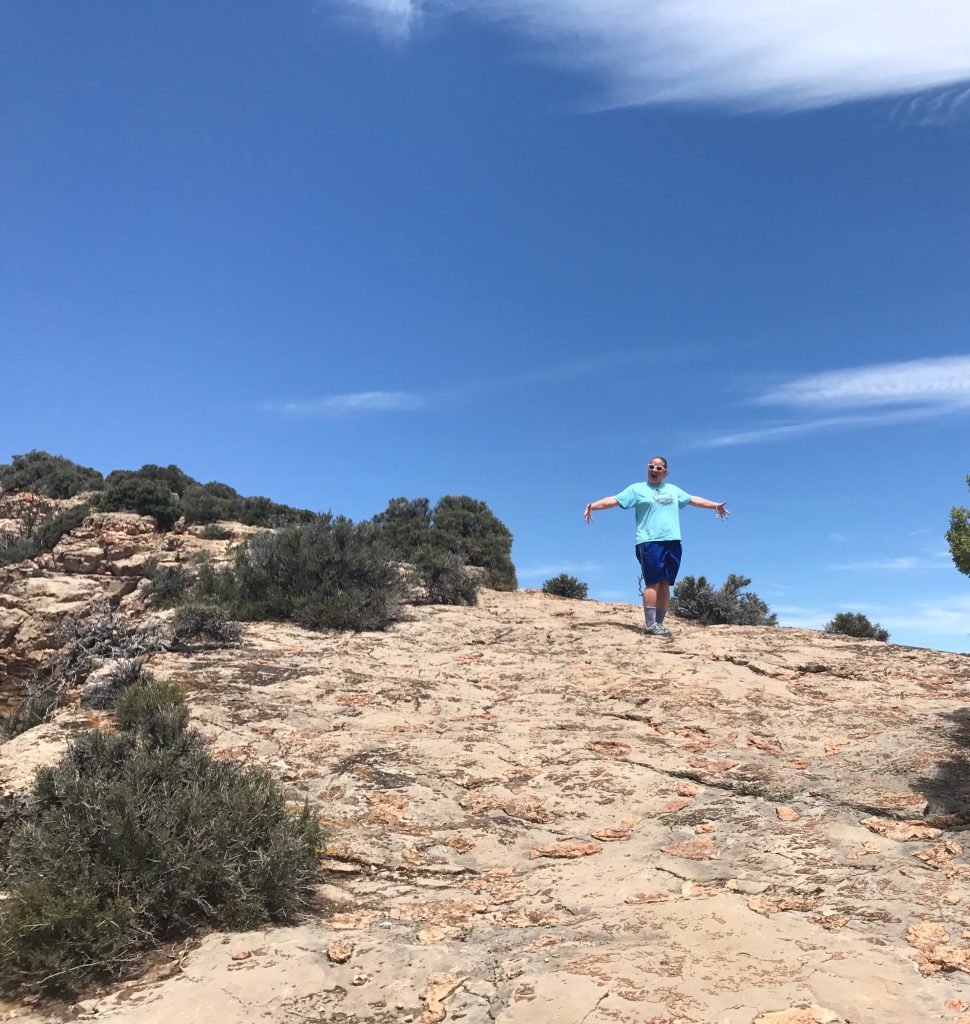 i snapped this pic of my caged animal family, obeying the rules*. (*technically, there was no rule saying that i couldn't go past the fence).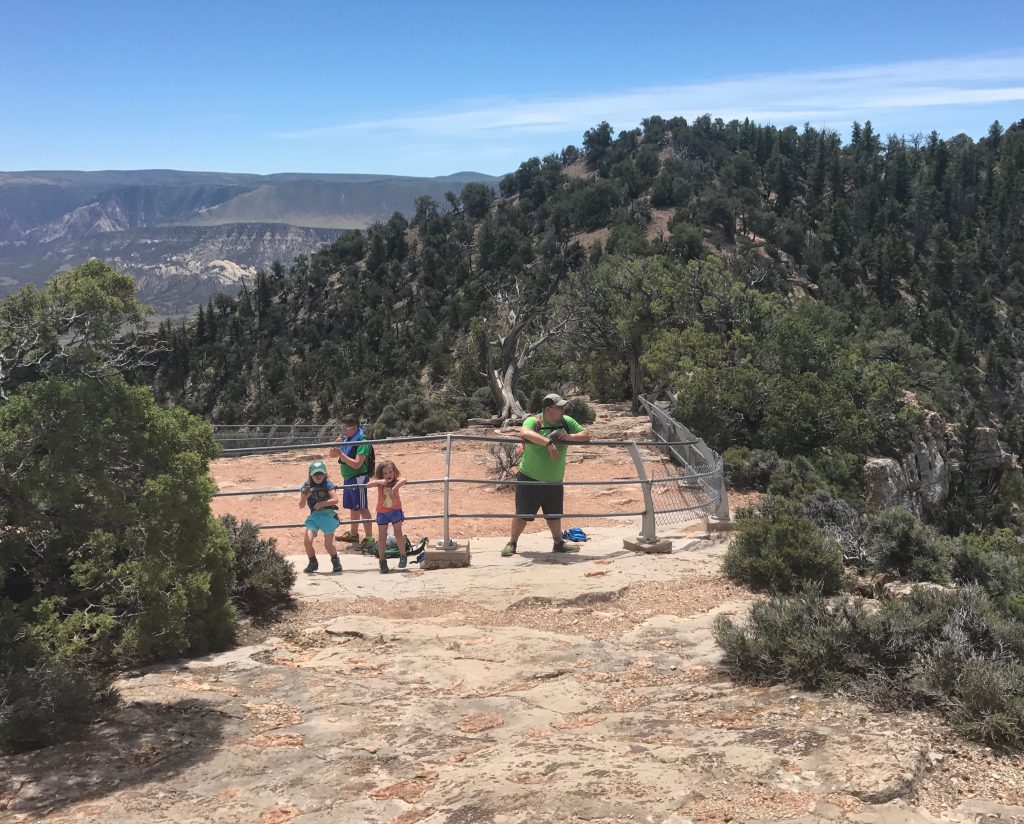 we hiked back pretty quickly, dragging along the whiny kids. not sure if we would make it back to the utah entrance in time, we stopped at the colorado visitor center for anna and hazel to get their junior ranger badges. (this ranger didn't even open their books or ask them questions, she just swore them in and handed over some fresh badges.)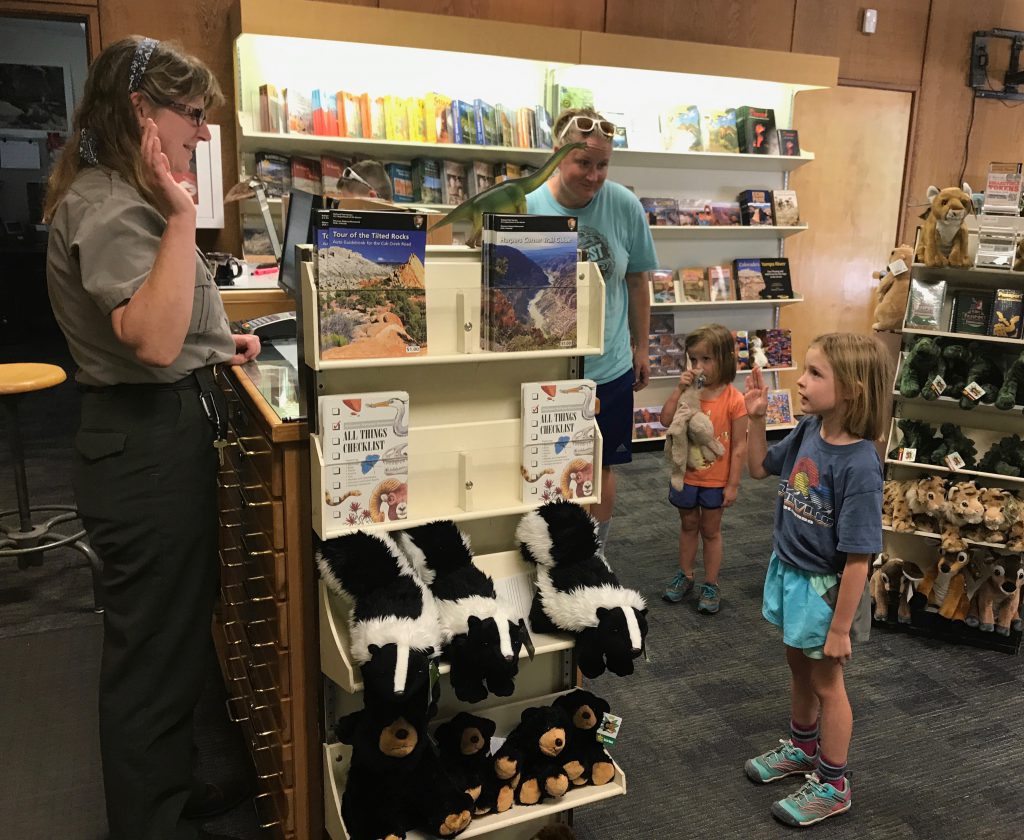 we had a delicious and very weird late lunch at a restaurant in dinosaur, colorado. and then some ice cream at a similarly weird place. and then we were on our way back to utah. on the way in, we stopped at the entrance to the park to get our obligatory park sign picture.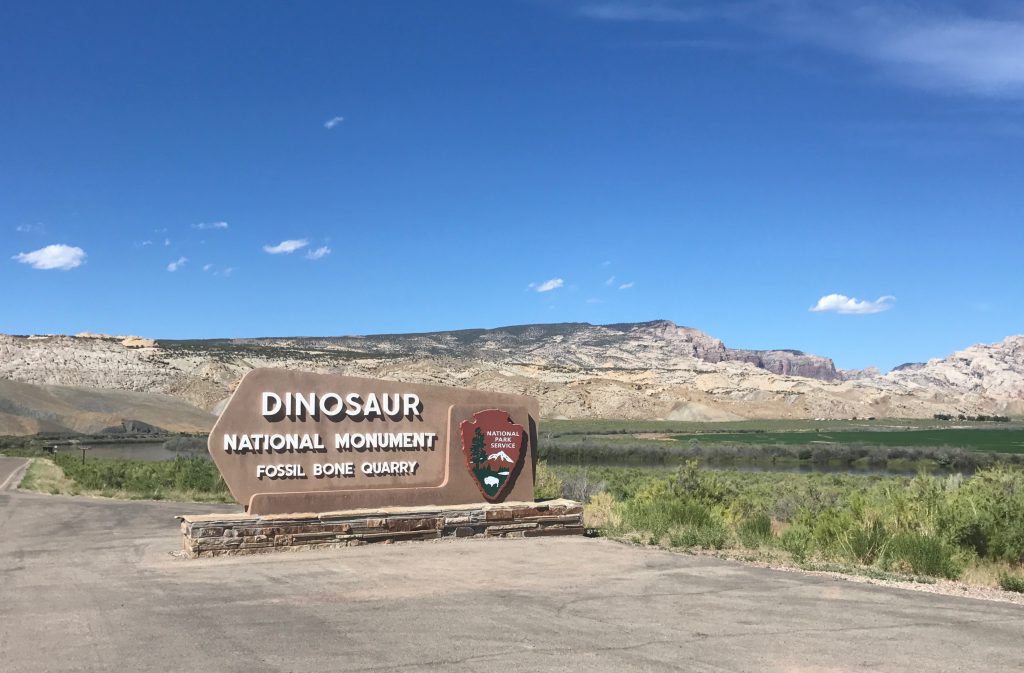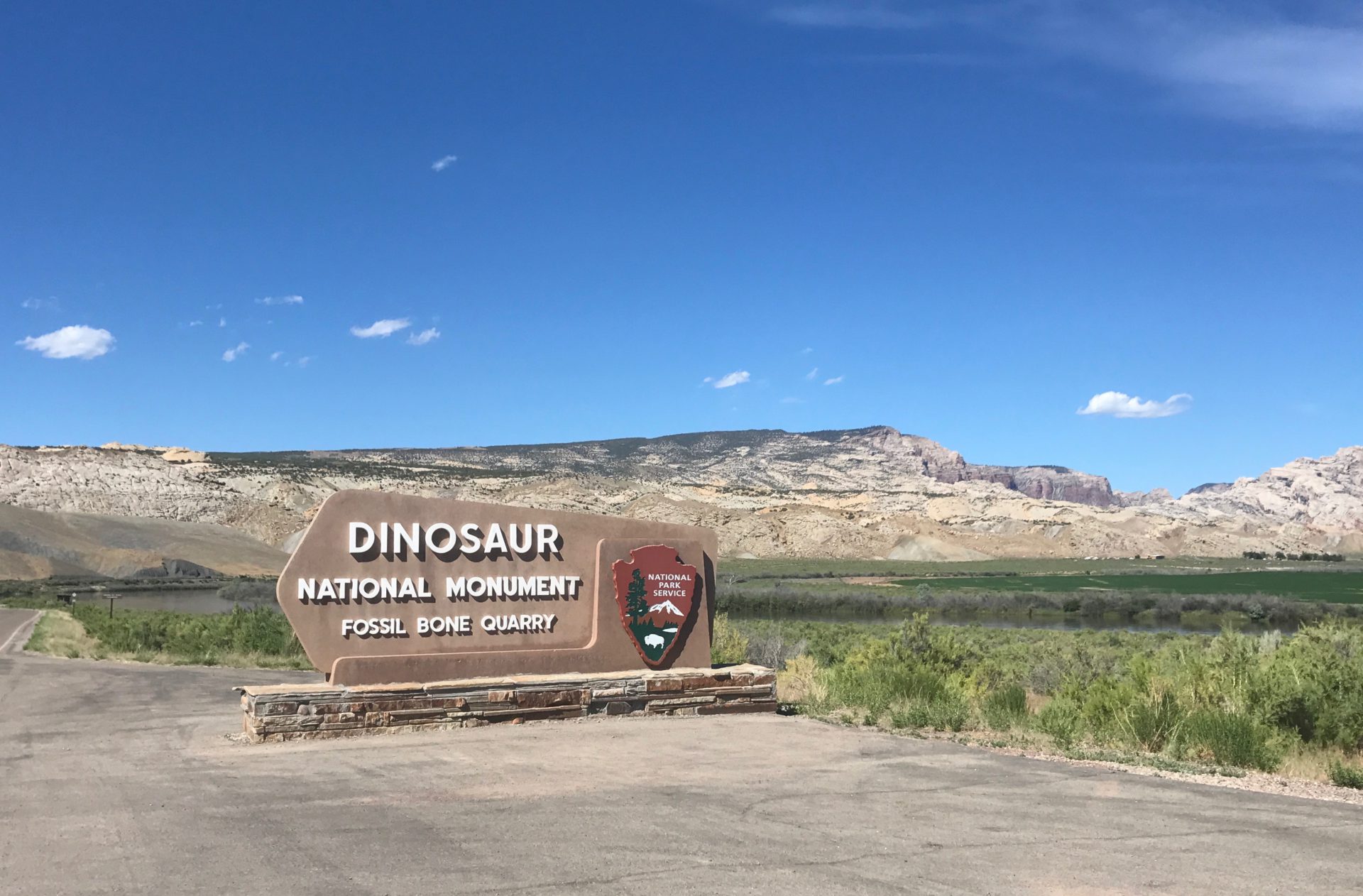 back at camp, we fired up the generator for a bit to recharge. the kids played with a few new friends. and then we settled in for another night of boondocking. in the morning, derek had to work (you know, mondays) so we just lounged around a bit. around noon, we packed up and derek headed to the visitor center to park and work until the end of his work day and we headed out. on the way, we stopped to view some petroglyphs, to complete our dinosaur national monument experience.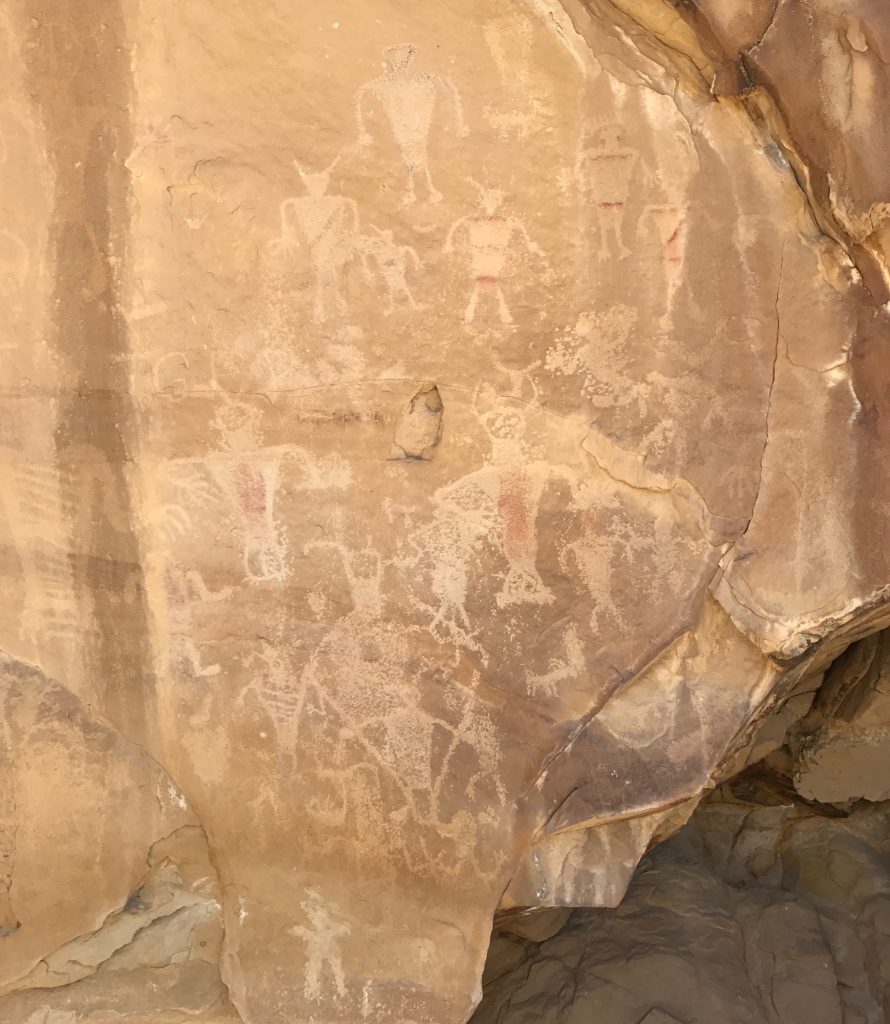 lid kids plus petroglyphs.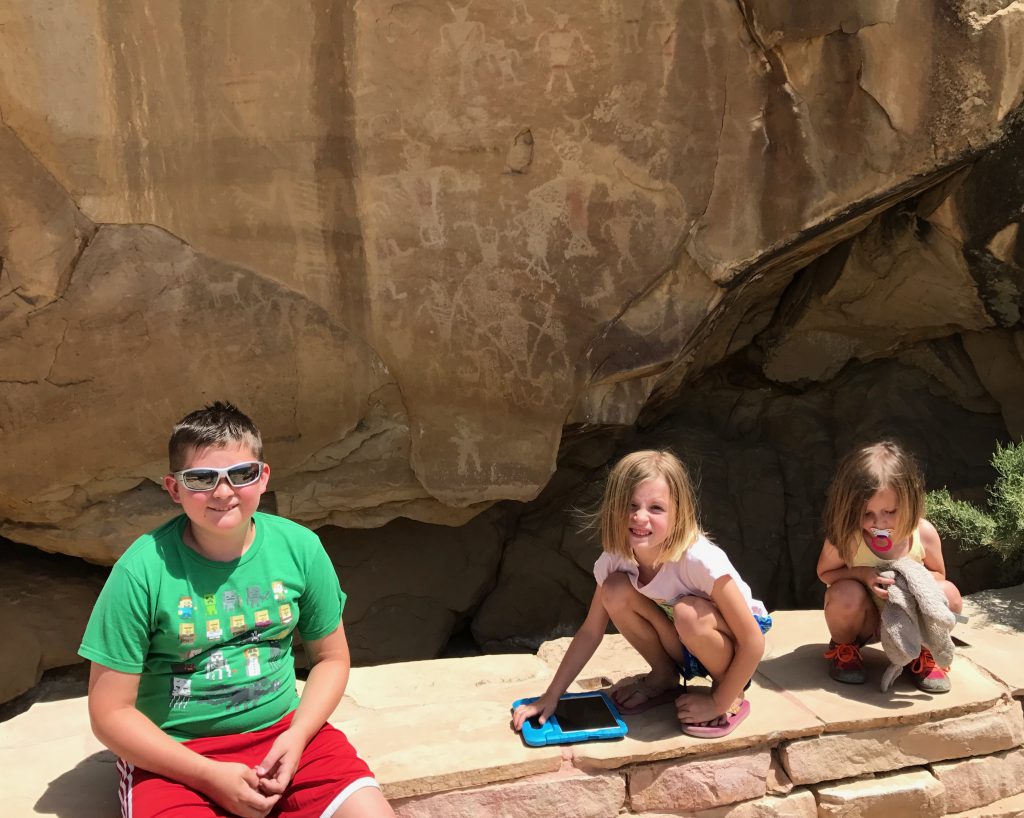 since derek had to work until three, we had to kill a bit of time before arriving at the next campground. we stopped in vernal, utah, first for some lunch, and then at the utah field house of natural history, which was a pretty cool extension of all that we had done at dinosaur national monument.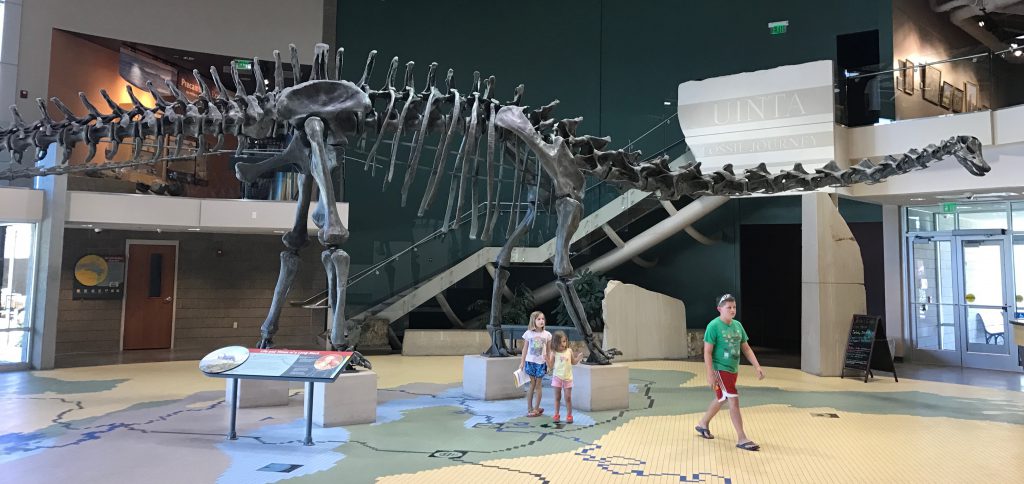 anna wanted to do the junior scientist workbook and get a patch, so i didn't get a lot of pictures because i was helping her. all the while, isaac and hazel were running rampant, not surprisingly. but. i did get this dino replica with accompanying actual fossil bones.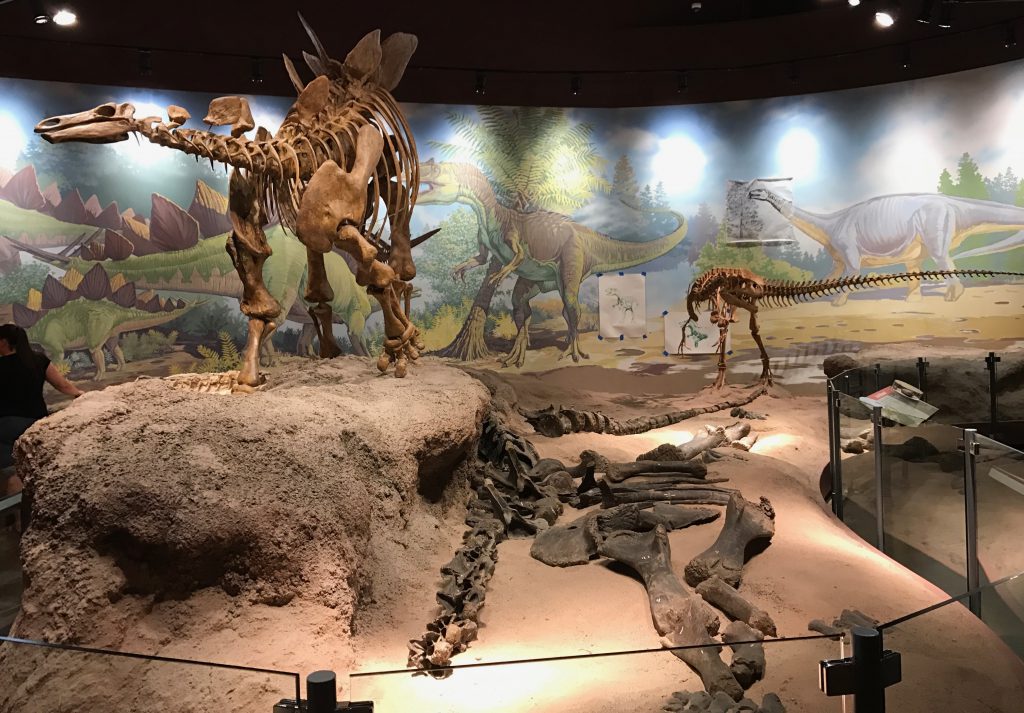 fossil skulls.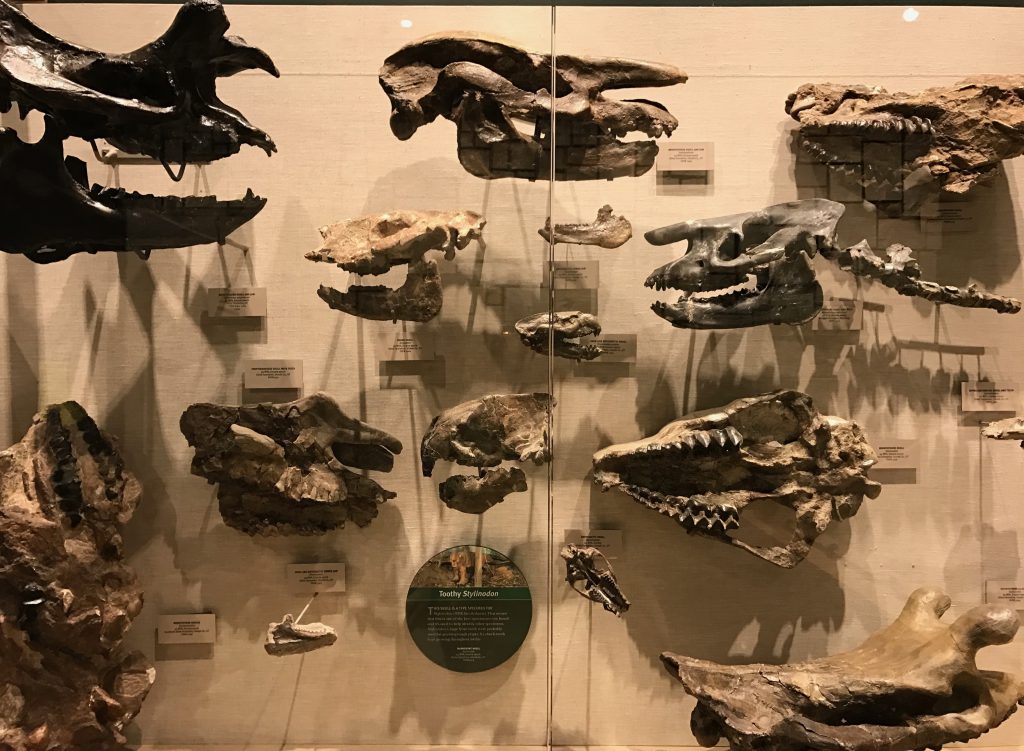 we learned a LOT about the history and geology of the surrounding area. my favorite was the prehistoric uintathere.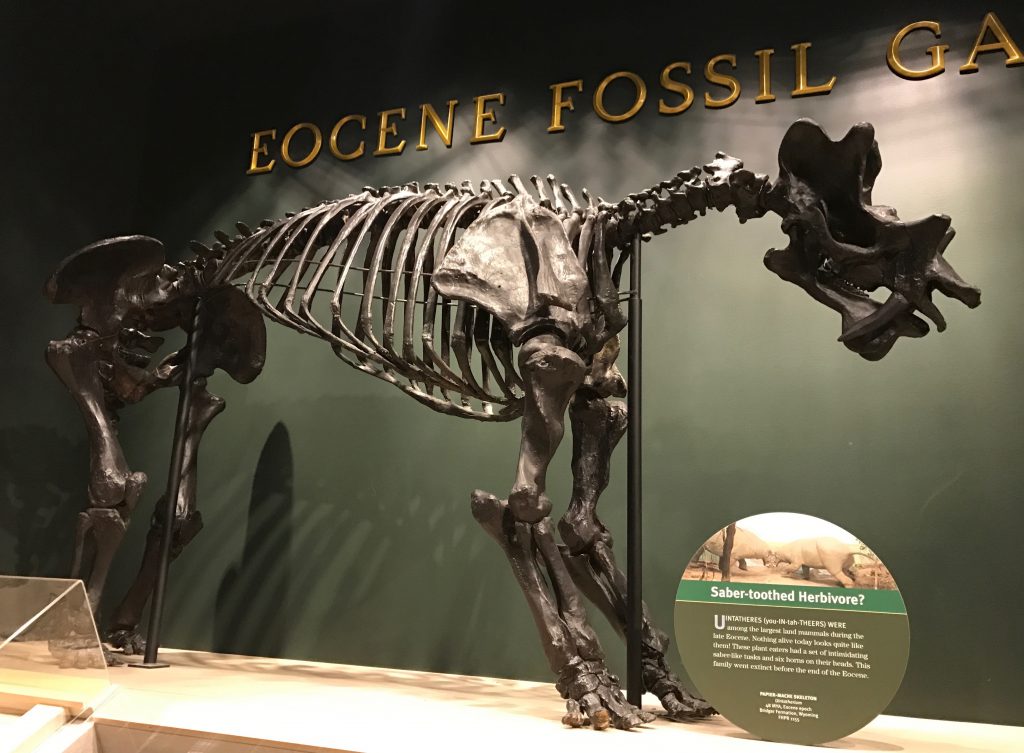 finishing up her book, documenting her favorite leaf fossil.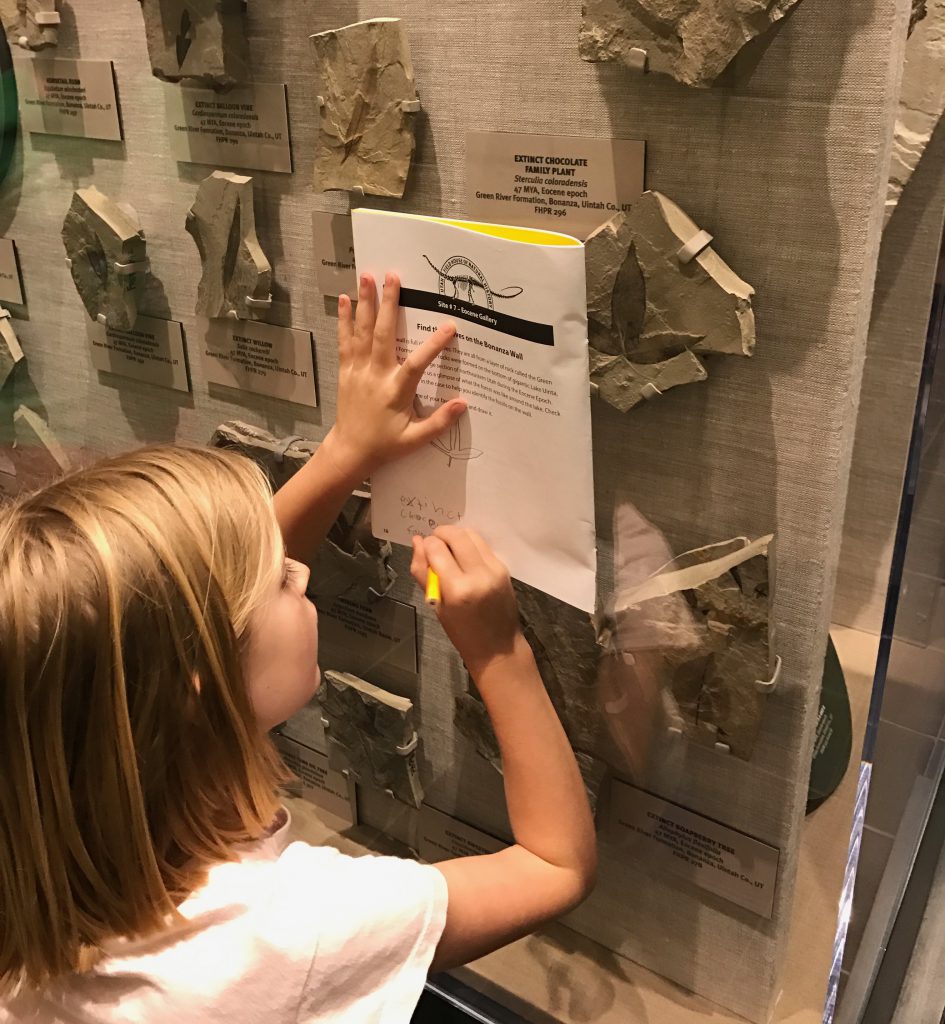 i can't remember if this was real or a cast, but it was cool. and one of only a few pictures. so i'm posting it. 🙂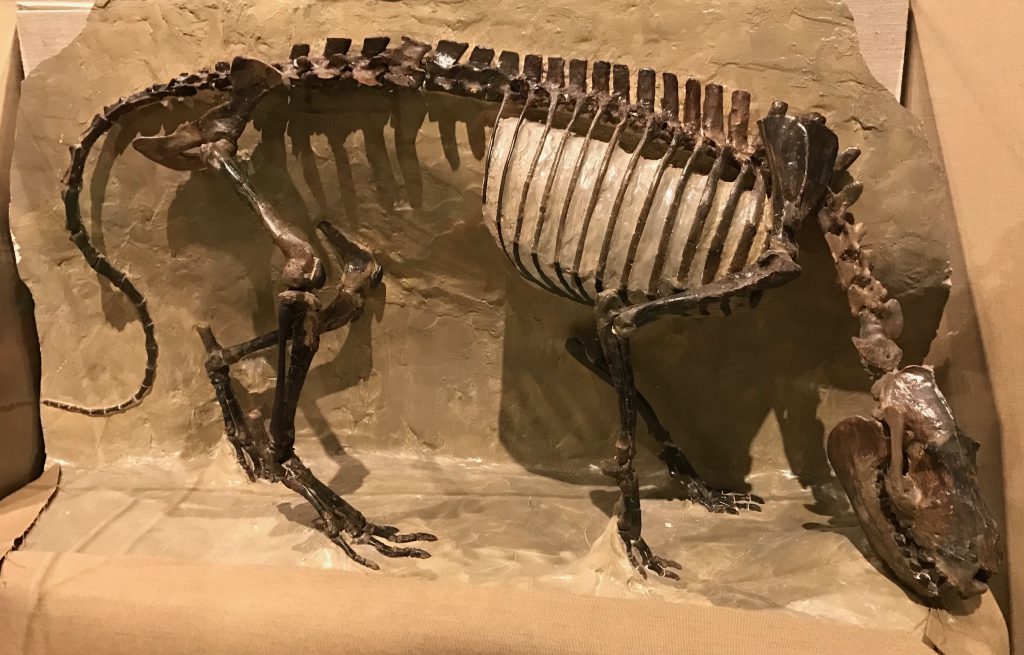 while the actual fossils there were really cool, the fake animals and dioramas were a little cheesy. we had a good laugh at the woolly mammoth.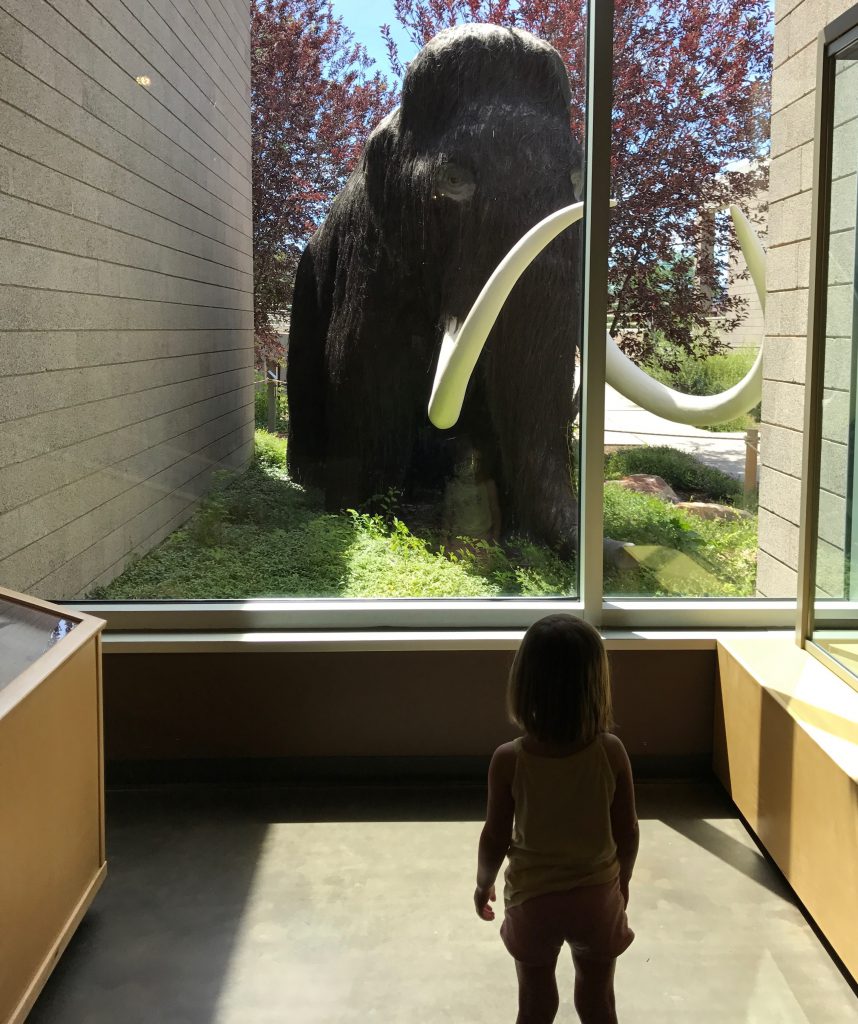 anyhoo… anna got her patch. and we bought a bunch of dino themed junk at the gift shop. and we were on our way. next stop. middle of NOWHERE, utah.