our trip from salt lake city-ish to west yellowstone was a long one, at around 5 hours and 40 minutes. we usually like to stick to about 2-4 hours. add in packing up, bathroom, gas and food breaks, registering at the campground and setting up, and we had a long and not fun day. i think we started at 8 am and were settled around 6. all that to say, the next day, we hopped back into the car to explore yellowstone national park, which at 3,471 square miles, would require a good bit more of driving.
our plan was to hit the upper loop early and hope to see some wildlife. early tends to be a challenge for us. but, we managed early-ish and were off to the races. we have a really cool app that uses our phone's gps to talk about the park. the history. the geology. etcetera. (it's called "just ahead" if anyone is interested. you can pay per park or get a yearly subscription). so, we listened along as we drove around and took in the scenery.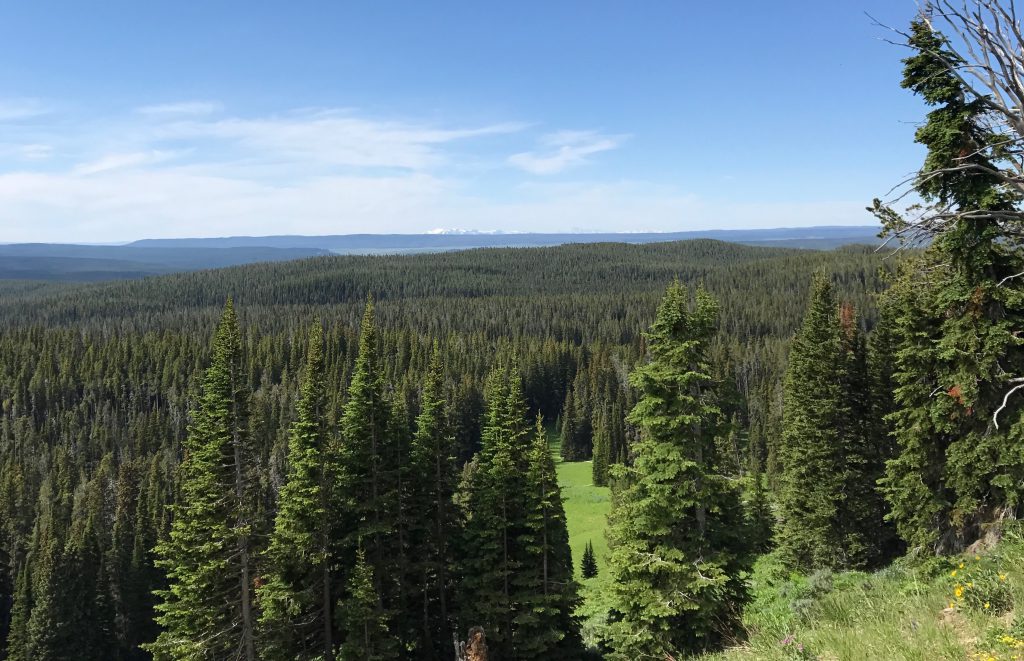 we stopped at a few pullouts to take some pictures and explore.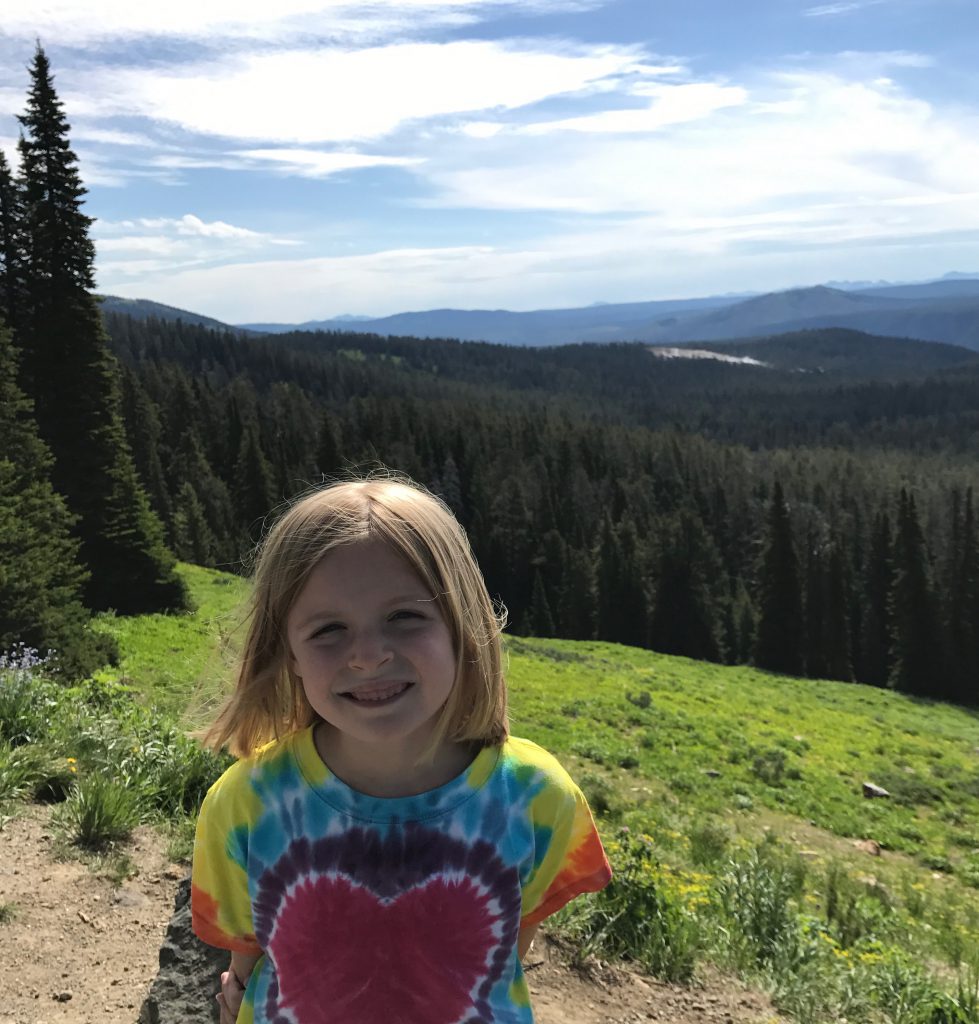 we didn't see much wildlife where we thought would be the best spots. but the drive was pretty. and the overlooks were pretty awesome.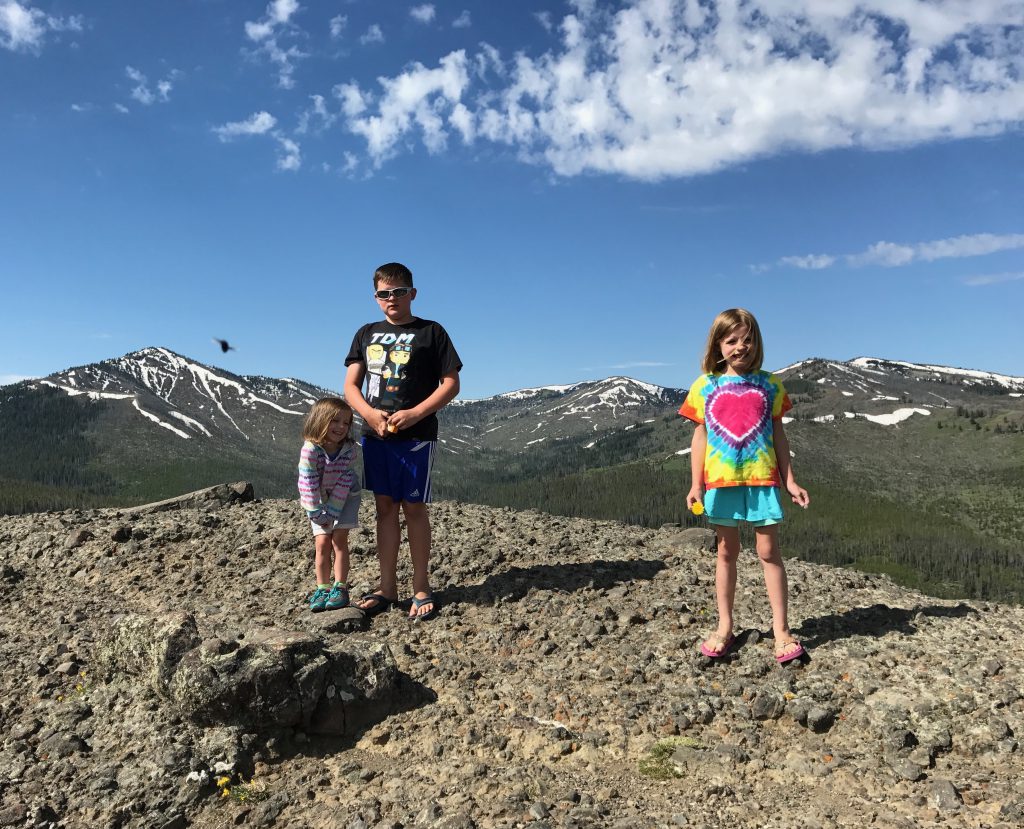 this spot was one of our first tastes of tourist mayhem. we pulled in. waited for the people who were up on the cool picture taking rock to be done, and then made the ascent for ourselves. no sooner were we up there, when a group of folks climbed up behind us, taking selfies all around us. i thought we could wait it out, but then a tour bus pulled in. so we made our escape.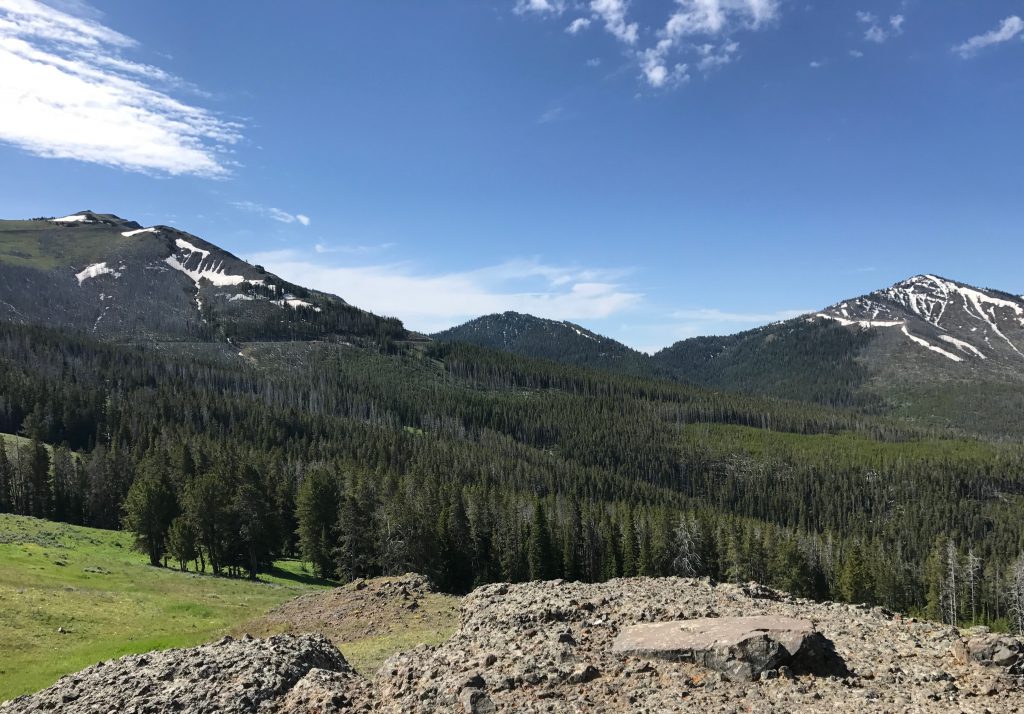 we did manage a couple of pictures first.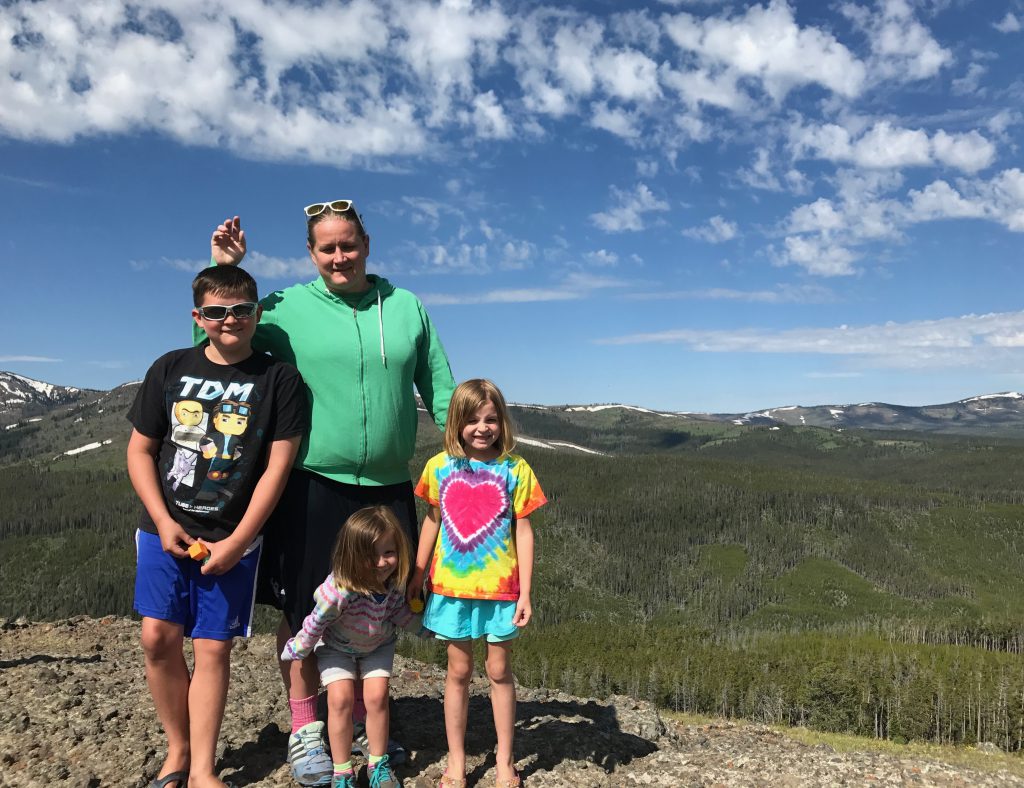 and the place is big enough that you can usually find some space to aim your camera at that isn't filled with inconsiderate tourists.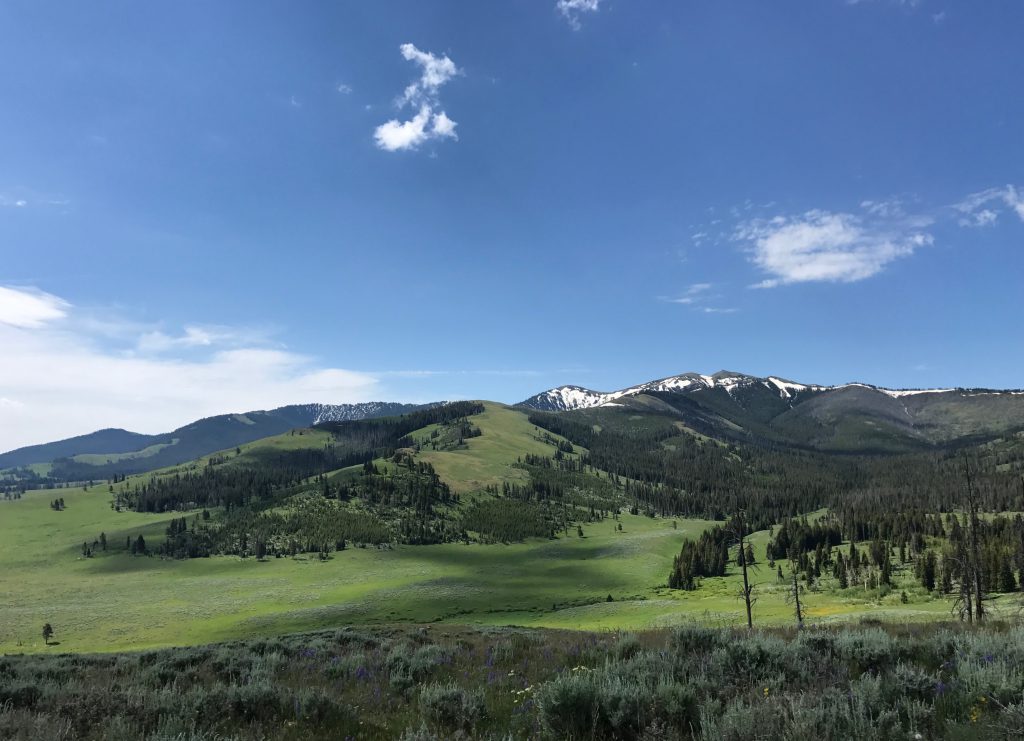 we happened upon a pullout with a short little stroll to a waterfall and we were able to find a parking spot, so we gave it a go.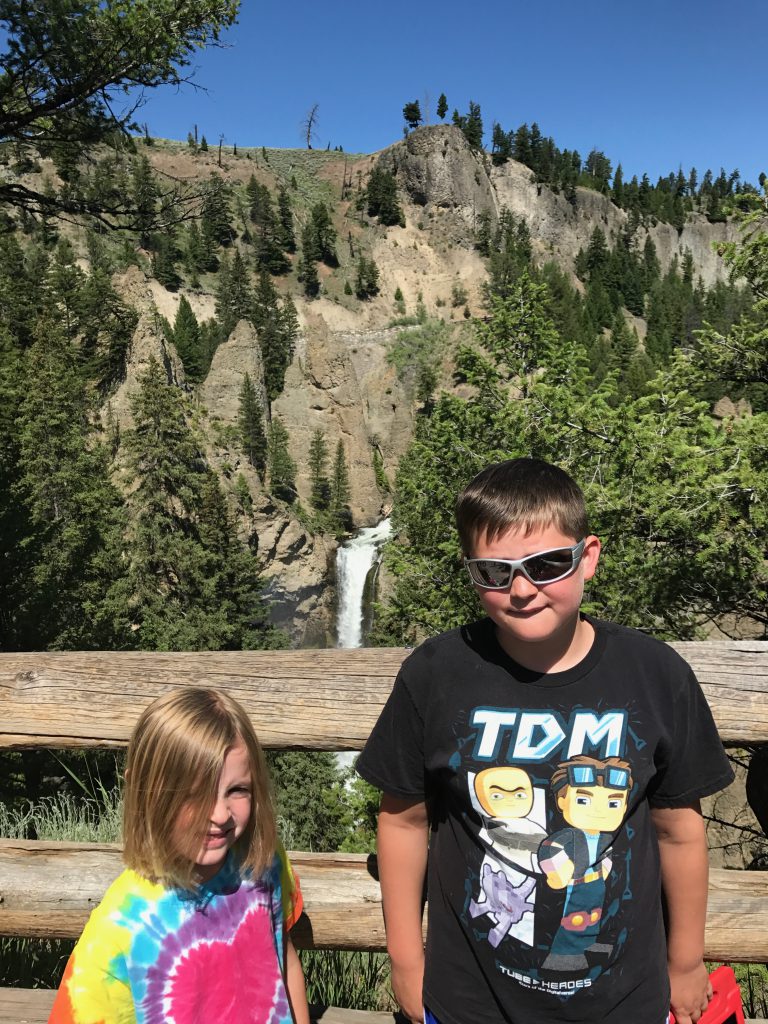 it really was just a random waterfall and i'm not sure why there were so many people, but alas, there we were.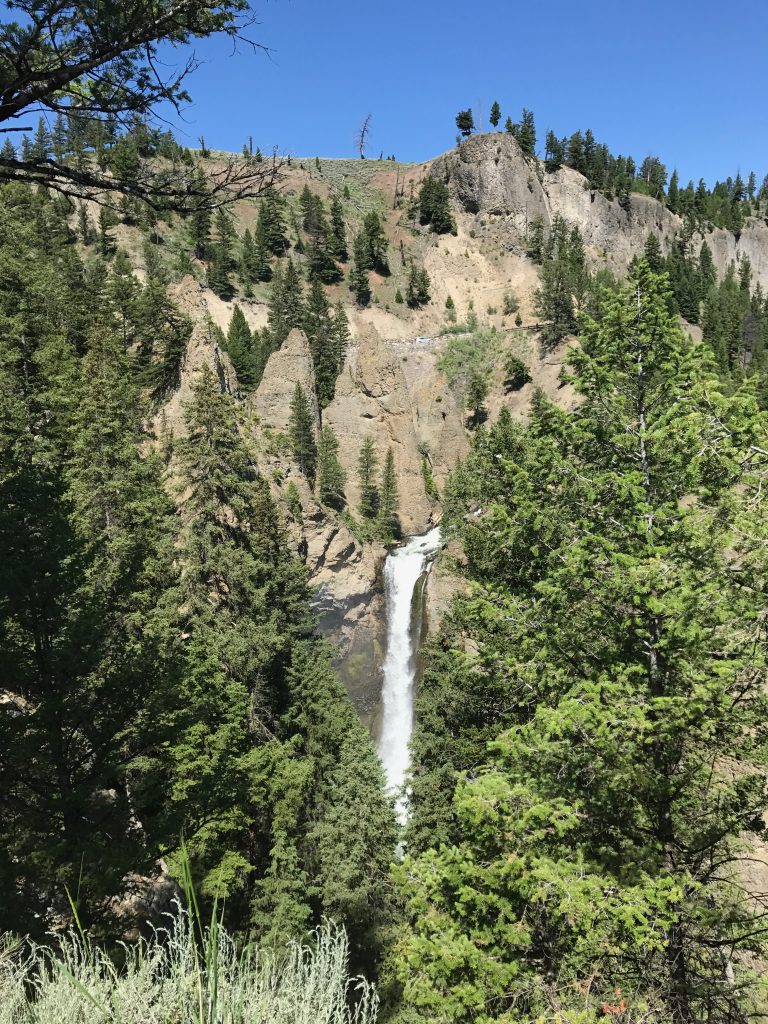 more scenery.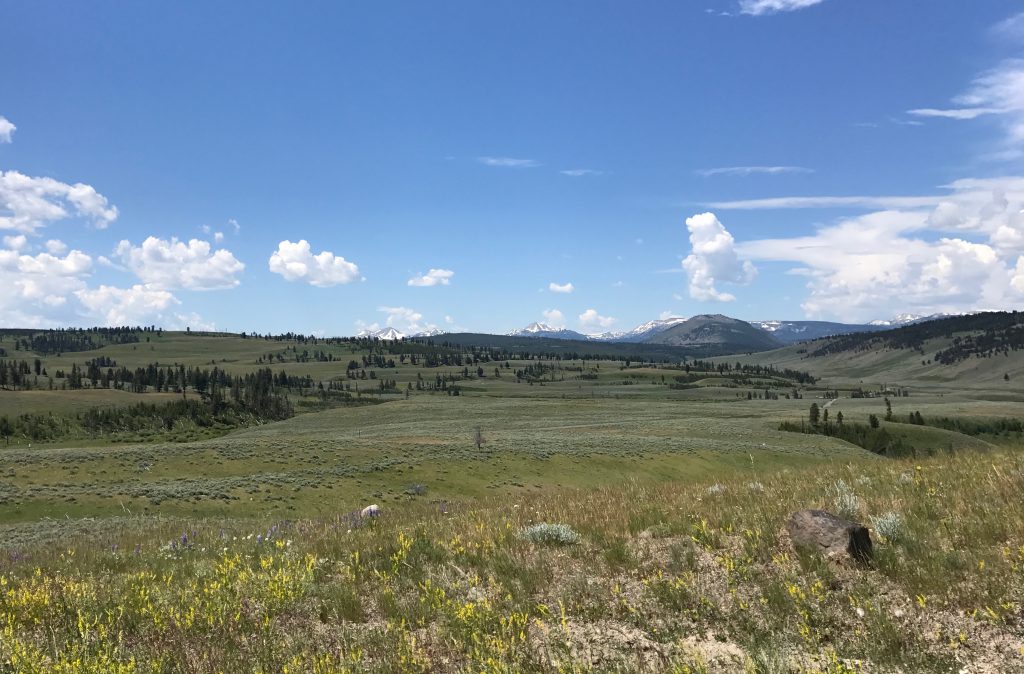 we found a little picnic area near a stream and decided to stop to eat our packed lunches. when we were done, the kids dipped their toes in the icy mountain stream.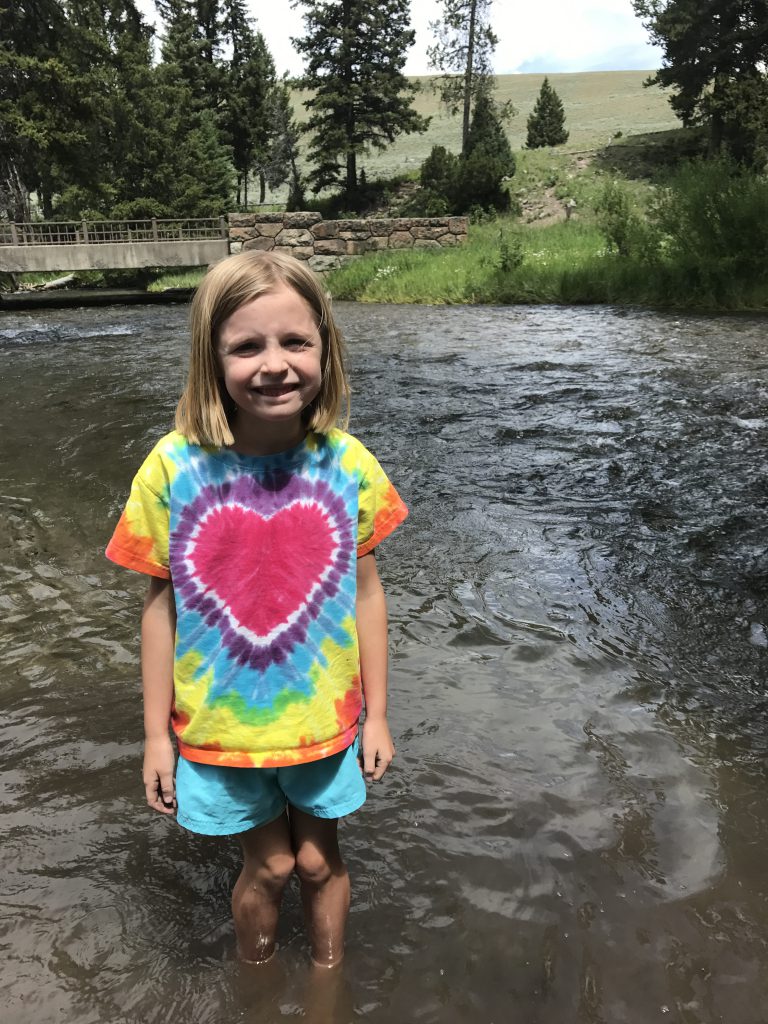 finally, we were about 3/4 of the way around the loop, at the mammoth hot springs area. it was mayhem, as we had been informed it would be. we managed to find a parking spot after a bit and went into the visitor center for some passport stamps and to do a bit of national parks bookstore shopping. from there, we rode over to the spiderweb of boardwalks that navigate through the hot springs. we scored a parking spot, but then almost got rammed by a giant suburban with a driver who might be better suited in a smart car.
anyhow, we set off to explore.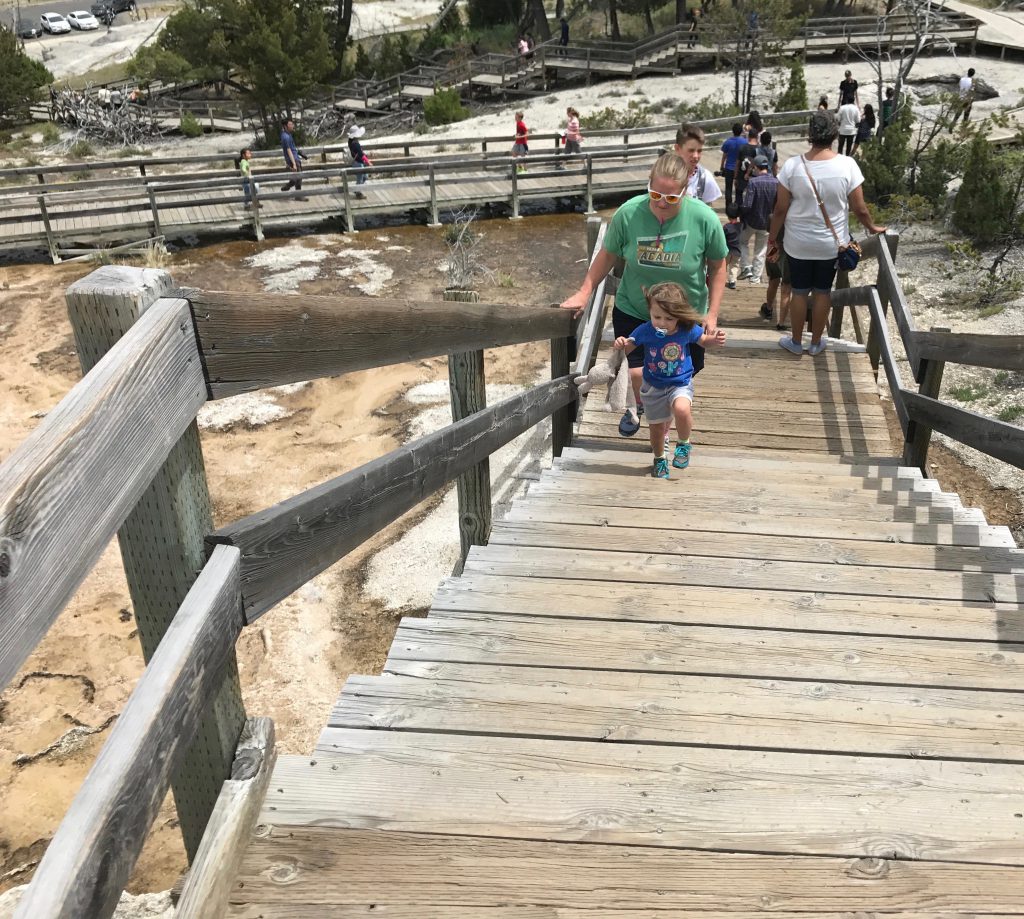 the whole place is surreal. it doesn't seem to belong where it is, just this giant white glob of limestone deposited on the side of a pretty normal mountain. i think our tour guide app said that 2 tons of limestone is deposited daily.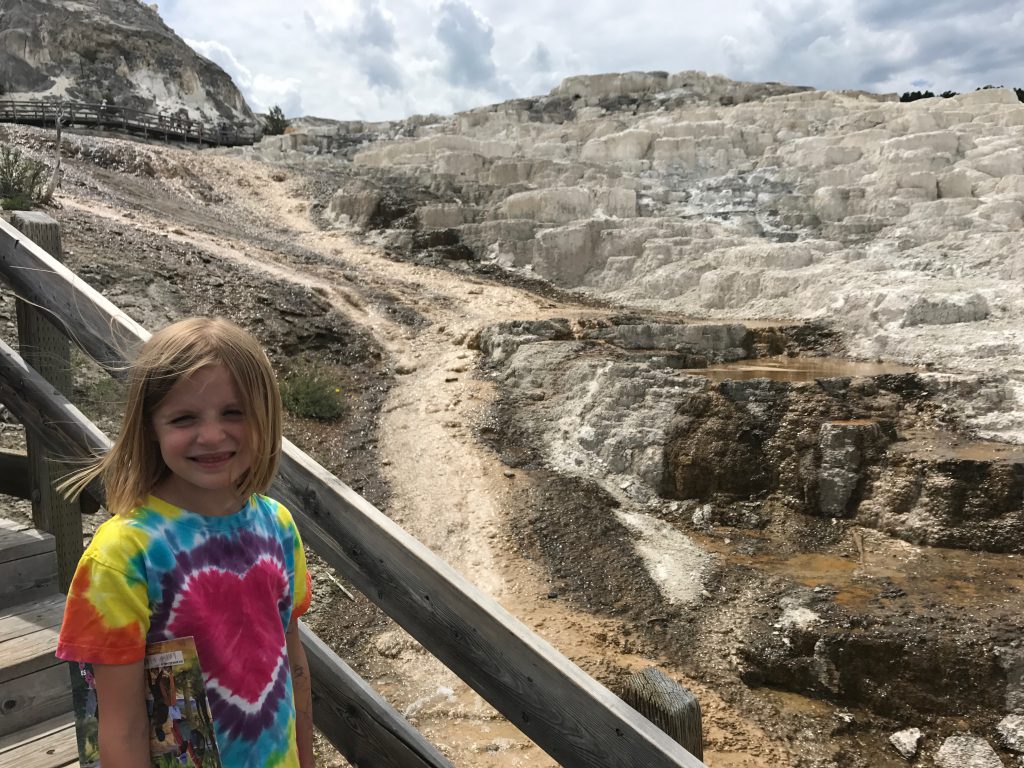 family photo op.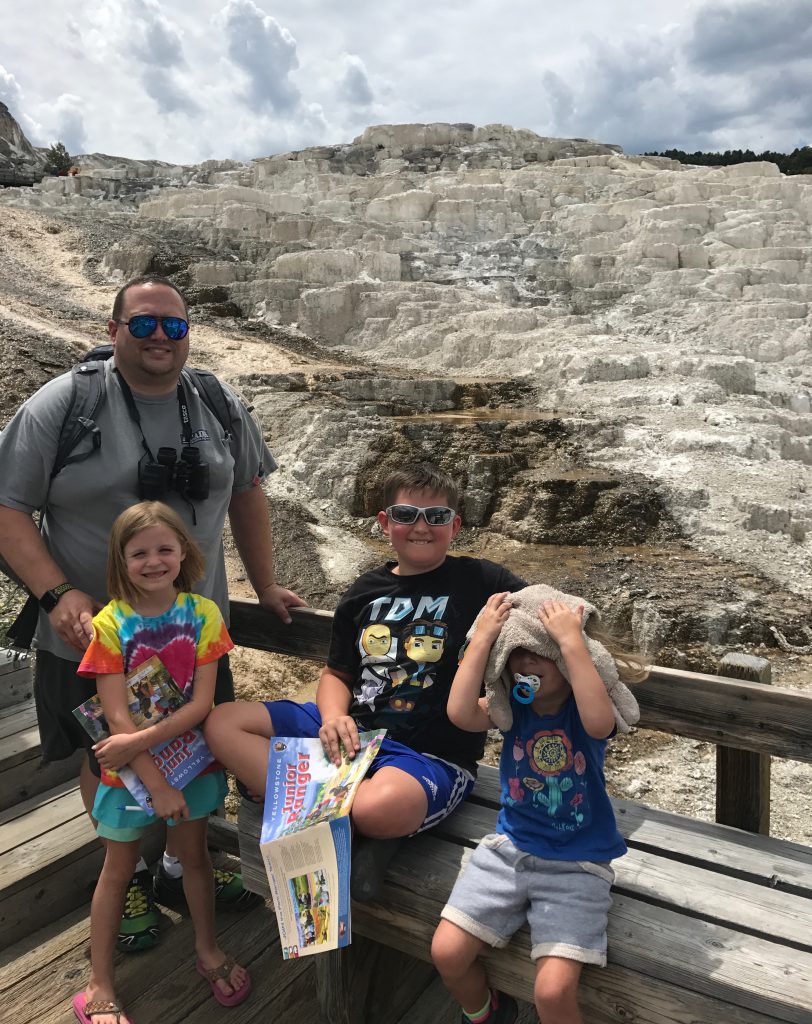 hazel grew tired of the stroll pretty quickly, so i scooped her up and we were off to the races.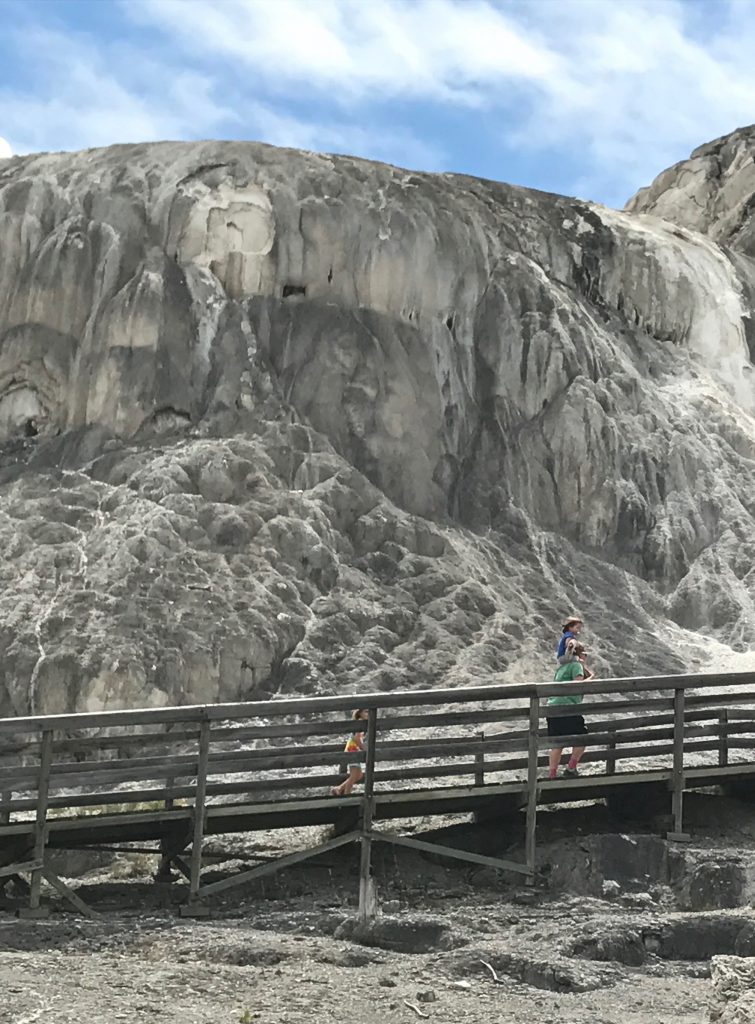 all of the deposits and pools of hot water are so cool.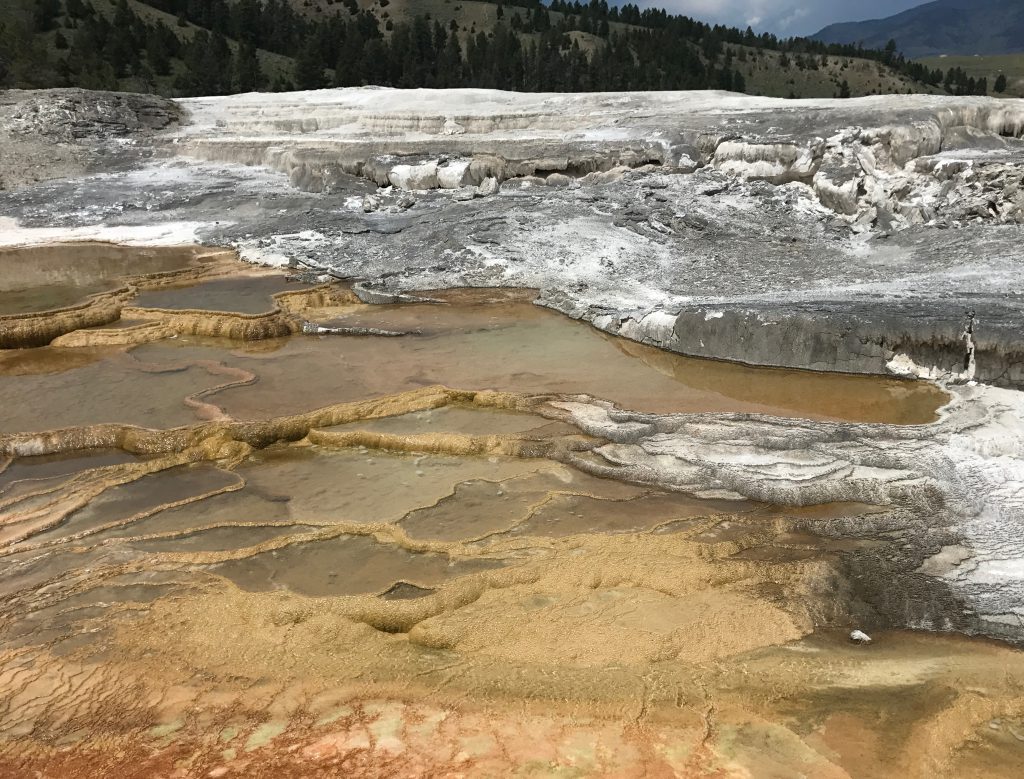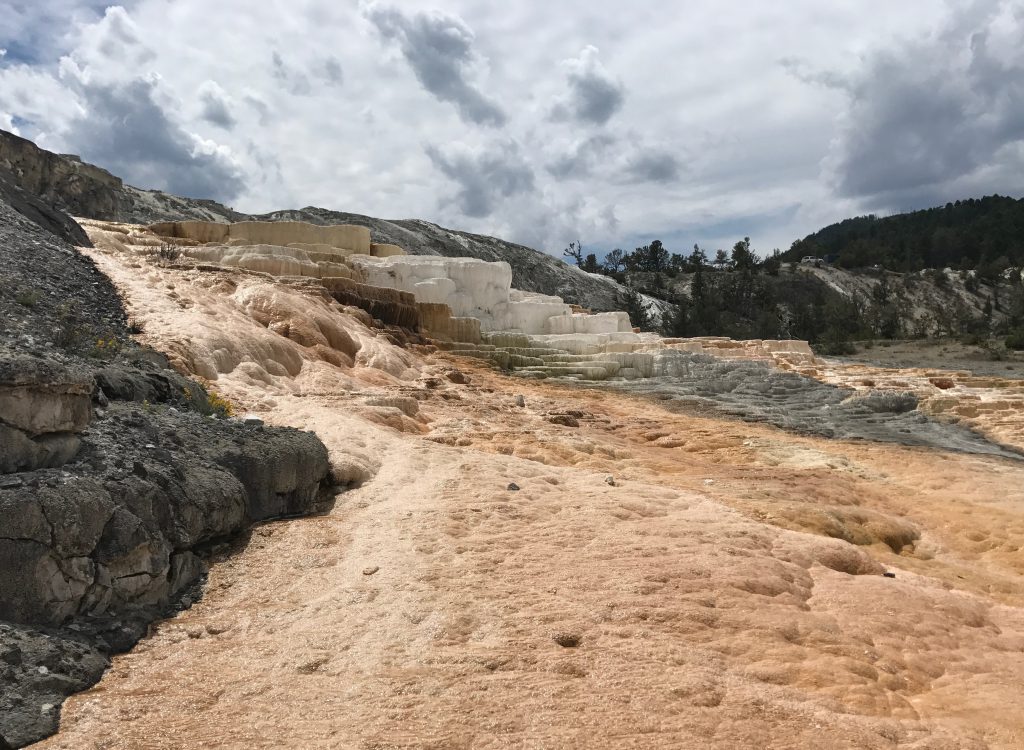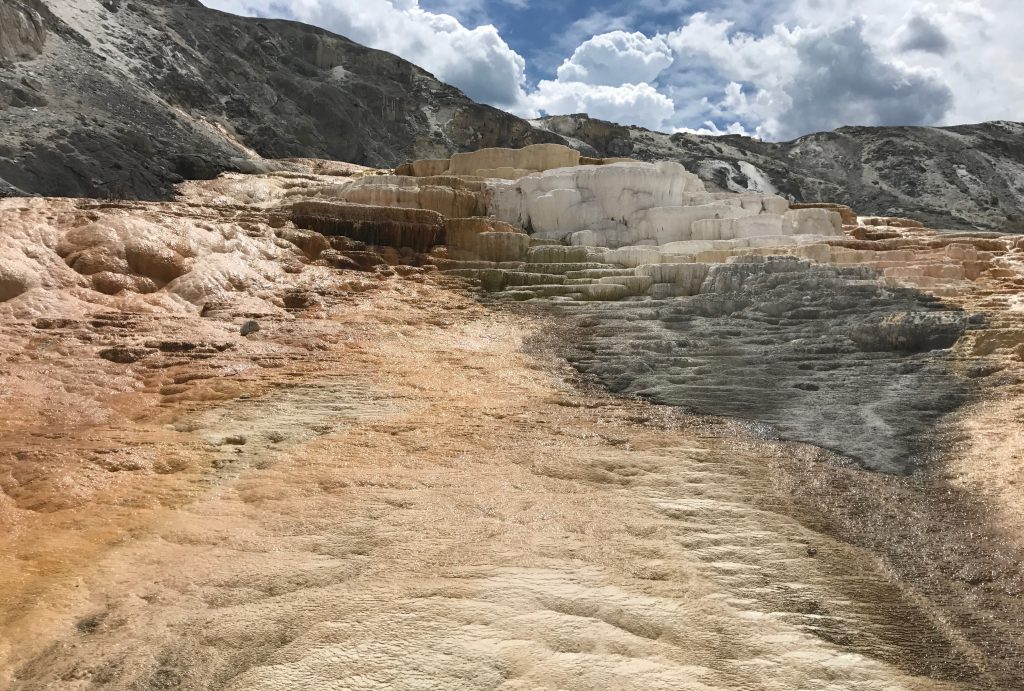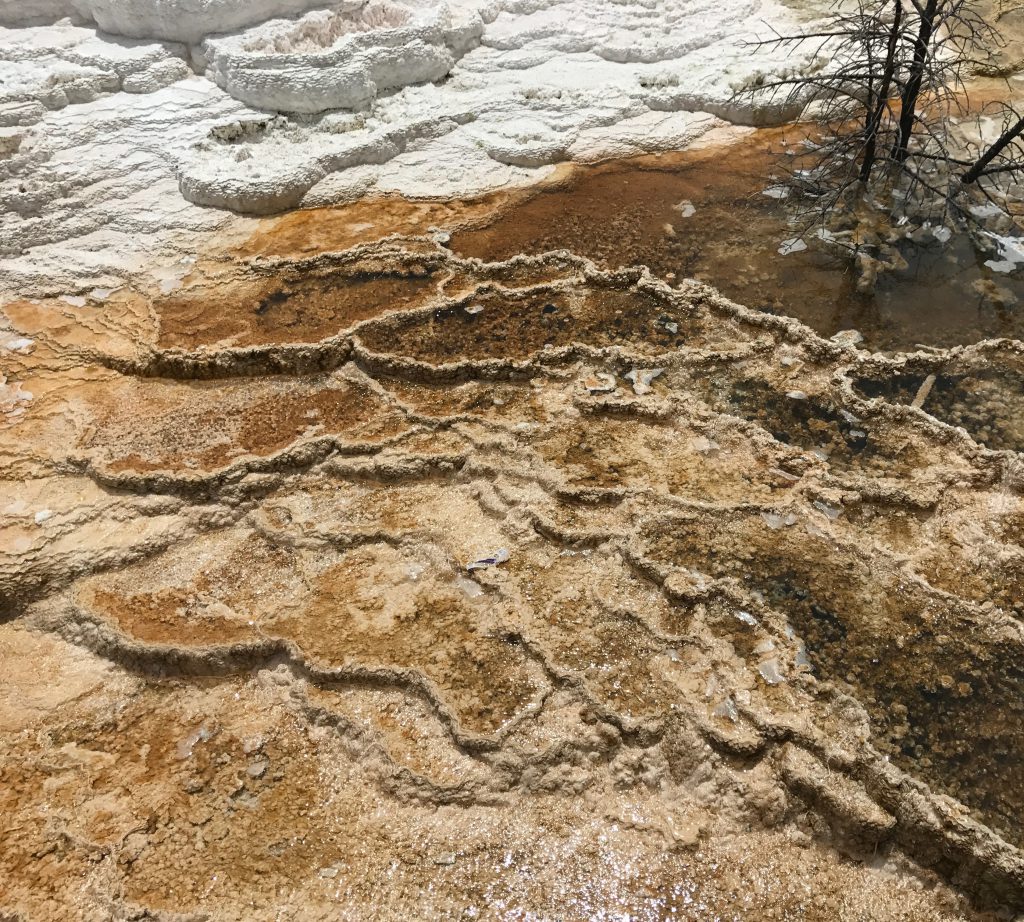 we took a little break at the top, to work on junior ranger books and/or regroup (it was hot and sunny and crowded).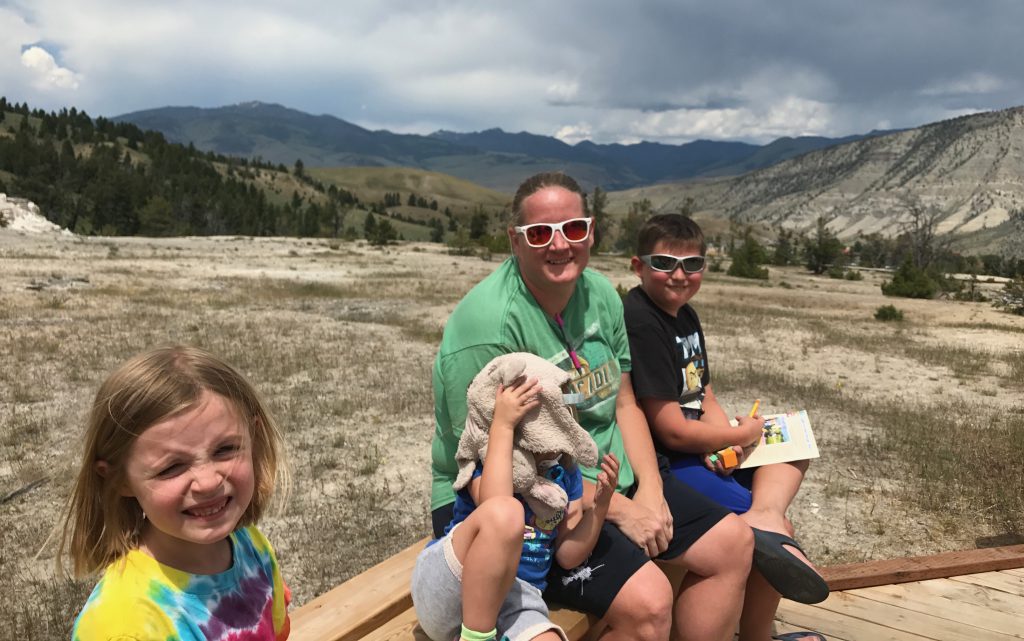 isaac explained how you could tell the temp of the water based on the color. (i'm not sure it pertains to the color of the things being deposited, but he likes to share his knowledge so i let him go).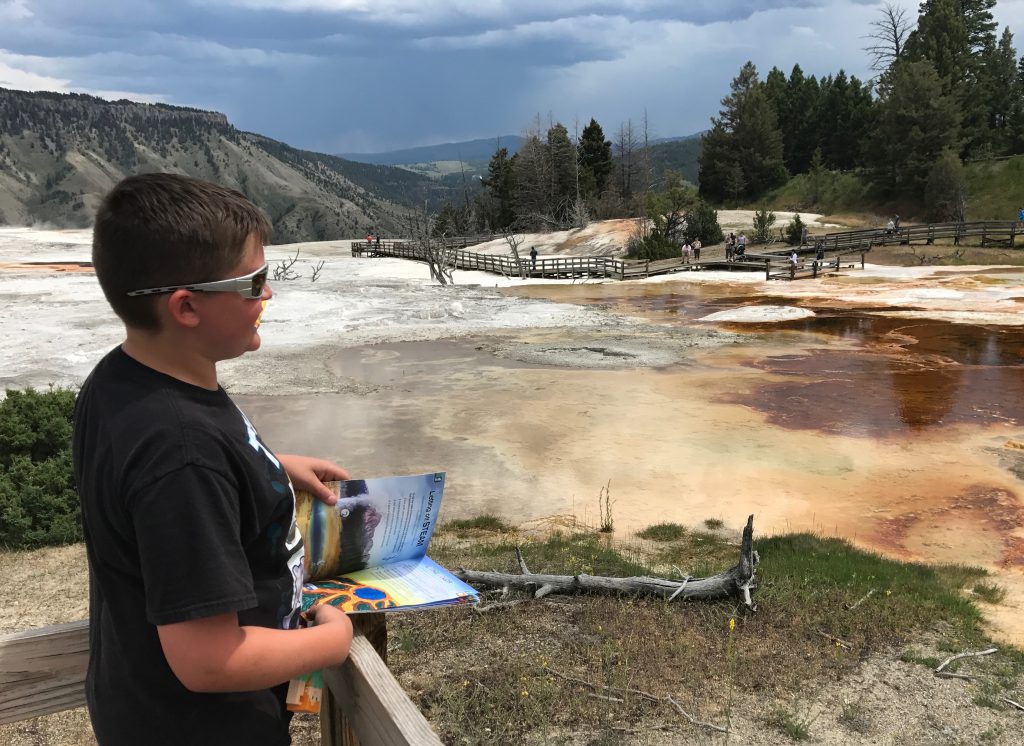 views from the top.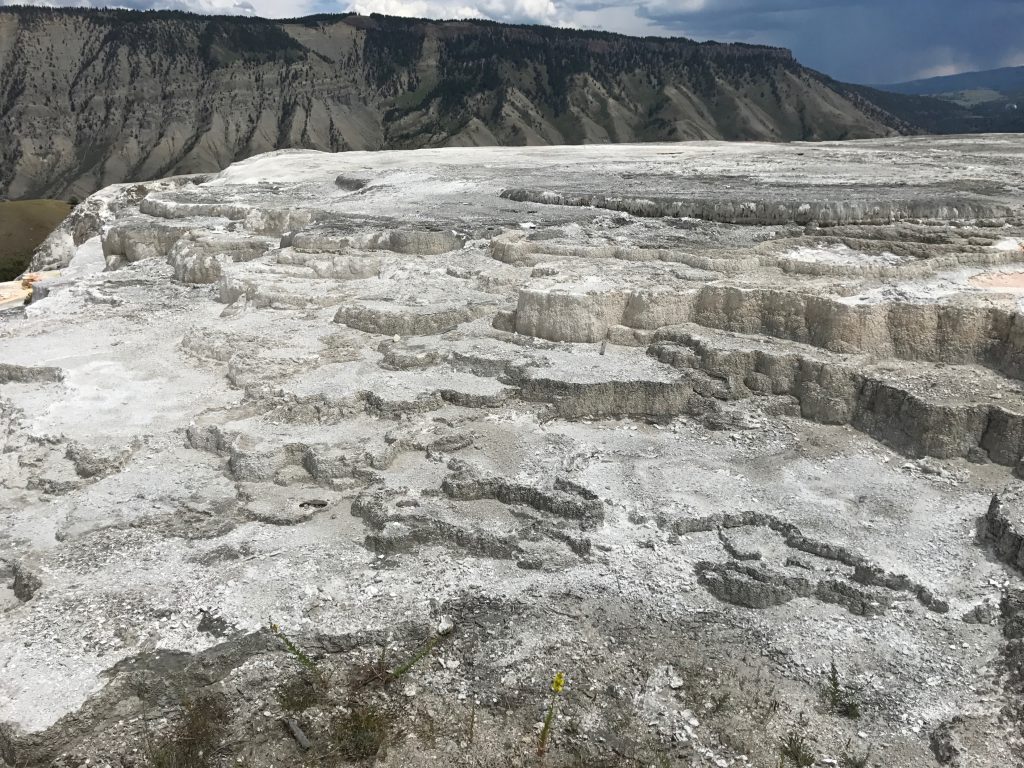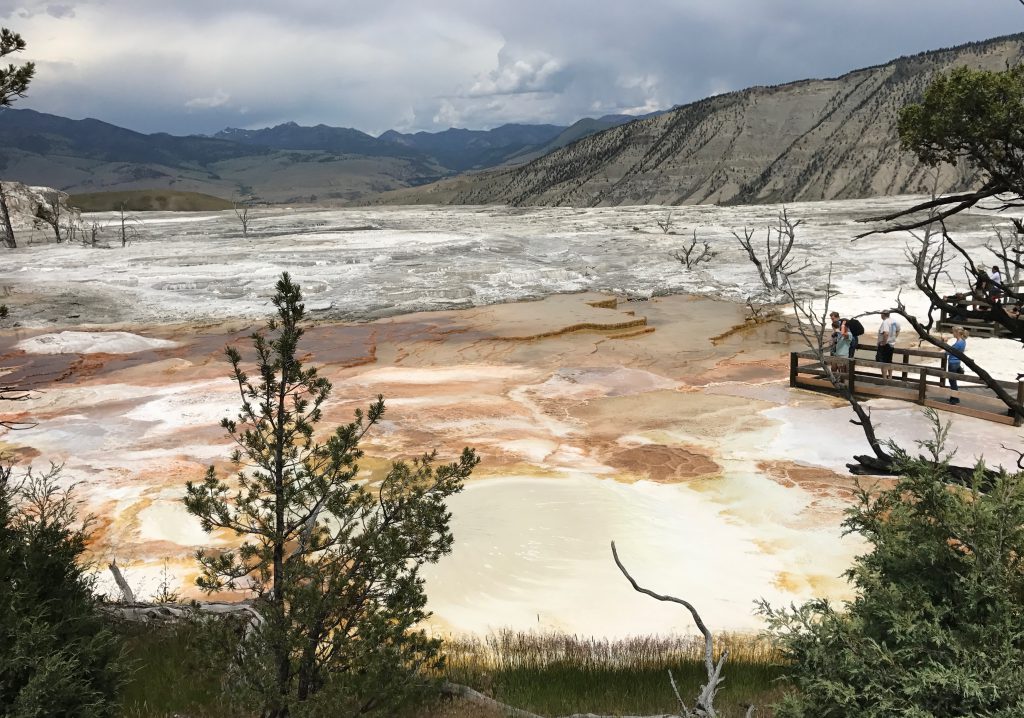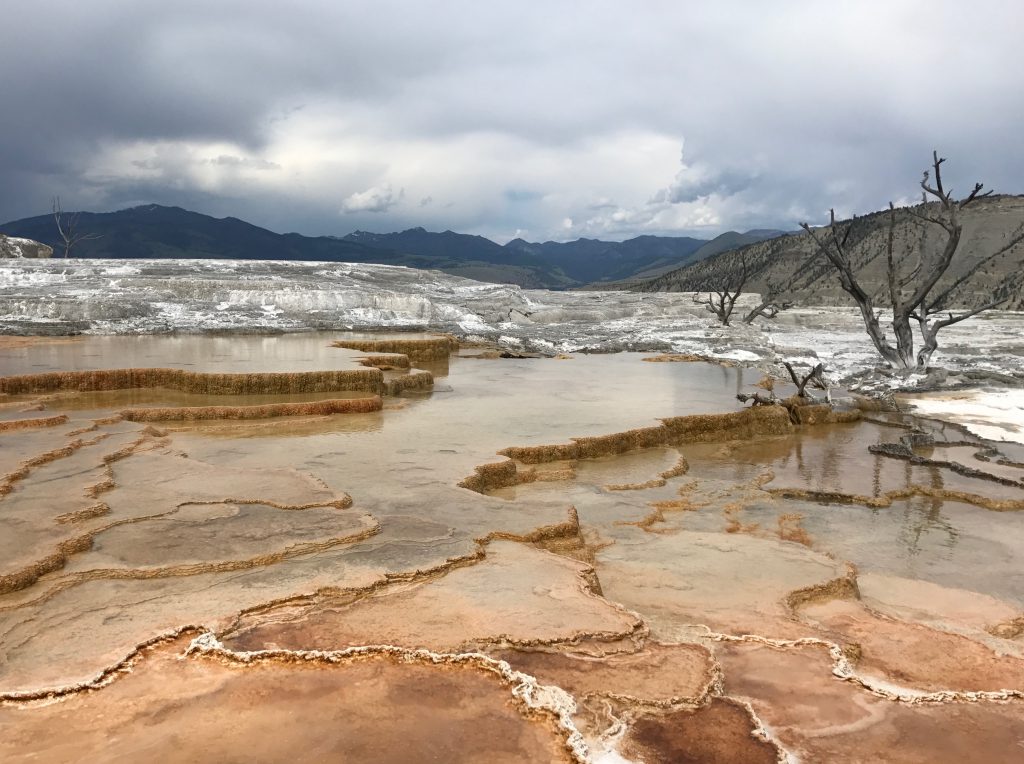 family pic with the hot springs.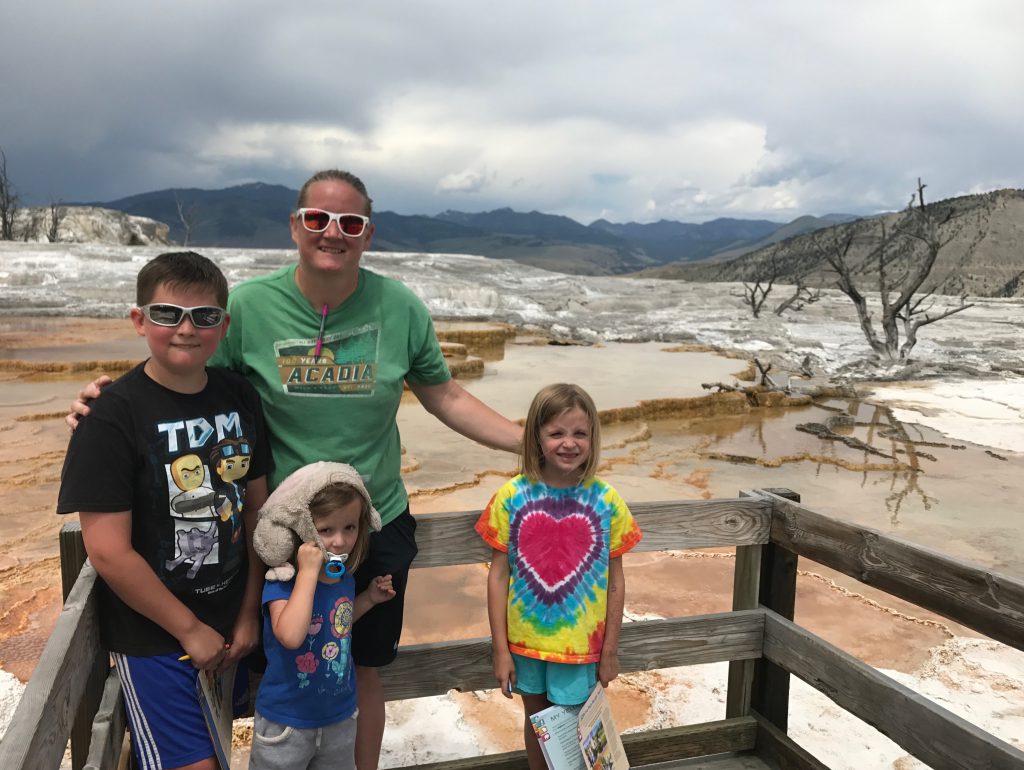 some really cool formations. lumpy.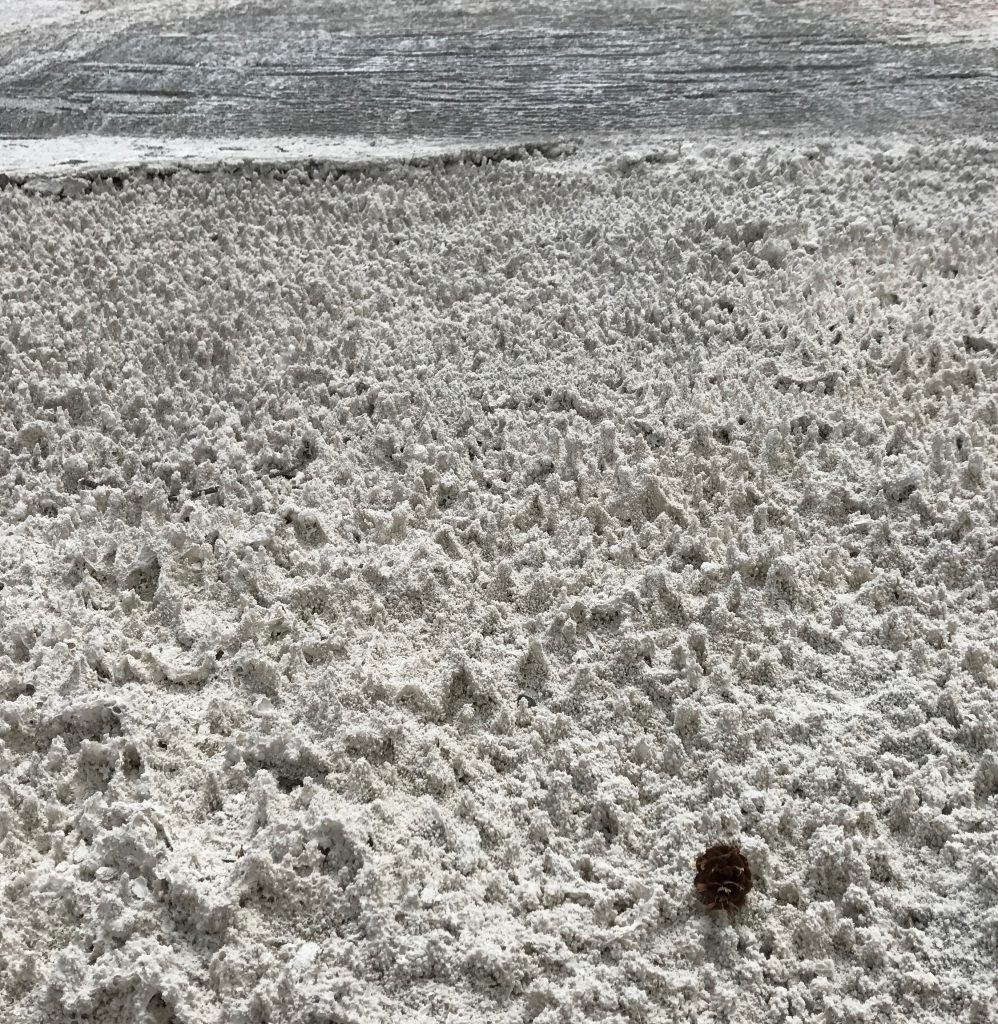 at the very end, you get a pretty cool view of the side of the glob of limestone, set in the side of the mountain, overlooking, well, the parking lot. (you also get to jostle with dozens of rude tourists who apparently do not know how to wait for their turn. it wasn't my favorite. i pretty much just stuck my phone over some heads and took a pic and ran away before i had road rage. or boardwalk rage, i guess).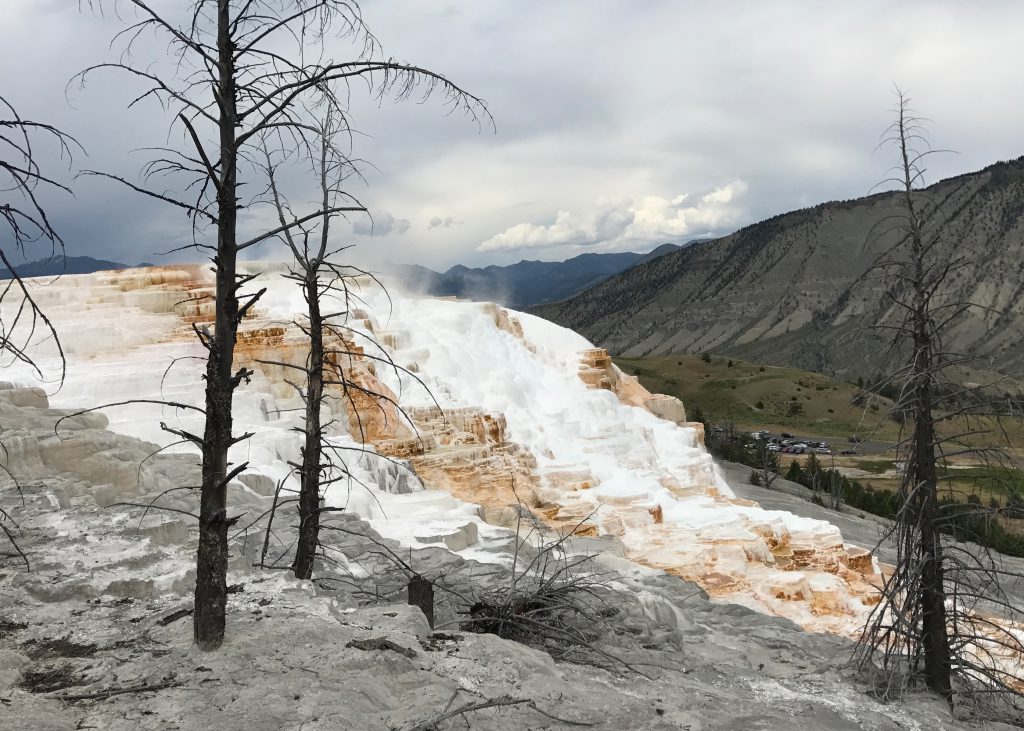 back up the trail, i got to have a better look, sans tourists. 🙂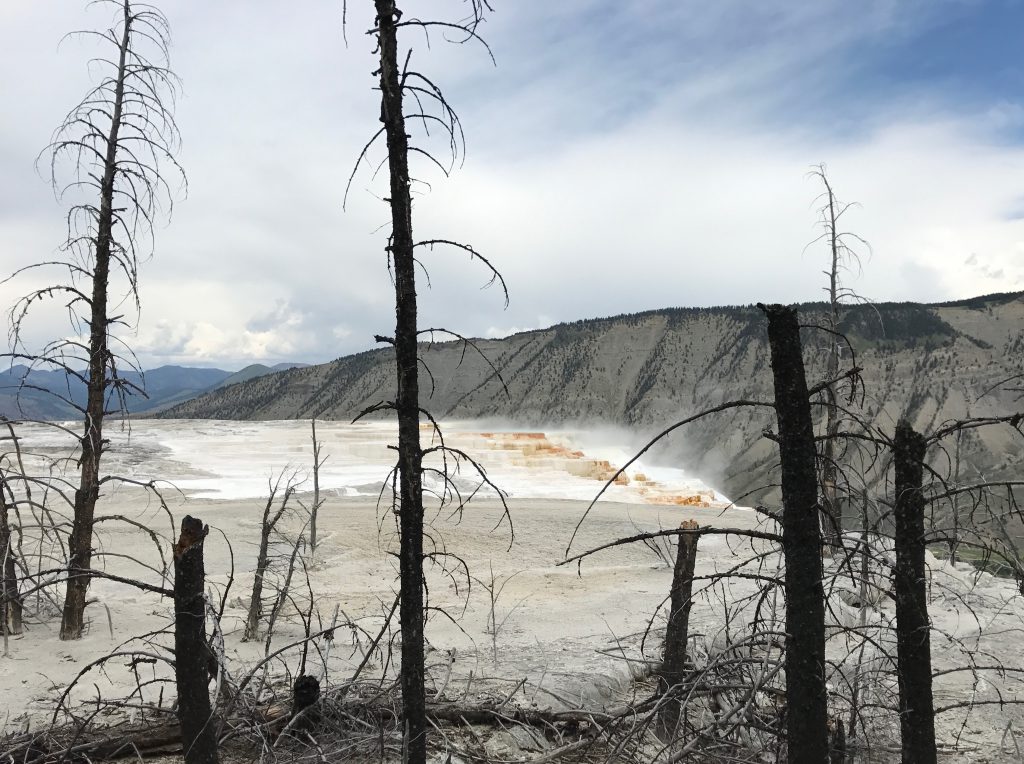 we were pretty worn out at this point. so derek hiked back down to get the car and drive around to get us. we headed back to camp and on the way we were pleasantly surprised to come across a bison, just chilling on the side of the road.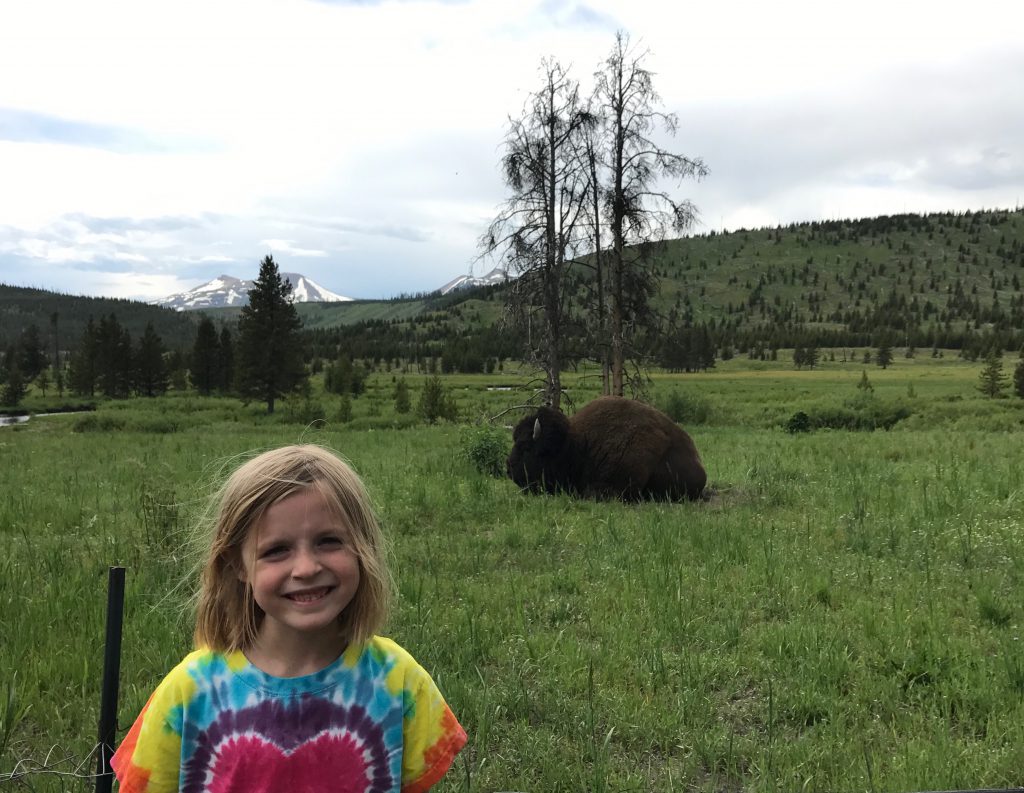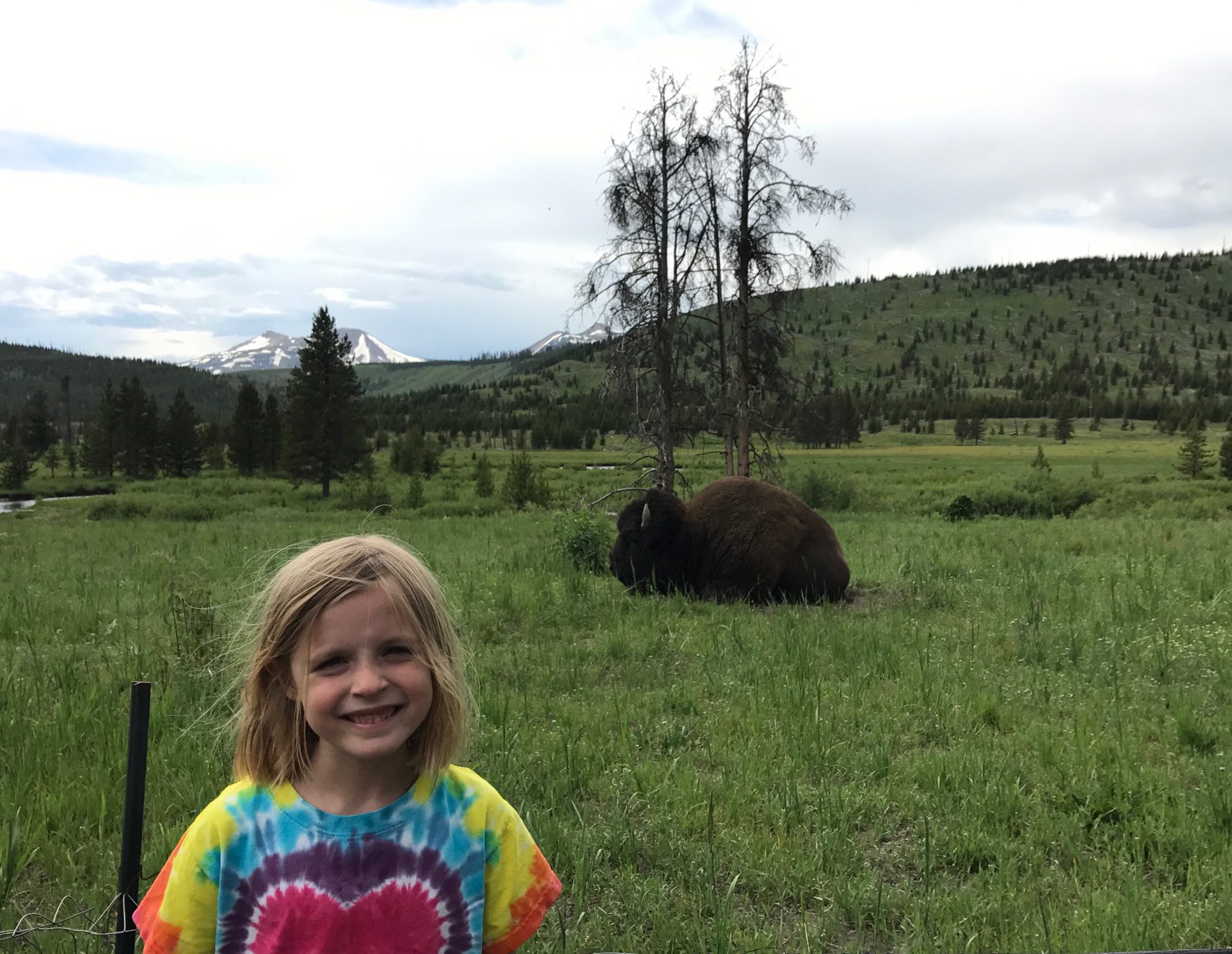 when we first got there, he was lying down (last pic). after a few minutes, he rolled over onto his back like a dog, and dust flew everywhere. then he stood up and everyone scattered. it was hilarious. i managed to get a few decent shots of him, but my iphone isn't the best for zooming in for faraway creatures. and i was good with keeping the proper safe distance from him.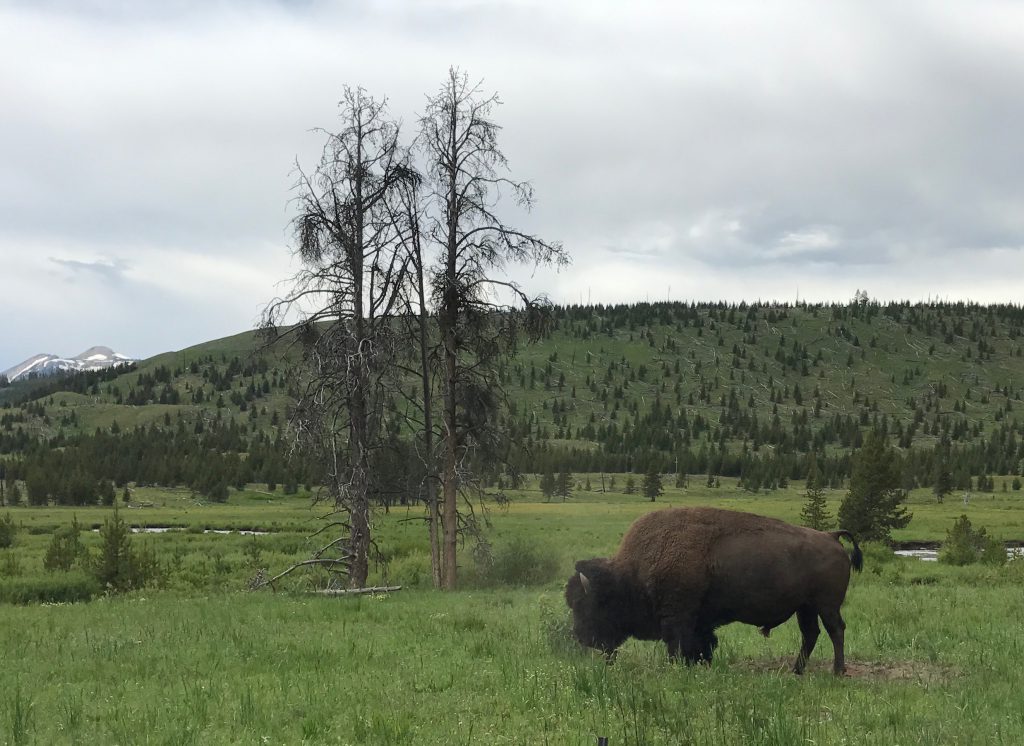 and that's pretty much the story of our day. five hours of driving. 125 or so miles. hot springs. waterfalls. creeks. bison. mountains. tourists. we were done.