in the grand tetons we met a new fun family and we made fast friends.
we realized we were scheduled to be at glacier at the same time a few weeks later.
then we went our separate ways for a bit, but last sunday, they rolled in (like a BUNCH of hours out of their way) from california, to stay with us in moab for a week.
once they were set up and the initial excitement of friends wore off just a bit, we hopped in our cars and headed to arches. we hadn't been to the windows arches yet and it was a short hike, so perfect for a giant posse of 11 people, the majority of whom were traveling for the last two straight days.
first up. a giant group shot, courtesy of a friendly fellow tourist.

the arches are so big and kind of a climb to get to, with lots of folks trying to get up close and personal, so it's hard to get a good shot with no one else in it. most people seem to have enough sense to give each party an opportunity for a random-stranger-free picture, but there's the occasional straggler who just wanders into the frame, either unknowingly or uncaringly. so, creating alternative angles is helpful.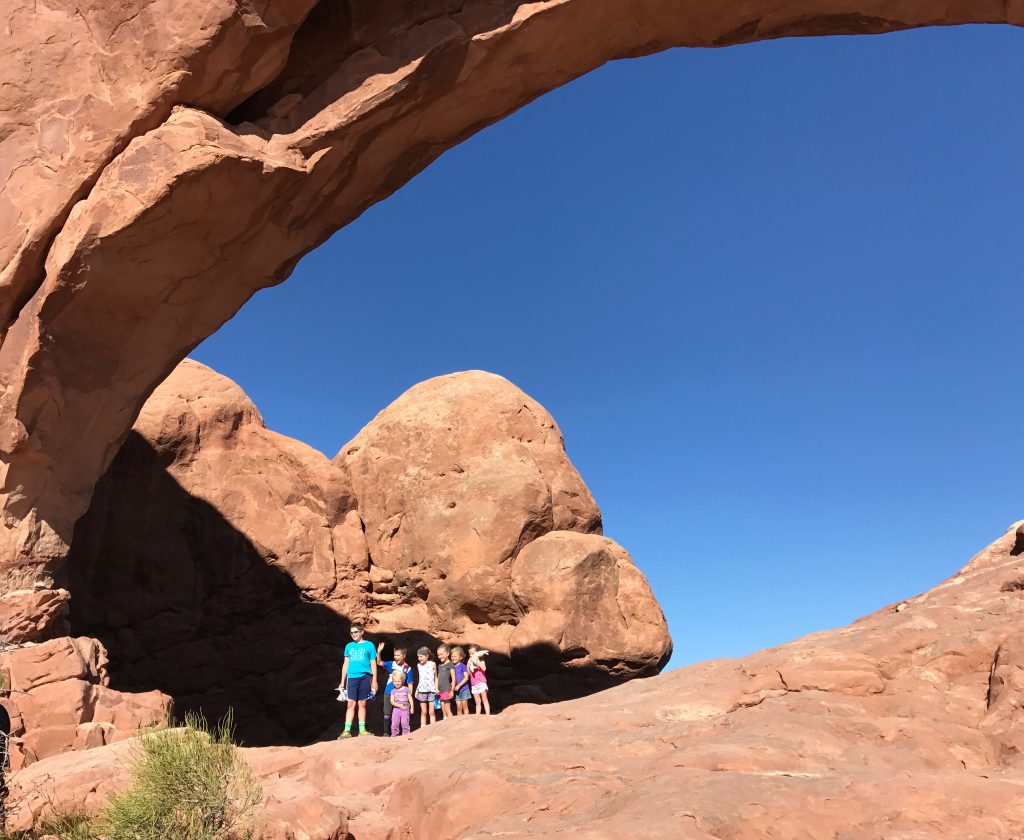 the turret arch was our next stop. the kids LOVED it, mostly because it seemed super dangerous.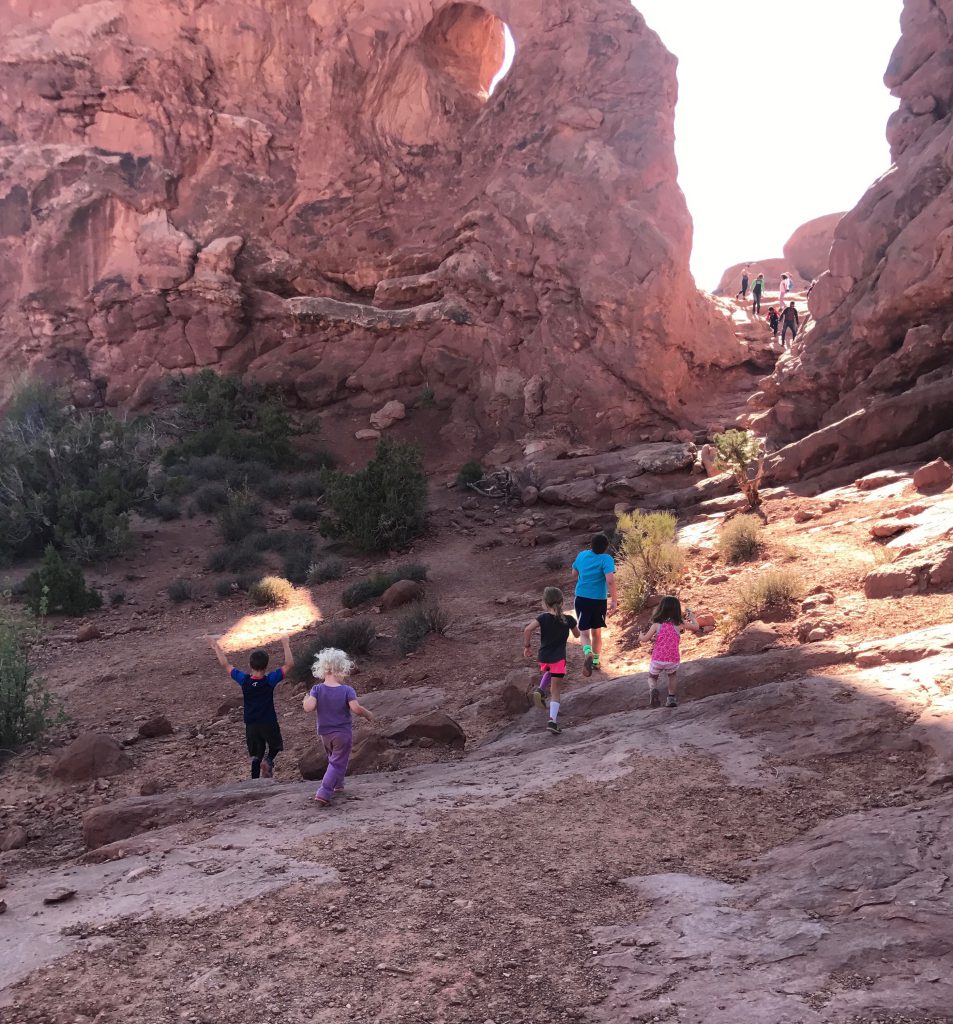 the better angle for this arch was from the other side and there was no chance for a picture without random folks in it, so this was the best we got.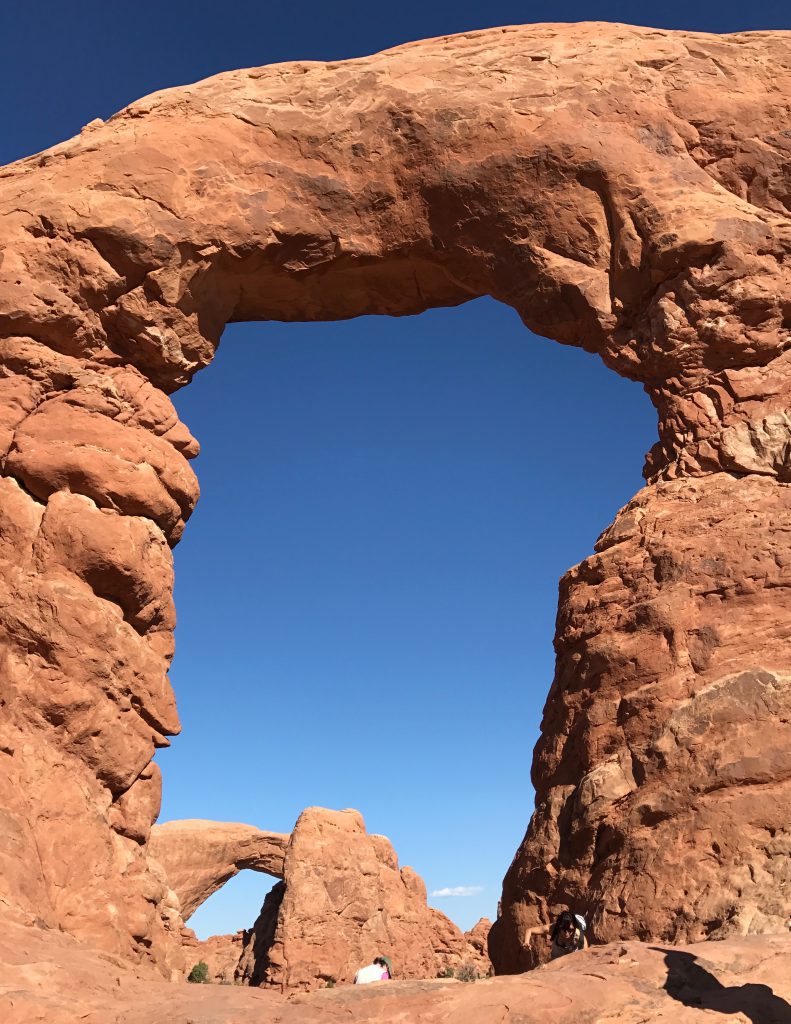 the kids immediately scrambled up into the highest little alcove possible, stressing out all the parents. but not so much that we didn't stop for a photo first.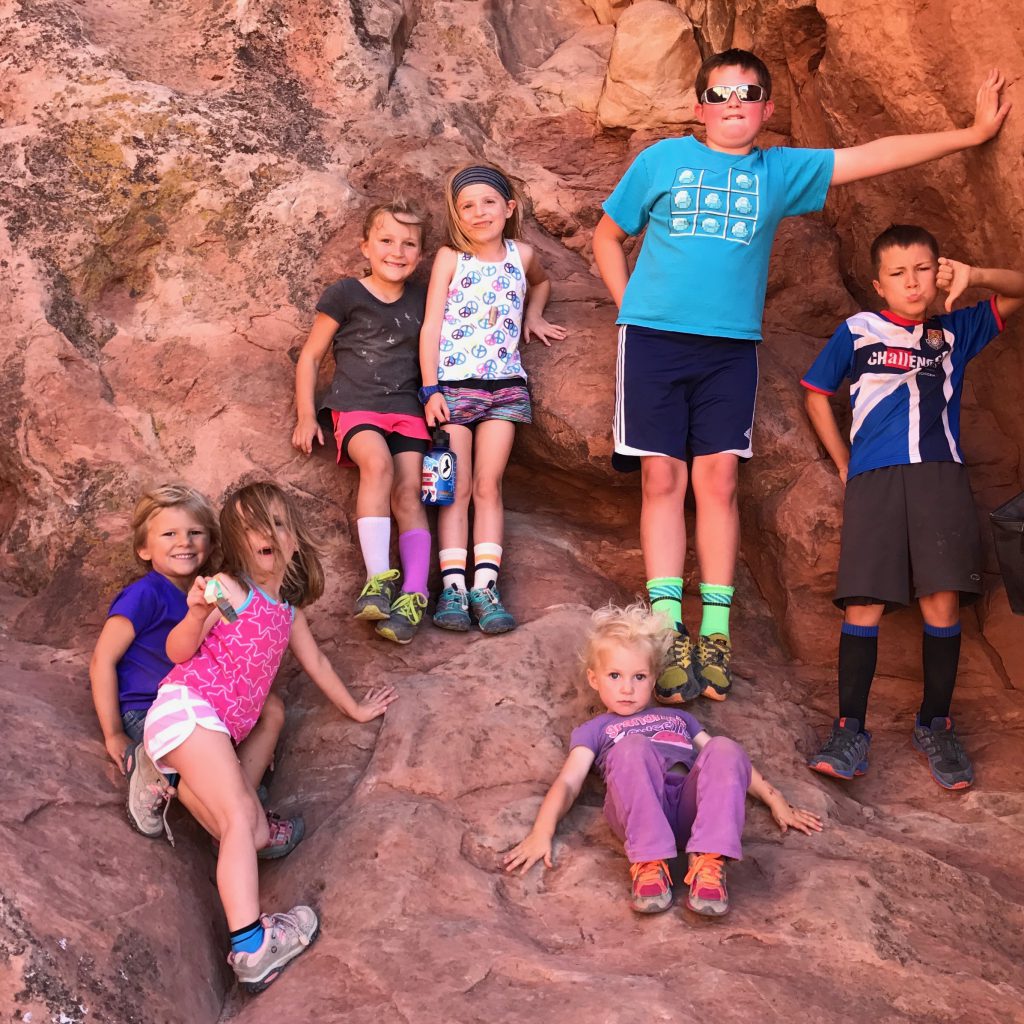 the other window. you can't get into that one, much to the dismay of the posse. (also. hazel fell on the way and there was a speck of blood, so she excused herself from future arch hunting and rock climbing, and allowed us to carry her the rest of the way.)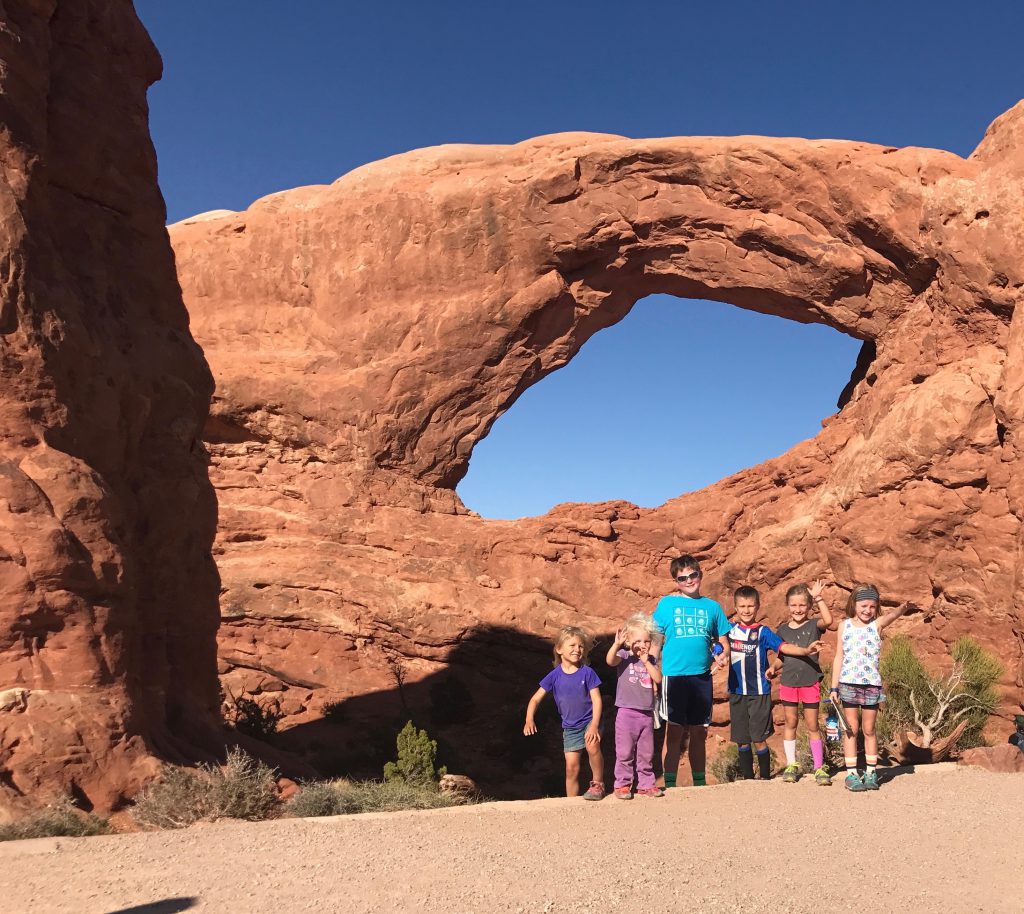 the next day was pretty chill. we had planned to maybe hit up the sand dune arch, but when everyone awakened, it was clear that we were all in need of a down day. the girls did a bit of painting.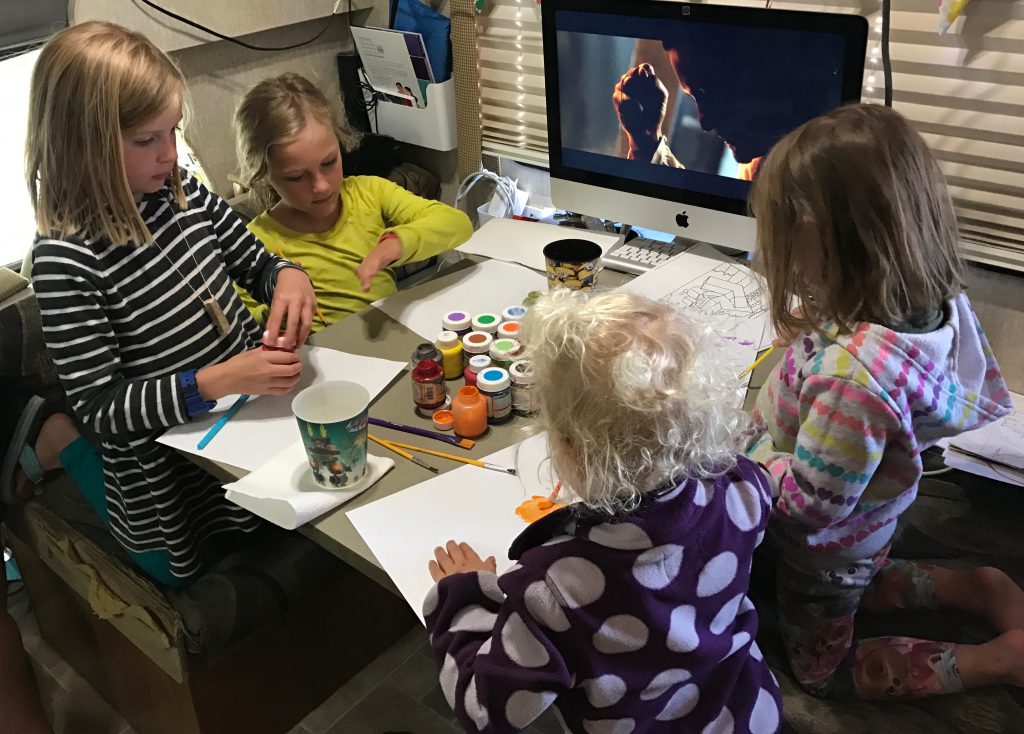 overhead pic.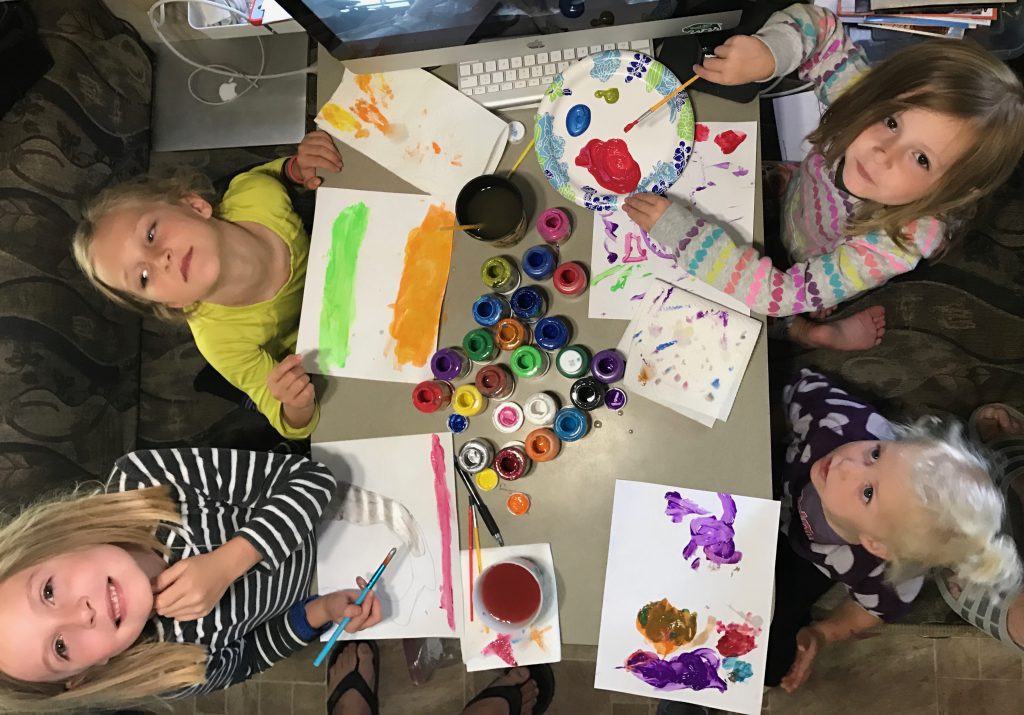 with trusted friends in town, we decided that it would be a good opportunity to swap date nights. on monday, derek and i took the camper into moab to dump tanks and refill water, gas and propane. then we went out to dinner and did a bit of gear shopping. the next night, we hosted all of the kids in our camper, while our friends went out for a night on the town. we downloaded the blockbuster hit, "the emoji movie" and loaded all seven kids onto the couch for movie night.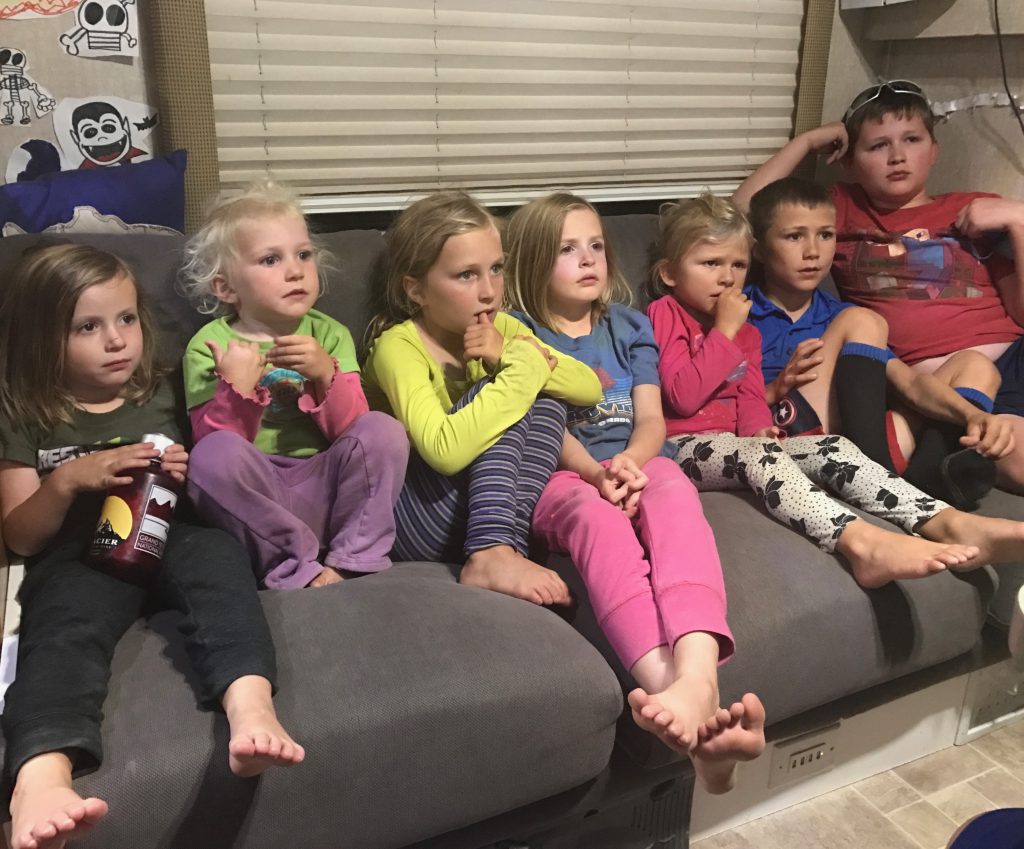 on wednesday, we went to sand dune arch. it was the lidkids favorite, and they were excited to show our friends.
we had a bit of excitement on the way in when i heard a strange rattling sound on the side of the trail. having already had a run-in with a rattlesnake, i immediately jumped back, but it didn't sound like a rattle. more like a cricket. but i scanned for my cricket friend, and lo and behold, it was a little rattlesnake after all. i held the curious kiddos back, but jill (the mom) snapped a few pictures and compiled this lovely collage for your viewing pleasure.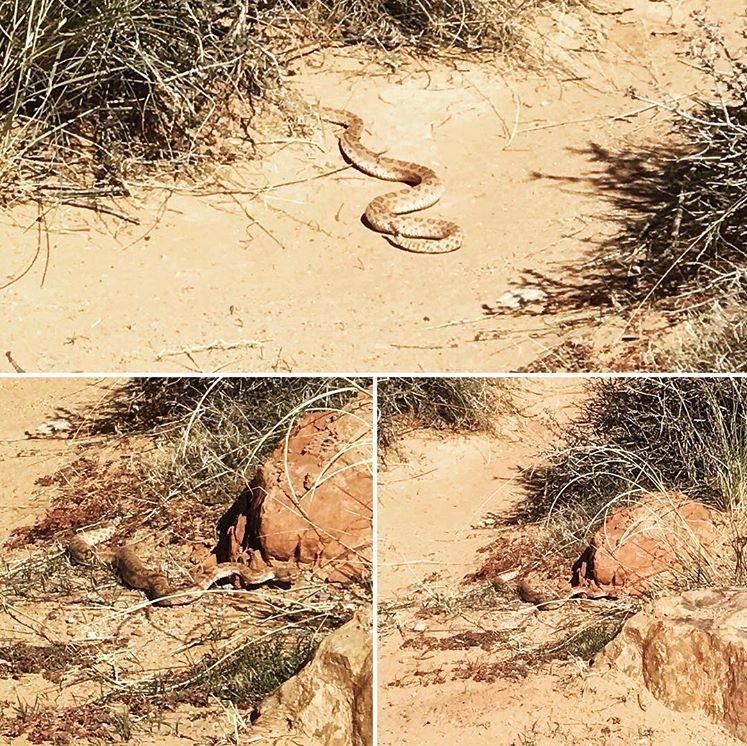 after our rattlesnake excitement, we wandered into the little canyon between fins and our adventures began.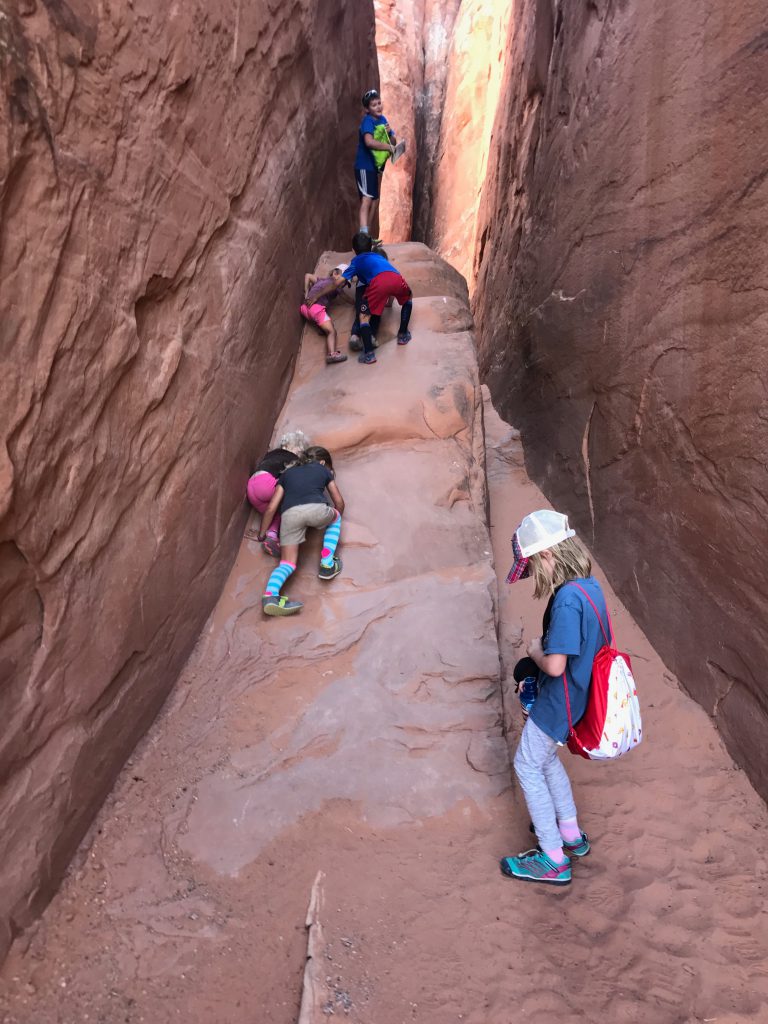 group photo.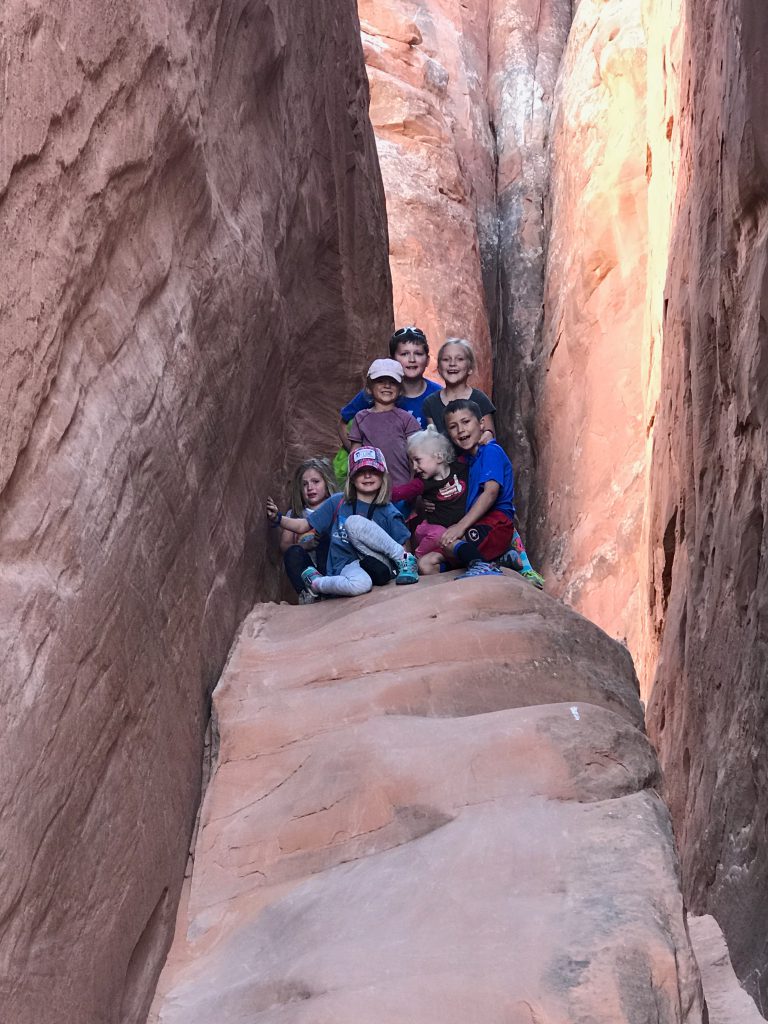 sand dune arch was still there when we arrived. and there were very few other folks around.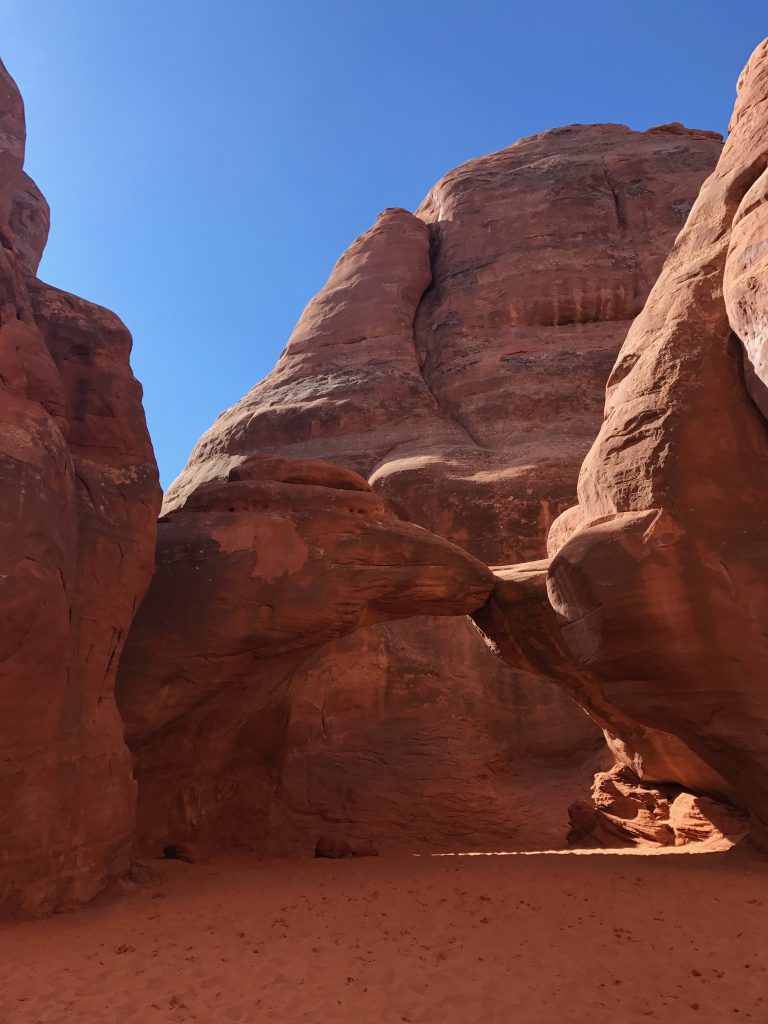 the kids quickly took off their shoes and dropped their packs and got to work. er. play.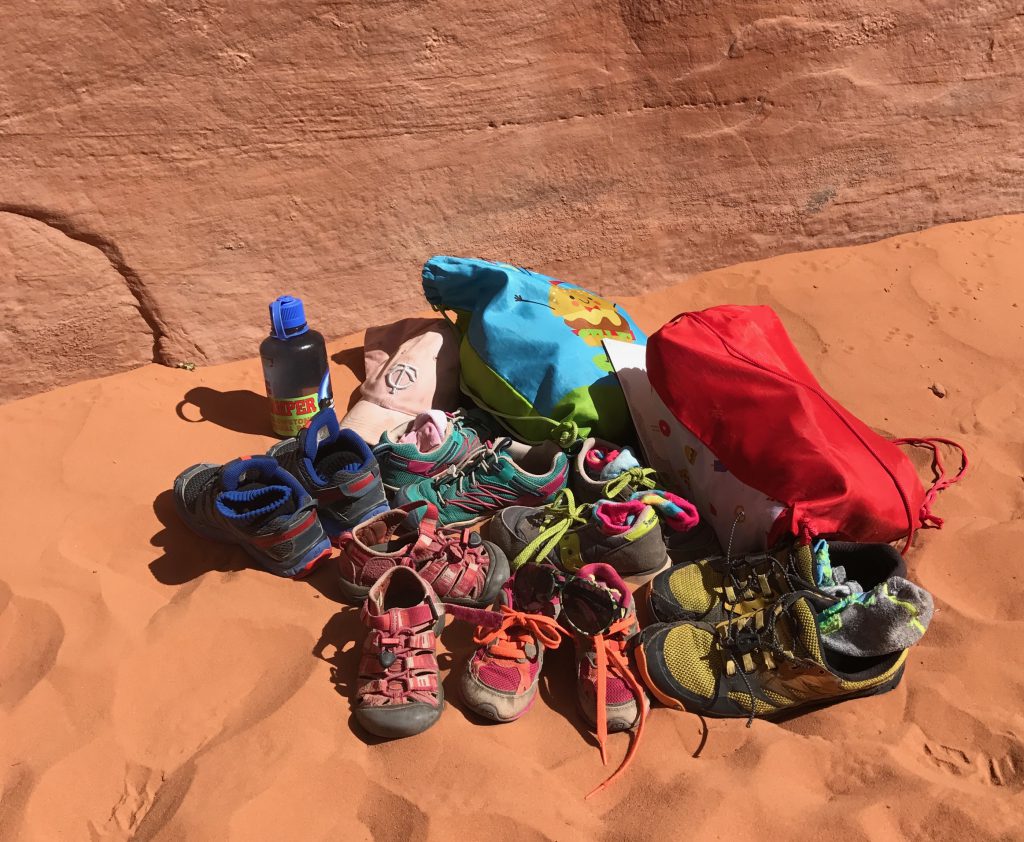 we tried to keep them out of the arch when other folks strolled in. they would take their pics and leave and the kiddos would all scrambled back in.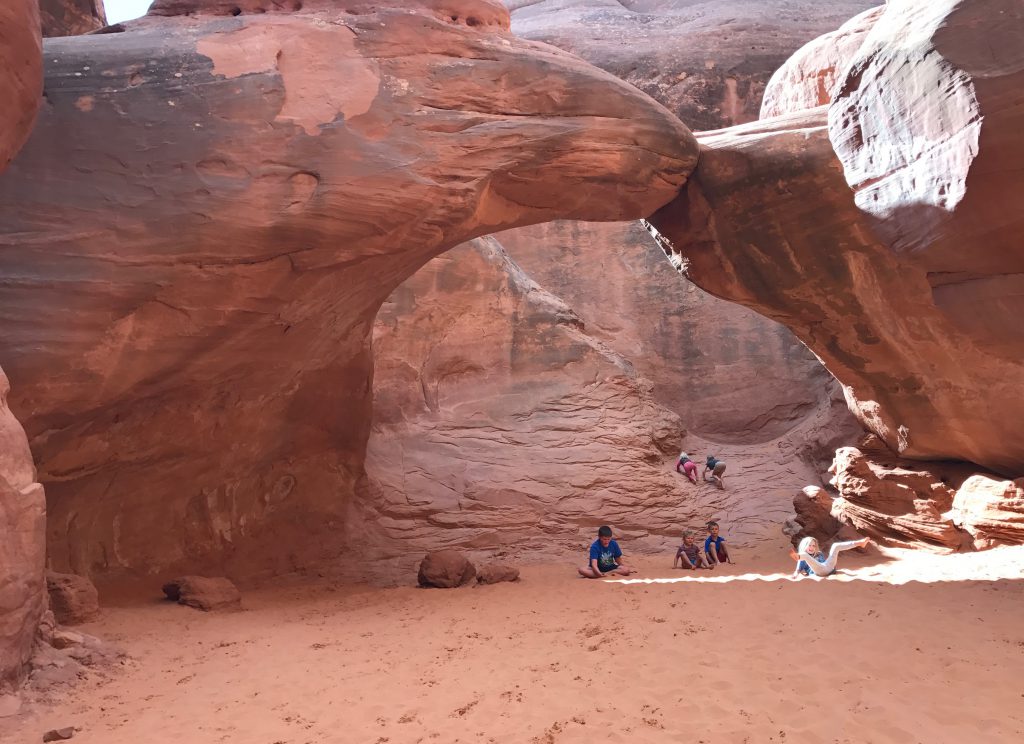 they insisted the sand was softer inside the arch, but they also definitely loved playing behind it on the rocks.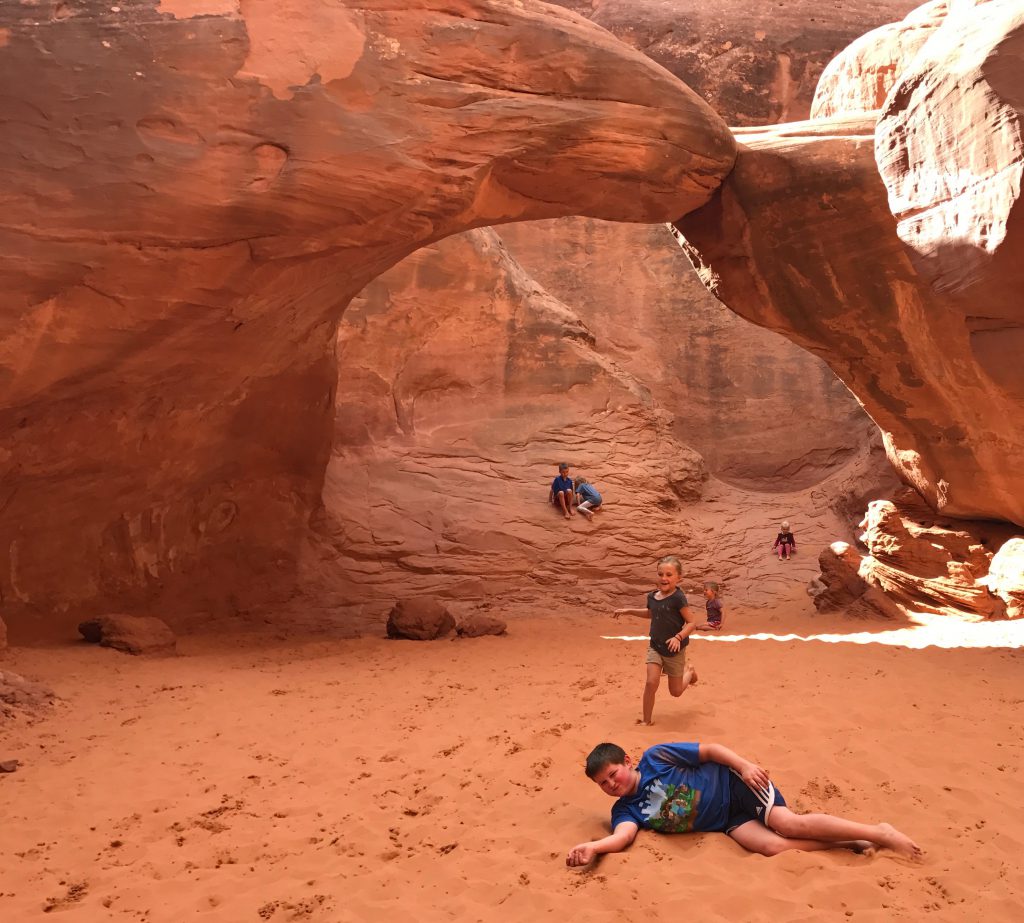 the play soon turned rough. wrestlemania broke out.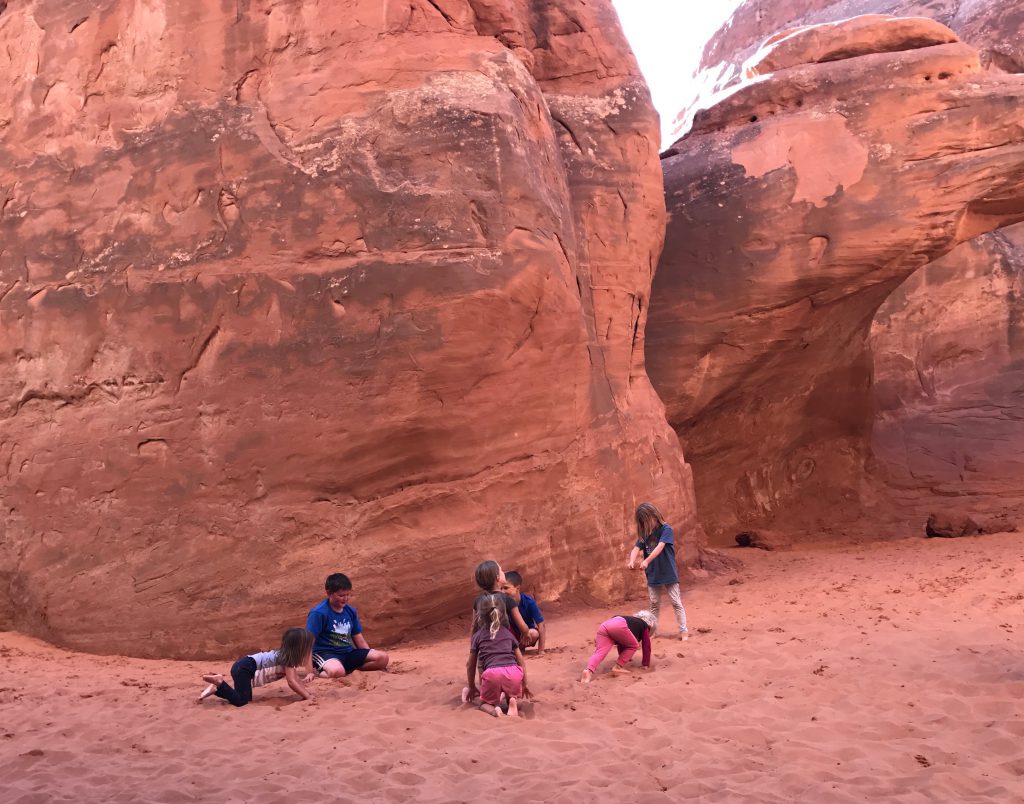 they had a blast.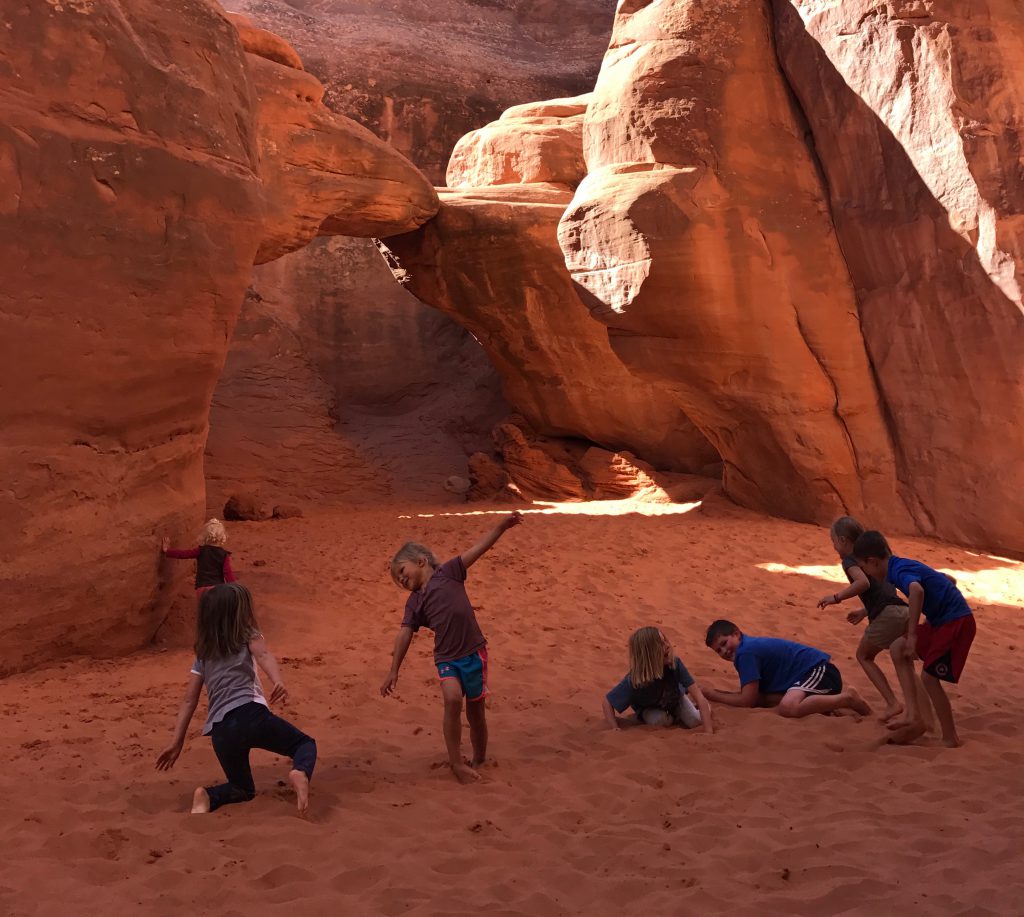 one last photo before we packed up to leave.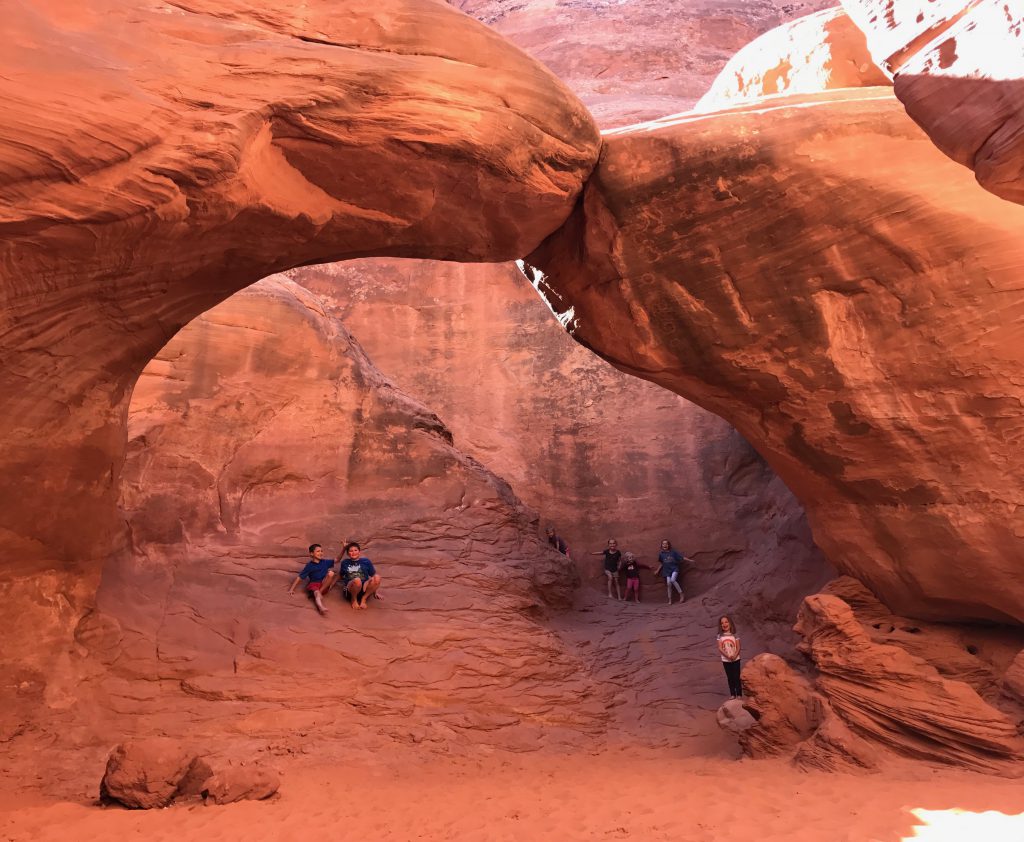 our friends went to the visitor center to get work on and get their junior ranger badges. we went back to camp, where i snapped this photo of our two campers in the wilderness.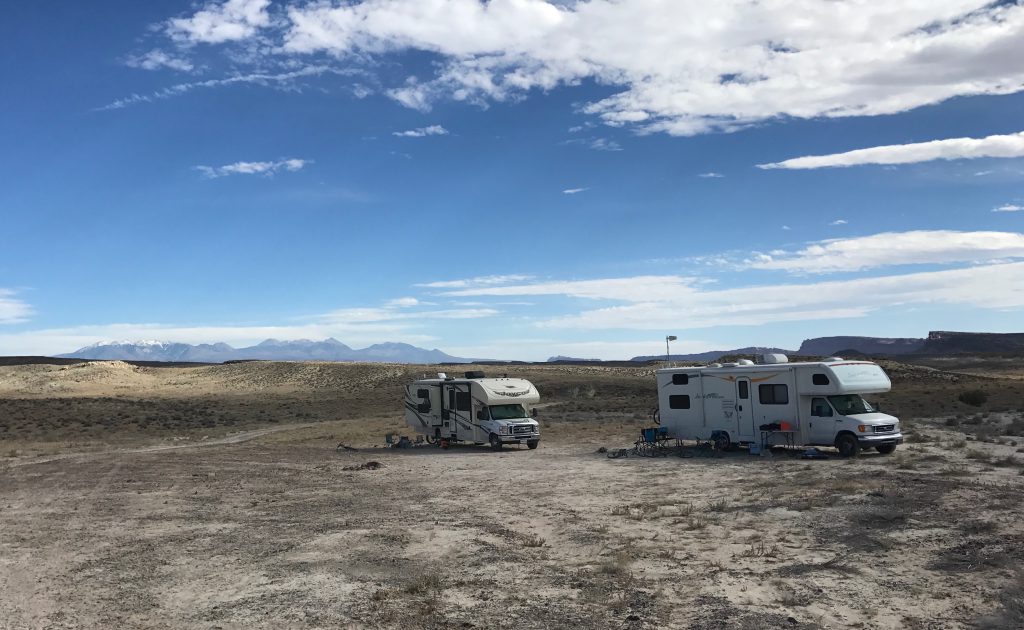 that night, after a bit of t-shirt shopping, we met our friends at milt's stop and eat. our campground from a couple of weeks ago was nearby and i had driven by so many times, but when someone in a facebook group we are in suggested it as one of the best burger places in america, we knew we had to give it a try.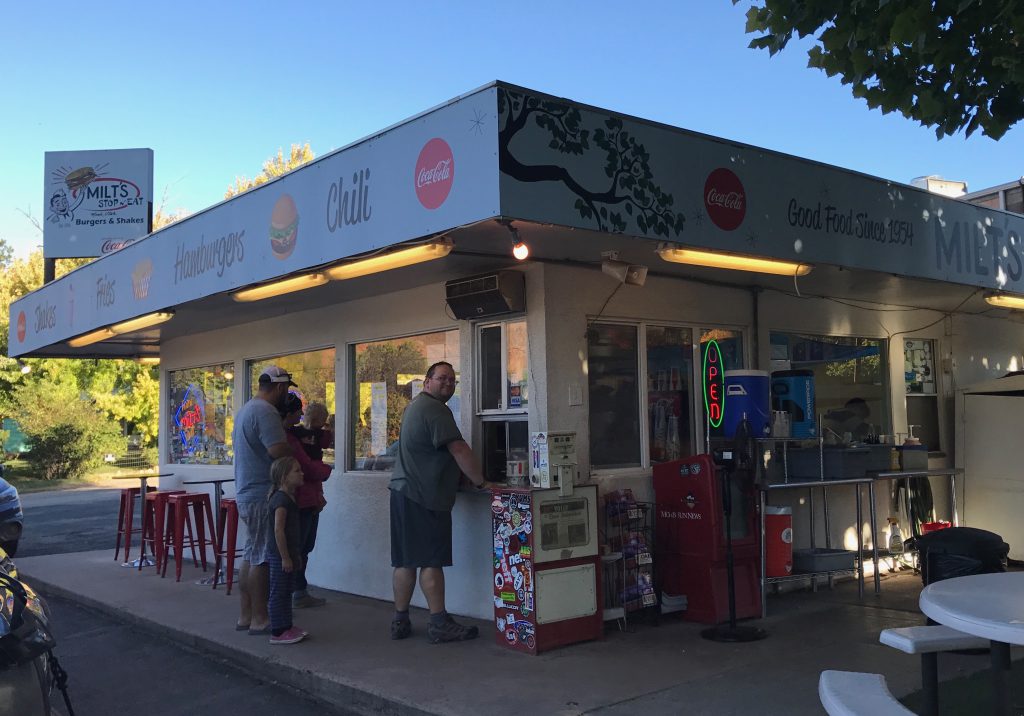 i had some version of a bacon, blue cheese and onion ring themed burger with a catchy name that i'm forgetting. and can i tell you how much i love fry sauce in this region. it's basically ketchup, mayo and pickle juice and i love it. oh. and the burger was good. but i'm not sure it's "tops in america" or anything.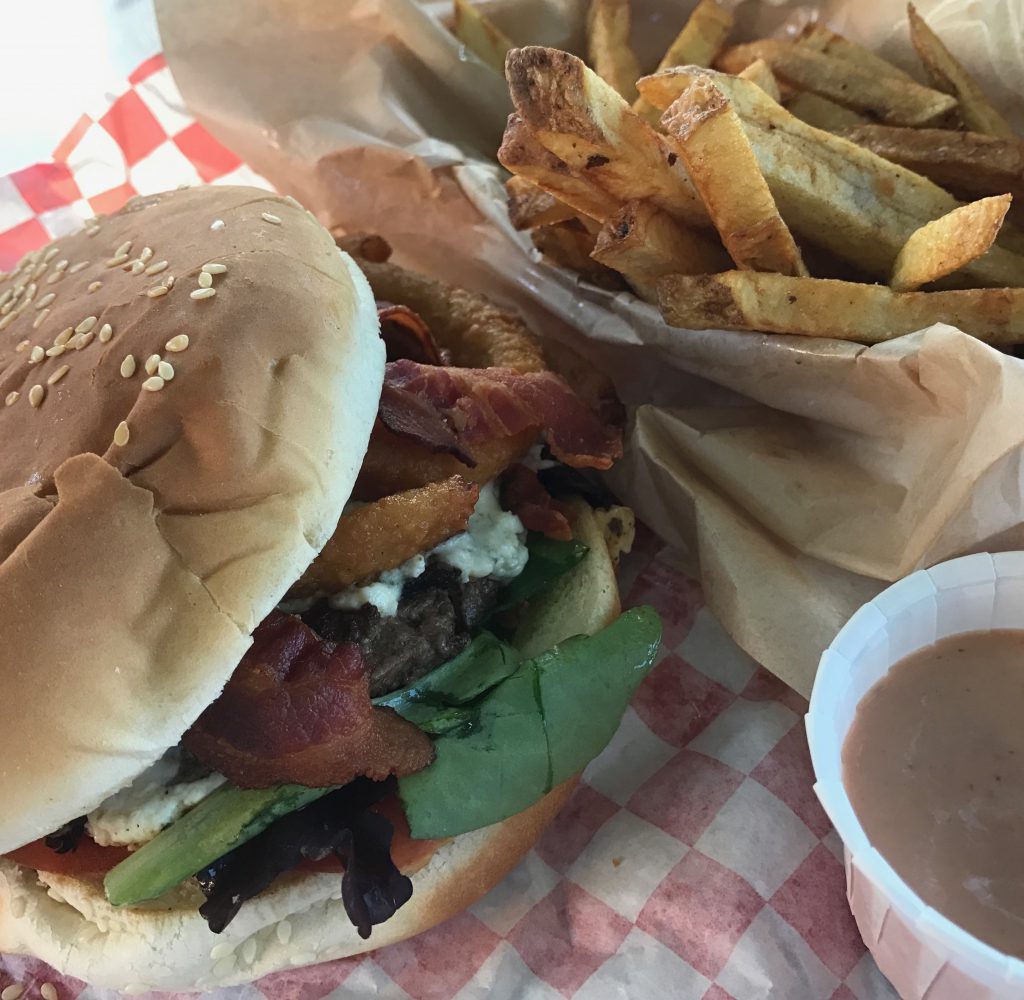 the kids table. before they disbanded and started causing general mayhem and isaac gave their youngest kiddo a bloody nose by flailing around like a crazy person as she walked past.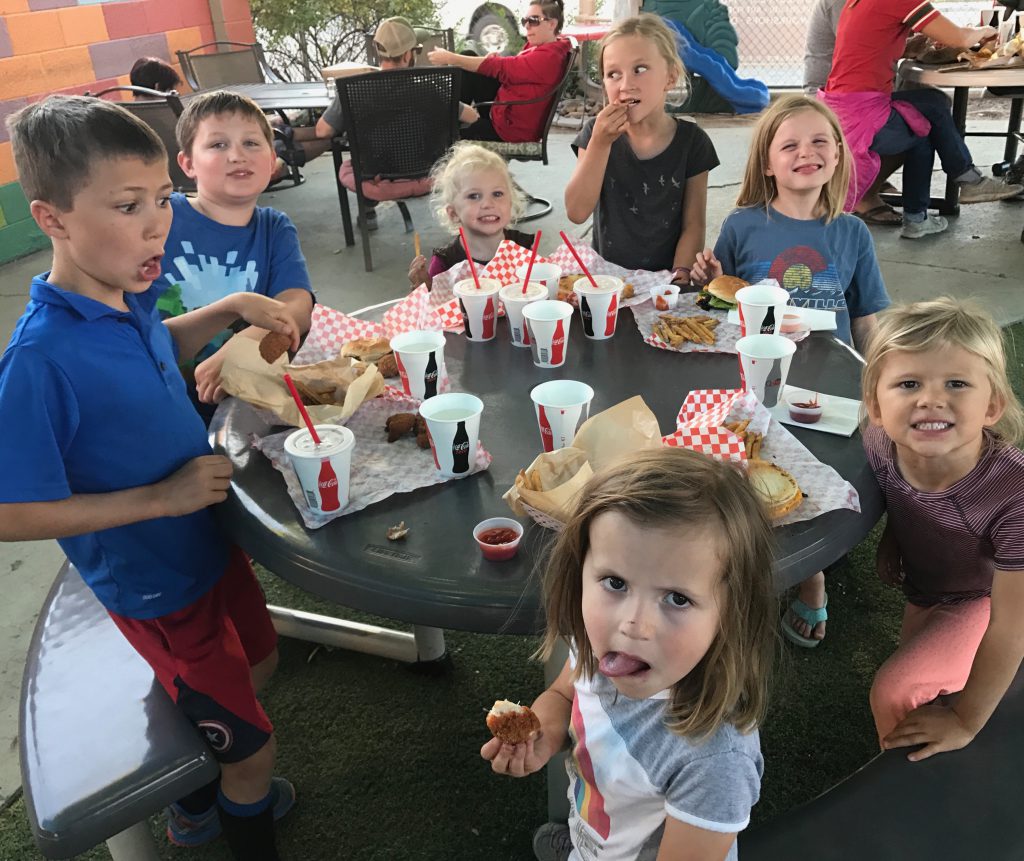 cool stickery window.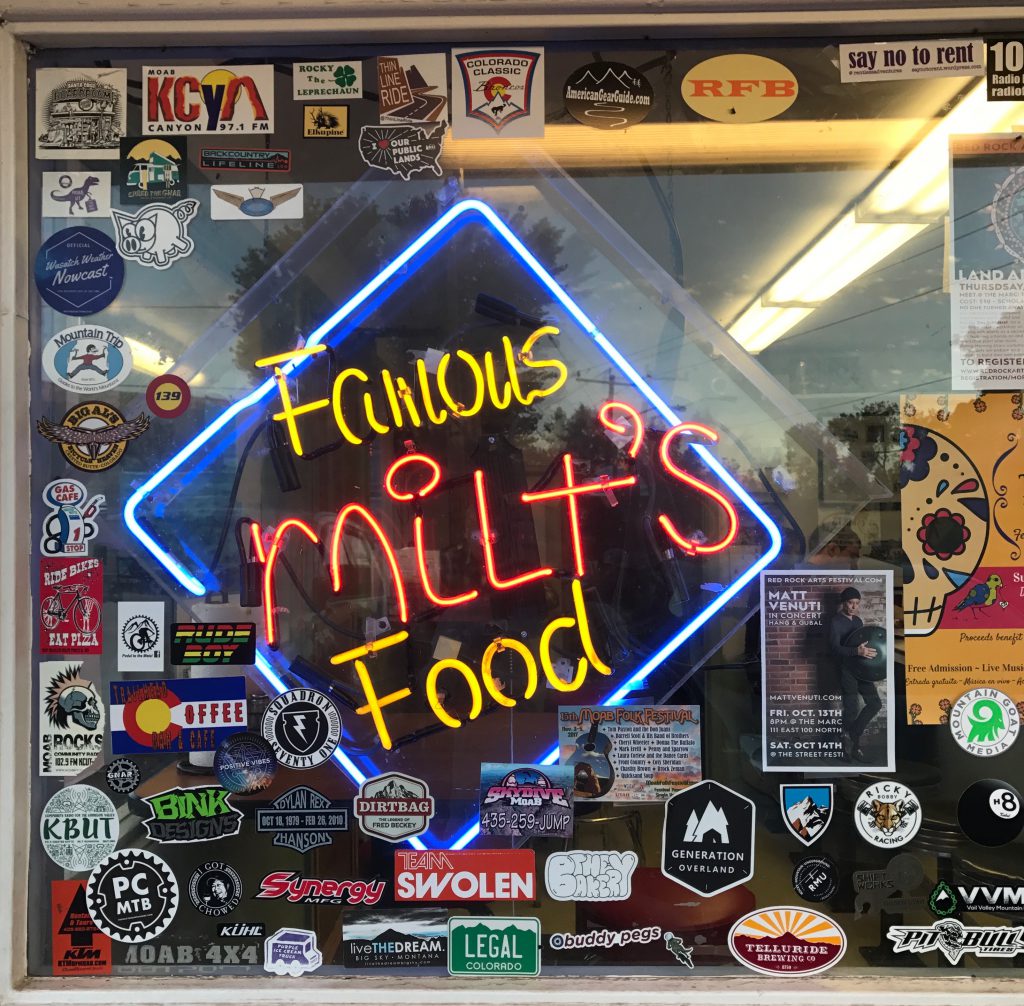 on our full day, we went to canyonlands, and i'm actually planning an entire post for that because i had like a zillion pictures. that evening, we traded anna for their oldest kiddo, riley, and had a fun sleepover. it was crazytown, because their tiny person had a fever and was miserable, but we assumed the kids had all been up in each other's grills all day, so germs were already shared. then, riley lost a tooth, so we got to be the tooth fairy for the first time in our lives, since we came clean with our kids before the first tooth was ever lost.
jill took this shot of the older girls at her camper. i didn't take any pictures. oops.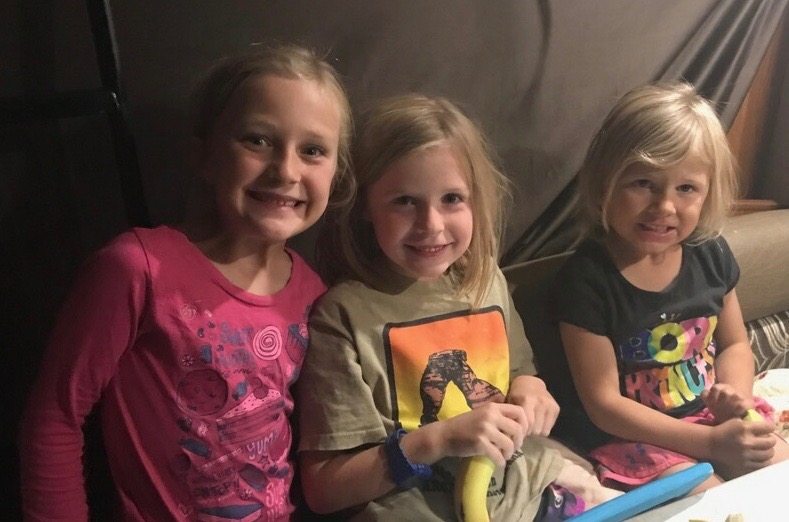 finally. friday. yesterday. we spent the day hanging out and cleaning up our respective campers. when both dads finished their days of work, we said our goodbyes and hit the road. the kids handled the farewell better than expected. maybe the promise of new adventure helped. or the promise of playing their ipads in the car. either way. they said a happy goodbye and we headed in separate directions.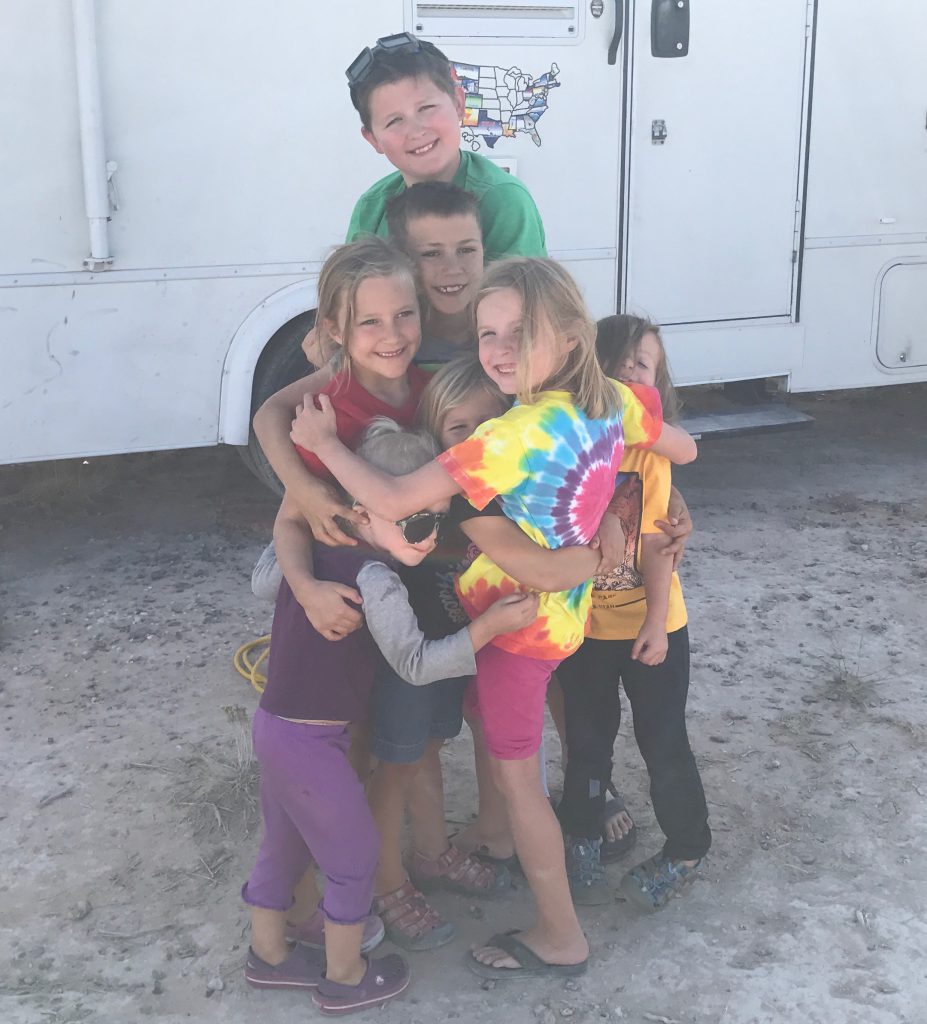 we look forward to seeing them again, but it's not looking like that will be for at least until next summer. until then, hurray for the internets!