this past saturday (i'm catching up!!), the weather was fabulous and we made our triumphant return to devil's garden in arches to hike out to the landscape arch. the previous weekends thunderstorm debacle was still fresh in everyone's mind, and isaac informed me that he would not go if there was a single cloud in the sky. his ultimatum failed him, because there was in fact, not a single cloud in the sky.
departure.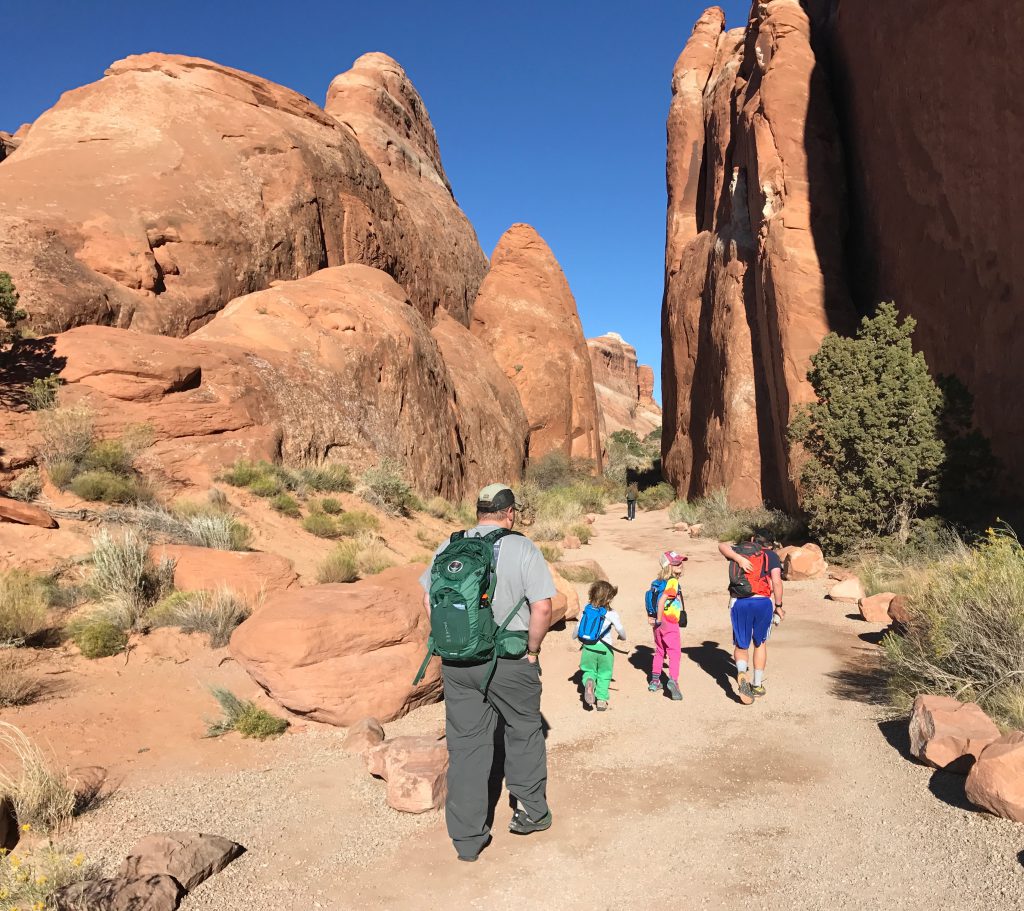 we are trying to convince the kids that bringing toys and other random personal effects along is not the best hiking plan, but it's a tough sell. since we had her along, i decided to take a few pictures of alex, enjoying the adventure.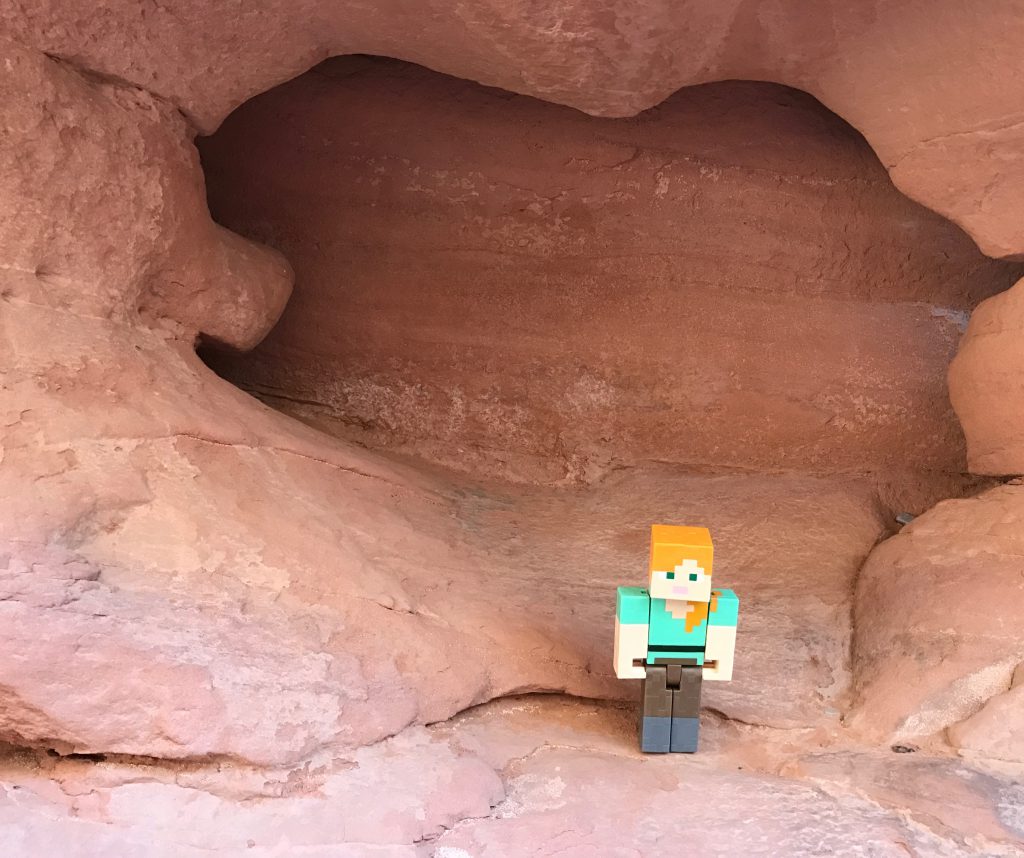 more pretty scenery. much better than the week before, with storms looming.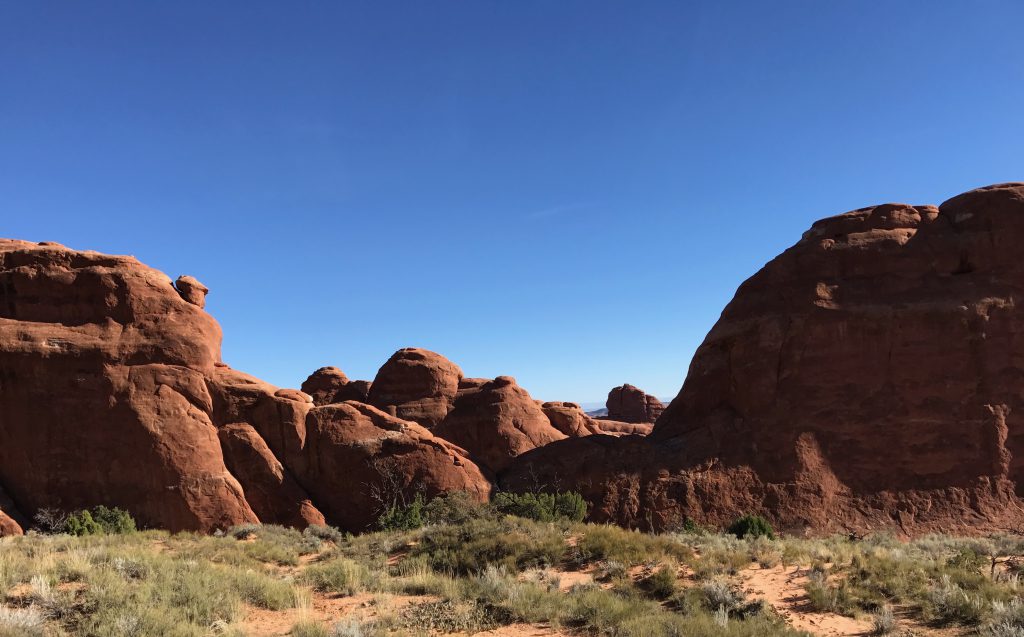 the goons. photo by derek.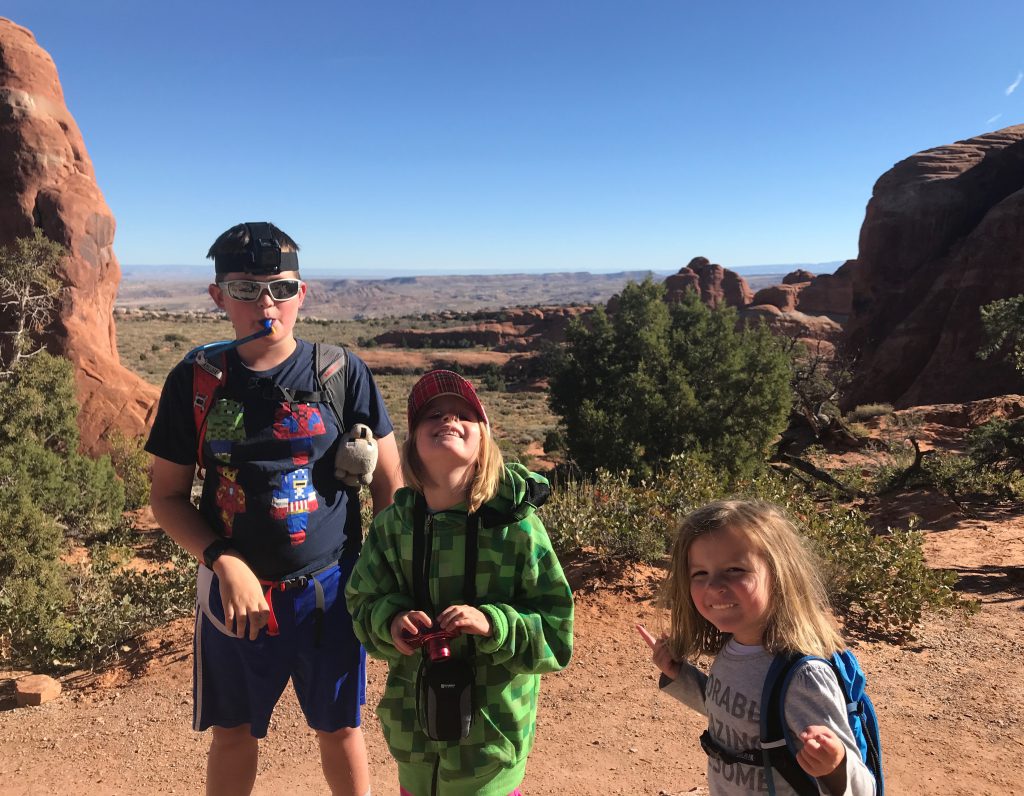 derek taking a picture of the goons. photo by me.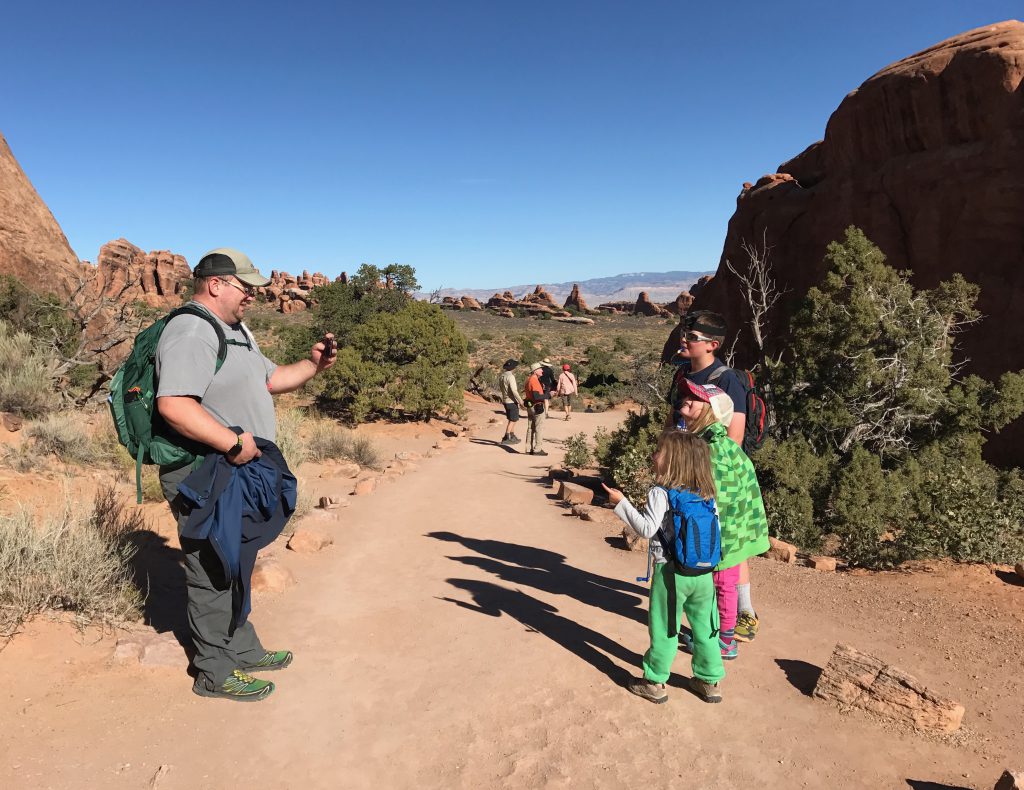 and. more scenery.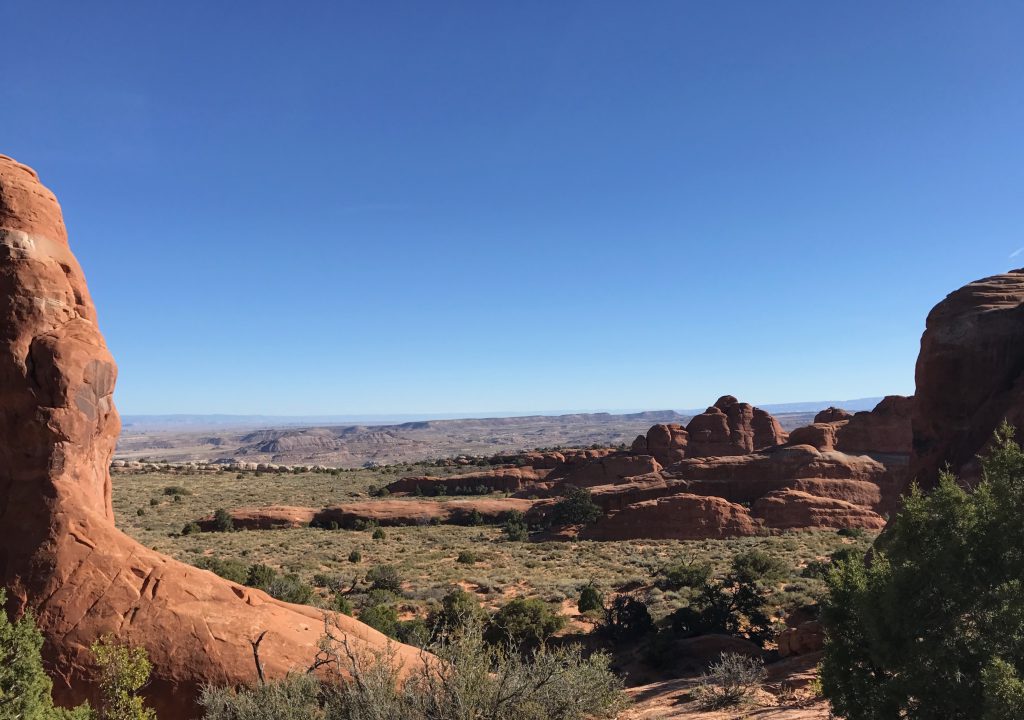 when landscape arch comes into site, it's sort of camouflaged by the rock behind it. it doesn't look like much special. in fact, we had actually seen it the week before and didn't realize it was landscape arch and that we were oh so close before the rains came.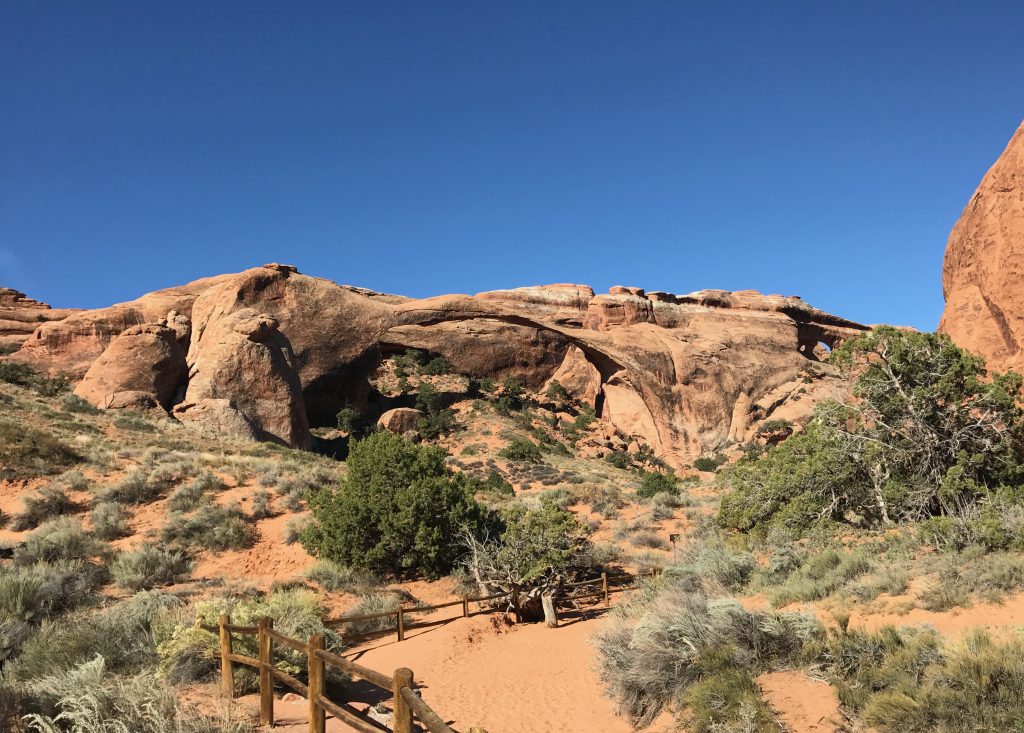 a little closer and you can start to see the sky peeking through.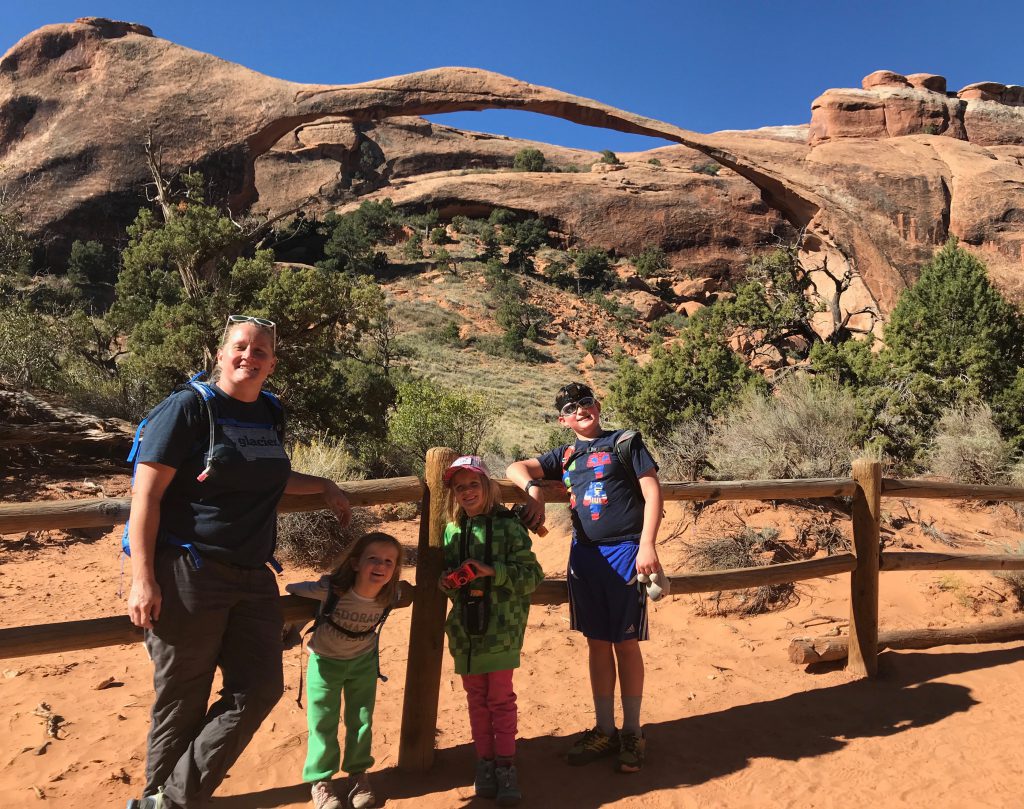 and closer. landscape arch is the longest in north america and the fifth longest span in the world (the first four are in china). it spans around 290 feet at the base and has been closed off to tourists recently because of possible chunks falling out of it (or it collapsing completely).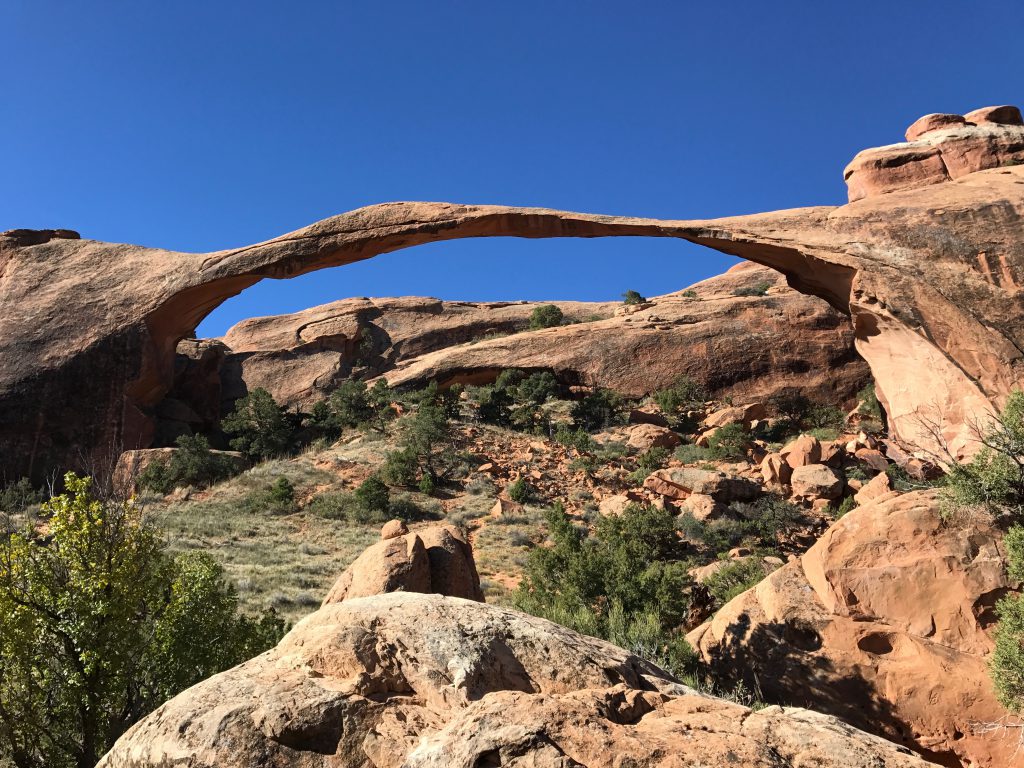 we followed along our contained fence area and took a million pictures from various locations.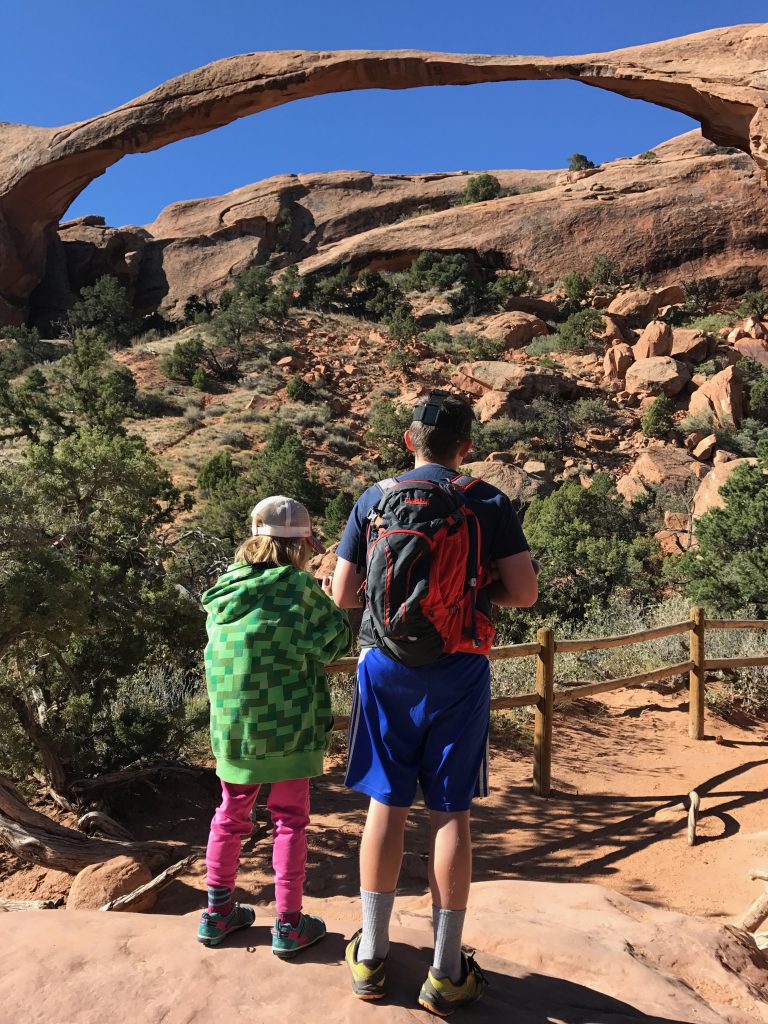 lidkids viewing.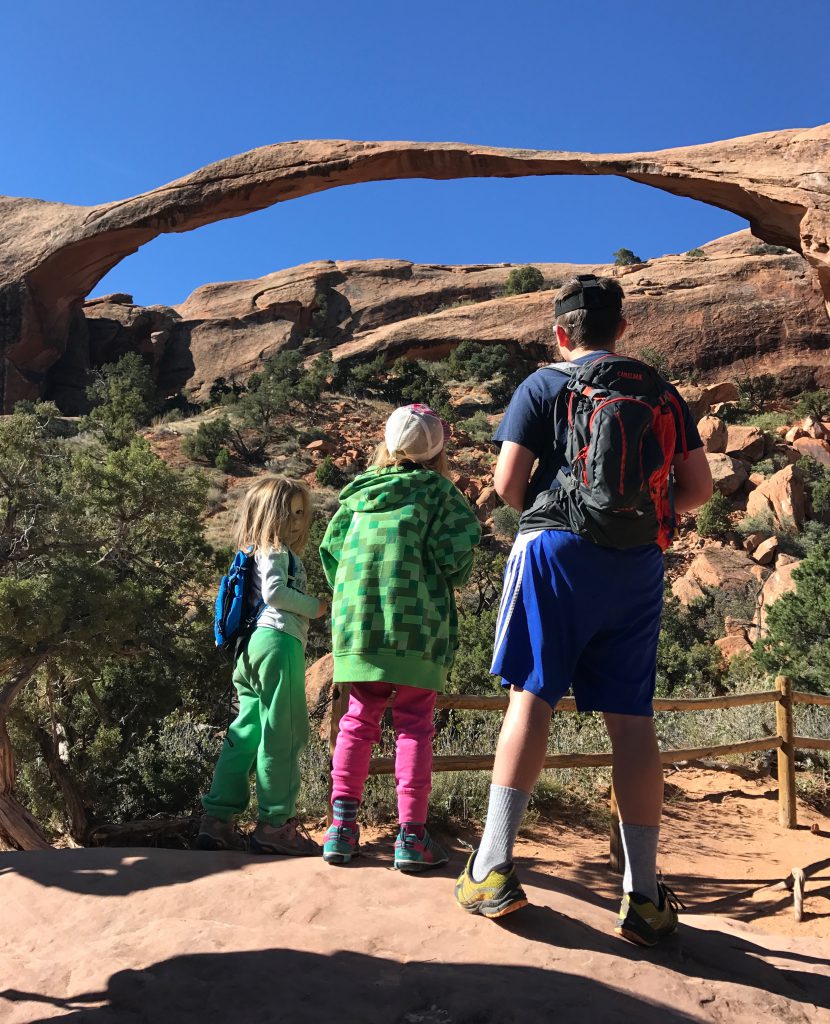 lidkids smiling.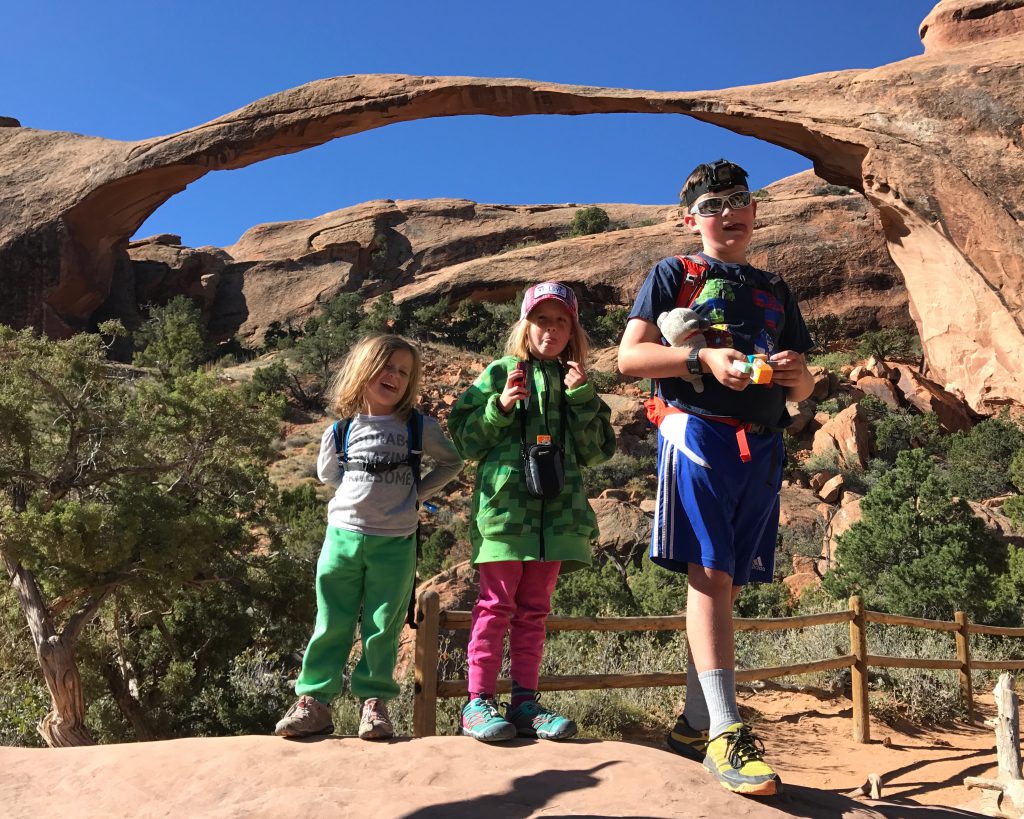 lidkids being goofy.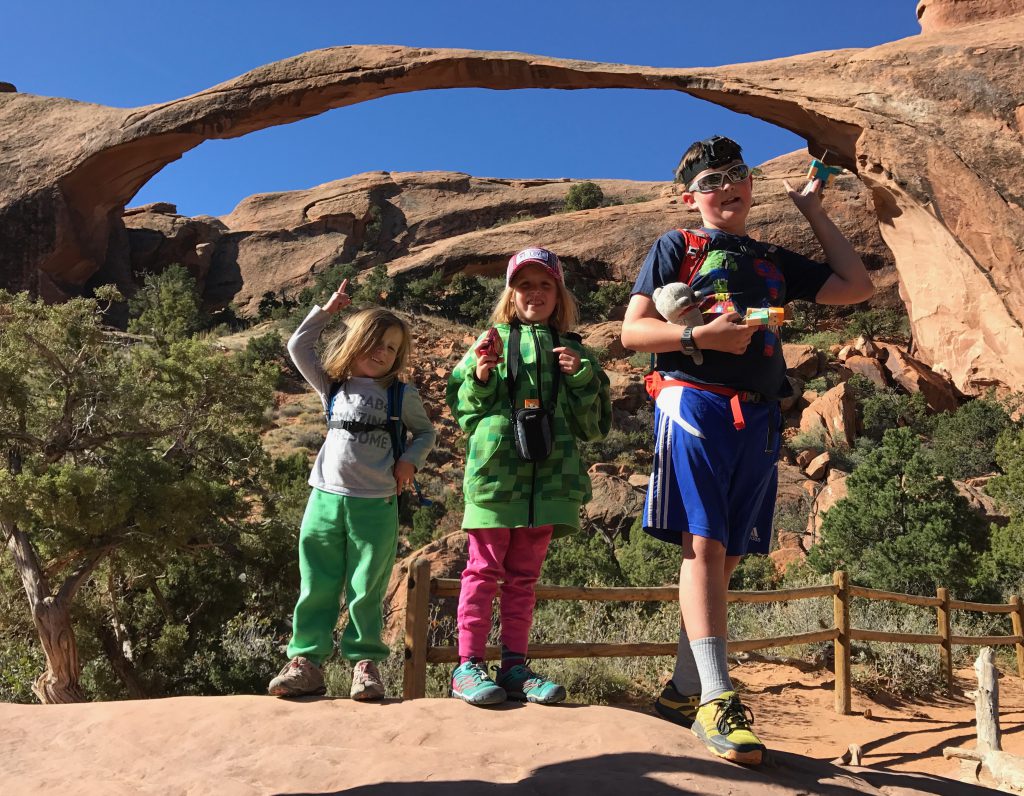 the area at the end was full of awesome spots to climb on rocks and frolic about.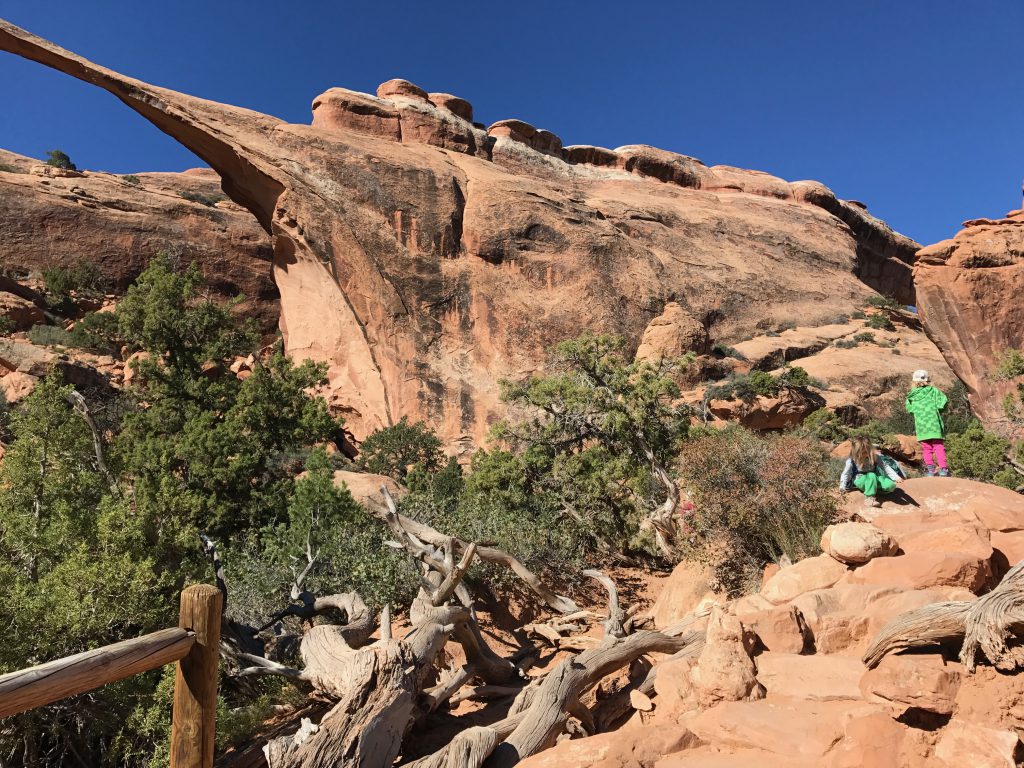 so, we took advantage of that for a bit.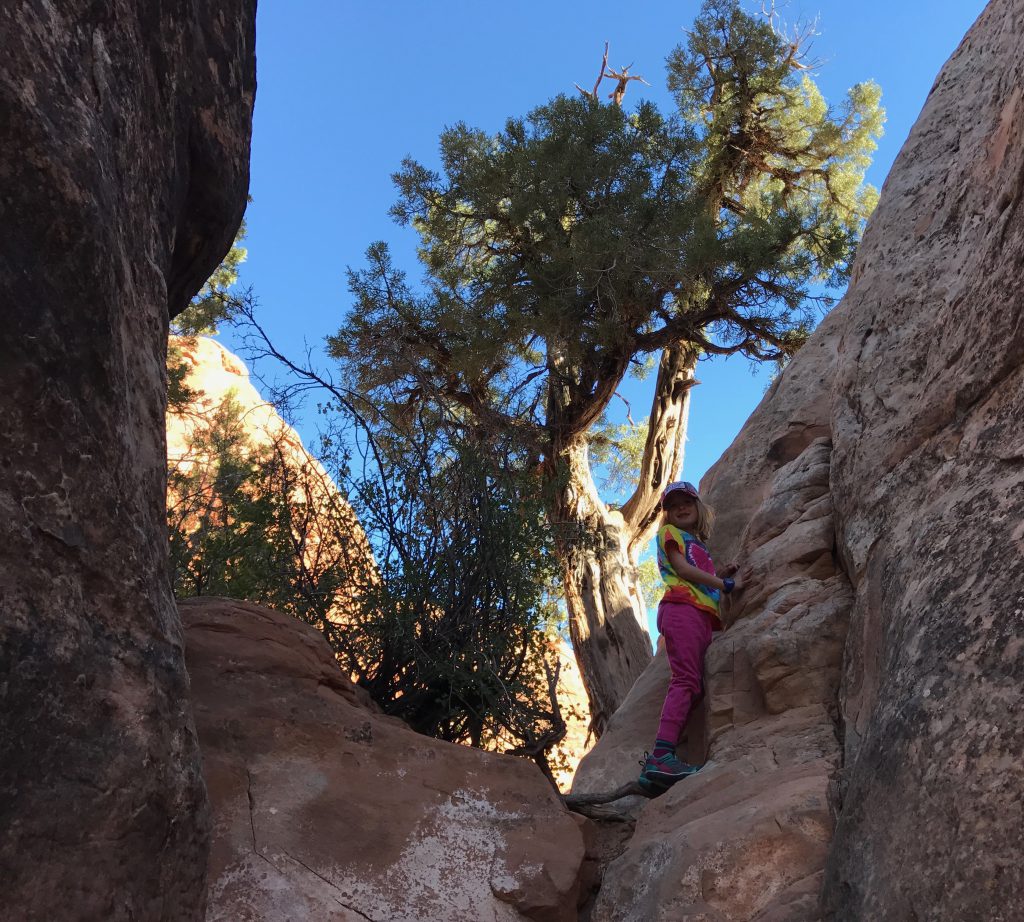 hazel allowed alex to take some commemorative photos.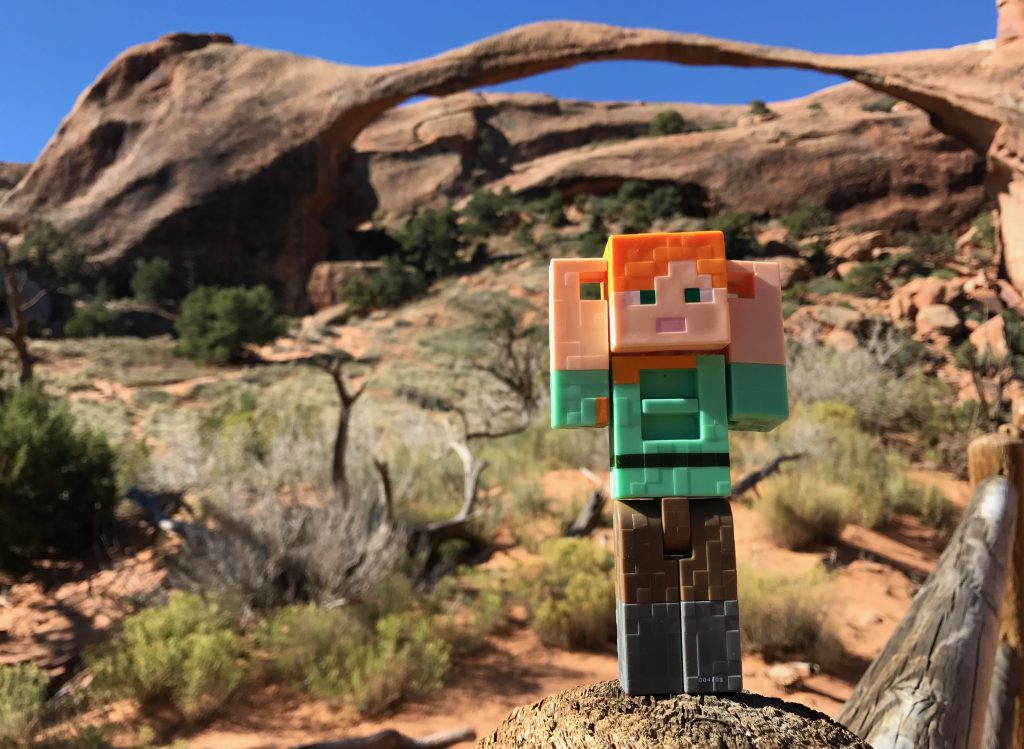 um. i cannot even stand the cuteness level in this picture.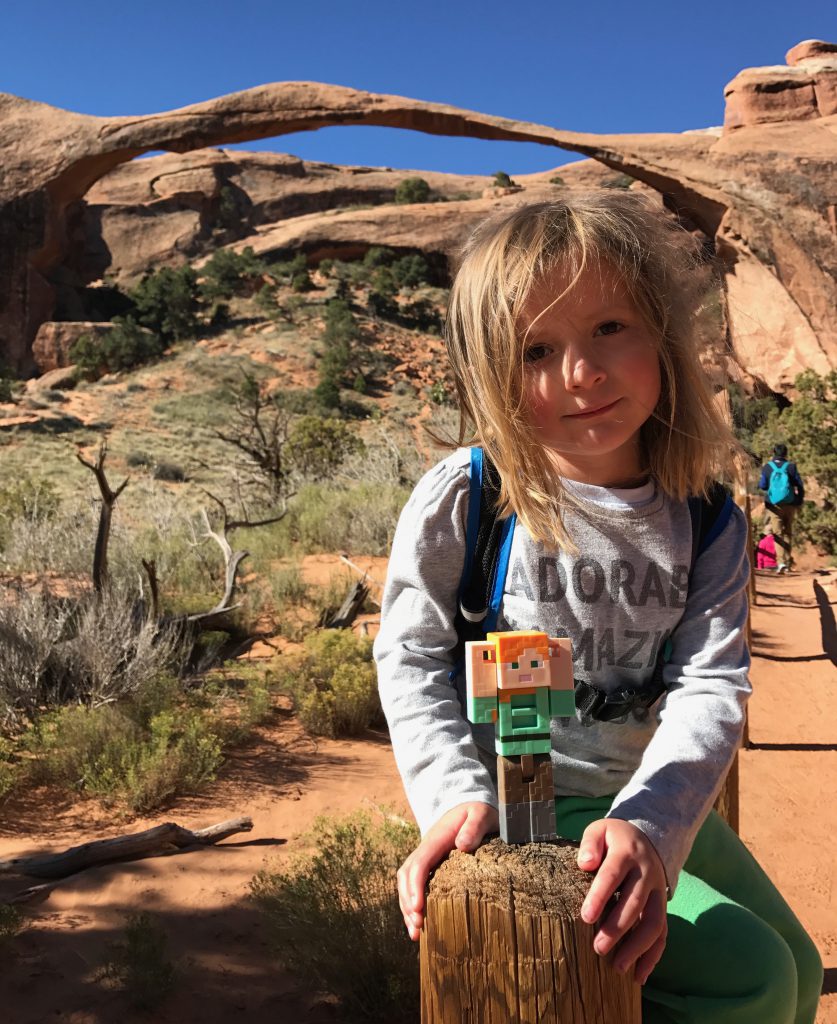 derek took this picture of me sitting while the kids played. i tried to return the favor for him, but some fellow tourists were sitting on that big rock behind my head for like 20 minutes (or more because we left), ruining the vibe.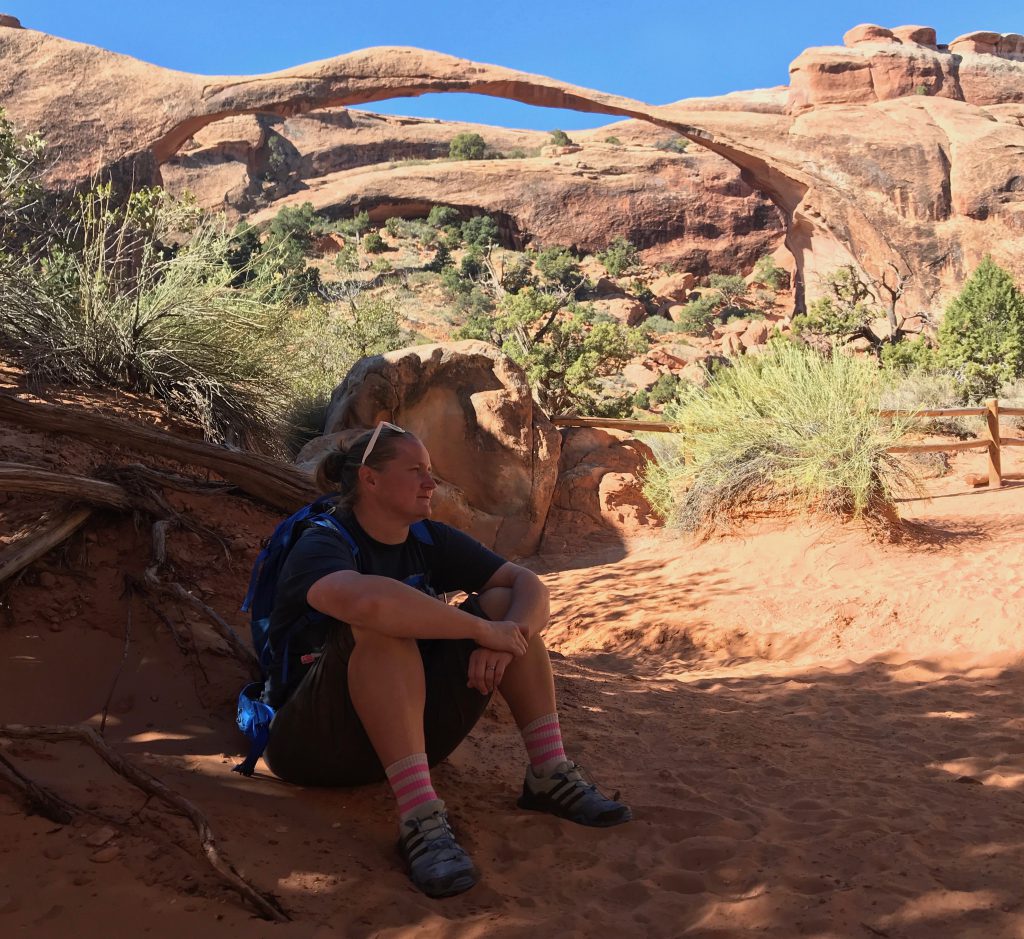 we wrapped up play time and set out for the exit.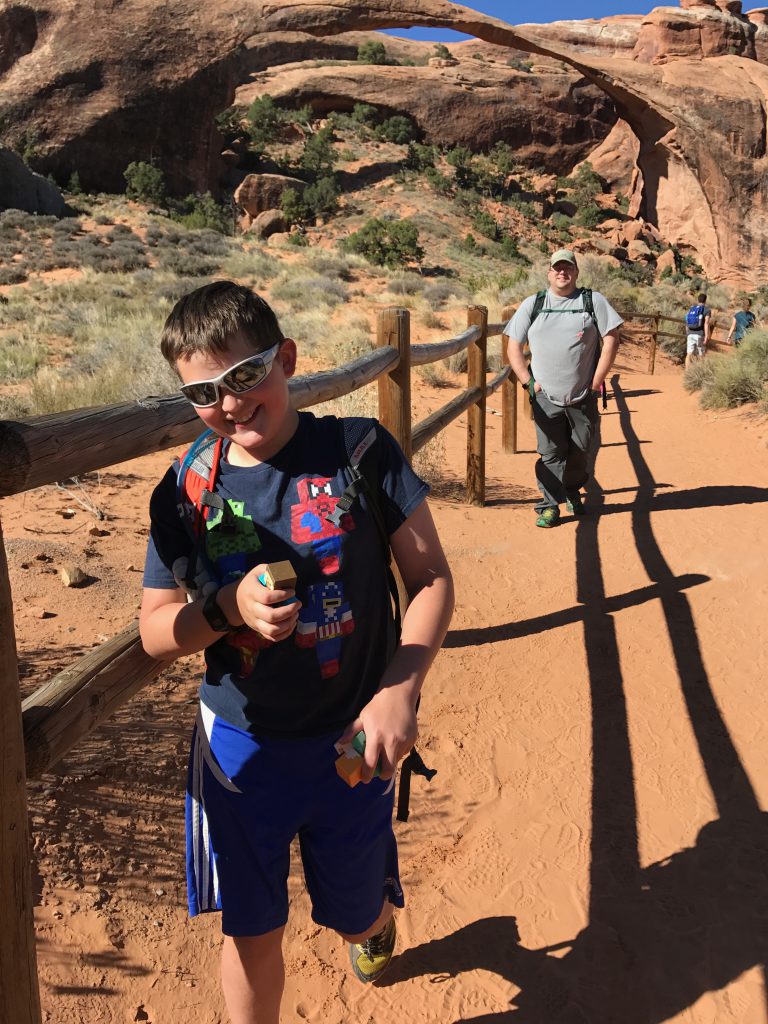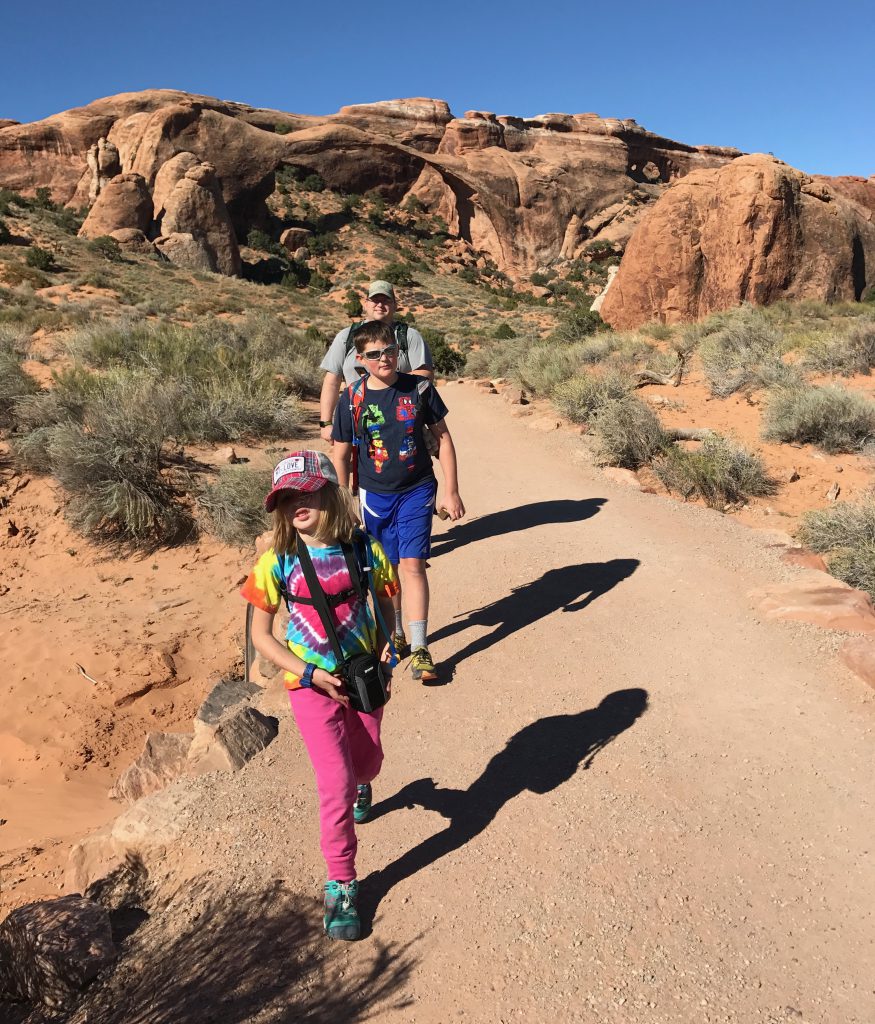 some scenery. 🙂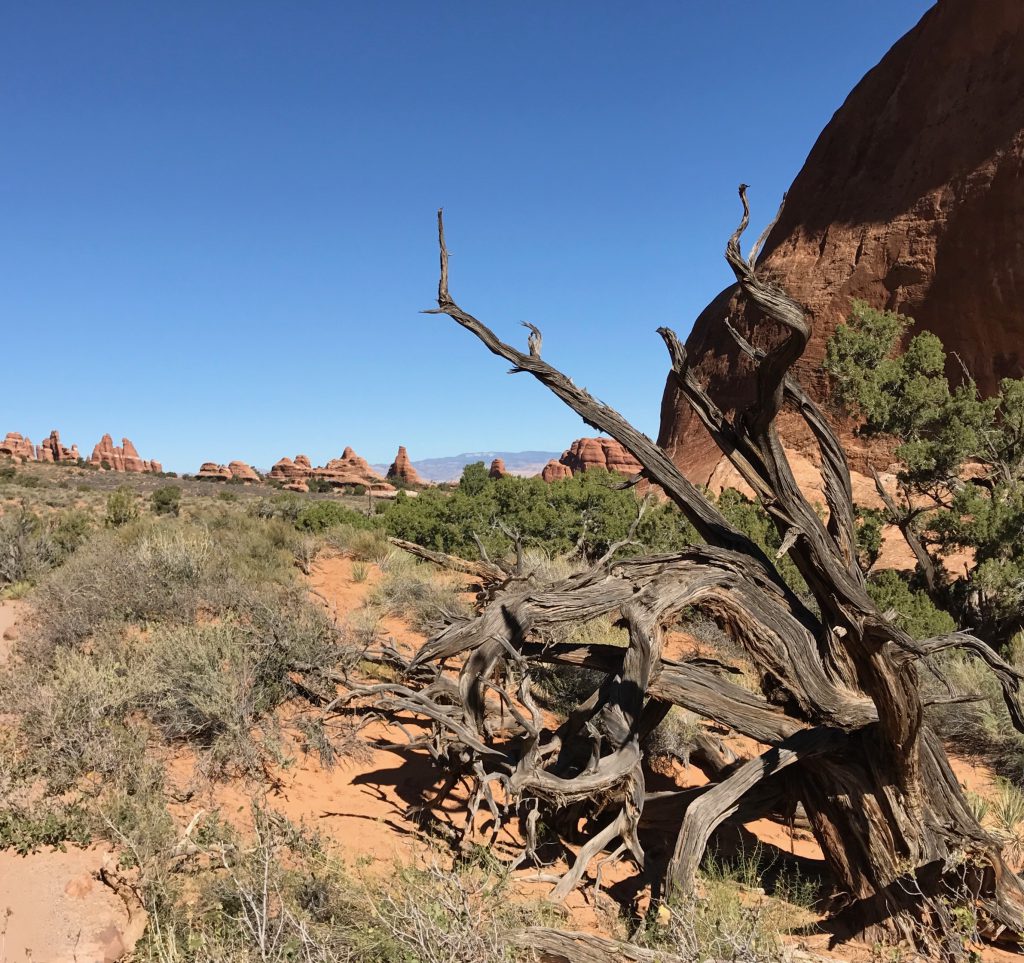 alex + scenery.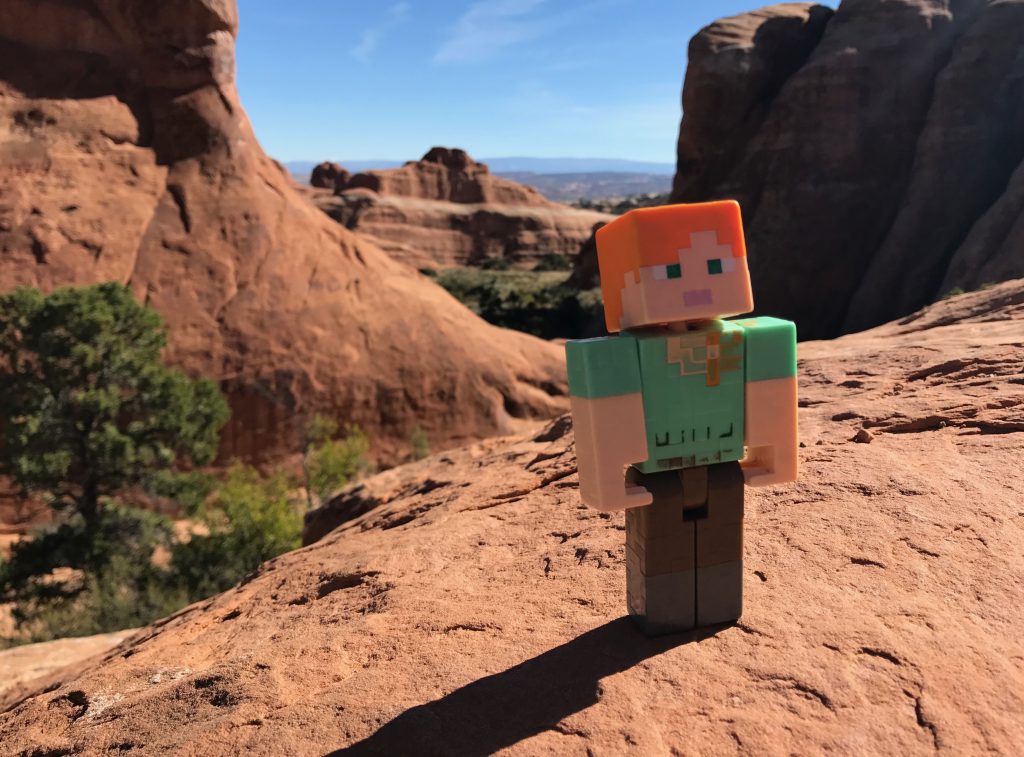 i probably already posted a picture similar to this from on the way in.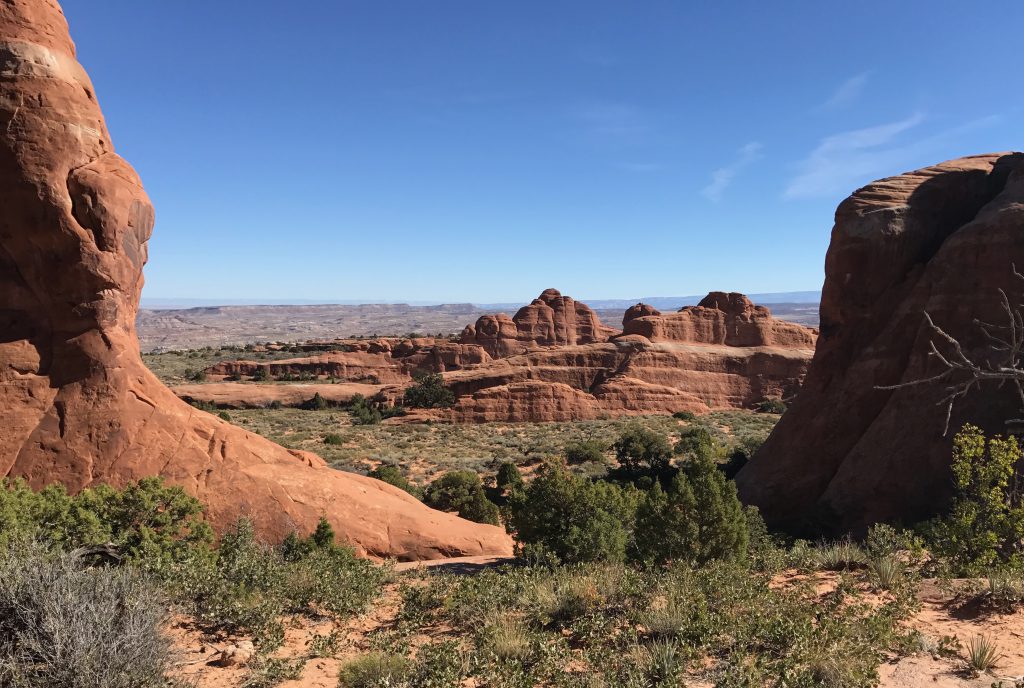 when we were almost back, we came around a turn and there was a bunch of deer hanging out near the trail. by the time we got close enough for pictures, they sort of strolled off a bit, but i got a few.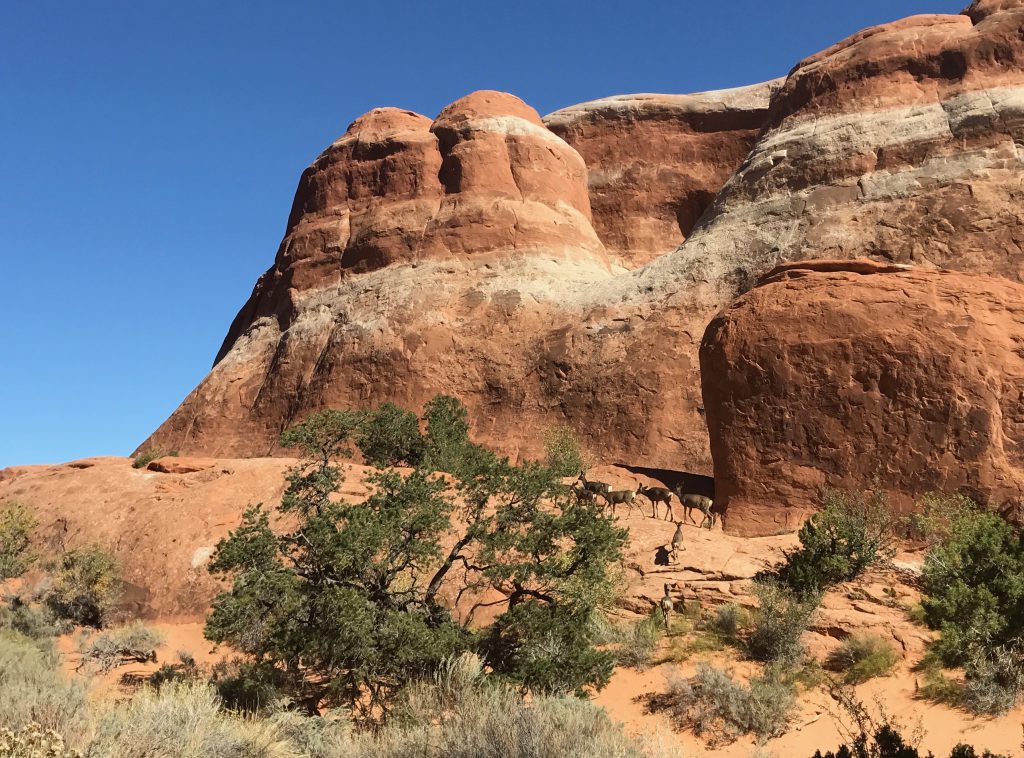 on our drive back through the park, we decided to stop to check out skyline arch up close. you can see it from the road, and the hike looked pretty simple, so we unloaded.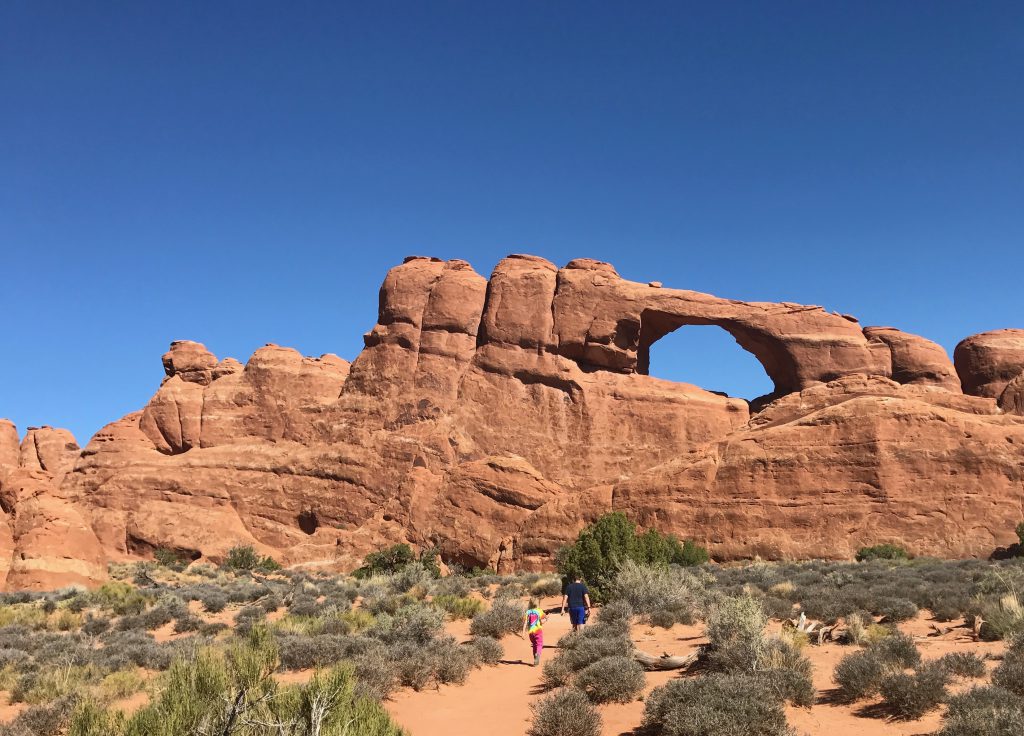 hazel was really grumpy about this development, but the older two were game and ran off ahead while i stayed with the grumbler.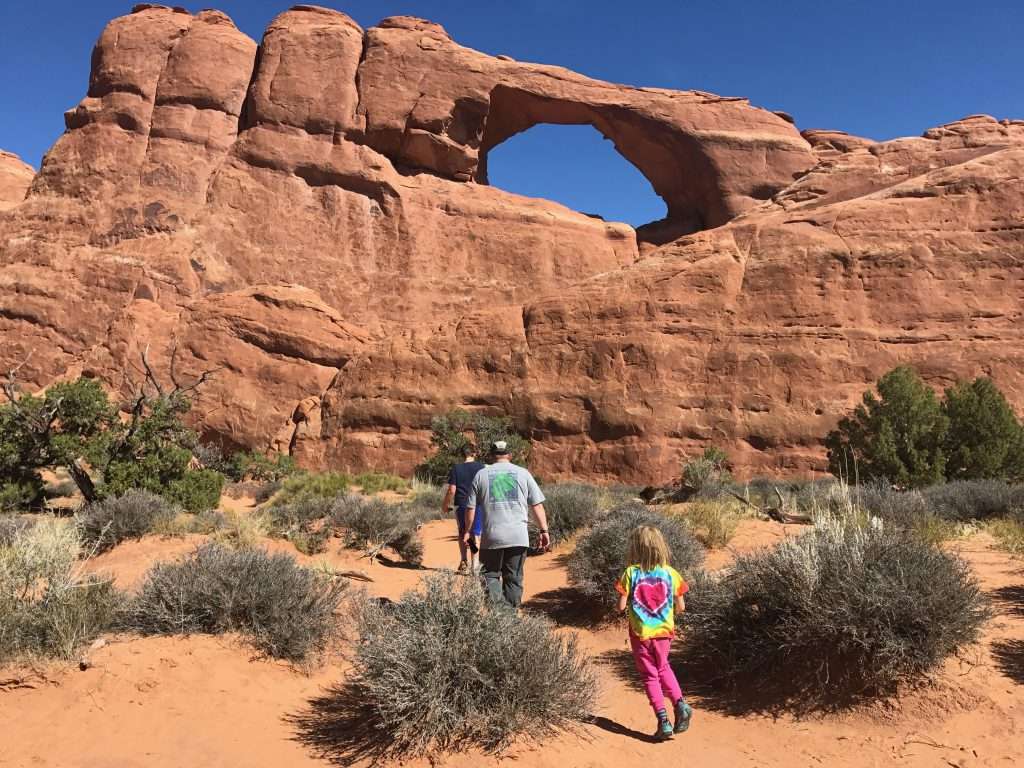 we had hoped that we could get up into the arch, but as we got closer, we realized that was not possible.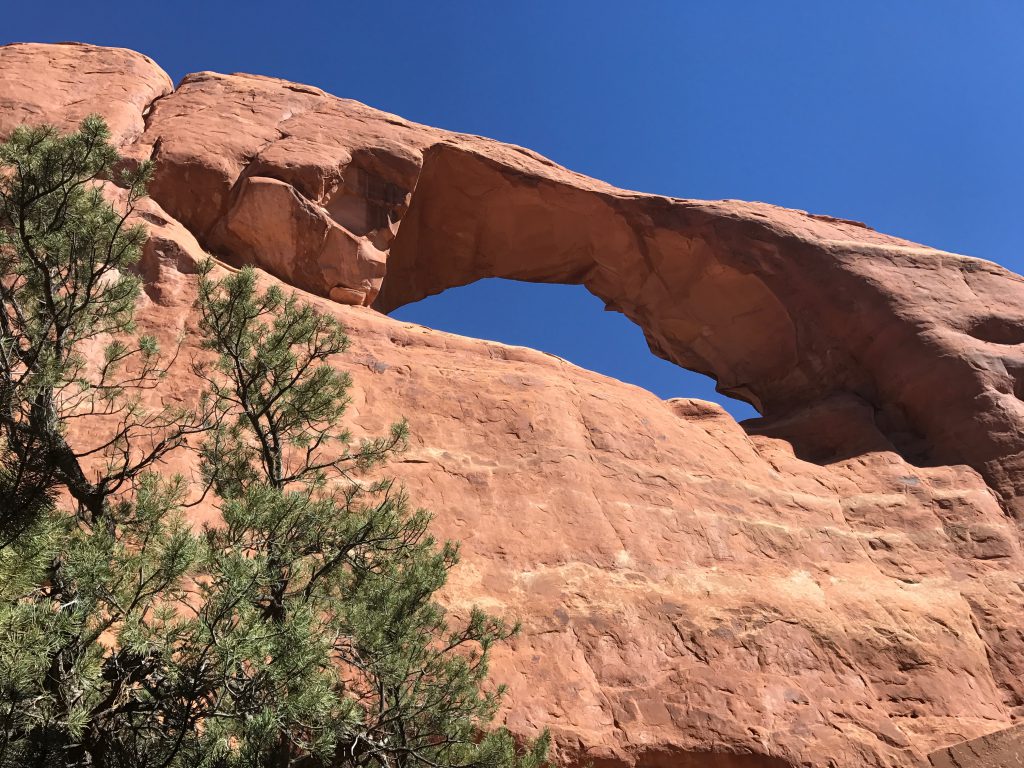 so we played around on some giant boulders and rocks that surrounded the base of the rock wall.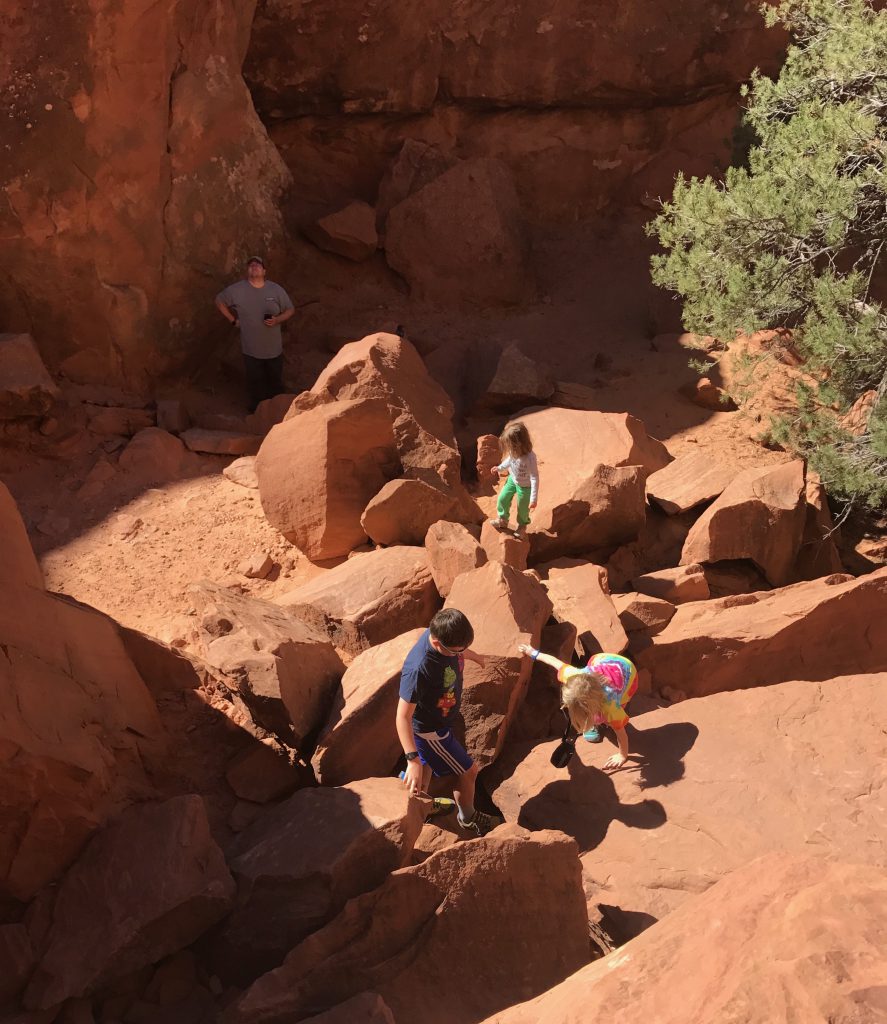 window.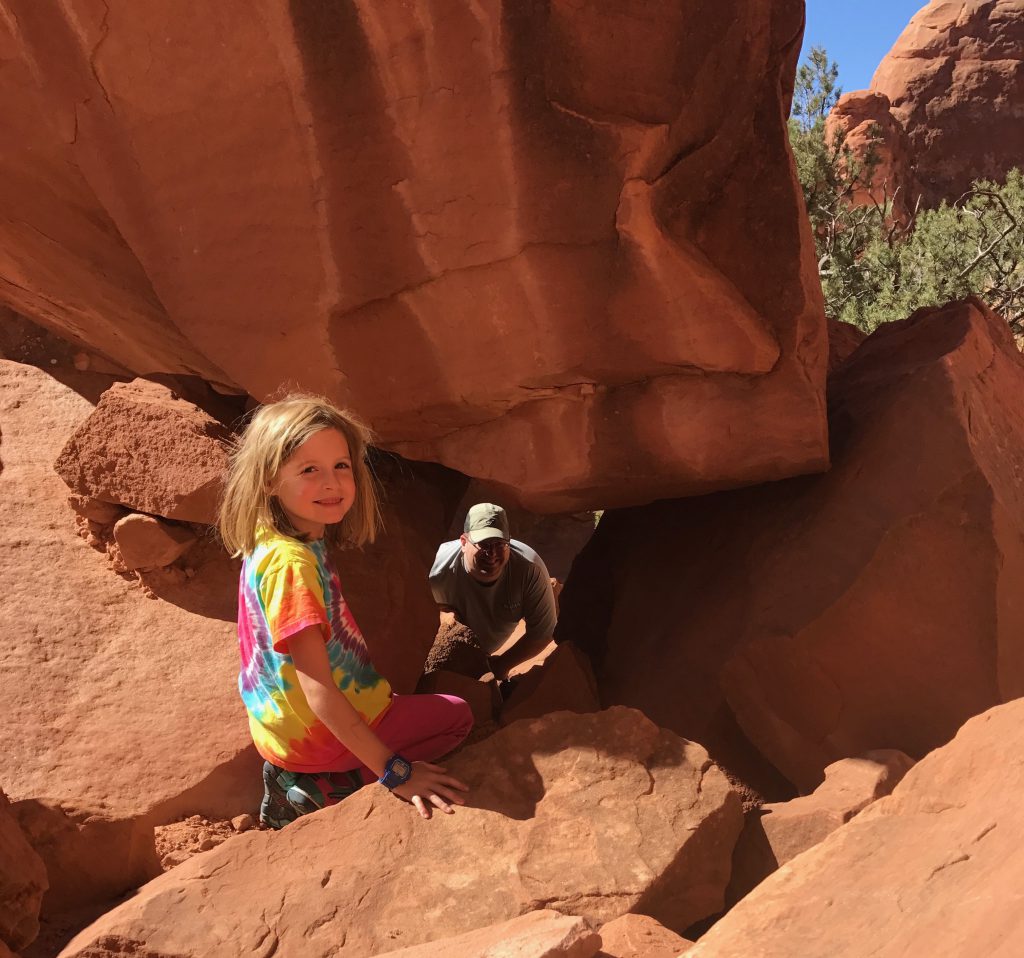 then we raced back to the car. hazel got a second wind and was delighted to beat the older two, who graciously allowed her to think she was the fastest.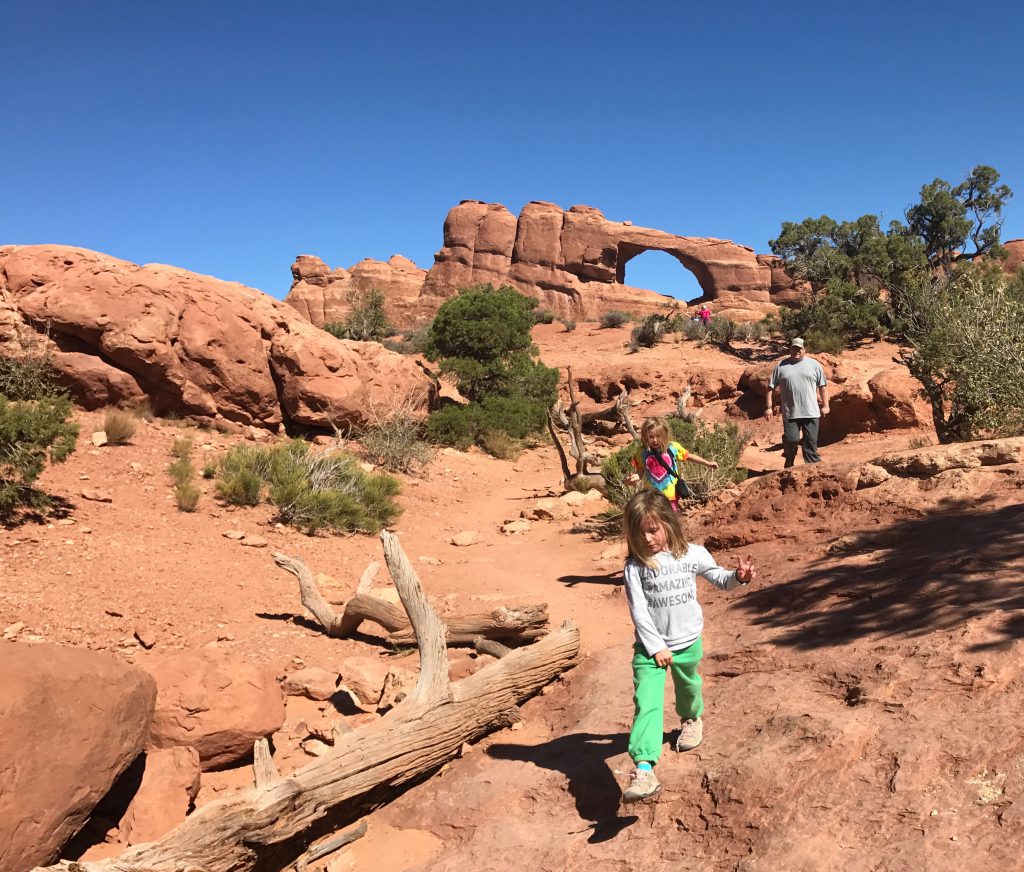 and THEN our adventure was concluded. landscape arch is checked off our list.