well. so. we had to cut our time in joshua tree a little short. we ran into a bit of trouble with our battery being able to hold enough charge, given the allotted charging time. since we didn't want to have to leave every few days to go charge up offsite, we decided to head on down the road.
we are making our way to san diego for christmas with the grandlidboms. but, we couldn't add on to our reservation in san diego (plus, it would be $$), so we stopped about halfway, at on of the places in our thousand trails network, wilderness lakes in menifee, california.
it wasn't super exciting, unless you count having full hookups as super exciting. i cleaned a lot. and we purged a lot. (we even managed to sell our outdoor screen room, freeing up tons of valuable storage space). the kids took long hot showers and baths. and there were actually stores nearby again, so we did some christmas shopping.
also. we attempted to have a little more routine in our lives. i won't go into a ton of detail, but the last few weeks/months have been pretty tough for one or more lidkids (and their parents). there has been some escalating behavior patterns that have made us question whether we should continue traveling our head back home to settle down. it's been frustrating and hard. but, we are trying some new things and it seems like we've made a bit of a breakthrough. routine is one of them, which is hard on the road, but on non-adventure days, it seems to help.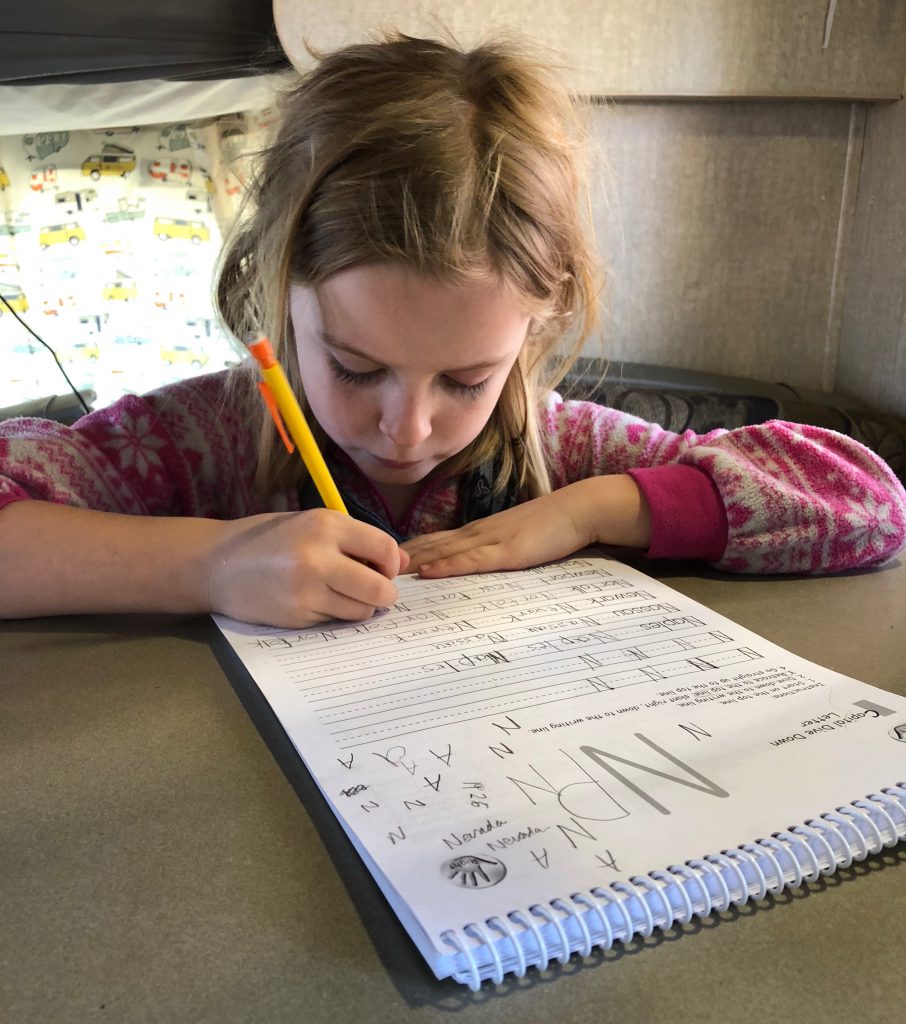 we put up our christmas tree, so isaac repurposed the box into a "food dispenser hat". there were some technical problems that couldn't be resolved, so he eventually scrapped the project for now.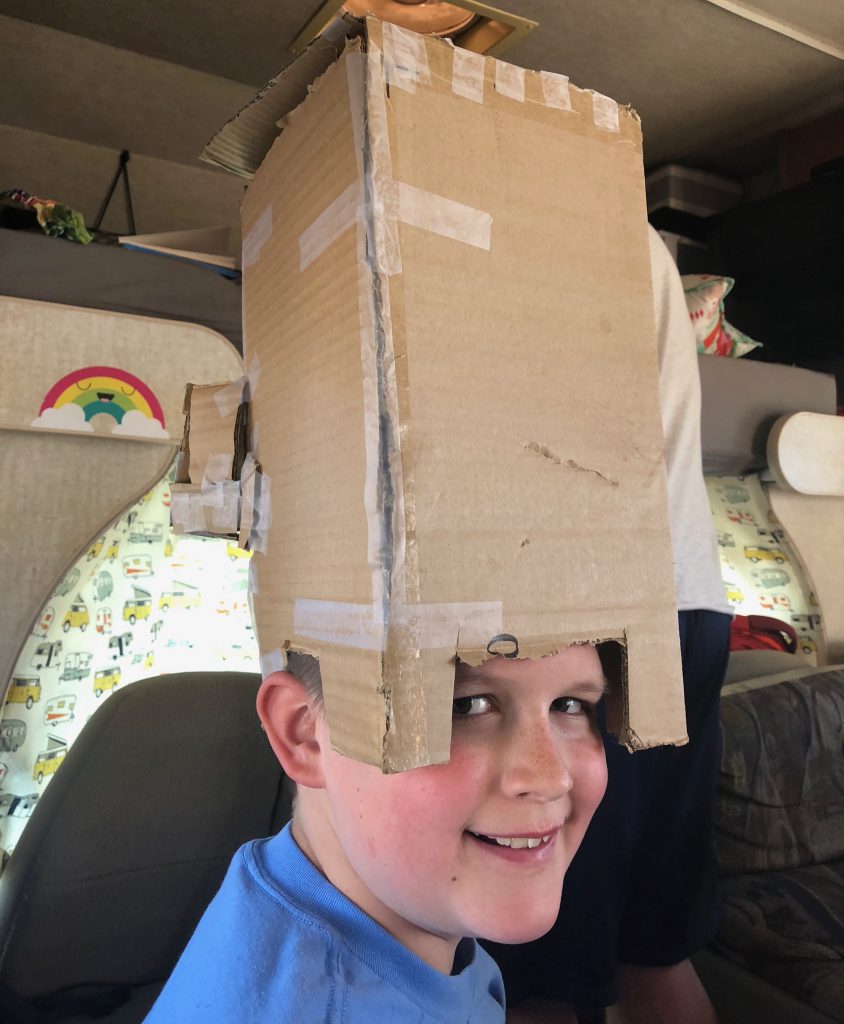 in vegas, we made some perler bead ornaments and some foam craft ornaments, but anna felt we needed more, in the form of some handpainted watercolor scenes.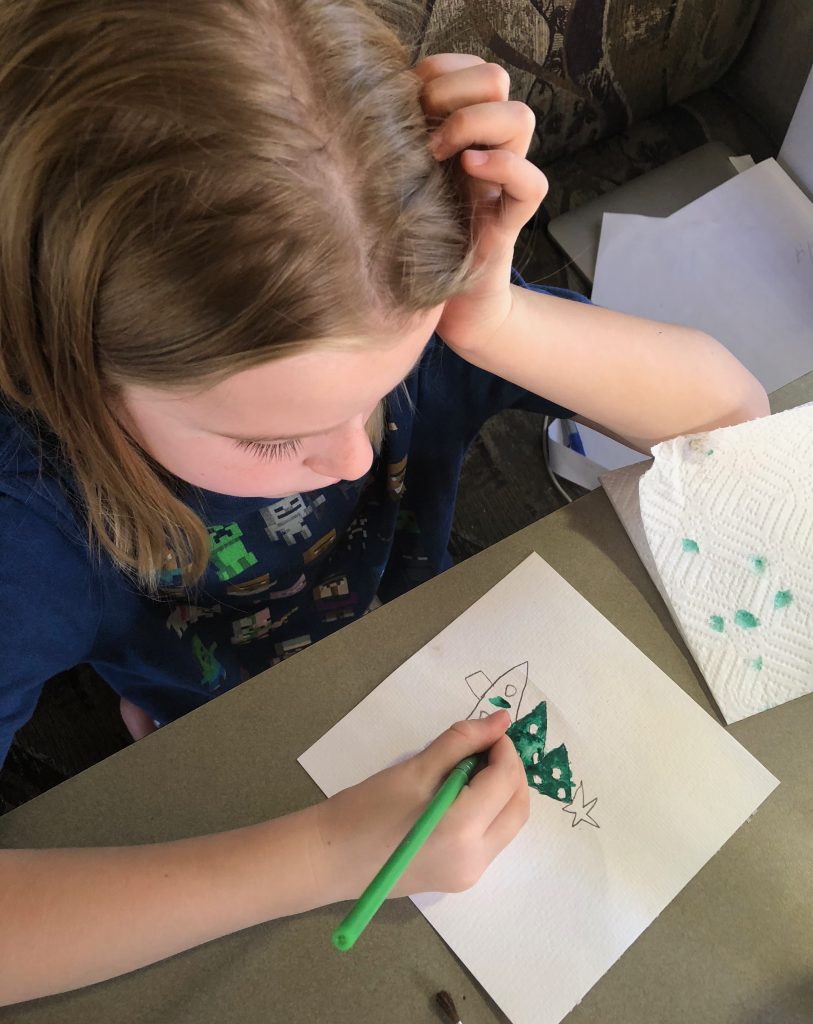 we bought the same exact tree as last year (which saw limited action, because of the surprise death of my gramps, prompting us to head to my moms for christmas. the tree is packed away in the grandlidbom's garage, and since it was only $15 to buy a new one, it was cheaper to do that than to have our old one shipped to us. we are starting a collection.)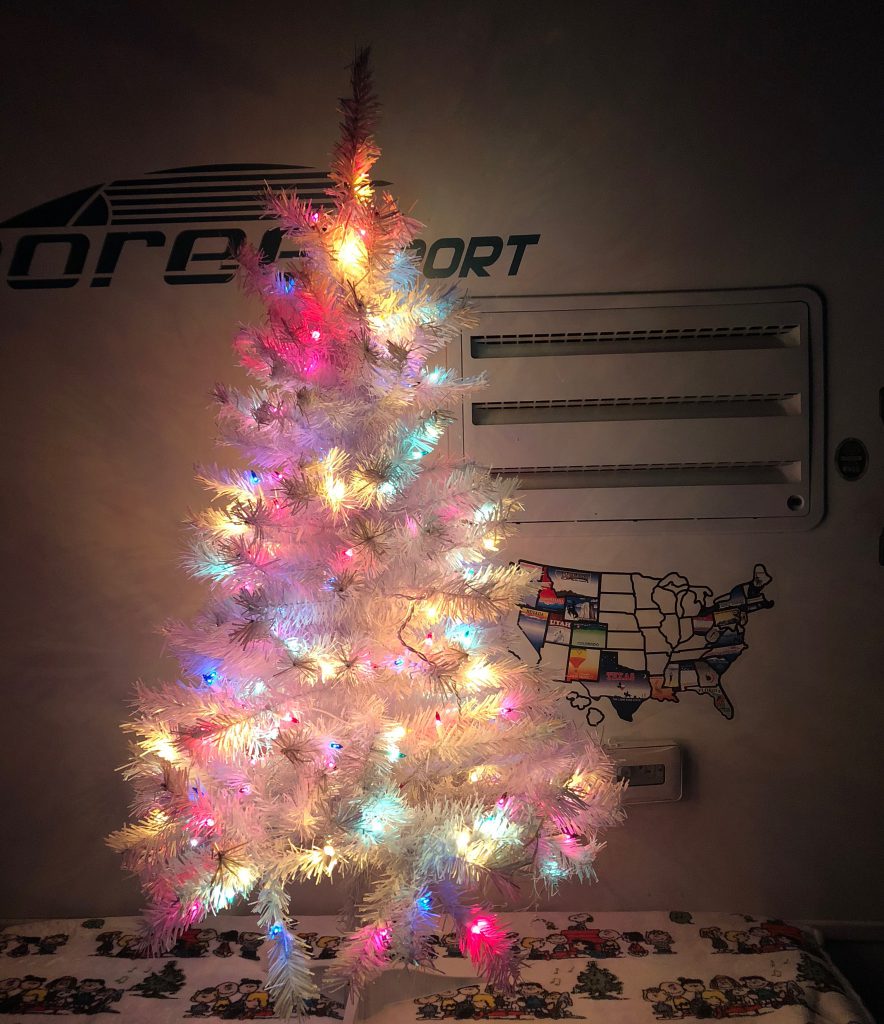 part of the routine thing is to try to have a bit more organized family time. like game night. one of our favorites is qwirkle. at least when we start it.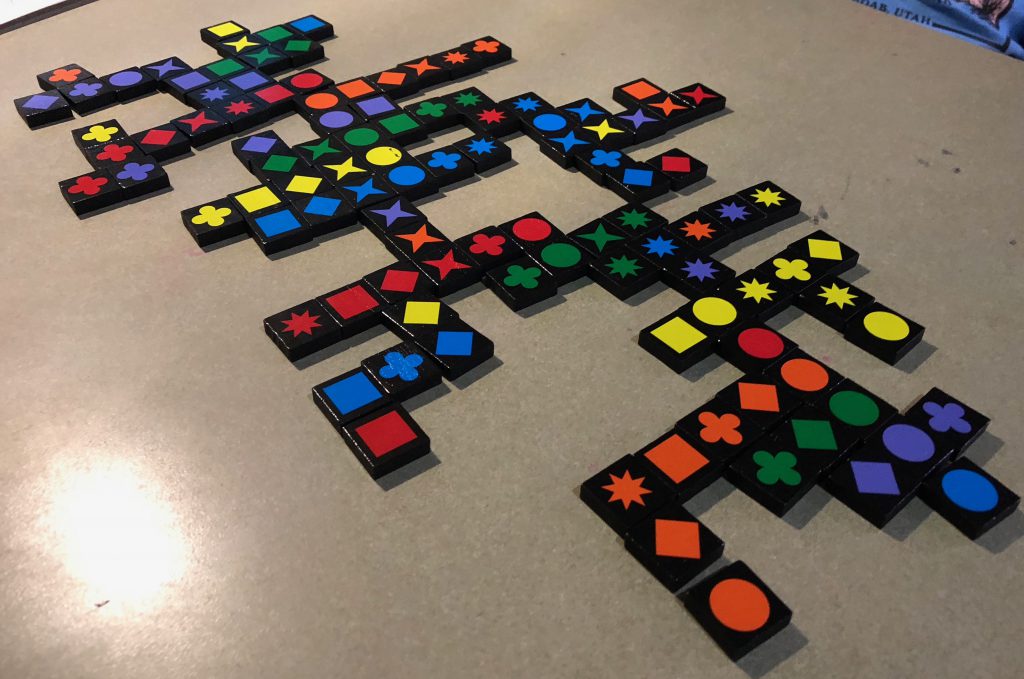 our campground was about 25 minutes from an old college friend, and even though her schedule was jam packed this close to christmas, she squeezed us in for a visit. a street in her neighborhood has a crazy awesome light show, so we walked over to check it out.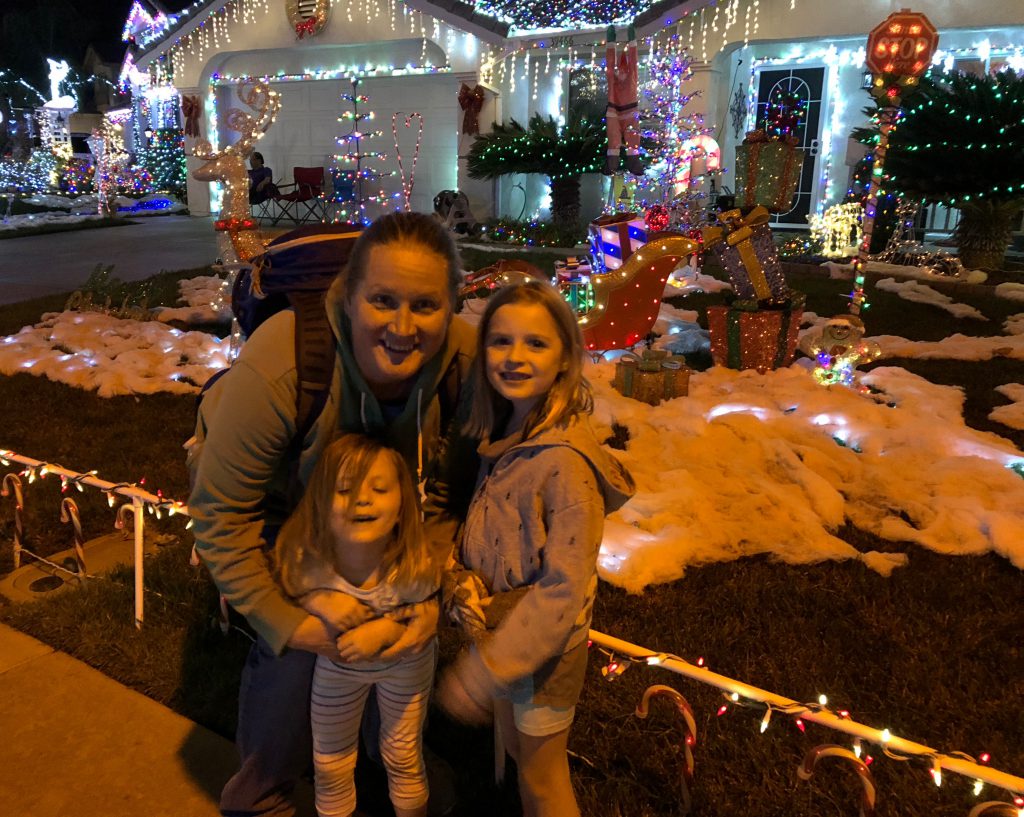 seriously. every house, except ONE was decorated, all on timers, with music. there were so many people walking and driving through. the kids had a blast, picking out their faves. this was mine. one of them, anyways.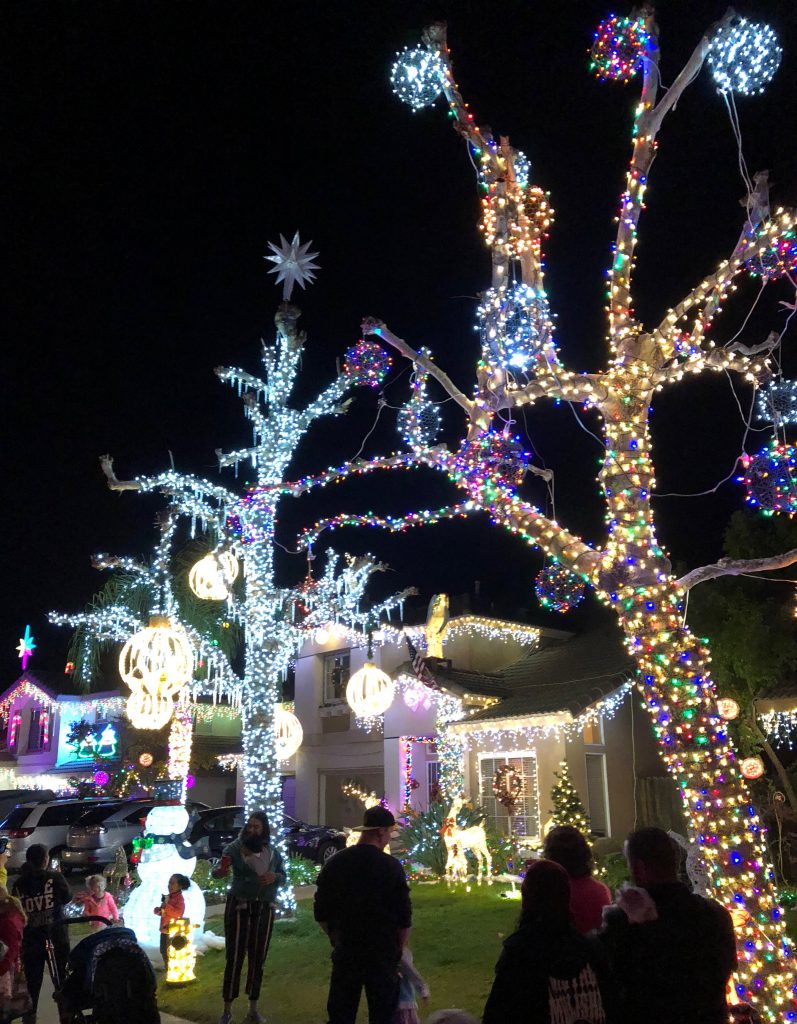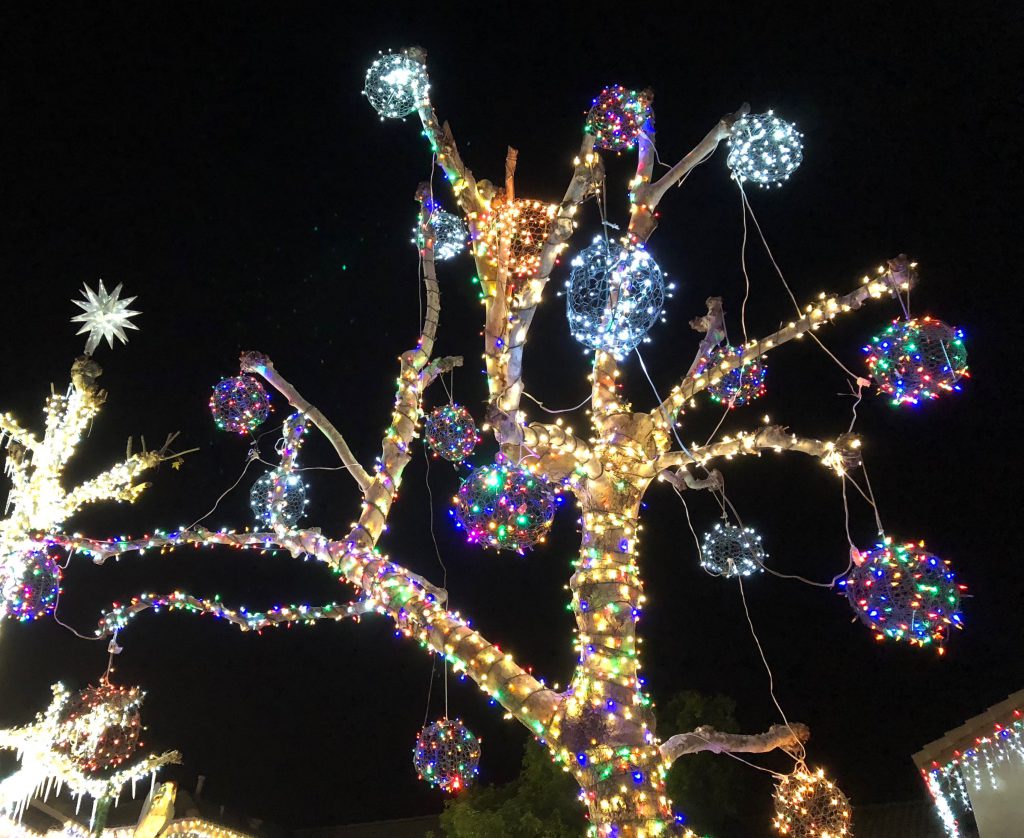 we attempted to recruit a kid to take a decent picture of us, but the lighting proved difficult, so this was the best we got.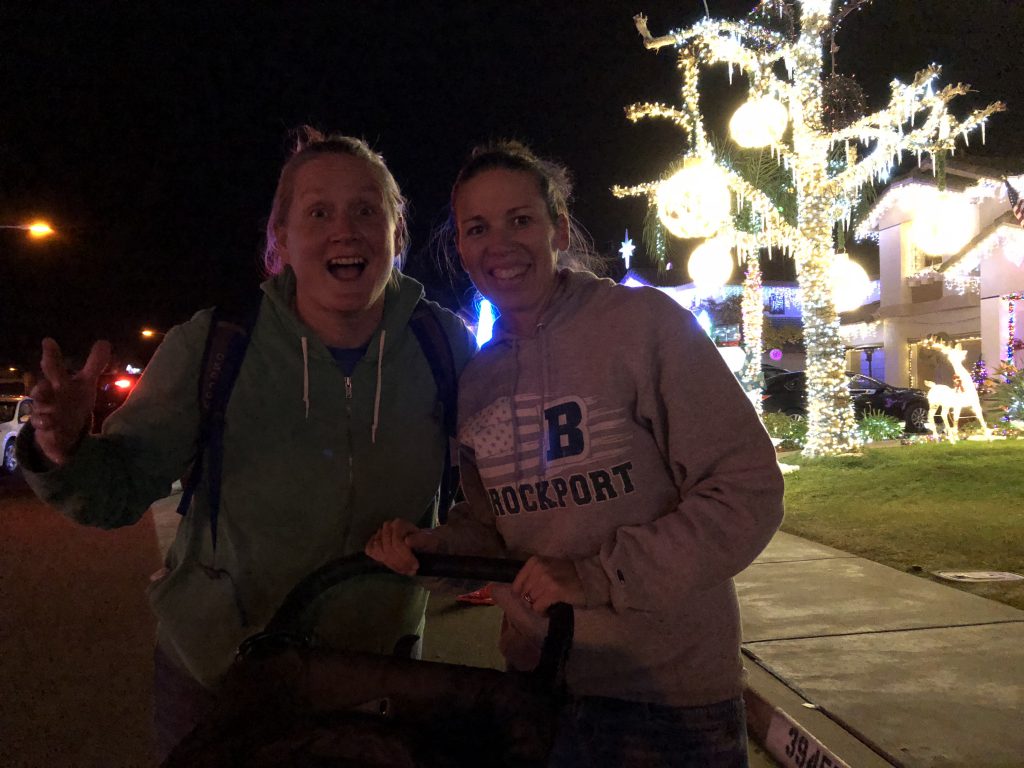 we had a great time reminiscing about the old days (we played basketball together in junior college and then went on to play at rival schools). i think we can agree we are thankful that social media wasn't around waaaaay back then. she has a very cute tiny person, who it was nice to finally meet, and we talked about parenting and all that stuff that you talk about when you're 40+. then we took this awkward photo and said goodbye. hopefully for not ANOTHER 20 years. eek.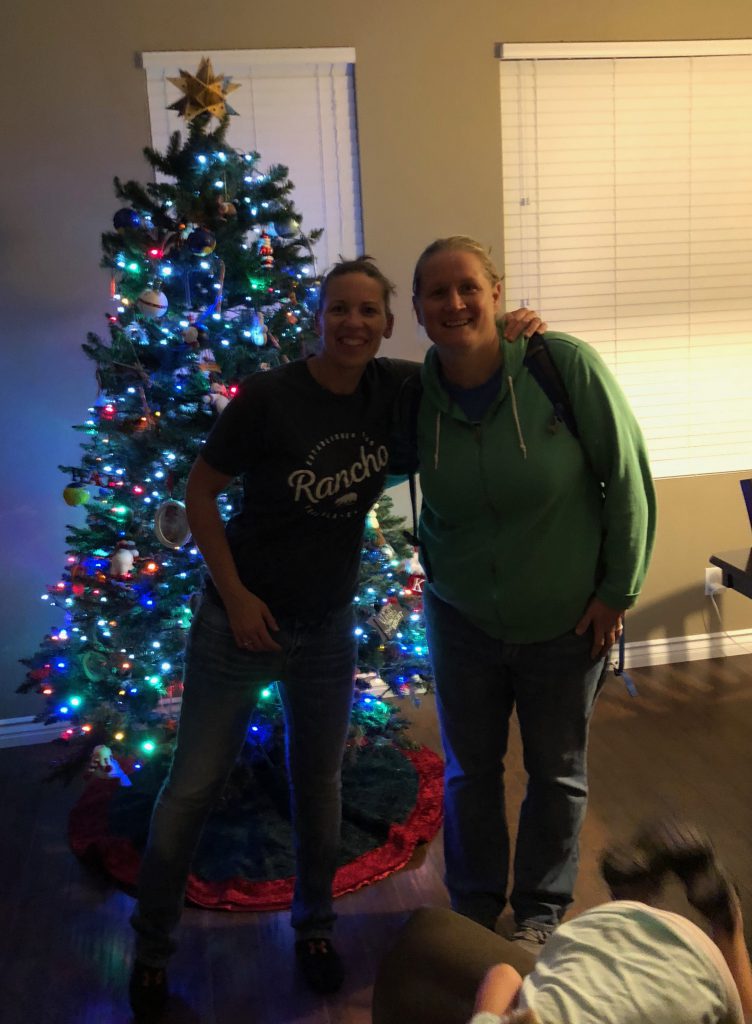 we have had christmas movies on full rotation, i think this was polar express, but i can't be 100% sure.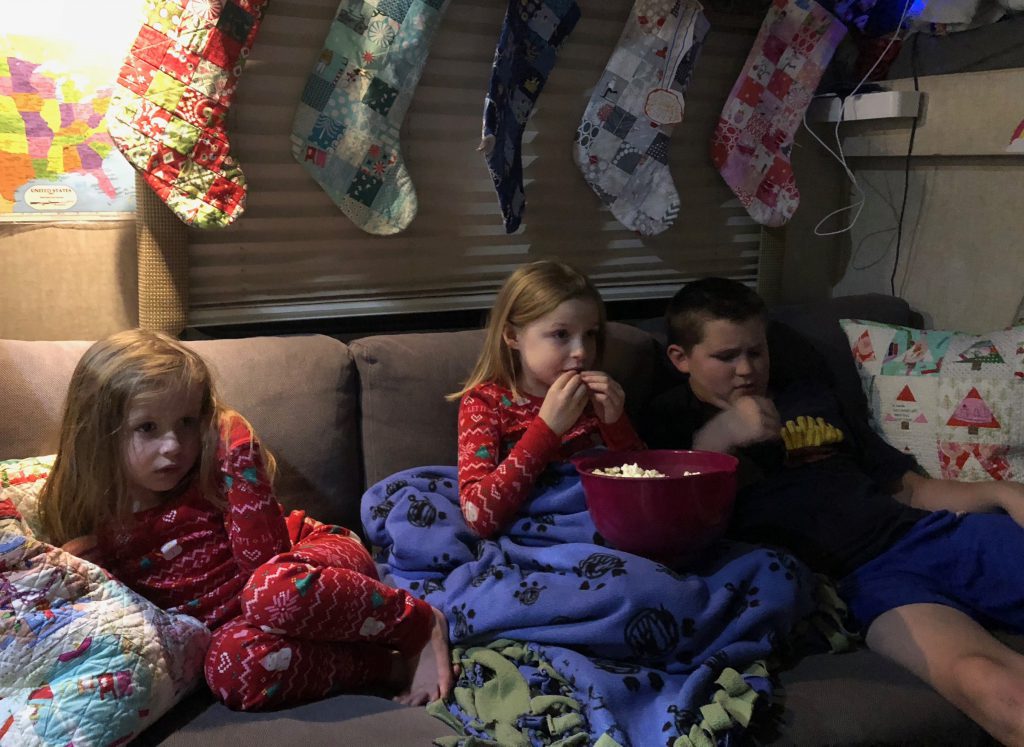 some more ornament making, again with perler beads.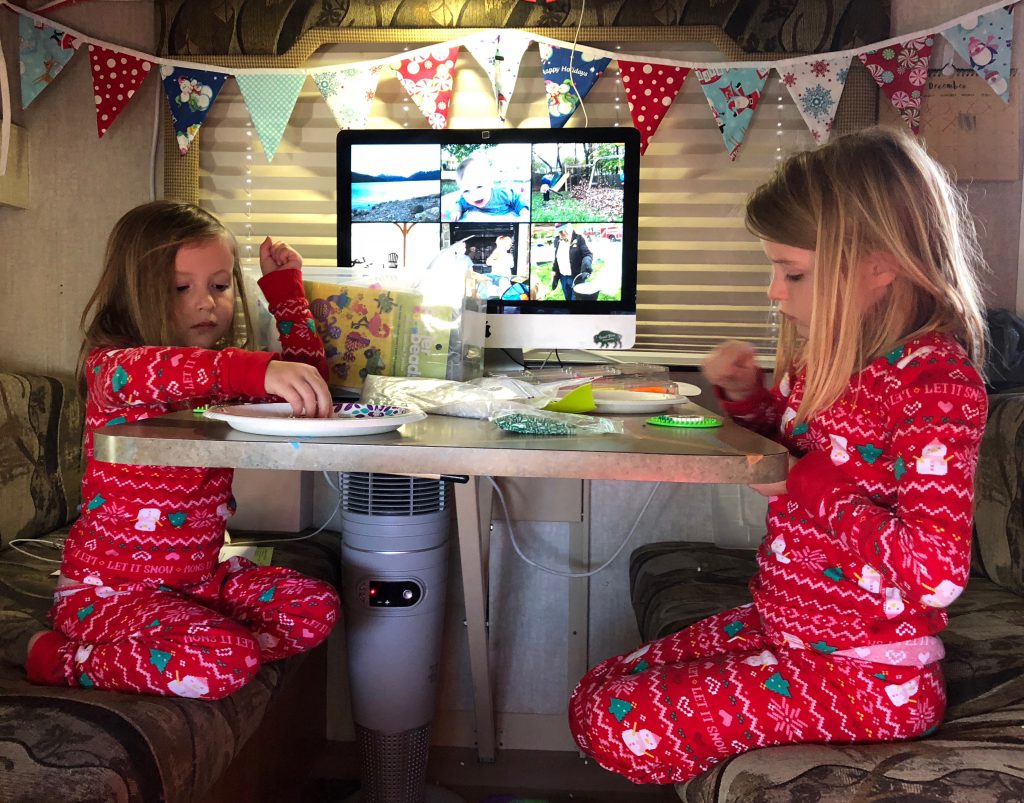 i was even actually able to bust out my sewing machine and supplies for a tiny bit. anna brought her school outside to hang with me.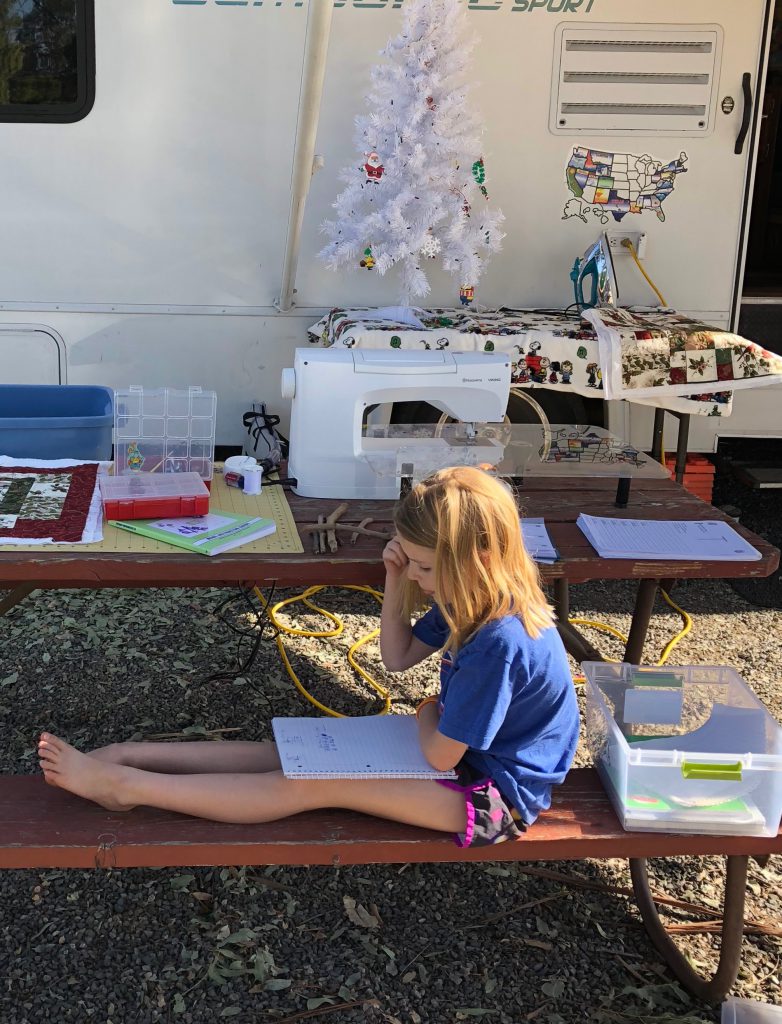 so, southern california is pretty warm still, in the middle of the day. on some days. and this campground had a heated pool. obviously the kids insisted we go. so, we did. well, they did. i watched from the comfort of a chair, with my book.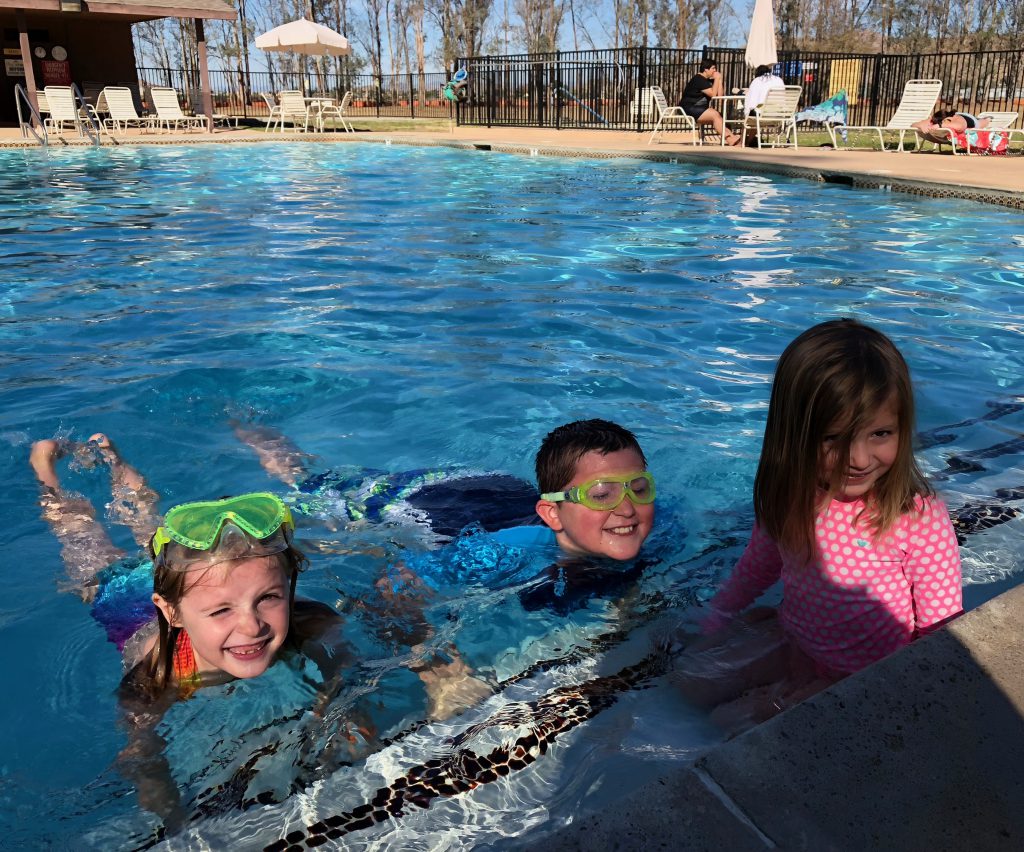 back at the camper, hazel and i mapped out all of our stops and picked our favorites and reminisced.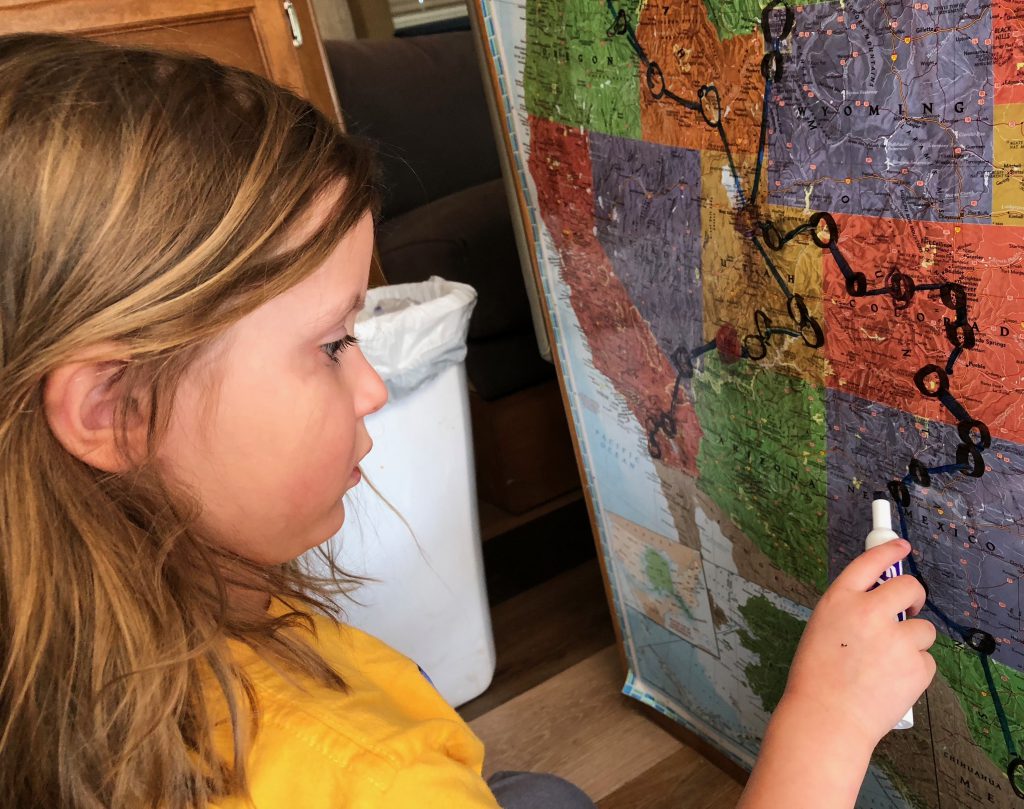 it's been a long time since we have been in a campground with activities. we had almost forgotten about such amenities. we decided to check out the holiday craft on saturday afternoon. it was sort of a bust. it was just a little foam santa ornament, but the provided school glue was not working to attach the foam bits together and everyone was getting very frustrated. we used some of the scrap sticky bits of foam to hold things into place, but still only left with one decent santa ornament. oh well.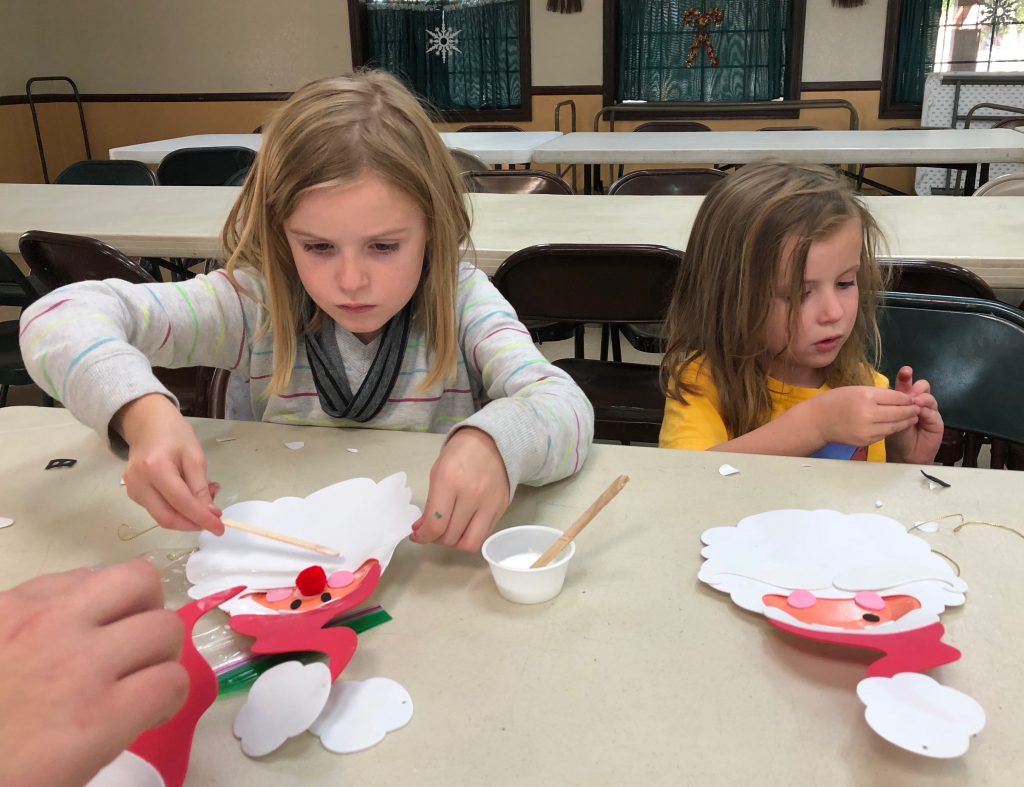 finally. on sunday. it was time to head to san diego. the christmas tree rode first class on the couch, in case you were wondering.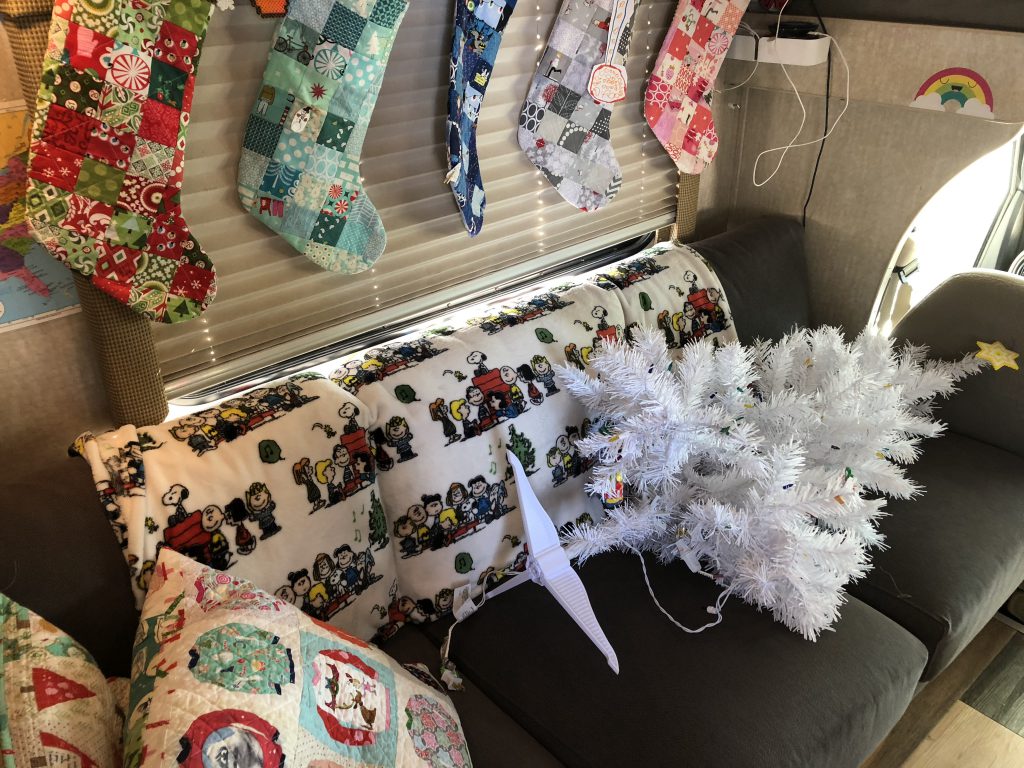 so. we are all settled in at our san diego location. the grandlidboms rolled in late last night and the kiddos are excited to finally see them after six months.