welcome to part two of the adventures of anna and sarah on santa cruz island. you can read about part one, here.
anna and i had a pretty good night, you know, considering we were sleeping on a mat that took 12 breaths to blow up. it wasn't too cold, which was my biggest worry for this trip. we did wake up several times to the sound of two foxes, having a roaring brawl through the campground, making the worst sound i've ever heard, and even once bumping right into our tent.
while we got to work preparing breakfast, one of the campground foxes joined us to check out what we were making. they are persistent little buggers.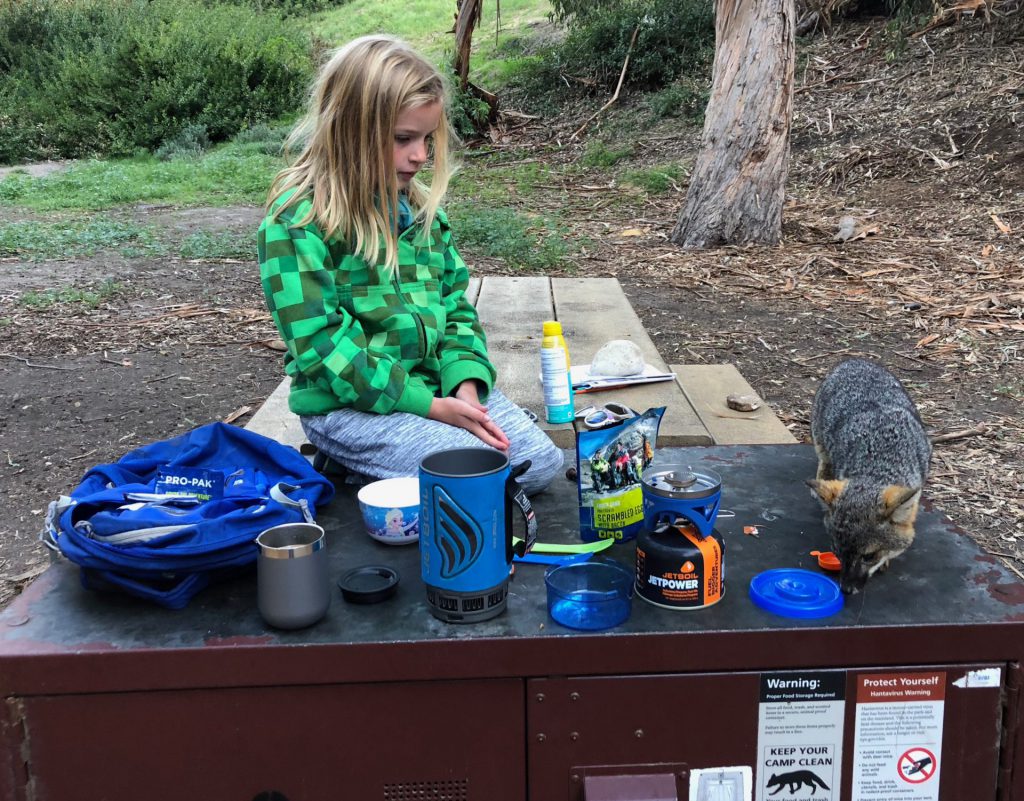 after we determined that freeze dried eggs and bacon were terrible, we busted out some energy/protein bars (glorified candy bars). and then, we planned our day over breakfast. and yes. i drank my instant coffee from a hydroflask wine "glass". it's the only non ceramic cup we have. putting a camp mug on my wishlist now.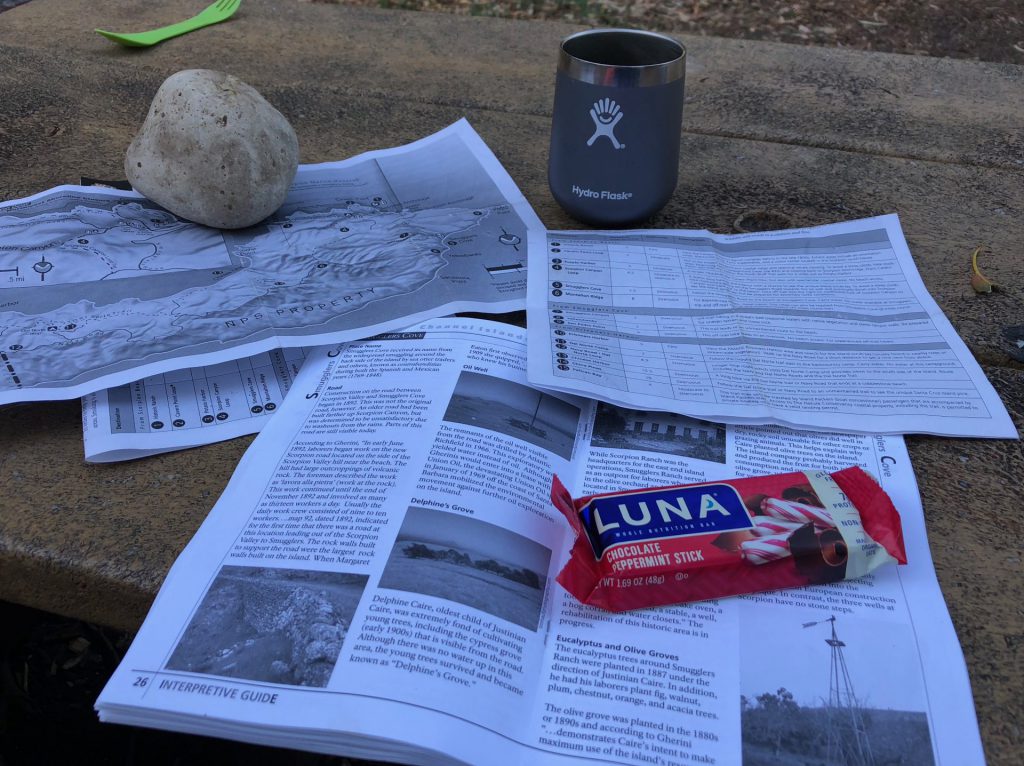 we decided on a 7.5-8 mile hike across the island to smuggler's cove. it's about a 700 foot climb up and over the island (and then another on the return trip), so it was the most ambitious hike anna has ever attempted. the hike starts out at scorpion ranch, taking us past this cool old windmill.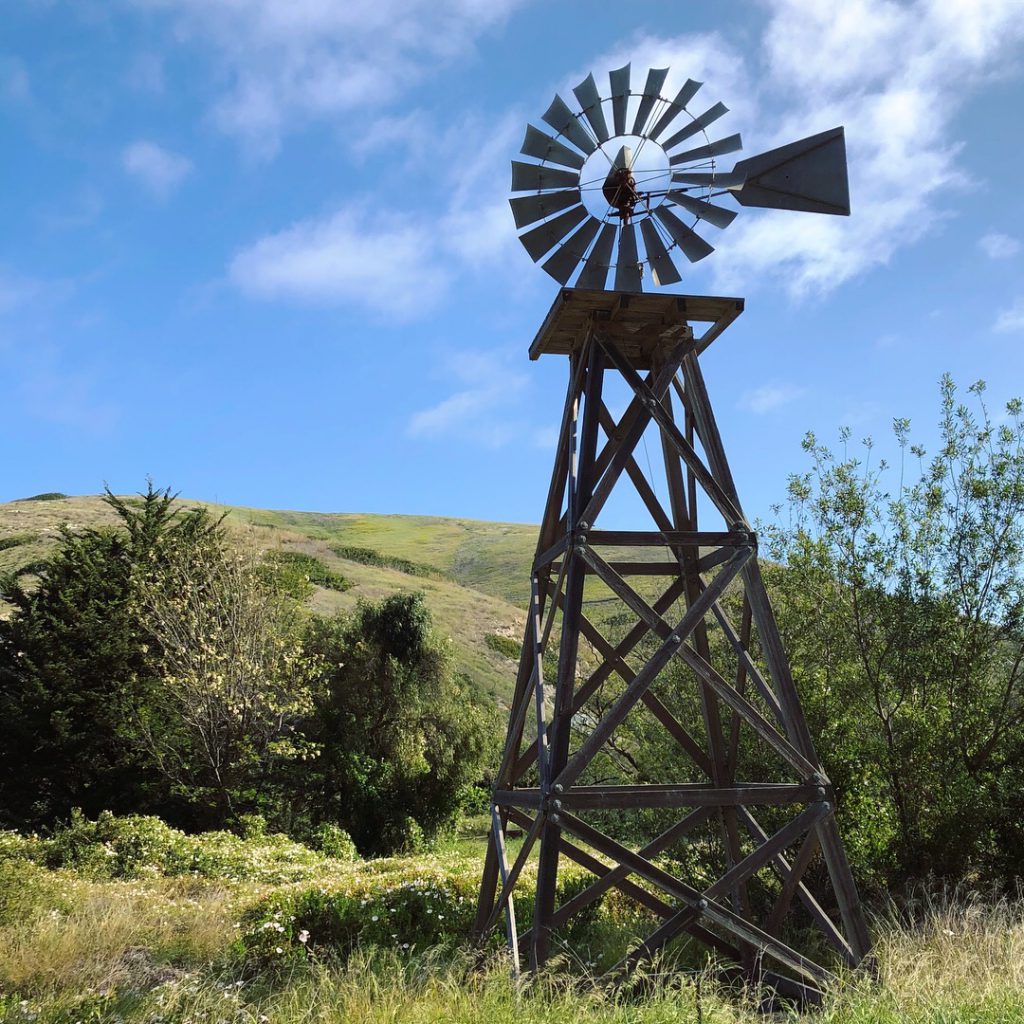 as we climbed, we got a pretty good view of the cove and pier where the boat dropped us the day before.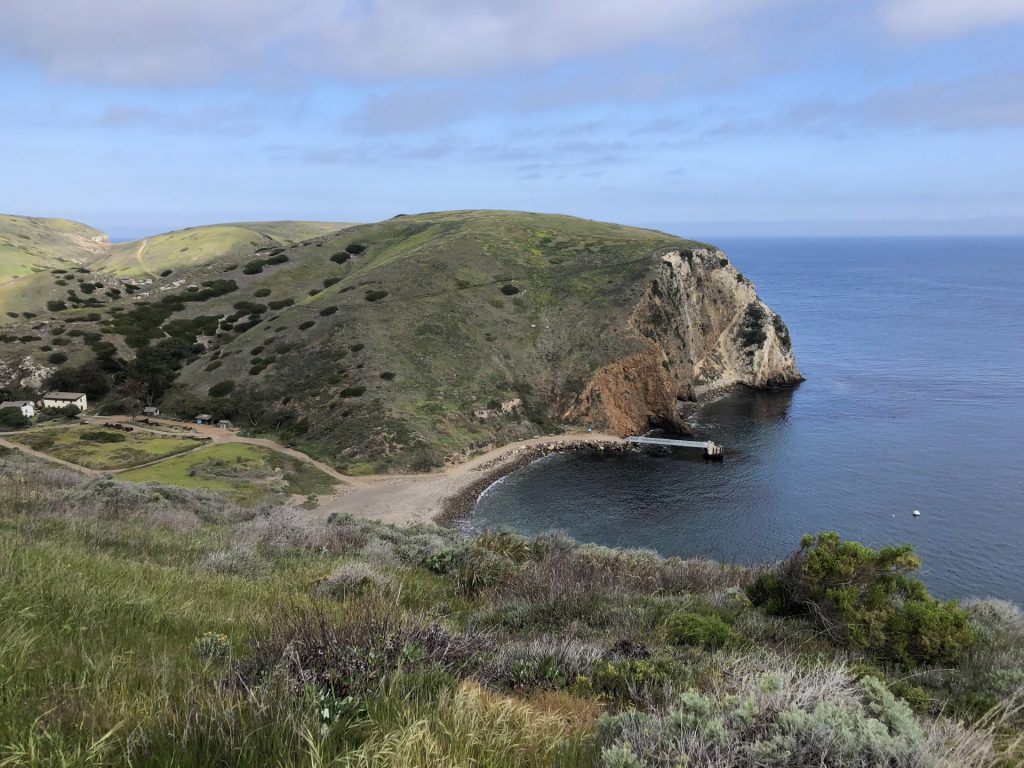 and as we got even higher, the views became pretty great. with rolling hills all around, and water on all sides just past them.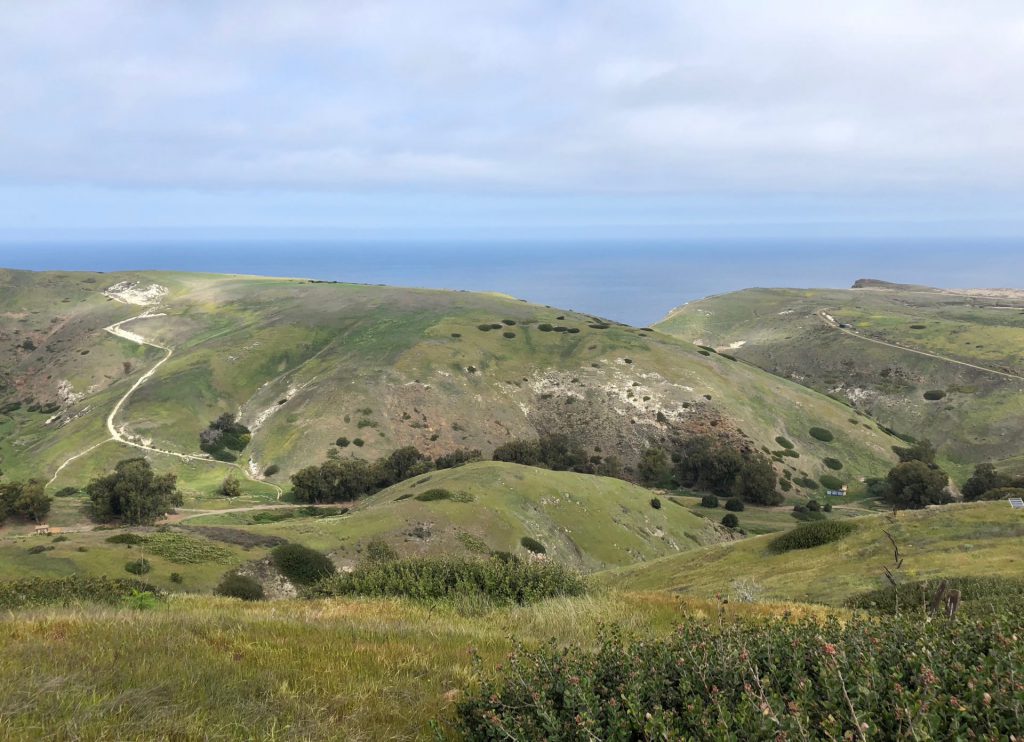 cute hiker. since we had to pack light, and were already bringing a ginormous pack with all of our stuff, i only had a tiny little day pack that i brought on the ferry for all of our hiking needs. so anna was gear free, which was probably best, considering the length of the hike.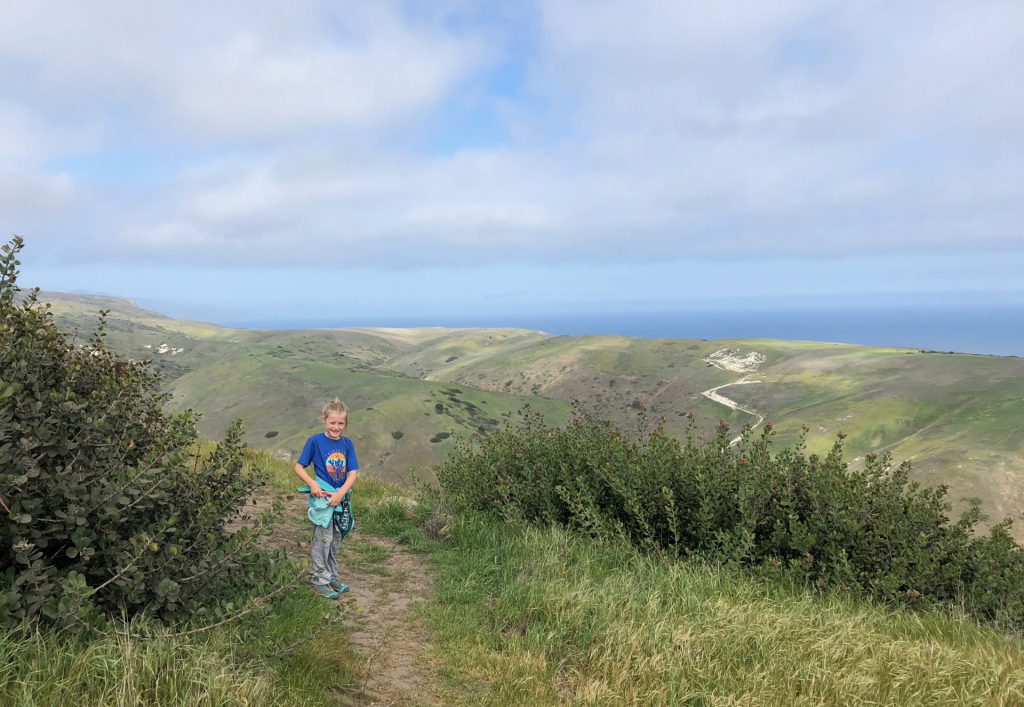 derek got her a compass for the trip, so we had a little crash course in direction finding.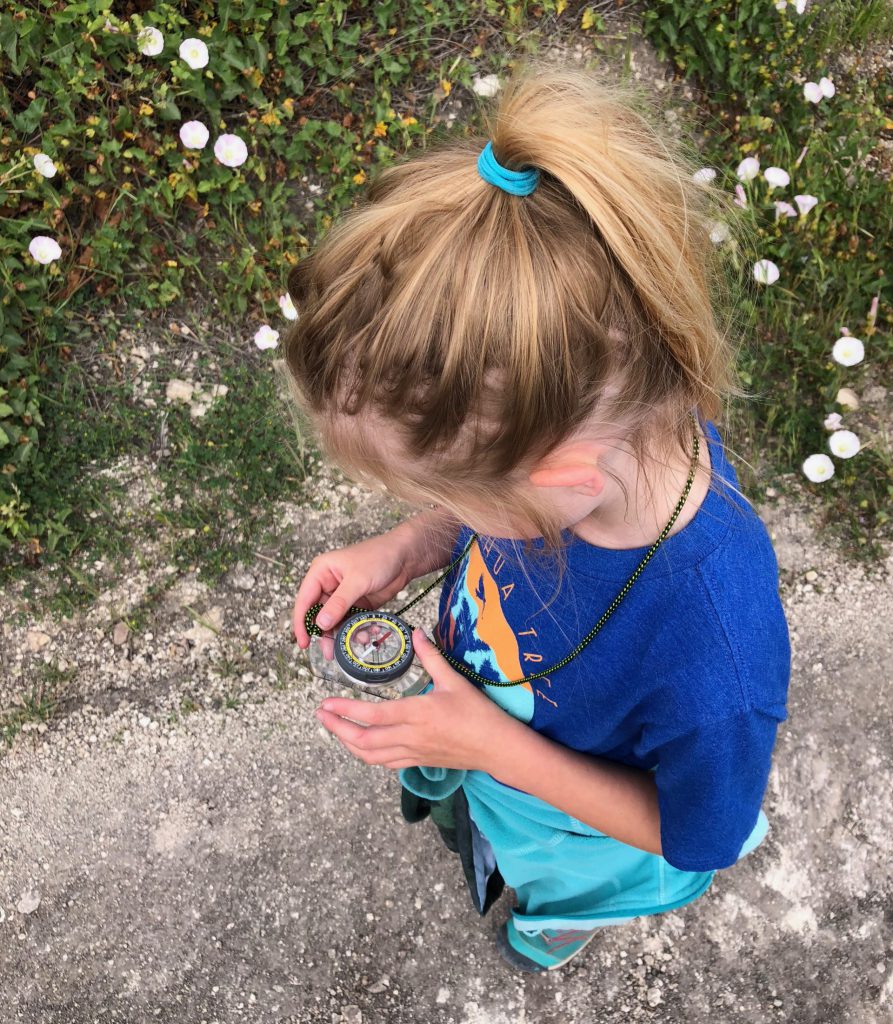 more views from the top of the island. mostly the same. but still awesome.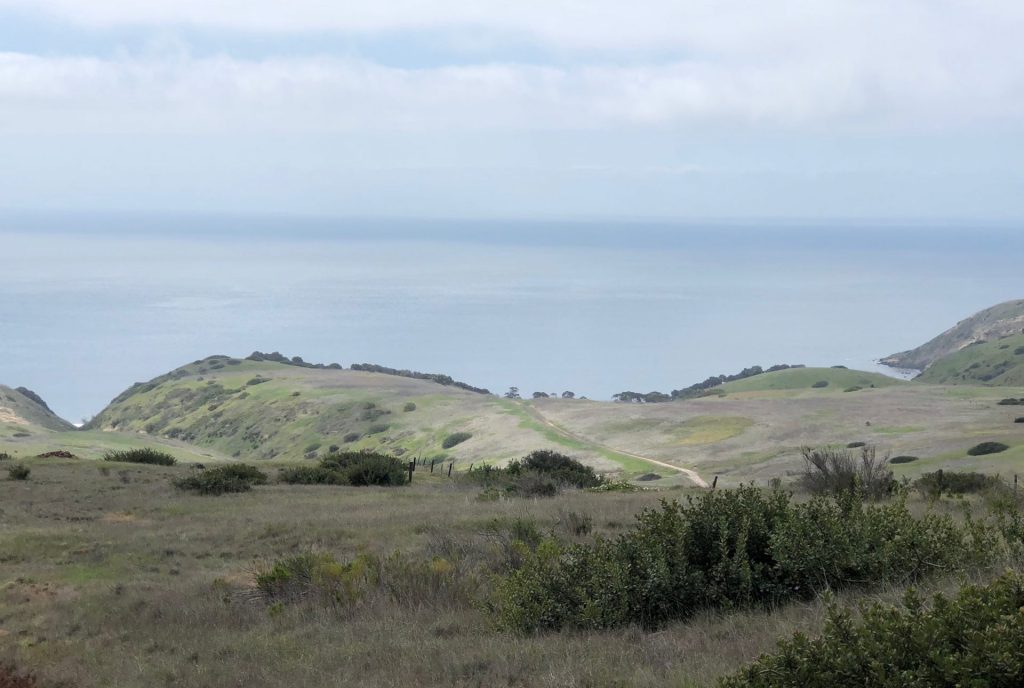 somehow we lost our map along the way, but we were pretty sure we knew the way (there's not that many trails), but we were still happy to reach the sign point to smuggler's cove to confirm our path.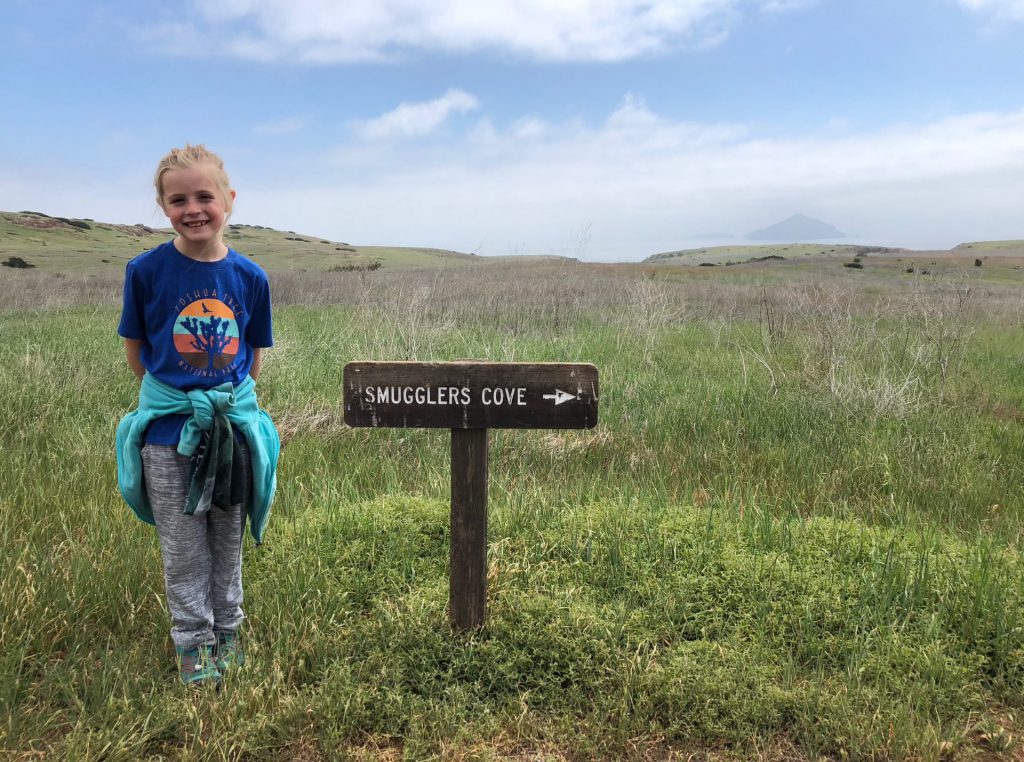 we actually met up with a fellow hiker and camper who we chatted a bit with along the way, which passed some of the time. he stopped to take some photos of a fox, and we marched on. we had a bit of excitement when we suddenly found ourselves surrounded by bees/wasps. we started to jog quickly through and i noticed there were little holes all in the ground all over the ground for about a 20 foot stretch of the trail. we made a mental note to avoid that part of the trail on the way back.
if we thought the hike up was steep, the hike back down into smuggler's cove was even steeper. and rocky. but, with it in our sights, we moved along quickly.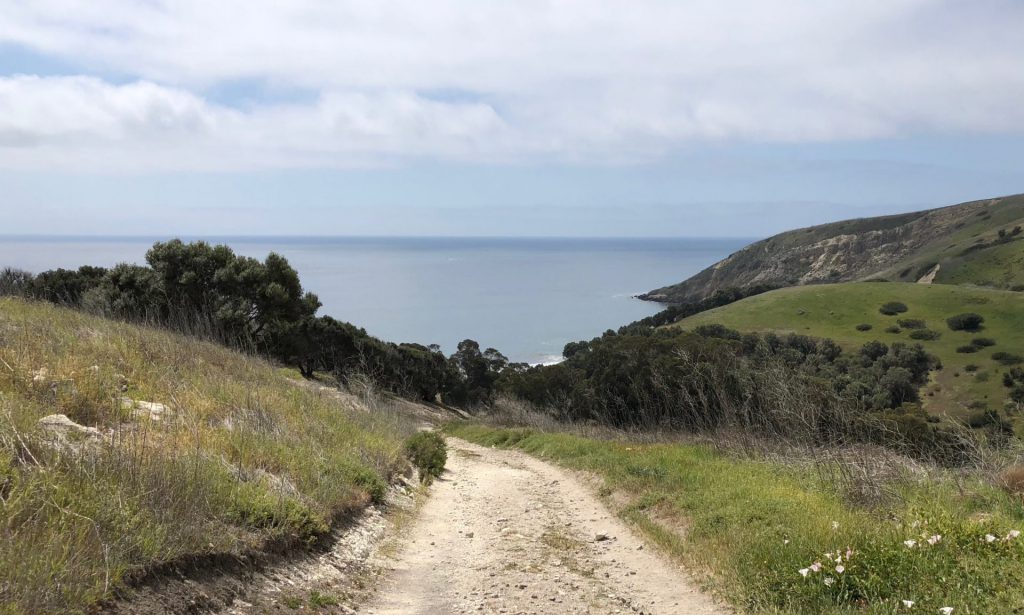 upon our arrival, we were very disappointed to see that it was high tide. the waves came up to the rocks, and were deep enough that there wasn't really a good way we could enjoy the sandy part of the beach. kind of a bummer.
the view to the left (east-ish). you can see anacapa island in the distance.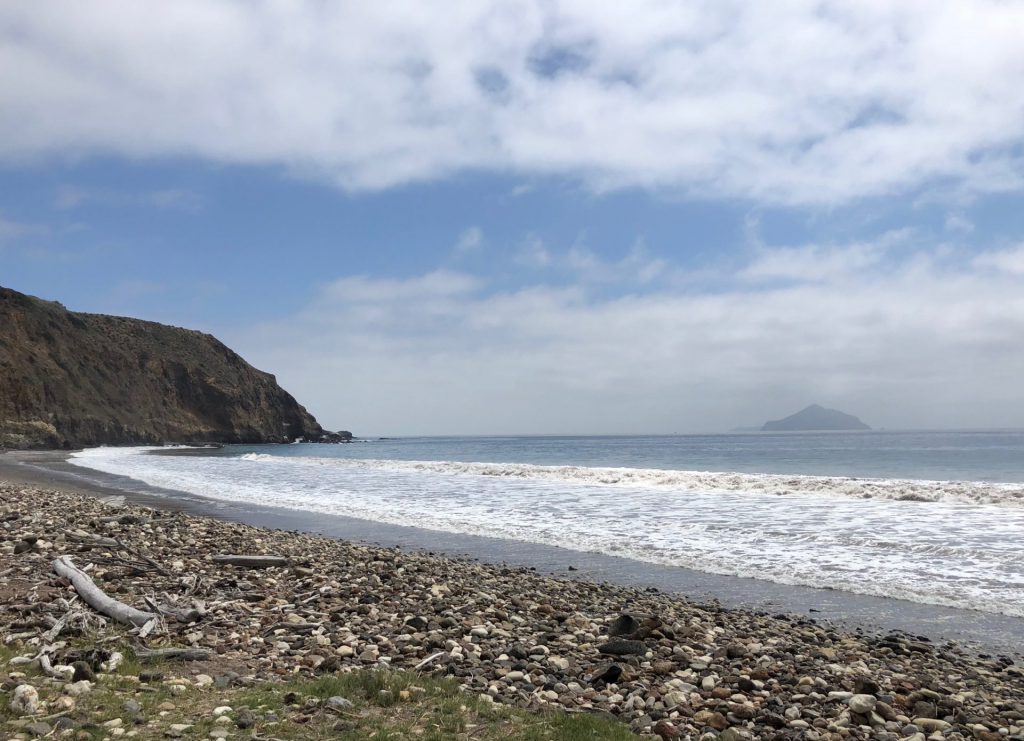 and to the right. (west-ish).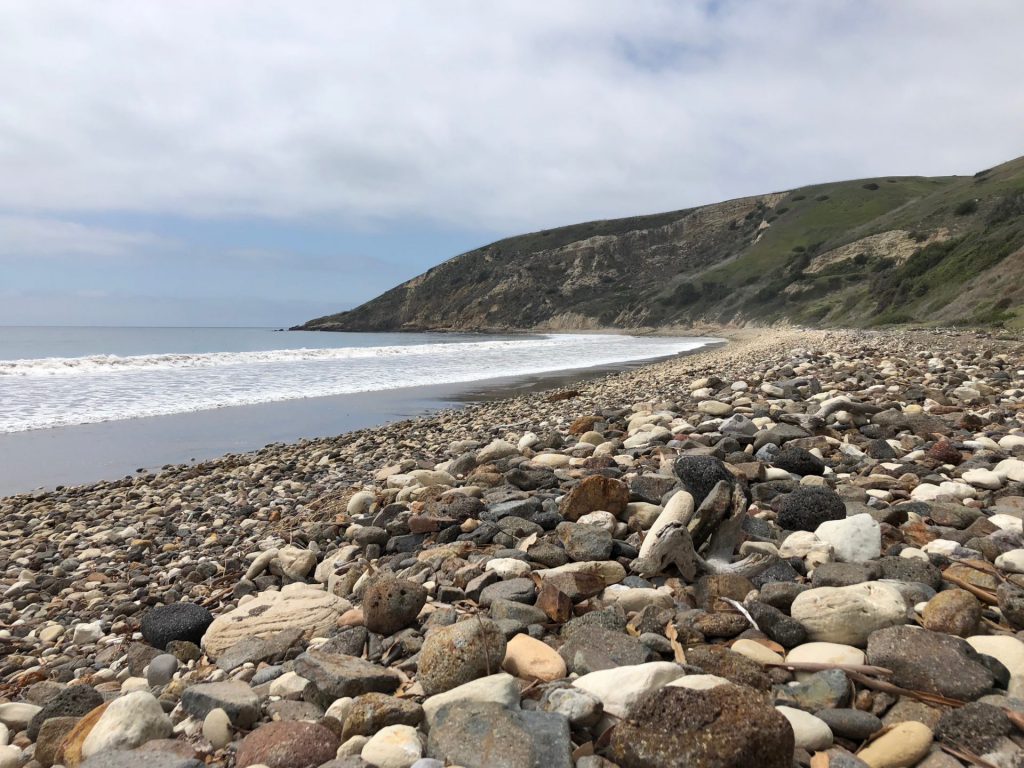 we sat at a picnic table and had some snacks, and used the lovely pit toilet, and wandered around a bit. anna found some giant balls of tar to poke. and some fun driftwood. i found a sign.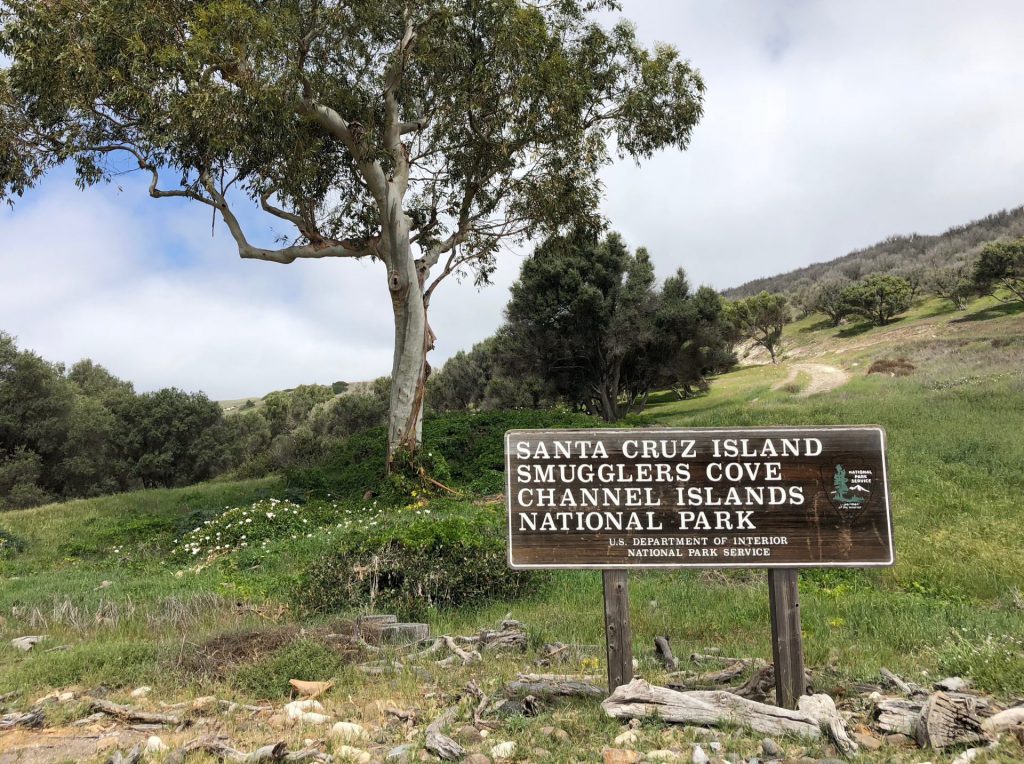 back on the trail. we successfully navigated around the bee/wasp infestation. and trudged our way up the steep path.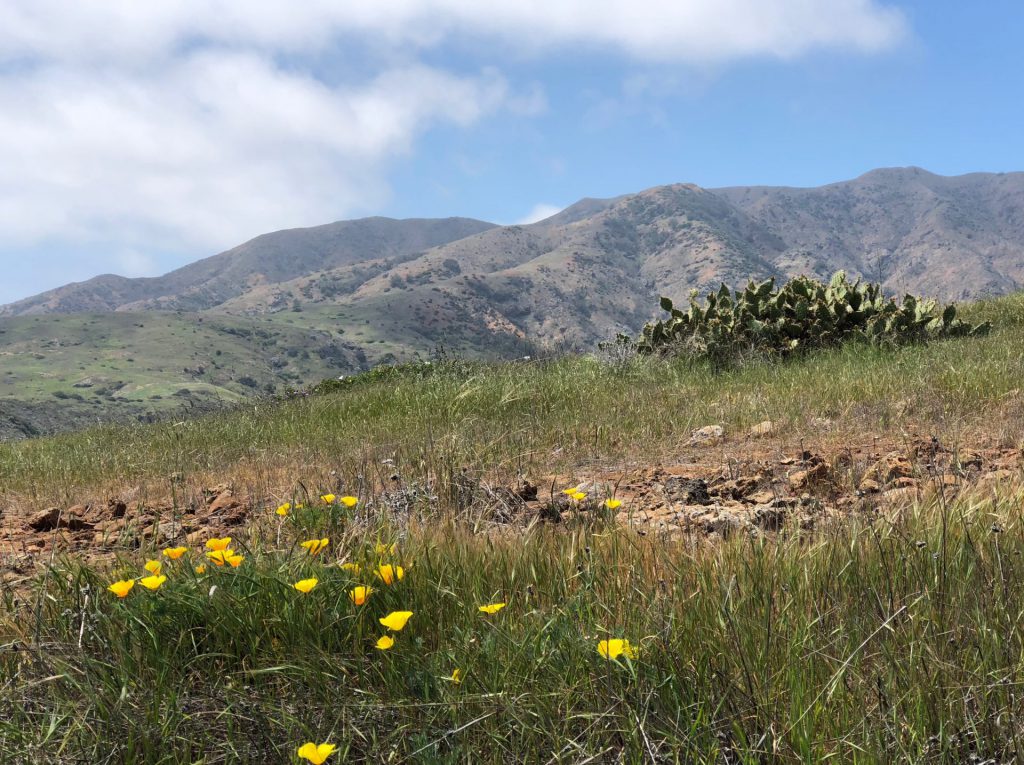 we took lots of picture breaks, which doubled nicely as rest breaks.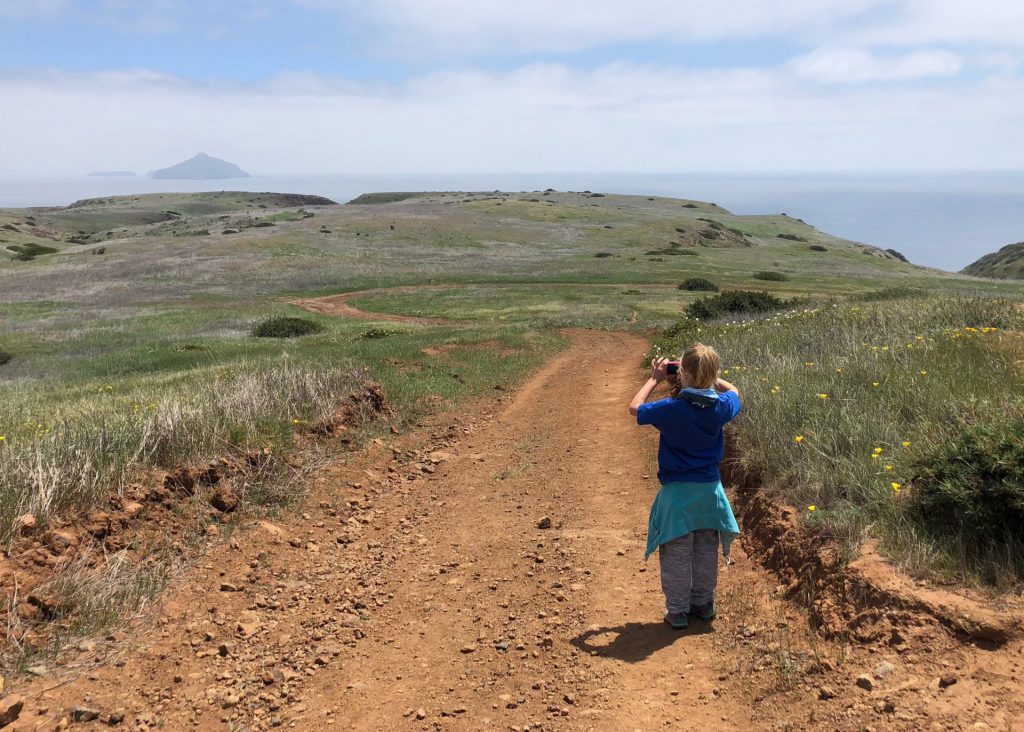 we decided to take a different path back, through scorpion canyon, that would bring us back into the other end of our campground. it also gave views of some old oil mining operations and other rusted out remnants of former occupants.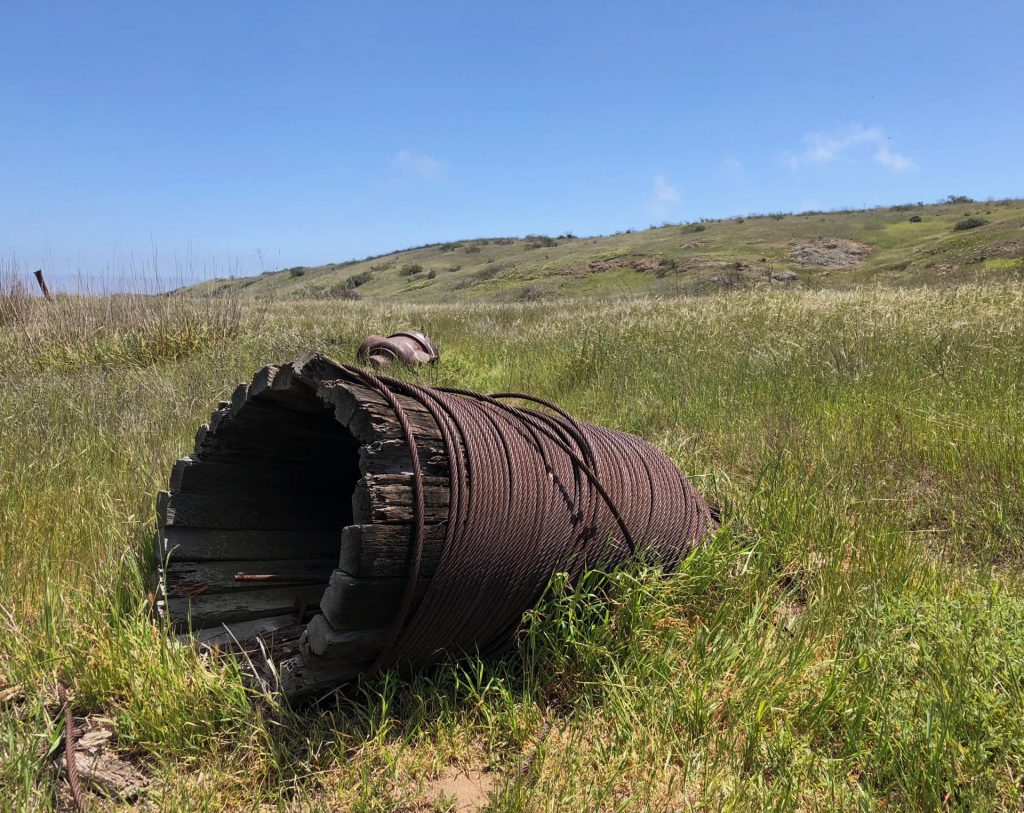 we were pretty tired at this point and anna was starting to grumble, so we opted not to get up close and personal with the old mine.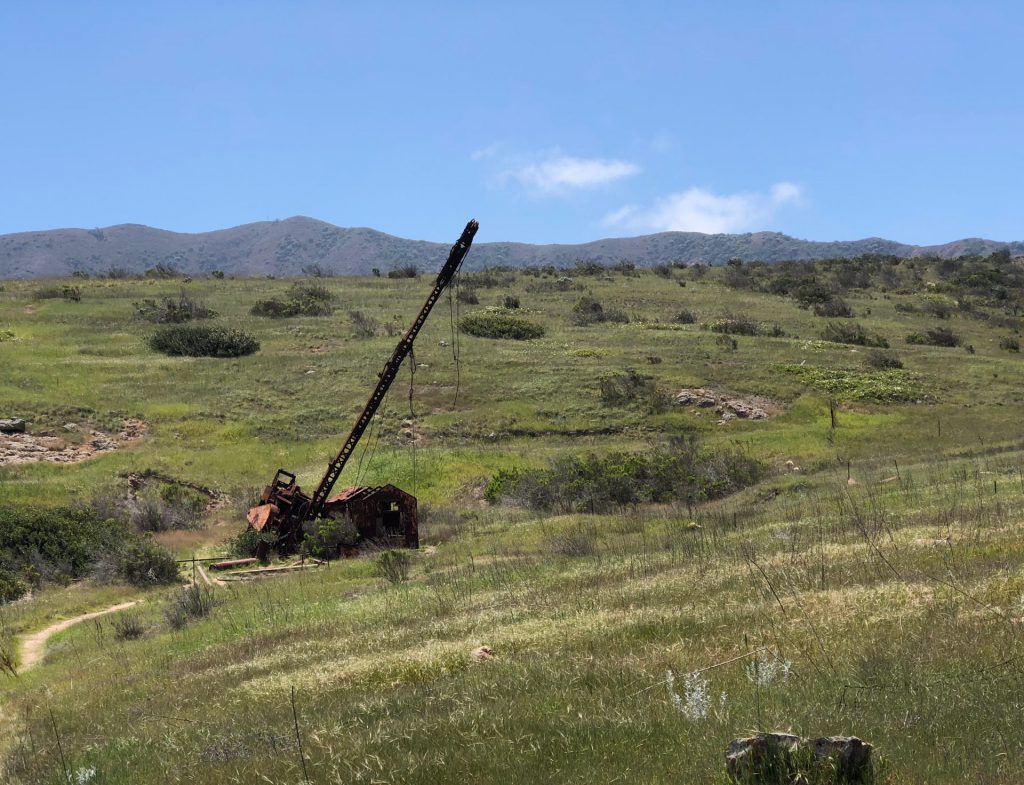 all along our hike, the trail was littered with these woolly worm caterpillars. and they were fast! faster than north carolina woolly worms anyways.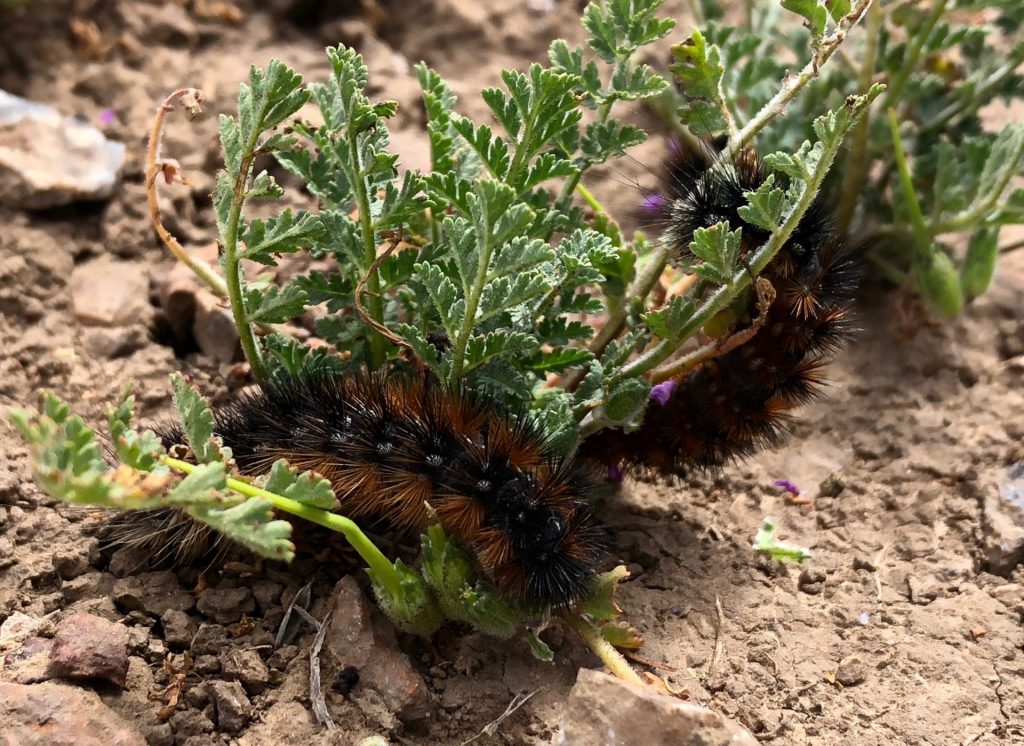 down into scorpion canyon. it was a very steep descent. on the map, hikers are warned about the steep, rocky climb, but it was just as treacherous going down. especially on tired legs and ankles prone to rolling. but, we survived.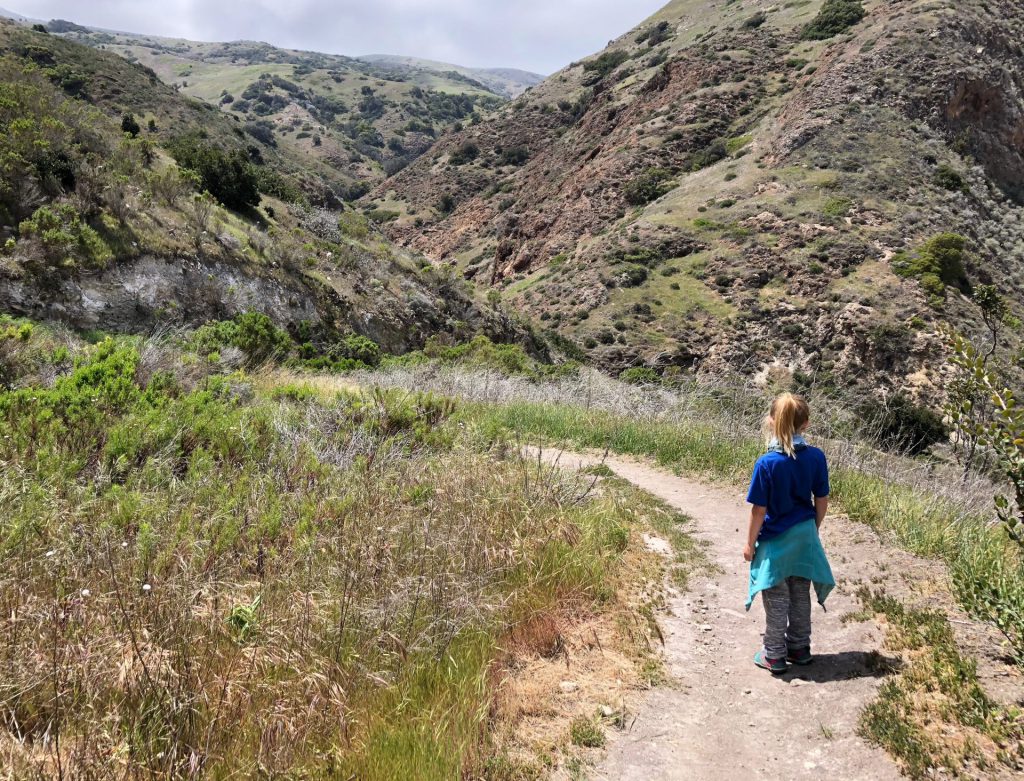 when we reached our campsite, we were starving. we decided to have an early dinner, testing out the freeze dried pad thai. we both loved it and i would actually like this if i got it from a restaurant.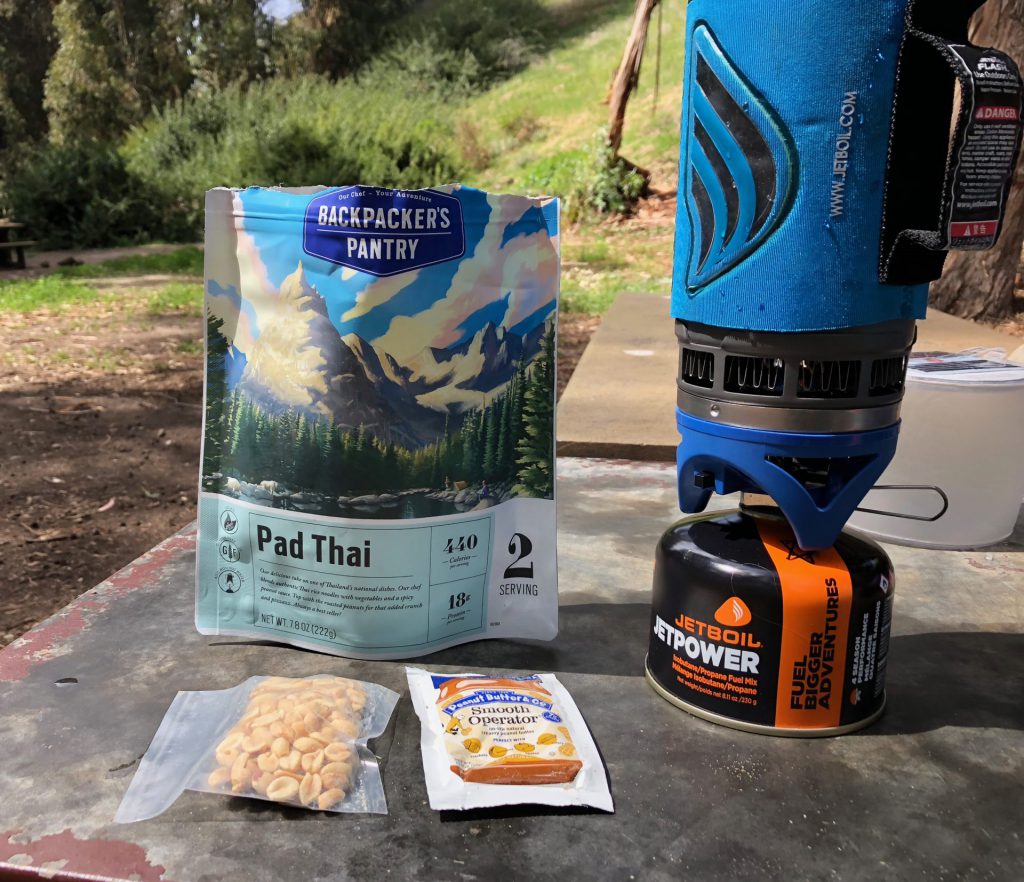 we weren't exactly sure what to do at this point. we were pretty worn out from the hike. i talked anna into walking over to the beach for a bit, so we could get cell service and check in with home and do some instagramming. she was a tough sell, but i let her text some folks and that changed her mind. we did a little exploring around the campsite, trying to find a scorpion that anna thought she saw the day before. and digging up leaves and brush, to find this random skull. not sure what it is, assuming a leftover from the ranching years, because the island fox is supposedly the largest animal on the island these days.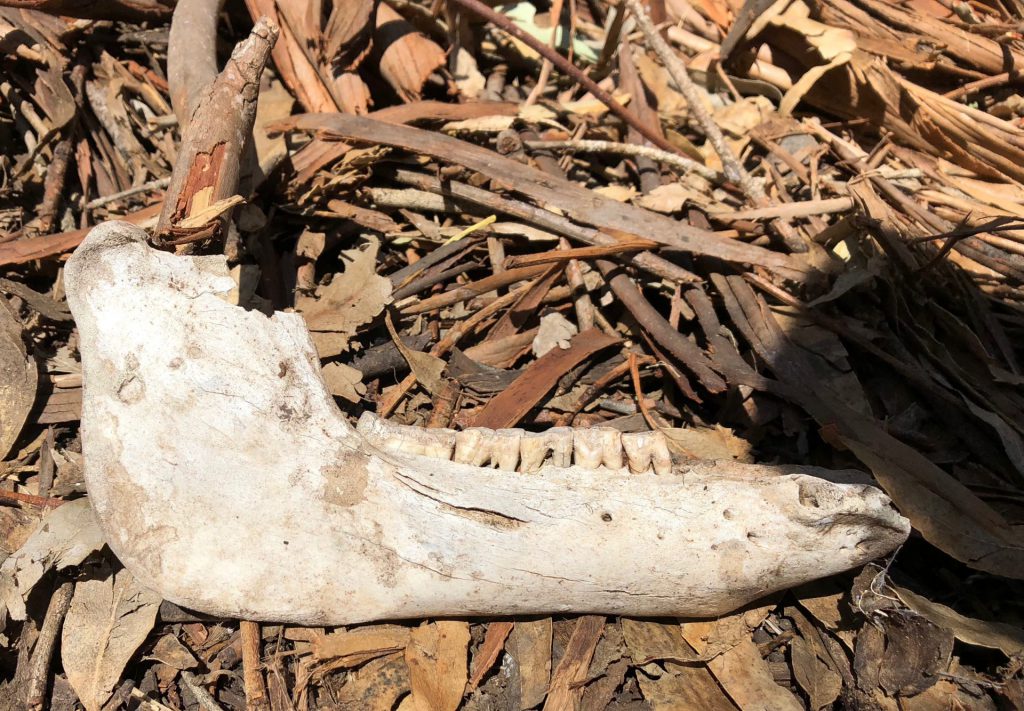 eventually, it was started getting a little chilly, so we just climbed into the tent and bundled up and read and relaxed and chatted.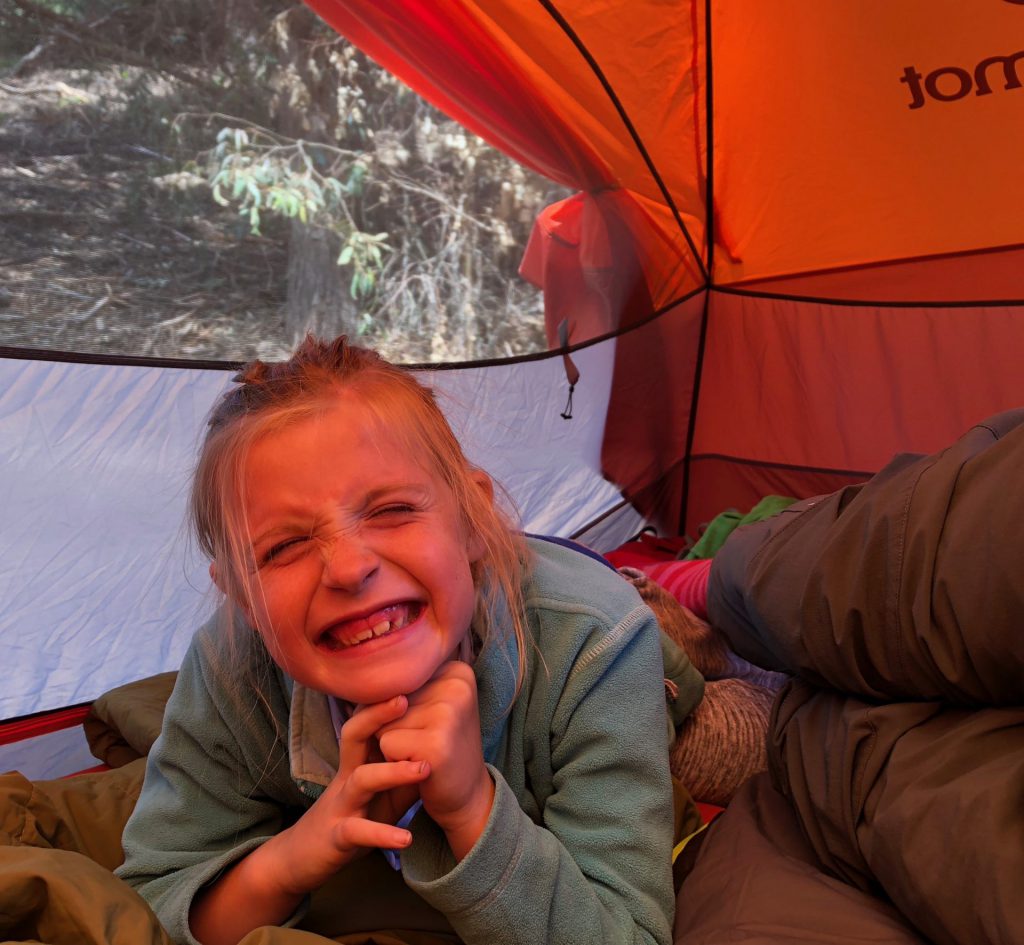 after the previous night's sleep and the long hike, we fell asleep pretty early. and had a great night of sleep actually. in the morning, i woke up long before anna, who snoozed away while i had my coffee and then packed up camp, as much as i could anyways.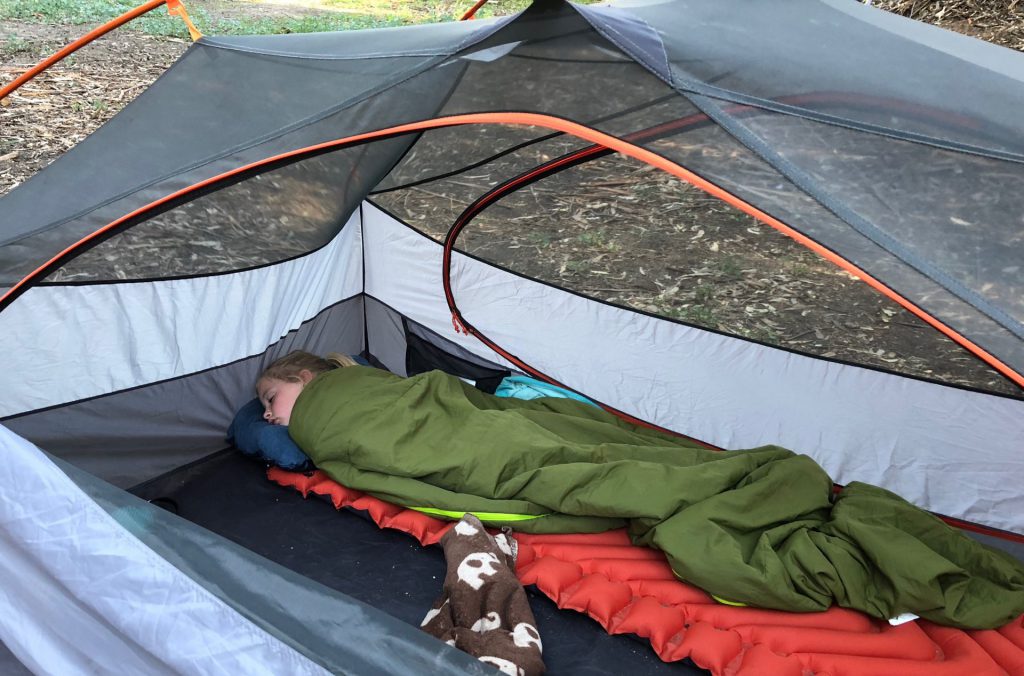 channel islands national park has a "pack it in pack it out" rule. everything you bring to the island, you bring back out. this gallon ziploc baggie was all we had in the way of trash, which definitely makes me stop and think about how much trash we make in our regular life. (and part of it was taken up by trash we found on the trail and carried back with us).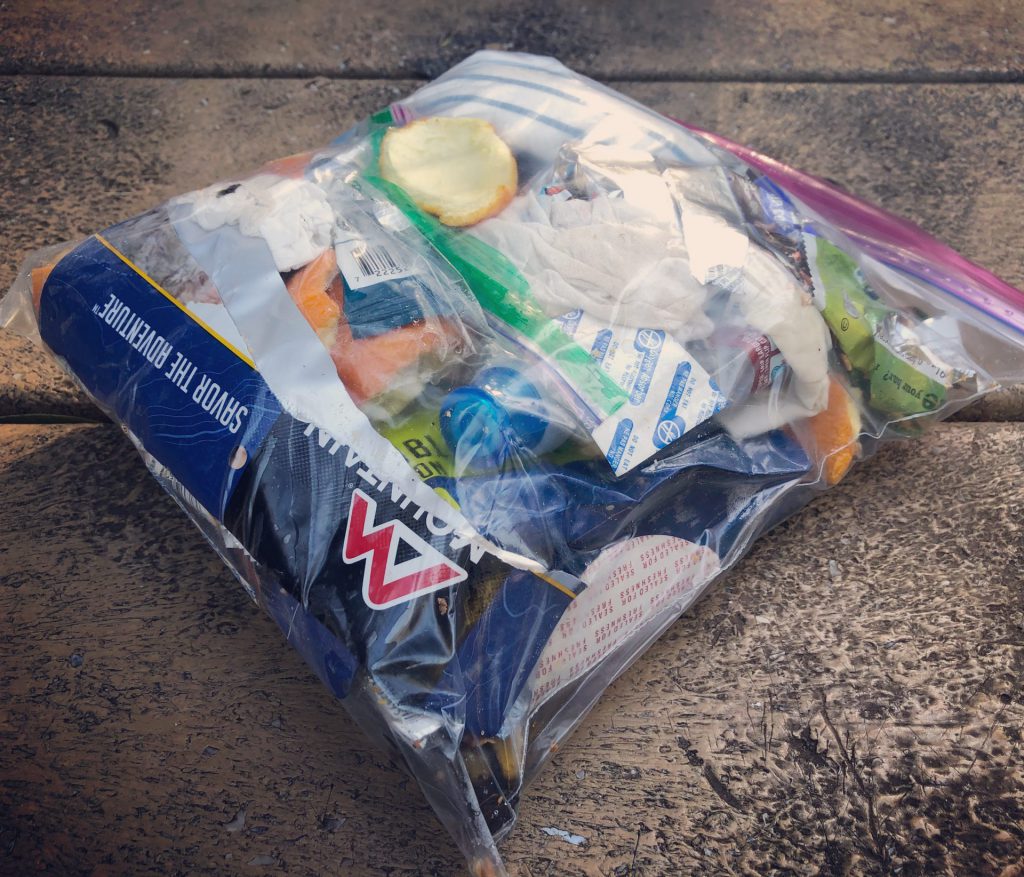 after we had our stuff crammed back into our packs, we took a parting shot. we will miss this place.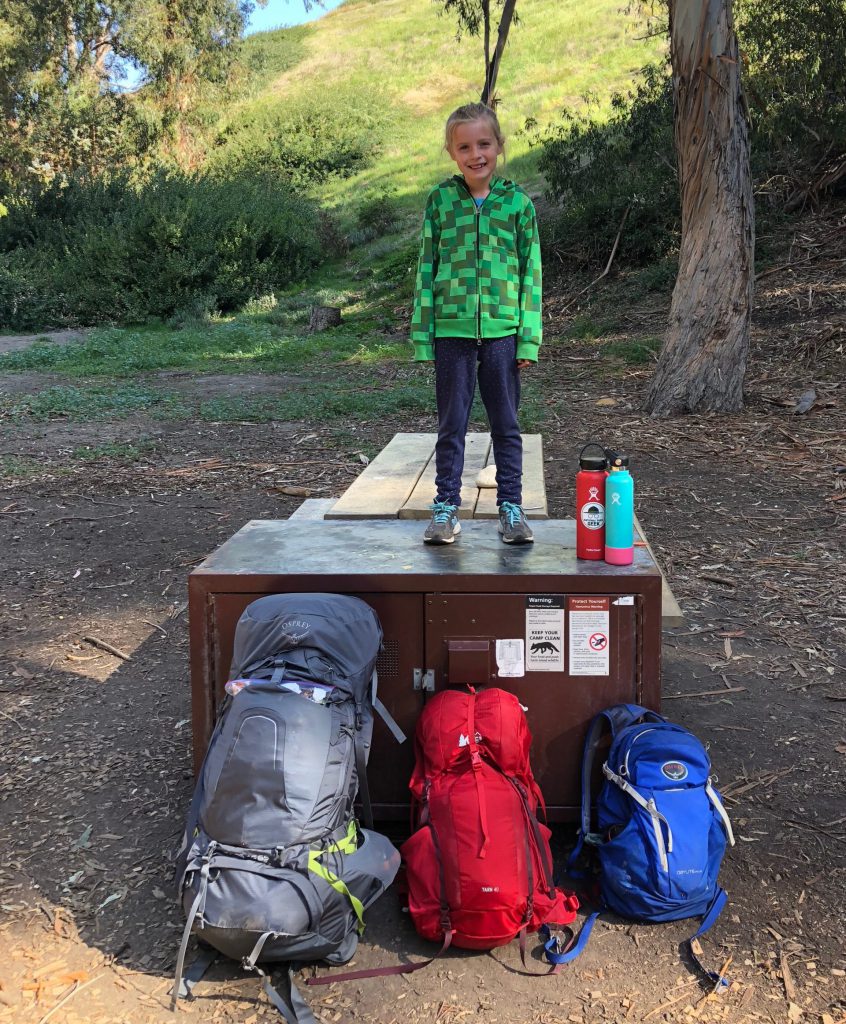 at this point, we were visited by a ranger, who told us that the ferry was coming early to get us. there were high winds in the late afternoon forecast and a small craft advisory meant that our ferry had to hurry up and get us and take us back before all of this went down. the plus side was, there would be no day trippers coming out, so we wouldn't have to worry about getting our stuff stashed in the lockers before they arrived. the downside was, there wasn't a lot of time to do much. i tried to convince anna to take a shortened hike, to take in some last minute views before we leave this place forever (for now). but, she burst into tears, so we decided to just roam around the visitor center and ranch and beach for the morning until our ride came.
off we went. with a lighter backpack, she seemed to move much more easily.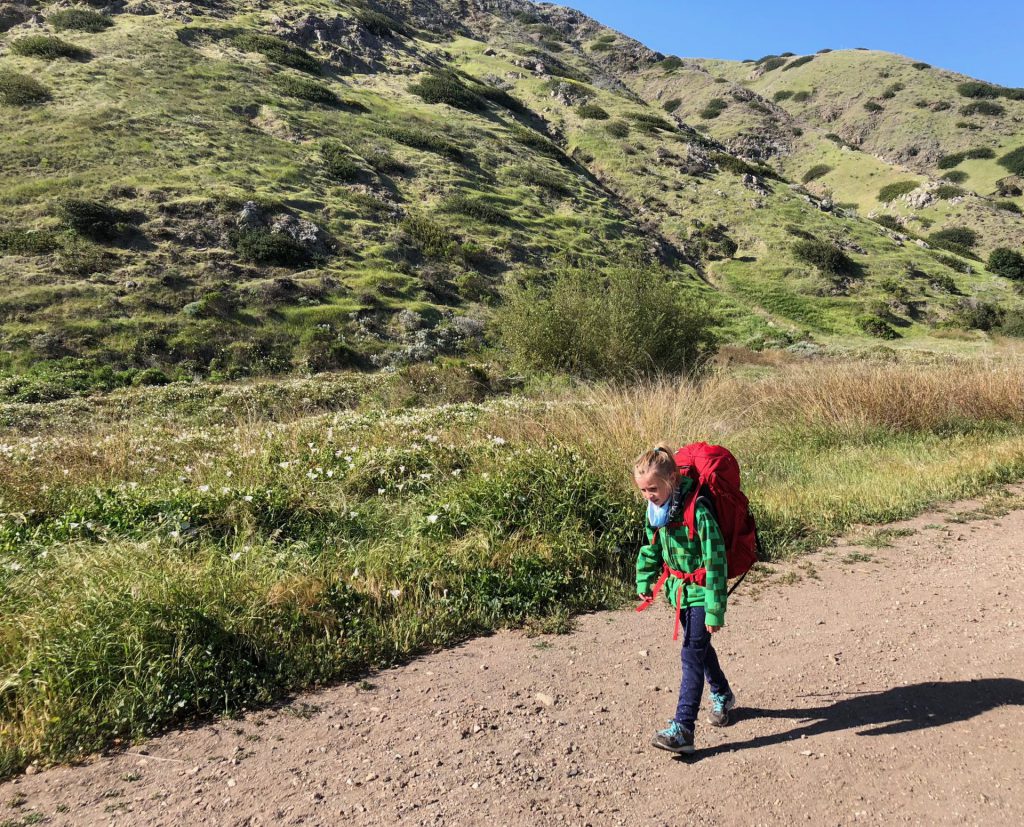 at the visitor center, i snapped this shot of relief map of the island. anna says it looks like a camel without legs. only the neck and head are part of the national park service. the rest is a nature conservancy(?). to get an idea of the size, our 8 mile hike took us from scorpion ranch to smugglers cove, from the legless camel's eyes, to his neck. 🙂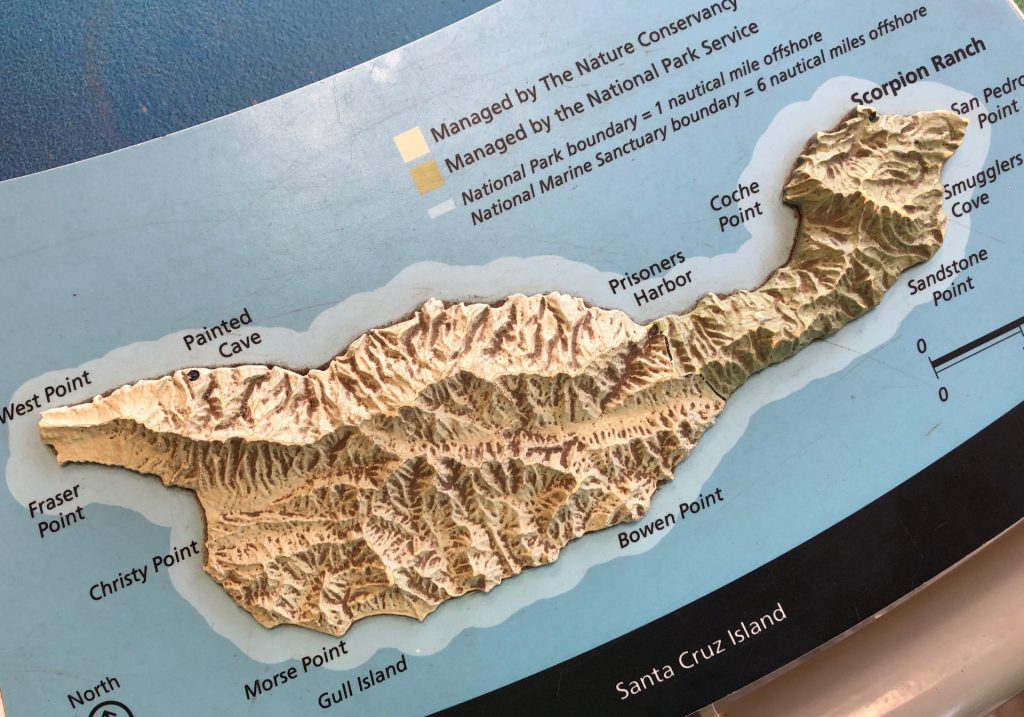 we also checked out the visitor center again, and ended up running into and chatting with some folks we met on the mainland getting onto the ferry and then again as we passed their campsite the previous afternoon on our hike. and explored some of the places we had skipped the other day, like the blacksmith shop.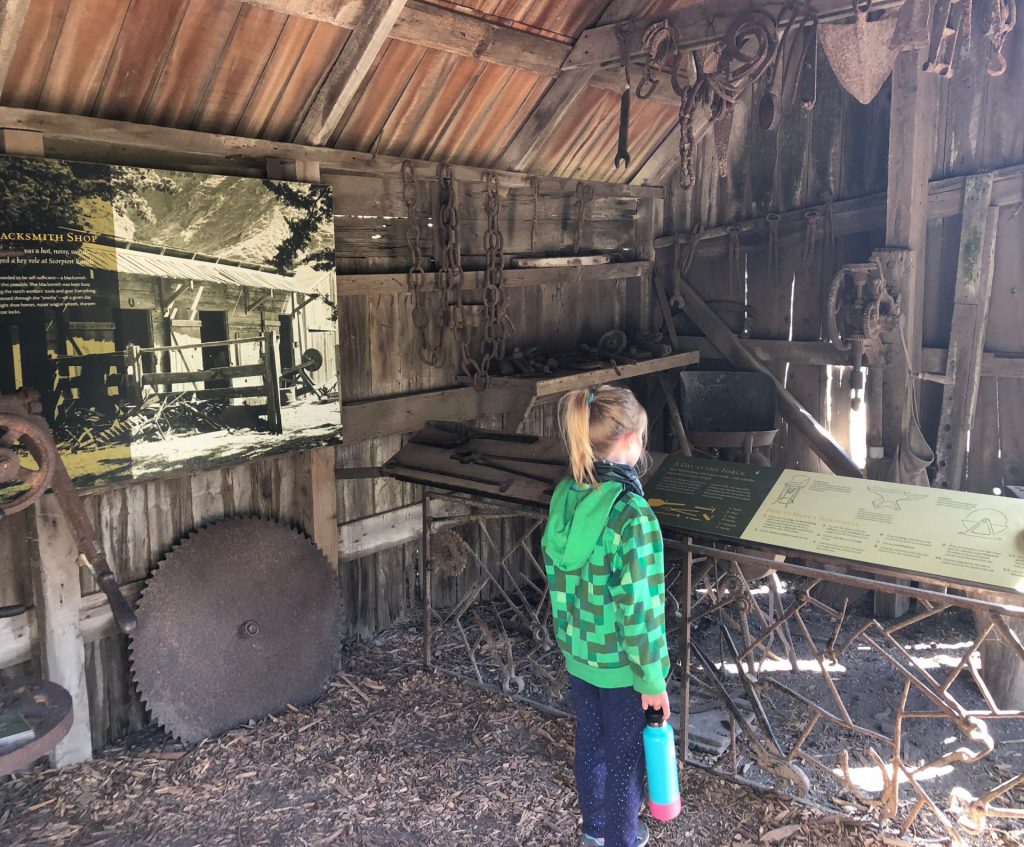 we eventually went over to the beach, where a ranger found us and let anna interview him for her junior ranger requirements.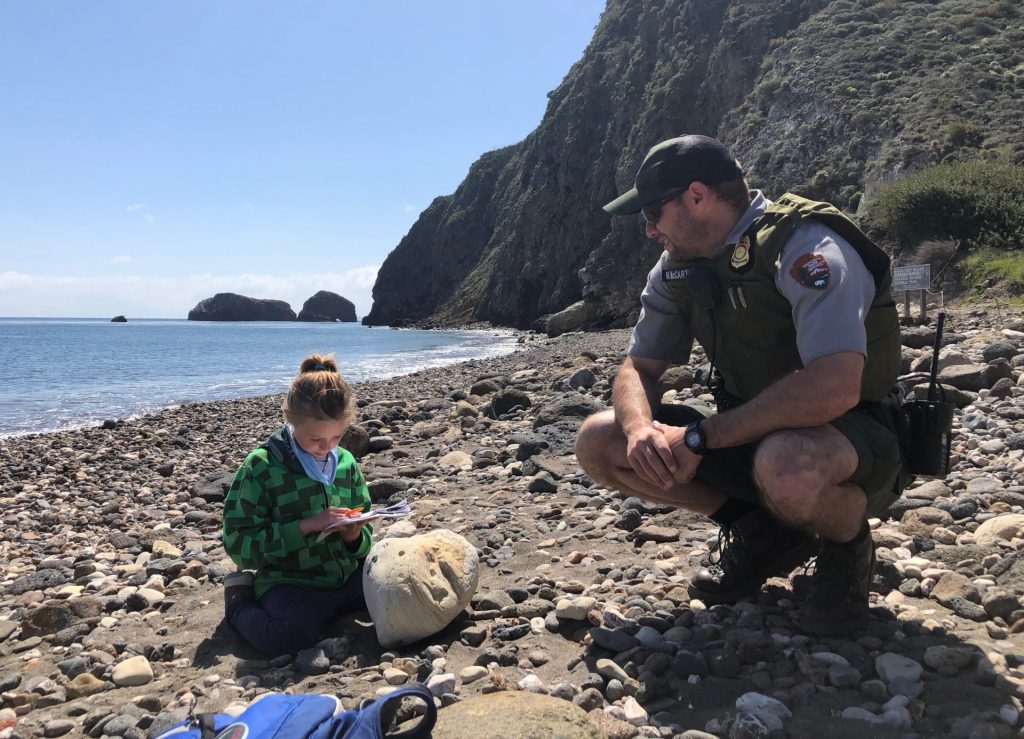 then, he even swore her in and gave her a badge. we decided this is one of the most epic location for being sworn in as a junior ranger to date.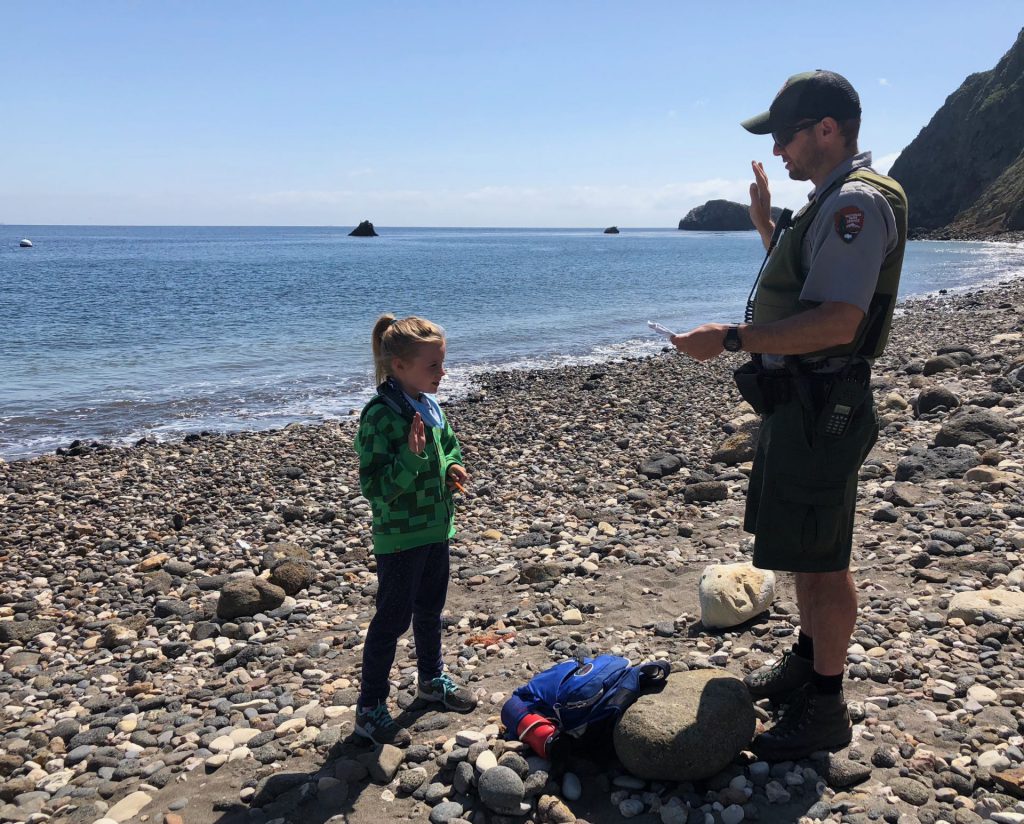 not too long after that (but long enough for anna to get soaking wet and her hands covered in tar), our boat arrived. the loading went really quickly, since we didn't have to check our gear into the cargo bay, as there were only like 12 passengers. and with little fanfare (they only do that for the day trip folk, i guess), we we off and on our way, with santa cruz island in our wake. literally. 🙂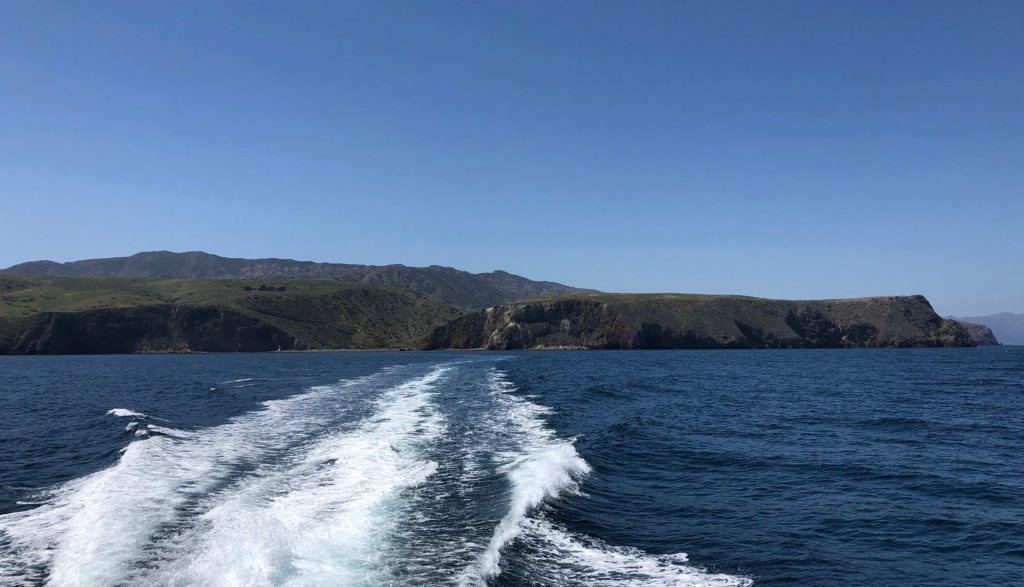 this trip couldn't have been any more awesome than it was. anna had so much fun and rocked the extra long hike. we loved the little foxes, when they weren't trying to steal our stuff. and we met a lot of friendly fellow campers. we definitely want to go back either to santa cruz or another channel island. but, for now, we will just be mainlanders.