after an excellent-ish night's rest in our hotel beds (girls in one bed, boys in the other), derek and isaac went to partake in the complimentary breakfast buffet for two, while anna and hazel and i had oatmeal and yogurt and boiled eggs, respectively, to fuel up for our day of adventure. then, before anything was even open, we started to make our way to pier 39, to catch a quick glimpse of the sea lions who have taken up residence on the floating docks there.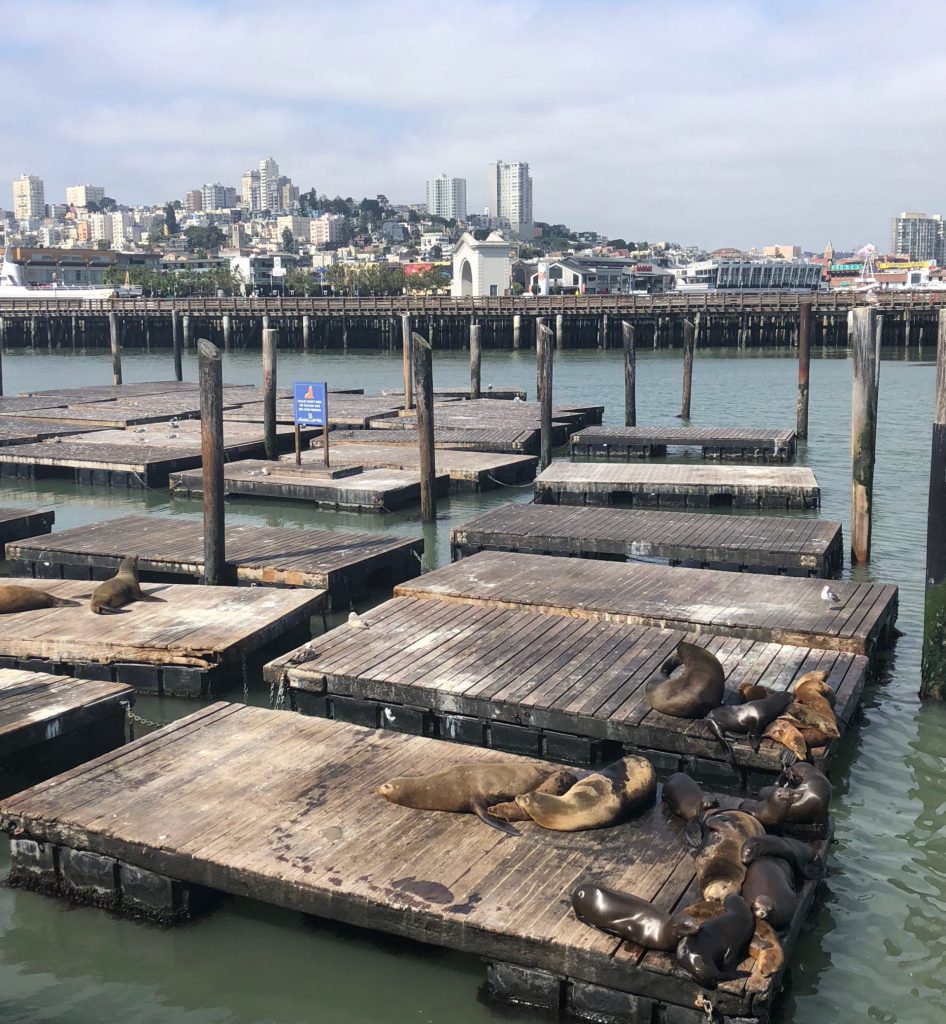 there were way fewer than we remembered (and verified later when looking at pics) from 2005. but they were hilarious and entertaining, nonetheless.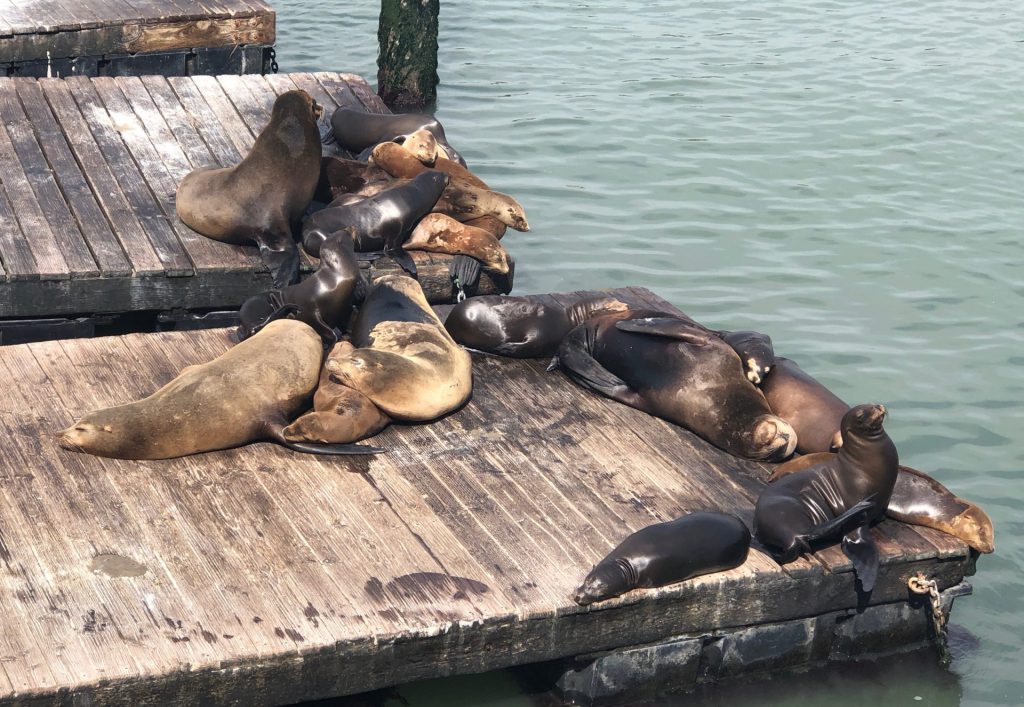 the kids were giggling and cracking up at their antics. they especially enjoyed the occasional conflict resolution.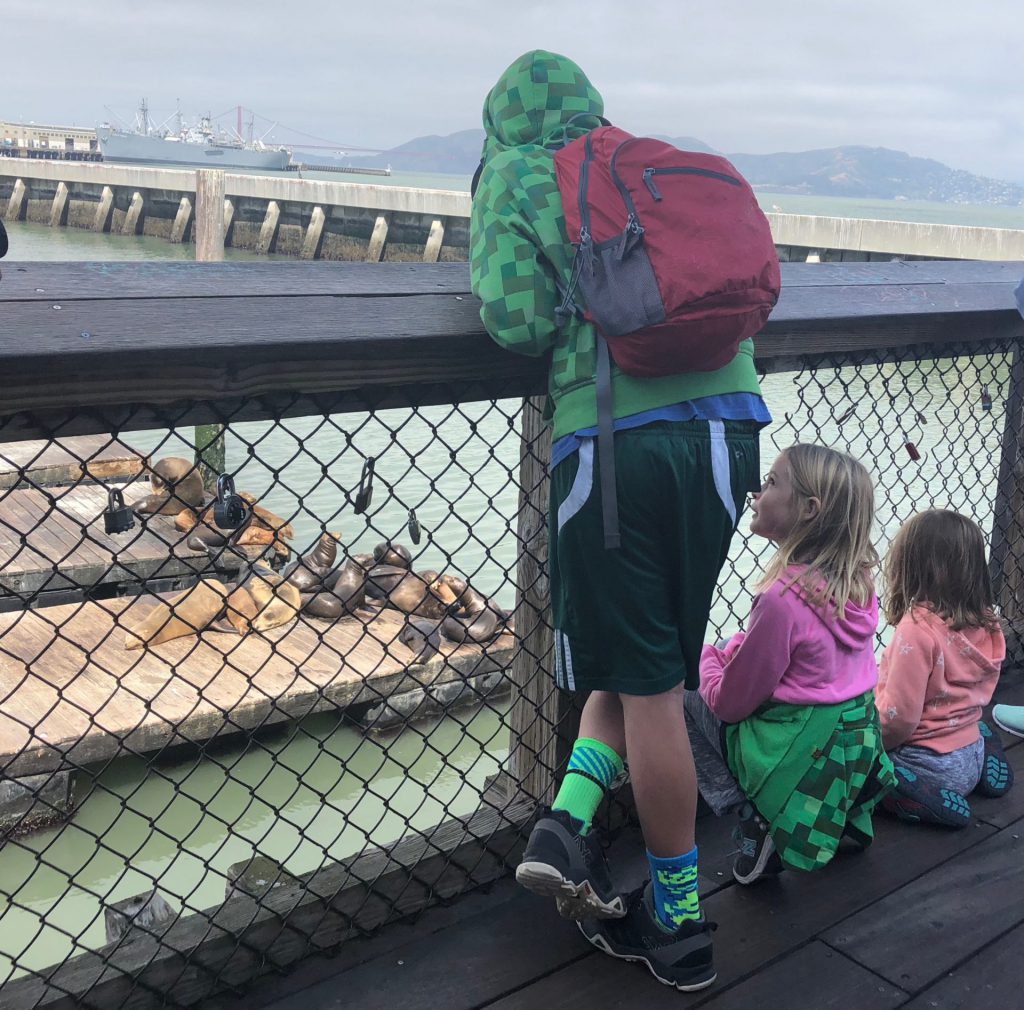 when we had our fill of sea lion shenanigans, we walked through the tourist trap of pier 39, where we let the kids talk us into a round of chocolate and sprinkle coated marshmallows on a stick. to the tune of $28!! (they were actually pretty substantial and ended up lasting for the entire day, so it's not so bad. but still. $28.)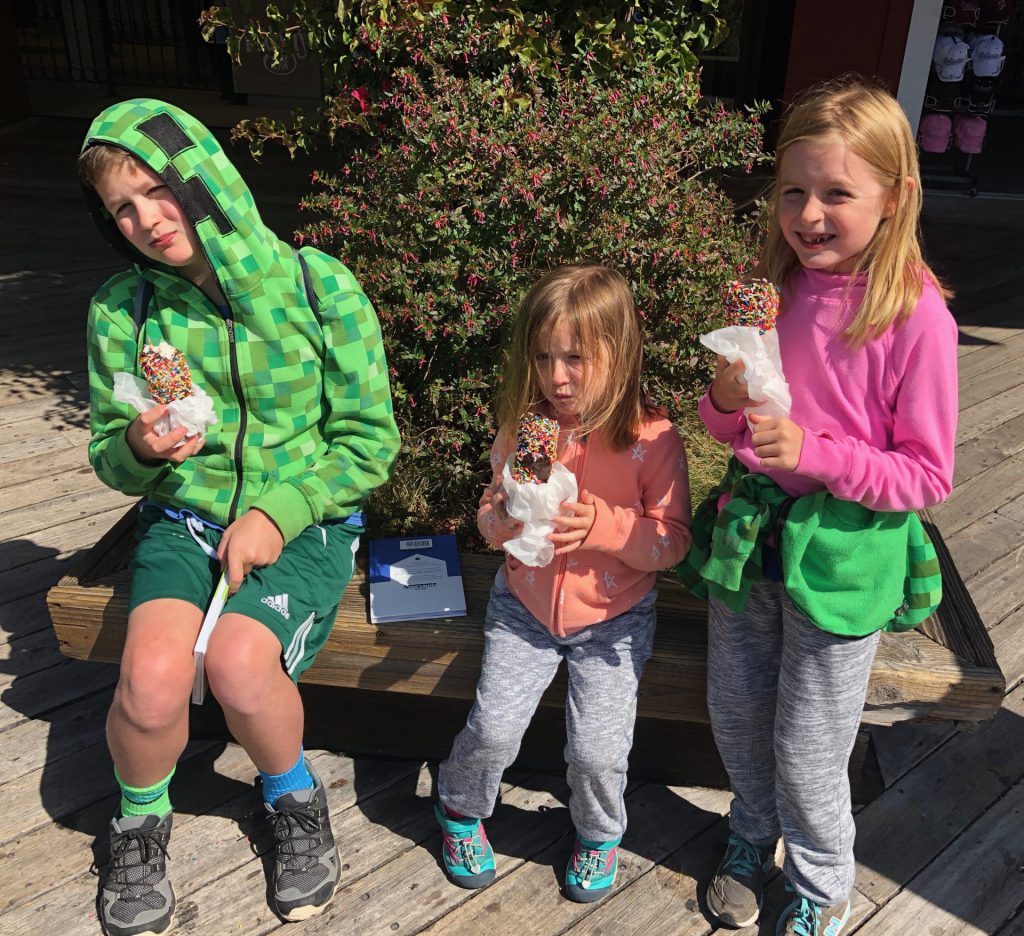 since we had a free admission to the aquarium of the bay at pier 39, we decided to check it out. unfortunately, since we didn't need a citypass for hazel because she's under 5, we would have to pay for her ticket, which was $17. she didn't particularly want to go, and we had just been to an aquarium the day before, so i sent derek in with anna, and at the last minute isaac decided to hang with me. anna loved it.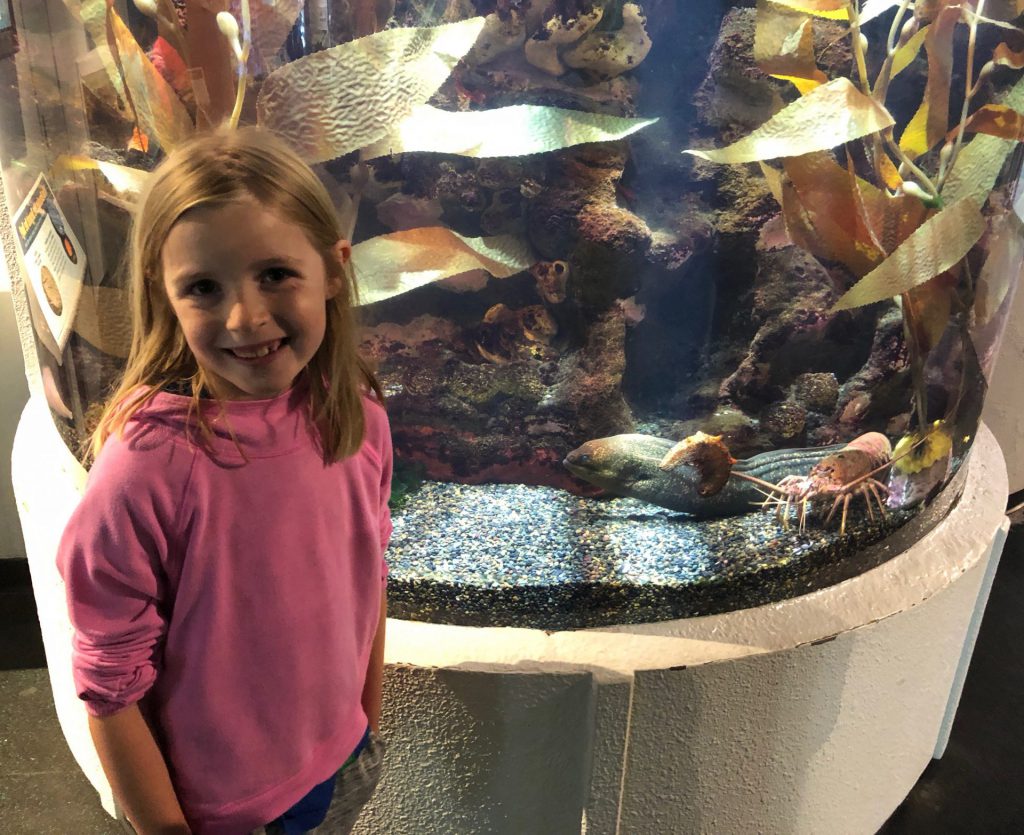 derek sent me some of the pics, making me wish i had dragged us all in, especially when i realized i could get a 50% discount using our zoo membership.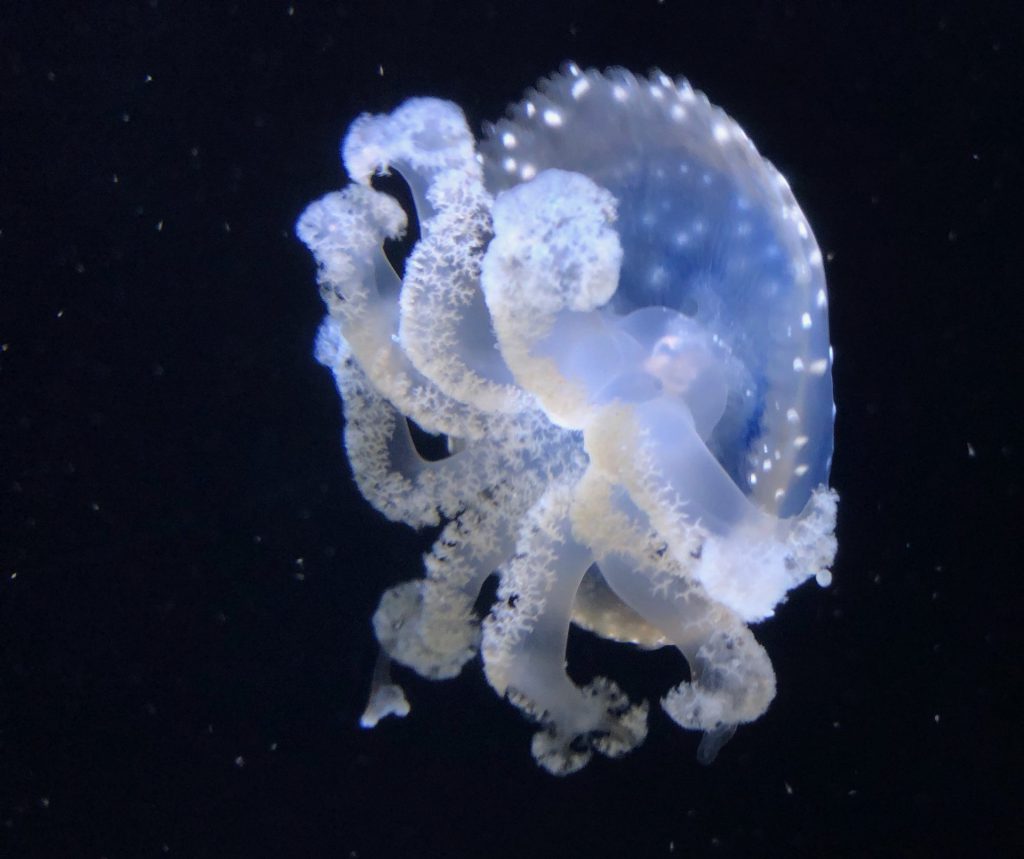 anna. and what we think is a black sea bass. handsome fella.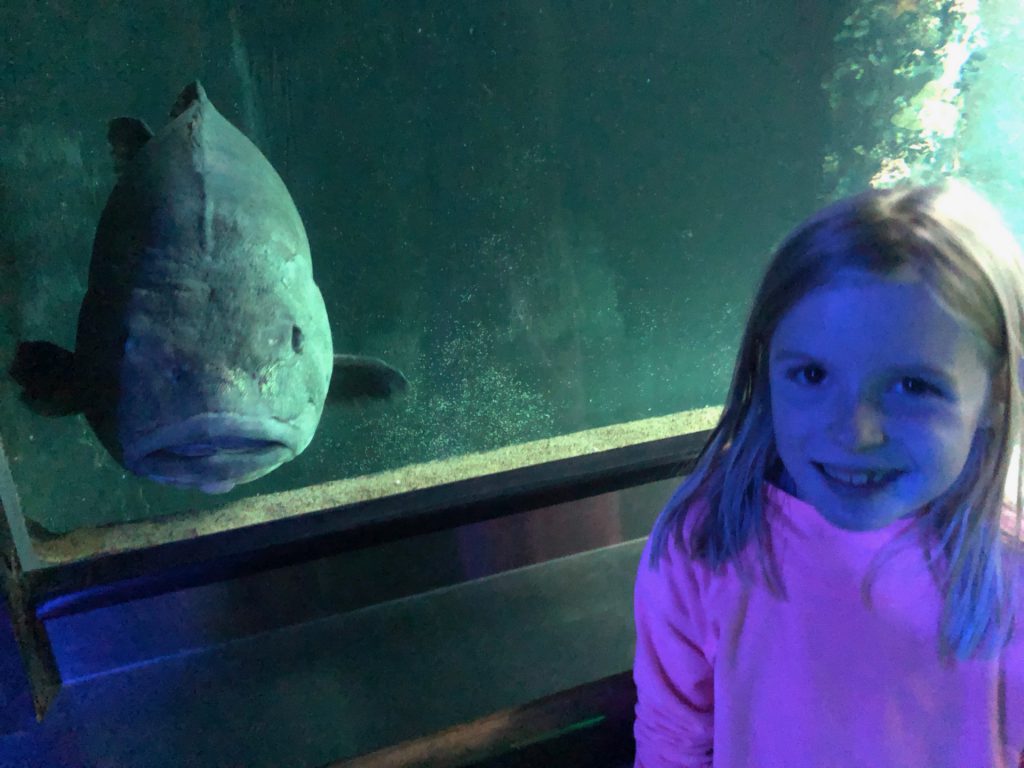 the tunnel under the sea.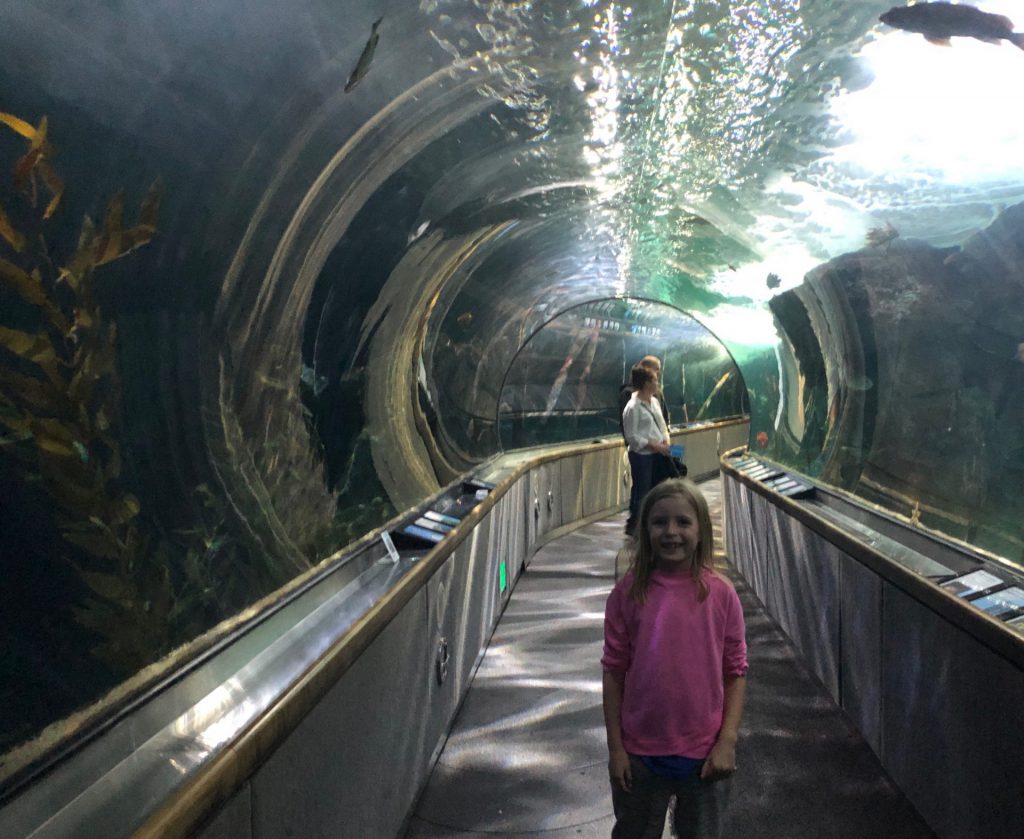 and anna's favorite. the touch pool. she couldn't stop talking about getting to touch a ray.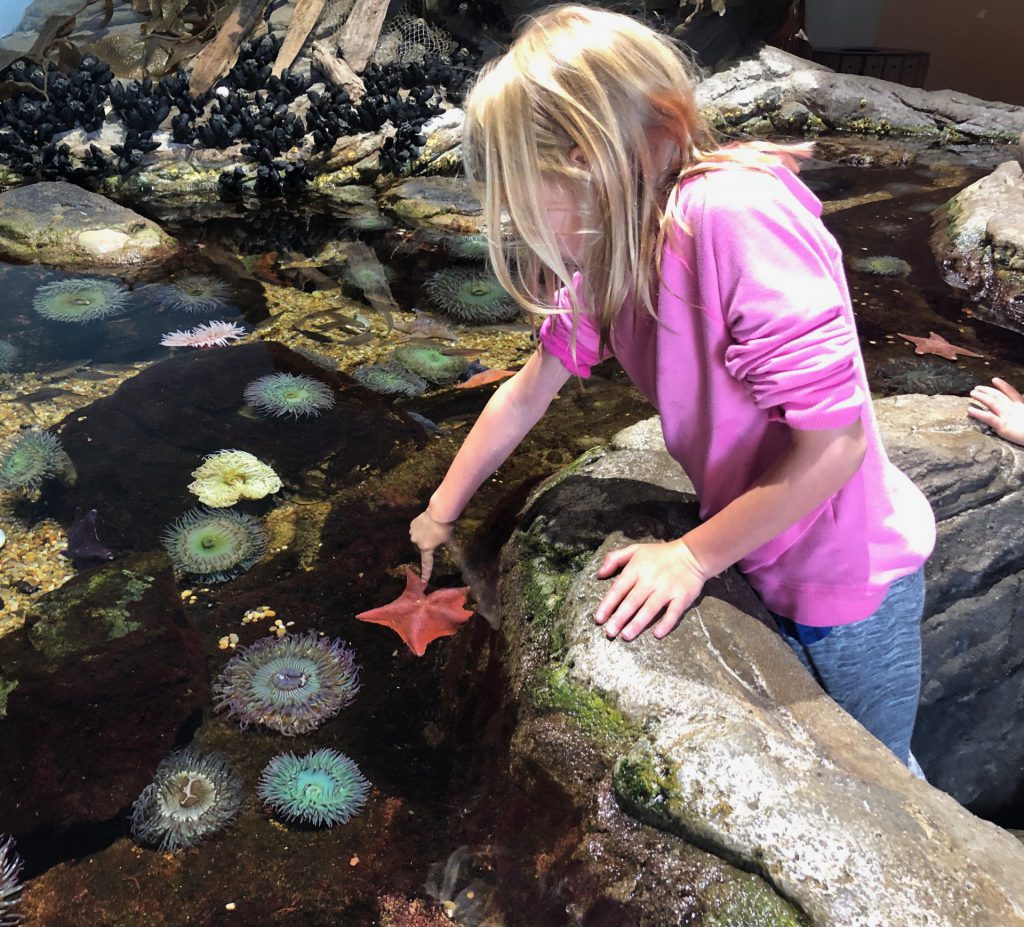 then. the lunch dilemma. we had originally thought that we would get back to the hotel before we had to be at pier 33 for our big alcatraz adventure. but, we ran out of time. and we were surrounded by super expensive tourist trap food options. johnny rockets. hard rock. plus seafood places. you know the deal. instead, we opted for the most terrible place of them all. mcdonalds. ugh. but the kids were happy. and derek and i were able to stay keto. and the cost was probably 1/3 of what we would spend in a sit down restaurant. plus, we had lovely outdoor seating, on the sidewalk in front of mcdonalds, since the all of the booth inside were occupied by folks having a post-meal chat or homeless people.
then, we got to have our first ride on the historic street cars, as we made our way to the alcatraz ferry…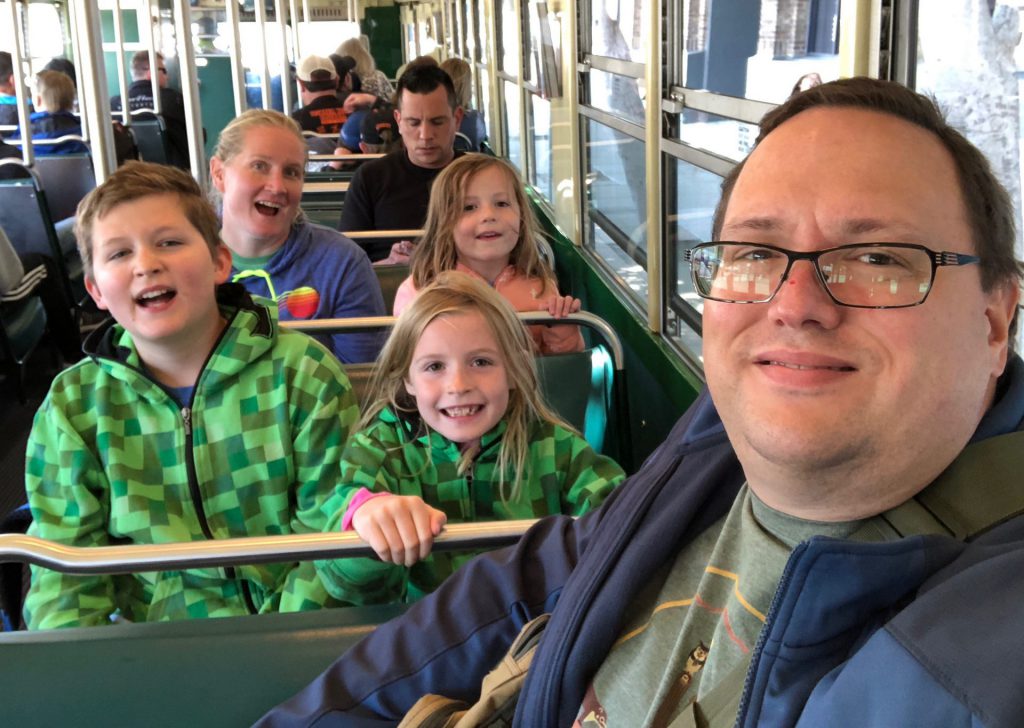 ferry riders.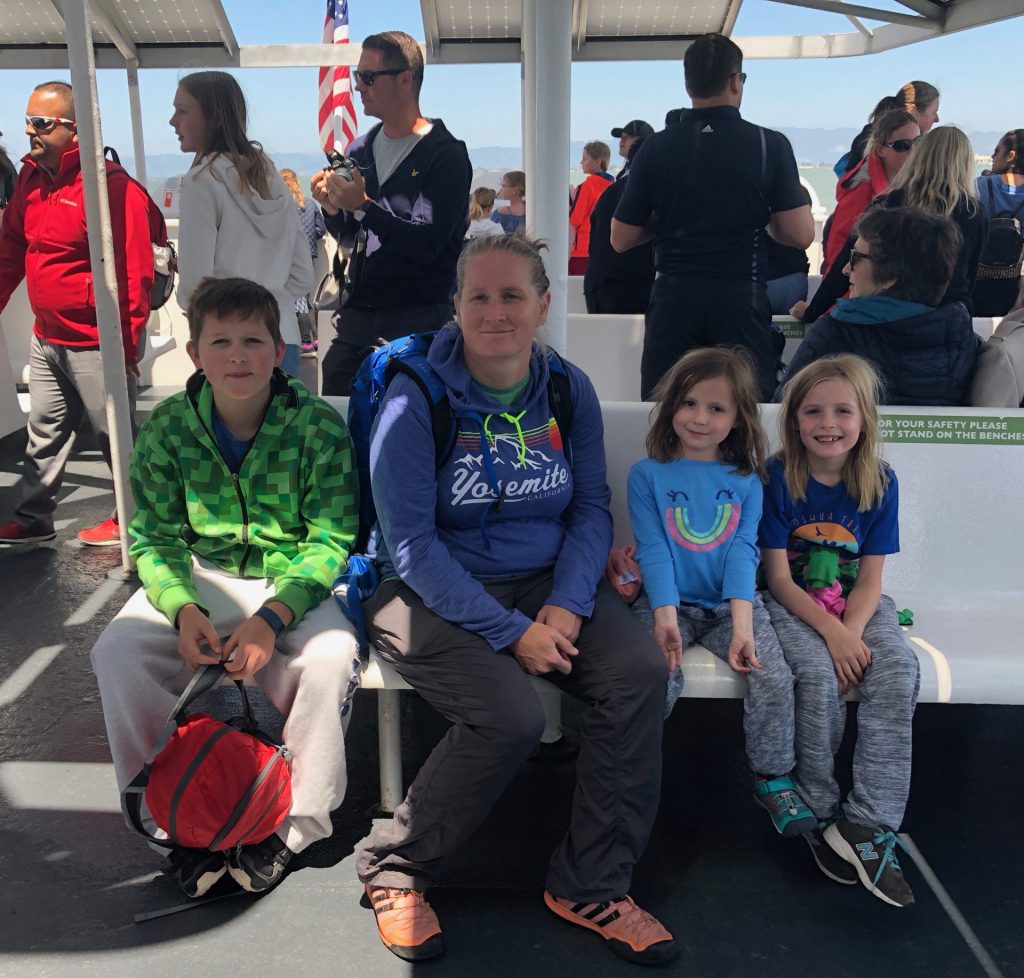 alcatraz in the distance.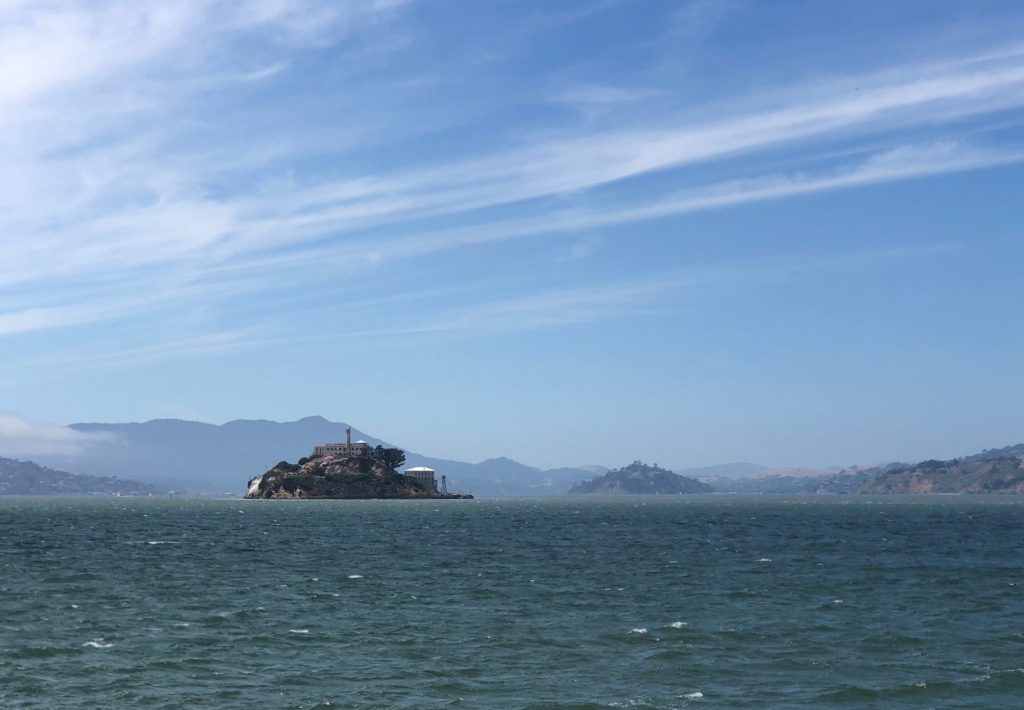 getting closer to "the rock"…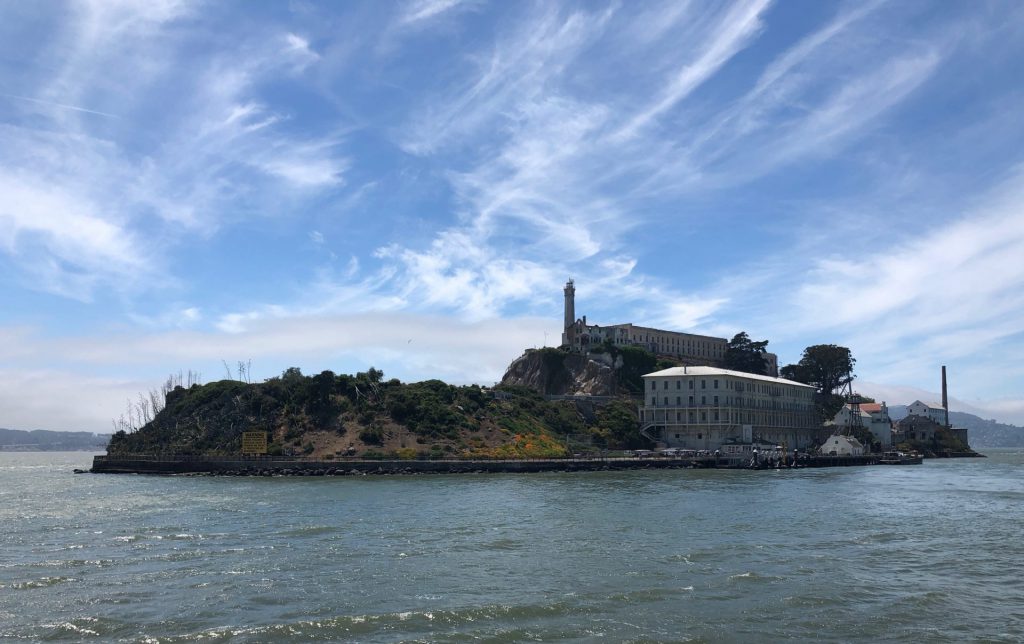 we arrived with all the other tourists and explorers. a ranger gave us all an introductory speech and sent us on our way…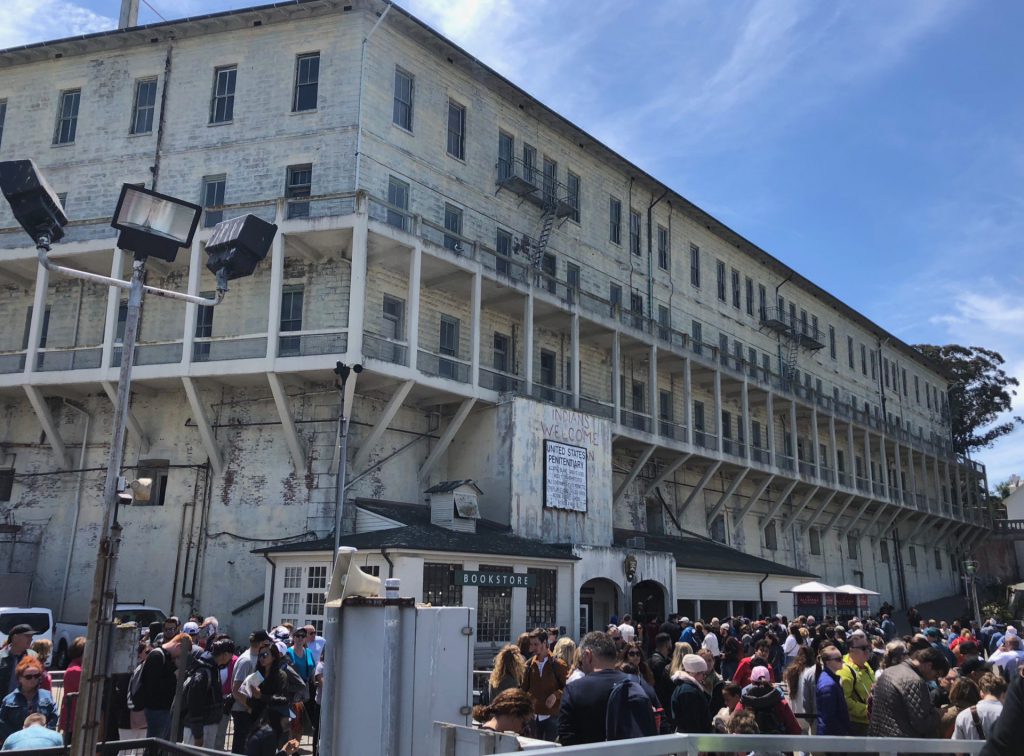 aside from hosting a notorius prison, the island is also an important nesting grounds for quite a few different birds. even though they will grow up to be super annoying and gross and dirty, we thought the baby western gulls were super cute.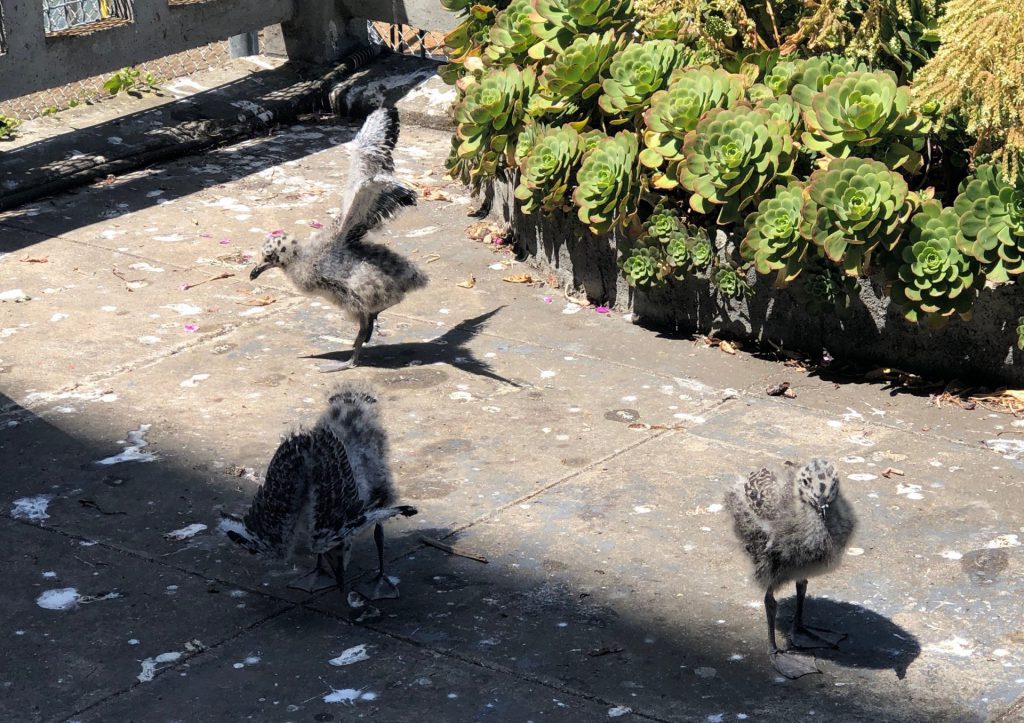 alcatraz is part of the nps, so we picked up a junior ranger book and the kids got to work.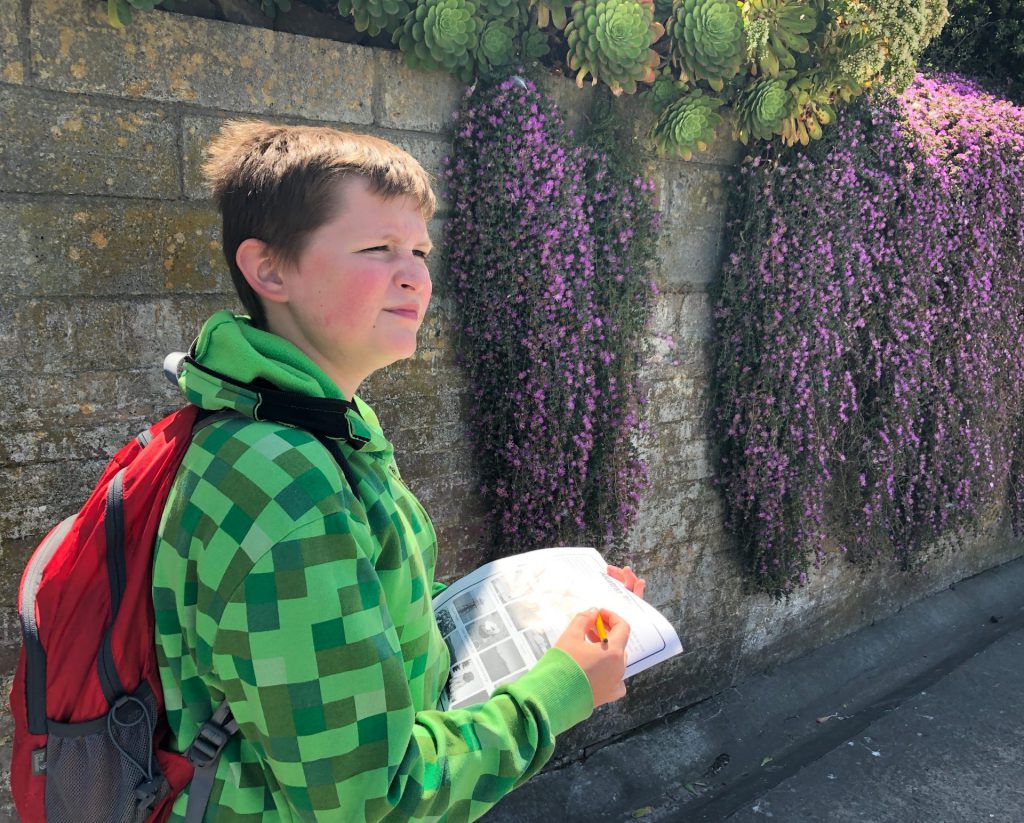 as we moved to the inside of the actual prison, all of the stuff i could barely remember about our trip in 2005 came rushing back. we funneled along through the laundry room and the showers to pick up our audio tour packs.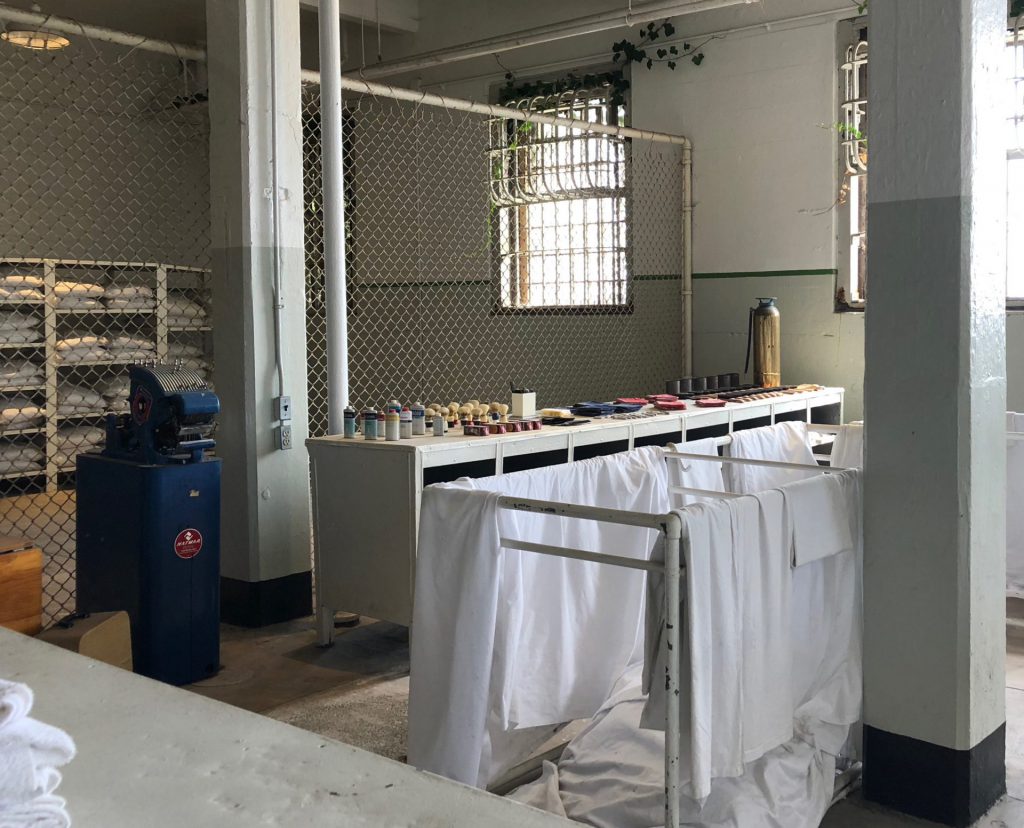 hazel didn't want to do the audio tour, but the big kids thought it was awesome (when they weren't getting frustrated with knowing when to pause and when to restart).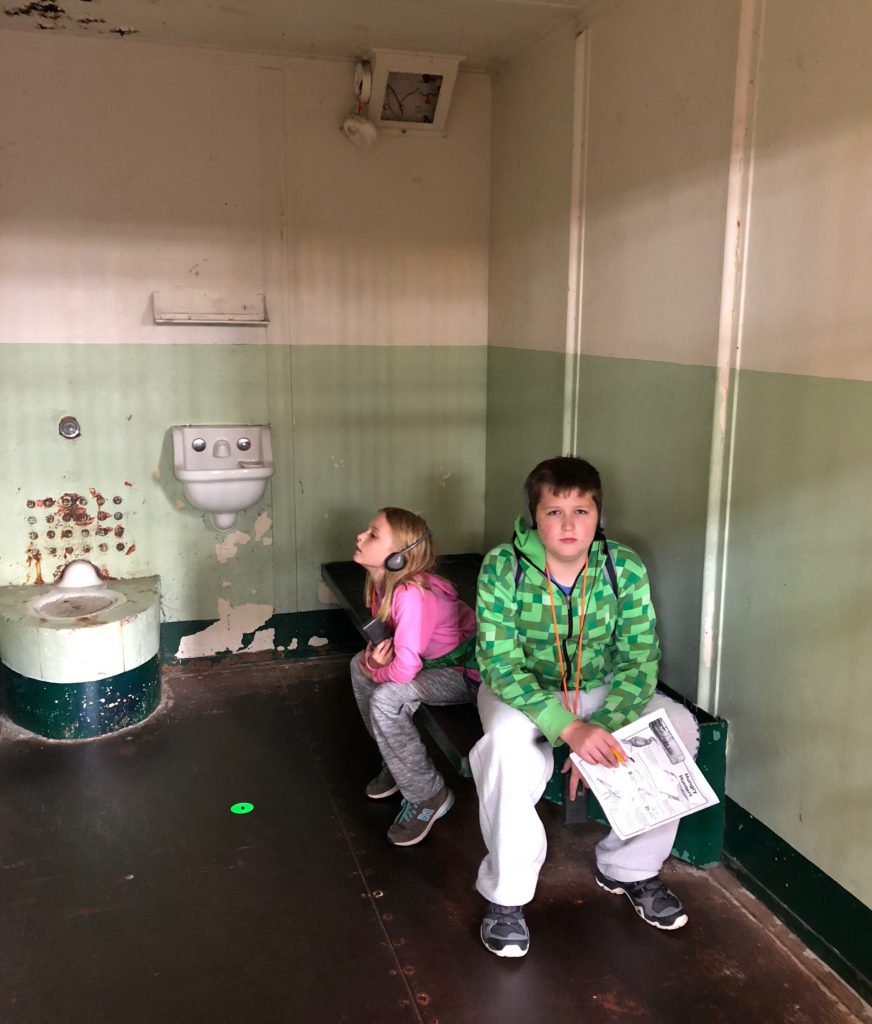 convicts. (we were trying to be extra slow and let derek and hazel catch up from having to take a bathroom break when we were as far as humanely possible from a bathroom).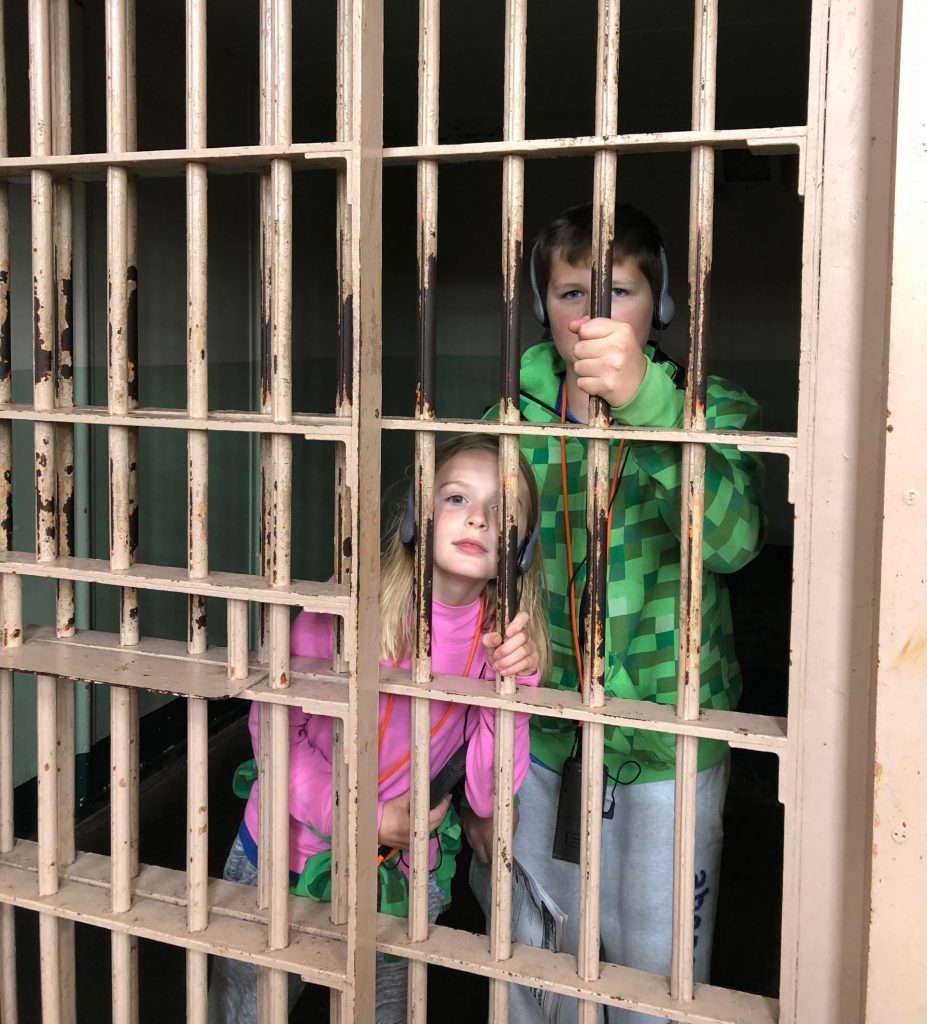 solitary. i wish we had some of these in the camper.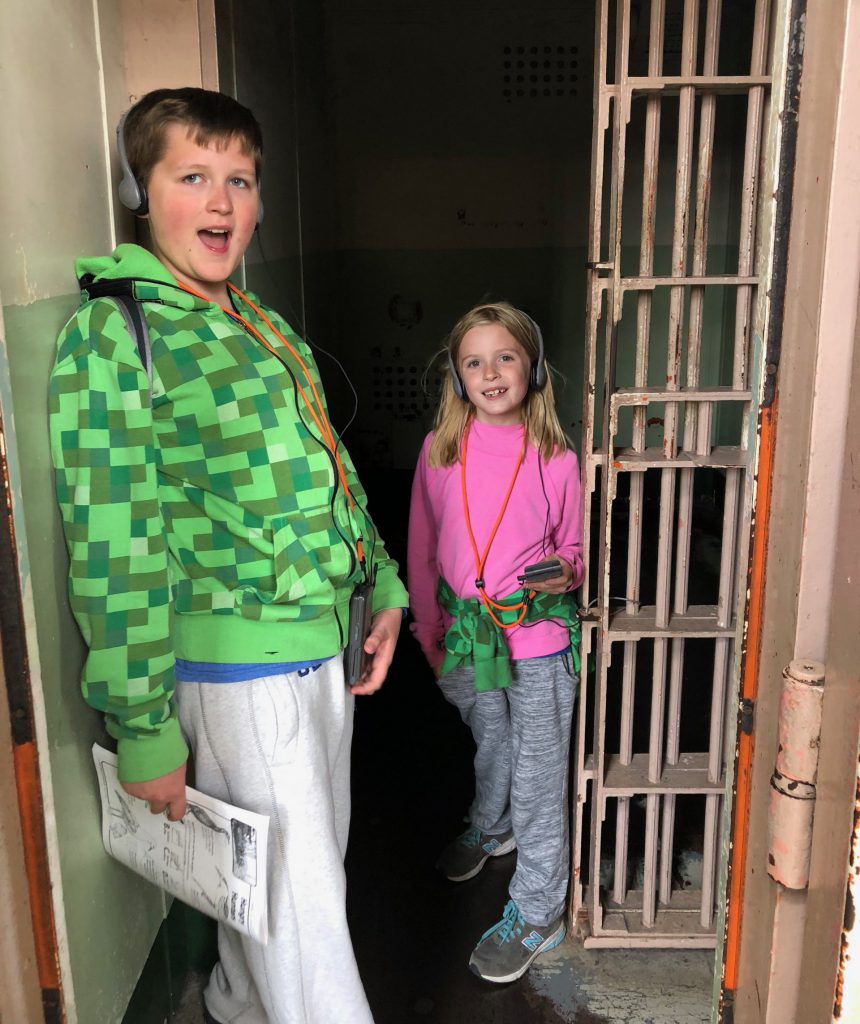 we learned a lot about the prison life transformation through the few short years that alcatraz was in operation. the cell exhibits at the end of the tour had a lot more evidence of a better life for the prisoners.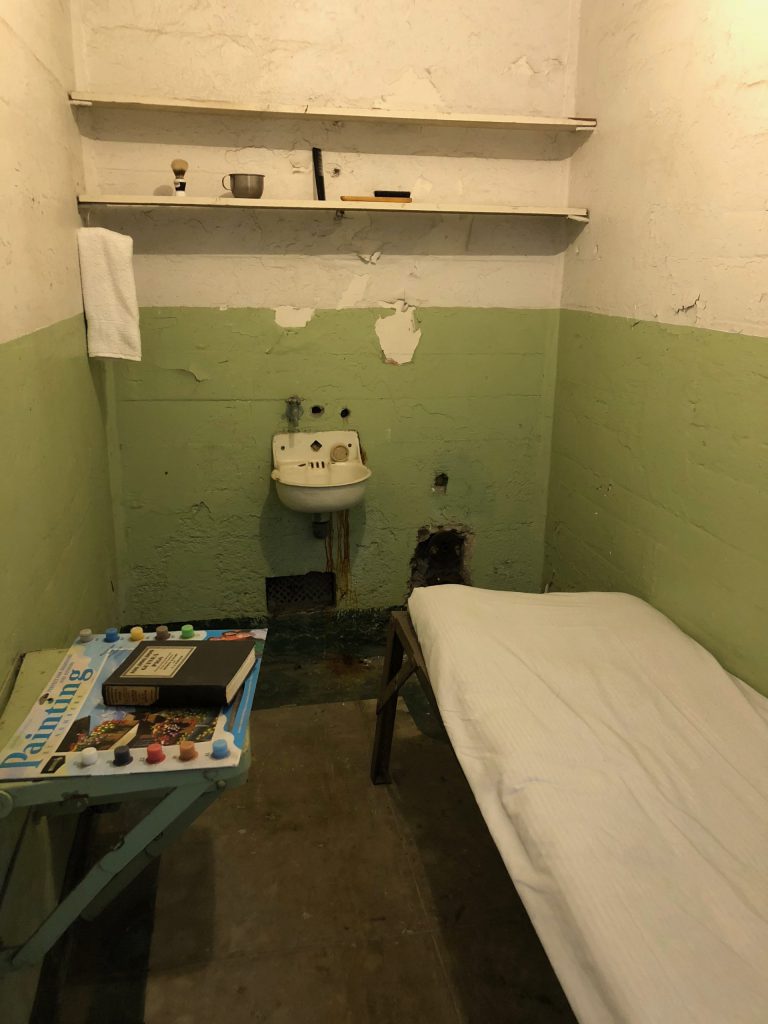 anna, listening to some info about the different wardens of the prison. she's my little learner.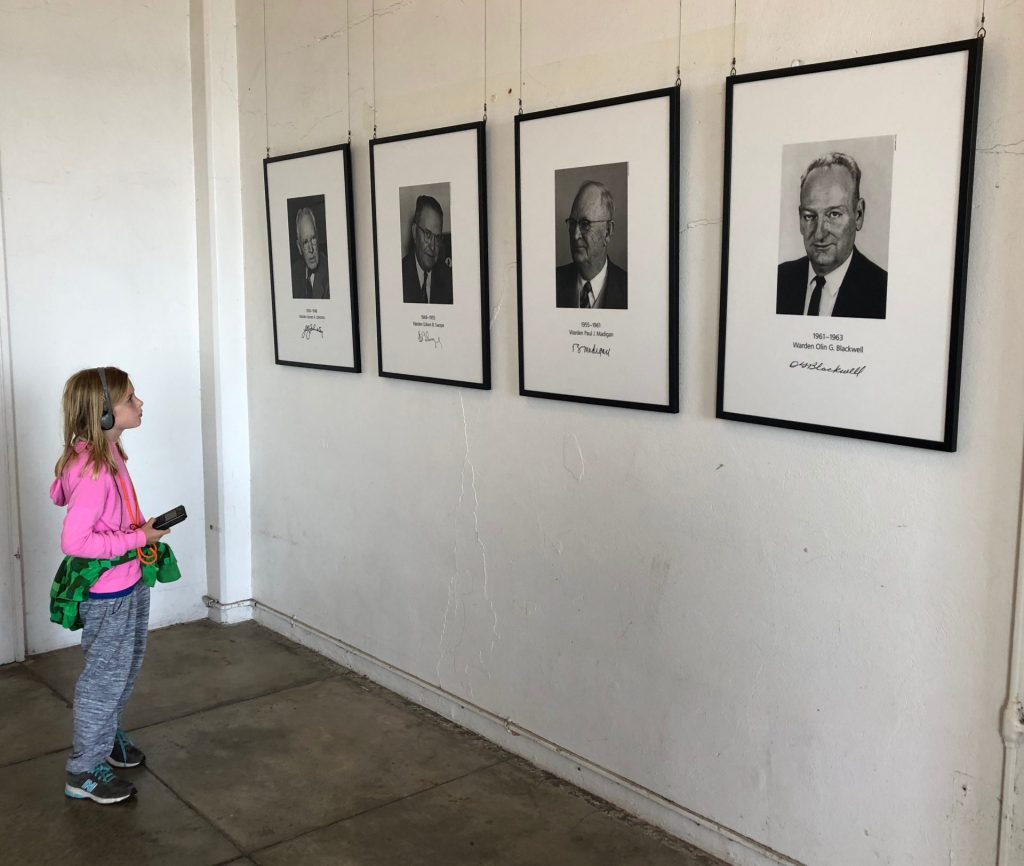 outside. the lighthouse and san francisco in the distance.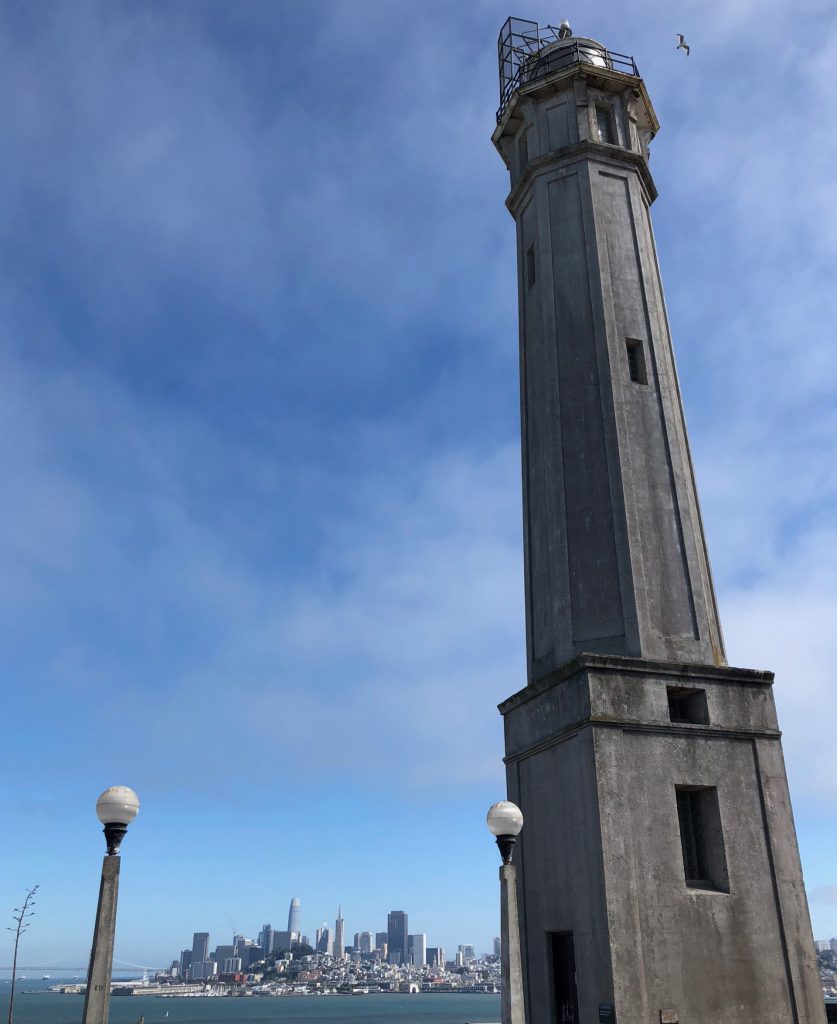 it was a little windy. 🙂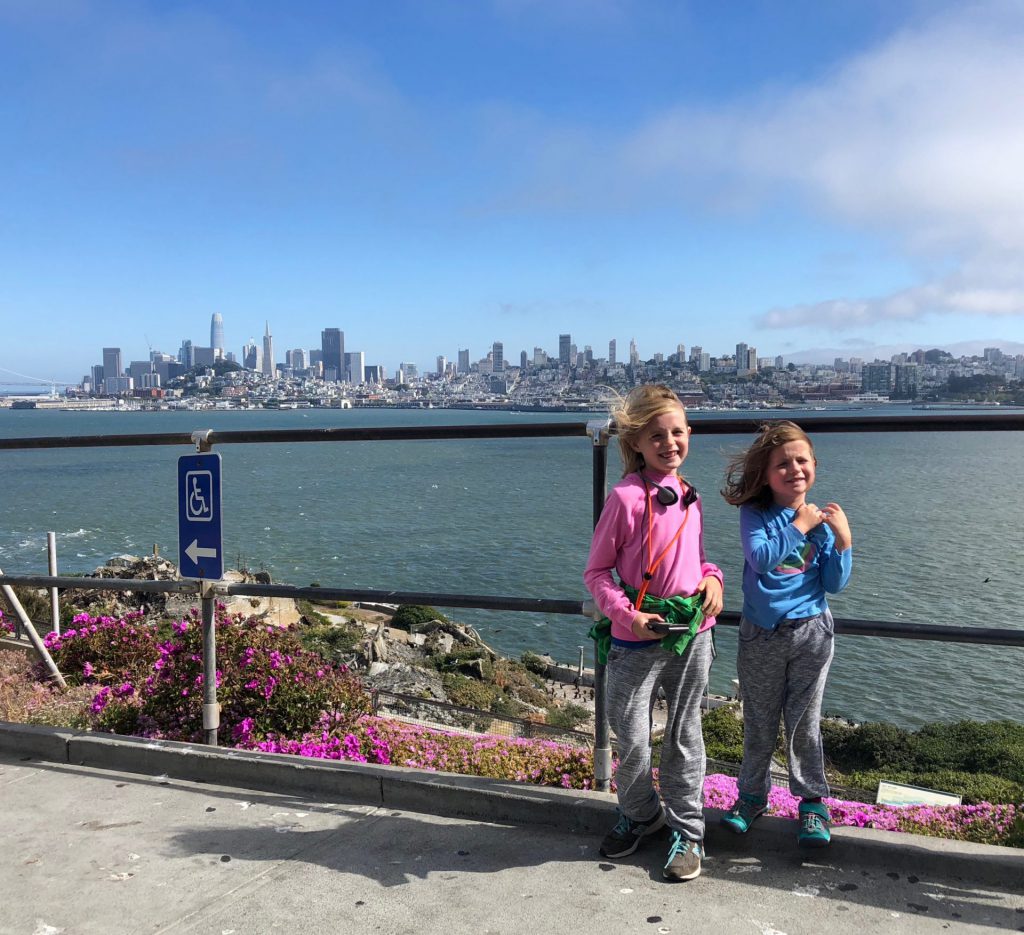 back inside, we learned about a pretty ingenious and famous prison escape(?), where a group of prisoners made fake heads to put in their beds and burrowed holes in the walls with spoons and other metal objects. no one knows if their escape was successful or if they died crossing the waters. no bodies, alive or dead have ever been found.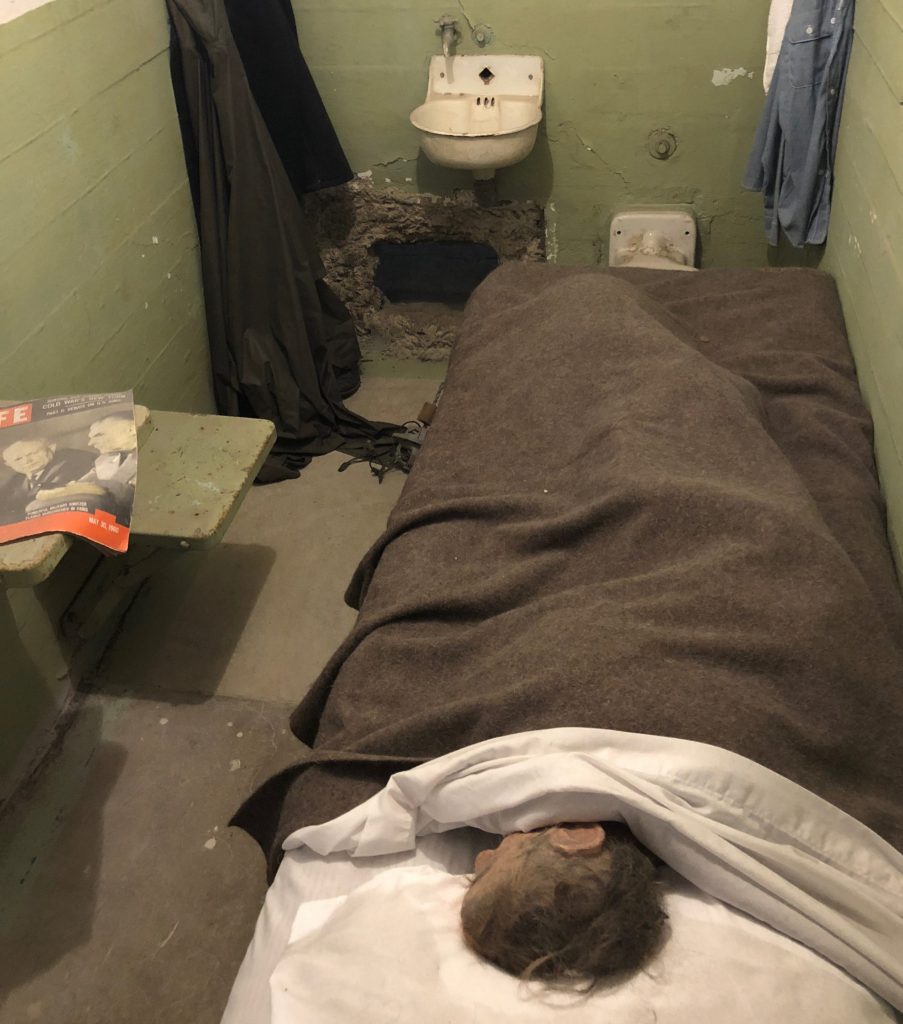 the family that goes to prison together, something something.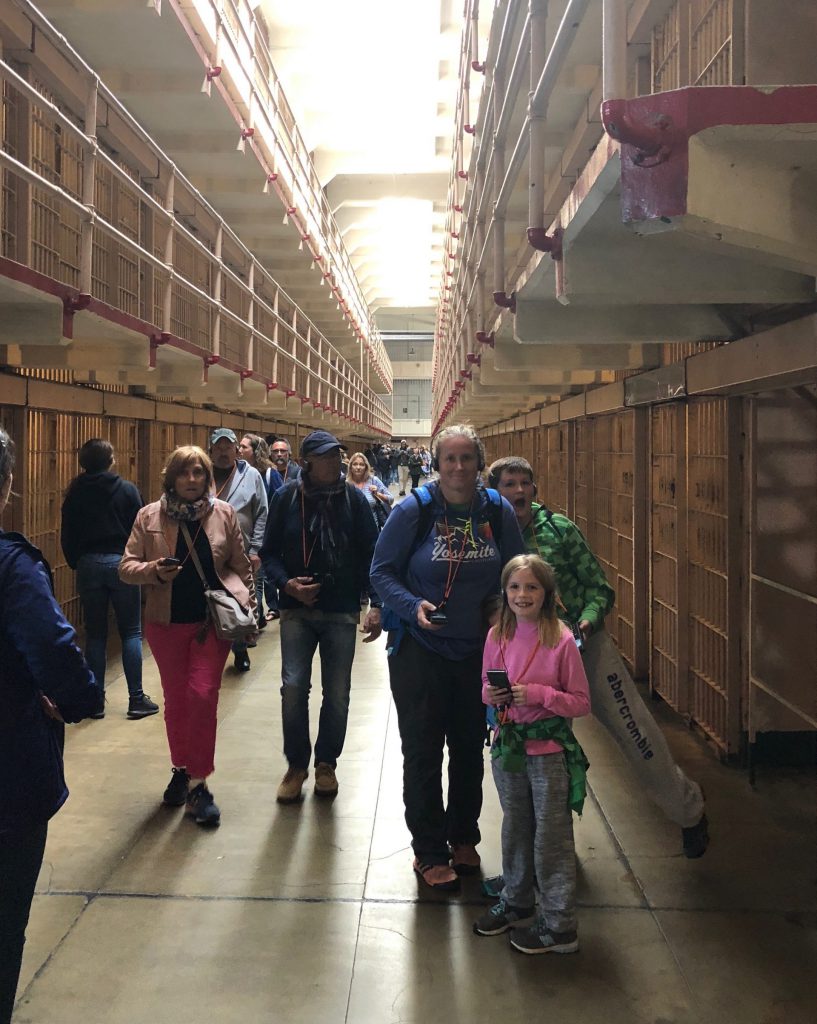 this part of the dining hall always sticks with us. the knives were stored in this case where the knife silhouettes were painted on to the back, so if one was missing, it was easy to quickly identify and move to action.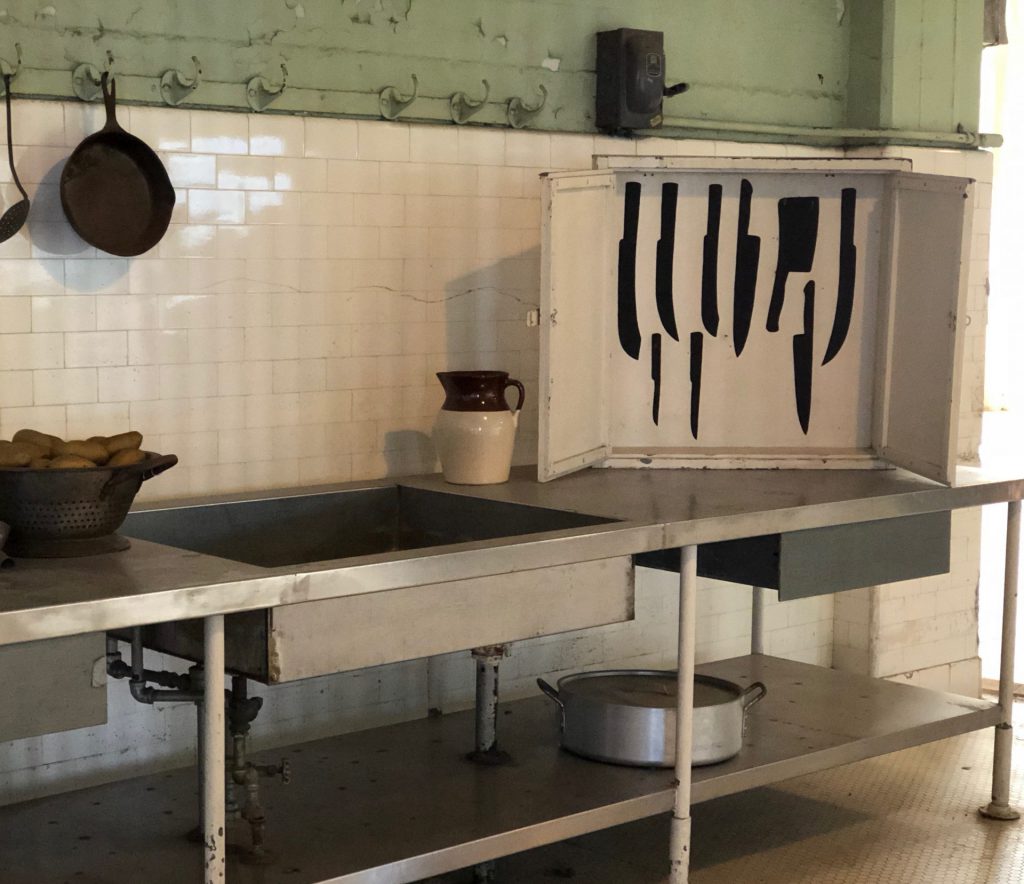 the tour ends at the dining hall and we turned in our headsets and finished up ranger books and made our way back to the visitor center and ferry. the switchback road that goes from the top of the prison back to the dock had so many pretty spring flowers, definitely in contrast to the starkness of the prison.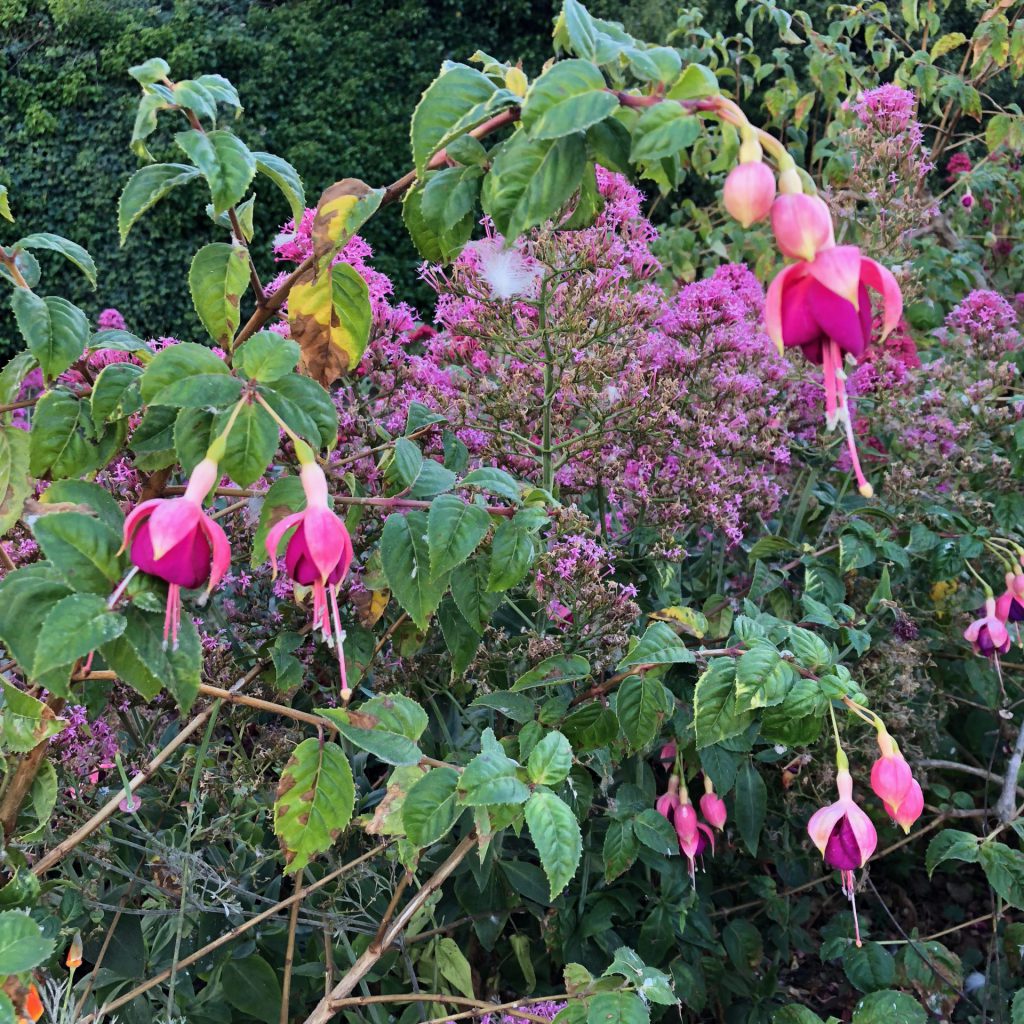 the kiddos were sworn in. sort of. they were actually sort of grumpy that the faux-ranger didn't even glance at their books. and i was sort of grumpy that they were out of alcatraz ranger badges so they gave us san francisco nationl recreation area badges. (i'm going to send the books in and try to score the appropriate badge. these things are important).
we were completely exhausted at this point and couldn't wait to get back to the hotel room. we hopped over to the street car stop, but there was some sort of delay, making our wait extra extra long. i took this pic of the dad trying to figure out what was happening and the kids dealing with their hunger and boredom and exhaustedness, each in their own ways. also. a homeless person had taken over the little hut and bench, so we were just random sitting out in the open as cars and busses zipped past. so that was fun.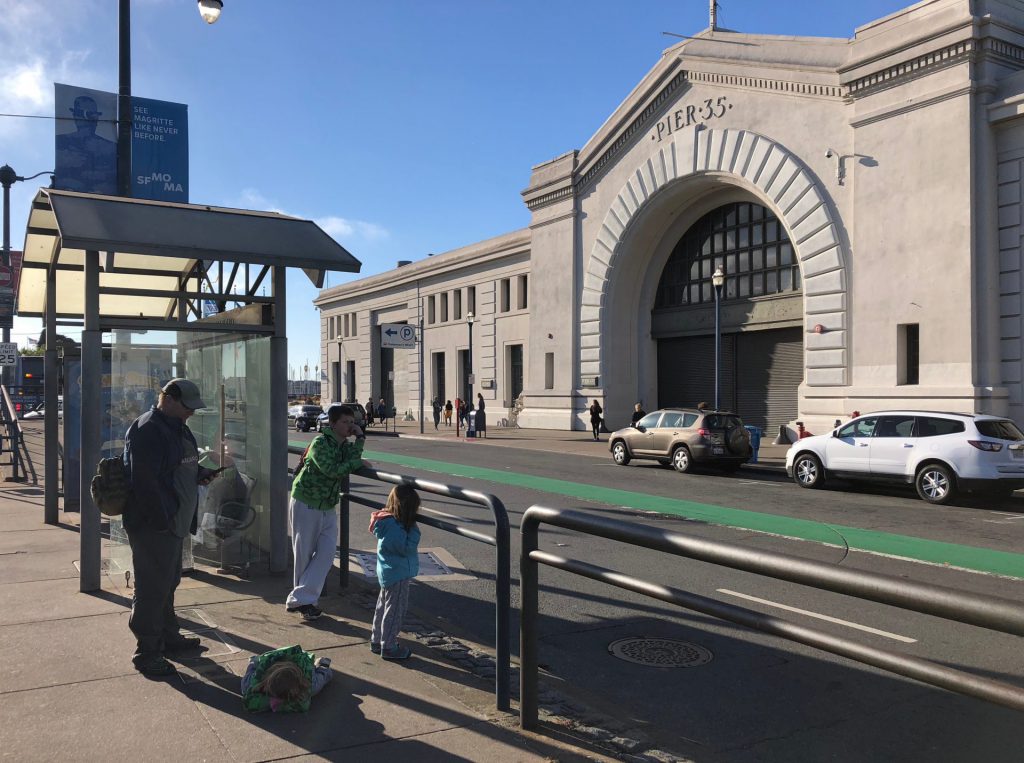 we collapsed into our hotel and ate dinner of lunch meats and cheeses and pork rinds and oatmeal and yogurt and granola bars and pecans and almonds. and i fell asleep streaming on free wifi, while the kids watched full house. on to day three….