ok. so. yosemite.
"the crown jewel of the national park service".
we were both excited to see it and a little bit dreading the crowds. our campground was about an hour out of the valley and had no cell signal, so derek took the first week off entirely to explore and adventure and we would play the second week by ear. we hoped that since a lot of california schools were not out yet during the first week, it would make things slightly less crazy, and i think it did. unfortunately, that also meant most of the ranger programs and events were not yet in full swing. so it was a trade off. anyhoooo….
on the way into our campground, we had a little roadside surprise, when we spotted this mater replica in some random driveway along the way. i definitely turned around to get a good picture, because who doesn't love mater?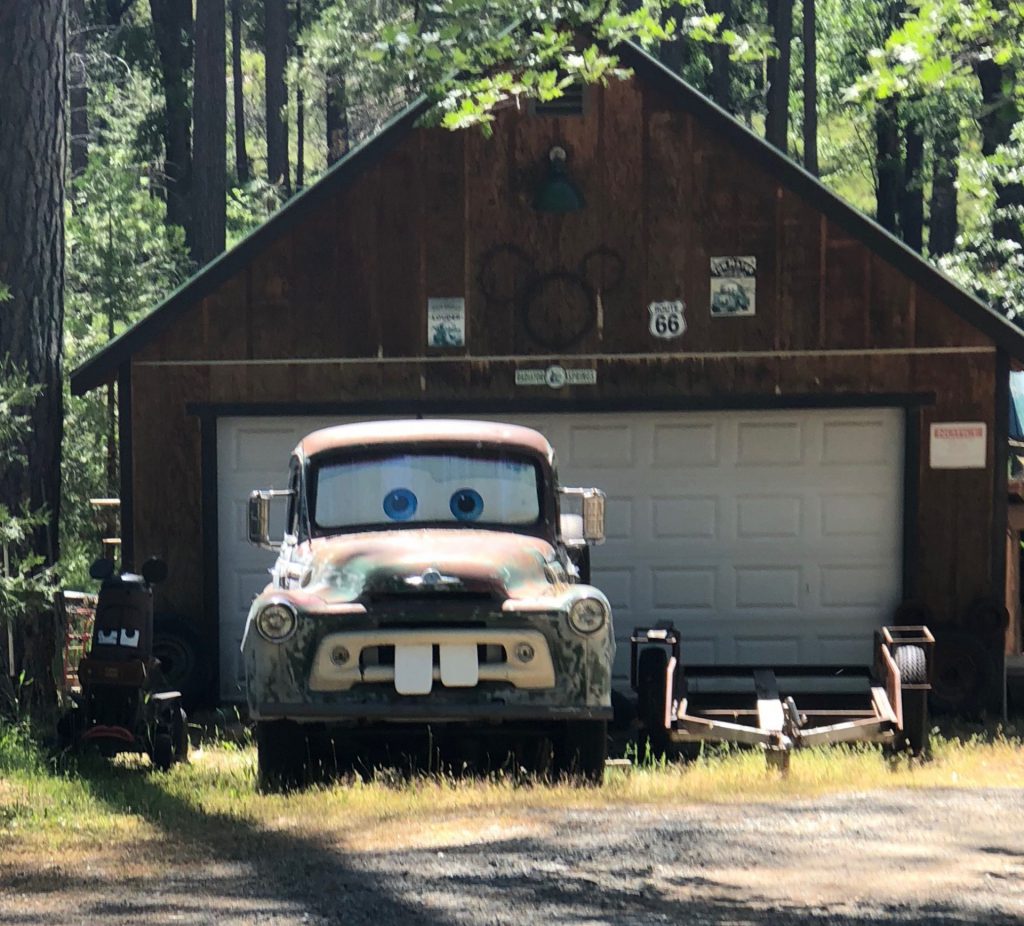 we settled into our campsite and laid low for the rest of the weekend, knowing that yosemite was probably stuffed to the brim with people on those days. on monday, we got up super early and hauled ourselves into the valley. we secured parking at the visitor center, where we also got ranger books and tips for hiking and sight seeing. and then decided to check out yosemite falls for our first item on the agenda.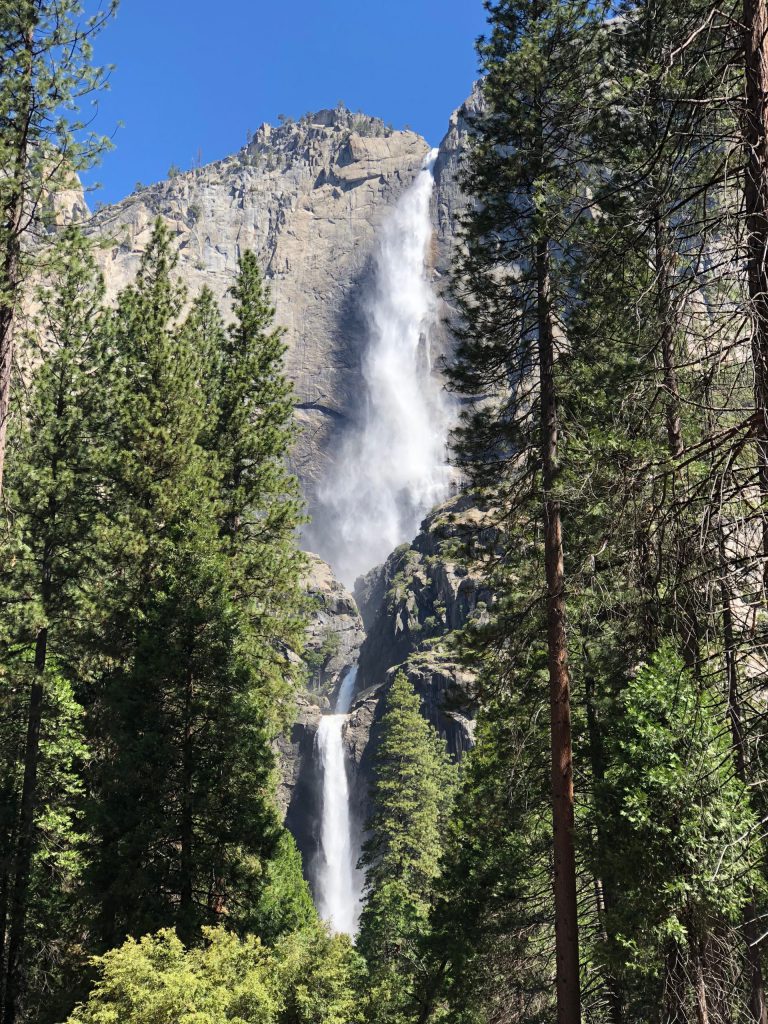 the walk to the vista point was pretty crowded, as was the actual vista point. we got our mandatory family photo and kept walking along the trail…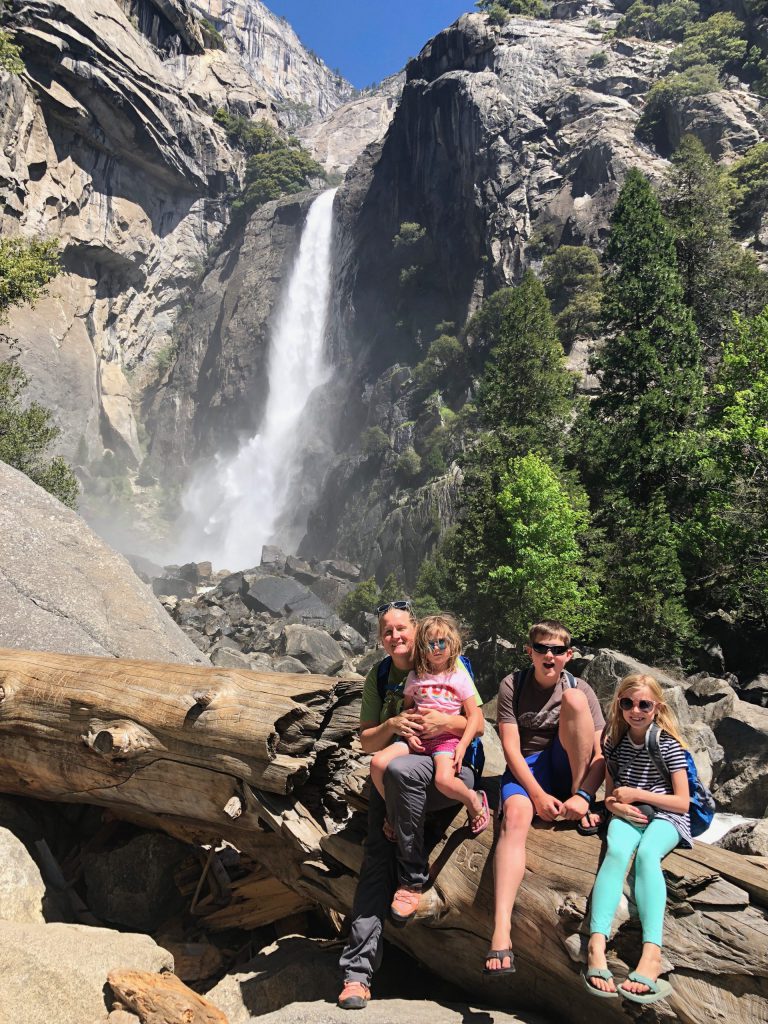 it was super windy and misty and cold on the bridge. that didn't stop our resident photographer from stopping to document.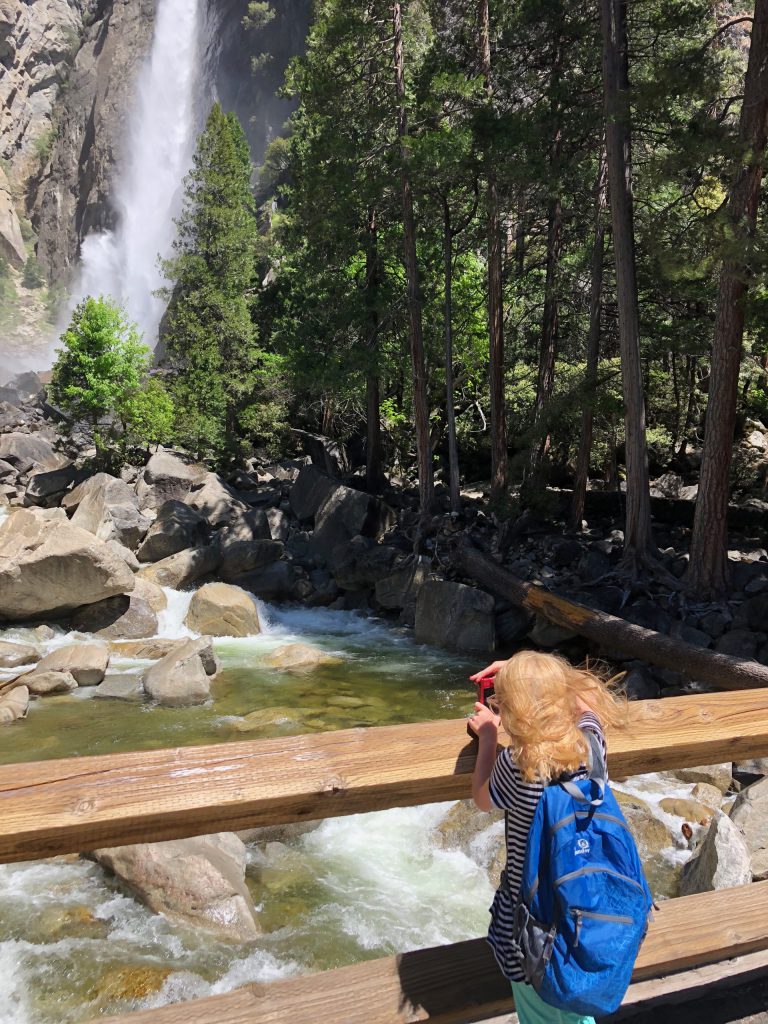 we wandered the rest of the loop, which was decidedly less crowded. and popped out near a bus stop with this sort of okay view as our backdrop.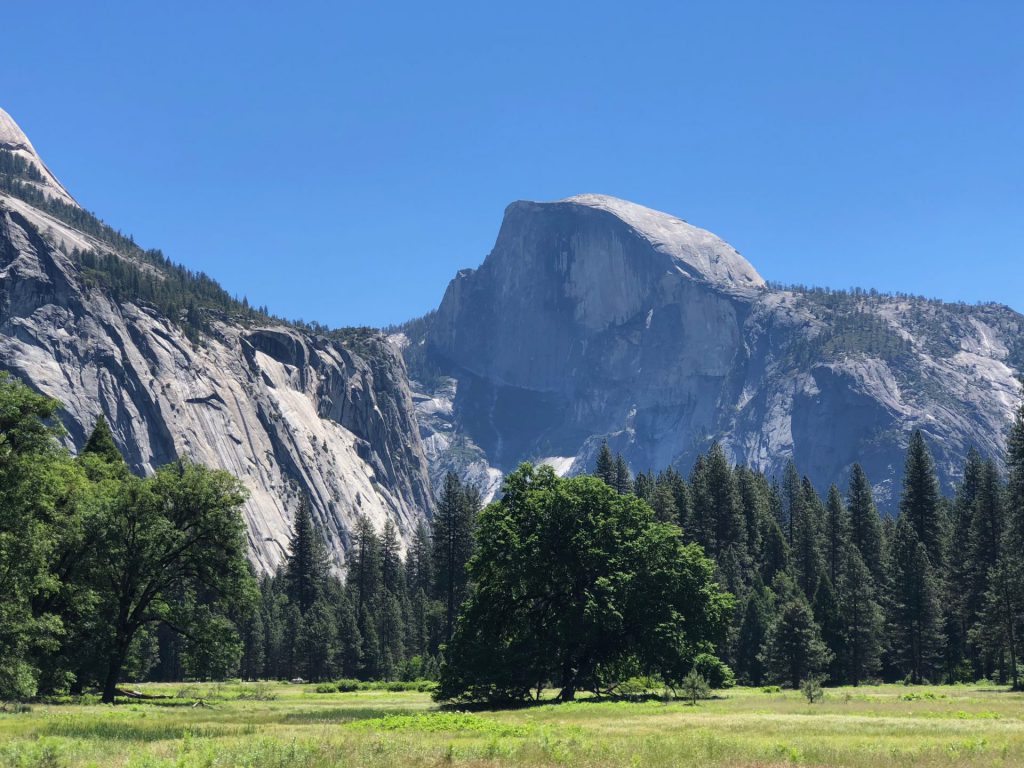 we took the shuttle over to half dome village, which wasn't super exciting, just a bunch of shops and restaurants and a lodge. we ate. and then hopped back on the shuttle to happy isles nature center, where we actually spent a lot of time. the girls did a bear mask craft (hazel went with a watermelon themed bear face). and we checked out the nature part, which is sort of a let down after having been to some pretty amazing zoos and museums lately.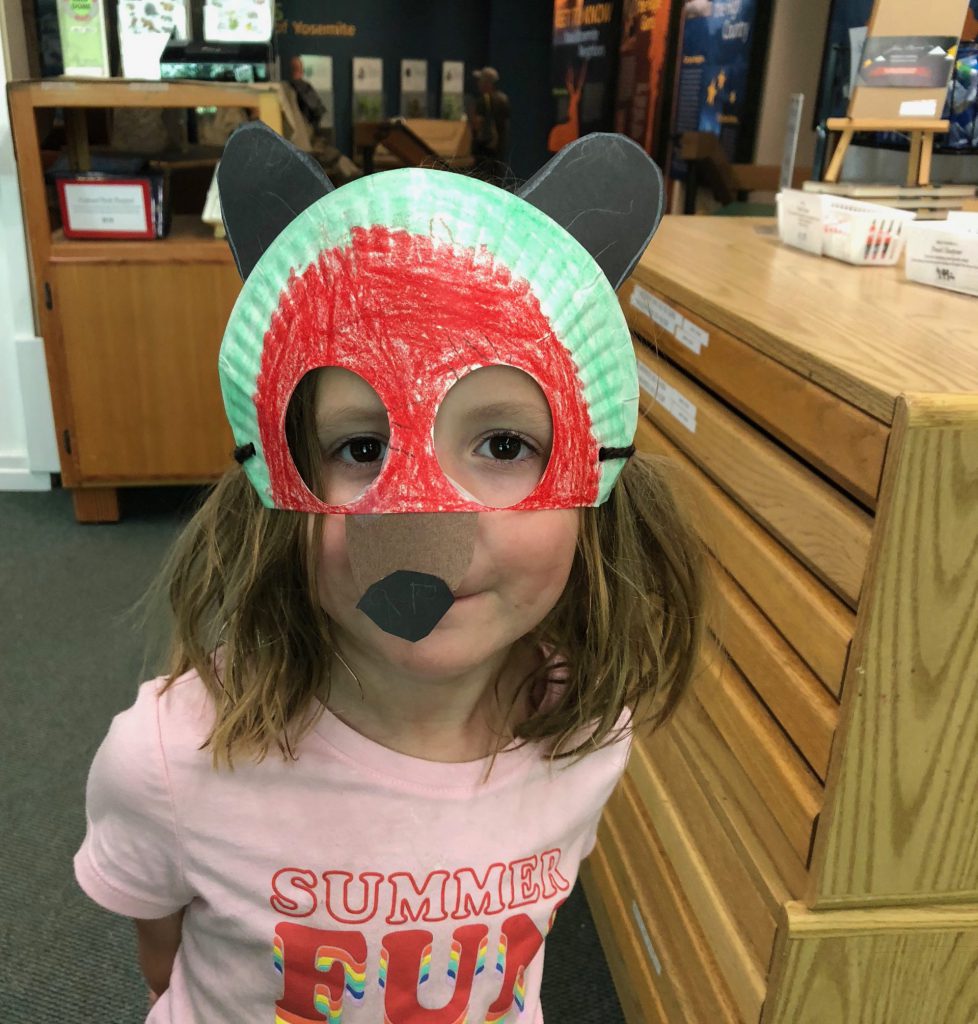 at this point, we were pretty tired, so we caught the shuttle back to the parking lot and made the long and winding drive back to our site. armed with park maps and hiking booklets and ranger info and first hand experience with the roads/parking/crowds, we made our plans for the rest of the week….
we decided to head back into the valley for day two. this time, though, we parked at the end of where we wanted to hike and then took the shuttle to the trailhead. we wanted to go to mirror lake, and opted for taking "the back way" versus the 0.9 mile walk up a road that would take us straight there. just as we got started, we saw a helicopter preparing to take off in a field near the medical clinic. the rumor was someone fell climbing half dome when a piece of rock broke off and hit him. we got to watch the rescue team prepare and lift off while dangling from a rope as the helicopter swooped across the rocky landscape over to half dome. it was pretty cool to watch, even though it was for a sad reason.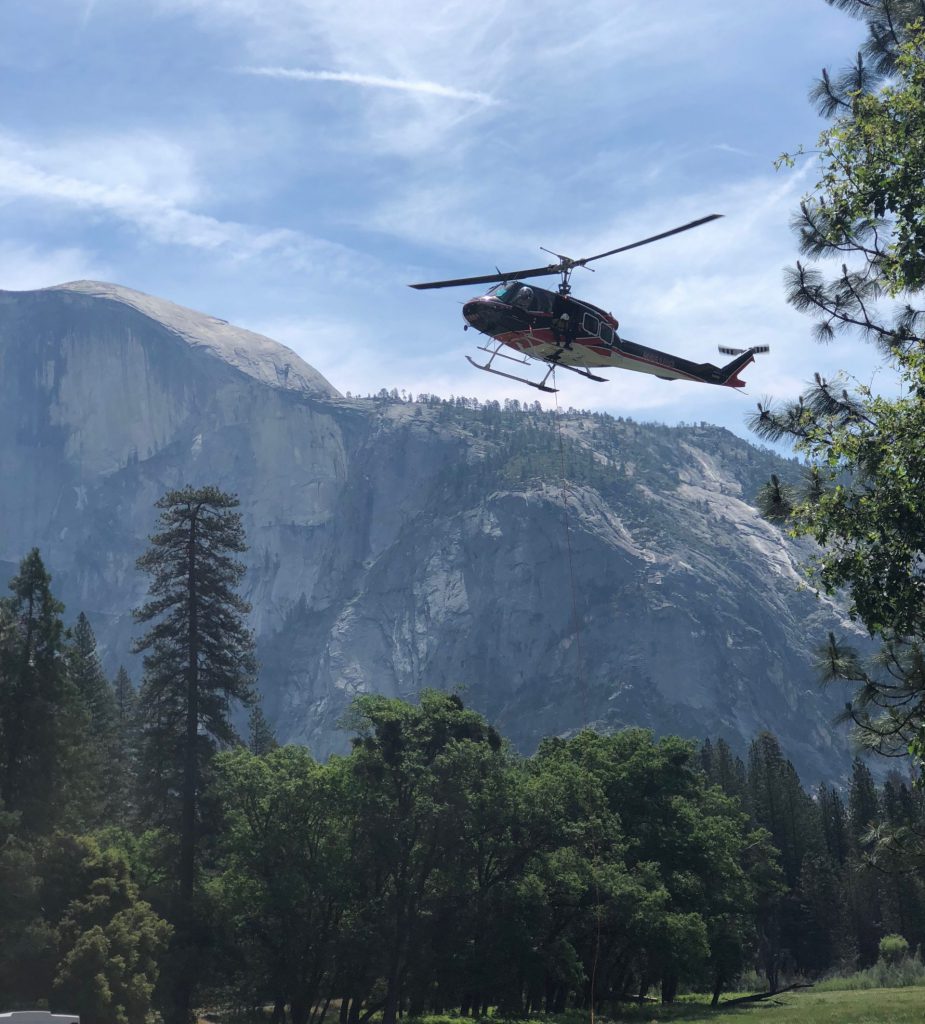 the hike was very pretty, but we did not get off to a very good start. there was a lot of complaining and some serious crying (tantrums) about the boringness. and from the one lidkid you would least expect.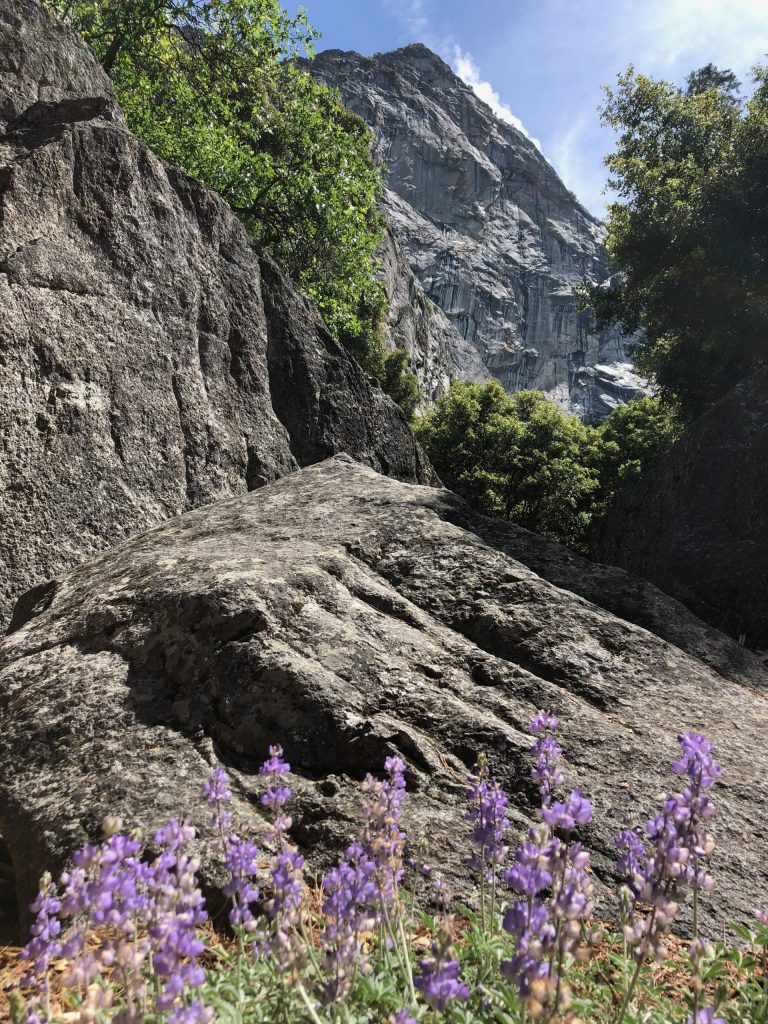 hazel's favorite parts of hikes are when she gets to pretend it's the video game "mr. jump" as she hops across rocks over streams.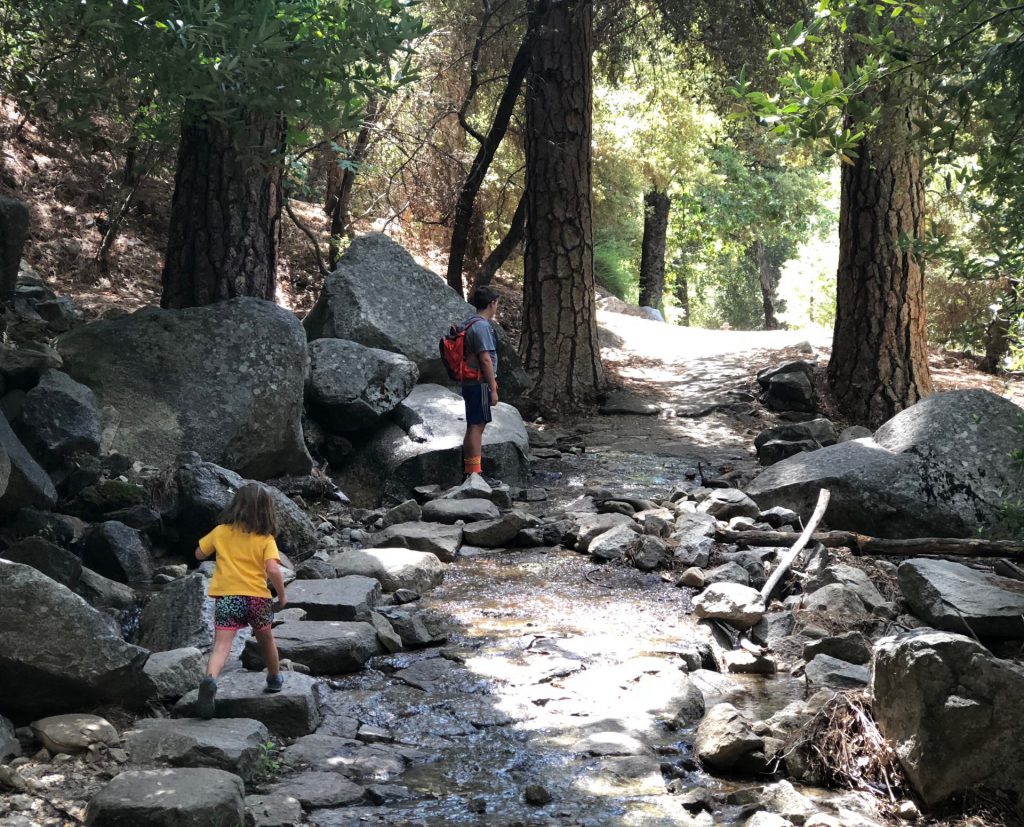 anna and isaac prefer to stop and scramble up rocks whenever possible.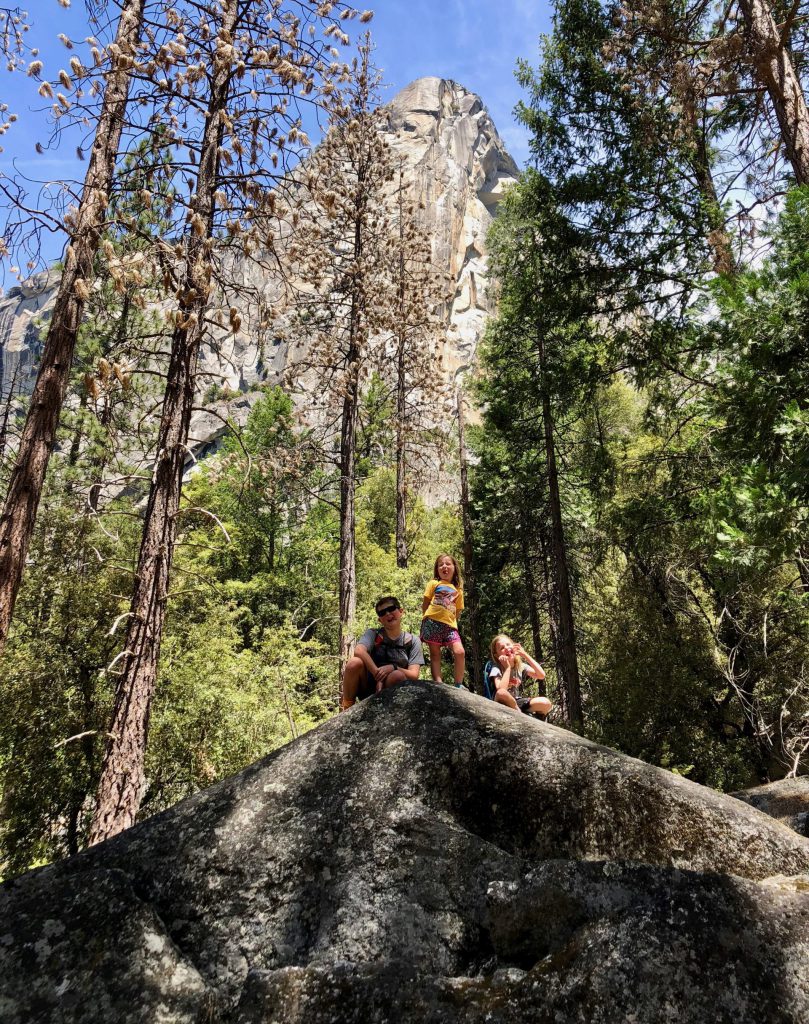 grumpy trekkers.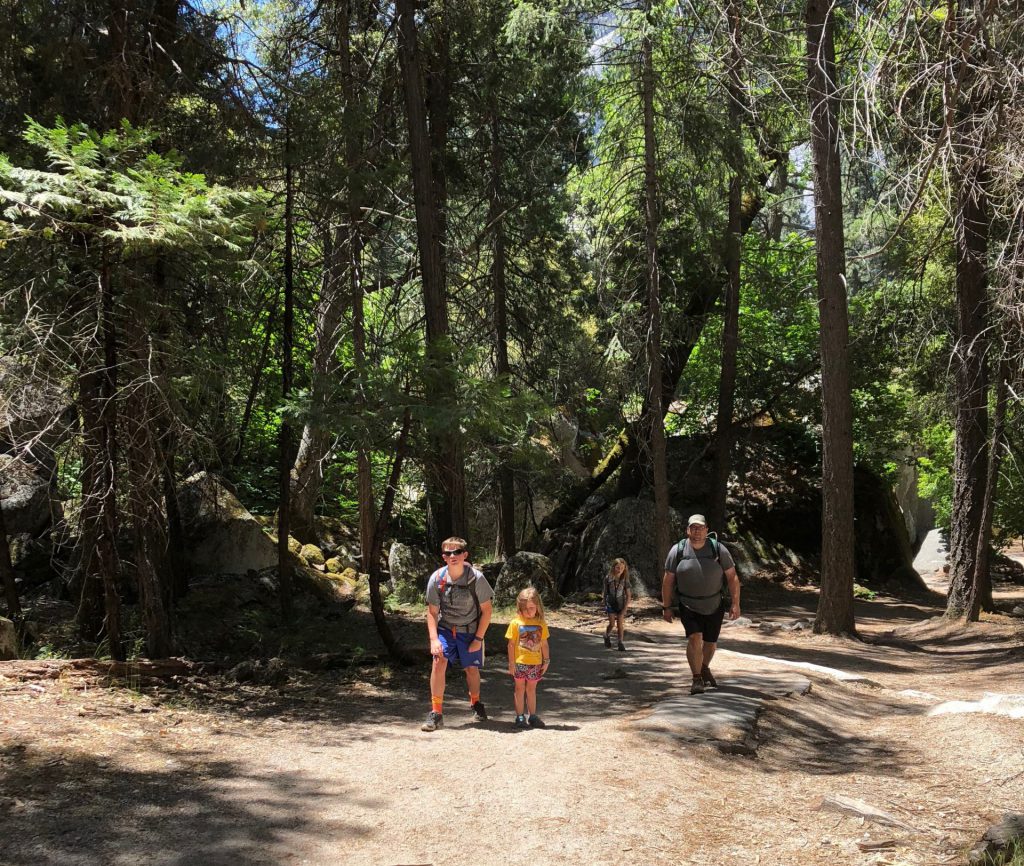 finally, about 2 miles or so in, we were rewarded with the beautiful views at mirror lake. (when we first walked up, we were collectively disappointed, but as we walked to the more pretty viewpoint, we got it).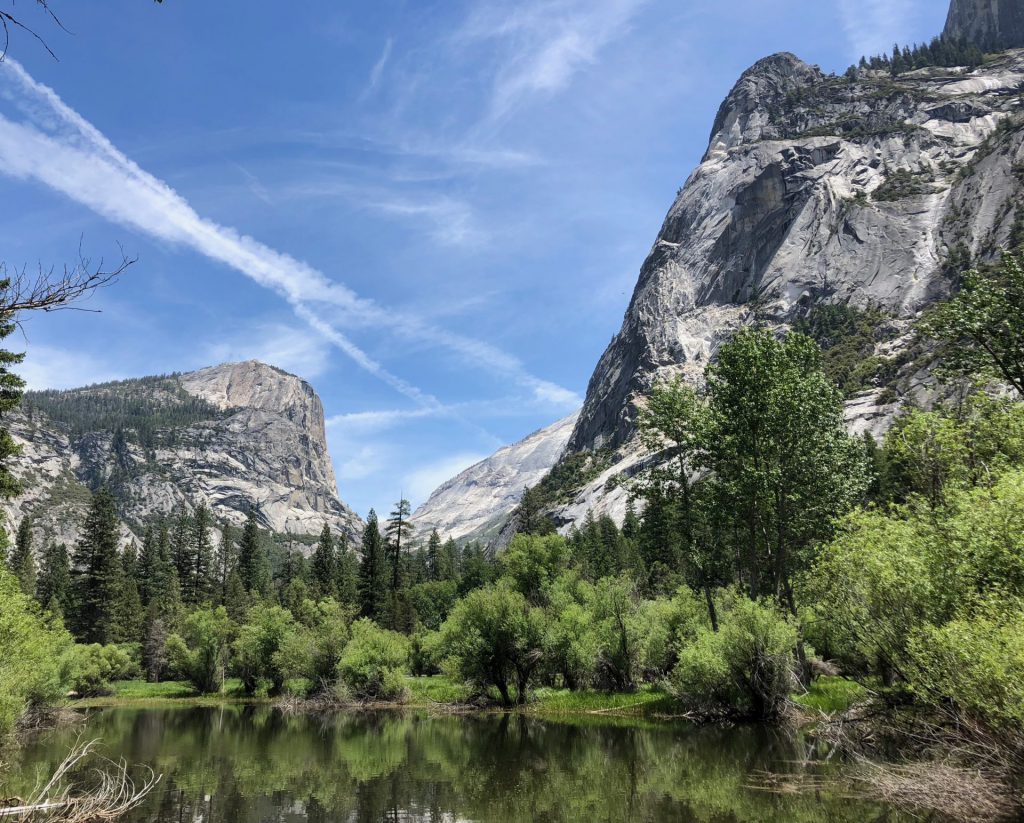 we posed for a picture in front of the background scenery which looks like a mall portrait backdrop.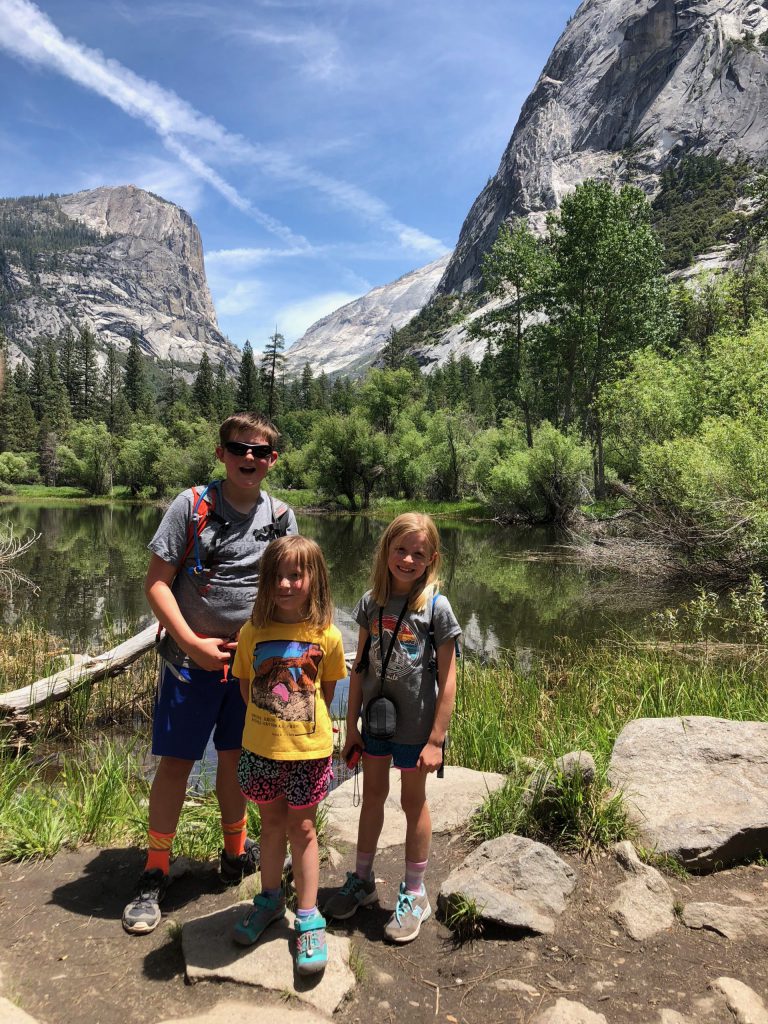 getting that full mirror effect.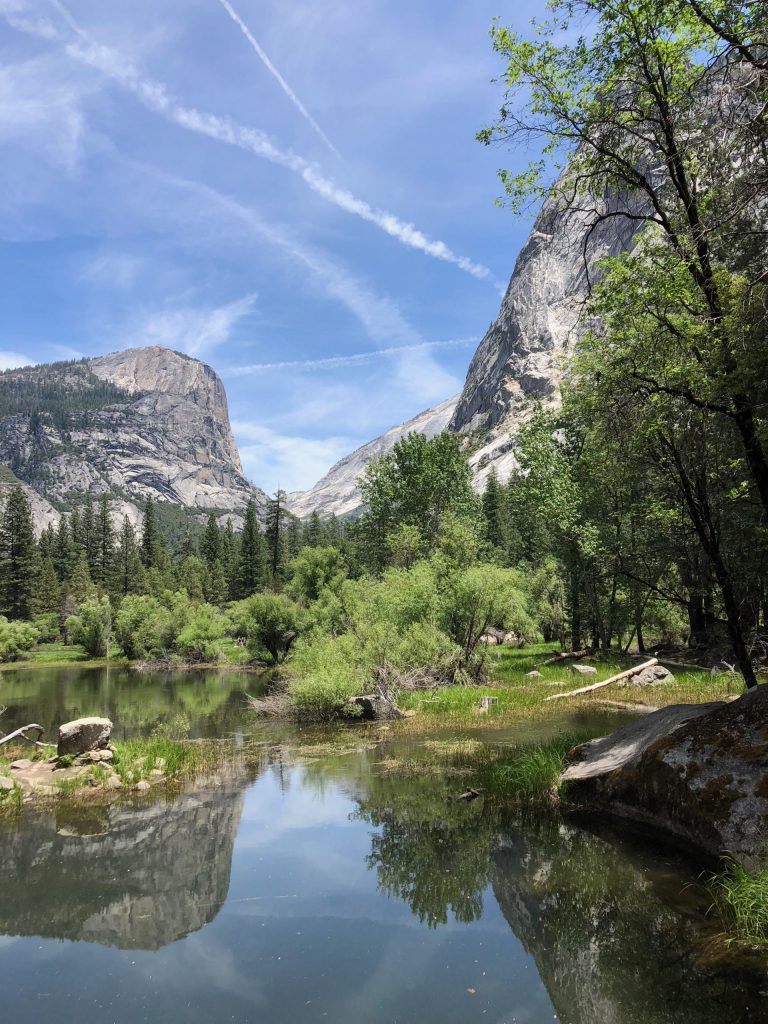 we found a big (very slippery) hunk of granite to take turns climbing on.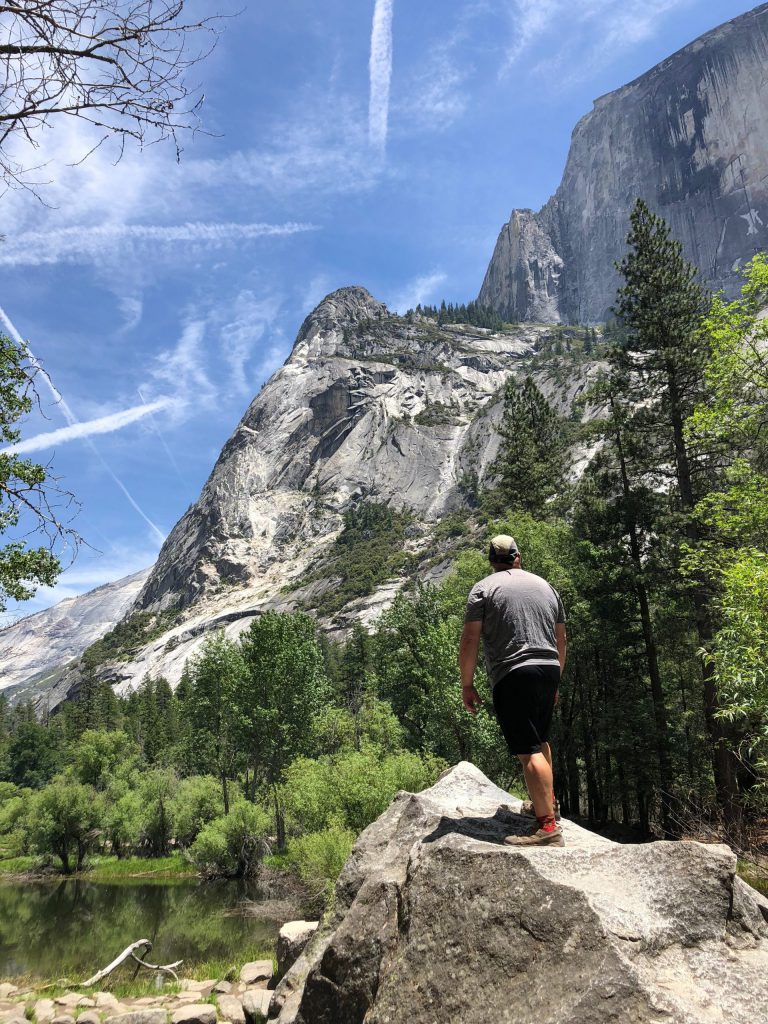 after we had our lunch and took all the various pictures from different spots and climbed all the things, we started the less exciting walk back to the shuttle stop. we were super surprised when we happened upon an excellent swimming/wading area.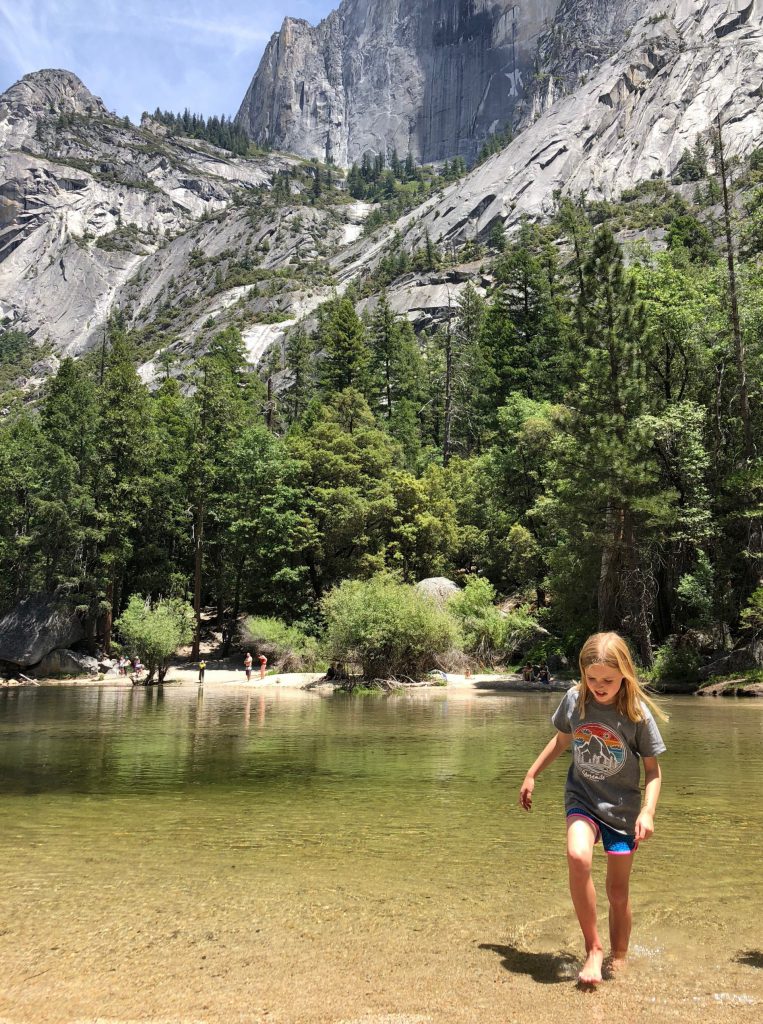 the water was ice cold, but that didn't stop any of the kids. they climbed all over the boulders that were scattered around the swimming hole.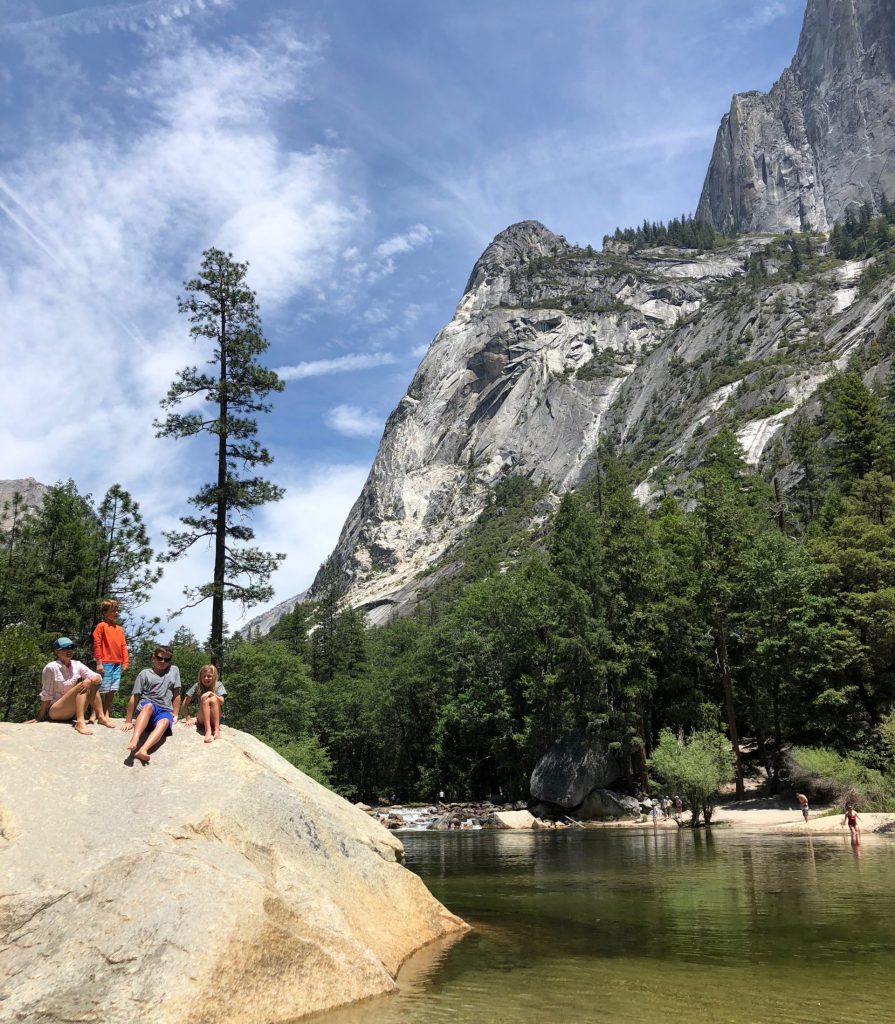 proud boulder conquerer.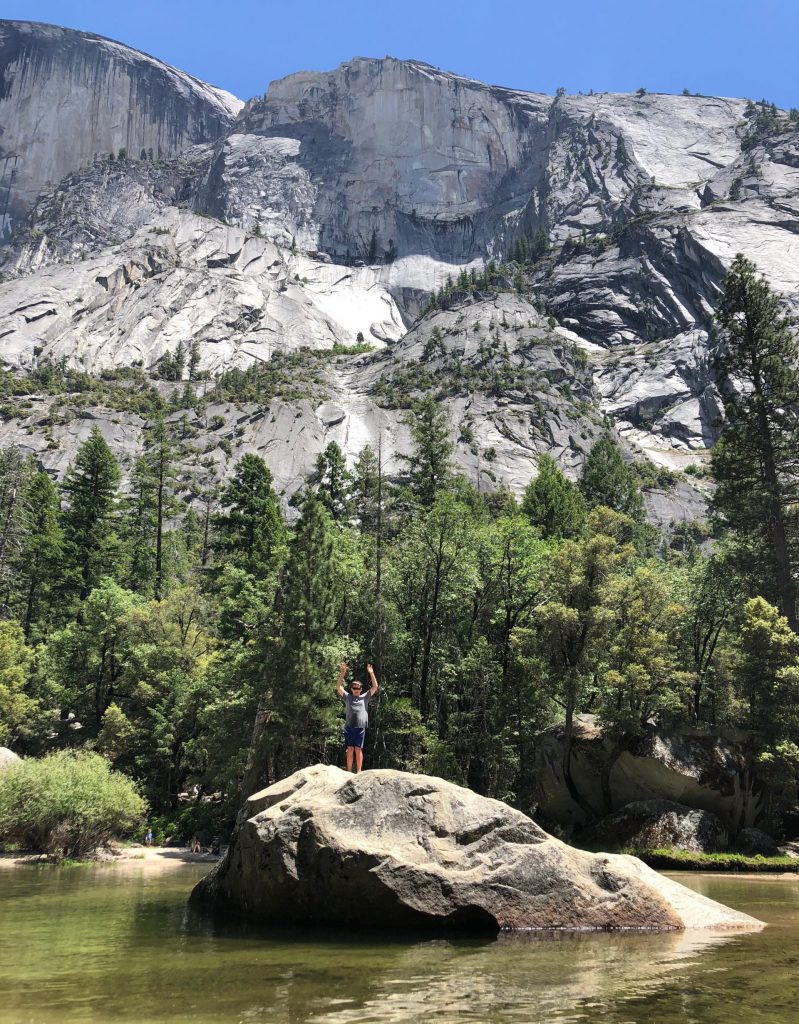 even hazel was a big fan, and she's usually strongly anti-water.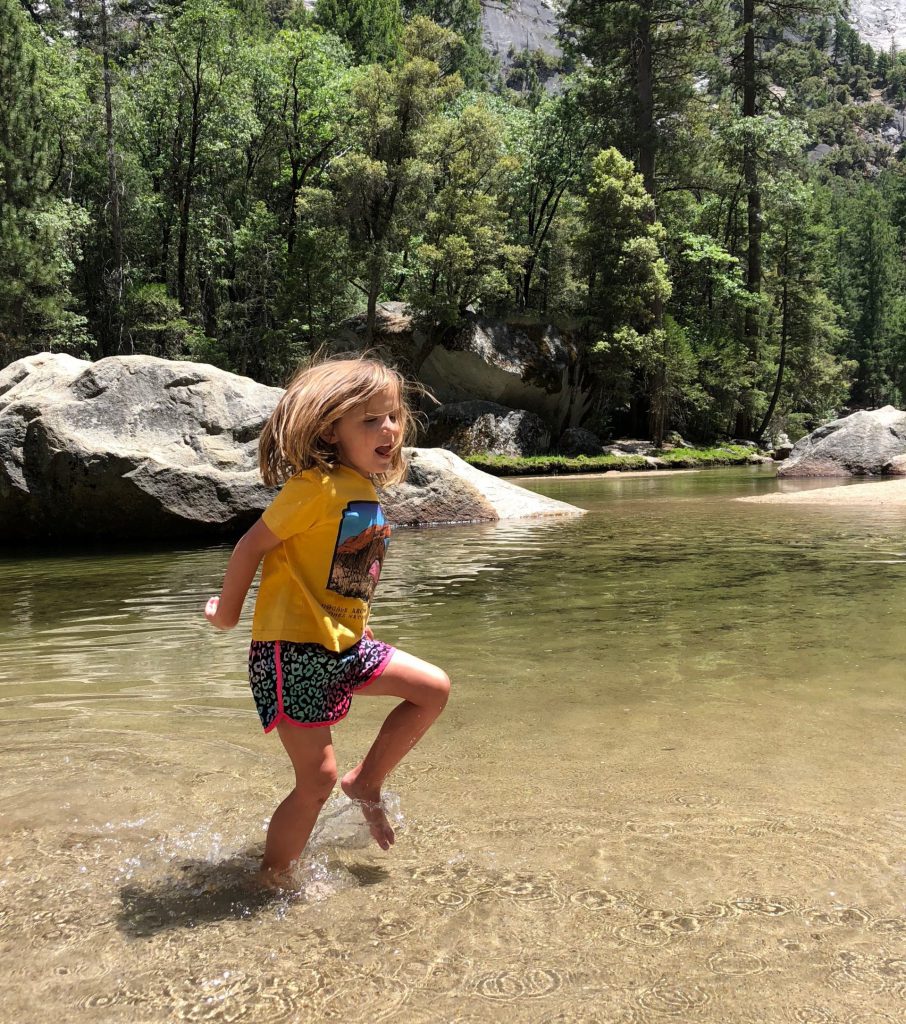 once we had had enough and we were numb to our knees, we dried off and walked down to the shuttle stop, where we waited with the masses for a ride back to our car. once again, we made the long drive back out of the canyon to our campground.
on wednesday, we decided to make the long drive to tioga pass, which had actually just opened for the season, and is the way to access the park from the eastern side of the sierras. we plotted some stops along the way, packed a lunch, charged up the lidkid ipads and hit the road.
the first part of the drive is pretty boring. trees. lots of trees. eventually we got to some viewpoints and overlooks. our first stop at olmstead point looked out over yosemite valley from the north, where you can see tiny little half dome poking up in the distance.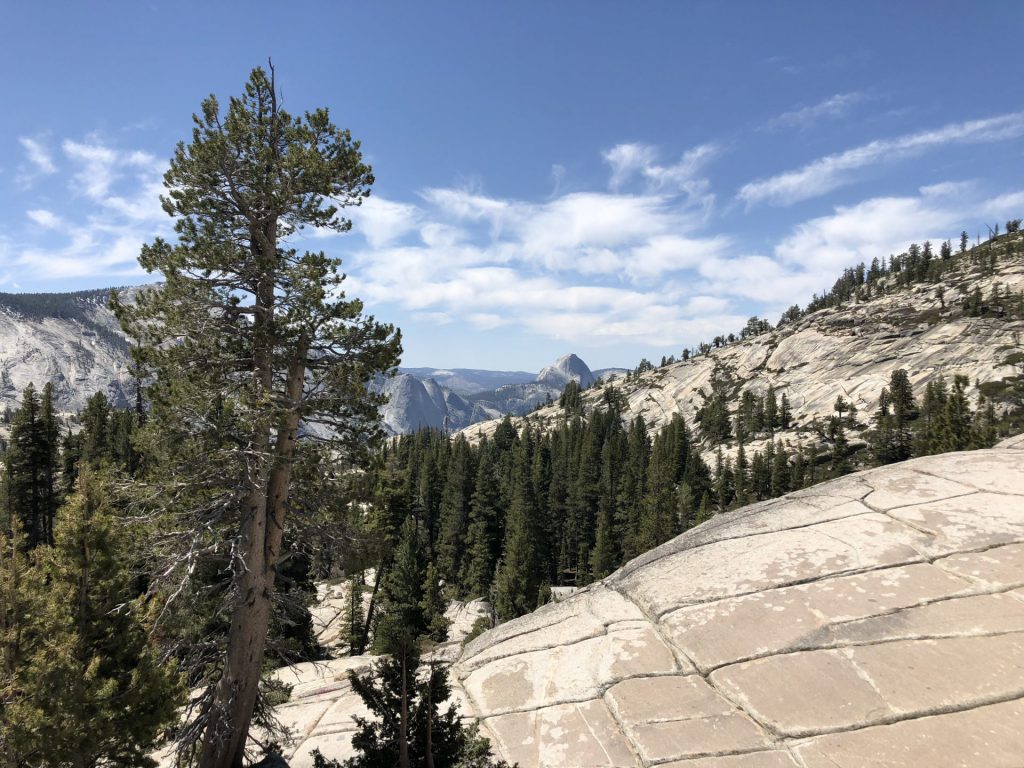 then we stopped along tenayao lake for some pretty lake+mountain views that sort of reminded me of maine.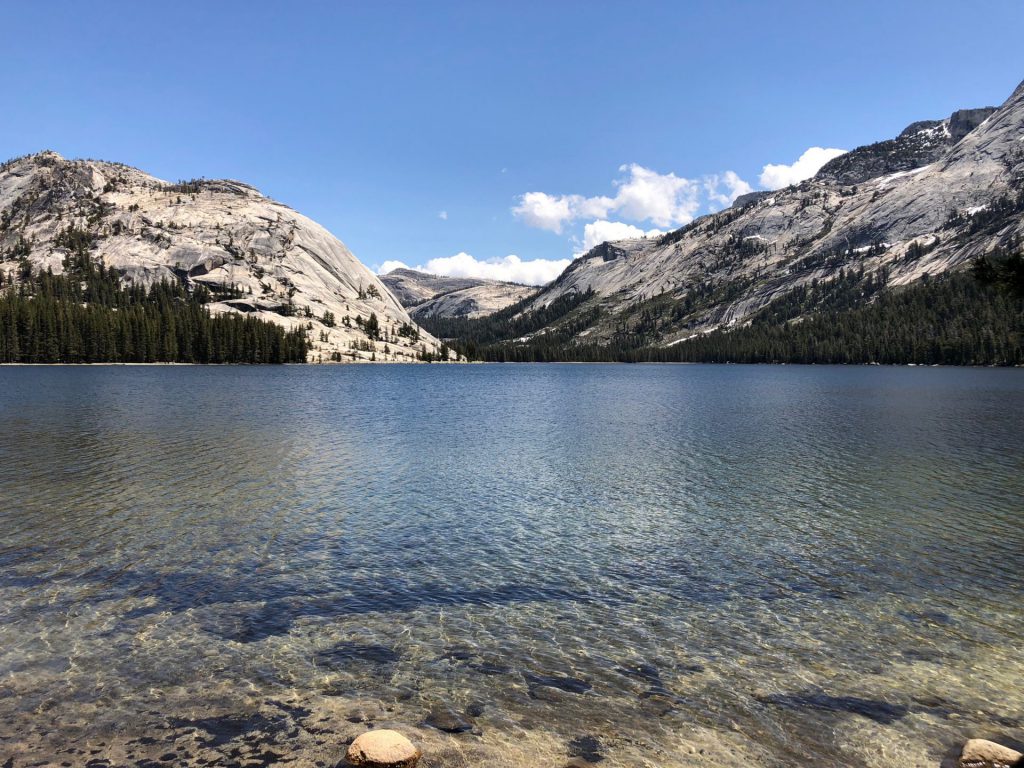 at tuolumne meadows, we found a nice little rock and busted out our picnic lunch. a friendly marmot was hanging out nearby, but we never could get a good pic of him.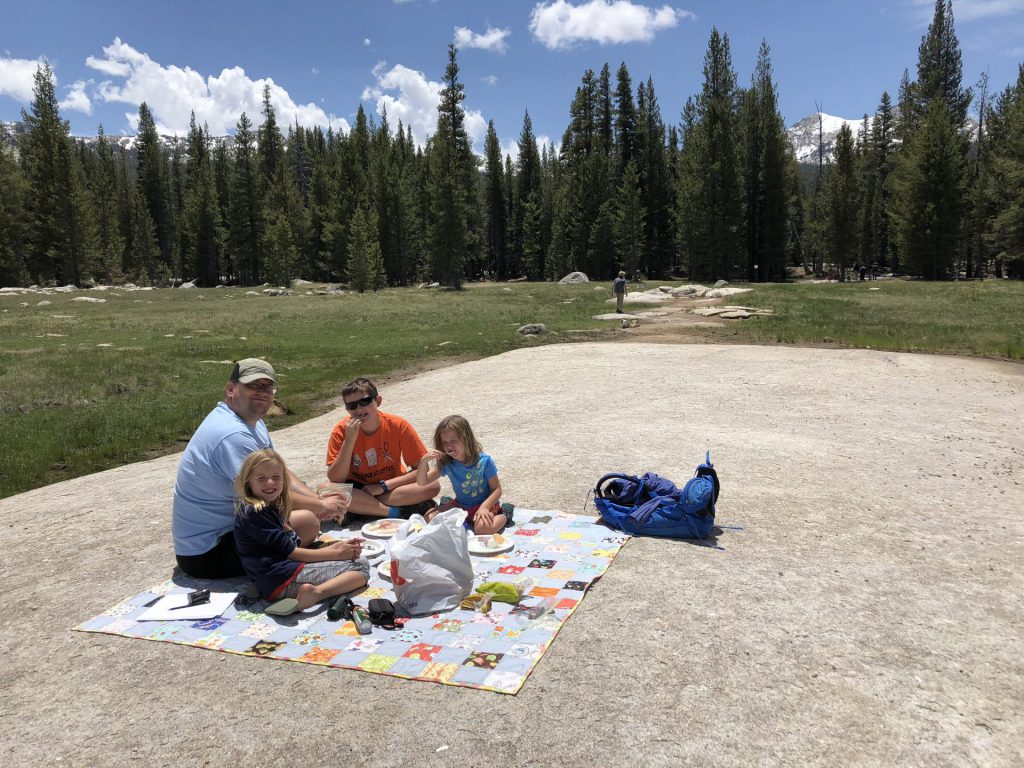 after our picnic, we walked over to the tuolumne river to hang out for a few. to throw in sticks and pinecones and touch the icy cold water.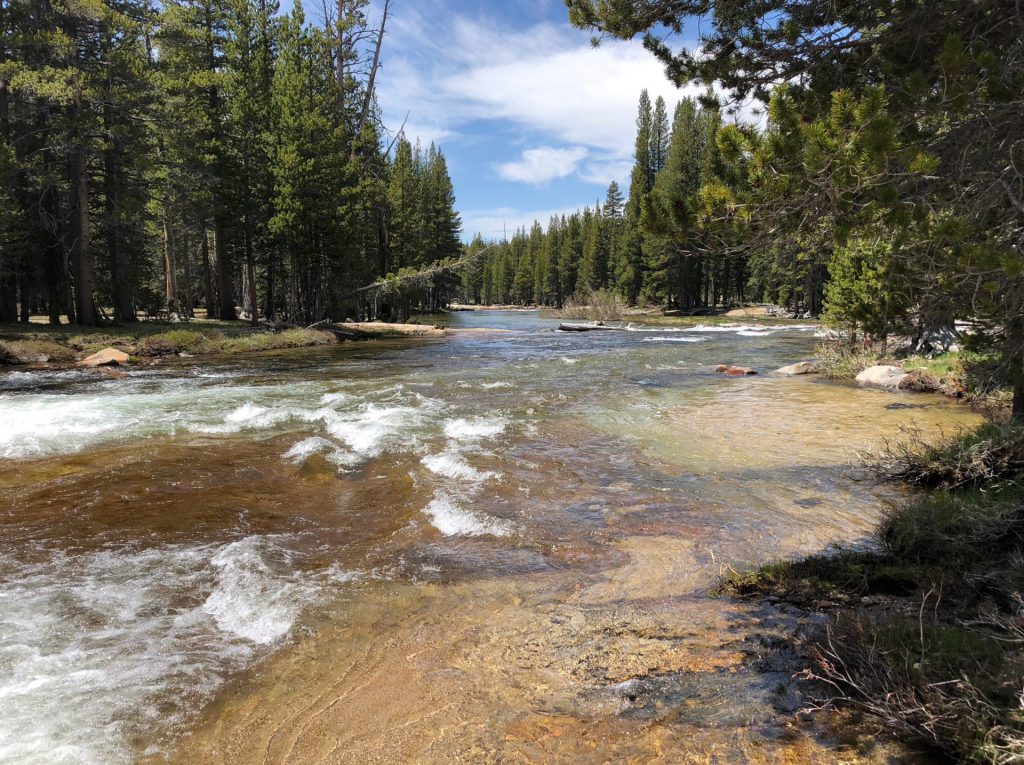 from tuolumne meadow, we drove the rest of the way up to tioga pass, which i think is at almost 10000′ elevation. then. we turned around and did it all over again, this time back down. we did stop at one little turnout for some pretty snowcapped mountain river views. i will never tire of it.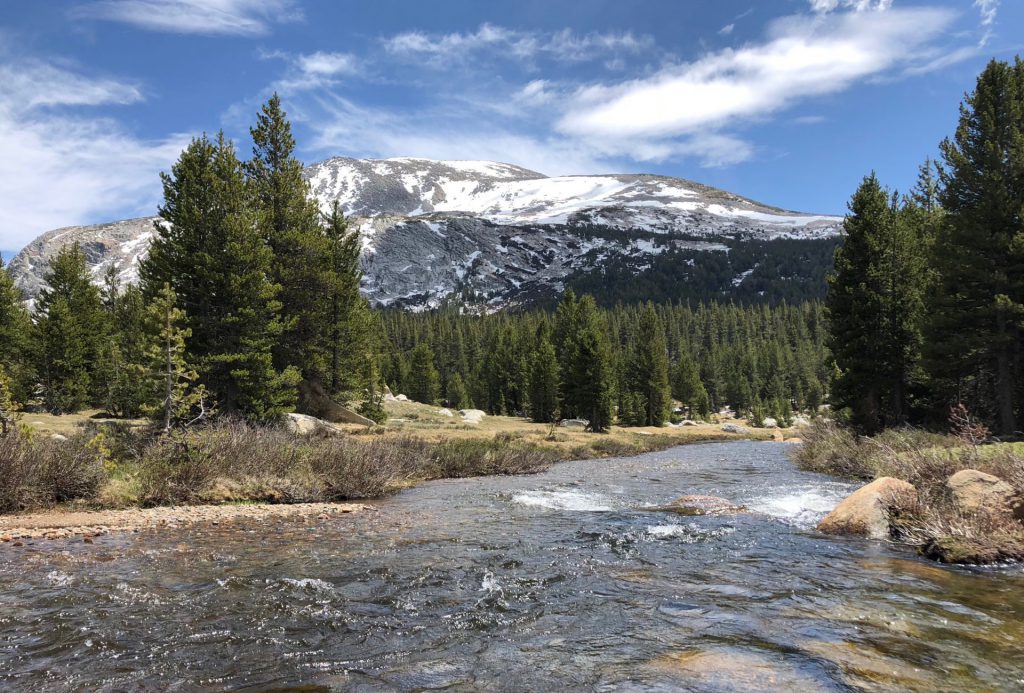 on day four, we headed back into the valley. i had scoped out like the only junior ranger program that the kids would be interested in that was actually happening during our first week (most stuff was starting up the following week). it was a little walk near the happy isles nature center and it was great. the kids learned a lot about the plants and trees in the area and the recent history of the park in the nature center area.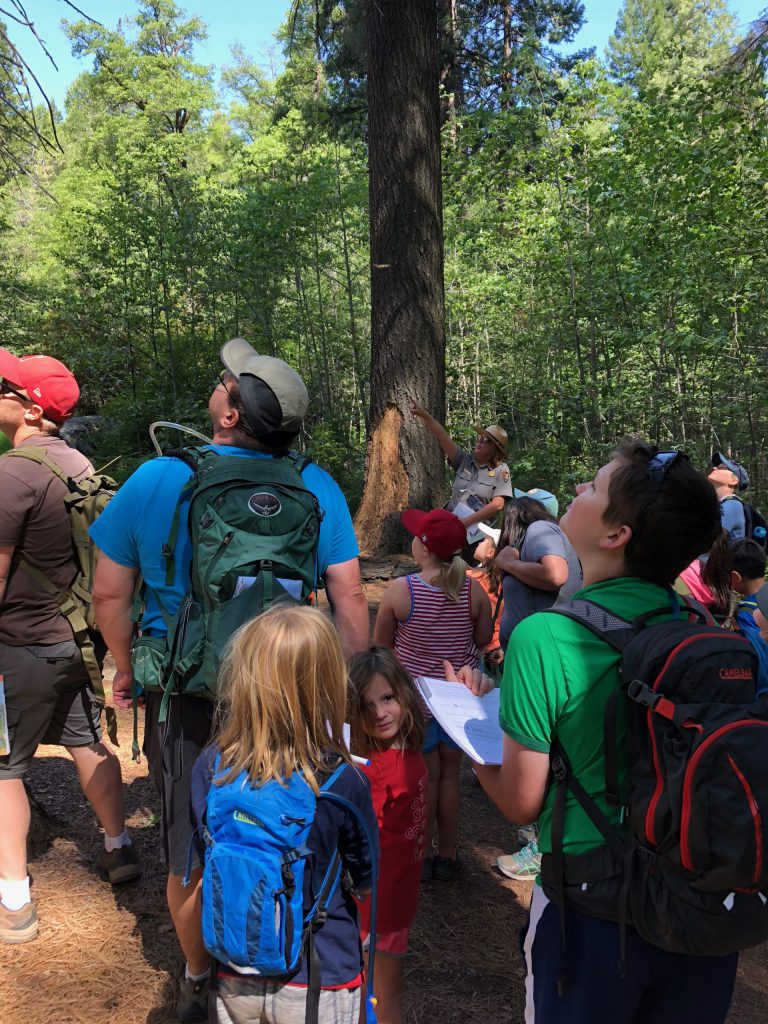 when we were done, there was a massive group swearing in ceremony, and all the kids and adults got junior ranger badges. then the lidkids worked on their junior ranger books and turned them in to receive a pretty great patch.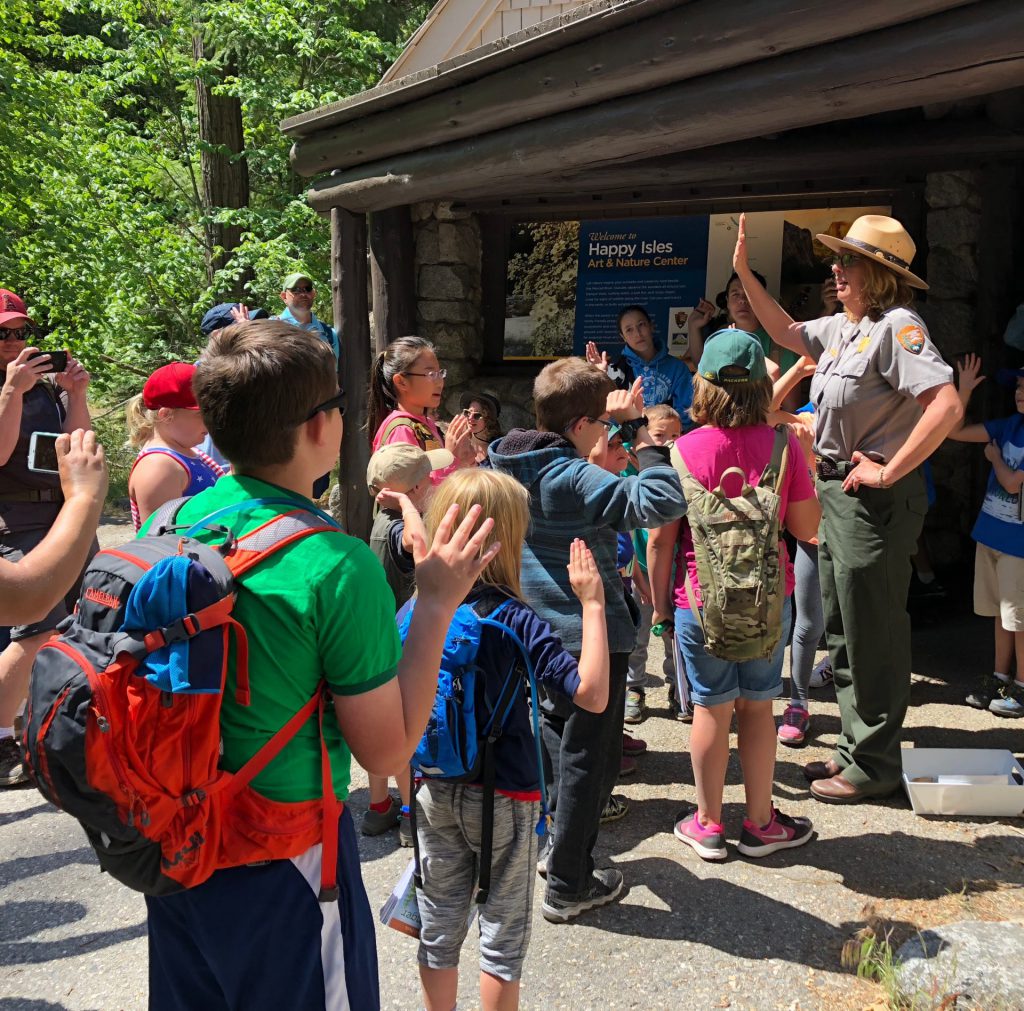 when we were done, we went on a pretty popular hike that started near the nature center. it would follow along this river for a bit.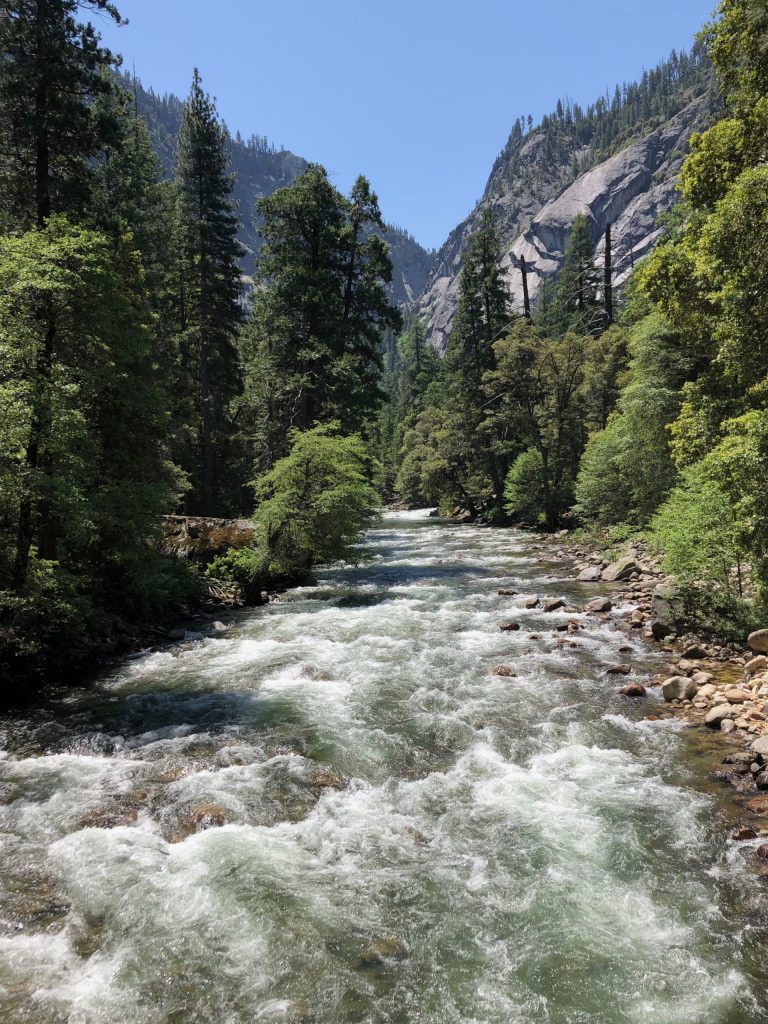 it was pretty steep, climbing like 400′ feet in about a mile. the kids were grumbly. especially hazel. we did get an excellent surprise when we happened upon this rattlesnake just trying to cross the trail in peace. thankful that the people in front of us noticed it first, or i would have probably stomped right on it.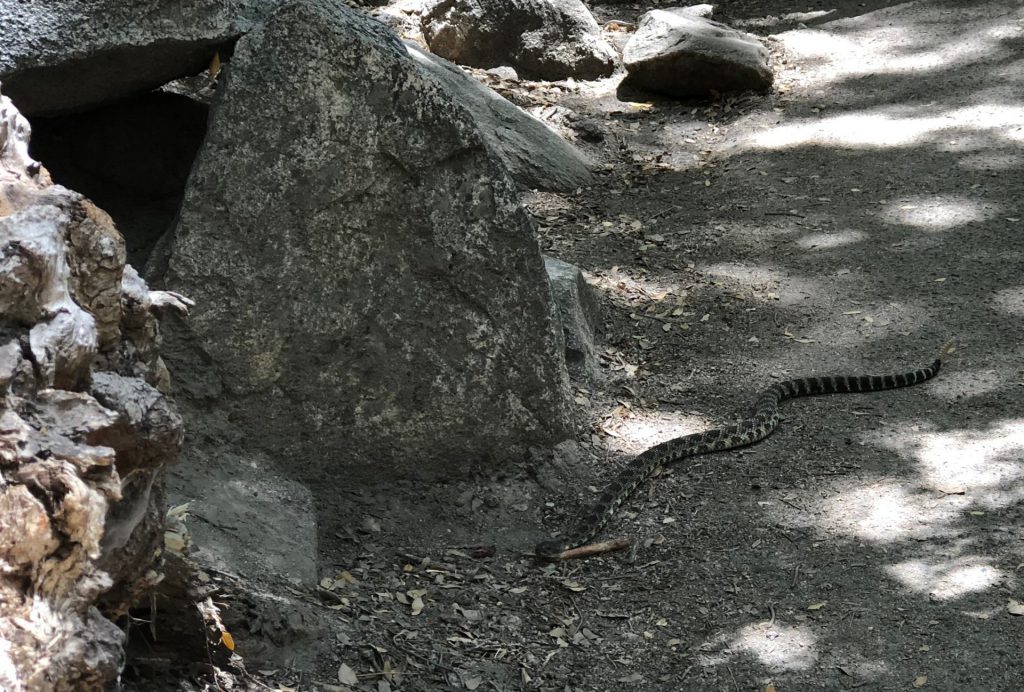 finally. we reached the foot bridge, which is the stopping point for a lot of folks. we had some lunch. and decided that i would continue on and derek would head back down with the kids.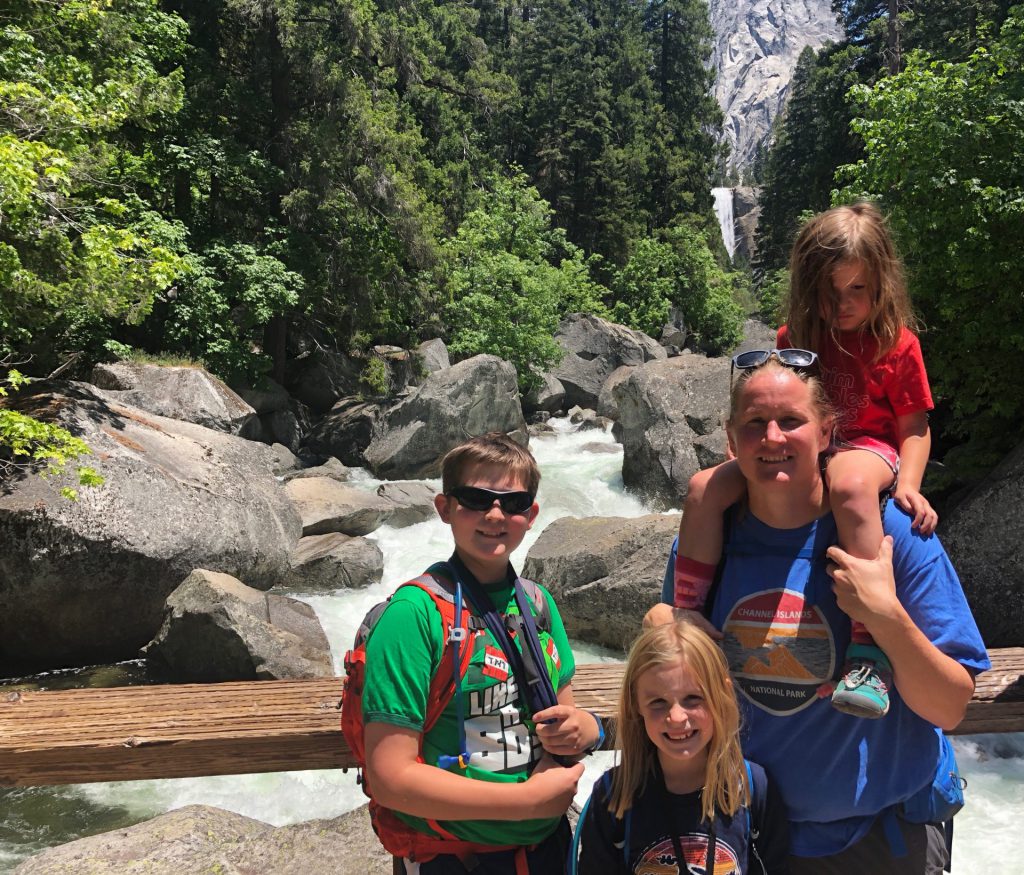 the next bit was a lot more up up up. so many stairs. and the mist was making it very cold and slippery. i went another 500′ feet up or so in about 1/2 mile, where i got some random kid to take my pic for proof.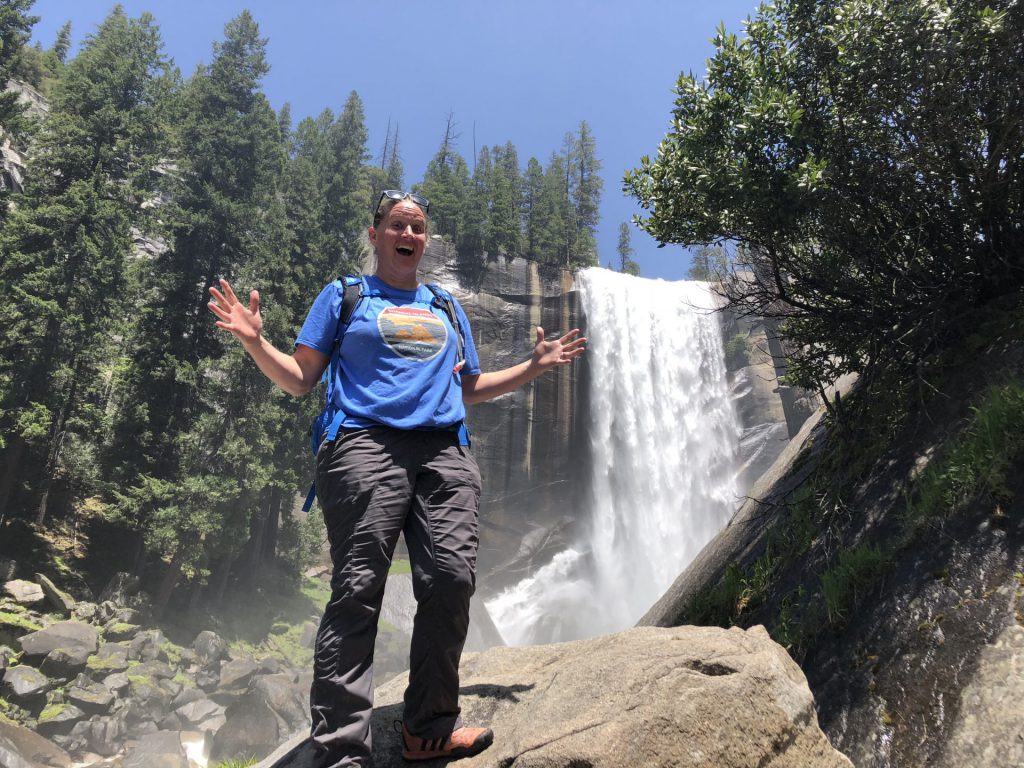 there was a pretty cool rainbow hanging out at the bottom of the waterfall.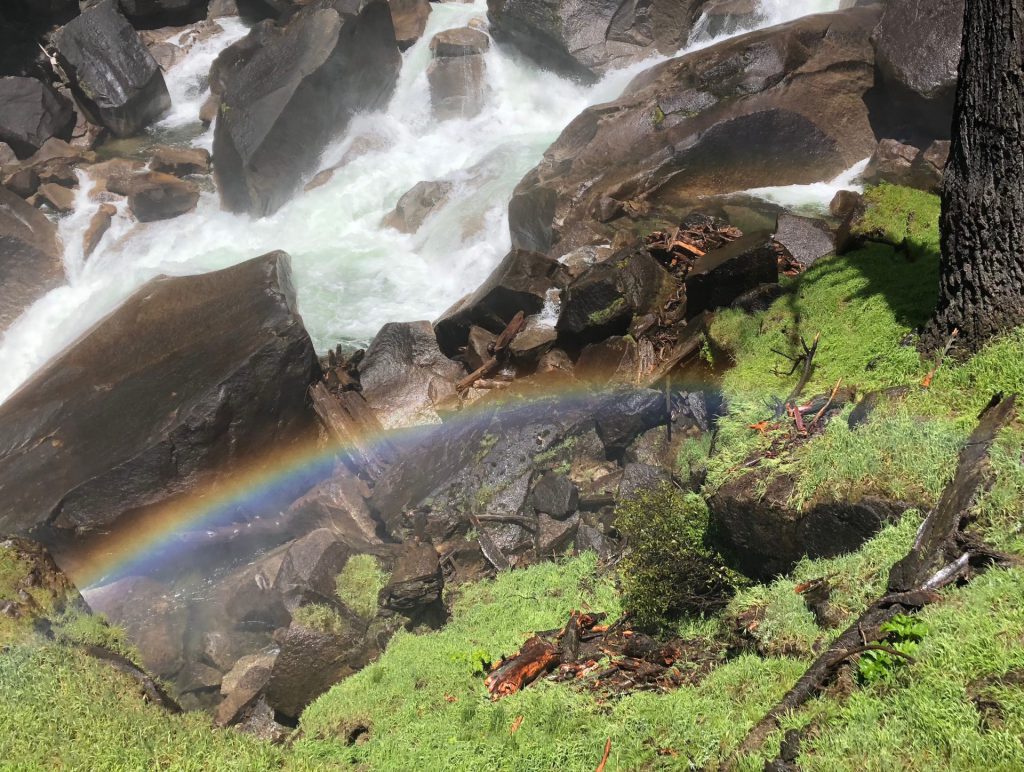 i think this is the actual furthest point i went. this is vernal falls, in case you're wondering.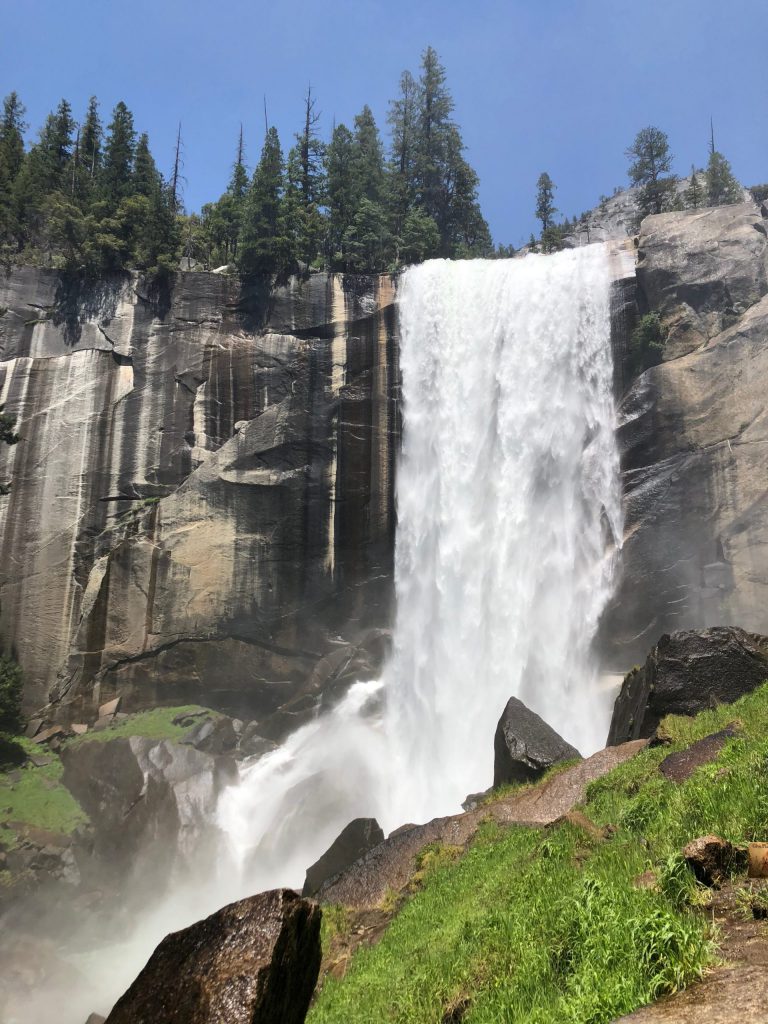 and then i turned back to find my people. here's the view looking back down. so many people. with no trail etiquette.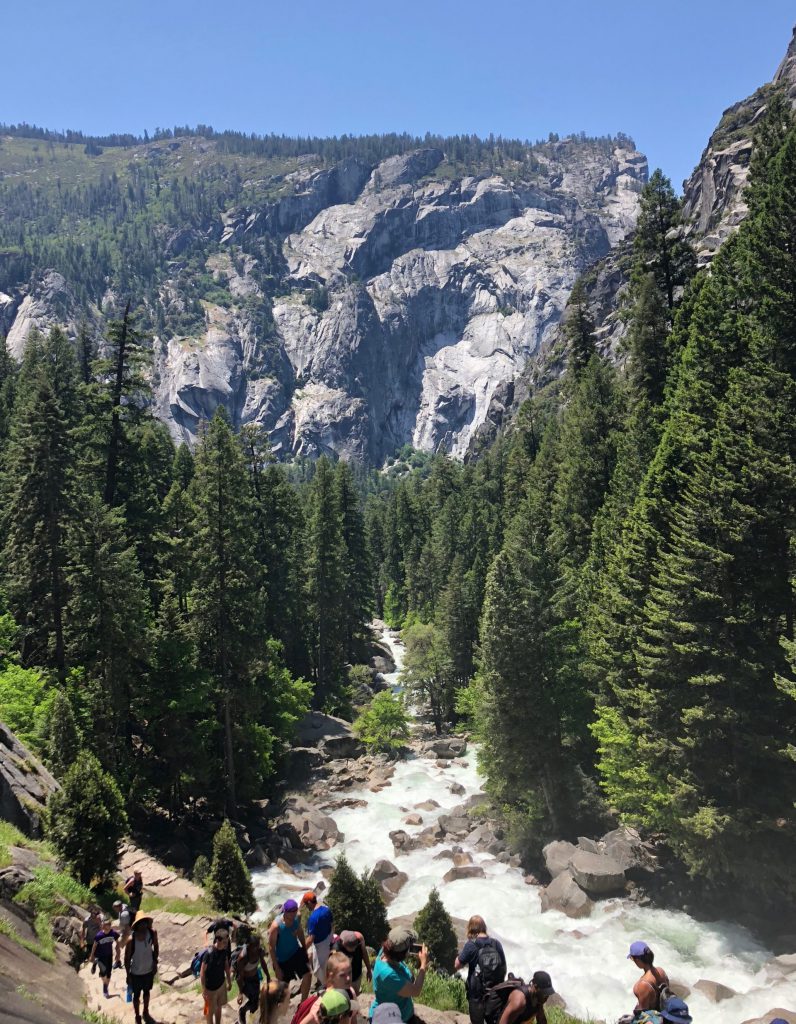 i hustled back down. mostly because i didn't have the leg strength to fight gravity. we stopped at the visitor center to get some treats for the kids and some wifi for derek and i. and then we left yosemite valley once again.
i'll break up the posts here and write about the rest of our yosemite time in another post, creatively dubbed "part 2".