so. we usually try to travel on weekends because it's much too stressful to pack up and leave on a workday for derek. plus, checkout is usually sometime in the late morning, which isn't ideal when you have a job. but, sometimes, the availability of cool parks in peak seasons necessitates a weekday departure. such was the case at samuel p. taylor near point reyes.
we had to check out by noon on friday, so i got us as packed up as possible, with the plan that derek would drive over to the visitor center when he had a break and would finish his workday there, while we got on the road. so, i scoured the internets for activities to kill sometime in our travels, specifically things that were far enough from the previous and next campgrounds that i wouldn't make a day trip. it wasn't long before i landed on the jelly belly factory in fairfield, ca.
it was also ideal, because as we got closer, traffic became 100% stuffed to the gills, presumably because it was the start of the fourth of july festivities? i don't know. but, we exited the highway, and rolled on over to the factory.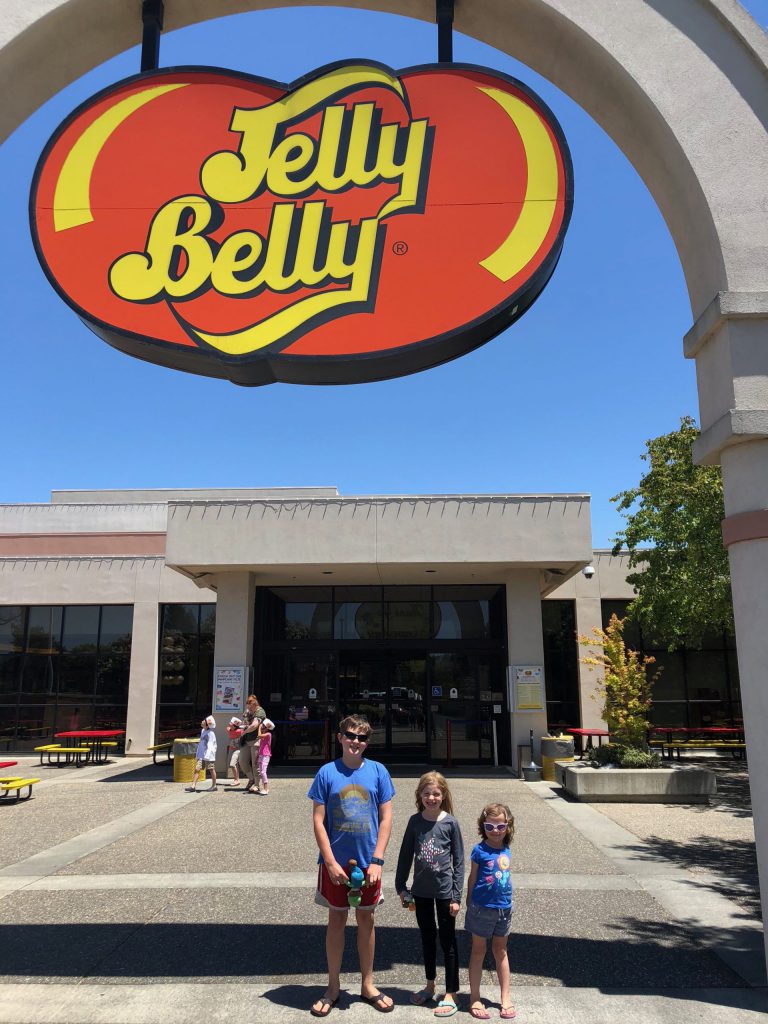 ready for the free and self guided tour in our cool paper hats.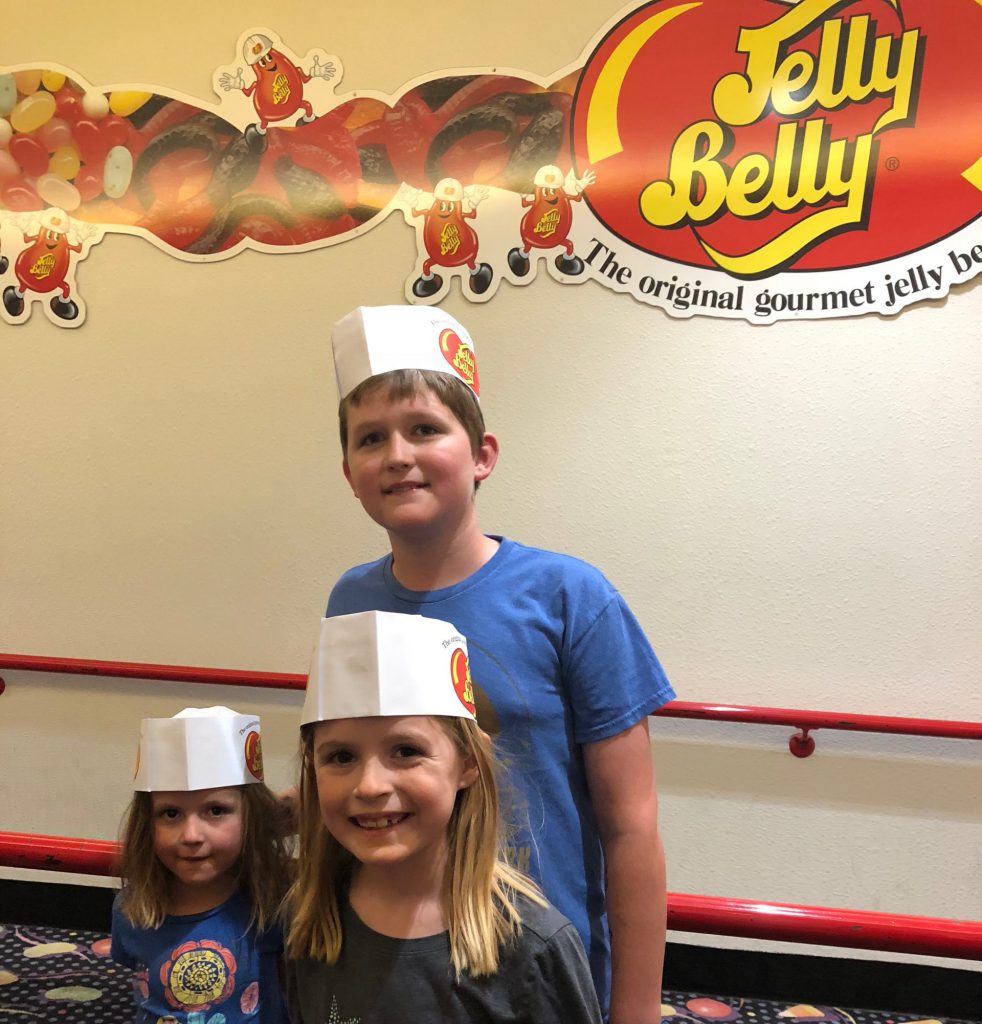 i don't know how much the kids understood or cared about what was going on. some of it was hard to see. we were up high and behind glass. which makes sense, i guess, given health codes and all.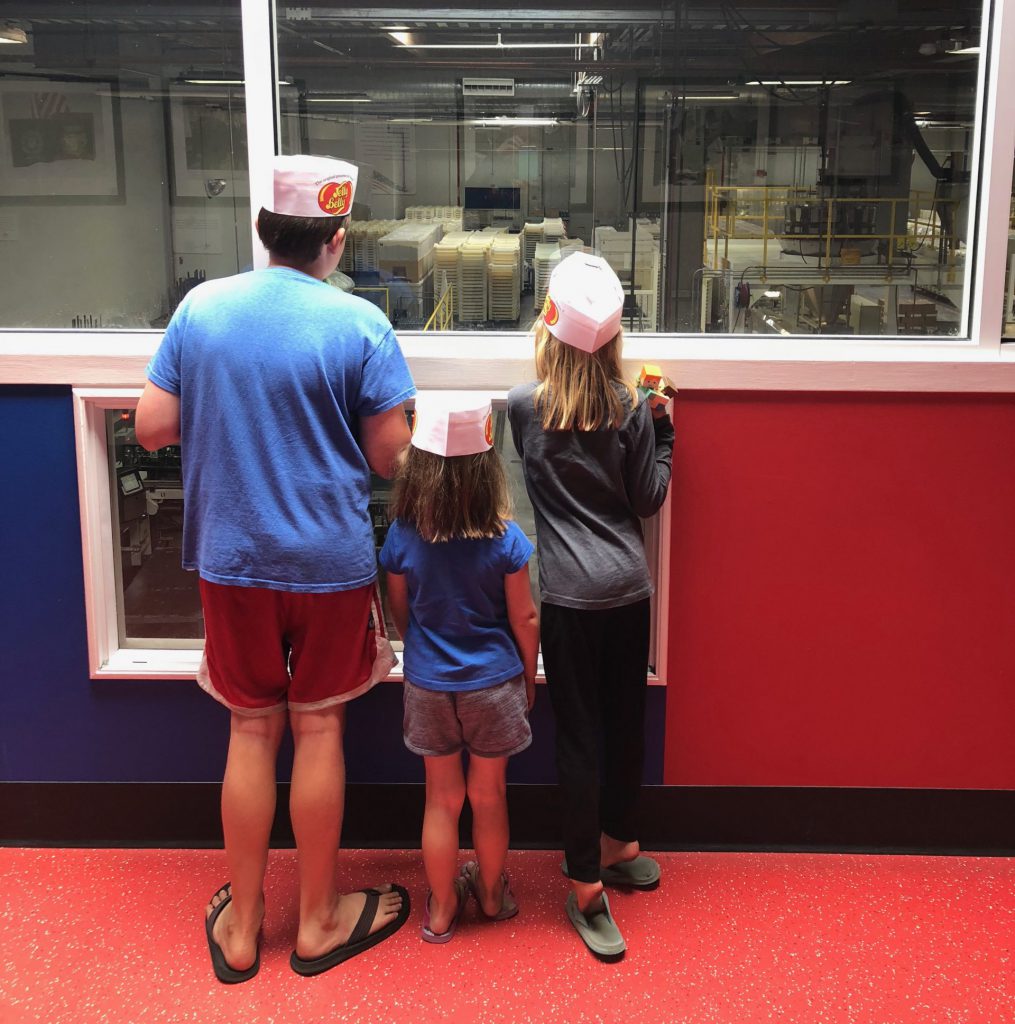 i'll be honest, it was hard for me to make anything out. and i've watched like 900 episodes of how it's made.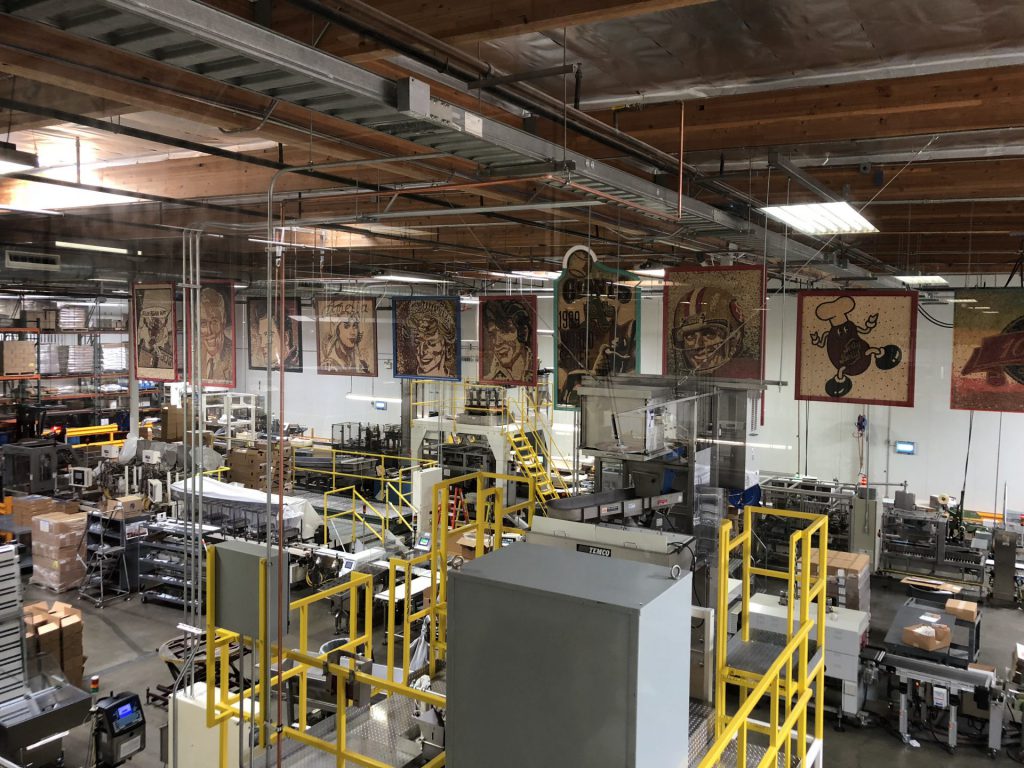 i'm pretty sure their favorite part was the sniffing station, where they could press a button and get a whiff of different jelly belly flavors.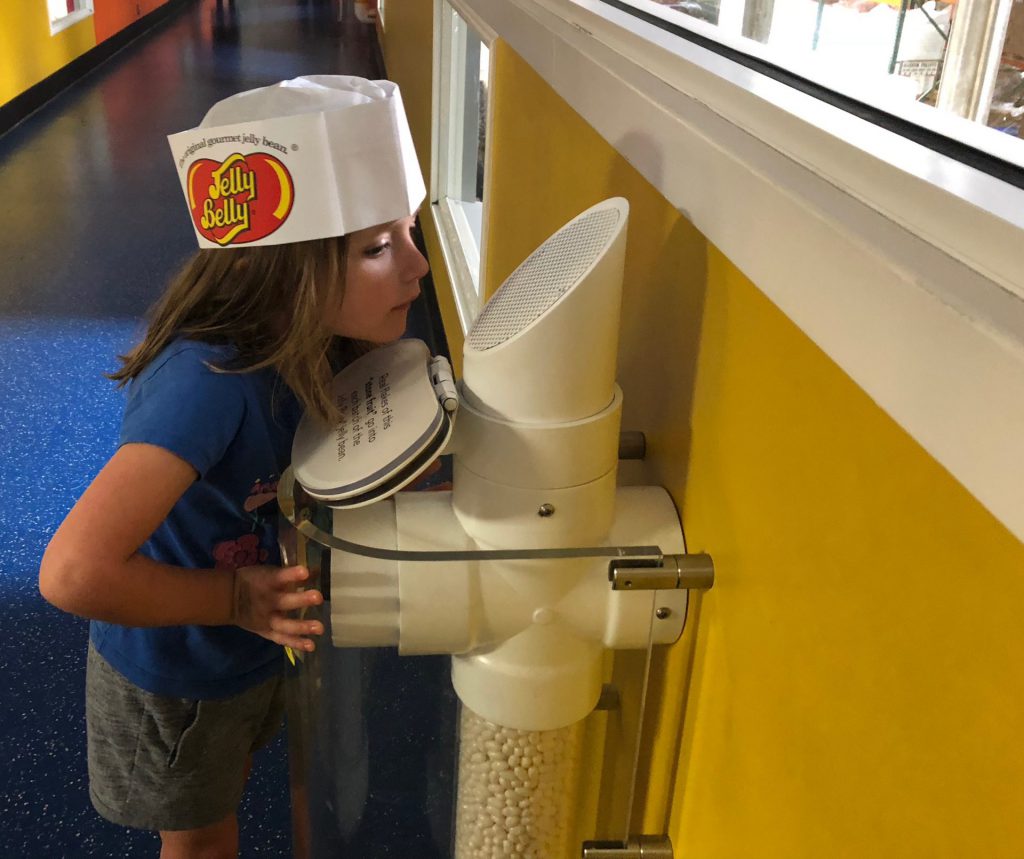 the hallway where the molds are pressed into cornstarch for the jellies to be formed in was probably the coolest. there were several molds on display for different candies produced by the company.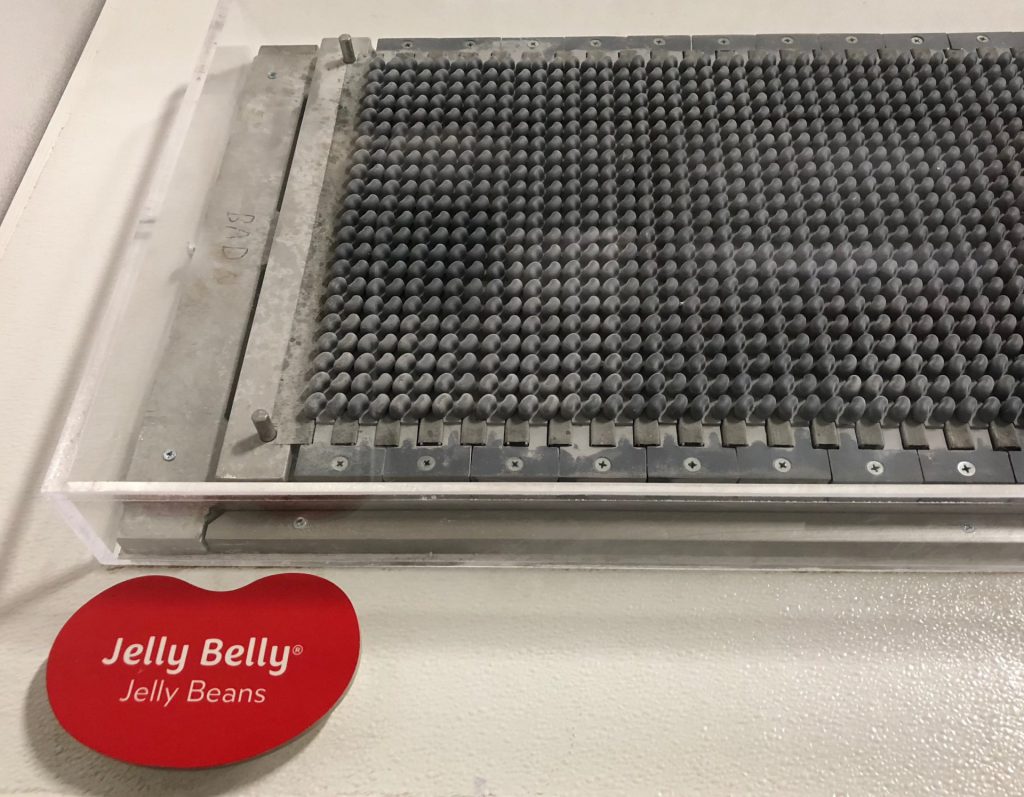 we definitely perked up when we passed along rows and rows of stacks of bins full of brightly colored candies.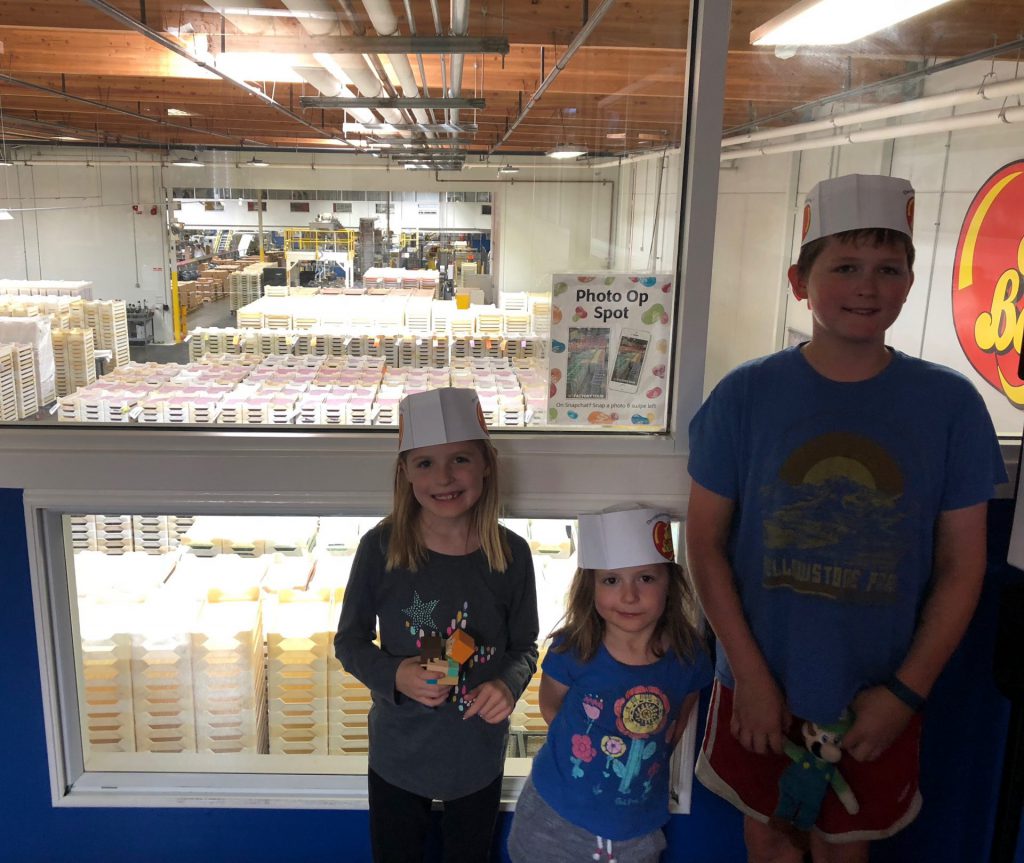 i think these were beans ready for their shellacking.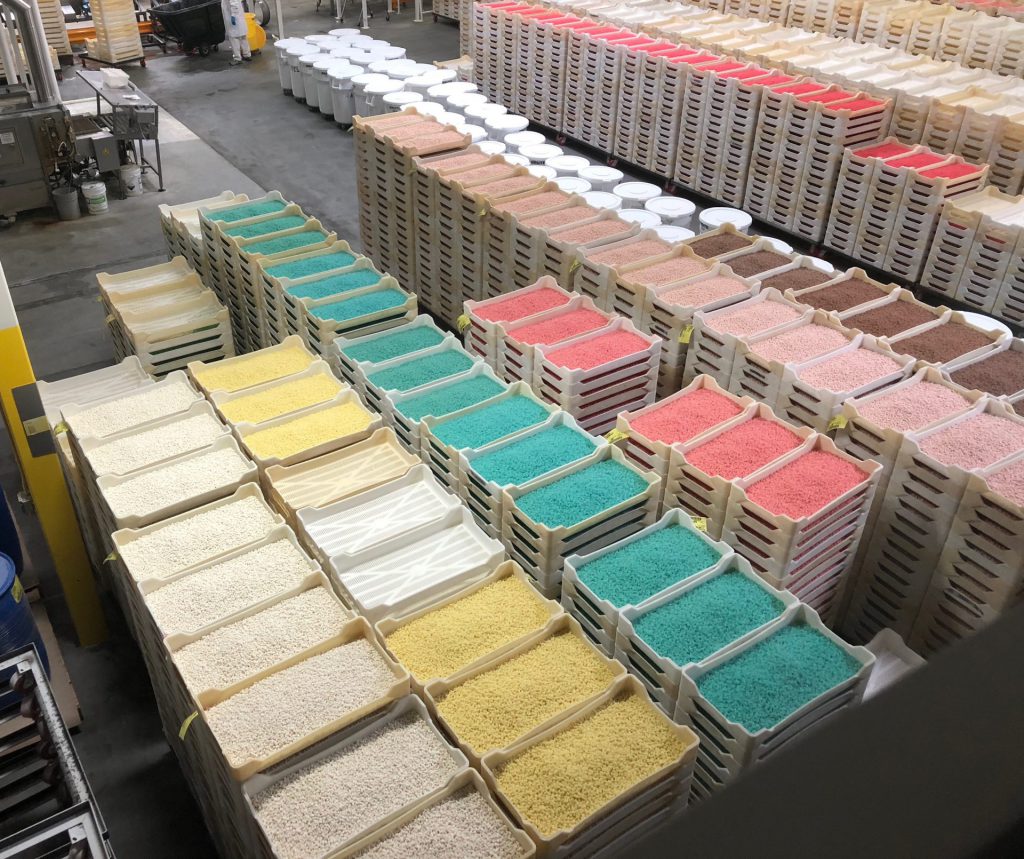 gummy bear pic!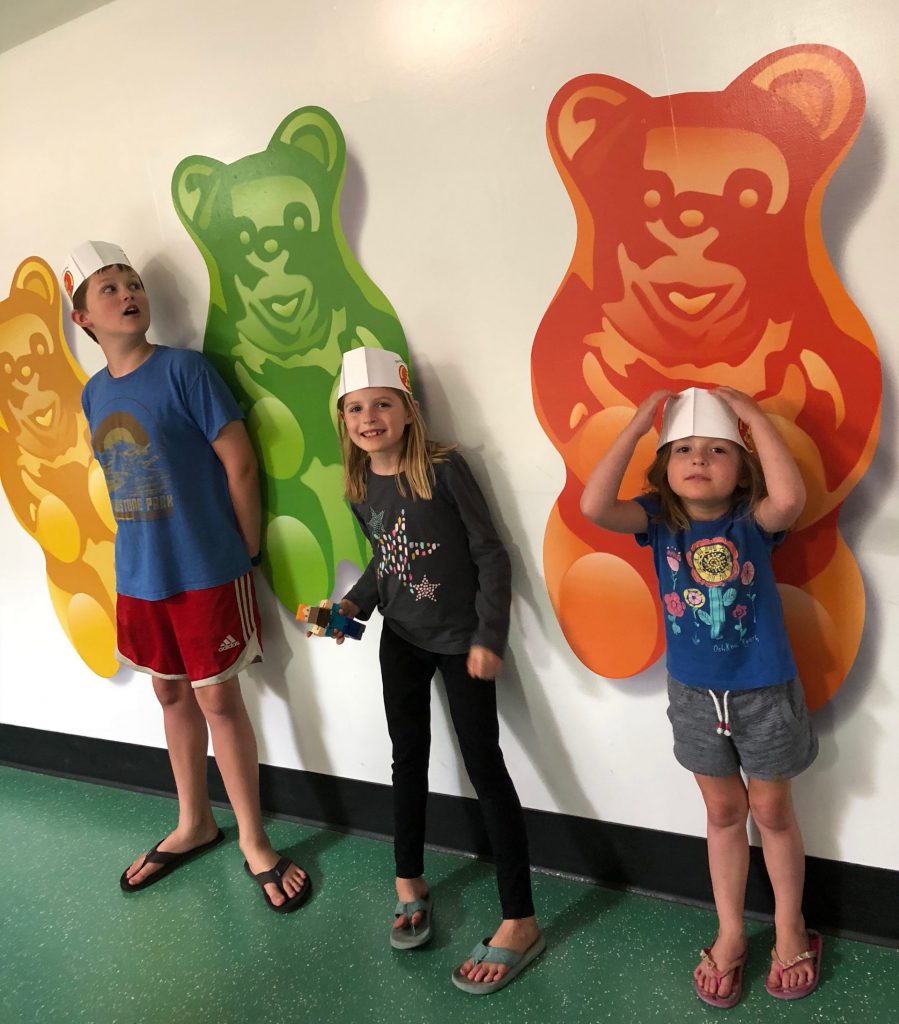 in one of the packaging rooms, the kids were super amused with a giant plush jelly belly guy riding on one of the robots.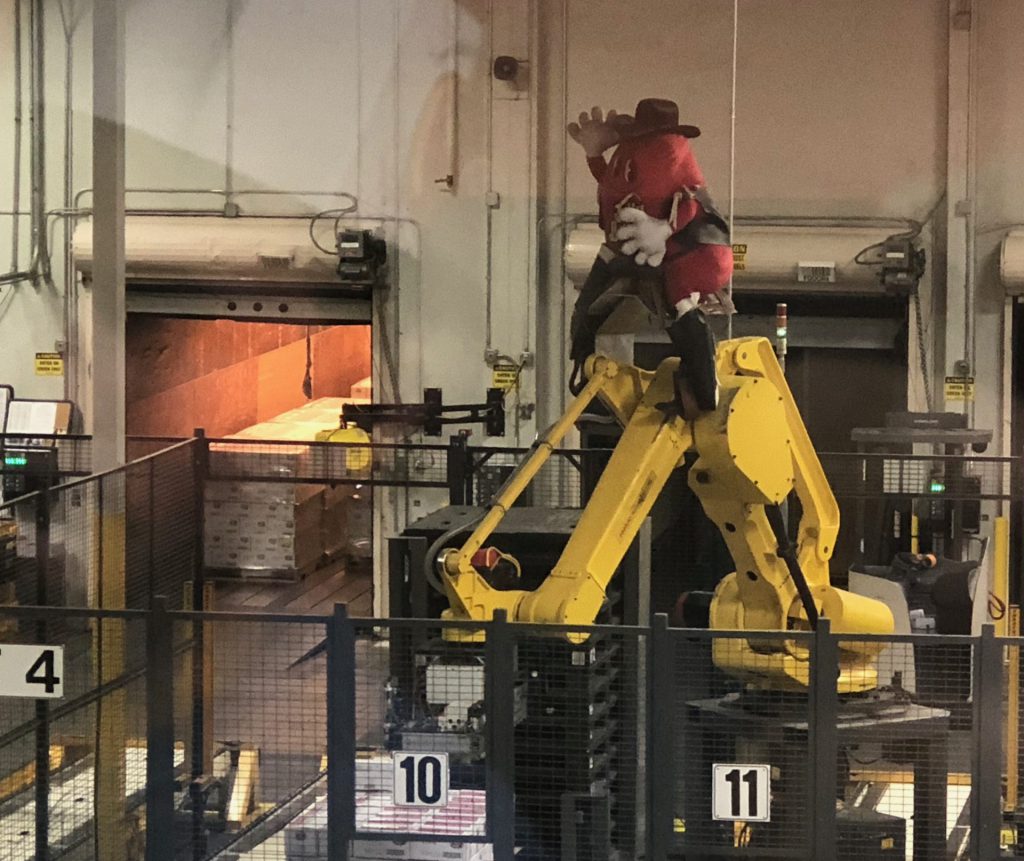 then we came to this room. ninety hundred zillion jelly bellies. ready to be shipped out to america. (the international jelly belly distribution center is in thailand, i did learn something).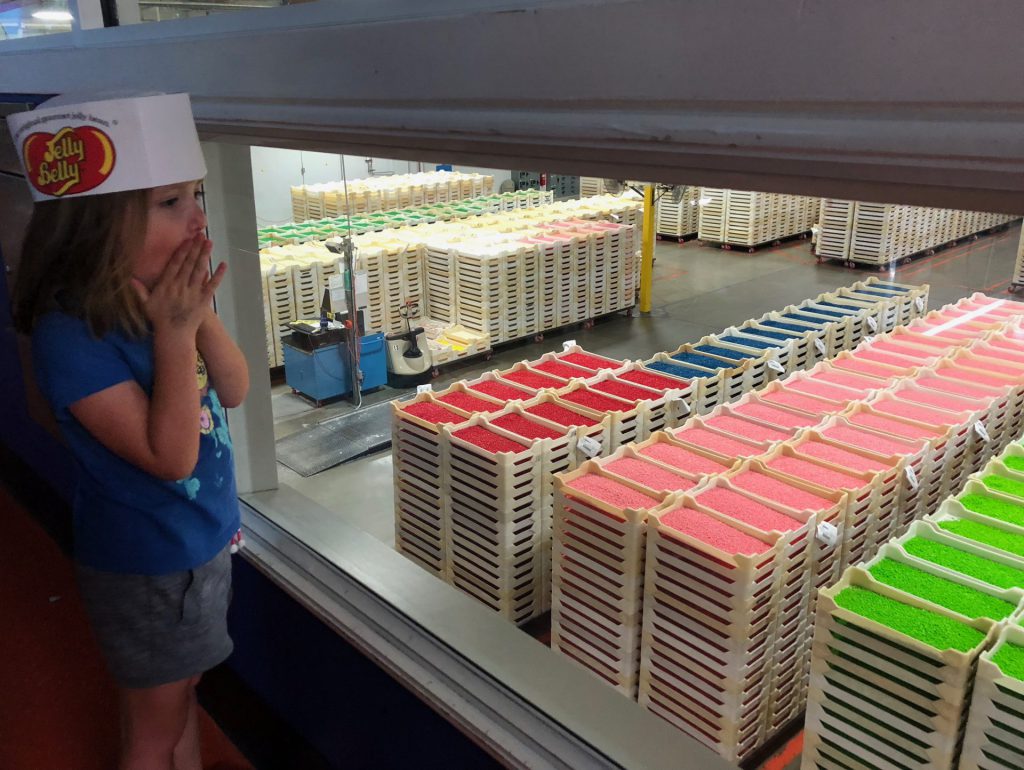 i'm assuming this is how assorted bags become assorted.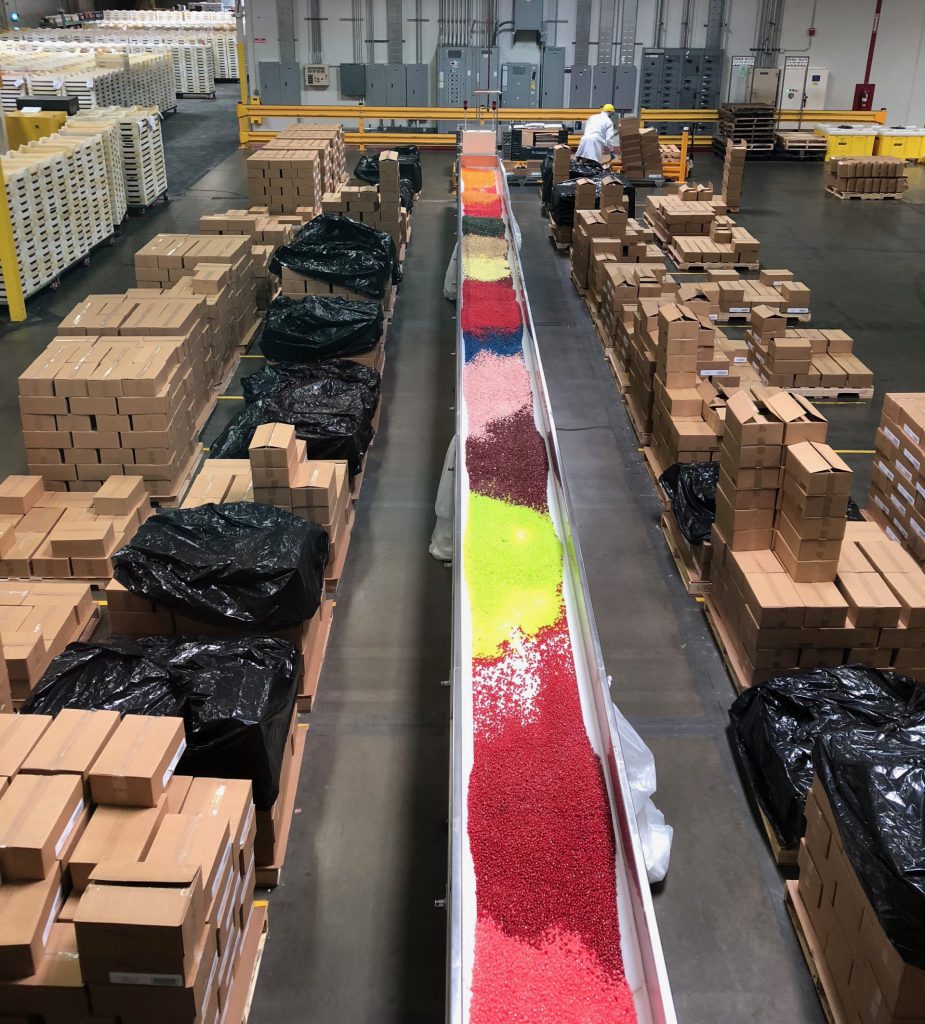 on our way out, we passed by some jelly belly art creations. we loved the rooster.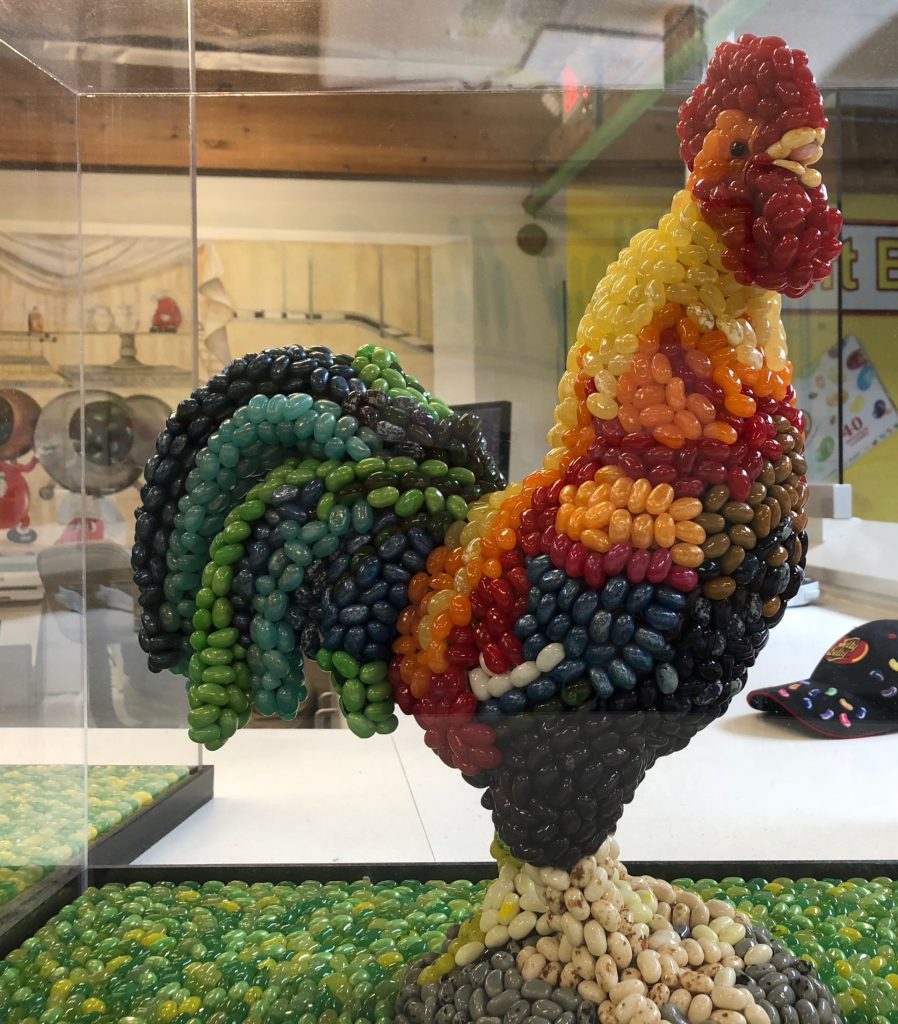 and then into a gallery of more art and portraits, much of it ronald reagan themed.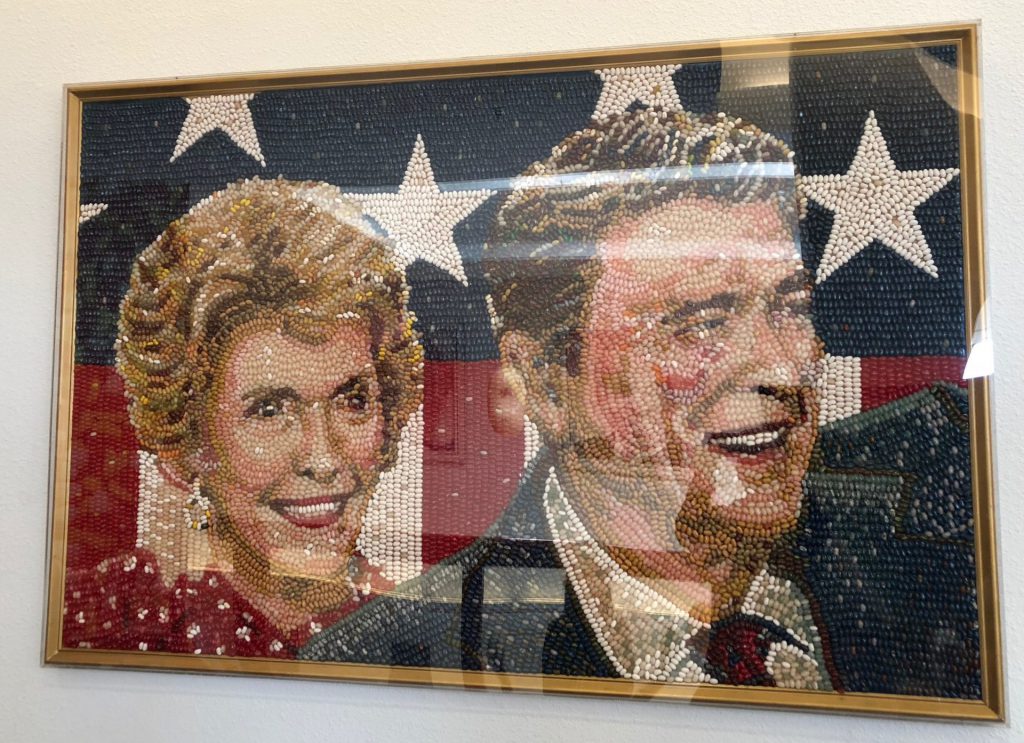 mona lisa. we laughed because on our peanuts field trip, we saw "mona lucy" so this was our second mona lisa inspired art of the week.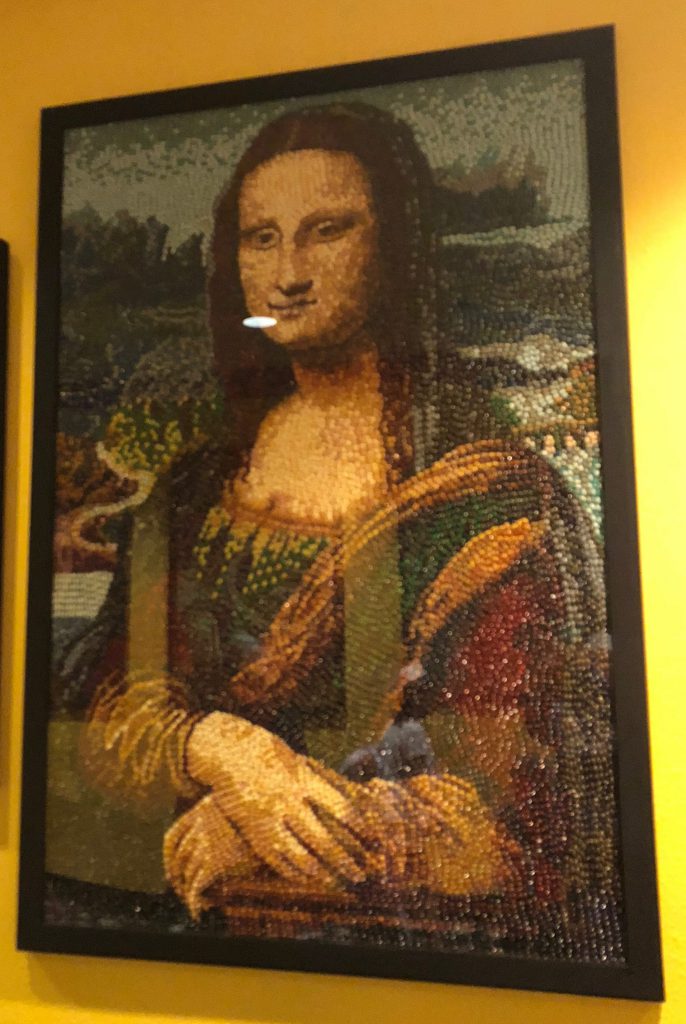 batman. although, now that i think of it, i'm not sure i saw many gray colored jelly bellies.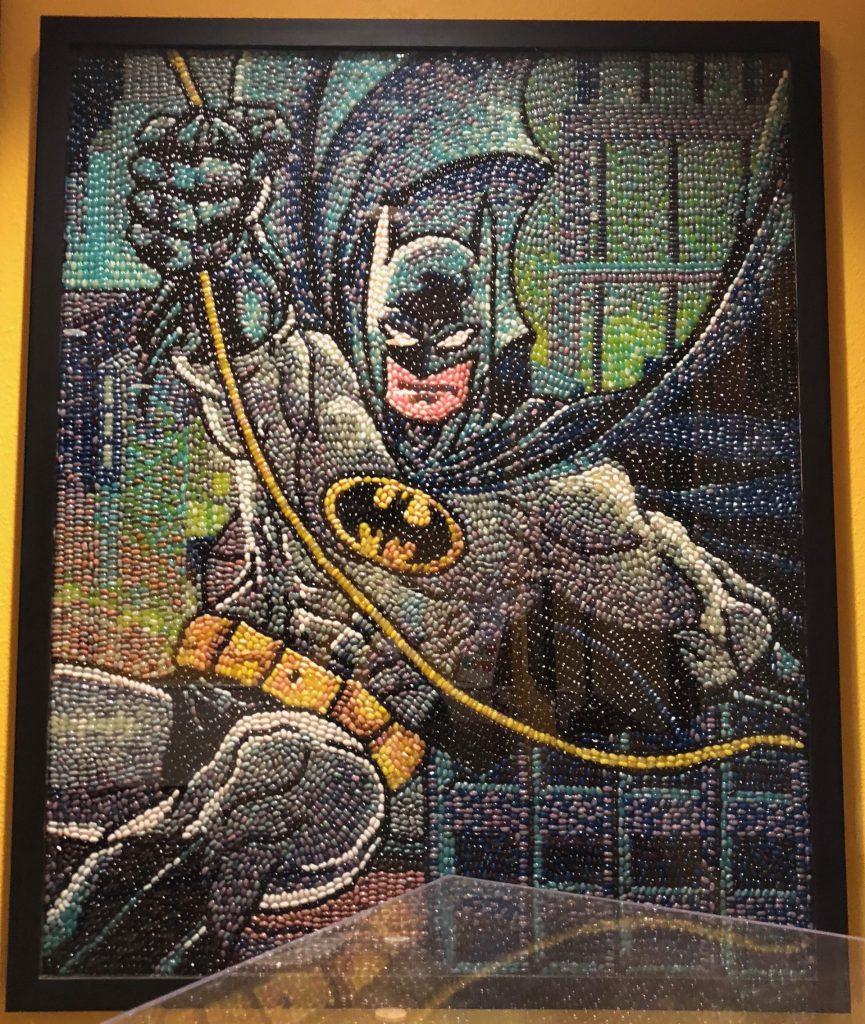 american (jelly belly) gothic.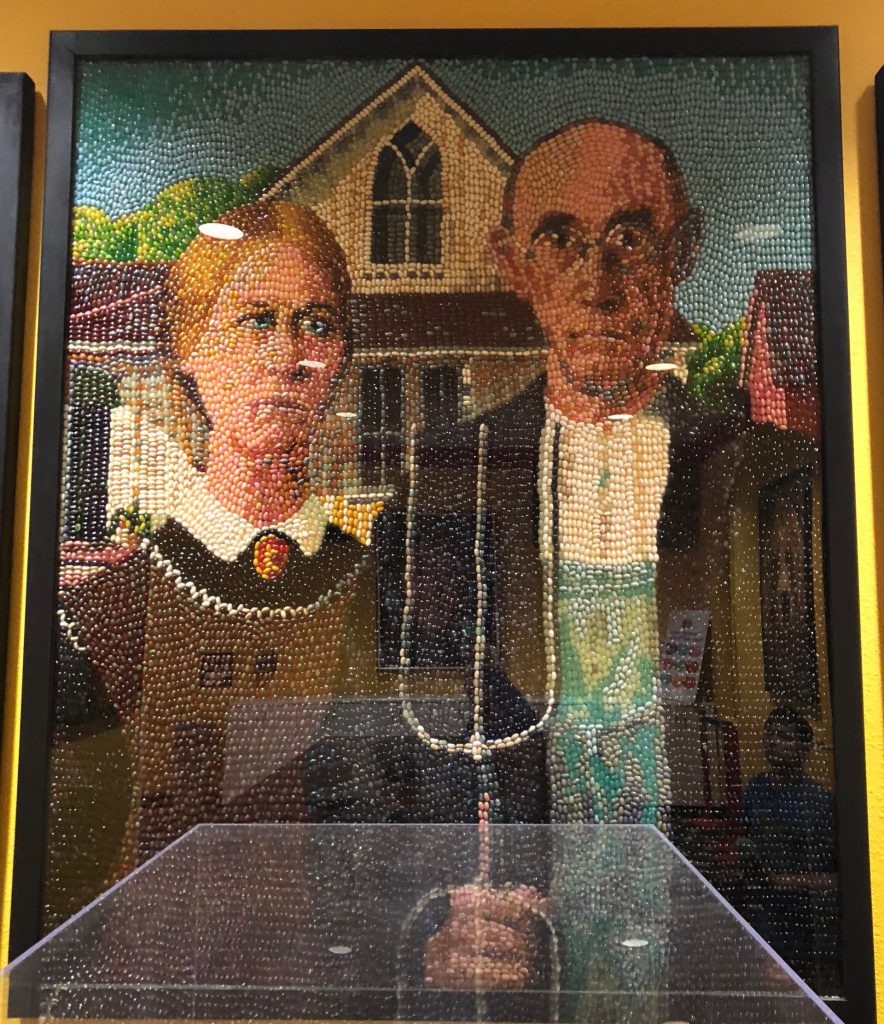 and big old fat cheery santa.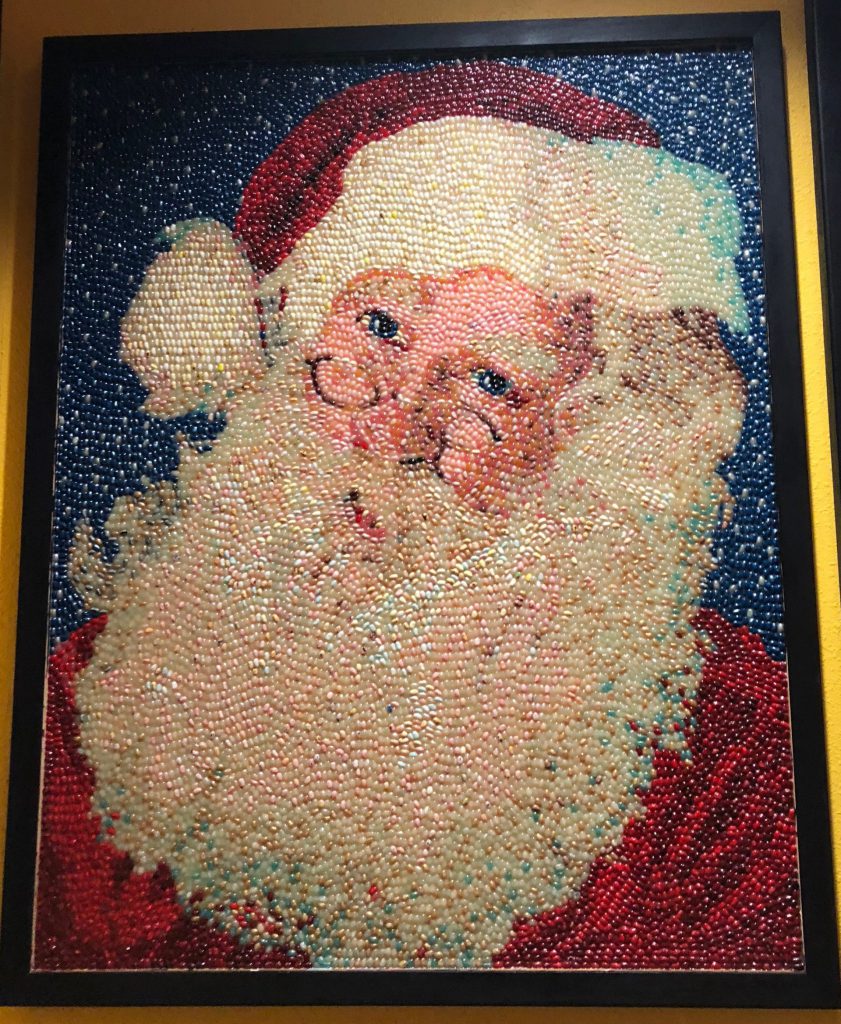 ben.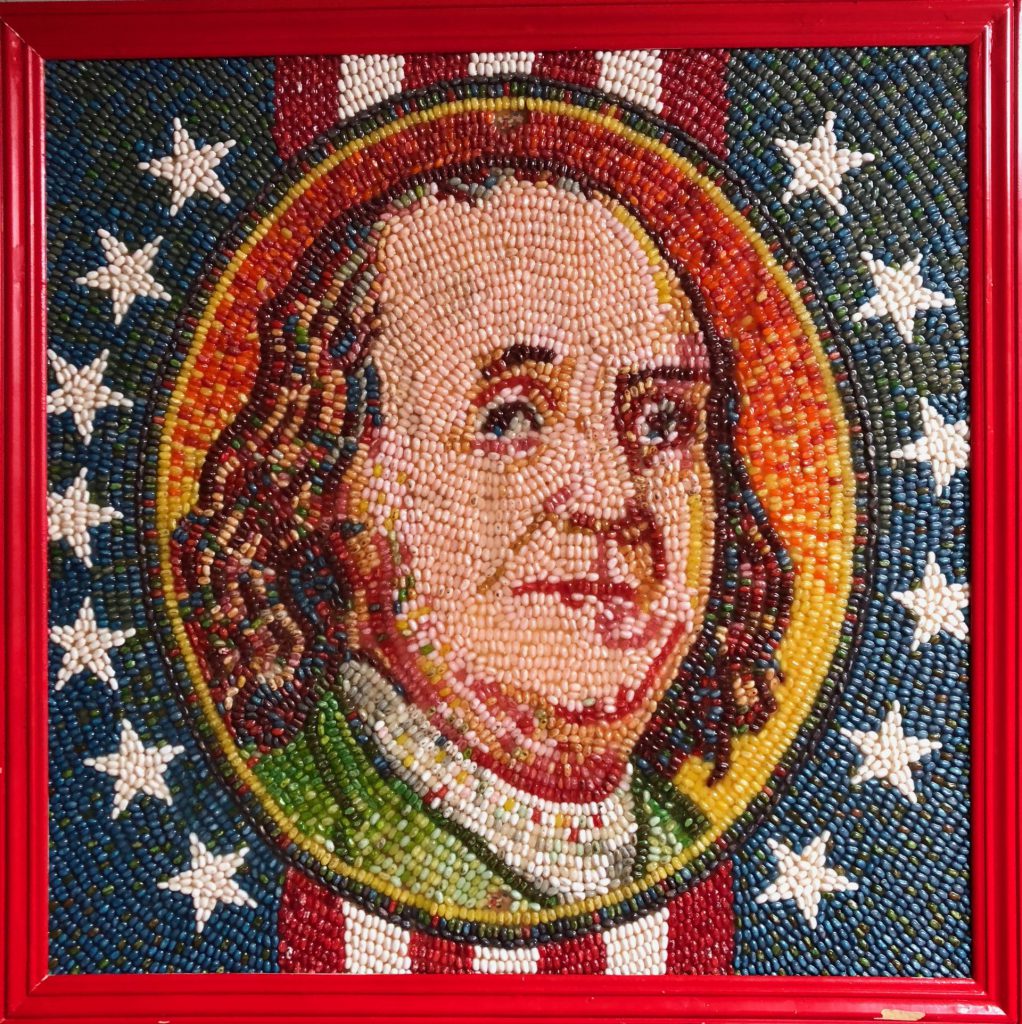 and one last ronald reagan. our travels on the west coast seem to have a ronald reagan theme.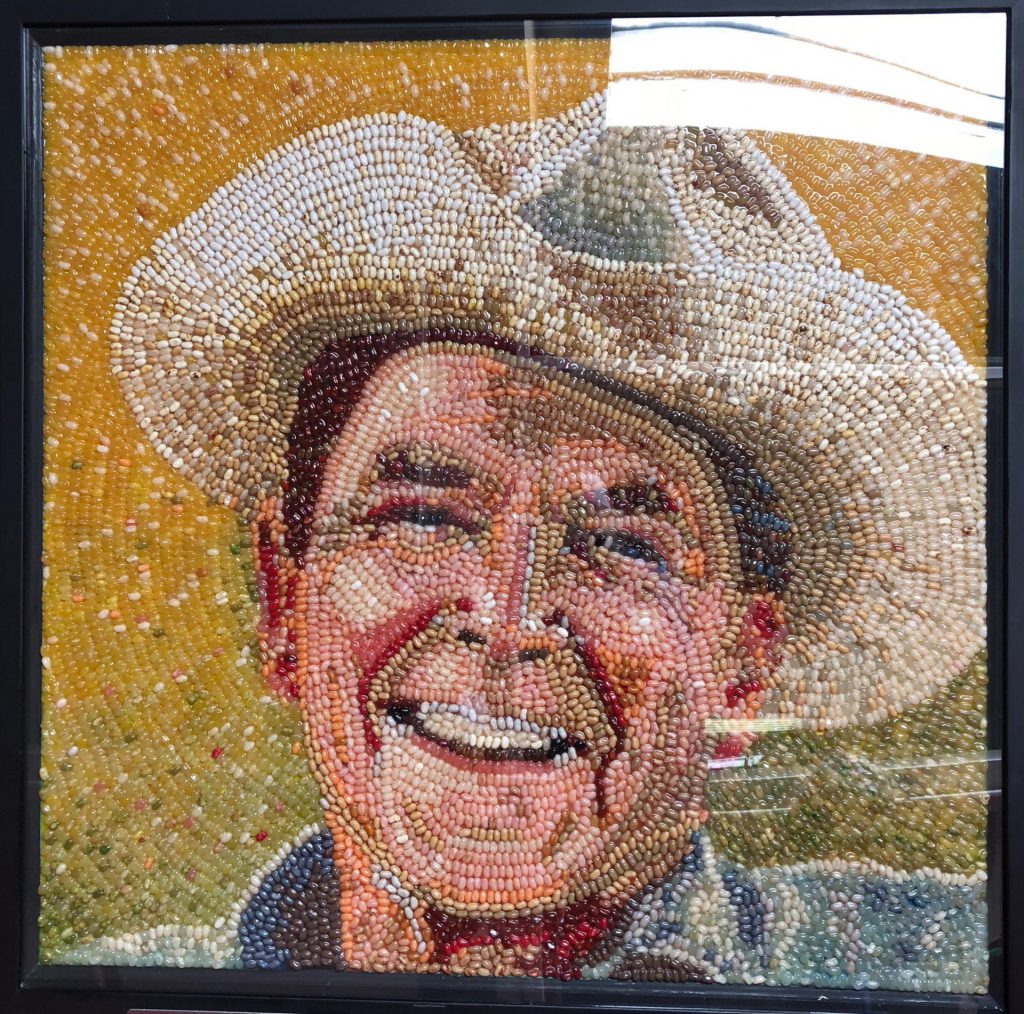 when we came down from the tour and the gallery, obviously we had to taste some jelly bellies at the sample line. and then. in a moment of weakness, i allowed the kids to pick out some jelly bellies to take home with us. after basically getting some of each, except for the beer and wine flavors, we had a pound of jellybeans, and candy corns for ike who hates jelly beans, and two packs of sugar free jelly bellies for derek and i, who are trying desperately to stay keto.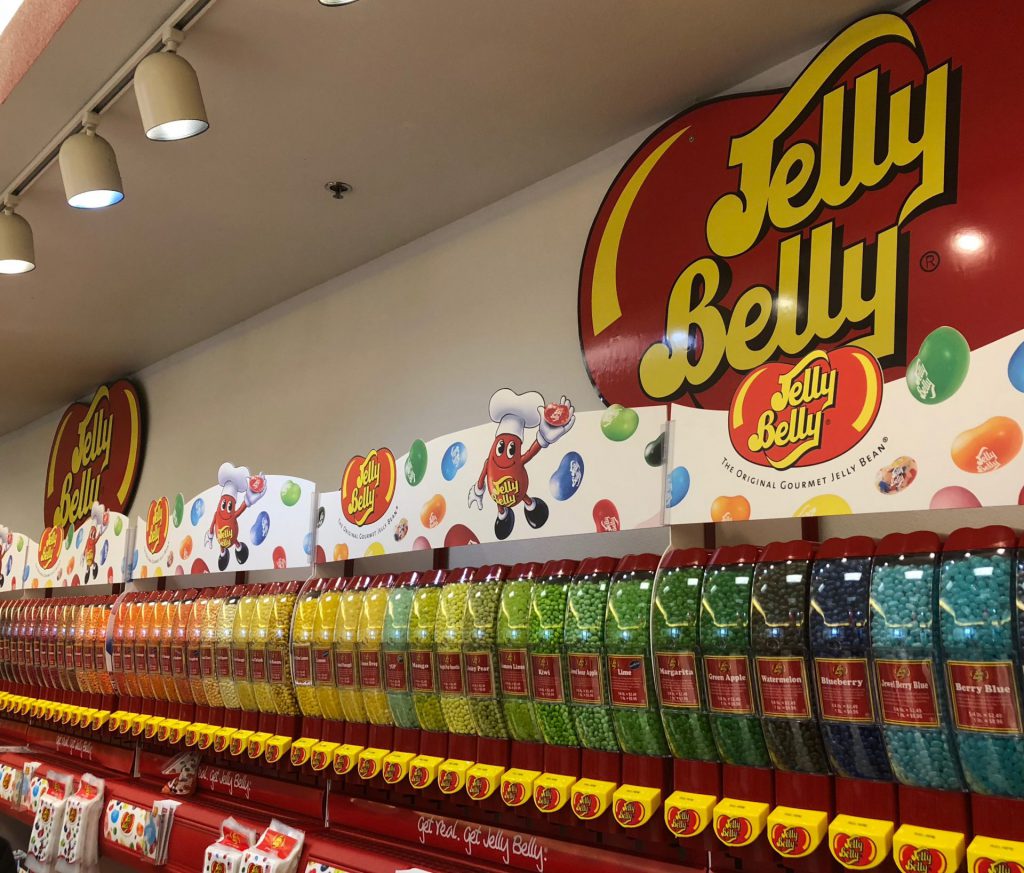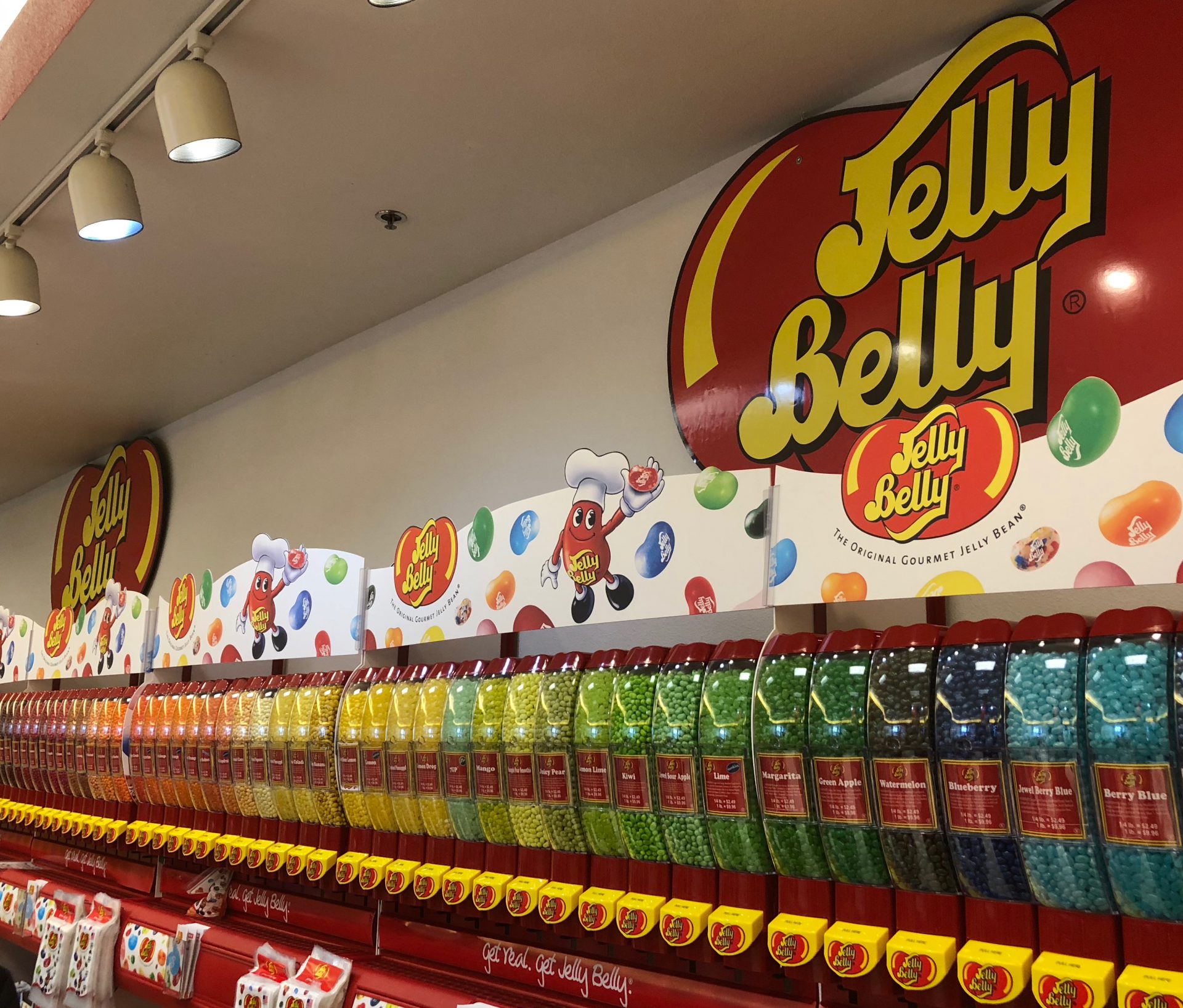 so, all in all, it was a cool road trip pit stop. but i'm not sure how i would have felt if i had made a dedicated trip. some people on instagram seemed to indicated that it was much cooler when the tour was guided and that you could taste the beans along the way. there were videos scattered around as we walked but there were so many people that they were always playing and we almost always walked up when they were halfway into the video. also. despite their avid love for screens and movies and tv and youtube videos, the lidkids are not fans of educational videos in museums or visitor centers or, factories apparently.
anyhooooo. we loaded up with all our forbidden sugar and got back on the road to the next campground…