during our last few stays, we have kept pretty busy with epic adventures, necessitating their own blog posts. but there's been a bit of fun stuff happening in the downtime, so i'll try to catch all of that up here.
firstly. when we find ourselves at a boring spot after weeks at epic spots (and especially without hookups), we usually go on a cleaning spree. i wrote out a list of generously paid chores and isaac was all over it. at the time, i thought he was saving up for a video game, which takes up approximate 1/10 square inches of space. but instead, he got on amazon and ordered like five super mario stuffed animals.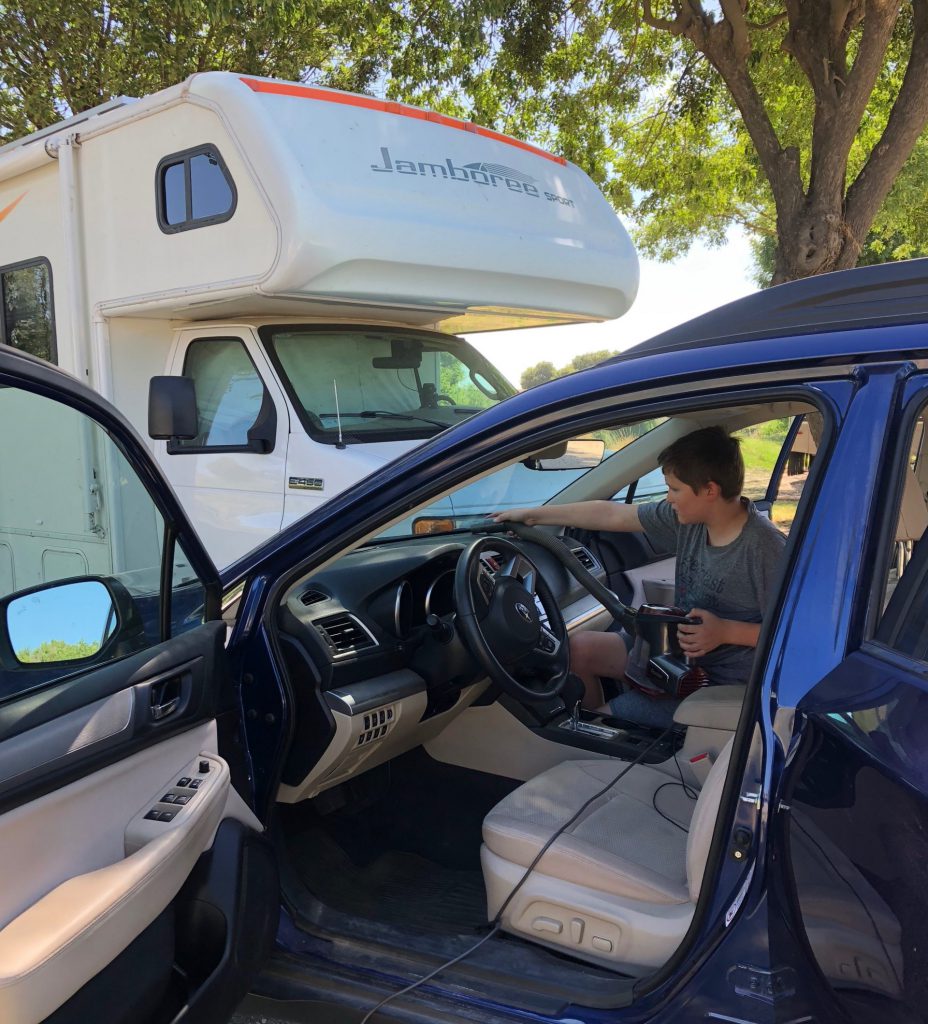 it was so hot in manteca, california. highs in the 105° range. miserable. thankfully, some neighbors had rented a blow up slide and created a make shift water park. so the kids went over there to cool off a bit.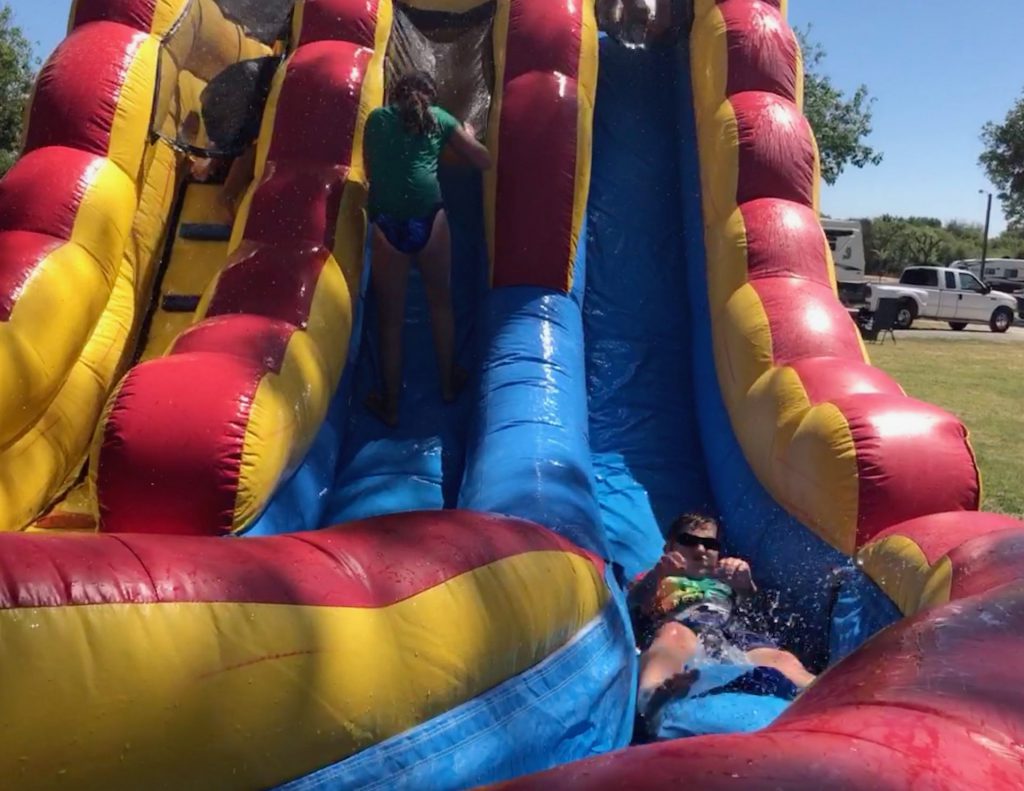 you know. just a pic of our veggie loving anna, who requested "as much broccoli as possible" for dinner.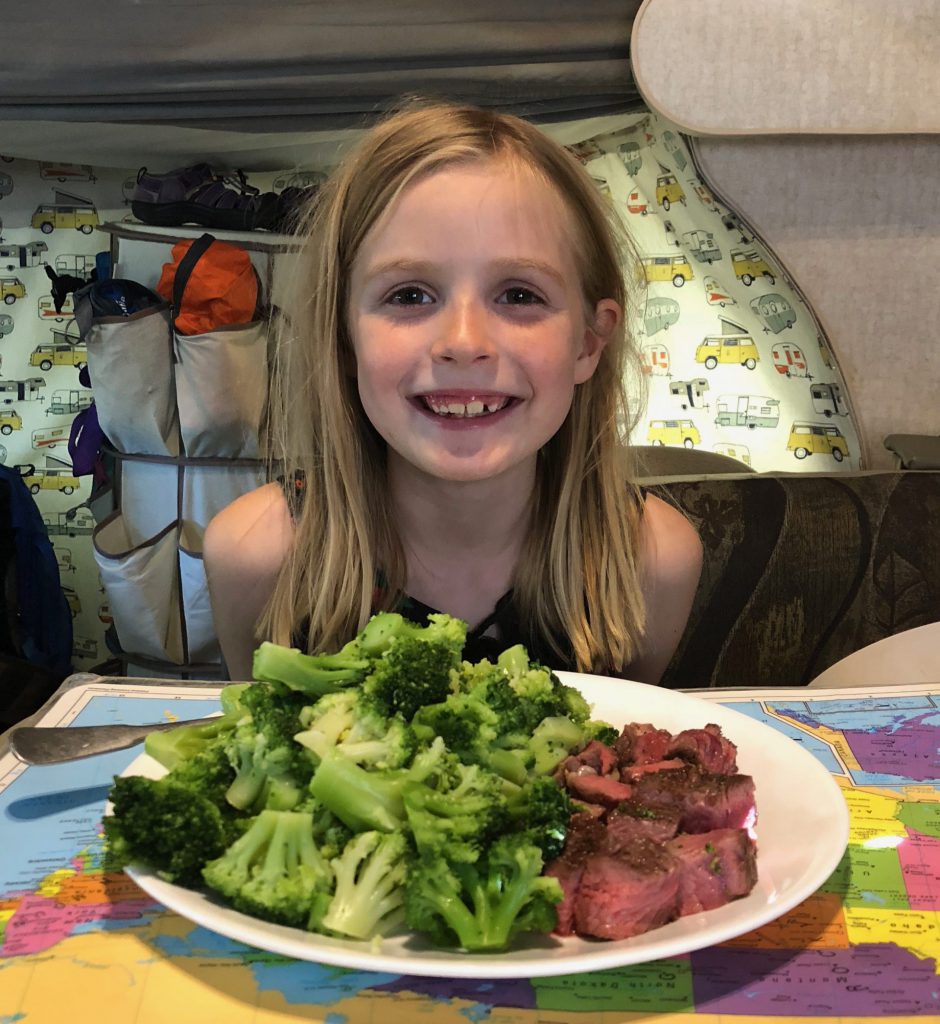 we also beat the heat with a trip to an ice cream shop in town. we have been trying to cut back the sugar and refined carbs and junk lately, so when we pulled up, the kids were sort of in a state of disbelief. then excitement. and joy. and, a mistake in our order resulted in a bonus ice cream cone to split amongst the lidkids.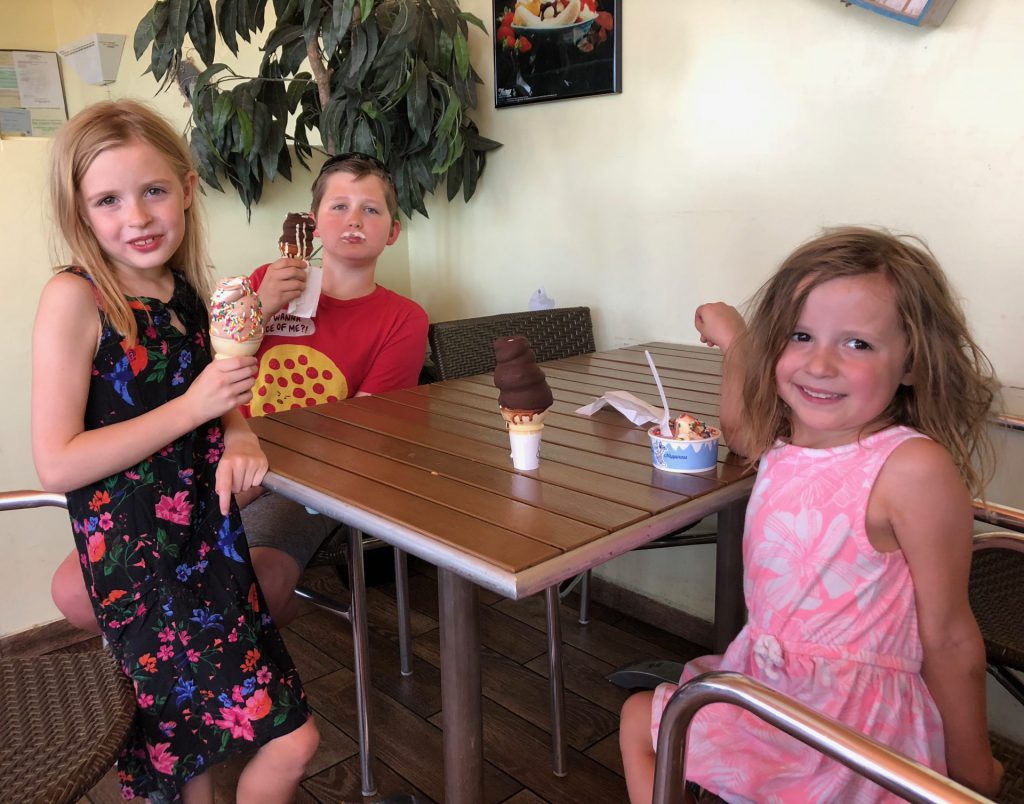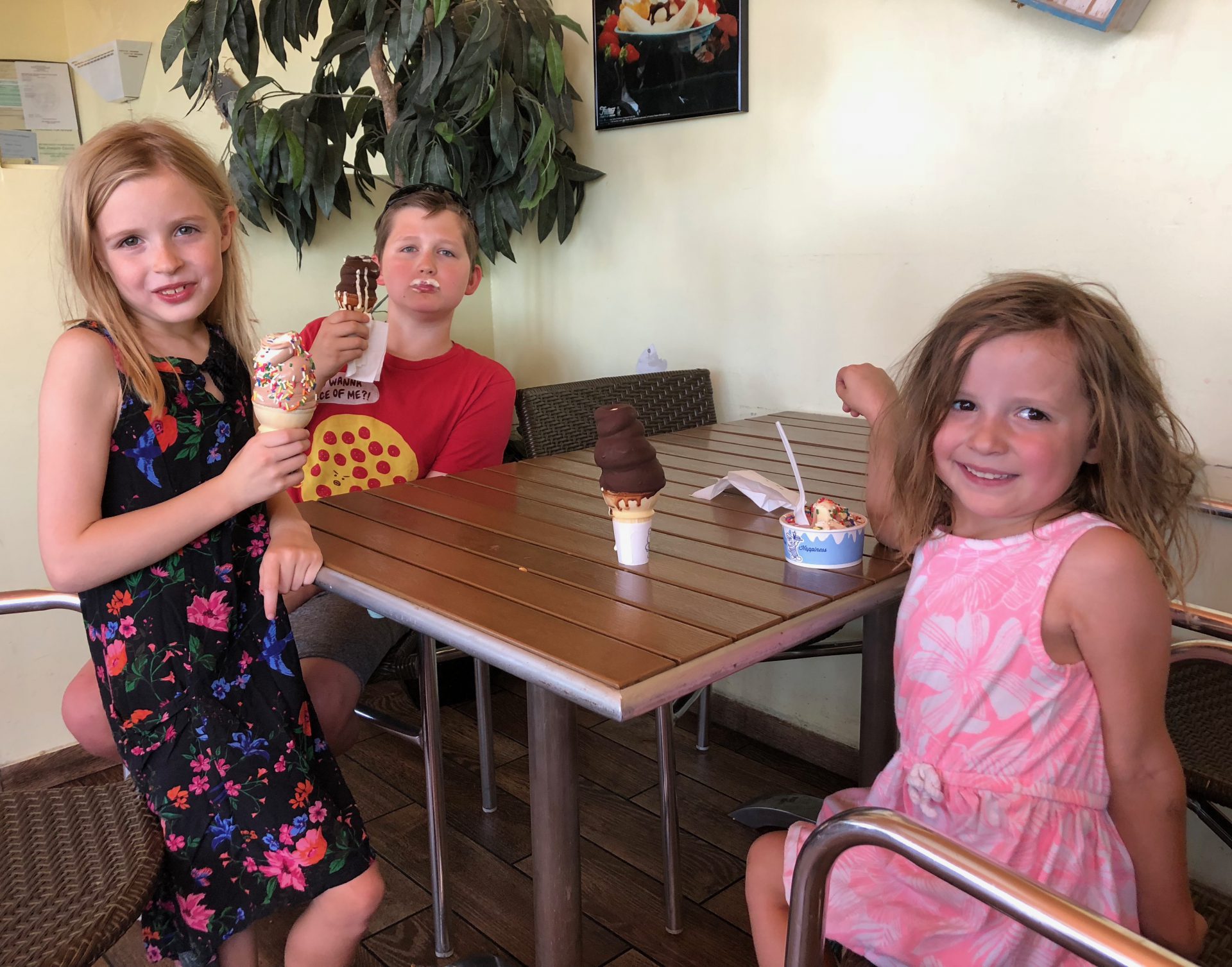 we took another break from our regularly programmed diet, to have a bit of ice cream after our point reyes junior ranger swear in. there's a little town, called point reyes station, just outside the park, with fun little shops and restaurants, etc. this place was called cowgirl creamery and had all sorts of fancypants artisan cheeses and wines and accessories and gifts. but only three ice cream flavors. another mistake in our order, resulted once again in bonus ice cream for the lidkid three.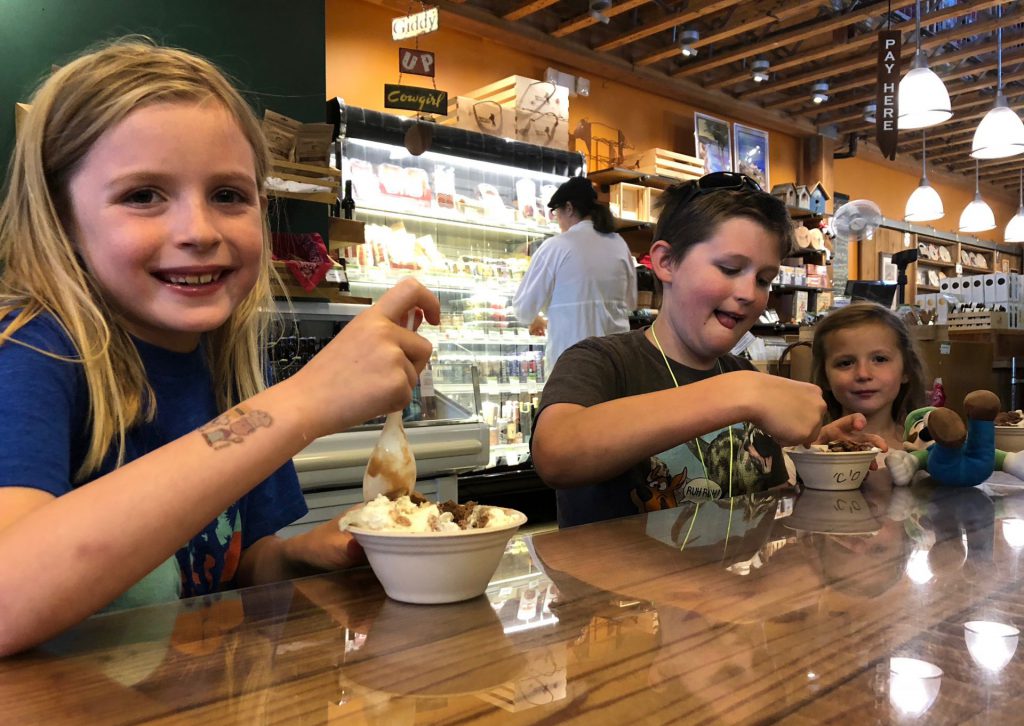 we also visited a thrift shop that i learned about when whoever manages their instagram account liked one of my pics. and. we had some epic finds. i have been on the prowl for these "spring blossom" corelle plates since forever. we had them when i was a kid (and my grams had them too). and we have transitioned to corelle from melamine in the camper, so i have really upped my thrift search game. i almost overlooked these, but when hazel found a corelle plate that i hadn't noticed, i went back to see what else i might have missed. and, lo and behold, came across these gems. other epic finds were two books from the "diary of a wimpy kid" series, which isaac is currently addicted to. and two junie b. jones books, anna's fave. and. a new paw patrol coloring book, for crazelnut.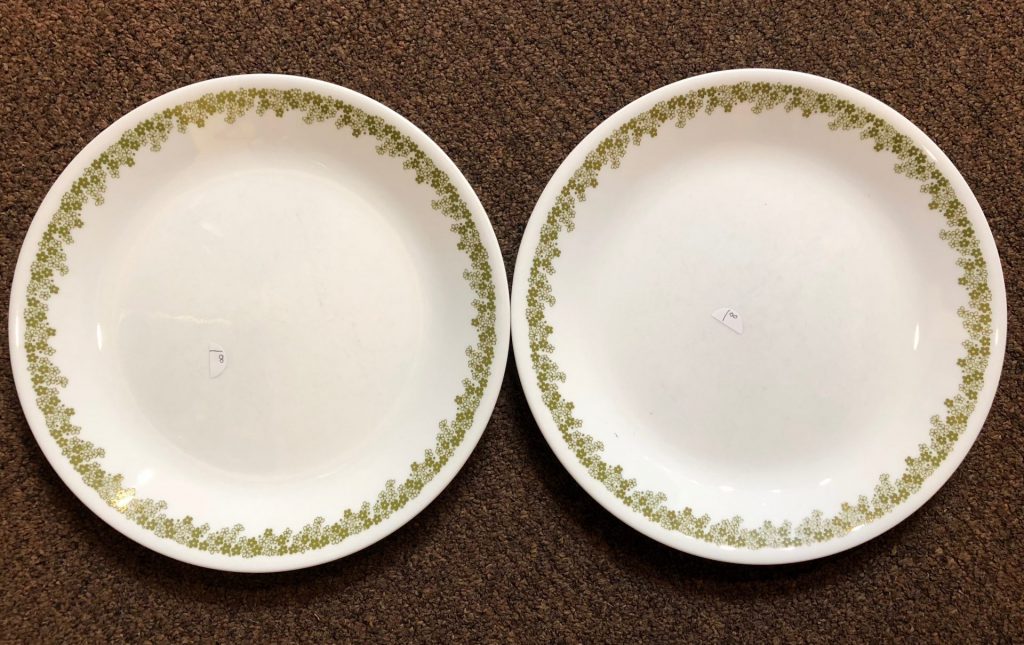 here's the two older lidkids, reading away on their thrift finds. i can't complain.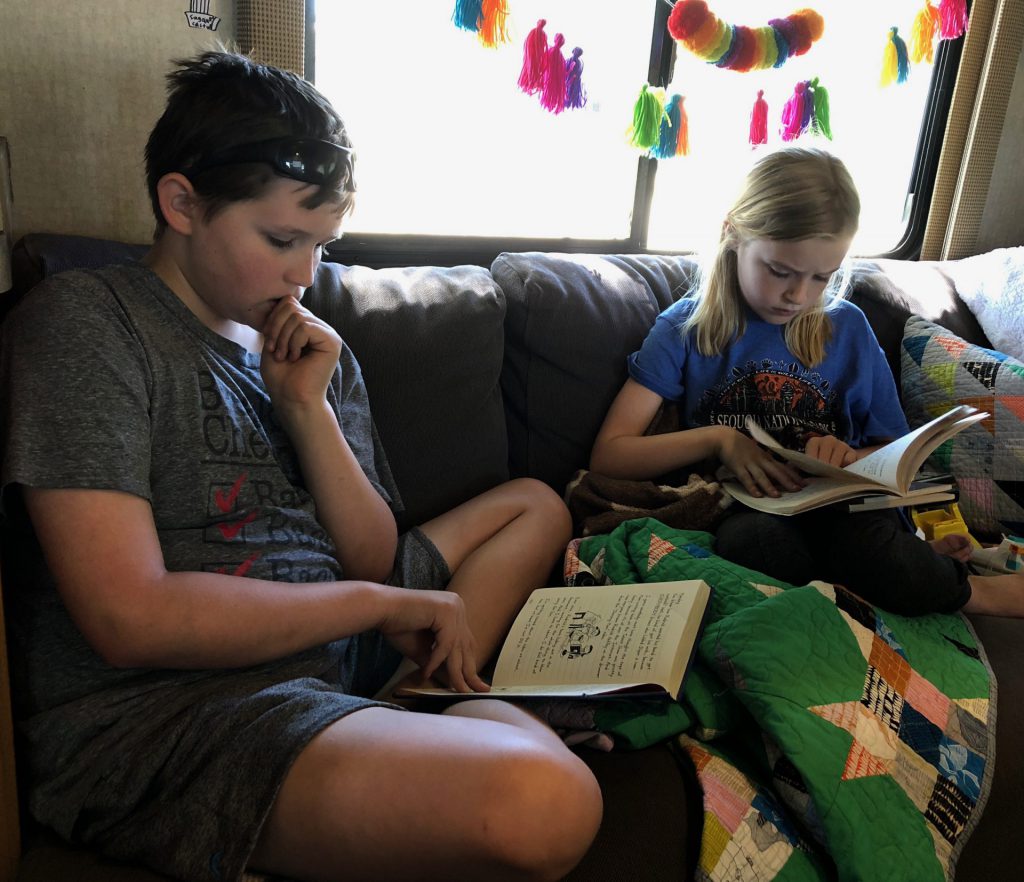 another thrift find from a different store was this puzzle. its a ravensburger puzzle, which are really nice and i think around $20. i found it for $2 and decided to take a chance. it was pretty challenging, especially the gray middle part, but we knocked it out in two days AND it had all the pieces. proud puzzle completers.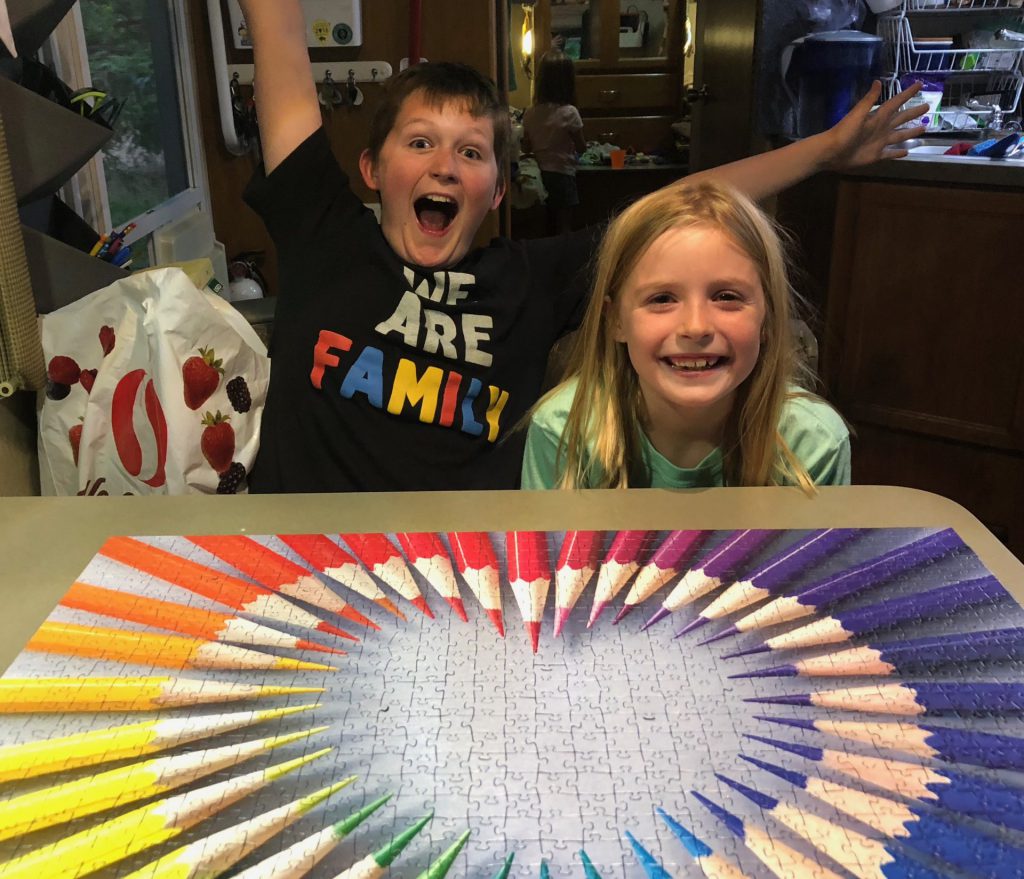 now. for some art.
mostly hazel. a self portrait. with a thought bubble. and entire phrase written in mirror image. included bubble letters. it reads, "HAZEL yes i do want a light", referencing, i think, some flashlights given to us by a camp host.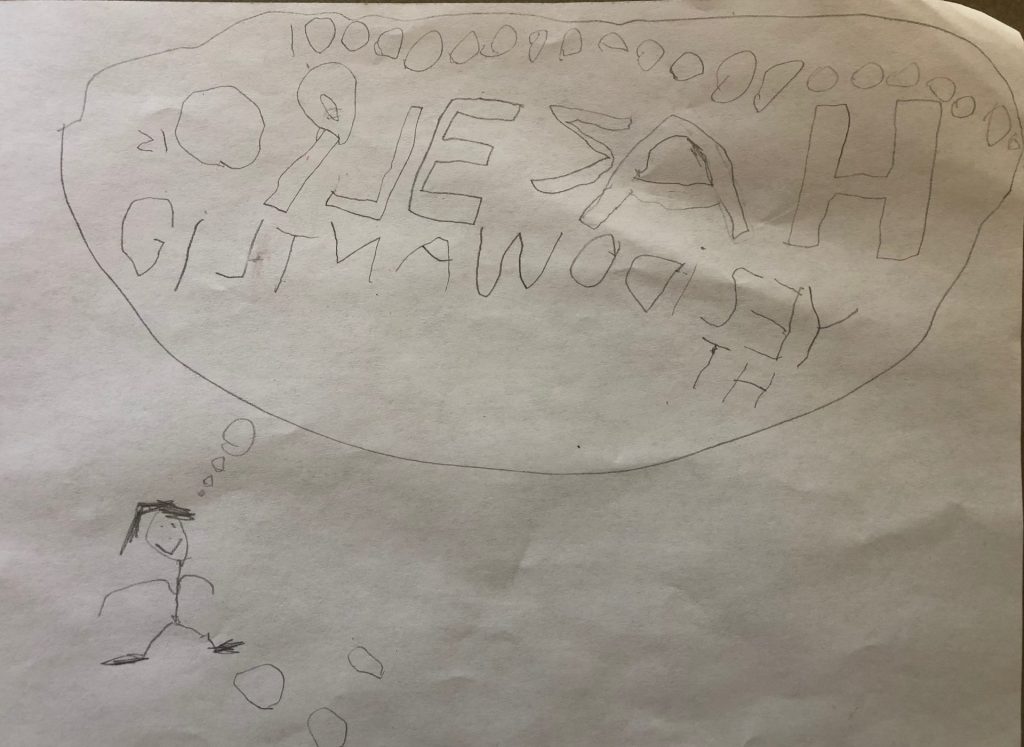 this drawing was how she informed me that she would like an apple with peanut butter. (and lest you think she's a genius, she was fed all of the letters for these two pics by her older siblings. she can't read.)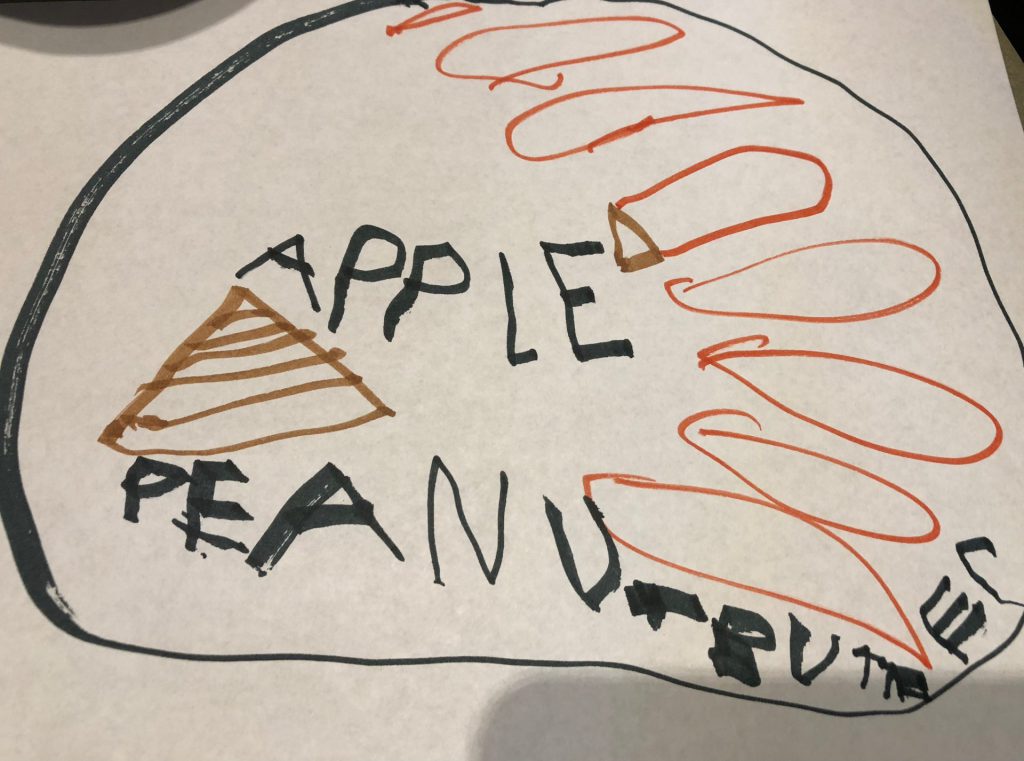 both girls love making restaurants, and have a giant bin full of play food. but. they still would prefer to make paper versions of the very lifelike and expensive versions taking up vast amounts of space in our camper.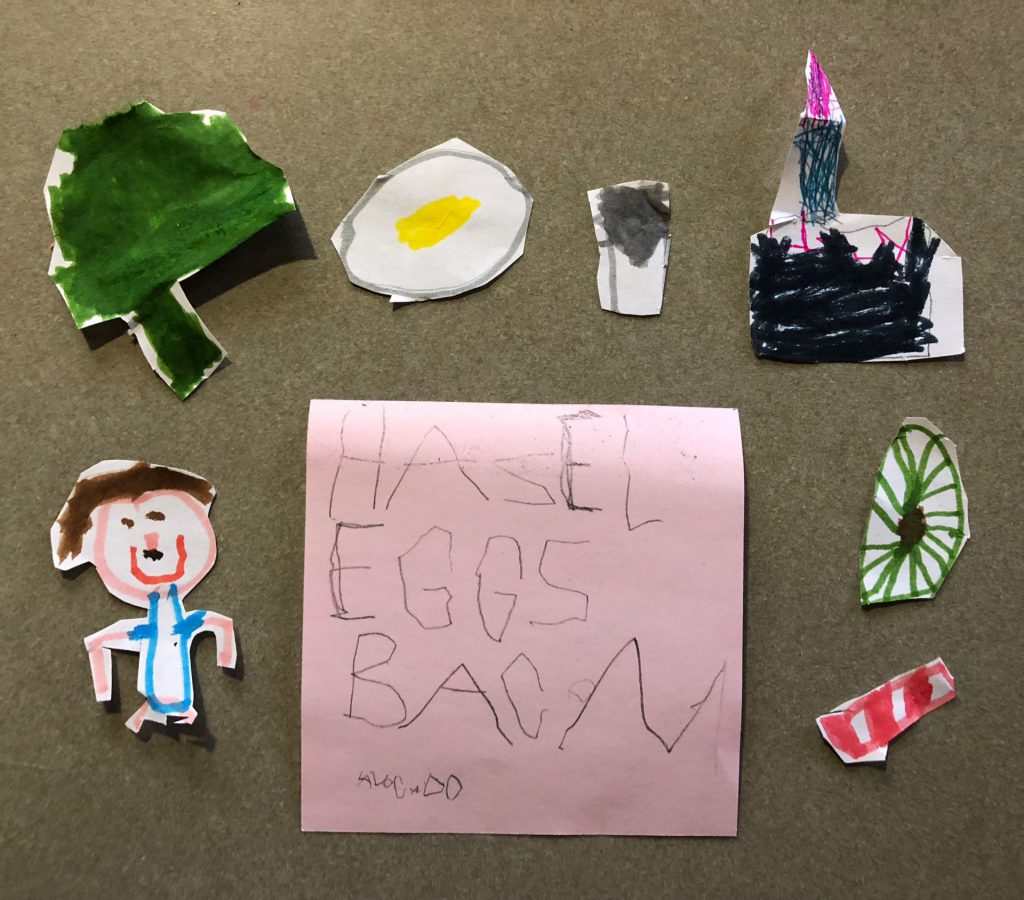 and. some tiny folk that anna made with craft sticks and foam.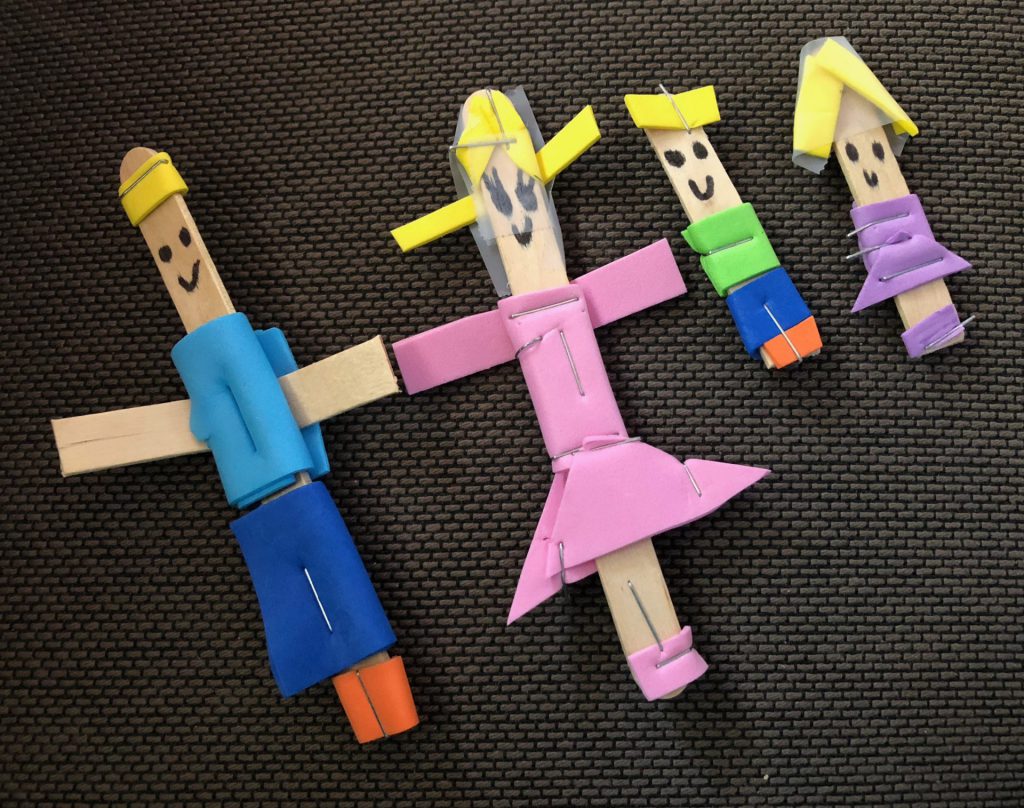 when we were at the charles schulz museum, i bought my new favorite mug of all time, and you can consider this the first cameo of many more to come.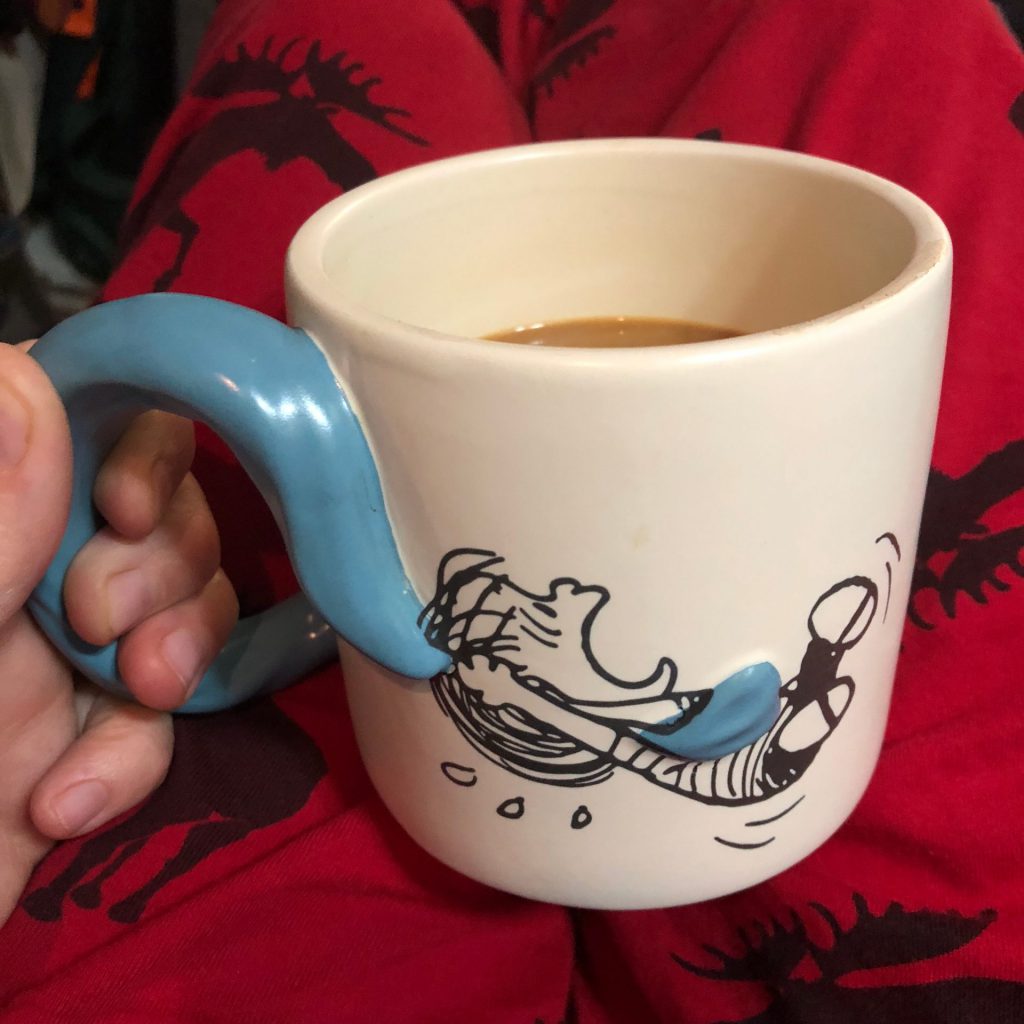 lastly. this crazelnut.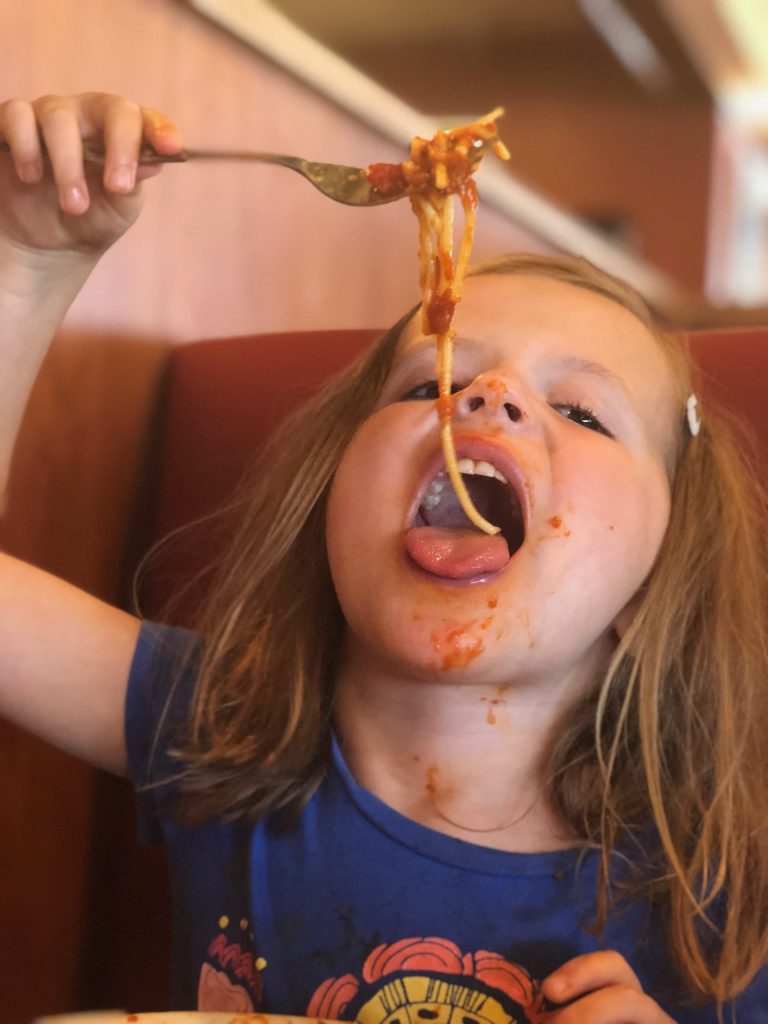 so, that's our life in the middle of all the adventures and fun of recent weeks.
have a lovely day.