here we go. another mad dash round of bloggy catch up.
when i left off, had stopped to visit the jelly belly factory on our way from point reyes national seashore to a little spot just north of sacramento, in nicolaus, california. the place was a thousand trails campground, which usually means there's not much to do in the immediate vicinity, but there's a rec lodge and laundry and hookups, so we mostly just catch up on life, cleaning, school, and quilting.
so, first things first, i drove into sacramento to get some fabric for my next quilt. the shop i found (quilter's corner) happened to be having a sort of sale that day. if i bought a $5 bag, whatever i could stuff in it would be 20% off. it's a deal they run on four saturdays a year, so i was pretty excited to have happened upon it, and had no trouble getting my money's worth. the staff was super patient and friendly and helpful as i scoured their shop for the perfect array of fabrics and ended up with this stack…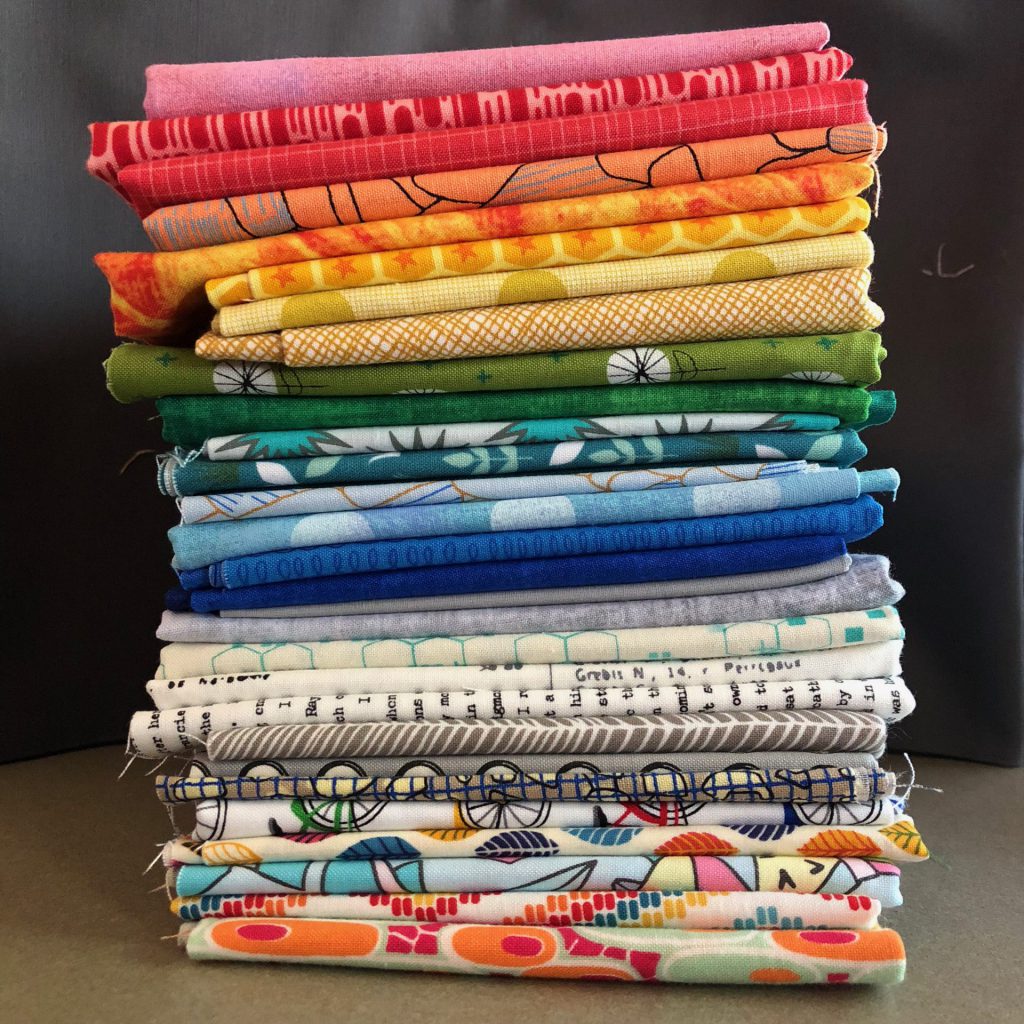 there was no pool at this campground. something about flood zones and such. but. there's a lake. a muddy, shallow sort of gross lake. but, since it was like 105°, it would do.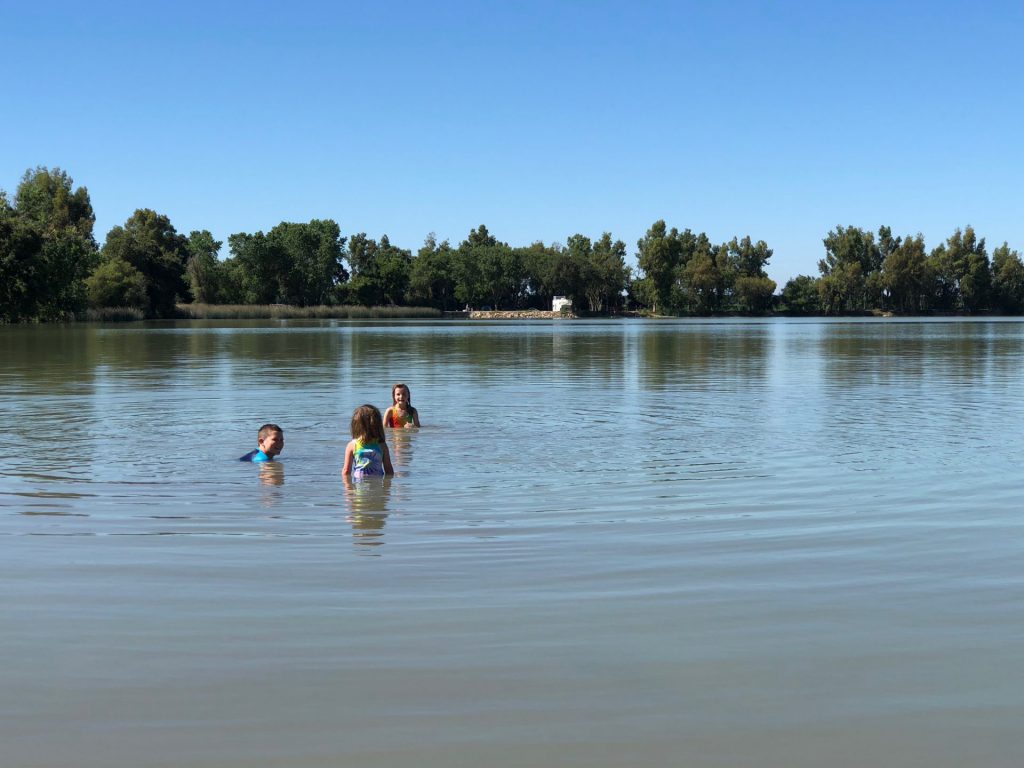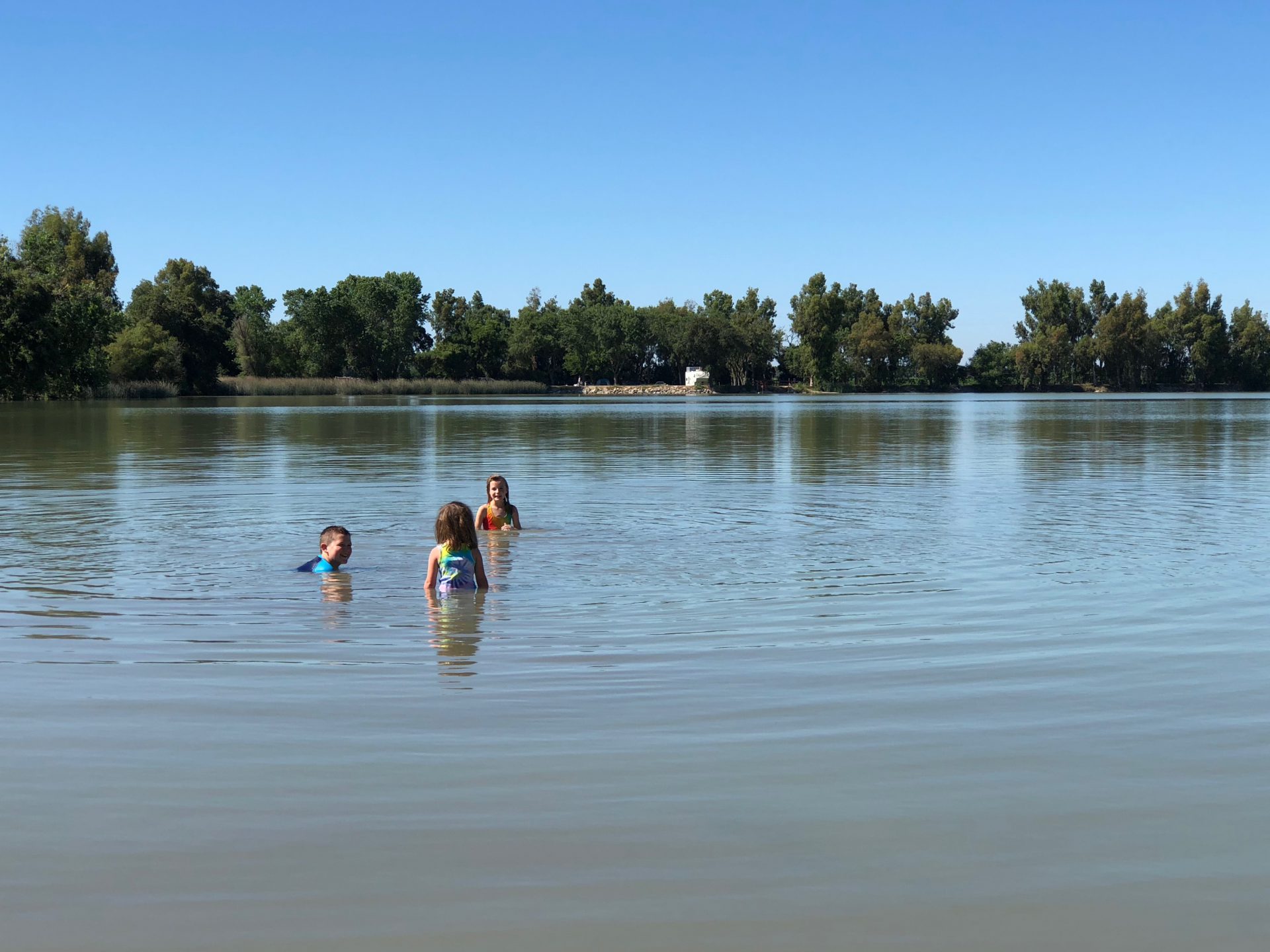 even hazel, who hates natural bodies of water, decided it was acceptable to accept respite from the scorching heat. after some particular lidkids began throwing mud at each other, the fun came to a screeching halt and we trudged back to our camper and i swore off all future mud lake swimming.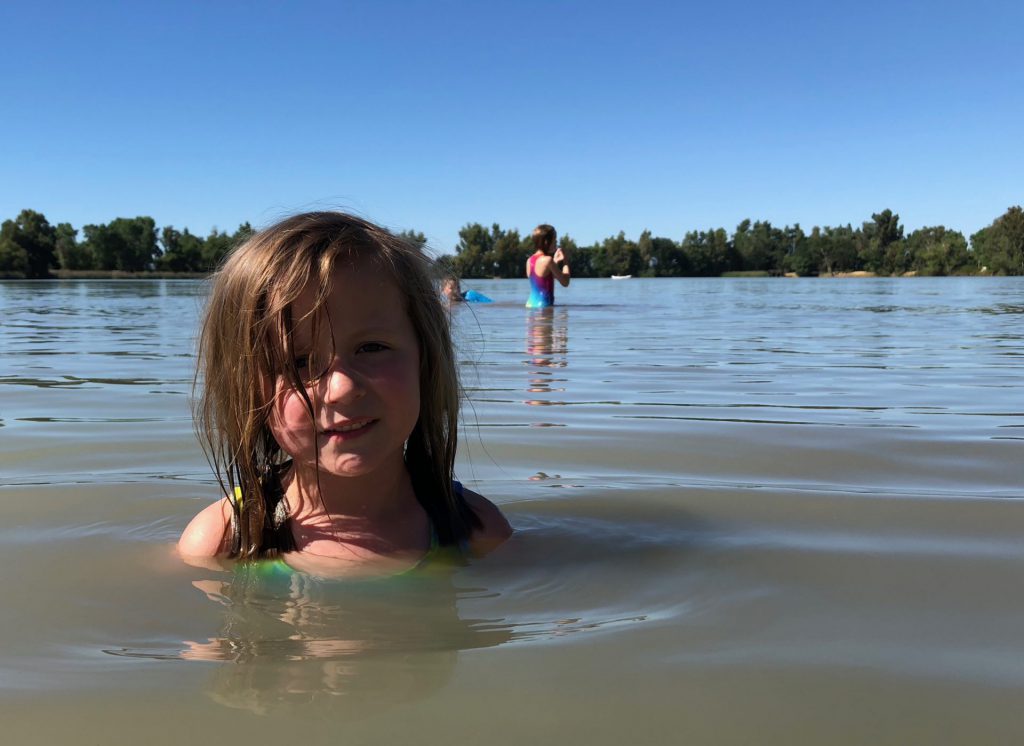 our time at lake minden was also mostly spent counting down the days until derek's parents were flying out to meet us in lake tahoe. (also, the reason that i have once again fallen behind in blogging. grandlidboms. then lack of internet.)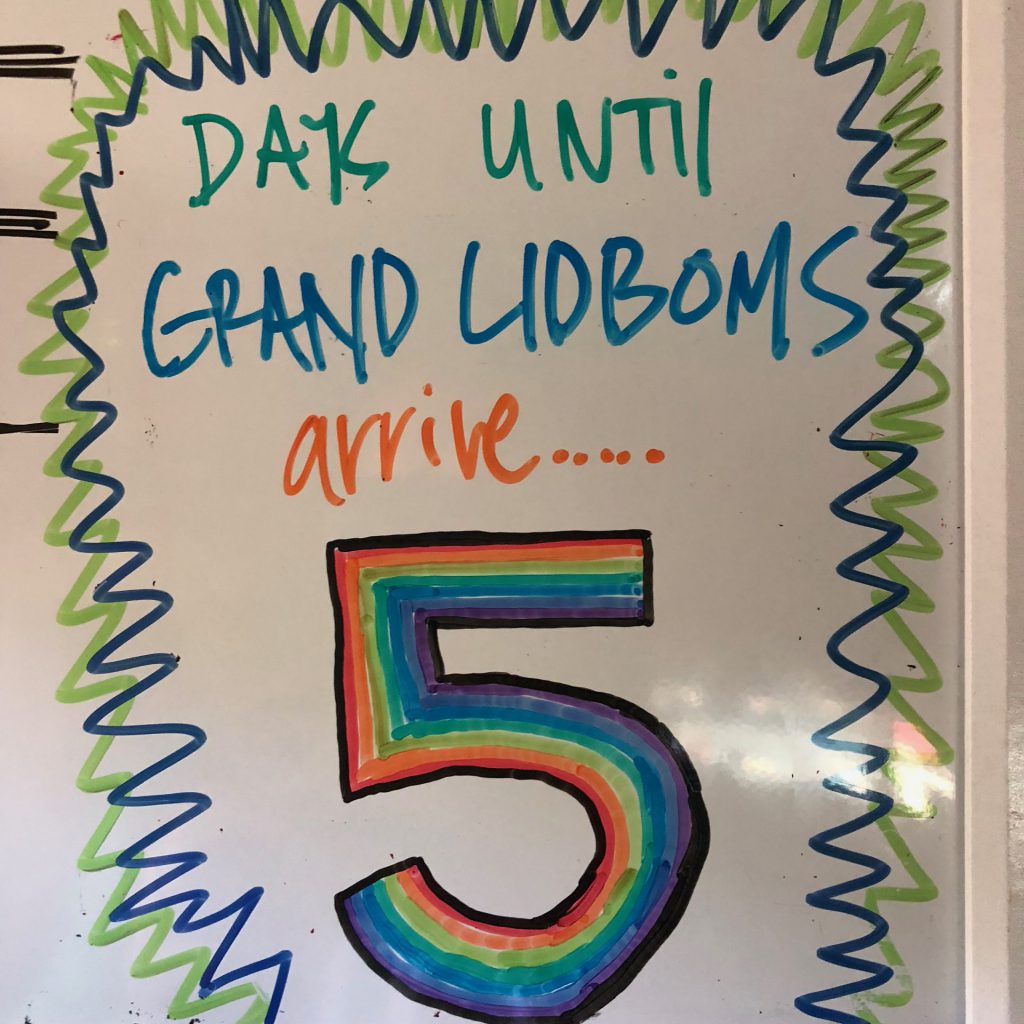 we spent a LOT of time sewing. anna got back to work on her very first quilt and began to get the hang of it and made some pretty good progress.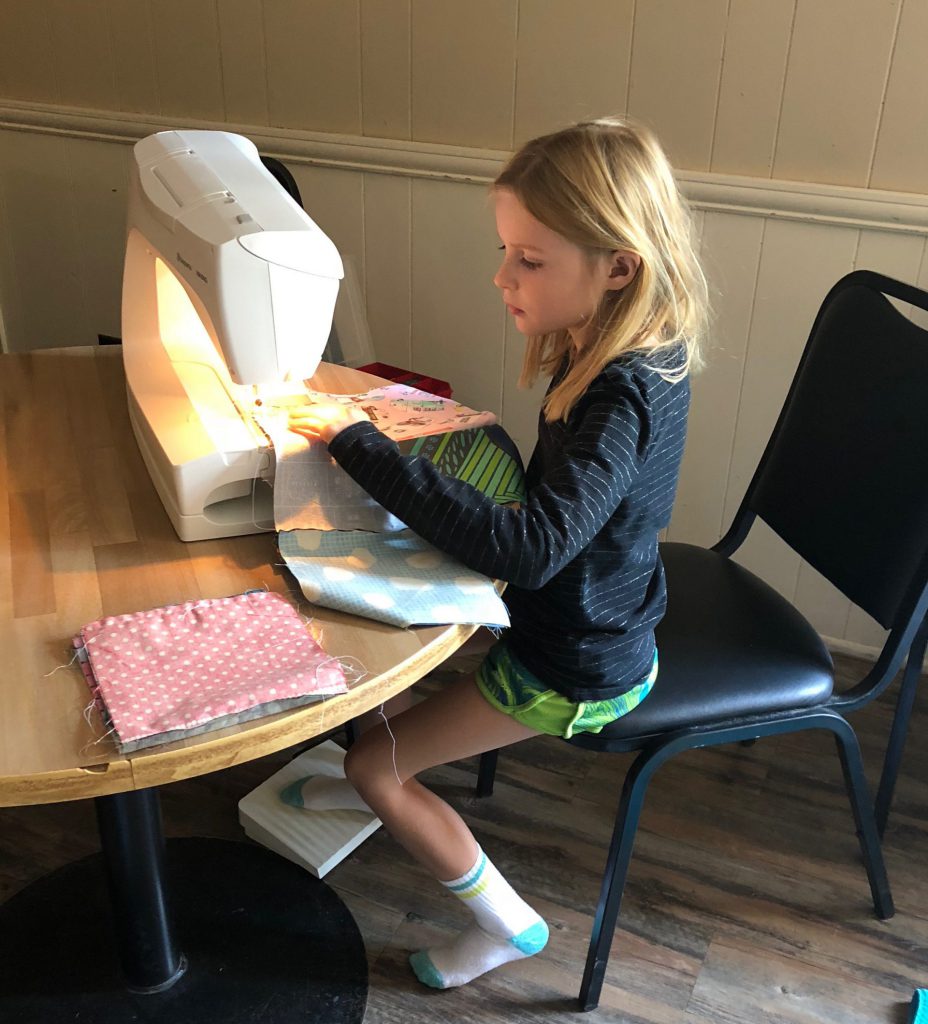 my set up in the rec lodge was less than ideal and for sure not ergonomic. there were only two little round tables and i didn't want to hoard them both, so i set up my cutting, ironing and storage areas on the floor.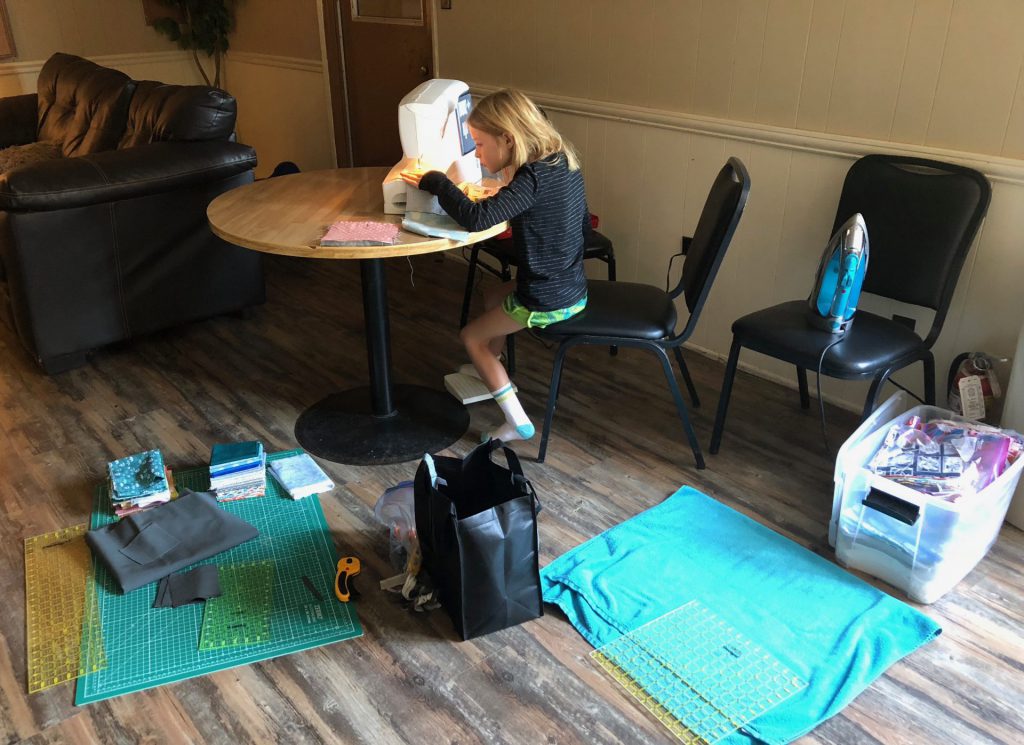 the kids, as always, were delighted to play their technologies and screens and brainrotting devices while i chugged along on my quilt.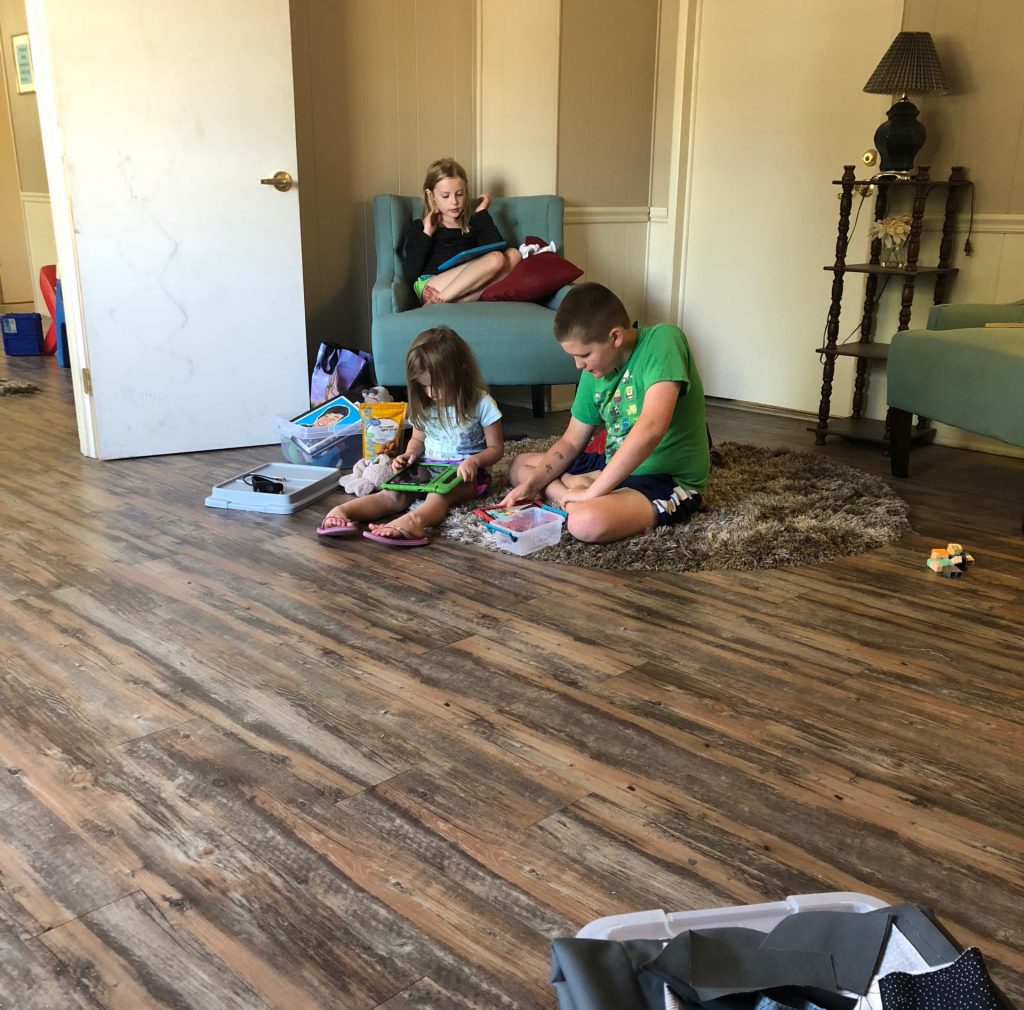 also, during our time near sacramento, we planned a day for derek to take the camper in for a checkup, which left us sort of homeless. even though we had the rec lodge to hang at all day, we still needed to figure out a lunch plan. for that, we hit up sammie's, which is pretty much the only game in town, and it was great.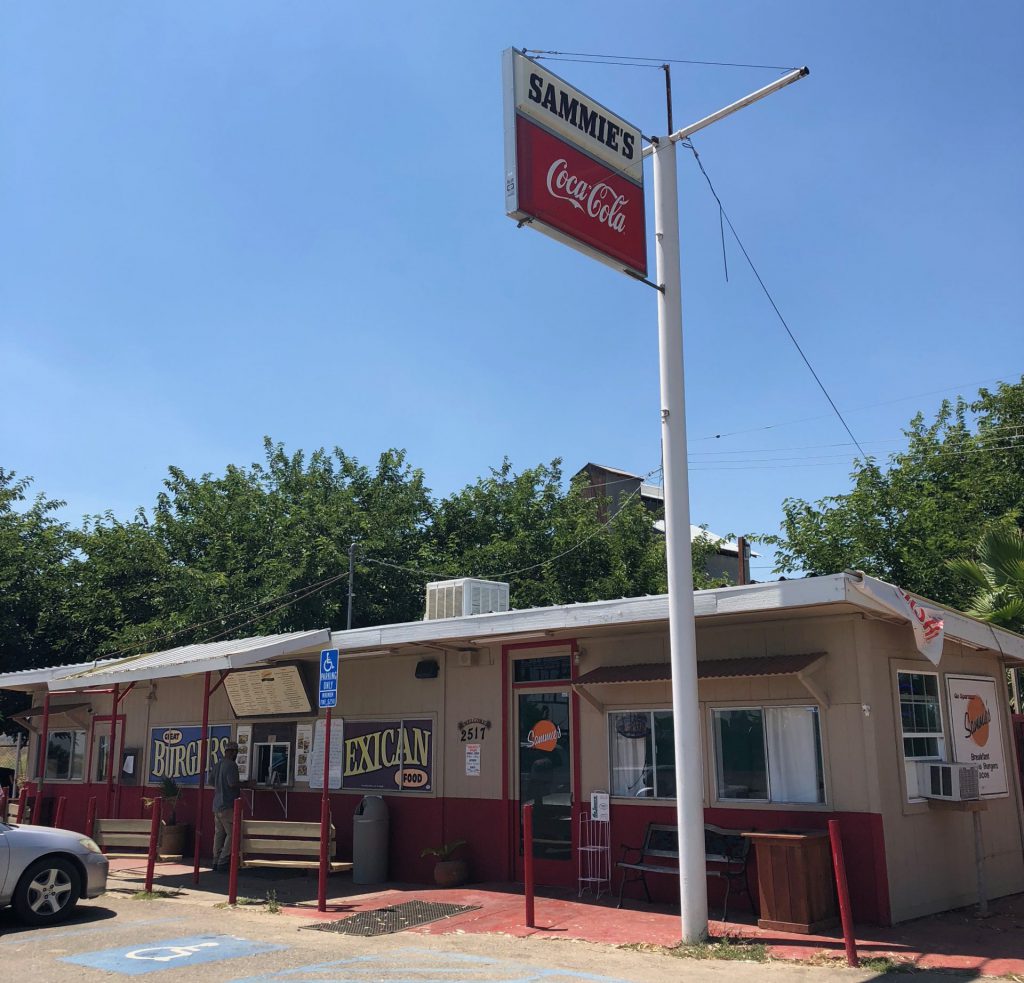 the girls aren't as ipad loving as the boy, so they took lots of breaks for other creative endeavors.

we were at lake minden over the fourth of july. i looked around for things to do and came up sort of empty, before learning that the folks at lake minden throw their own july 3rd party, with blow up bouncy stuff, cheap food, beer, and fireworks. i assumed it would be some little affair with random campground folk, but apparently, people come from all around for the fun and games. we strolled around to the other side of the lake to check it out…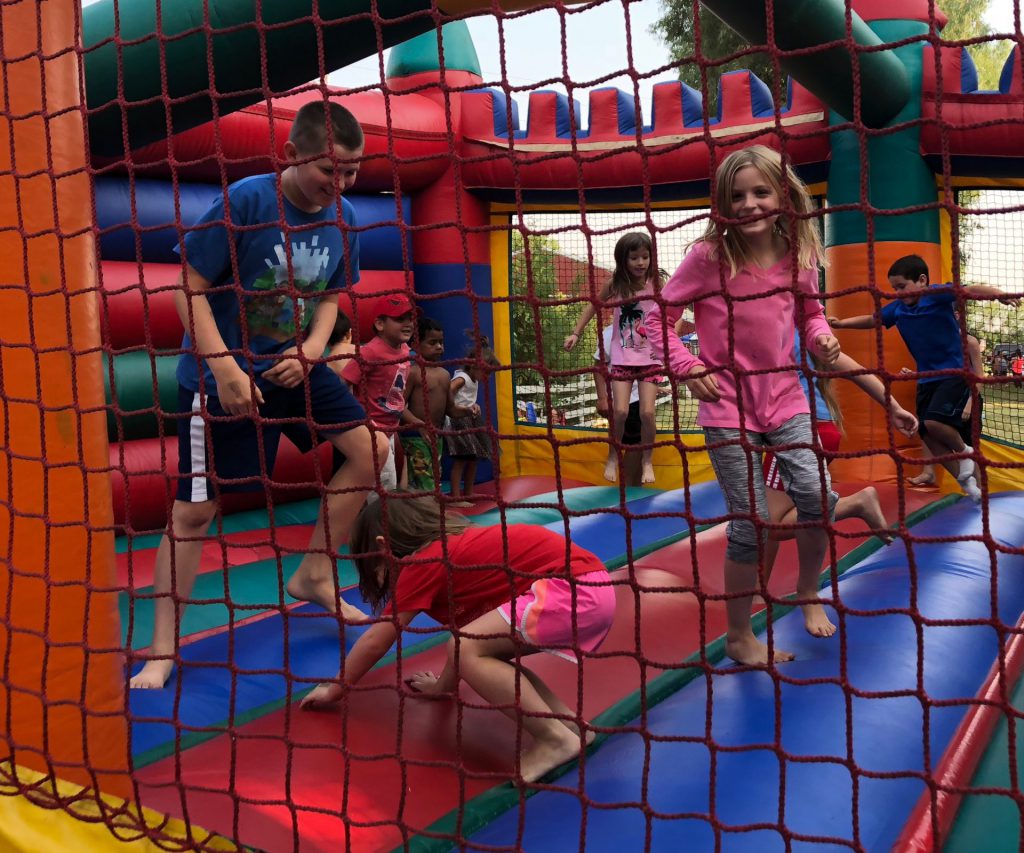 the bounce castles were crazy.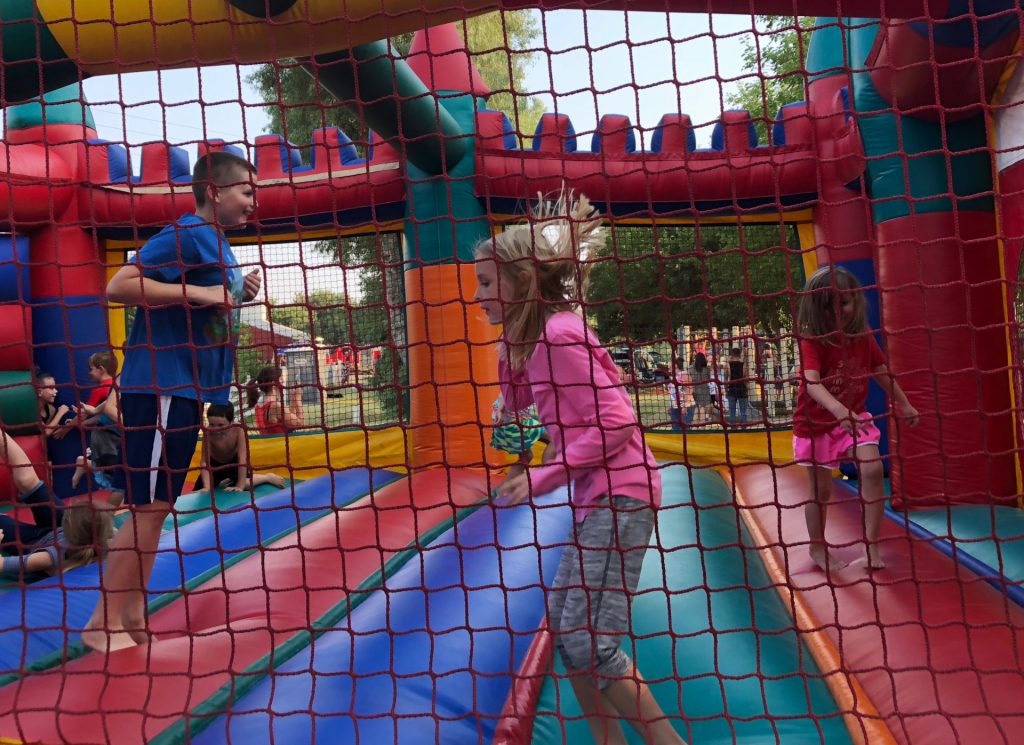 like a wwe smackdown, mixed with a mosh pit, mixed with lord of the flies.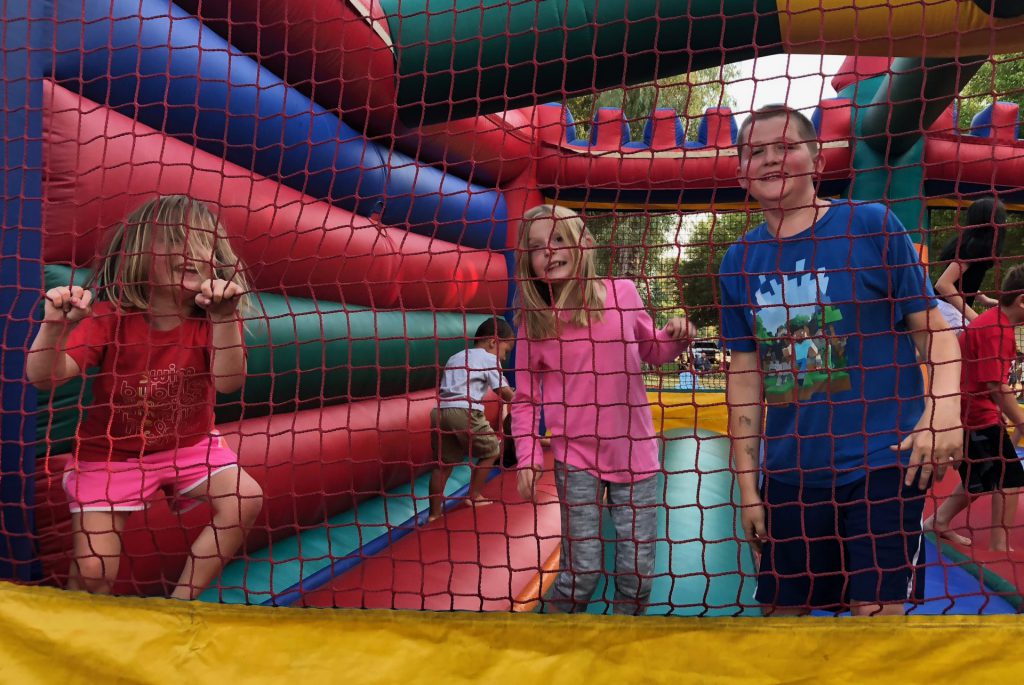 eventually everyone felt terrible and some where crying, so we took a break to eat and rehydrate.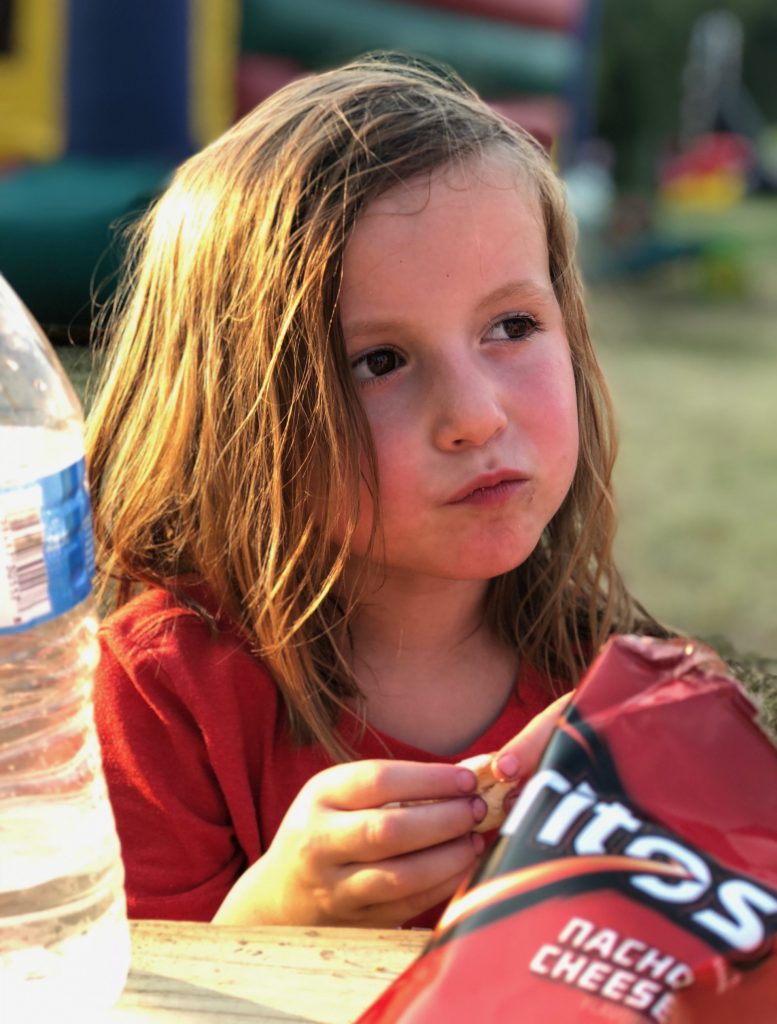 and then a bit more hop hop hopping….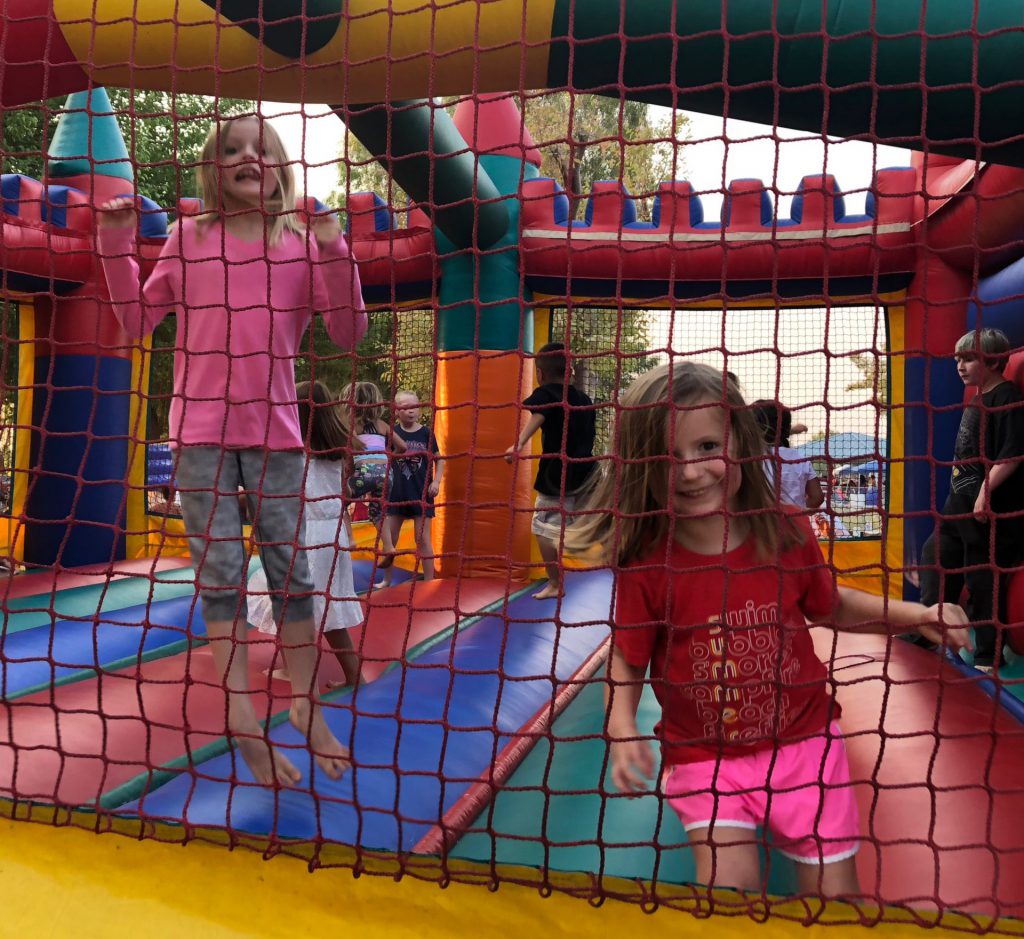 we came back around to our side of the lake for the fireworks (less general public, more campers only), and watched them from the comfort of a quilt with some snacks. i won't bore you with grainy and blurry pics of fireworks.
so. when derek took the camper in for the check up, they confirmed what he already knew, that it needed some brake work. unfortunately, they couldn't squeeze it in at that point, so derek had to take it in again, rendering us homeless for another day. this time, though, we had to leave home super early in the morning, before the rec lodge was open, so we decided to drive up to yuba city, to start our day off with some fast food breakfast. carl's jr (hardee's) was the first place we spotted, so off we went.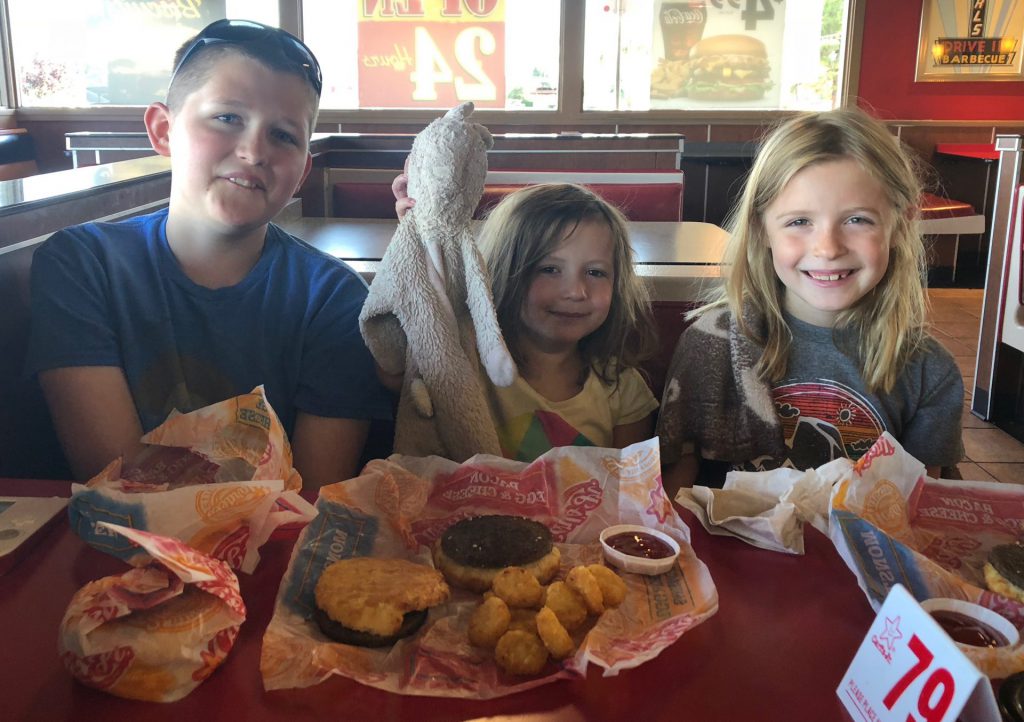 fun fact. there's a bunch of chickens just roaming about in yuba city.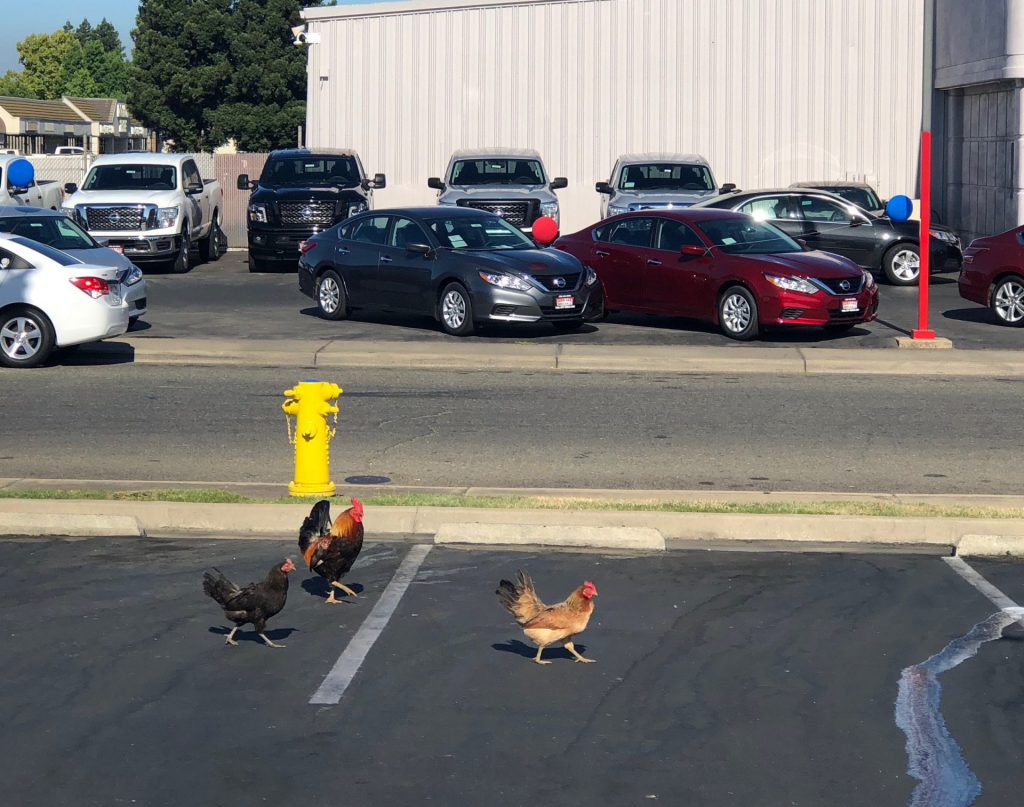 meanwhile, the ramblin' jamboree gets some new brakes. photo by derek, who got to work from the waiting room all day.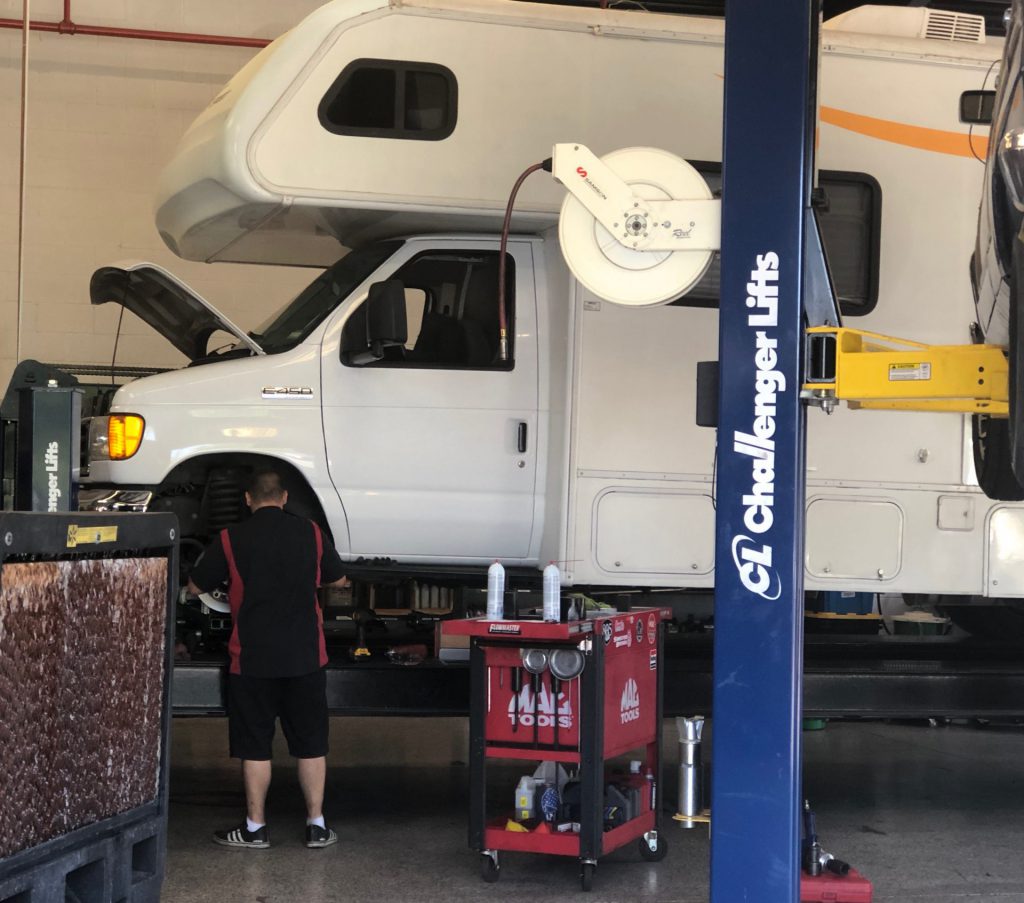 after breakfast (and a thrift store), the kids and i went back to the rec lodge, where i kept chugging away at my new (and likely my most favorite ever) quilt top. while i cut and ironed, anna jumped in to sew her quilt.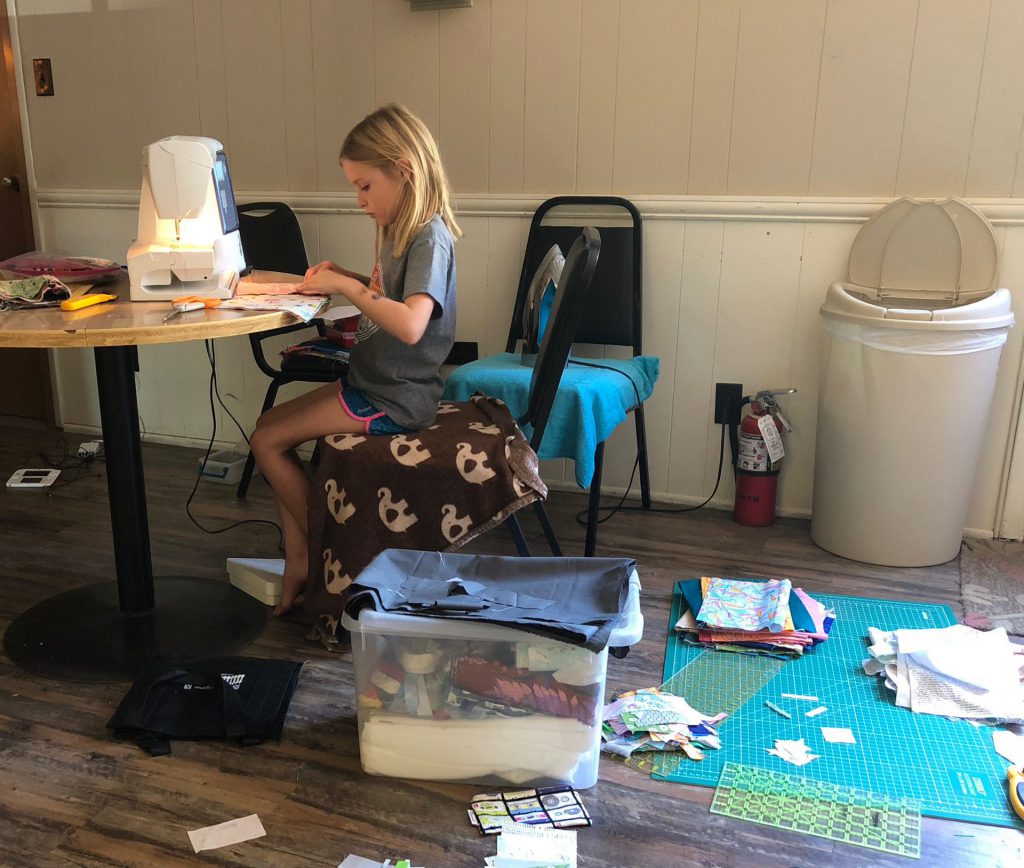 finally, from the stack of fabric i bought just a few days ago, i had these 20 blocks. i actually was able to sew them all up with sashing and a border, but i'll save that pic for when i have a completed quilt some day.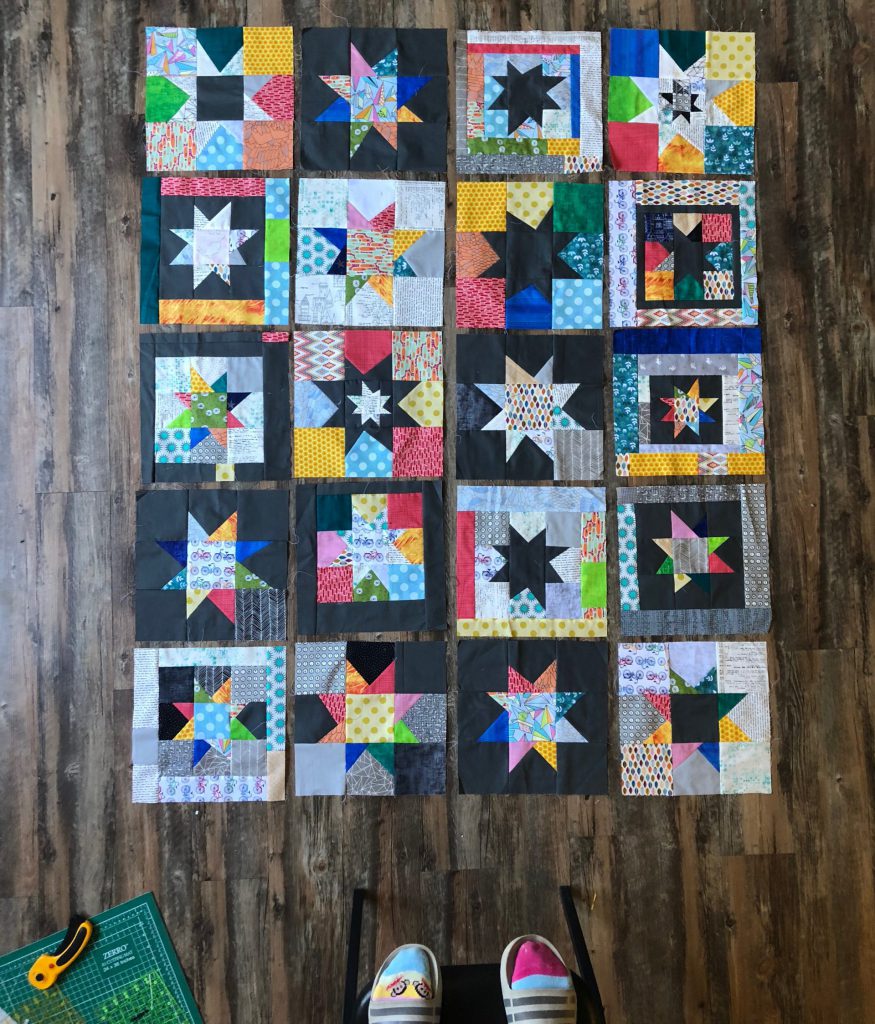 finally, our time in sacramento-ish was up, and it was time to hit the road (with new brakes) and head towards lake tahoe. as always, we had to find some ways to kill time along the way, so that we could arrive at the same time as derek, who doesn't zip around all that quickly in the camper. so, obviously, our first stop was to knock out another state capital capitol building on our list.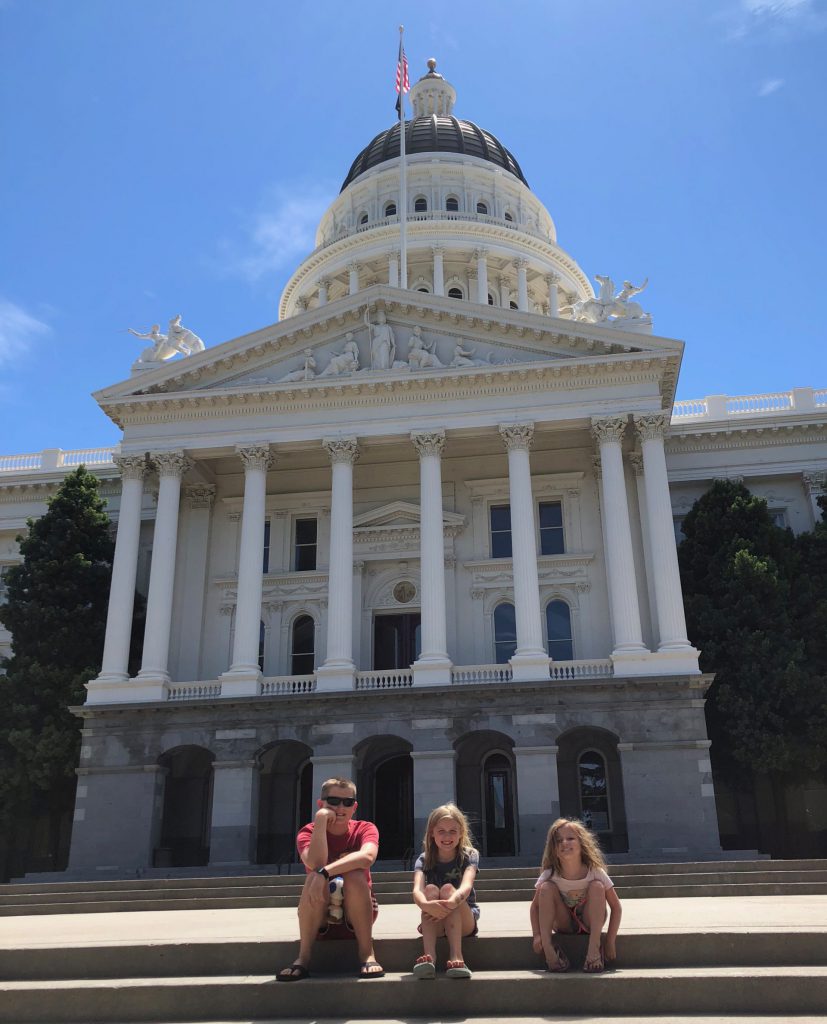 we are sort of getting tired of the whole capitol thing. they are starting to all look the same. and we almost skipped this one. it was like 900 degrees outside and i hate driving in strange downtowns. but, it was saturday. and we were so close. so, we stuck it out.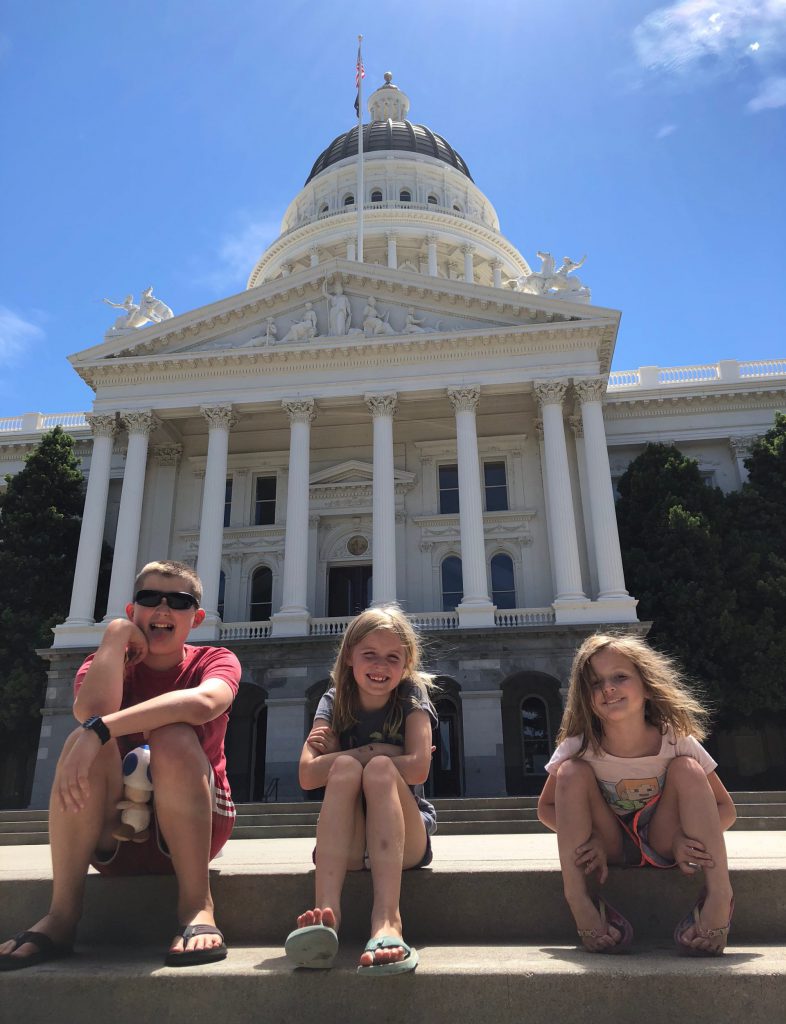 hazel wouldn't smile, so anna tried to "help".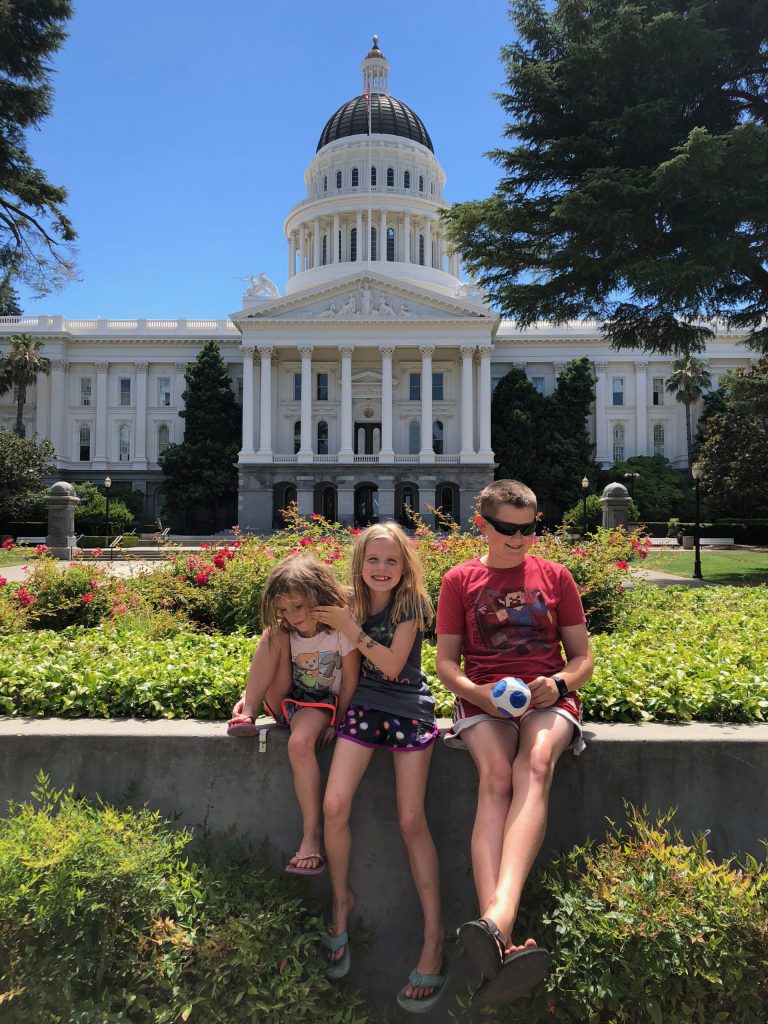 then. the greatest thing ever happened. i stopped at a thrift store, and it happened to be the first saturday of the month, which meant everything was 50% off. AND, i found these amazing vintage corelle butterfly gold plates for 25 cents each. oh, and the kids found books or something but, these plates.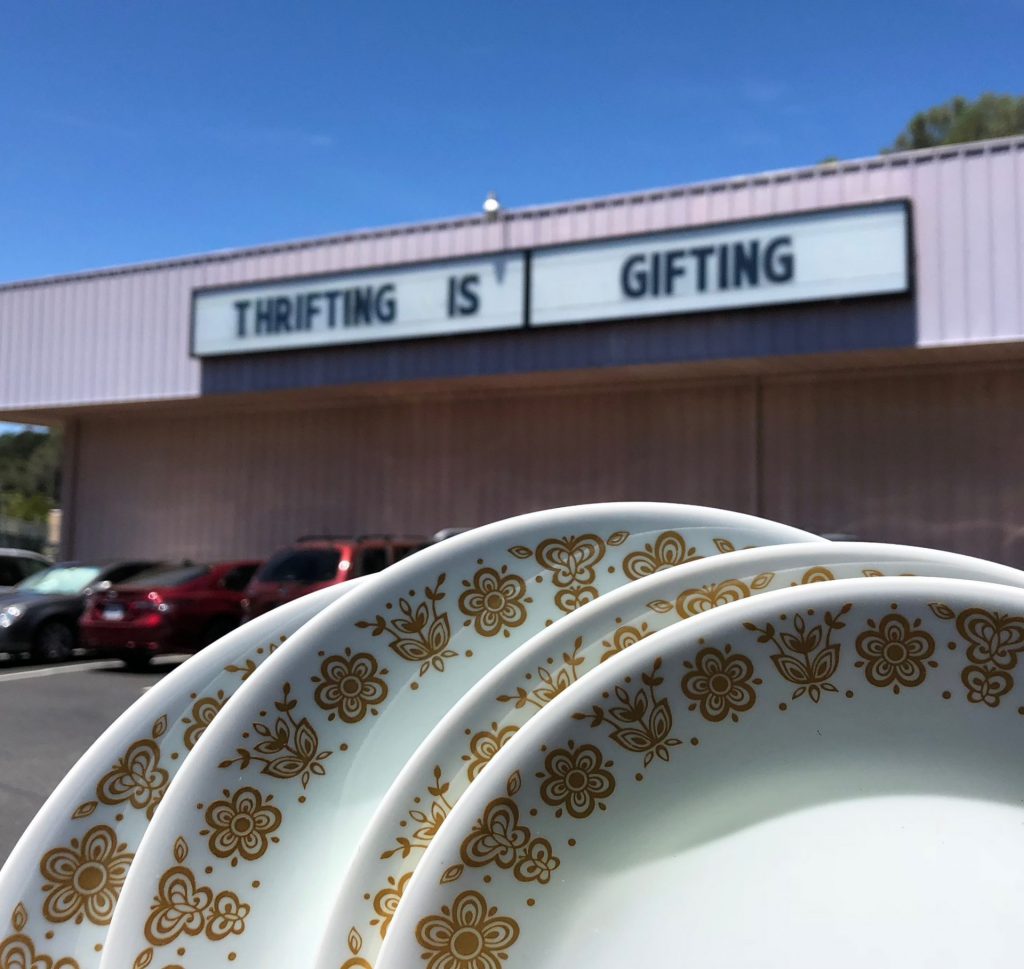 anyhow, that proved to be enough time and we finished our travels to lake tahoe just behind derek and just as we settled in, the grandlidboms arrived and all the fun and games began….