sooooooooooo….
from lake tahoe, via reno, we moved onto lassen volcanic national park. i really had absolutely no idea what to expect from a volcano themed national park. our campsite was on manzanita lake, in the northwest corner of the park and basically had zero cell signal, which meant it was going to be a slightly crazy week for derek to be able to work.
once we were settled in, we took a cruise over to the boat launch at the lake to get a good sunset view.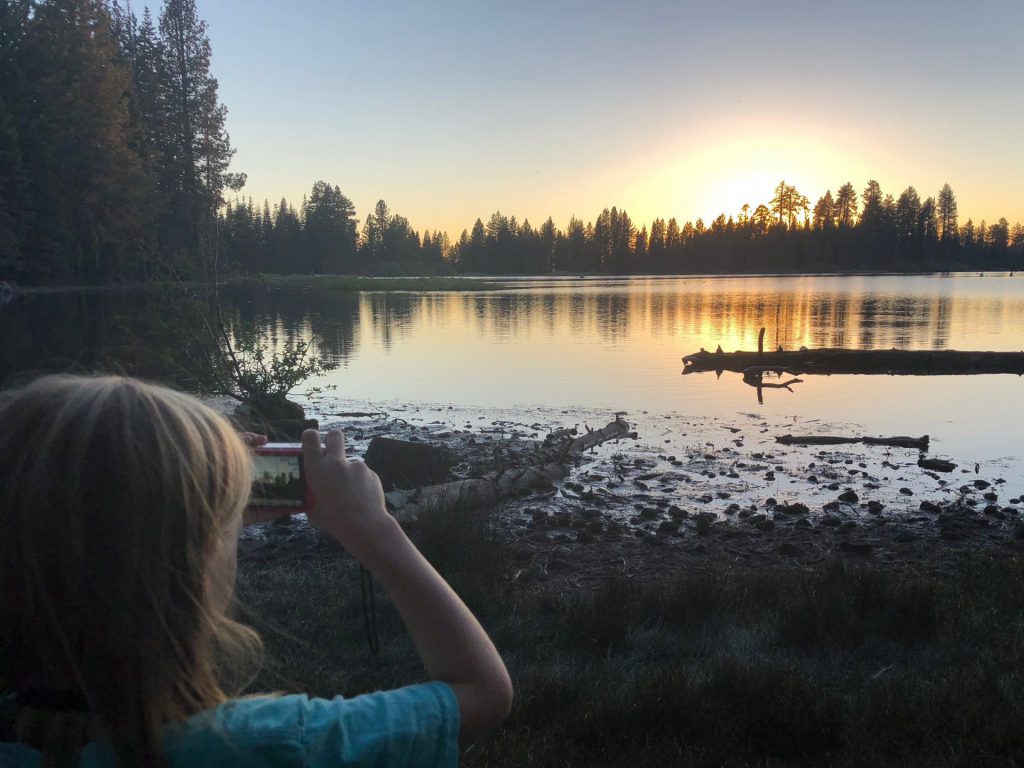 and then we took the road into the park a little bit, to a spot on a hill with decent internet which would become quite familiar to us. the views from there were pretty great too, especially this post-sunset scenery.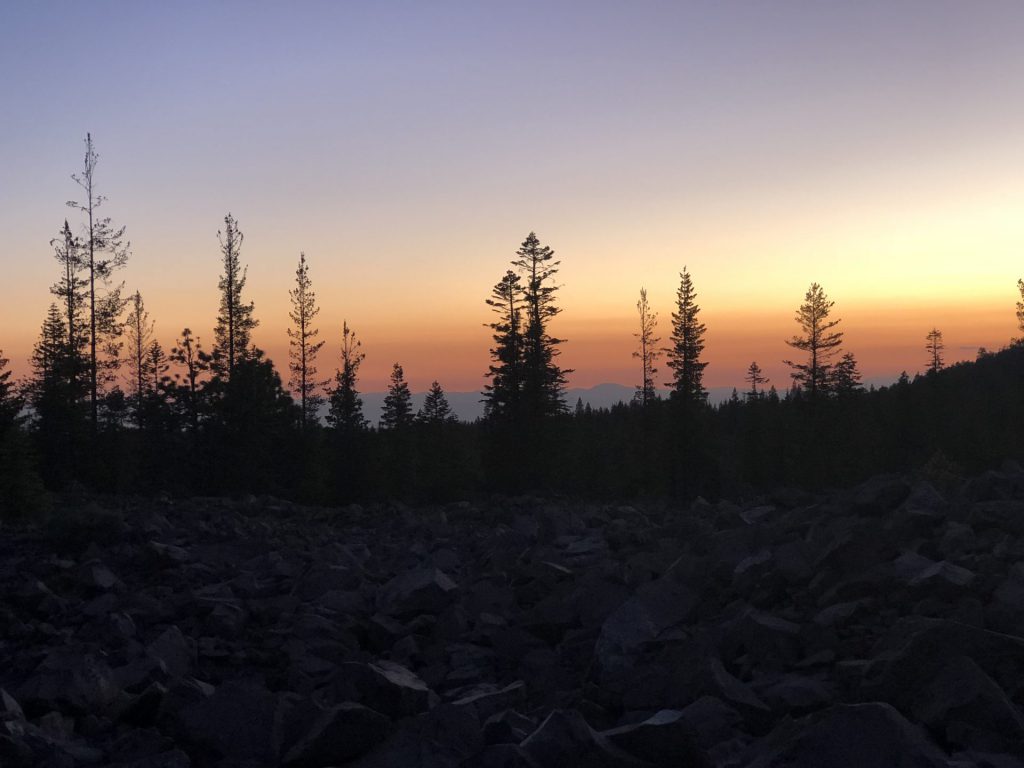 on our first day, derek got up early to head to the spot on the hill to do some work, before returning to camp to pick us up to hit up the visitor center to figure out what cool things there were to do, if they had any cell signal advice, pick up junior ranger books, and buy commemorative tokens, stickers, patches, etc. the junior ranger program there is unlike any other parks we have been to. the kids could either do the pretty intense book, which would require a few days of adventures, OR, we could go to the 2 hour junior ranger program being held in our campground, approximately 15 minutes from the time it was at the moment we learned of it. so, we raced back to the camper to grab writing utensils, snacks, and proper footwear and then rolled into the junior ranger program just in the nick of time. it worked out perfectly, too, because derek could go back to work and we could walk back to our site easily. win-win.
the ranger program was about birds of lassen. the kids learned a lot about their different adaptations and habitats. then, they paired up and were given different requirements for a fictional bird that they had to draw and present. isaac and his buddy were the first to volunteer.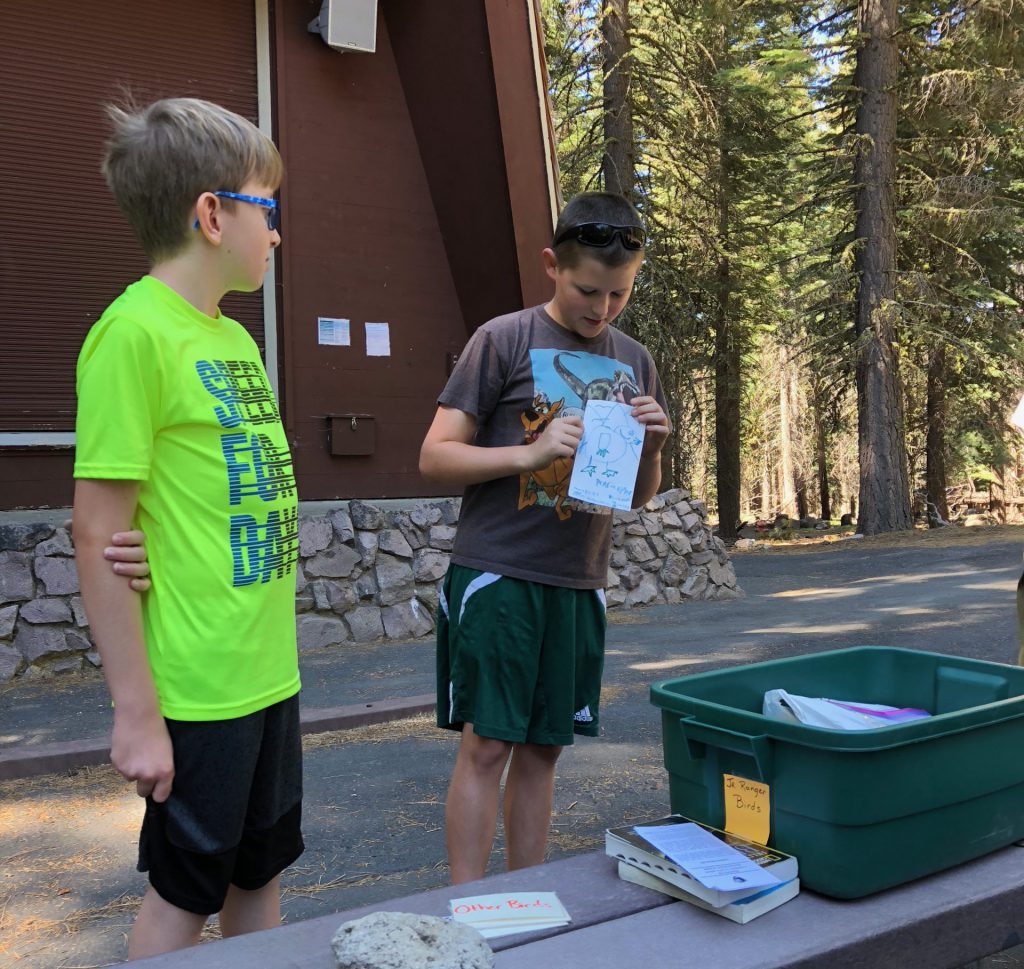 i didn't get a good shot of anna and her buddy presenting, because they were turned away from me. but they made fast friends and had to be told to stop chatting several times after that. :). hazel and i presented her bird, when her partner refused to go up, despite being quite overbearing during the collaboration bit.
after the crazy fake bird presentations, binoculars were handed out and a quick binocular lesson was given.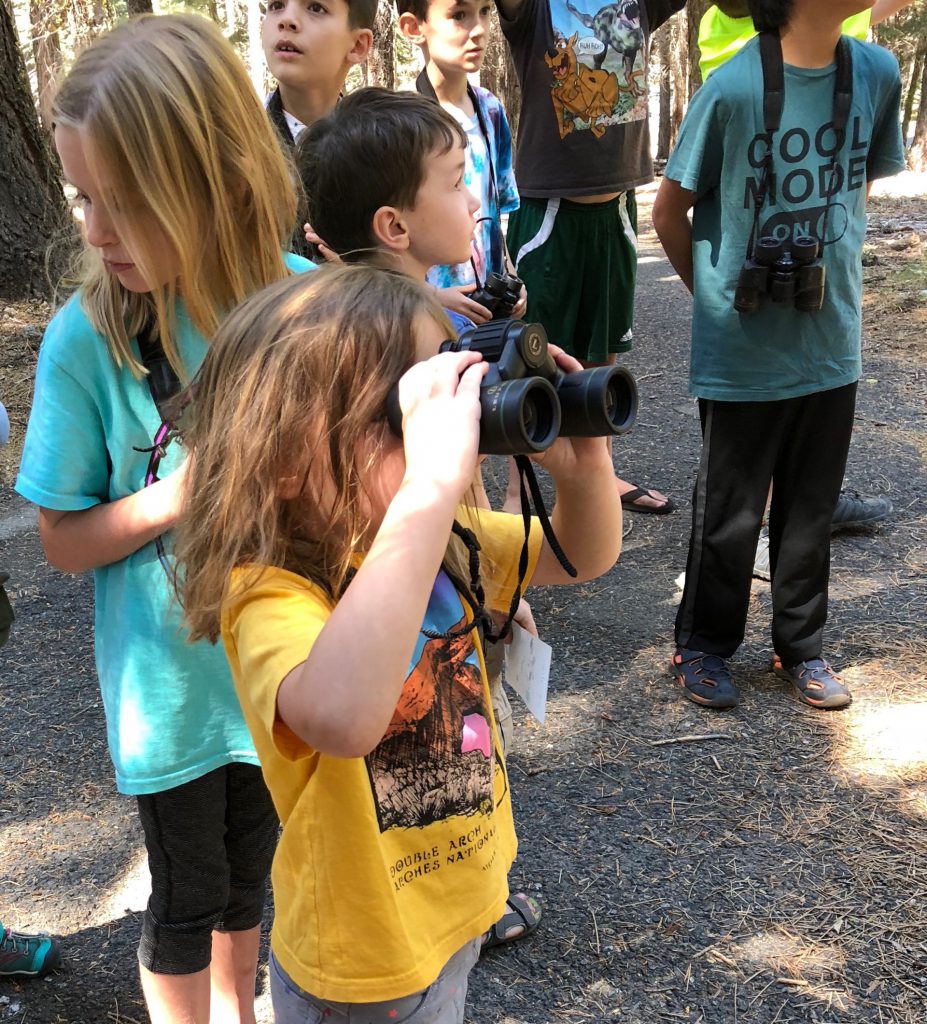 then we walked down to the lake, to see what kind of birds we could spy along the way and on the water.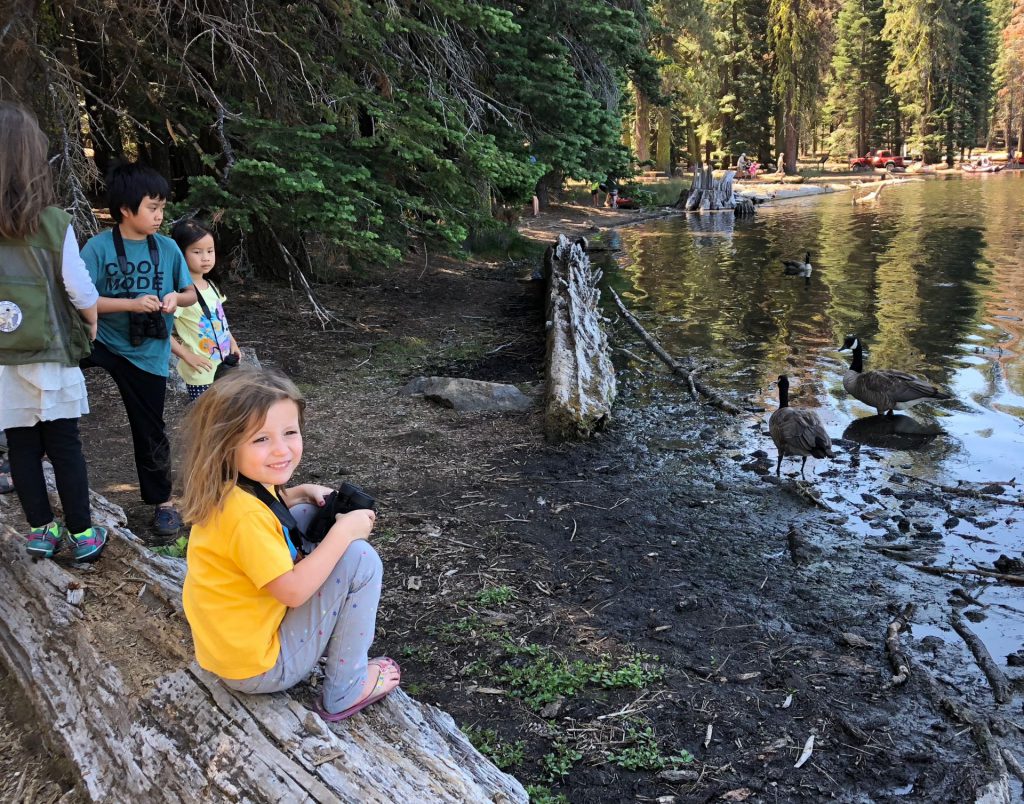 we saw stellars jays and lots and lots of geese and a few ducks.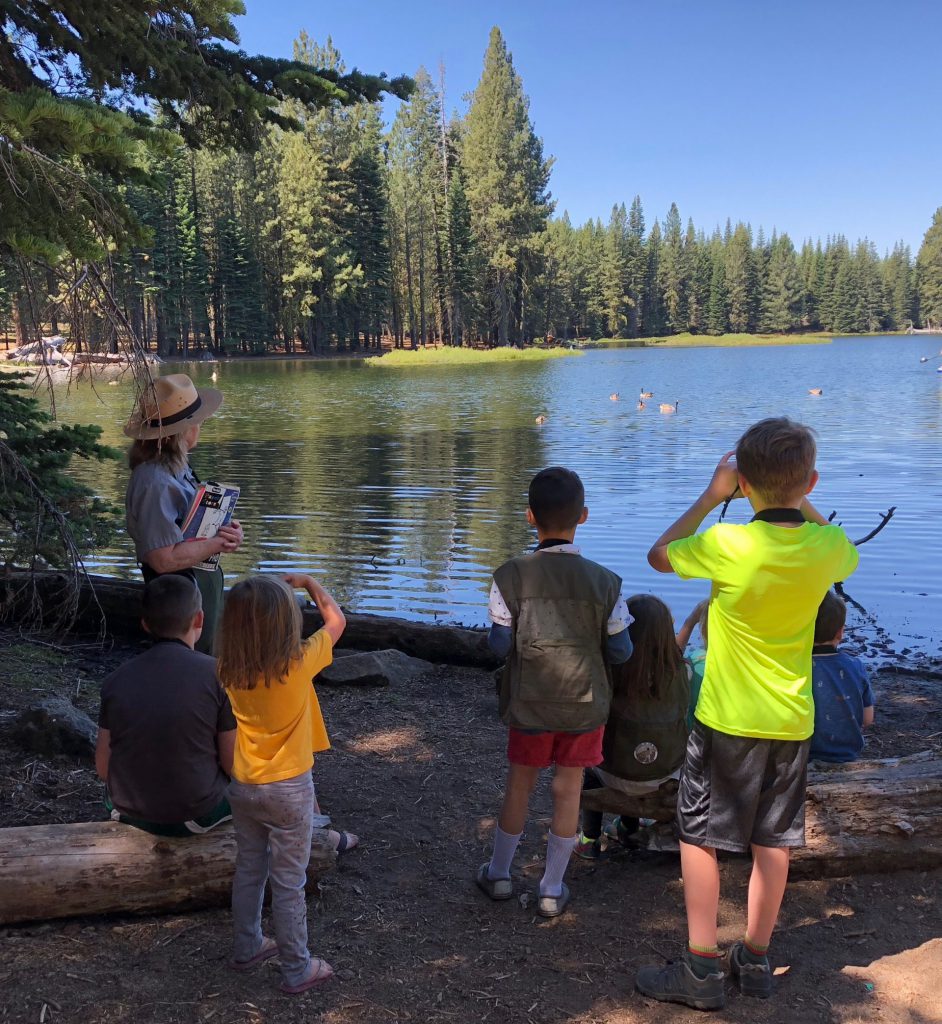 finally, it was time to graduate and become official lassen junior rangers. i'm so glad we were able to make it to this program, because the next one wasn't until after we planned to leave.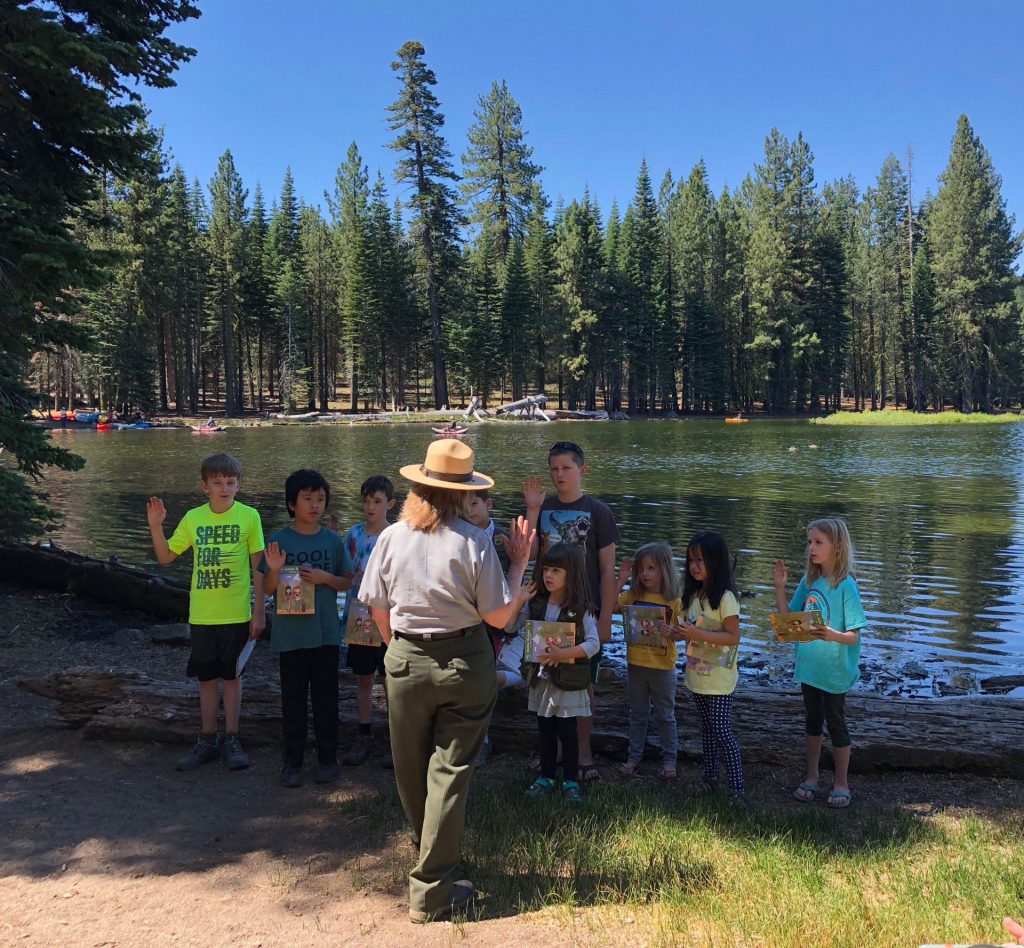 later, when derek was home from work, we made our nightly drive over to the spot on the hill for some instagramming and such. this is the view that we had everytime.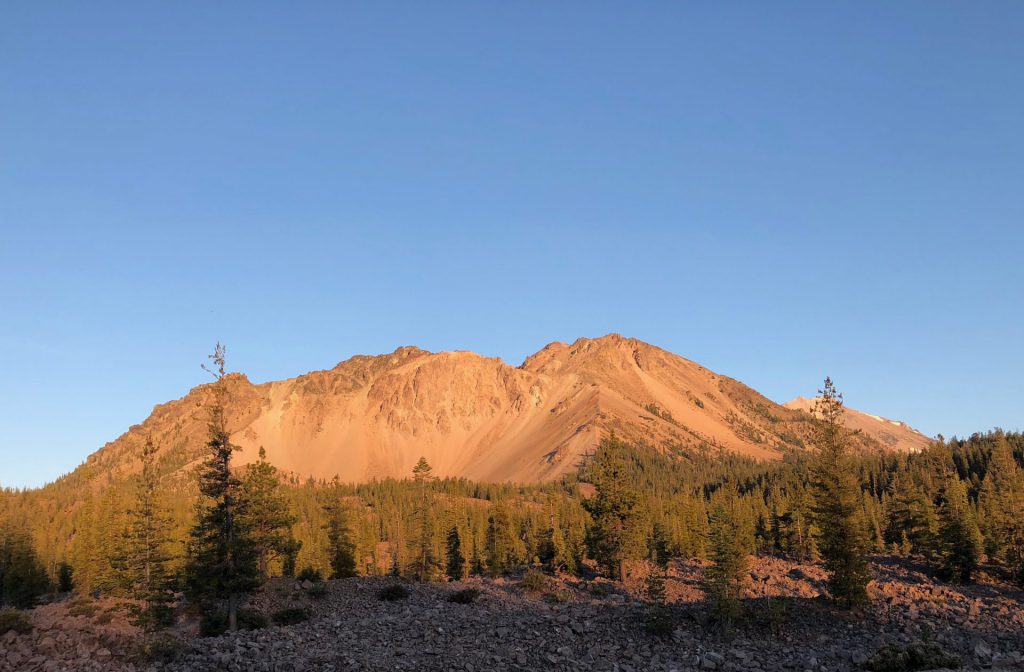 on day two, which was actually a wednesday because of our weird travel schedule, derek went up the hill to work in the morning, but on his "lunch" he came to get us to drive to the other end of the park, to the main visitor center, where he planned to work on their wifi, while we did a bit of adventuring. we didn't stop much on the drive over, so we could make good time, but it was beautiful and i managed to get a few pics capturing it.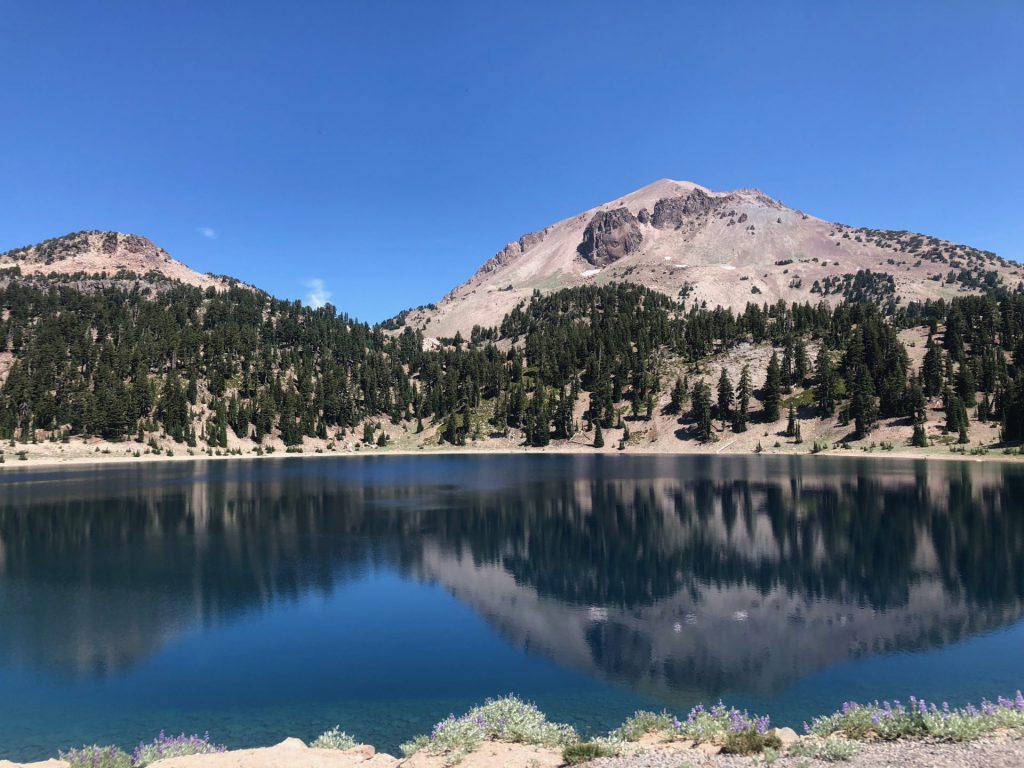 at the visitor center, derek settled in to work, isaac decided he would rather sit there and read, and anna and hazel and i embarked on a 3.6 mile hike out to a waterfall. basically we chose it because the trailhead was at the visitor center and we wouldn't have to drive anywhere.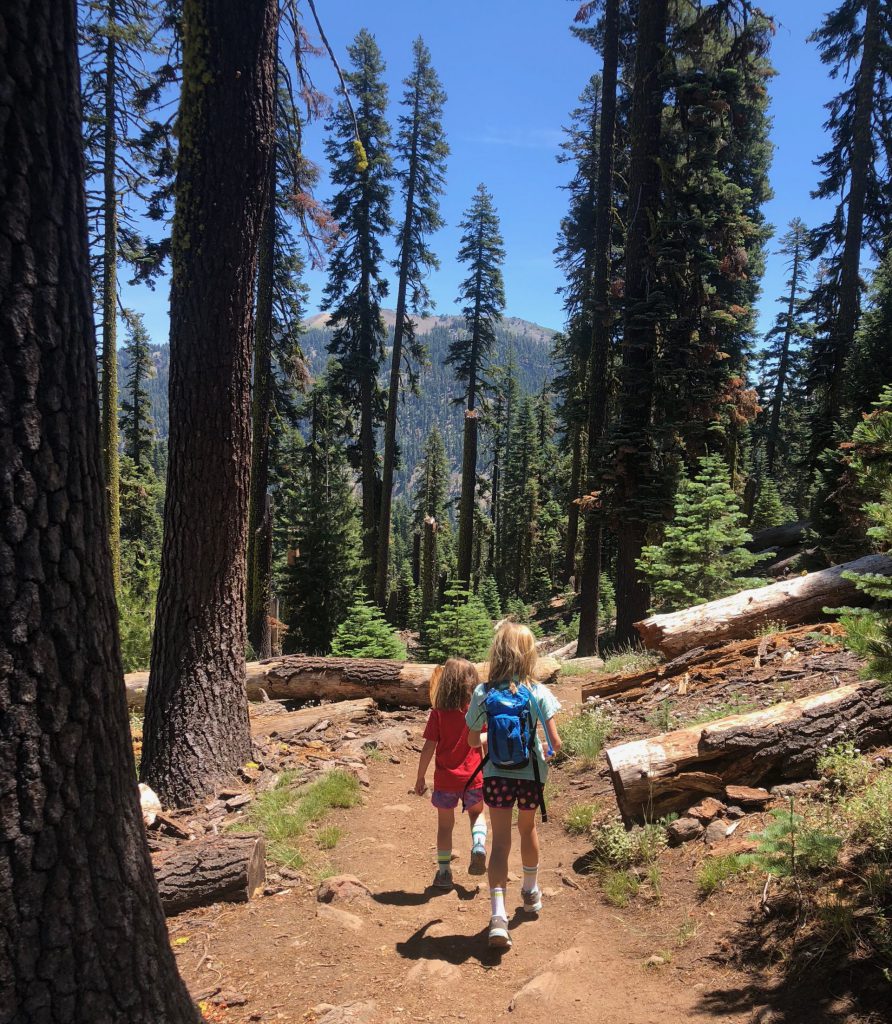 i don't know why hazel can't not pose like a goon when the camera is on her.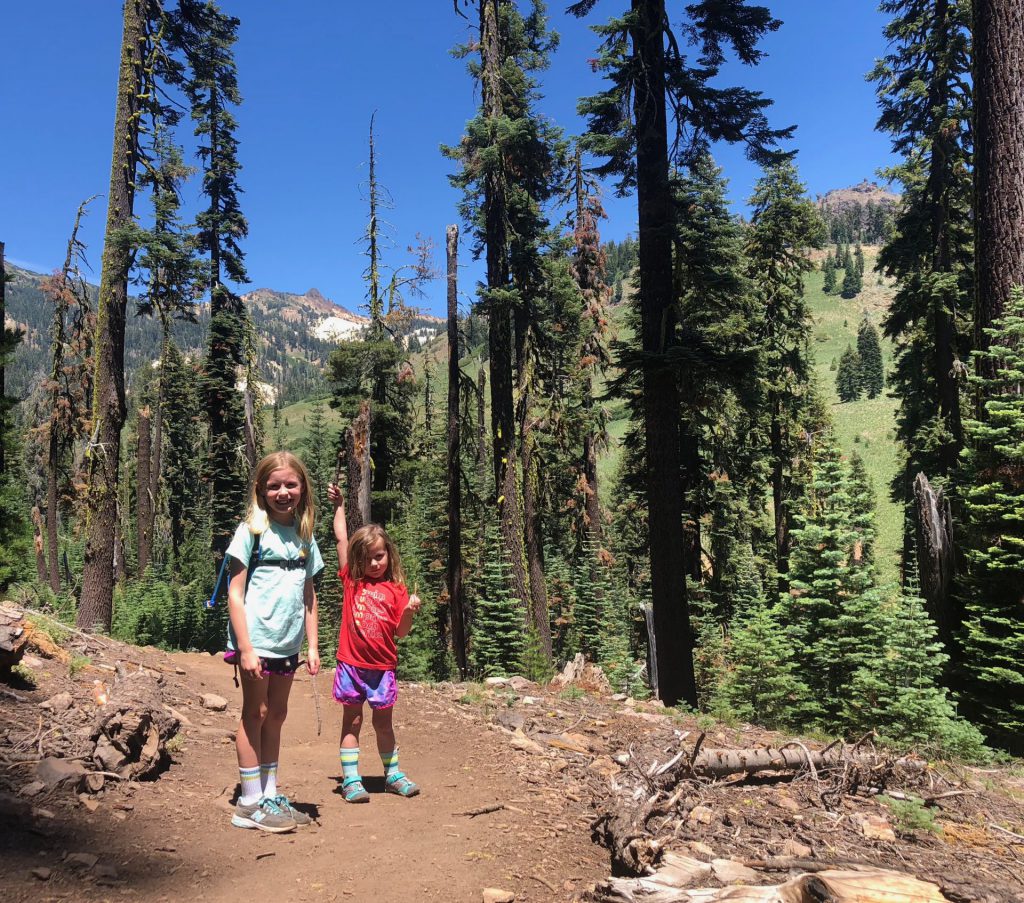 the hike was very pretty.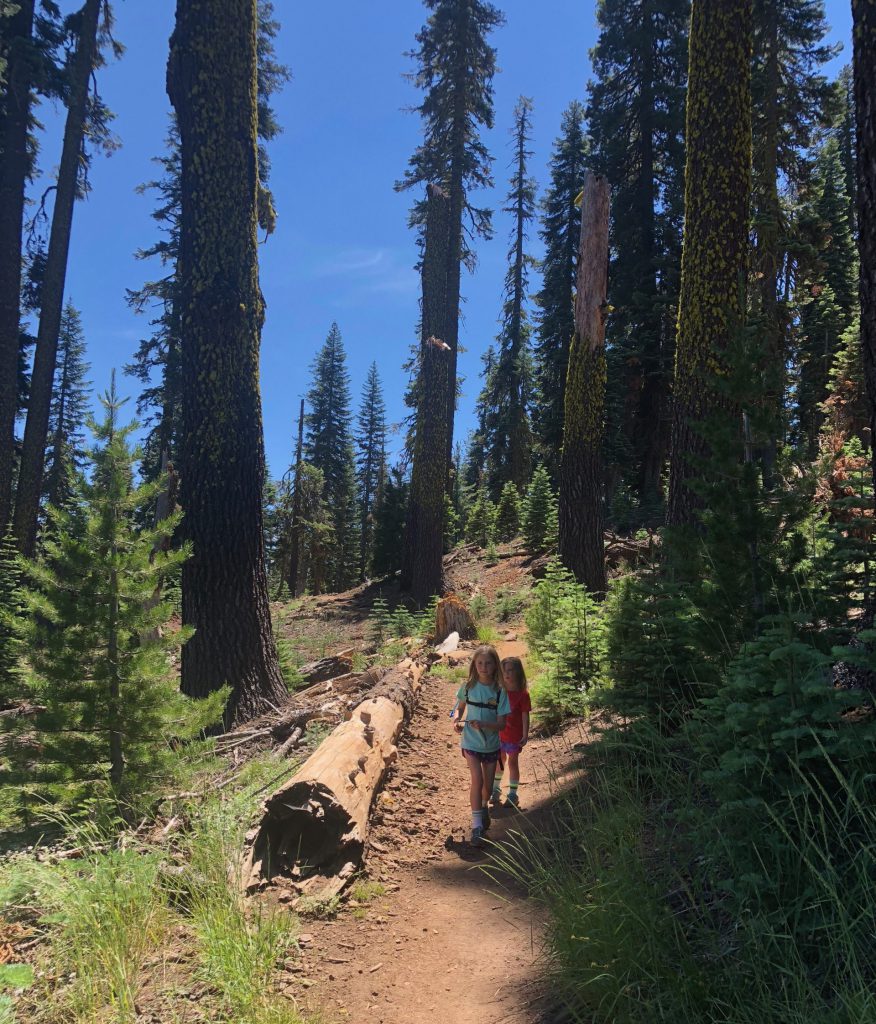 we especially liked creeks, where we could scoop up icy water onto our faces and arms to cool off.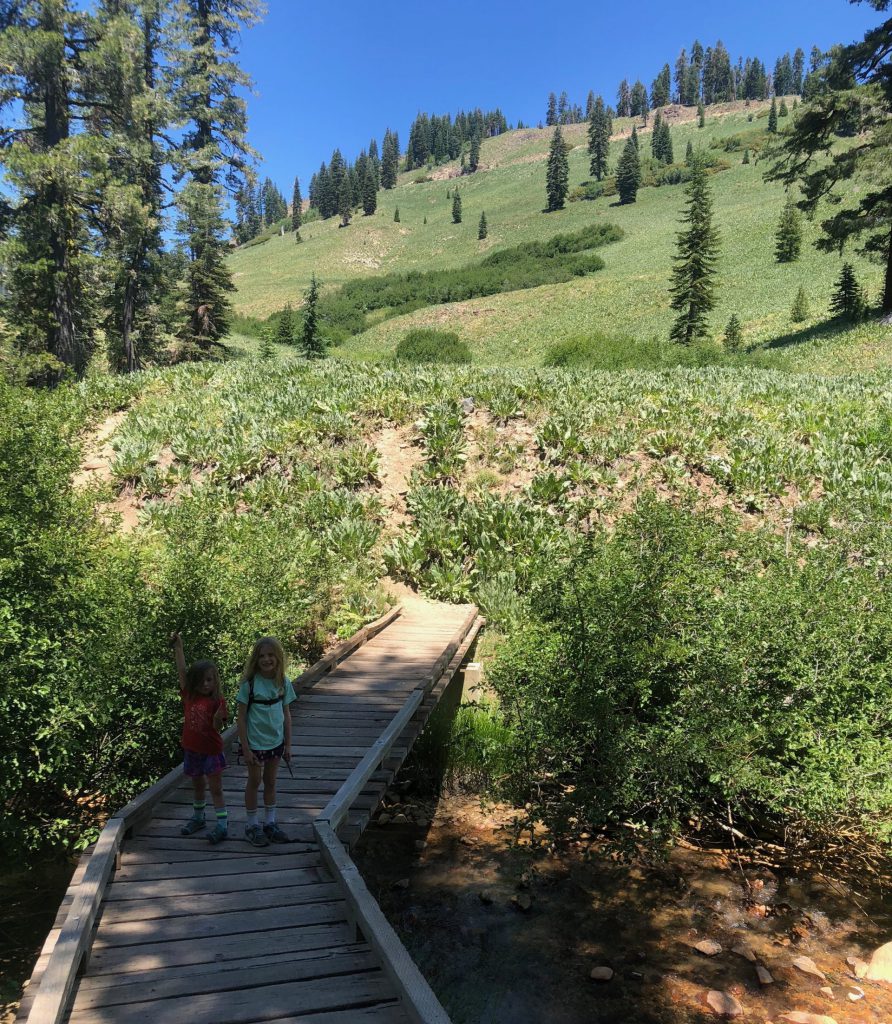 this stretch through a meadow was my least favorite. it was pretty hot in the sun.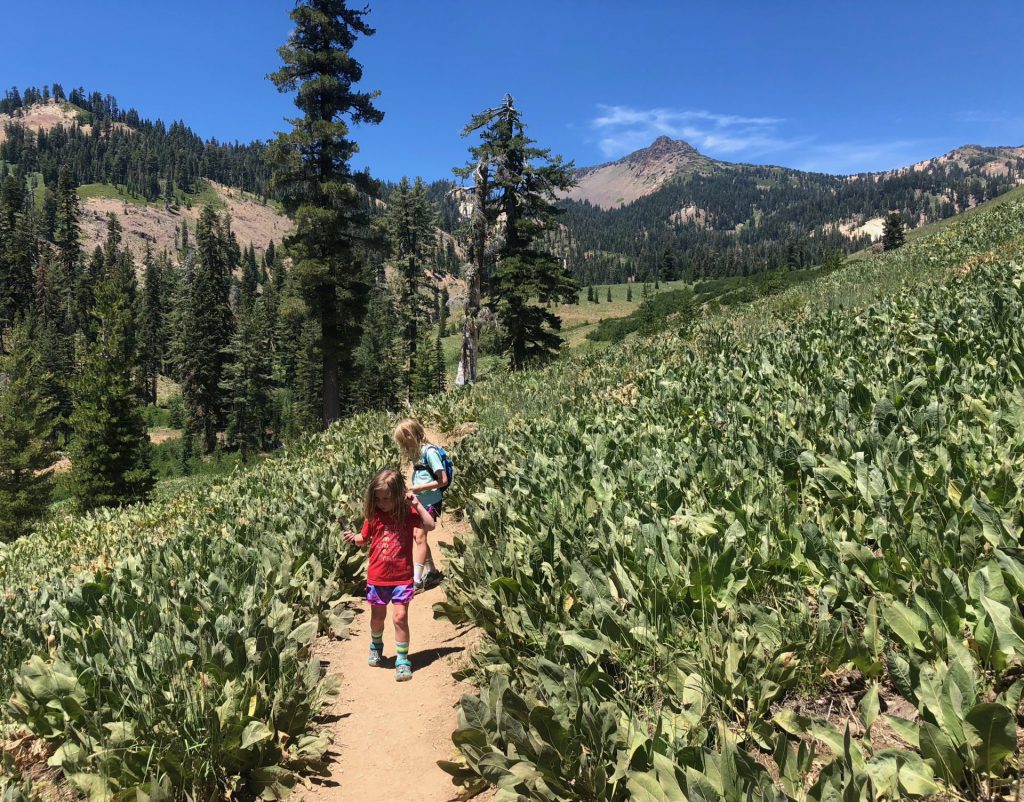 but it made for good pictures.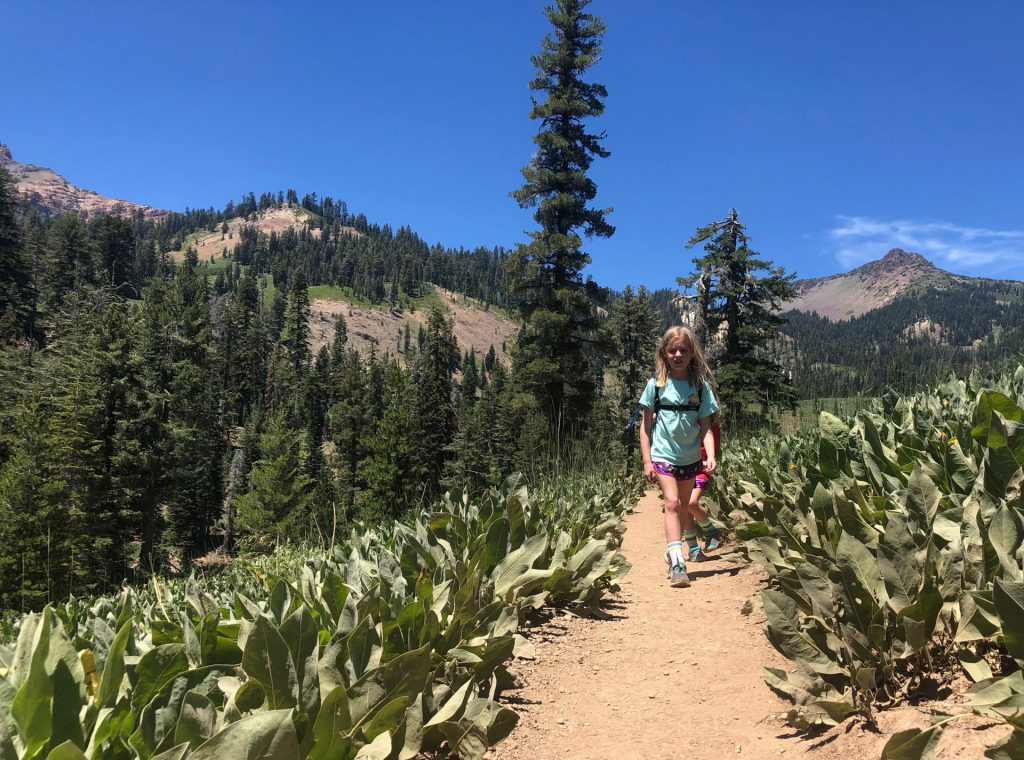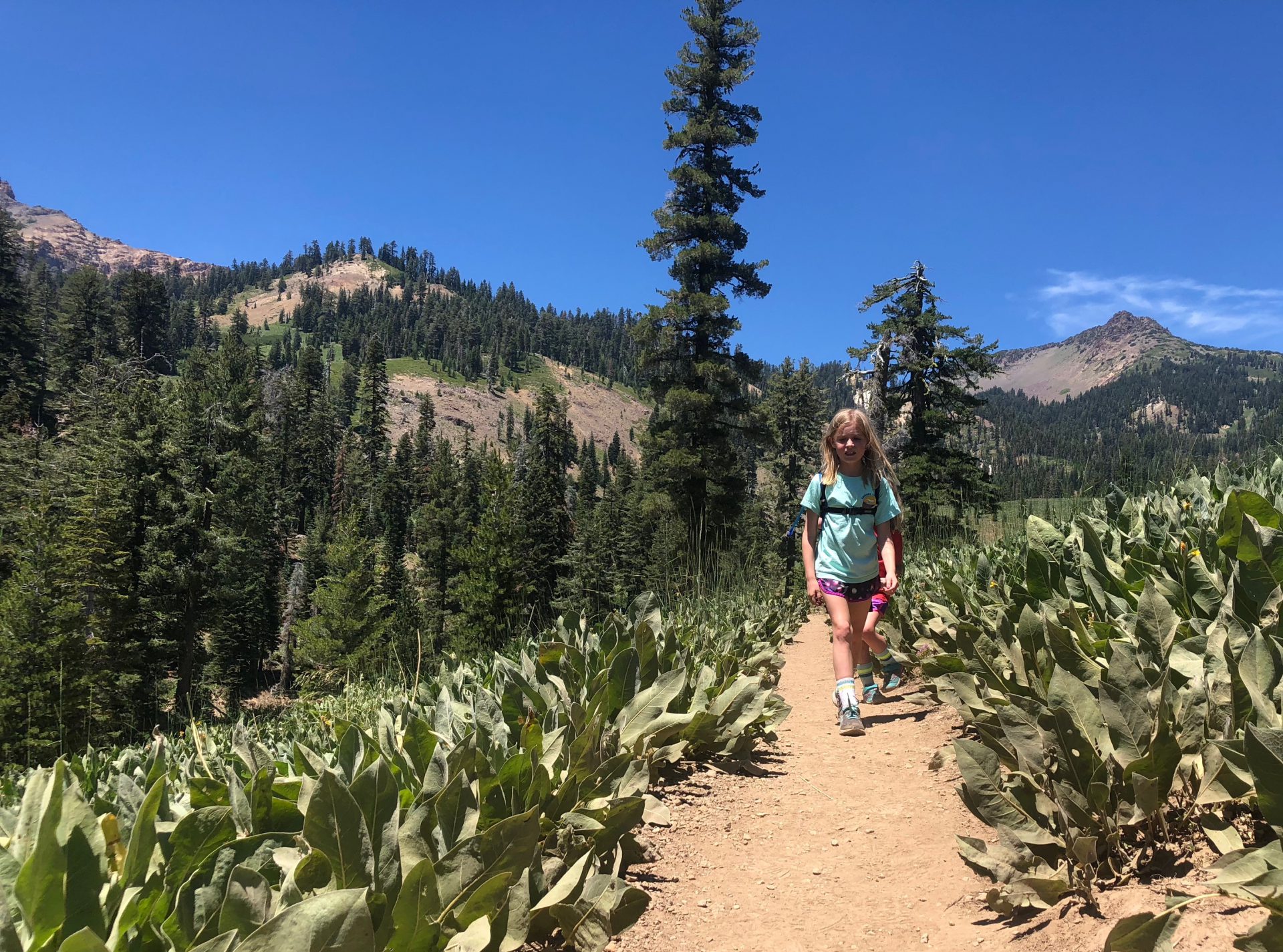 despite some setbacks (several falls, blood, band aids), we finally made it and were a bit disappointed that it was an overlook to the falls. meh. we debated going on to that little bridge, but some folks that passed us took a LONG time arriving there, and i was already pushing it with hazel, so we just admired from afar.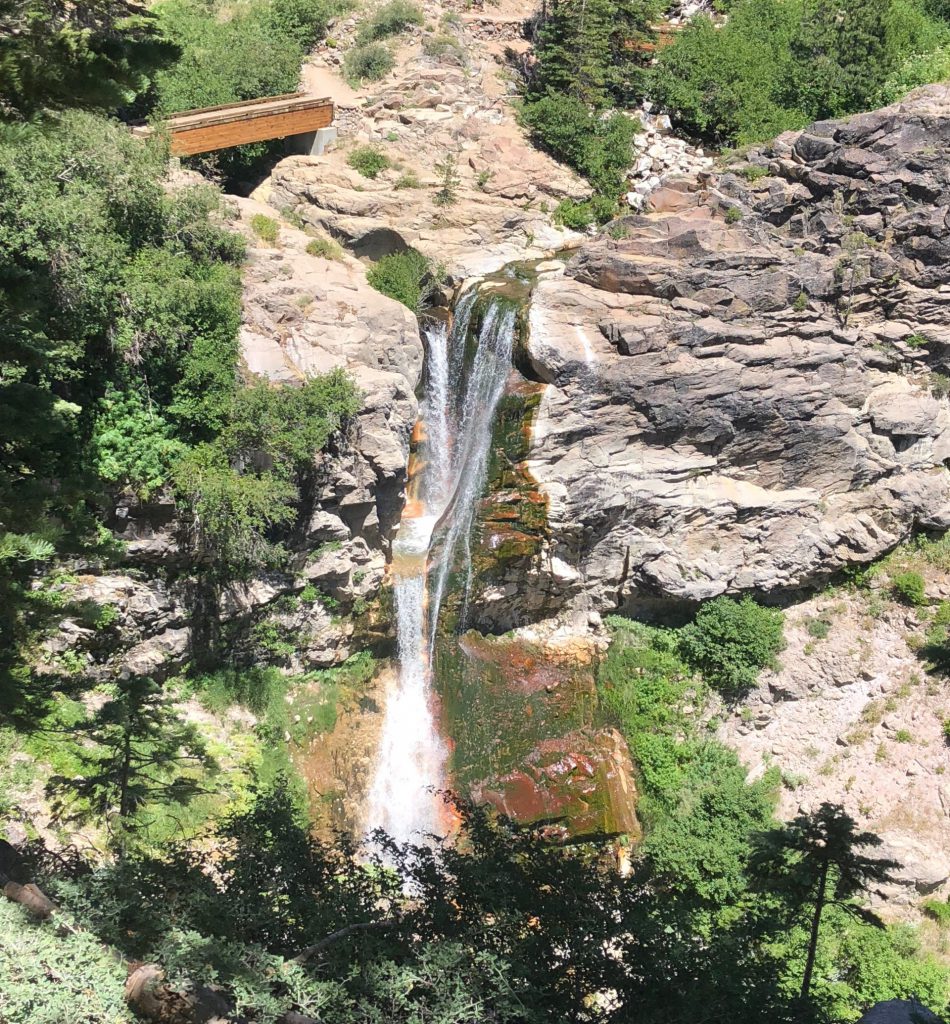 official instagram pic.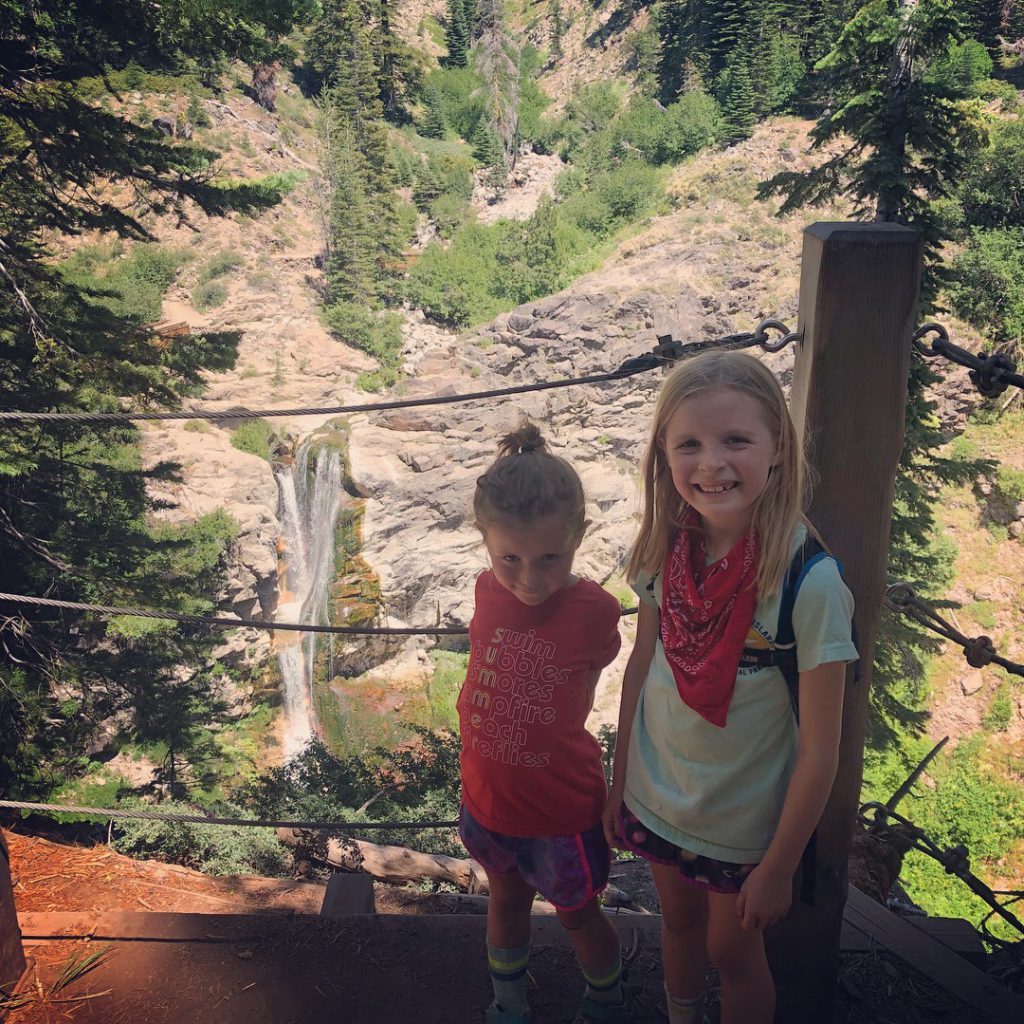 more.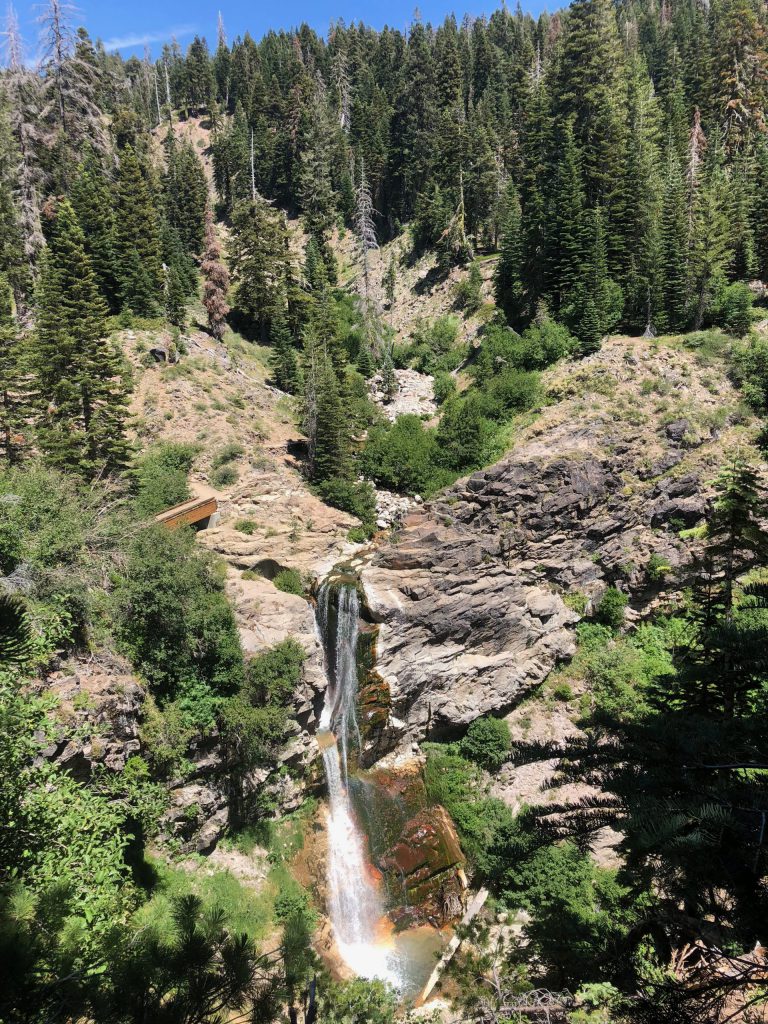 we stopped for a snack, before turning around and hoofing it out.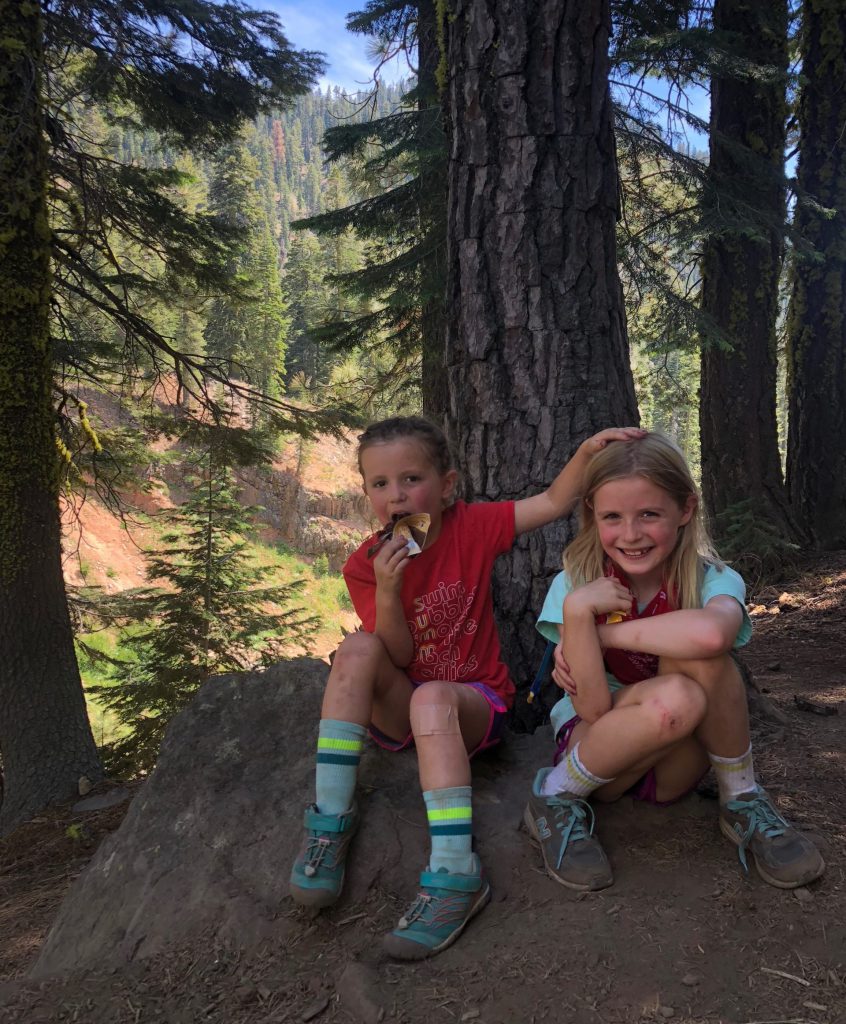 stopping to spread dandelion seeds. hazel's favorite flower of all time.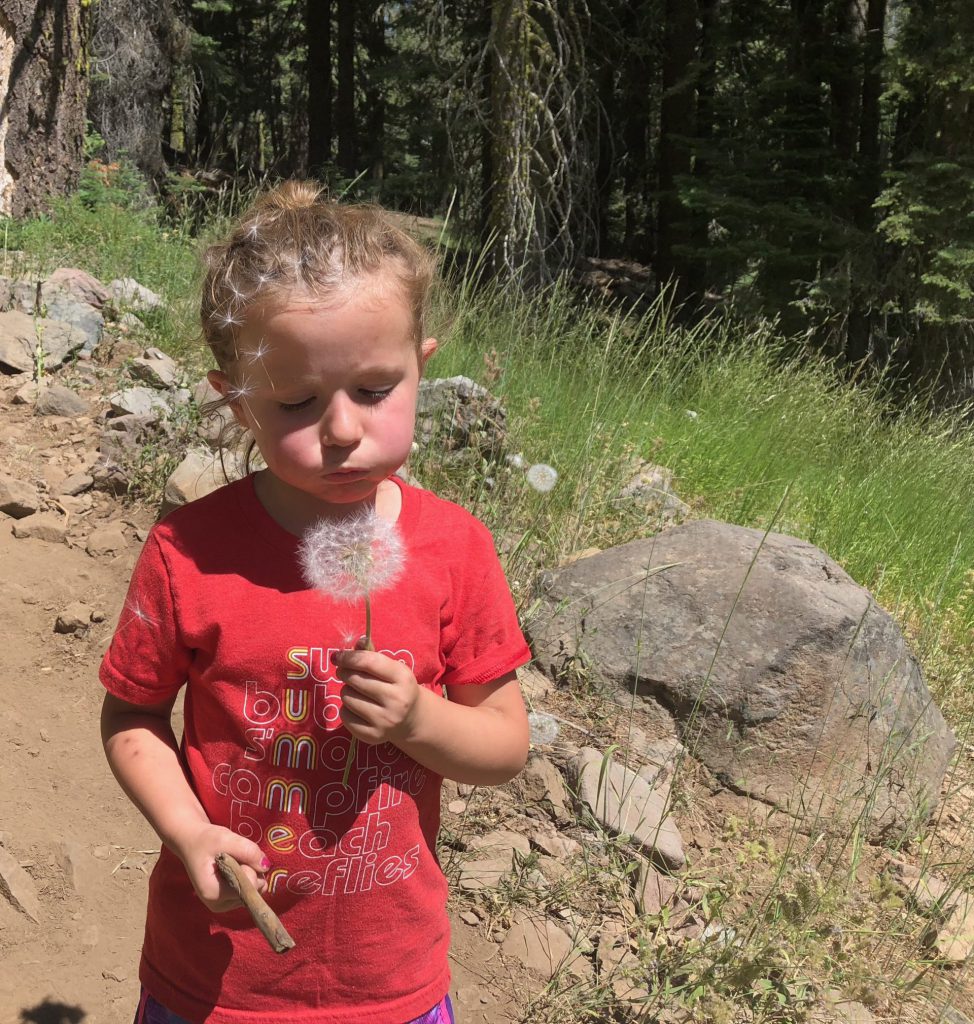 more creek fun.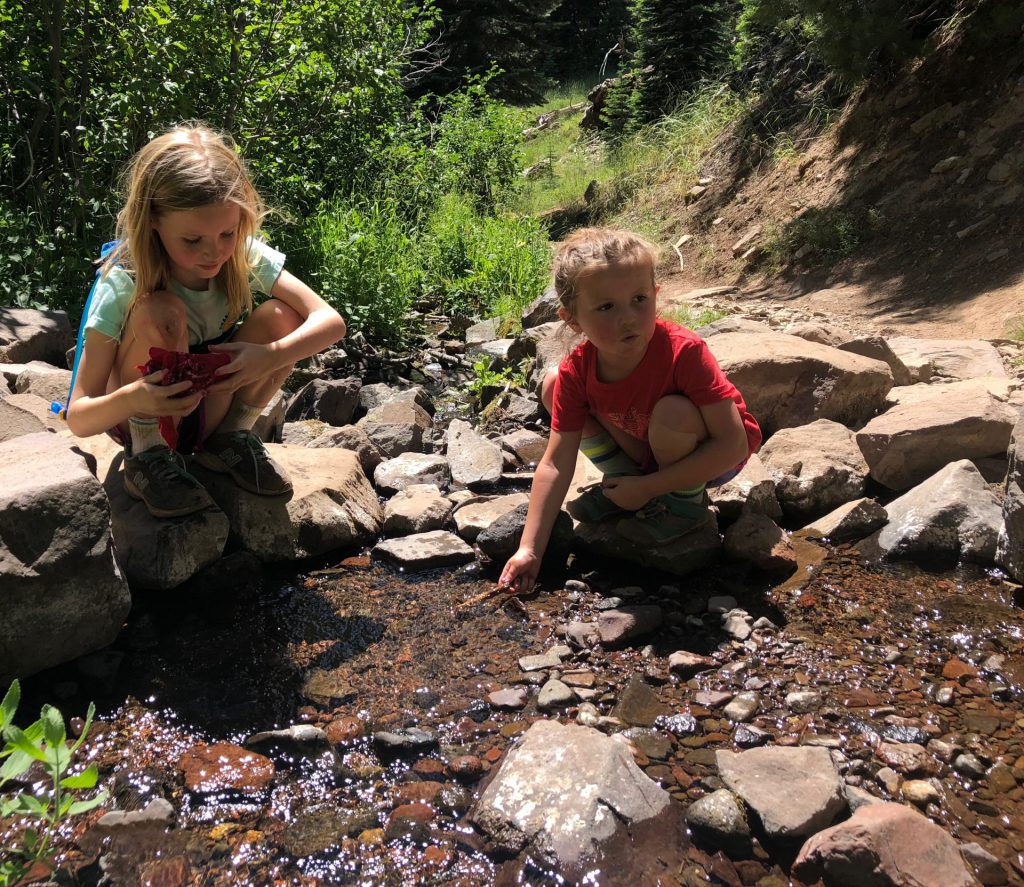 back through the meadow.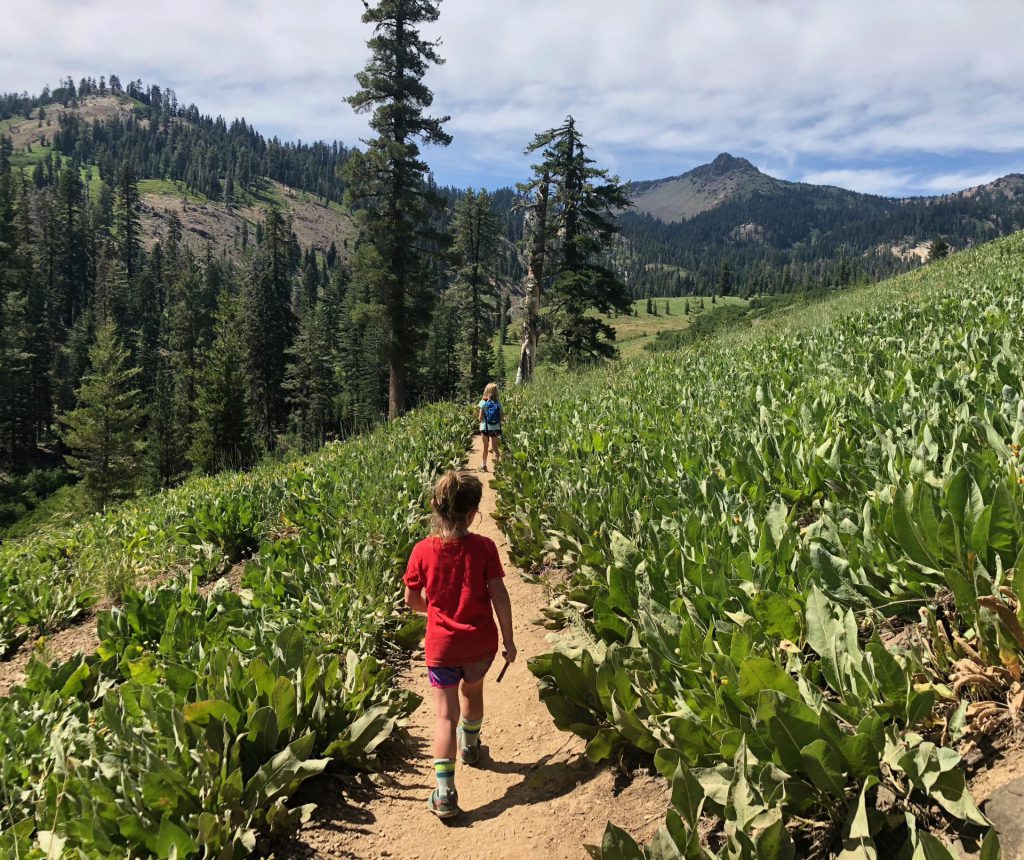 anna took a pic of me for me.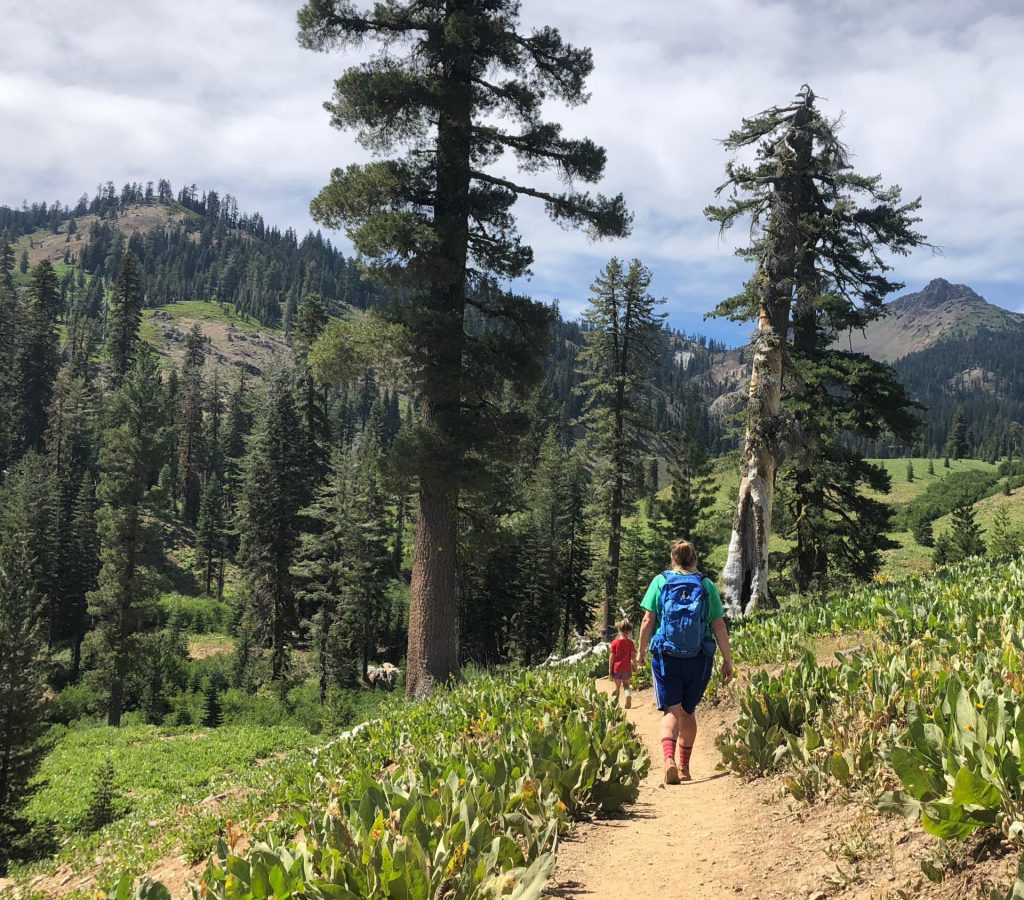 we finished up at the visitor center and stopped for this commemorative photo of the champ hiker girls.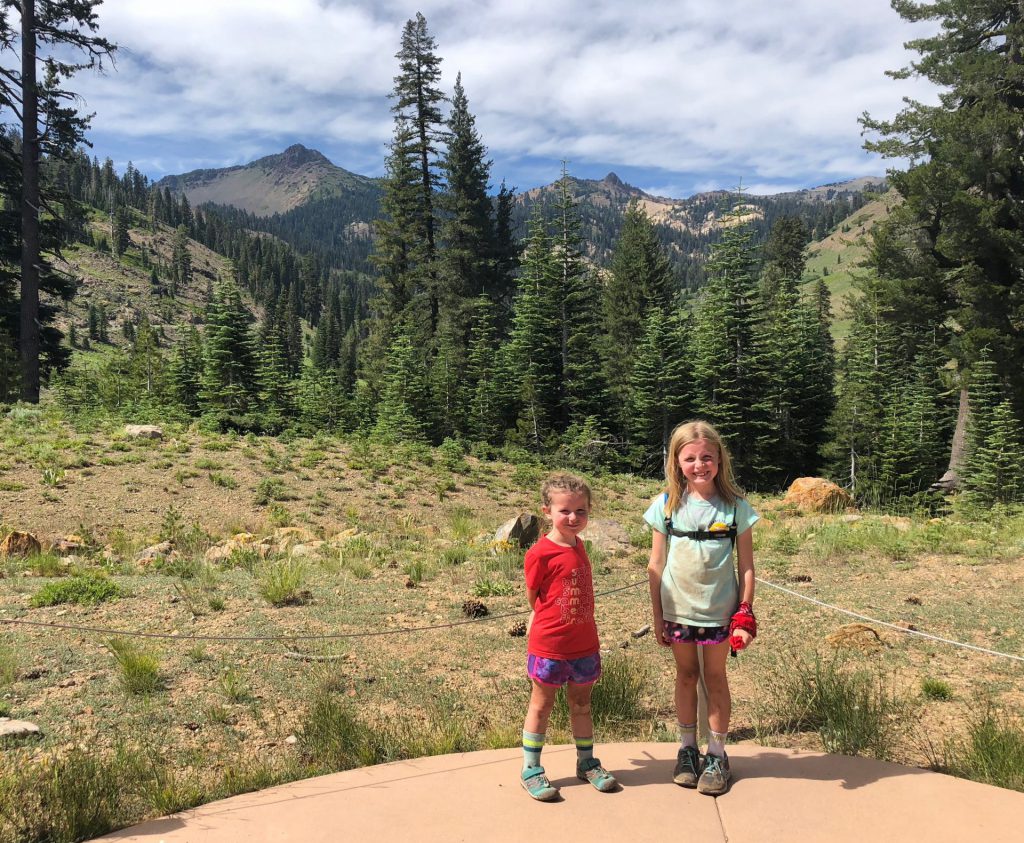 we joined back up with derek and isaac, and started back to camp. this time, we stopped at cool stuff along the way. our first stop was a mud pit, just off the road and not too far from the visitor center. basically. lassen has a ton of geothermal activity going on beneath it's surface, just like yellowstone. some of the most epic stuff is closed for a long time while they repair boardwalks and trails, so we didn't get to see much. but this mud pot was good enough for us.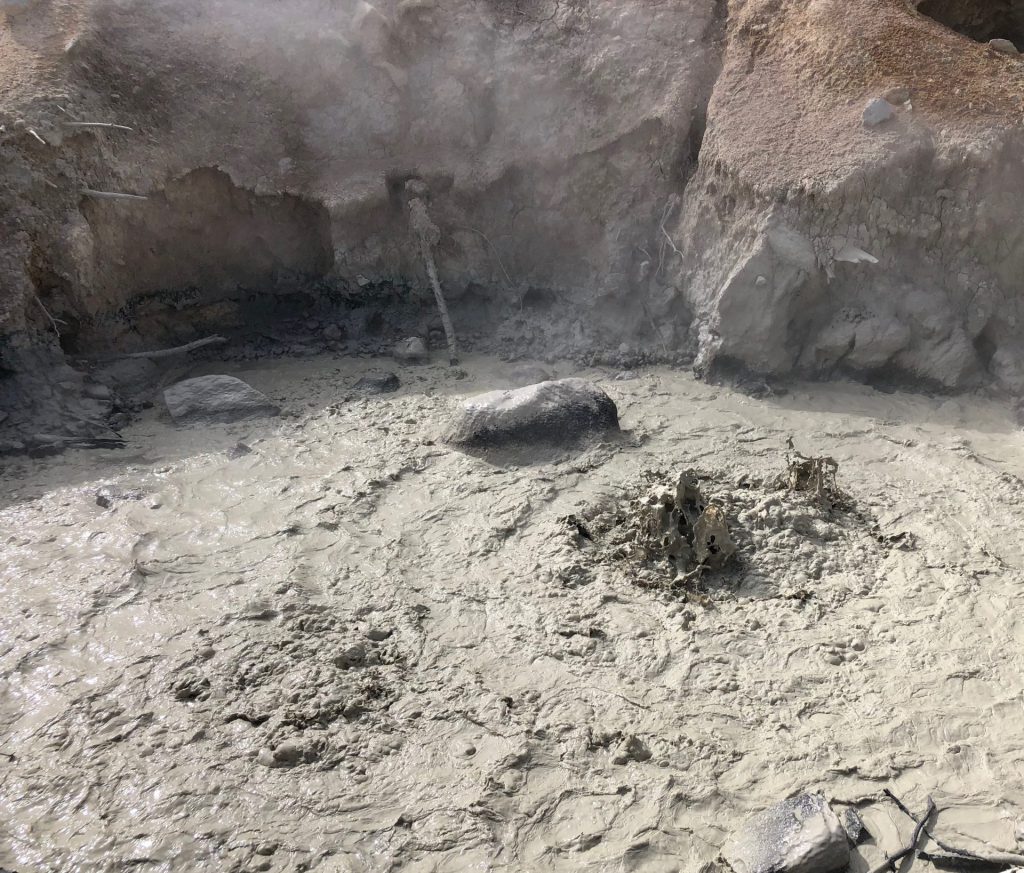 also. it smelled like eggs.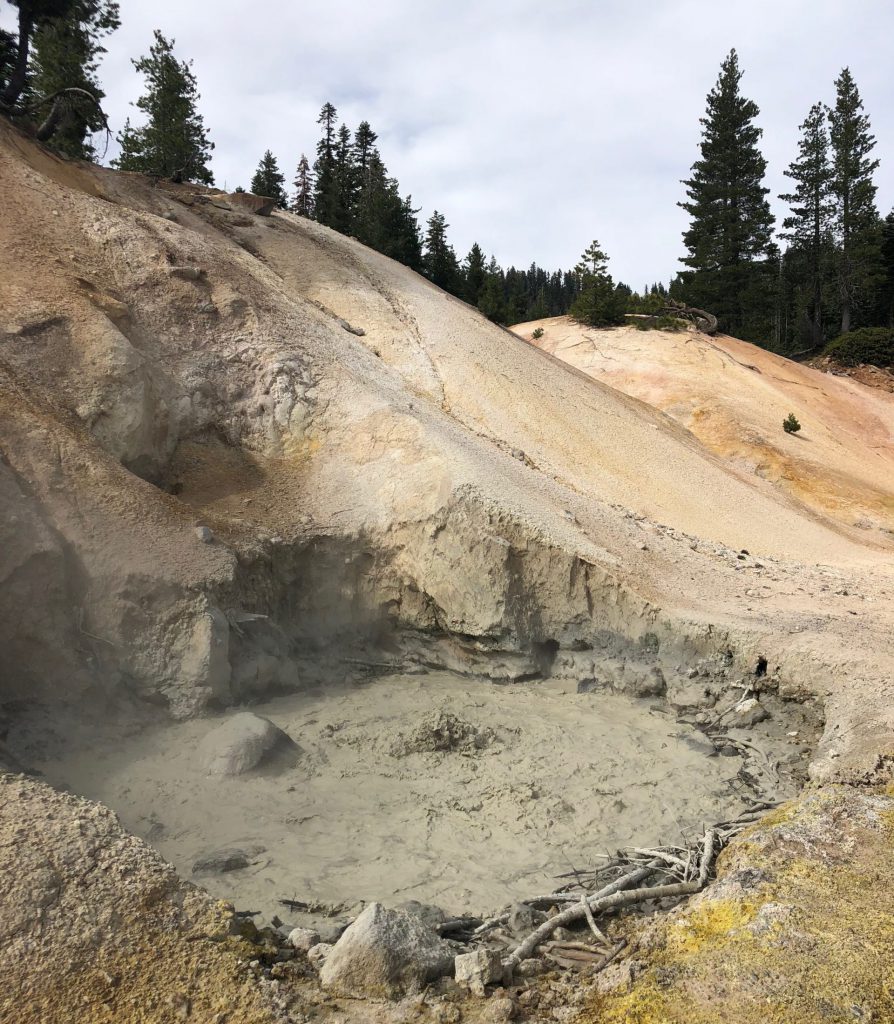 further along the drive back, we stopped at the lassen volcano trailhead, where there was still a mound of snow, which is just weird in july.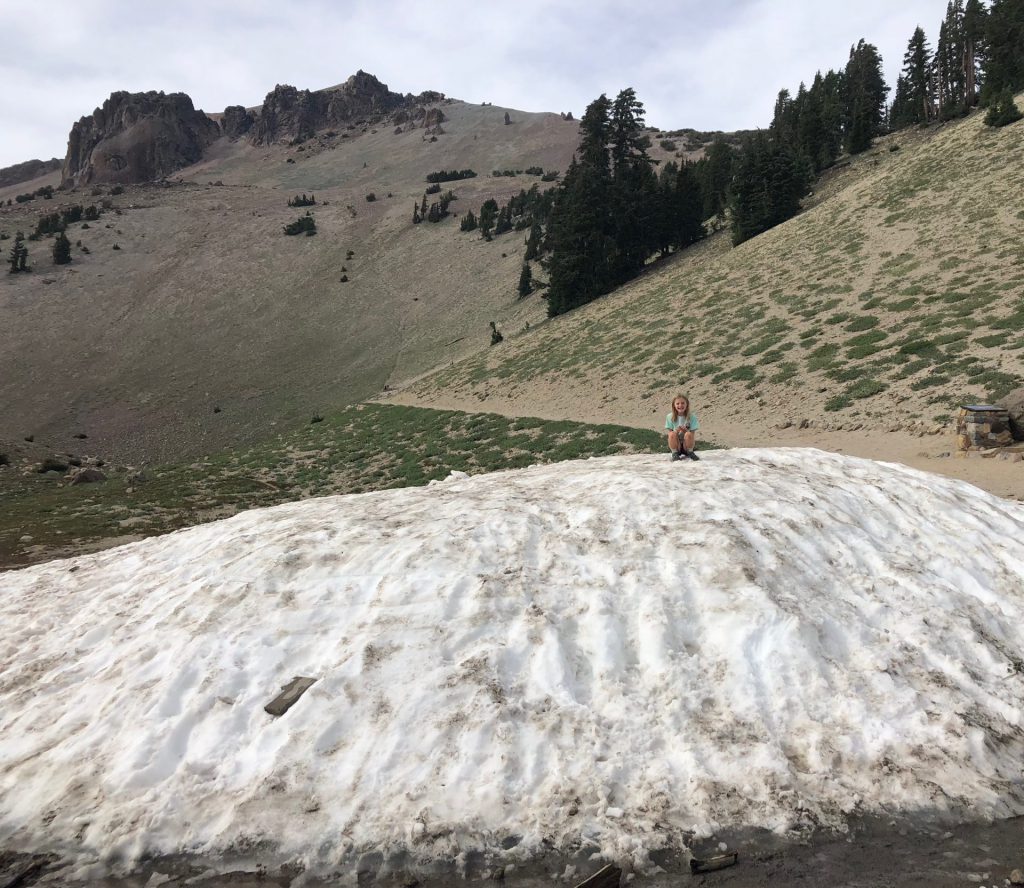 when we came up to a little meadow, we noticed a family had pulled out some chairs while the kids ran around, so we decided to do the same. anna was the only kid who hopped out of the car, but that's a whole other story. this little stream was the coldest water i have ever set foot in. (and that's lassen, in the background).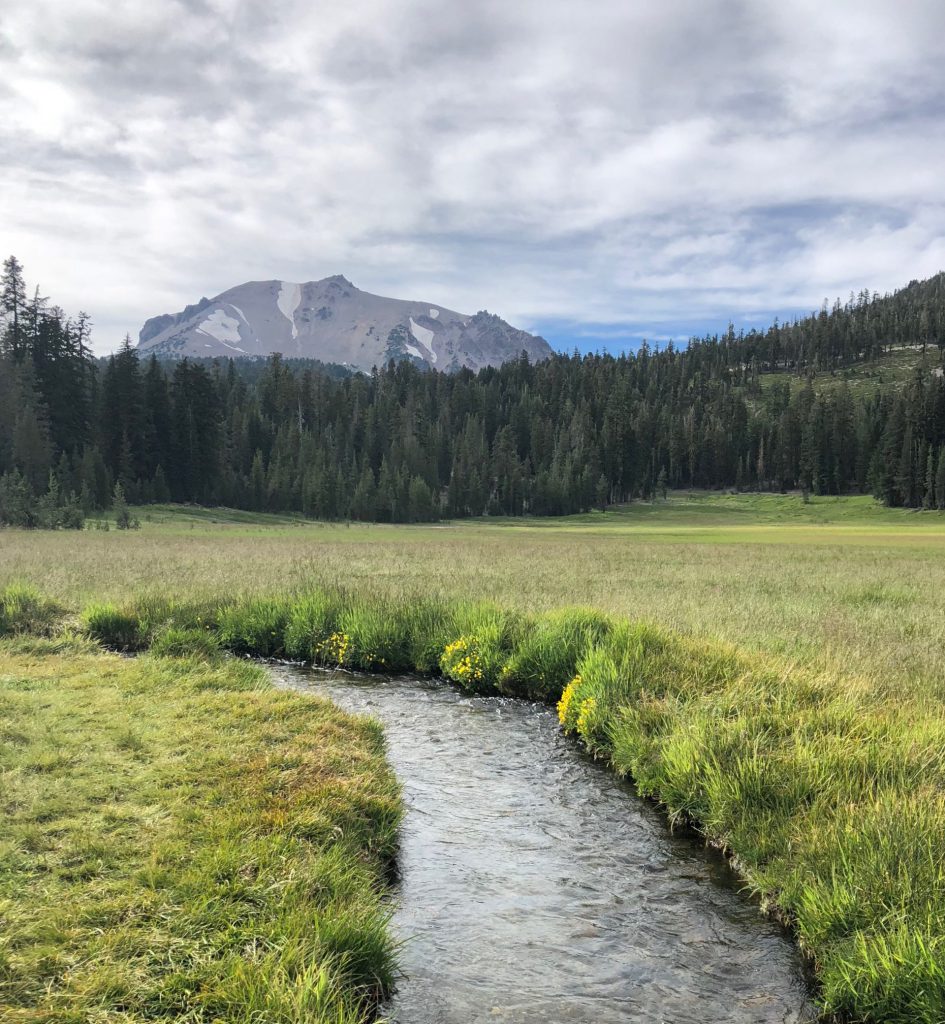 anna made fast friends with a fellow 8 year old girl.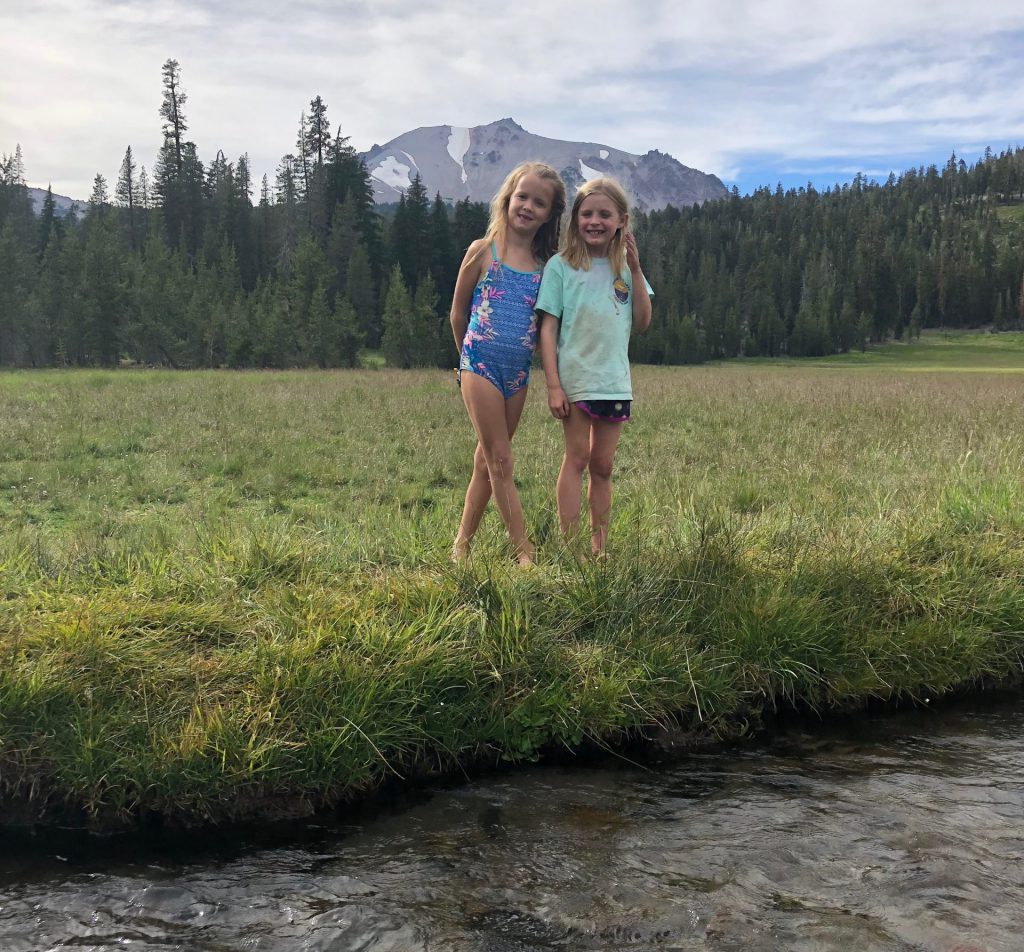 anyhoooo. we played for a bit, chatting with the other family, before finishing up the drive back to camp.
on day three, we decided to lay low. the working situation was pretty hard for derek. the wifi at the visitor center wasn't that great. working on the hill wasn't that great. so derek drove out of the park to a little cafe we had heard about. i just read a bunch. and the kids, well, i'm not sure what they did. but some art got made. hazel is really coming into her own as an artist.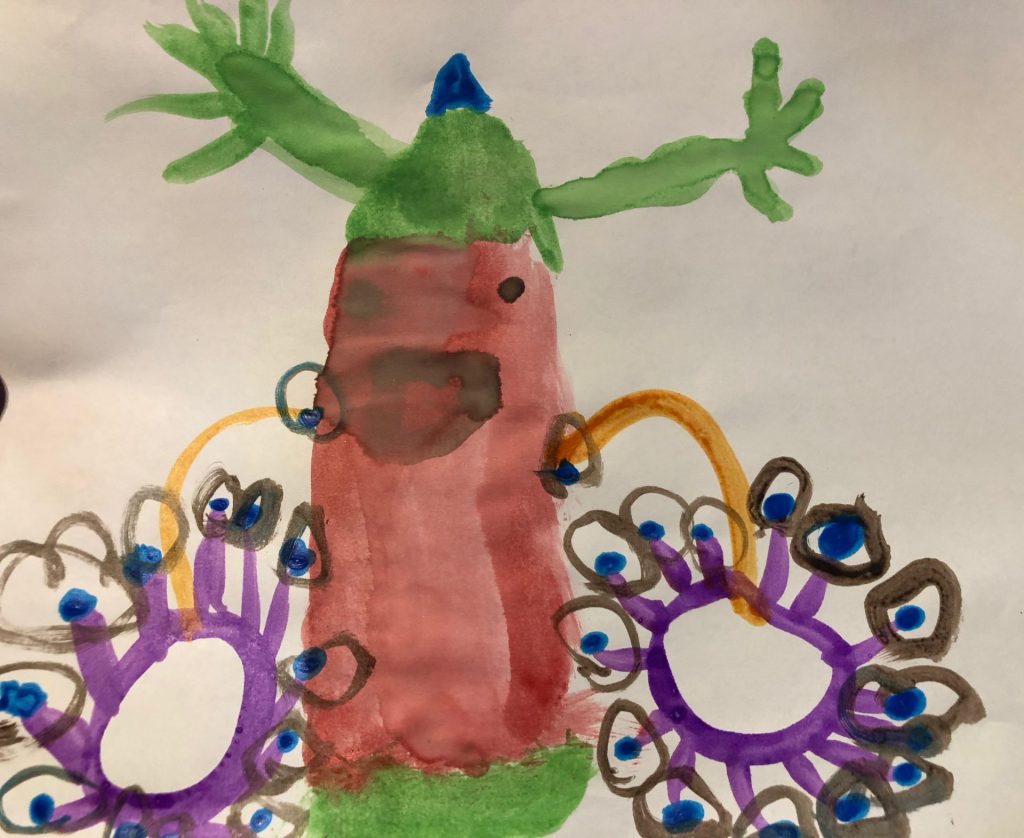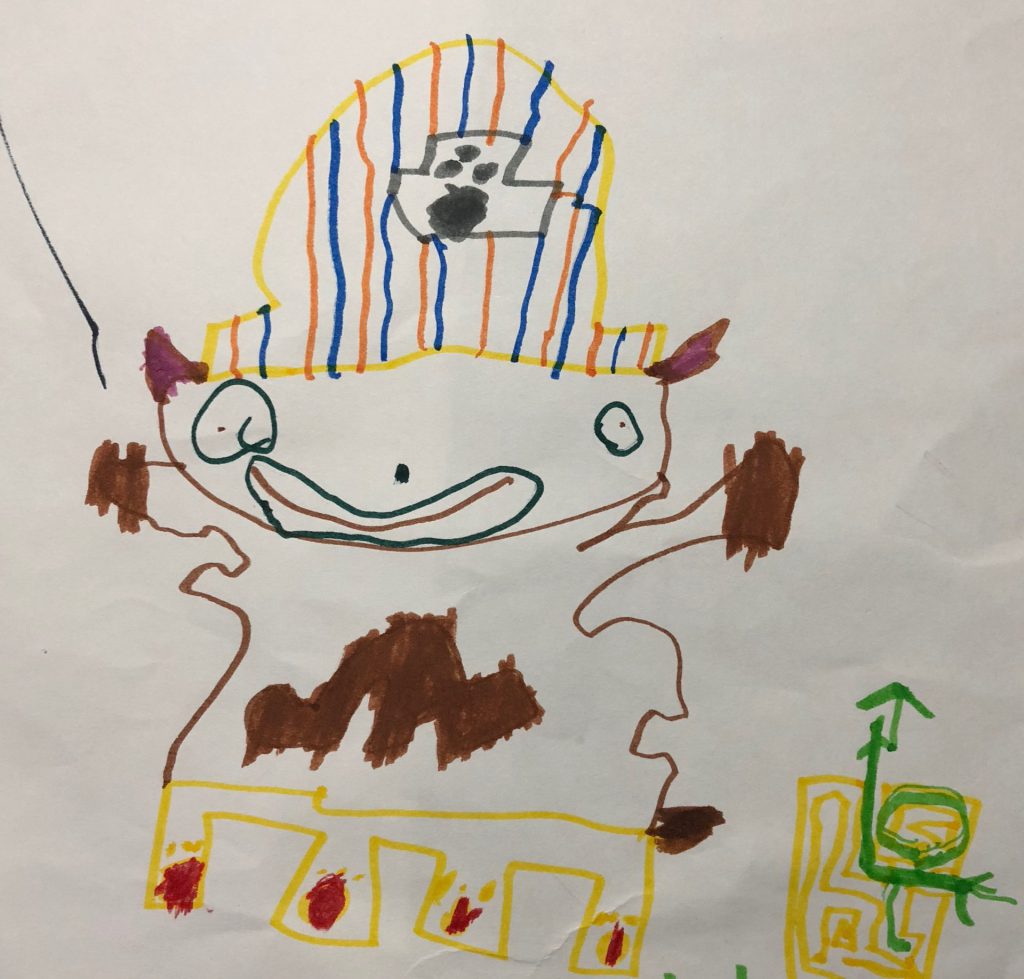 (i can't post anna's art because it's a surprise for a possible reader of this blog).
anyhoooo. then it was friday. after we checked out, derek drove the camper up to the spot on the hill, to finish the work day.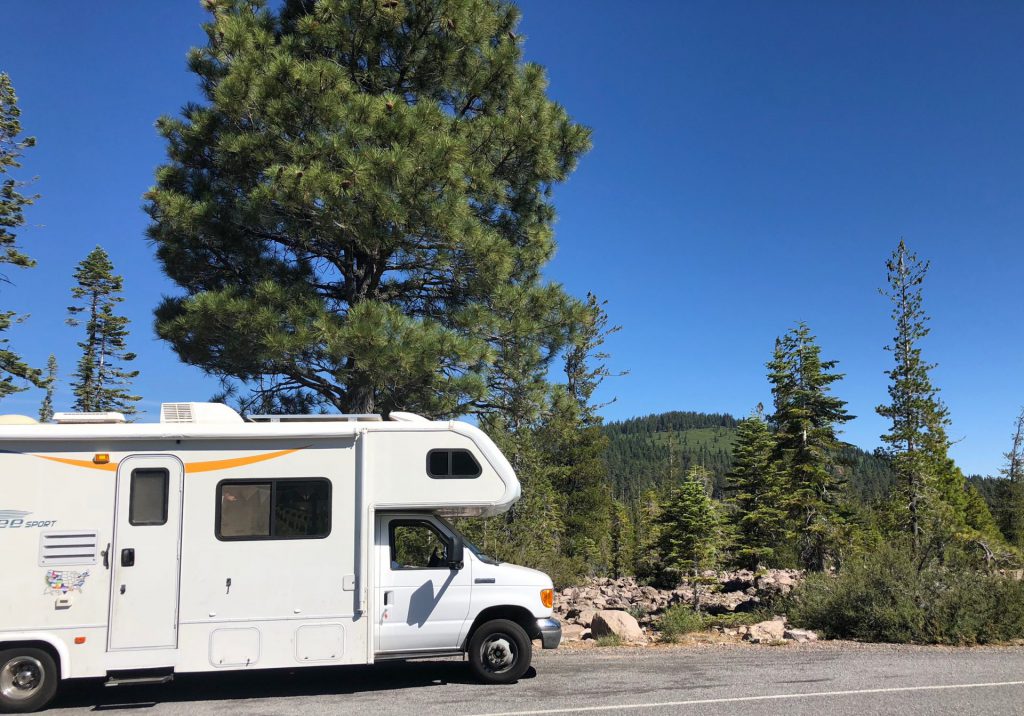 the kids and i got on the road, with a LONG drive ahead of us and possible plans to do laundry or go to a museum or stop to eat or go on a hike. but first, we stopped at the other side of manzanita to take a pretty pic of lassen before we left. this was definitely one of the most frustrating weeks dealing with cell signal and logistics, and we were bummed to not get to explore it more.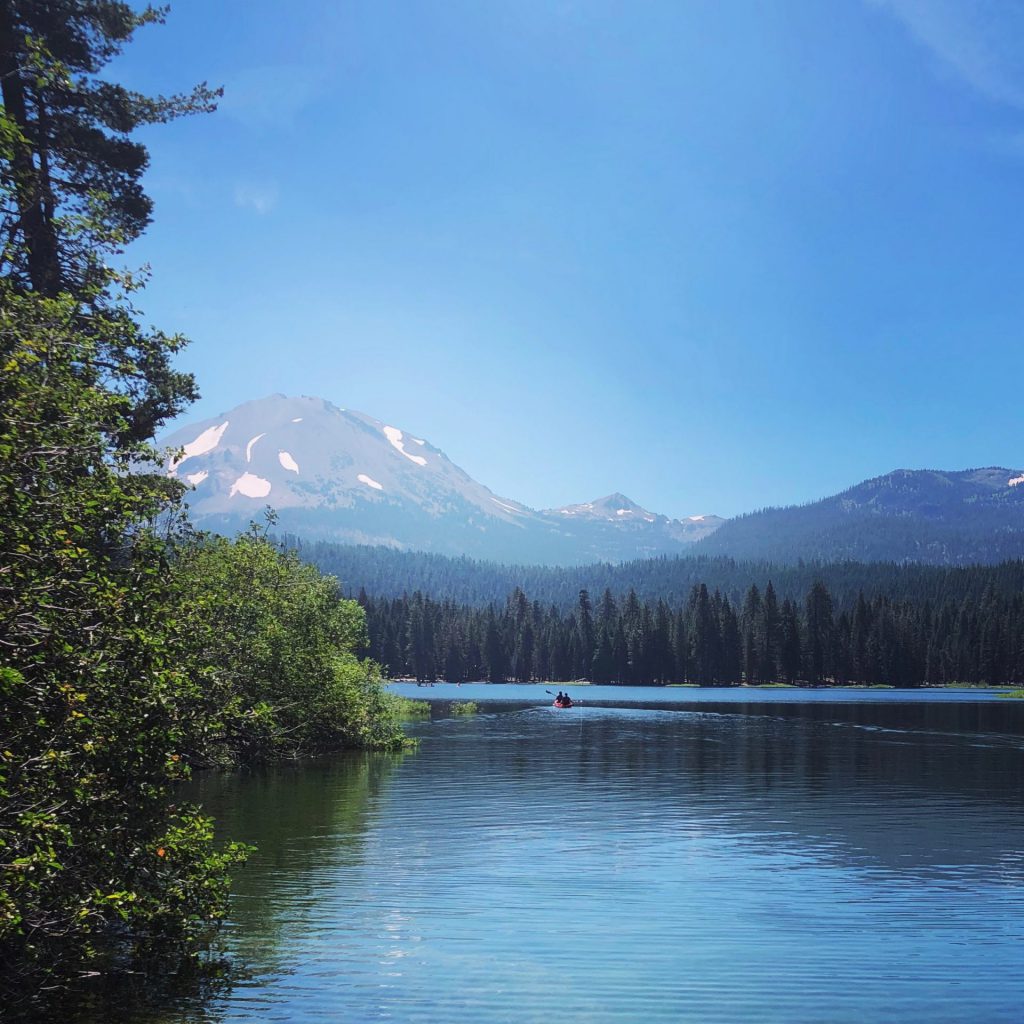 on our way back to the coast, we passed through redding, where we ate and then decided to do laundry, instead of hike at whiskeytown national recreation area. later, when we drove past whiskeytown, i instantly regretted the decision because it was so pretty. and now, the entire place has gone up in flames which makes me even more sad. and it was a good reminder that i can always do laundry and that i should do all the cool stuff, while i can do it, because it's not guaranteed for next time.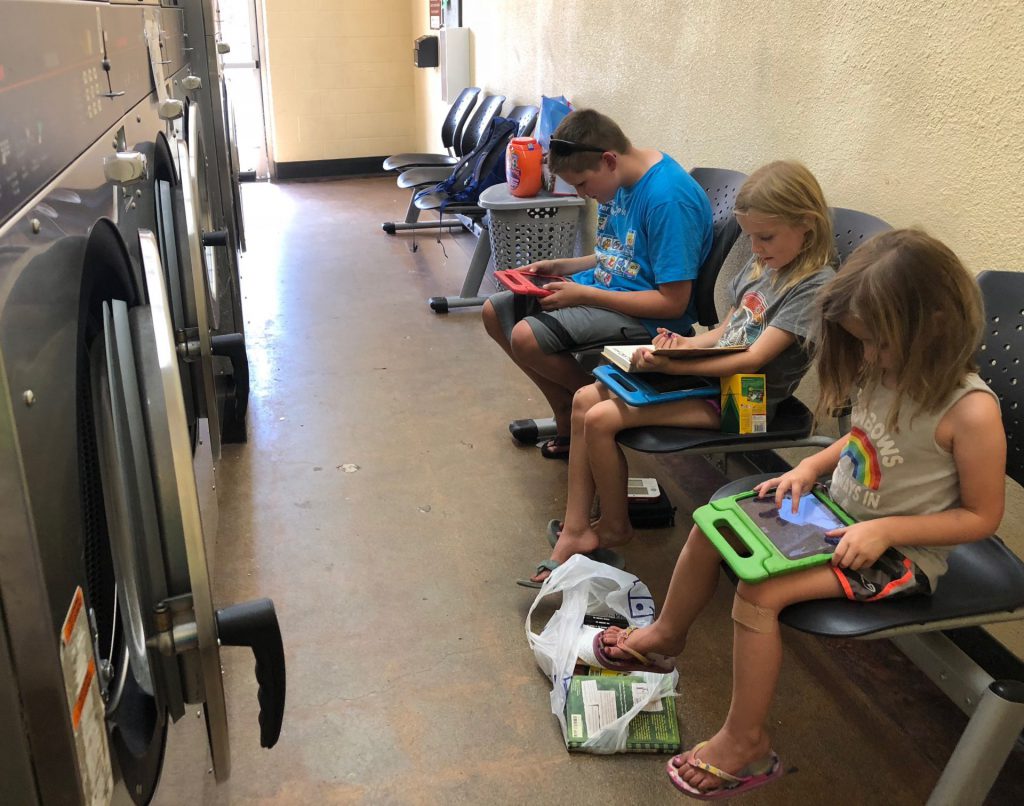 next stop. redwood national and state parks.