while we were in manteca, california, the high temps were creeping up to 105° and maybe higher. it was hott. then, we hopped in the camper and car and drove towards the coast. and when we settled into our cute little shady campsite among the redwoods, just two hours away, at samuel p. taylor state park, it was only 67°. crazy.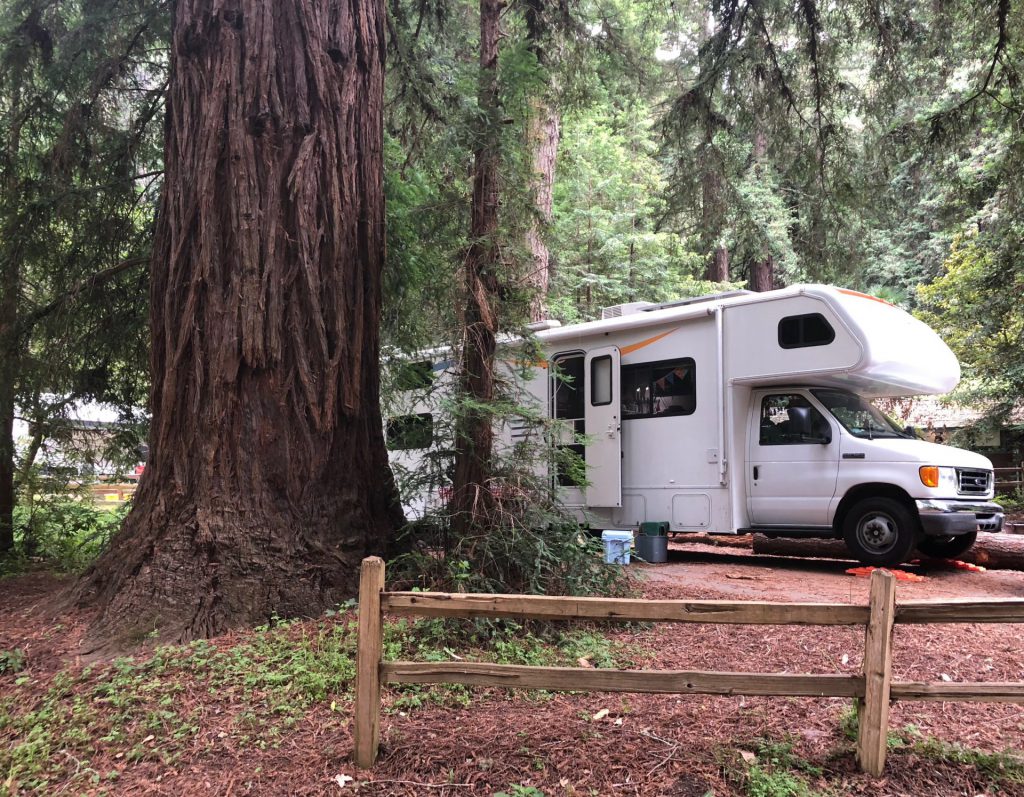 the park is right next to the point reyes national seashore, which is another spot derek and i hit on our 2005 san francisco vacation. this time, instead of passing through in one day, we had an almost full week to explore. our first order of business was to hit the lighthouse. so, when derek got off work on monday afternoon, we headed out. the peninsula that makes up most of point reyes, has a lot of ranches and farms. we laughed when we came up to a few cows that had managed to find themselves on the wrong side of the fence, and were just milling around, for the amusement of cars driving by.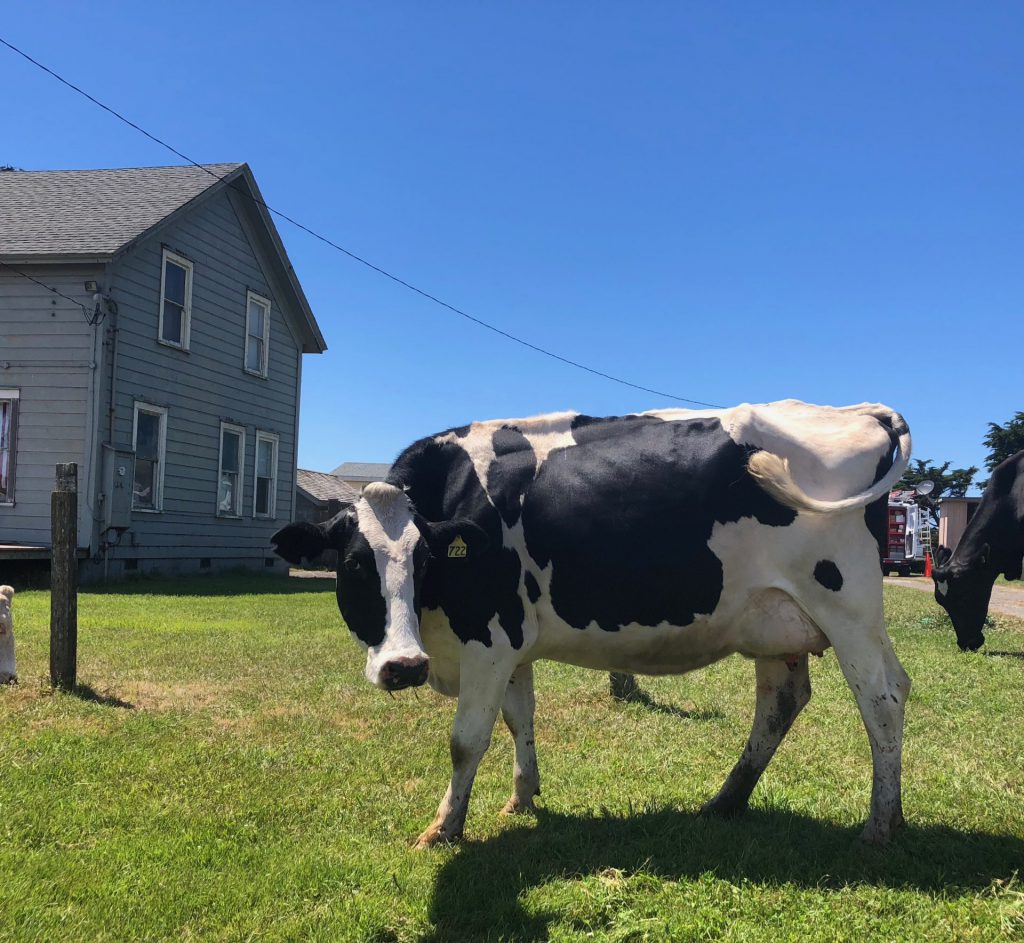 at the tip of the peninsula (one of them anyways, it's sort of a weird shape), we walked about a half mile to get to the visitor center and lighthouse. hazel was not happy about it and cried the entire way. and then even more so when we walked in this darkened canopy of trees.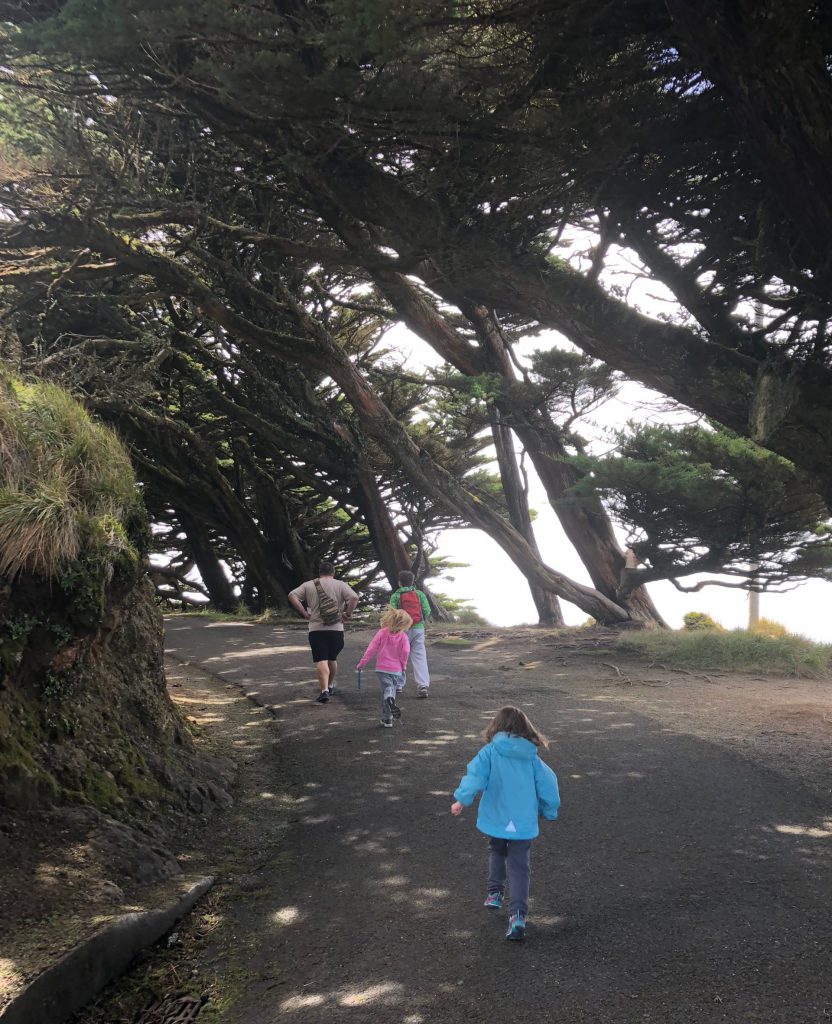 at the visitor center, we had hoped to get some junior ranger books, but it was closed because there was a medical emergency on the stairs to the lighthouse. so, i began snapping pics for the kids in case they would need to recall any info for their books, once we had them. this little dry erase info board outside the visitor center came in handy. and you can see how cool it was out there. 51°… less than half the temp of the previous spot. (and yes, they did need this for their book.)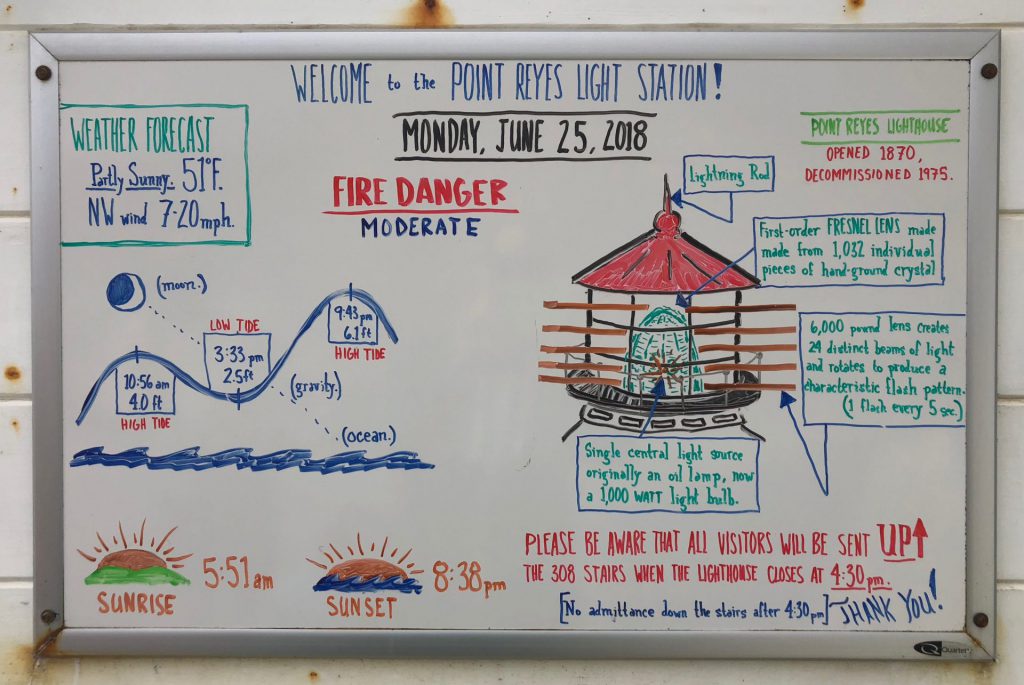 finally, we were ready for the 308 stair descent. derek and i were unable to go to the lighthouse 13 years ago, because the weather was crazy windy and it was closed, so we were excited.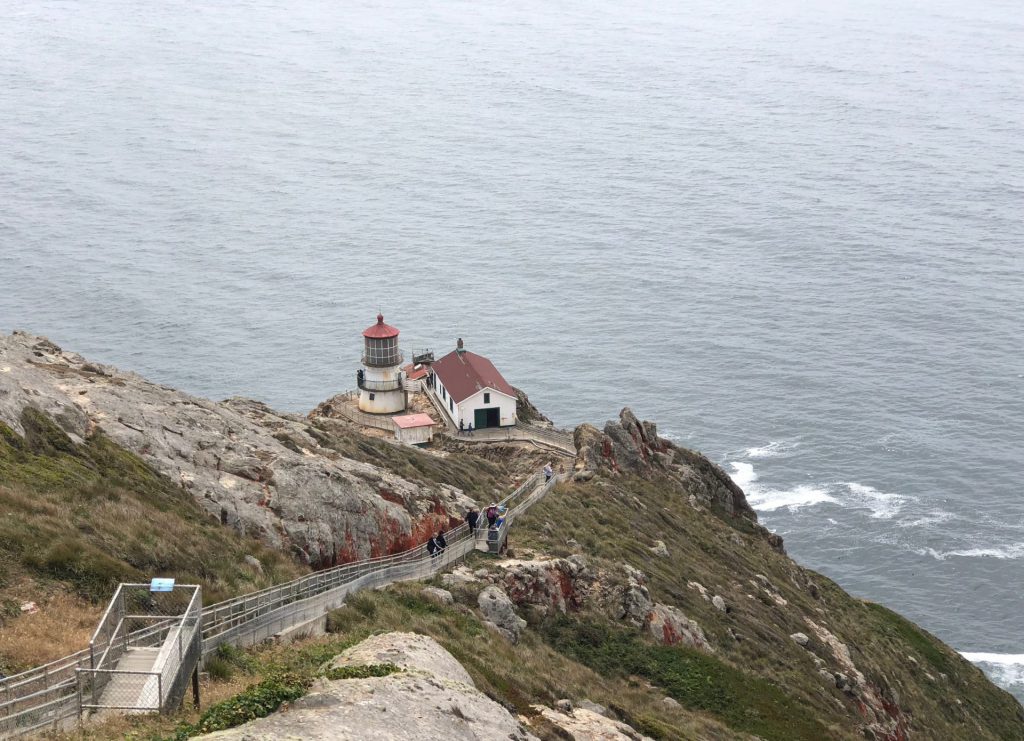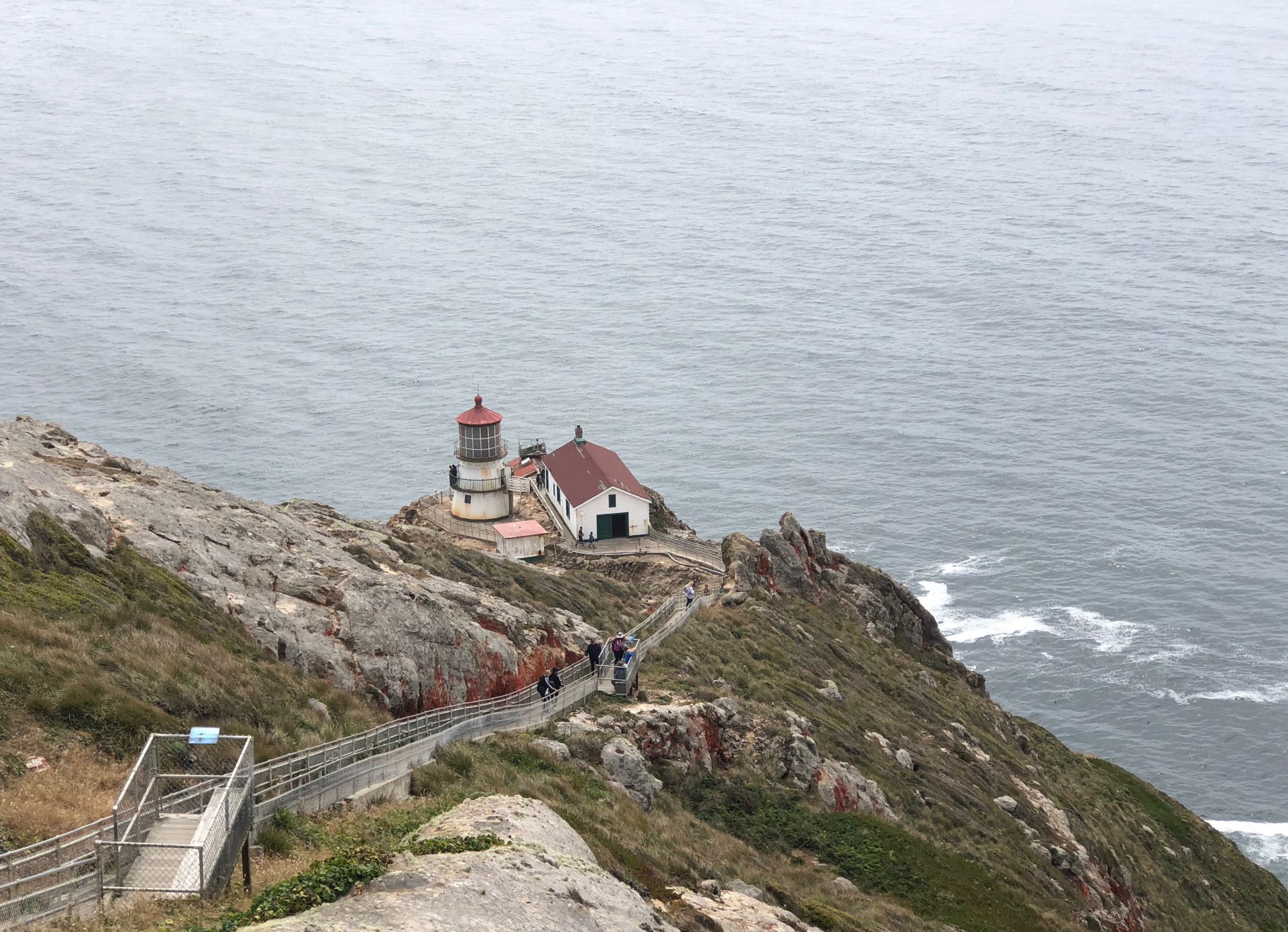 we made it! (going down was easy). but. we were disappointed, once again, to find the inside of the lighthouse closed.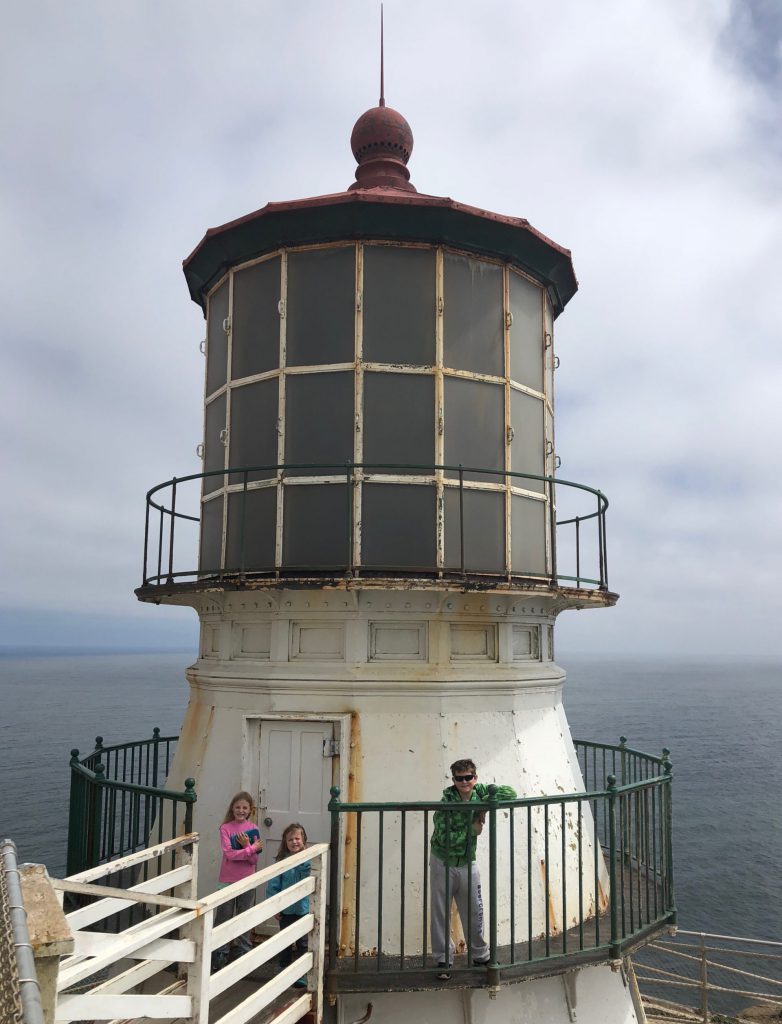 having a lighthouse in this spot makes complete sense when you look at the terrain around the shore of the point reyes.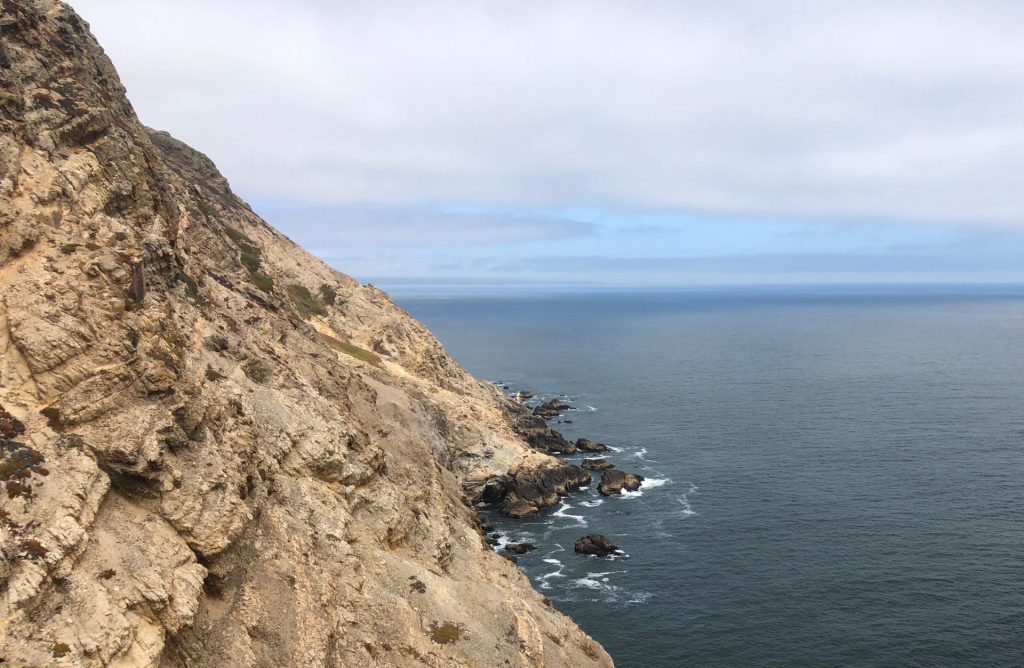 we walked down to the bottom of the lighthouse, where we were able to walk in. it was basically just a staircase and some info posters. but, when we returned to the top, we were pleasantly surprised to find that it had opened and a ranger was around to answer any questions.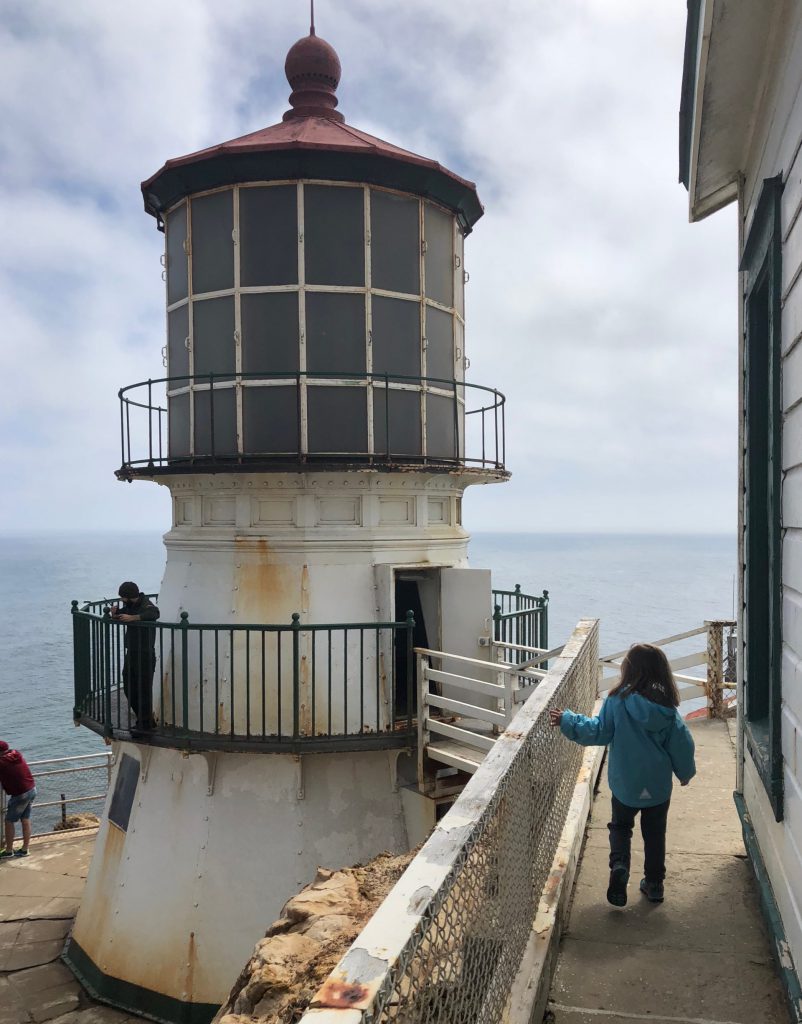 inside, we checked out the massive fresnel lens. we were pressed in so close, it was hard to get a good pic, but i did get this shot of the kids taking it all in.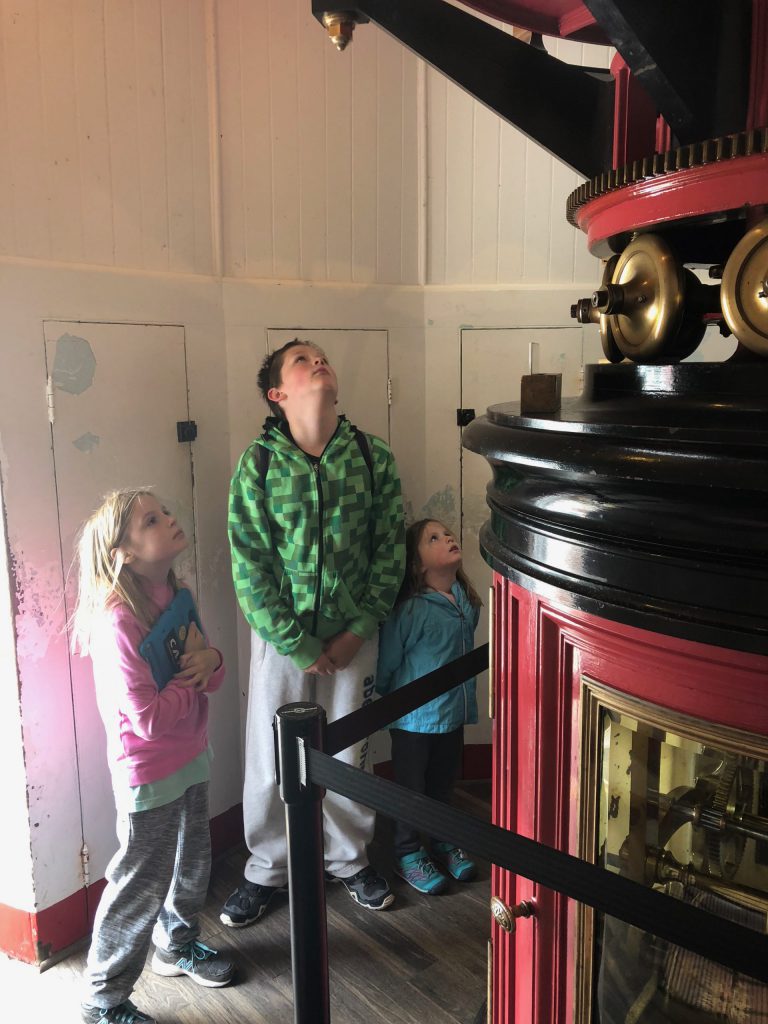 once we were sure we had all the info and pics and observations our little hearts could desire, we started back up the 308 stairs. (they are even numbered, so you can know just how far you have to go). we took several breaks, which meant i had plenty of opportunities to photograph the lighthouse from varying heights.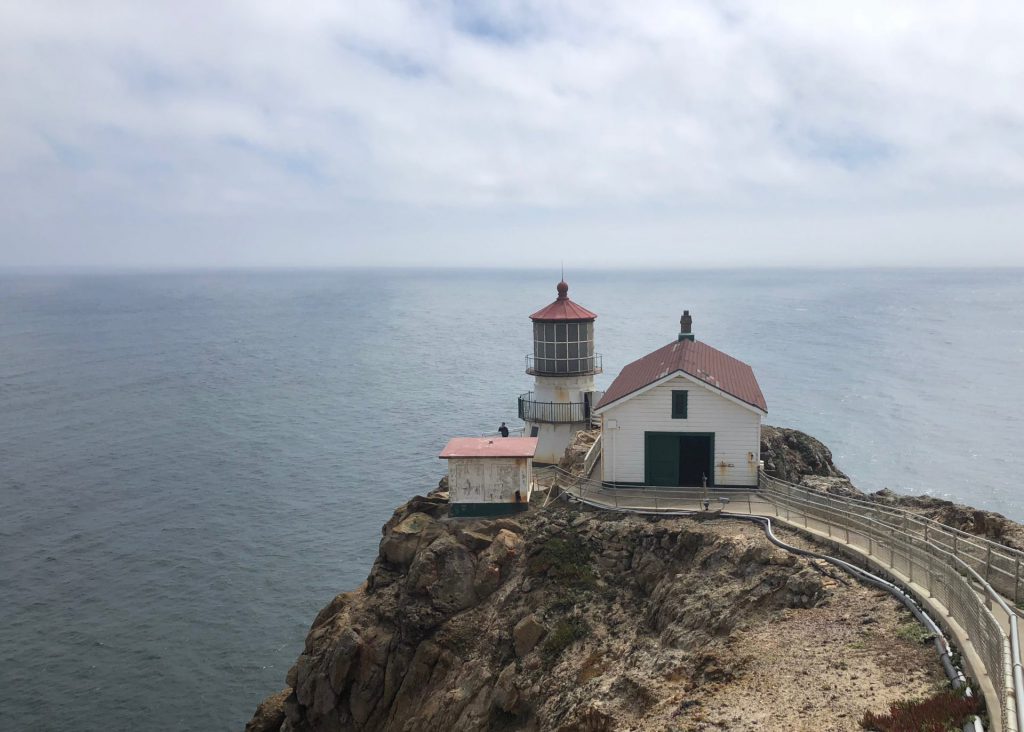 we survived the stairs. and actually saw the man who was having the medical emergency. and then had some excitement as a fleet of firetrucks came past us on the road to the top. and then we even saw a helicopter circling, i guess waiting to evacuate the man, if necessary. we asked a few days later if they had heard any word about how he fared, but the ranger said they hadn't gotten any updates.
anyhooooo… the visitor center was still closed. hazel was once again grumpy. and we headed back to the car. the canopy of trees looks way cooler from the sunnyside view.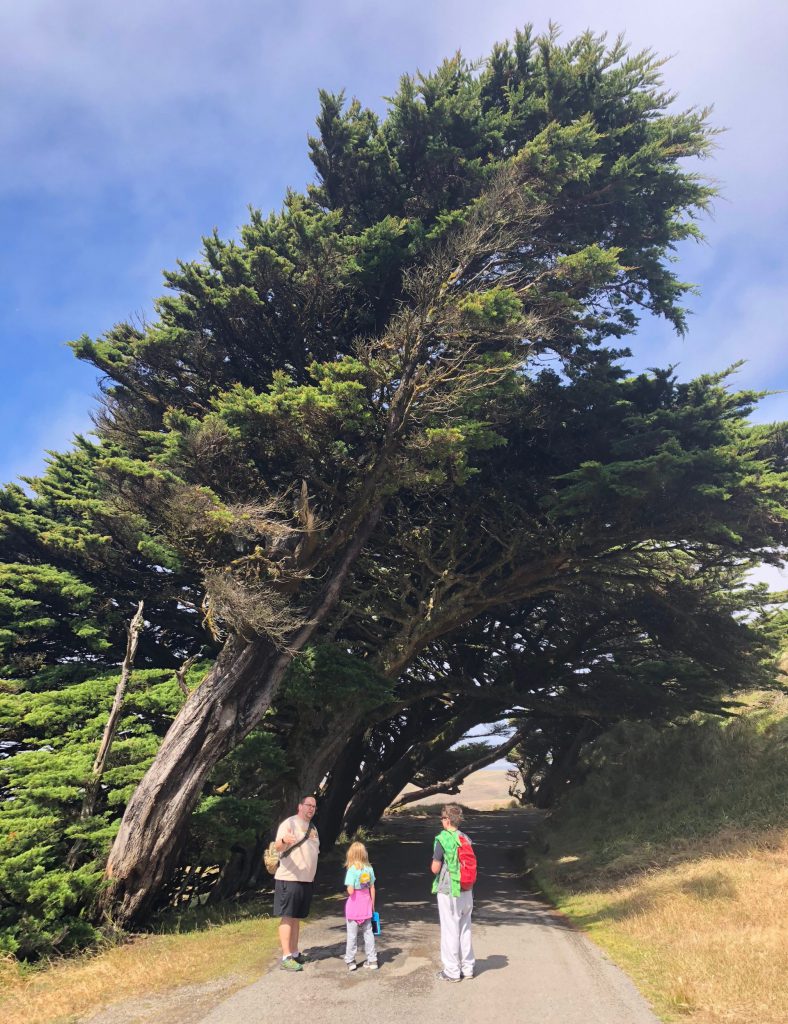 coast views. so pretty.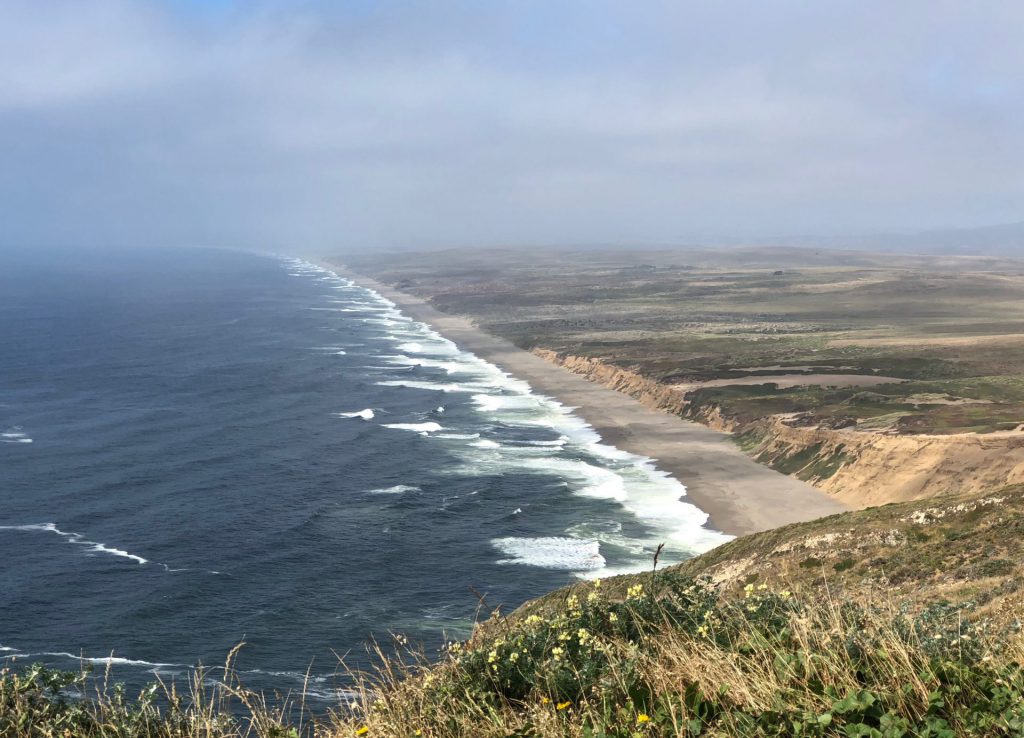 non grumpy lid kids and the coast view.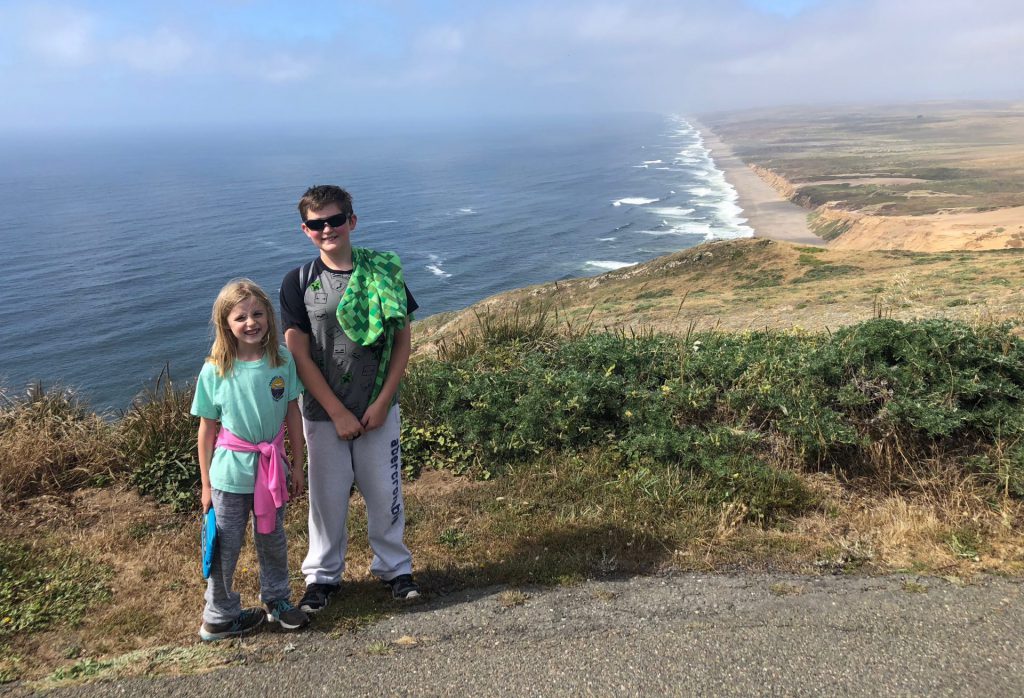 back in the parking lot, derek handled the escalating tantrum and drama of hazel, while i scampered up a nearby trail to get a look at another view from the point. it was pretty awesome.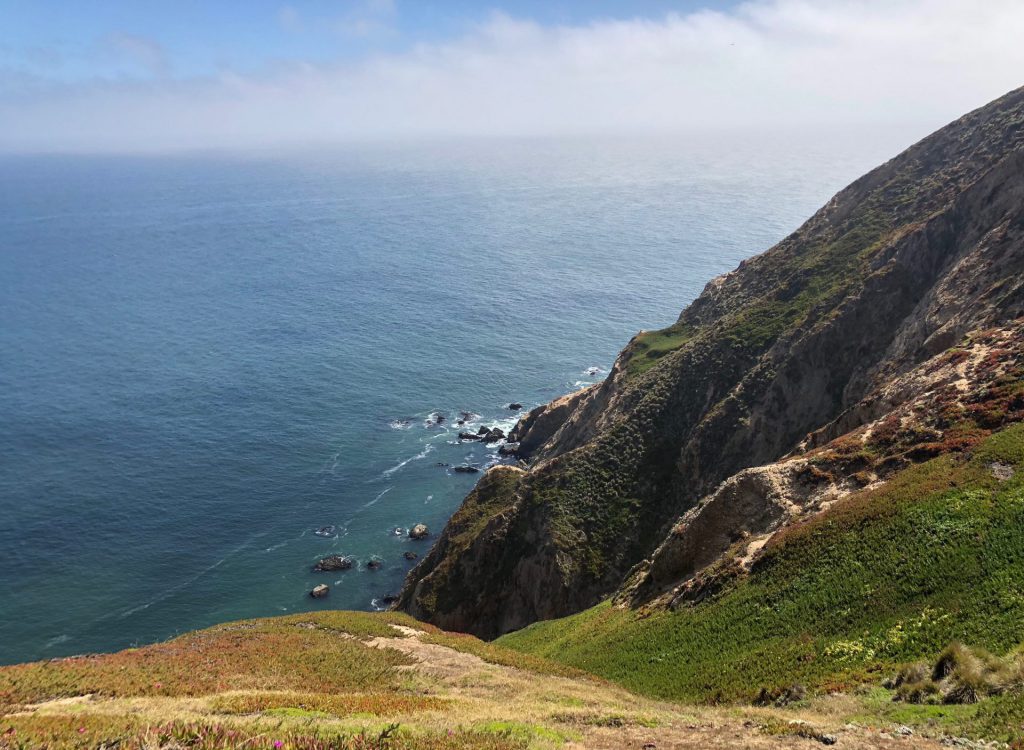 on the way back, we stopped at a popular photo spot, the cypress tree tunnel. i read that it's way cooler at sunrise, but there was no way we were dragging ourselves there for that. so, evening would have to do.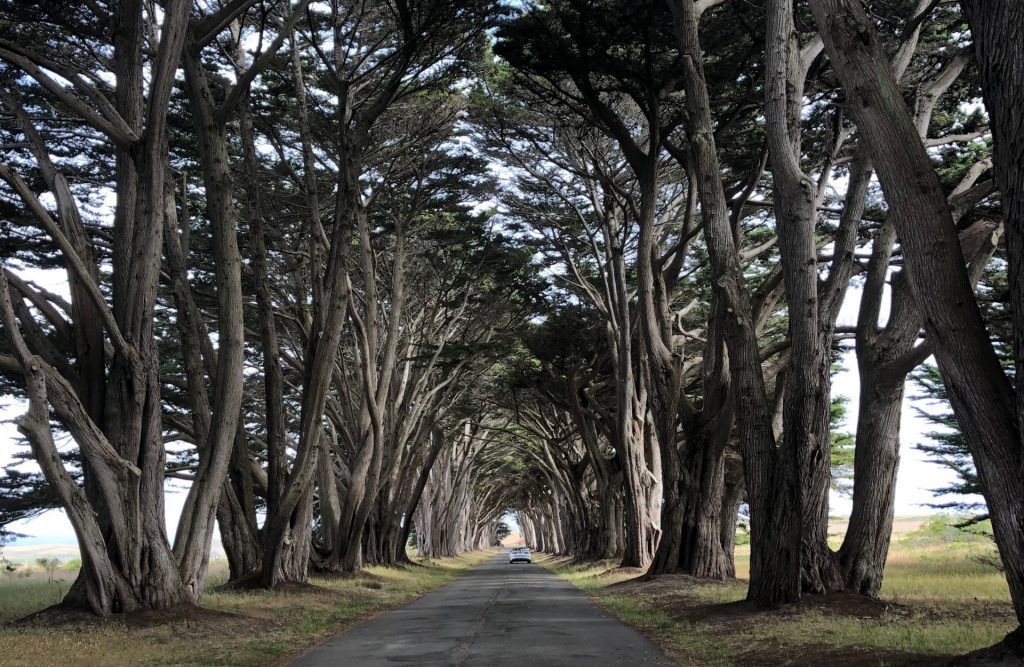 there weren't too many other cars or people, so when the coast was clear, i made the kids hop out for a quick pic. as you can see, hazel was still recovering from her earlier "hiking" trauma.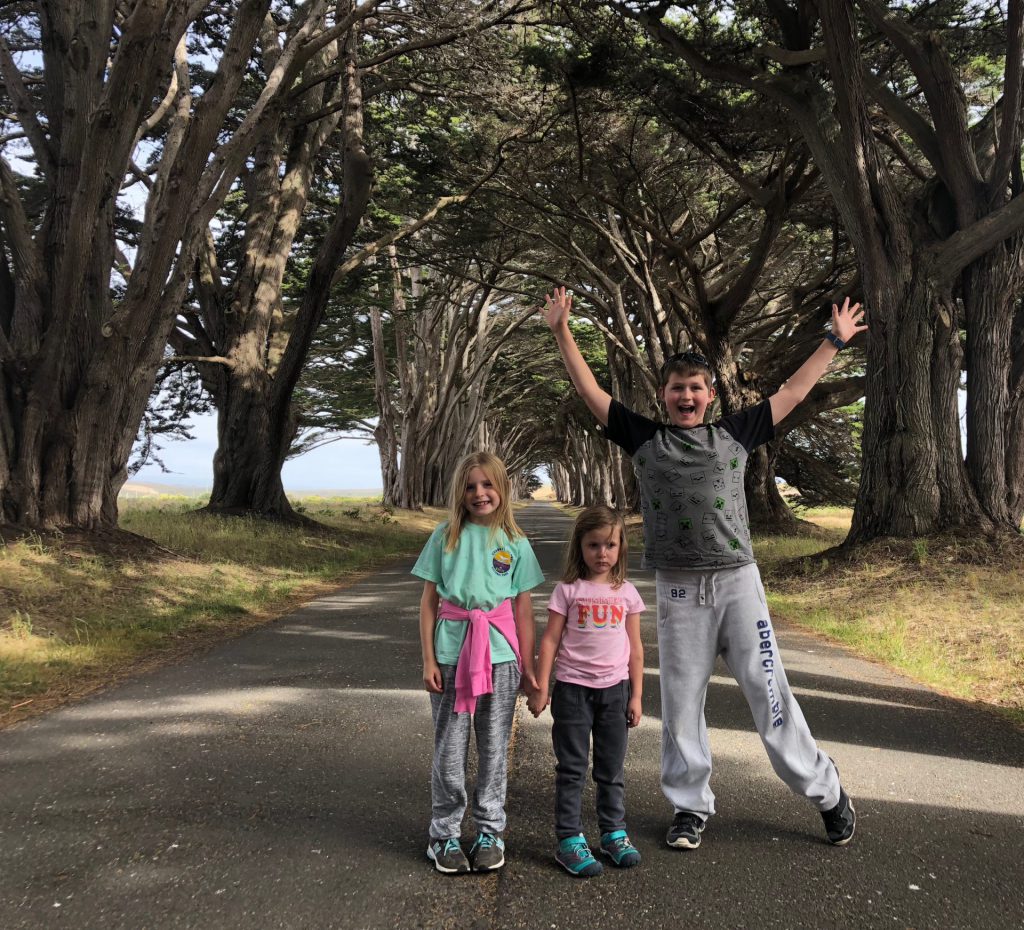 for our second adventure at point reyes, we drove back out, to the furthest spot you can reach by car, on the northern end of the peninsula. there's a 4.5ish mile hike out to the point, that passes through the tule elk reserve, where you're pretty much guaranteed to see some elk roaming about. a ranger had told us that we wouldn't need to go far, one maybe two miles and then back. after the previous days grumpy, crying hiking adventures with hazel, i just decided i would put her on my shoulders and not deal with it. and off we went.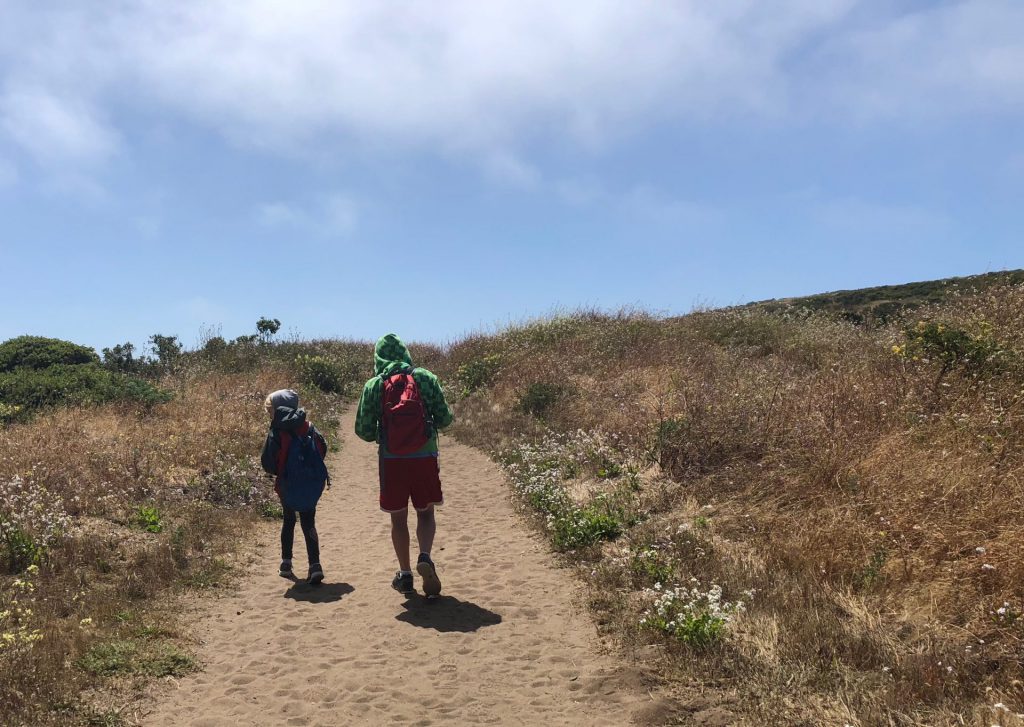 not too far into the hike, hazel wanted to pick some dandelions, which she thinks are the most beautiful flowers in the world. once she was off my shoulders, i gently prompted her to walk a bit so i could rest and she graciously agreed.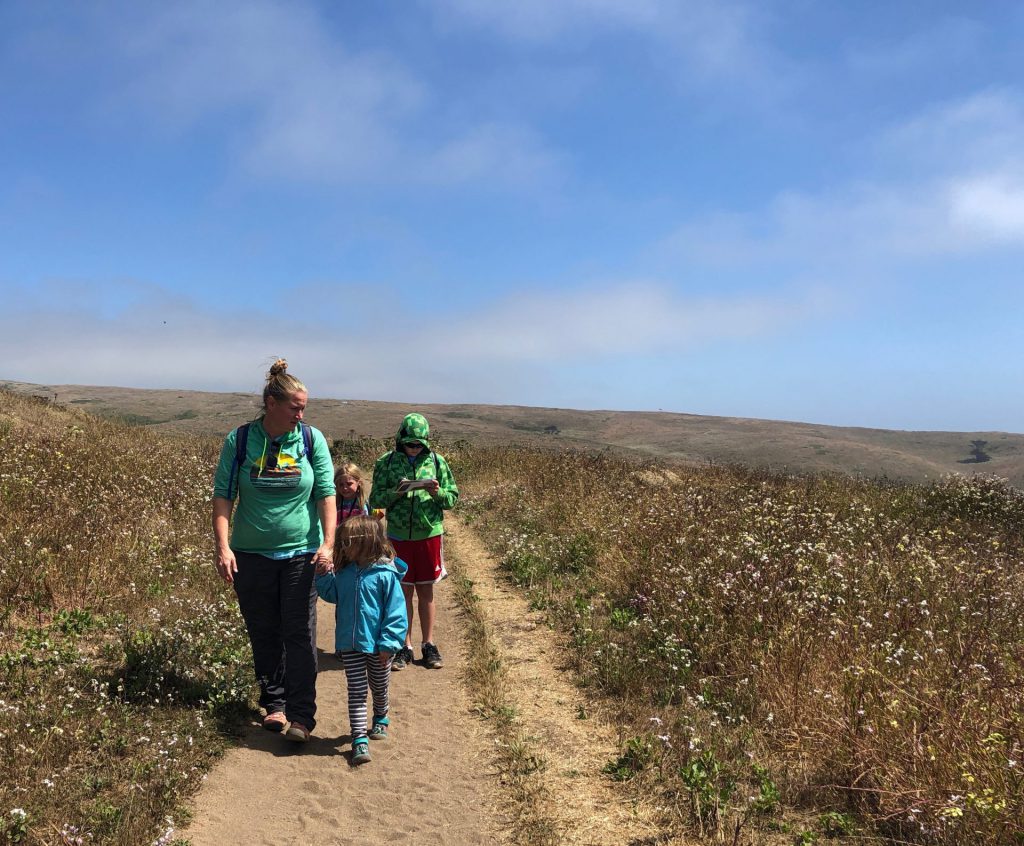 the views were once again, pretty great. they reminded anna and me of our camping trip on santa cruz island.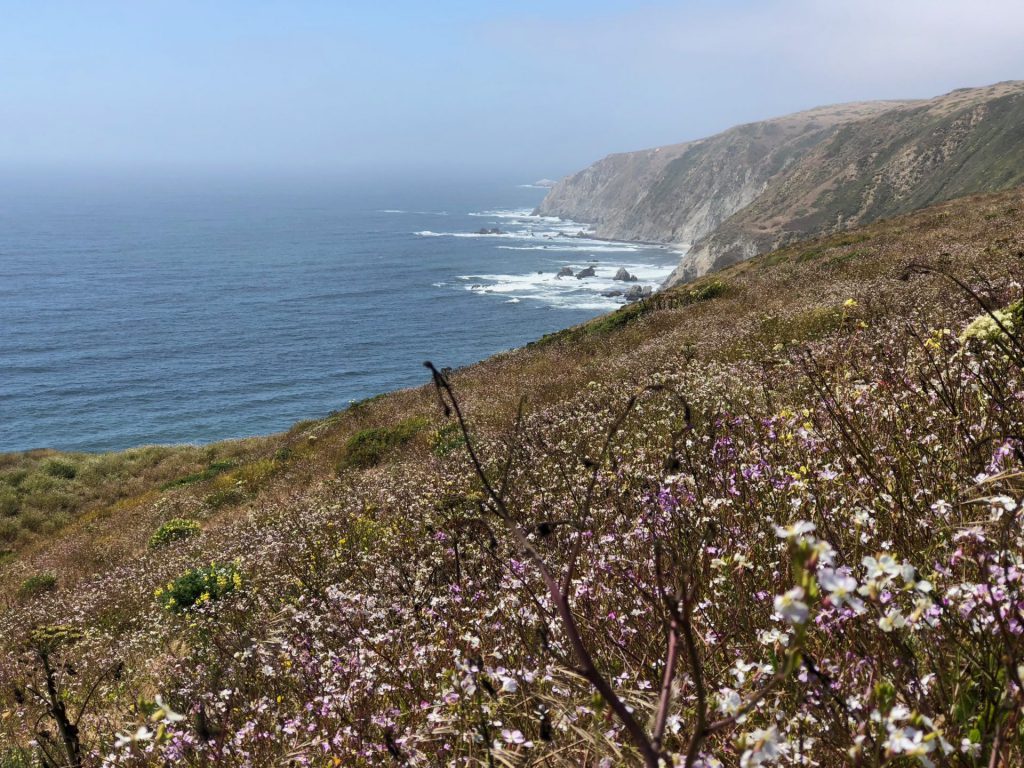 we hoped to get back out to one of the beaches at some point, but never made it.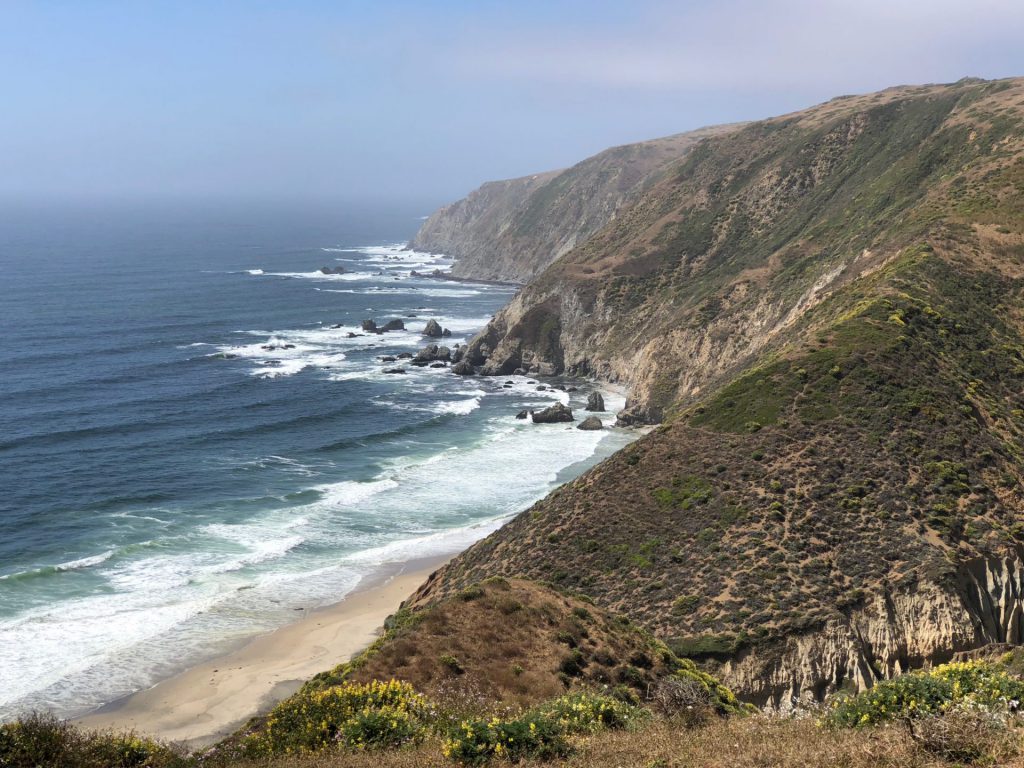 while she was willing to walk a bit, hazel was still a bit on the grumpy side, for unknown reasons.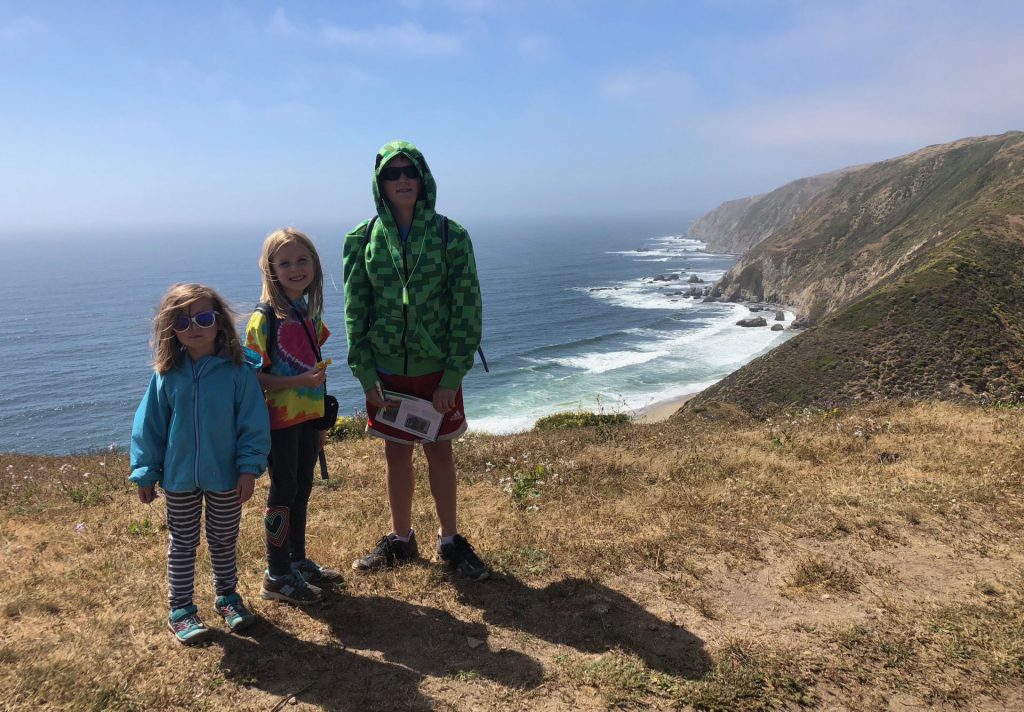 finally, over one hill and sort of around a turn, we spotted a bunch of elk in the distance. we were able to get a better look with derek's monocular. and i think anna got good pics with her camera. but we forgot the fancy zoomy camera, so this was the best i could get, of the one up close straggler elk, with my iphone. the water in the distance is tomales bay, which is a narrow strip of water between the north end of point reyes and the coastline of the mainland.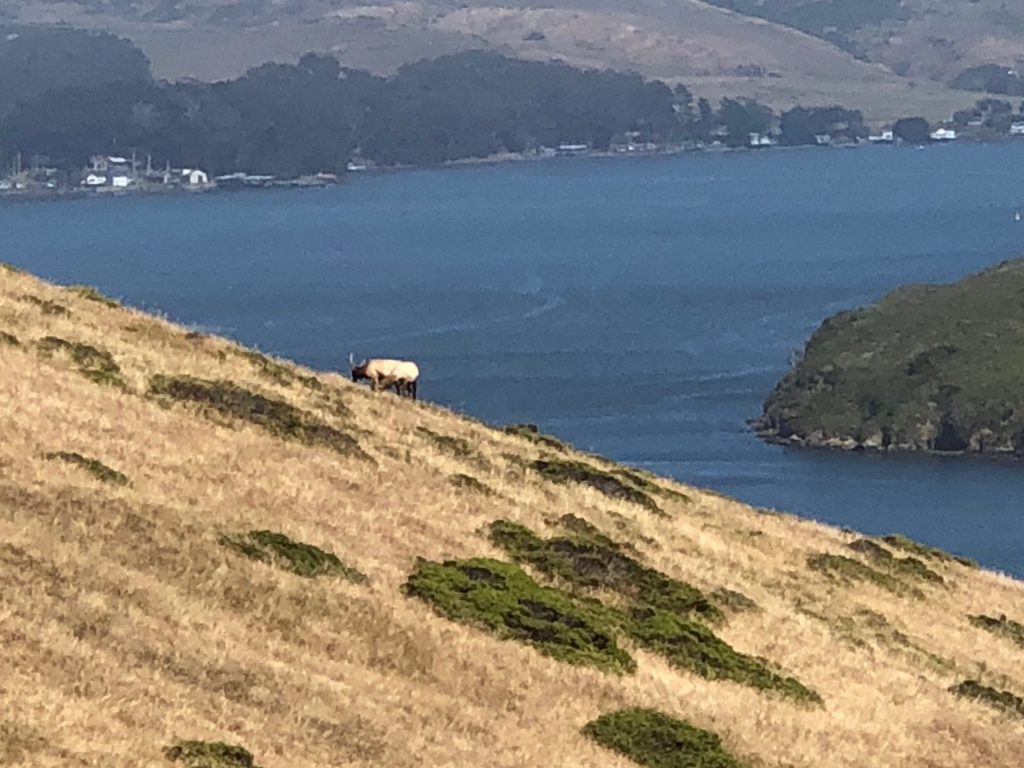 we walked a little further on, hoping to see some more elk, up close and personal. but we never did. we did see a maybe-coyote or maybe-fox, though. i spotted him crossing the trail a bit ahead of us and then he disappeared behind a hill. as we hiked along, he would peek his head up over the hill and watch us for a bit. again, i think anna maybe got a good pic, and when we pull them down, maybe we can determine what he was. anyways, after we walked along a bit and ran into a girl who told us that she saw an elk heard another mile into the trail but not much in between, we decided to turn around.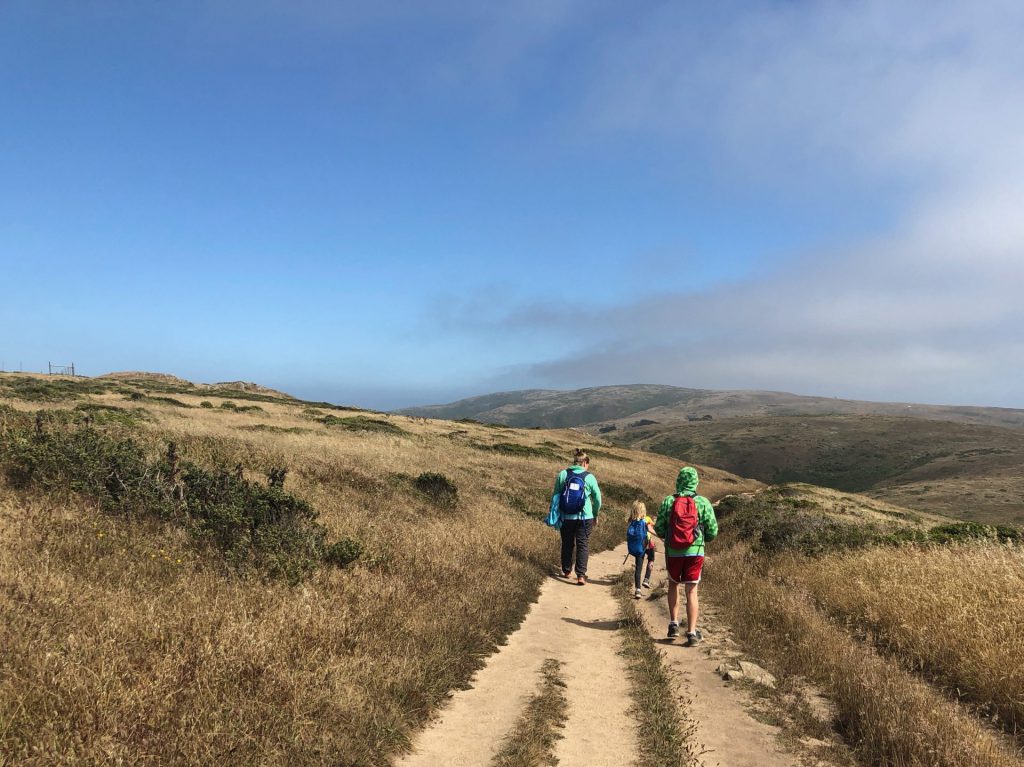 back at the spot where saw all the elk in the distance, we stopped to try to take some better shots, since we now knew this was as good as it was gonna get. 🙂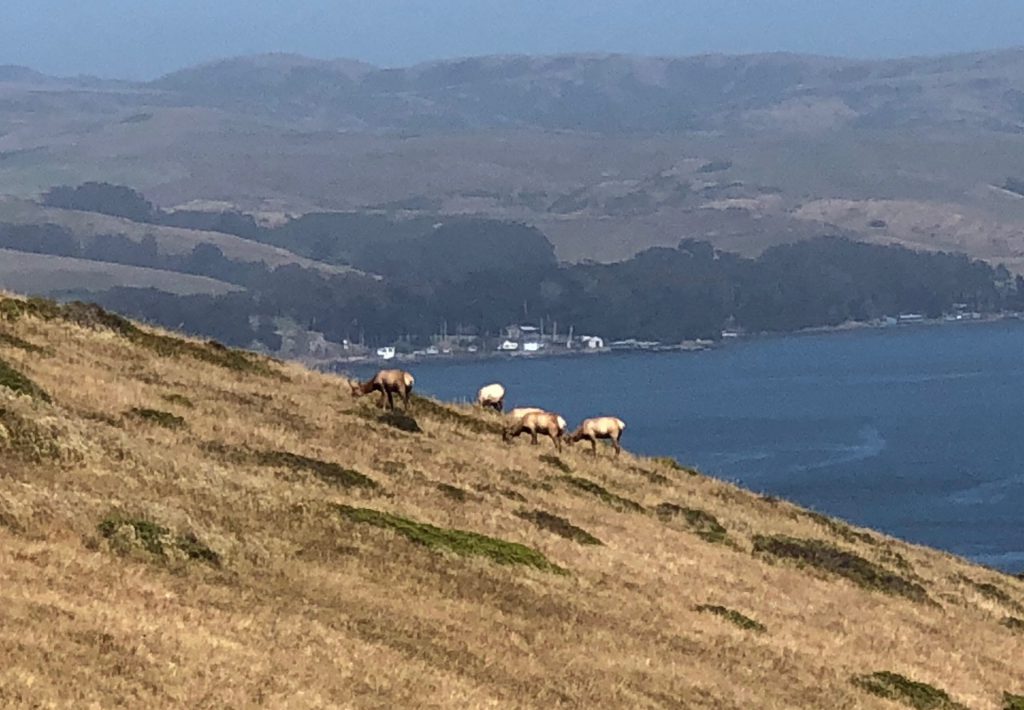 and then, we were off and running, back to the car. :). the kids convinced hazel that the trail was like the app, temple run, and i was a big gorilla chasing her, so she stayed motivated, mostly.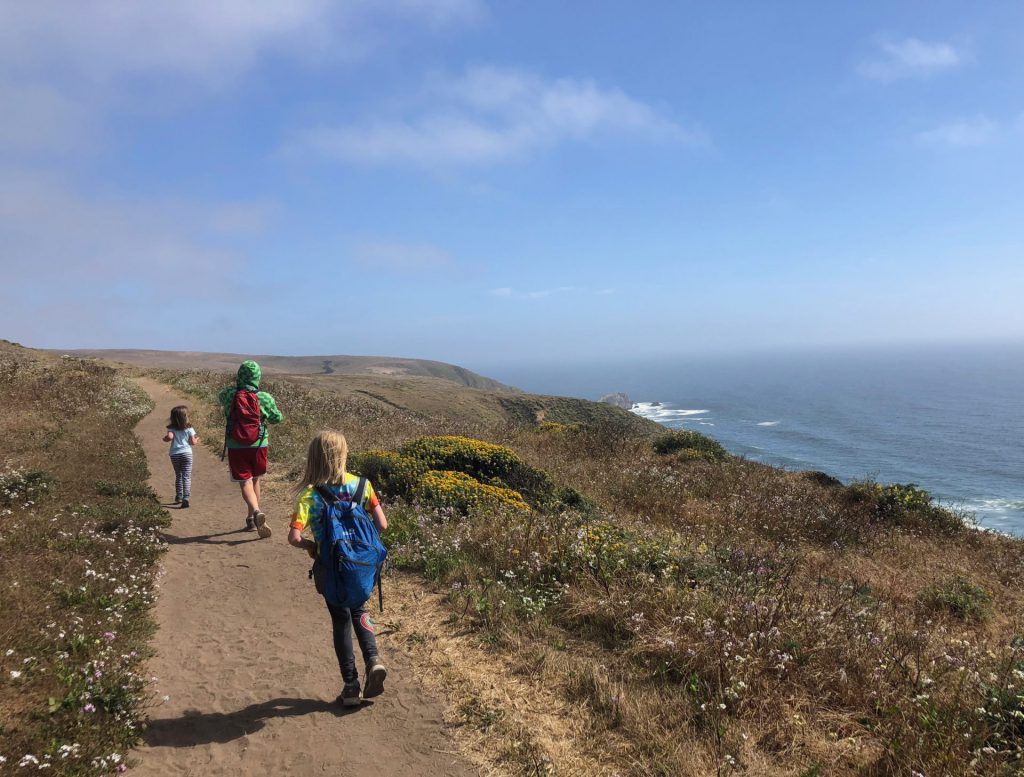 another beachy ocean view.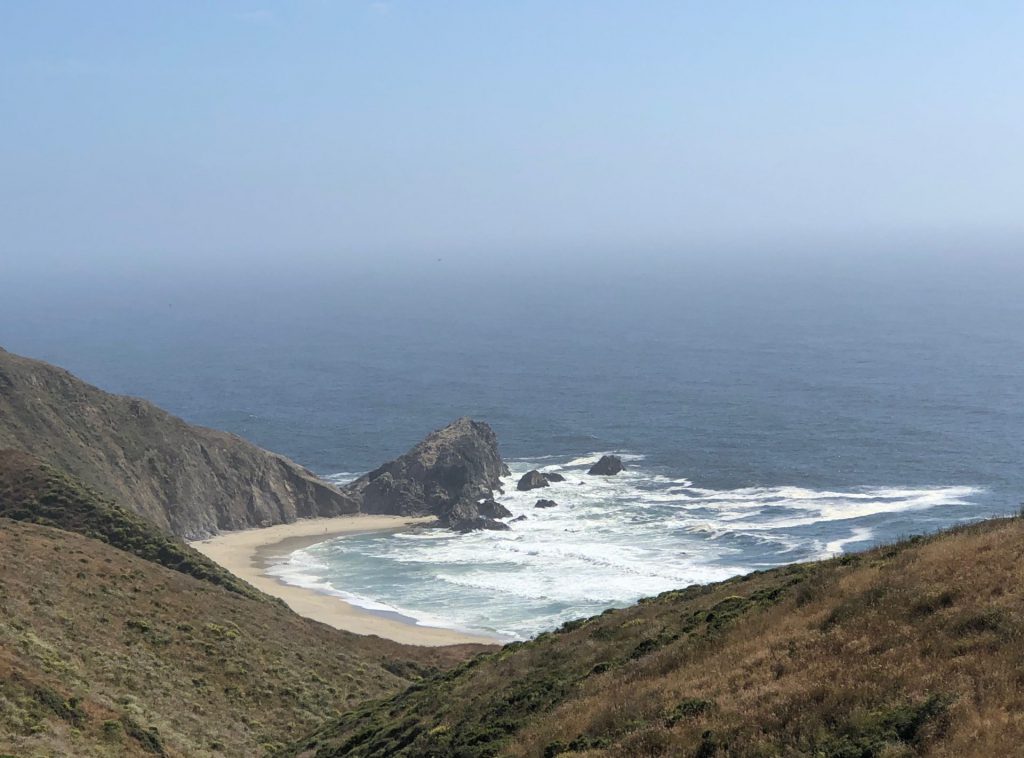 for our last day of adventure in point reyes, we went to the visitor center area and "hiked" out a short and flat trail to the kule loklo village, which was reconstructed by the nps to model what life would have looked like for the coastal miwok native people. it was sort of run down and not super informative and not our favorite.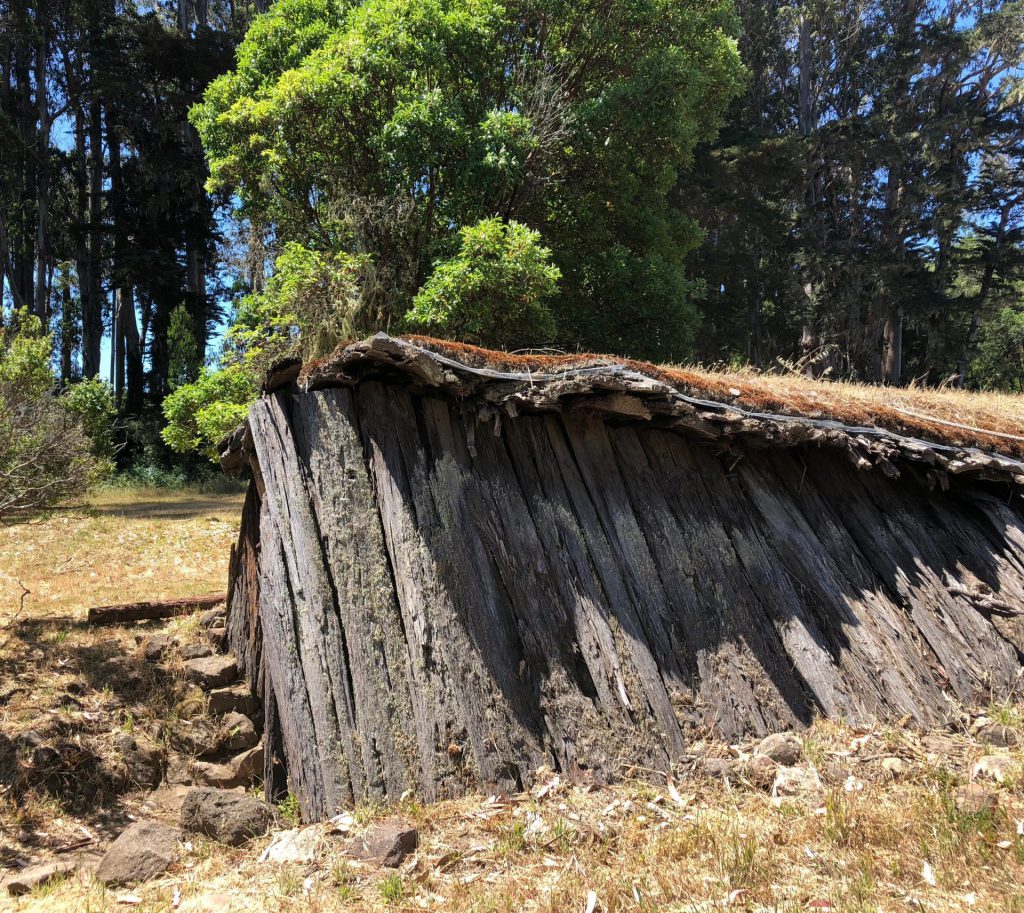 there were several of these huts scattered about, that only anna would go into. 🙂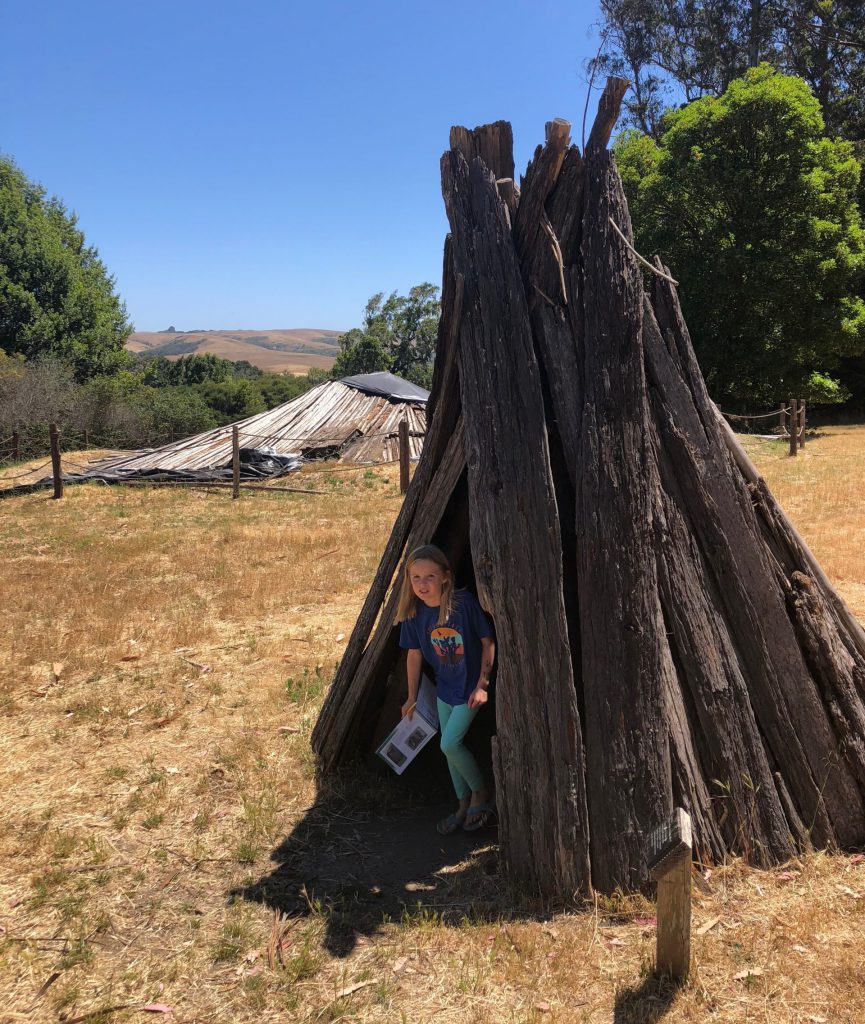 we weren't impressed with the village, but there were picnic tables, so we set up camp and completed the section in the junior ranger books about it, along with some other lingering parts about the elk reserve and lighthouse. once we were happy with our work, we went back to the visitor center to make things official. the ranger was super friendly, but the kids were a little disappointed that she just glanced over their books, and even skipped the lighthouse section, which was the part they worked on the hardest.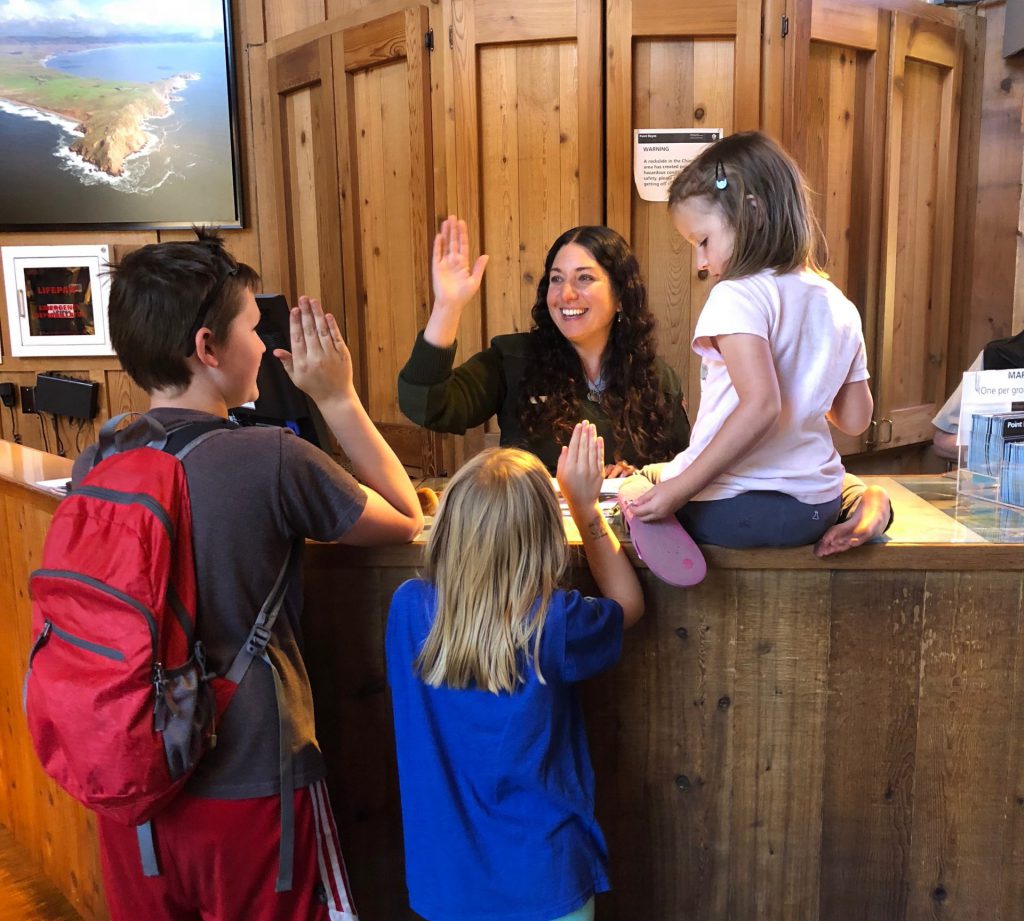 anyhooooo…. that's pretty much it for point reyes national seashore specific activities. i wish we had a day or two more, but that's the way it goes, i suppose.