well, when i last posted, we were in the redwoods area of way northern california. from there, we moved up the coast a bit, crossing into oregon for a week on the coast. originally, we had planned a bit more time in another part of the redwoods, but we were worried about the internet, so we went on ahead to brookings, oregon. but, since the trip was relatively short, we stopped to do a bit of exploring along the way.
our first stop was to this random roadside attraction we spotted. paul bunyon and his blue ox, babe. ginormous. and creepy. there was a real person voice paul bunyon, and wherever he was stationed, he could see into the parking lot, and adjusted his commentary to personalize it to folks passing by. the kids thought it was hilarious.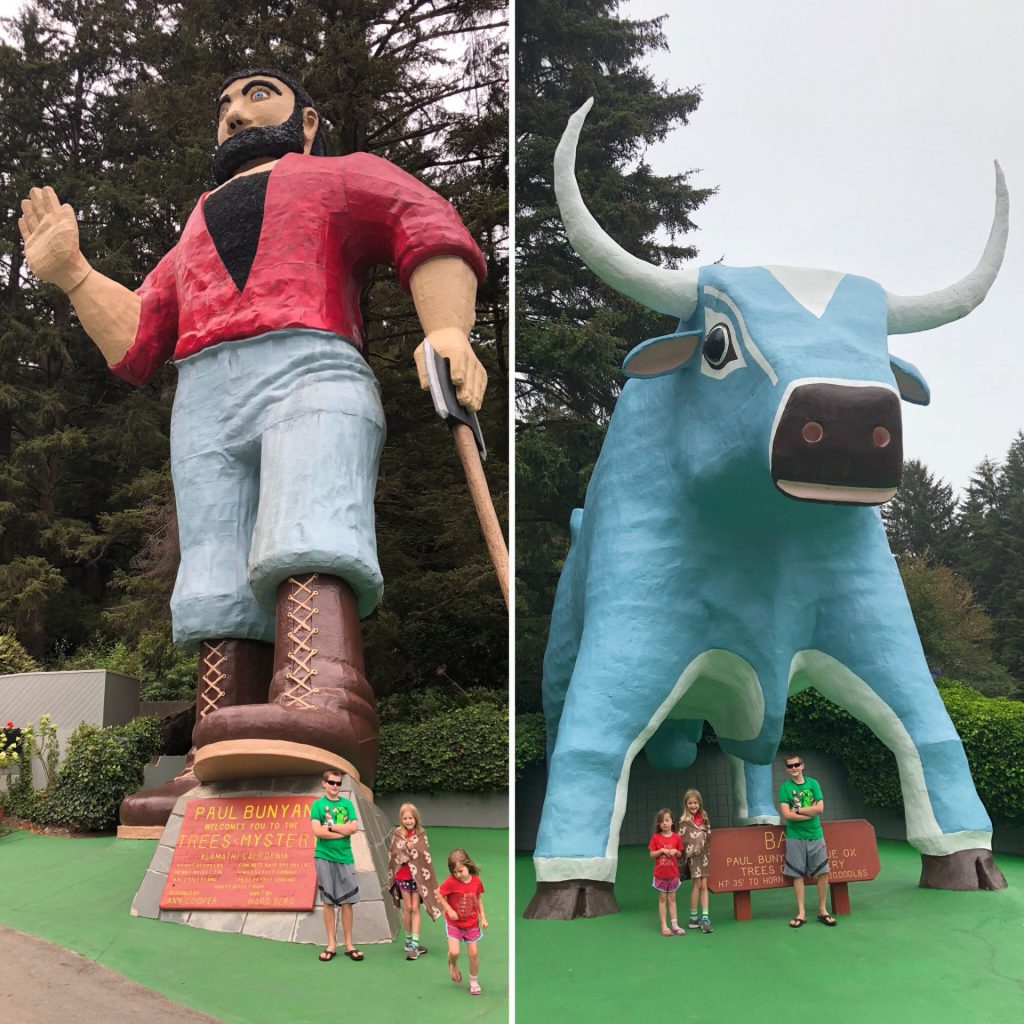 a little further north, we parked the camper at a grocery store in crescent city, and derek joined us for a bit of exploring. the lighthouse in crescent city is only accessible during low tide, when you can walk across a land bridge to get to it (and leave with enough time to walk back across or be stranded).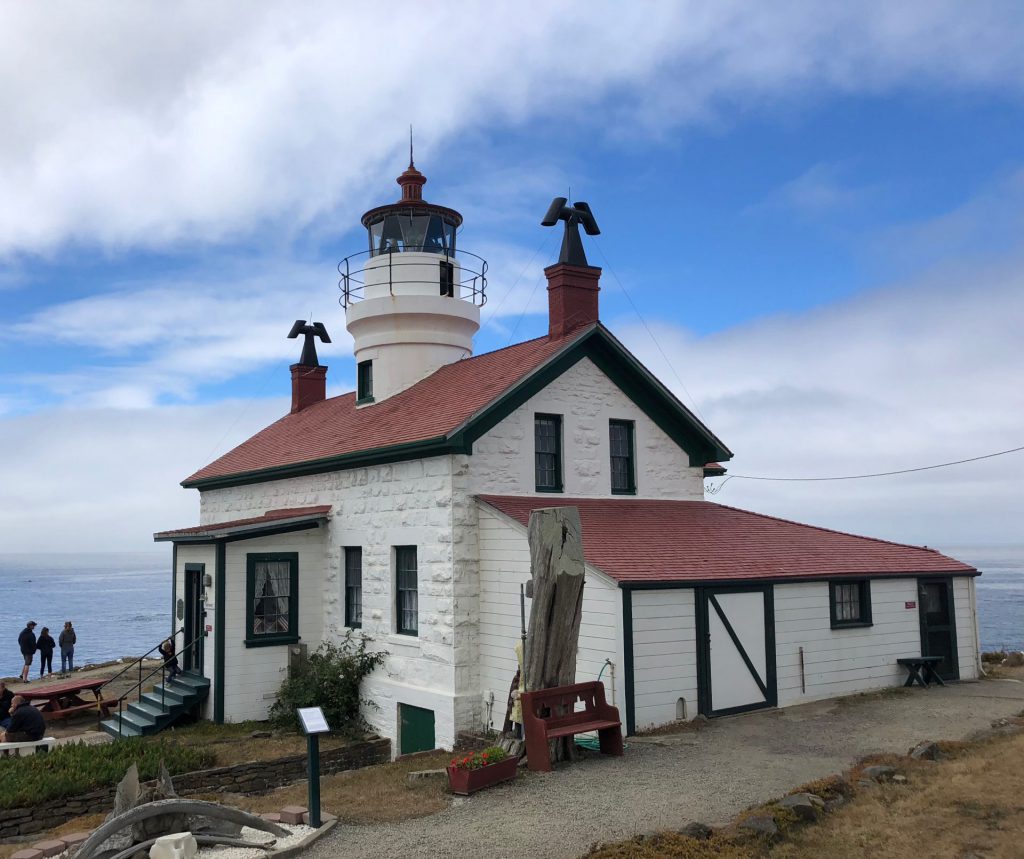 we opted for a tour, so we could go up to the top, and cram in with like 8 other tourists, to check out the light and the views.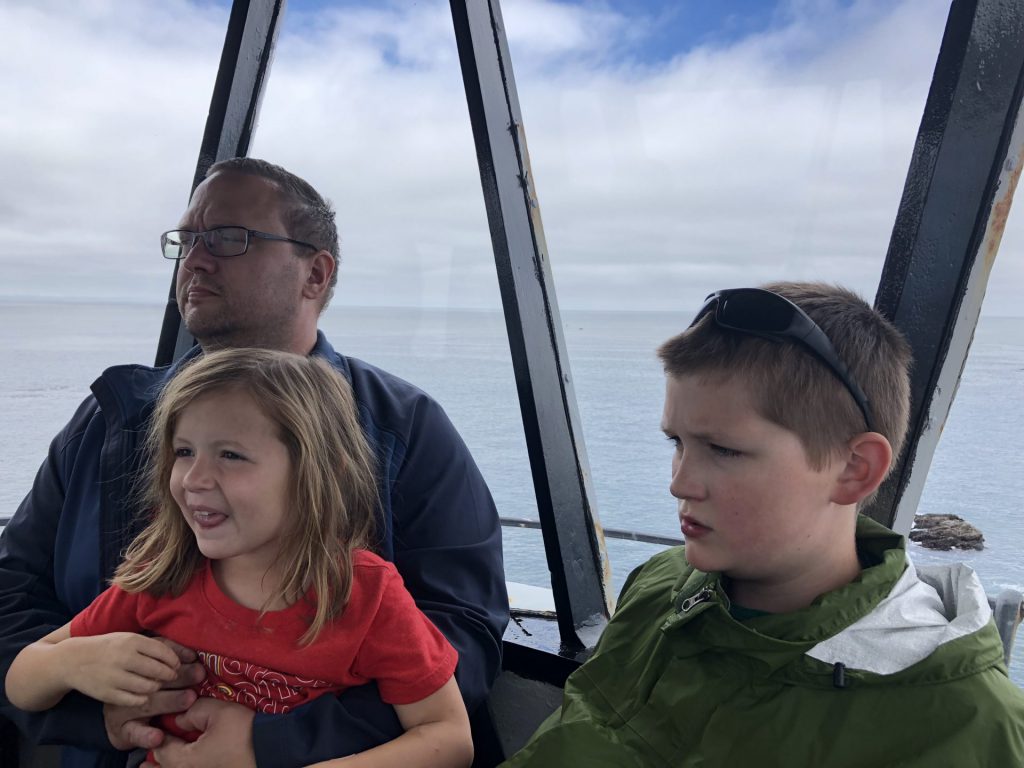 before we departed, i managed to sort of wrangle the posse into a parting shot. it's no small feat.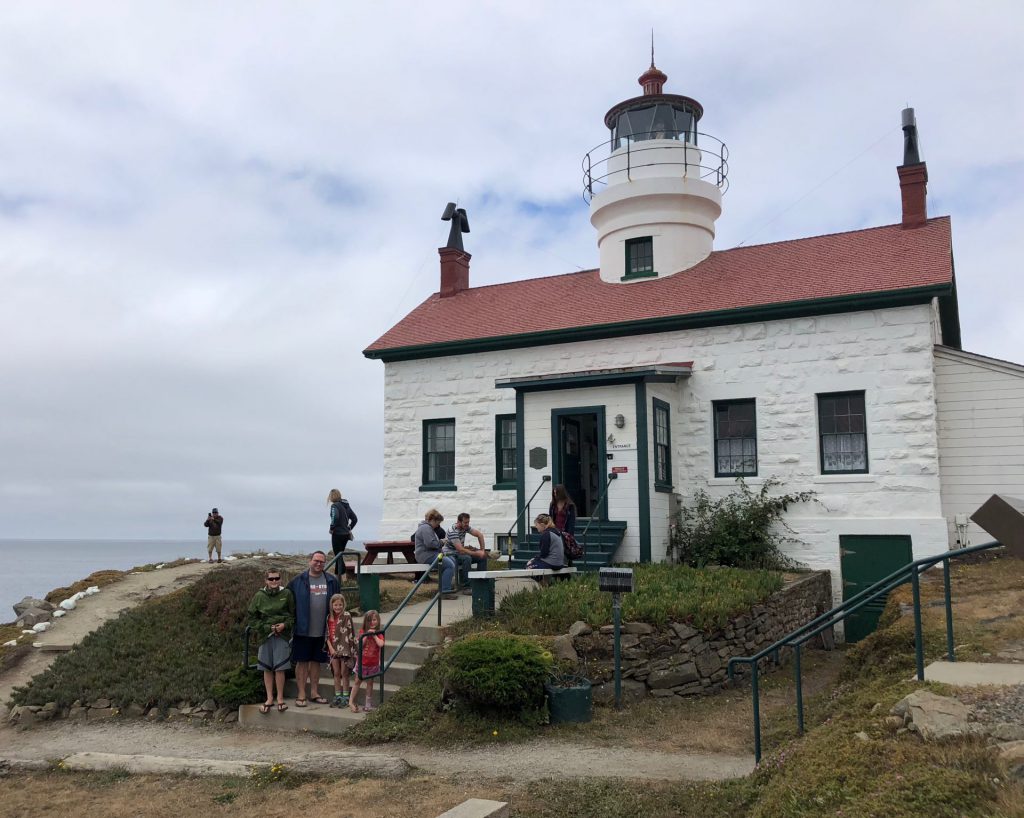 since it was low tide, the walk from the lighthouse to the mainland also had some great tide pools. so obviously, we stopped to investigate.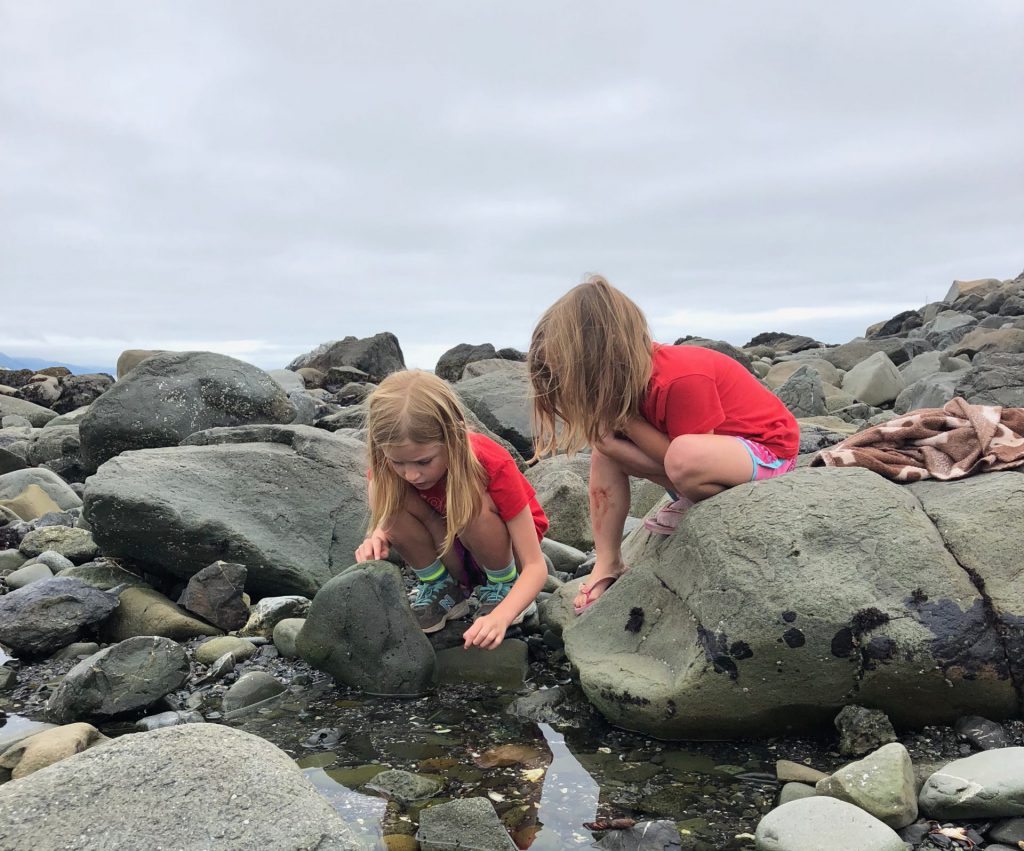 before we got back on the road, we desperately needed to eat. but we also needed some groceries. so, we did the super classy thing, and combined the two, purchasing some deli food and a rotisserie chicken and huddling around the cart while we ravenously devoured them.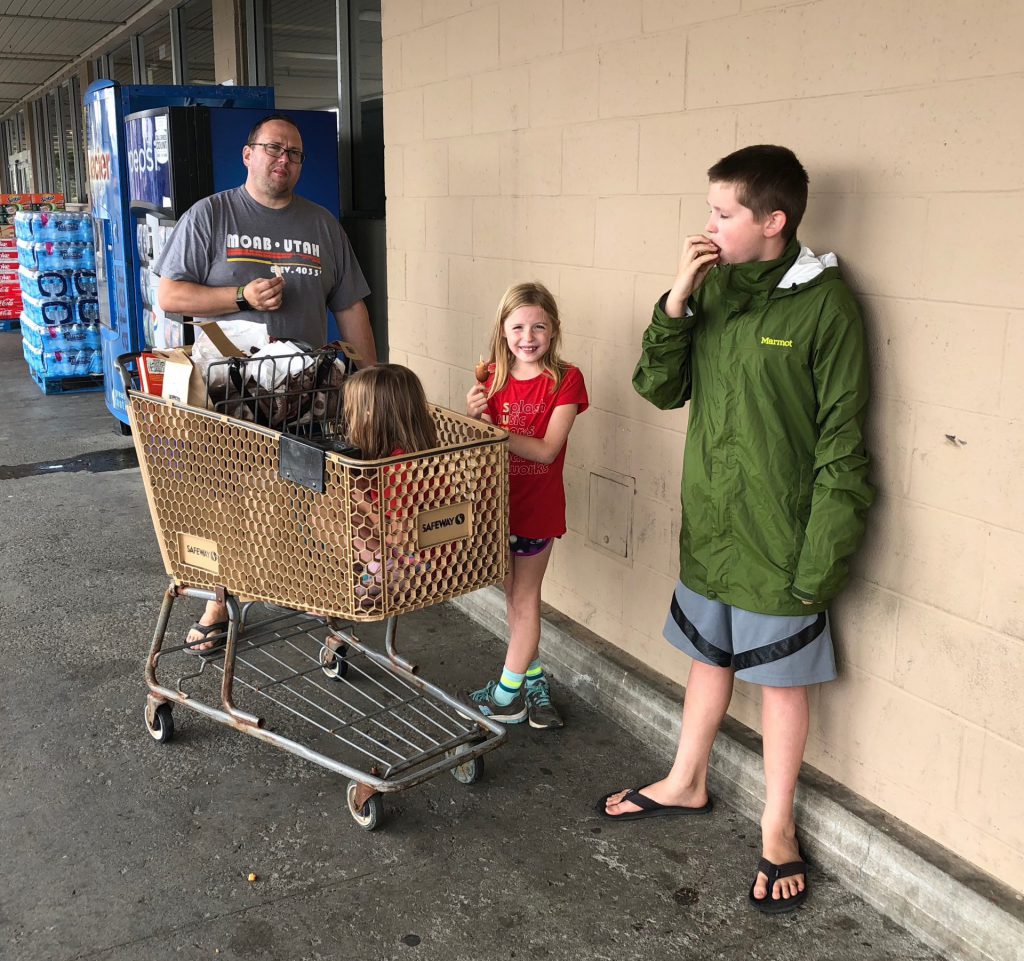 our brookings campground was basically a parking lot, with beach access. but, it was in a weird port and tended to be filled with partiers and transient types and trash. but, we read about a beach nearby that was great for tide pools and sea glass hunting, so we loaded up to find it. the reviews were right about the tidepooling. derek and anna had a blast and found a GIGANTIC starfish. (i found exactly two pieces of sea glass and spent the rest of the time hanging out with hazel and isaac, trying to not breath the rotten, dead, ocean creature scents wafting through the air).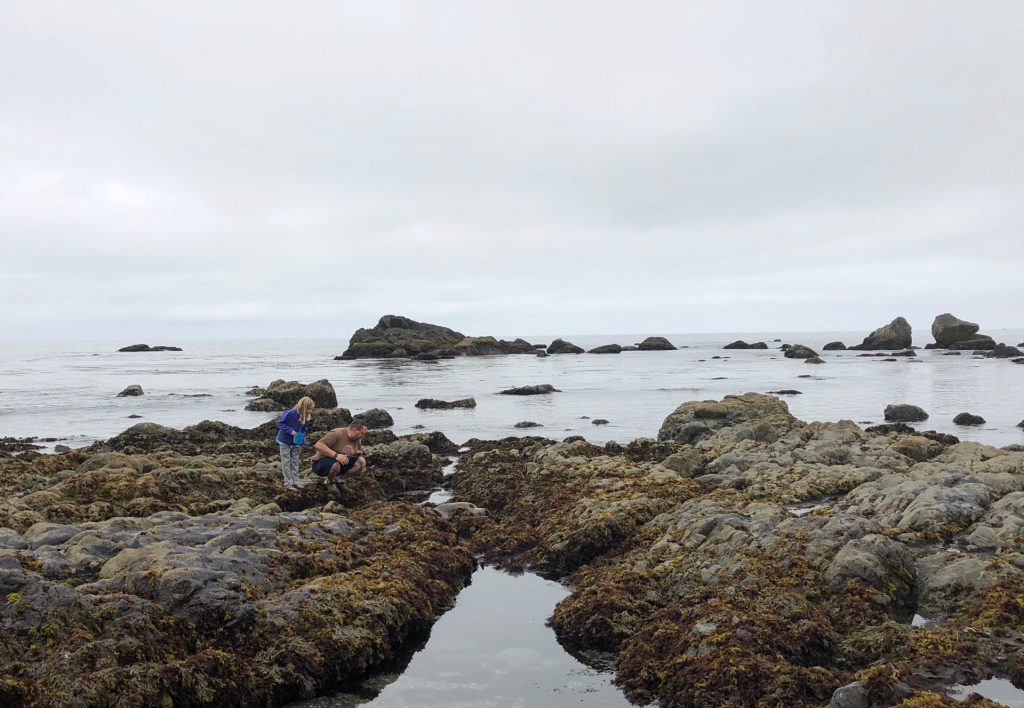 anna came over to show off her crustacean menagerie.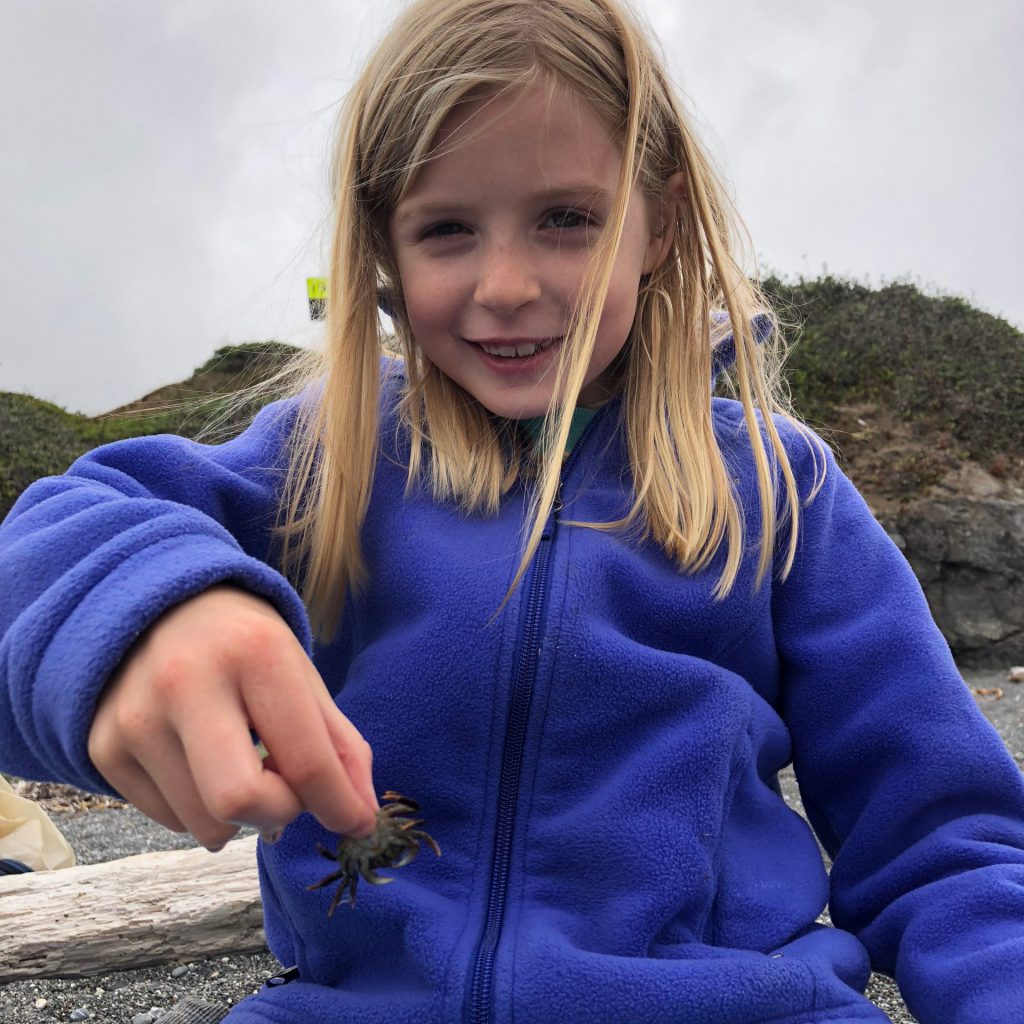 these tiny guys were pretty cute, i'll give them that.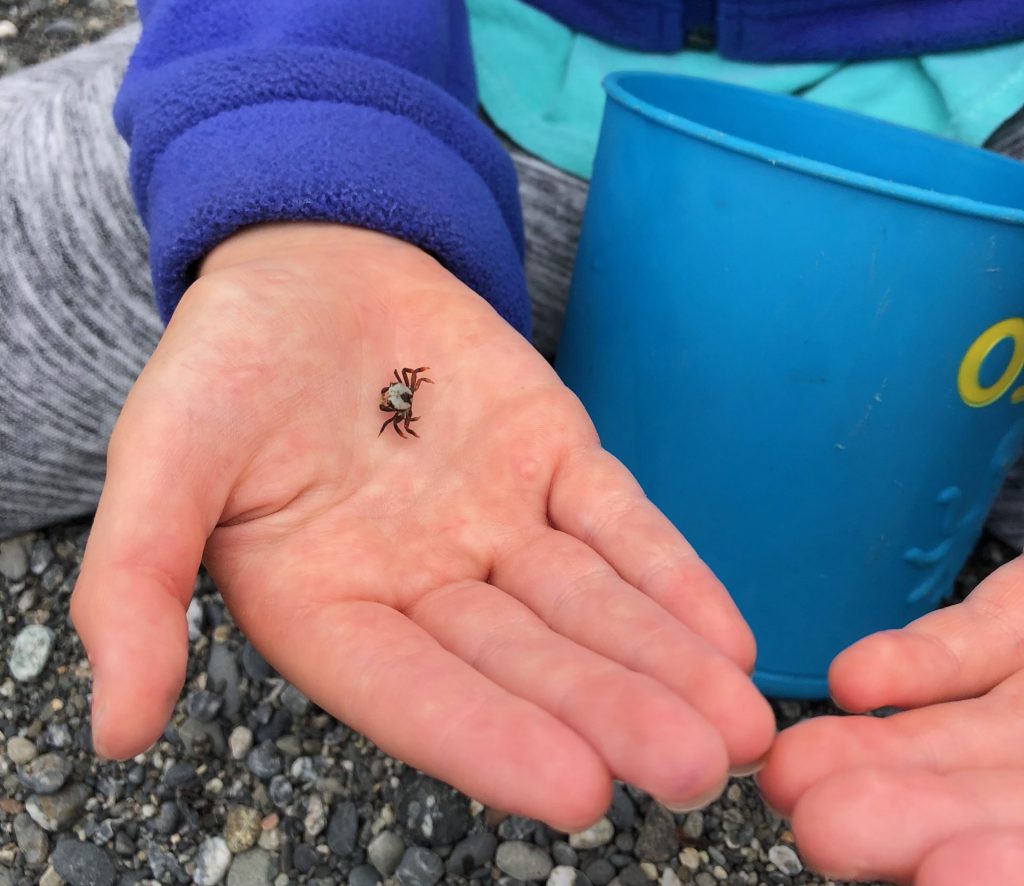 it was mostly overcast and cold, which i now realize is a common theme on the oregon coast, but in the few moments when the blue sky and/or sun appeared, we took full advantage. but, i assure you, no amount of blue sky made the water warm enough to go in.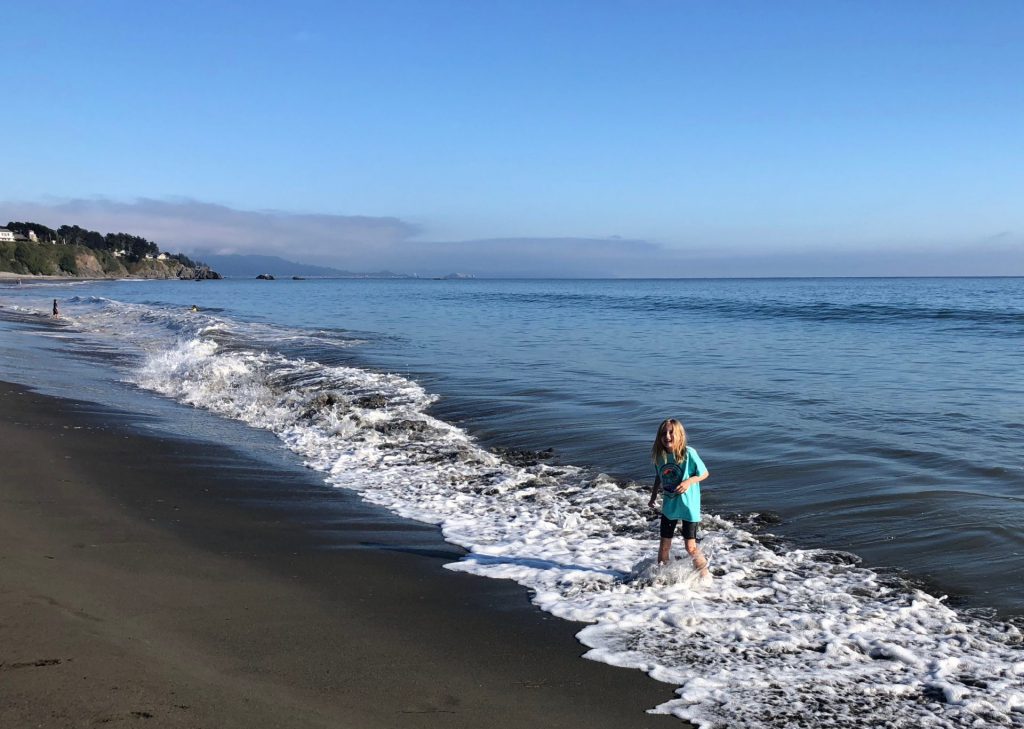 but that didn't stop this one. and the waves were pretty brutal, knocking her down, but she came up smiling.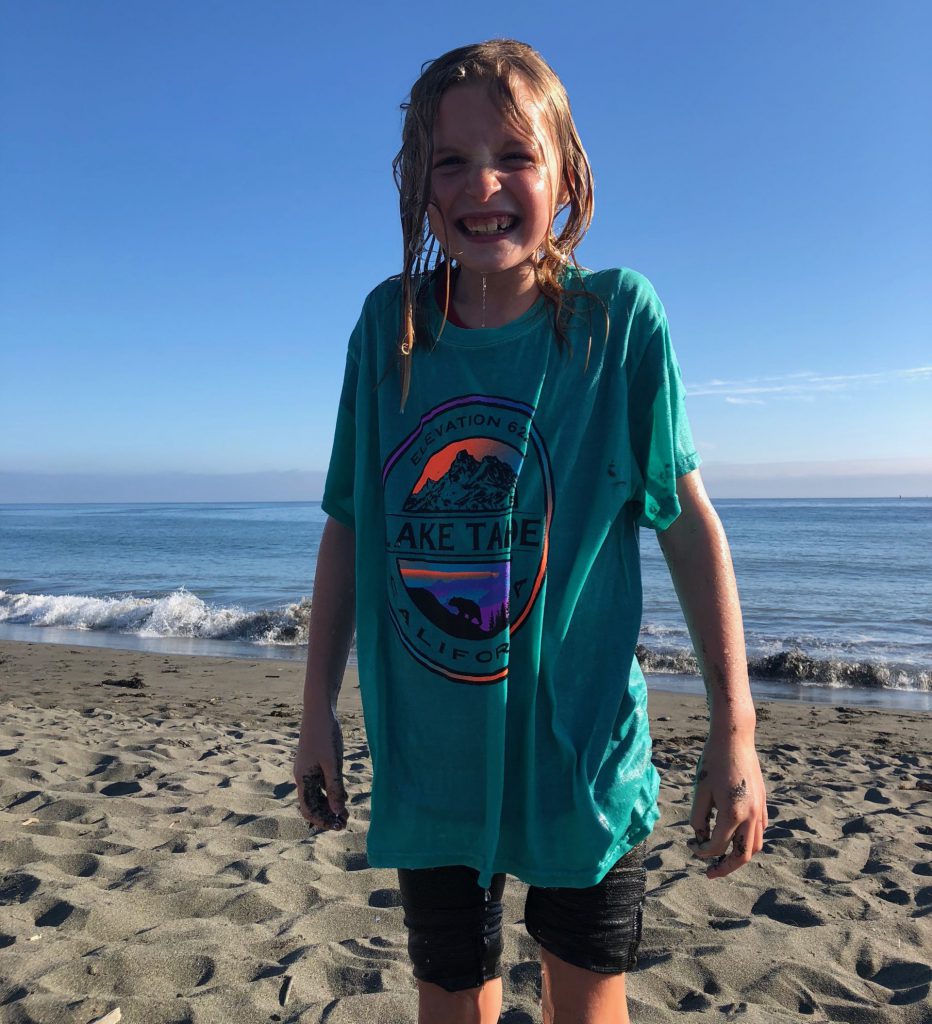 this kid is happy to play in the sand and steer clear of the waves. we played "chopped" and i lost everytime. i also had to play all of the various roles, from host, to judge, to contestant.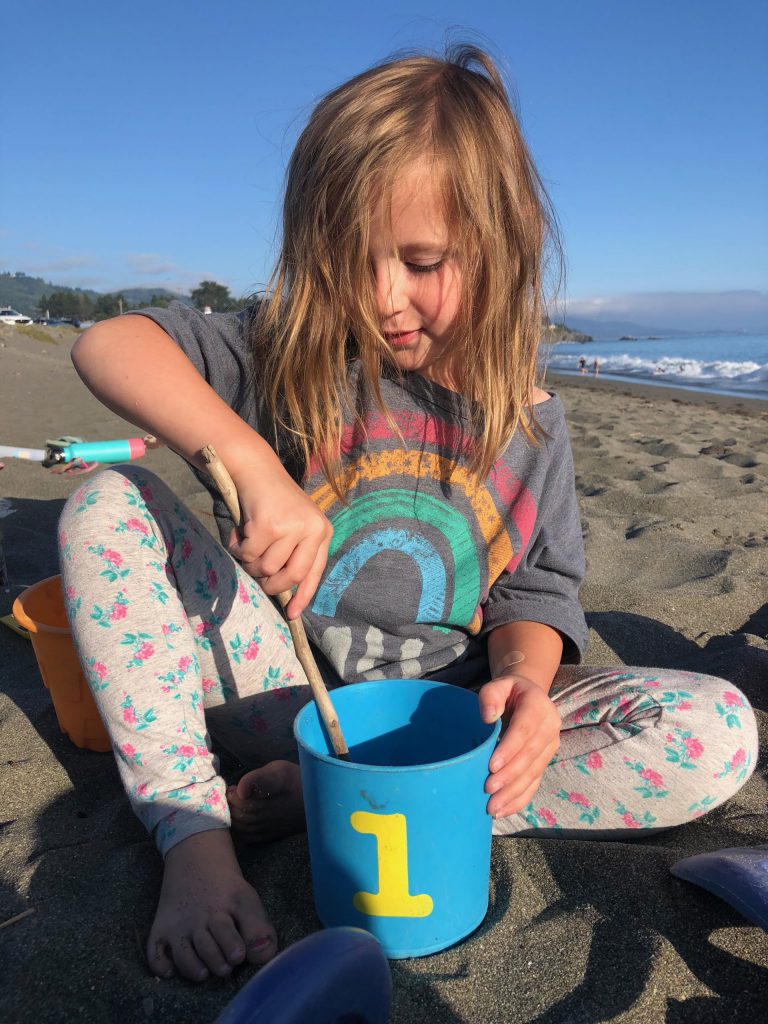 another crazy person who doesn't have the sense to not go in the frigid waters.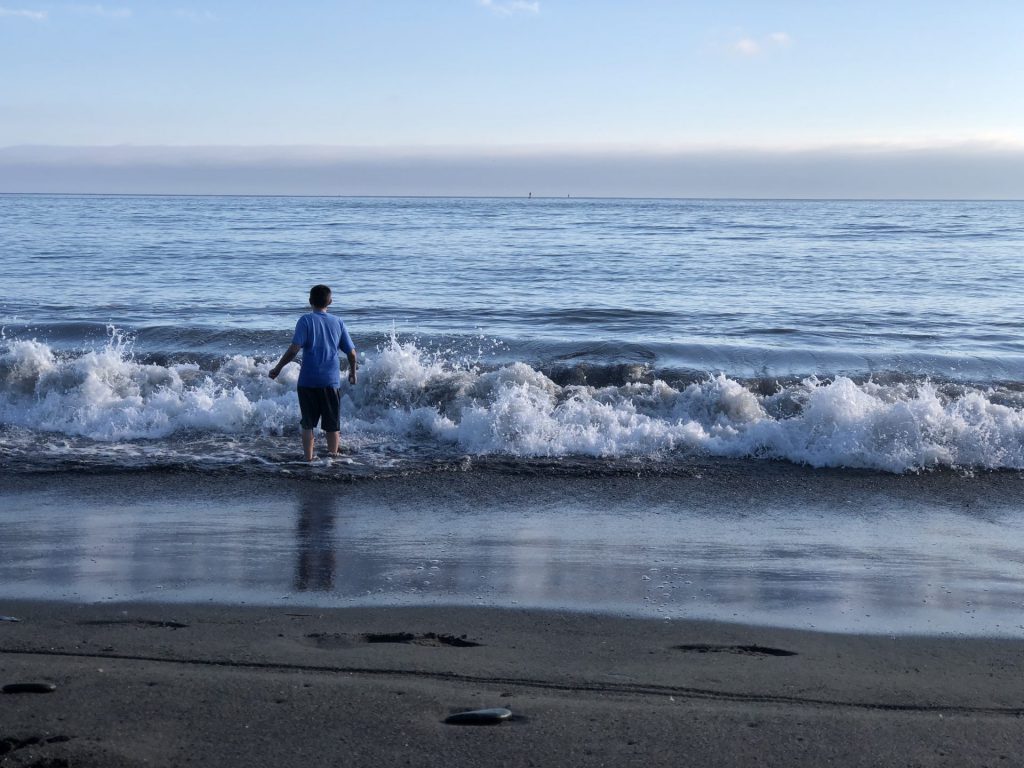 while i was hanging with the kids, derek whipped up this most excellent meal. lemongrass and basil ground chicken with cauliflower rice. it was vietnamese themed and extra delicious. i also scored some national park themed wine and despite my initial desire to choose the wine type based on the national park, decided to stick with chardonnay (mt. ranier, if you can't make it out).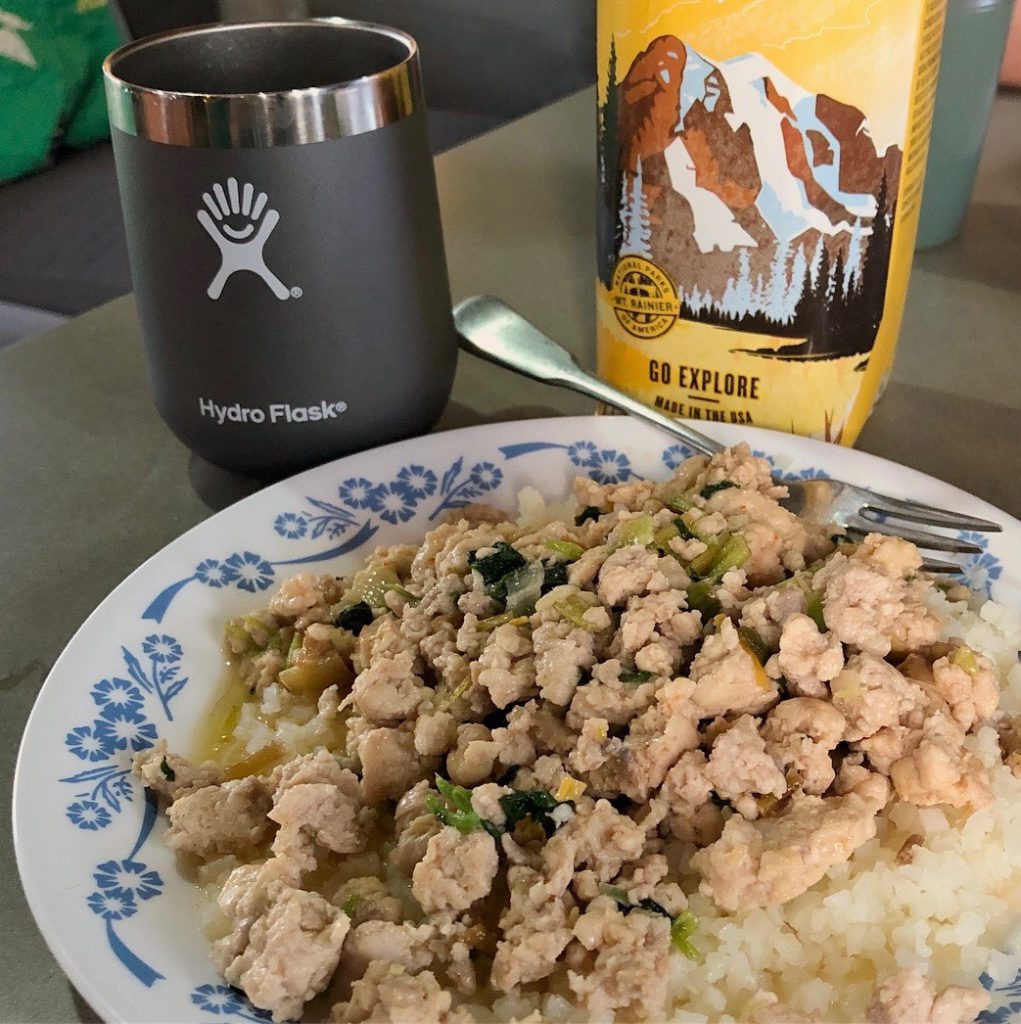 anna has been doing a LOT of reading lately. we pick up stockpiles of books at thrift stores, she churns through them and we drop them off and get more. one morning i woke to find this waiting for me.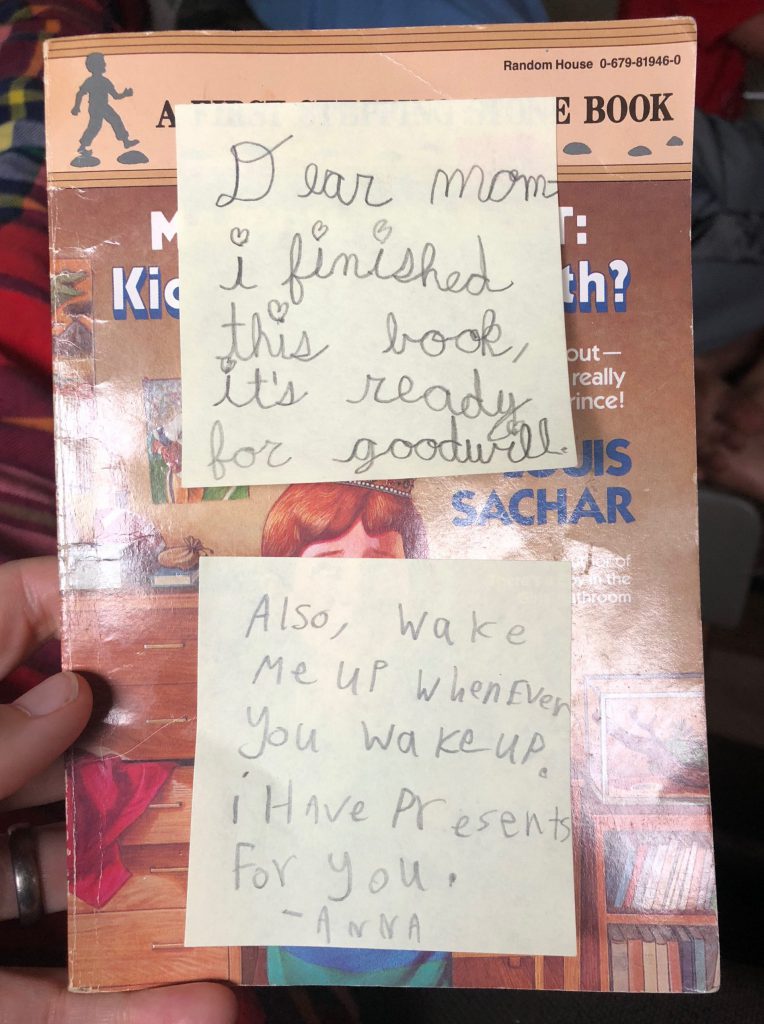 what was the present you ask? well, these three bits of artwork. lucy, coffee, and our family in cactus form.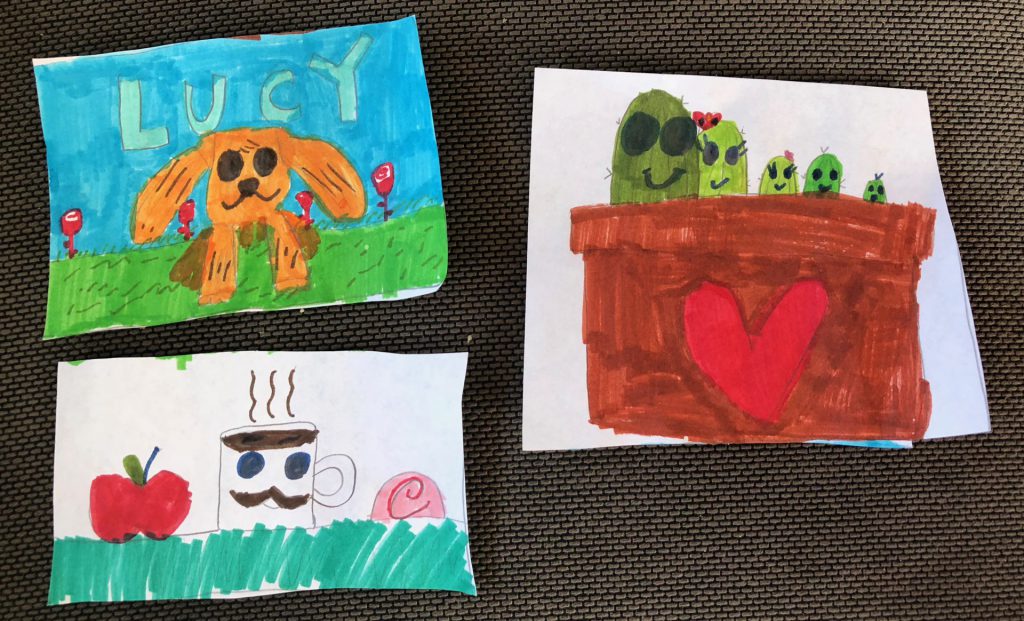 speaking of cactuses, here's one that hazel drew. she's becoming quite a good little artist herself.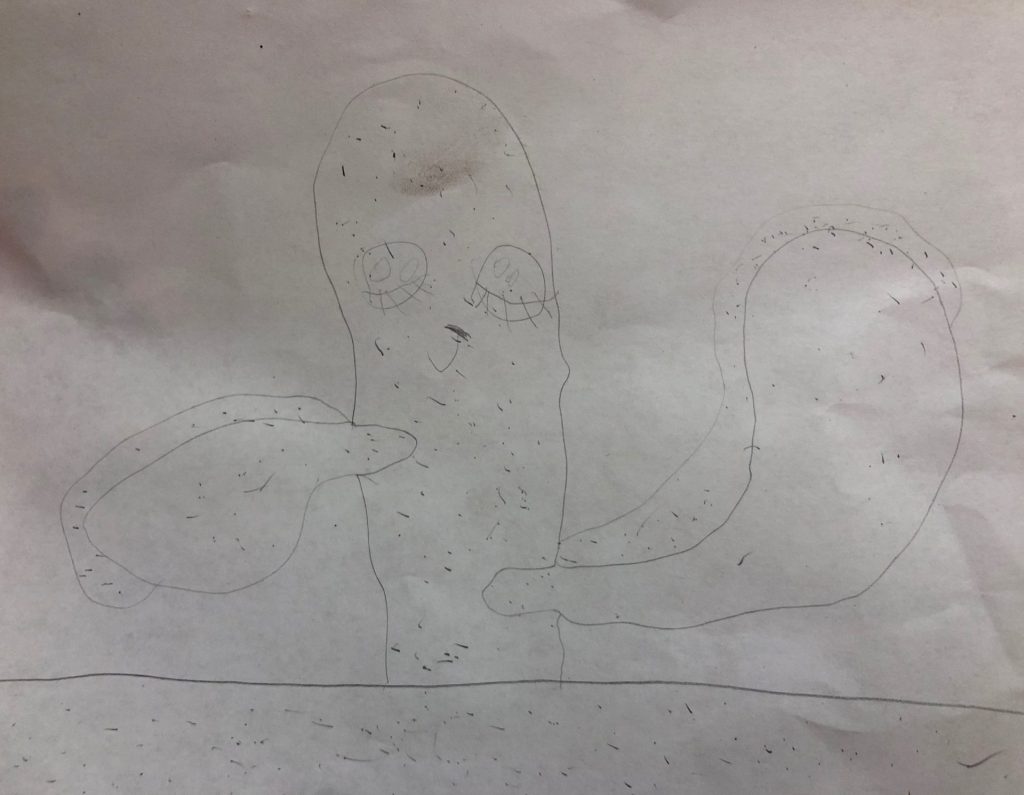 on another day, when the fog and overcast lifted, and derek got off work, we drove a little ways up the coast. there are several overlooks and short hikes along the samuel p. boardman state scenic corridor. our first stop was at arch rock, where we were stunned by the beautiful views. this was the view from the parking lot.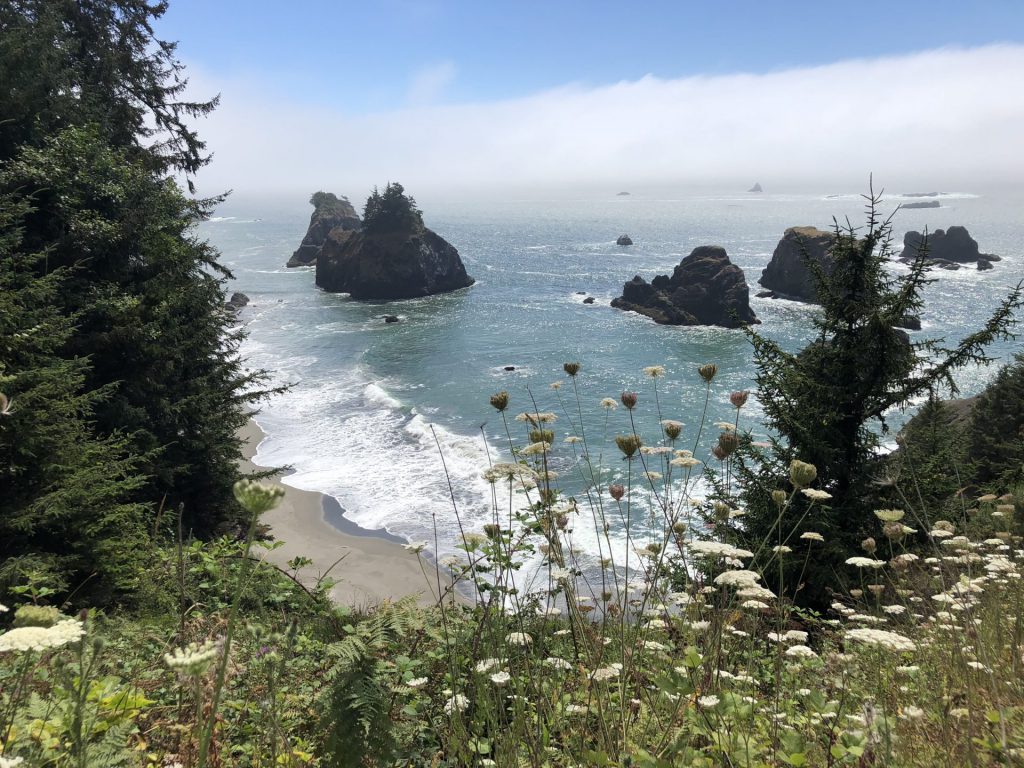 but we took the short hike out to a better overlook.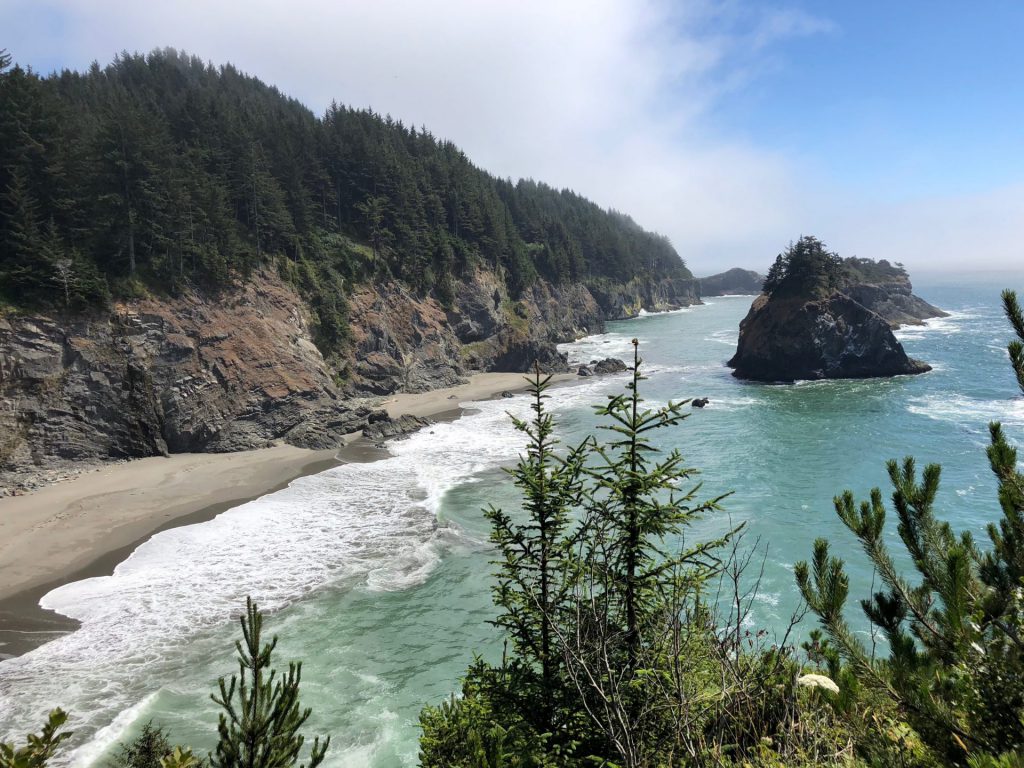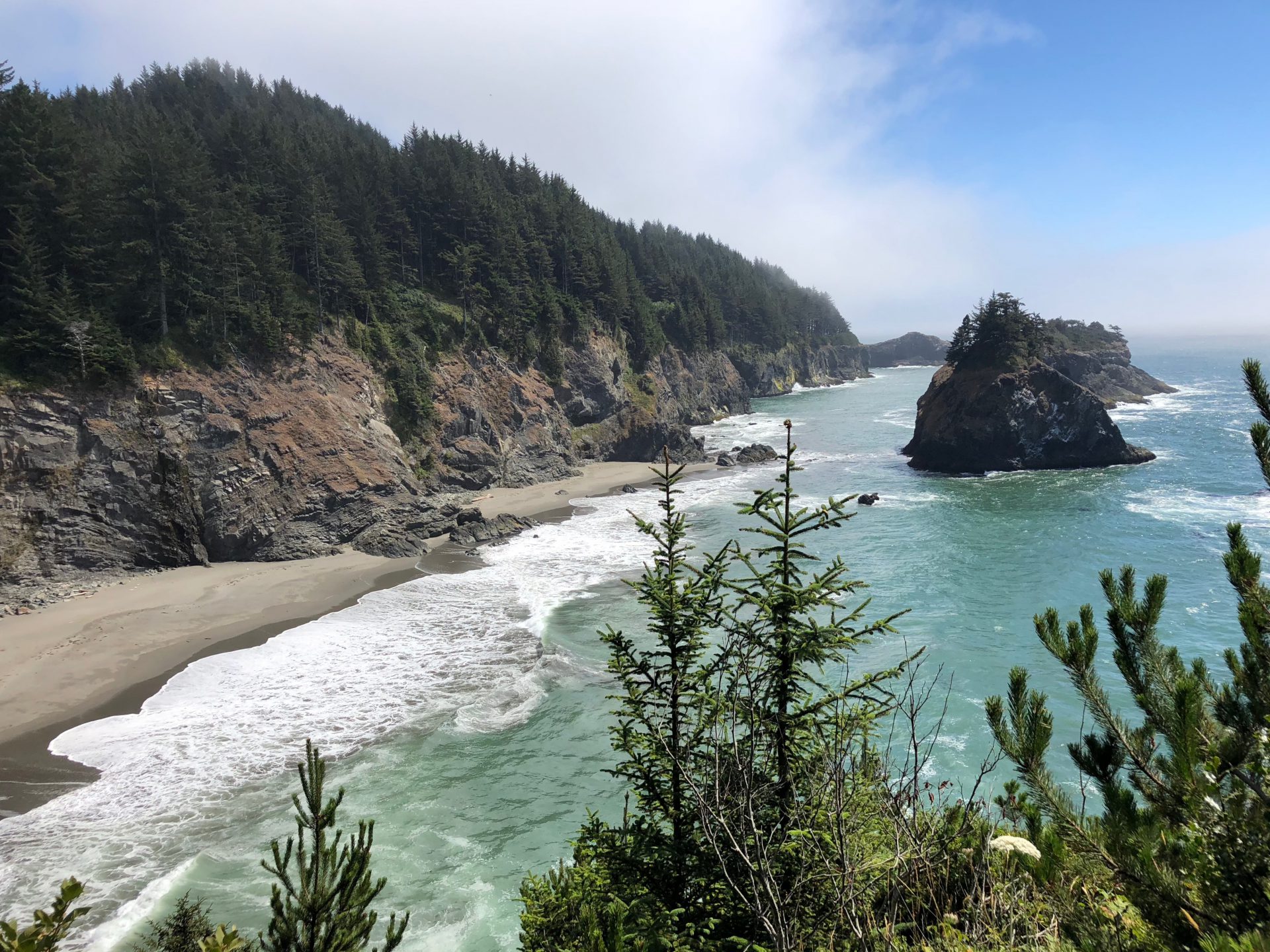 where it was a little bit windy and chillier than we planned for. and hazel was miserable.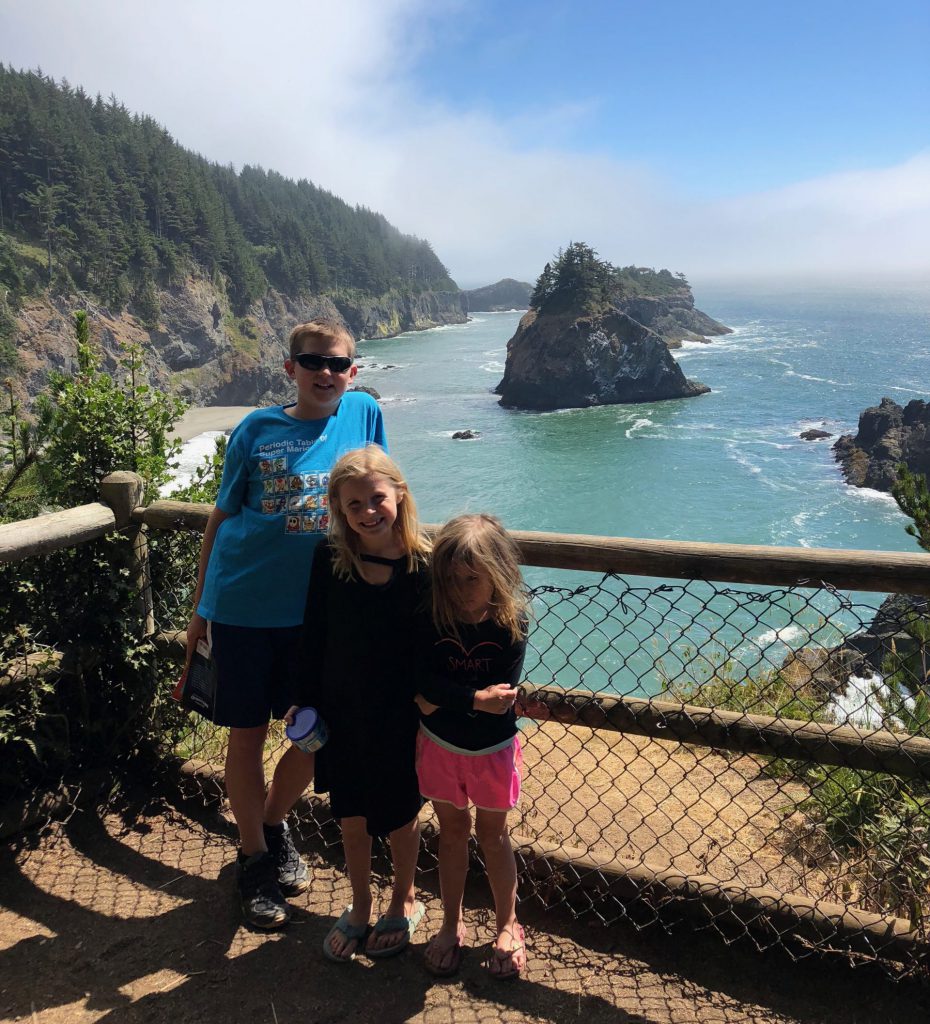 we caught a glimpse of arch rock.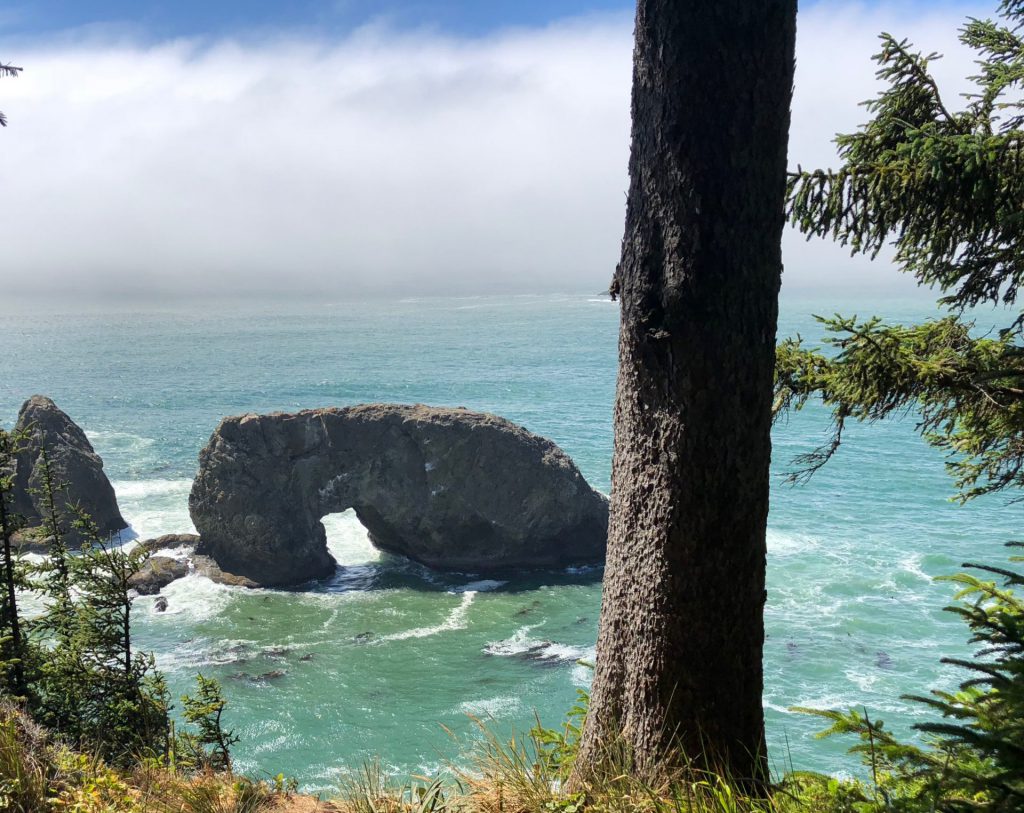 but it was really the views up and down the coast that captivated.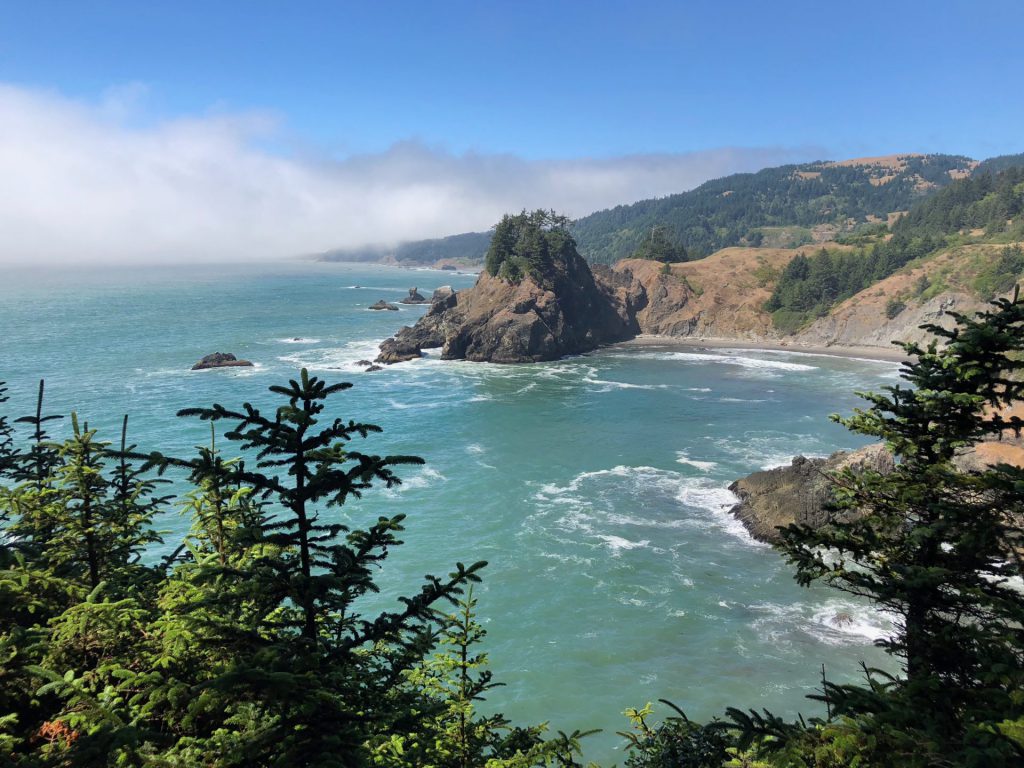 our next stop was thunder rock cove. the hike down was filled with switchbacks and the looming knowledge that we would have to hike back back out. and the rock cove wasn't thundering at all. but, it was still pretty impressive, nonetheless.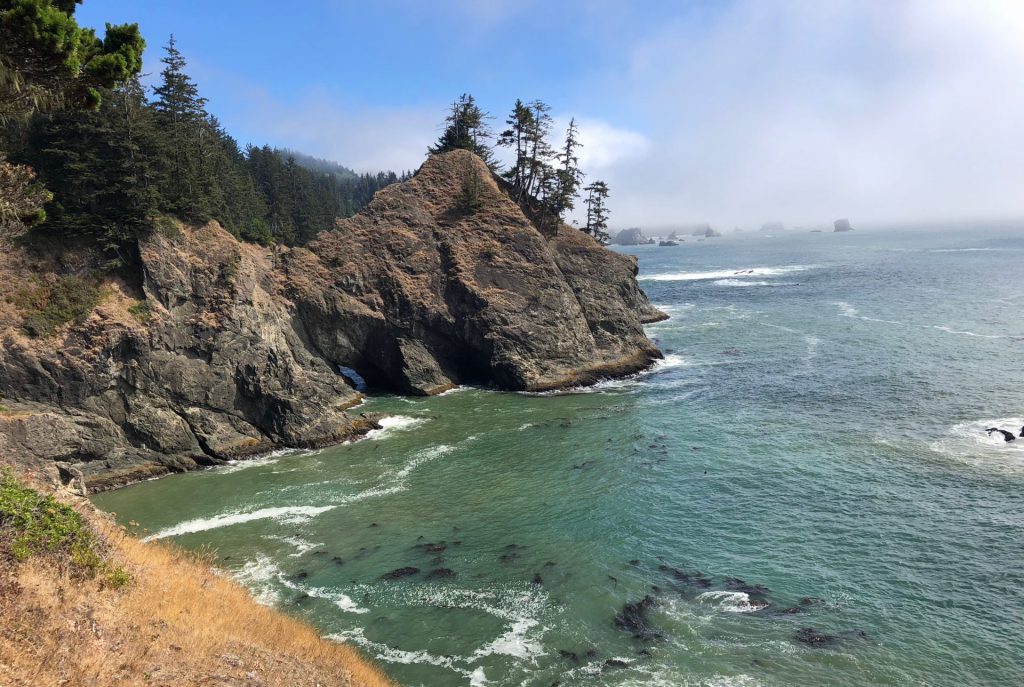 we met a friendly couple and chatted for a bit and they offered to take a family pic. this was a particularly stressful spot, because the drop off was quite steep in a lot of places. thankfully, the lidkids have good sense about these dangers at this point and steered clear and didn't mess around.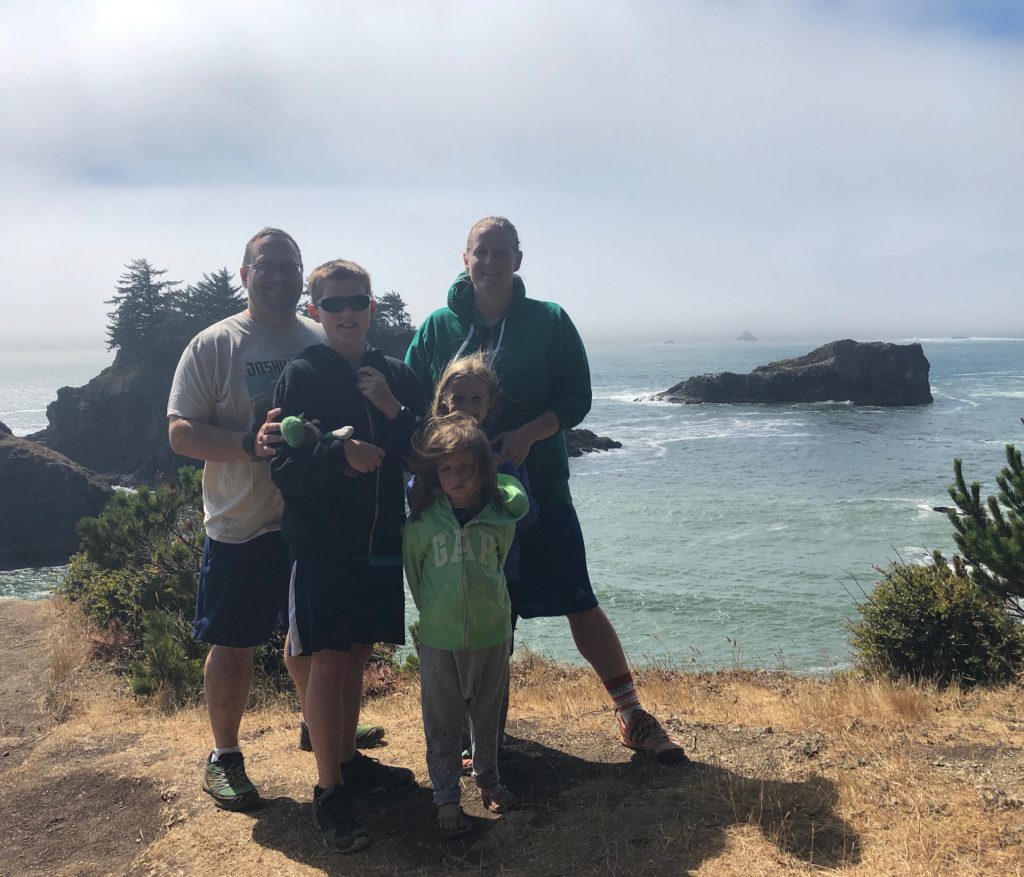 more pretty views.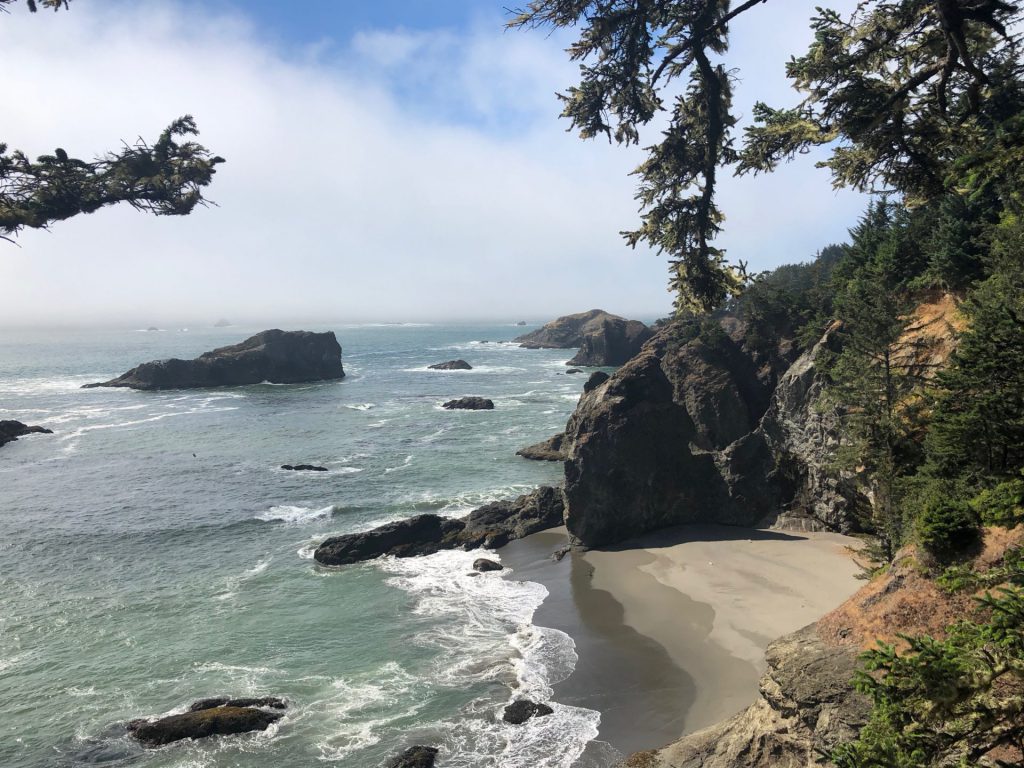 as we drove along, realizing that we probably weren't going to be able to drag the kids on many more hikes, we found ourselves back in an overcasty foggy area. we stopped at whaleshead beach where you can drive almost all the way to the beach and the walk isn't too bad once you're there. the kids loved it. it was filled with driftwood and really cool black sand.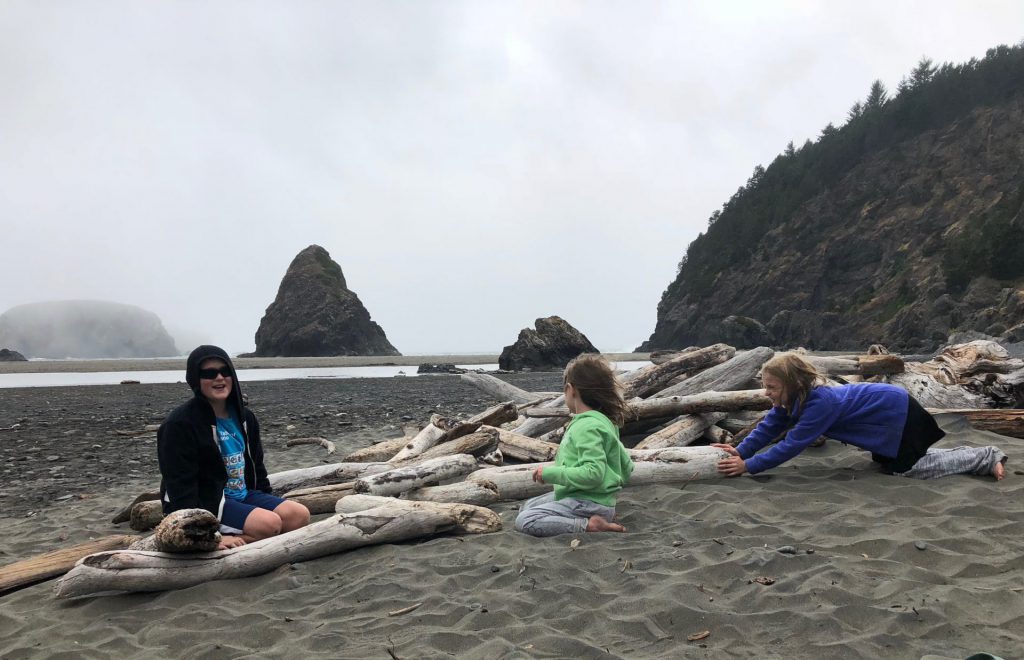 a fort was constructed. but hazel wasn't feeling great. and eventually there was a driftwood/horseplay related injury and we started back to camp.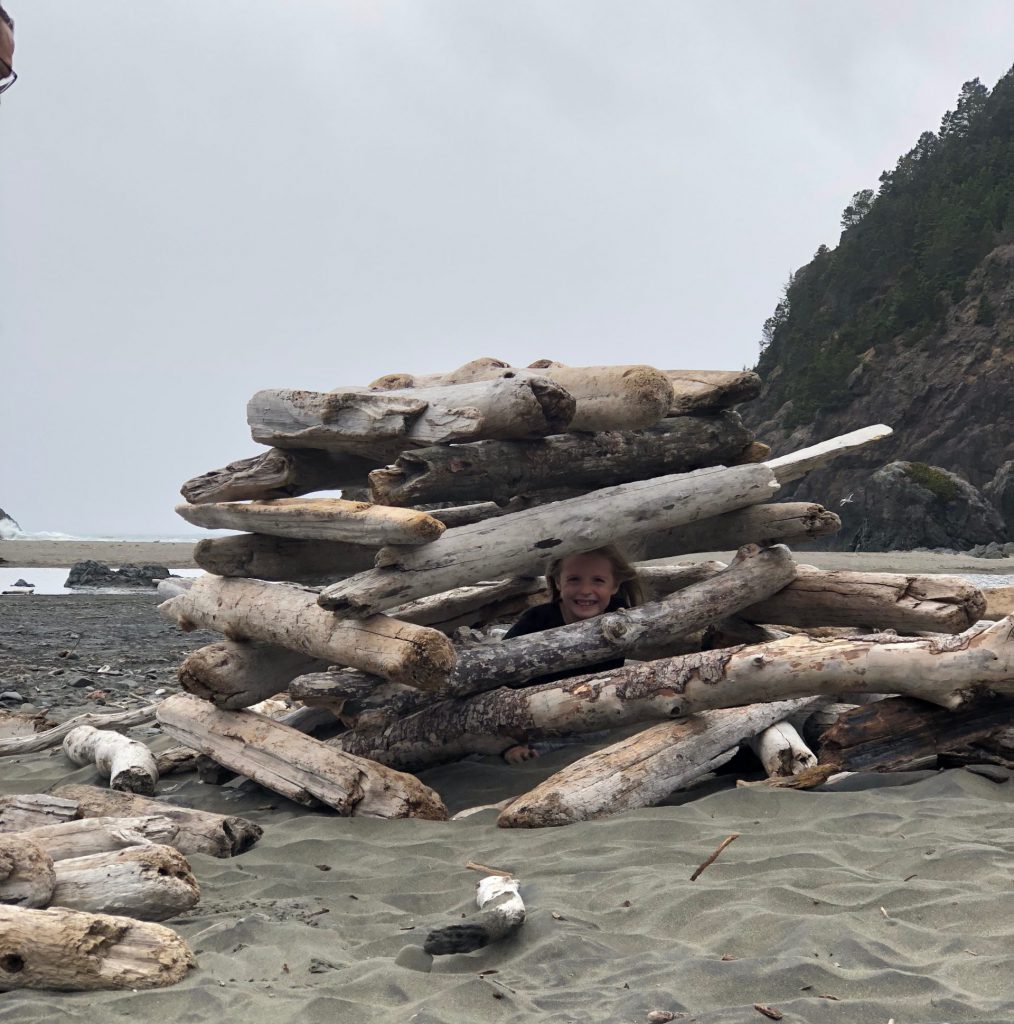 but. before we got there, a turnout on the highway gave me a chance to snap this great shot. it's insane how different the weather can be in a stretch of just a few miles.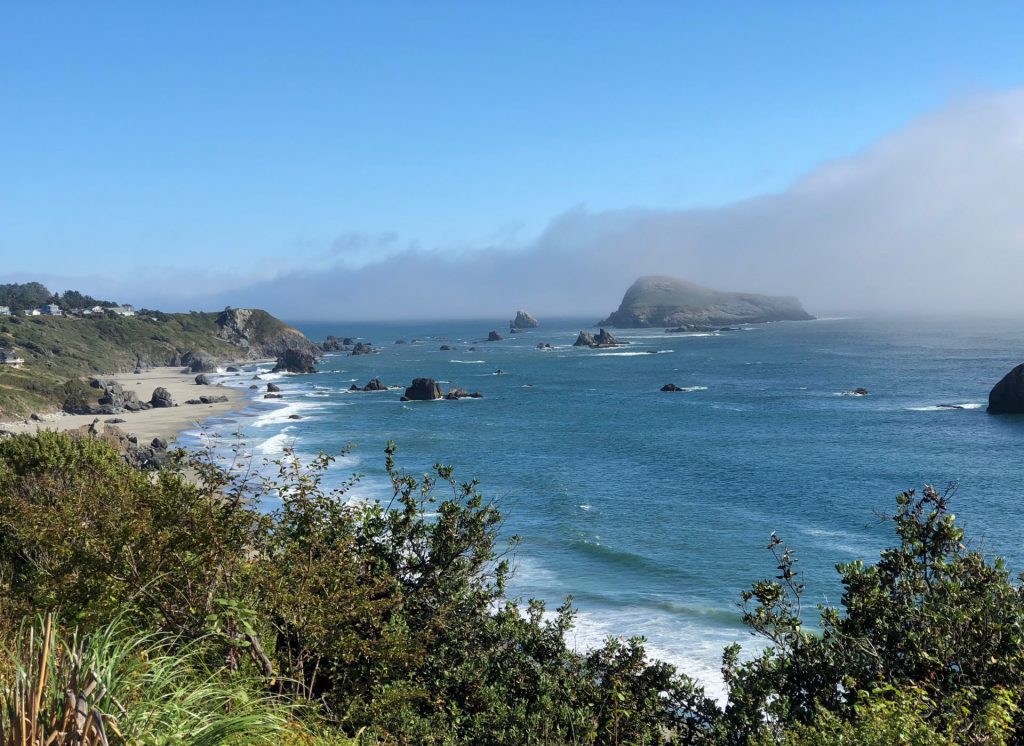 near our site, derek pulled over to snag some LEGIT seafood, freshly plucked from the sea (and river). some fresh salmon and crab for dinner this night.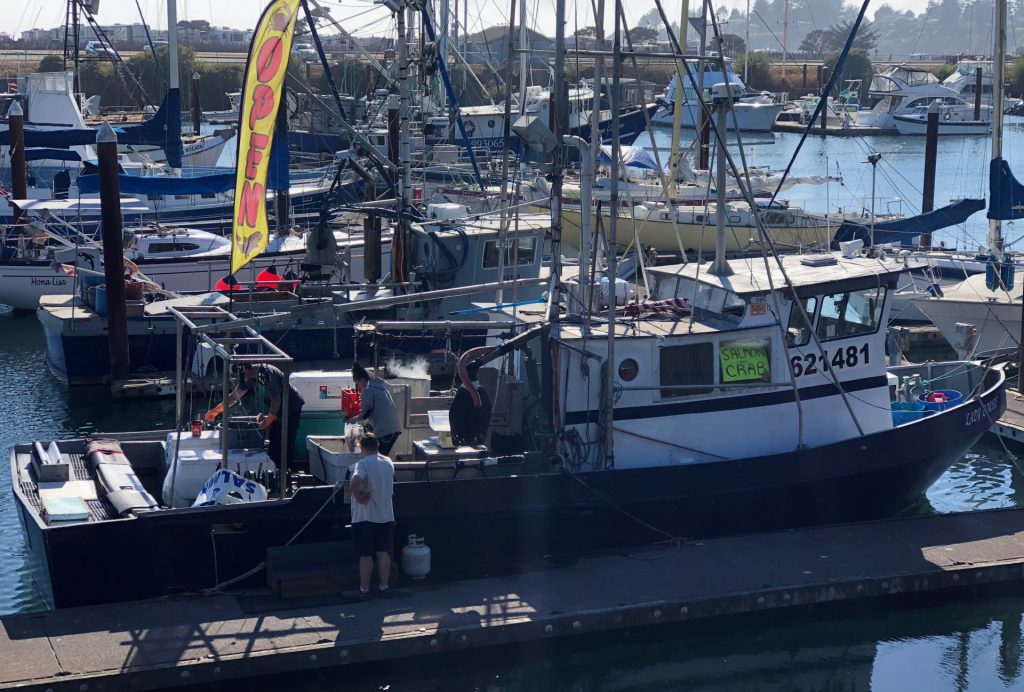 brookings was a really strange place. it felt sort of touristy. but also sort of rundown. from how i understand it, there's a bit of a homeless problem just outside the city limits (which is where our campground happened to be). and when we had to get some laundry done, we found ourselves in the shadiest laundromat i've been to so far, and that include off the vegas strip. there was a fight between two dudes. and the owner hovered over me and forbid me from putting more than one tidepod in the triple load machine. a kid in a diaper with no pants ran out into the parking lot and his dad had to chase him down. and it was generally dirty and gross. but. there was free wifi, so the kids were cool with it.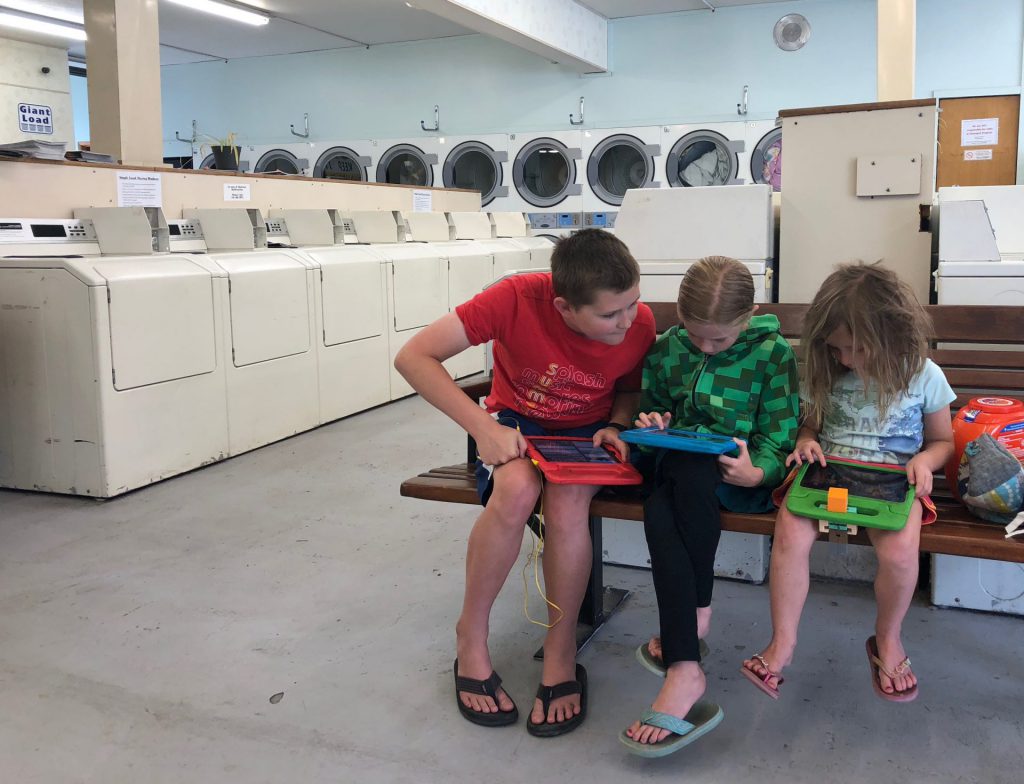 then. hazel got sick. she had a fever on and off. and was pretty pitiful. and she was sure she was gonna barf, but it never happened. and then, she was fine. so. who knows. kids.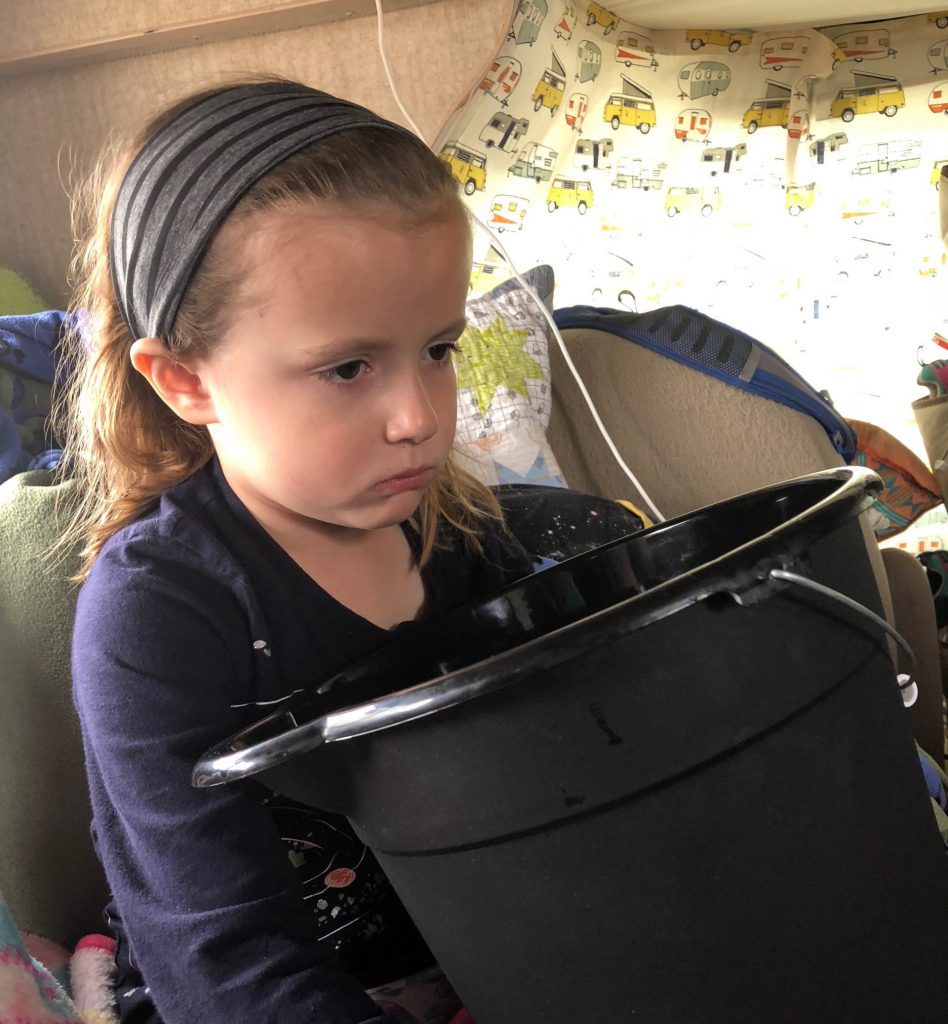 derek suprised me by doing a bit of calling around and locating a local quilt shop that agreed to let me come in and do some sewing. anna came along with me to work on her quilt and scored an instant feline friend.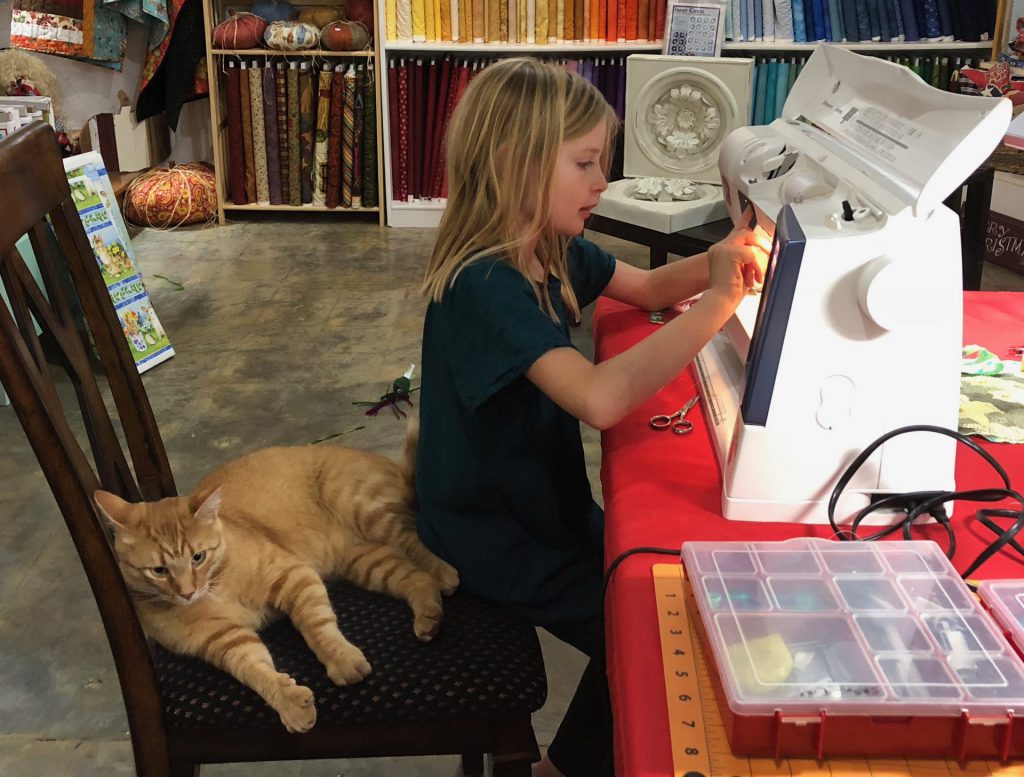 before we left the campground, we got one more good beach afternoon in.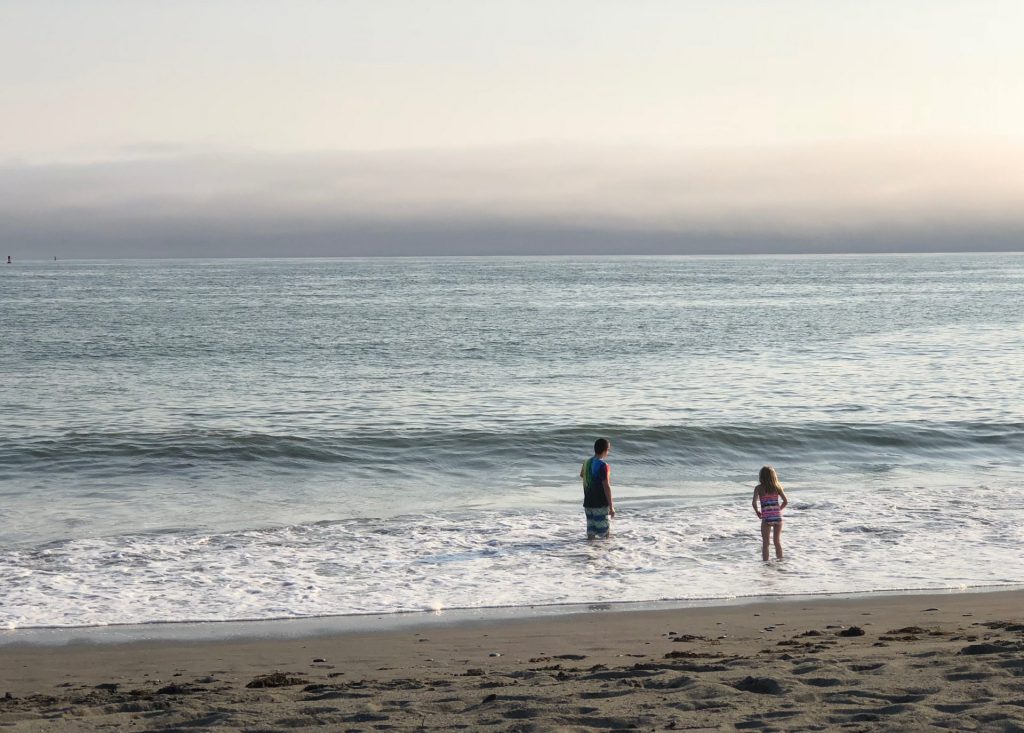 sunsetty beach handstands are her favorite.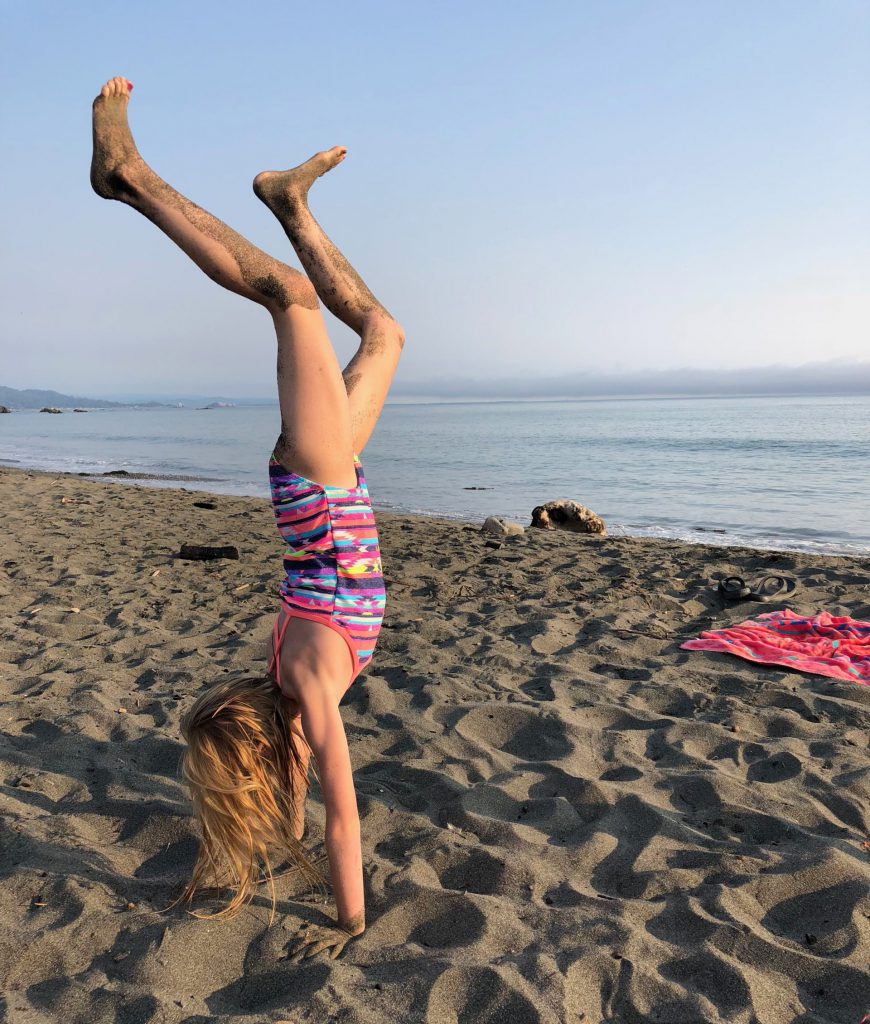 she has good form and optimism going into it, but headstands are not in her repertoire just yet.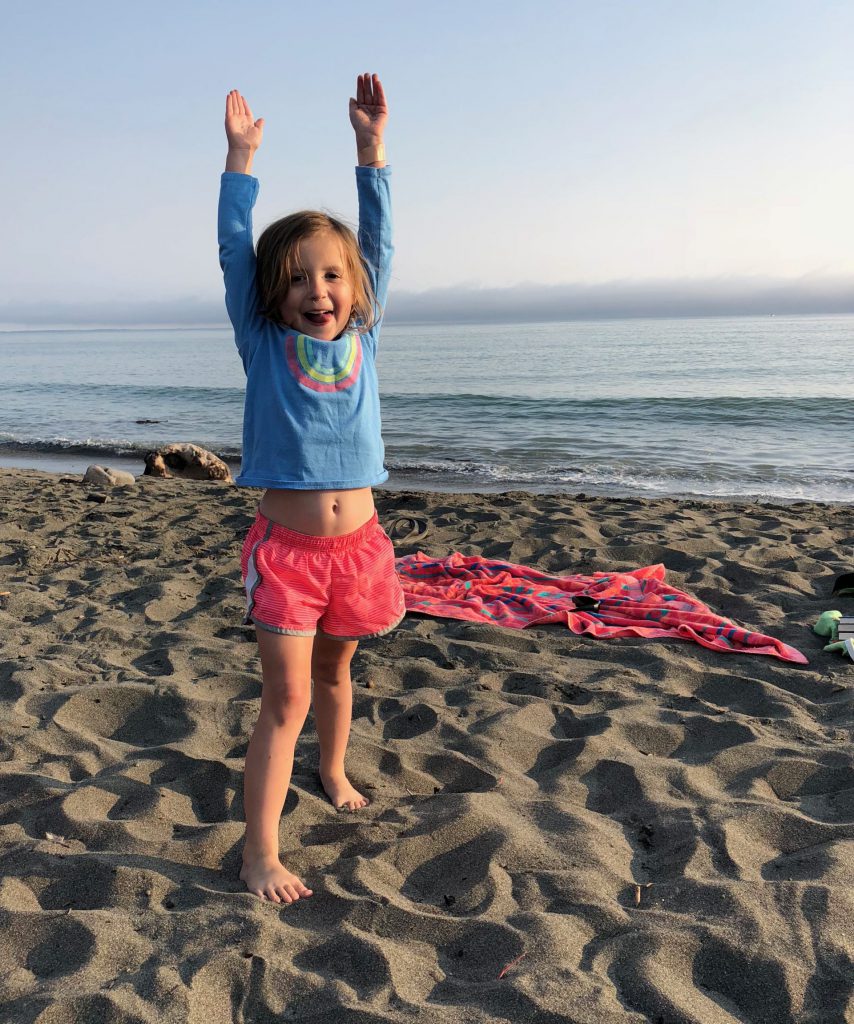 we were collecting some shells and rocks and driftwood for our game of chopped, but came across a bunch of trash, so we decided to do our part in cleaning up the beach a bit. later, i discovered hazel was playing with the trash, so, maybe next time i'll just leave it.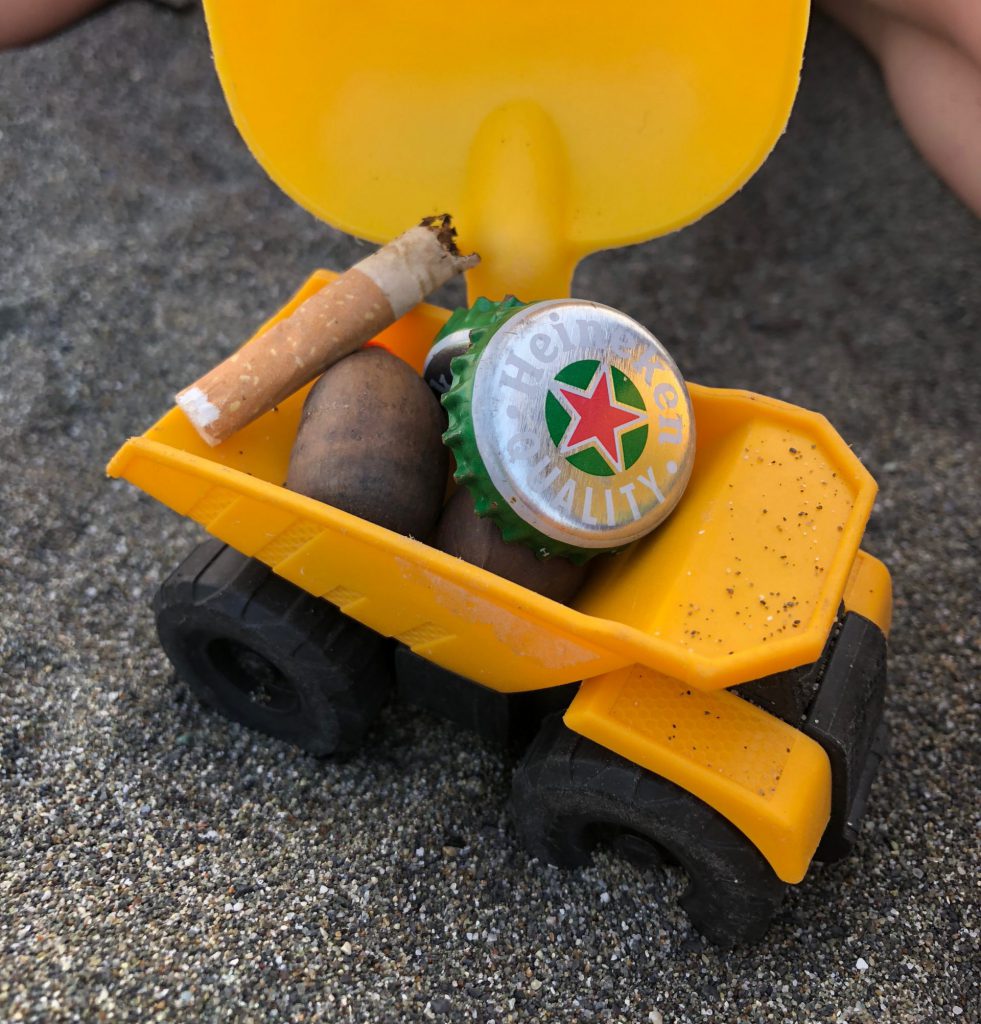 lastly, while we were at brookings, this guy turned 41.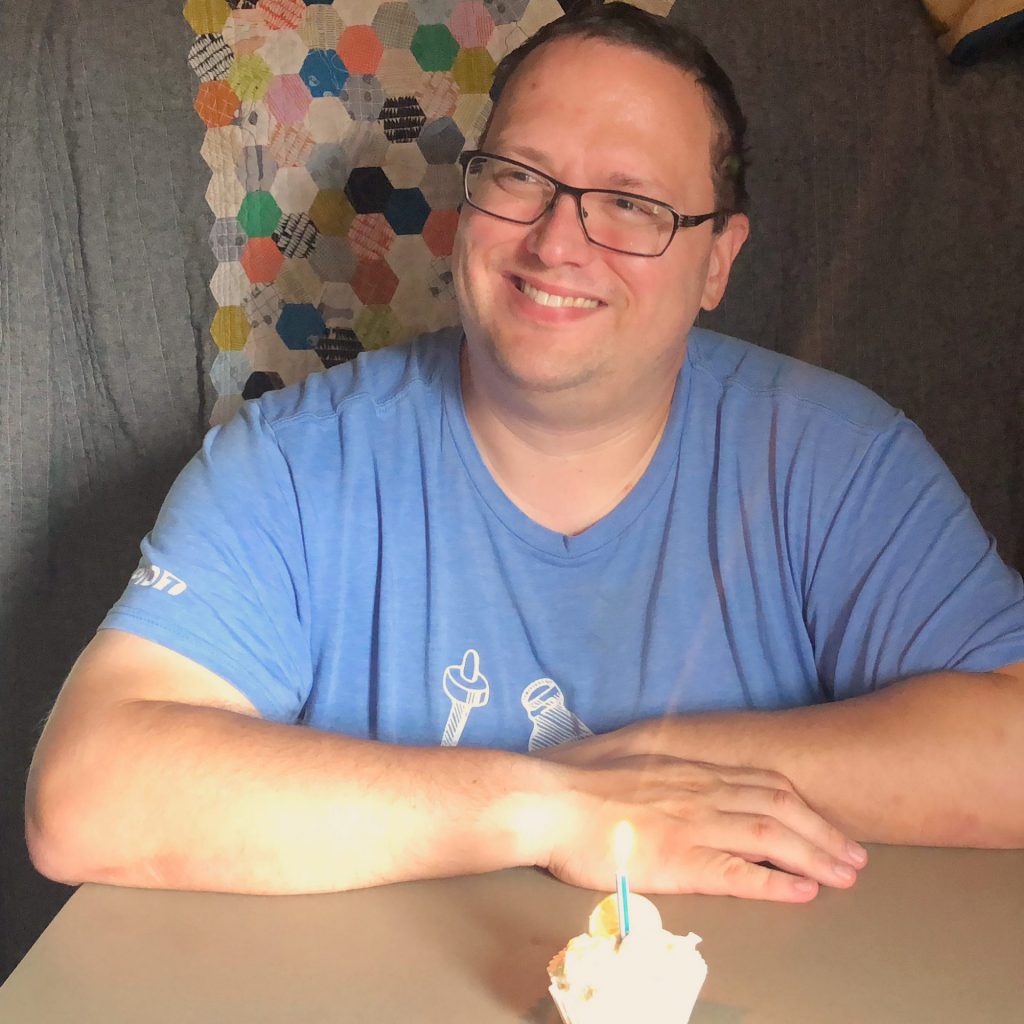 since we are both on the keto diet, we ate a big, fat, juicy ribeye and made up two mini keto key lime cheesecakes. they were sooo good.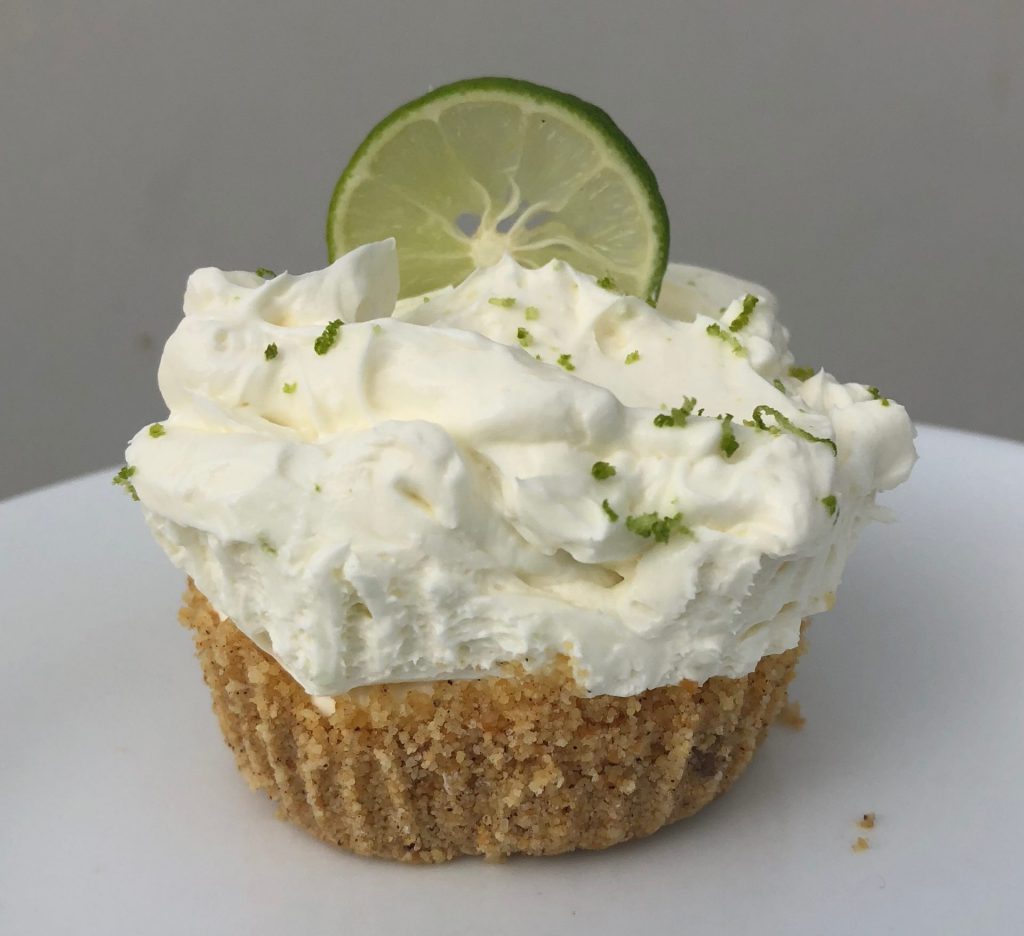 on the morning we were set to leave, we awakened to the first warm and beautiful morning of the entire stay. i was super bummed, but i went out to the beach to have my coffee and soak up the last few minutes.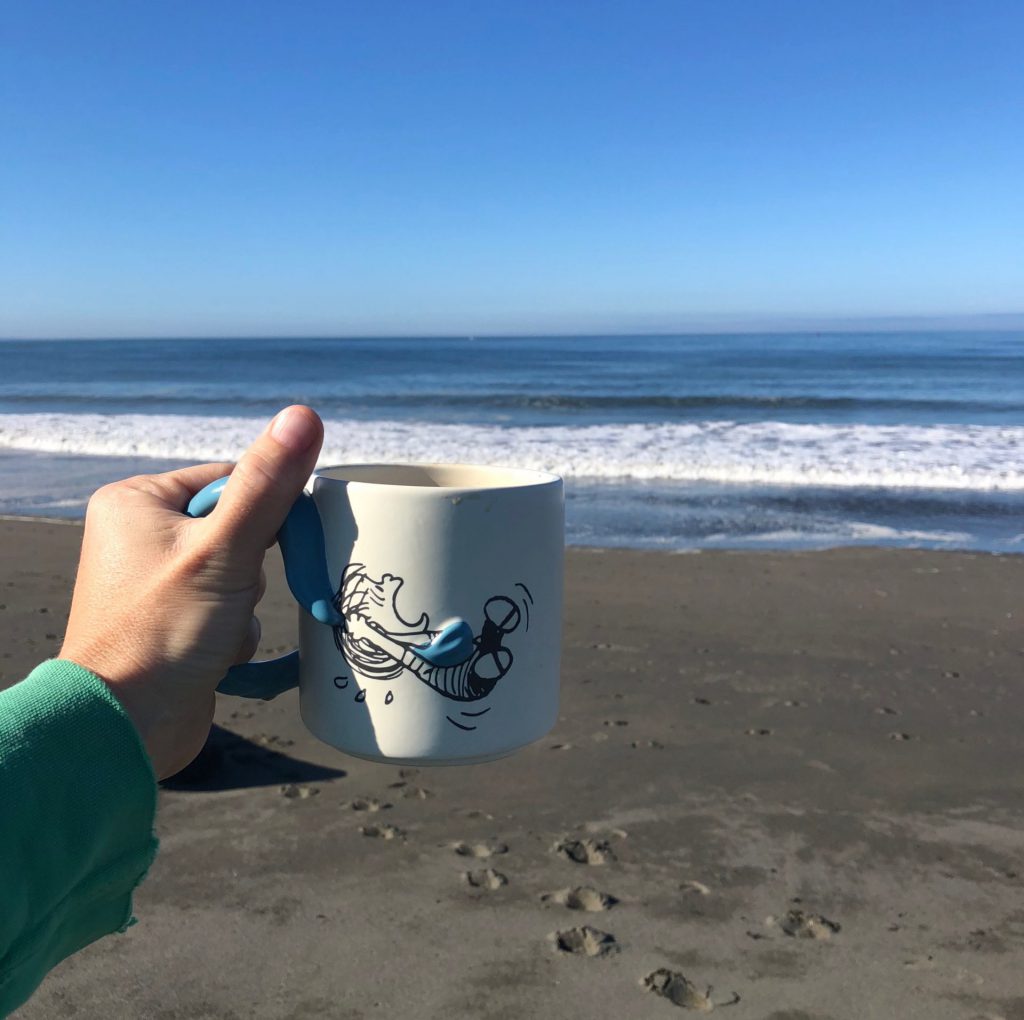 then, just before we pulled out to head inland to crater lake, where it was smoky from wildfires and like 100°F, we decided to head north and spend a bit more time on the coast, allowing me to take advantage of the beautiful day.