obviously, i am once again a million years behind in blogging.
it's been a crazy month of whirlwind travel, which will be detailed in great length in a later post.
for now though, i'll pick up where i left off a month ago, just outside salt lake city, where my mom flew out to visit us for a week.
as soon as my mom told me she was planning to come out during our week in salt lake city, i knew we had to plan a road trip to see some of utah's beautiful places. we figured the best bang for our buck was the moab area, where we could hit up arches and canyonlands, and do a bunch of smaller hikes. it was also the closest option, around a 3.5 hour drive.
so, after my mom had settled in and adjusted to the time zone change, we hit the road for a two day, girls only road trip. (isaac didn't want to go). we had a little bit of excitement on the way, when anna had some tummy troubles, necessitating a few bathroom pit stops. then, about halfway there, she said she was itchy and we discovered she was covered in hives. thankfully, we happened to be passing through the only tiny bit of civilization along the way, complete with a walmart. i ran in, picked up all the possible drugs and medical supplies we could possibly need, dosed her up with benadryl, and got back on the road. her hives cleared up shortly after and even though she was a bit groggy, she felt better.
anyhoooo. eventually, we arrived at arches. it was mid afternoon at this point, so we went straight into the park to do some exploring. first up, balanced rock. hazel is not impressed.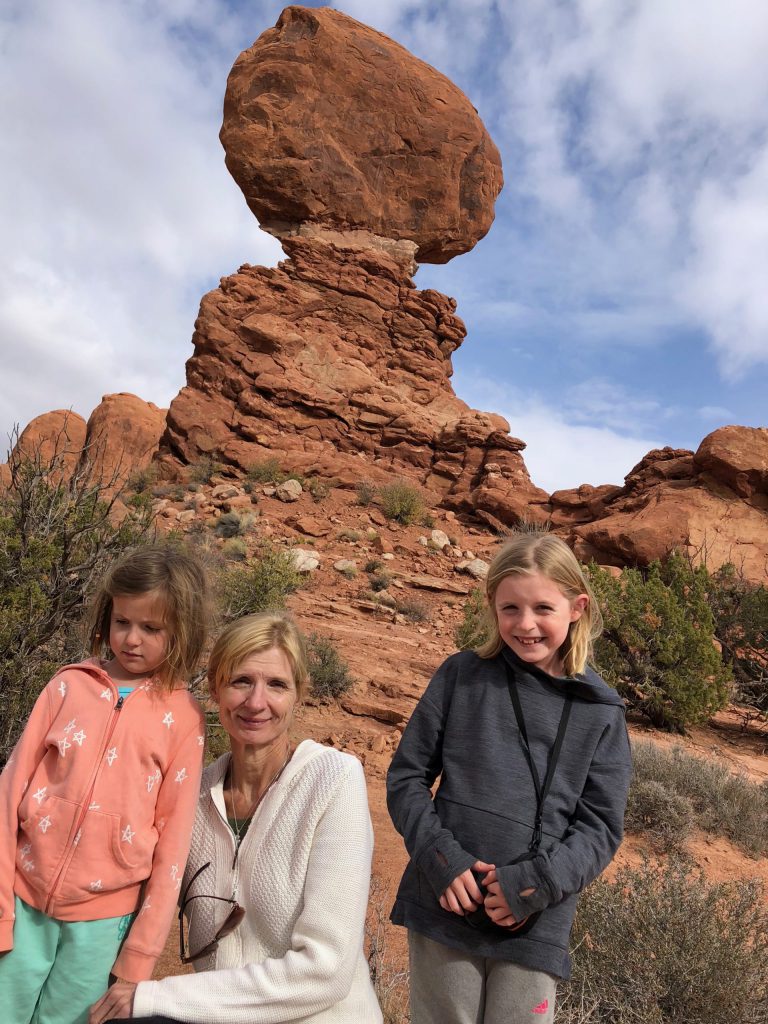 then we cruised out to double arch, one of our faves, and took the quick little walk to get up close and personal.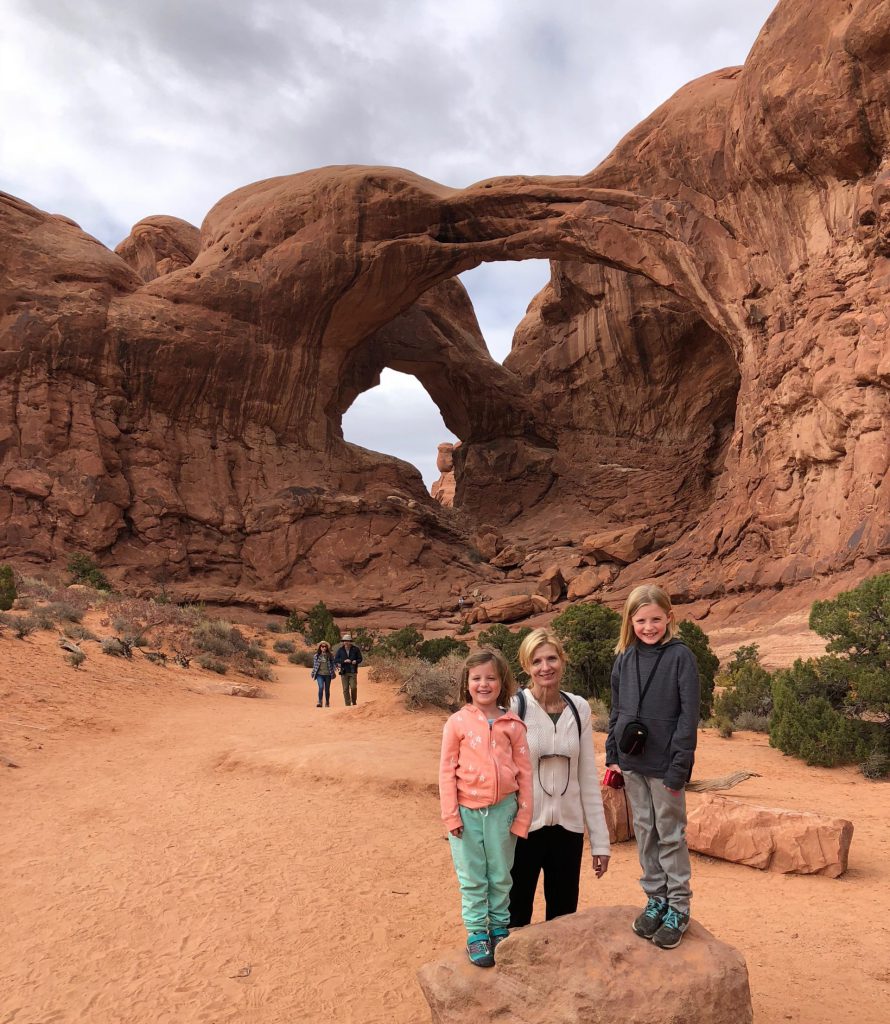 once we were there, we wasted no time in scrambling up to the top.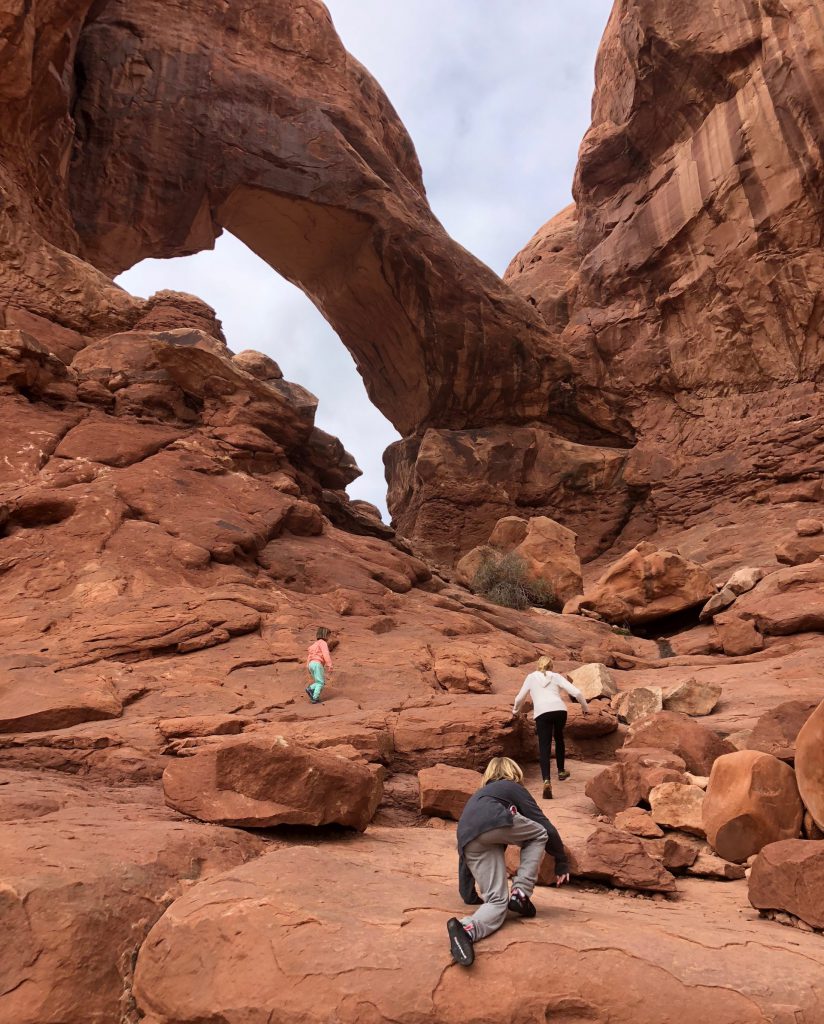 first me and hazel, because i had to keep up with her, thanks to a dropoff on the other side.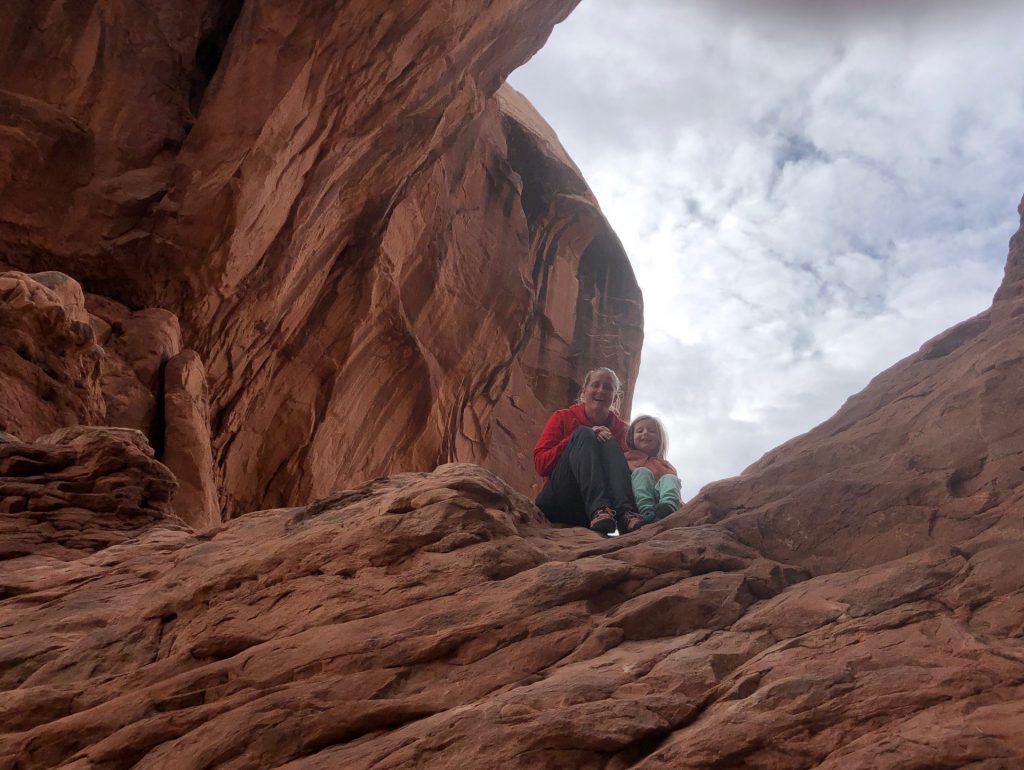 anna took a different route and joined us soon after. new gramma decided to skip the final ascent. (it's steep).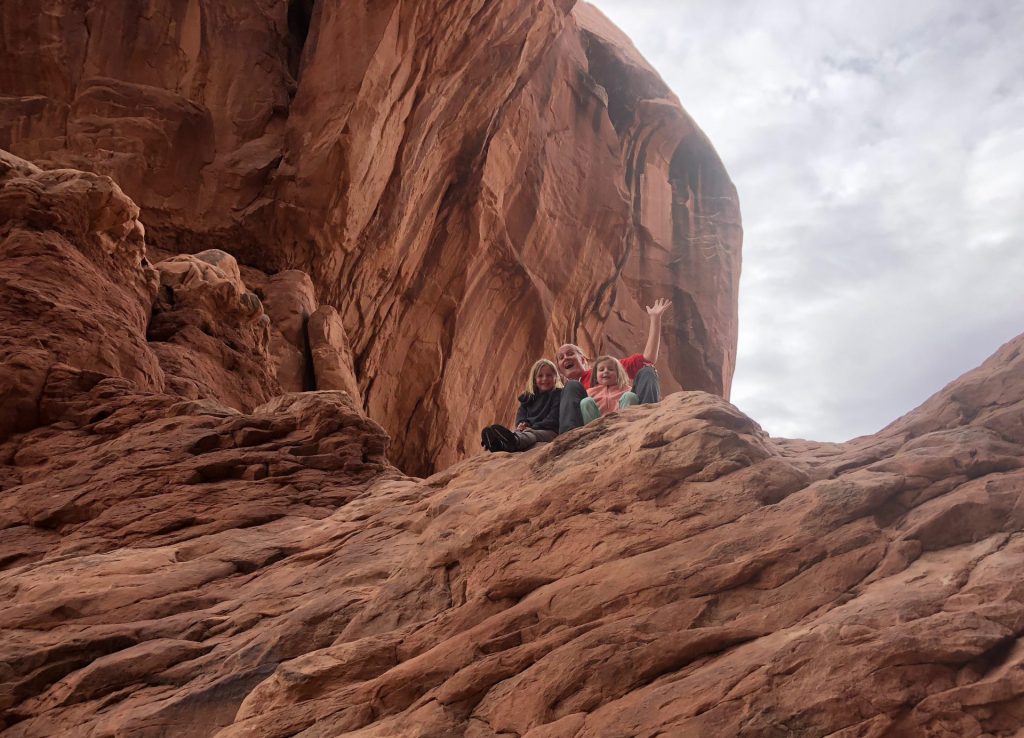 final, parting shot.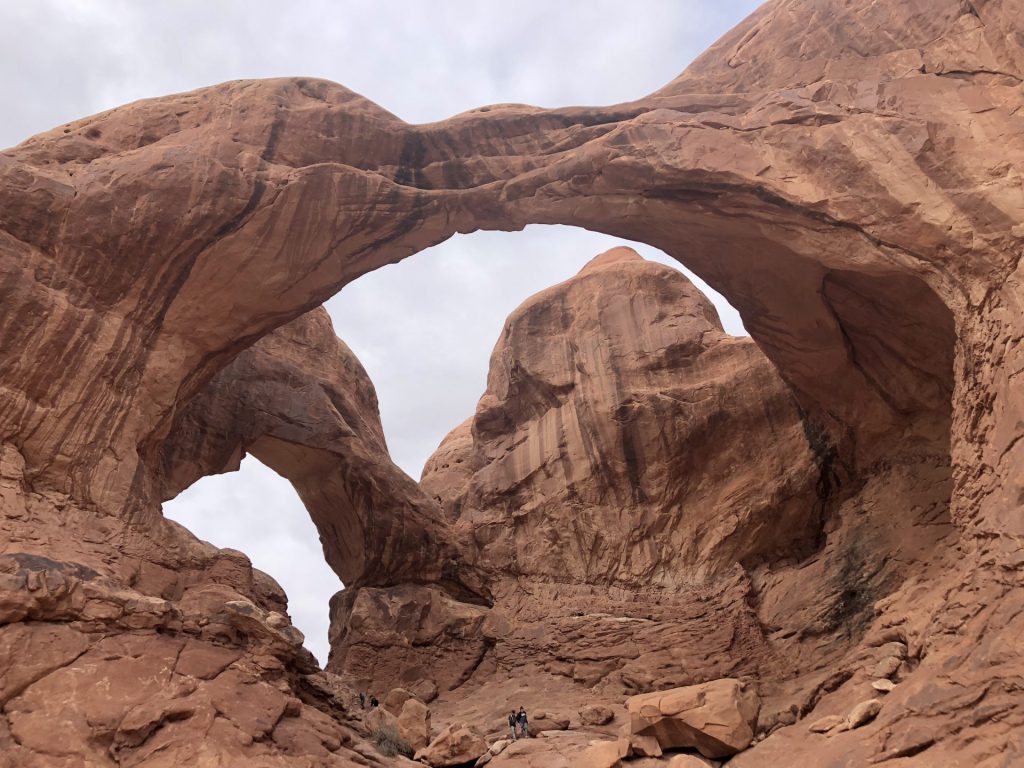 then we cruised out for a quick stop at the fiery furnace overlook. anna told new gramma all about our epic hike when we were here the year before.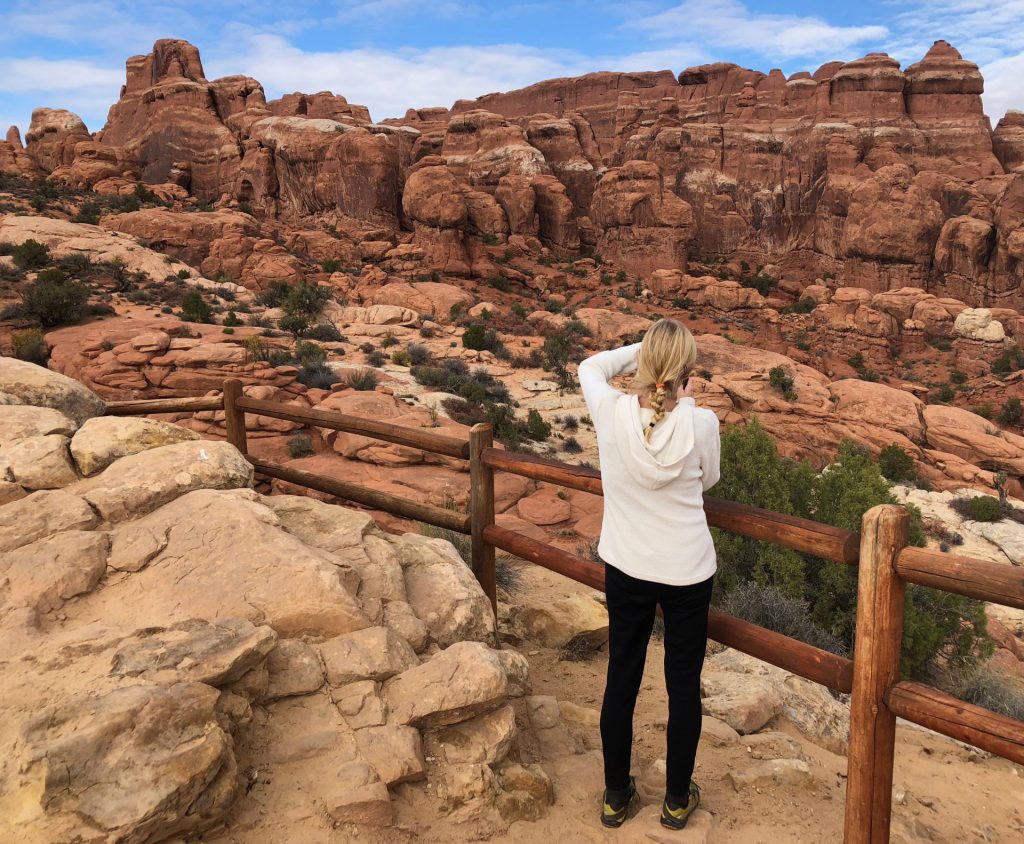 the girls were definitely excited to show off sand dune arch. its hazel's favorite.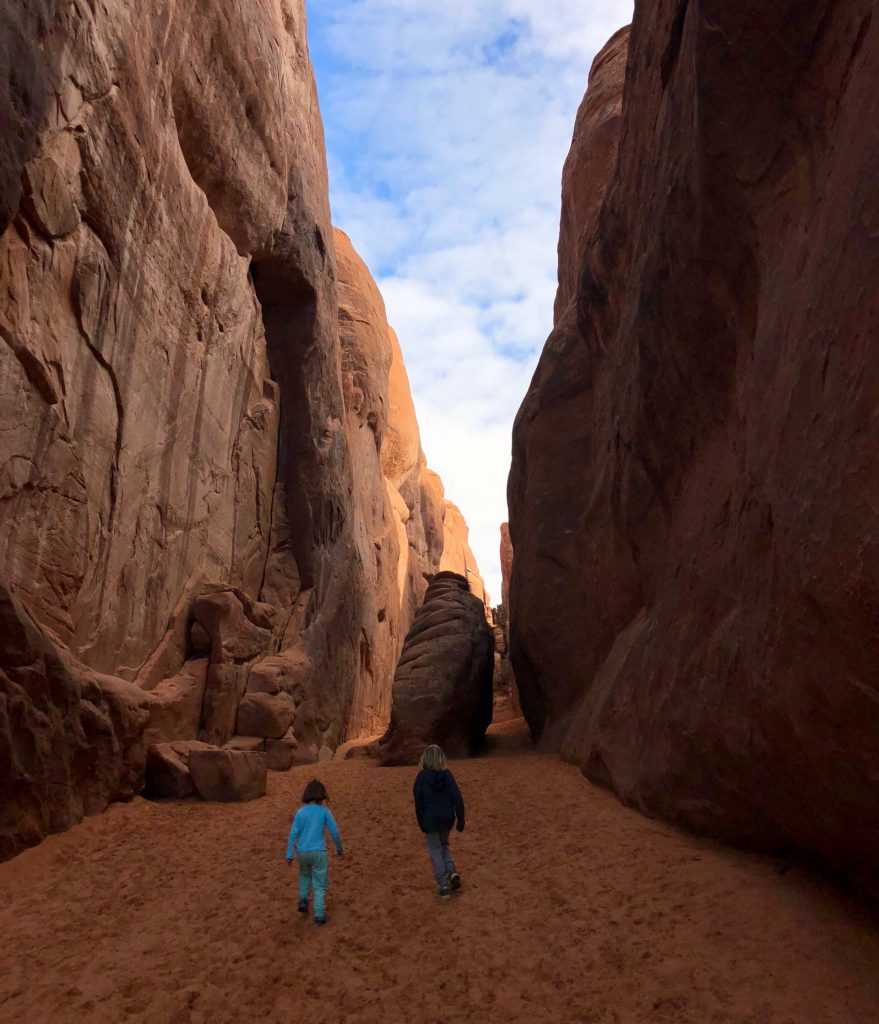 when we arrived, we had the place to ourselves. but, we weren't there long. there was a bathroom emergency.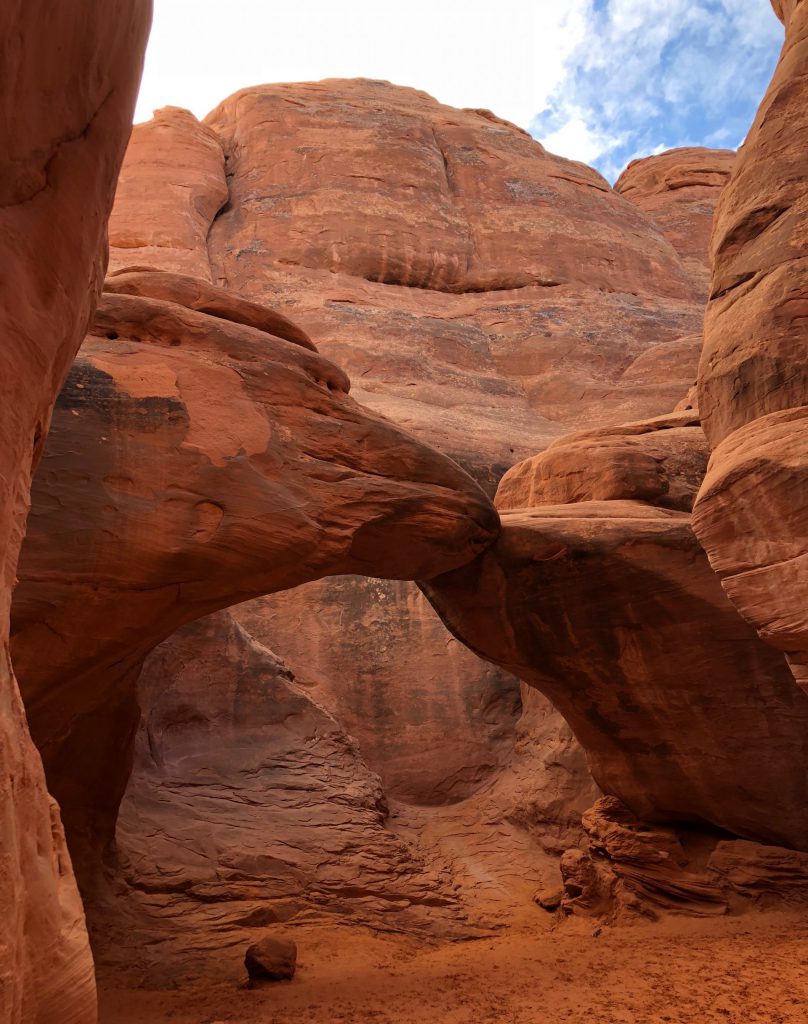 our final stop was landscape arch. we weren't sure if we would squeeze this one in, both because it was getting late, and we had used up a lot of kid hiking capital on the other hikes. but, the girls were great and made short work of the 1.8 mile stroll.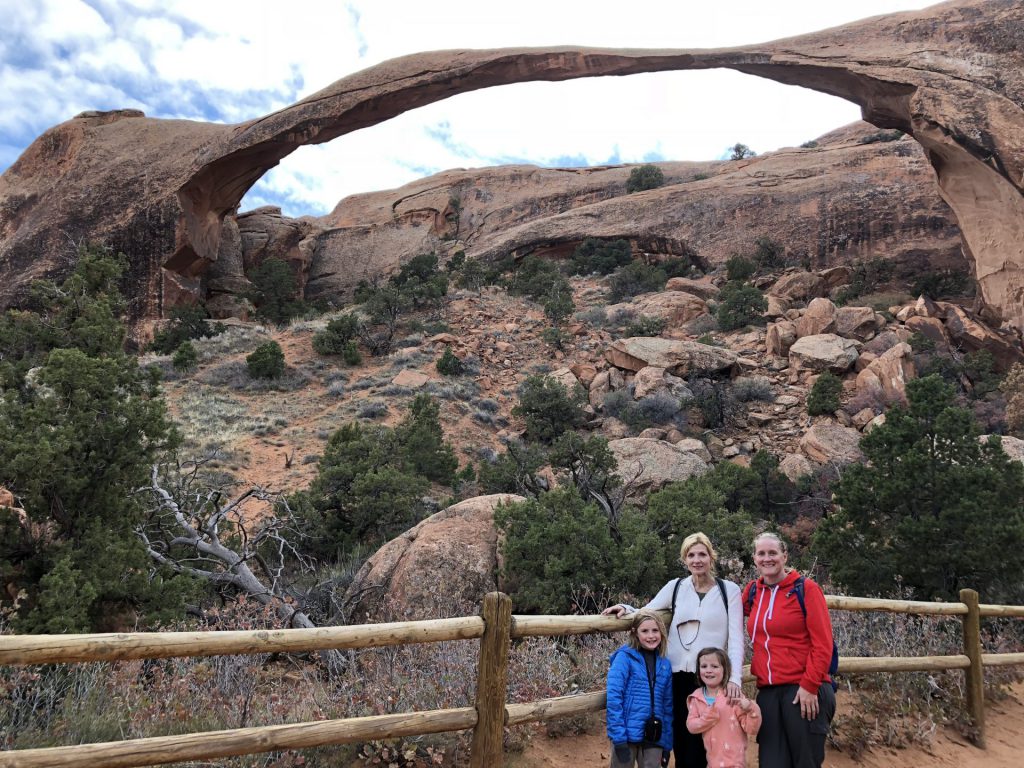 it was that time of day where depending on your angle and exposure, you can get some drastically different colors showing up in the rock formations.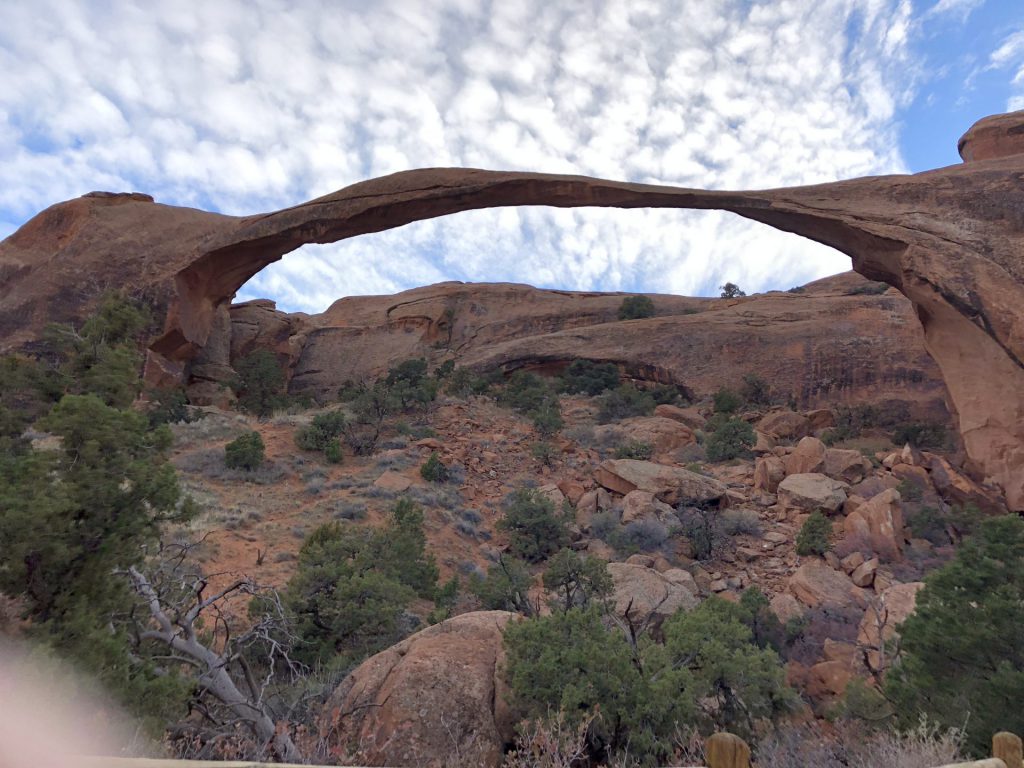 we stopped at a few other overlooks on the way back, but we were mostly starving and tired, so we started towards the hotel, keeping our eyes peeled for a keto friendly restaurant option. we happened upon the most perfect place ever, the blu pig, where my mom and i split a bbq cobb salad and some wings. so good.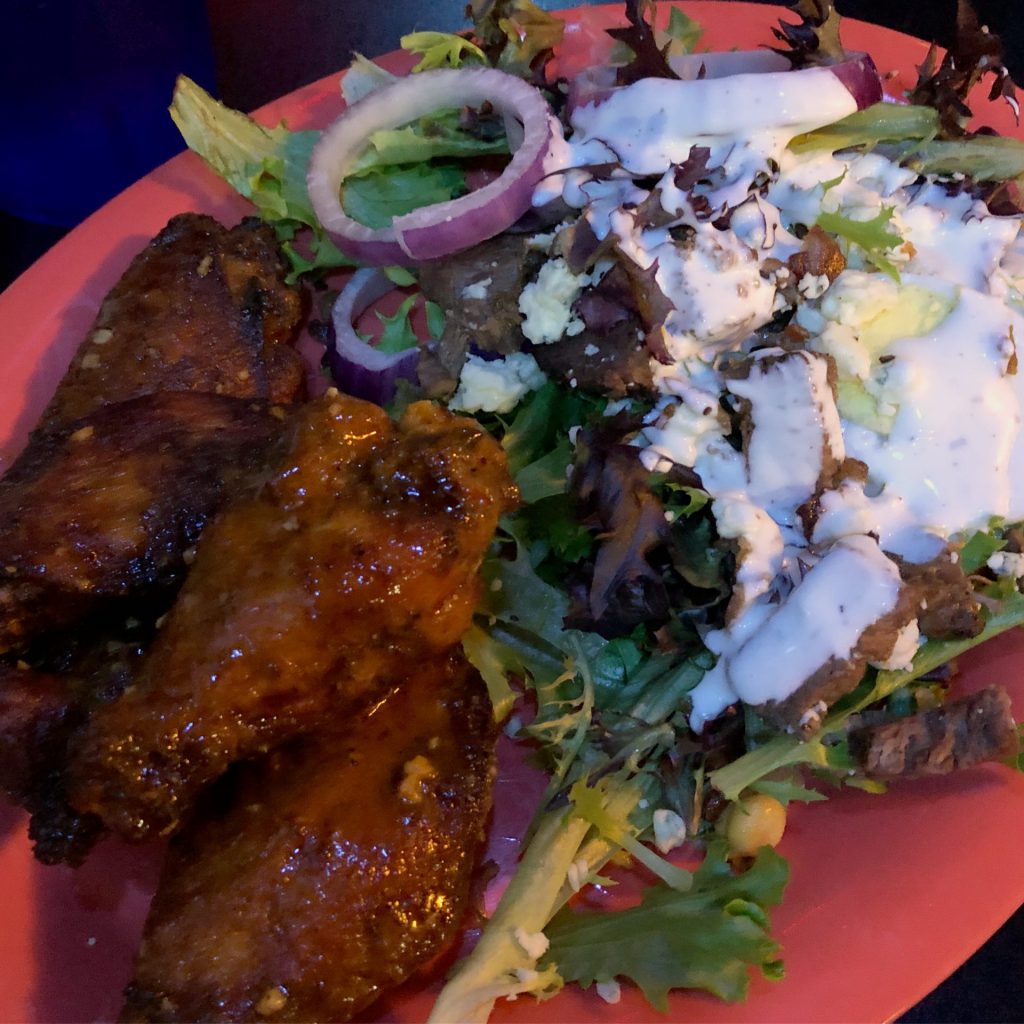 after a good night's rest in our little hotel room, we filled up on the continental breakfast, before heading back to arches for the main event, a hike out to delicate arch. this hike was the reason isaac didn't want to come with us. it's about 3 miles round trip and the first part is pretty boring and blah. but you can't see delicate arch without going to the end, so it's a must do hike if you're at arches.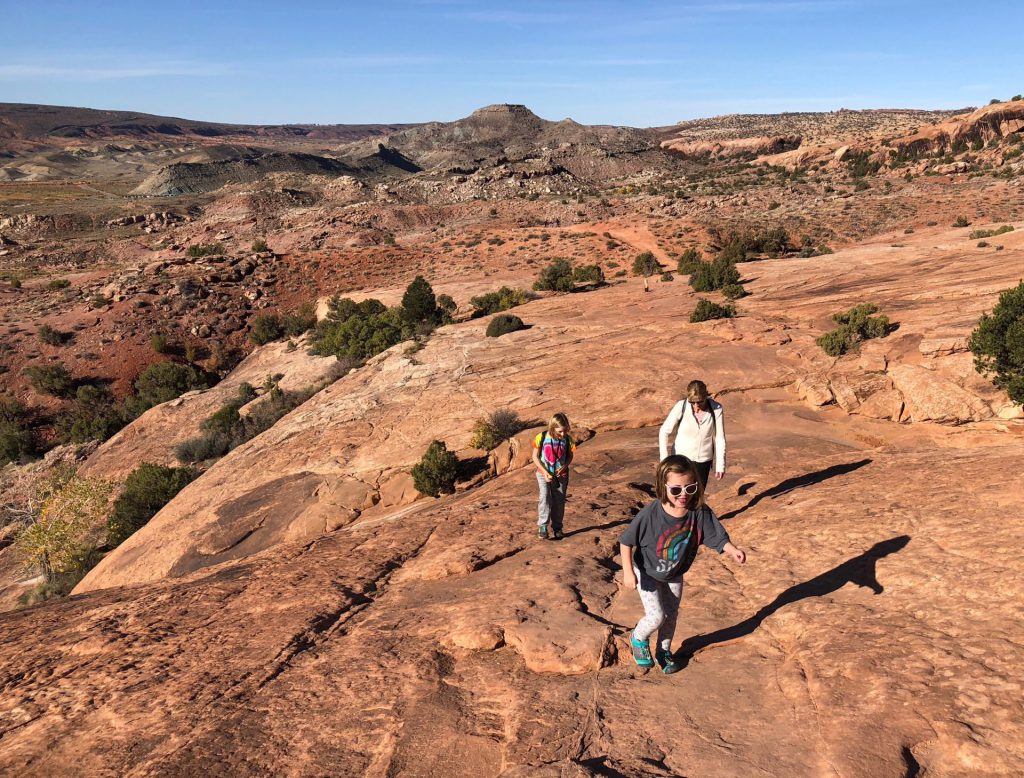 when we came here last year, we didn't take the time to stop at "frame arch" to get some cool photos. this time, we were all over it. we met a french family while we were up there and exchanged photoshoots with them. the light was great in this direction, but the background scenery was just ok.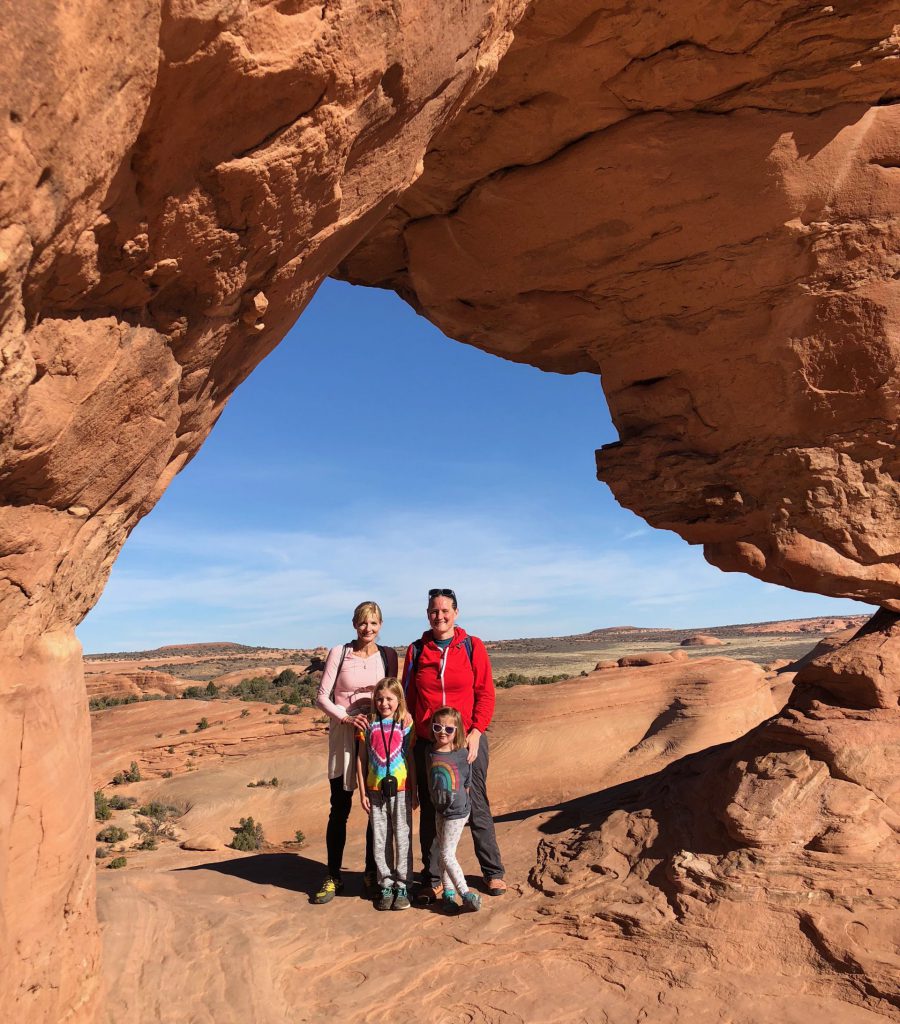 the background scenery here… fantastic. hence, the name "frame arch".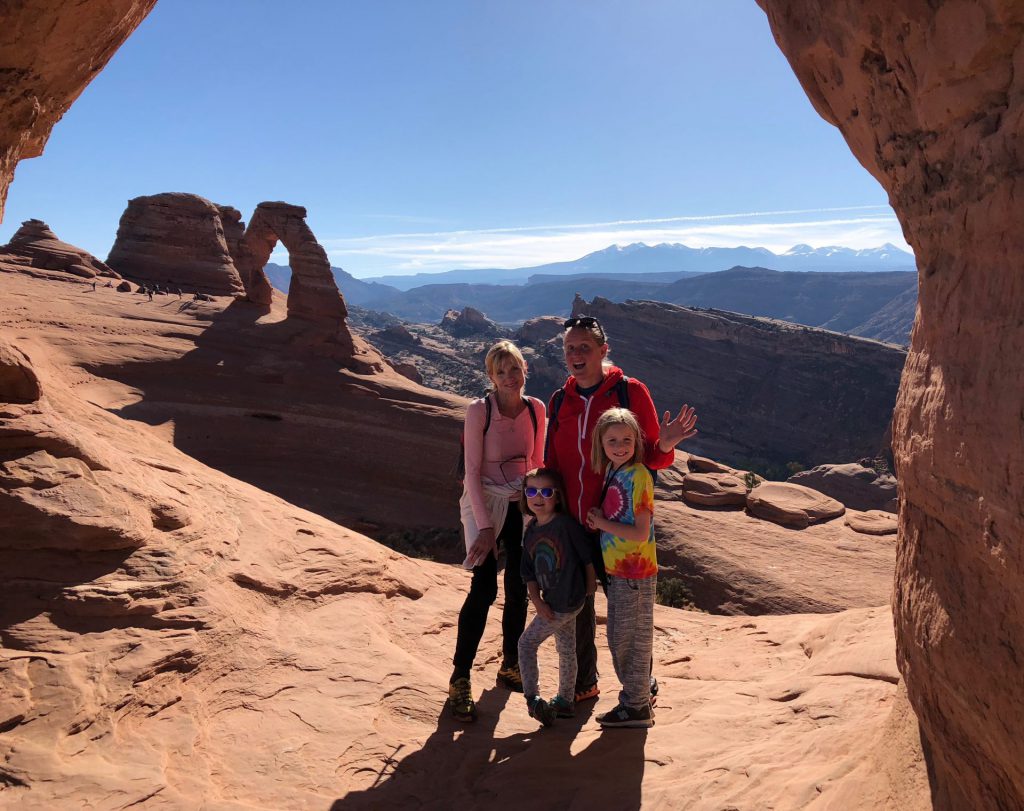 i insisted on a pic with no people ruining it. 🙂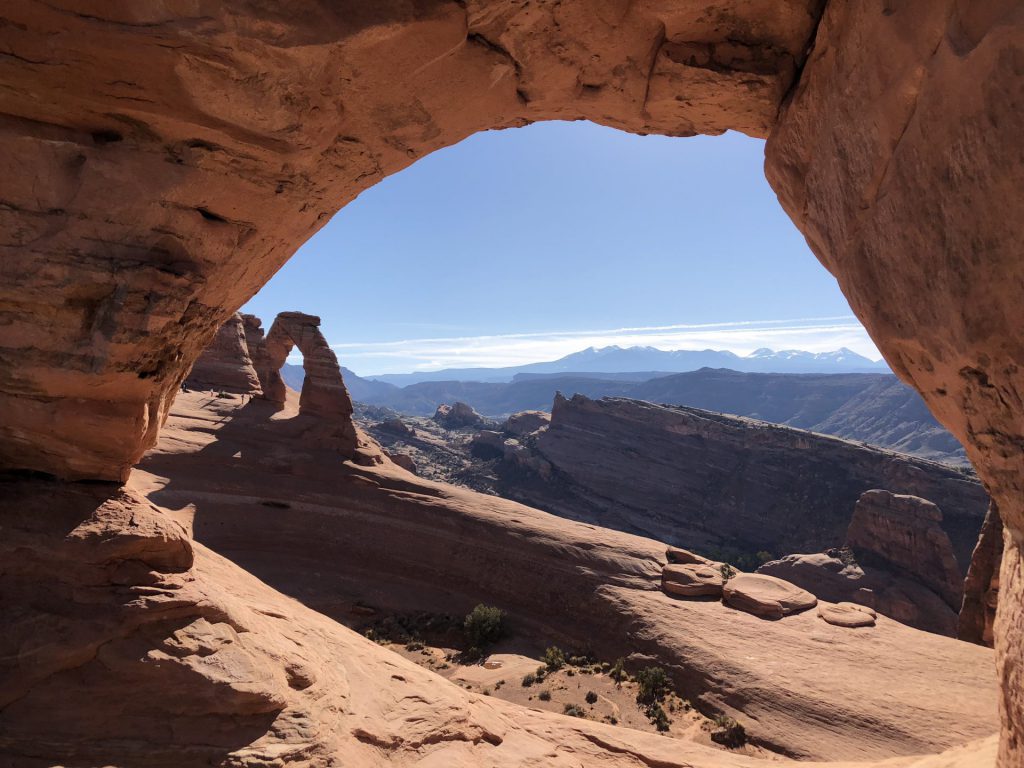 and. one more before we made the final stretch to the actual delicate arch.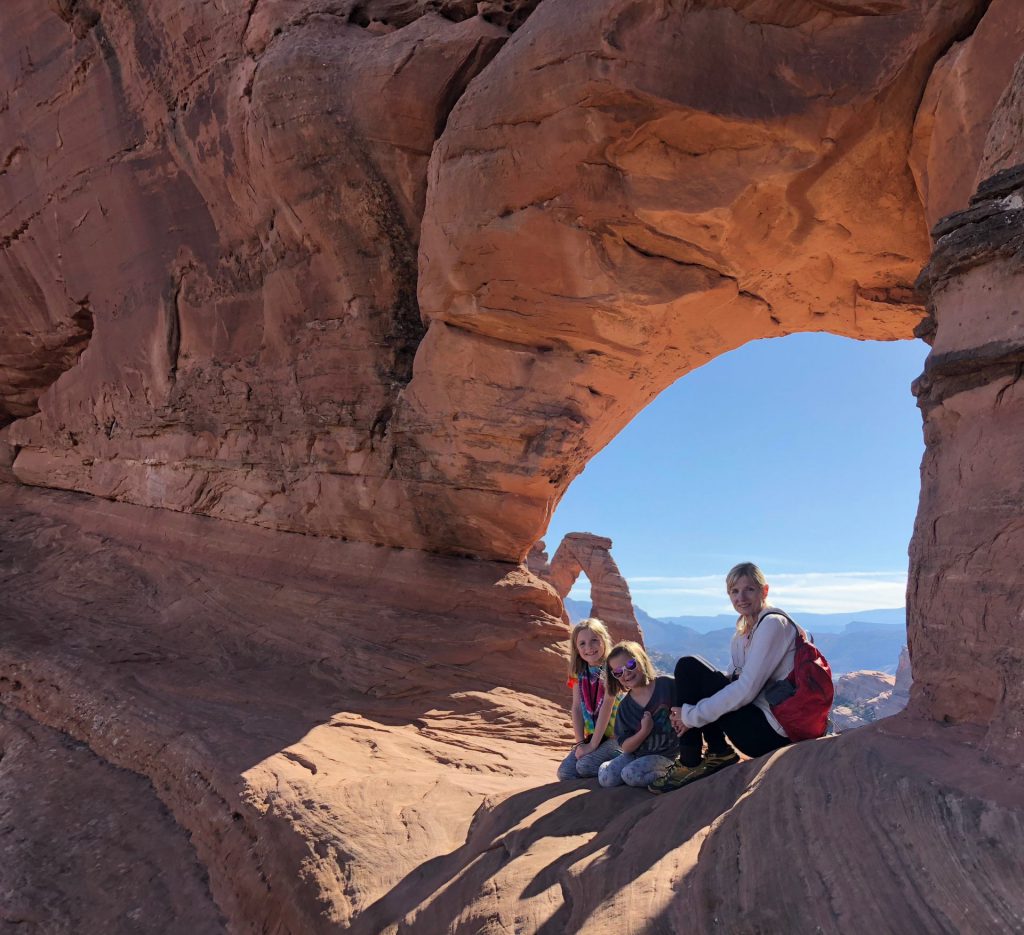 when we first arrived, we stopped to make a game plan (it's a little treacherous), and took advantage of a friendly stranger's offer for a pic.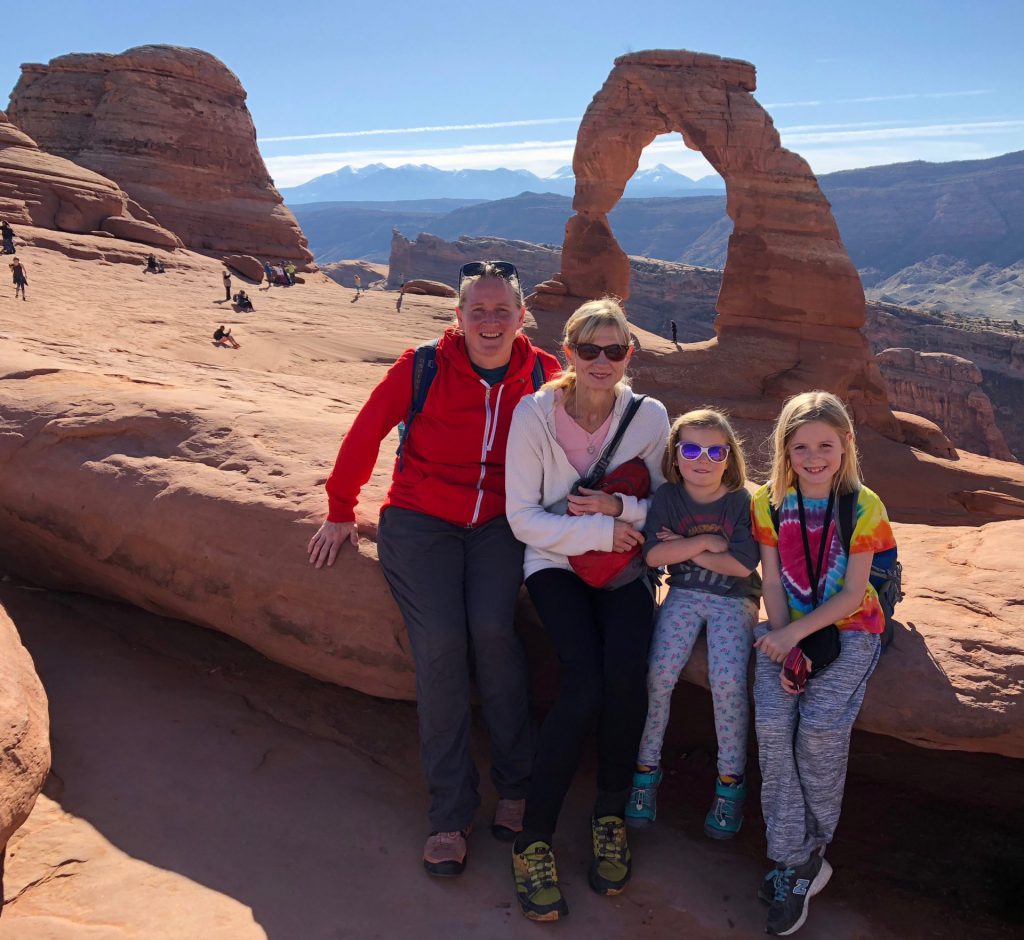 we waited our turn for official arch pics and then made our way out to stand under the giant formation.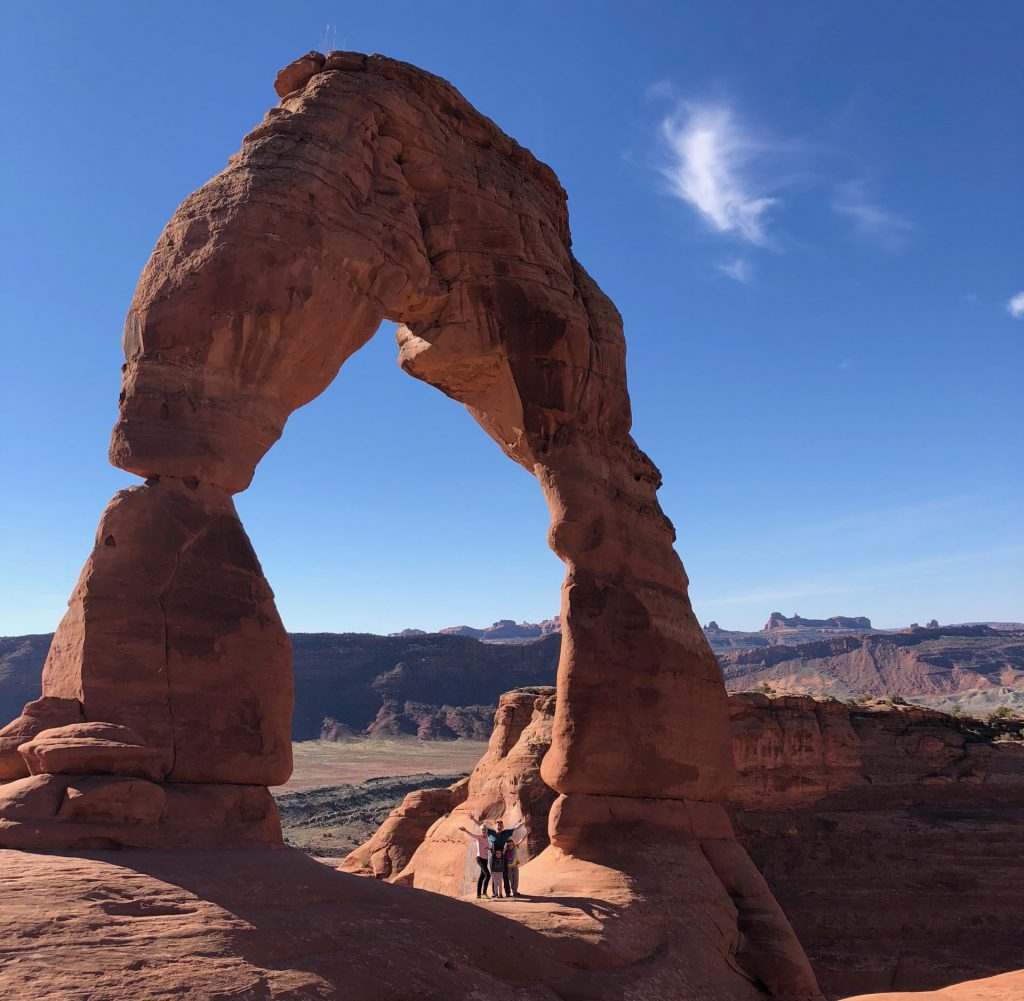 no people pic.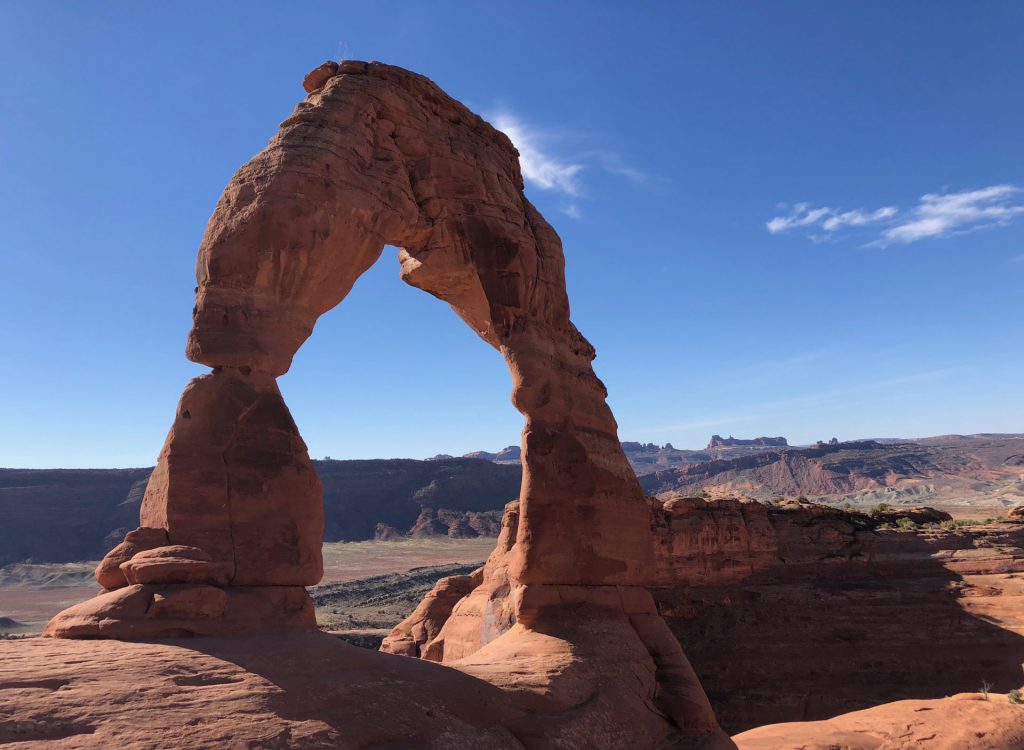 when there was a lull in visitors, anna hopped out for another pic.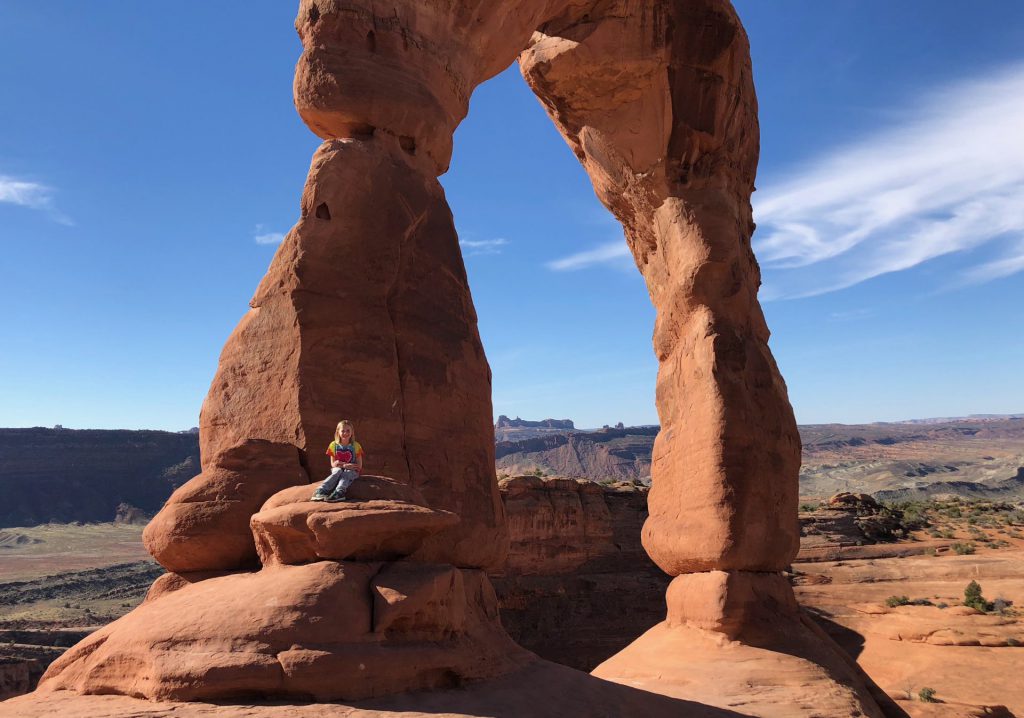 one last no people pic. i can't help myself.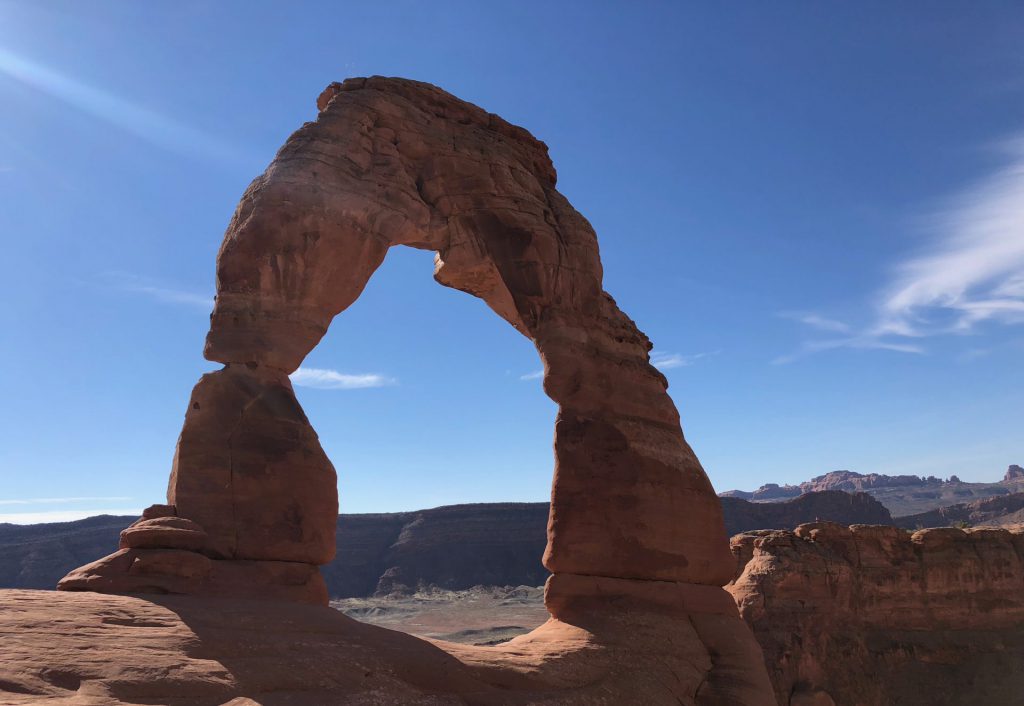 on our hike back out, we took a slight detour to see some petroglyphs. we read that they aren't all that old, so then we weren't all that impressed.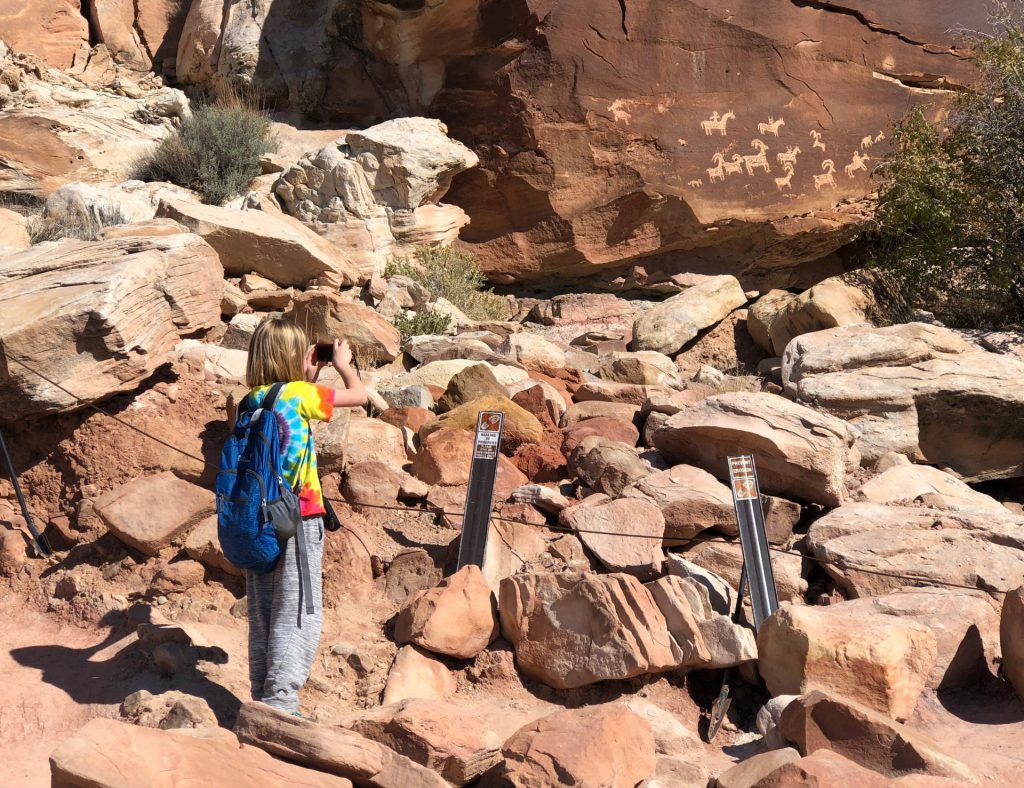 there may or may not have been a bribe involved in getting one or more of the girls to participate in the hike with no crying or whining. so. i had to make good on my bribe. we found a frozen yogurt spot, where each bribee could make their own terrible creation.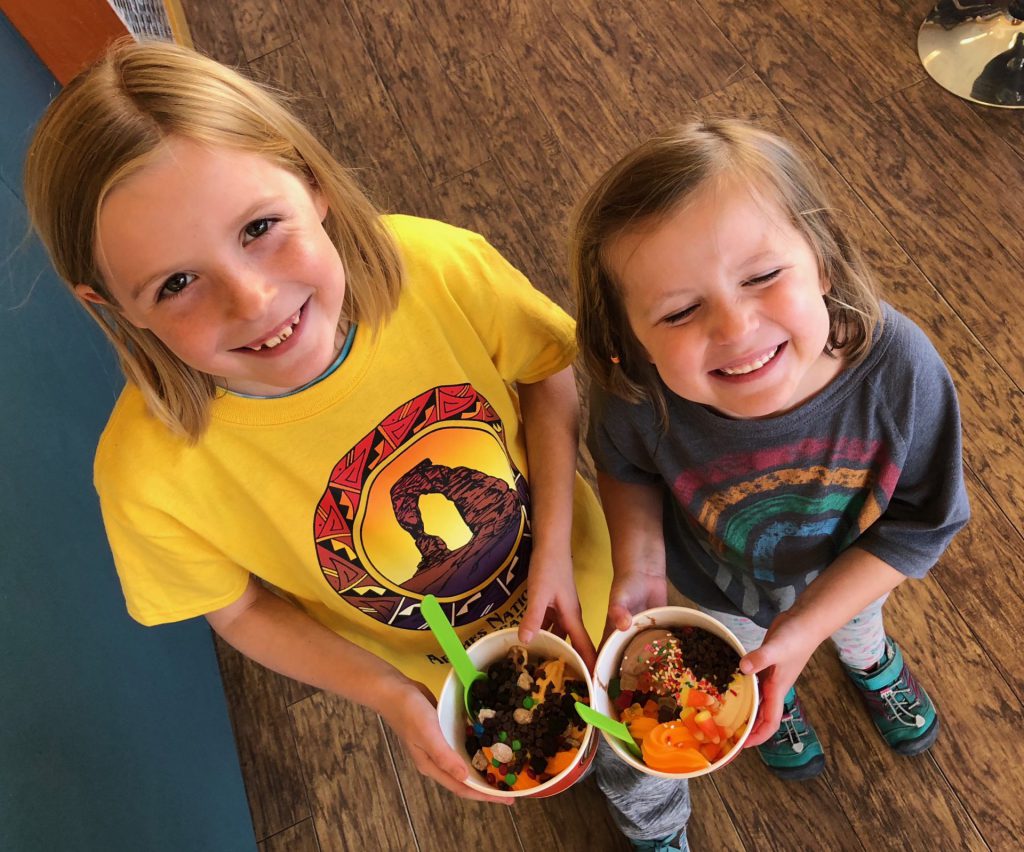 while they shoveled sugar into their faces, we made our way into canyonlands. we planned to at least go to an overlook or two, with high hopes that we could talk the girls into a hike to mesa arch. the overlook at the visitor center was how i remembered it, all canyony and stuff.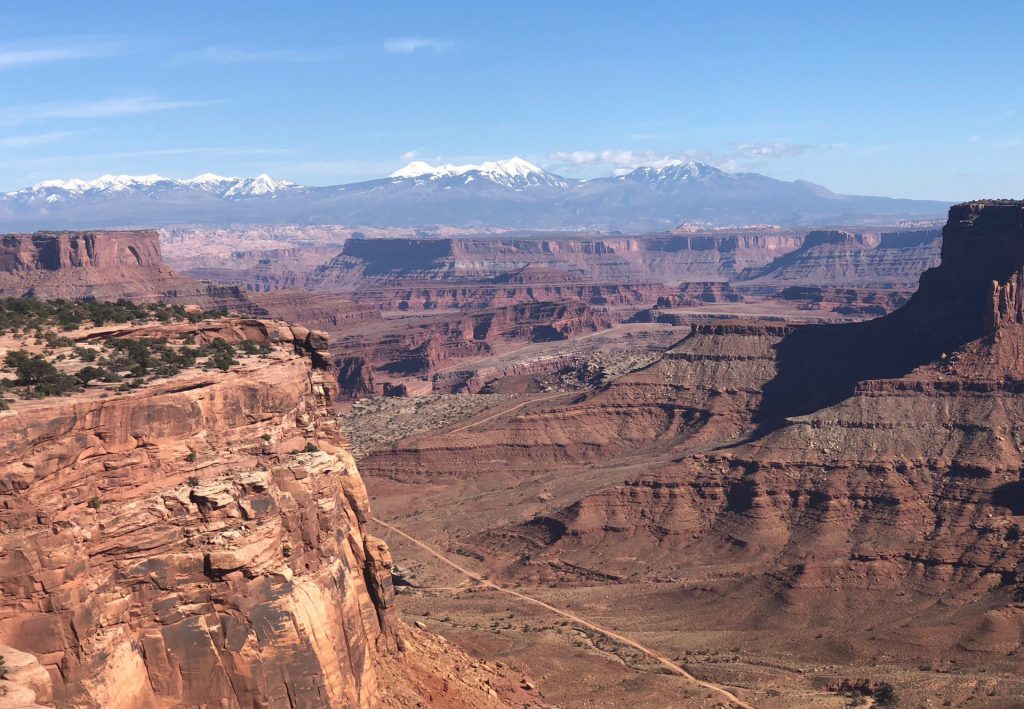 we managed to talk everyone into the half mile round trip hike to mesa arch. but only one was willing to take a picture to commemmorate.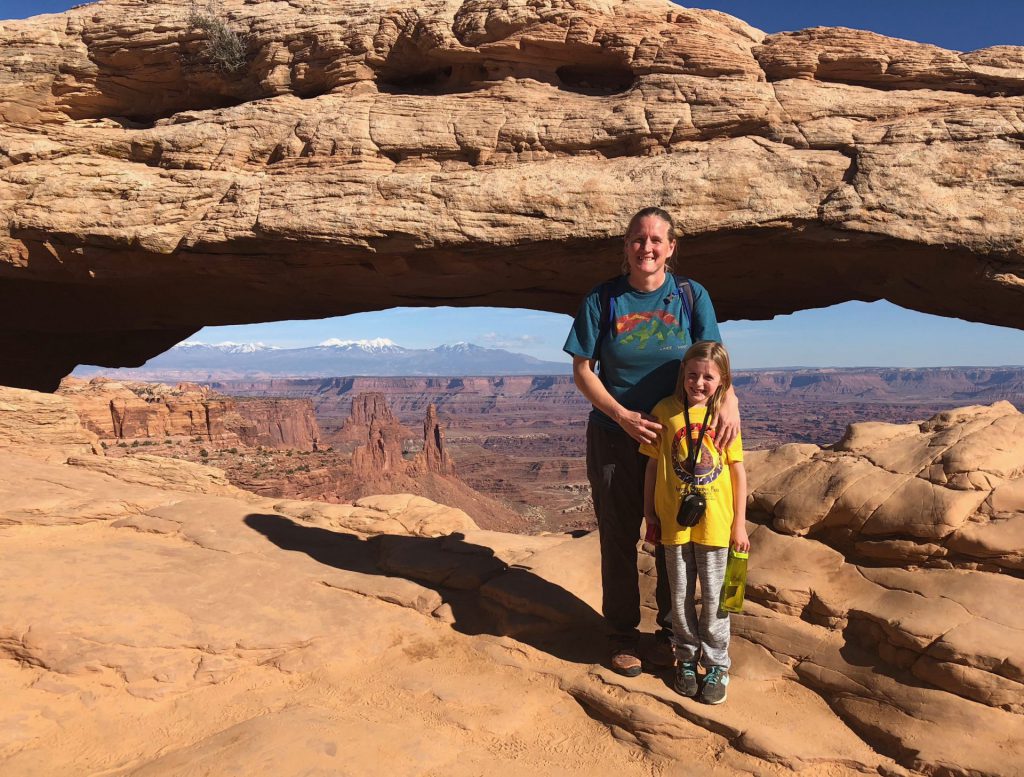 new gramma was a fan of canyonlands.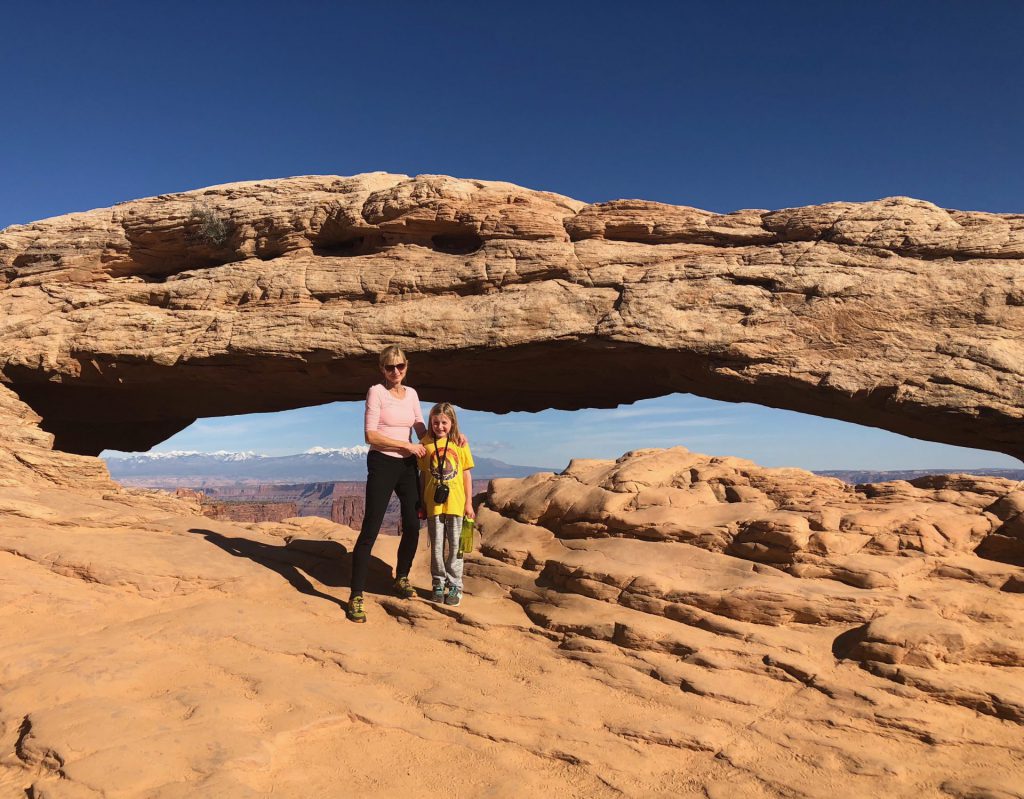 some no people shots of mesa arch.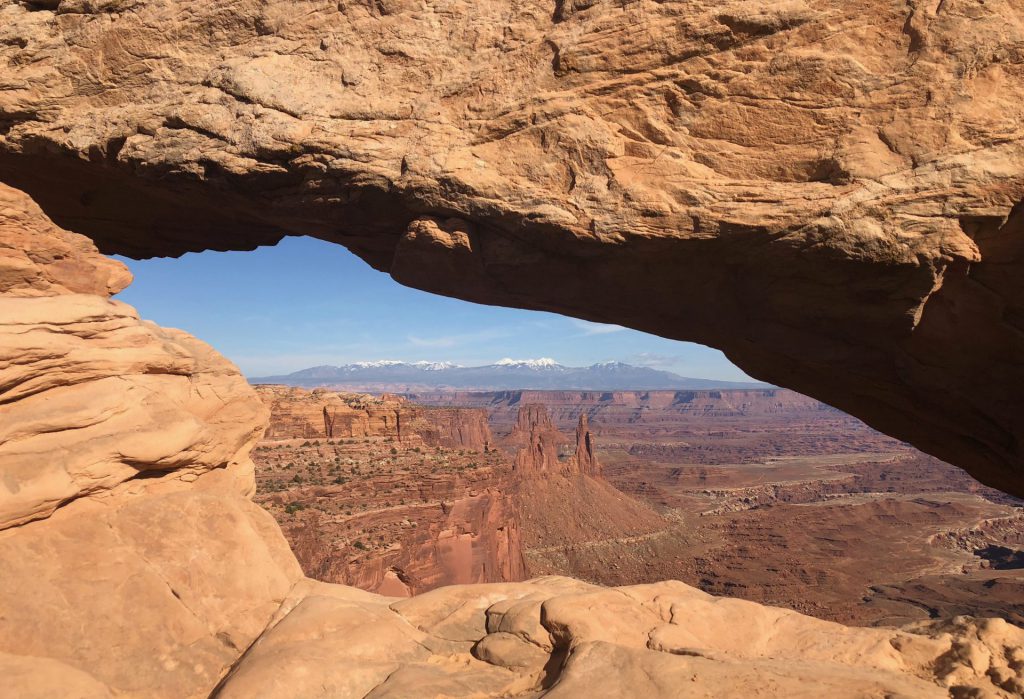 it's hard to capture it. i always say that.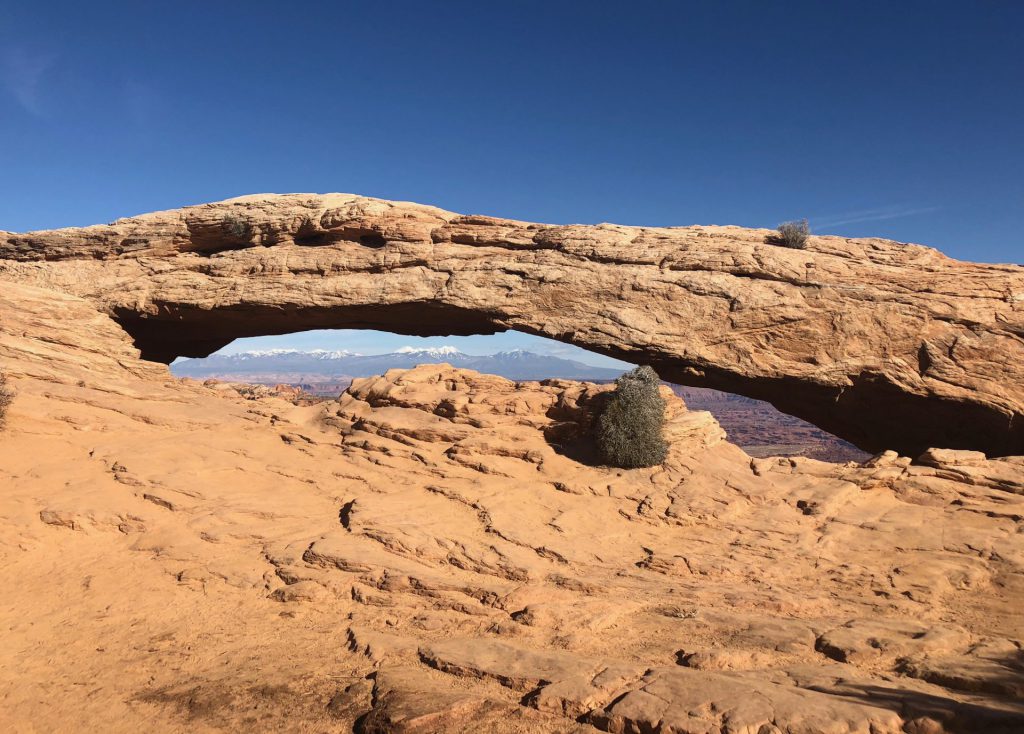 we climbed around a bit, before heading back to the car.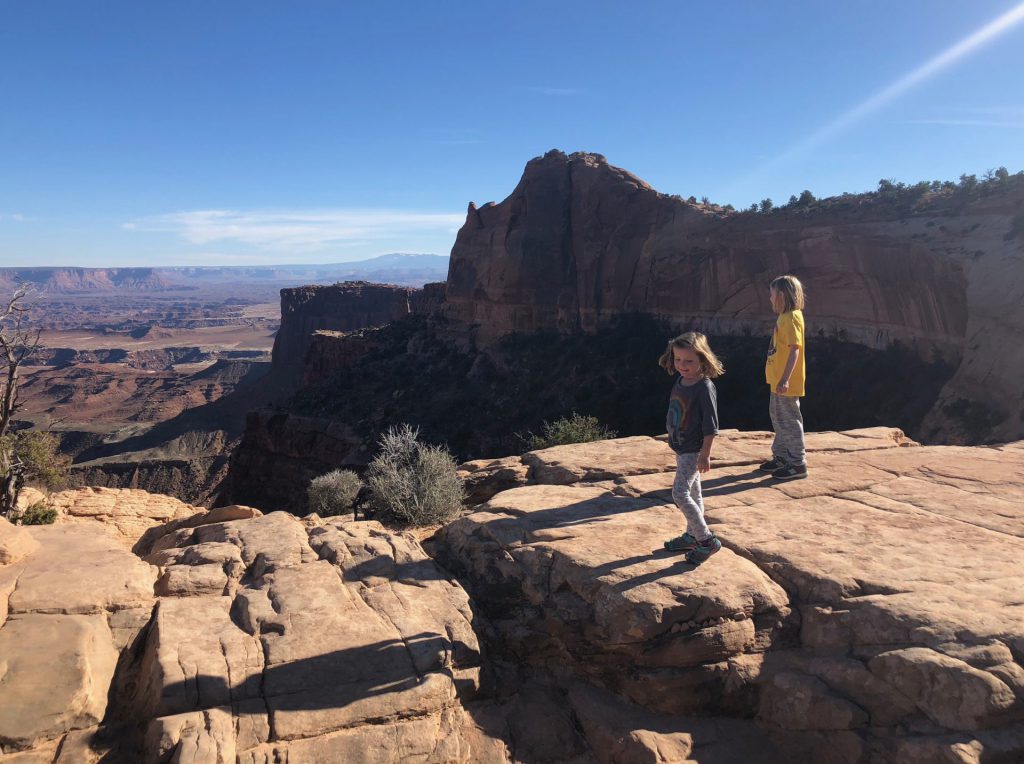 we decided to drive the rest of the scenic drive into the park, stopping at the overlook (i can't remember the name) at the end. i forgot how crazy surreal the whole landscape is.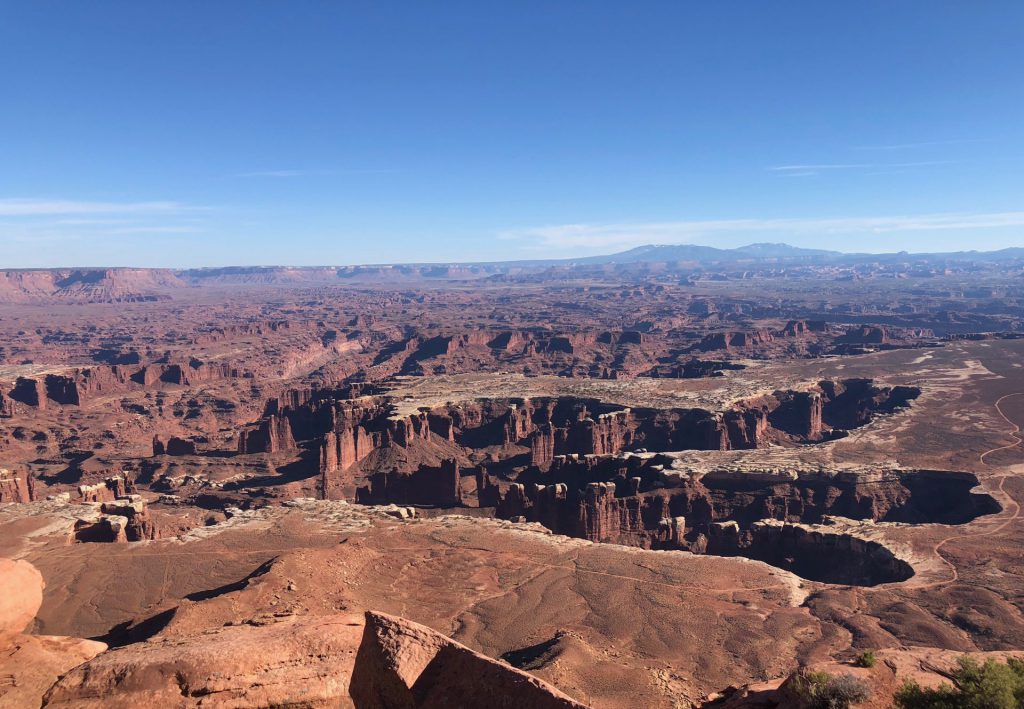 and that pretty much wraps things up. from there, we made the long haul back to salt lake city, wrapping up our epic new gramma arches and canyonlands girls only adventure.