so. when we were planning our trip to florida, we learned of a special that was running for florida residents (which we technically are) to get a pretty good deal on a four day pass to disney. we hadn't really considered doing disney, but with the deal, we figured if we were ever going to do it, now was the time. derek, through many phone calls, was able to secure us a week at disney's fort wilderness rv park, too, which is expensive by rv park standards, but super cheap for disney accommodations. plus, we would avoid parking and parking costs. and we would be sleeping in the comfort of our own beds. and. we could make our own (super cheap) breakfasts each morning. basically, we are cheap and even though this trip was expensive, it was as good as it gets for disney.
on our first day, we decided to hit up magic kingdom. we woke up extra early, walked to the bus stop in our campground, which dropped us off at the ferry, where we waited excitedly to be shuttled across walt disney's lake to the magic kingdom.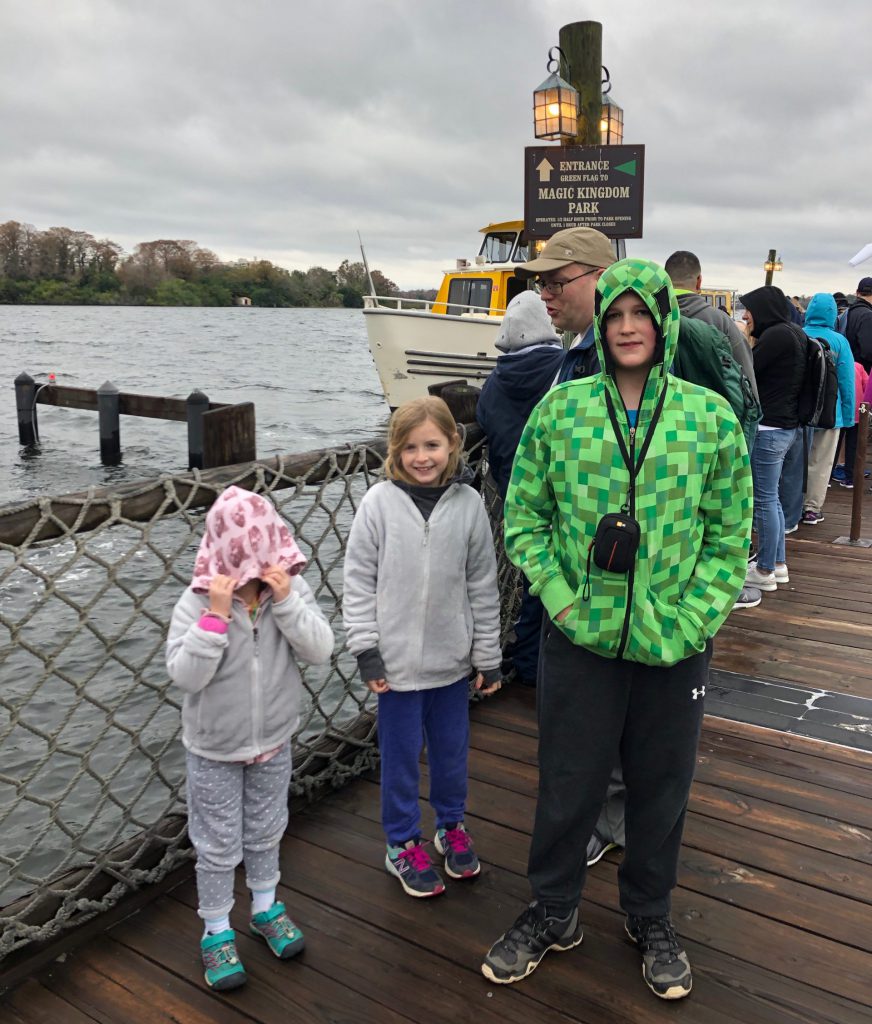 ok. maybe only the girls were excited. while derek got our tickets and bracelets and such all straightened out, we took a quick before picture.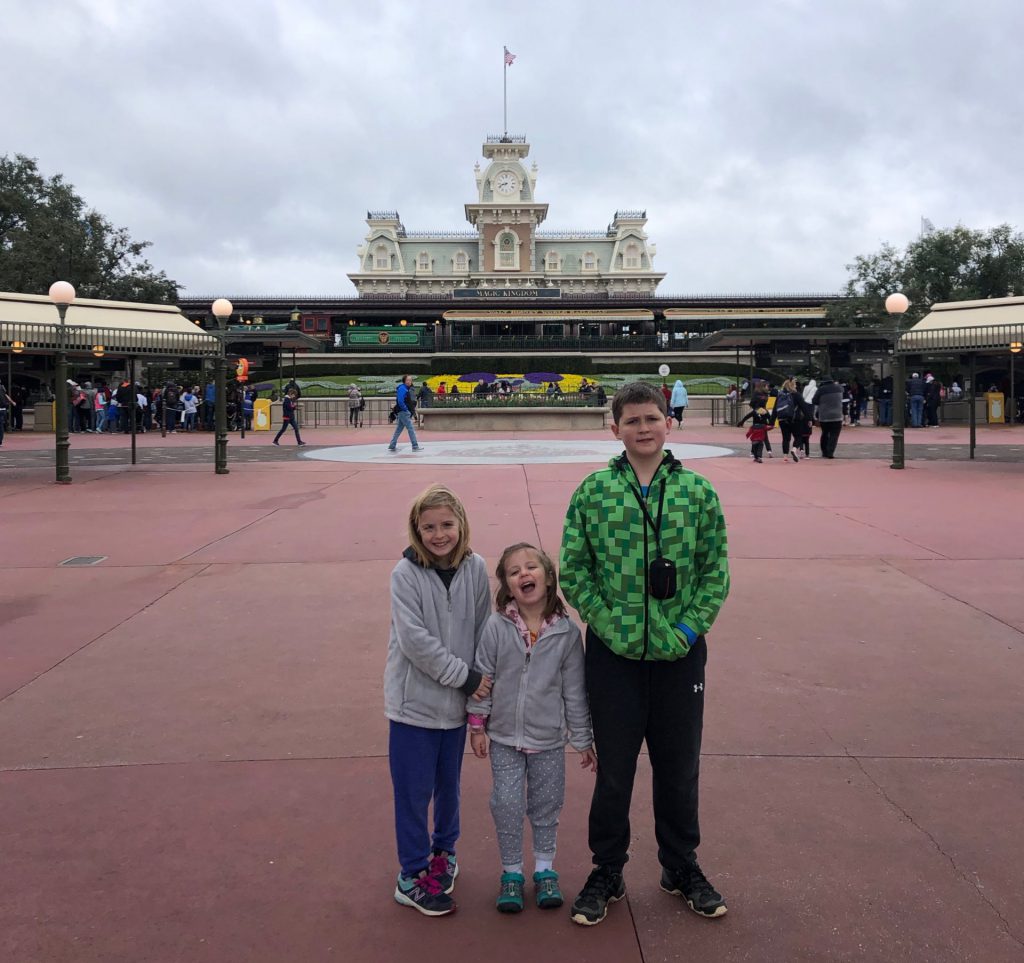 finally, we were through the gates and on main street. we sprang for the "memory maker" photo package, where all the pics taken by disney photographers are linked to our accounts via our bracelets, and we can download them all later. first up, the official cinderella's castle standard photoshoot.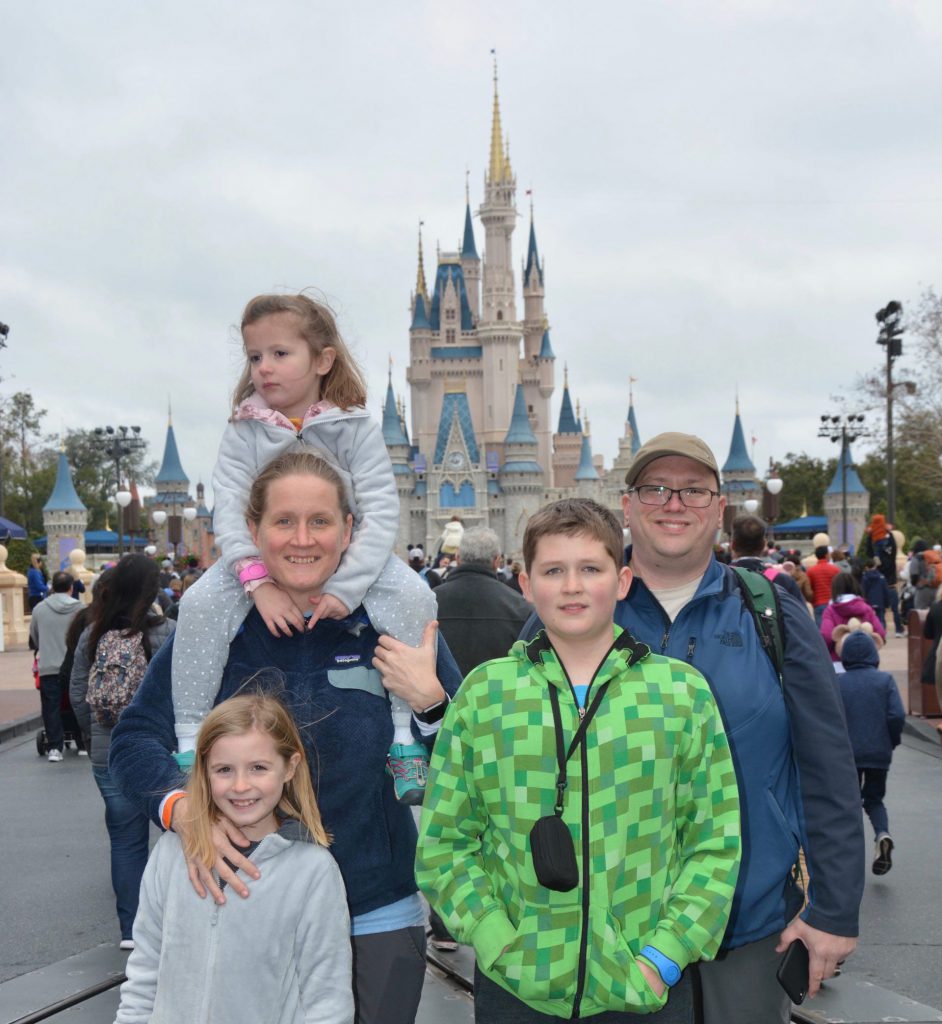 for our first ride, we headed straight to the seven dwarfs mine train. it's one of the top rated rides, and a relatively tame roller coaster for optimum lidkid induction to amusement park mania. by the time we got in line, the wait was already like 45 minutes, which was as good as it would get for the day, and we weren't able to get fast passes for it, so we waited. once we got there, isaac decided not to ride, which set the tone for him for the trip, but the girls and derek and i had a blast, while he waited.
after the seven dwarfs ride, we went to the under the sea ride nearby, since all hazel has been able to talk about lately has been ariel and the little mermaid. it is just a quick little ride around, retelling the story of the little mermaid with animatronics, black lights, and video. it was pretty cute. and hazel's amazed face was priceless.
after we went under the sea, we obviously had to wait to meet ariel next door at her grotto. we were quickly learning that disney is a lot of waiting in line. isaac played a lot of nintendo. hazel watched. and anna typed out a journal of our adventures on her phone.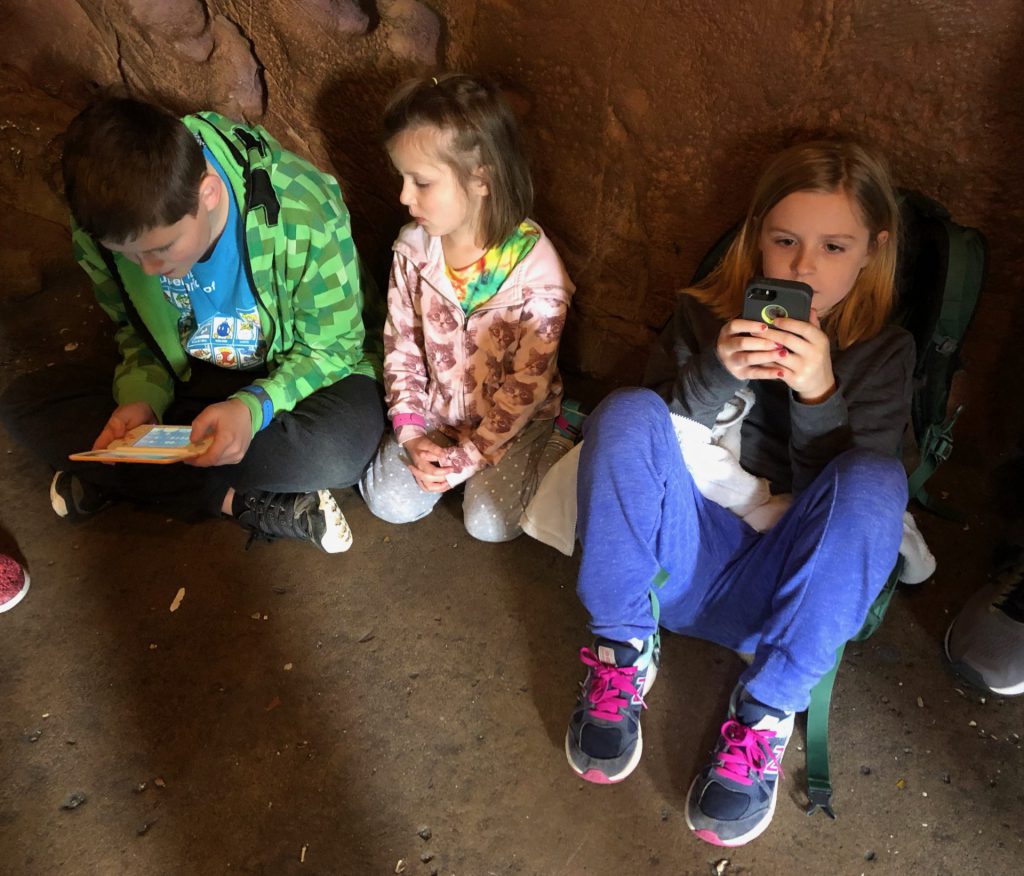 when we first glance at ariel, i seriously thought hazel might implode. anna thought it was pretty awesome too. obviously, isaac wanted nothing to do with it. 🙂
next up. goofy's barnstormer. when we brought isaac at age four, he rode this roller coaster about 8 straight times. today, he passed. the girls loved it though….
we had a fastpass for buzz lightyear's space ranger spin. it was super fun, except some kid kept standing up and the ride would stop like every ten feet while someone on an intercom instructed them to sit back down. so, maybe if i just look at it like we really got our money's worth??
buzz.

the galactic alliance.
if you had told me that aladdin magic carpets ride was going to be the big hit of our entire time at disney, i wouldn't have believed you. but after one ride, it was all i heard about. it could be because we have been watching aladdin lately (isaac loves robin williams, the girls love princesses). or it might be because they had control over the rise and fall of the carpets for the like 14 seconds that we are on the ride.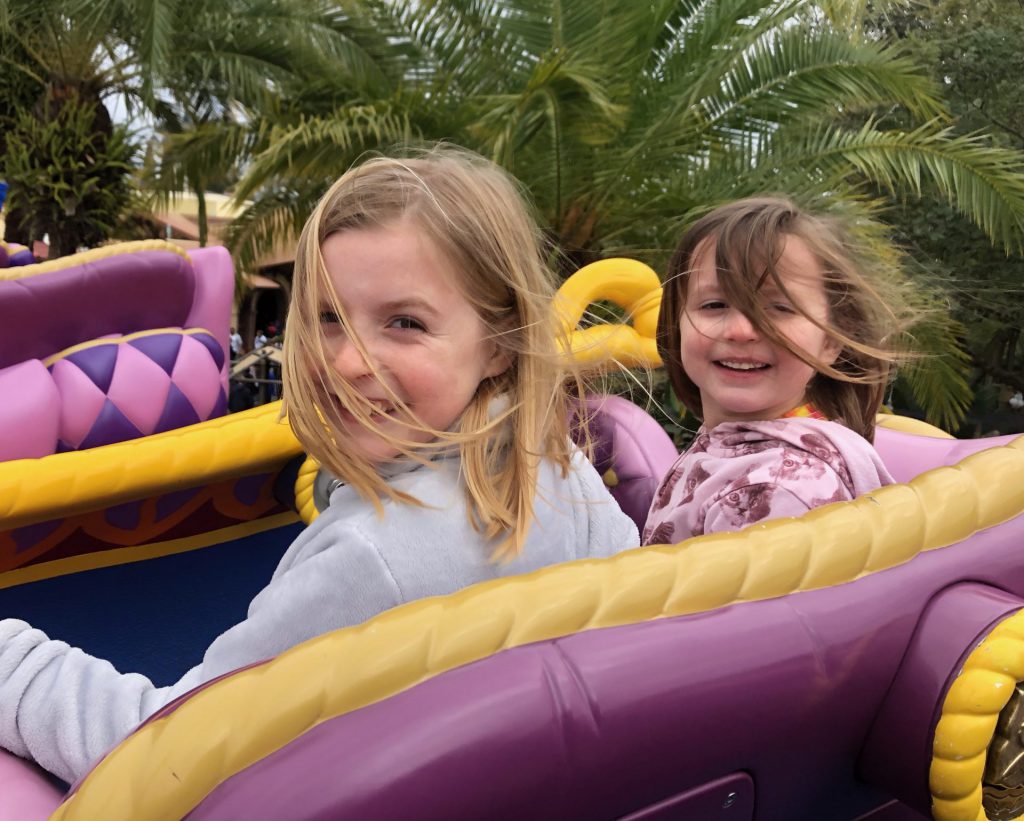 after the magic carpets, we made our way toward the parade route, looking for an excellent spot to set up shop, have a snack and wait for the parade. while we were strolling along, we realized the country bear jamboree was just about to start, so we hopped in for a quick show. the kids thought it was pretty hilarious.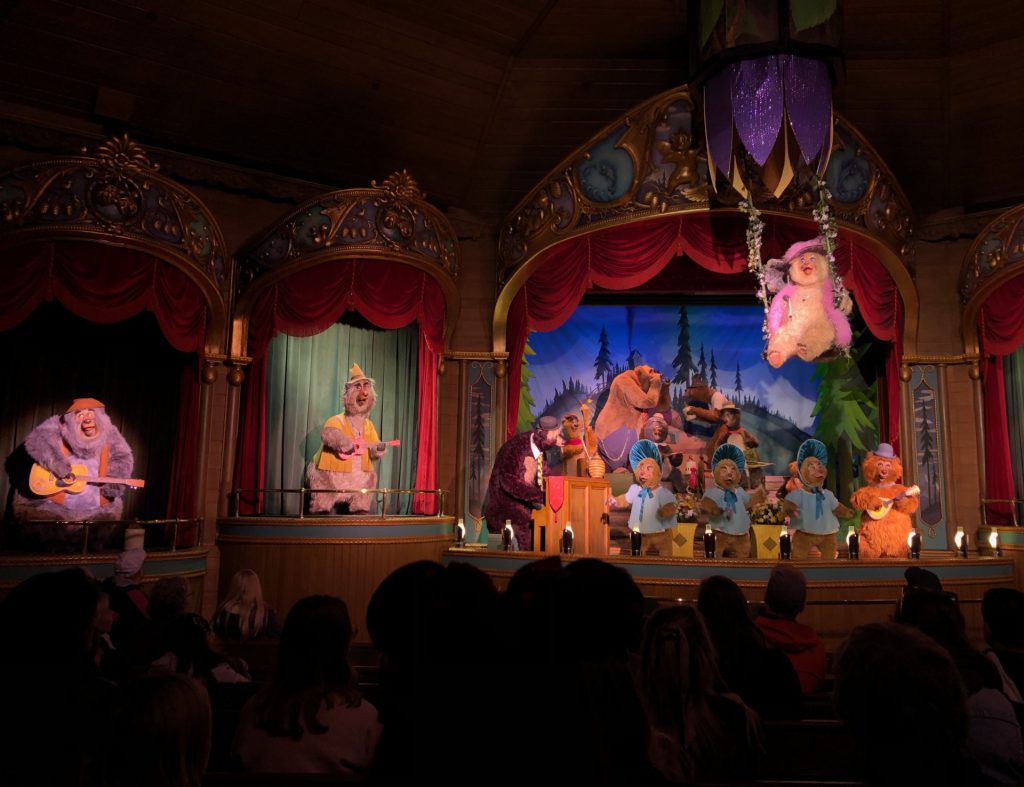 we plopped down just outside the country bear jamboree and for our break, some cotton candy and other snacks, and to secure prime seating for the parade. it turned out to be a pretty great location.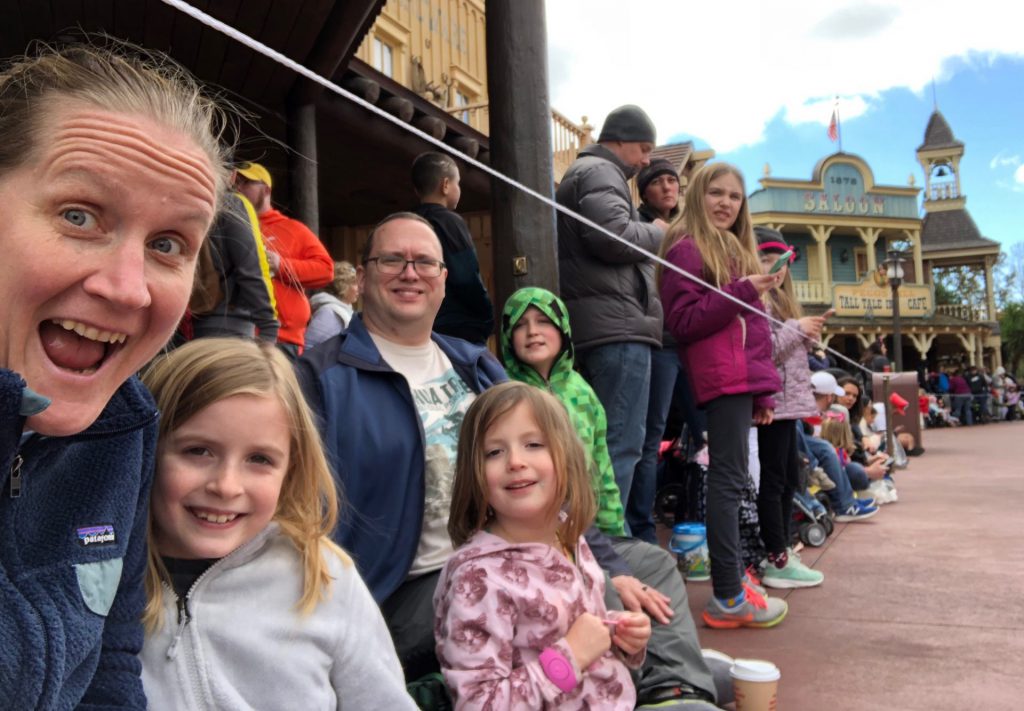 at 3 o'clock sharp, the parade kicked off. pretty fantastic. we saw lots of our favorite princesses and even isaac thought it was cool. we especially liked the fire breathing dragon from maleficent.
beauty and the beast.

cinderella and the prince or whatever.

anna, elsa and olaf!

rapunzel.

ariel. hazel's fave.

merida.

dwarfs.

of course, mickey.

and that pretty rad fire breathing dragon.
we looked on our disney app and thought that the wait for enchanted tales with belle seemed short, but we were already quickly learning that the wait time estimates are often a bit lower than the actual wait times. either way, we eventually got in, and derek and anna were chosen to be in the little interactive story (but anna bailed at the last minute and the whole experience was pretty stressful). but, we got a great pic of the girls with belle, making it all worth it.
i won't lie. i had no desire to go on "it's a small world". we for sure weren't going to wait in line for it or waste a fast pass on it. but when we got done with belle, we were right next door, and the wait was like 10 minutes, so in honor of derek's dad, who for some unknown reason LOVES this ride, we went on. and the song has been in our heads ever since. i also over-documented our experience…
as we strolled back over to tortuga tavern, we passed by rapunzel's tower, so we stopped for a quick pic. hazel was bummed that we couldn't go in it and i can't say that i blame her. come on, disney.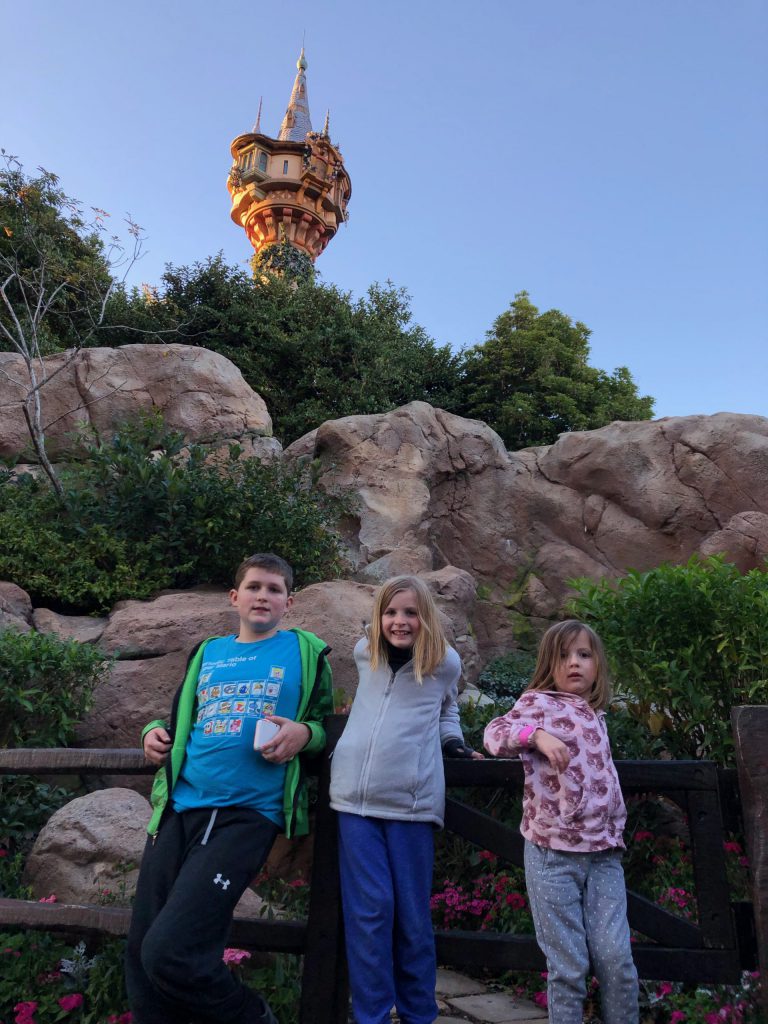 in the morning, when were were packing for the day, we didn't think we would stay all day. so, we didn't pack any dinner food. or even extra snacks. so we were pretty much starving at this point. i was trying extra hard to stay keto, so we went to tortuga tavern, where we knew we could get ginormous turkey legs. one for me. one for derek. and three hot dogs with chips for the kids. only $56. ouch. we made a mental note not to do this again. but the turkey leg was good. and i stayed keto.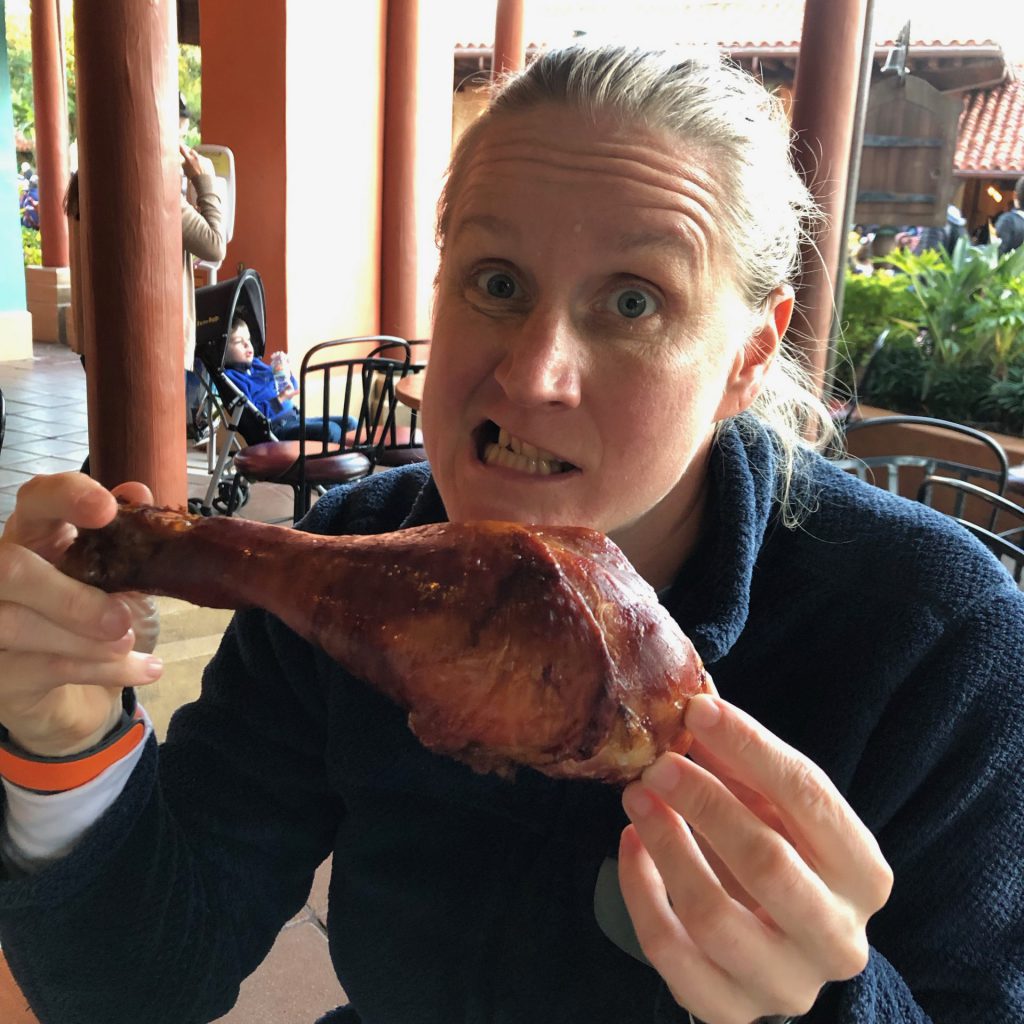 last, but definitely not least. the light show. at 730, there was a little story telling thing, projected up on cinderella's castle. we arrived early, found a decent location, and settled in. after that show (which was really cool), the fireworks started at 8. and that was amazing. they also projected onto the castle, but this time with timely fireworks. so cool. i really can't even describe it, so here's just a bunch of pictures.
then, we fought with the masses to make our escape to the campground. it was insane. we just shuffled along like cattle. thankfully, the line for the ferry back to fort wilderness was the shortest of them all, and we made it on the first one. then a quick bus ride back to camp. and we crawled into bed and were fast asleep in no time. and disney day one was in the books. a raging success.