originally, i had absolutely no desire to drive the 1:40 over to the northwest corner of the everglades and into big cypress national preserve. i figured it was likely more of the same, but probably a bit more wildernessy. but, when we got our ranger books for the everglades, we realized if they did activities for all three south florida parks (everglades, big cypress and biscayne), they could get a special patch in addition to their junior ranger badges. i sort of didn't think they would care, but isaac was all about it. and if you know anything about isaac, if he's all about something that isn't videogame related, i make sure to take advantage of that opportunity.
so. on our last day in the everglades, we packed up and headed to big cypress national preserve. we weren't really sure what to expect because we read about a lot of closures due to controlled burns. we figured we would just check into the visitor center and figure it out from there.
outside the visitor center, there was a long boardwalk/deck along the swampy water that has pooled along the side of the road. from there, we saw sooooo many alligators. and a few birds.
we saw that there was a ranger talk about alligators, so we ate a quick picnic lunch in the shade and waited for the talk to start. while we waited, hazel managed to drop yet another flip flop into the alligator infested waters. since the ranger doing the talk was already nearby, he quickly responded and rescued the flip flop with the world's longest robot claw arm,
we listened closely to the alligator talk, where we learned what sorts of things alligators eat, how they raise and lower themselves in the water, and we got to touch some alligator skulls and other big cypress dead wildlife artifacts. then, we got our junior ranger books (and stickers, etc, $$$)…
since we weren't really properly dressed or equipped to take a marshy swampy hike, our next best option was to take a scenic drive where we could stop and take a closer look at big cypress wildlife and scenery. it's not the prettiest. but it's interesting. and different. i drove the 24 mile dirt road, hopping out every now and then to check out the views, sometimes with anna, while the other two lidkids gamed their way home.
we saw (and heard) lots of birds, mostly the same we have been seeing all along, anhingas, egrets, herons. and several alligators. we even spotted some turtles sunning themselves in the distance at one spot. i took a pic thorugh my binoculars, so it's not exceptional quality.
the highlight of our drive was towards the end. anna and i hopped out and noticed an adult alligator just floating in the water. no big deal, but as we walked a little further on, we spotted a bunch of babies, hanging out pretty close to the road. we quickly realized that the adult was making her way towards us, and was definitely the mama, so we loaded back up into the car, to avoid being mauled on this day. we drove the car over closer to the babies to get a couple of good shots from the safety of our giant steel drivable vessel.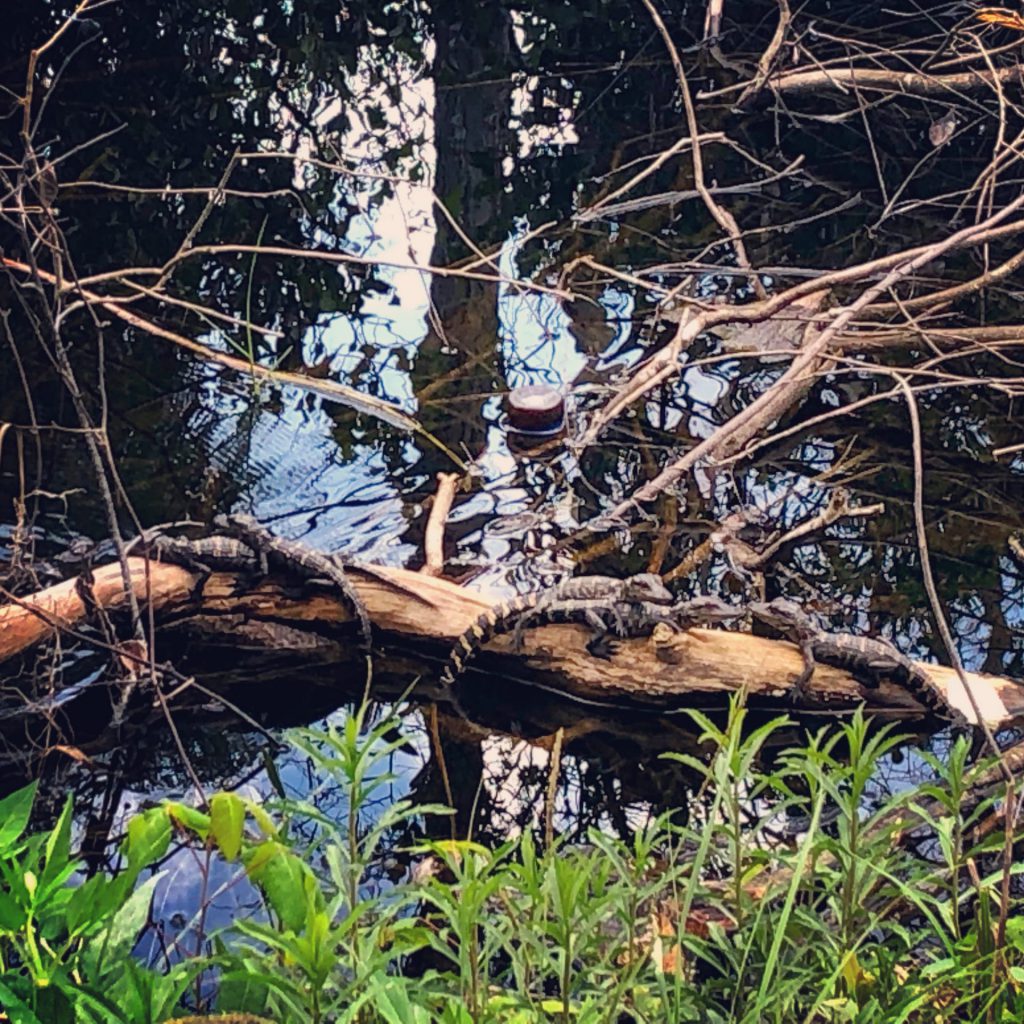 anyhoooo. i'm glad we drove over. big cypress has a different feel than the eastern part of the everglades. and now were were 2/3 of the way to a special fancy junior ranger patch….