on february 1st, we concluded our time at the "happpiest place on earth" and headed west to st. petersburg. but first. we needed breakfast. which was more like brunch. this is what our crew looks like on the morning after four straight days at disney….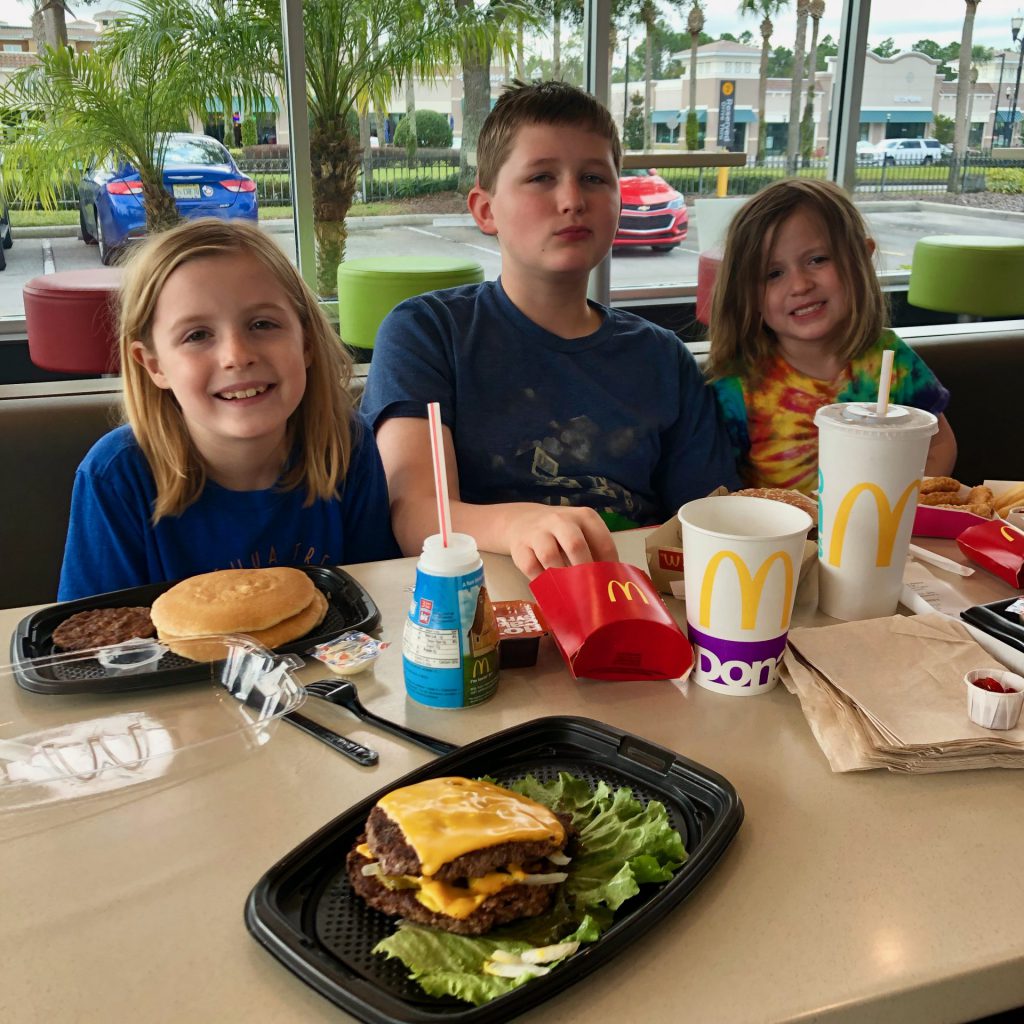 our first stop after disney was a quick weekend in st. pete with step dad's sister's family, before heading to fort de soto for the week. while we were at fort de soto, we left the window of the car open overnight when it rained. which wouldn't have been a big deal. except our national park passport books were in the door of the front seat. and got soaked. and ruined. so all of the (100s of) stamps we've collected in our travels were runny and illegible. we were pretty bummed. but also sort of relieved, knowing that we don't have to stress about making sure we get the stamps at every stop. the kids have junior ranger badges for almost all of the places we've been, so it's not all that terrible.

after fort de soto, our next stop was the florida keys, where we when we weren't having epic adventures, we were pretty much at the pool of our campground. a LOT of swimming went down. we love a pool with a kiddie pool attached, so i can feel comfortable with hazel in shallow water, while the big kids do their big kid stuff. (and if i'm honest, they spent a lot of time in the kiddie pool too, hanging with hazel).
the walk to the pool. we made this trek often.

kiddie pool dwellers.

the pool overlooked this view.

nerdy goggles.

happy ring floater.

part two.

kiddie pool train.

floating anna.

probaly my favorite pic of all time.
we had a wee bit of excitement while we were in the keys. our a/c was sort of on the fritz, and we knew it was maybe on it's last leg. i'll spare the details, but we decided to buy a new one for derek to install, to save money on the install, even though buying it local (versus amazon) was going to cost us $300 more. we were thankful we did, because the day after derek drove two hours round trip to pick it up, it broke completely, once and for all. so, he got to work, doing that diy thing. (we had a friendly neighbor, who helped get it up to the top, in exchange for a 12 pack of beers. win win).

when we weren't out having cool adventures, or fixing air conditioners, or swimming, we fully embraced florida keys cuisine. there was a lot of seafood consumption. and we tried our luck with a fresh coconut. (update: i'm the only one that liked it). and after driving past signs advertising delicious key lime pies for two weeks, i made up a batch of keto key lime cheesecake cupcakes, to get my fix.
eventually, our florida keys time came to an end, and we made our way back onto the mainland, where we planned to spend a few weeks in the everglades and south of miami. we had it on good authority that the "robert is here" fruit stand was not to be missed. we have already been there twice, and we are planning one last hurrah before we leave in two days, but so far, our sources have been correct. this place is amazing. there are so many fruits that i have never heard of. and the descriptions of them tasting like "pumpkin cheesecake" or "pears with brown sugar" are not exaggerations. even isaac game some of the fruits a try. and he's not one to venture away from the world of apples and bananas.
checking out with all of our goods.

our first round of fruits.

testing out a mamey sapote.

tastes like pumpkin cheesecake.

sopadilla. pear with brown sugar.

passionfruit. a little tart. but yum.
again. in miami/everglades, we took full advantage of the local cuisine, this time at a little cuban "juice" stand. it was basically an outdoor cafeteria style buffet, in a little strip mall. there was a bit of a language barrier, but we could always just point and nod at the items we wanted. we kept it keto, once again, and it was so good.
picadillo, fish, and skirt steak.
and lastly, a bit of miscellaneousness. laundromat time. outdoor playtime. anna, helping me blog. (so meta). some hazel created lego instructions. and lastly, hazel falling asleep with her head in a bin.
and that's the tales of our life and times in february, when we are in between adventures. hope you enjoyed.